33+ Breathtaking Pastel Lehenga designs To Choose From
Move over bold reds & jewelled tones, this wedding season is one for a toned-down bride in natural shades. Discover yours among these pastel lehenga shades.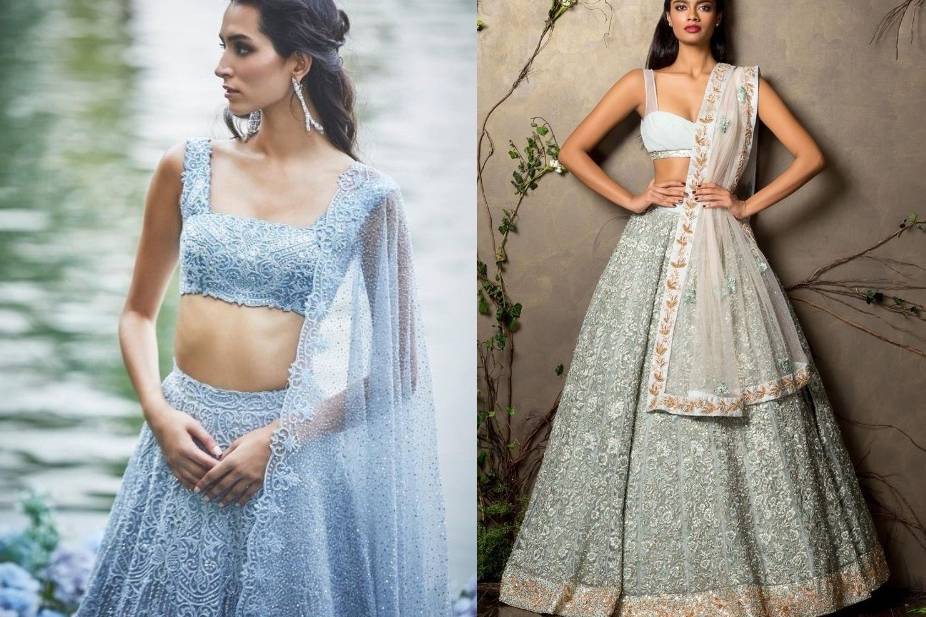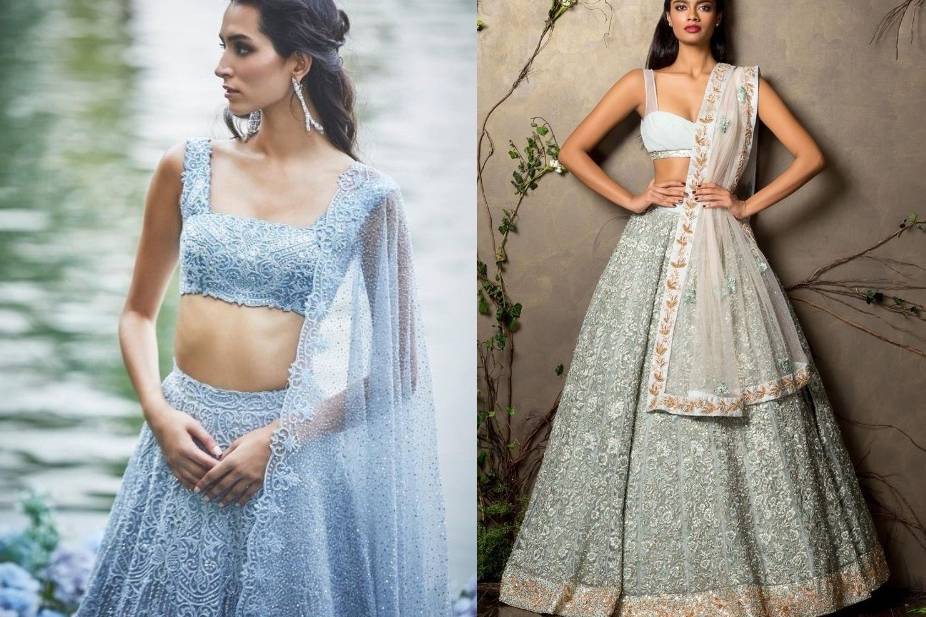 Image Courtesy: Kresha Bajaj (L), Shyamal & Bhumika (R)
Think that the bride-to-be is okay with just a red 'Chunari' to grace her wedding ceremony? Indian women, through the course of time, have established the fact that we are graceful and strong individuals - when it comes to walking through the streets boldly on a Monday evening, or walking down the aisle on our big day with our heads held high! What's common is the habit of breaking 'conventions'! And one of the ways this has happened in bridal lehenga colour combinations is the ready acceptance of the pastel lehenga trend!
The bride club has taken a poll and they have chosen all pink, peach, pale green and other pastel colours that are unimaginably beautiful. Here we explore how the conventional red, maroon and jewel tones have been sidelined from the bridal lehenga circuit for toned-down pastel colours in all imaginable shades.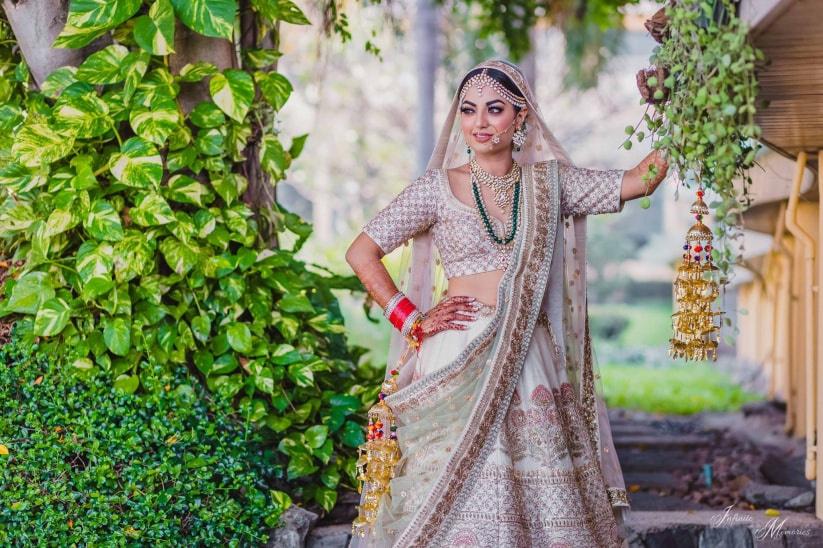 Pastel Lehenga shades and swatches:
Pastel lehenga designs have been a raging trend for the past few years and we know for a fact that it is here to stay. Right from picking a green lehenga for the mehndi to a pink lehenga design for an Anand Karaj Ceremony, pastel lehenga designs are the safest picks a bride can opt. This is exactly why we have picked the most trending pastel lehenga colours and swatches for you to style it right for your big day.
Read on to know in details and do not forget to bookmark your picks!
Shades of Pastel Pink Lehenga
The pink pastel lehenga is now as main stage as the resurgence of red lehengas. With brides carefully selecting, matching and contrasting their pink lehenga designs of choice with the garlands, flowers, decor and accessories, we have curated the perfect lehenga designs in pink for you to flaunt along with some fun styling tips. Do your bit and let them all know where you lie on the pink palette.
Pastel Pink Lehenga Design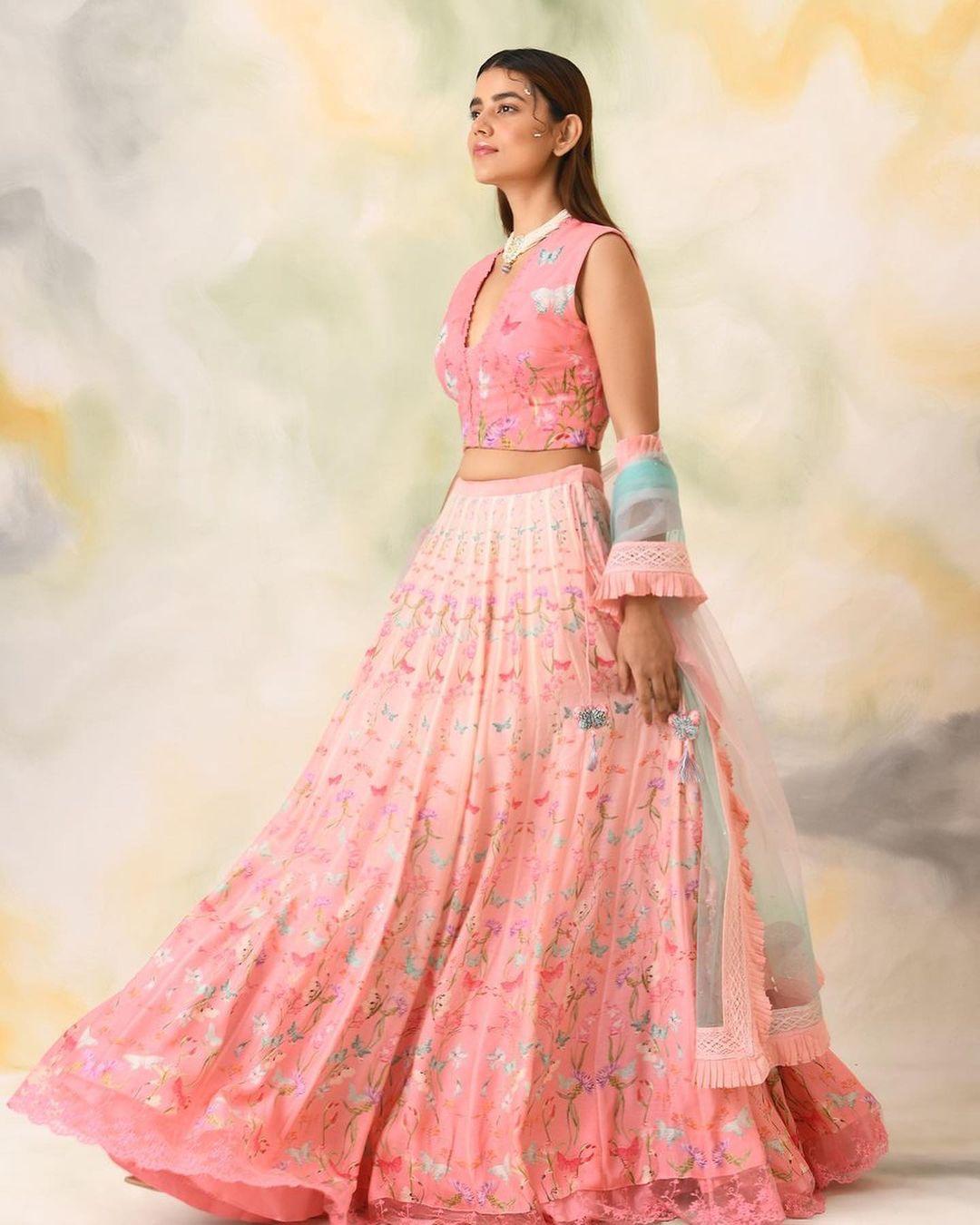 Image Courtesy: Neha Chopra
Bringing the perfection of nature to life, this pastel pink lehenga design by Neha Chopra is the right colour that millennial brides will love for their Sangeet ceremony or for a day wedding.
Embroidered Dark Pink Lehenga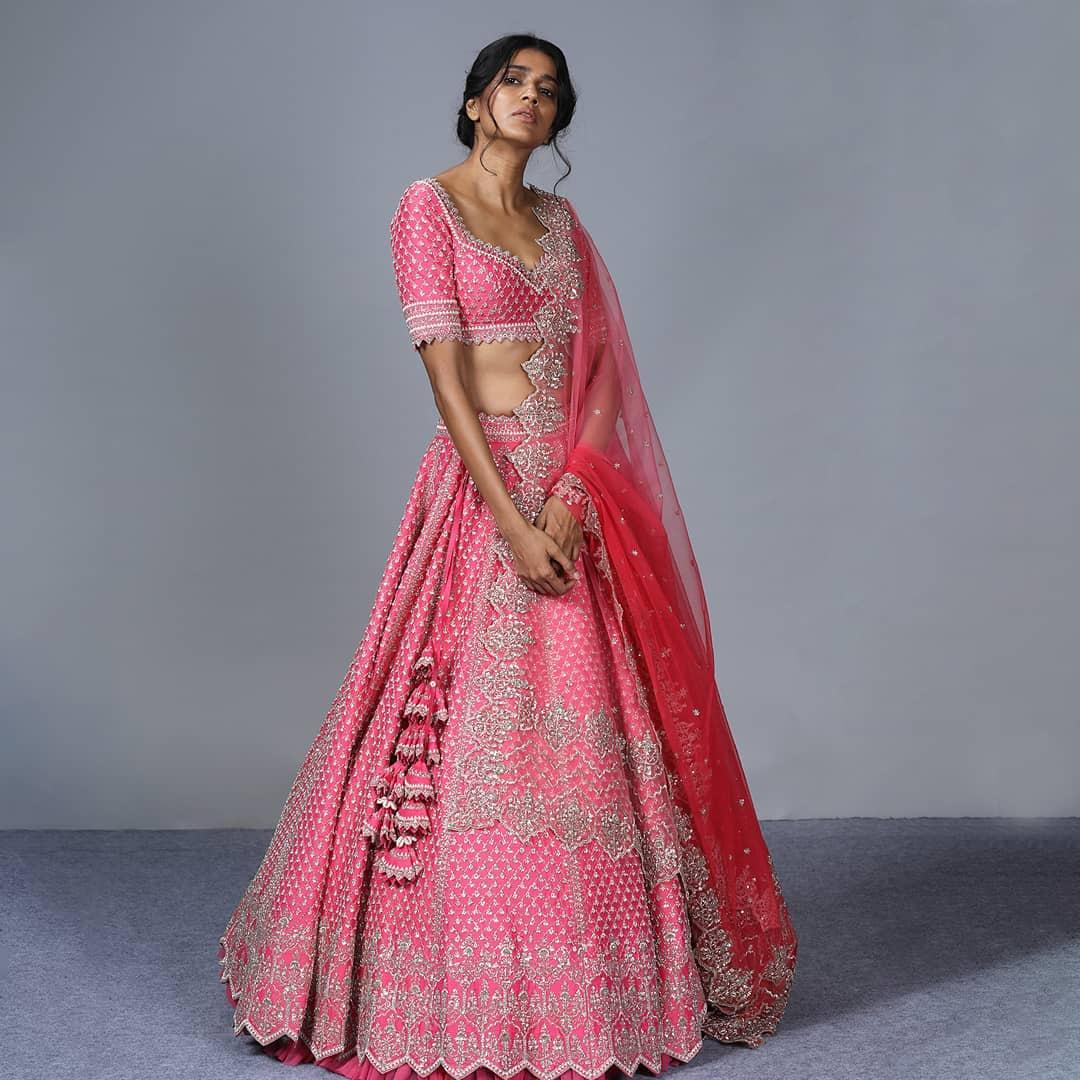 Bringing back romanticism and femininity in the most unique ways ever, this raw silk lehenga with a matching blouse with elbow sleeve design and a net ombre dupatta by Anushree Reddy in dark pink is a beaut.
Accessories: Diamond necklace and diamond earrings, glass bangles
Suited for: Day weddings
Powder Pink Structured Lehenga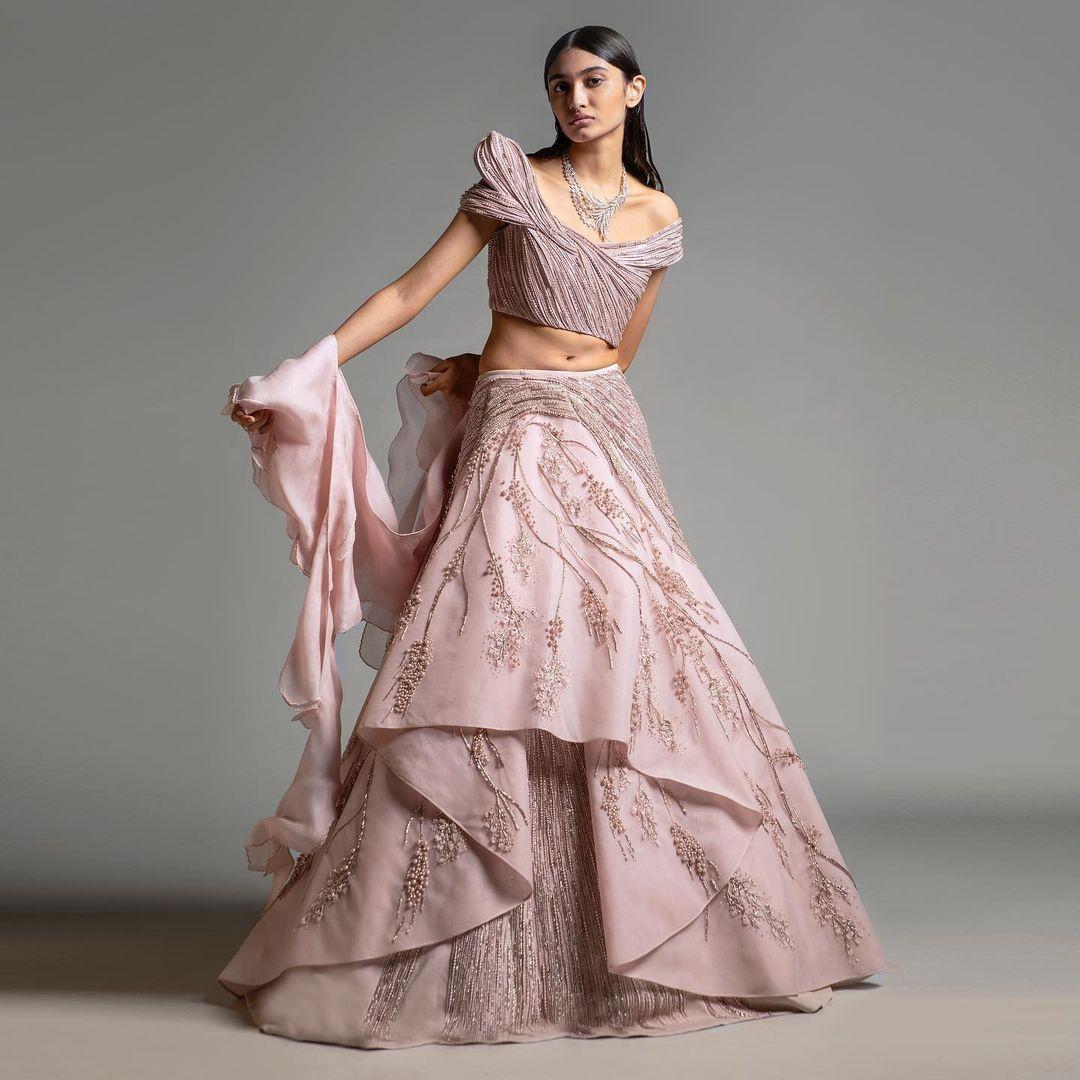 Effortlessly chic, this snow pink sculpted lehenga with dripping foliage detailing is a beauty designed by none other than Gaurav Gupta. The matching organza ruffled dupatta and structure one-shoulder blouse design complement the outfit perfectly.
Accessories: Statement Jewellery, diamond necklace and bracelet
Suited for: Engagement, Cocktail
Light Pink Embroidered Lehenga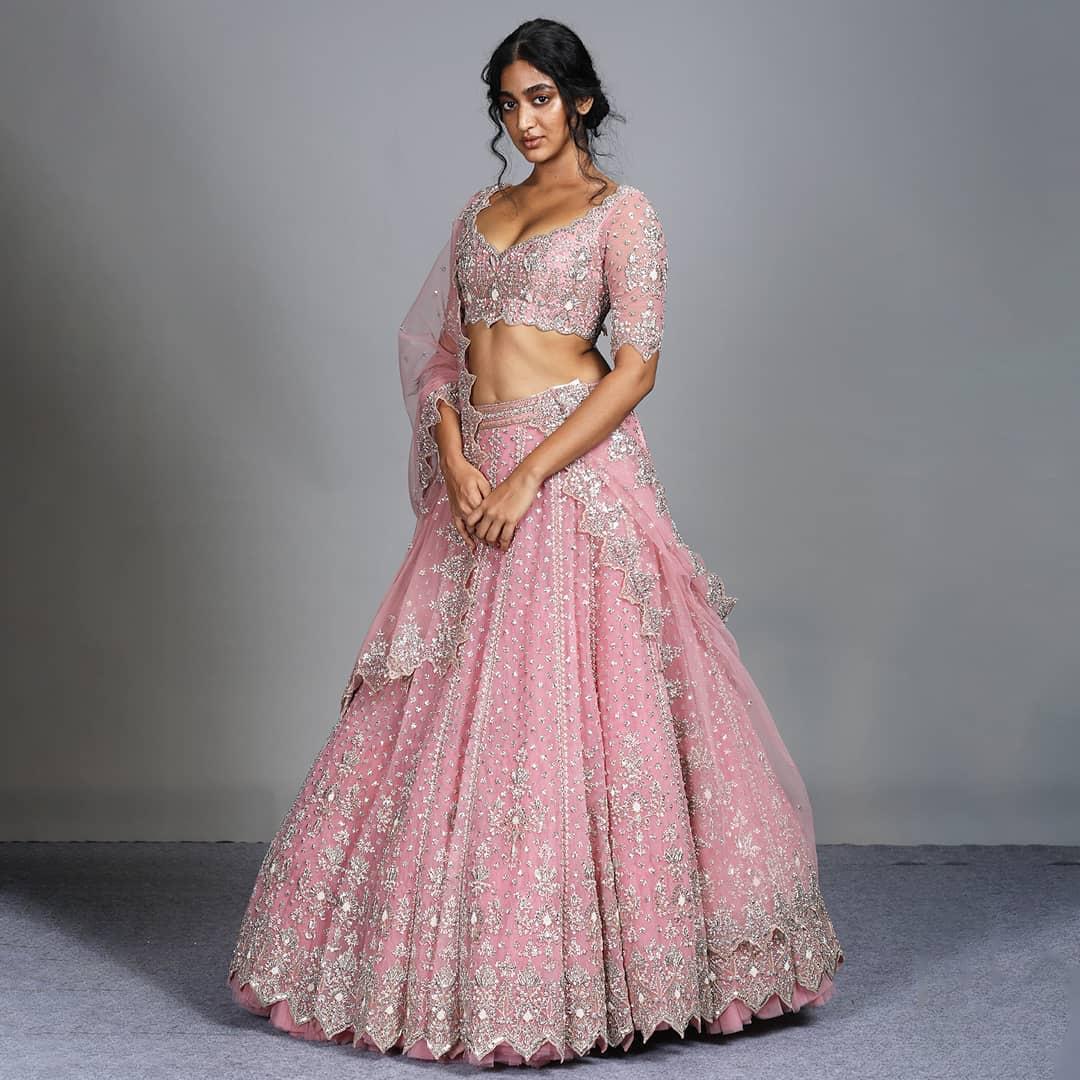 Net lehengas are a rage in tropical Indian weddings. This light pink net lehenga with a matching blouse and dupatta by Anushree Reddy can be your favourite pastel lehenga pick for D-day.
Accessories: Polki Jewellery, Diamond choker, matching silk bangles
Suited for: Day wedding, Sangeet
Floral Embroidery on Baby Pink Lehenga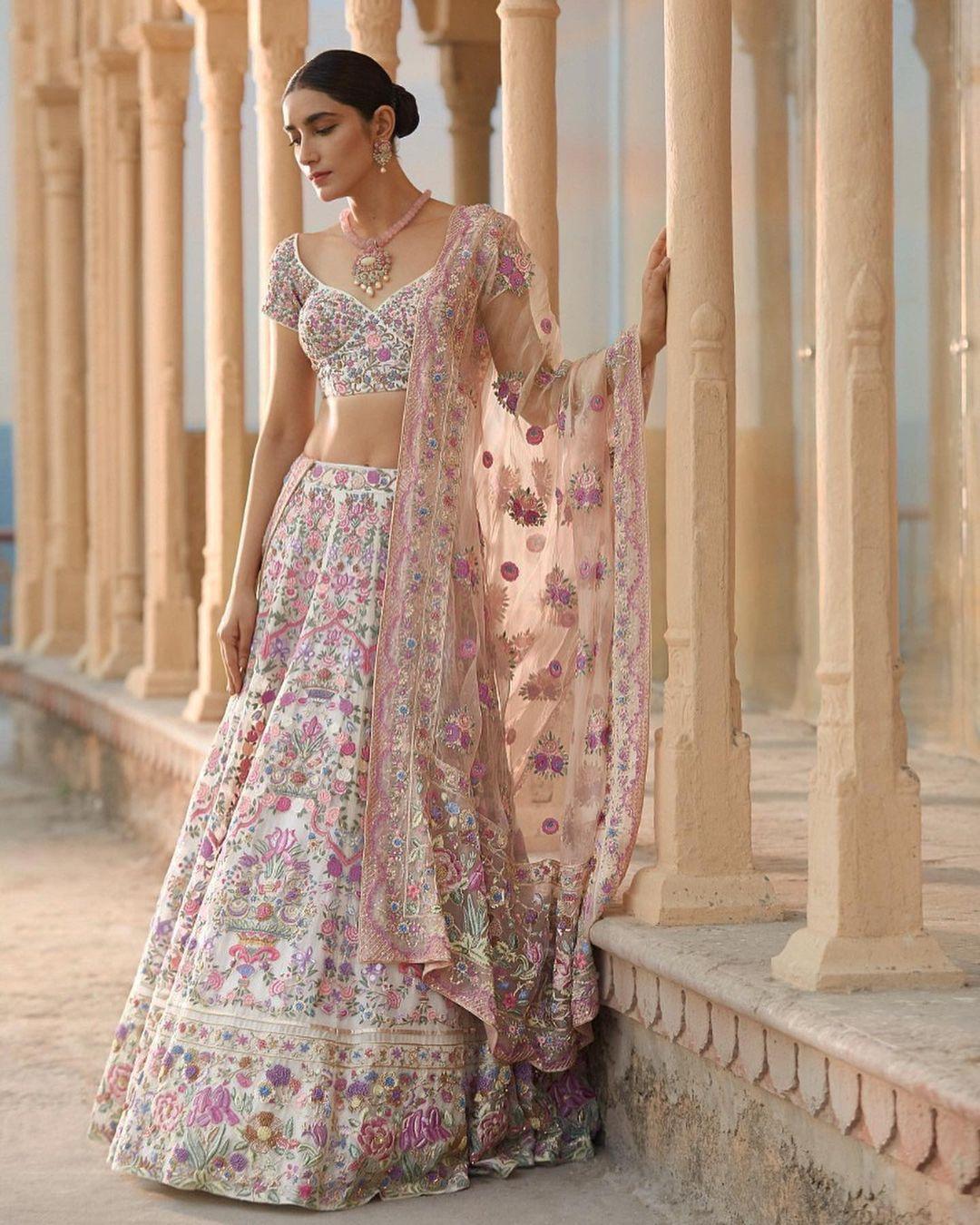 The state of art 'Gul-e-Bahar' lehenga by Rahul Mishra features quintessential hand embroidery with intricate floral details, articulated with Resham and metallic threads over sheer silk organza.
Accessories: Pearl choker necklace, Pearl Jhumkas, Rani Haar, Potli Bag
Suited for: Mehndi ceremony, Intimate wedding
Rani Pink Lehenga Design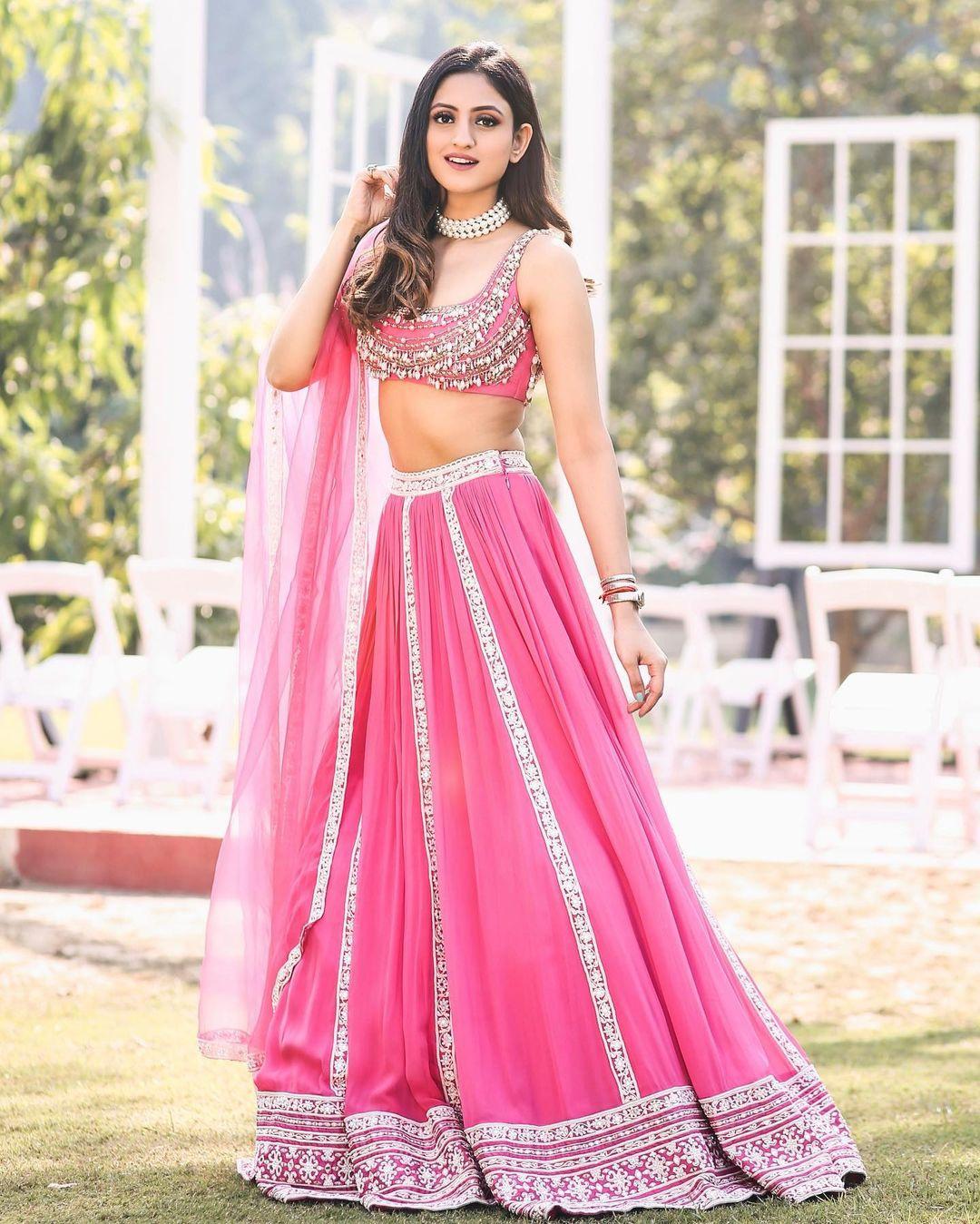 Image Courtesy: Ridhi Mehra
This vintage rose coloured lehenga by Ridhi Mehra flaunts jewel-stoned embellishments and the bright pink colour fits perfect for a blushing bride-to-be.
Accessories: Pearl jewellery set, midi-rings
Suited for: Sangeet ceremony, Mehndi ceremony
Blush Pink Lehenga with Gota Patti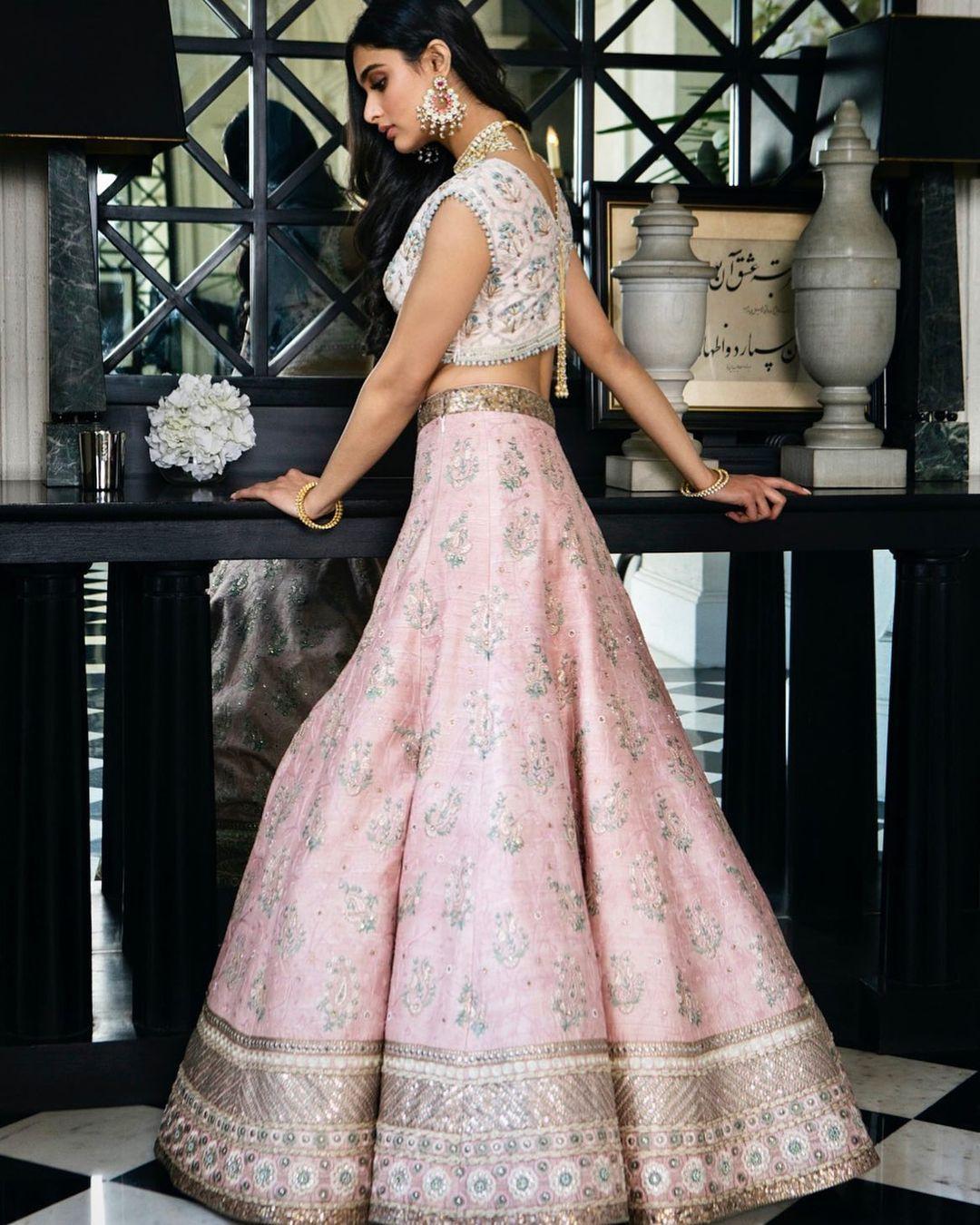 A fully embroidered blush pink lehenga from the house of JJ Valaya, this outfit is enchanting. This lehenga is paired with a blush pink embroidered blouse and a blush pink stole. The lehenga is detailed with thread work all over. This belted lehenga boasts of a fully embellished belt with sequin embroidery.
Accessories: Gold jewellery set, gold stone bangles
Suited for: Wedding ceremony, Engagement
Rose Pink Botanical Print Lehenga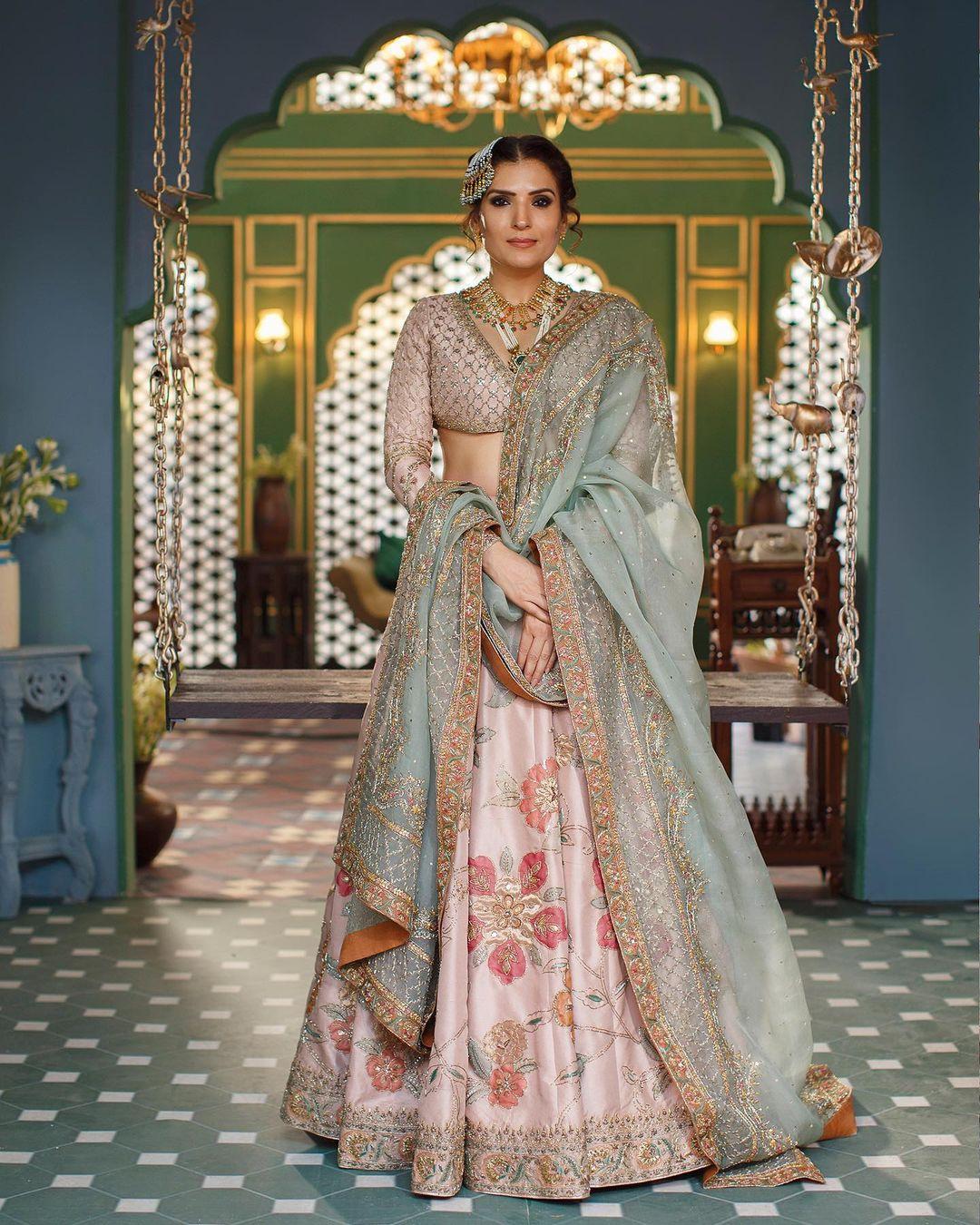 Image Courtesy: Zara Shahjahan Bridals
Mughal botanicals in hues of pinks and oranges on organza appliques with intricate embellishments on top, this lehenga by Zara Shahjahan Bridals is a timeless design. The choli is composed of three different Jaal patterns of embroidery that are inspired by Mughal geometric patterns. It gives a very alluring feeling with a short length and intricate Mukaish with Resham duo. Paired with a chai pink organza dupatta with hand-worked embellishments, you are sure to turn heads for your Anand Karaj.
Accessories: Diamond Jewellery, Pearl Jewellery
Suited for: Engagement ceremony, Day wedding, Anand Karaj
Price: On Request
Shades of Pastel Peach Lehenga
Peach is another trendy pastel lehenga shade that millennial brides are in absolute love with. There is no skin tone that a peach lehenga does not enhance and this is exactly why you must pick a pretty peach lehenga for your big day.
Peach Velvet Lehenga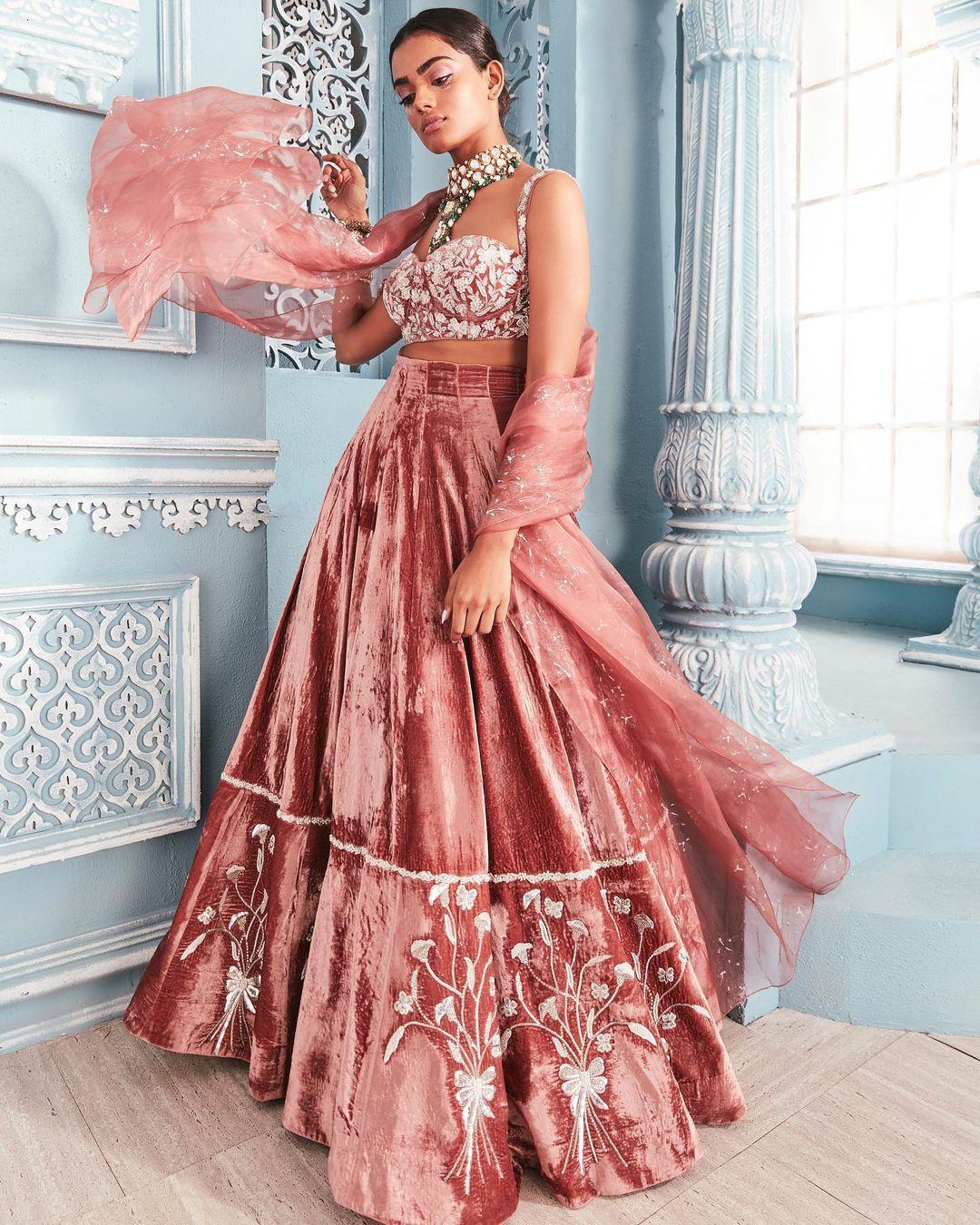 Here is a winning combination of extravagance and lightness, fluidity and structure. This pastel peach lehenga by Mahima Mahajan will create a mesmerising bridal look for your winter wedding. Velvet lehengas are quite popular especially for the winter weddings that the country experiences in the latter half of the year. The pastel colour of the lehenga makes it fir for even a day wedding ceremony.
Old Rose Embroidered Kalidar Lehenga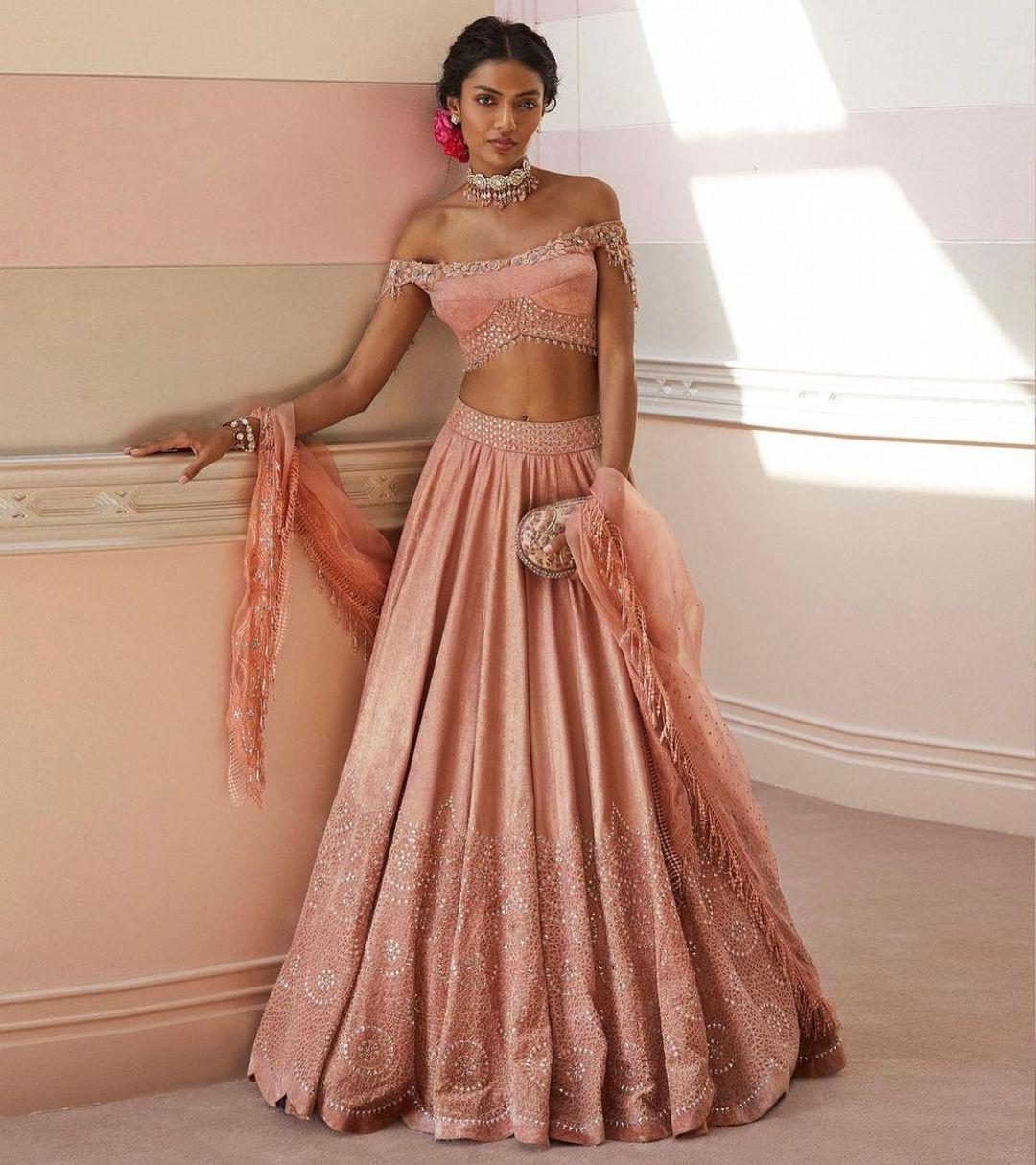 This quaint Kalidar lehenga is designed by none other than Tarun Tahiliani. He carefully highlights the laser cut and crystals, paired with the alluring off-shoulder hand-embroidered blouse. The scarf with fringe detailing on the hem that is used as a dupatta adds to the charm.
Accessories: Diamond or Swarovski Jewellery
Suited for: Engagement ceremony
Price: INR 2,89,900
Minimalist Peach Lehenga Design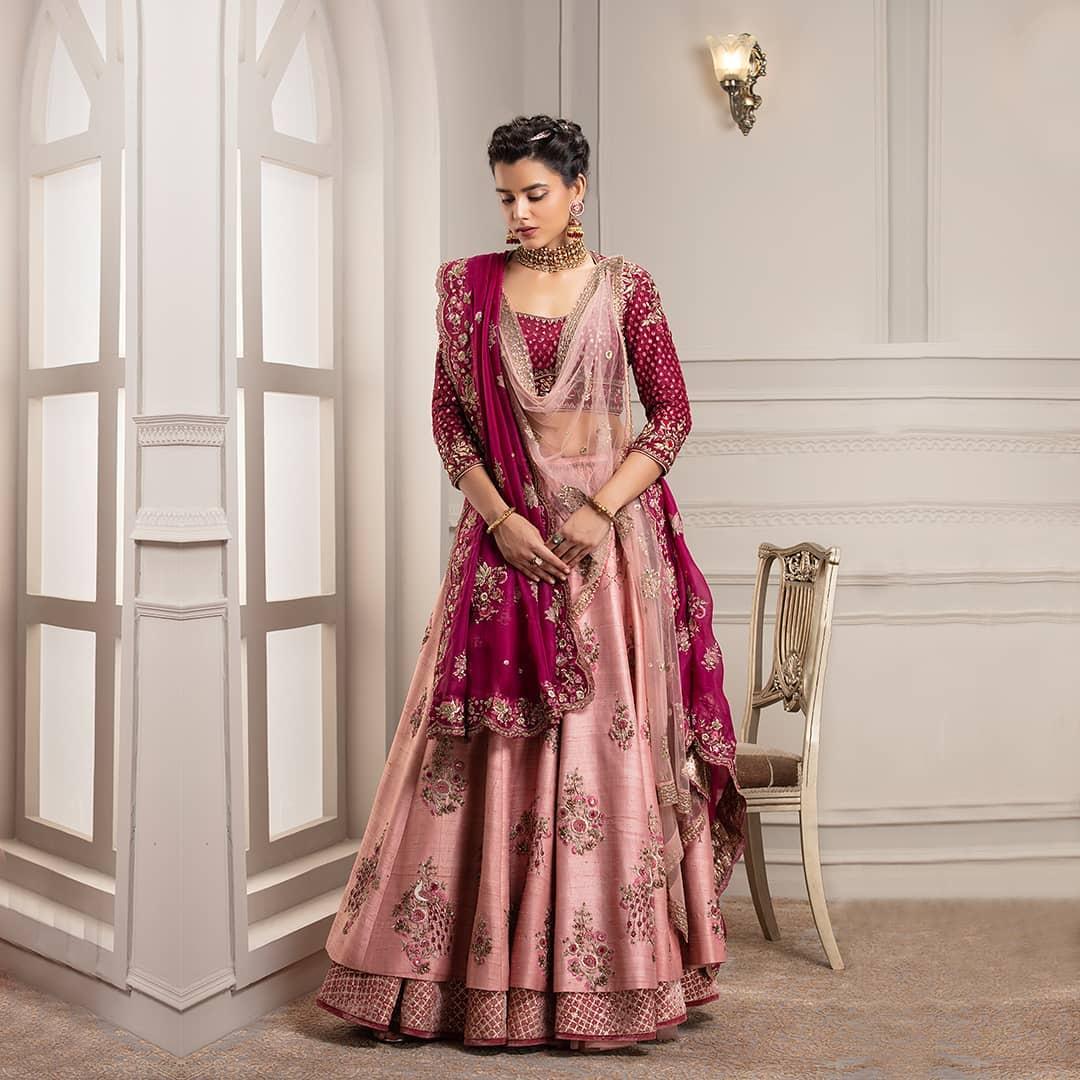 Image Courtesy: Anju Modi
Get your hands on this maroon embroidered blouse with an old rose coloured lehenga by Anju Modi for your destination wedding right now. This pastel lehenga comes with old rose dupatta and a maroon dupatta that you can use as a double dupatta while styling it. The subtle nuances of Zardosi is one of Anju Modi's signature designs.
Accessories: Statement earrings, silver jewellery
Suited for: Mehndi, Reception
Regal Embroidery on Peach Lehenga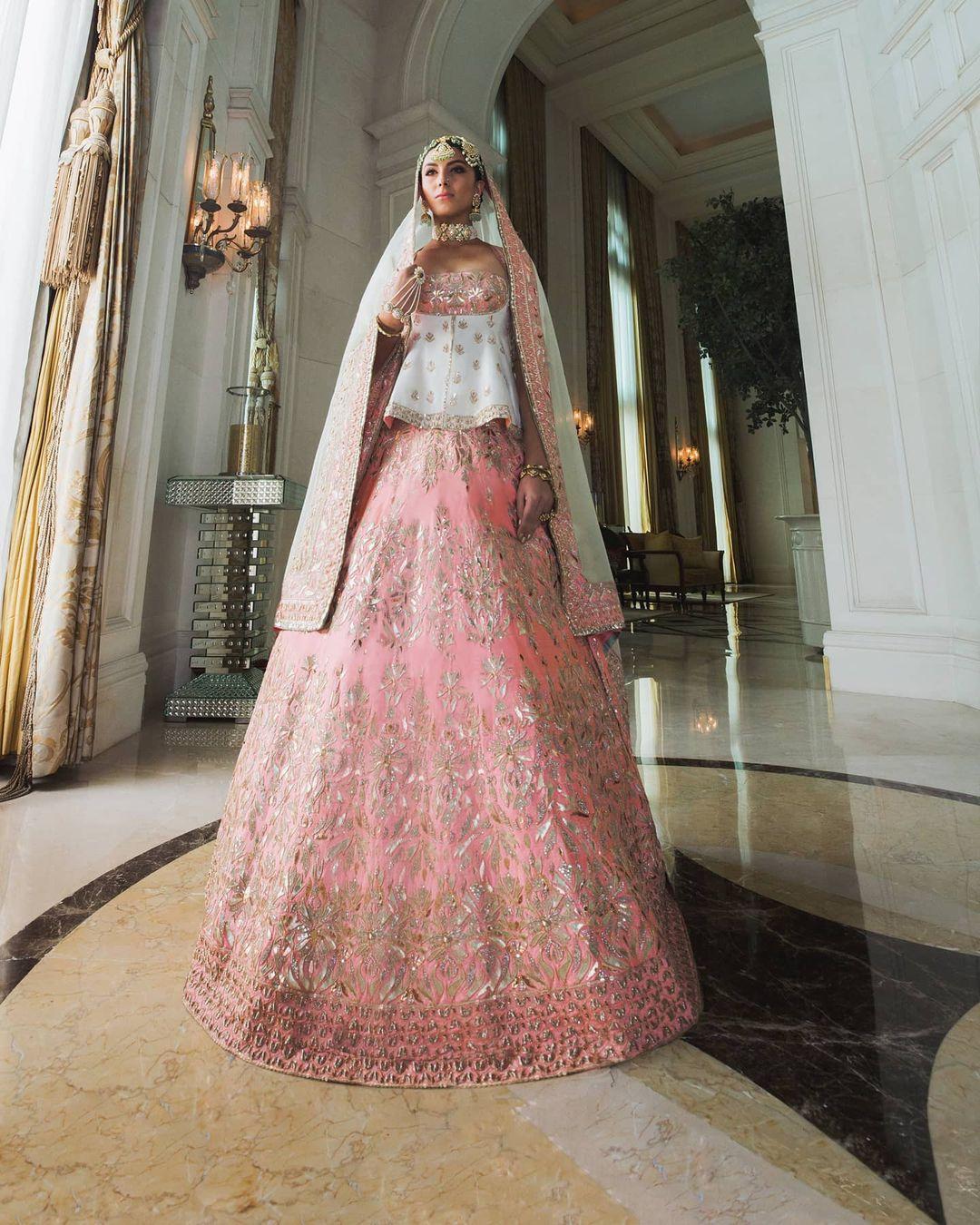 Image Courtesy: Manish Malhotra
Envisage yourself in the old-world charm of Awadhi royalty in Manish Malhotra's salmon pink lehenga. It is fully embroidered with gold Badla and Zari work paired with an ivory peplum blouse design and a hand-embroidered mint green dupatta.
Accessories: Aad necklace, Gold Jhumka, Haathphool, nose ring, Maang Tikka
Suited for: Reception, Sangeet ceremony
Price: On Request
Also Read: Celebrity Designer Manish Malhotra Presents 'Ruhaaniyat' at FDCI India Couture Week 2020
Peach Coloured Pichhwai Lehenga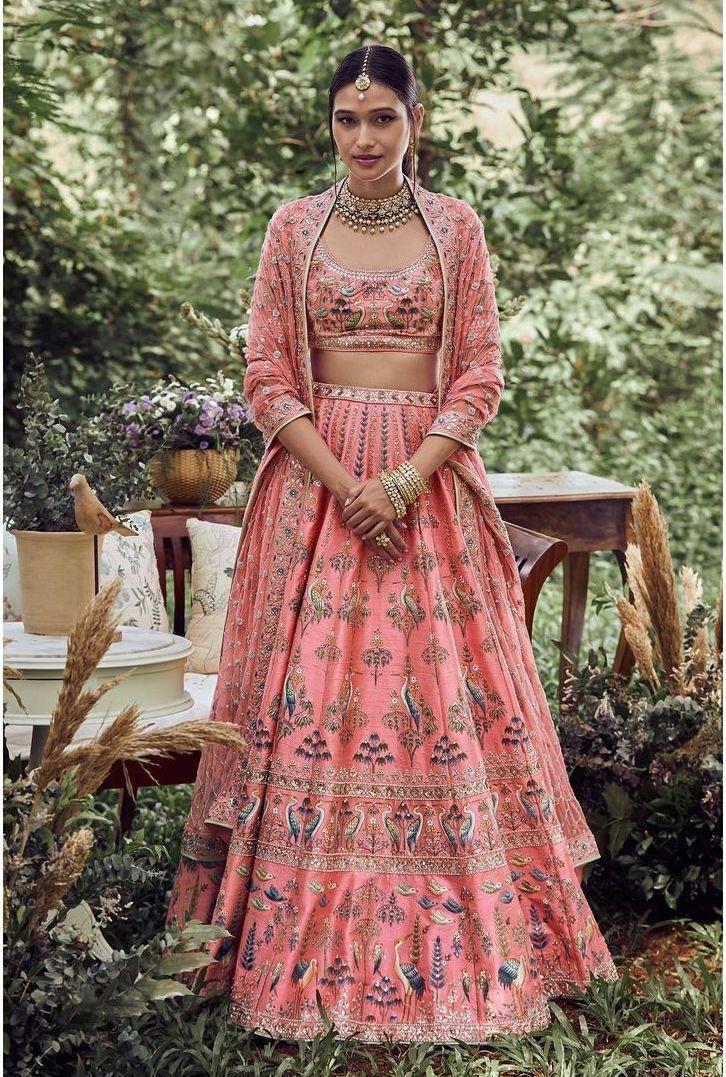 This exquisitely hand-painted peach lehenga by Anita Dongre is inspired by mystical Indian forests. Each motif is precisely created by master artisans from Jaipur learned in the ancient Pichhwai art form. Their careful strokes are complimented with Dongre's signature Gota Patti hand embroidery and embellished with Dori, pearls, Zari, Zardosi and sequins make this pastel lehenga a charmer.
Accessories: Matha Patti, statement necklace
Suited for: Mehndi, Sangeet
Peach Lehenga With Floral Designs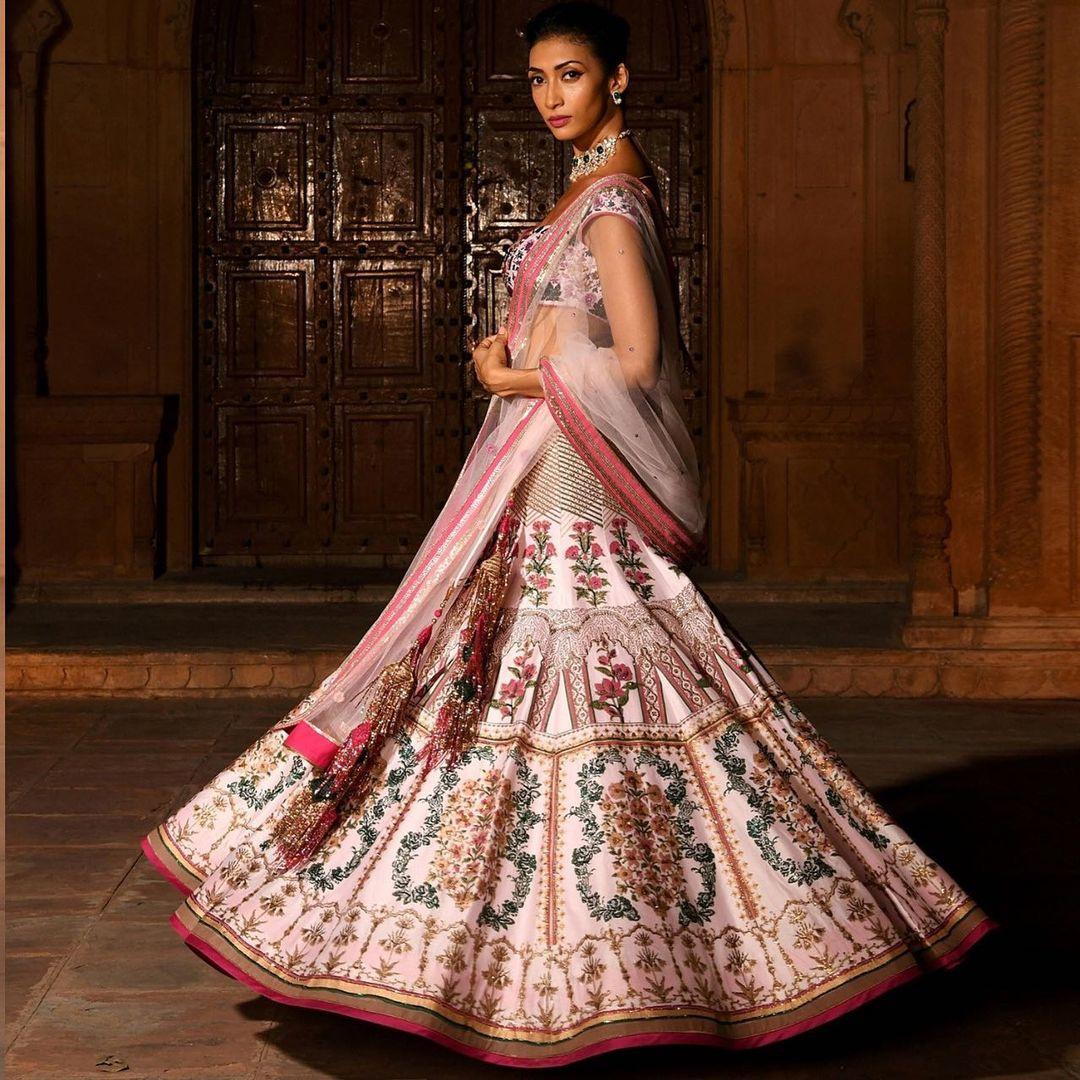 The Sharmaya Gulabi lehenga by Reynu Taandon has been designed in a way that anyone can carry it- be it the mother of the bride or the bride herself. The lehenga has beautiful floral motifs all over inspired by the Mughal architecture using gold foil in colours. It is hand-embellished using gold sequins and Swarovski. The lehenga is paired with a choli that has matching dainty floral motifs hand-embroidered using silk threads enhanced with Swarovski and sequins. The dupatta of the lehenga is detailed with a delicate Gota Patti border and sequins scattered all over.
Accessories: Diamond choker necklace, Satlada, oversized earrings, Potli bag
Suited for: Wedding, Engagement
Shades of Pastel Green Lehenga
A green pastel lehenga is a go-to for brides with a warm complexion. However, it has the potential to suit almost all Indian skin tones if paired with appropriate jewellery. It is ideal for any wedding ceremony. Accompanied by colossal makeup and perfect jewellery, a pastel green lehenga would be just the right thing to wear for a wedding. It can work wonders when worn right!
Moss Green Silk Organza Lehenga Set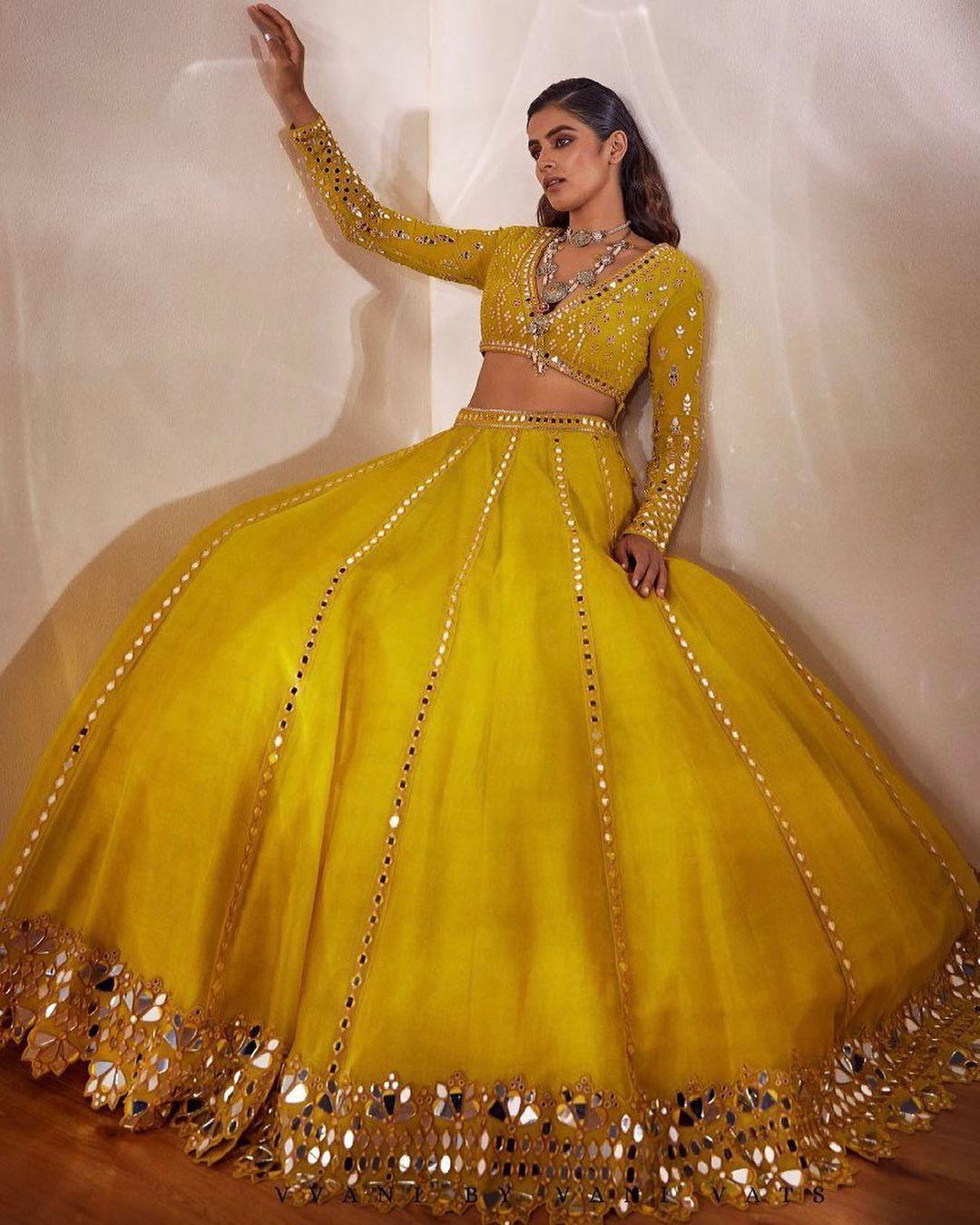 A treat for the sore eyes, this moss green Kalidar lehenga with mirrorwork running in panels all over the skirt and showcasing some beautiful hand embellishments and cutwork on the hem is a contemporary delight created by Vvani by Vani Vats. It has the right amount of traditional work in it to make it perfect for your wedding.
Accessories: Diamond layered necklace, oversized earrings, designer clutch
Suited for: Wedding, Engagement
Price: INR 75,900
Pastel Green Lehenga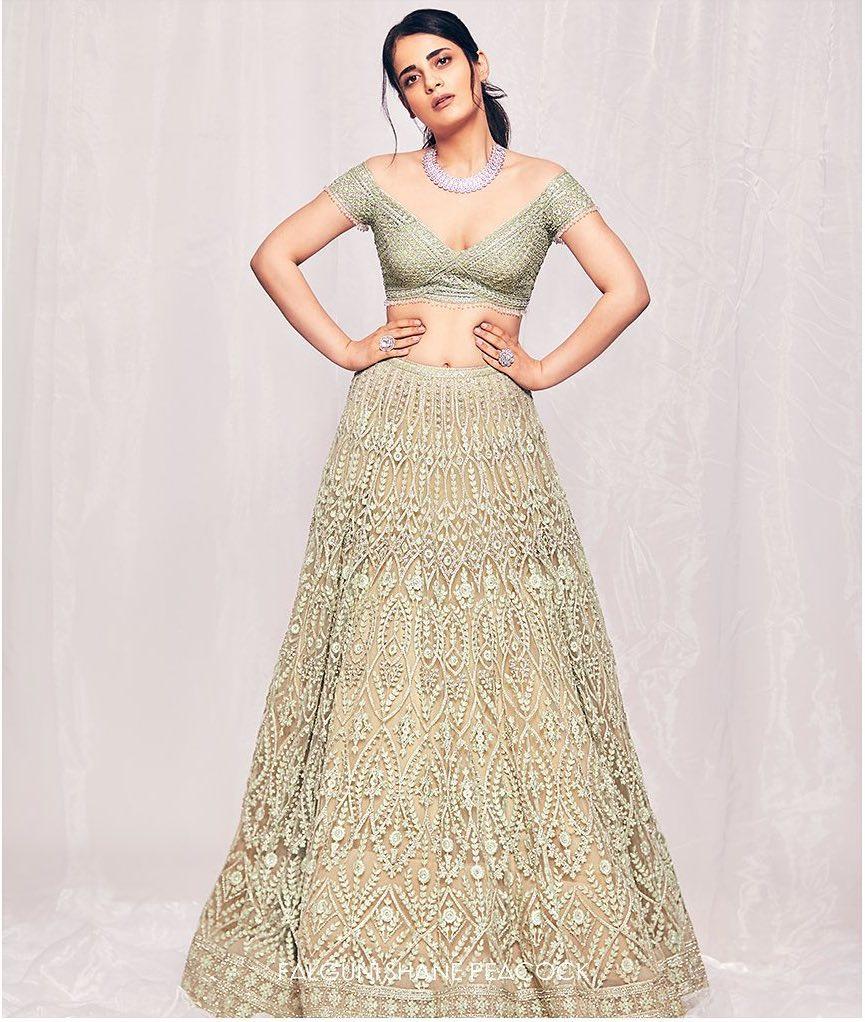 Image Courtesy: Falguni Shane Peacock
Actress Radhika Madan donned the best of pastel lehengas in sage green designed by none other than Falguni Shane Peacock. Adding a twist to the quintessential blouse design, the stunning off-shoulder neck design of the embellished blouse makes it even better.
Accessories: Diamond necklace, diamond rings, diamond earrings
Suited for: Sangeet, Reception
Price: On Request
Also Read: Falguni Shane Peacock Unveil a Bridal Couture Line 'Marry Me in Jaipur' at India Couture Week 2020
Lime Green Floral Lehenga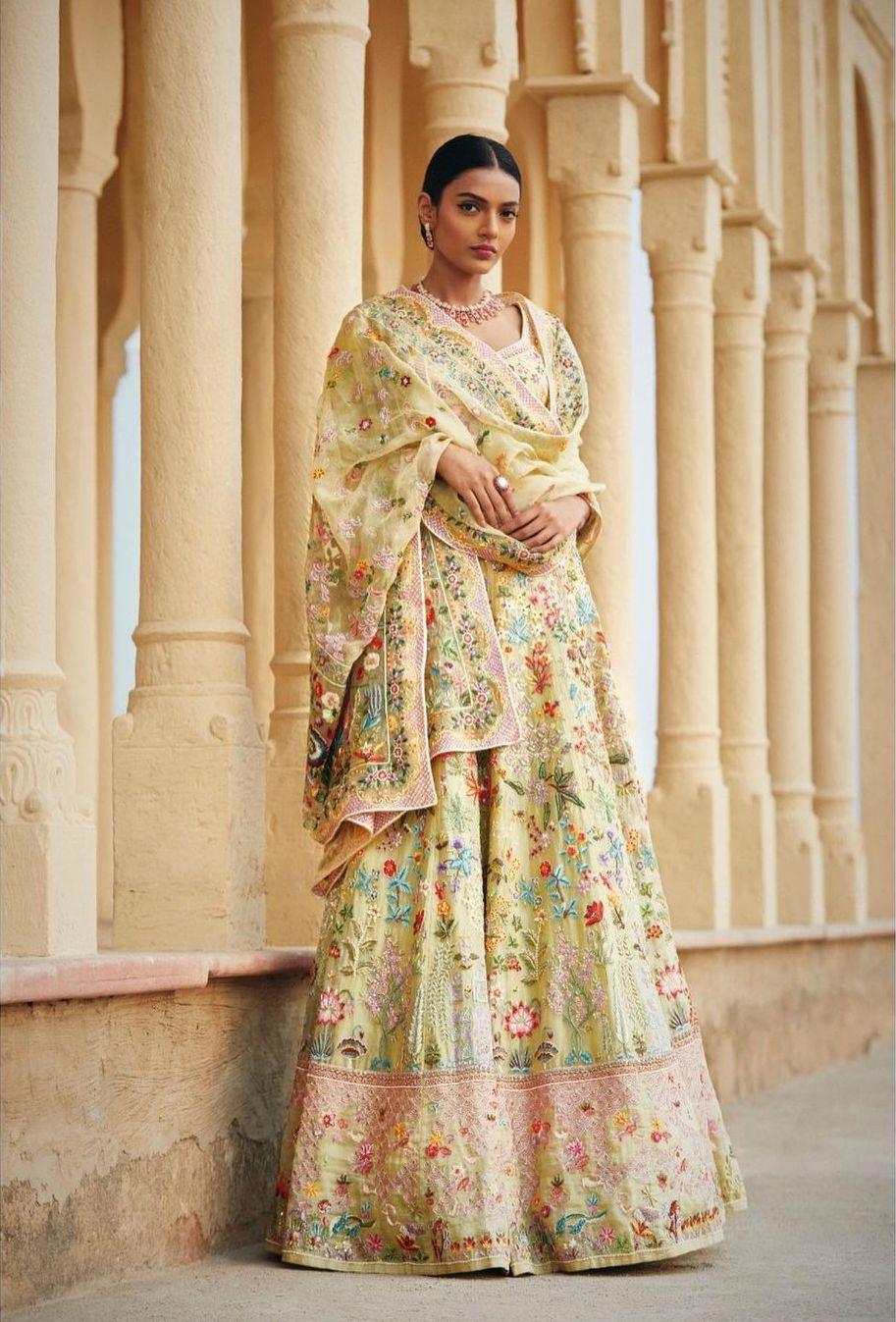 Image Courtesy: Rahul Mishra
The 'Bidri' hand-embroidered lehenga and blouse in a 'pista' green hue by ace couturier Rahul Mishra from his latest FDCI India Fashion Week couture collection Lotus Pond is an amazing pastel lehenga design for the brides. Styled with a sheer silk organza dupatta this floral embroidered lehenga is a beaut.
Accessories: Emerald jewellery, Potli bag
Suited for: Mehndi, Haldi
Mint Green Embroidered Lehenga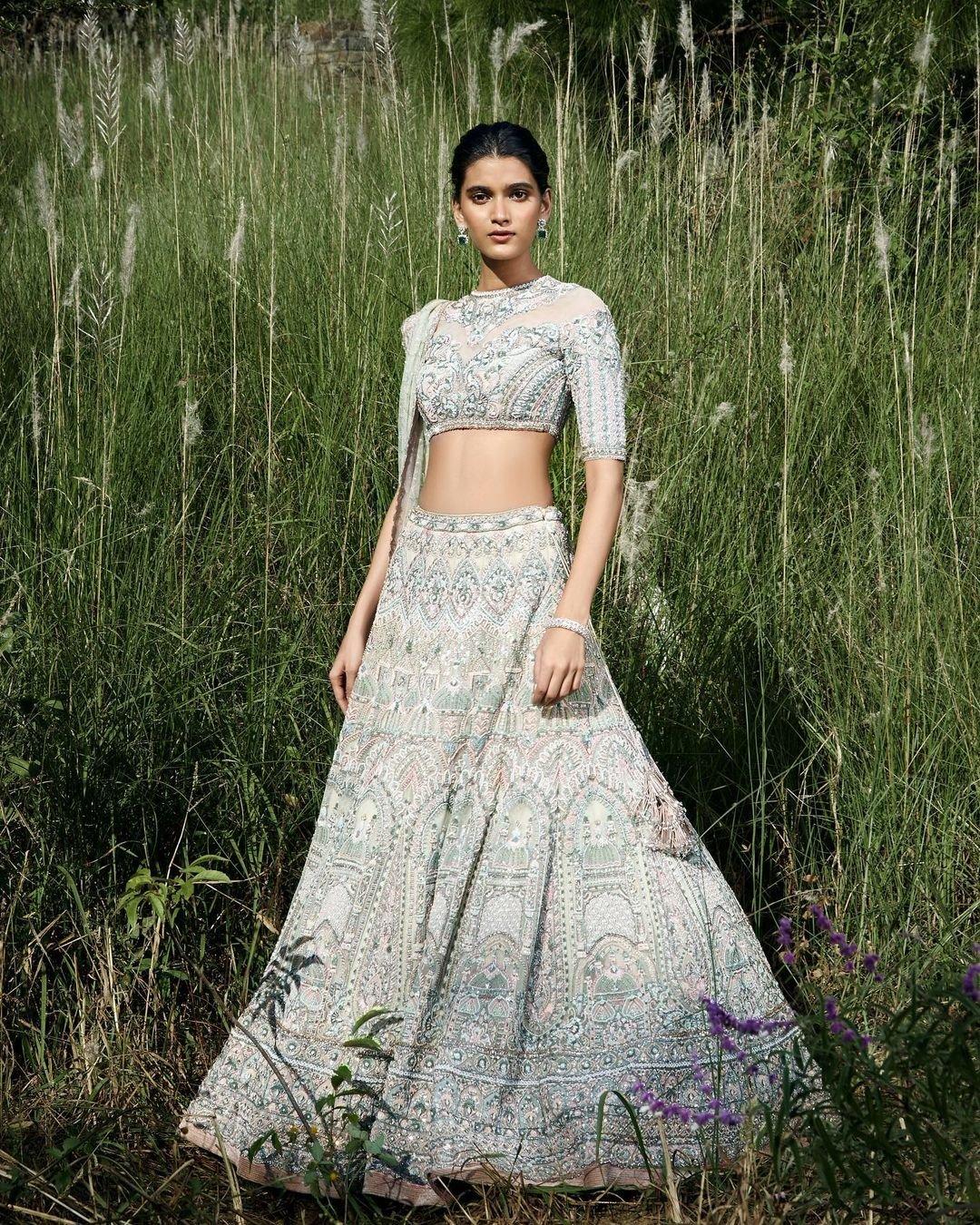 This mint-green pastel lehenga by Frontier Raas channels modern minimalism in the most beautiful ways ever. The lehenga combines patch technique and a statement jewel collar with a sheer neckline. Handcrafted by talented artisans, the age-old Mughal motifs and patterns are embellished side to side to add to the regal touch.
Accessories: Emerald Earrings, Dulhan bangles
Suited for: Wedding, Reception
Moss Green Velvet Lehenga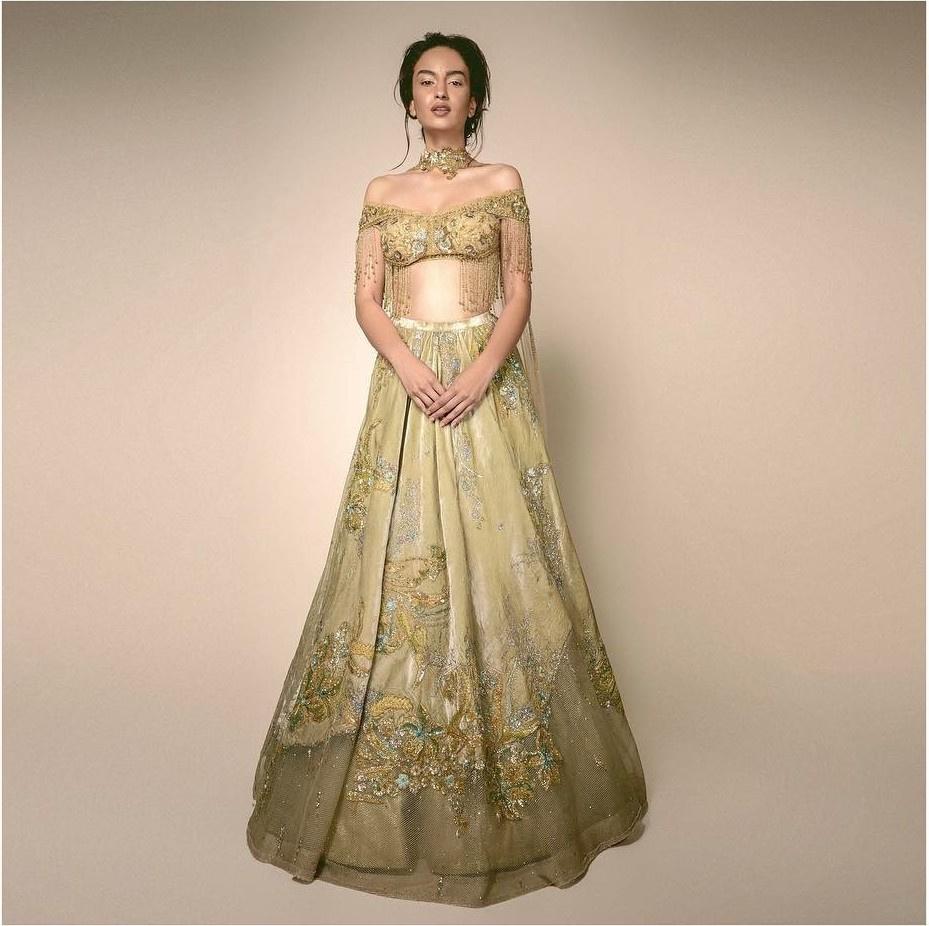 Velvet lehengas and winter weddings is the perfect story since time immemorial. This velvet green lehenga from Soltee by Sulakshana Monga with the embellished off-shoulder modern blouse and frill detailing is sure to be a head-turner.
Accessories: Choker necklace, Chandbali gold earrings, gold bangle set
Suited for: Sangeet, Reception
Also Read: Bridal Wear Trends 2021 for Winter Brides
Dark Green Lehenga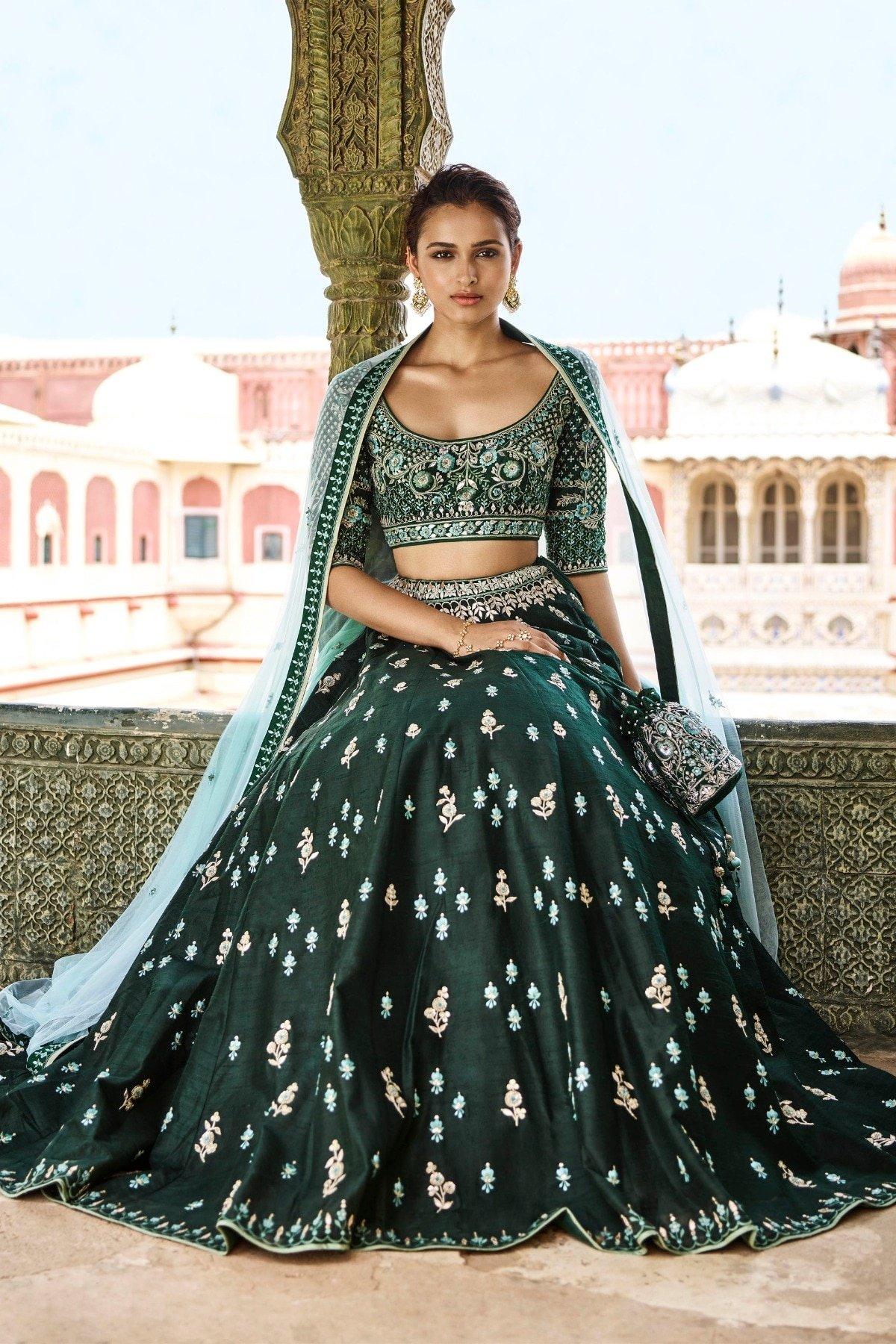 The delicate blossoms hand embroidered with love on to exquisite silk fabric in a rich emerald hue, the Dharni lehenga by Anita Dongre is one amazing pastel lehenga for the millennial brides and even the bridesmaids.
Accessories: Haath phool, Maang Tikka without chain, Nose ring
Suited for: Wedding, Reception
Olive Green Heavy Lehenga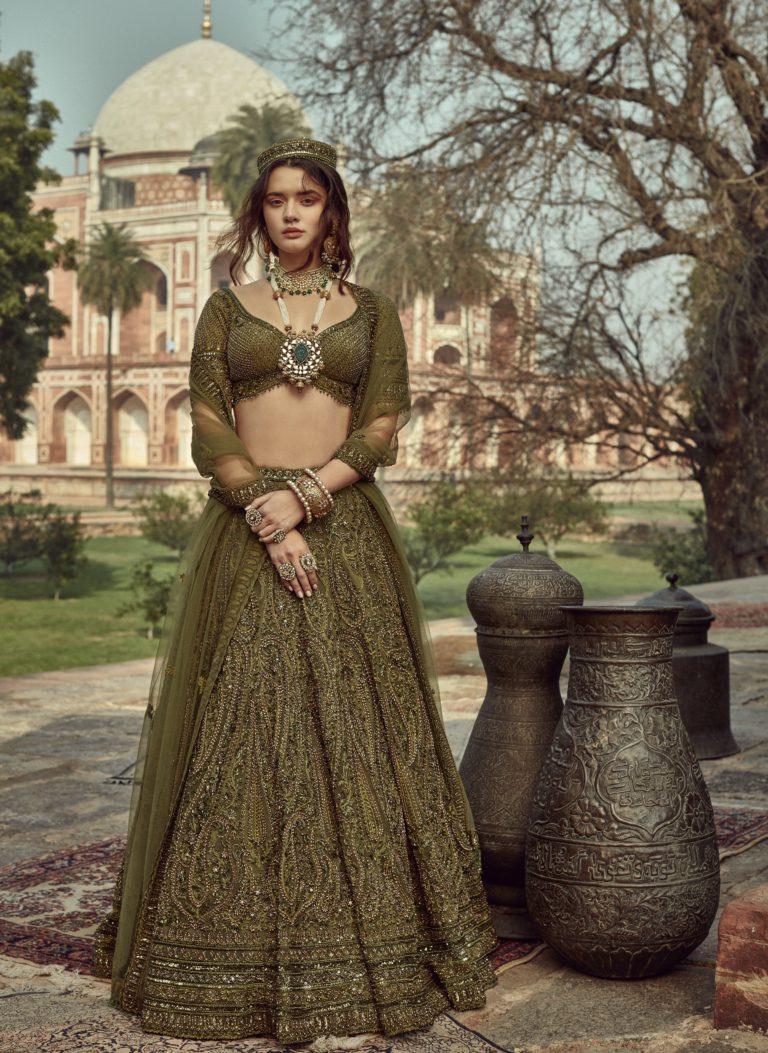 Breathing in freshness and offbeat glam, this olive green lehenga by Payal Keyal a beauty you must consider for your wedding ceremony outfits. The intricate embroidery is the cherry on top of the absolutely stunning colour of this pastel lehenga.
Accessories: Pearl Necklace, Gorgeous bangles, Devasena Earrings
Suited for: Wedding, Reception
Teal Green Lehenga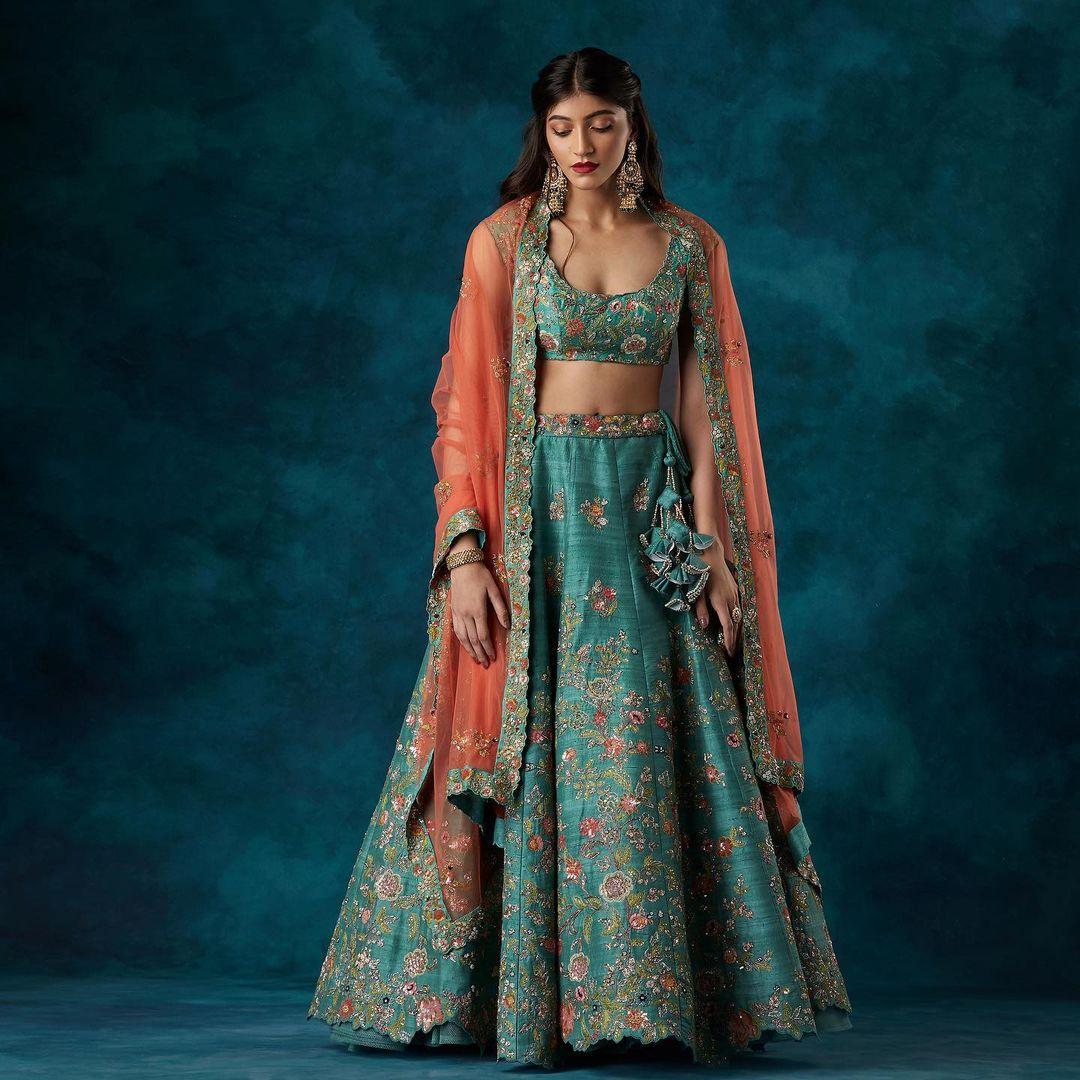 This English green panelled handcrafted raw silk lehenga by Shyamal & Bhumika when teamed with a matching blouse and a contrast tulle dupatta with matching border, makes for a breathtaking yet simple pastel lehenga look for the brides and their bridesmaids too.
Accessories: Traditional Jhumka, Colourful bangles, gold finger ring, Maang tikka
Suited for: Mehndi, Sangeet
Simple Green Lehenga for Brides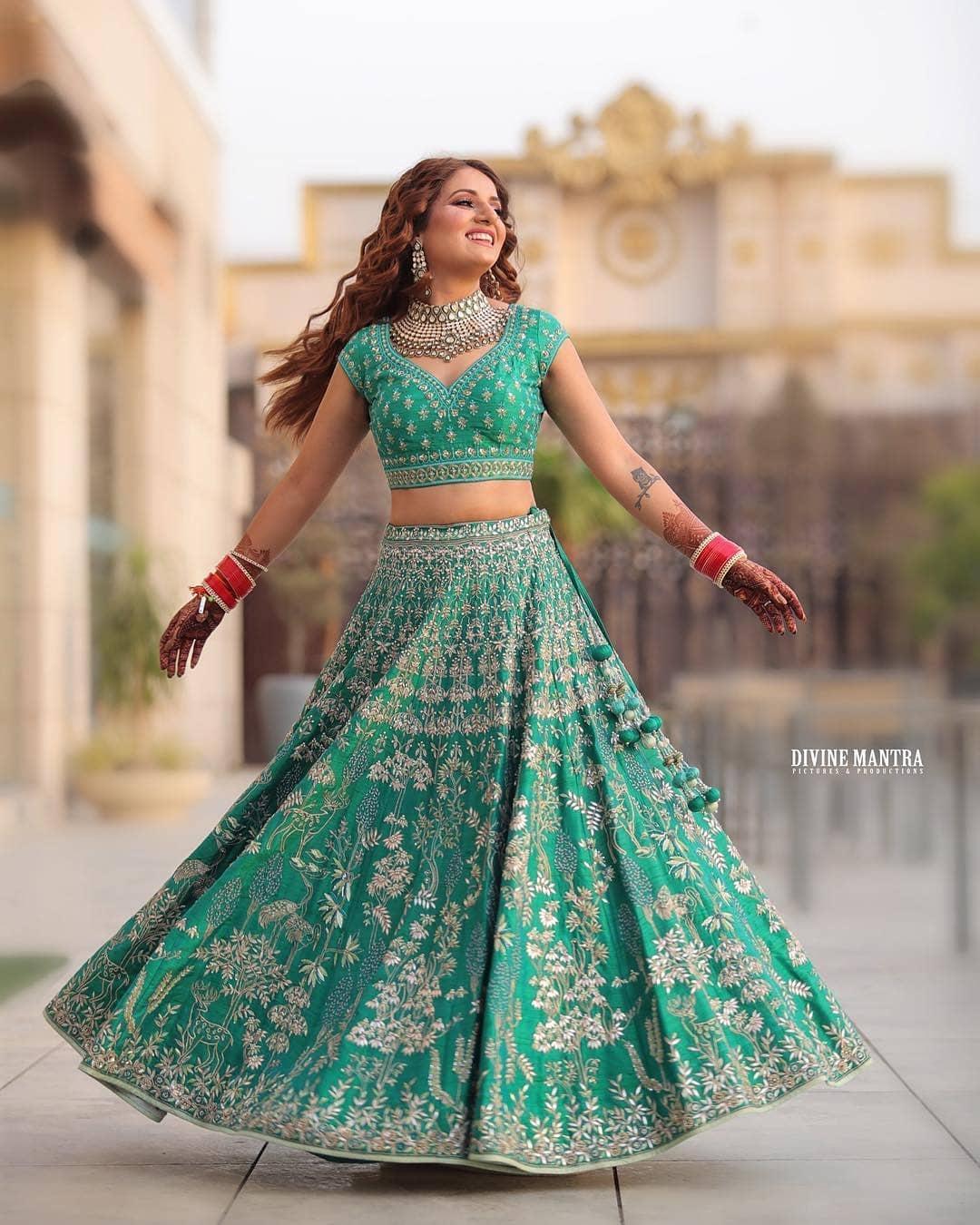 Green is a soothing colour that fits every wedding function and is a must-have in your wedding wardrobe even if it is your intimate wedding wardrobe in question.
Accessories: Floral Jewellery, Heavy jewellery set
Suited for: Wedding, Mehndi
Shades of Pastel Purple Lehenga
Colours like lavender or lilac purple give you the freshness of a newly blossomed flower, along with the royalty that it carries. It's a winner for brides with fair complexion. The best option would be to pair it with diamond jewellery but a set of gold jewellery would also be a wise choice. You could wear it to a ceremony in a park or to a modern setting like that of a cub or a hall. The best time of the year to sport this pastel lehenga would be during the cool months of Indian autumn.
Structured Lavender Lehenga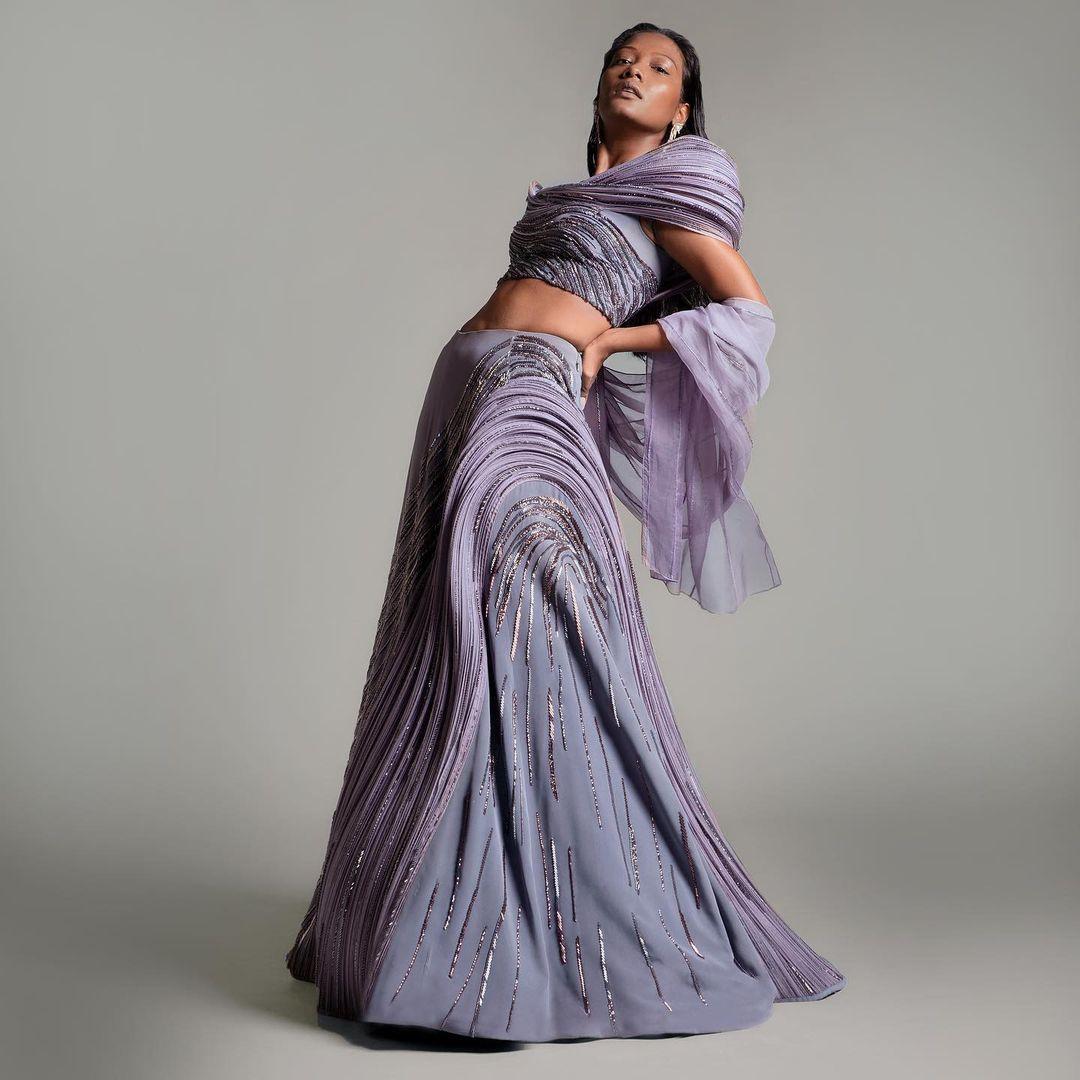 A Concept Lehenga by Gaurav Gupta, the blouse is rendered in glistening glass bugle bead embroidery with a twisted sculptured one-shoulder. The creation slips into a dual-tone embroidered skirt sculpted with sheer organza boning to emulate an undercurrent wave of the ocean and is a breathtaking pastel lehenga pick for the D-day.
Accessories: Statement jewellery
Suited for: Reception, Engagement, Cocktail
Multi-coloured Pastel Lehenga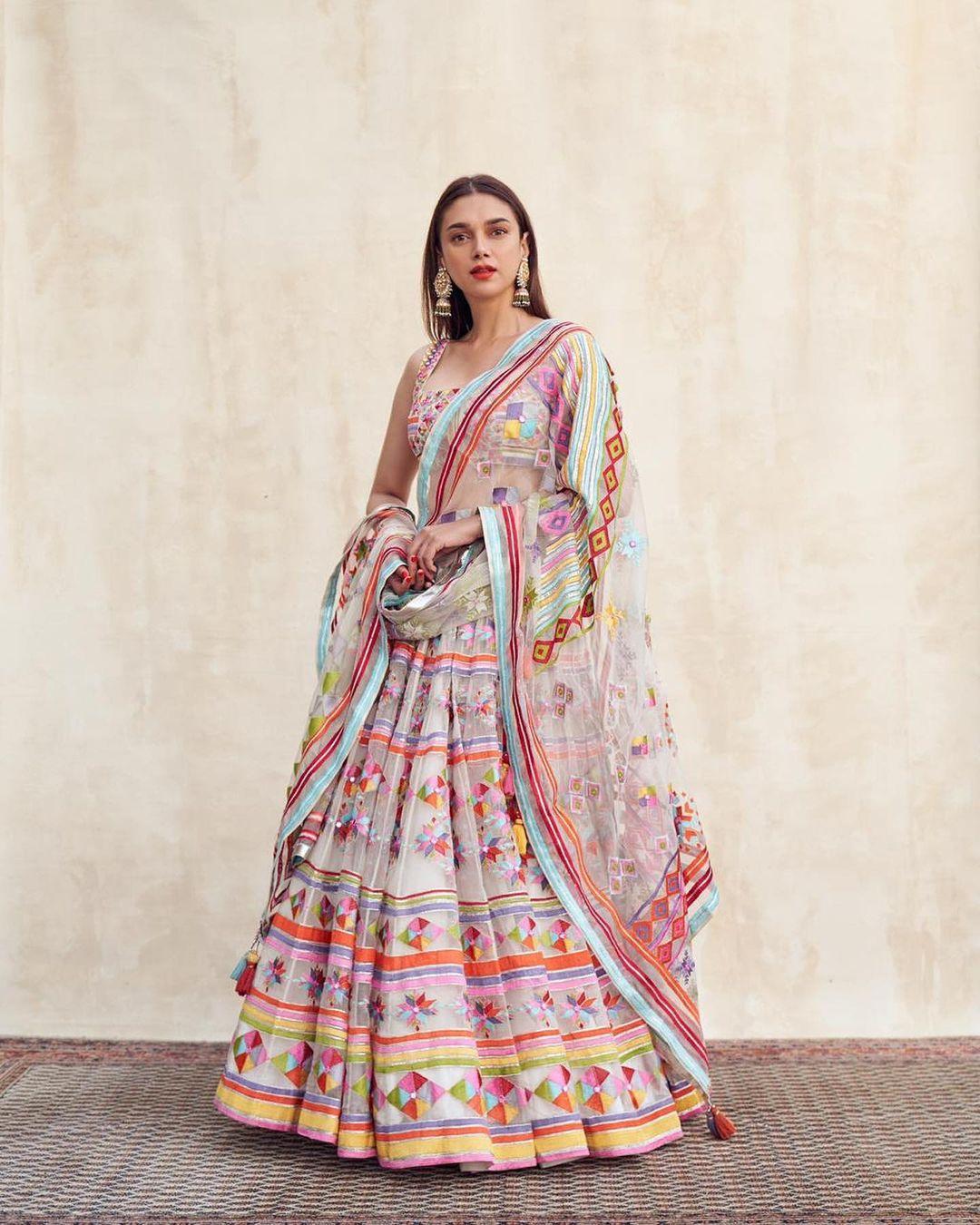 Image Courtesy: Sukriti & Aakriti Official
While the primary colour running throughout the lehenga is a lighter shade of lilac, this multi-coloured lehenga is a beauty that will be the talk of the town without a doubt. The alluring shades that add a pop of colour to this lehenga make it all the more charming.
Embroidered Lilac Net Lehenga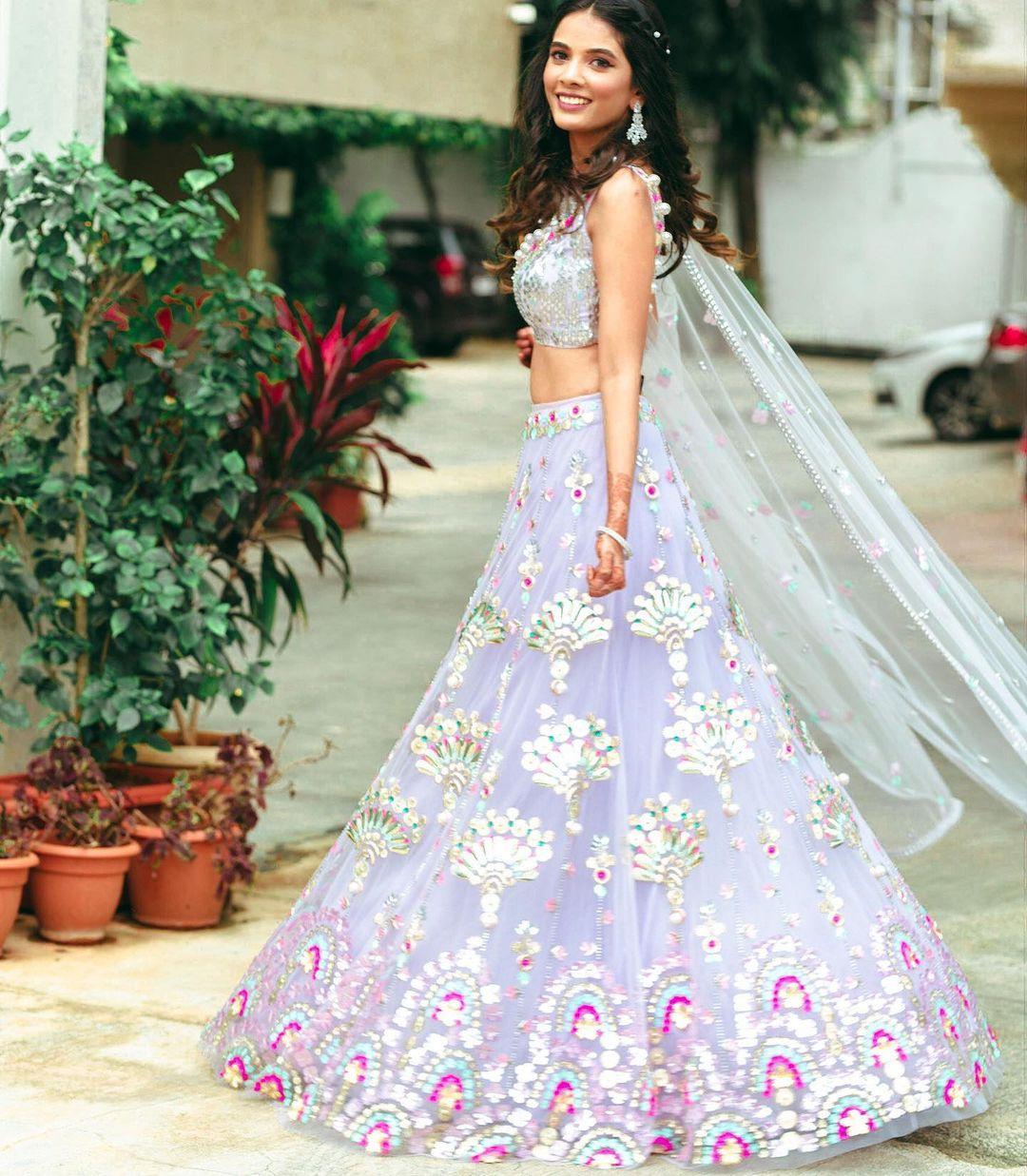 This lilac lehenga choli set by Papa Don't Preach by Shubhika is embellished with OTT pearls, reflective sequins and glass beadwork to make it a stunning pastel lehenga pick for the wedding. Be it your BFF's wedding where you have bridesmaids duties to take care of, or be it your own wedding - this lehenga is a hoot!
Accessories: Floral jewellery set, Heavy diamond jewellery set
Suited for: Mehndi, Sangeet
Also Read: Check Out These Latest Purple Lehenga Designs for Inspo
Pastel Purple Sequin Lehenga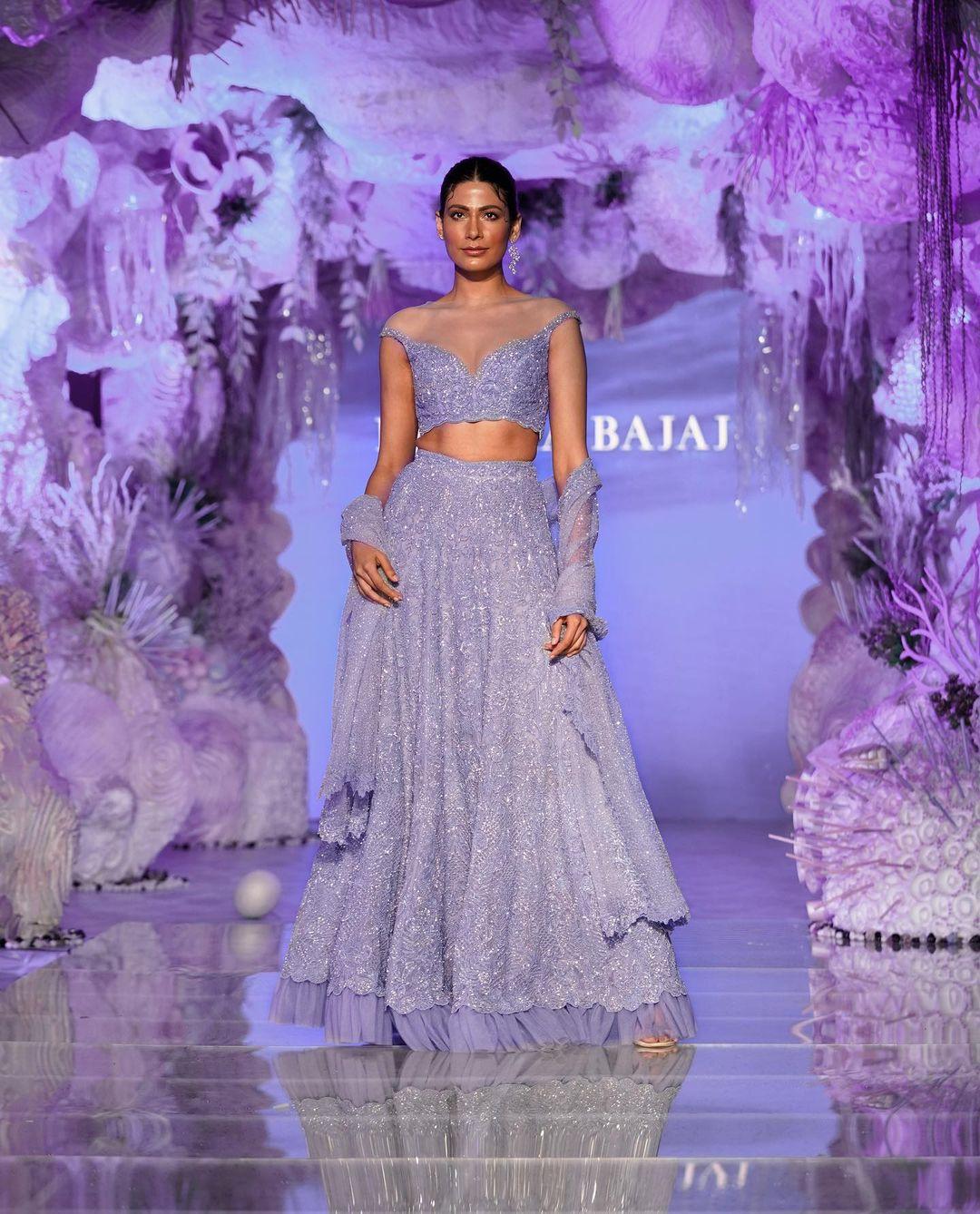 Image Courtesy: Kresha Bajaj
The Cordelia lehenga by Kresha Bajaj in pastel purple flaunts dolphins that are embroidered on the top and the mantas are embroidered at the bottom. Embellished with silk Resham and embroidered with intricate glass beading, crystals and sequins, the lehenga is paired with a crystal blouse, a sparkle Zardosi dupatta to make the bride look stunning.
Accessories: Diamond jewellery set
Suited for: Sangeet, Cocktail
Periwinkle Tulle Lehenga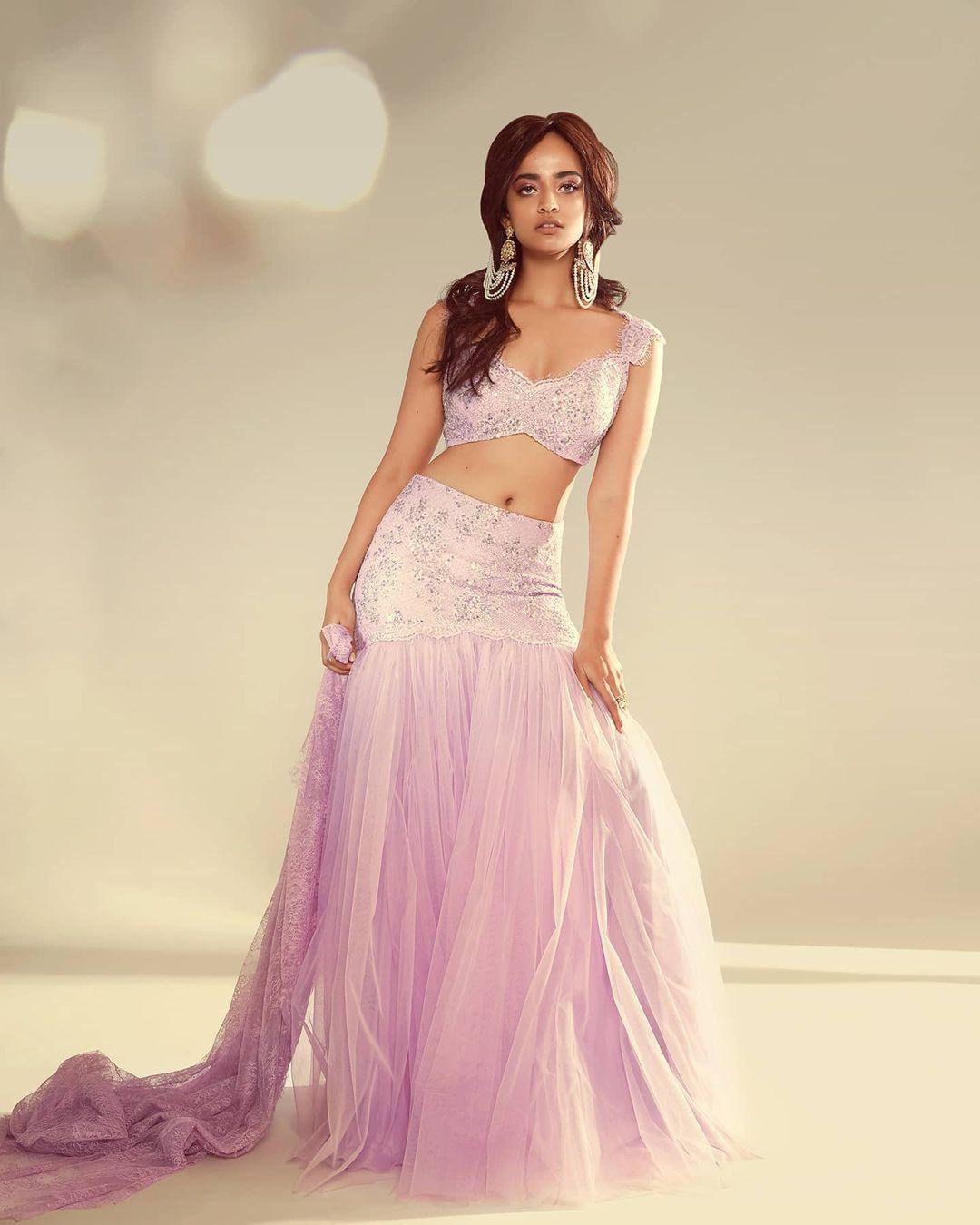 Image Courtesy: Shehla Khan
Lilac lace blouse with crystal embroidery detail paired with a coordinated tulle and crystal embroidered lace belt skirt and matching lace dupatta is a stunning design from the house of Shehla Khan. This pastel lehenga is a lightweight lehenga that will be perfect for the millennial bridesmaids out there.
Accessories: Pearl necklace, pearl earrings, diamond bracelet
Suited for: Sangeet, Mehndi
Violet Thigh High Slit Lehenga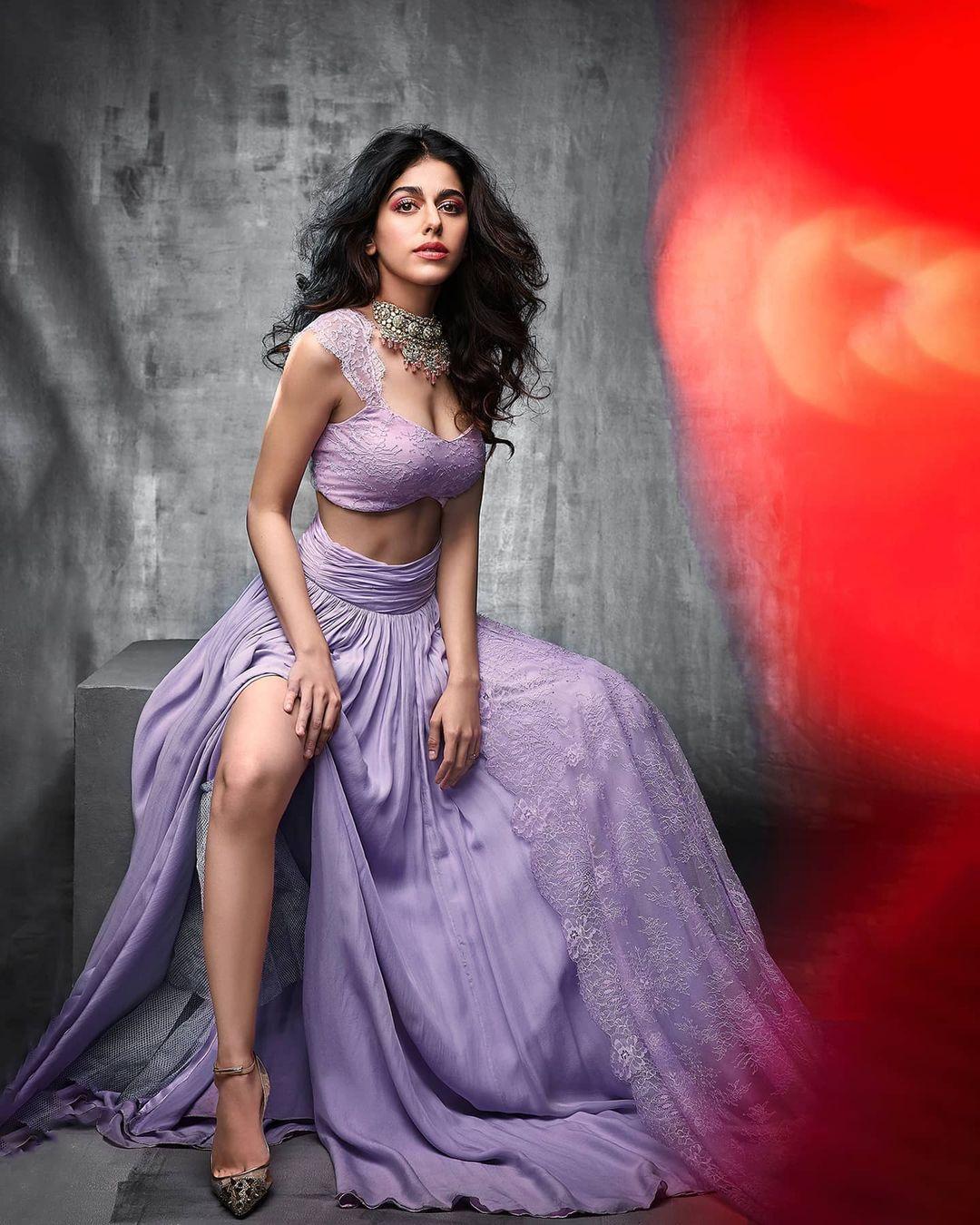 Image Courtesy: Shehla Khan
Thigh-high slit lehengas are trending and how! This violet lace cap sleeve bustier blouse worn with a full flare high slit chiffon skirt and matching chantilly lace dupatta by actress Alaya is designed by none other than Shehla Khan and it is perfect for all the sassy brides out there.
Accessories: Statement necklace
Suited for: Reception, Sangeet
Mauve Lehenga Design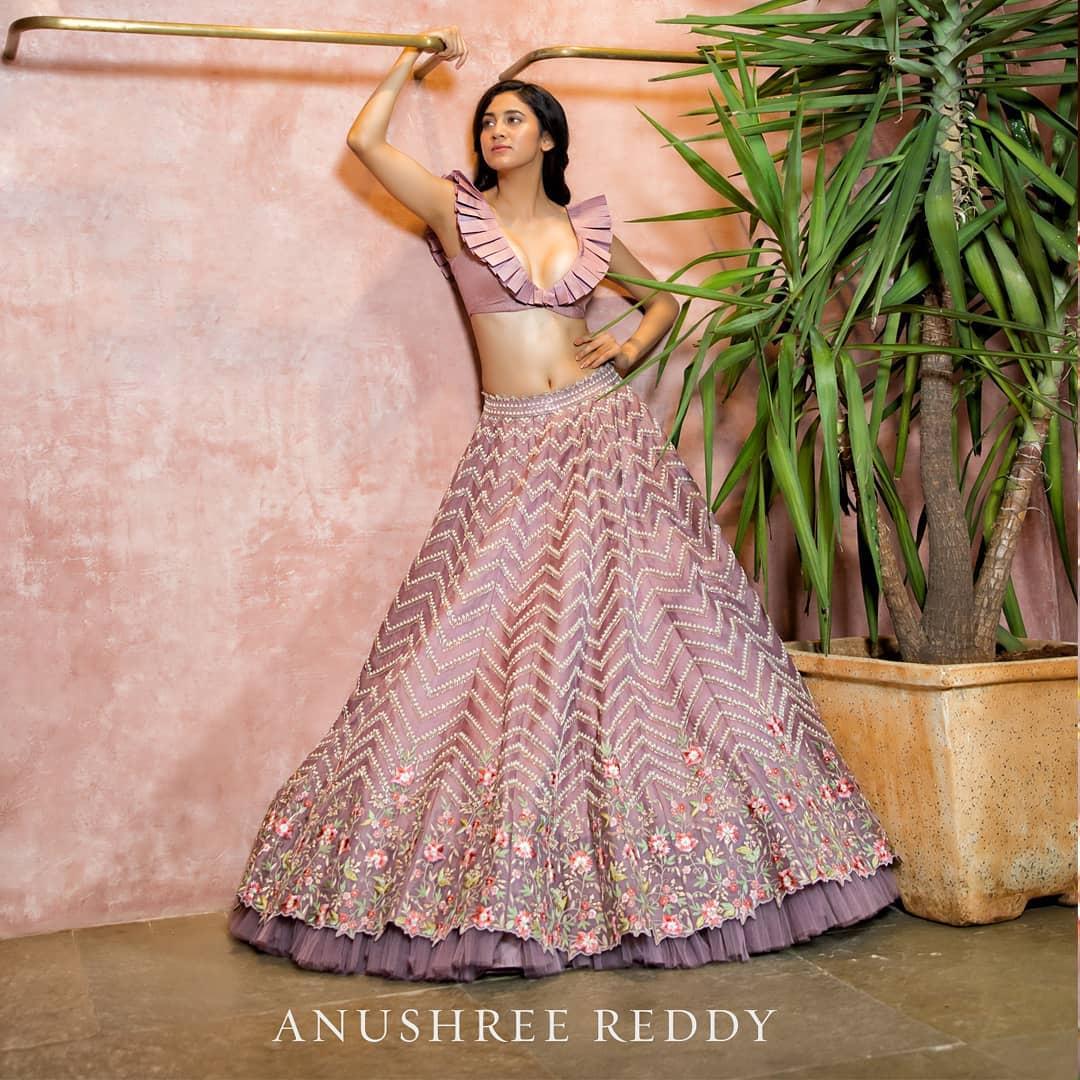 Mauve is a dainty colour for all the blushing brides-to-be and their chirpy bridesmaids too. If you are planning a day wedding ceremony or a day time pre-wedding celebration go for this Anushree Reddy mauve lehenga with embroidery in the shape of waves that run through the shirt and the floral embroidery with an underlying tule layer that makes it oh-so-perfect!
Accessories: Diamond earrings, heavy necklace, Belt/Kamarband
Suited for: Sangeet, Cocktail
Shades of Pastel Yellow Lehenga
Yellow is such a happy and warm colour and the brides of today have not only flaunted yellow lehengas during the Haldi ceremony but also during the wedding and we dig the look! If you are planning to wear a bright and joyous pastel colour for any of your wedding ceremonies, we've got you the perfect yellow lehenga designs here.
Yellow Lehenga with Mirrorwork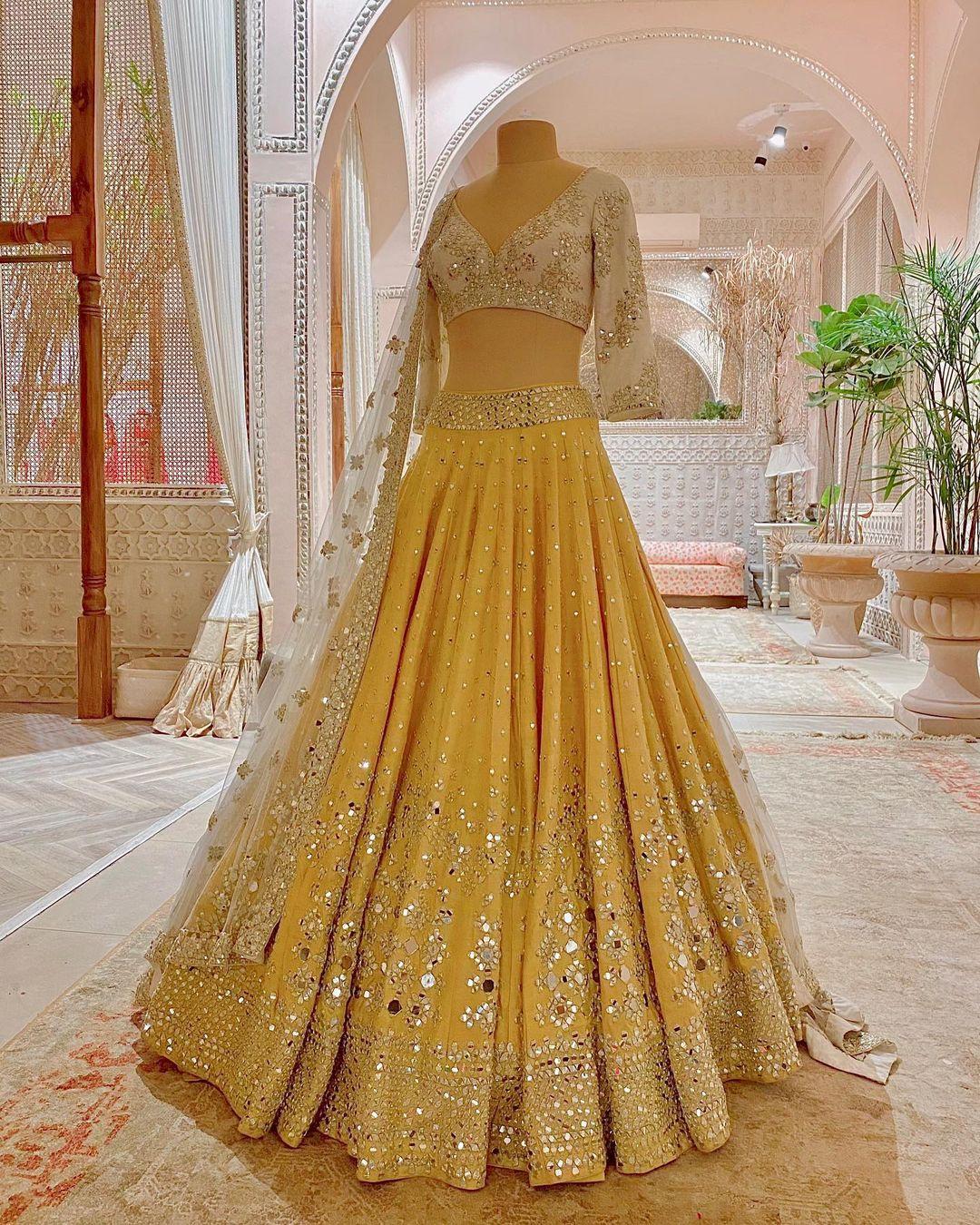 Image Courtesy: Abhinav Mishra
Mirror work can never go wrong! This Abhinav Mishra lehenga in pastel yellow with dainty mirror work when paired with a matching off-white raw silk blouse and a net dupatta is sure to make you look alluring for the ceremonies.
Accessories: Kundan necklace, Kundan set
Suited for: Haldi, Sangeet
Yellow Lehenga with Zari & Resham Work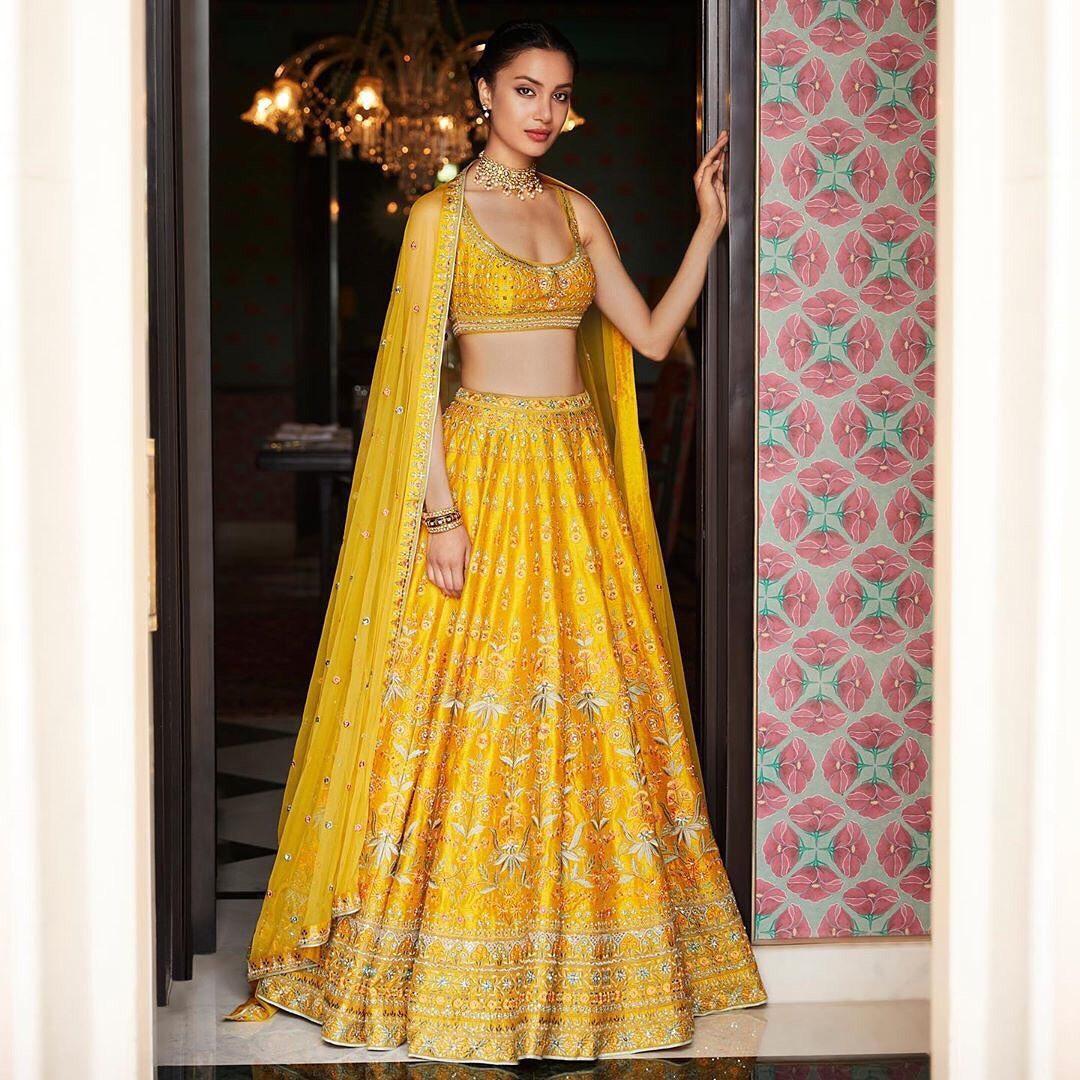 Designed by Anita Dongre, known as the Mehar Lehnga, the subtle hues of whimsy blend with floral motifs in this marigold yellow lehenga is beautiful. Embroidered with the traditional crafts of Zardosi, Resham and Zari, this design is the perfect destination wedding ensemble. It is paired with an embroidered yellow choli and net dupatta.
Accessories: Gold choker, gold earrings, bangles
Suited for: Haldi, Mehndi
Yellow Organza Lehenga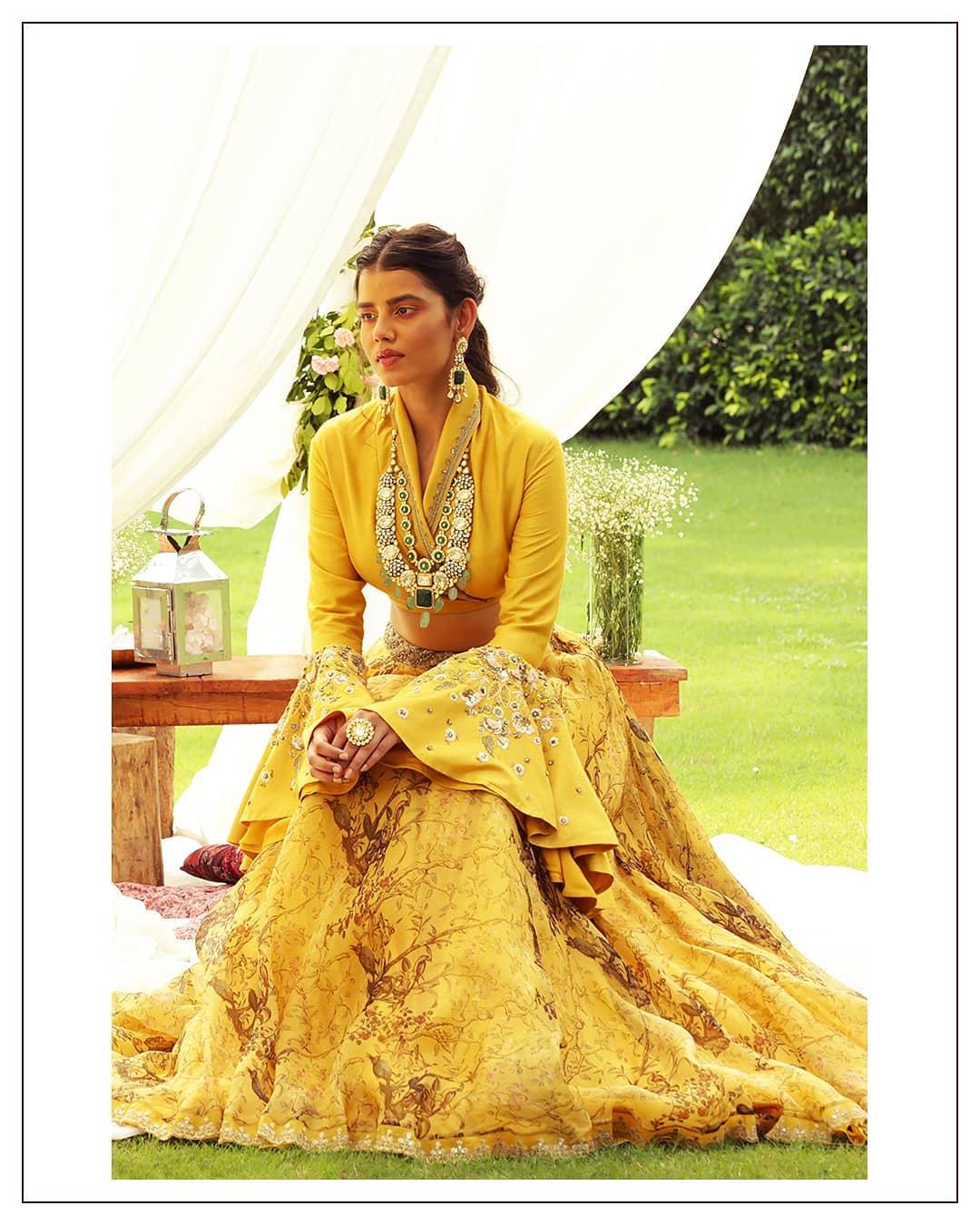 Image Courtesy: Anju Modi
Check out this shawl collar blouse with an intricate bird nest printed skirt by Anju Modi in yellow. The yellow organza bird nest printed circular skirt is paired with a yellow matin Tusaar shawl collar embroidered blouse and floral embroidered bell sleeves is an ideal pastel lehenga pick for your wedding celebrations.
Accessories: Layered necklace, oversized rings
Suited for: Sangeet
Yellow Handpainted Lehenga Design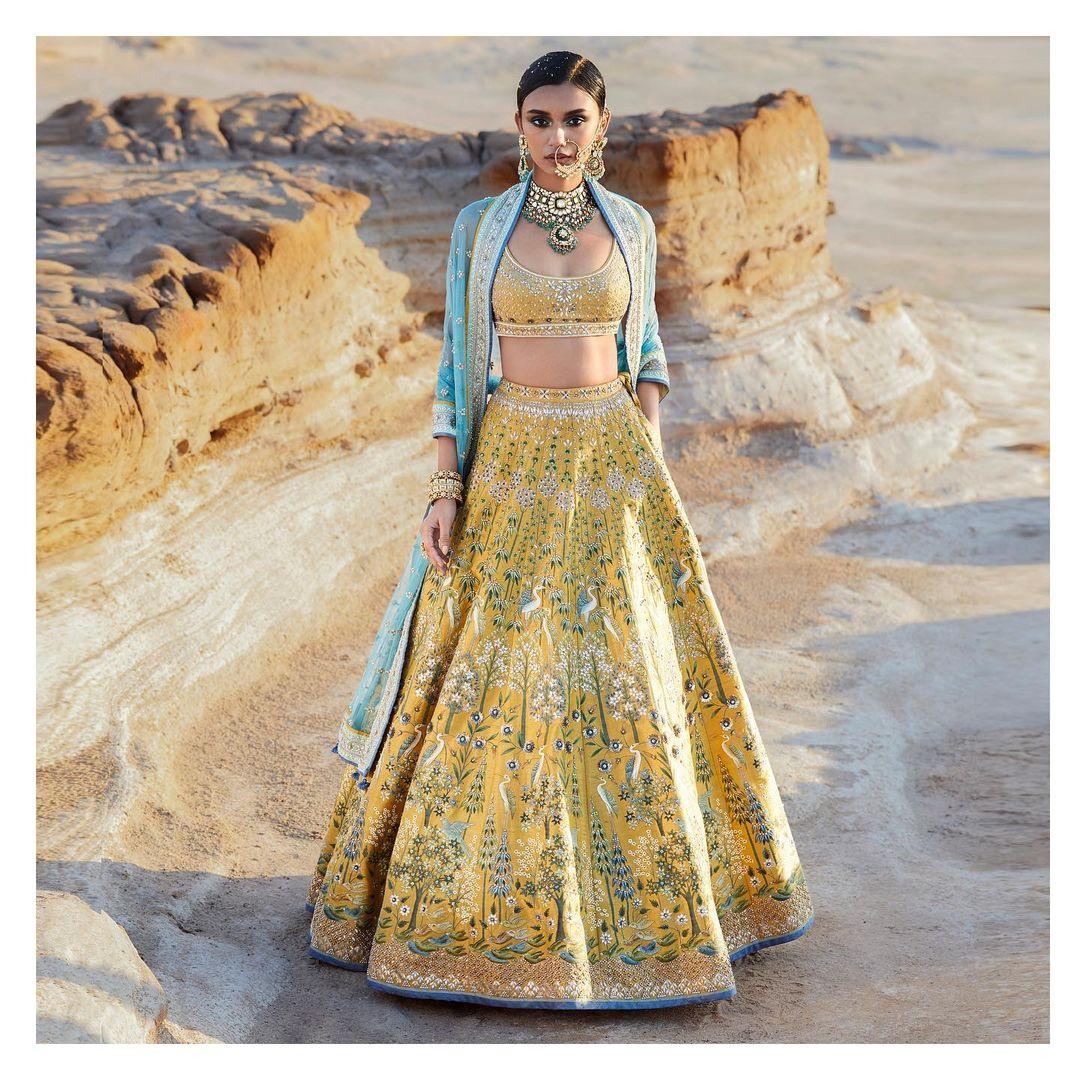 Hand-painted with love and precision, this yellow lehenga by Anita Dongre comes with a contrasting colour dupatta that in fact adds to the beauty of the outfit.
Accessories: Round nose ring, Gold Jhumkas, Emerald haar
Suited for: Haldi, Mehndi
Shades of Pastel Blue Lehenga
The blue pastel lehenga has become a cool shade for brides-to-be. A cool shade for a hot summer! If you have a cool undertone, then these are the shades for you. The best thing about it is that the blouse could be a contrast or matching, it will look spectacular either way. You can pair it up with a pink blouse, yellow, golden, or white and none of these colours would disappoint you. Find your chosen shade of blue and match it with Kalire and bangles to complete your look perfectly.
Cyan Blue Lehenga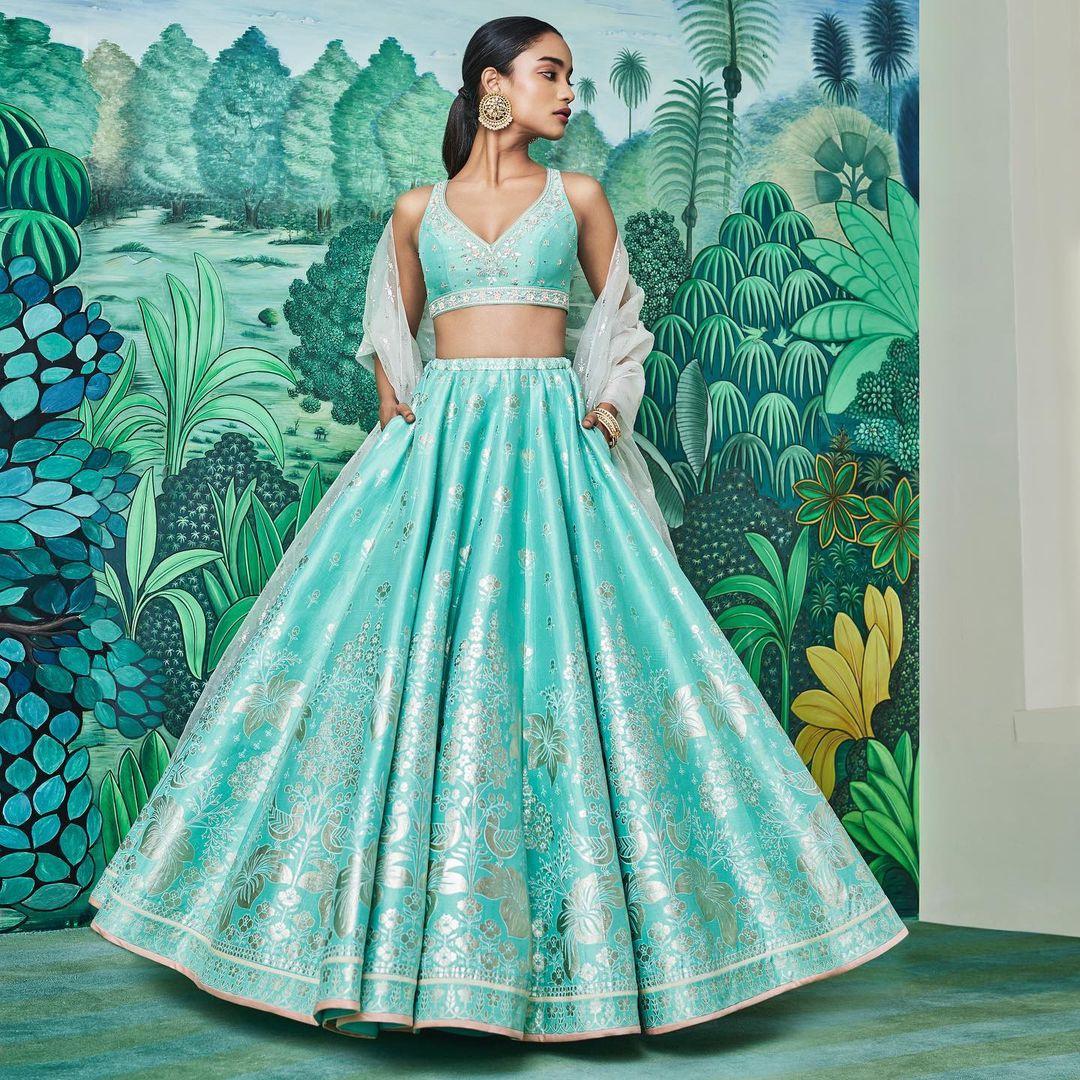 Evoking the splendour of Santorini's vivid blue oceans, this gorgeous cyan blue lehenga with metallic silver thread work comes with an equally stunning choli and a dupatta. Designed by Anita Dongre, the gleaming silver wildflowers engulf the festive and resplendent spirit of weddings perfectly.
Accessories: Pearl jhumkas, pearl jewellery set
Suited for: Destination wedding
Dark Teal Blue Embroidered Lehenga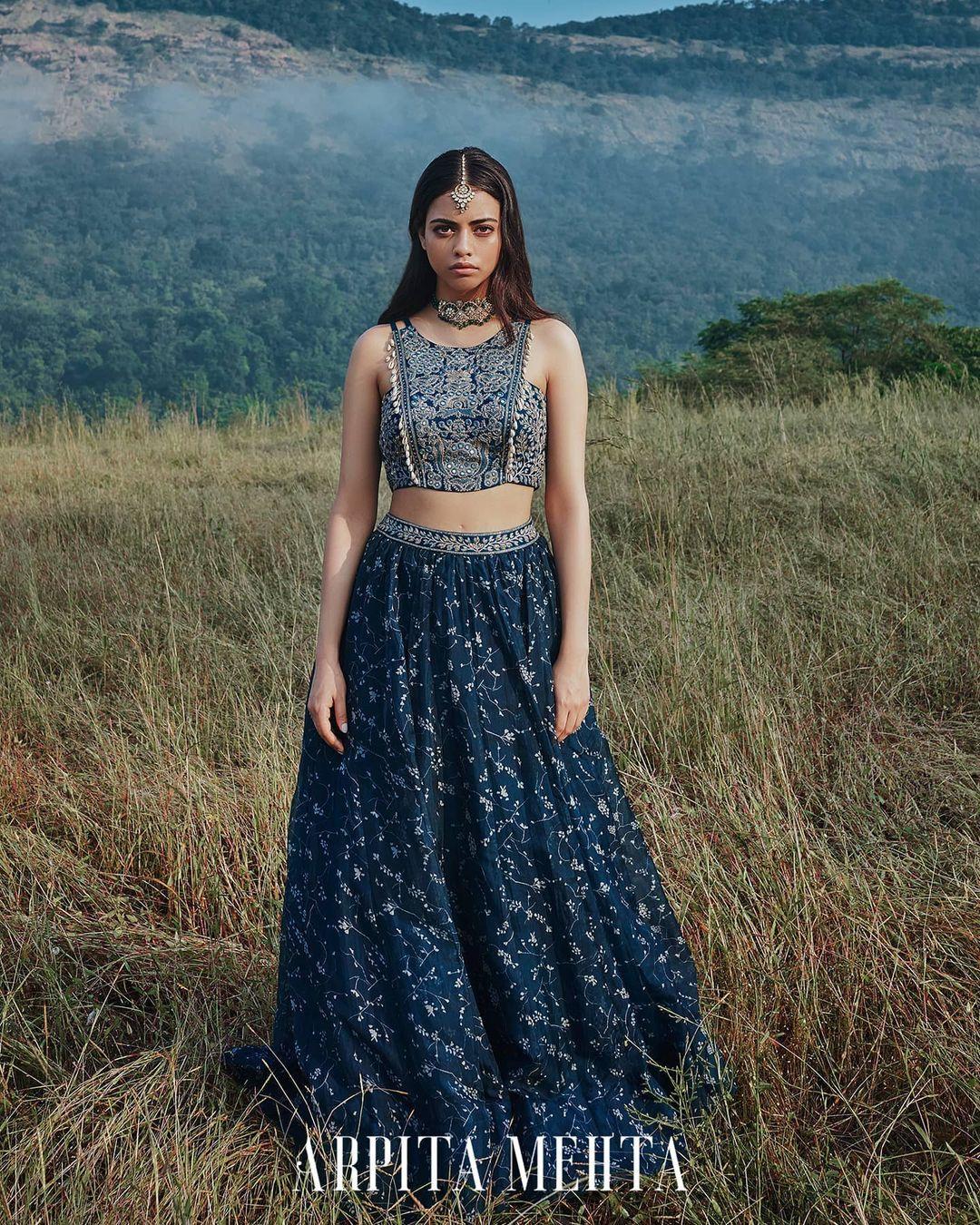 This teal twig lehenga set with cowrie shell detailing on the sleeveless blouse by Arpita Mehta can be your go-to pastel lehenga pick for an intimate wedding ceremony.
Accessories: Oxidised silver jewellery
Suited for: Mehndi
Baby Blue & White Lehenga Design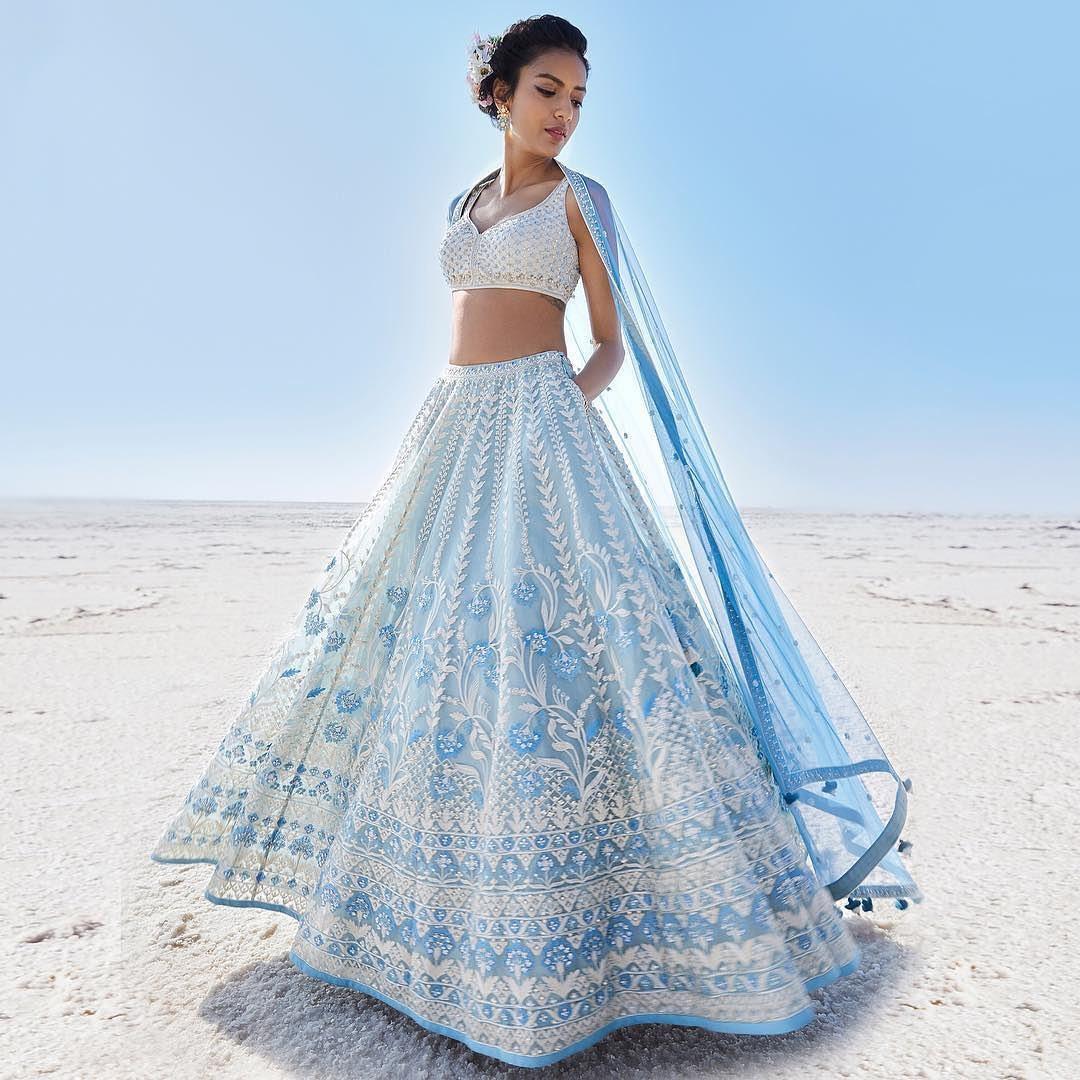 This unique and classic Inez Lehenga by Anita Dongre is crafted in exquisite silk organza. The embroidered floral motifs in hues of blue and ivory are further embellished with sequins and Dori that look stunning against the powder blue lehenga.
Accessories: Diamond jewellery set
Suited for: Wedding, Destination wedding
Tiffany Blue Chrome Lehenga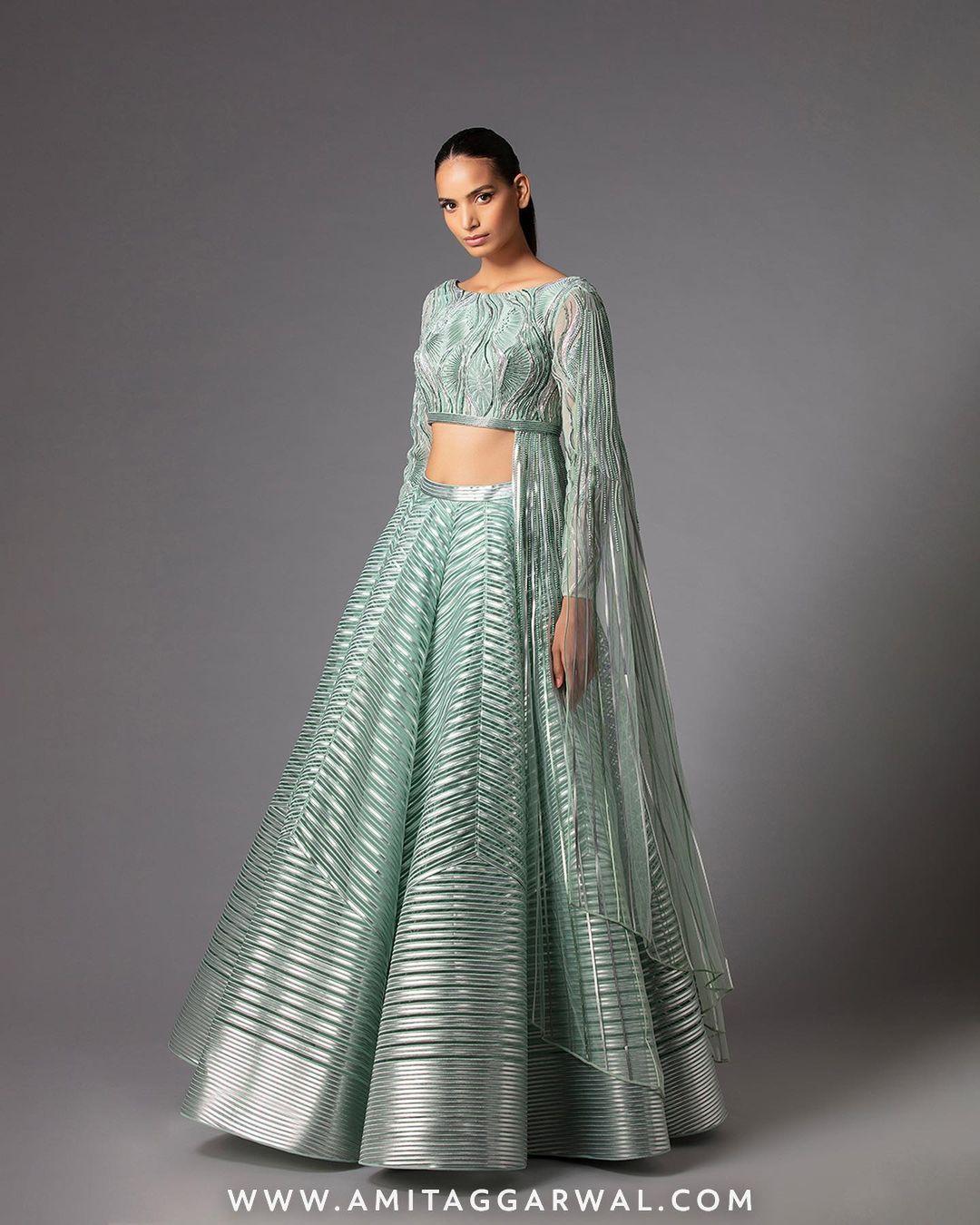 Image Courtesy: Amit Aggarwal
The Amit Aggarwal metallic structured lehenga with hand-embroidered blouse and palla paired with metallic polymer striped lehenga from the couture collection of 2020 is a stunner for the millennial brides who love it edgy.
Accessories: Minimal jewellery
Suited for: Engagement, Sangeet, Reception
Also Read: Amit Aggarwal Unveils His All New Digital Store at FDCI India Couture Week 2020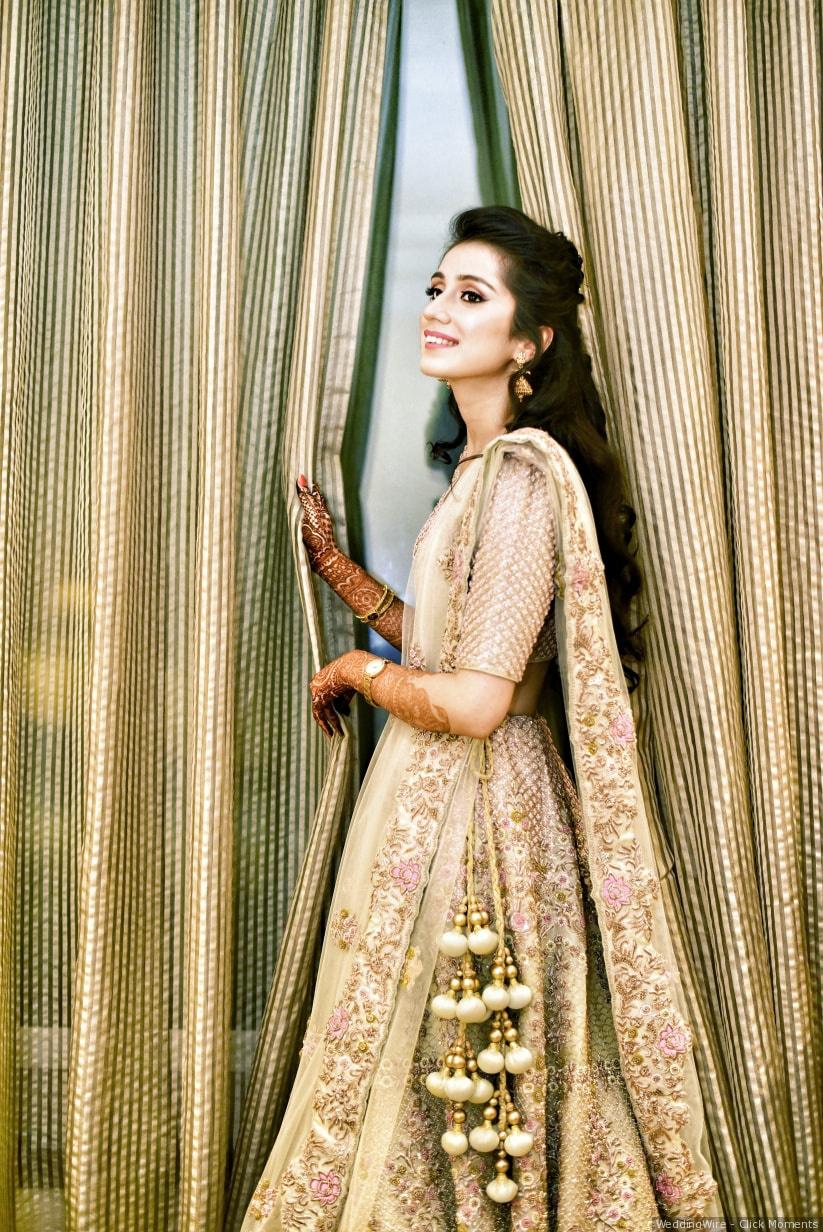 Although Bollywood has provided us with enough examples of beautiful pink lehengas, the story doesn't end there. When we think of a pastel colour, colours like peach or pink flash in our head. But those constitute only a fraction of the innumerable pastel colours. Imagine the variety of Lehengas that are in store for you!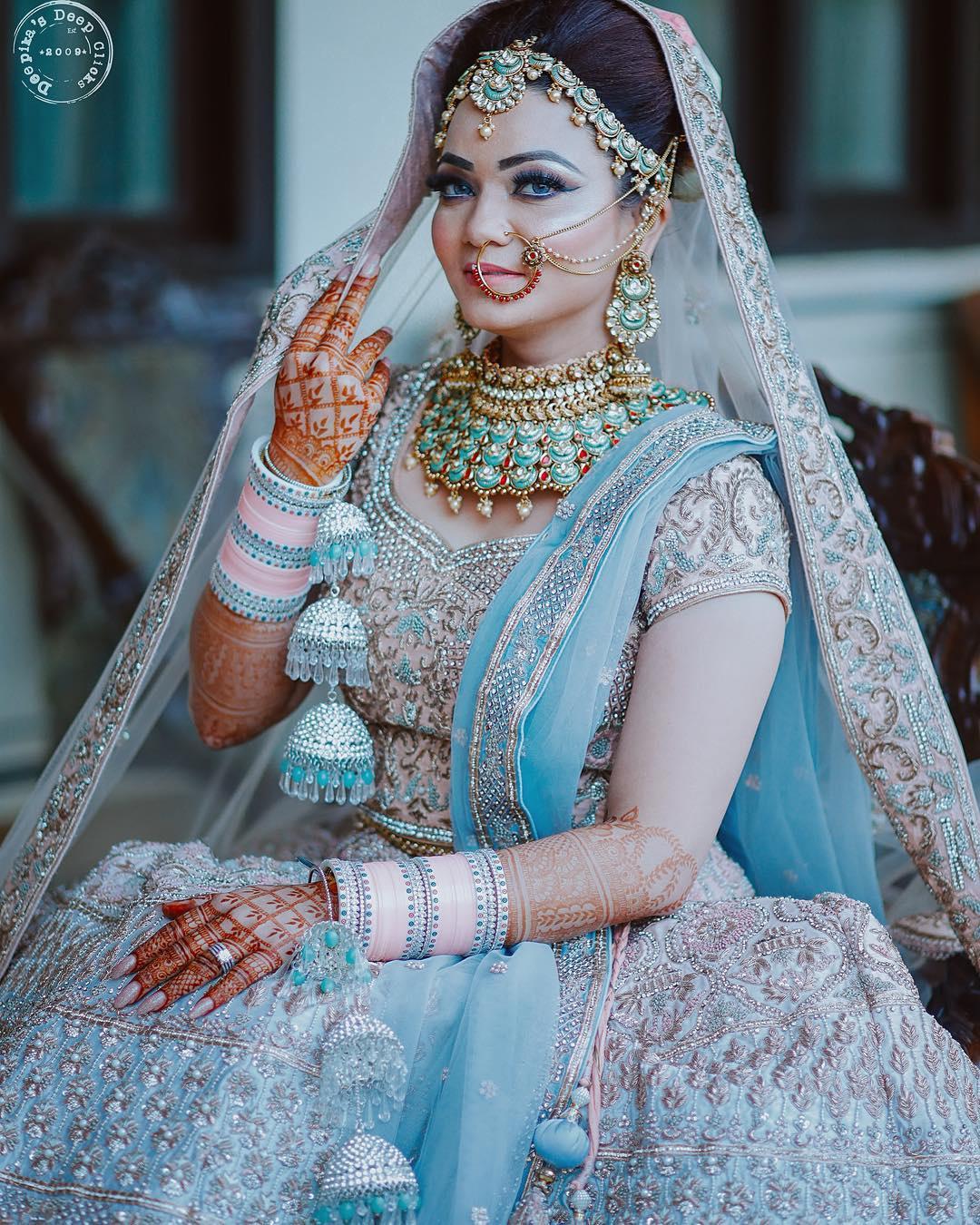 Wedding shopping for your big day isn't an easy job, especially when you have to choose your bridal lehenga. I have heard a lot of women exclaiming "can I wear anything, BUT red?!" Well, the trending fashion statements have come to the rescue. Pastel colours are what you should be looking for. These colours not only make a departure from cliché wedding attire but also give a whole new feel to the occasion. One could feel the presence of Cupid through the reflection of these colours in the wedding hall. It adds to the romantic aura.
2018 has been revolutionary and it can't be denied that it is almost like the golden age of fashion. Pastel lehengas come under the category of "evergreens"! Brides throughout the country have sported the colour in the best ways possible, and when it comes to Bollywood divas, they never fail to leave us awestruck!
Bollywood Inclination towards Pastel Lehenga
Here are some of the recent Bollywood brides who chose Pastel lehenga colours for their special day:
Peach Lehenga for Anushka Sharma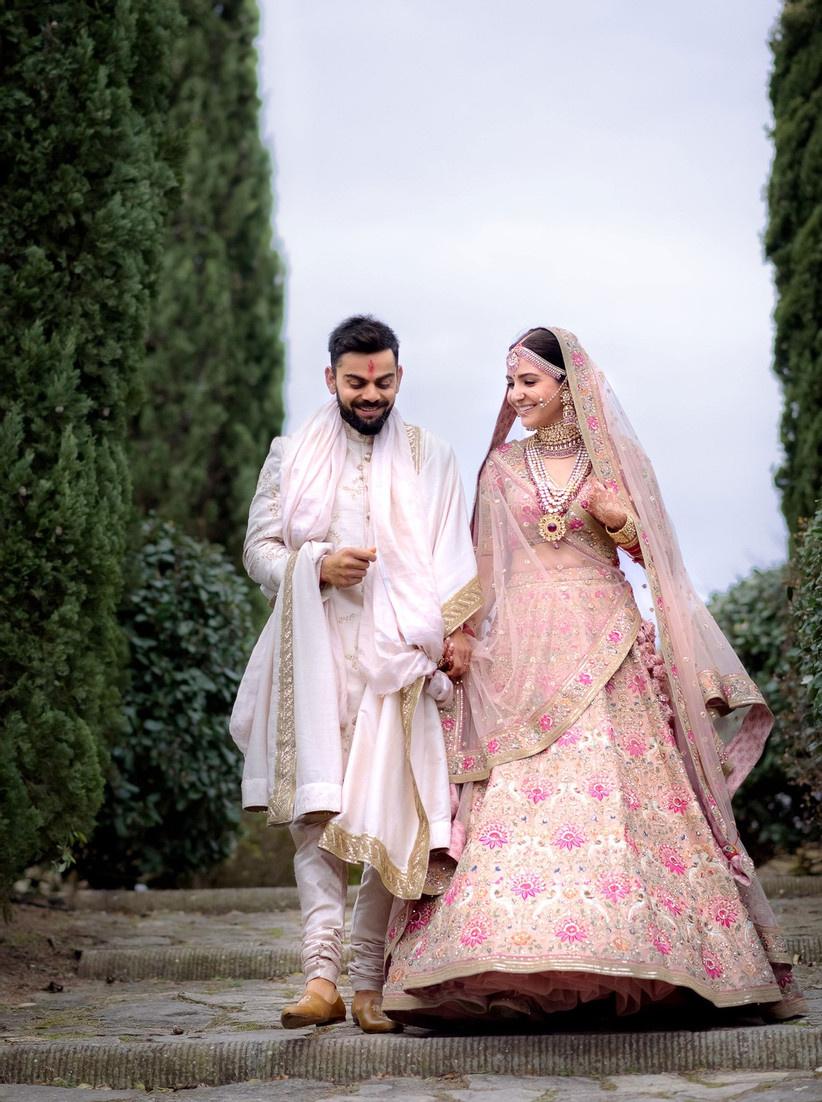 Anushka Sharma has set some goals for all the bachelorettes and would-be brides with her beautiful pink wedding Lehenga. With an equally unconventional Varmala made of pastel coloured Tuscan flowers, her gold and pink mixed jewellery adds to her beautiful look. Not just that, her attire is efficiently complimenting her groom, Virat Kohli's blush pink turban.
Amrita in Multi-colour embroidery on ivory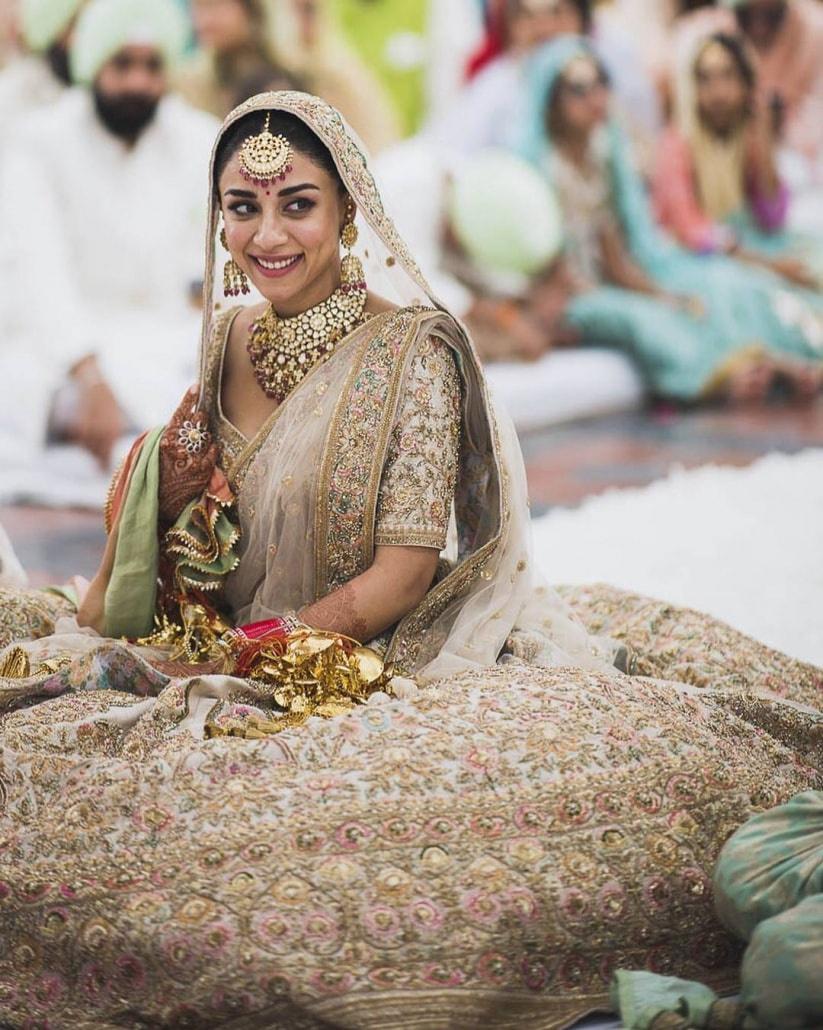 Image Courtesy: Sabyasachi Mukherjee's Facebook page
Amrita Puri has had us go gaga over her Sabyasachi lehenga. The intricate designs made of colours pink, green and yellow and her beautiful jewellery speak for themselves. Keeping it simple is rule number one when it comes to wearing a designer pastel Lehenga, and this is established upon seeing this beautiful bride. Her light makeup helps the attire reflect upon her in an even better way and also enhances her beautiful dimples.
Neha Dhupia in Blush Pink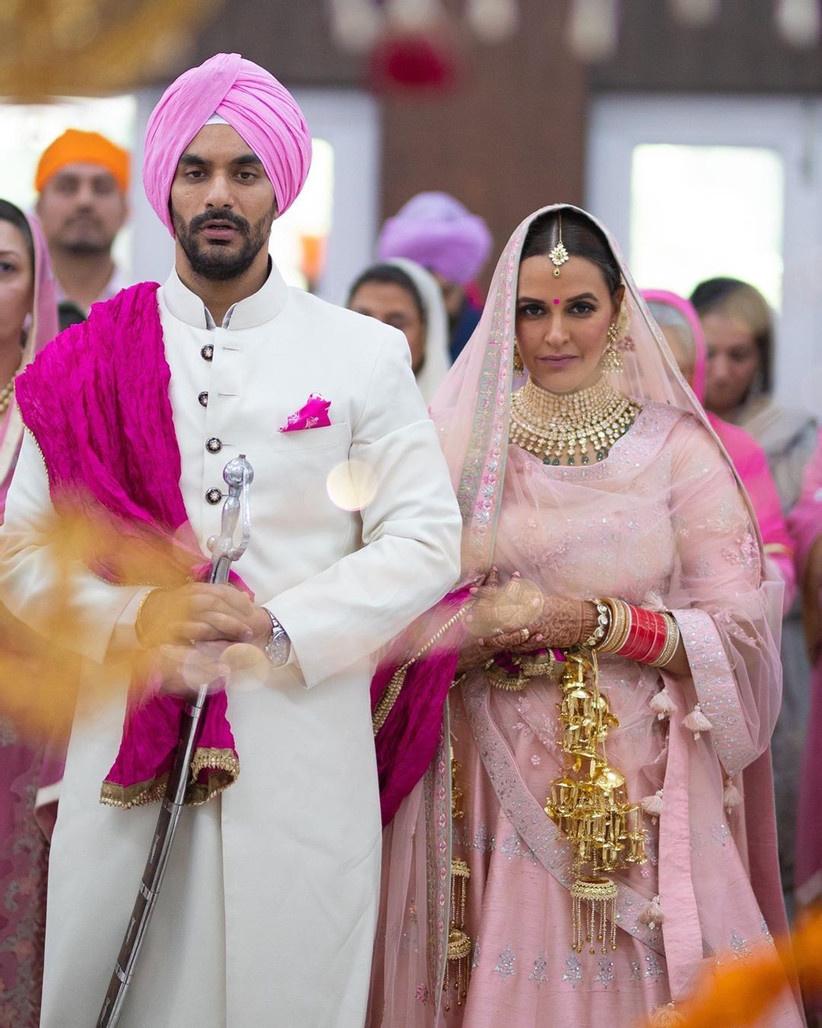 This beautiful actress, Neha Dhupia, known for her bold looks, sported this extremely elegant blush pink pastel lehenga on her big day. With her bridal jewellery set, her set of red bangles add a sense of wholeness to this jaw-dropping attire.
Sagarika Ghatge in Blue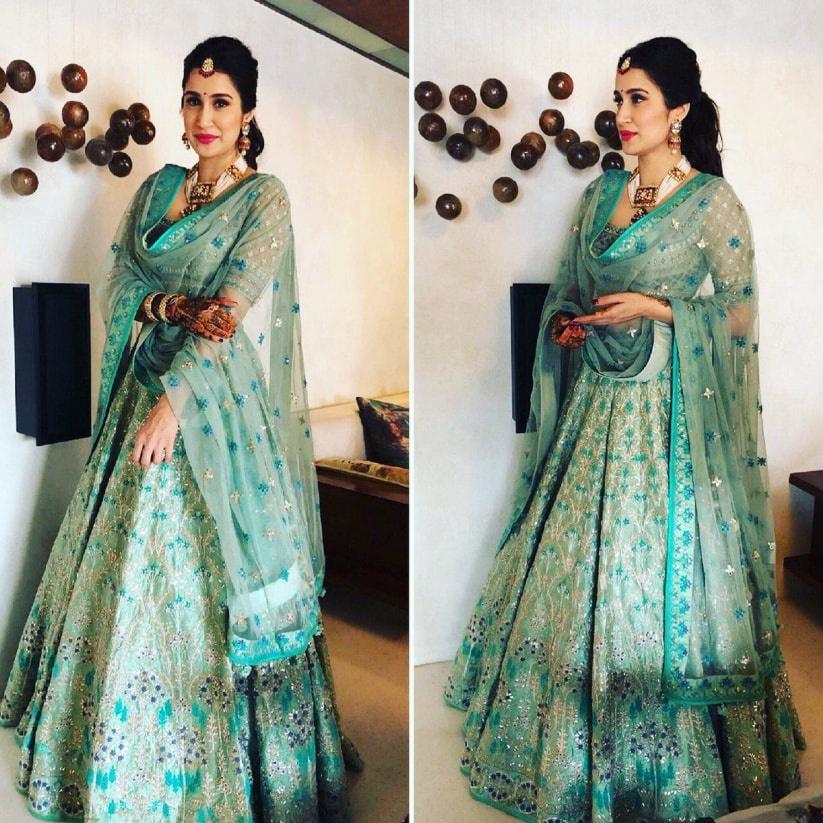 Sagarika Ghatge looked stunning in this teal blue lehenga and we cannot stop swooshing over the outfit.
We haven't seen pastel colours being worn so widely in weddings in the recent past, but they sure are making their presence now and it won't be long when they'll have a clear edge over the red lehenga.
This season, go pastel! Make your bridal lehenga choice today.
Read More -
Mehndi Design | Proposal Lines | Simple Finger Mehndi Design | Arabic Mehndi Design | Propose Day Quotes for Boyfriend | Wedding Anniversary Wishes for Sister | Change Aadhar Card Name after Marriage | Tamil Wedding Calendar | Simple Mehndi Design | Pre Wedding Quotes | Engagement Anniversary Wishes | Funny Wedding Wishes for Bestfriend | Blouse Design | Rangoli Design | First Night Tips for Bride | Wedding Anniversary Wishes