Upgrade Your Wedding Wardrobe with These Peach Colour Lehenga Designs and Look like a Diva!
A bride has to stun her guests with her amazing look, and relying on traditional red lehengas is officially an old-school approach. Check out these peach colour lehengas to help you look your best on your wedding!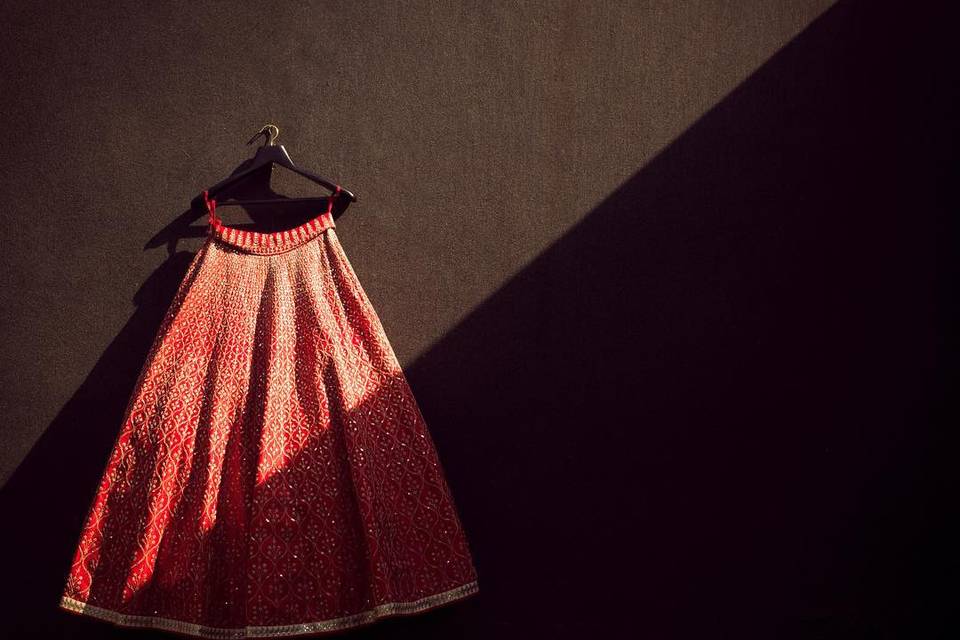 Peach is one of the most popular colours this season and it's no secret why! With its trademark blend of pink and orange hues, peach is a colour that is absolutely perfect for the Indian complexion. Both, brides with a fair look and those who are a dusky beauty can look radiant when wearing this colour. This is why you must consider adding peach colour lehengas to your collection.
Now, we understand that as a bride, you've probably been envisioning yourself in red – a true mark of bridal splendour! But, we're about to show you a few gorgeous real brides who turned that assumption around with their peach colour lehengas.
Check out this bride and groom who matched their outfits in a subtle way!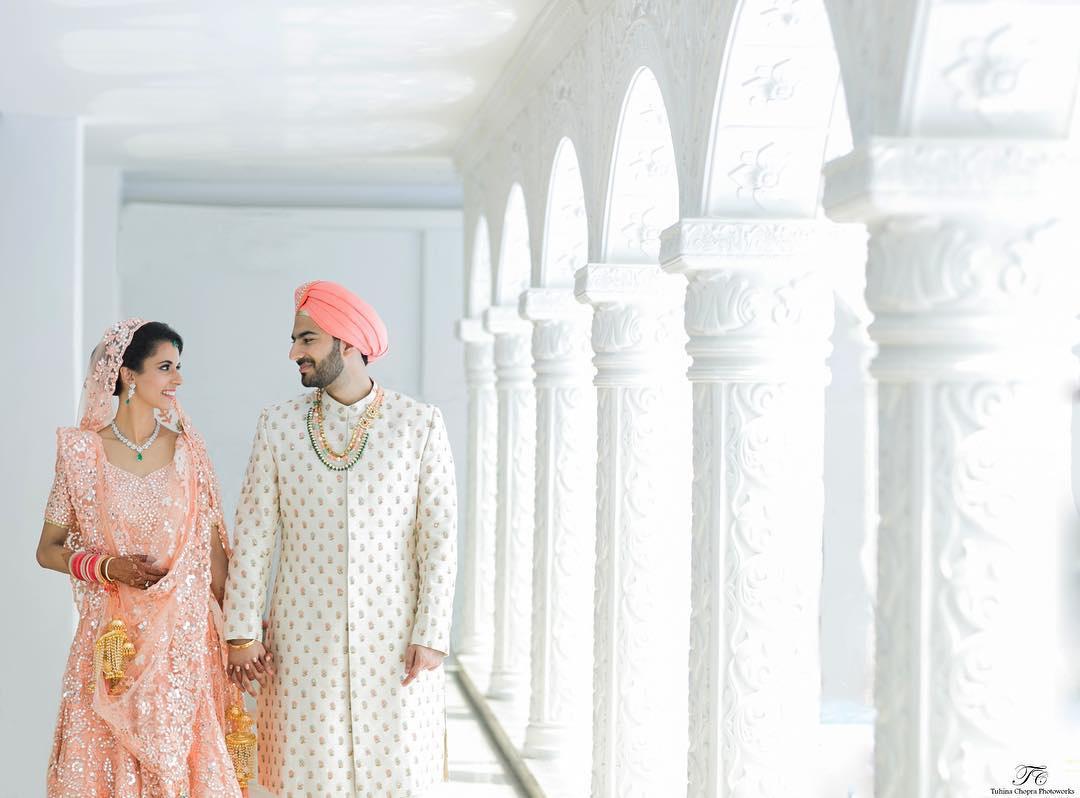 This lovely Punjabi bride decided to ditch the classic red look and went with a light peach colour lehenga with silver embroidery all over. She's also made her look different by adding a diamond necklace set, which isn't something that you generally see on brides on the wedding day, mainly because they pick out heavier pieces of jewellery. The lacework on the dupatta adds a delicate visual element to this lehenga, making it a lovely choice for any bride look for a girly collection.
1. 50 shades of peach!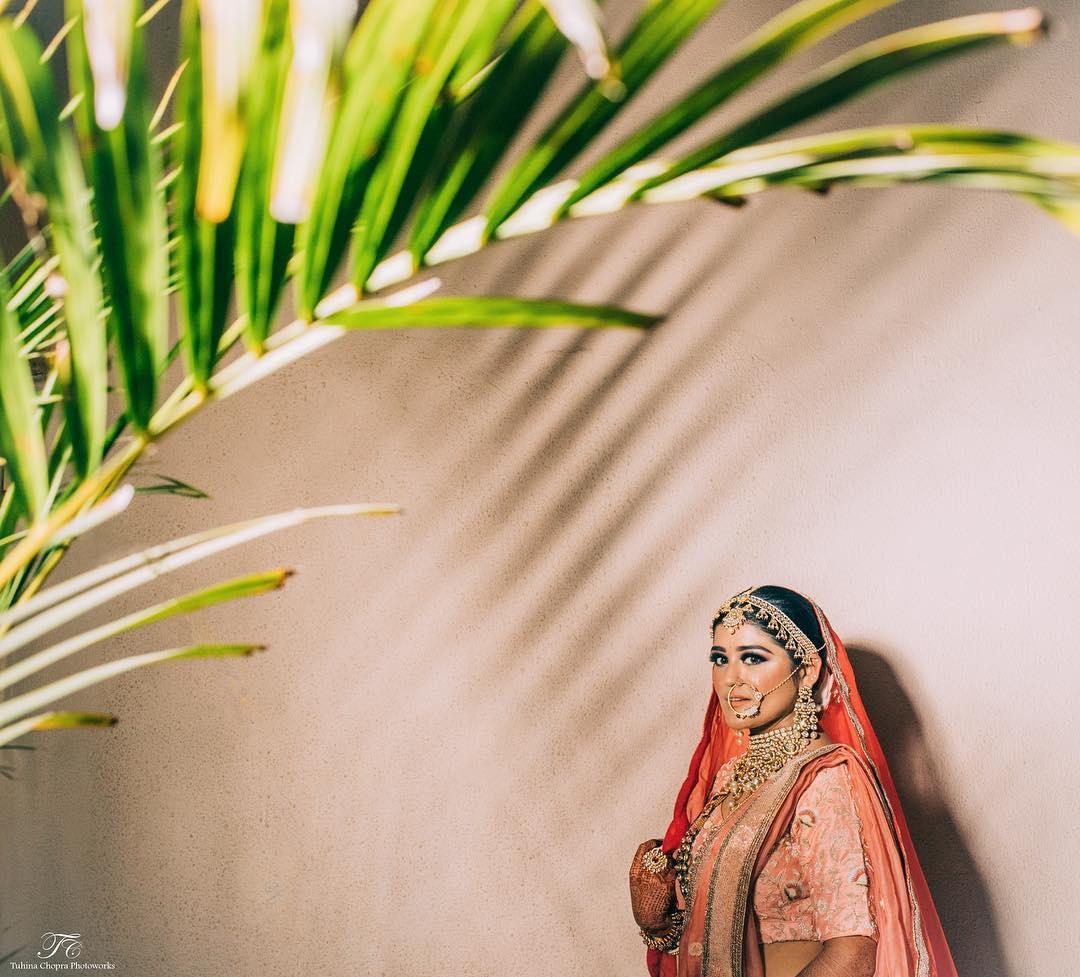 What happens when you cannot decide on a specific shade of peach? You use them all! Peach colour combinations are trending at the moment, especially when it comes to wedding décor. As the colour peach encompasses a crazy shade range that goes from a light, pinky shade to a deep one with orange overtones, using these different shades together can help you create a multi-faceted outfit that's ideal for your wedding day. Notice how this bride's blouse is light, the dupatta is darker, and the Odhni has its own colour too. What a great look!
2. This peach colour lehenga with colourful embroidery!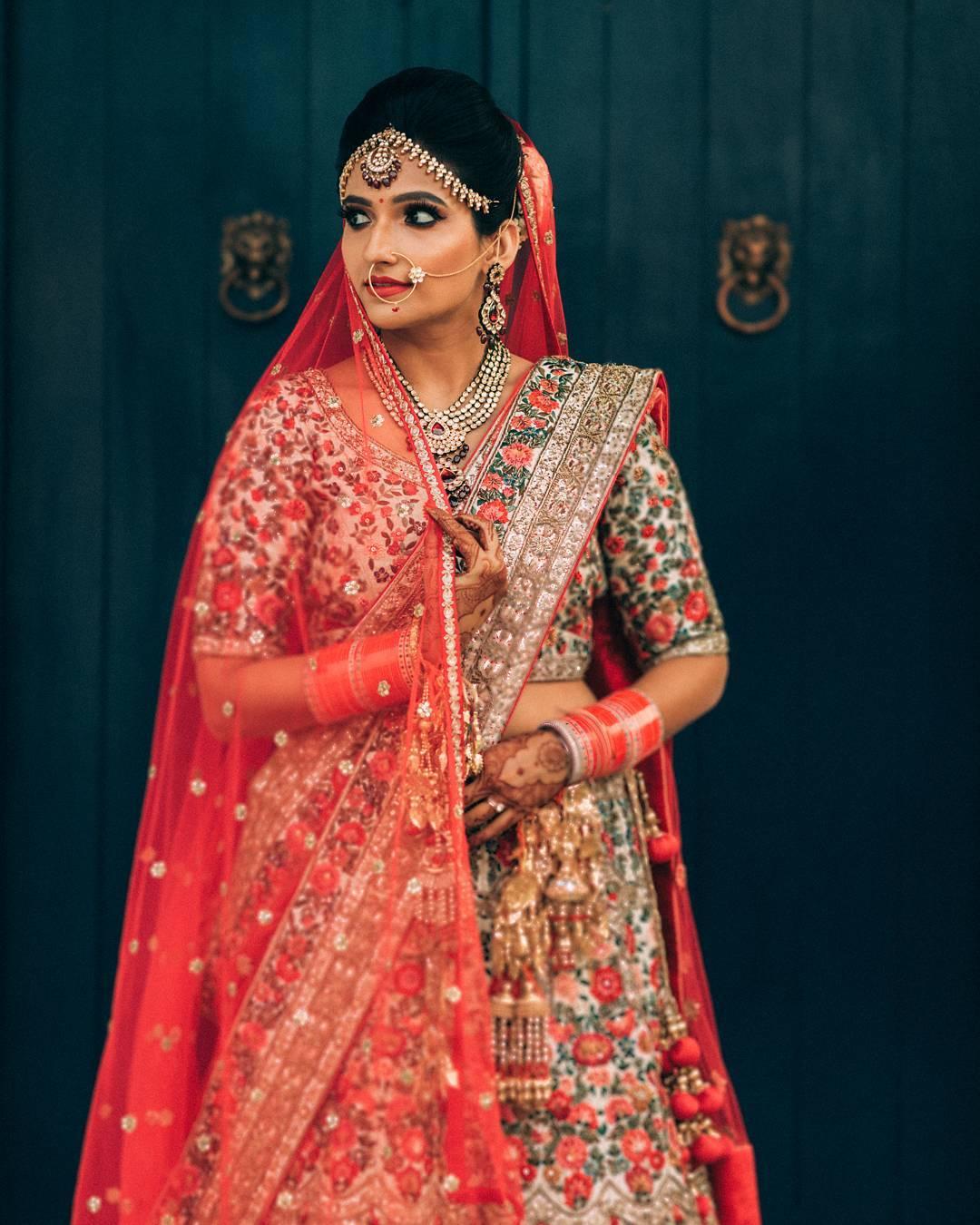 This peach colour lehenga brings with it a very fresh and happy vibe, mainly because it is covered in light floral embroidery and has lots of colours. Though it is made on an ivory base, this lehenga has lovely peach flowers interspersed with green leaves. The dupatta is a deep peach colour that perfectly matches the embroidery on the lehenga. Paired with a stunning Polki set, this lehenga is one that creates a unique bridal look – one that takes a lot of creativity to conceptualise and pull off!
3. Light peach lehenga with heavy gold embroidery!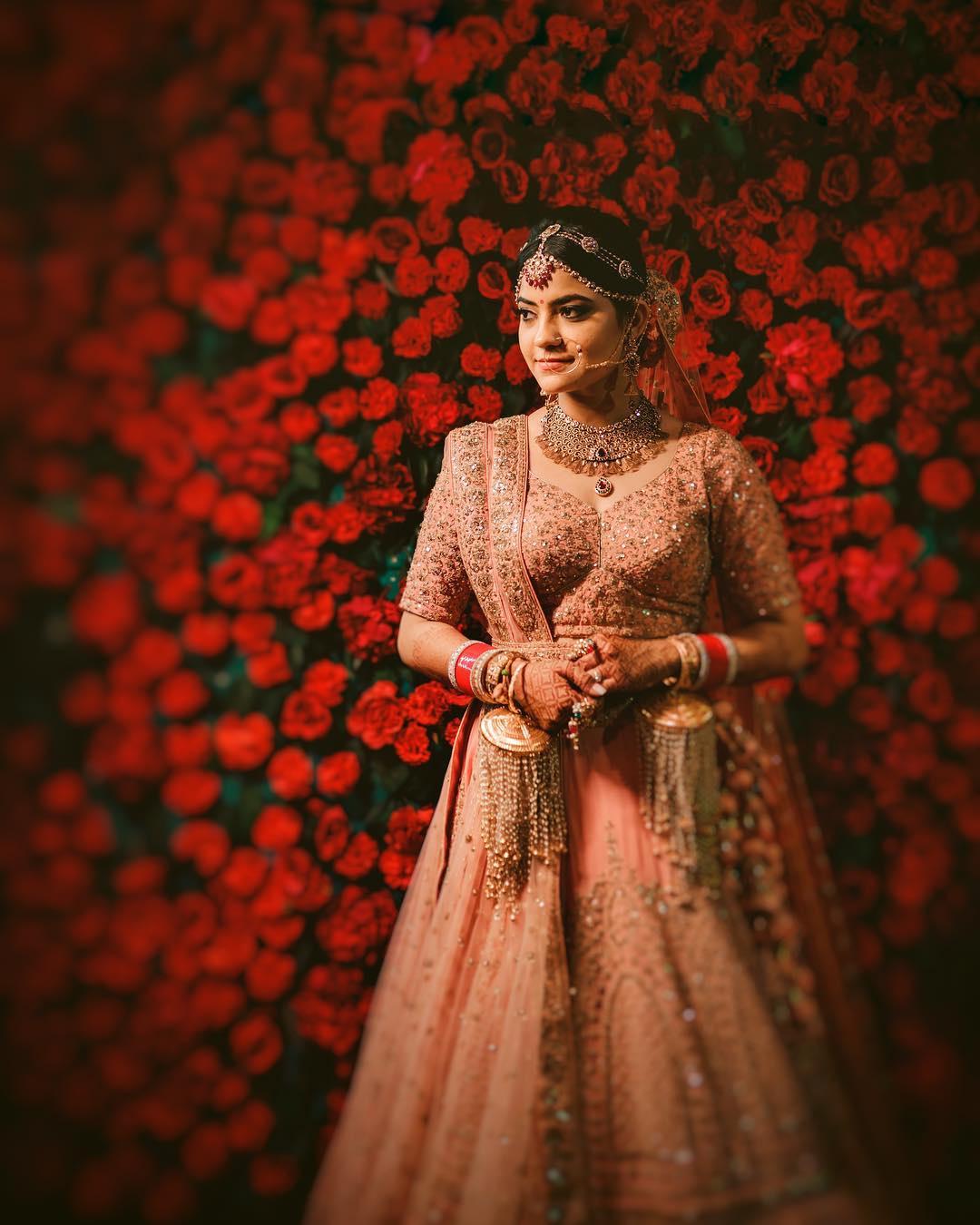 This light peach lehenga is ideal for brides looking for a contemporary vibe. The bodice of the blouse is studded with tiny gold stones and embroidery work, while the skirt has a slight light to heavy effect in terms of the work done on it. This allows the shade of the peach colour lehenga to peek through and show guests that this bride is different! The bride has added a heavy gold necklace along with other pieces of subtle jewellery to complete the look. Her light Dupatta rests on her bun, cascading down her back in a lovely way.
4. Peach lehenga skirt with a pink blouse!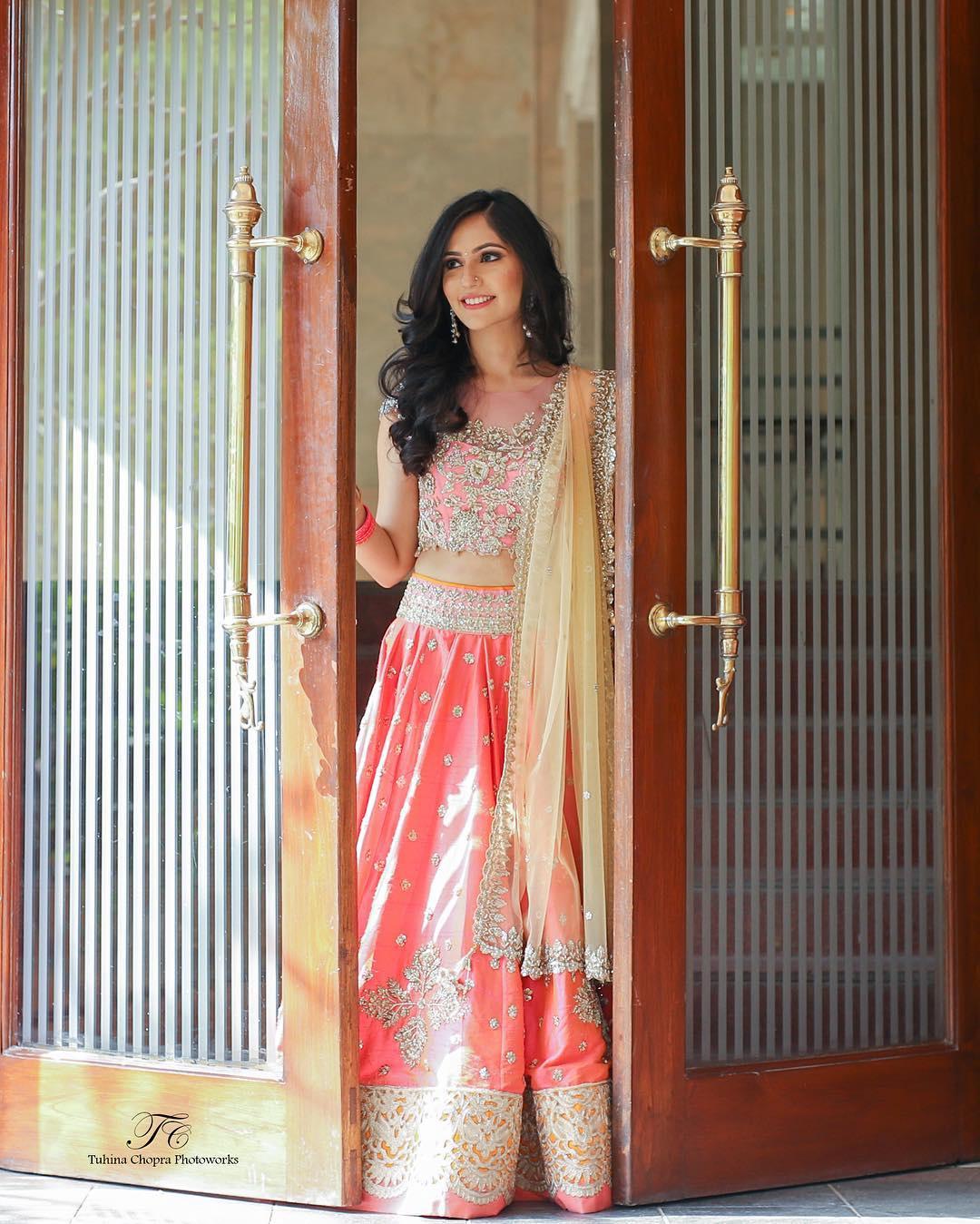 If you look at this season's trending lehengas, you'll see that the contrast look is super hot right now. Though most people think of reds, blues, and pinks when they think of contrasts, this style can easily be incorporated with peach colour lehengas too. Wear a peach lehenga skirt with a contrasting blouse in shades of deep pink or even blue. This can look really cool, especially if you are wearing it for a day event and want a slightly less formal look.
5. This pure peach lehenga for day events!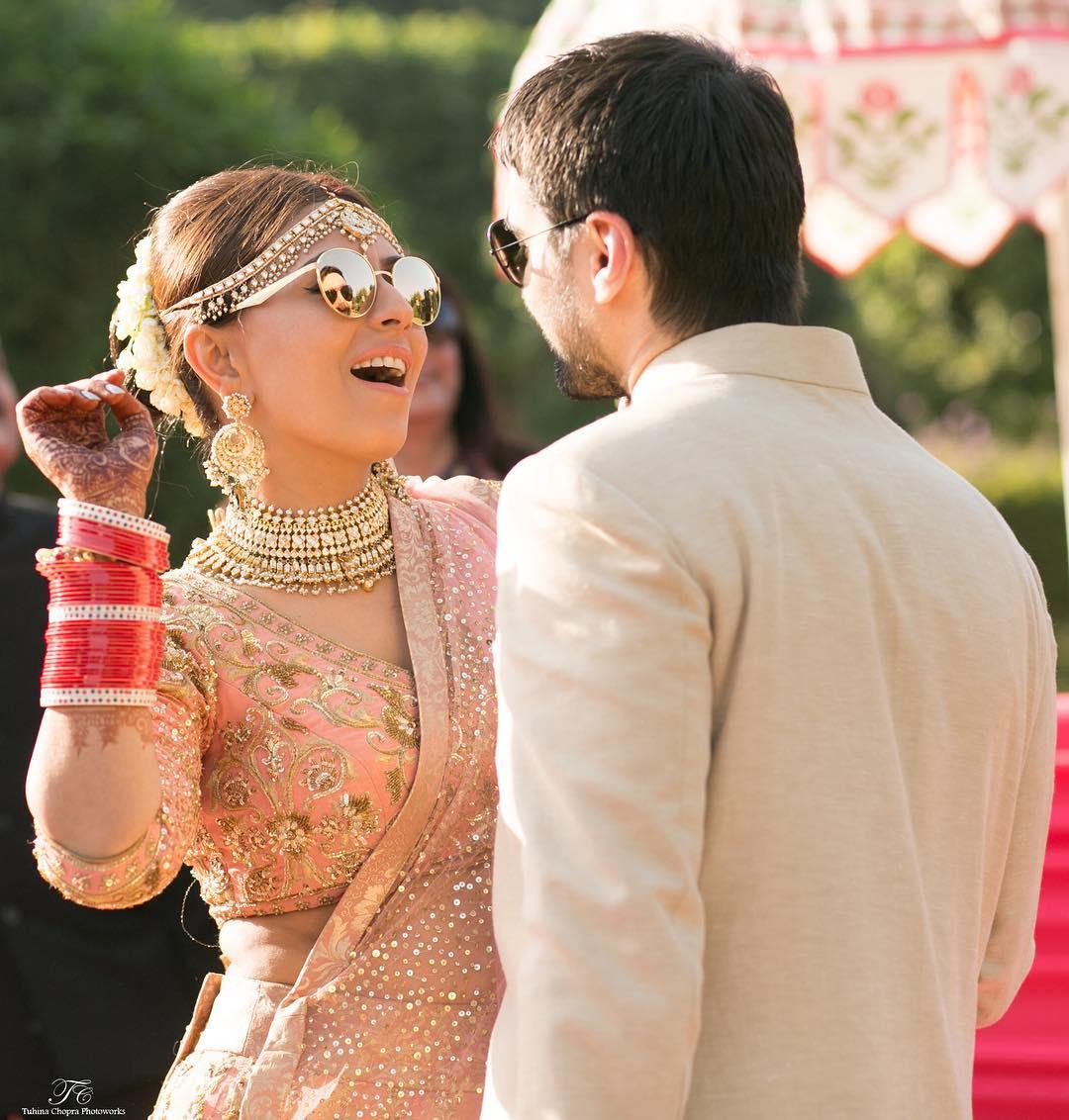 Speaking of day events, here's another peach colour lehenga that totally fits the bill. This bride has decided to accessorise her look with mirror sunglasses to show the world how cool she is. When you've got a look that's as effortless, you'll be swaying in time with music too, no matter whose wedding it is! Pair the look with intricate jewellery to accentuate the warm tones in the garment even further! Add a dab of peach lipstick and you're good to go!
Peach colour lehengas can help you create a range of looks, from light ones ideal for the Mehndi to heavy bridal ones with deep peach Odhnis. Do explore outfits in this shade when you're constructing your wedding collection, and watch how you will marvel your guests with ease by looking so great! Check out inspirations for peach lehengas from some of the leading designers in the country, so that you know what you can expect with this cool choice of outfit.
Get in touch with our makeup artists to create a glowy, peachy and radiant look!