Wedding Music
Wedding Music:Check out prices, availability, types of music and other services to book the best wedding music for your wedding ceremony. Right from the Band Baajaa in the Baraat to the slow evening cocktail with live Blues or the fun Sangeet with Jazz music - make sure the wedding music you pick adds to the joys of your celebration and complements them right!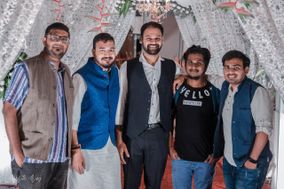 Oxygen Music Band
· Wedding Music, Colva, South Goa
Formed in the year 2003, Oxygen Music Band is a world fusion music band based in the city of Goa. Music is one of the basic needs for every celebration especially when you are about to start a new journey with your better half. What better option you can think of when you can a live music band right... (Wedding music)
Price Per Event
From ₹100,000
Dynamo
Wedding Music, Kurla, Mumbai
Located in Mumbai, Dynamo is a well-known organizer for weddings and related ceremonies. The company takes pride in offering a range of varied music and entertainment services that will help you turn your event into an authenctic celebration. Its professionals will take care of your needs, big or... (Music for weddings)
Price Per Event
From ₹25,000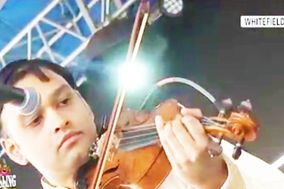 Karthik Subramany
Wedding Music, Malleshwaram, Bangalore
Karthik Subramany Live, Fusion Band, conceptualizes Live Music and blends with genres including Carnatic, Folk Music, Hindustani, Jazz, Pop and Rock. Karthik Subramany Live is a leading instrumental fusion music band based out of Bangalore. The band specialises in providing concerts for weddings... (Wedding music for ceremony)
Price Per Event
From ₹99,000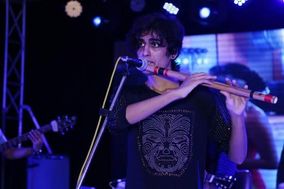 Nikhil Honkalas - Flutist
Wedding Music, Panvel, Mumbai
Nikhil Honkalas - Flutist is an artist based out of Navi Mumbai and he is an artist at heart, is a multi-faceted person. He is a flutist and what he is really good at is playing the flute and Nikhil started with a small flute at the teenage and it has been his best companion since. His passion for... (Wedding music for ceremony)
Price Per Event
From ₹5,000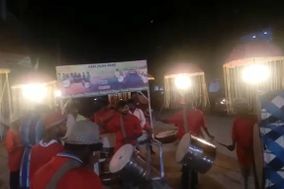 Vani Brass Band
Wedding Music, Saroor Nagar, Hyderabad
Vani Brass Band is a music service based in the city of Hyderabad. They are situated in the city of Hyderabad and can reach your area according to your needs and suggestions. Music and band set-up is required for each occasion of your wedding and you can have the most out of the assets accessible to... (Wedding music)
Price Per Event
From ₹10,000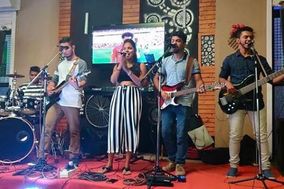 Horizon Band, Goa
Wedding Music, Anjuna, North Goa
Horizon Band is a music service provider based out of Goa. No Indian wedding is complete unless there is a lot of dancing and the latest music on which your wedding guests dance their heart out. so if you are searching for a company that can offer you with the best musical services ora ll your... (Wedding music)
Price Per Event
From ₹60,000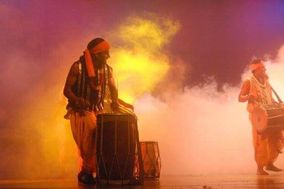 Dhol Beats
Wedding Music, West Patel Nagar, West Delhi
Dhol Beats is a wedding music company based out in the city of West Patel Nagar. They are a team of highly talented and skilled musicians and artists who perform at your wedding and make your guests groove to their beats. They are well experienced and well-mannered performers who are enthusiastic... (Music for weddings)
Price Per Event
From ₹21,000
The Indian wedding ceremonies are almost always a grand celebration - irrespective of the guest list. And music plays a very significant role in making these weddings such an incredible and joyous occasion. Be it the band that plays at your Baraat or the Shehnai that plays as your wedding background music as you take the pheres around the pious fire - Indian wedding music is that one thing that remains constant through the various cultures and the different rituals that weddings are made of. Picking the right music for the ceremonies can make your wedding unforgettable and enjoyable.
The WeddingWire India app and website have a multitude of wedding music and entertainment vendors all across the country. Once you have picked a wedding venue and hired a wedding planner to bring your perfect fairytale wedding to life - you and your planner can go through the list of wedding music vendors WeddingWire India has to offer and make sure that the bridal entry has the perfect background music or the baraat has the ideal amount of energy in the dhol beats or your Sangeet ceremony's live music is a super hit.
How to pick the right type of wedding music for a ceremony?
There are certain things to consider before picking your wedding music. We have listed a few to help you get started:
Type of event:

You must always consider the type of event you are hosting. For instance, your cocktail night before the

beach wedding

can have a live band that sings Jazz or Blues. Or if you are planning a palatial wedding then you can go for the ghazal singers or traditional folk singers for the event. The type of music is influenced by the type of event. You will need a certain type of music for your Baraat entry or for your bridal entry too.
Place of the event & culture:

The place of the event or the venue that you have picked also affects the type of wedding music you pick. A nice and rustic wedding evening will call for some old Hindi songs from the 70s and 80s for all to sway to. However, a regional

wedding guest list

will always be entertained by the regional songs/singers - a

Punjabi wedding

should essentially include

Punjabi songs

and singers in the itinerary for the celebrations.
Type of music you like:

Ultimately the wedding celebrates you and your love with your partner so a lot depends on the type of music that you like too. You could host a destination wedding but hire a music band that only sings regional songs of your hometown or culture. You might like stand-up comedy and decide to host a stand-up night during your reception instead of the usual music. Just like

wedding decor

and theme of the wedding depends on your taste, so does the wedding music.
Age of your guests:

While picking the wedding music, if the purpose is to entertain your guests, then you also need to consider the age group of your guests and pick music accordingly. If you have guests who are mostly aged between 20-40, you could probably listen to GenZ playlists. However, if you have guests more in the 40-50+ age group then you might want to include RD Burman Karaoke and so on.
How to hire the best wedding music using WeddingWire India?
The WeddingWire India app and website provides you with an array of filters that will guide you to pick the best wedding music for your pre and post-wedding ceremonies. The Region filter helps you pick the location where you want your wedding music from. You could pick a location that is near your residence or one near the venue or anywhere in the country based on your preferences and convenience. WeddingWire India has amazing wedding music options in over 23 states throughout the country for you to pick from.

Now there are times when couples have looked for specific wedding music vendors too. For instance, if you are looking for

Bengali wedding

Sanai music you will have to pick a location for

wedding music in West Bengal

and in the case of

Marathi wedding

music, you will have to choose your location for

wedding music in Maharashtra

, etc.

Once you have picked a location, the next filter helps you pick the type of Indian wedding music you are looking for. There are live singers, Ghazal Singers, Shehnai, Karaoke, bands/gigs, celebrity artists and so on to choose from. There are some other types and categories like Anchors/MCs, Dancers, stand-up comedy, Theater artists, fireworks, jugglery art and so on too. Pick one based on the type of your event and the type of Indian wedding music that would suit the celebrations well.

The next filter is the Price per Event one that will help you pick wedding music that falls within your

wedding budget

. Out of the multitude of wedding music vendors enlisted on the WeddingWire India app and website, you might end up liking one that is way beyond your budget or one that is not good enough for the budget. The Price per Event filter ranges from under INR 5000 to INR 1,00,000 or more. Once you pick the price bracket that suits your budget, only those options will be displayed on your screen that fit your requirements perfectly.