The Dusky Beauty Is Beautiful! Watch These 15 Real Brides Show It Off In Style
It's time to let archaic notions about skin tones go! Celebrate your natural beauty and watch how the world looks at you in awe! For inspiration, check out these 15 brides you aren't afraid to flaunt their dusky beauty!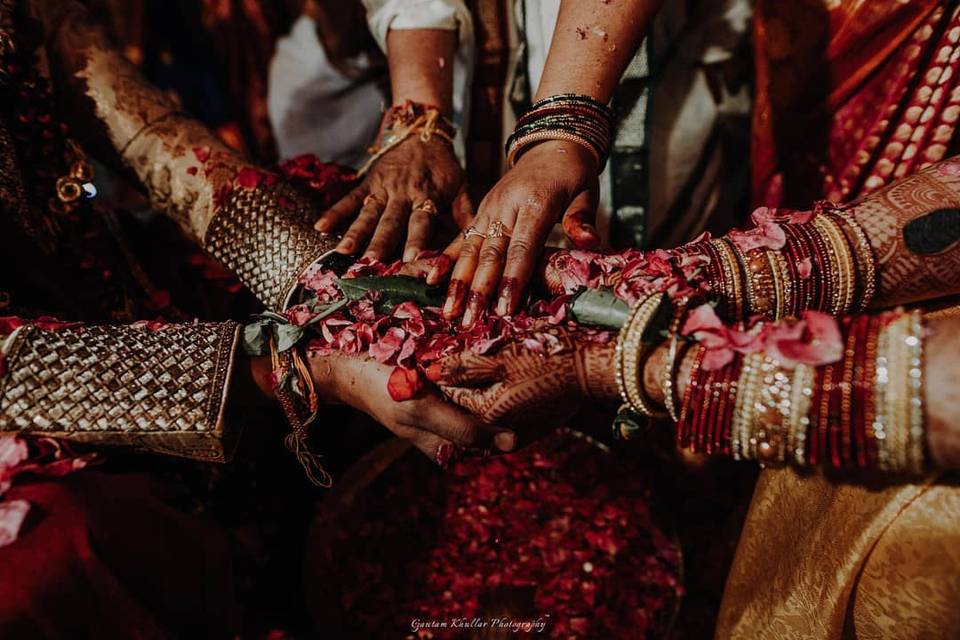 For the longest time, women were made to believe that their value lay only in their looks. Moreover, this belief wasn't just about their natural looks – but about a specific fair look. As a result, for decades we were told that there's no such thing as a dusky beauty. Thankfully, with more and more women feeling empowered to raise their voices, this notion is slowly changing.
Ladies, it's time to embrace your natural dusky beauty and stop hiding behind fairness creams or light foundation! Beauty comes in all colours, shapes and sizes! Let's celebrate our diversity starting today. Here are 15 gorgeous brides that redefine the term dusky beauty to get you started on this journey!
1. This stunning bride that plays it cool!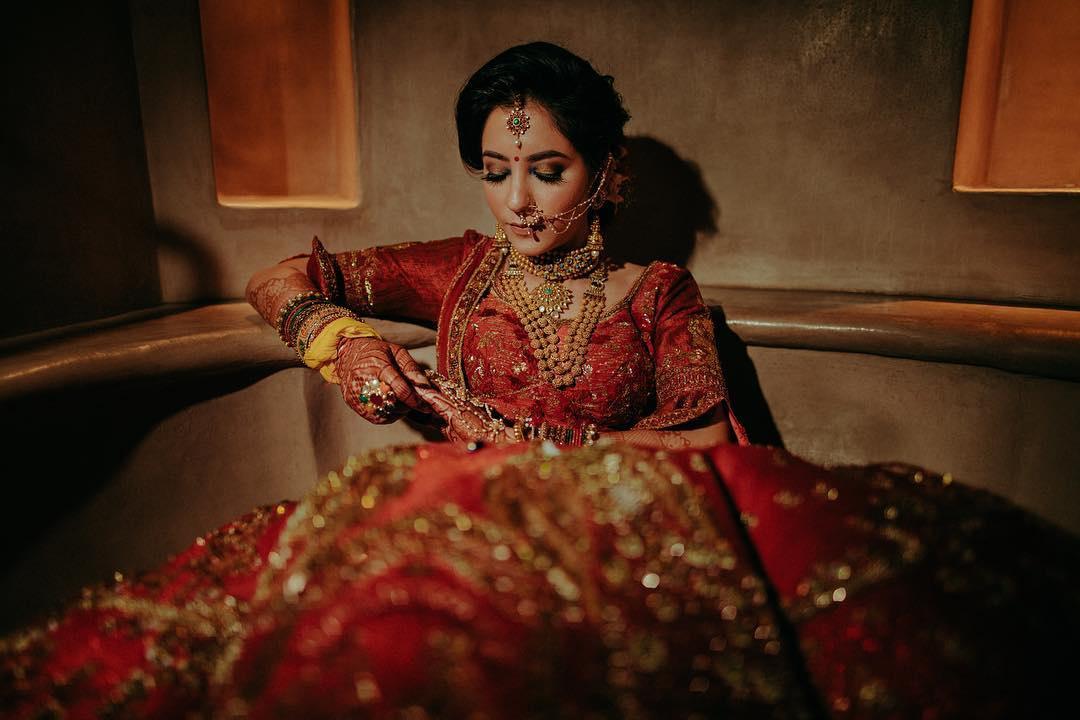 With a low-key Maang Tikka and an elaborate Nath, this bride looks effortlessly cool on her wedding stay. Watch how she's confidently checking out her Mehdi while waiting for the ceremony to start. What can we learn here? Beauty starts with self-acceptance!
2. This playful bride that's showing her man who's boss!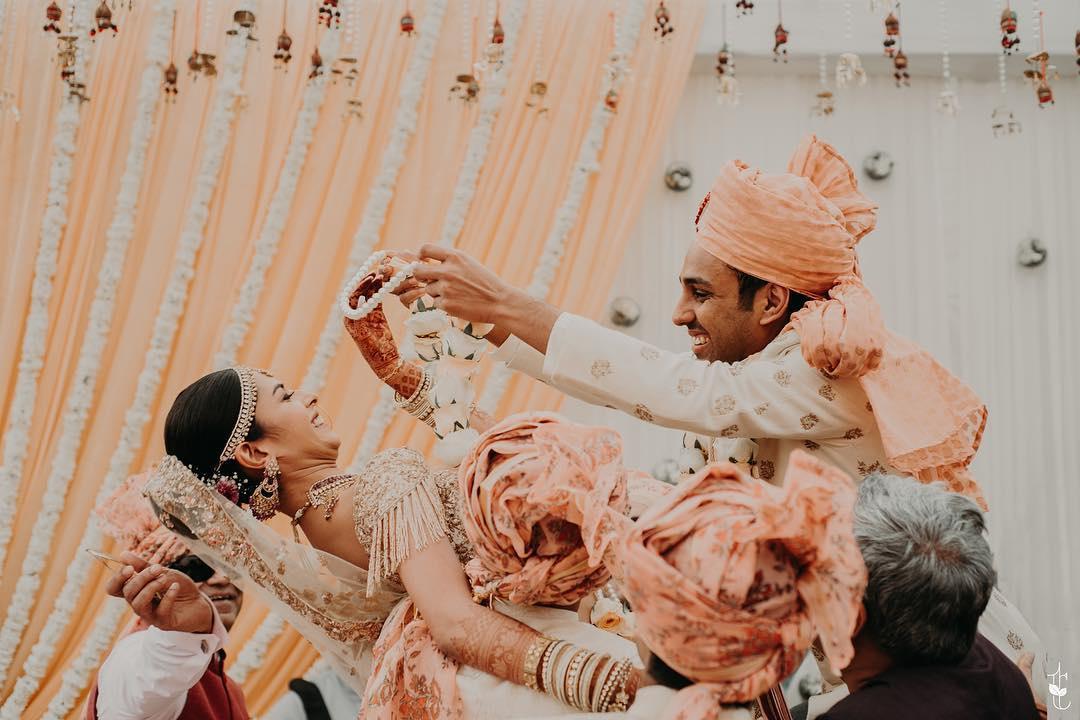 A pretty popular old-wives tale states that the person who bends first during the Jaimala is the one that will be the most submissive in the marriage. This dusky beauty has a playful smile on her face as she edges far away from her husband during this ceremony!
3. This calm Punjabi bride that's gone for a natural makeup look!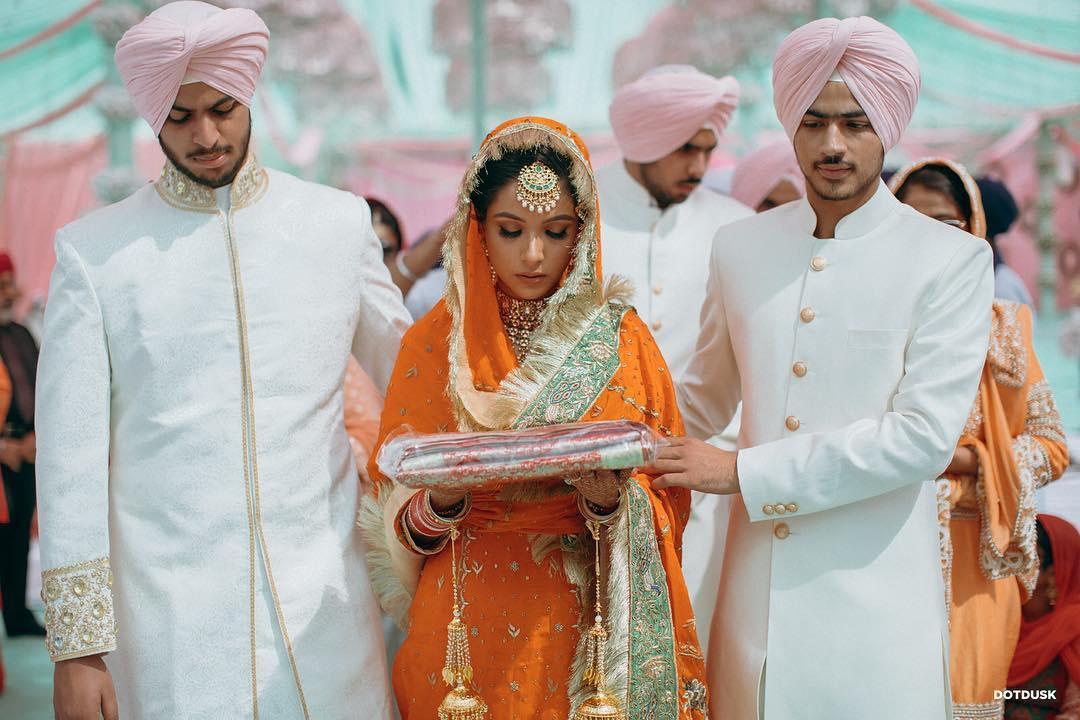 You know you're totally confident in your own skin when you opt for a neutral, natural look even on the biggest day of your life! This is a bride that's not afraid to show herself for who she is!
4. This bride who thinks outside the box!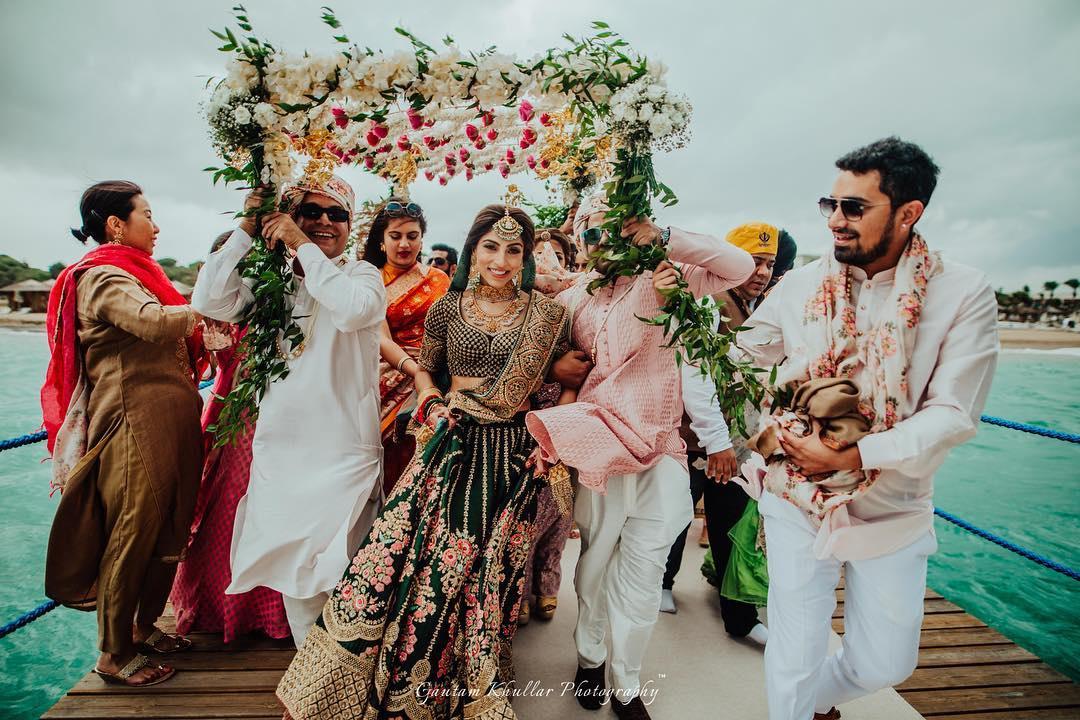 Wearing a gorgeous green lehenga with a sweetheart neckline, this bride asserts that she isn't afraid to think out of the box! How do we know this? Well, green lehengas are not very common and this bold choice puts this bride on our list as a confident dusky beauty!
5. This bride who's being super coy!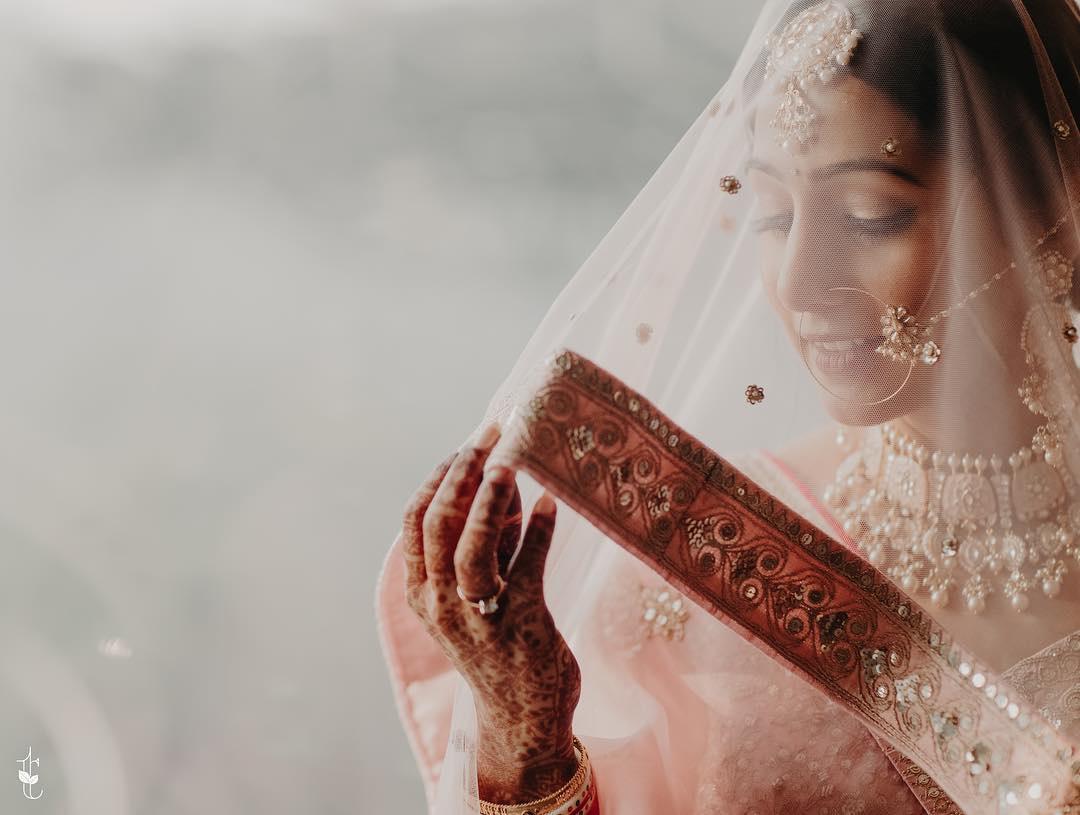 Dressed in a lovely peach lehenga, which is a huge trend this season, this bride is striking a shy-ish pose behind her gauzy Dupatta. With a soft smile on her face and her gaze turned downwards, this dusky beauty looks absolutely stunning.
6. This bride who's ready to start her new journey!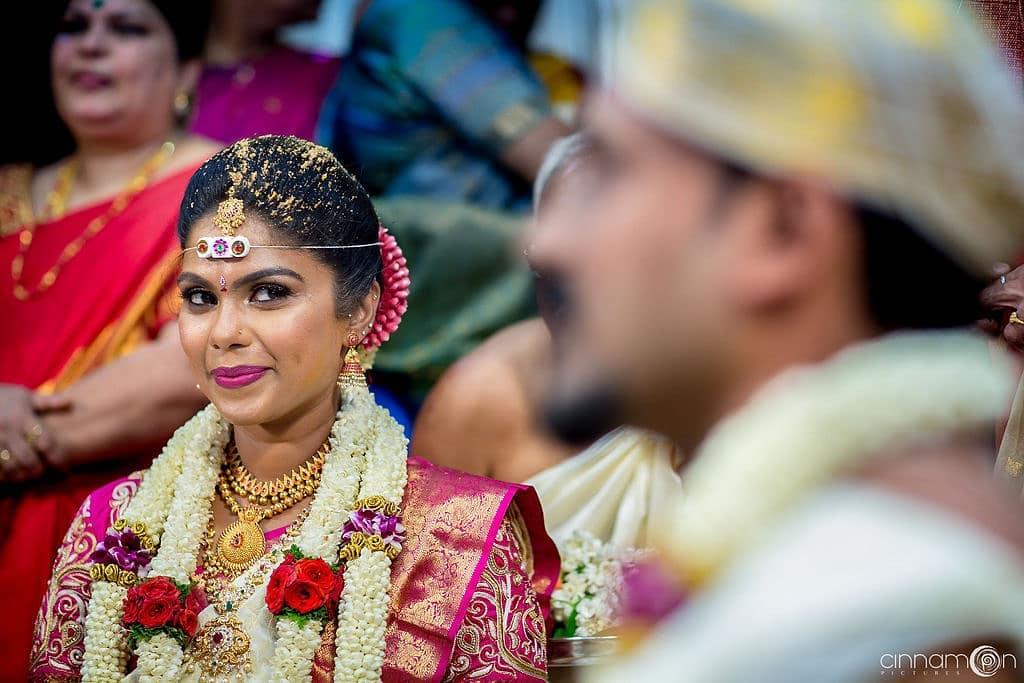 This dusky beauty looks nothing short of ready to begin her new life! Look at her gazing her a boo with so much love in her eyes!
7. This bride that's styled herself so beautifully!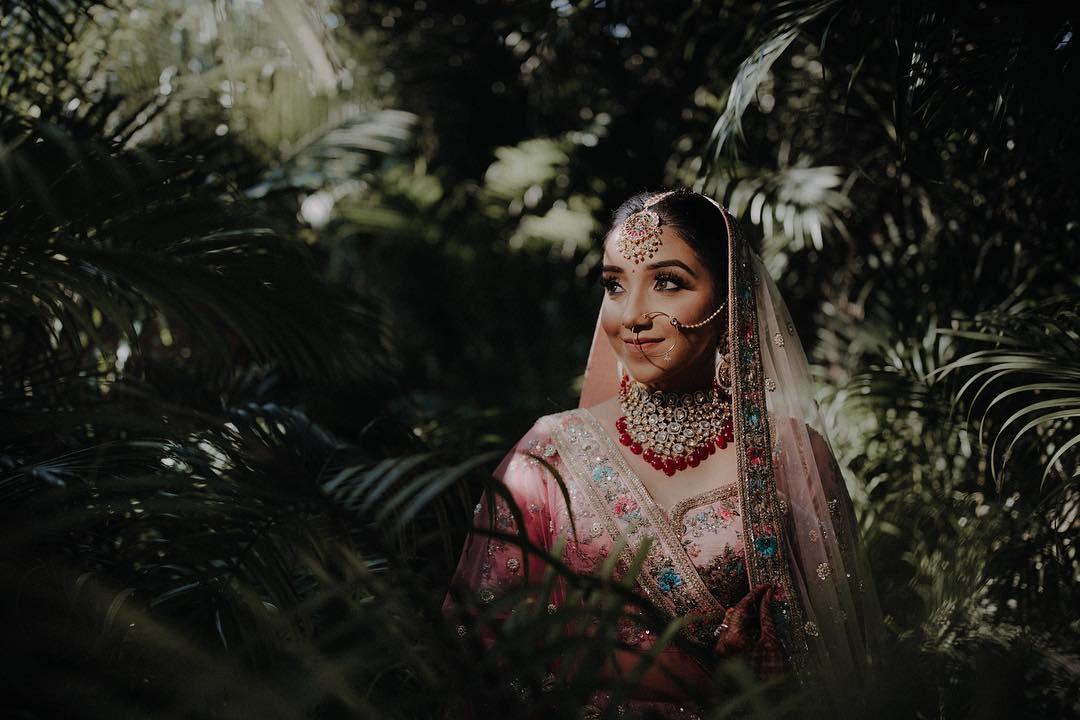 With little pops of blue on an otherwise pink Lehenga, this bride shows that she knows how to rock different unique colour combinations. The Jodhpuri necklace paired with this outfit has little red droplets of stone that add another dimension of colour to this look.
8. This chilled out bride taking a moment for herself on her big day!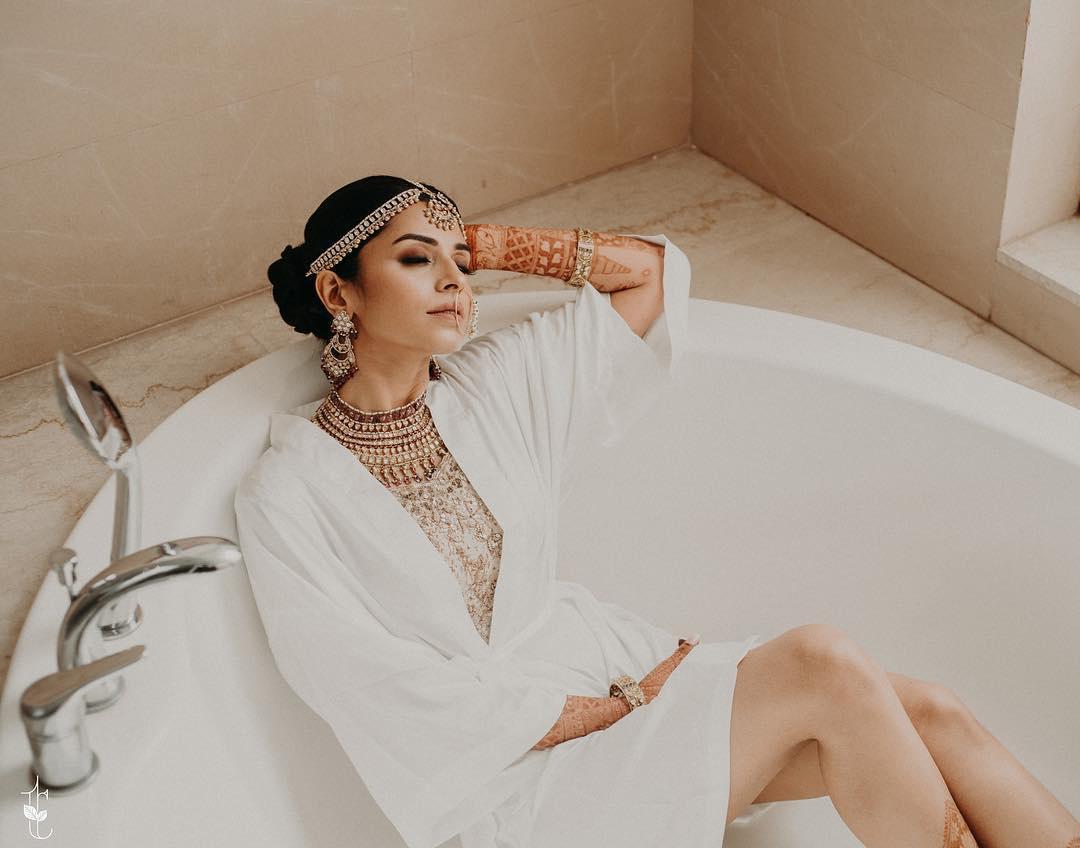 You know what's the most beautiful thing in the world? Self-love. This dusky beauty demonstrates exactly that by taking out a few minutes on her big day just for herself.
9. This dusky beauty who knows how to use colour to make her skin tone stand out!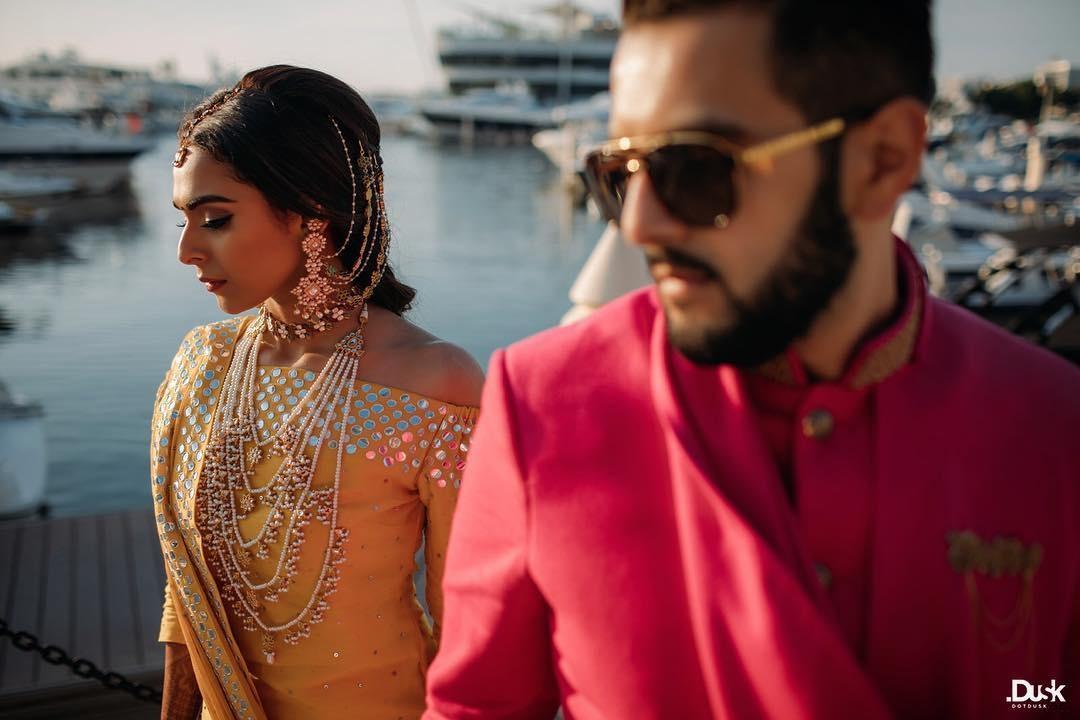 Pairing the right colours with your skin tone can often be a challenge. When done incorrectly, there's always something about the ensemble that looks a bit Pheeka. This dusky beauty demonstrates that the right colours are ones that always compliment your looks.
10. This lovely bride in velvet!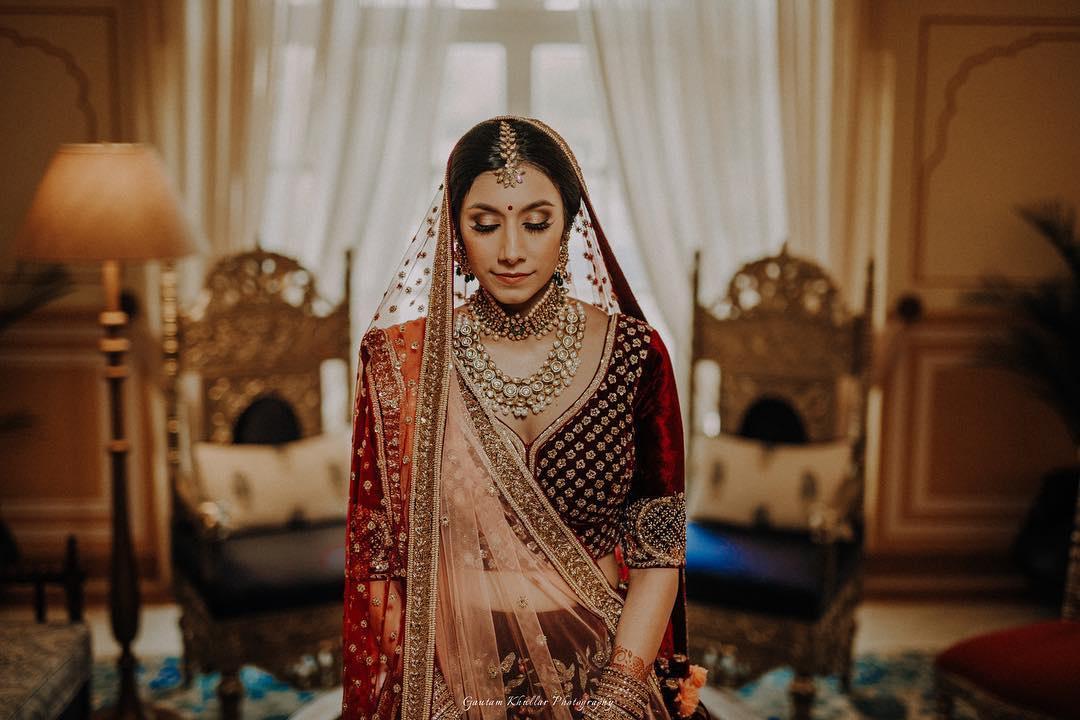 This bride is highlighting her dusky beauty by wearing a warm-toned outfit paired with gold jewellery. Nothing brings the spotlight on the natural glow of your skin as well as this!
11. This bride who knows how to contour!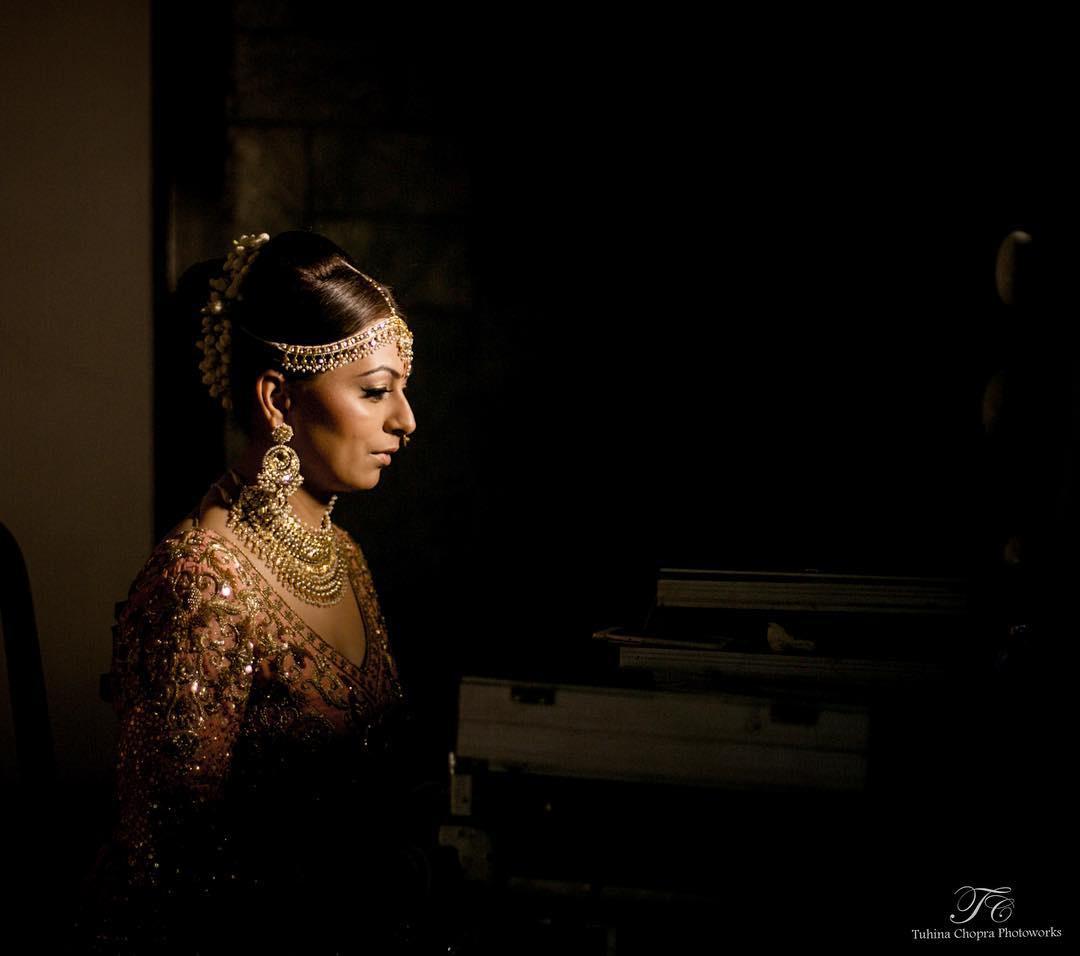 You know when a bride applies darker tones of makeup for contouring her face that she isn't afraid of her brown skin!
12. This bride that gives us couple goals!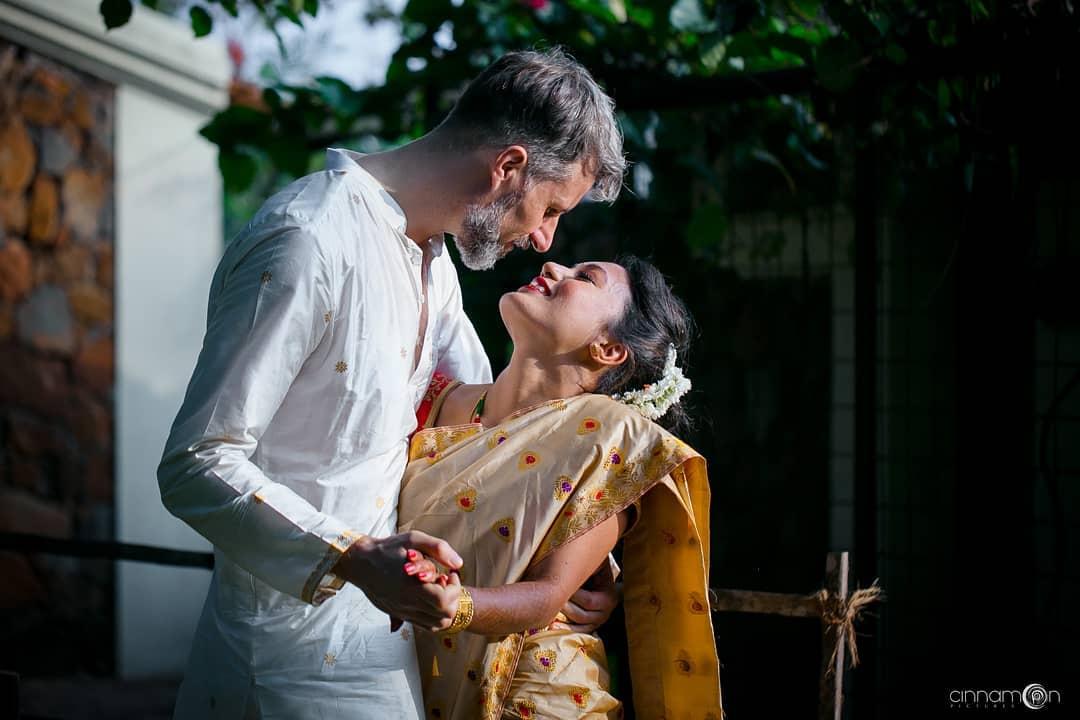 Look how adorable these two are! This bride is basking in the glow of her love and looks absolutely gorgeous! So, if an old-fashioned aunt tells you that it's hard for a dusky beauty to find a man, show her this picture!
13. This bride that's decked in ivory!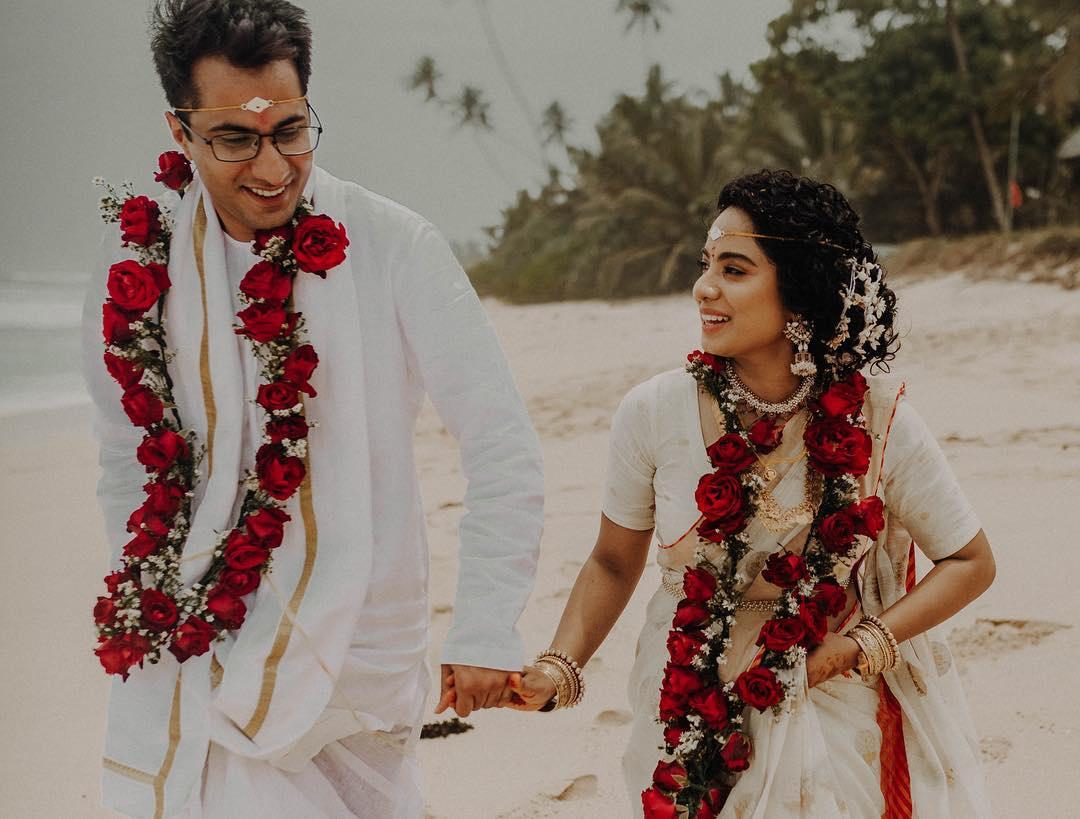 Want to know the best way to celebrate your skin tone? Wear light colours like ivory or cream to really bring attention to your dusky overtones. Look how amazing and happy this bride looks! She's paired her outfit well with great accessories and an Indian bun hairstyle for long hair.
14. This bride with arched brows!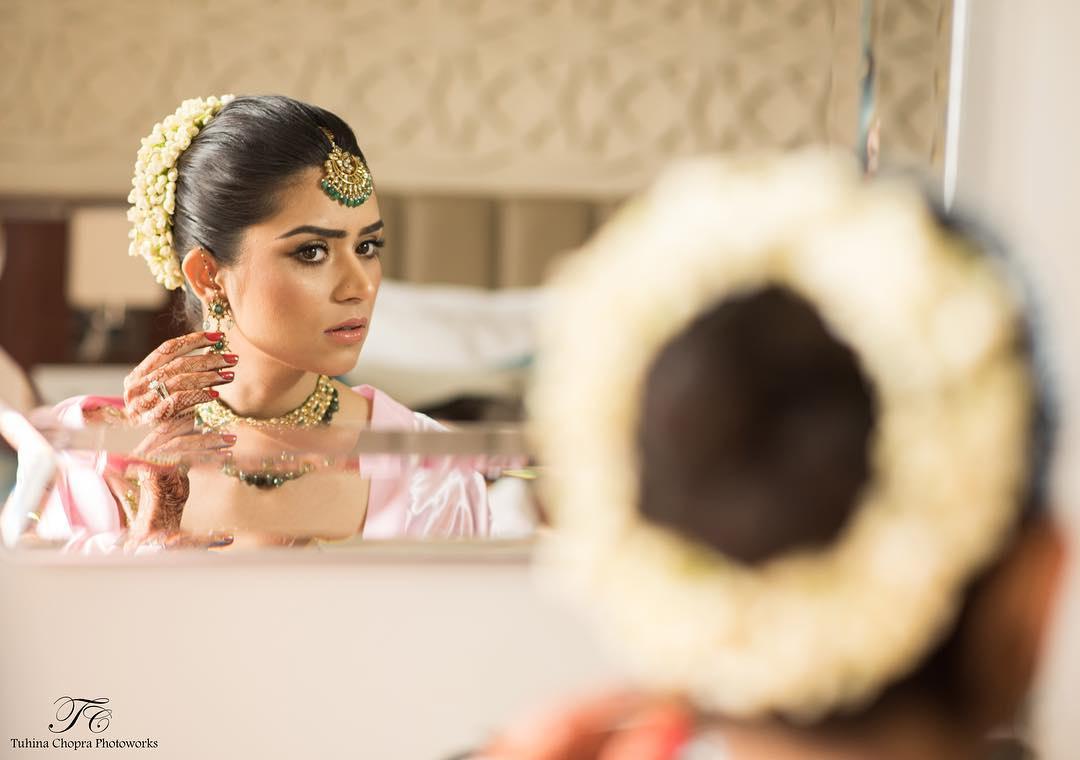 This bride has definitely teamed up with a fantastic makeup artist to create such high-definition brows. They perfectly frame her face and show off her dusky beauty!
15. This bride in pale blue!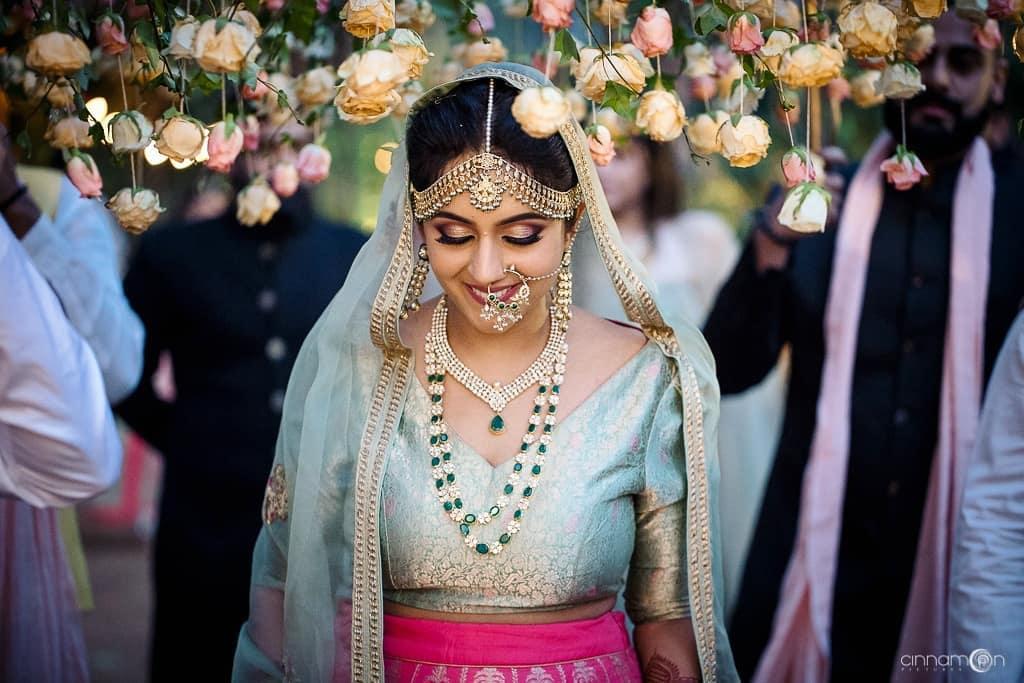 With a pale blue Choli and deep pink Lehenga, this bride looks super funky on her wedding day. If you're looking for an ensemble that will help you stand out, take cues from this creative genius here!
The key to looking your best is ensuring that your ensemble suits your body and your makeup suits your face! Do take care of foundation and concealer as even if they are the right shade for you, their undertones may make them totally suitable for your skin type. Test out a few basic makeup items before you commit to any product!
Get in touch with our makeup artists to bring out the best in your features!