24 Wedding Dresses for Sister of the Groom You Need to See Now
Need a wedding dress inspiration for your brother's big day? These 24 beautiful wedding dresses for sister of the groom will work their magic.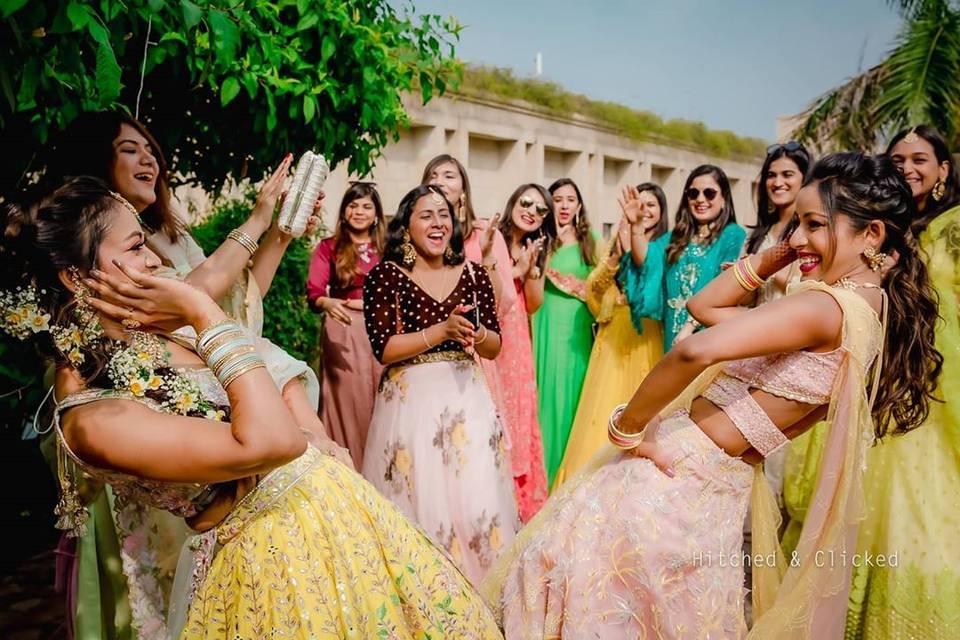 What's better than being the bride at a wedding? Being the sister of the groom - at the centre of all the excite and thrill, flaunting your fashion statement and even the chance of finding your potential partner amidst the crowd *wink*! This comes together with the right sister wedding dress. Case in point - these inspirational wedding dresses for sister of the groom, second to just your future sister-in-law.
1. Dip In The Retro Glam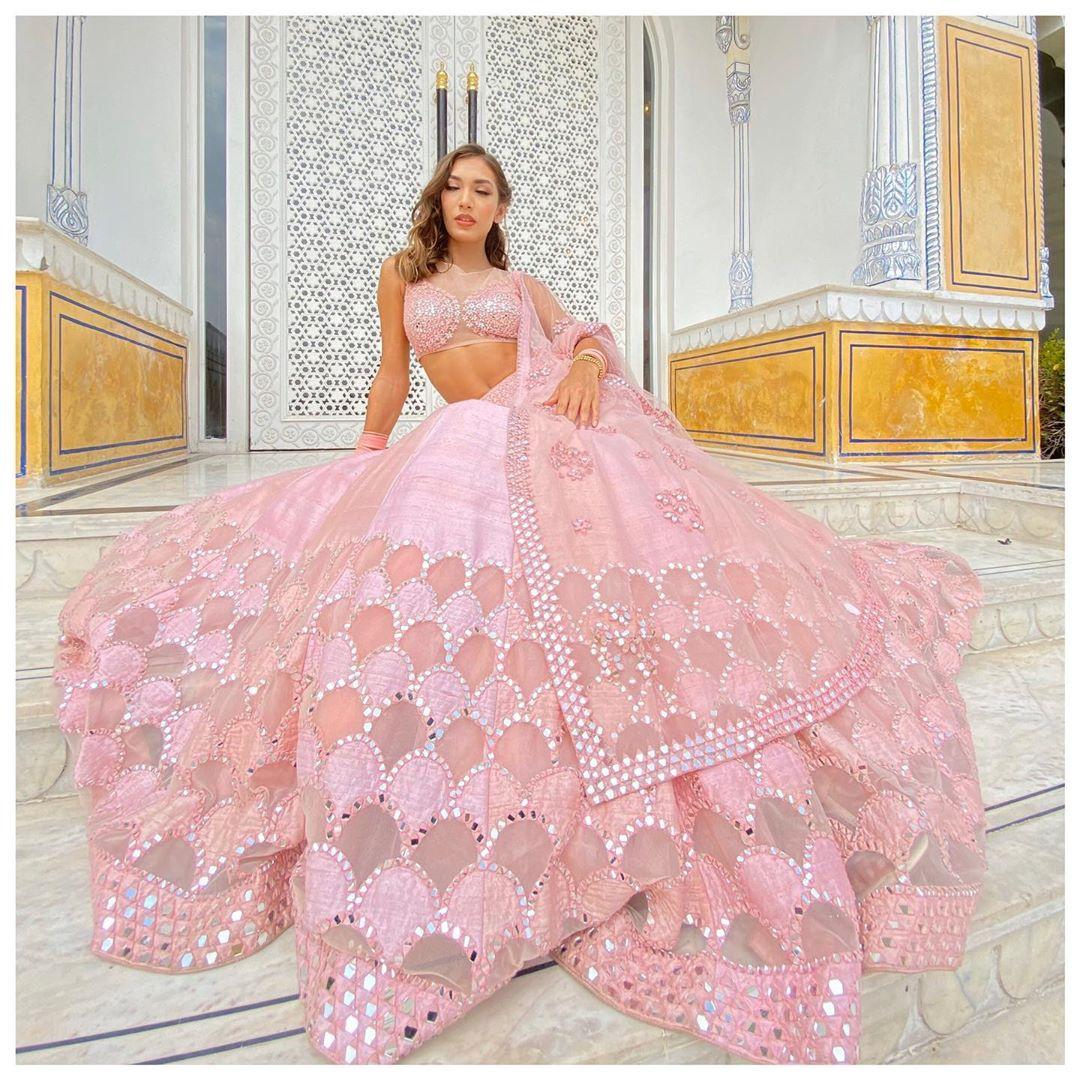 What's more special than celebrating your brother's wedding with glitz and glam? Grab the limelight by opting this beautiful pink lehenga from the collection of Abhinav Mishra. This pretty pink lehenga is the perfect dress for sister of the groom. The gotta work on the lehenga set paired with net dupatta is ideal for a sundowner wedding.
2. Let Sharara Add Some Drama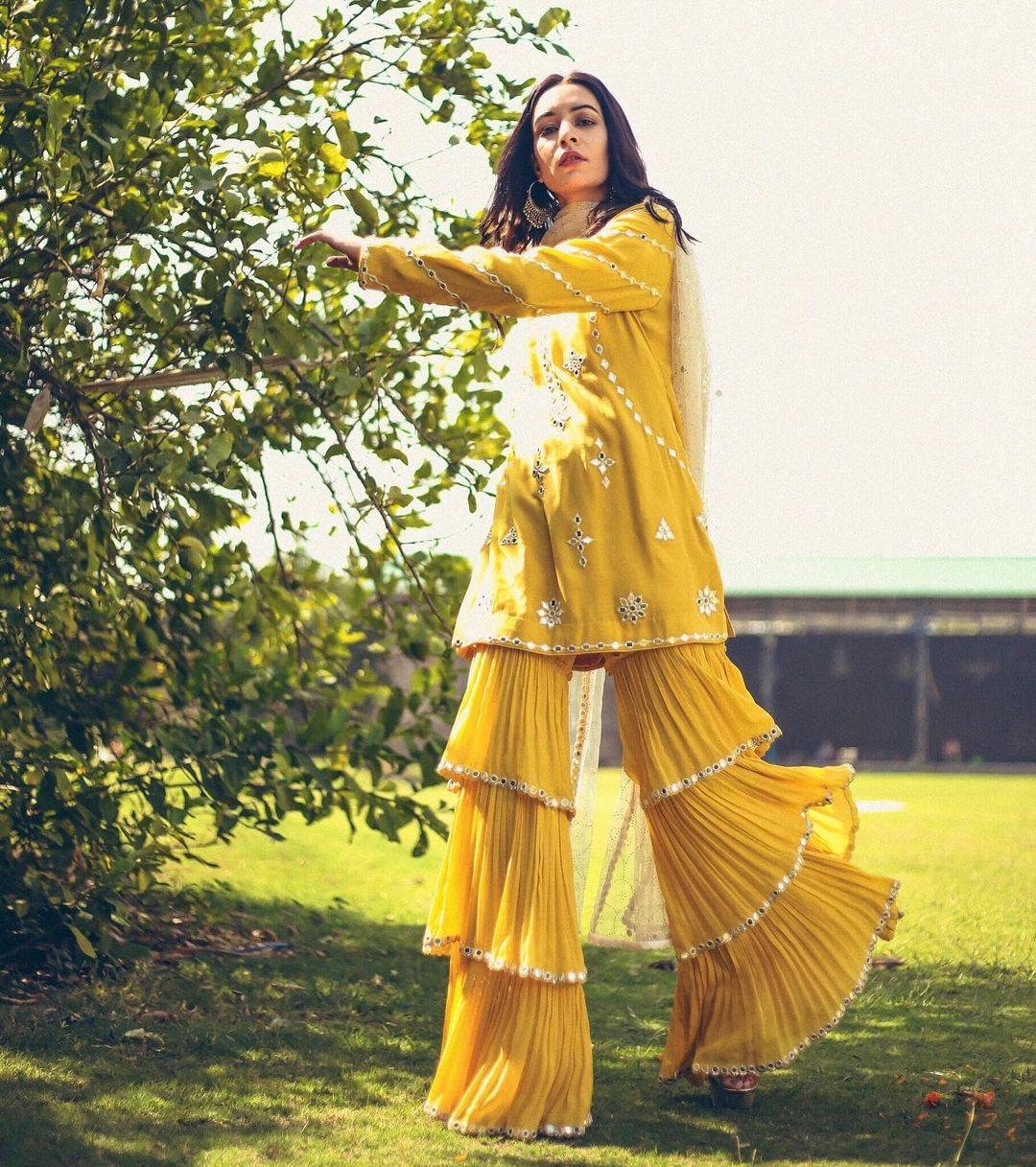 It's your brother's wedding, why not spill the charm of your beauty by looking the best? This three-layered sharara set from the wardrobe of Monika Nidhii is ideal for a Haldi ceremony. The yellow crepe kurta with layered sharara is adorned with intricate mirror work. The multi-coloured organza dupatta is all you need to spread some cheery vibes. Be Haldi ready while you bless your brother with bundles of wishes.
3. The Twinkling Beige Lehenga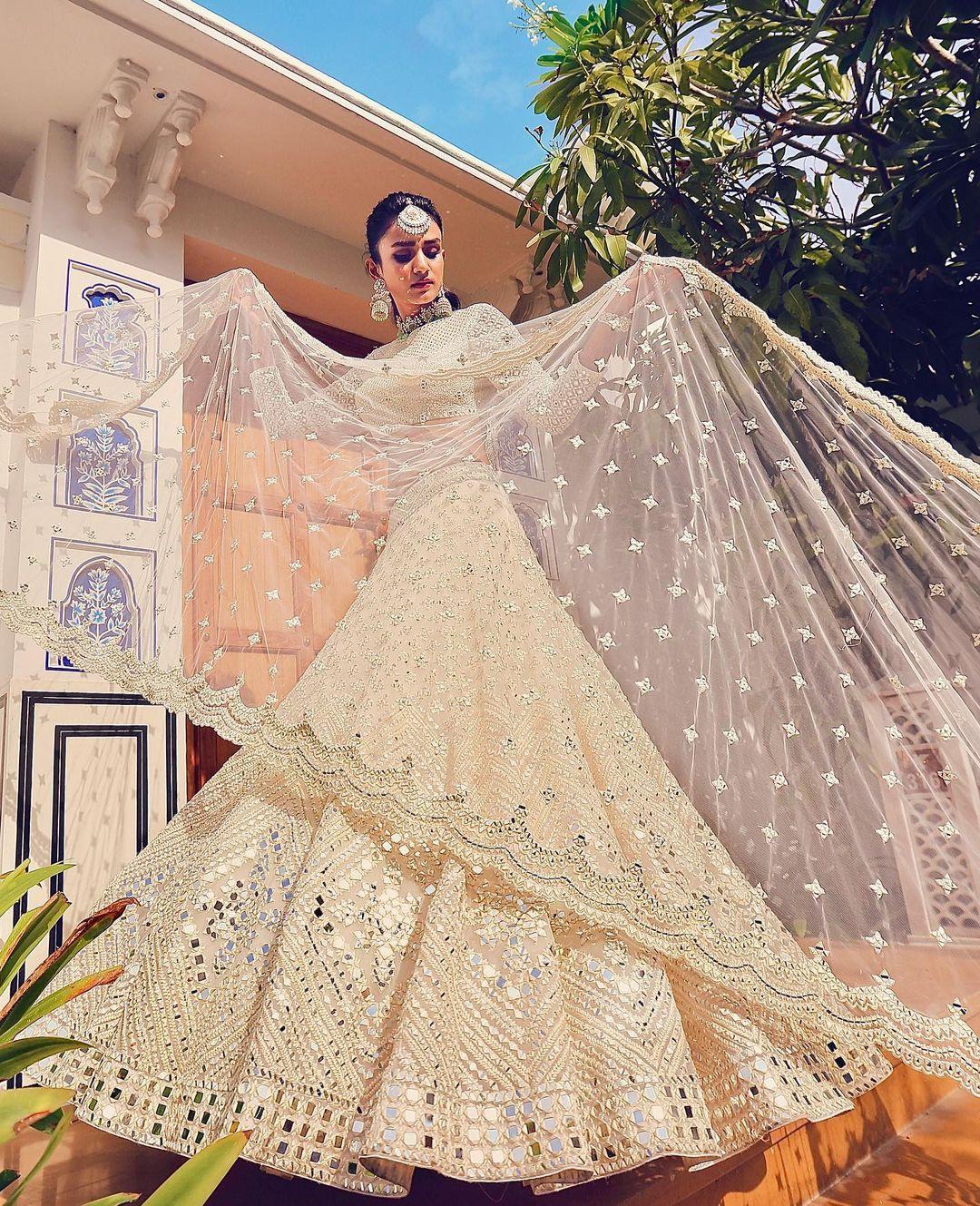 If you wish to balance the glam and old-world charm, wear this dreamy Abhinav Mishra's outfit while you create a magic spell with your alluring looks. This lovely mirror work lehenga capped with net organza dupatta is one of the prettiest wedding dresses for sister of the groom. Are we right or are we right? This subtle colour palette adds a traditional and modern-contemporary touch which opens the door of fascination.
4. Let Prints Do The Talking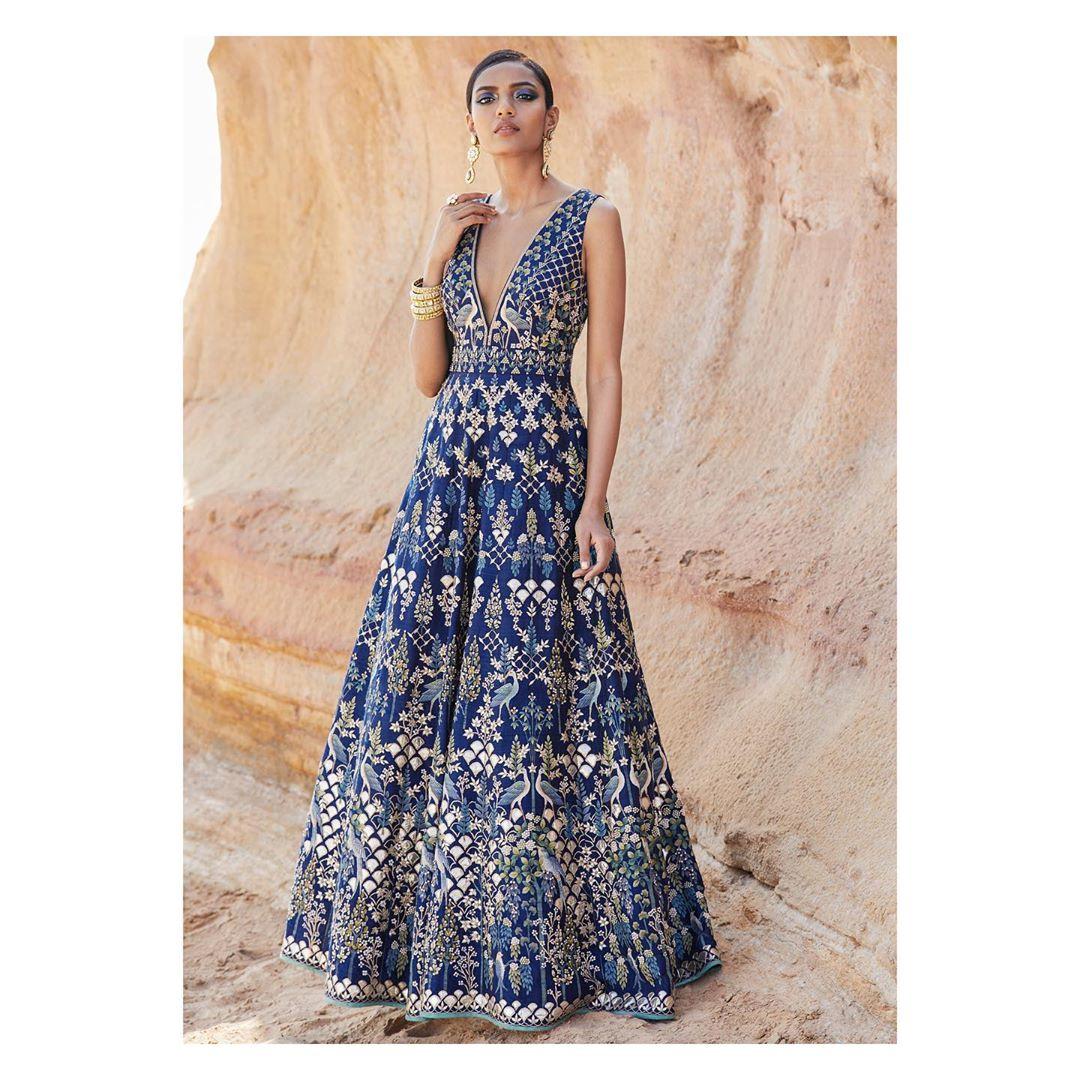 Looking for something out of the box for the reception ceremony? Level up, you pretty sister! This charming royal blue gown from the wardrobe of Anita Dongre is an excellent choice which will elevate the ambience with oomph. This gorgeous V-neck hand-printed gown is the ideal dress for the sister of the groom. Dwell into traditional yet sassy vibes while you make blissful memories with your #Veerji.
5. Blow With The Bow Top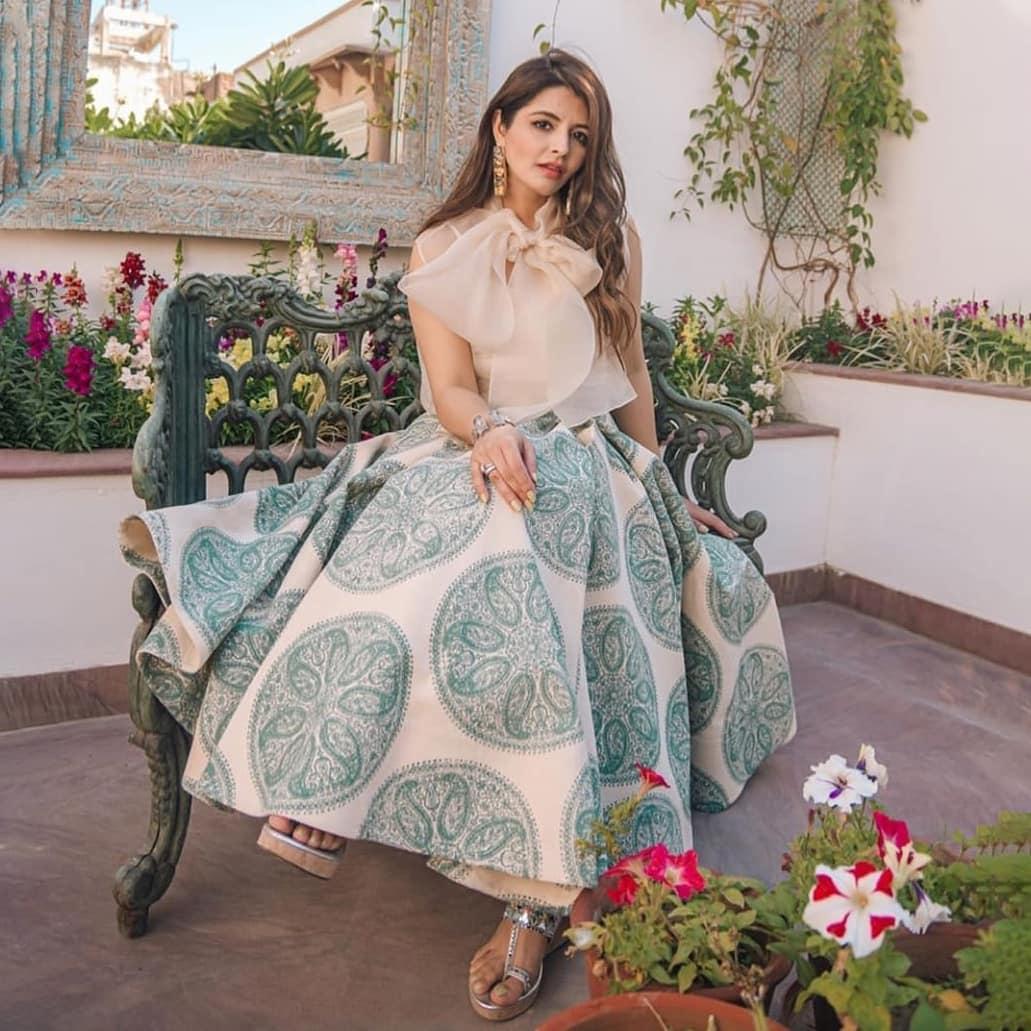 What's best than being the right hand of your brother and helping him perform all the wedding rituals with comfort and grace? This pretty top and skirt are enough to ooze up the cheerfulness of the functions. Take a dive in the vibe of elegance while you flaunt your charm in this lovely dress. This cute bow is good as a cherry on the cake and best suited for mehndi function. Try this Bhumika Sharma's collection for your brother's day!
6. Ogle-Worthy Lime Green Lehenga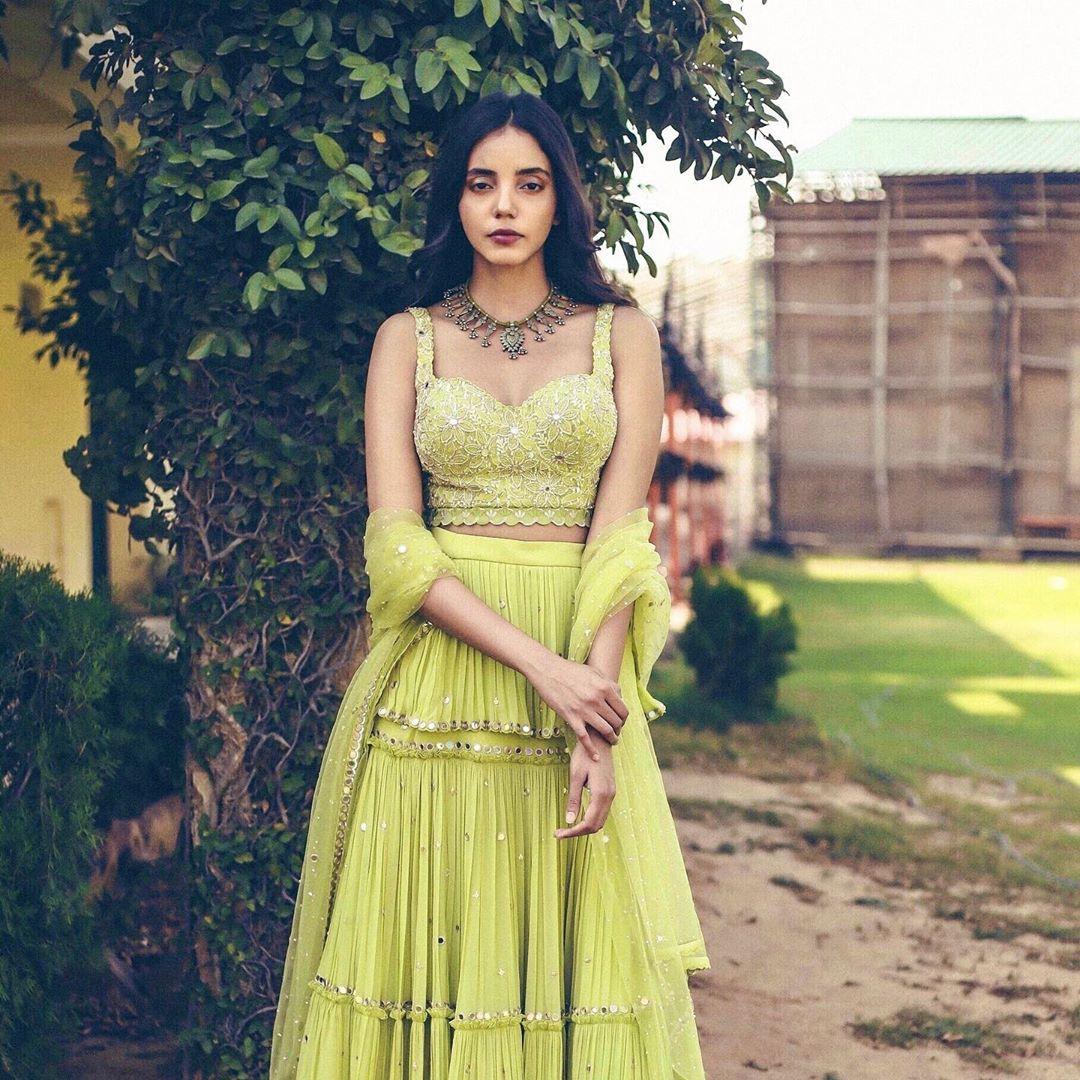 A pretty lehenga is a girl's best friend and picking the most astounding outfit for your #VeereDiWedding becomes important to excel the functions with a gleam. Shine bright in this lovely lime green lehenga encrusted with most delicate mirrors. Monika Nidhii's collection is always a treat to eyes and this perfect layered lehenga is a witness of flawlessness. Paired with sheer tulle dupatta, this outfit is one of the finest dresses for sister of the groom.
7. Slay In Sage Green Jacket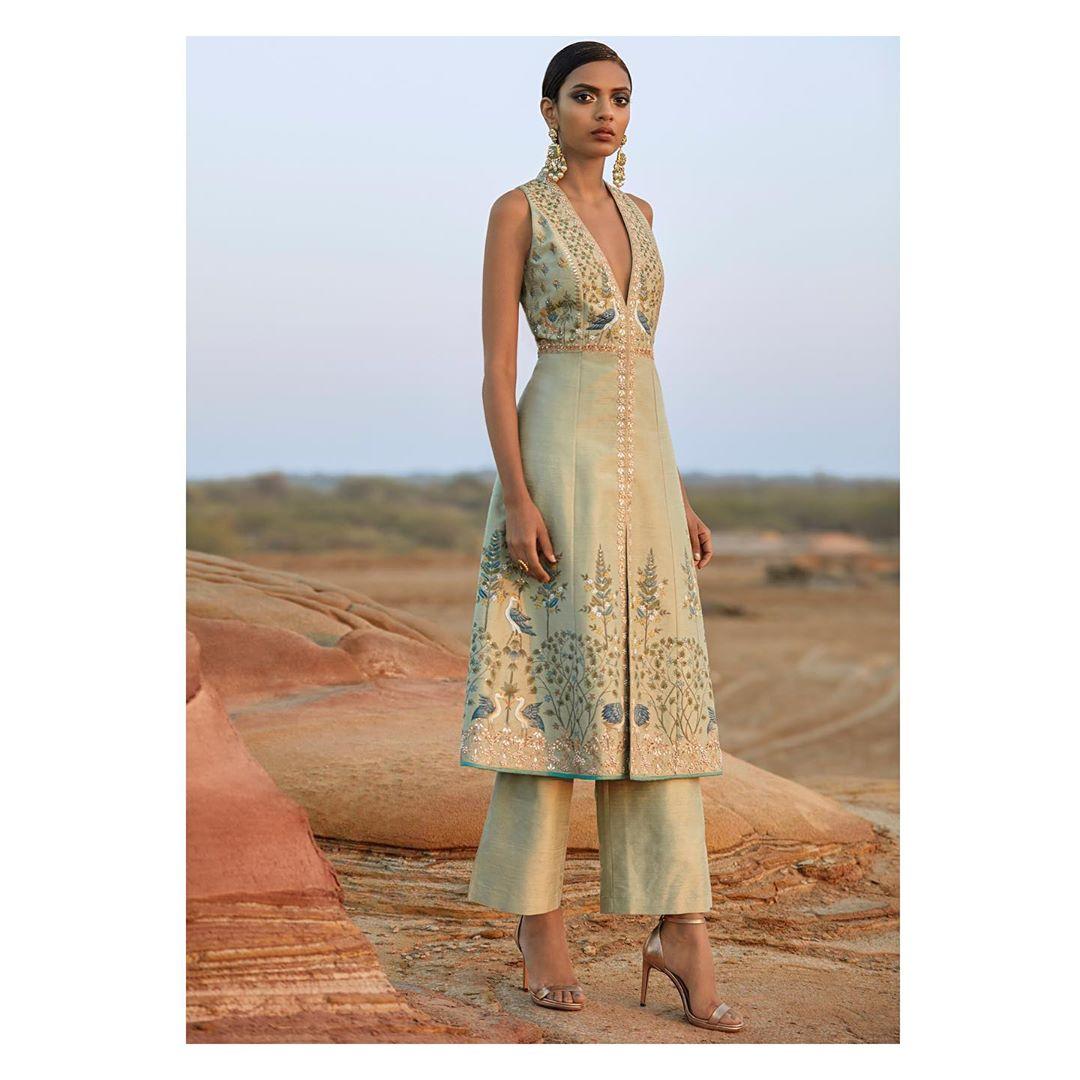 A perfect cocktail dress does exist! Captivate the aura of the celebration while you woo your guests in this Anita Dongre's gleaming hand-painted jacket. The sage green jacket is bejewelled with sequins, pearls, gotta Patti and the motifs are hand-painted in traditional style. These breathable trousers are all you need to breathe out the merry feels!
8. Refreshing Lilac Lehenga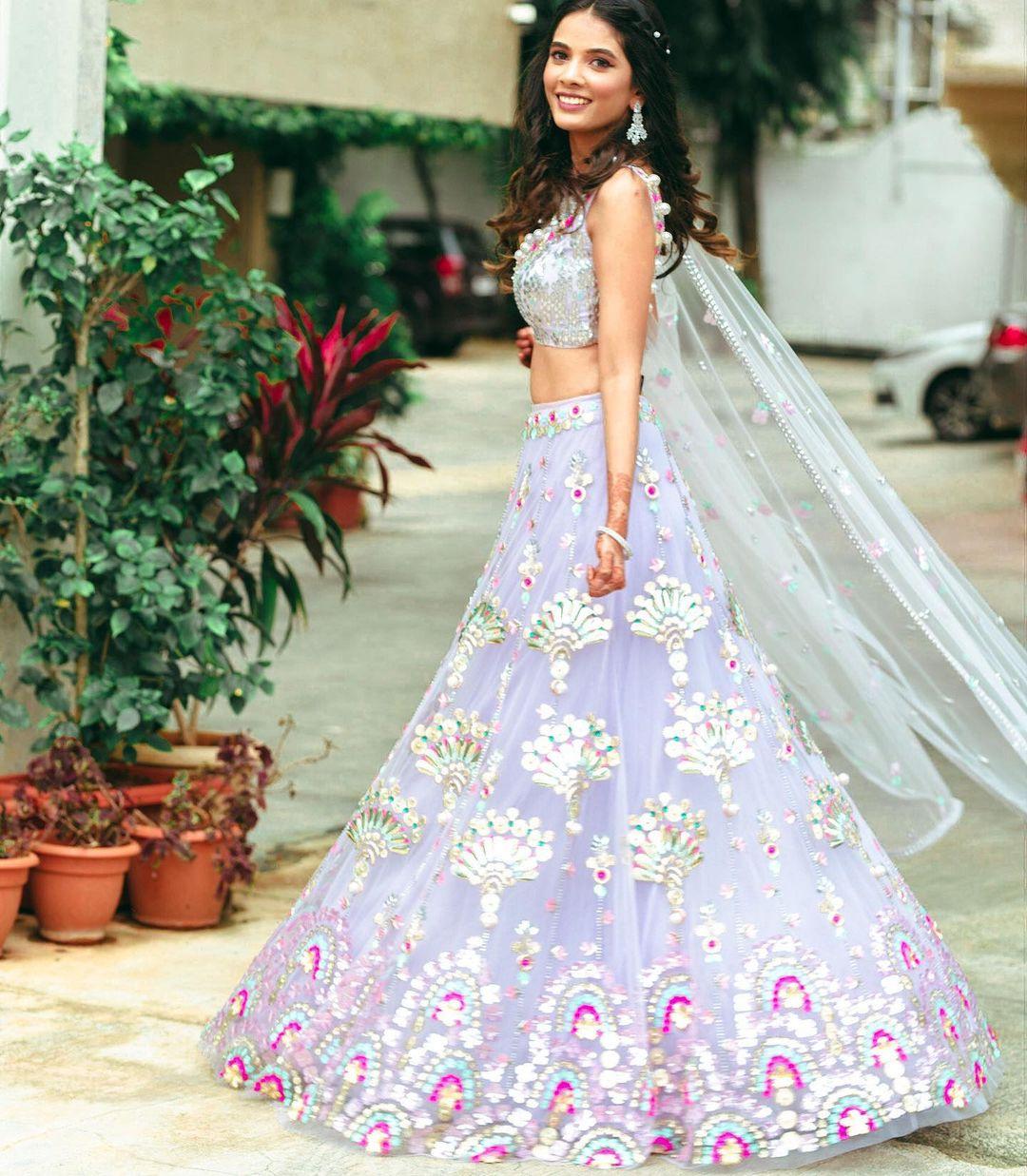 Shoutout to one of the loveliest wedding dresses for sister of the groom. When it's #GharKiShadi and you want to set the bar of elegance, this exquisite lehenga choli set is perfect for the merry celebrations. This lilac tulle lehenga embellished with metallic and sequin work is topped with a tulle blouse. Reach the door of allure in Papa Don't Preach By Shubhika's fantastic outfit and make tonnes of happy memories with your dear brother!
9. Floral Saree Set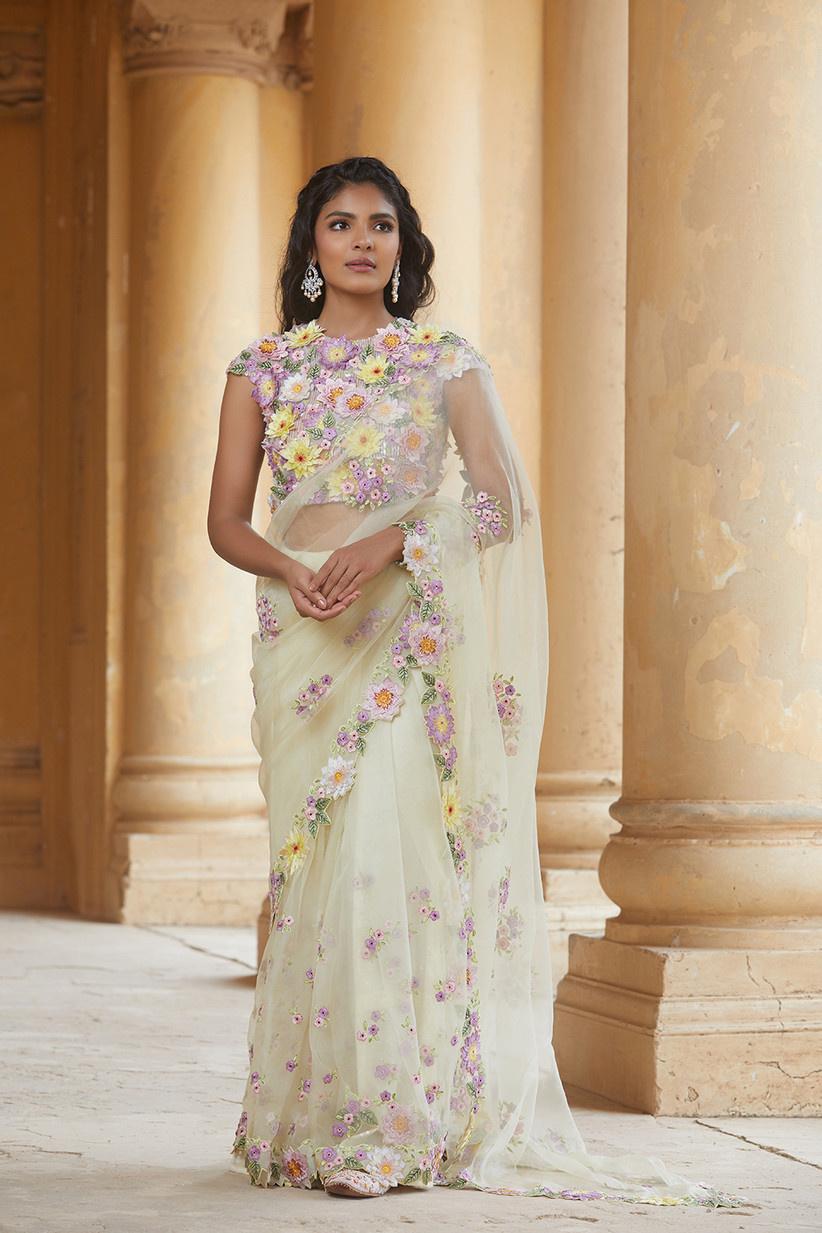 Image Courtesy: Rahul Mishra
If you are looking for sister of the groom Indian dresses then this 3D hand embroidered saree set from the recent collection of Rahul Mishra is an excellent choice. Be the beautiful flower while you opt this soothing floral saree for your brother's reception. The soothe of wearing the comfiest yet the prettiest outfit is ethereal. We are swooning over this hand-embroidered silk organza saree!
10. Cold-Shoulder Blouse and Skirt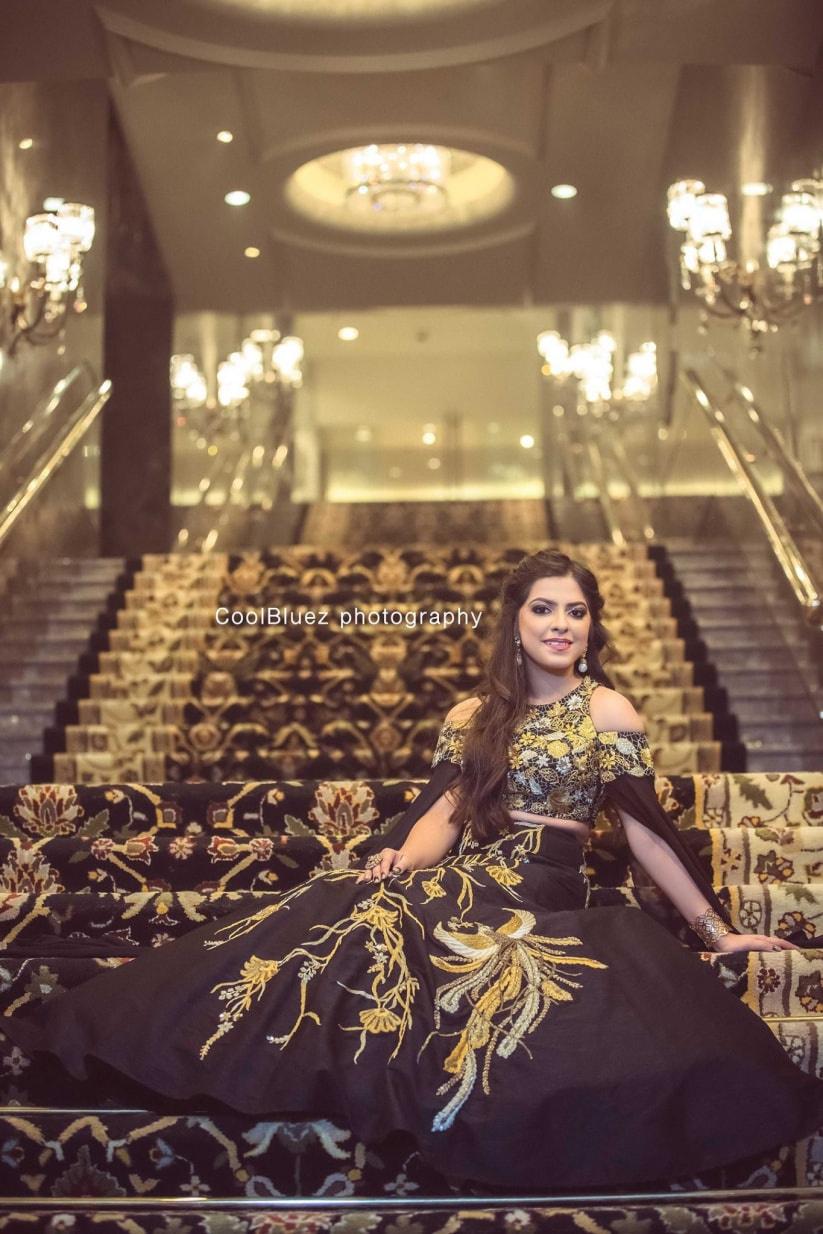 We have been seeing a lot of cold shoulders in designer dresses and they've made their presence in the world of weddings too. Pair a cold shoulder blouse with a high waistline skirt to give it a gown-like look. This is one of the finest wedding dresses for sister of the groom and gives a different glow to the look.
11. Saree Gown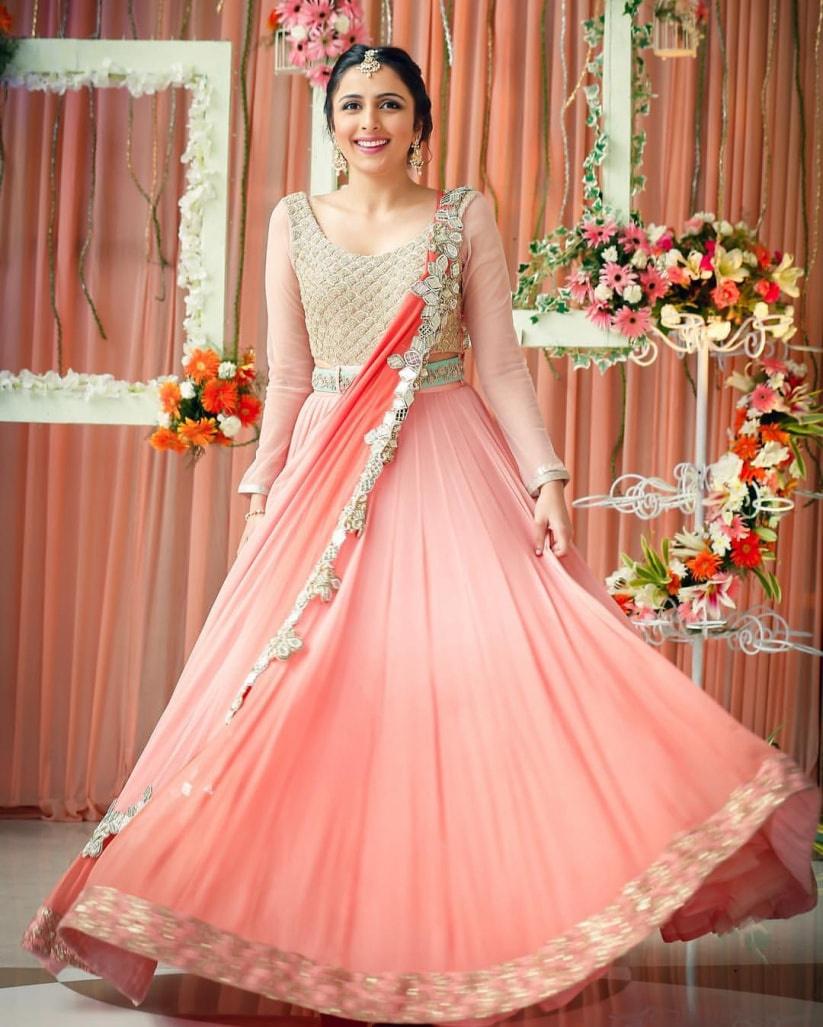 The best thing about this dress is that it is a fusion of a western and a traditional look. On one hand, you get the elegant look of a saree and on the other, you also get to save yourself from the hassles of wearing an actual saree.
12. Pleated Lehenga and Blouse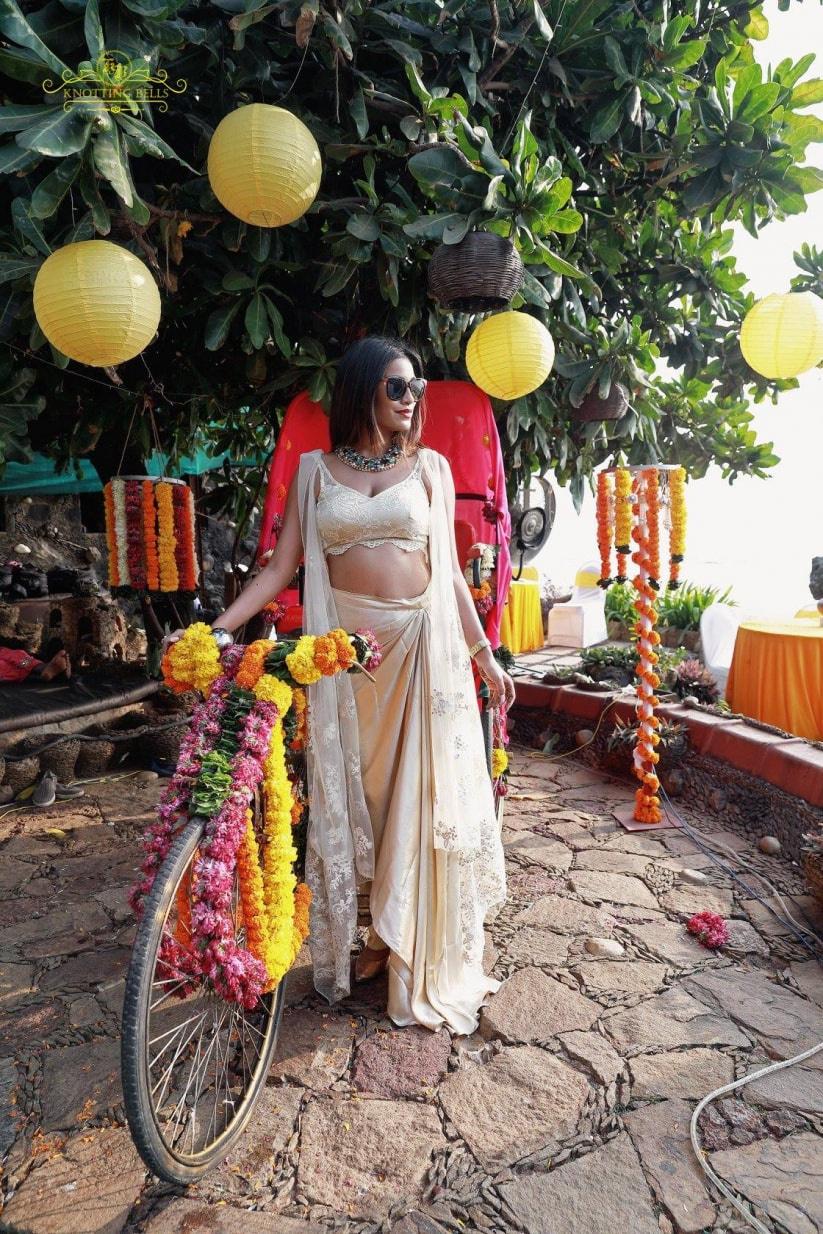 Pleated lehenga is the new thing this wedding season. There is no better occasion than a brother's wedding to flaunt a unique fashion statement. You can pair a simple pleated lehenga with either a heavily embellished blouse, or with a plain one paired with a heavy dupatta.
13. Pastel Coloured Lehenga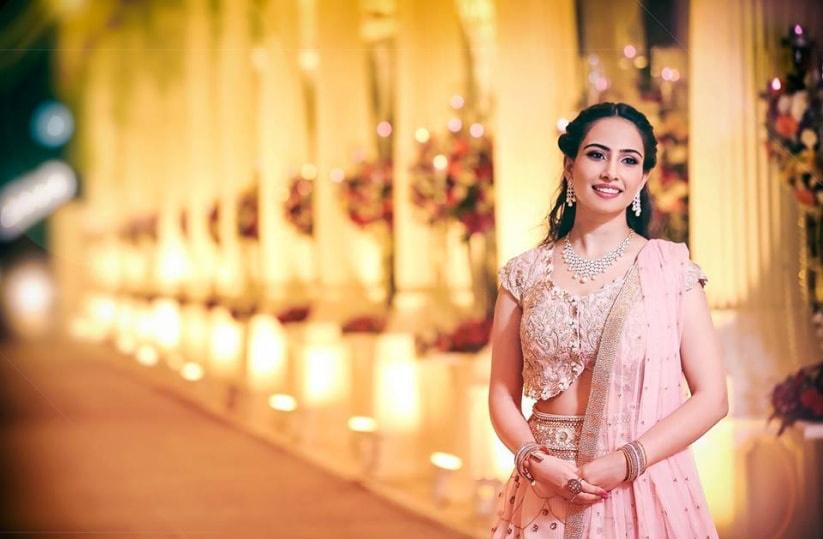 Talking about wedding fashion, pastel colour lehengas have taken up the stage of gleam. A lot has been discussed about bridal pastel lehenga, but the story doesn't end there. This colour palette is all about soothing shades and one of the perfect dresses for the sister of the groom. But make sure you get subtle colours so that you don't overshadow the bride.
14. Full-Length Cocktail Dresses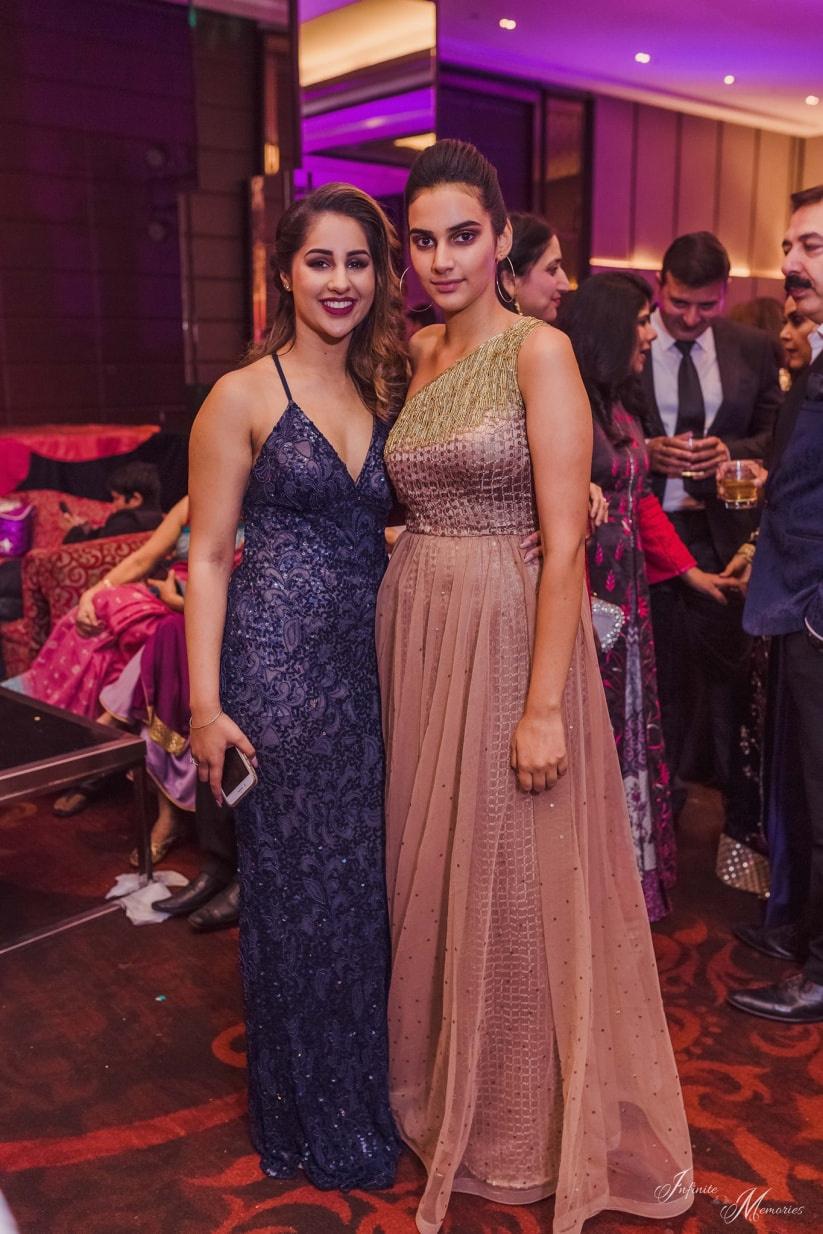 Be #ShadiReady with these cocktail dresses for the sister of the groom. Cocktail dresses are best suited for mellow evening reception parties. You can pair these with jazzed up jewellery like hoop earrings and add the contemporary and classy look to the whole outfit.
15. Evening Gown with Jacket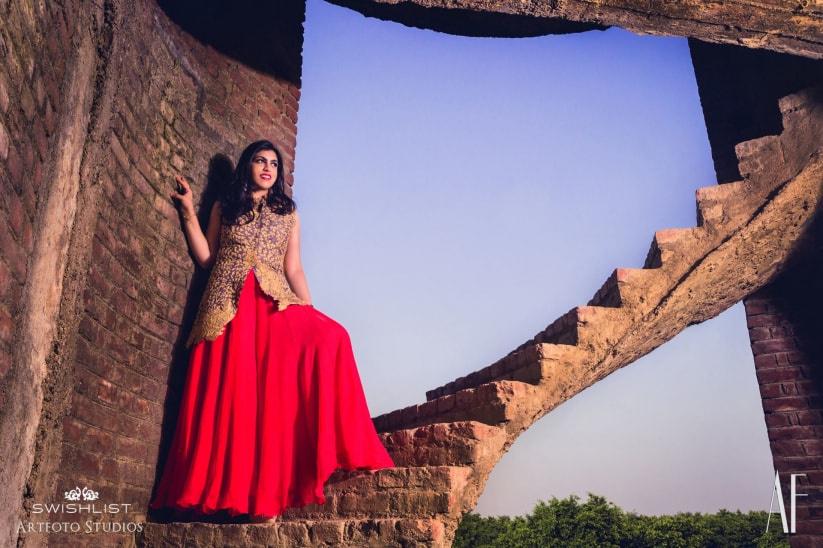 You can pair plain coloured evening gowns with an embroidered contrasting jacket. You can get a traditional look or an unconventional one depending upon the kind of jacket you choose.
16. Palazzo with Blouse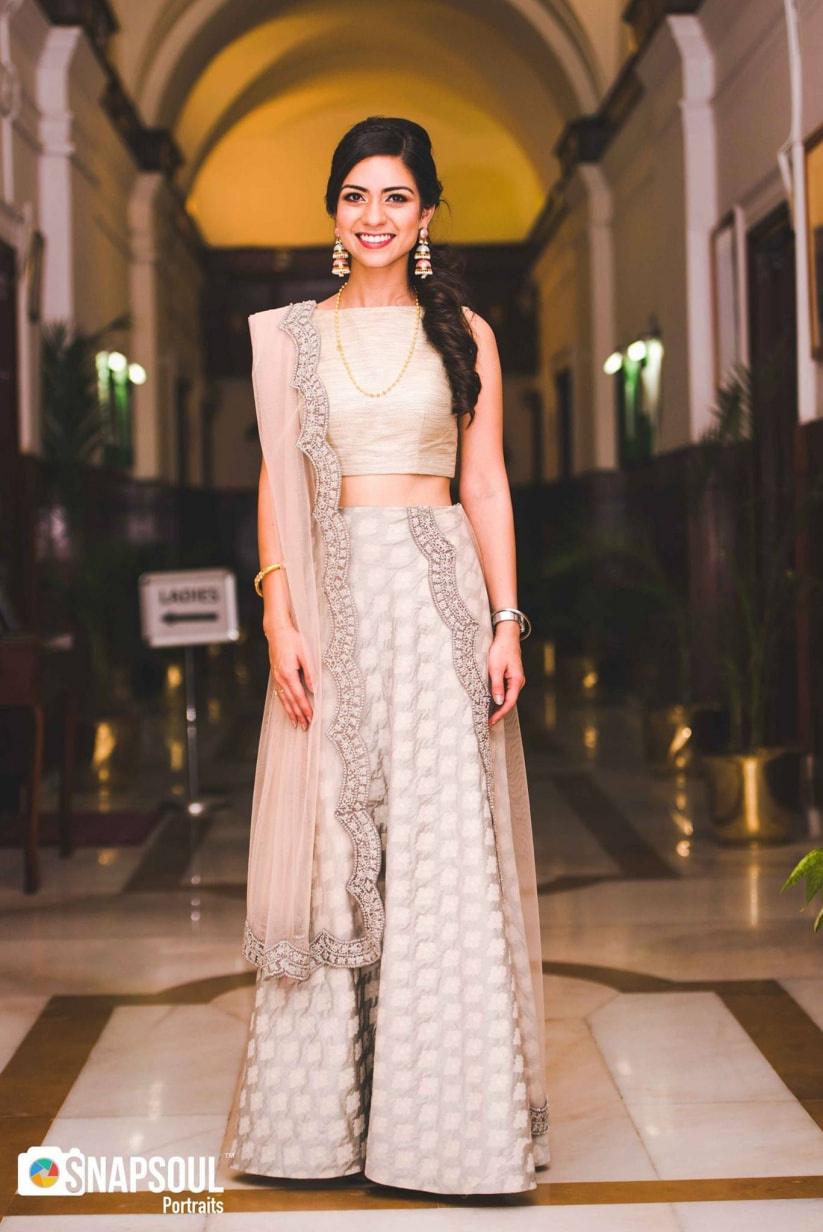 Palazzo pants have their own comfort and elegance. They are usually worn with long Kurti, you can wear it with cute embellished cropped blouses to add a pinch of ethnic look to the functions.
17. Lacha Style Skirt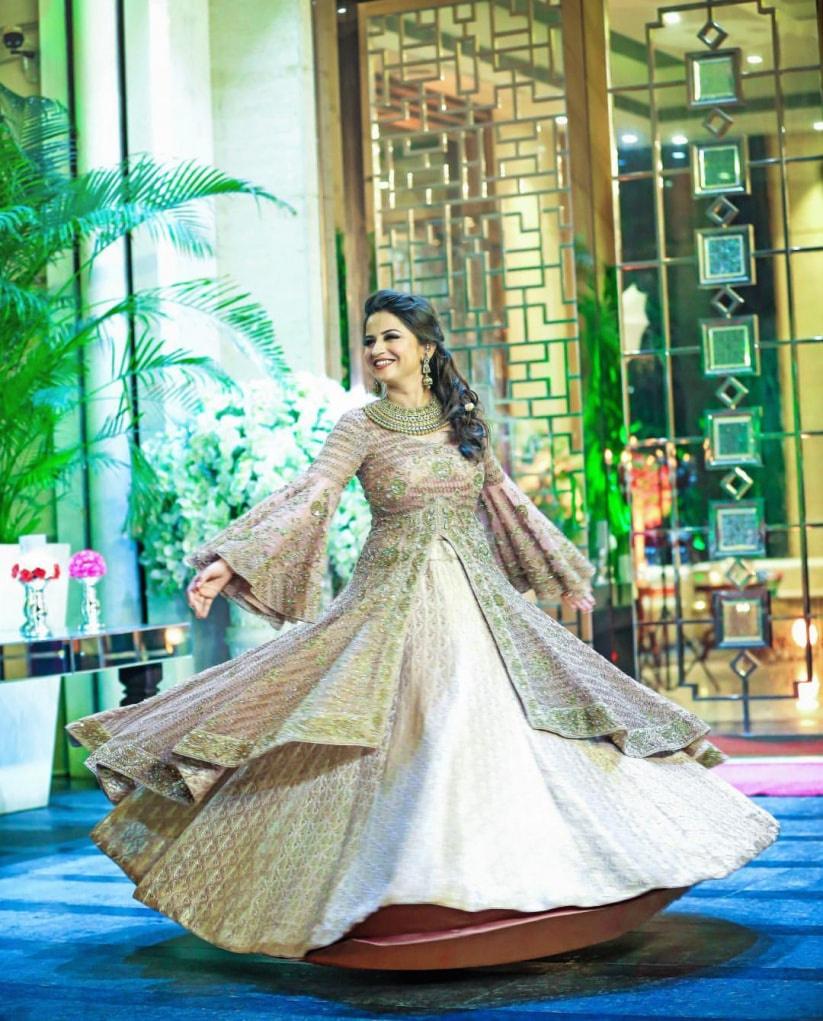 Get those perfect twirl moments with a beautiful Lacha skirt. You can pair it with a cropped blouse or a short kurta of the same or contrasting colour. Skirts like these are very much in vogue and are a winner for a traditional wedding set up.
18. Printed Lehenga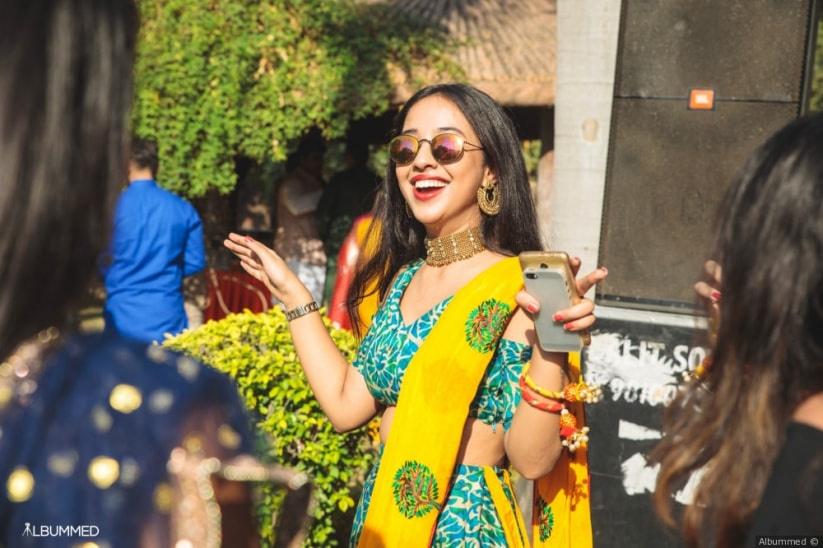 Printed lehenga is best suited for a big fat Indian wedding. This enchanting outfit is one of the trendiest wedding dresses for the sister of the groom. You can pair it with a Kantha Dupatta. The best thing about this outfit is that if paired with light jewellery, you can wear the same thing for mellow non-wedding events as well.
19. Classic Silk Saree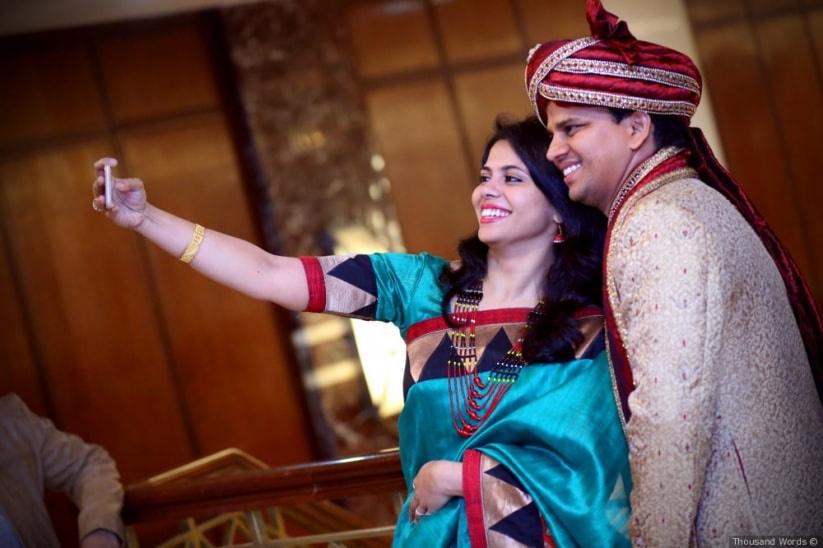 A silk saree never goes out of trend. What's better than hitting your brother's wedding in a royal silk saree? If you're an elder one to the groom, then it is the perfect thing to wear as it will also personify your maturity and will give Maharani vibes.
20. Cape Style Dress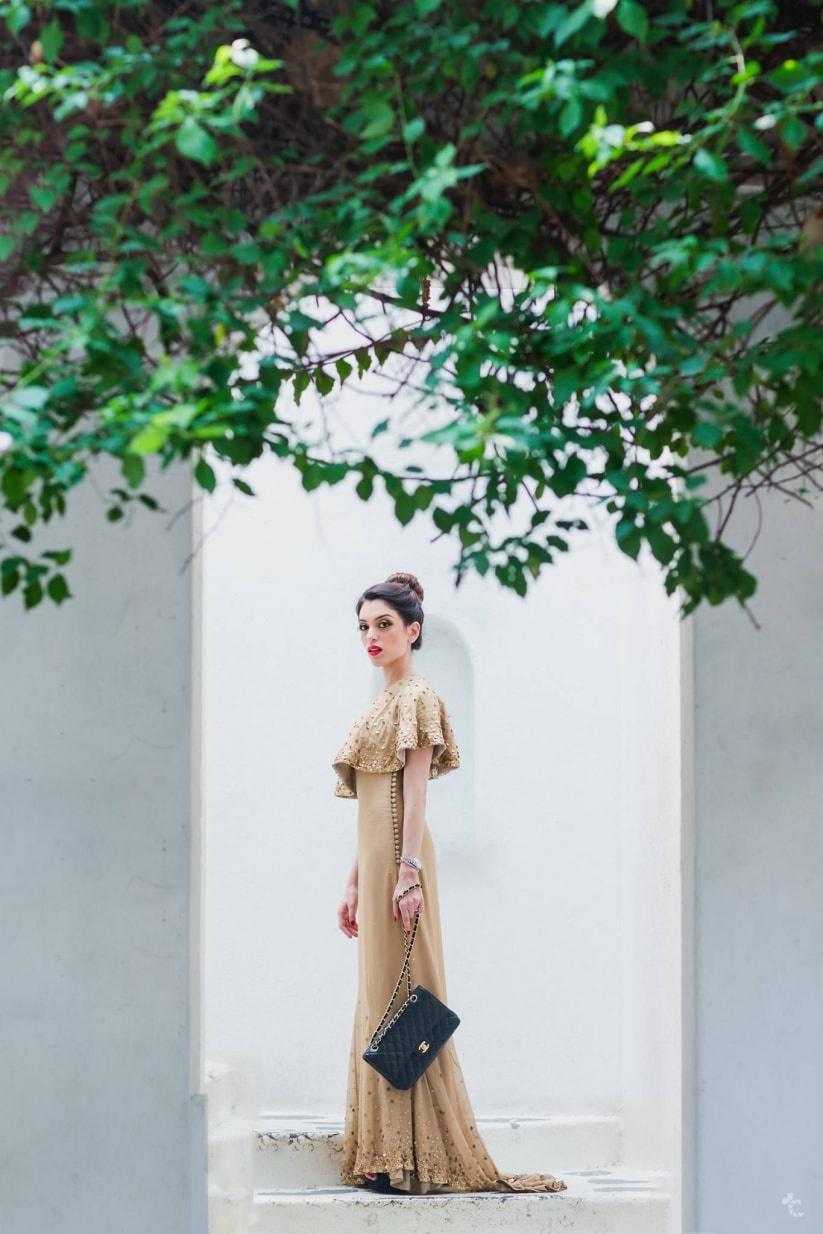 Cape style dresses are the most modish outfits we have seen in the recent past. These are perfect for a classy set up like that of a country club. You don't really have to don traditional attires always you know!
21. Plain Saree with Heavy Borders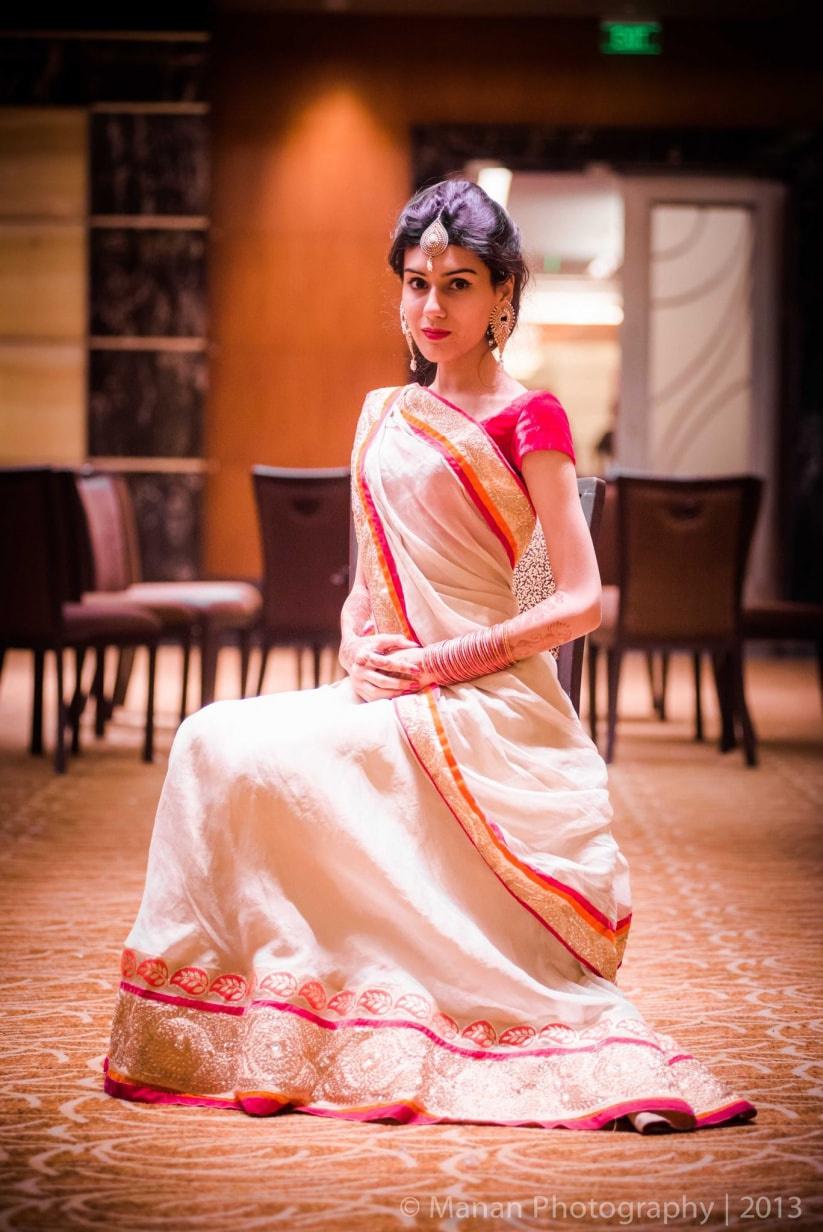 It's not completely right to think that plain sarees are not meant for wedding occasions. It all depends on how you style them. Sarees with heavy borders are spectacular, and if paired with the appropriate jewellery, we assure you that the bride and groom wouldn't be the only highlight of the occasion!
22. Anarkali Skirt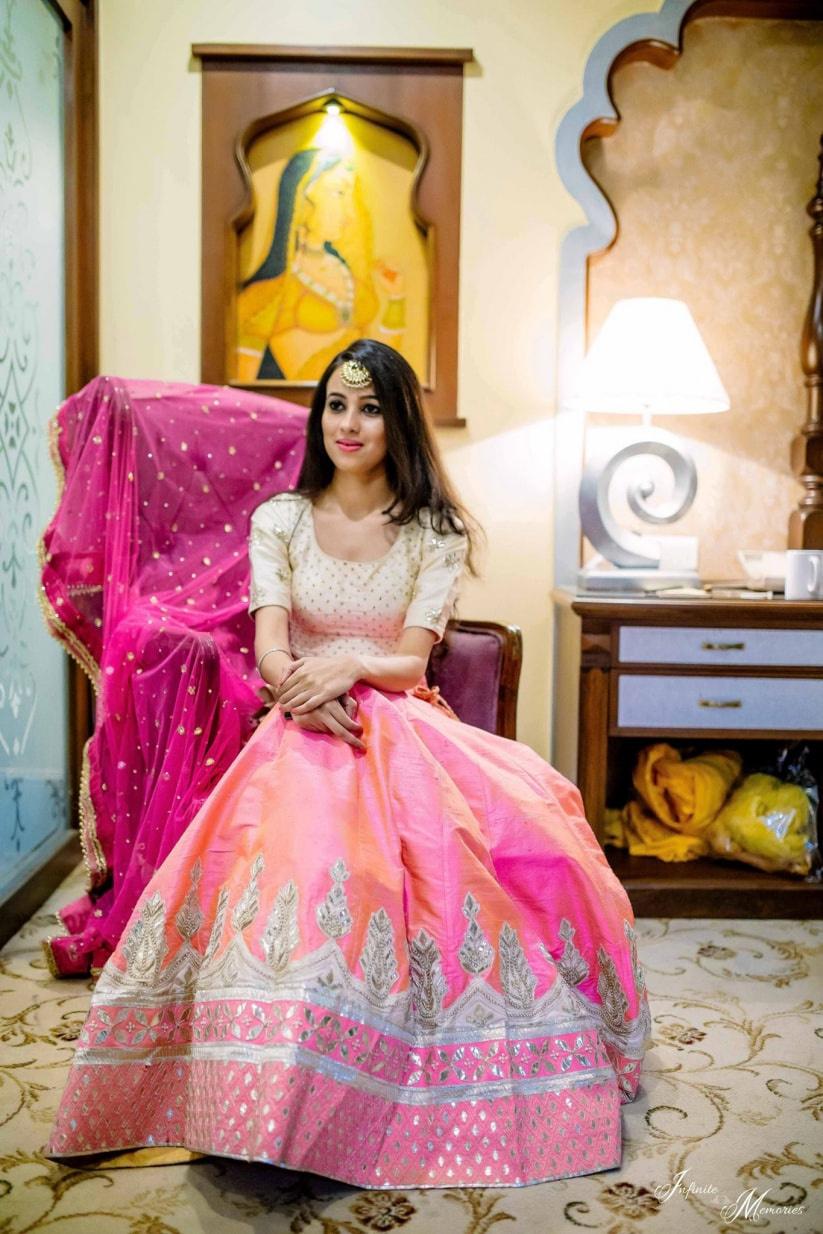 This outfit gives an Indo-western look and is an excellent choice for the sangeet ceremony. You can choose the colour of the outfit and the jewellery you want to pair it with. You can pair it with a contrast crop blouse to make it look even more beautiful.
23. Shirt Blouse (Lehenga or Saree)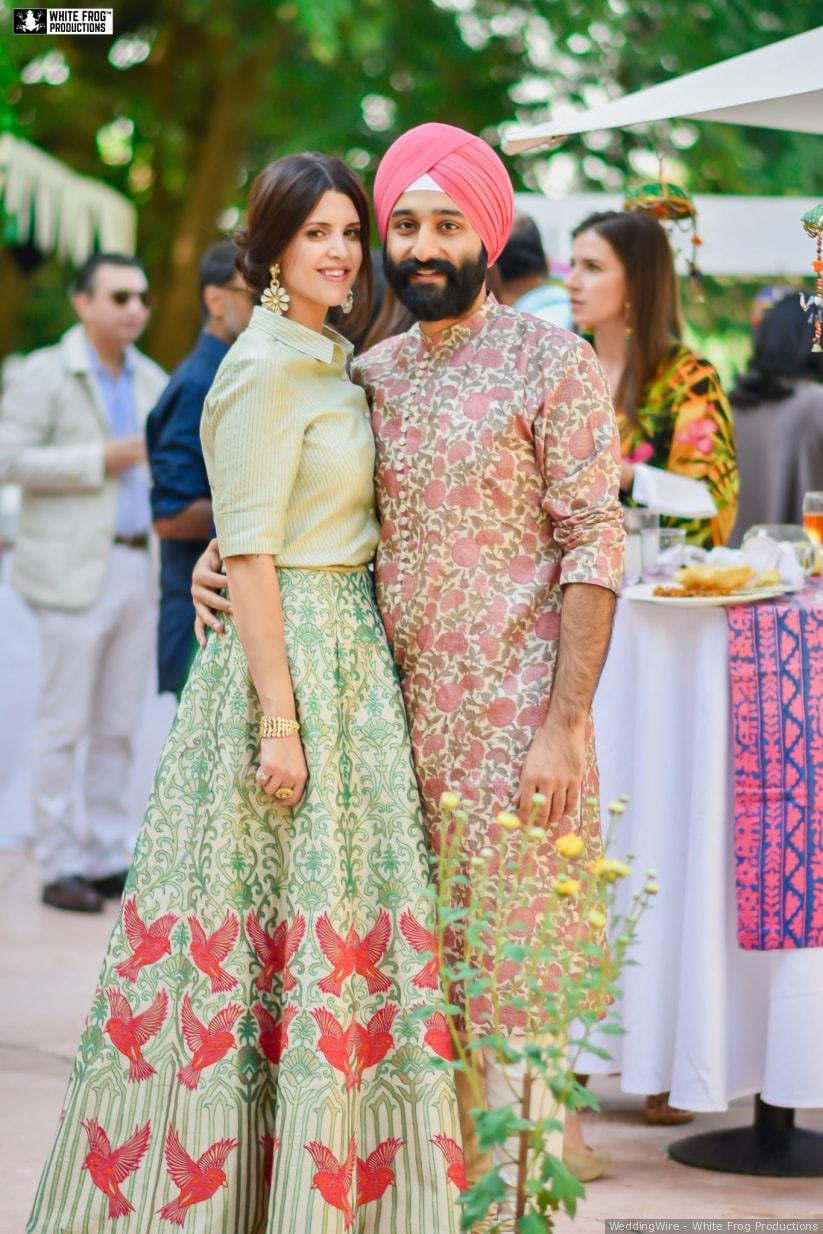 Looking for the sister of the groom Indian dresses? Create a fusion by pairing your saree with a nice shirt instead of the conventional blouse. It will surely make some head turns as you walk alongside your brother!
24. Chiffon Saree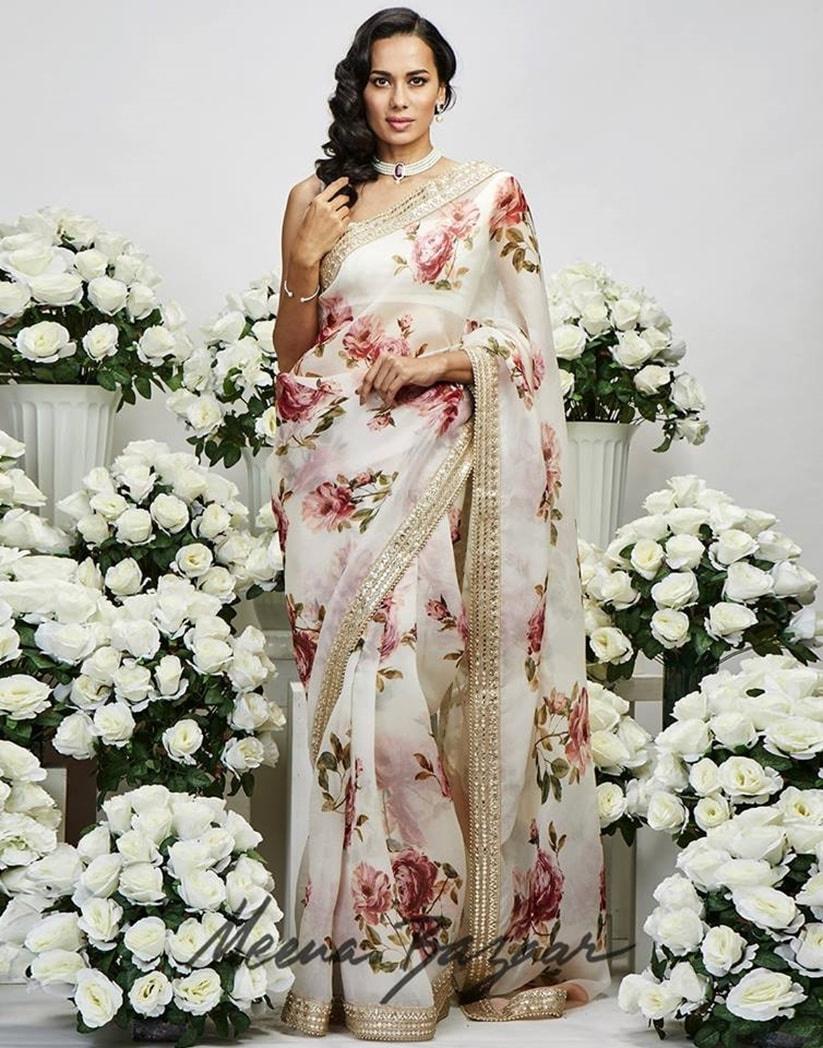 Chiffon saree, especially with heavy borders, is an easy to find garment, which makes for an attractive formal wear. These are best suited for classy wedding setups.
One does not even have to think twice before opting for these beautiful wedding dresses for the groom's sister. Now that the list is made, you can check out our bridal fashion vendors to buy your outfit from.
Did we leave out something? Let us know in the comments section.
- Words by Surbhi Sachdeva and Saher Zahra