40+ Stunning Mirror Work Lehengas That Would Make You Sparkle Like a Rockstar
If you are confused about what to wear for your wedding ceremony, a gorgeous mirror work lehenga will not only make you sparkle on your big day but sweep your beau off his feet.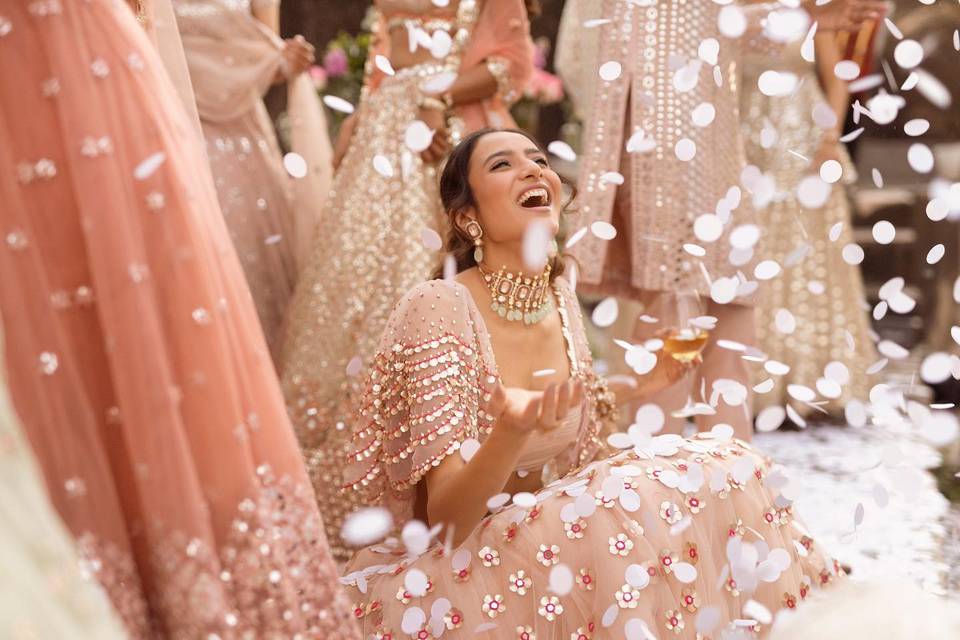 For brides around the world, their wedding outfit is the most thought after and gorgeous ensemble that they choose for their big day. From choosing the perfect fabric to the stunning embellishments, every bride wishes to look her best wearing the perfect bridal lehenga. And when you can choose from the stunning mirror work lehengas to rock your every wedding function, that can be nothing less than a dream. From glistening embellishments to the eye-catching colour palettes, mirror work lehengas can be nothing short of your dream wedding outfit.
A lehenga can be the simplest choice one can make to wear at ceremonies. The special thing about lehengas is that they are not just as simple as they look, you can turn them into anything you want. The mirror work lehengas are just one such beautiful example of these creations, they can literally make you shine, and what better than that at your own Mehndi or Sangeet function. These mirror work lehengas make perfect outfits for these functions, as in the mehndi morning they make you seem like you are glowing, and in the sangeet night, the glitz and glam they provide outshines everything else.
No matter what colour palette you choose for your mirror work lehengas, from the dull greys to the bright pinks. the shimmer of mirror work lehengas will help you look gorgeously glam! We have curated the perfect list of colours, combinations and of course the glory of mirror work craftsmanship to help you choose the gorgeous and latest bridal lehenga for your wedding festivities. Let's dive deep and pick the most perfect mirror work lehenga for you.
Stay Golden

Gold is not only evergreen but a classic choice for mirror work lehengas. This timeless creation by Abu Jani and Sandeep Khosla will surely win the heart of every bride. Perfect for millennial brides who want something experimental but do not stray off the traditional course too much, you can style this mirror work lehenga effortlessly with delicate gold jewellery sets from your trousseau.
Blue Bling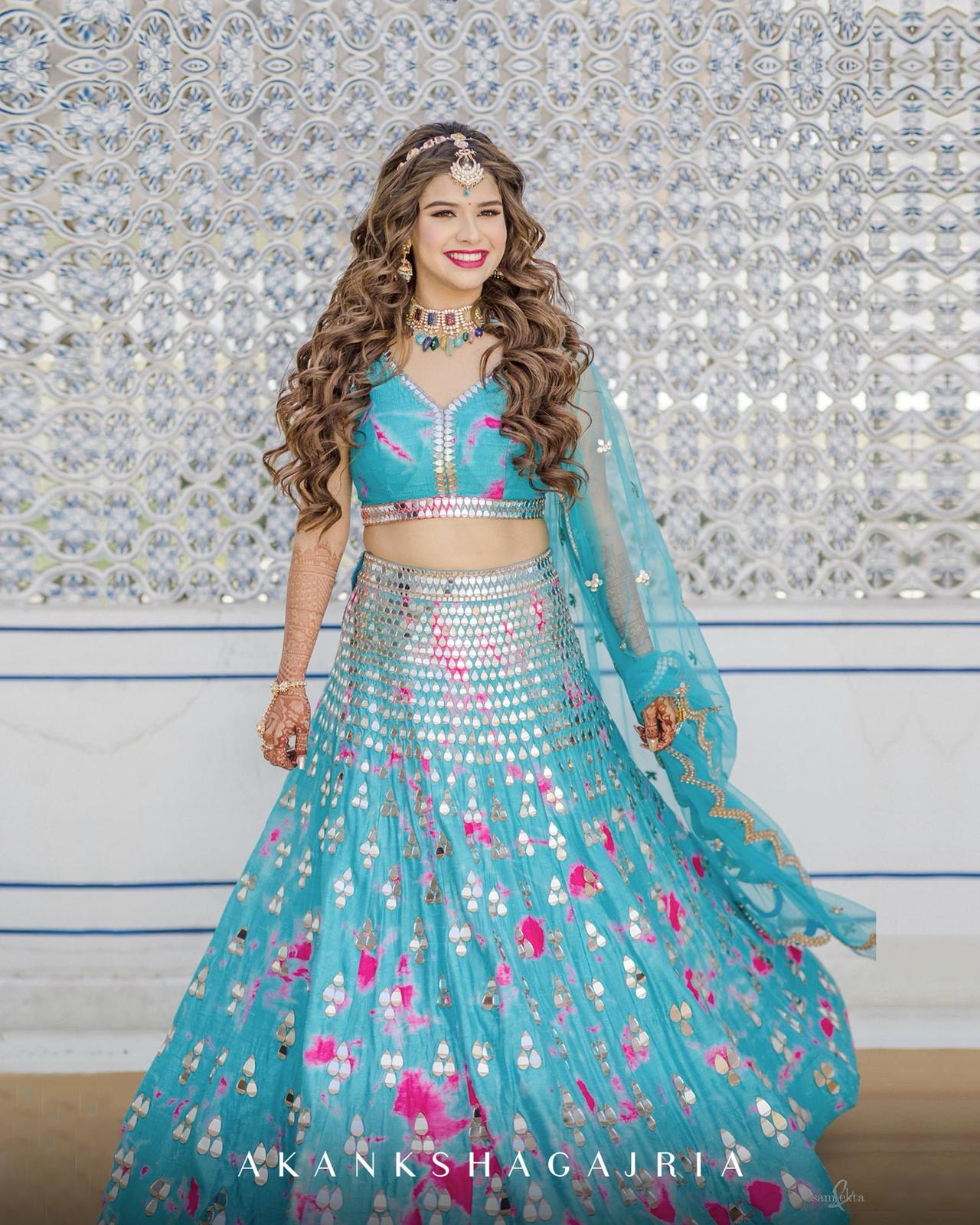 Photo Courtesy - Akanksha Gajria Label
Create a style statement with this stunning tie and dye mirror work lehenga by Akansha Gajria. Known for her peppy colour palette, this gorgeous mirror lehenga will be the perfect fit for any day function around your wedding. The circular mirror work blended with scallop embroidery around the dupatta gives the whole outfit an edge.
Colourful Dreams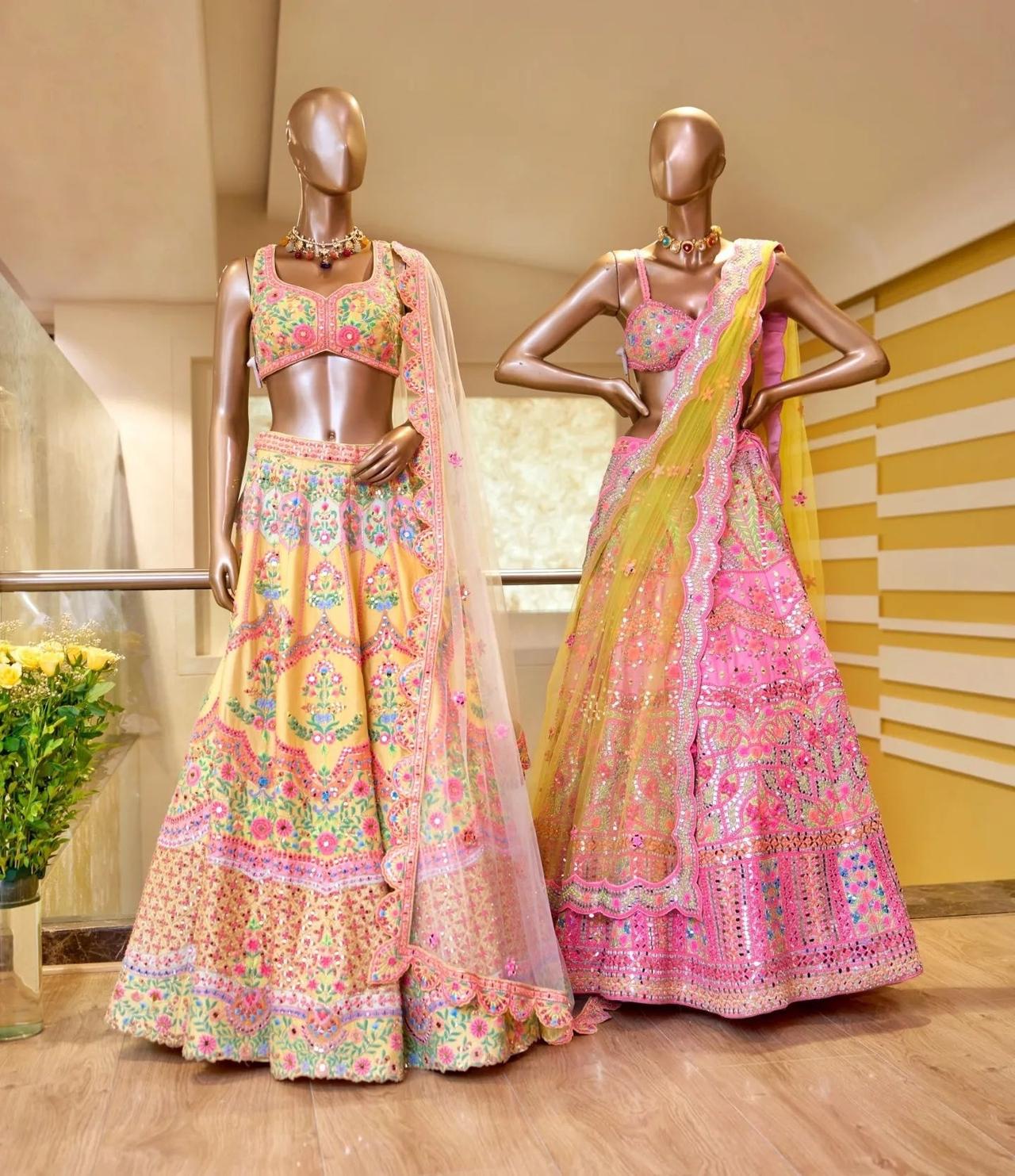 If you are the bride who can't decide on one colour for her wedding functions, why not choose all of them and look absolutely spectacular adorning this gorgeous ensemble by Aza Fashion. Filled with intricate motifs in multicolour, slay your outfit with the stunning lehenga dupatta draping styles.
Champagne Love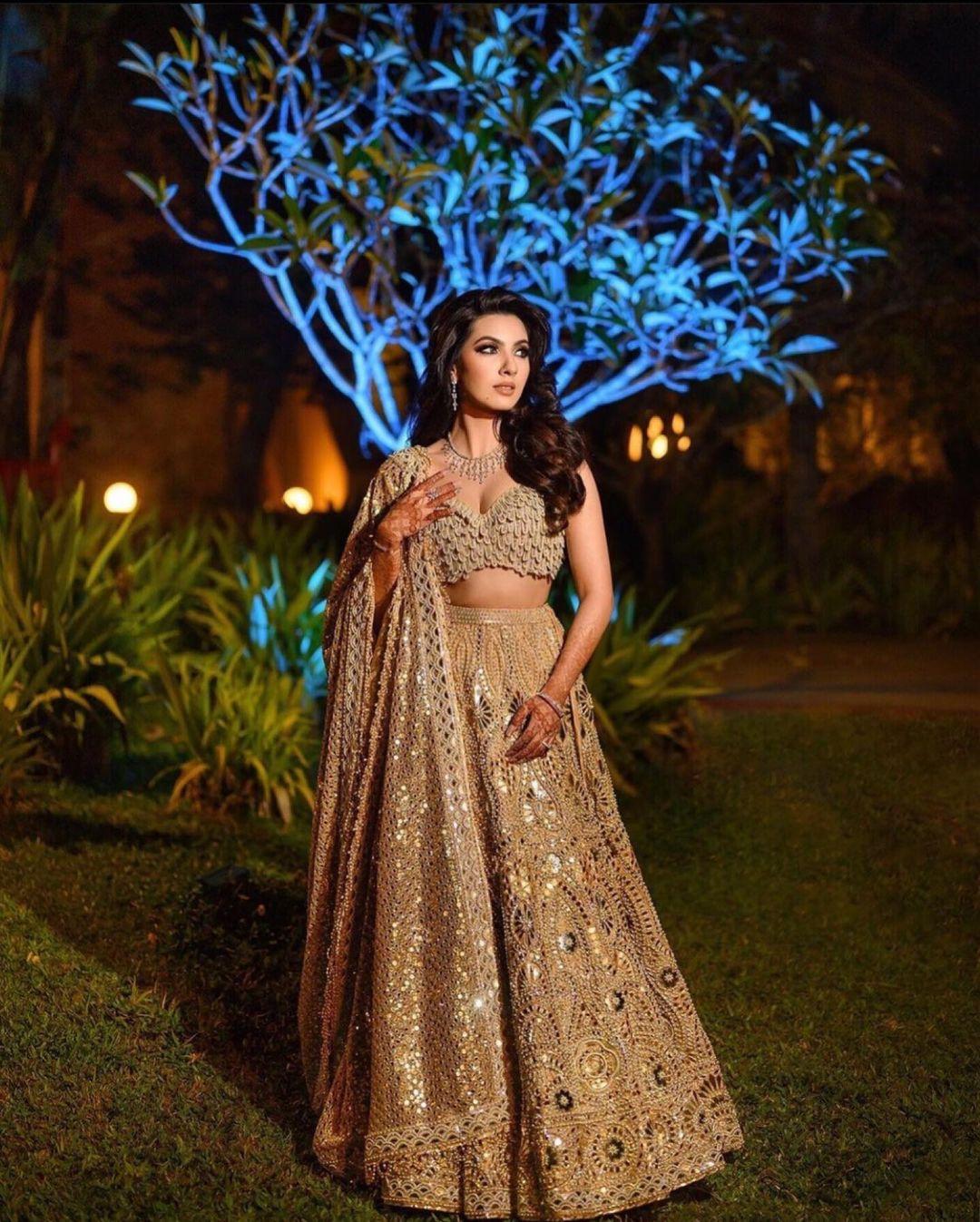 Image Courtesy - Dabiri Couture
If you don't wish to choose gold for your bridal lehenga but bling is your thing, we have the perfect colour palette for you! How about you choose the gorgeous champagne colour with detailed embroideries and embellishments. Flaunt your swirling twirl in this beautiful mirror work lehenga by Dabiri Couture.
Sparkle with Multicolour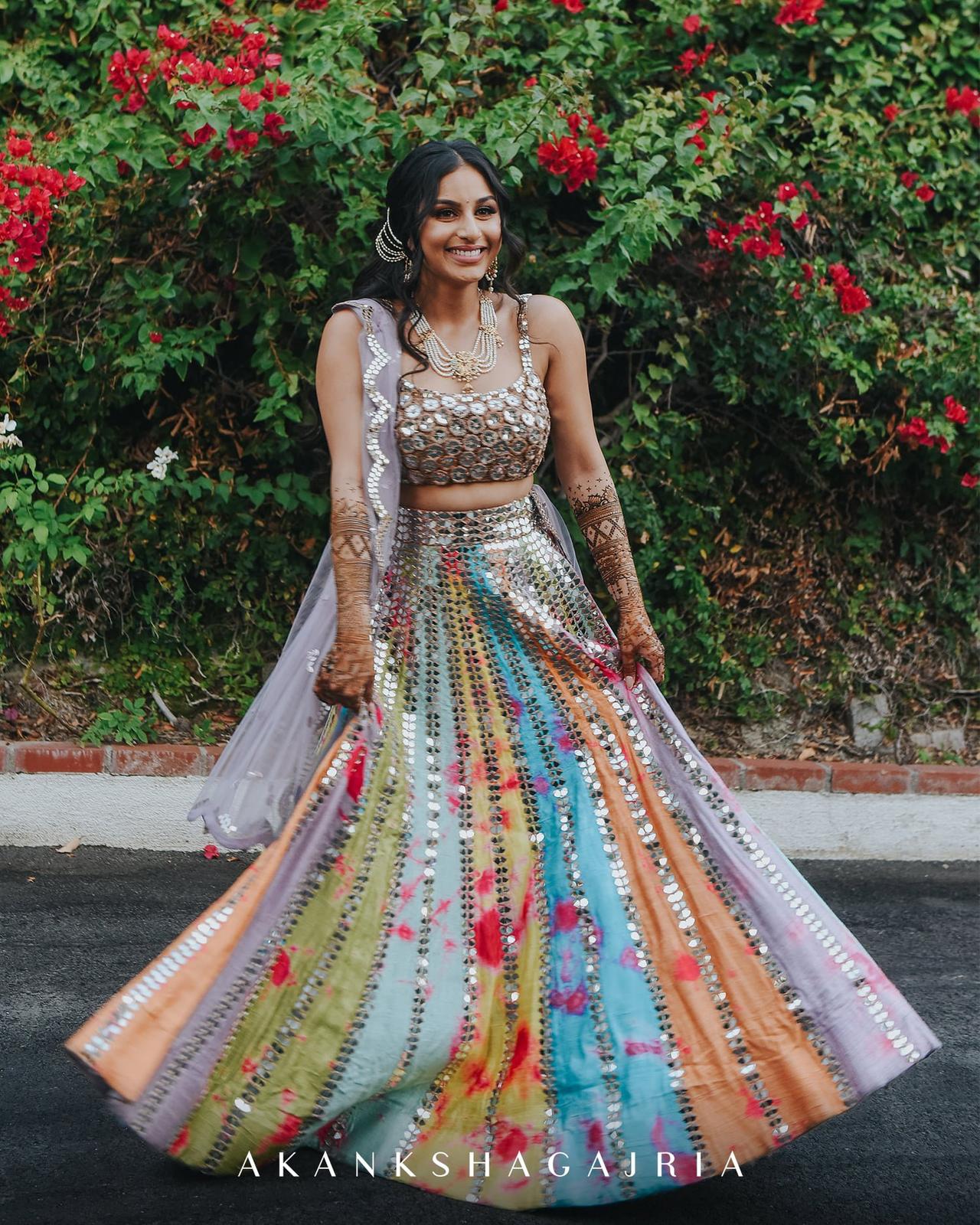 Photo Courtesy - Akanksha Gajria Label
A gorgeous multicoloured mirror work lehenga with tie and dye and embellished circular mirrors will make you look your stylish best for any of your wedding functions and festivities. Pair this classic piece by Akansha Gajria with diamond Polki jewellery to look your best.
Perfect Tangerine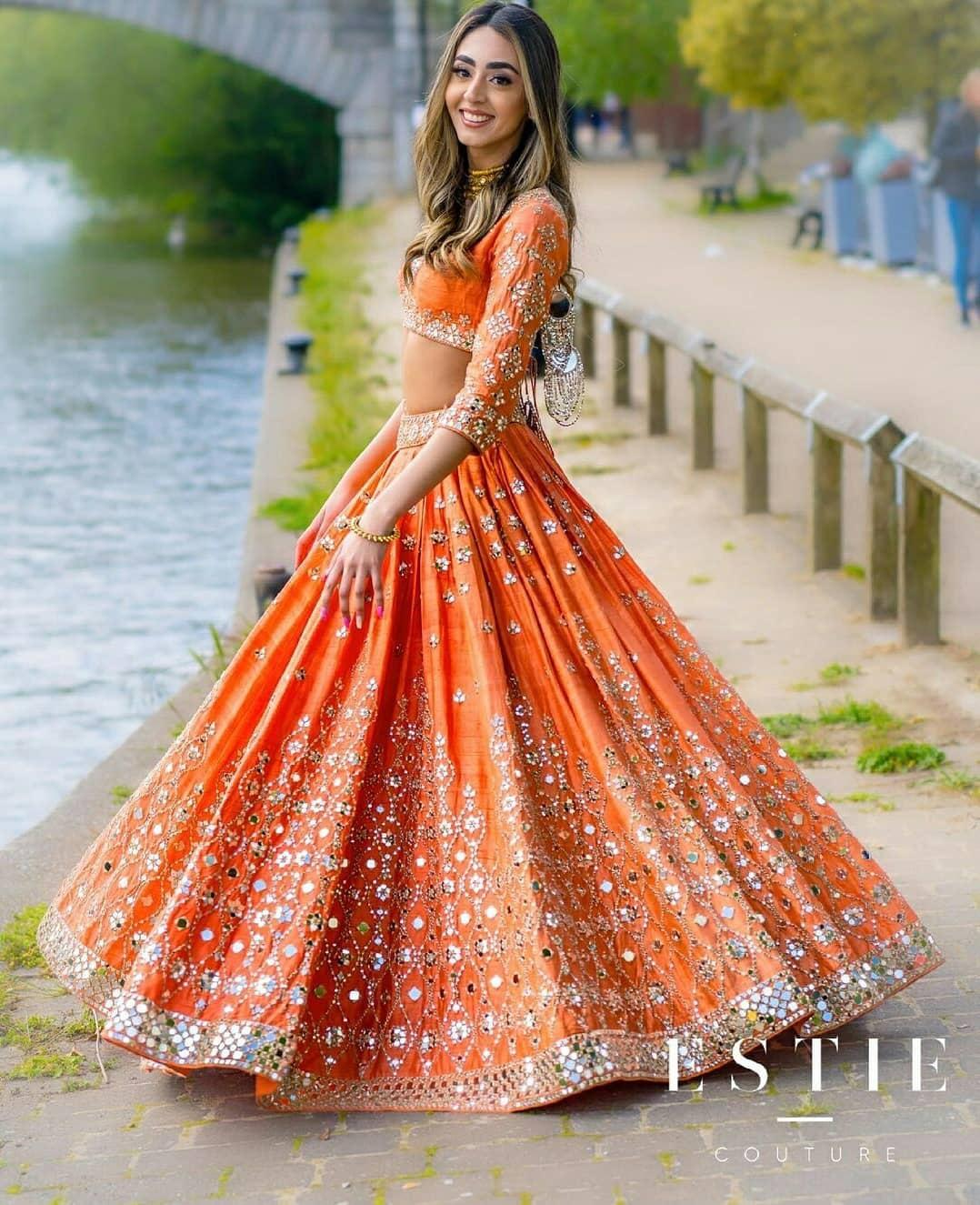 Photo Courtesy - Estie Couture
Perfect your look for a breezy summer wedding with a trendy blouse to pair with this absolutely breathtaking tangerine mirror work lehenga! With stunning embellishment patterns and a bright summer wedding colour, it will be a show stopper for your offbeat Haldi ceremony or Mehndi function.
Minty Green for the Win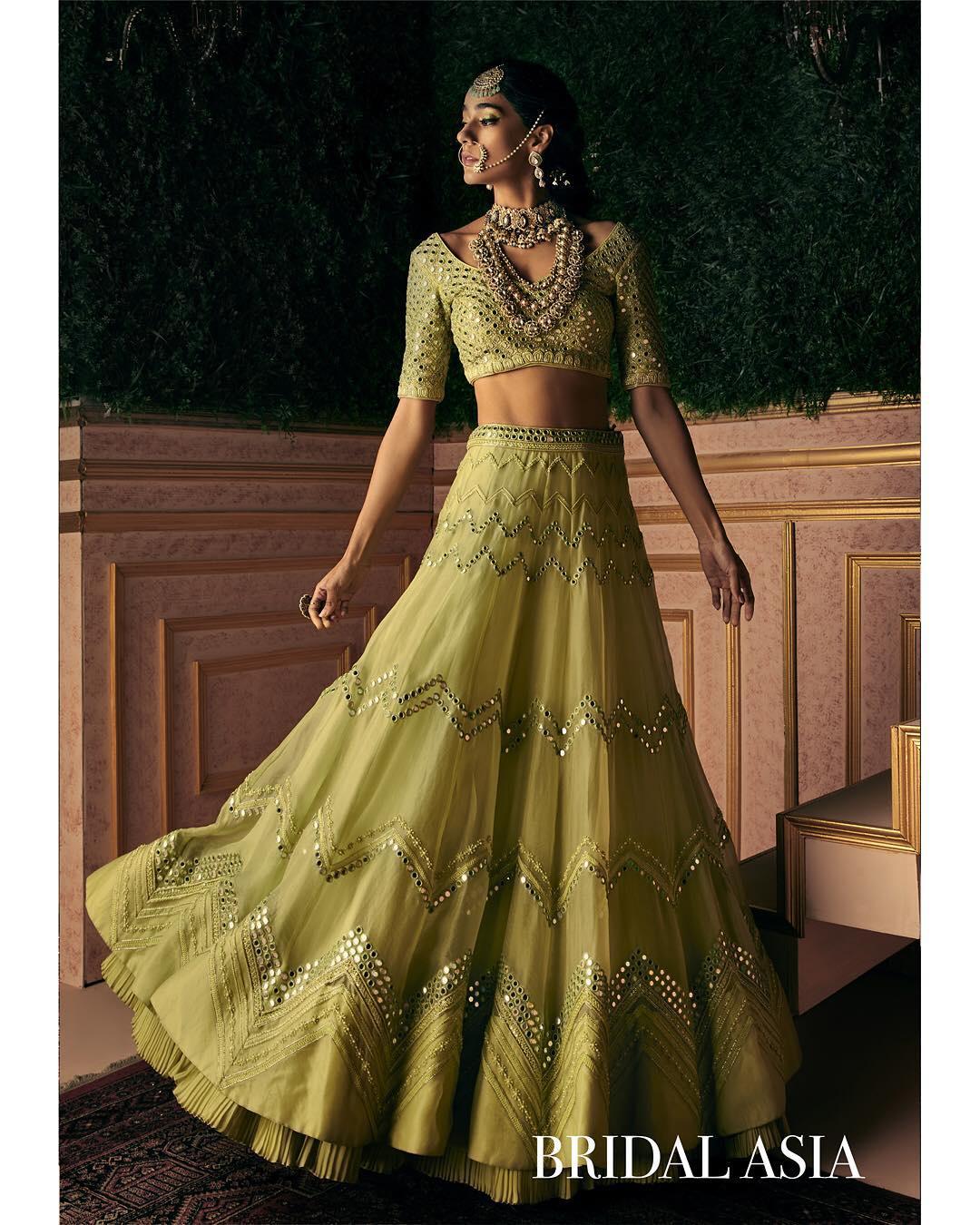 When choosing an offbeat colour palette for your wedding functions or in need of a perfect pair of mirror work lehenga for your mehndi night, without a doubt you can go for this gorgeous mint green lehenga. It will be the charmer at your festivities when paired with the latest emerald jewellery designs.
For the Love of Unicorns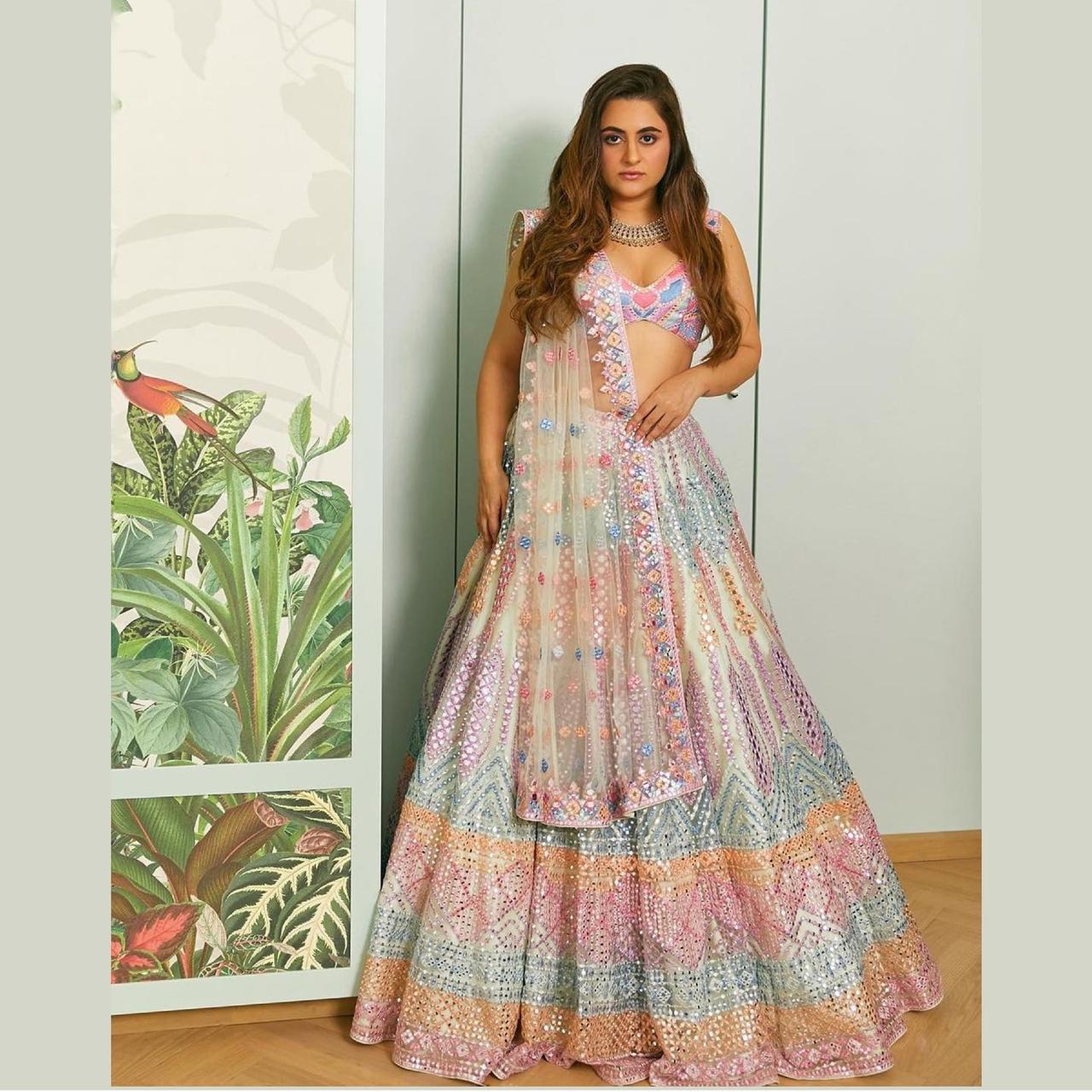 Photo Courtesy - Tamanna Punjabi Kapoor
Add magic and charm to your big day ceremonies by choosing a stunning unicorn mirror work lehenga! Weddings are said to be the momentous occasions in a person's life where they strive to make all their dreams come true with the love of their lives. This beautiful mirror work lehenga will be the cherry on top you need to begin the journey of your dreams.
Gold & Shimmer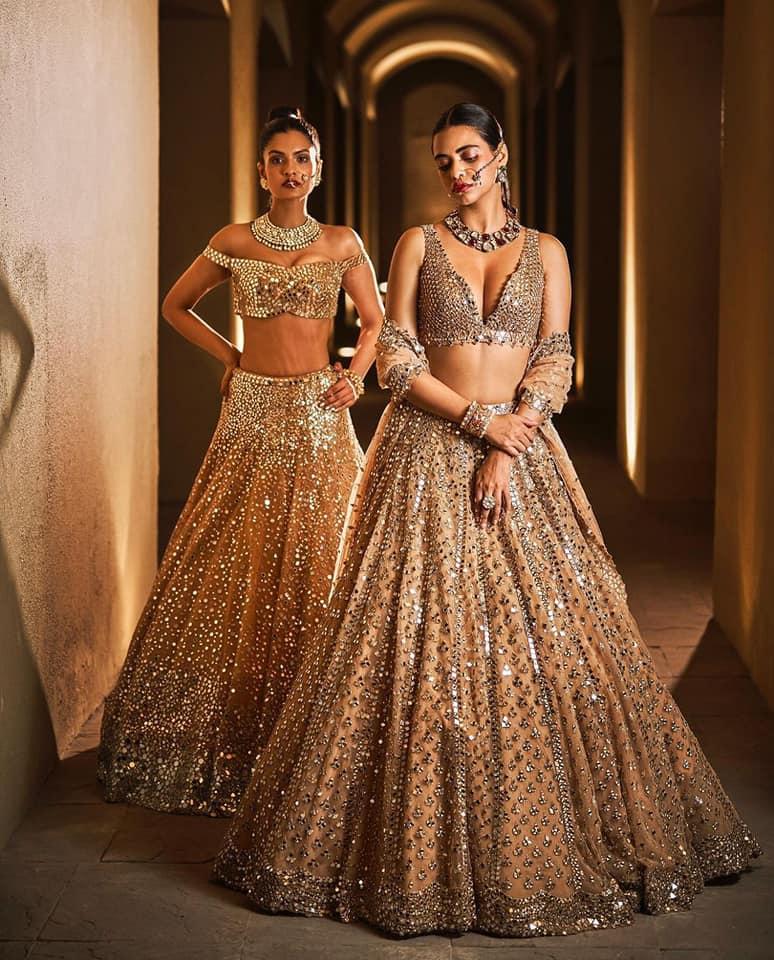 Photo Courtesy - Estie Couture
You can never go wrong with gold, especially for Indian weddings. Whether it's the lust-worthy gold jewellery designs, the palette undertones in your wedding decorations or a showstopping gold mirror work lehenga to make you look nothing less than a princess.
Muted Sunshine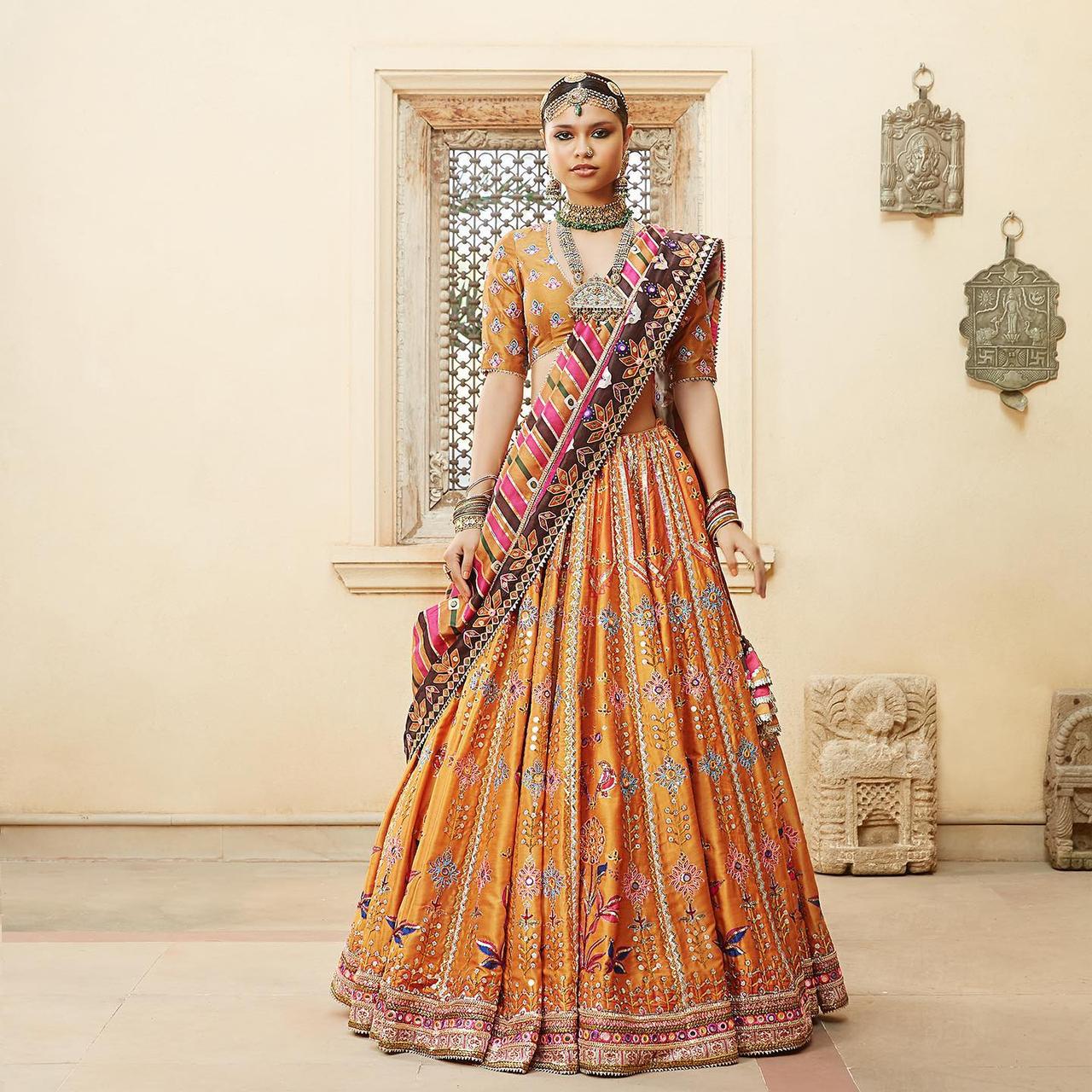 Shine brighter than ever on your wedding functions or a dreamy Haldi ceremony when you choose a stunning masterpiece by Mayyur R Girotra Couture. The stellar mirror work lehenga is beautifully juxtaposed with Gota Patti's work, floral embroideries and a gorgeous colour palette. Gota Patti lehengas look beautiful for weddings and when mirror work is added on, it will be a class apart.
Bedazzling Fuschia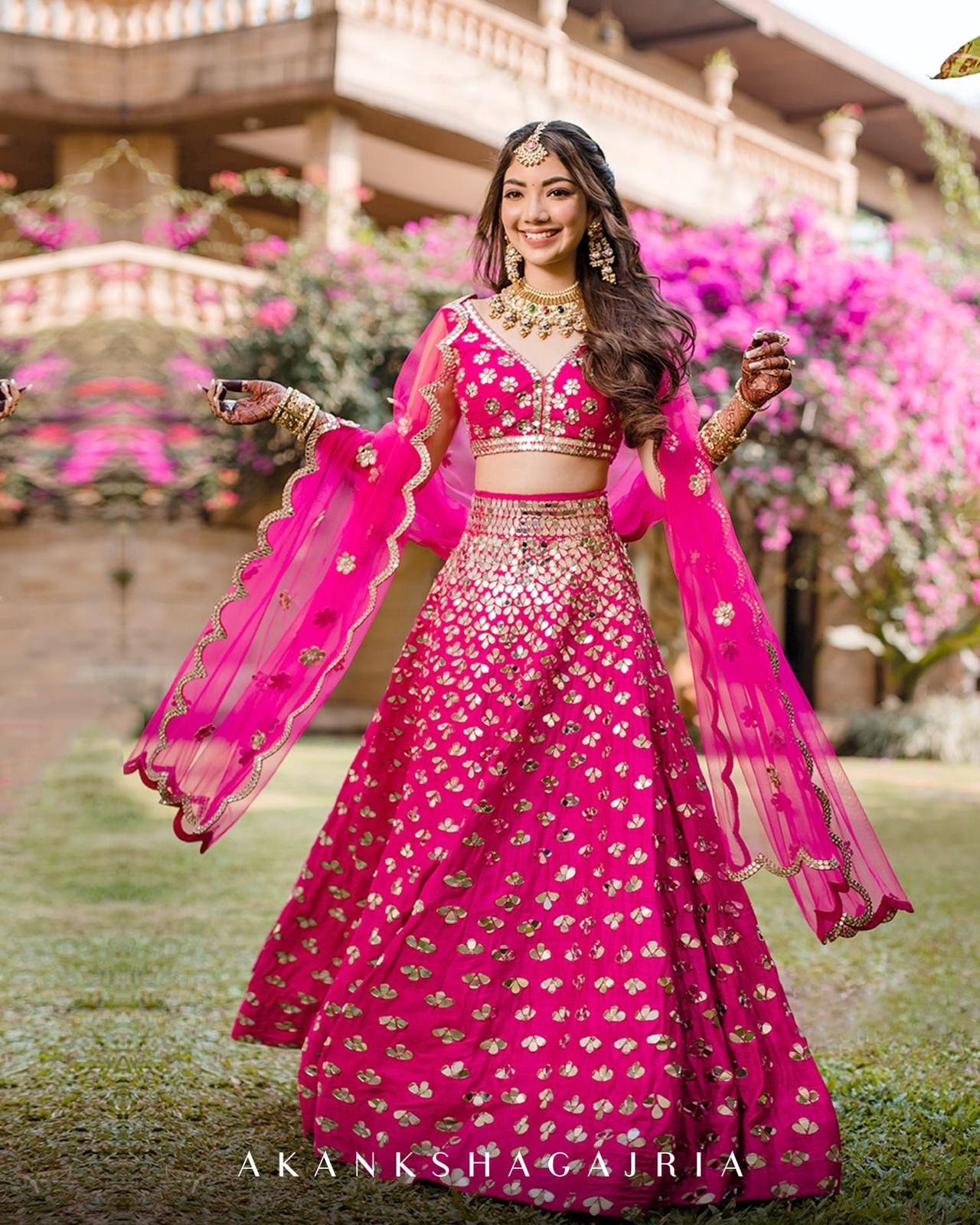 Photo Courtesy - Akansha Gajria
Why settle for less when you can go completely overboard with your mirror work lehenga? Choose this shining bright Fuschia piece by Akansha Gajria with a scalloped detailed dupatta to be the perfect attire to make you look more gorgeous than ever.
Peachy Affair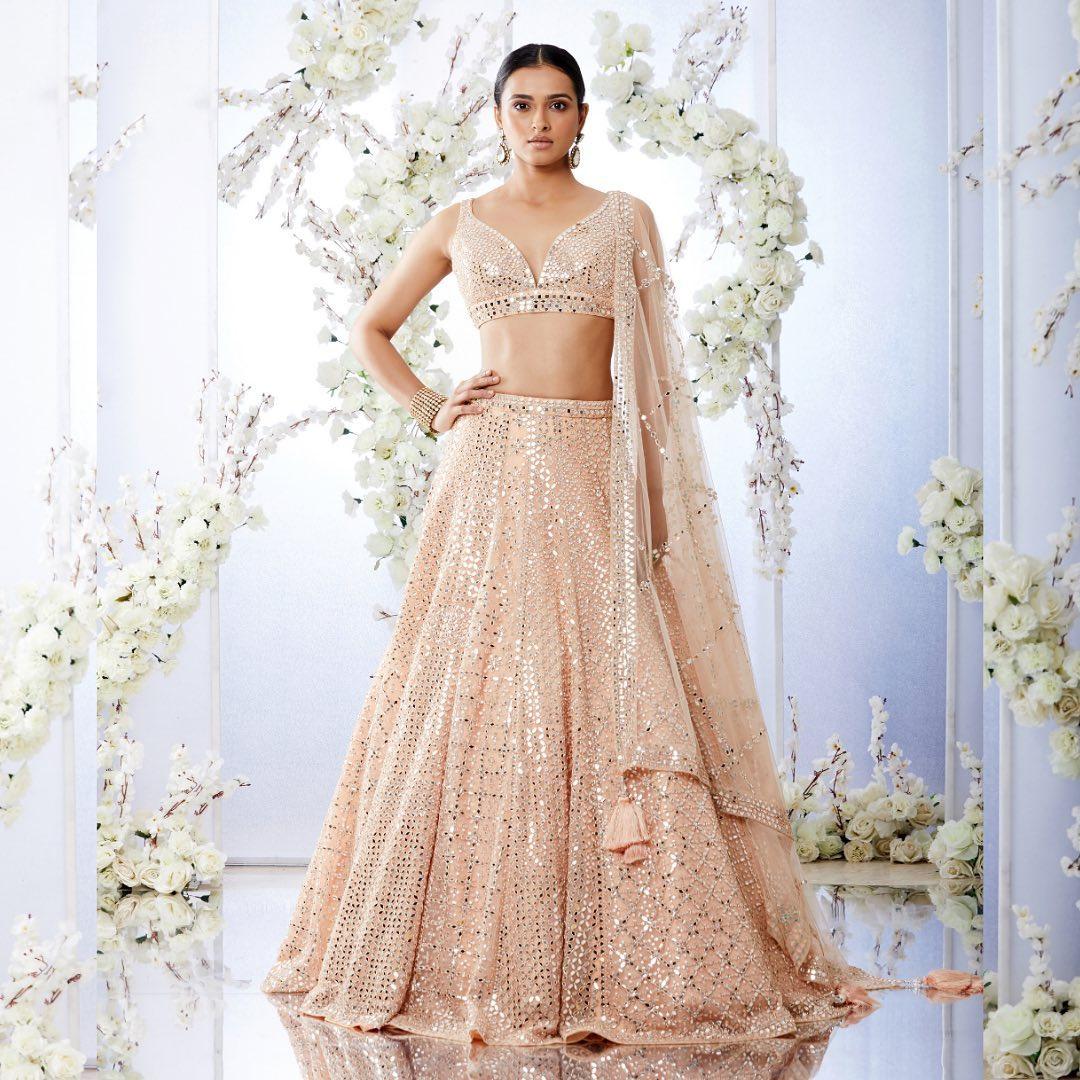 Photo Courtesy - Nikaza Asian Couture
For pastel lehenga lovers, this gorgeous peach mirror work lehenga will be a perfect choice. A popular choice of millennial brides, the beautiful creation by Nikaza Asian Couture is full of tiny mirrors from top to bottom with a pretty blouse design and a dupatta with tassels. Break the convention of a red lehenga by choosing natural shades that will make you look unimaginably stunning
Coral Colour Palette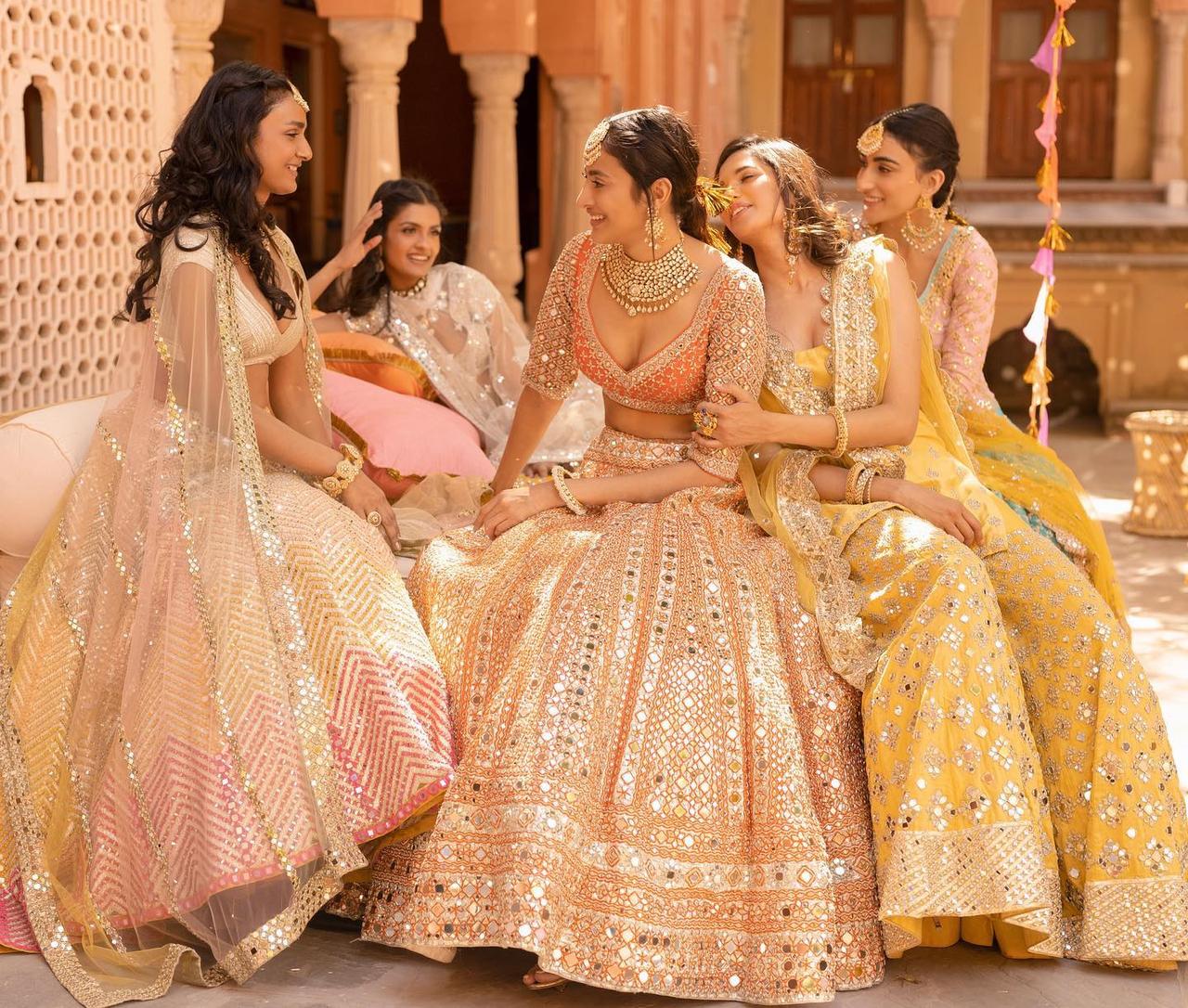 Are you confused about which colour to pick for your mirror work lehengas? Worry not, as we brought you a gorgeous colour palette that you can never go wrong with. The stunning coral palette has beautiful and bright colours like tangerine, orange, yellow, apricot and many more that you can mix and match to create a perfect ensemble for your wedding festivities.
Blush Pink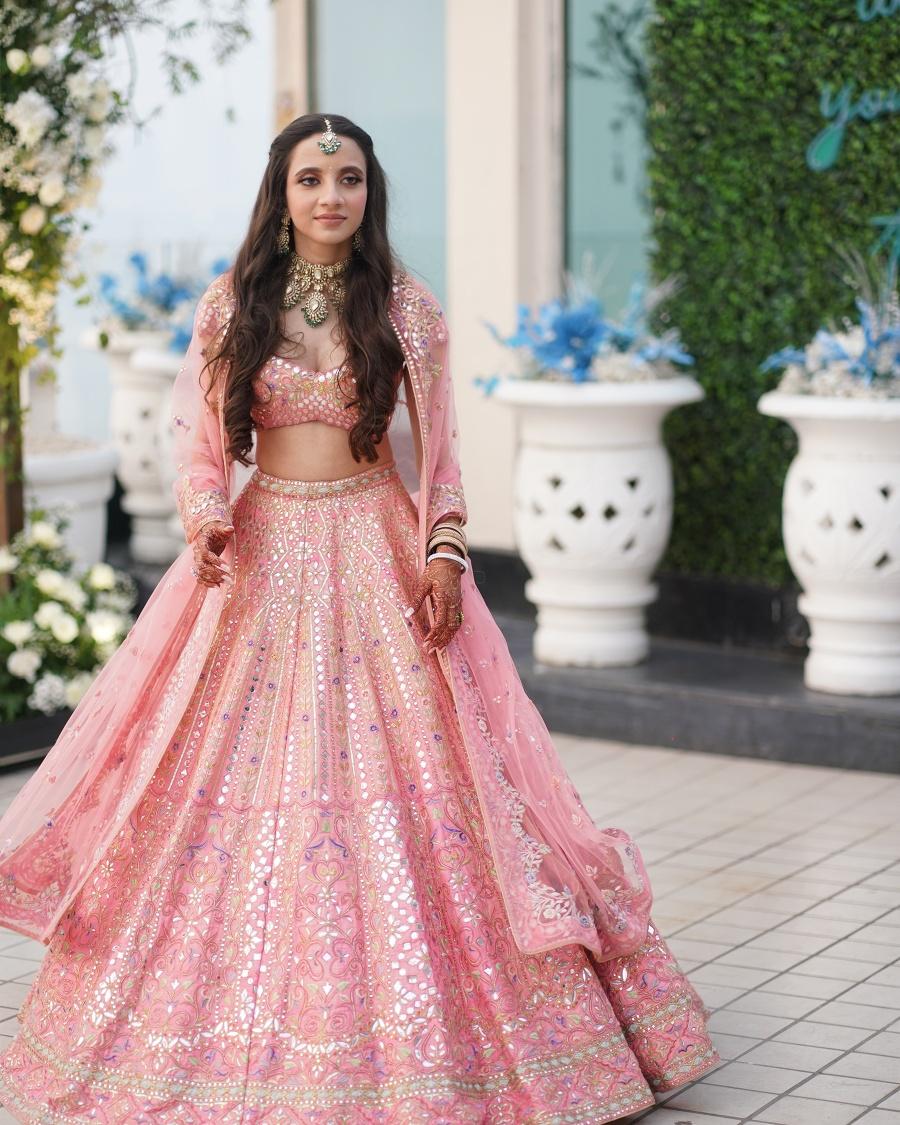 Photo Courtesy - Tamanna Punjabi Kapoor
If pink is your go-to colour, then how about a stellar blush pink mirror work lehenga which you can twirl in like a princess? This gorgeous creation by Tamanna Punjabi Kapoor is full of intricate embroideries in silver, pink and purple that make the outfit stand apart. Pair this ethereal mirror work lehenga with classic jewellery designs in contrasting colours.
Periwinkle Delight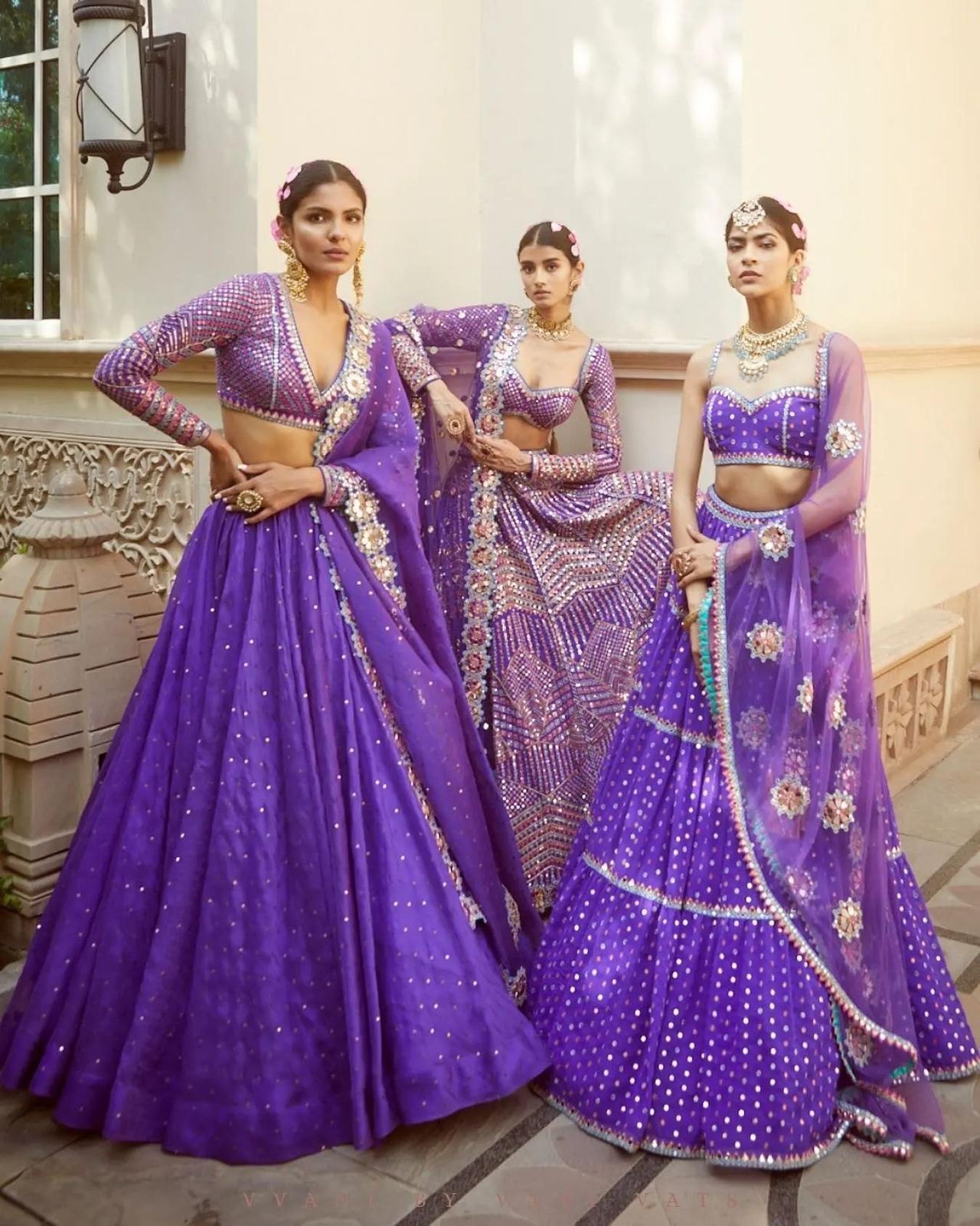 Keeping up with the latest trend in colours that brides choose for their wedding festivities, definitely has to be the Pantone colour of 2022! A beautiful mix of periwinkle with violet undertones and delightful red streaks will come alive when created in a beautiful mirror work lehenga.
Mirrored Ivory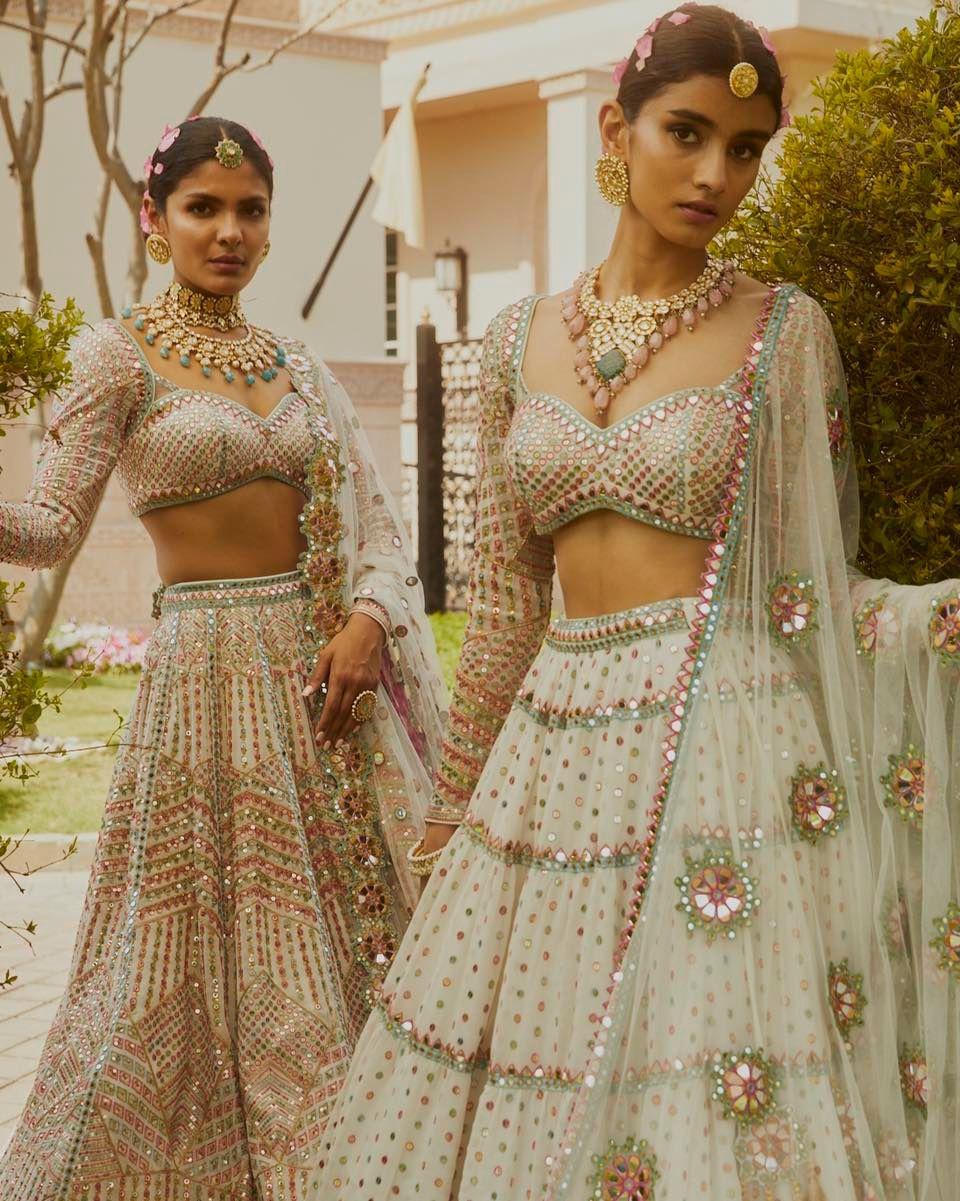 Photo Courtesy - Ogaan
For this wedding season, ivory is all the rage. Styled beautifully in Alia Bhatt's wedding, many brides choose the ivory colour palette because of its timeless beauty. It looks classic no matter which functions it's worn and when you have an ivory mirror work lehenga in multicolour embroidery, no doubt you will slay the floor.
Salma Sitara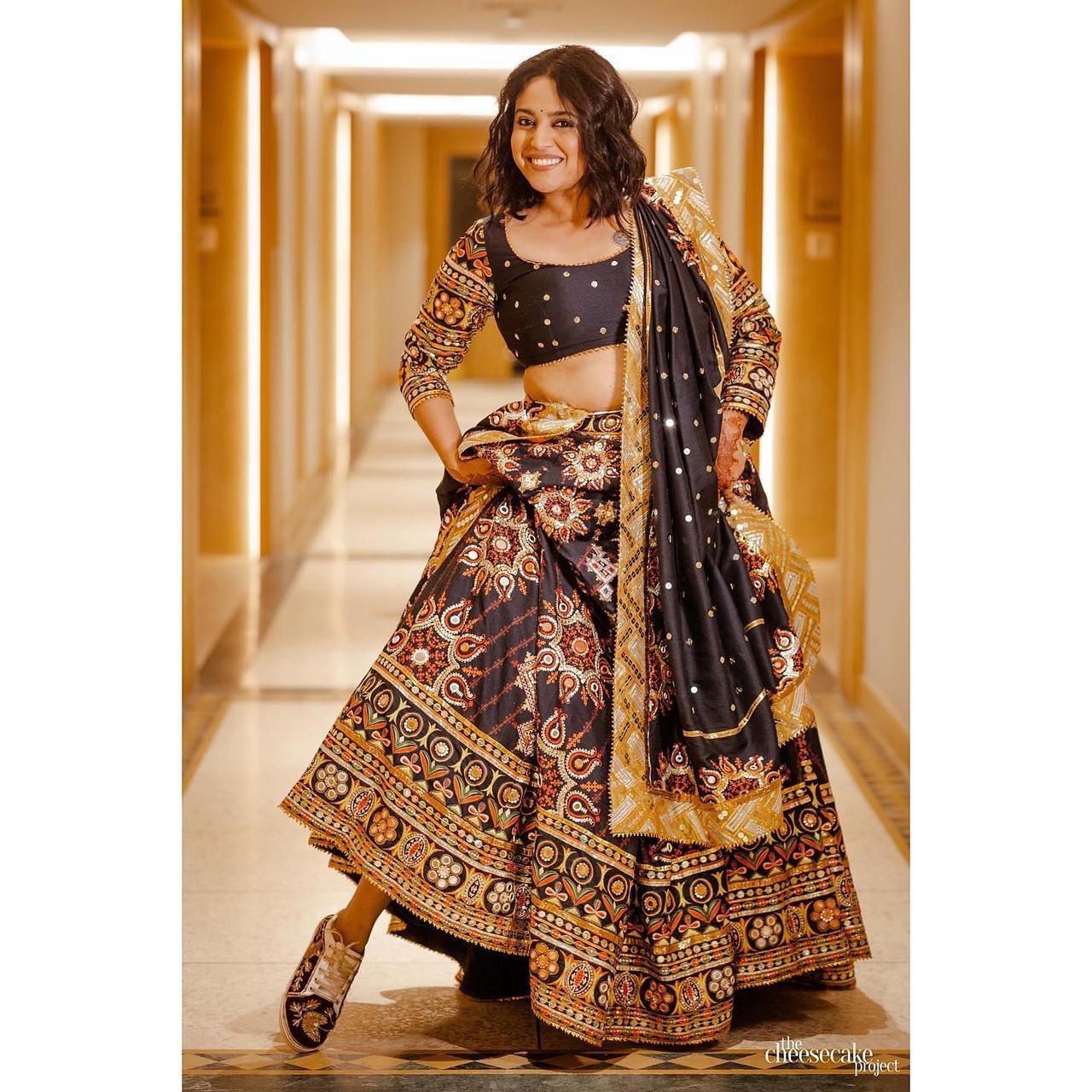 Swara Bhaskar looks absolutely stunning in the Salma Sitara mirror work lehenga by talented Mayyur R Girotra. Black is not only evergreen but a classic colour to add to your trousseau and this glittering beauty set amidst colourful embroidery looks absolutely stunning.
Gold Cape Glory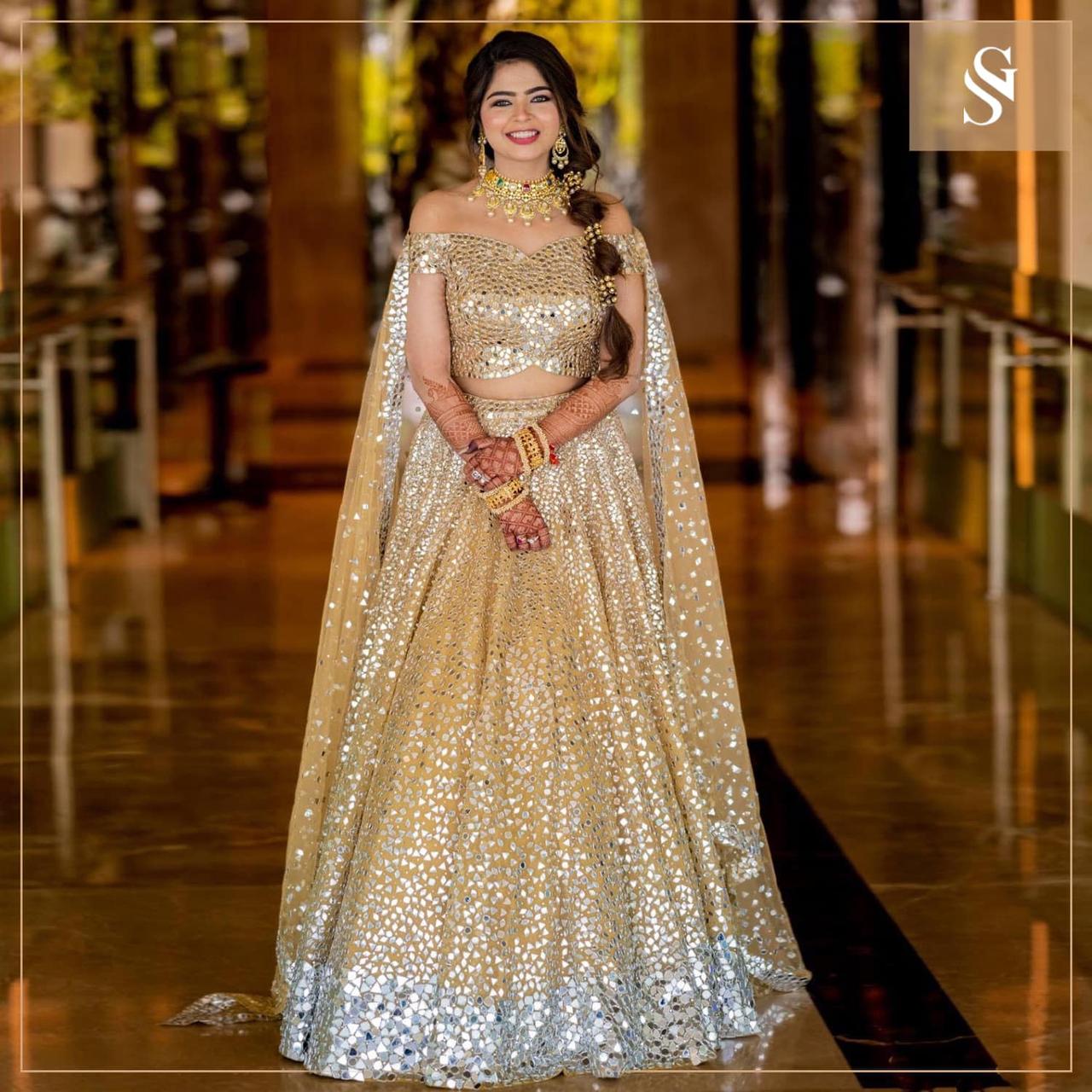 Looking for an ideal Cocktail party dress idea that will be a smashing success? Be the twinkling star at your festivities adorning this stellar gold and silver mirror work lehenga by Seema Gujral. Take your outfit to the next level by choosing a cape blouse with classic gold jewellery designs.
Embroidered Teal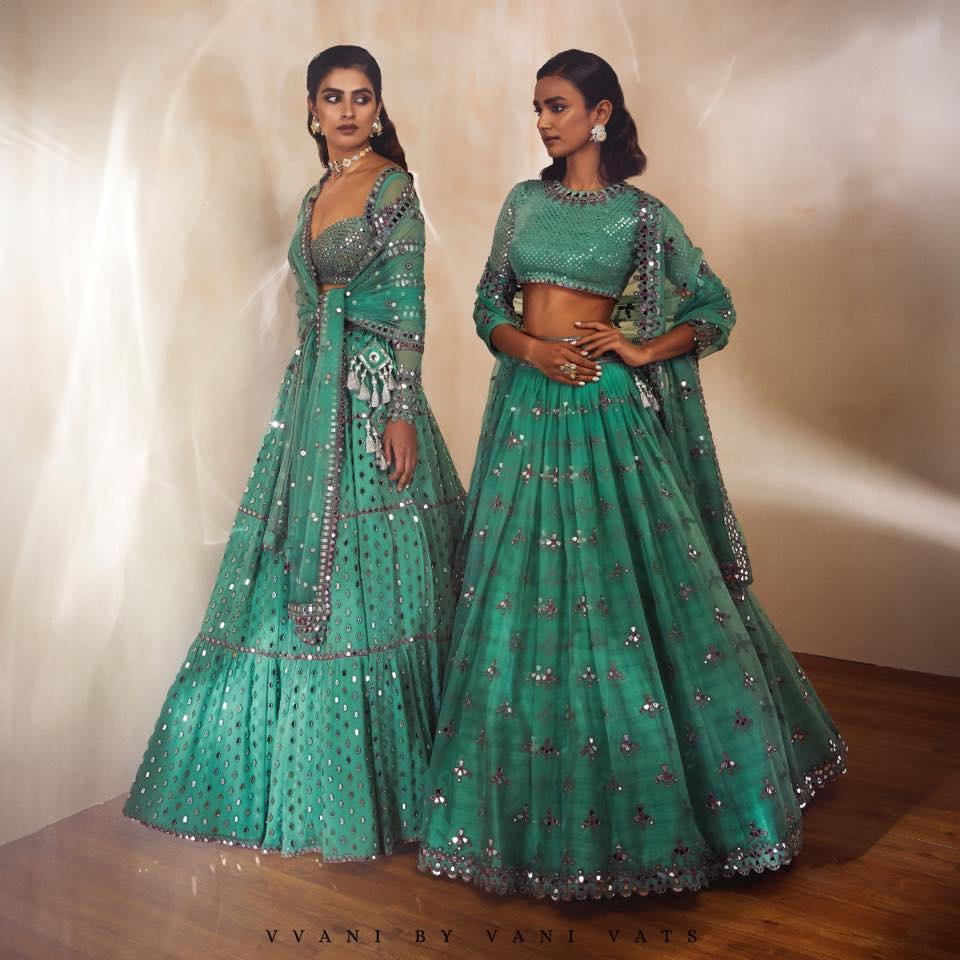 Looking for a colour that is not only out of the box but also soothing to the eyes and perfect for your summer weddings, then this stunning teal mirror work lehenga is the perfect pick.
An Overload of Mirrors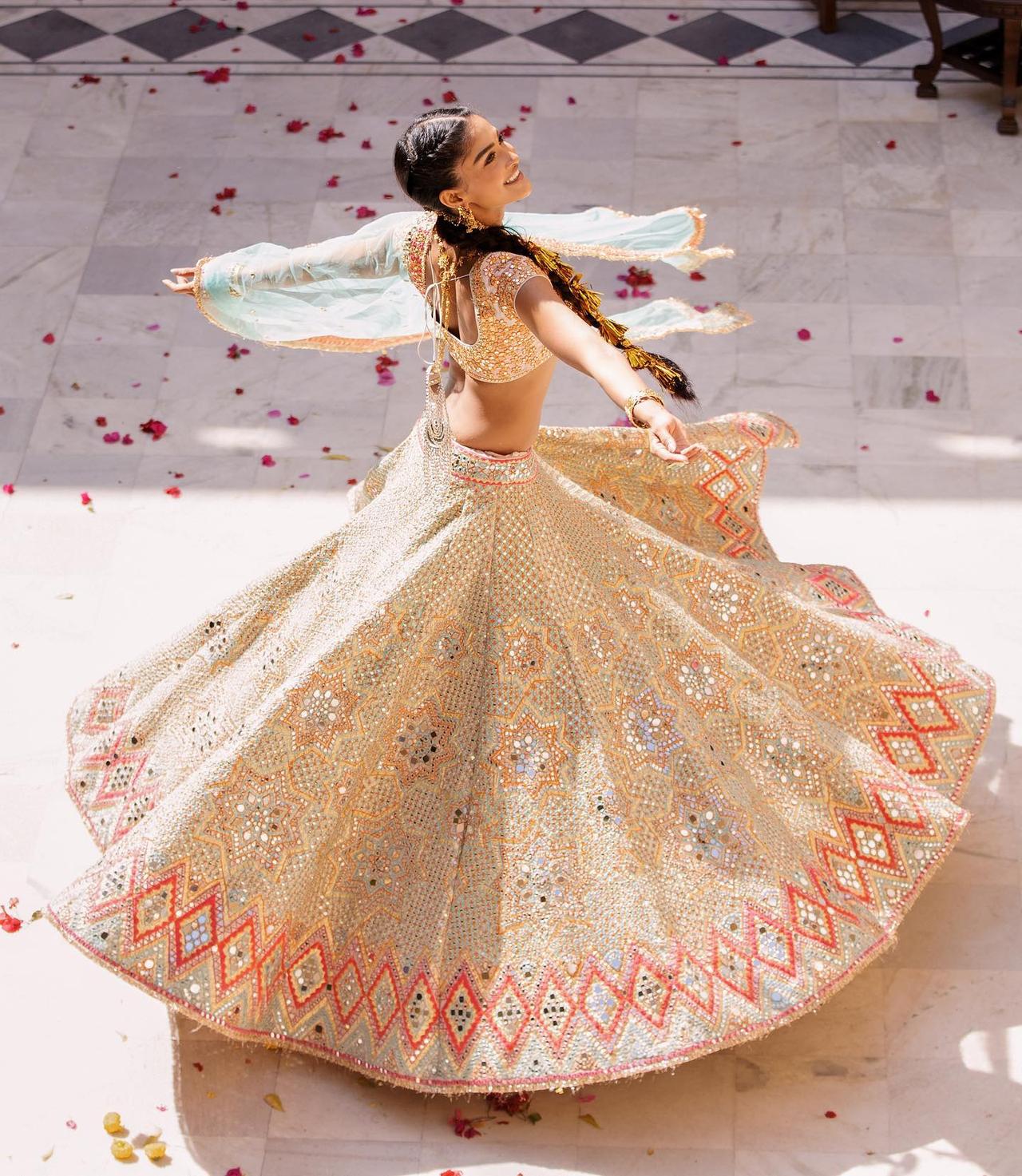 Can't decide how much bling is too much bling for your mirror work lehengas? How about you choose a gorgeous lehenga that is overloaded with mirror work and intricate embroideries? This Abhinav Mishra creation is the perfect pick for your dream mirror work lehenga.
Vibrant Hues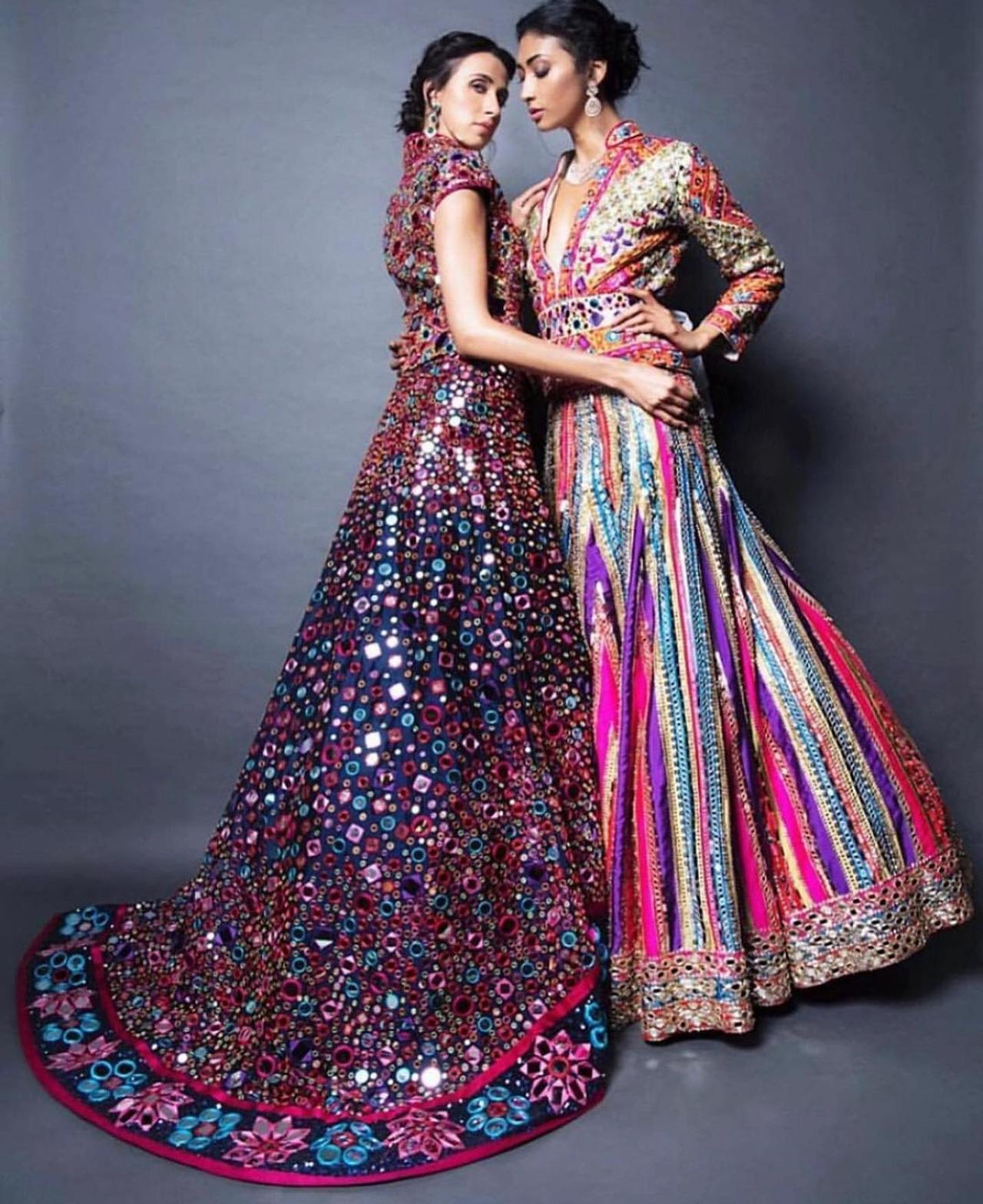 Colours come alive when sprinkled with dazzling mirrors and it stands true when you look at this exquisite mirror work lehenga design by Suneet Verma. The colourful panelling of the mirror work lehenga is beautifully paired with mirrored Koti style blouse to create a style statement at any of your wedding festivities.
Ivory & Pink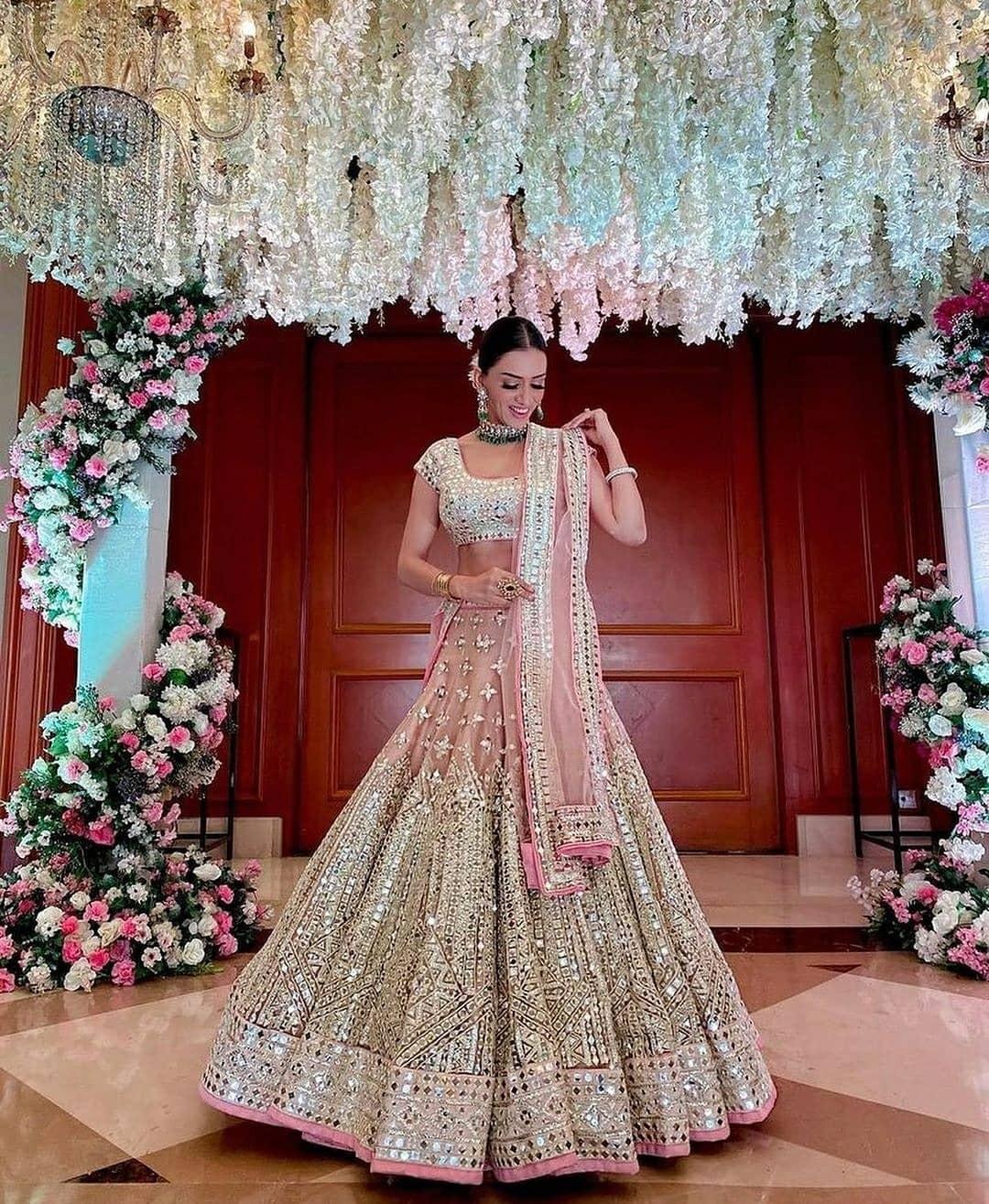 Photo Courtesy - Smriti Khanna
Whether you are the bride or one of the bridesmaids, this gorgeous ivory and pink mirror work lehenga will make you no less than a fashionista at your events. Add a stylish blouse pattern to your wardrobe by choosing a complete mirror work blouse to pair with this beautiful lehenga.
Boho Beauty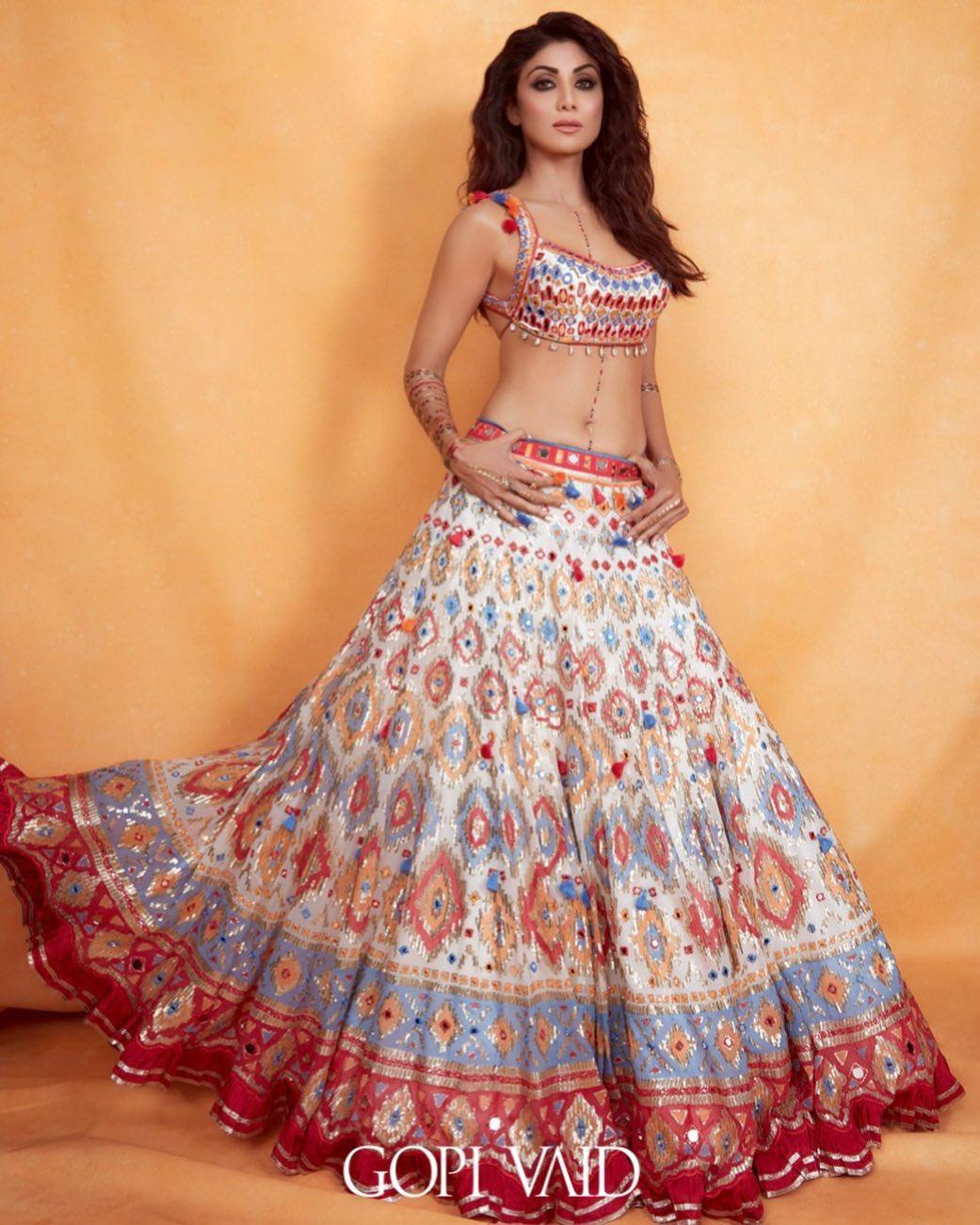 Photo Courtesy - Gopi Vaid
Shilpa Shetty Kundra slew the floor with the stunning boho mirror work lehenga by Gopi Vaid. Part of their MARRAKESH collection, the gorgeous outfit is created with sequin embroidery, ikat patterns, tassels and a whole lot of mirror work.
Powder Pink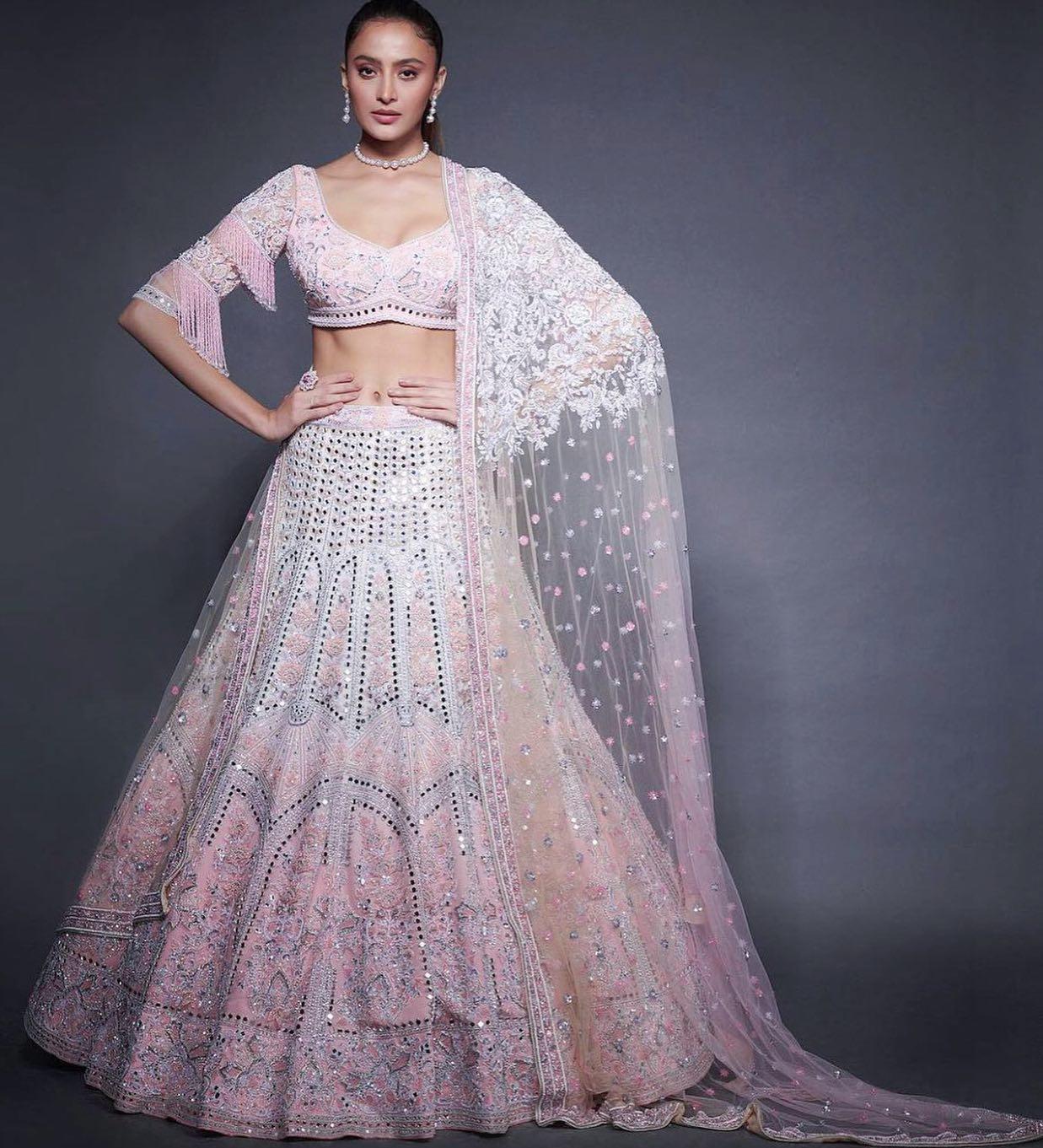 Are you planning to twin with your bridal best friend in the gorgeous pastel hues? If yes, then choose this stunning mirror work lehenga in powder pink. With detailed embroideries and floral motifs paired beautifully with the fringe blouse design and a heavy dupatta, this will be the star of the evening.
Embellished Blue Tulle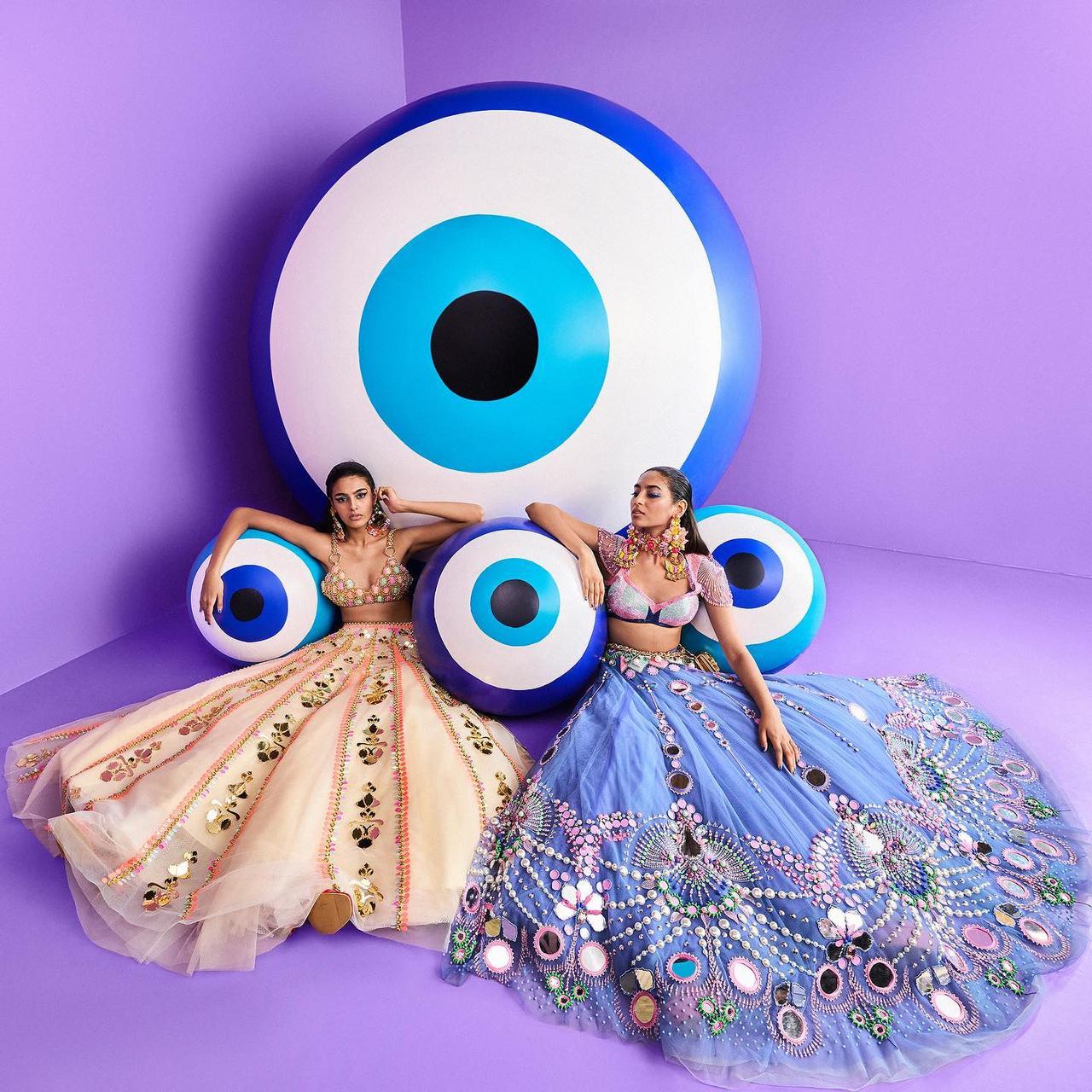 The gorgeous blue tulle lehenga with oversized mirrors will be a showstopper at any of your wedding festivities. Quite different from usual mirror work lehengas, this stunning design by Papa Don't Preach by Shubhika is embellished with glass stones, pearls, metals and sequin. Look your most gorgeous self in its panelled blouse design with tulle embellished sleeves.
Perfect for Haldi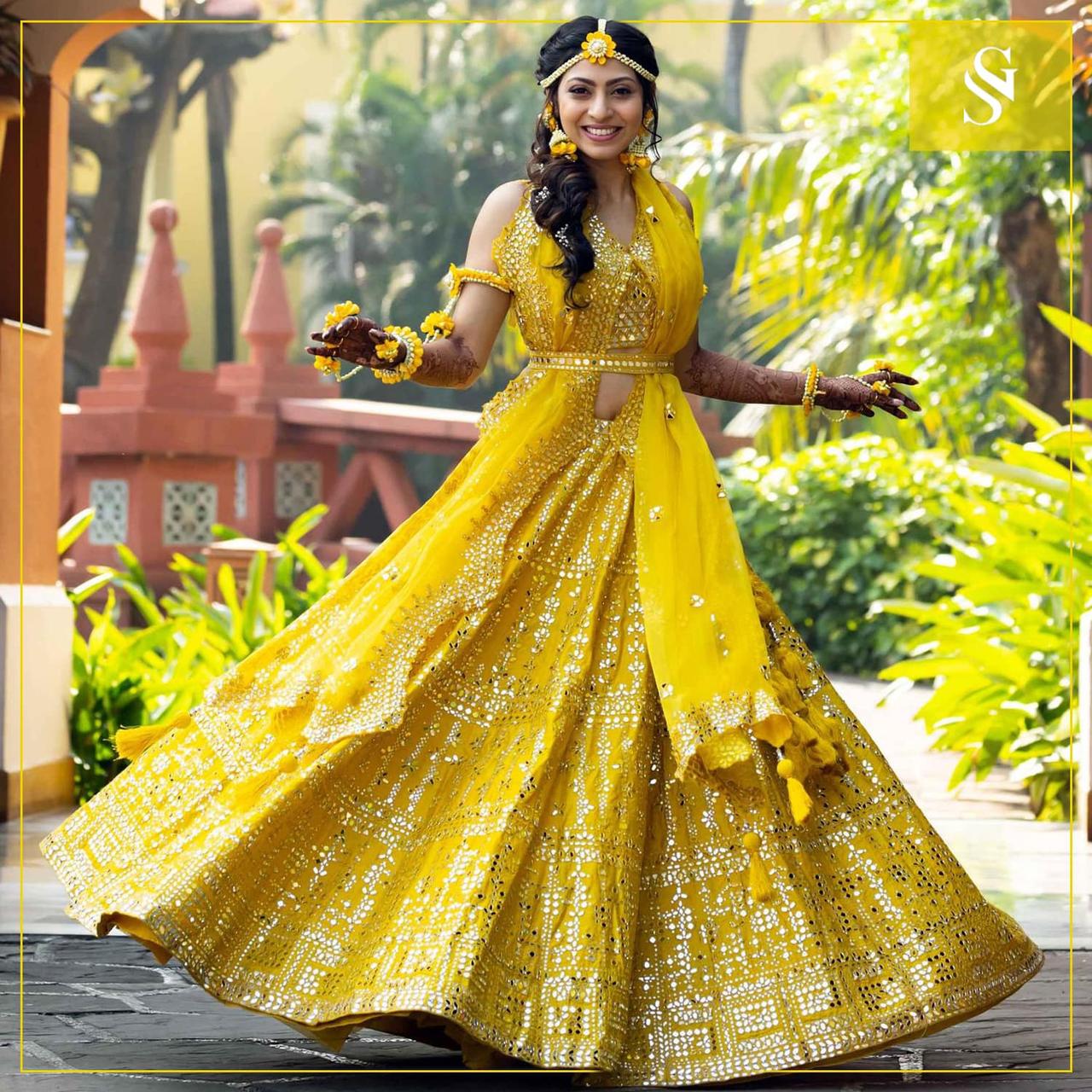 Shine brighter than the sunshine at your Haldi ceremony by adorning this gorgeous yellow mirror work lehenga by Seema Gujral With a scalloped tassel dupatta and finest mirror embellishments around the lehenga, twirl away to your happy beginnings in style.
Purrfect Purple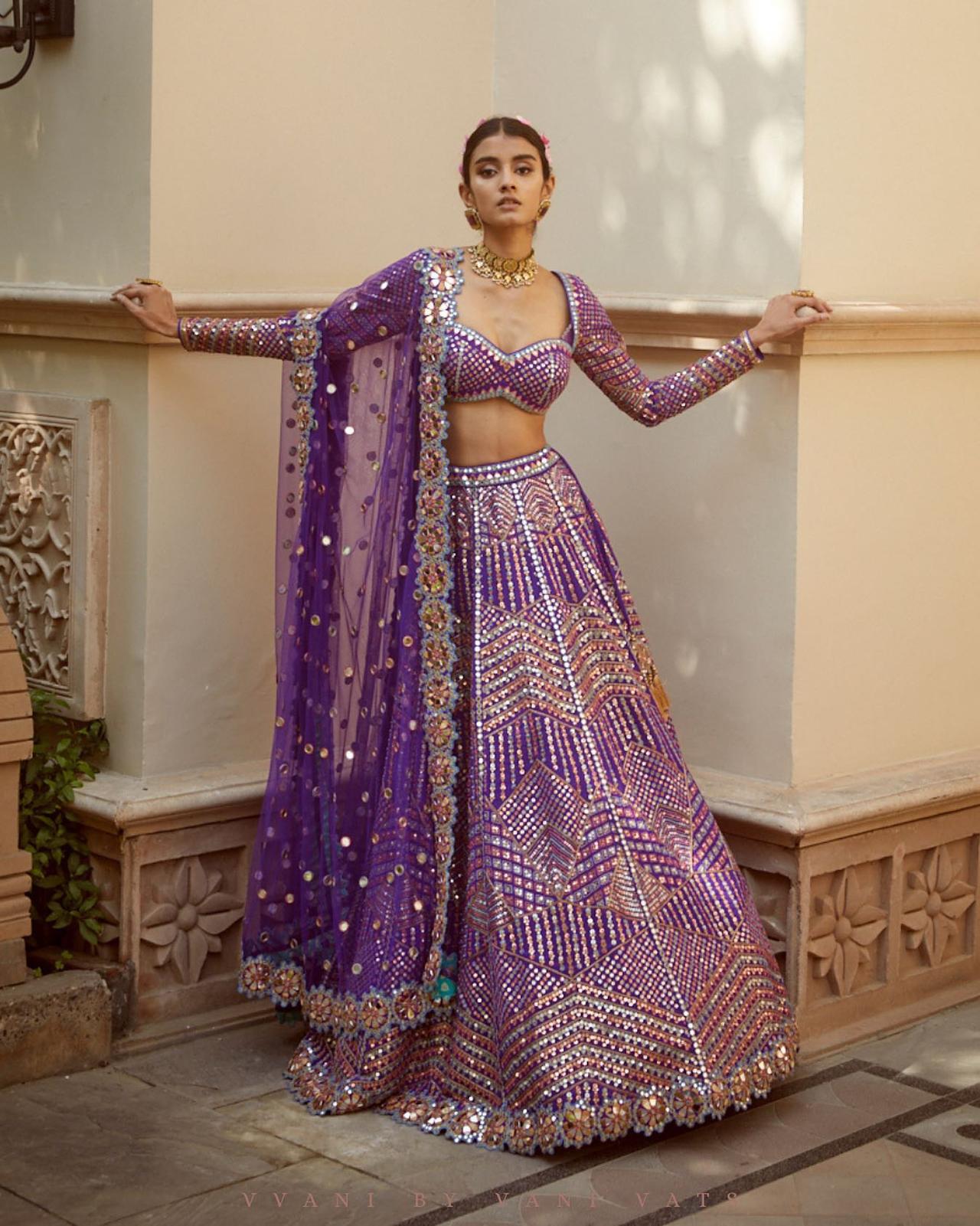 Want to choose a bold colour palette for your big day festivities? Take inspiration from the gorgeous lavender mirror work lehenga by Vvani by Vani Vats with a mix of tiny and medium mirrors, sequin and red embroidery undertones. You can style this stunning outfit with traditional heirloom jewellery as well.
Shimmy in Silver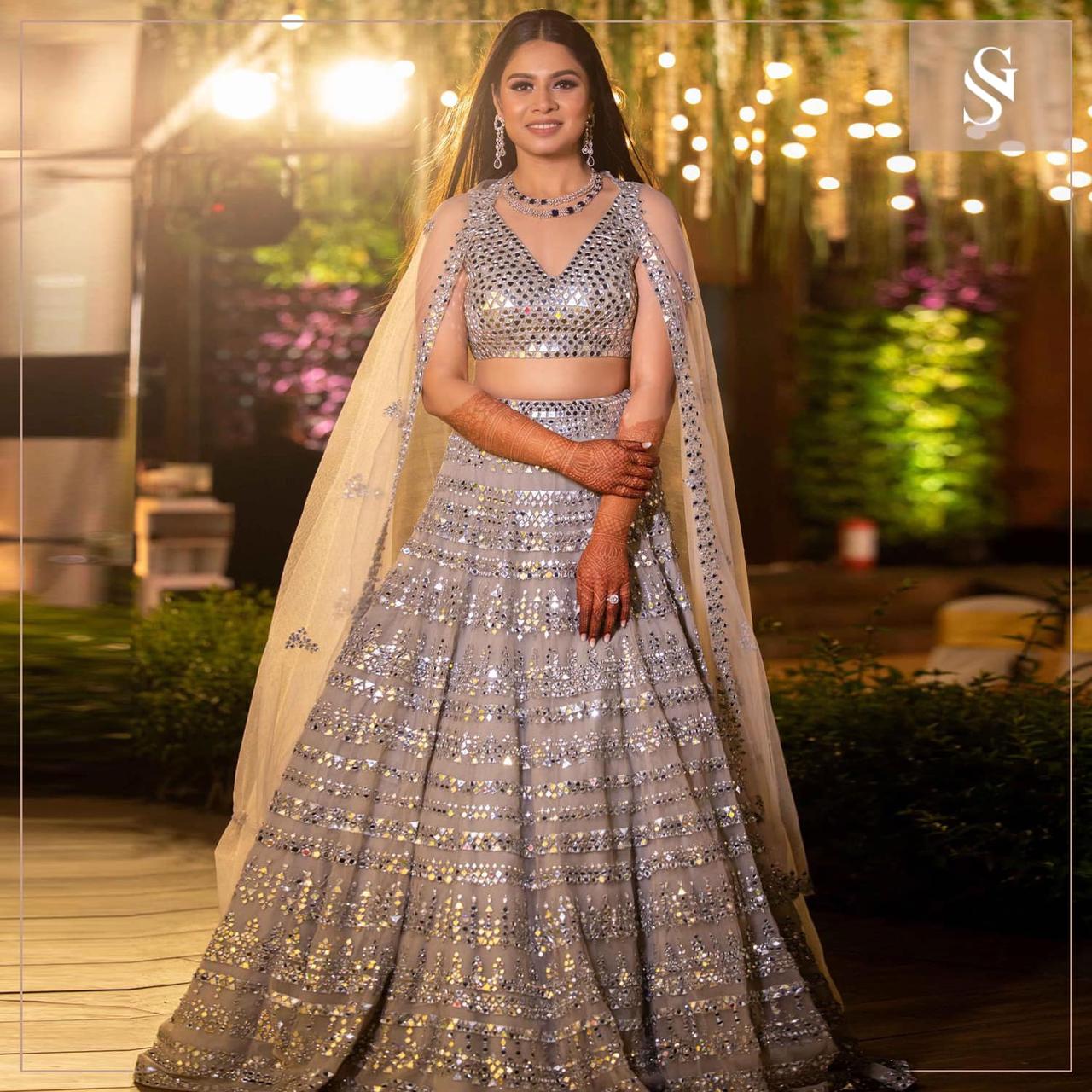 Like gold, silver is never out of fashion, especially for wedding festivities. Look nothing less than a goddess in a shimmering silver mirror work lehenga that is overloaded with detailed mirrors from top to bottom.
Sage Green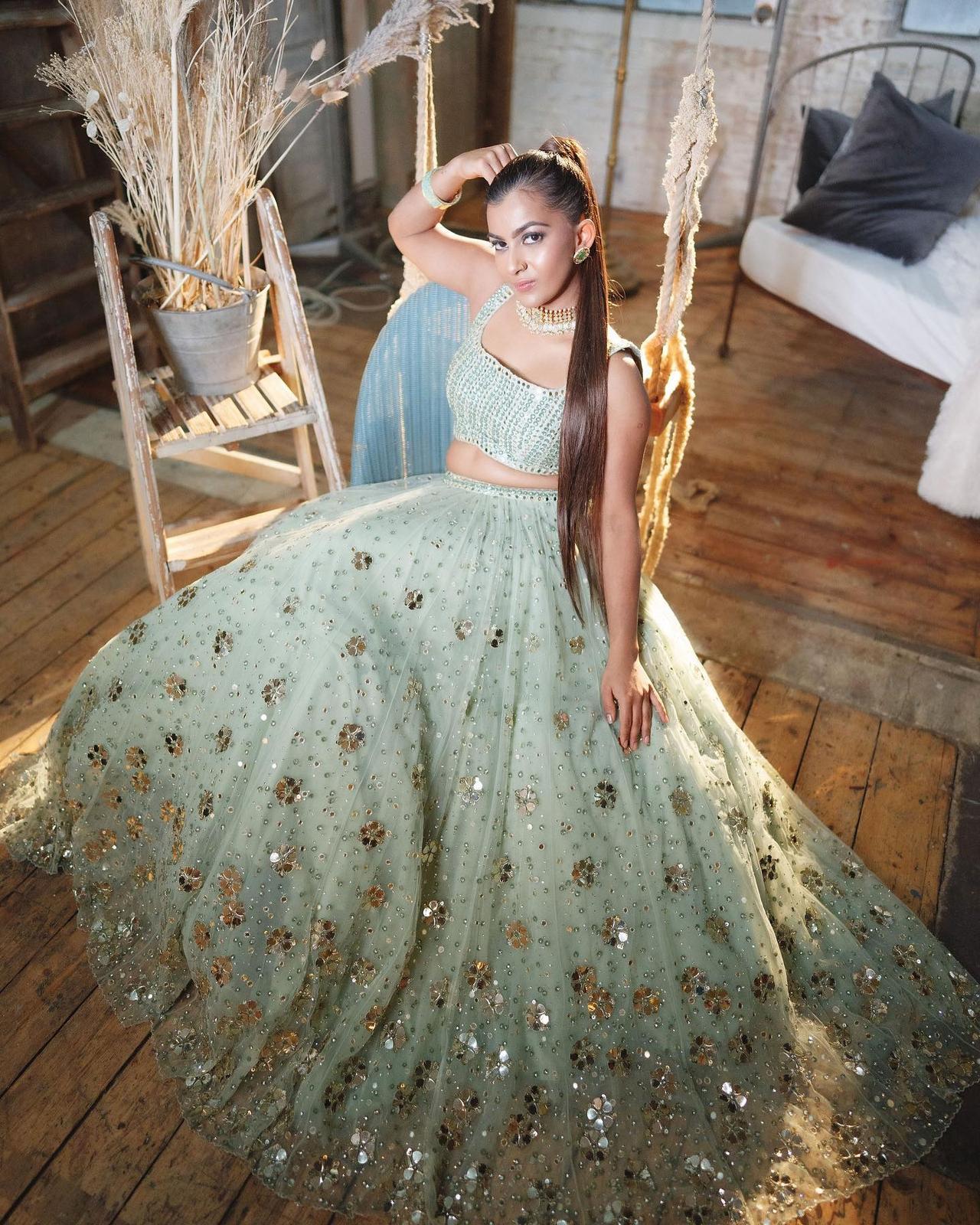 Photo Courtesy - Nikaza Asian Couture
Want your bridal lehenga to be minimalistic yet classy and blingy? Though sage green may seem like a dull colour, it becomes extremely lively when embellished with mirror work. This beautiful mirror work lehenga by Nikaza Asian Couture will be a perfect pick for any of your pre-wedding festivities.
Multi-Coloured Lehenga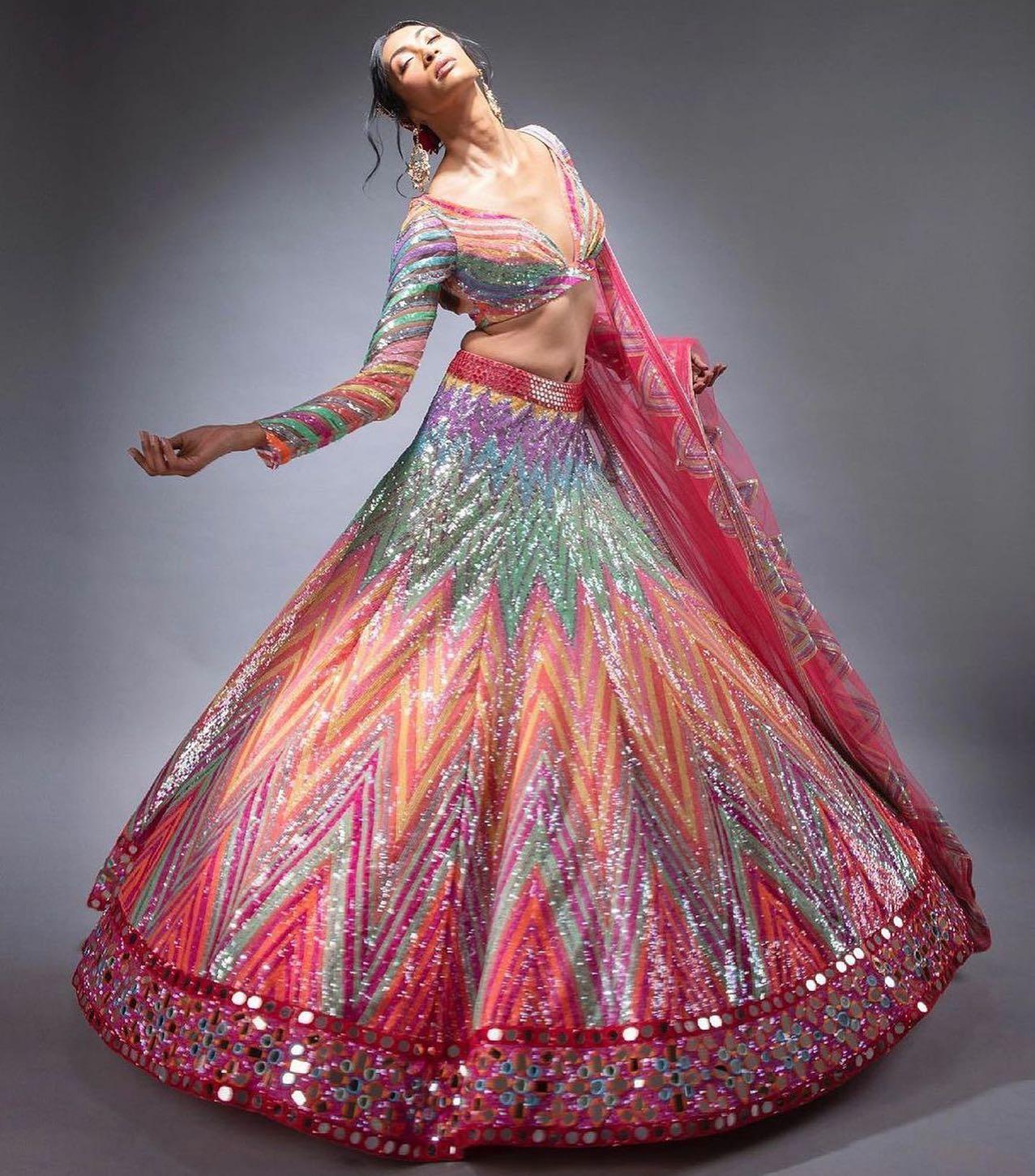 These multitudes of colours work beautifully with each other to make this piece of art. The small mirrors in the lehenga though are not so visible, but still, help it shine and stand out. For this ethereal outfit go for white floral jewellery as it would be a stark contrast to its background. Make your bridesmaids wear a monotone bold colour to match but not overpower your outfit.
Shades of Rose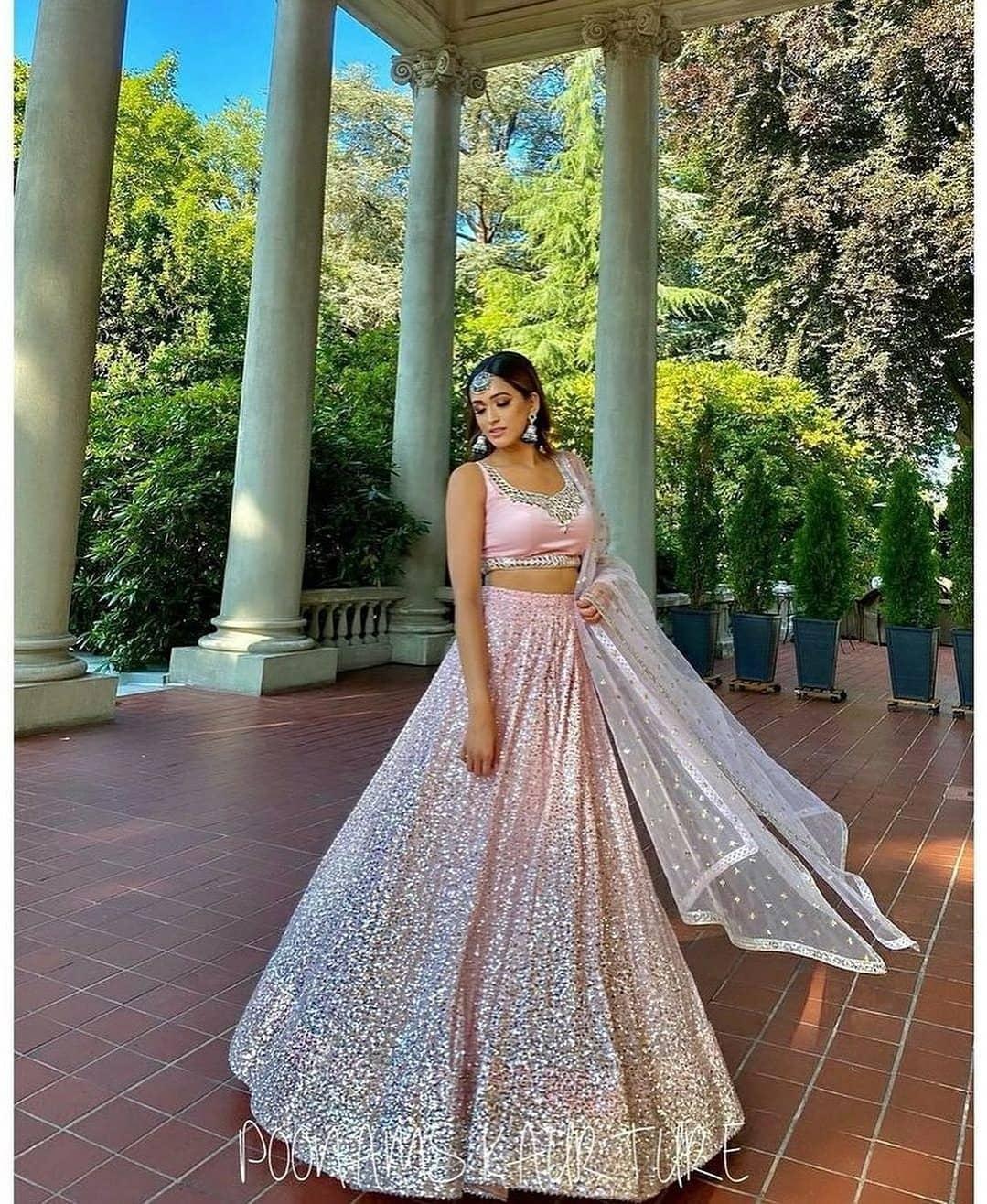 Photo Courtesy - Poonams Kaurture
Make your wedding festivities a starry night with gorgeous mirror work lehenga sprinkled with tiny mirrors all over. The beautiful rose pink lehenga will be the perfect shining beauty you can wear for your ceremonies and functions.
Mirrored Navy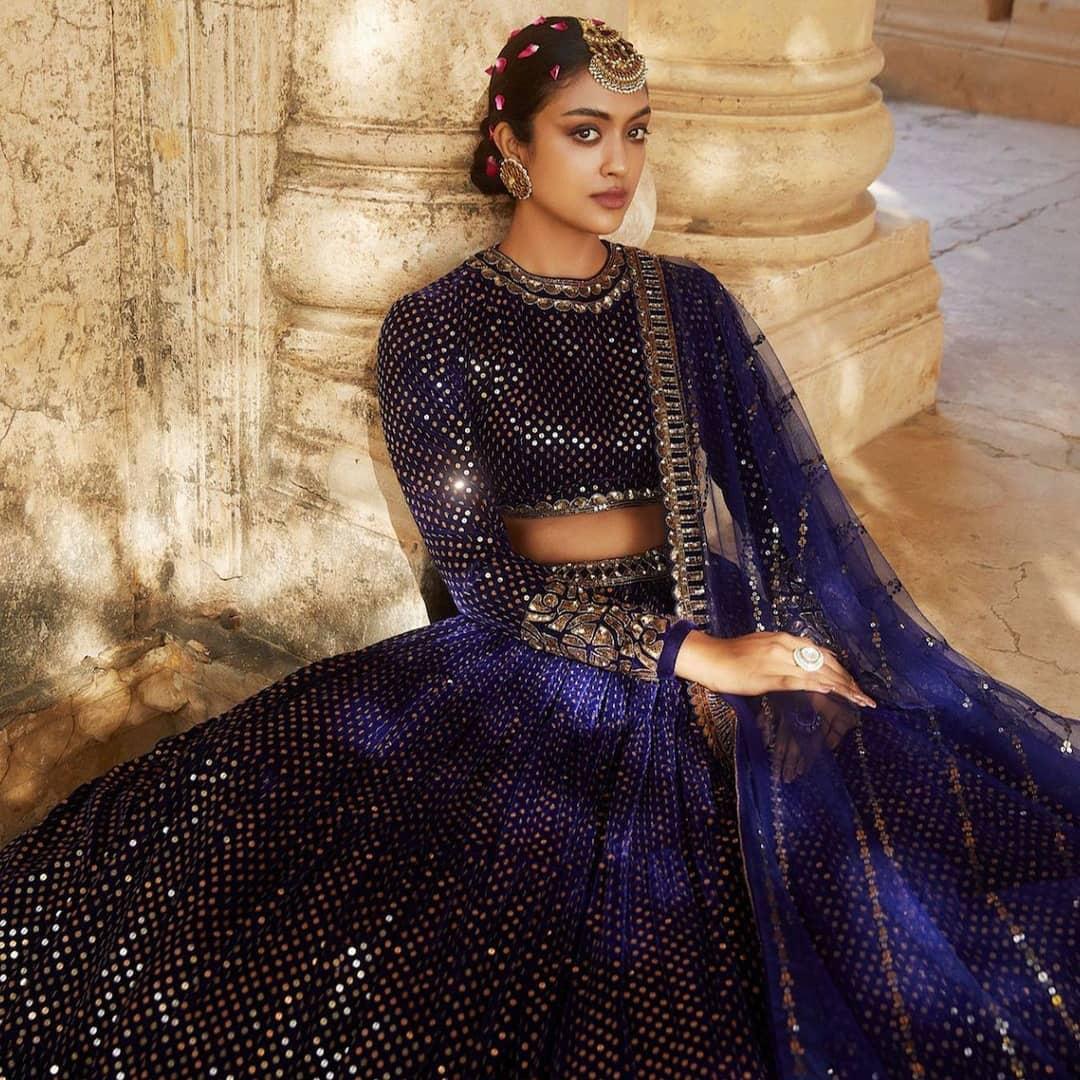 If you also have an undying love for the bling, then this gorgeous navy mirror work lehenga is the perfect pick for you. Sprinkled with tiny mirrors all over the lehenga and blouse, you can even choose not to wear any jewellery as it would be enough to make you sparkle like a star!
Pistachio & Grey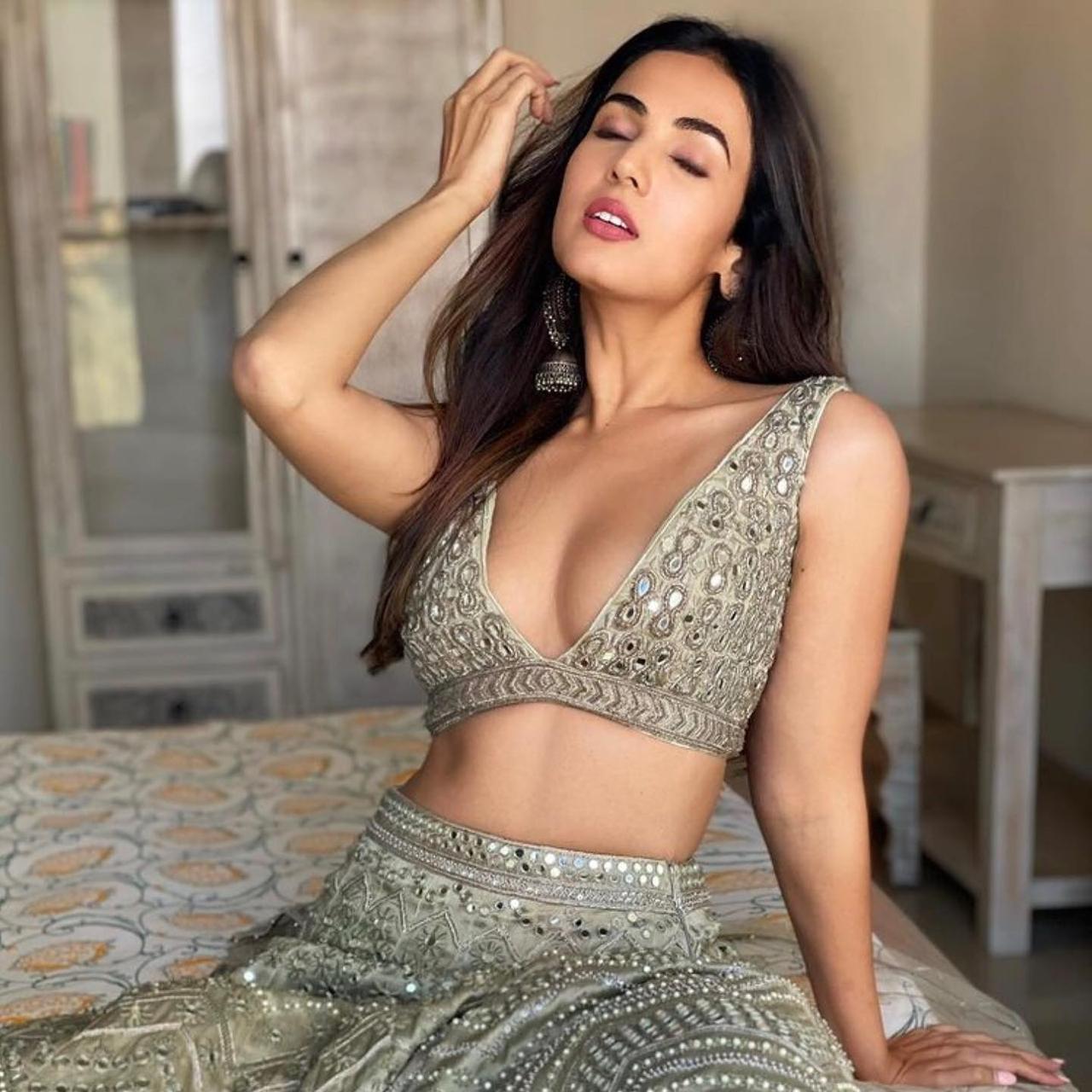 With so many millennial brides choosing offbeat and pastel shades for their bridal lehengas, why should you girls stay behind? An elaborate yet elegant pistachio grey mirror work lehenga will win your heart for sure.
Canary Yellow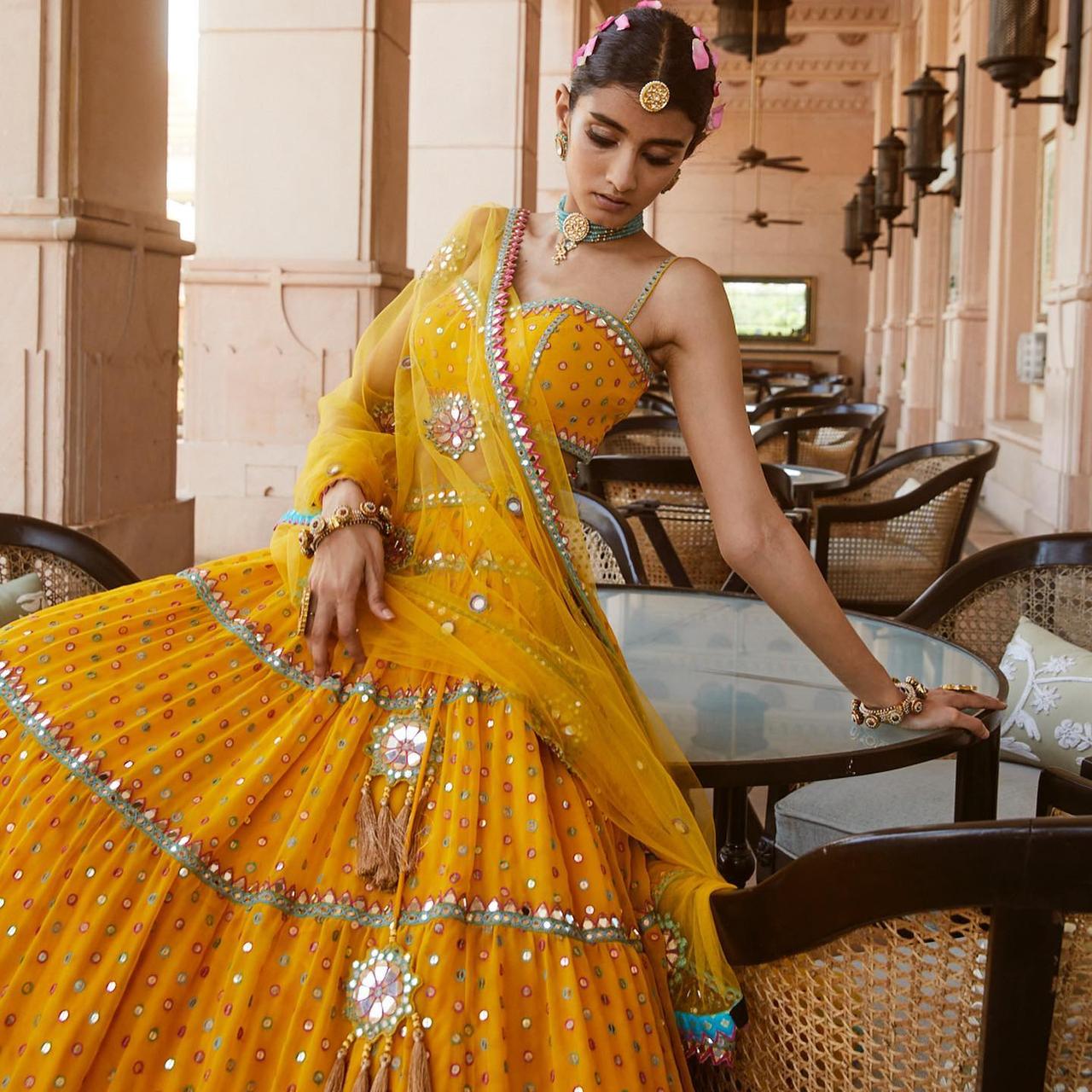 Photo Courtesy - Nikaza Asian Couture
Are you a part of the bride tribe looking for a perfect mirror work lehenga to wear on your bestie's Haldi function? Look no further. We have picked the perfect sunshine yellow lehenga sprinkled with tiny mirrors and tassels by Nikaza Asian Couture for you.
Pretty In Pastel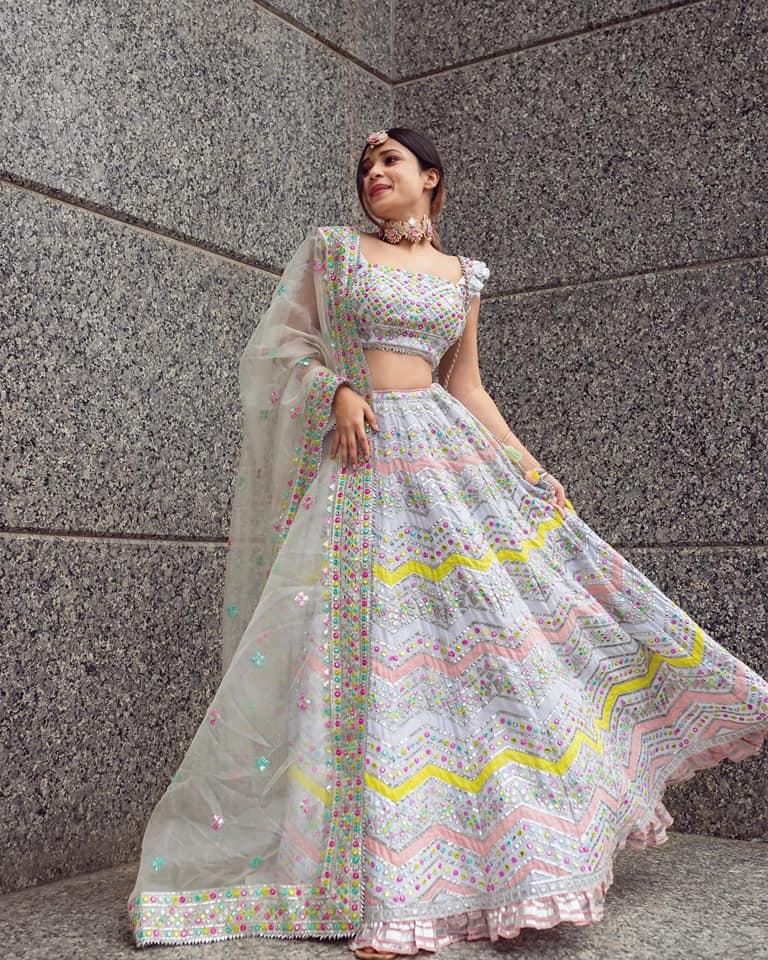 Photo Courtesy - Gopi Vaid
With pastel colours being all the rage they are right now, getting a mirror work lehenga in this colour might just be the right decision. You can get your groom to wear a similar coloured kurta as well. Pair this outfit up with small danglers and let your playfulness show through, on a beautiful summer's day.
A Vision In White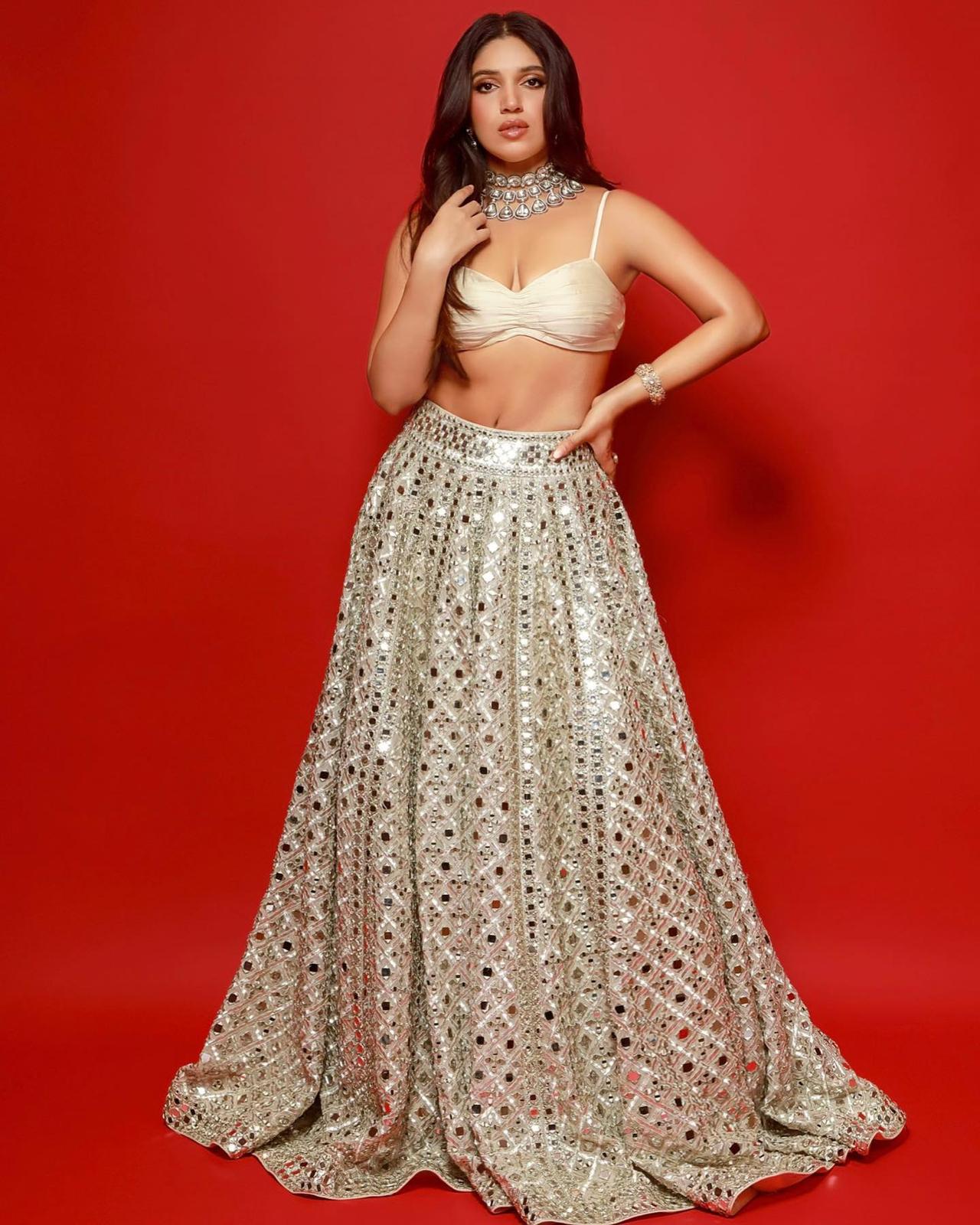 Everyone agrees that a bride in white looks wonderful, and this bride on her sangeet is no different. The bold show of colours through the jewellery looks wonderful and tasteful and in contrast, the groom can look dapper in a black kurta giving a contrasting style statement.
Bright Azure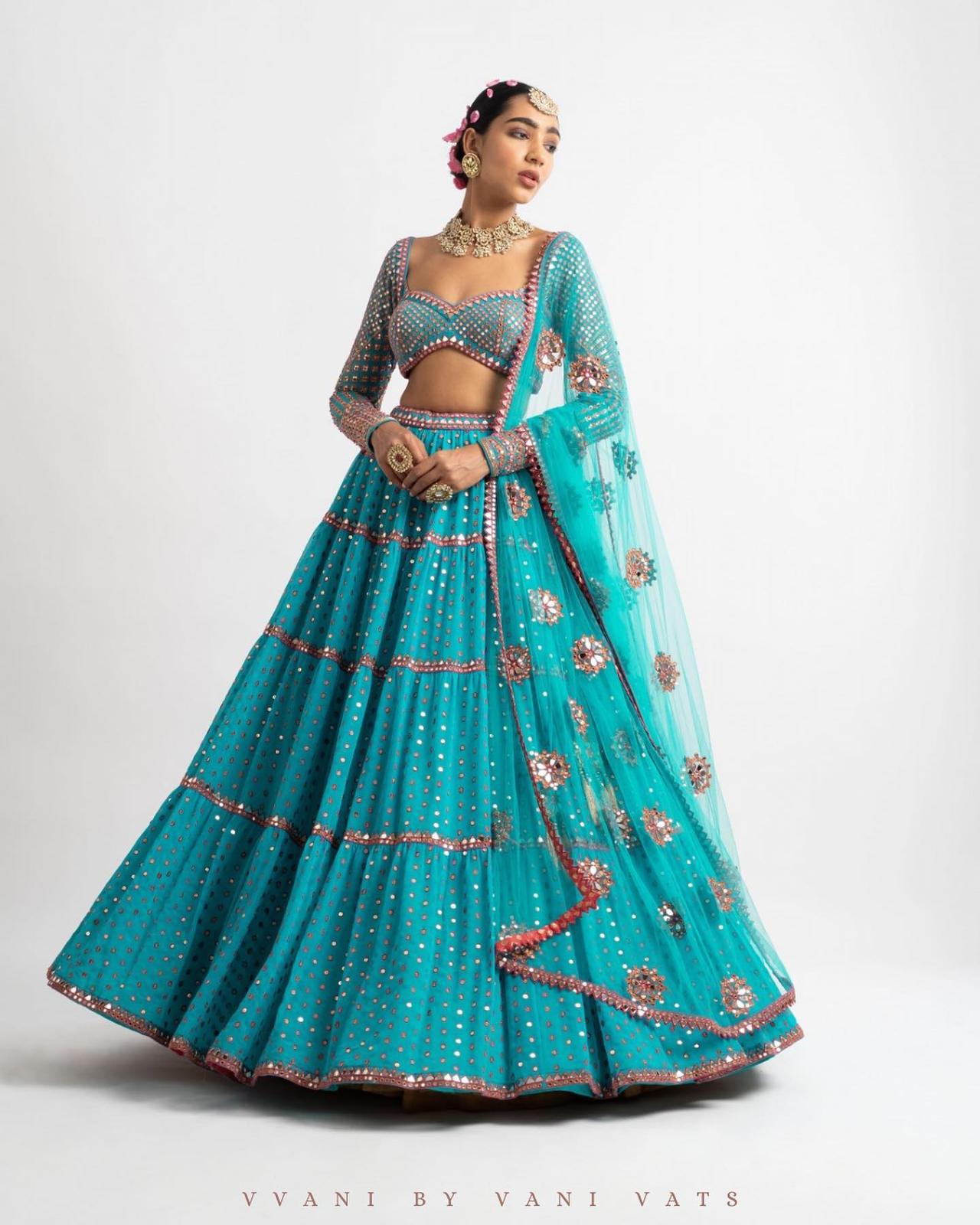 No one would be able to miss you if you choose to wear this mirror work lehenga. The blue looks absolutely ravishing and though it is bright, similarly the mirror works show through it. Wear a simple diamond or silver necklace with this beautiful outfit, and get your bridesmaids to show up in as bright colours.
Birds of paradise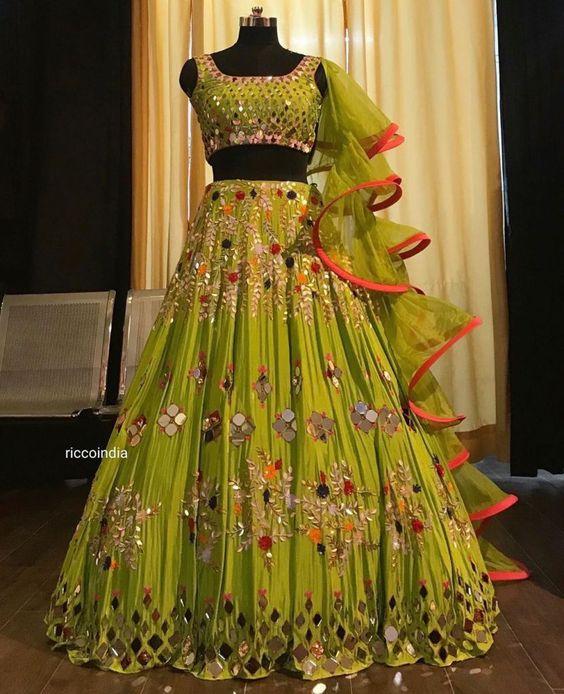 Photo Courtesy - Pinterest
Play with a pop of colours for your pre-wedding festivities or a colourful mehndi ceremony with their stunning green mirror work lehenga. The play of tiny and big mirror embellishments is refreshing when paired with bright orange undertones and a twirling dupatta.
Sparkling Shadow of Grey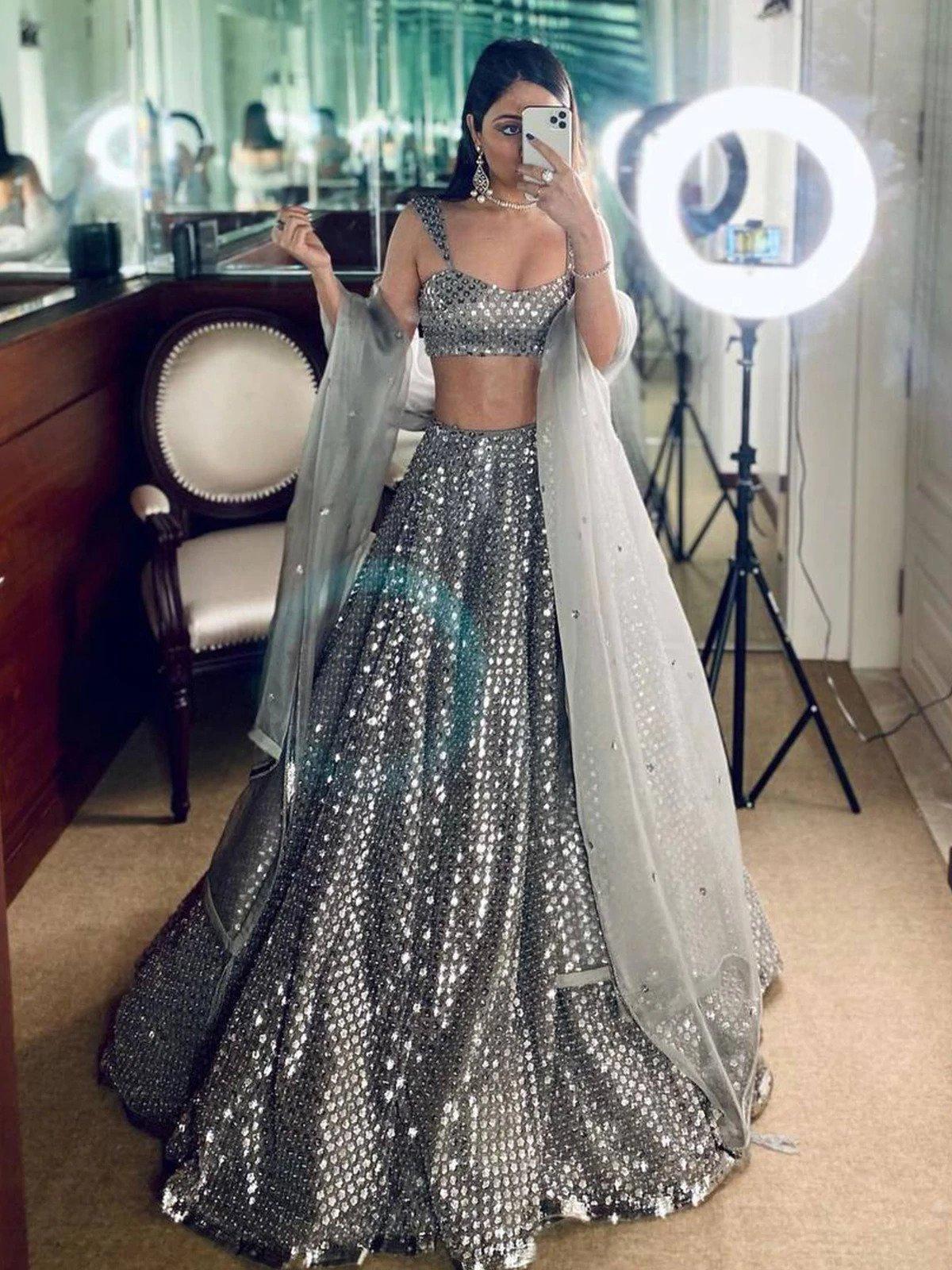 Photo Courtesy - Odette
This simple elegant number would sure have people following you with their eyes all over the place. The swirl of the mirror is done in sheer perfection and the best part about this number is the jewellery. The subdued and delicate diamond jewellery pops up with the stones in it and makes this outfit unlike anything else.
A Swirl Of Mirrors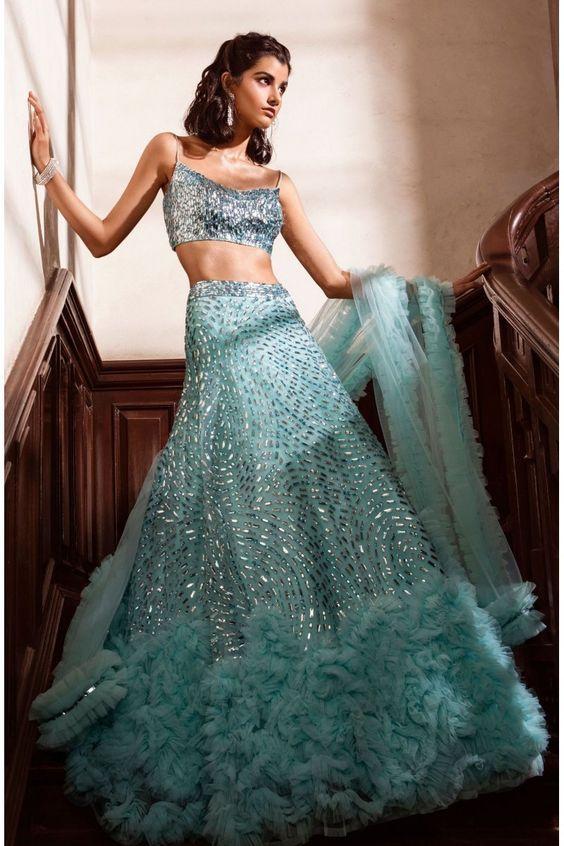 Photo Courtesy - Pinterest
Pair up your mirror work lehenga with ruffles and it will create a classic style statement unlike any other. The gorgeous powder blue colour will look absolutely ravishing for your cocktail party celebrations. The elongated mirrors create a beautiful swirling design that makes this dreamy outfit stand apart.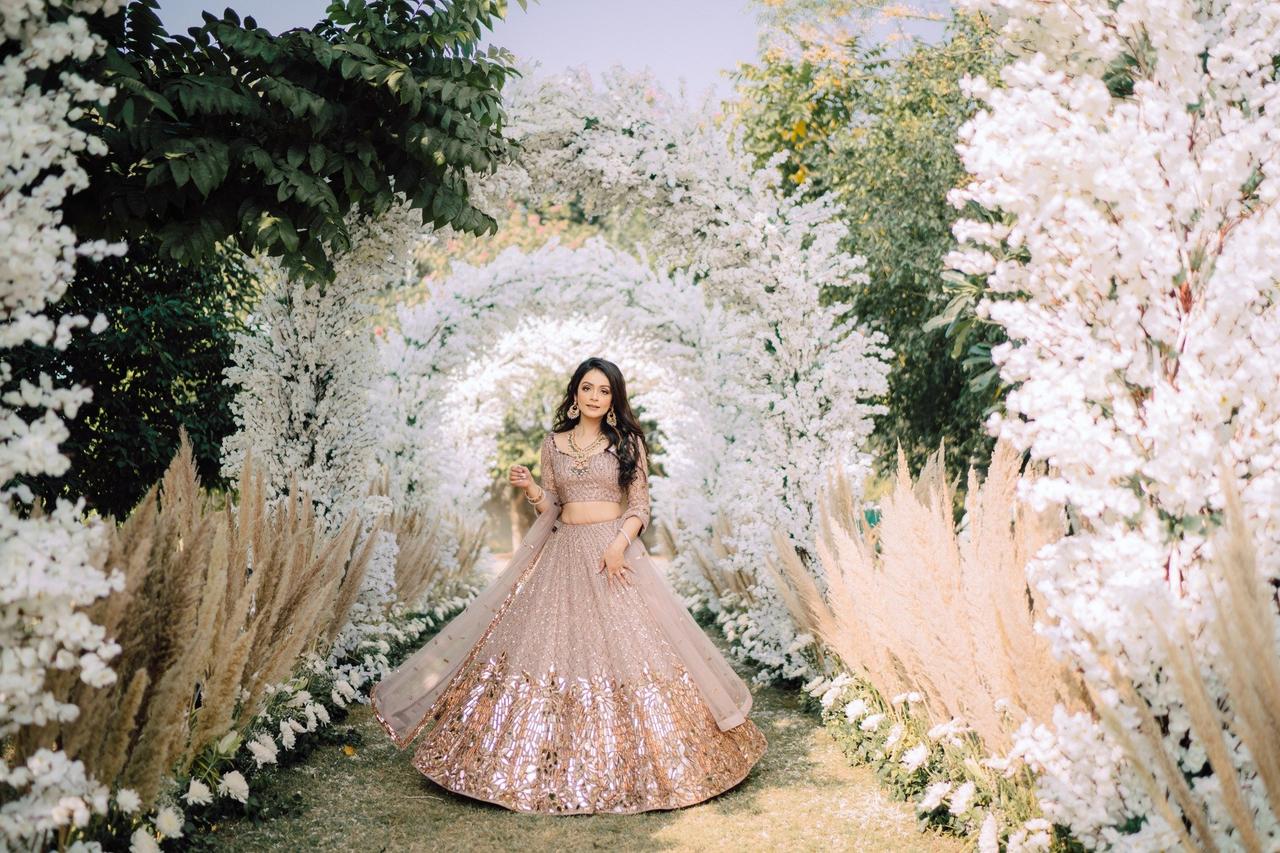 Photo Courtesy - Neeta Lulla
Whether you are the bride looking for the perfect pair of mirror work lehenga to dazzle your wedding festivities or part of the bridesmaid looking to create a style statement, we have picked some of the best and trending designs to help you choose your outfit with ease. Looking at these mirror work lehengas, and the elegance they reflect, we are sure you would want to try some of them. So, look carefully and choose what you like, because these lehengas would make the best come out in you.
Which one of these gorgeous mirror work lehenga stole your heart? Do let us know in the comments below!
Top Blogs on WeddingWire India