10 Mirror Work Lehengas That Would Make You Sparkle at Your Mehndi or Sangeet
The most obvious choice, if you are confused about what to wear for your wedding ceremony, is a good lehenga. And mirror work lehengas being the current obsession are surely going to sweep you off your feet.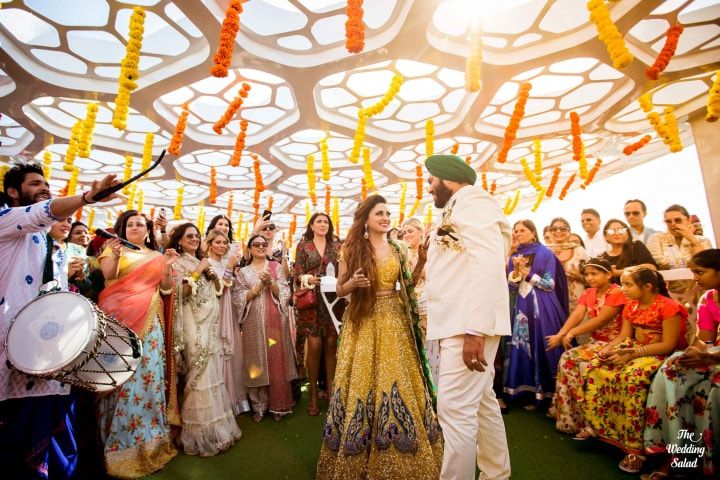 A lehenga can be the simplest choice one can make to wear at ceremonies. The special thing about lehengas is that they are not just as simple as they look, you can turn them into anything you want. The mirror work lehengas are just one such beautiful example of these creations, they can literally make you shine, and what better than that at your own Mehndi or Sangeet function. These mirror work lehenga make perfect outfits for these functions, as in the mehndi morning they make you seem like you are glowing, and in the sangeet night, the glitz and glam they provide outshines everything else.
See the top ten mirror work lehengas you can opt for your sangeet or mehndi functions.
1. Mirror Work Against Black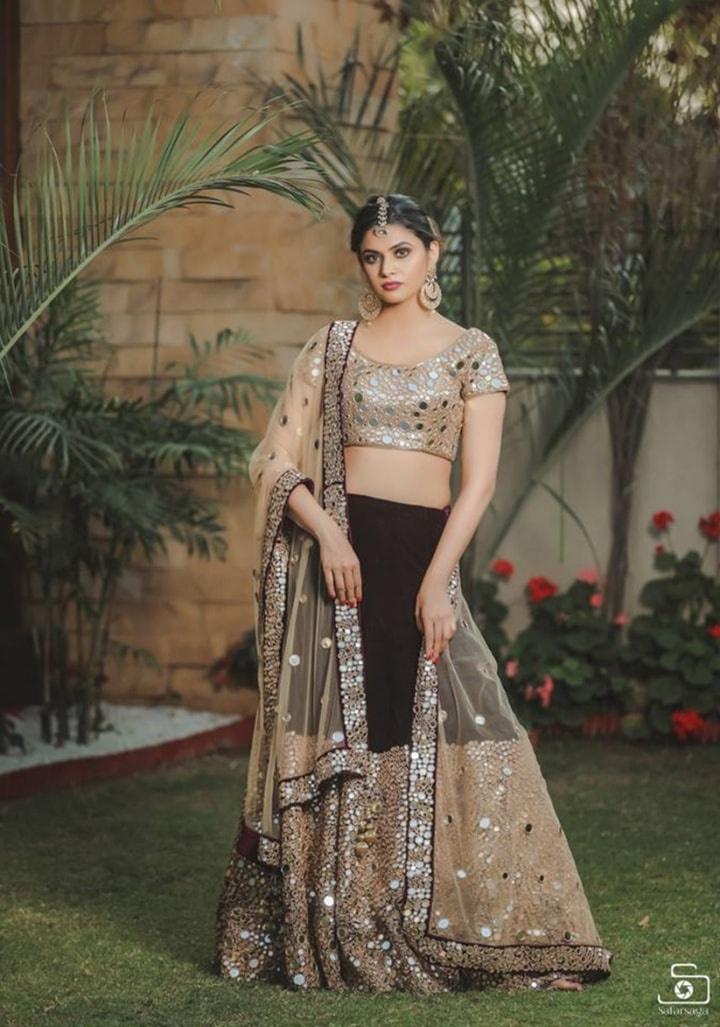 A delightful lehenga for your Sangeet night, the black gives a dramatic break in a full mirror work lehenga here. This lehenga doesn't need a lot of bling, so go light for on your jewellery, and whatever you do plan to wear skip the necklace for this outfit. Pair up with your groom in this outfit, have him wear the same concept of mirror work with a dramatic black break, it would look wonderful for a sangeet night, especially a Bollywood themed one.
2. Mix And Match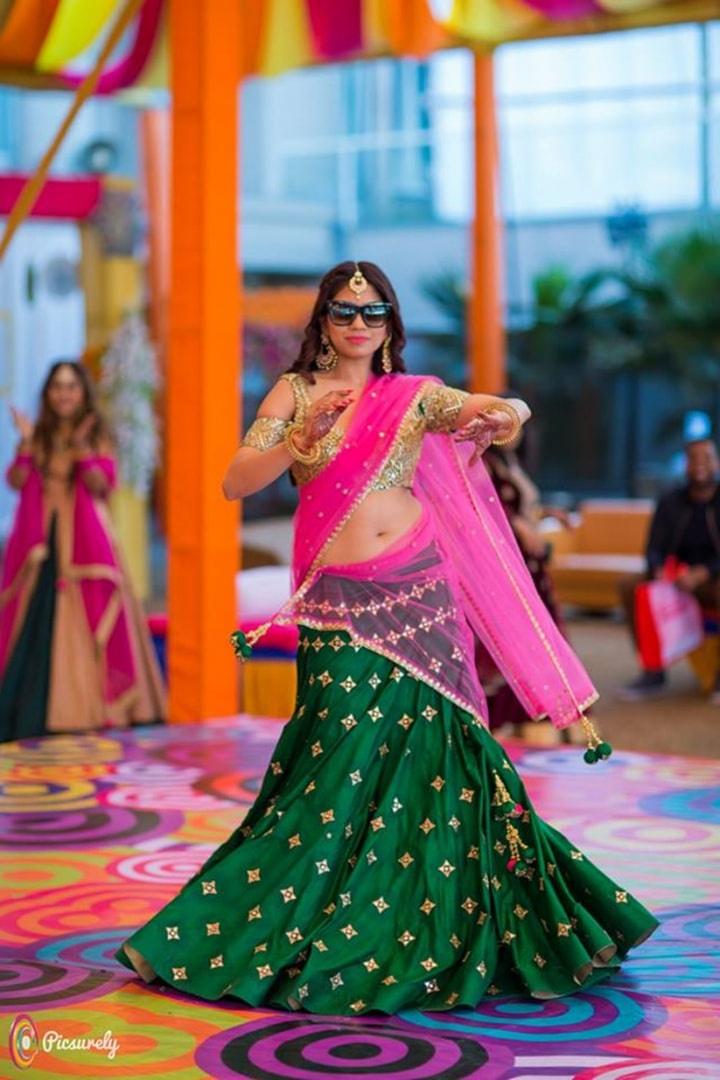 Go for mixing and matching different colours for a mirror work lehenga for your mehndi. As it is a function full of colour this lehenga would fit in. You can go for Gota Patti jewellery here, as it would look brilliant, and would not be too shiny. Pair up with your bridesmaids here, and have them wear a similar colour tone or one matching colour as your outfit.
3. Cape Lehenga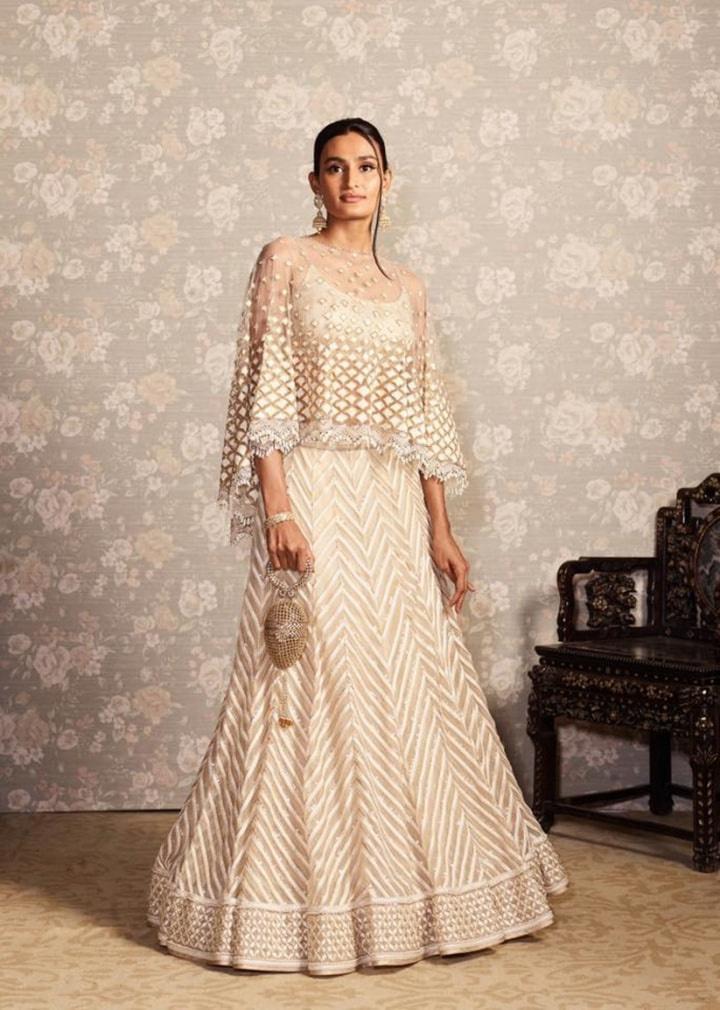 Let the cape trend crop up here too, and ditch a dupatta for your mirror work lehenga. This sangeet outfit would work wonderfully with a pair of pearl earrings, and the cape would be covering the neck. If you do want to wear a neck piece, go for something a little bright and bold so that it does not look subdued with against your outfit.
4. Multi-Coloured Lehenga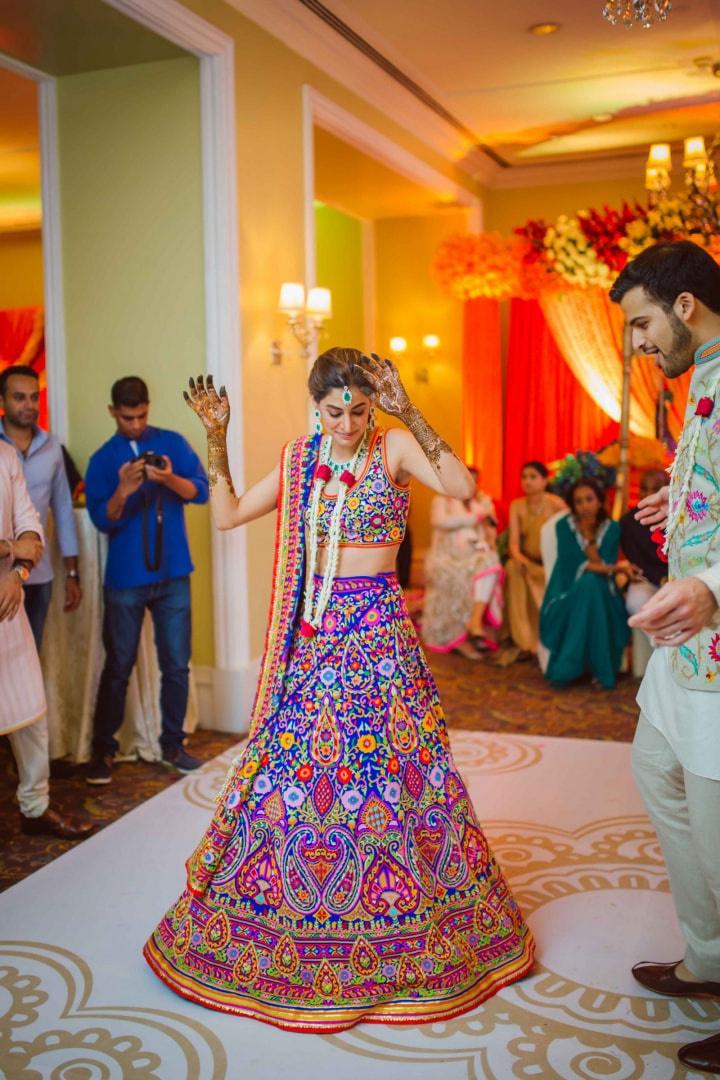 These multitudes of colours work beautifully with each other to make this piece of art. The small mirrors in the lehenga though are not so visible, still, help it shine and stand out. For this mehndi outfit go for white floral jewellery as it would be a stark contrast to its background. Make your bridesmaids wear a monotone bold colour to match but not overpower your outfit.
5. Black Background With Mirror Work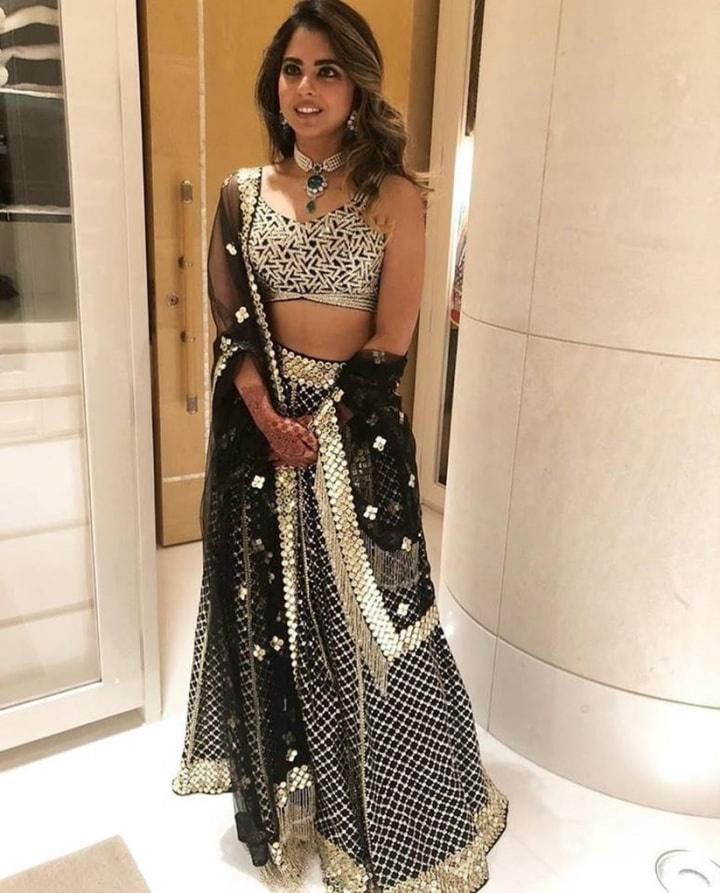 This bright shimmering number is all you need to rock your sangeet. Nothing brings the mirror effect better than a black background, which makes it look like a shimmery number. With this black and white outfit get some colour stone jewellery, as it would look even more prominent in comparison. Match your outfit with your groom and get him wearing a solid colour with a little work on it.
6. Ruffled Number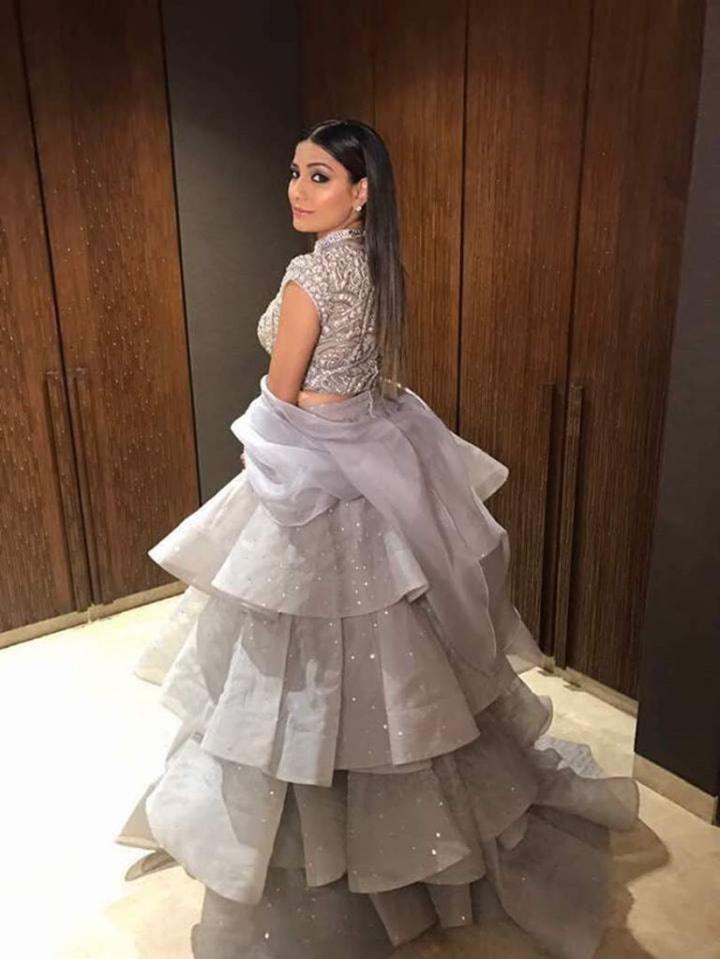 A lilac number never looked as good as it does with ruffles and mirror work. This might be the sangeet outfit you need, with it being the right amount of extravagant that it needs to be. Wear diamond jewellery with it as some it would strike the right amount of elegance that you would need with such an outfit.
7. Pretty In Pastel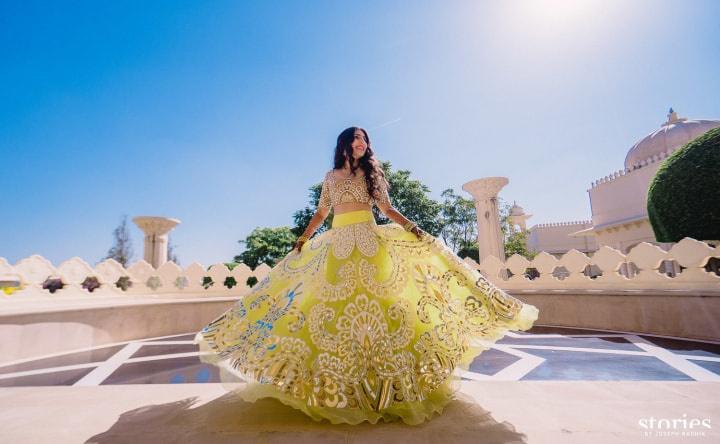 Image Courtesy: Stories by Joseph Radhik
With pastel colours being all the rage they are right now, getting a mirror work lehenga in this colour might just be the right decision. You can get your groom to wear a similar coloured kurta as well. Pair this outfit up with small danglers and let your playfulness show through, on a beautiful summers day.
8. A Vision In White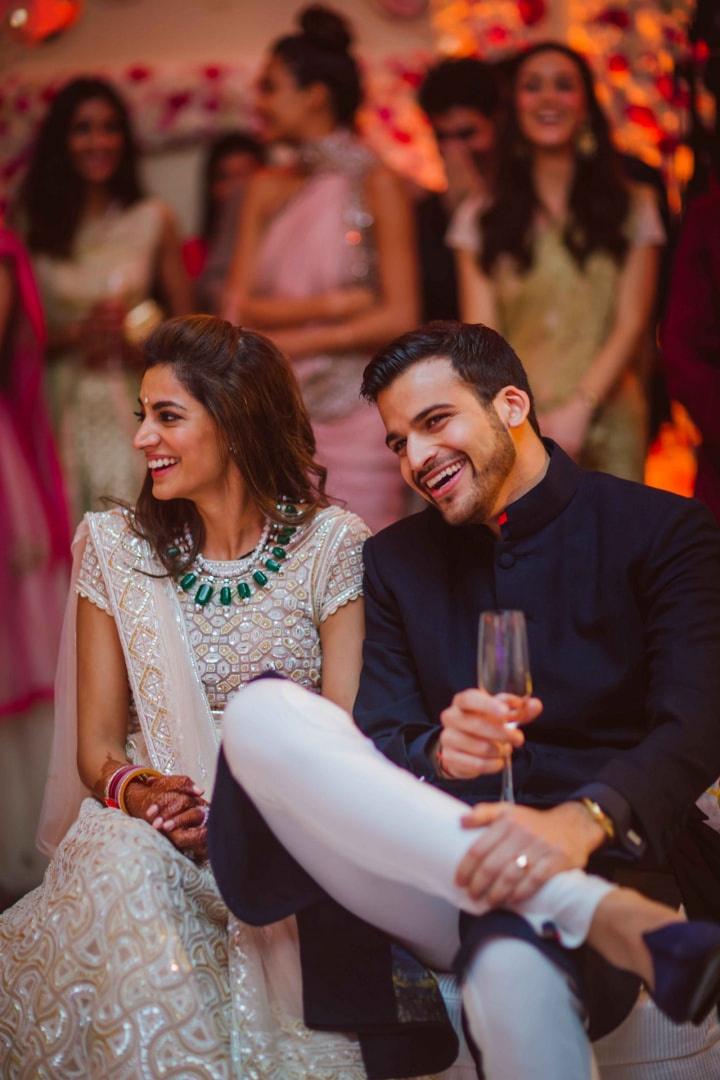 Everyone agrees that a bride in white looks wonderful, and this bride on her sangeet is no different. The bold show of colours through the jewellery looks wonderful and tasteful and in contrast, the groom looks dapper in a black kurta.
9. Bright Blue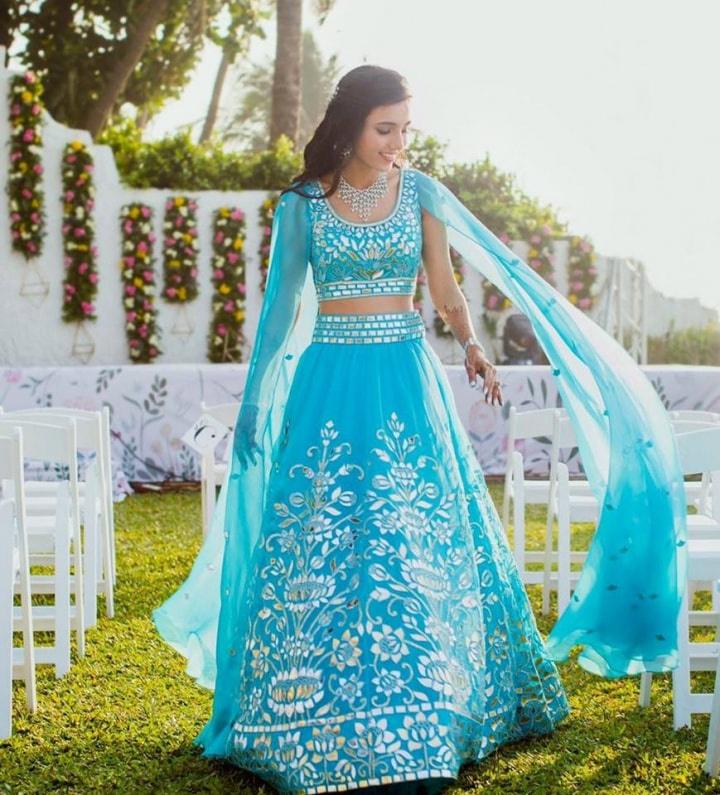 No one would be able to miss you if you choose to wear this mirror work lehenga. The blue looks absolutely ravishing and though it is bright, similarly the mirror works shows through it. Wear a simple diamond or silver necklace with this mehndi outfit, and get your bridesmaids to show up in as bright colours.
10. A Swirl Of Mirrors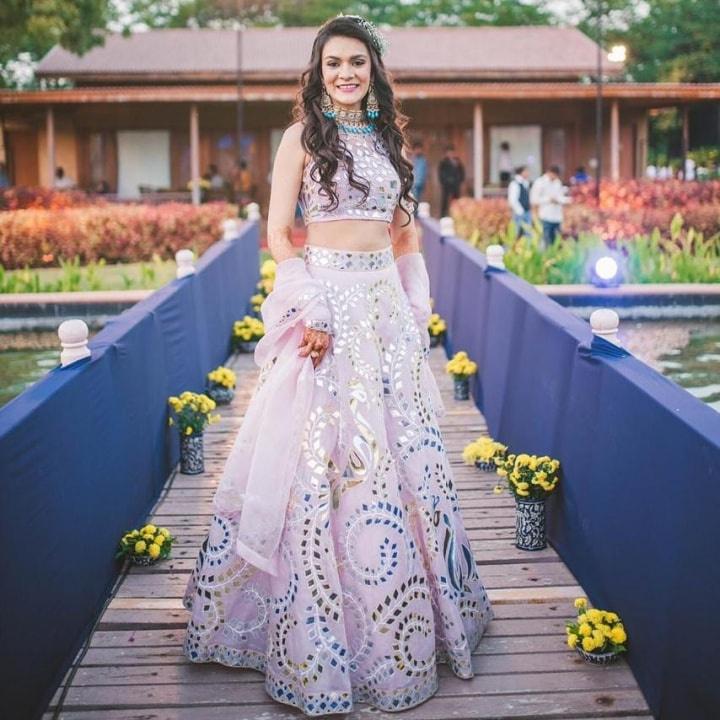 This simple elegant number would sure have people following you with their eyes all over the place. The swirl of mirror is done in sheer perfection and the best part about this number is the jewellery. The subdued jewellery pops up with the stones in it and makes this outfit unlike anything else.
Looking at these mirror work lehengas, and the elegance they reflect, we are sure you would want to try some of them. So, look carefully and choose what you like, because these lehengas would make the best come out in you.
Do you have any new ideas that can be used for mirror work lehengas?