Heavy to Delicate: Gold Jewellery Set Designs for the Wedding Day
Finalised your wedding lehenga? What about your jewellery? Don't panic, we'll help you zero down on the perfect gold jewellery set for your big day.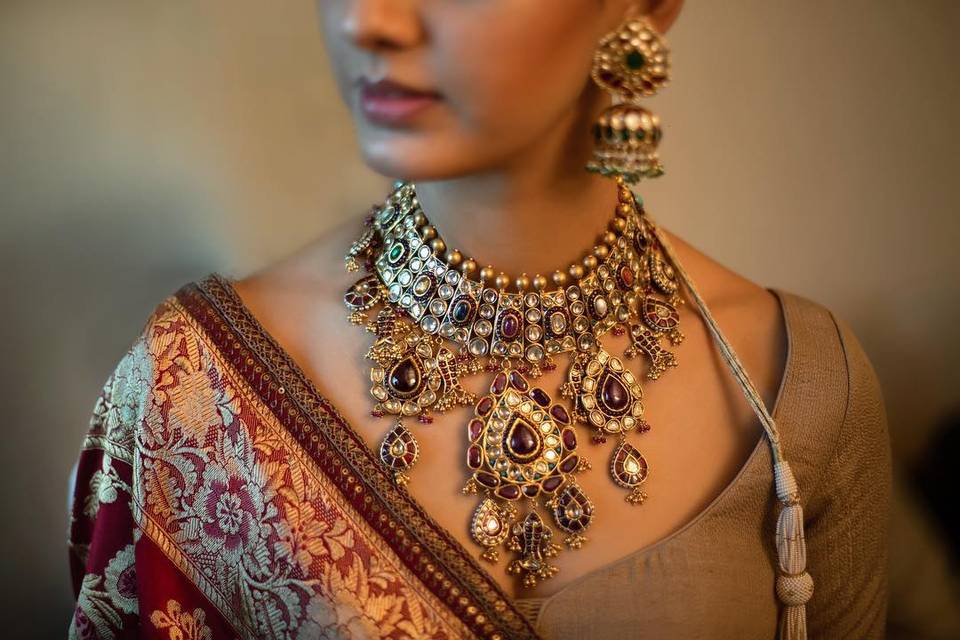 The new age brides take every small detail of their wedding day outfit very seriously. However, contradictory to popular opinion, not all of them want their wedding jewellery to be OTT big or heavy. Some millennial brides would much rather look for simple gold jewellery sets that do not just make their wedding lehenga look good but also allow them to stay fuss-free and look less conscious.
The gold jewellery set for these brides needs to be chosen with great attention to detail to make sure it is eye-catching despite being simple and delicate. For the brides that do not know what they're looking for, let us help you with some of our favourite gold jewellery set designs that are sure to melt your heart and also let you understand what it is that you are looking for. So worry no more, and scroll through this list of gold jewellery set designs and pick your fav!
Simple Jadau Choker Necklace with Jhumkas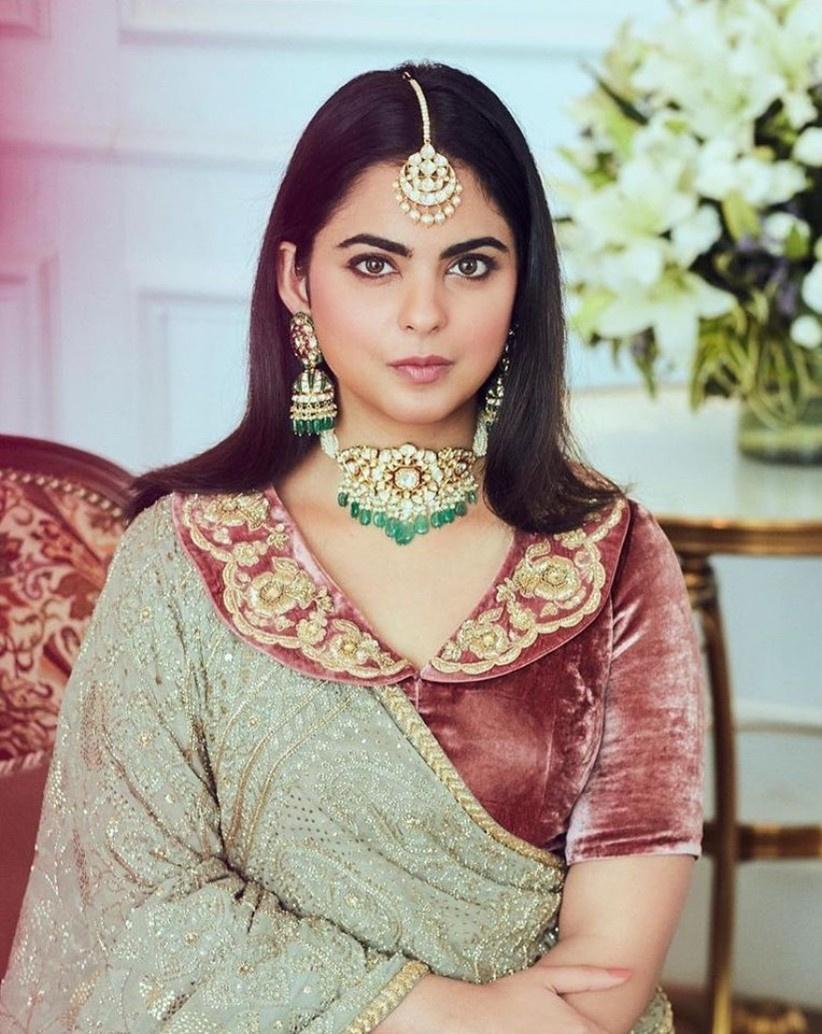 Image Courtesy: Sabyasachi
On the top of our list is this beautiful Jadau jewellery set that does not just look breath-taking but also makes for the perfect bridal choice for the new age brides that love simple and delicate jewellery. The emerald drops on this gold jewellery set make it look even more delicate and adds colour to the bridal attire, while the multiple pearl strands around the neck make sure that the necklace is light and easy to carry.
Antique Gold Jewellery Set with Jaal Pattern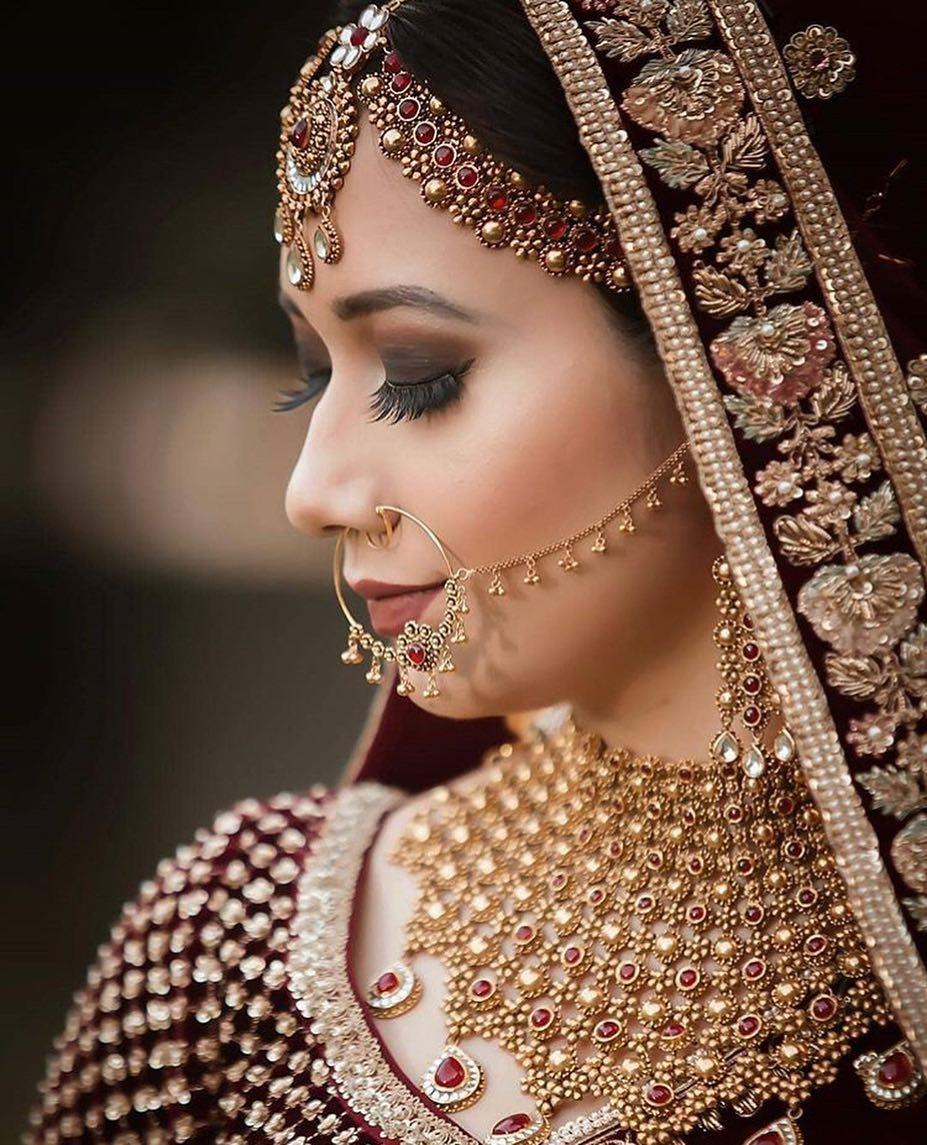 Image Courtesy: Azva
Next on this list is this antique jaal pattern gold jewellery that is not just a refreshingly unique choice for the new age brides but also a colourful one that works with almost any attire. The Maang Tikka and the earrings in geometrical shapes is easily our favourite thing and can be called the highlight of the look while not shying away from the fact that is a light gold jewellery set that looks just as heavy as the others.
The Modern Touch to Temple Jewellery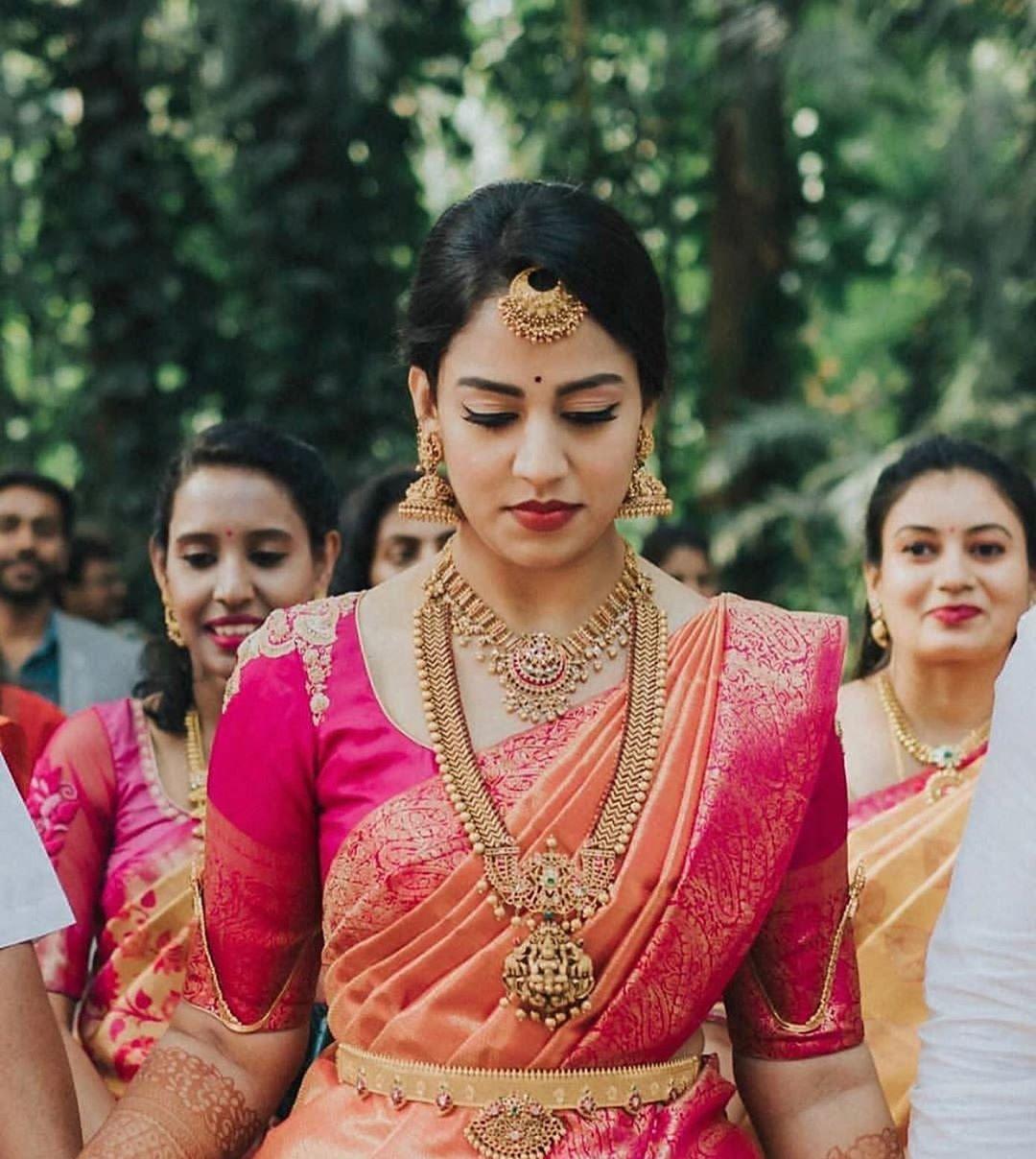 Image Courtesy: Solistice Stories
Another beautiful addition to this list of simple gold jewellery is this temple jewellery set that is extremely light to carry and yet very eye-catching. The elephant motifs on this gold jewellery set are what give it the modern twist that the new age brides love. The small and delicate earrings are what drew our attention almost immediately and definitely going to do the same for new-age brides that love to keep their ears light and their jewellery simple.
Gold Meenakari Set with Hues of Pink and Blue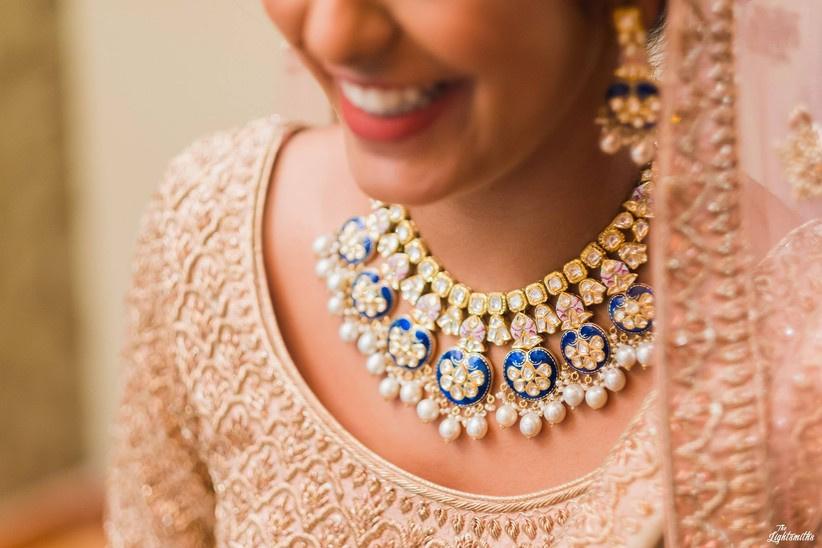 Meenakari gold jewellery set is definitely one of the most alluring choices for the new age brides that love colourful jewellery. This particular gold jewellery set on our list is refreshing because of the hues of blue and blush that make it one of a kind while making sure that it adds a lot of life to the bridal outfit and look. For brides that are going in for shades of nude and peach for their outfit, this Meenkari gold jewellery set is what your wedding day outfit needs.
Navratan Gold Choker Set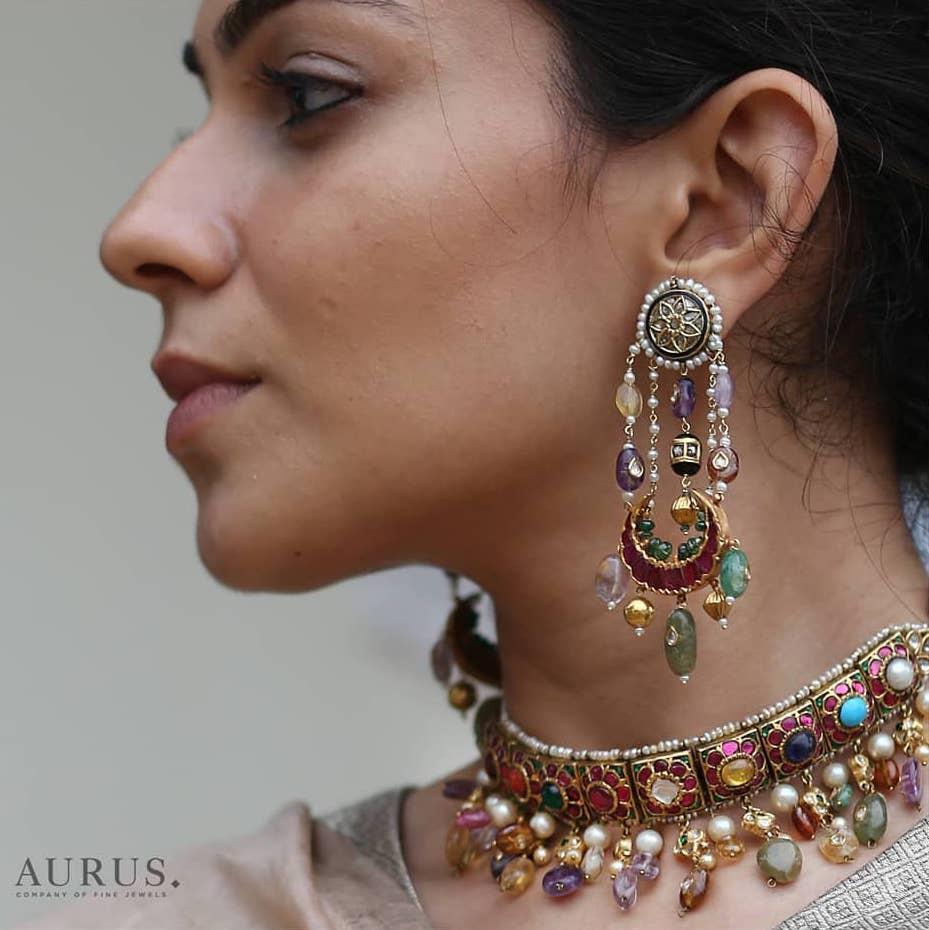 Next on our list of beautiful and simple gold jewellery sets is this Navratan choker and earrings set that every millennial bride is currently rushing on. While Navratan jewellery was the biggest trend with the generation of our grandparents, it has made a huge comeback with celebrity brides and designers showcasing and carrying it off effortlessly. So brides that have always been fascinated by the traditional Navratan jewellery, this simple and delicate design is just what you need for your big day.
Modern Adaptation of Traditional Aadh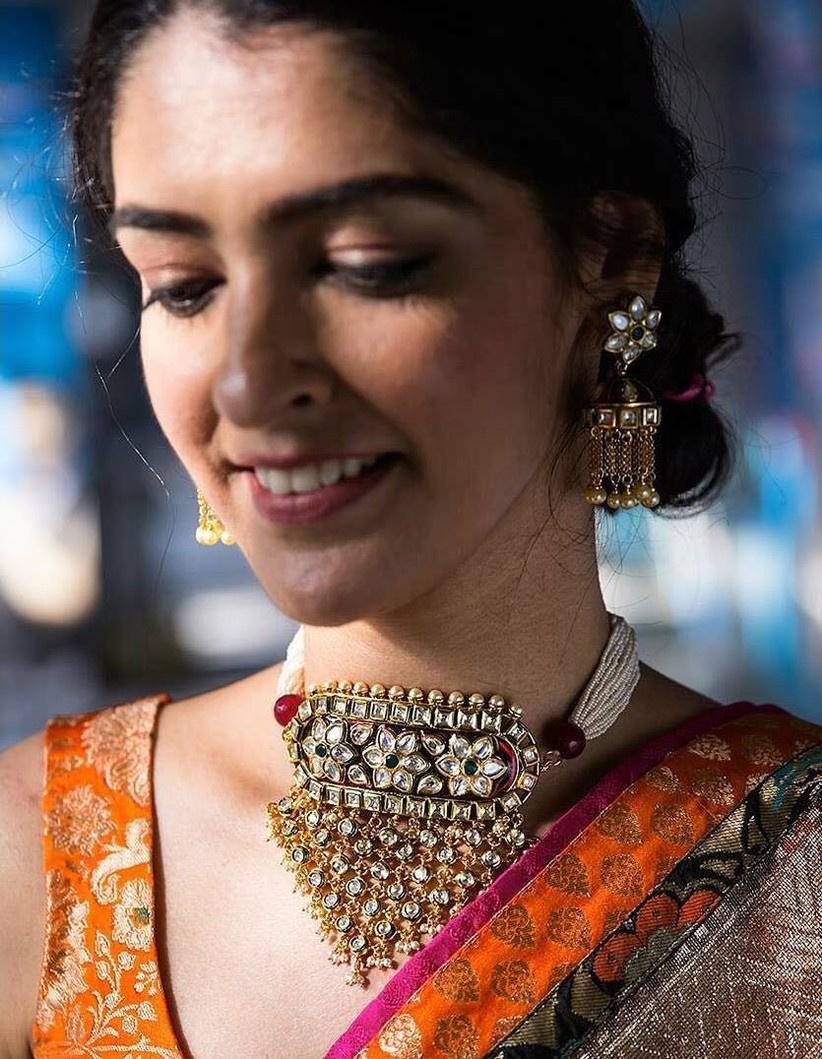 Last but not the least on this list of gold jewellery designs is this beautiful choker set for brides that love the traditional Aadh jewellery. While Aadh jewellery set is usually extremely heavy and elaborate, this one is an adaptation of the Aadh pattern made to look and feel much lighter and delicate. The delicate Jhumkas make this gold jewellery set perfect for the millennial brides to carry on their big day and yet stay hassle-free.
With a gazillion gold jewellery set designs for modern brides to choose from, the decision is definitely not as easy as it sounds. Therefore, scroll through this list to understand the kind of jewellery that you'd like to wear on your big day, and get in touch with some of the best jewellers that are on board with us to get a simple and delicate design finalised for yourself. In the end, your wedding day might not be perfect, but your gold jewellery set definitely can be.
Pick gold jewellery set that is as simple and as delicate as you want your wedding day jewellery to be and tell us in comments why you love it.