Take a Look at These Jadau Jewellery Designs to Complement Your D-Day Look and Drape You in Royalty
Jadau jewellery is an exquisite piece of this jewellery deserves to be a part of your wedding trousseau. We have curated for you a thorough piece tracing the origins of Jadau jewellery and designs to inspire you.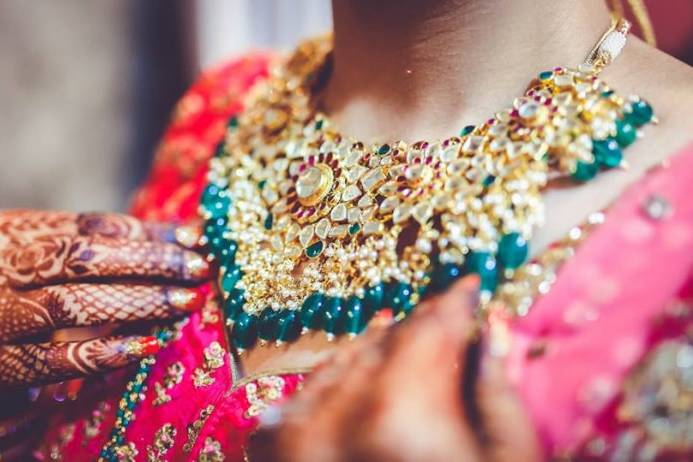 Extraordinary craftsmanship, intricate work of art and mesmerising precious gemstones together make an elegant piece of Jadau jewellery. The precision and effort required to create Jadau jewellery truly make it worthy to be adorned by a bride on her big day. Wear this masterpiece, inspired by the regal Mughal dynasty, on your wedding day and feel like the queen you are.
Read on to know more about this craft and be inspired by some tasteful designs that will surely leave you in awe. A bride spends long hours to find a jewellery set as bridal jewellery is an heirloom that every bride-to-be carries from her maternal home to her new humble abode. So, browse through our galore of Jadau jewellery and curate your very own Jadau jewellery set.
How is this exquisite piece of jewellery created?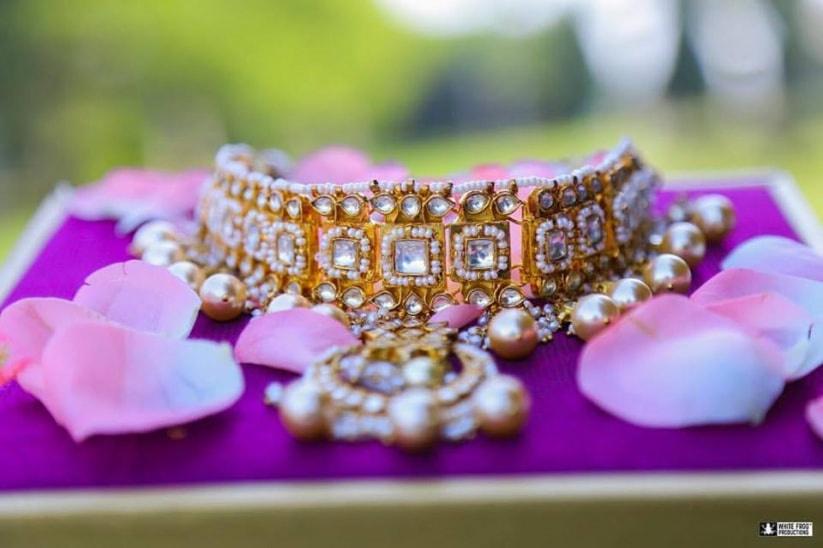 Derived from the word 'Jad', Jadau is a skill-intensive technique of making jewellery that involves precious gemstones to be embedded in gold. It involves a series of steps and a team of artisans to make a single piece of Jadau jewellery to perfection. It often demands more than a day just to embed three to four stones in the gold that is melted before for the same.
Once the design has been conceptualised one Karigar makes the base mould with a thin sheet of gold. Then, the piece moves to the second Karigar who does the intricate Meenakari work on it. After that, the piece heads to the next Karigar who embeds precious stones like Polki, emeralds, rubies and more, in the gold frame of the piece. After all the stones have been placed carefully within their frames, the piece is heated allowing the malleable gold to adhere to the gemstones. Then, the metal cools down and the stones are set in place.
Don't be fooled by the simple series of steps. It takes years of practice or hereditary skills to ace each step of making Jadau jewellery. Only a steady hand with immense experience can achieve great finesse. Curiously designed and carefully crafted, Jadau jewellery pieces are the epitome of regality and royalty. These are some of the finest examples of this jewellery and every piece of jewellery that we have added in this list are breathtaking and a must buy for every bride-to-be. So read on and feast your eyes with their opulence and beauty.
Here are some awe-inspiring designs curated for you, so take a look and get inspired to buy your very own set of jadau jewellery:
1. Jadau Necklaces for the bride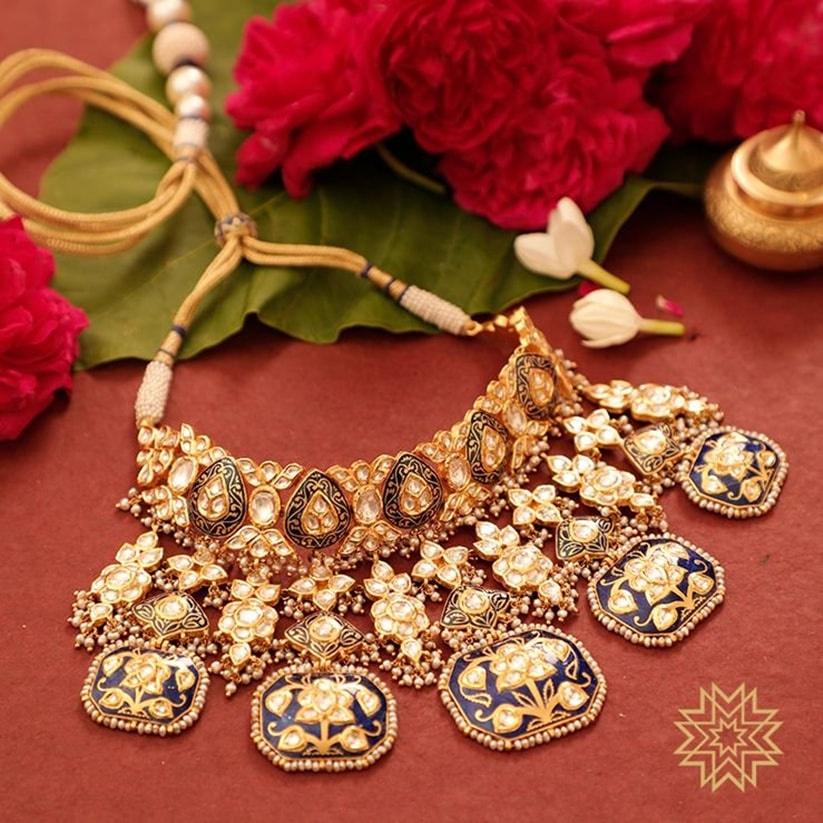 This truly unique masterpiece boosting a lavish use of micro pearls will look absolutely mesmerising when adorned by the bride. It is accentuated with geometric Jadau motifs all through the bridal necklace which is studded with uncut Polki diamonds in a floral formation. The pop of colour added by the use of deep blue enamel, exhibiting intricate work of Meenakari, brings the whole piece together. The work exhibited in this particular piece is that of precision and shows the mastery of teh craftsman to gift you with an exquisite necklace that will add to the fervour of your big day.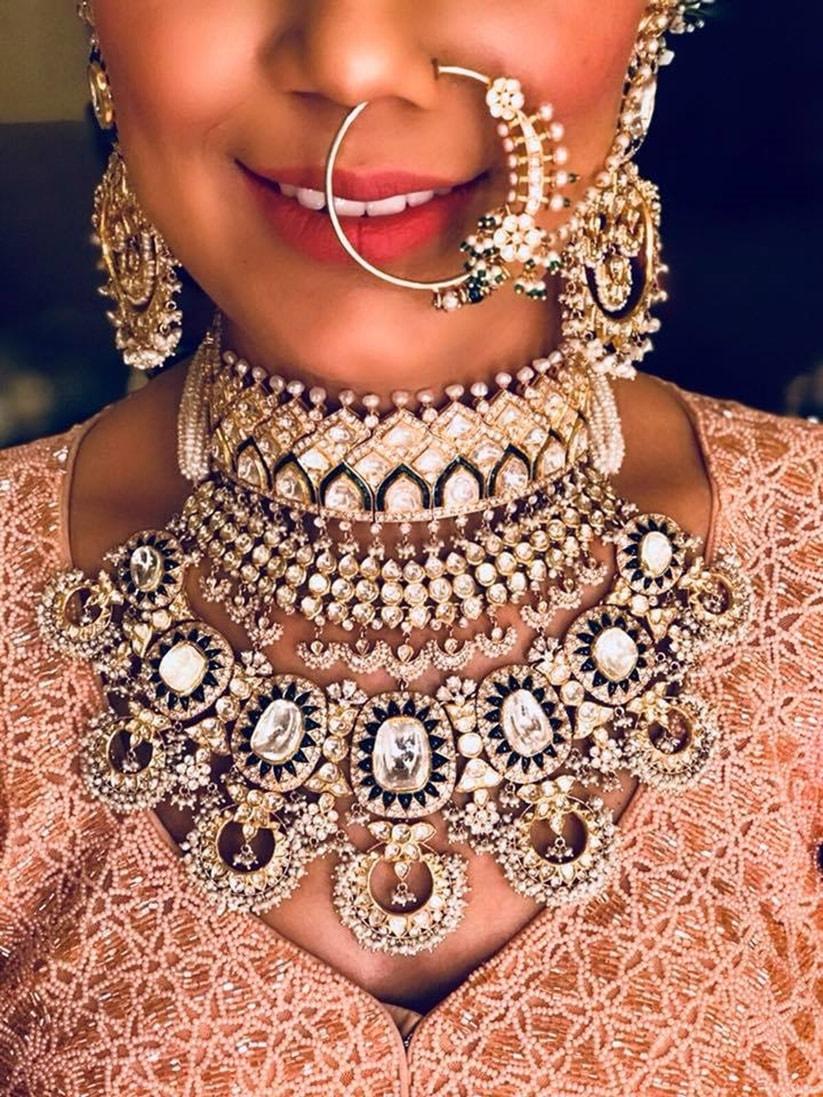 Beauty at its best! If it is about looking resplendent on your big day, then Jadau jewellery is the right pick for you. This elaborate piece is generously studded with precious gemstones and pearls and will make any bride look absolutely stunning on her big day. A collar necklace style falling into a bib necklace makes this piece an exquisite piece of Jadau jewellery speaking of nothing but regality. The intricate use of pearls, Meenakari and the fuse of geometric pattern with floral motifs make this piece one-of-a-kind.
2. Jadau Earrings for the bride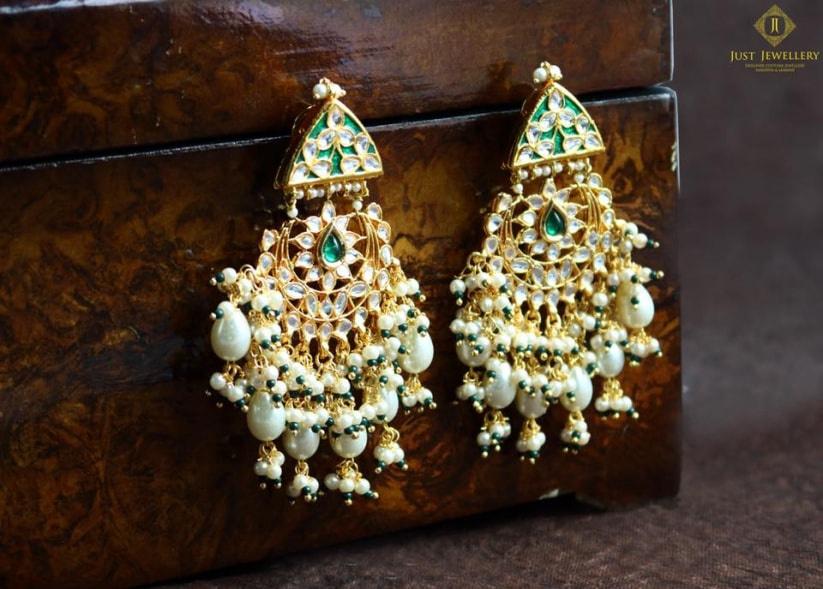 No Jadau jewellery set is complete without an extravagant pair of Jadau earrings excelling in this intricate form of craft.
Jhoomar is by far the most opulent design for an ethnic earring, making it the most sought after by all the brides. And when combined with Jadau jewellery, the luxe quotient is taken up to another level. This stunning pair of earrings exhibits uncut Polki diamonds embedded in a bed of gold and accentuated with exquisite Meenakari work and intricate micro-pearls and emeralds. It is perfect for you to wear it on the night of the engagement and flaunt the gorgeous in you.
3. Jadau Maang Tikka for the bride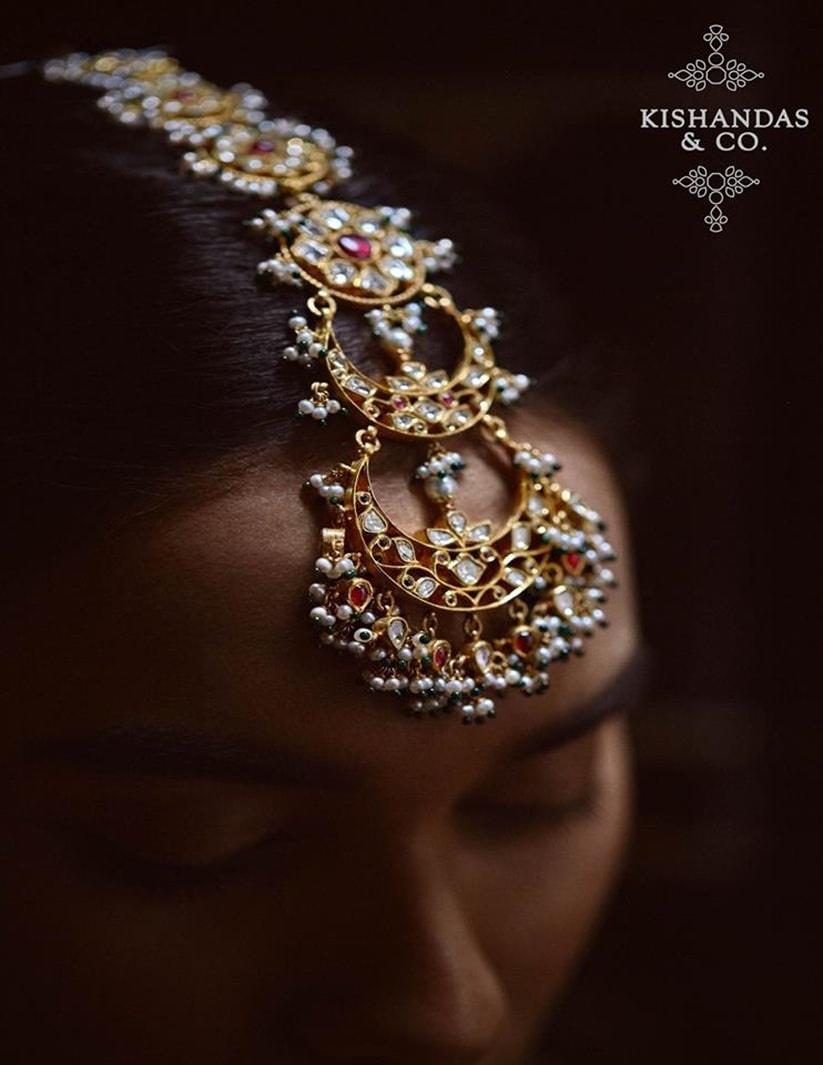 A Maang Tikka brings your bridal look together. Sitting flawlessly on your forehead, it's twinkling gems catch all the attention.
A baroque design for the divine bride. Inspired by the crescent moon, this Maang Tikka design has multiple 'Chand' boosting an intricate filigree work. It is studded with an assortment of precious gemstones like rubies, uncut Polki and pearls making the floral pattern glisten in galore as it hits the light.
4. Jadau Bangles for the bride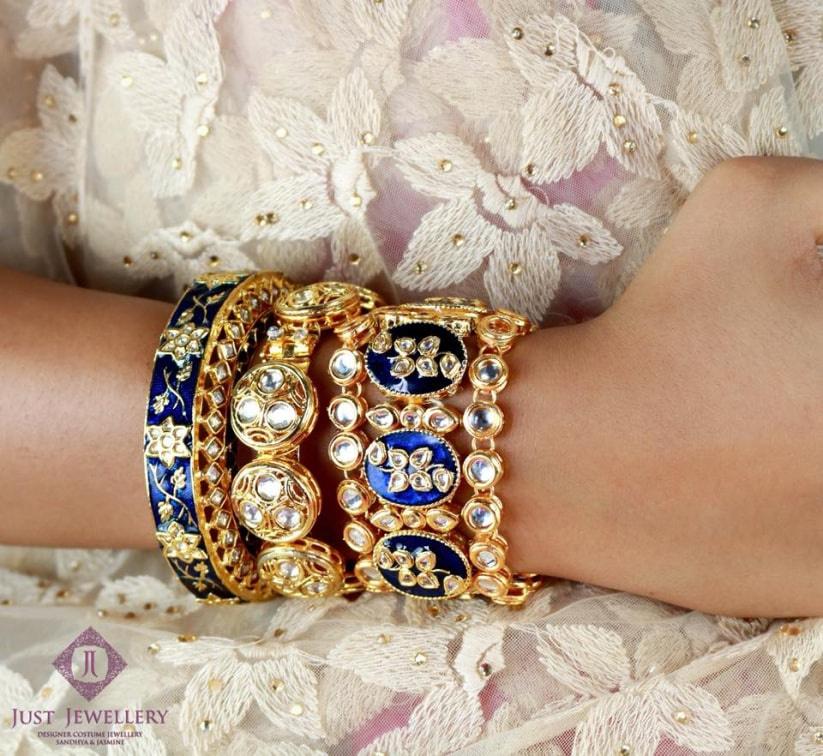 Mehndi, Chura, Kalira - a bride's hand are the highlight of many ceremonies during the wedding. So, it is only fair to give them the royal treatment they deserve by adorning an exquisite pair of Jadau bangle. An intricate framework of thin gold sheets forming a unique floral design makes this set of bangles drool-worthy. The lavish use of royal blue enamel exhibiting Meenakari work make it deserving of the royal bride. Uncut Polki diamonds encrusted through the piece create an infinite design, making the bangles look gorgeous from every turn.
Jadau jewellery is by far the most regal form of jewellery that every bride deserves to adorn on her big day. Necklaces, earrings, bangles, Maang Tikka and many more exquisite pieces are there to choose from. The contemporary touch to these otherwise conventionally traditional jewellery meant for special occasions have been often flaunted by Bollywood stars and the divas have made sure to bring the incredible work of art into notice especially by the brides who will live their dreams on their big day. Being one of the most versatile pieces of jewellery the Jadau jewellery has won million hearts despite being a pricey affair because of the obvious hard work put behind it.
Be inspired by the glimpse of awesomeness shared above and head on to search for your perfect piece. We hope that you found what you were looking for when you began searching for your bridal jewellery. For each of you, there is a bespoke piece of Jadau jewellery, that has your name written all over you. So, get inspired and go shopping now! Let the wedding bells mark the beginning of an era of beauty and you can get your forever cherishing Jadau jewellery at any retail jewellery store apart from the hub of making it like Rajasthan and Gujarat.
Go through the jewellery collection of our expert vendors to select from amongst the latest and some of the most beautiful Jadau jewellery designs available in the market!