7 Gorgeous Maharashtrian Traditional Sarees That Are Loved By All
Thinking of rocking the amazing Maharashtrian traditional sarees for your wedding functions? Then why not get to know about all of them and choose the best out of the lot.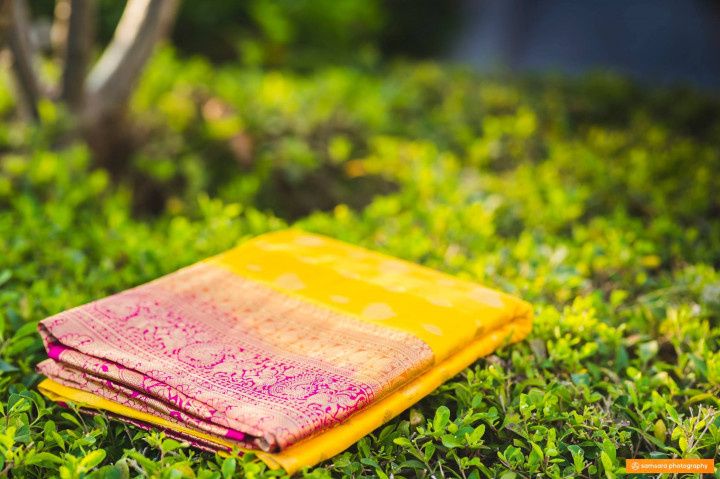 Do you know why traditional wears are also known as classics? Because you can never go wrong with them. You pick them up for any occasion or function and they will always see you through it. Maharashtrian traditional sarees are also similar, they will carry a bride through any occasion she has, big or small. There are sarees for every Maharashtrian function you have for your wedding. The benefit of a Maharashtrian traditional saree is that it comes in a number of silks and even other clothes, so with it being of such opulence, it can also suit your preference in many ways. Though some silks like Kohlapuri and Paithani are preferred over others, all of them make do for some magnificent sarees. Maharashtrian traditional sarees are also not just segregated by cloth, they can also be differentiated by the way they are draped, so look on.
Types Of Maharashtrian Traditional Sarees
1. Paithani Saree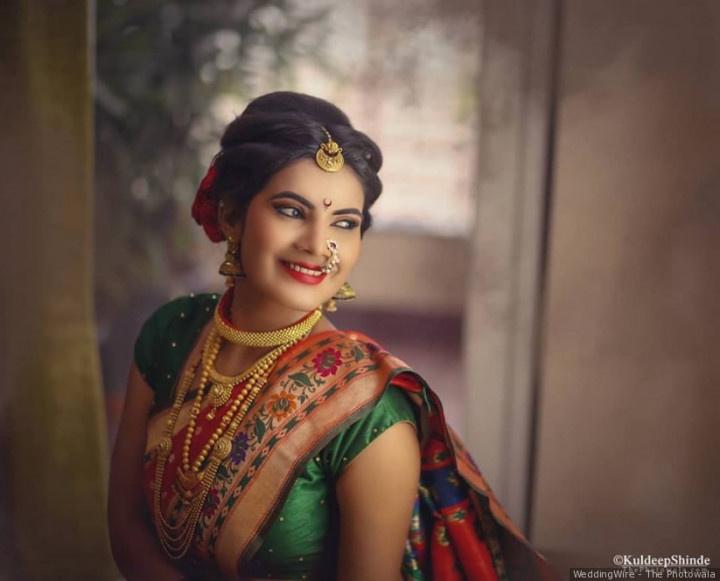 If we are talking of Maharashtrian traditional sarees, then starting with the Paithani saree would be the right way to go. You cannot find something more Maharashtrian traditionalist than this silk saree right here. These come in bold colours ranging from bright to dark, but each has its own special charm. Unlike most traditional silk sarees, Maharashtrian sarees are not the ones to shy from the dark colours, like royal blue or plum colour. Wear this fully traditional saree with fully traditional jewellery. Wear a number of gold necklaces ranging in different lengths, and a Jhumka or big stud earrings. A traditional bride is incomplete without a Maang Tikka and the traditional Maharashtrian Nath.
Occasion: The bride can wear it for the main function, The Wedding!!
2. Uppada Silk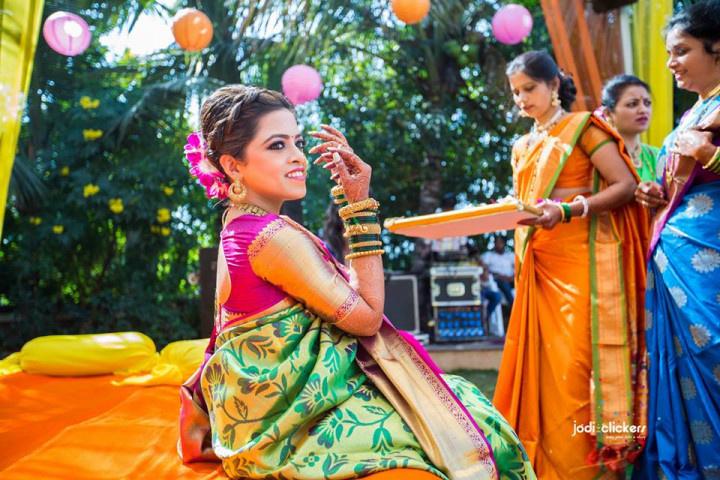 This silk comes from a pretty little town in Andhra Pradesh. This silk saree is also quite sought after in Maharashtra, with its floral motifs, that feature big flowers and their stems. This is featured all over the saree. They are so finely woven that they might just come off as translucent at times. Uppada sarees come in all kinds of colours and usually, you have a galore to choose from. They usually come in the traditional Indian wedding colours like green, red, etc. to put a finish to this kind of a saree, wear jewellery which has just a tinge of colour in it.
Occasion: You can wear it for occasions like your mehndi or any other small function too.
3. Banarasi Silk Saree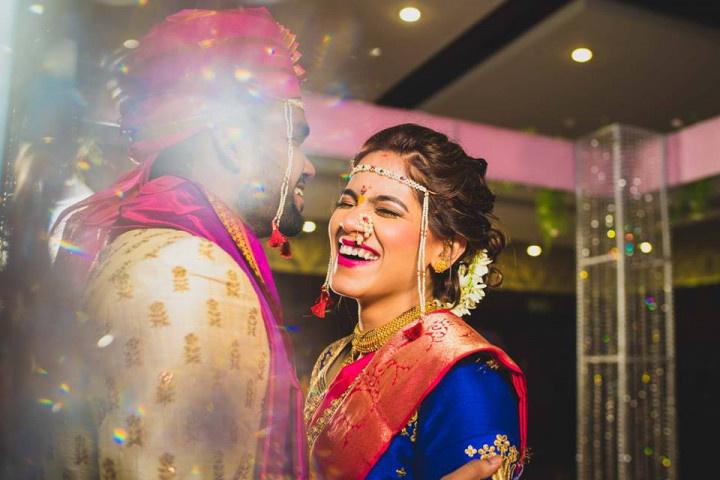 If you are a person who knows their sarees and silks then the Banarasi silk shall need no introduction. They are one of the finest silks in India and it is always an investment to buy them. These Maharashtrian traditional sarees usually come in bright colours, that will make any bride pop out from the guests. Pair an as bright blouse for this saree and look at the magic it weaves. This saree would go very well with one choker like a rich gold necklace and matching stud-like earrings.
Occasion: This saree should be saved for the wedding day, as a saree as rich as this one deserves all the audience it can get.
4. Kanjeevaram Silk Saree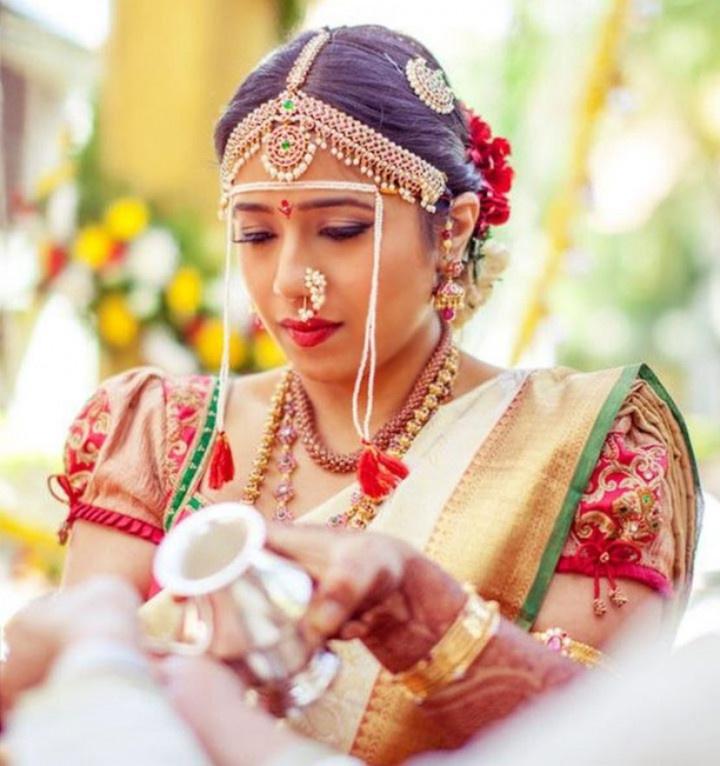 Image Courtesy: Mandar Parab Photography
Like the Banarasi saree, the Kanjeevaram Silk saree is also known all over the land. This is one of the best silk sarees that you would have the pleasure of draping on yourself. These sarees are mostly found in bold colours or sometimes even in white, but and even with the Maharashtrian traditional saree being bold colours sometimes a sombre white colour just fits. Also, if you wear it with a heavily worked dashing coloured blouse, the saree and the blouse will merge well together. This saree should be worn with jewellery that maybe has a pop of colour, though gold would look just as well, a piece of coloured stone jewellery might look better.
Occasion: A Kanjeevaram is a special saree and should be worn for such occasions, wear it for any big function in your wedding and you're good to go.
5. Kohlapuri Saree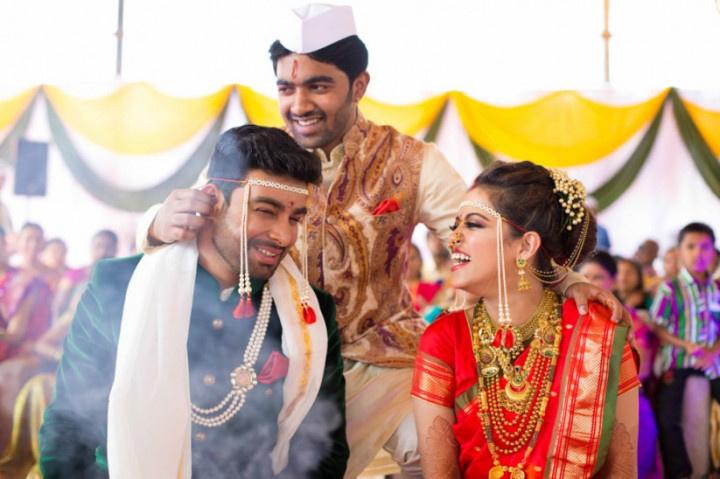 Kohlapuri saree are one of the native sarees of Maharashtra. Though it is not as popular as the Paithani saree but still its bright and traditional colours can mesmerise you like no other. These come in a variety of colours each better than the last and will leave you wanting for more. You can pair this Maharashtrian traditional saree with a layer of descending necklaces and gold Jhumkas.
Occasion: Don on this saree for either your reception or the wedding day. Wear it preferably in the morning to let it shine.
6. Kota Silk Saree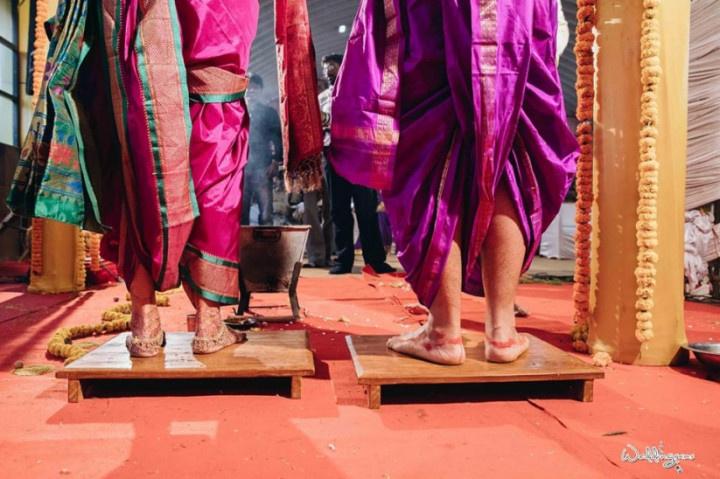 This is a traditional weave saree coming from Rajasthan and paving its way into the Maharashtrian culture. Kota silk sarees are usually translucent in weave, and give an amazing whimsical feel to the wearer. These usually come in lighter and not so bright colours and make the wearer feel elegant and graceful through and through. This Maharashtrian traditional saree would do very well with a small necklace that hugs the neck and matching small jhumkas.
Occasion: The perfect time to wear this would be for any day function in which the sunlight shines through the saree having the translucent material shows its delicacy.
7. Chanderi Silk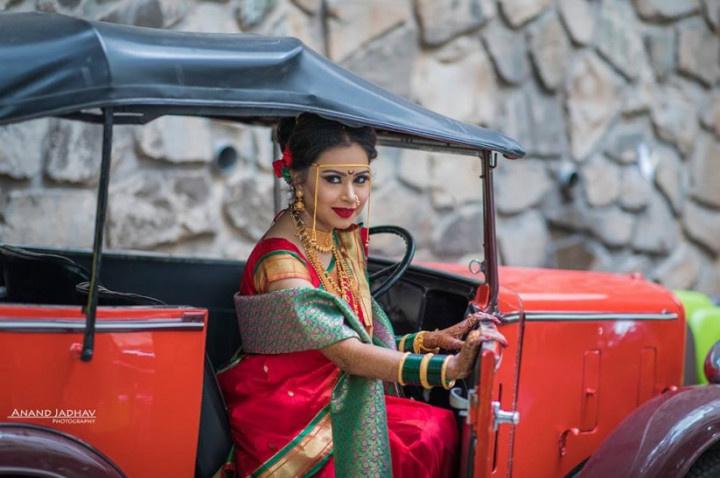 Chanderi silk sarees are from a little town in Madhya Pradesh. Like most other sarees on this list though it might not be inherently Maharashtrian, it definitely comes close to be as adopted one of them. These light beautiful sarees can come in a variety of colour, from pastel to bold ones. A good Chanderi saree is nicely translucent and lightweight, and feels almost like nothing on your body. With big gold borders that are sometimes woven in them, you can safely just wear one gold necklace sticking to your neck and still look rich.
Occasion: Wear a Chanderi silk saree for the big functions, like the reception, or even engagement.
The Drape Of A Maharashtrian Traditional Saree
The traditional Maharashtrian drape is called as the Nauvari saree. It is done with a nine-yard long saree, draped in dhoti style. It not only gives amazing mobility to a bride, who definitely needs it on her wedding day, but also makes her look royal and regal.
Another way that Maharashtrian traditional saree is draped in is the classic way we see in most movies. This is done as it is familiar and easier to do than the dhoti style. Each one has its own charm and for a bride who wants a bit of tradition mixed with a little something else, why not this.
As Maharashtrian traditional sarees go, these are basically the silks and ways to drape it, but as we go further to explore, there is no end to what kind of silk or drape we can or cannot use. But if ever in doubt go for your classics, because as said before, there is nothing more reliable than them.
Which Maharashtrian saree would you want to drape and take for your trousseau?