4 Essential Nauvari Saree Images Well Worth The Attention Of Any Aspiring Marathi Bride
Marathi brides know it best! The evergreen Paithani sarees of Maharashtra are known for a unique drape, which makes them look unbelievably beautiful. Let's have a look at some iconic Nauvari saree images to know more!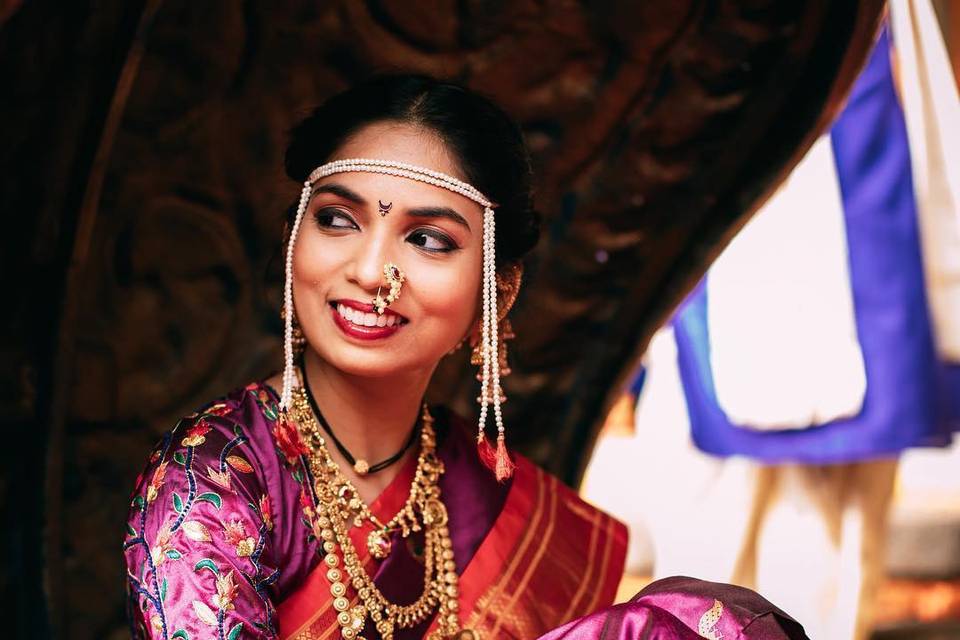 Sarees are a timeless, traditional outfit which has been used to dress up our brides since ages. While in many cultures the bridal wear is a wedding lehenga, some cultures, like the Marathi culture, prefer its brides in regional sarees.
These beautiful and elegant Nauvari saree images often called Paithani, are styled with Marathi gold jewellery, like the heavy Marathi Nath, the classic gold waist belt and a necklace.
Any bride looks like a queen in this type of get up and easily rocks her wedding with grace. Let's have a look at some of the most unbelievable Nauvari saree images that will make you want to drape one right now!
1. The royal purple Nauvari saree look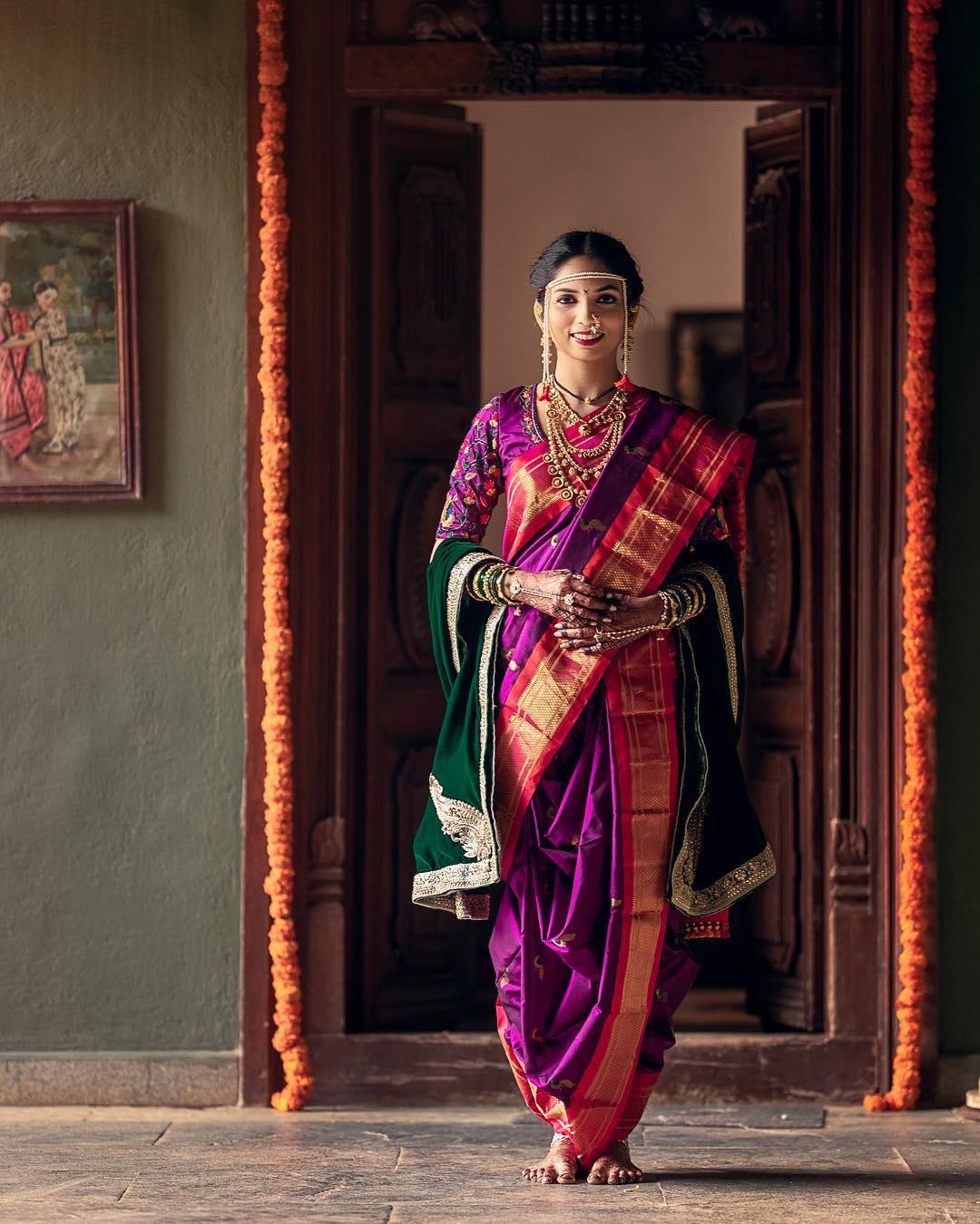 With an eye-catching and stunning peacock motif border, this Marathi saree has already made its mark with its bright and vibrant colours. The blouse has been embroidered intricately with zari and has a round neck design. The rest of the garment also looks beautiful as the grand border of the sari adds on to it.
Making saree pleats of the pallu and decorating the peacock border over it is a great idea as it flaunts the best part of the saree. While the body of the saree is orange, its blouse is purple.
However, this colour difference is a game changer and plays a vital role in the look being vibrant. You can too be inspired by our Nauvari saree images and look stunning. You can choose the option of leaving the pallu loose. Tie your hair in a bun to get the perfect Nauvari saree images for your social media!
2. Tangerine vibes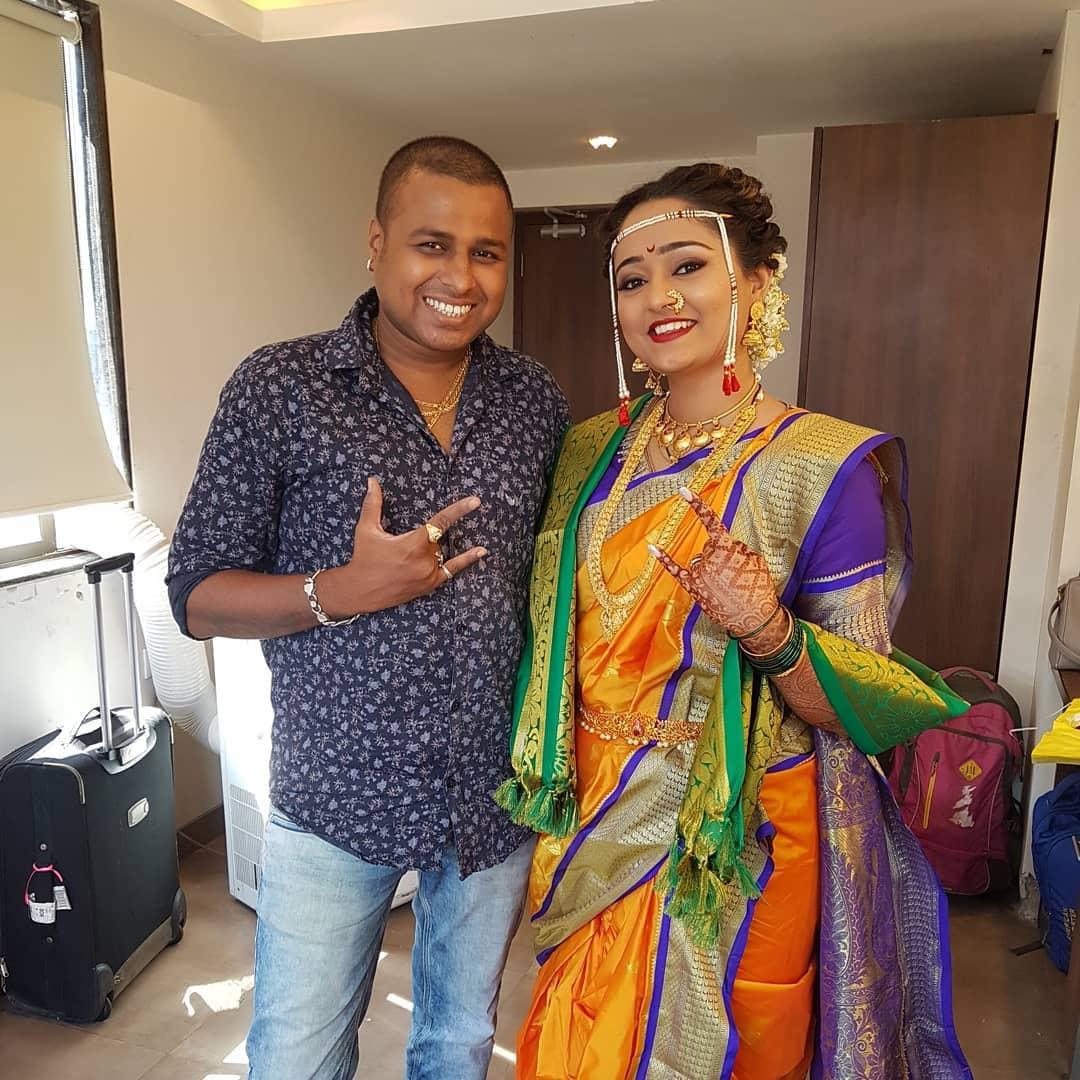 Image courtesy: Bridal Makeup by Sunil Navle
A complete bridal saree, it has been adorned by zari embroidery on its pallu and border quite intricately. If you compare this to the other Nauvari saree images, the bride wears the saree with a few differences. The body of the saree is orange, the purple coloured pallu of the saree look beautiful with its detailed zari embroidery.
Pleated together to showcase the border on the pallu, the bride has also taken a green coloured, embroidered stole around her and the saree.
Wearing a plain purple coloured blouse, she looks totally ready to get married and be the wife of a lucky man. While the style of carrying a stole isn't new for Marathi brides, it certainly isn't something we see every day!
3. The traditional green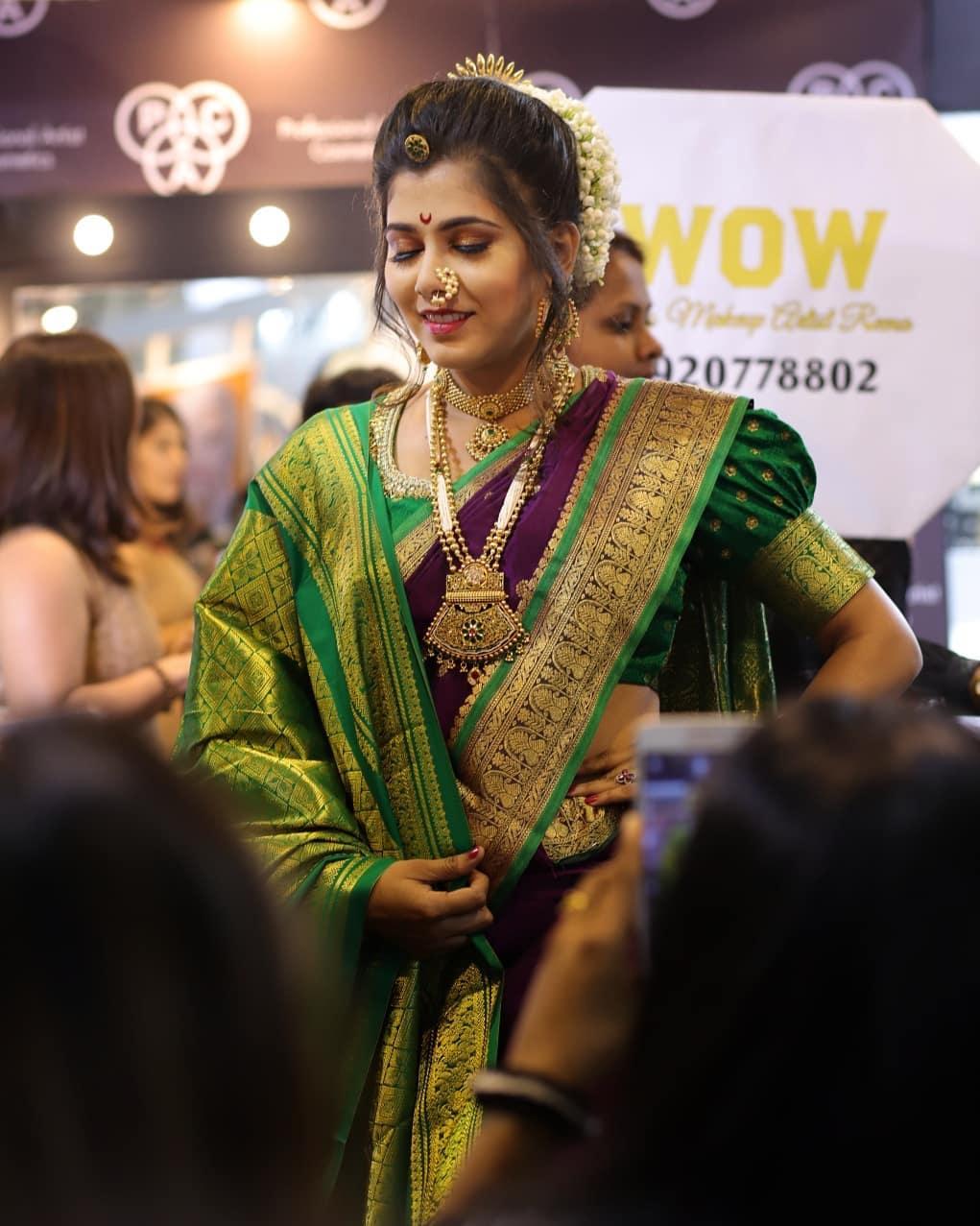 Image courtesy: WOW MUA Areena on Instagram
This heavenly saree has a zari embroidery spread all over on the border and it looks gorgeous. The silk zari work on the pallu has literally made us speechless and definitely deserves an award for the creativity!
Most Nauvari saree images show slightly lighter variants of the garment, but this one is heavy with the zari embroidery work on the blouse as well as on the sleeves too. With a green zari silk pallu, the sari has a simple, brown coloured body.
You try a lot of different neck designs with such a saree, like the round neck, the V-neck, the sweetheart neck and the square neck designs. Apart from that, you can always wear the pallu by taking its end from the other side and wrapping it over your shoulder.
4. Essential canary capers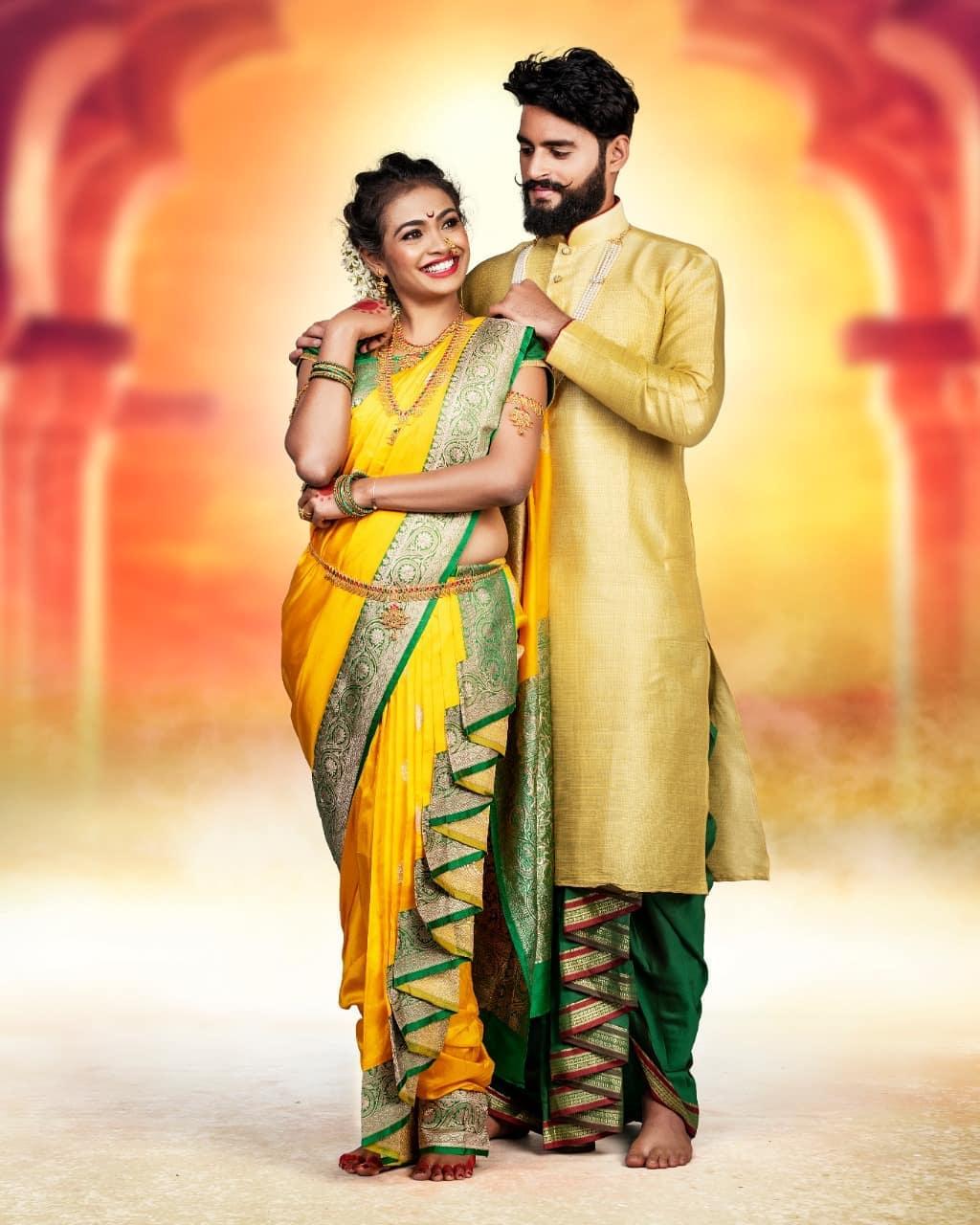 Image courtesy: The F Madzzz on Instagram
Draped in a gold coloured saree with a green pallu and border, this bride looks resplendent! This is one of the most beautiful Nauvari saree images we've seen. With a heavily embroidered border with gold zari work, the saree basically needs nothing but a beautiful bride to wear it.
With a long pallu reaching the ground, the gold yellow body of the saree looks shimmering and vibrant. If you want slightly contemporary inspiration, such Nauvari saree images are perfect for you. The garment seen here has a unique brightness to it that almost makes us compare it with the sun. You can always add a backless blouse design to such sarees to make them look even more powerful!
All these given Nauvari saree images have certainly made us proud of the fact that the Indian culture is full of beauty and versatility. Such an inspiring draping style of the Nauvari saree can make any bride leave her lehenga choli for a Paithani ensemble.
And such a change would turn out to be beautiful because she would only be accepting her Indian culture and its different shades. These are some of the most brilliant and inspiring Nauvari saree images that can make you realise that there are other options for a bride too!
If you want to wear a traditional saree for your wedding, and are still considering your options, do check out a few Kanjeevaram silk saree options too. Like a Nauvari, these sarees are also deeply rooted in their culture and give off a great vibe!
Check out these boutiques near you that offer splendid sarees!