5 Absolutely Stunning Marathi Nath Designs to Make Your Bridal Avatar Drop Dead Gorgeous
Marathi nath designs are quite distinct and you can spot them a mile away! With gorgeous Basra pearls and glittering red, green, or white stones, these ornaments are a Marathi bride's pride! Read more about them!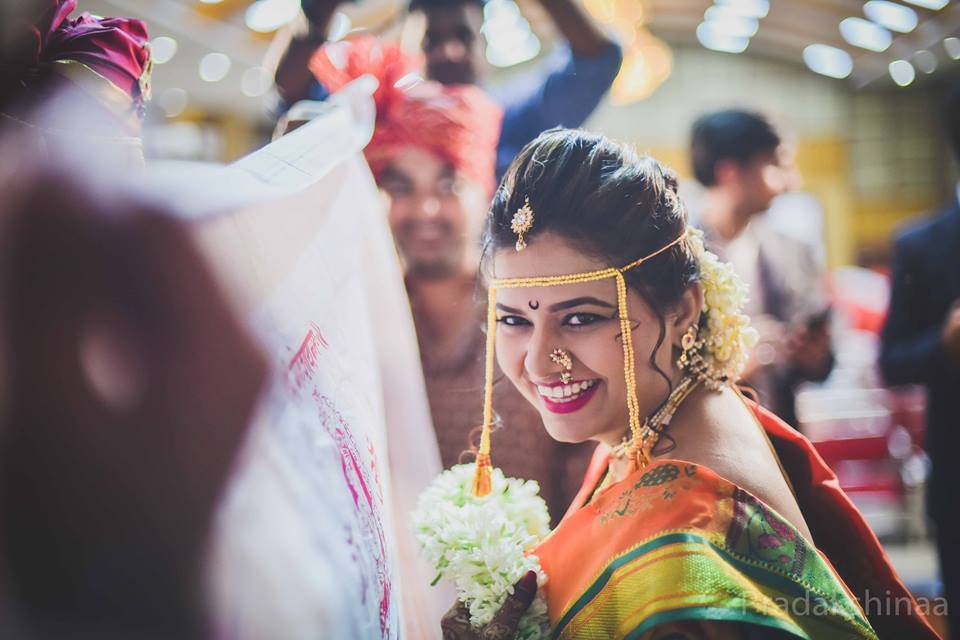 Maharashtrian jewellery derives its aesthetics from the Peshwa dynasty and hasn't seen a lot of transformation or modernisations in its designs or still. This is great because Marathi jewellery is quite distinct and has a look that shouldn't be tampered with. When it comes to the Marathi Nath, this nose ornament is unlike any other and cannot be mistaken for any style of nath. Typically created with Basra pearls, along with a pink or white stone in the middle, these naths are large in size and often dangle. Unlike other large naths, these do not have an accompanying string to pull them up and the dangling look is a part of the traditional aesthetic.
One of the most popular (or most well-known) styles of naths is the Bramhani nath, which has Basra pearls and glittering emeralds. As green is considered to be an extremely auspicious colour in Maharashtrian culture, many brides choose to wear this Marathi nath on their big day. Paired with traditional bangles in green and gold, the Marathi bride's look is unmistakable!
1. Nath with white stones and pearls!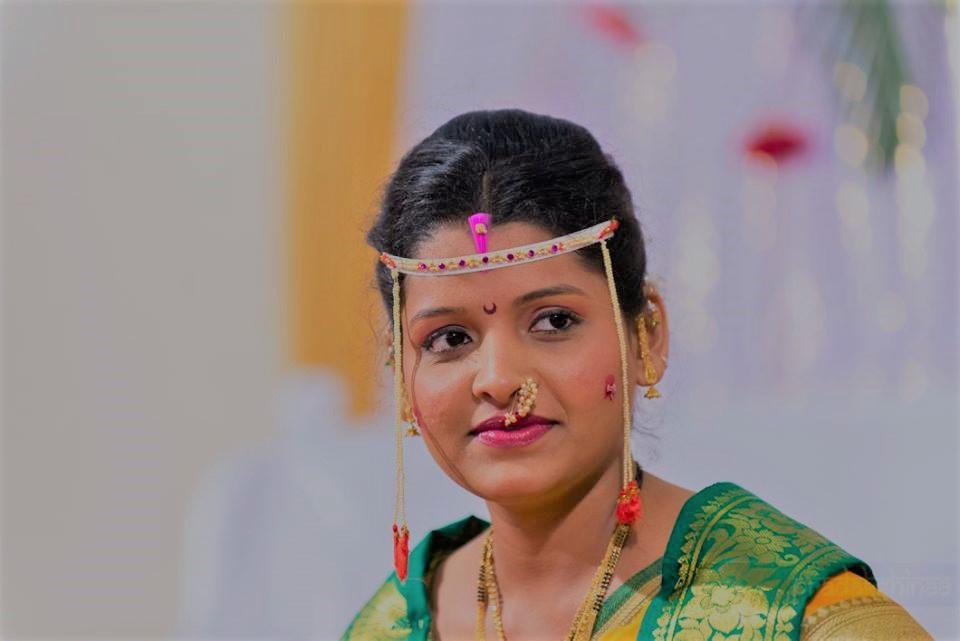 With Basra pearls dangling in a grape-like formation around a single white stone, this is a great example of a Marathi Nath that women can wear on special occasions. A bit oversized, the nath dominates the face visually and even hides part of the lips, which is why brides wearing such designs should opt for vibrant lipsticks that can hold their own in the face of such an ornate nose pin. This nath has a pin-like style and you can even see the back of it dangling as it clasps onto the bottom of the pearls.
2. Nath with red stone and pearls!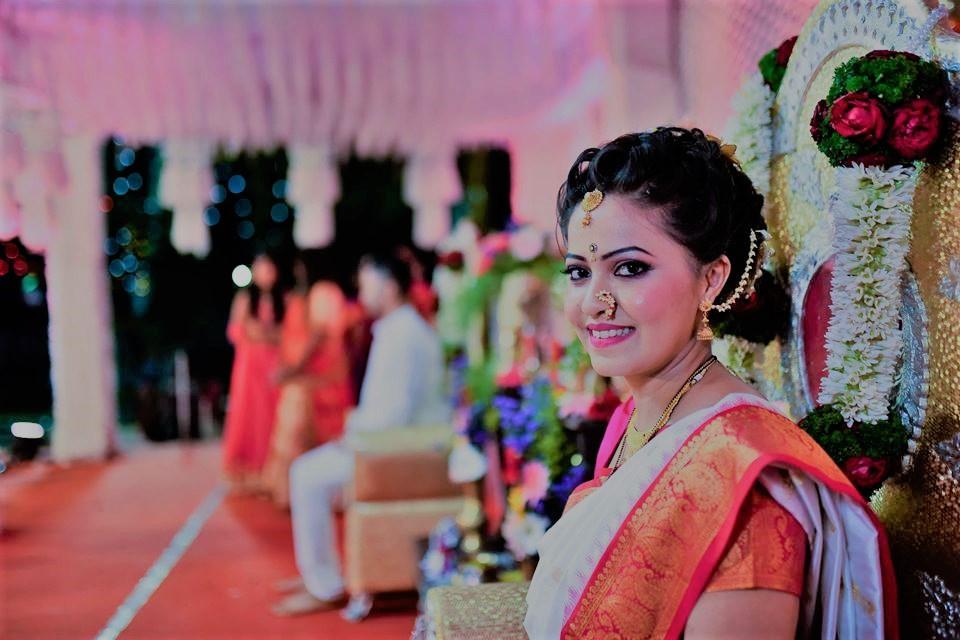 This Marathi Nath has a very interesting design not only because it has substituted the white stone with a red one, but because the Basra pearls are crafted on a body that has a slightly curved shape, giving the nath the appearance of a hoop from afar. Here, the bride has worn jhumka earrings that have a string that extends into the hair. This string is also covered in Basra pearls, making the earrings and the nath a great set to wear at a wedding. This type of nath set can be worn by a guest as well.
3. Hooped nath with minimal pearls!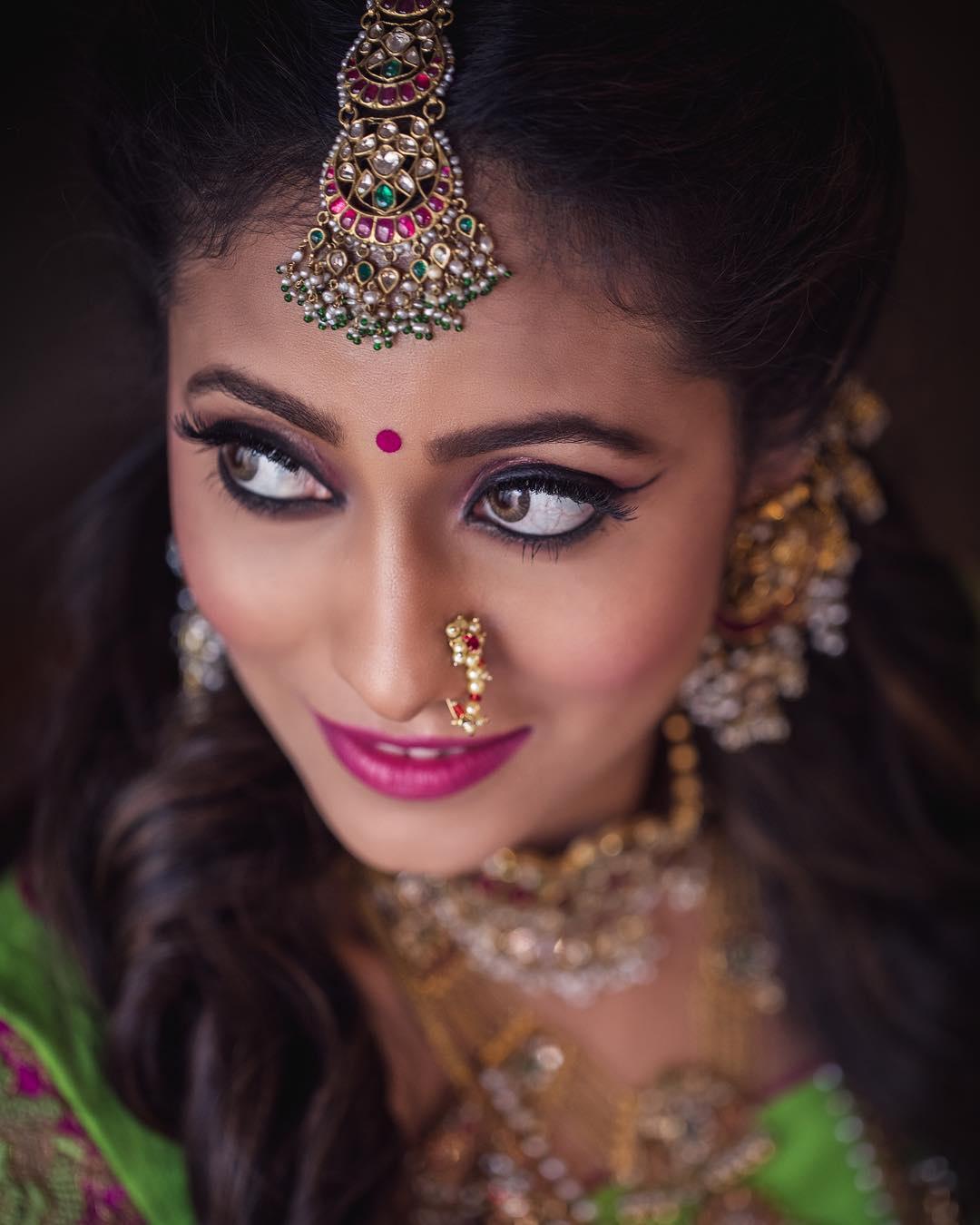 Speaking of emulating hooped designs, this is a nath that is a full hoop, creating a great visual piece to draw the eyes. This Marathi nath has been designed in a way that ensures that the ornament does not become too bulky. The designers have achieved this by adding a thin line of basra pearls to the hoop, instead of a whole bunch like what we've seen so far. The red stones add a great pop of colour to the colour and brides can wear red lipstick to match the same. Though this one is a hoop, it also has that slight dangling effect that's so typical of a Maratha nath.
4. Oversized nath that all brides love!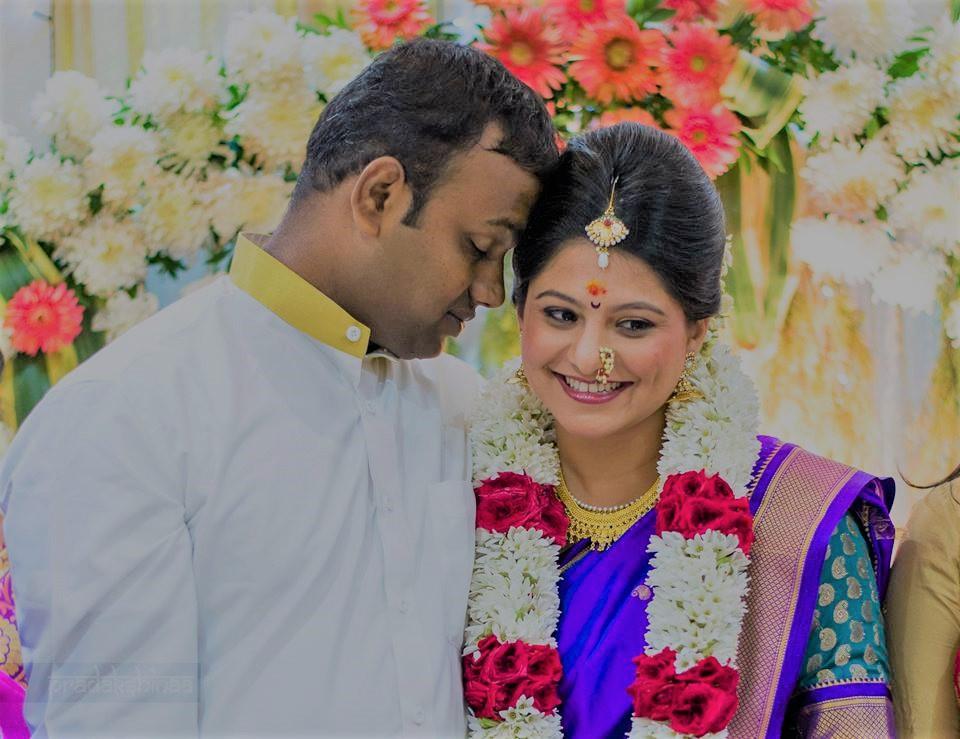 Here's an example of an oversized nath that forms a huge part of this bride's aesthetic. With a bunch of pearls on the ornament, the nath dangles and sways as the bride laughs during the Mangalashtak in marriage. We are certain that this will only add to her beauty and make her look even lovelier than she already is! Notice how the bride has paired muted jewellery pieces with her look. She has a minimal tikka on her forehead, along with the classic Marathi Surya necklace in gold with little spikes of sun rays emanating from the same.
5. Nath with a giant red stone and pearls!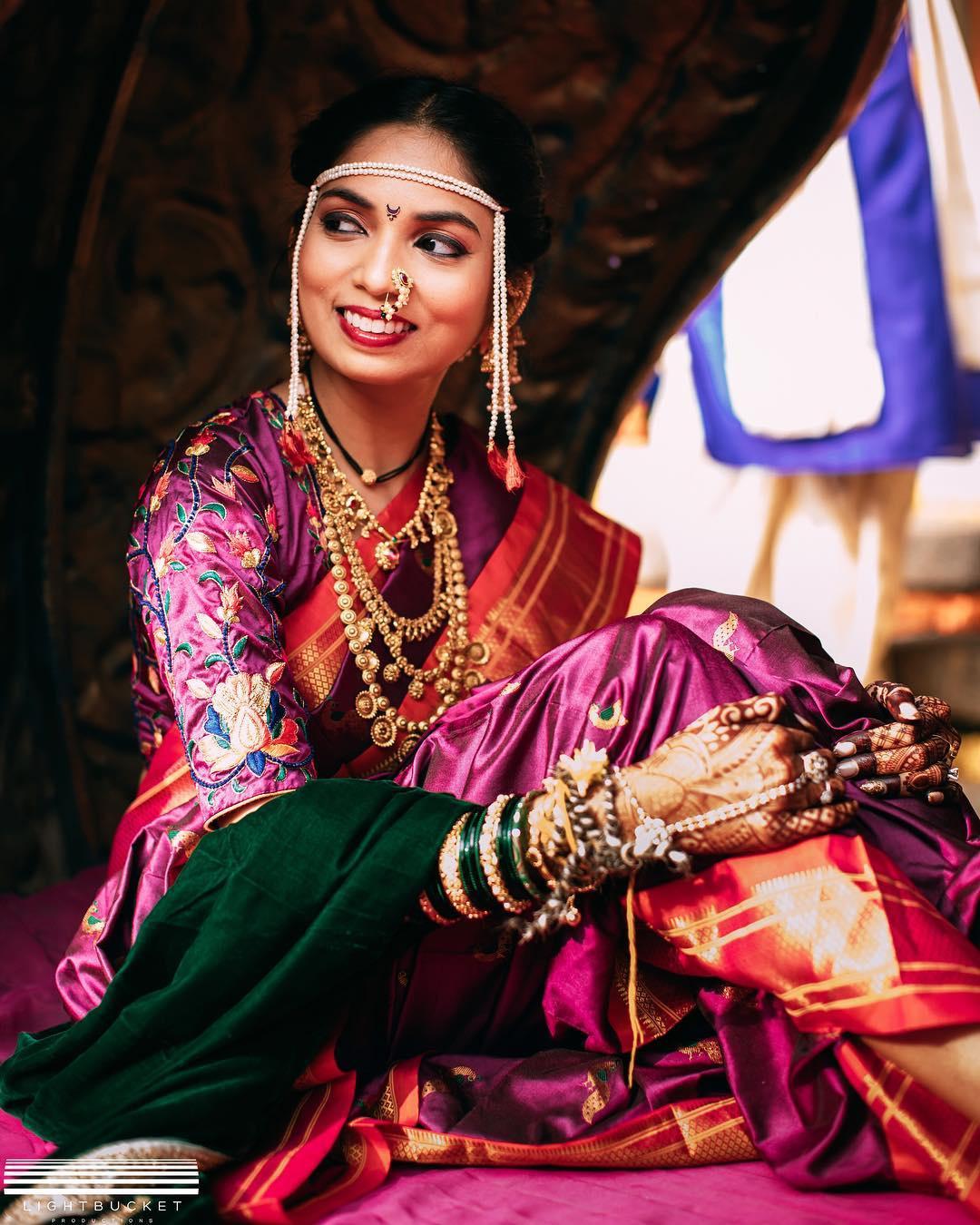 While we've mostly seen Maharashtrian nath examples that have small coloured stones around with pearls, here's one that has a large statement stone right at the nose. The curved nath design is a lovely one, and like many others on this list, it falls under the category of oversized. It pairs beautifully with the rest of the bride's ensemble, making her look absolutely wonderful! We're sure that she must have felt a little emotional while getting ready for her big day!
Maharashtrian jewellery holds a special place in the hearts of women as these are passed down from generation to generation. Perhaps that is one of the reasons why we don't see a lot of innovation or deviation from the traditional look. Apart from being beautiful accessories, these jewellery pieces are anchored in family stories, making them all the more valuable to the bride and her family. Ensure that your nath also holds the same value to you, so that your wedding day is filled with different elements that are charged with emotion!
Want to buy a brand new Marathi nath and matching jewellery? Check out our jewelers in Mumbai who have everything you need!