12 Stunning Pattu Sarees for Wedding and Styling Cues From Real Brides
Pattu is a Tamil word which means silk. Made with pure mulberry silk, lustrous Pattu sarees are a hallmark of luxury and elegance among South Indian women. Take a look at how real brides of Southern India style their Pattu sarees for wedding.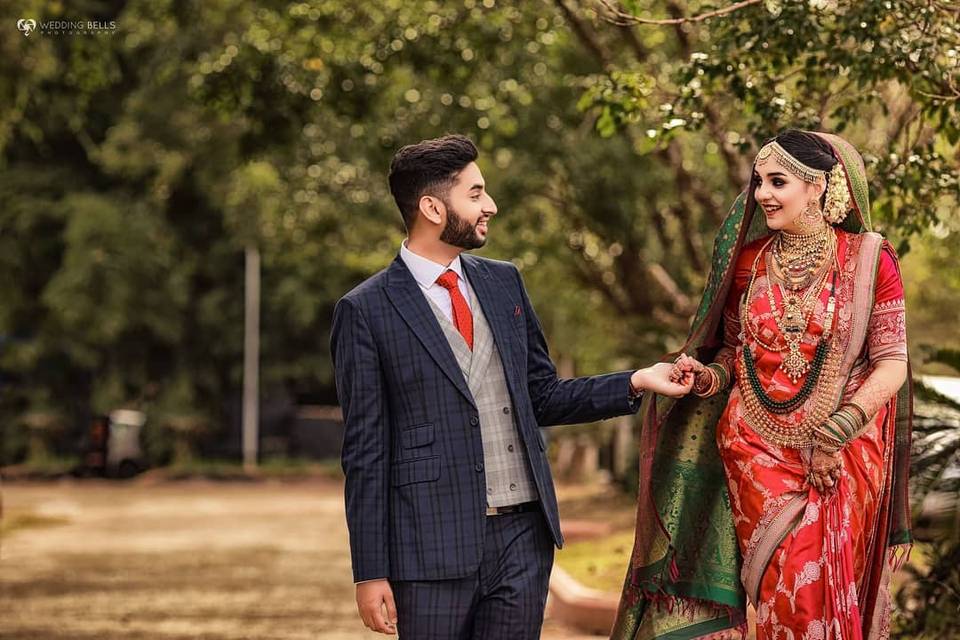 Pattu sarees are mainly a form of exquisite South Indian silk sarees that are woven with pure gold-coated silver zari. These traditional sarees have stood the test of time by staying true to their beauty and versatility. There are different types of pure silk Pattu sarees, such as Samudrika Pattu, Parampara Pattu, Vastrakala Pattu etc, and each one of them is a masterpiece in itself.
With changing times, designers as well as authentic weavers have modified the traditional Pattus and created some lighter sarees with half fine zari, too. Now, let's check out the stunning world of Pattu sarees for wedding and how real brides like to reinvent this classic saree style!
1. Bridal red Pattu saree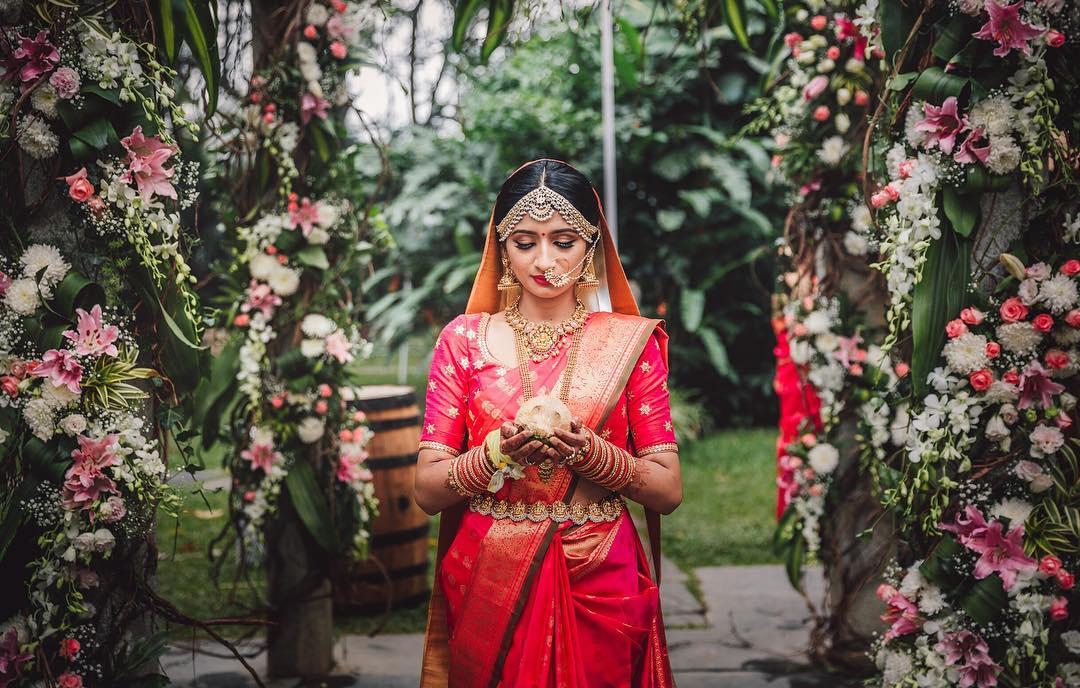 Red, the colour of passion and love, is loved by the brides of India unanimously. When it comes to Pattu sarees for wedding, red is a popular choice and does full justice by enhancing the beauty of gorgeous South Indian brides. This bride styled her bridal red Pattu saree with a matching dupatta and a kickass blouse design for Pattu Sarees. Also, who can miss her luxurious temple jewellery!
2. Bronze Goddess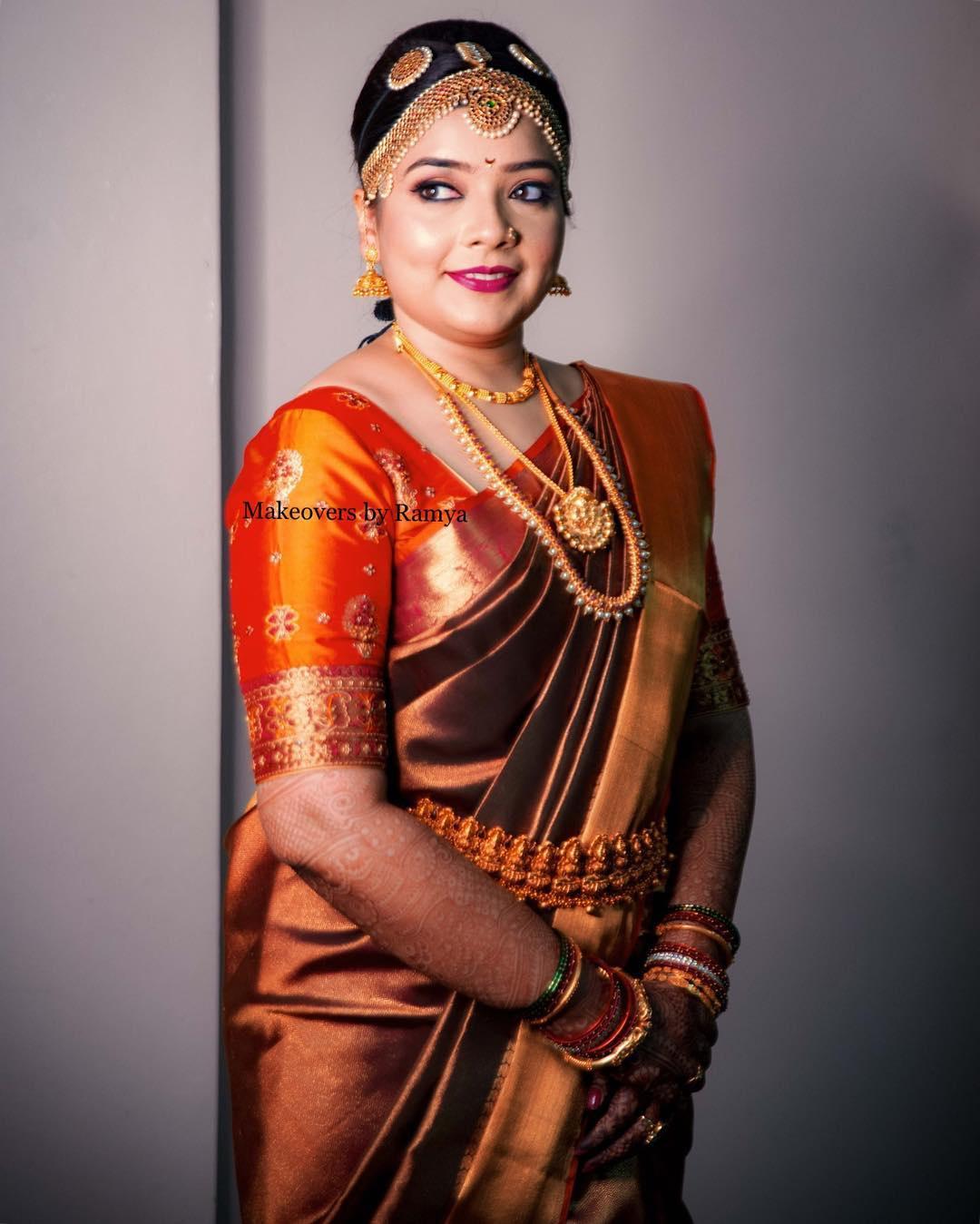 Traditionally and commonly, brides prefer to wear a golden Pattu saree but this bride chose to become a bronze goddess instead. She wore a simple bronze saree and paired it with a contrasting orange blouse to add a pop of colour. She further accentuated her exotic looks by going for dewy makeup and pink lips, along with her traditional jewellery. You can also take some inspiration from these eye makeup images.
3. Tastefully colourful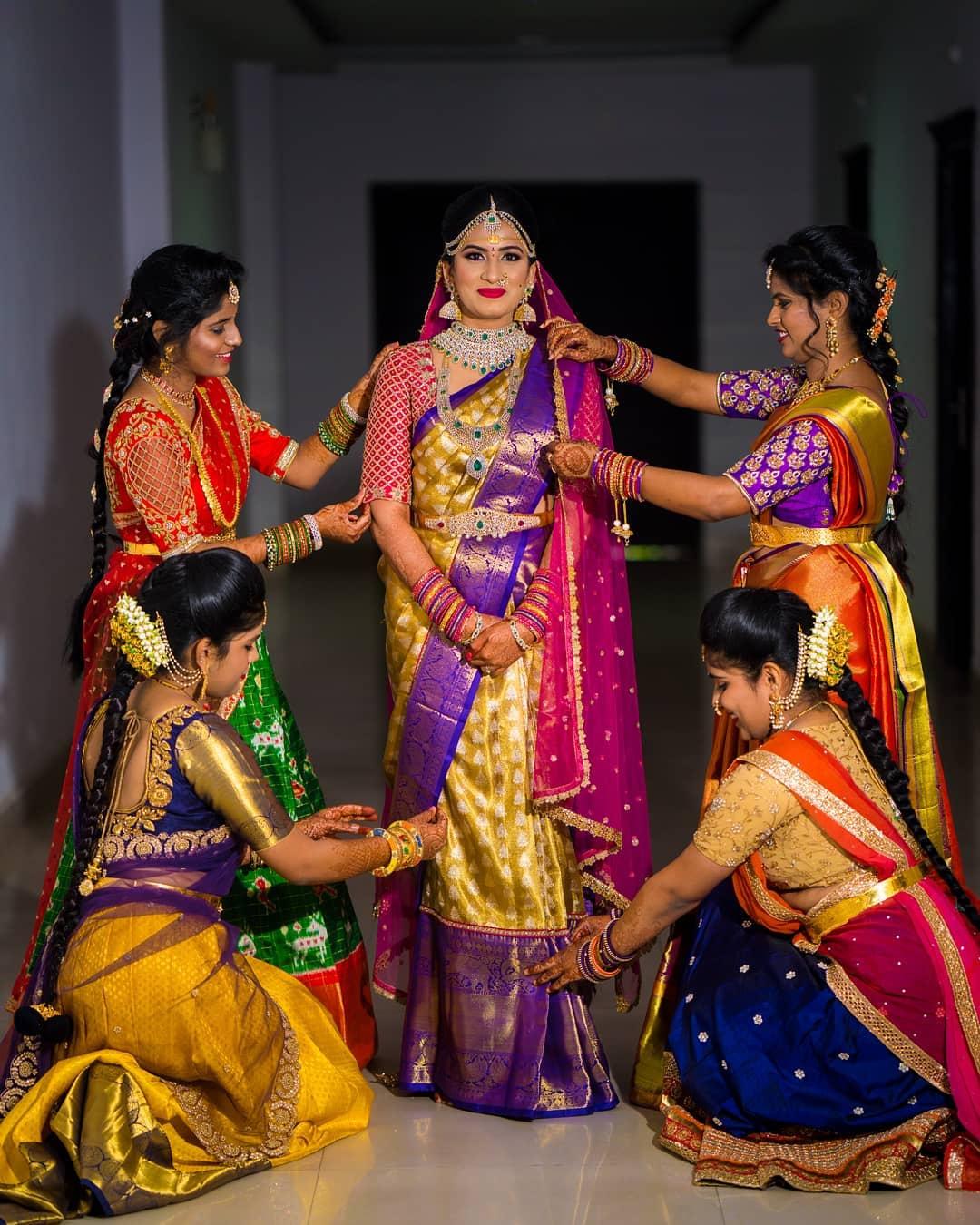 Wearing too many colours at once is tricky and may end up making you look tacky. But, this bride carefully mixed and matched colours, and the result is pretty pleasing. When going for a colourful look, aim at choosing a maximum of four complementary colours. If you are going for a very traditional outfit, you can experiment with your bridal jewellery and wear contemporary pieces.
4. Contrasting blouse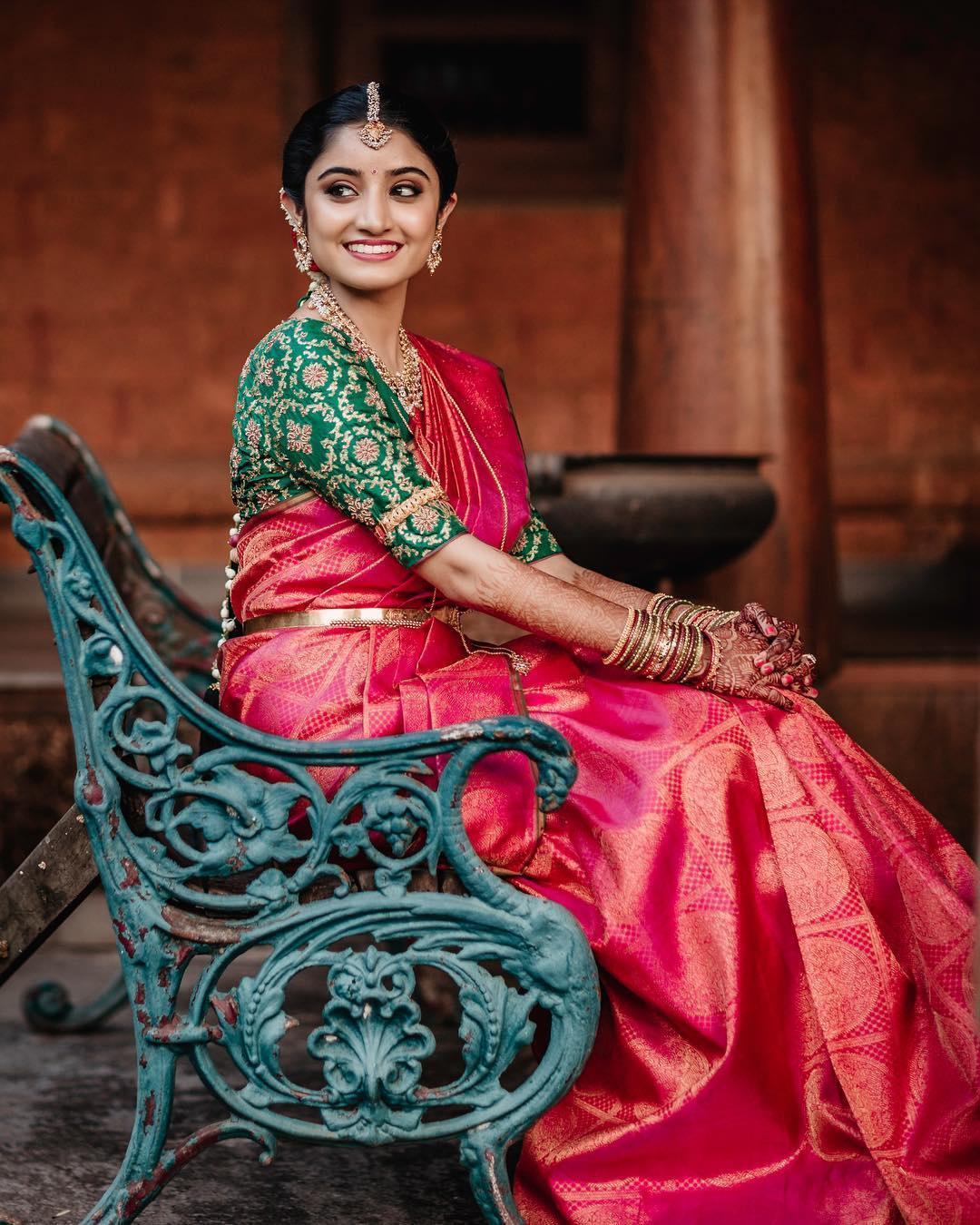 Not matching each and every element in your outfit can give you a dreamy bridal look. With an intricately and heavily decorated Pattu saree, you can go for a blouse in a contrasting colour. This bride's choice of green blouse with her pink saree has worked in her favour. She kept her makeup understated to let her saree do all the talking!
5. Net dupatta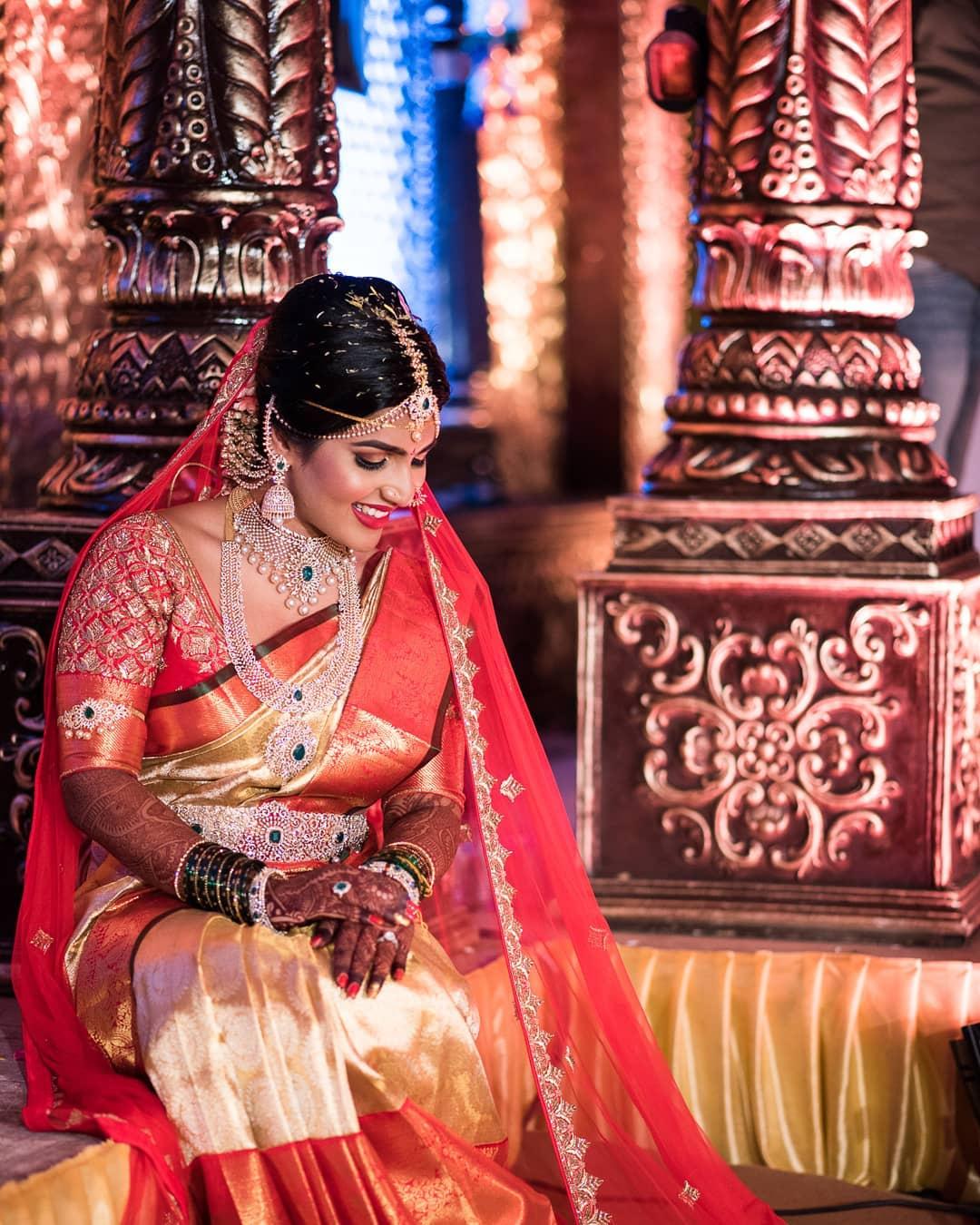 Covering one's head with a dupatta is more of a 'trend' among South Indian brides and they sure love this addition. With her heavy Pattu saree, this bride chose a net dupatta to keep things light and breezy. If you are wearing super heavy jewellery and saree, a lightweight dupatta, especially in the heat, can keep you cool but stylish.
6. Opulence at its best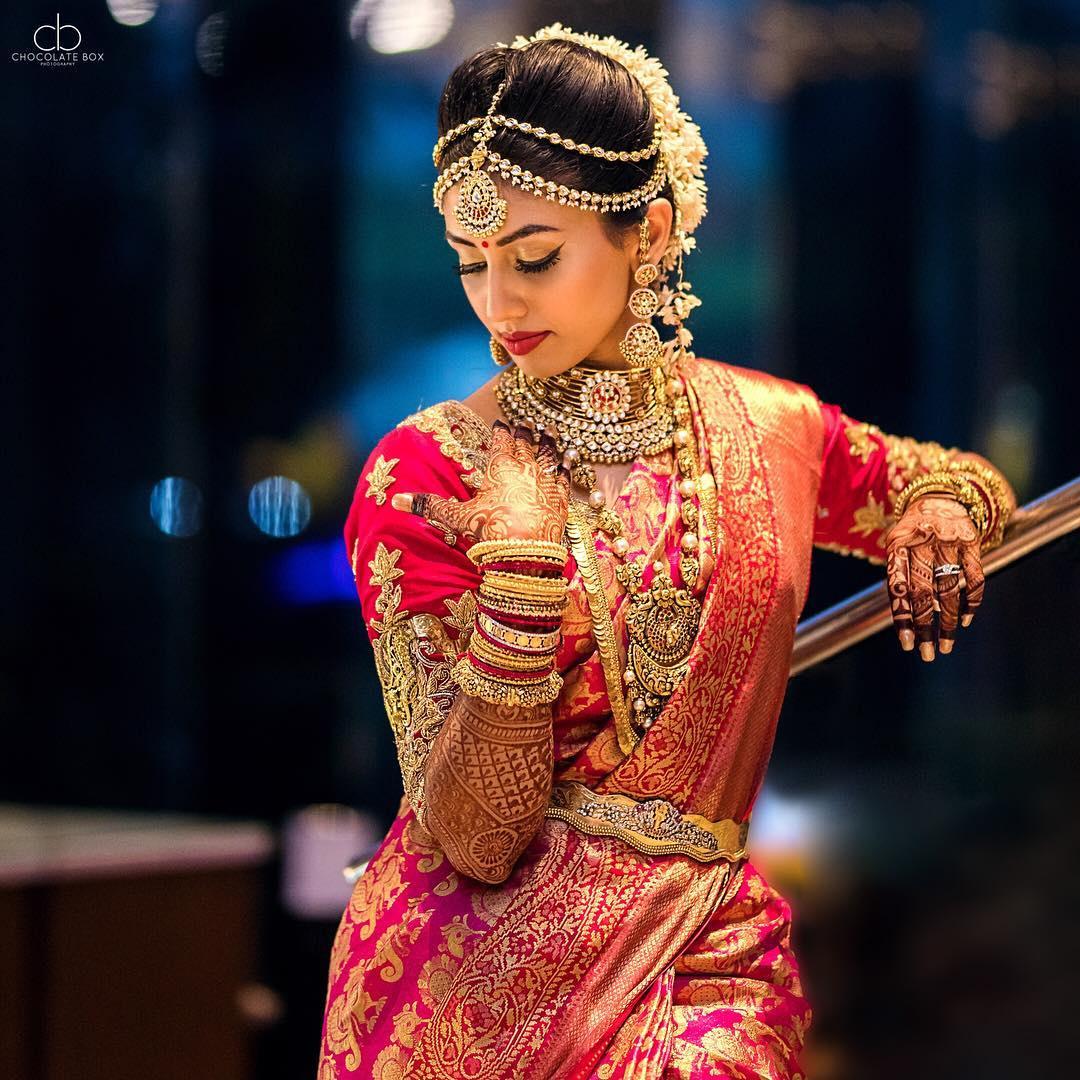 Indian brides are synonymous with grace, opulence, and drama. To look like a queen on your wedding day, aim for an over-the-top look. You may explore the richest and heaviest Pattu sarees for wedding and pick the most opulent one. When it comes to styling, don't shy away and doll up in all your precious jewels.
7. Refreshing colours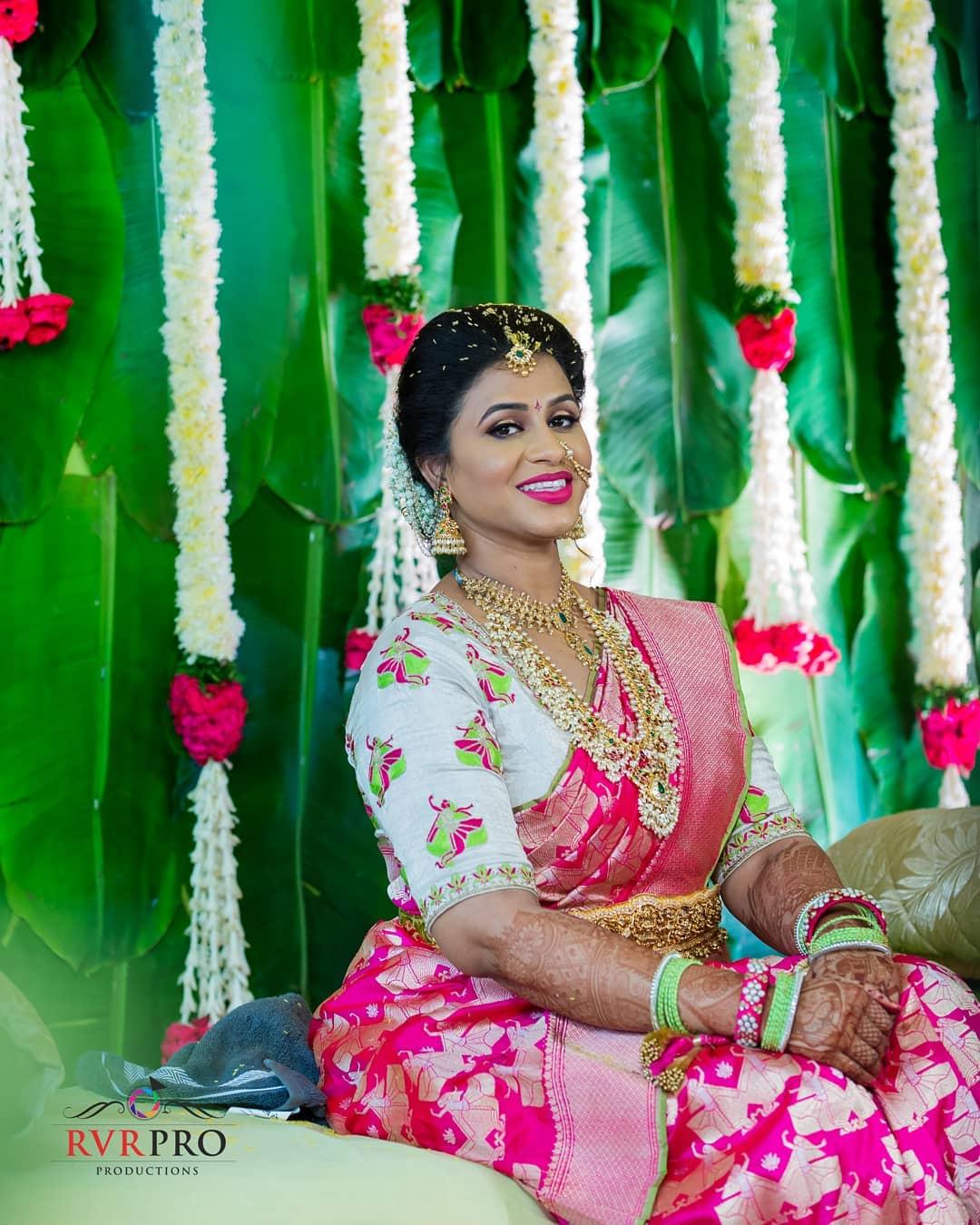 Pattu sarees for wedding are supposed to be heavy and rich but not all the time. By experimenting with colours and patterns, you can pick an authentic but lightweight Pattu saree for your wedding. This bride chose a very refreshing shade of pink for her bridal saree and paired it with a very unconventional white blouse.
9. Simple saree with border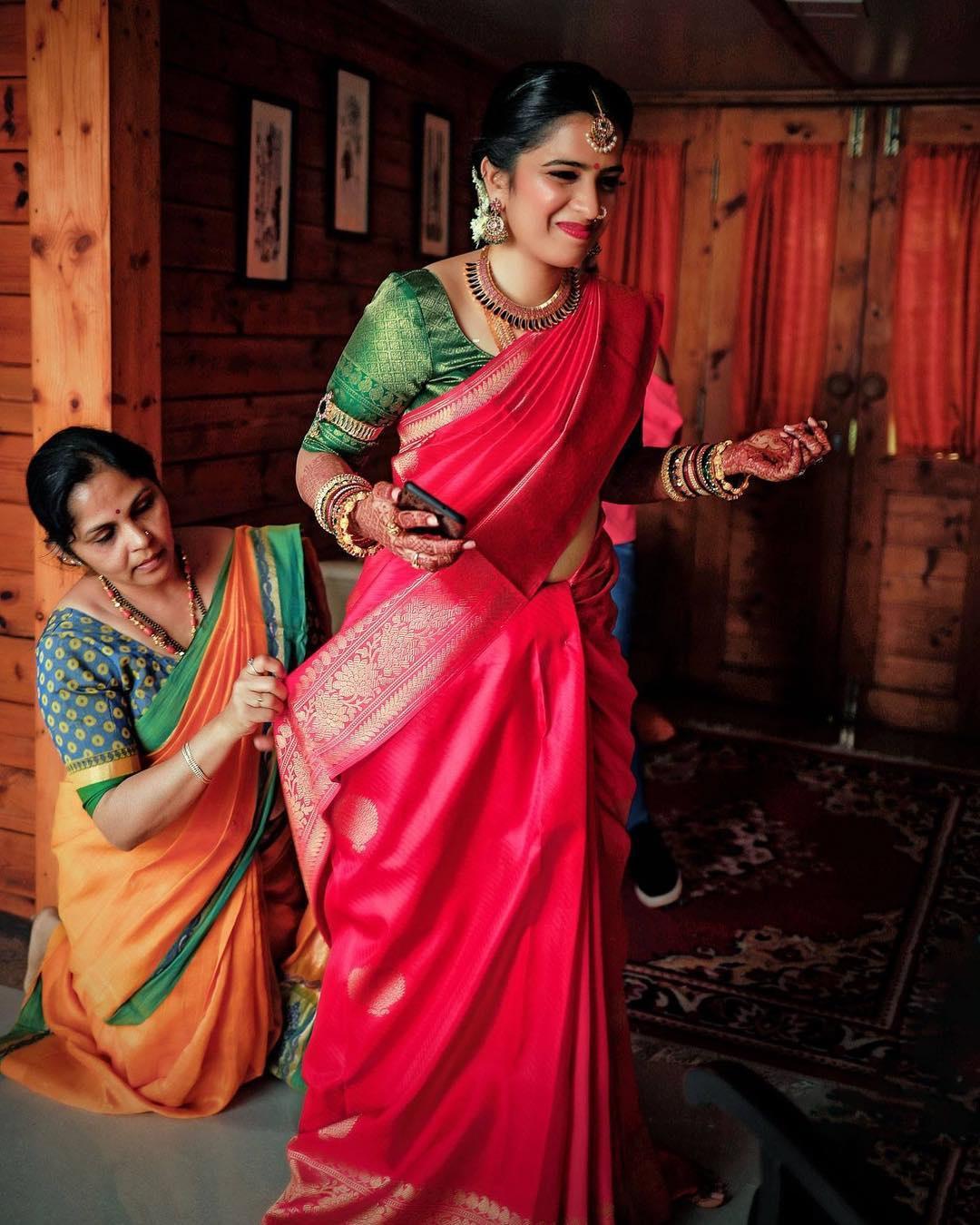 Yes, most bridal looks are opulent but Pattu sarees for wedding can be simple yet sensual too. This bride, for example, chose a very simple pink saree with the motifs centred mainly on the border. She paired it with a green paisley blouse and super lightweight jewellery.
10. Stripes and checks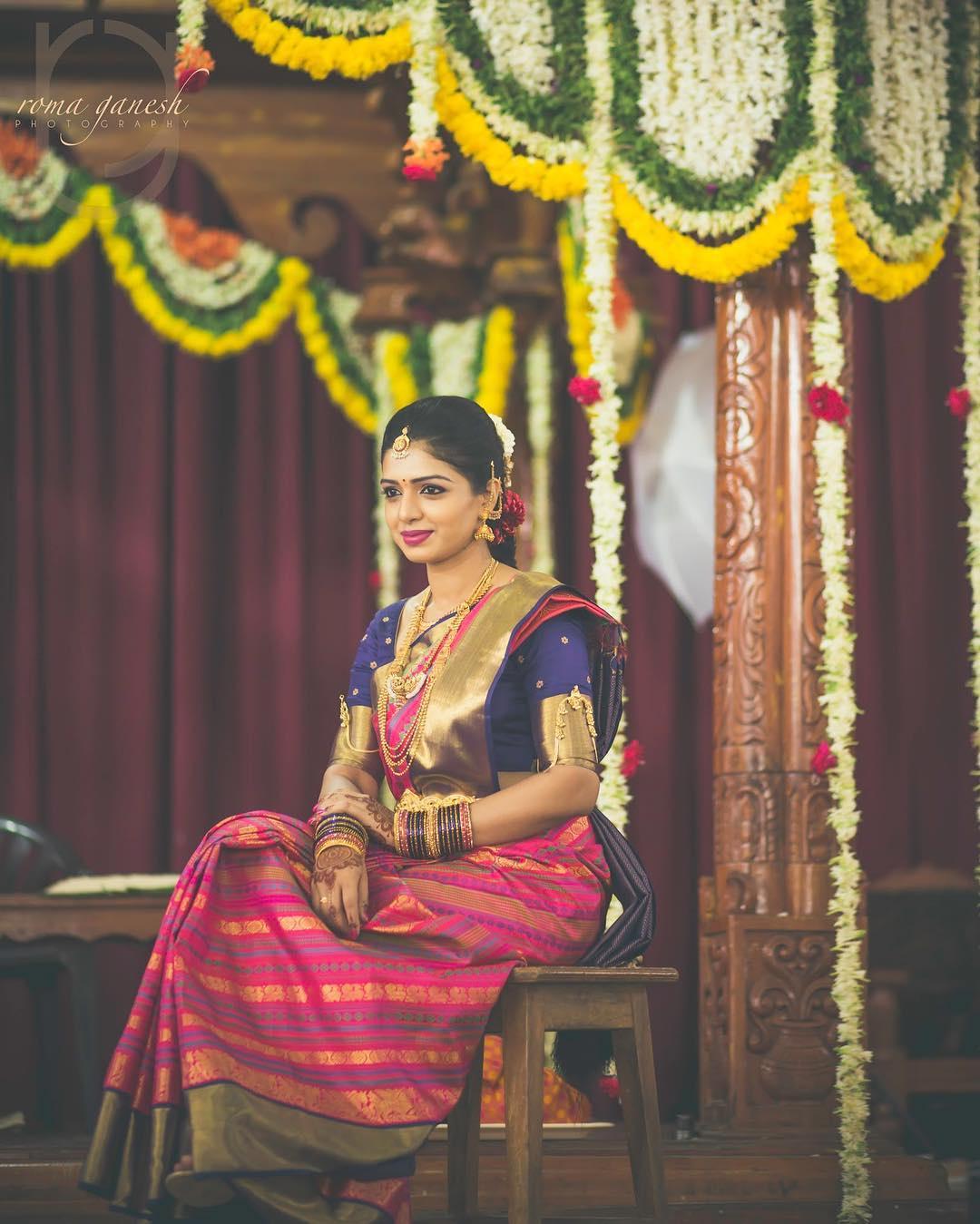 In a world full of paisleys and flowers, this bride chose Pattu saree that a conventional striped pattern. We love how pink, purple, green and gold are creating a unique design that most brides would stay away from. She paired it with a basic blue blouse and refrained from wearing too much jewellery.
11. Unique and personalised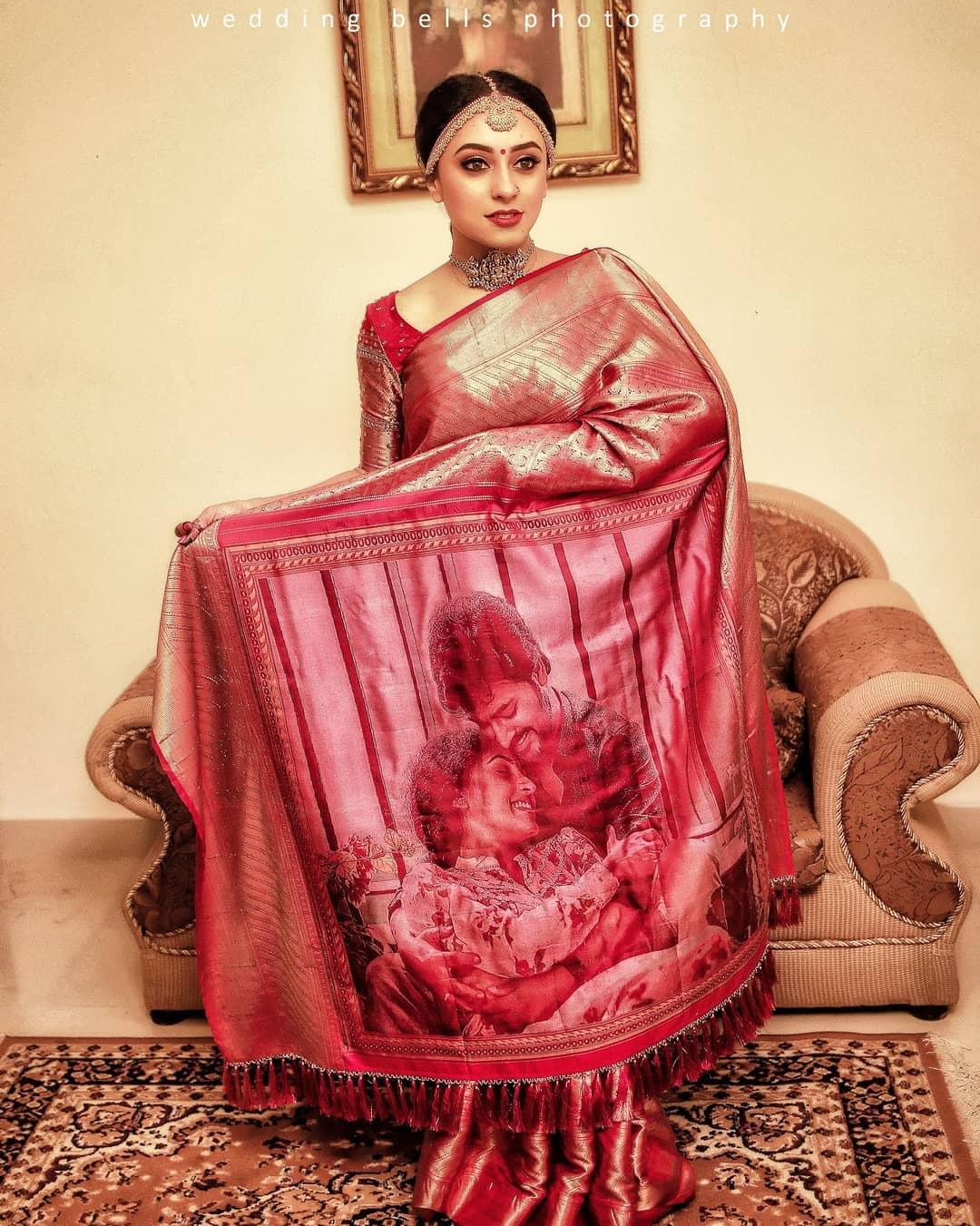 If you have some extra time in hand, you can go for the options of personalization and customization to create your very own unique saree. This bride created one of the most statement-making bridal sarees of recent times by getting her romantic portrait created in the pallu area. Obviously, she didn't tie the pallu and showed it off with pride.
12. With a heavy dupatta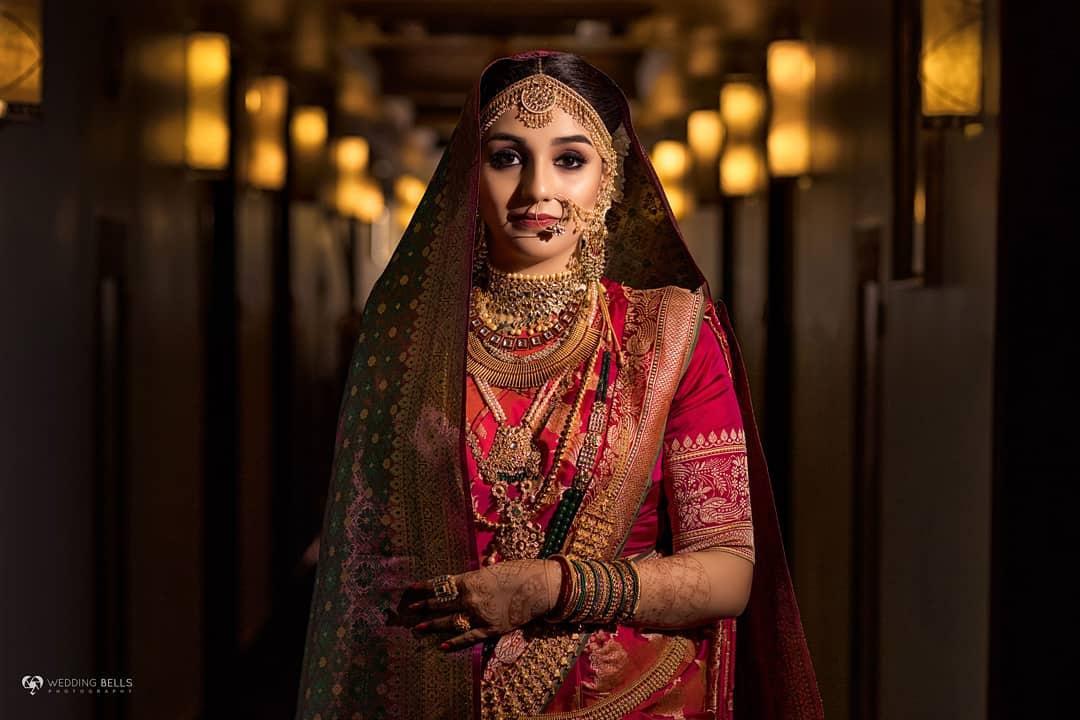 A lot of brides who wear a Pattu saree on their wedding like to add an additional stylish and classic touch by opting for a dupatta. Although net or chiffon are preferred choice, nothing beats the old world charm of a Banarasi dupatta. It goes well with the weaving style of pattu, adding more class to the bridal look. If you cannot get your hands on a Banarasi fabric, explore the market for other silk fabrics.
13. Flora and fauna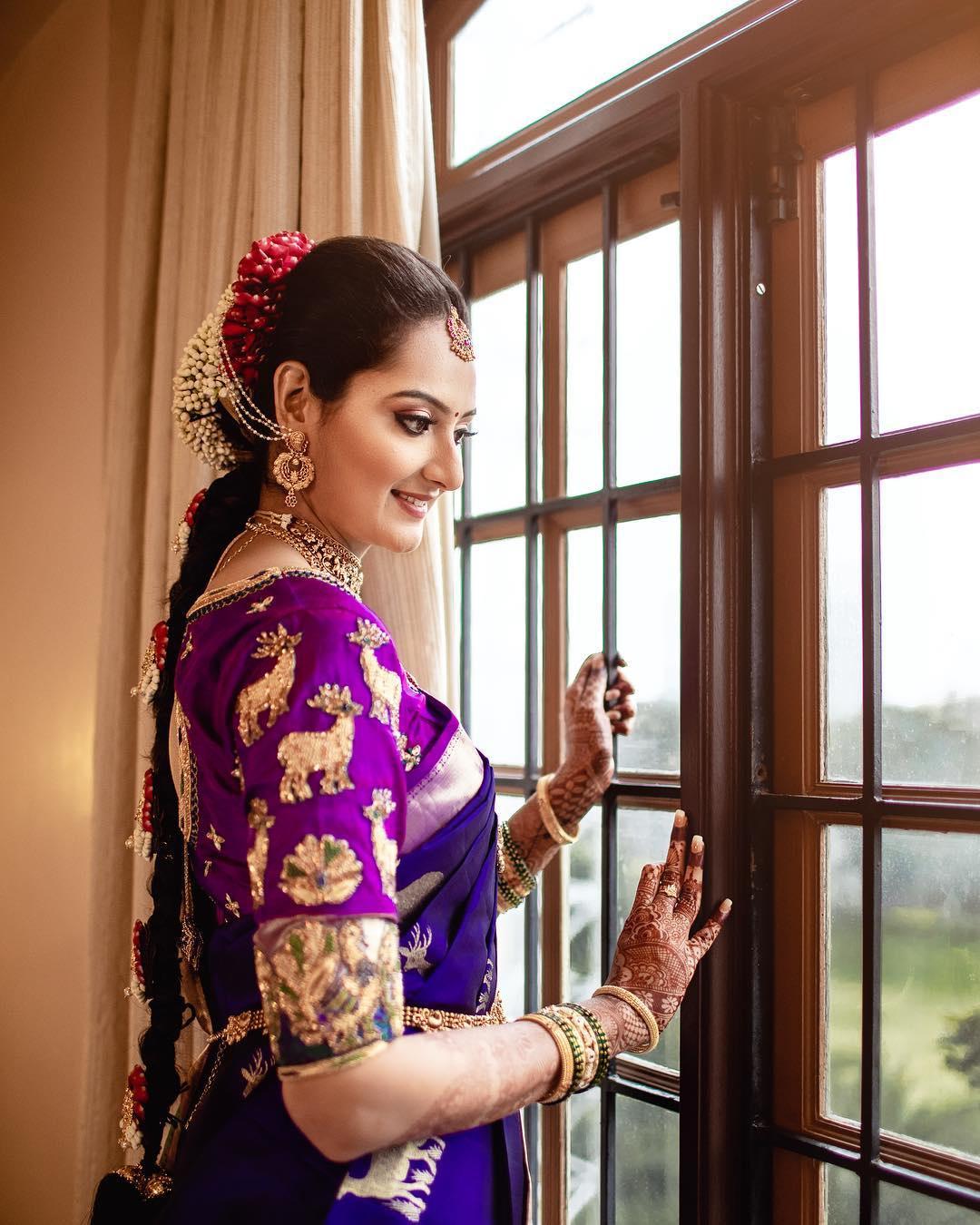 Oh, deer! This bride showcased her love for deers by depicting them in her saree as well as the blouse. She paired an understated blue saree with an embellished, statement-making purple blouse. This is a win-win look for brides who are looking for Pattu sarees for wedding that are neither too heavy not too light.
Traditional Pattu sarees for wedding feature various motifs, mainly those inspired by temples, flora and fauna. So, expect extensive visibility of the peacock's eye, Rudraksha beads, swans, parrots, checks and stripes. A Pattu saree can also feature jasmine motif scattered all over the body of sari or coin designs. Pattu sarees for wedding have remained a prized possession of South Indian brides but even brides to be from other parts of the country can consider having these in her trousseau to add variety and class.
What do you love most about Pattu sarees for wedding? Leave a comment to let us know!