Take a Look at These Latest Pre-wedding Shoot Dresses for Inspo
While you are planning a dreamy pre-wedding shoot, don't forget to plan your outfits right. Here are some stunning pre-wedding shoot dresses for inspiration.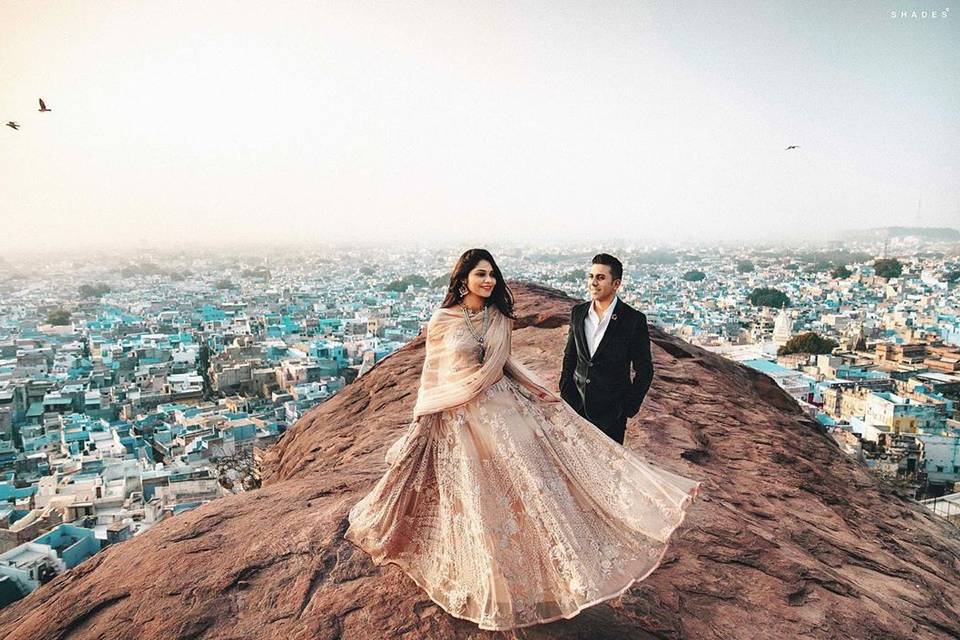 Pre-wedding shoots have been in vogue for quite some time now. Imagine looking at the pictures from your pre-wedding shoot 10 years from now and reminiscing each and every moment that led to the breathtaking frame. From picking out a mesmerising backdrop to you getting all dolled up for the shoot - it is all special.
So if you plan on getting a pre-wedding shoot done, you must have put your heart into picking up the perfect location to deck up the background. You must have also bookmarked your favourite pre-wedding shoot poses to make it memorable. Now all that is left to do is pick the right pre-wedding shoot dresses to make it unforgettable.
The ideal choice of pre-wedding shoot dresses would be something that is trending now and will look good even 10 or more years down the line. Going through a hundred Pinterest mood boards or Instagram Posts looking for inspiration can get taxing. This is exactly why we have curated some of the best pre-wedding shoot dresses to make you look stunning on your pre-wedding photoshoot. Read to know more.
The Serene Desi White Salwar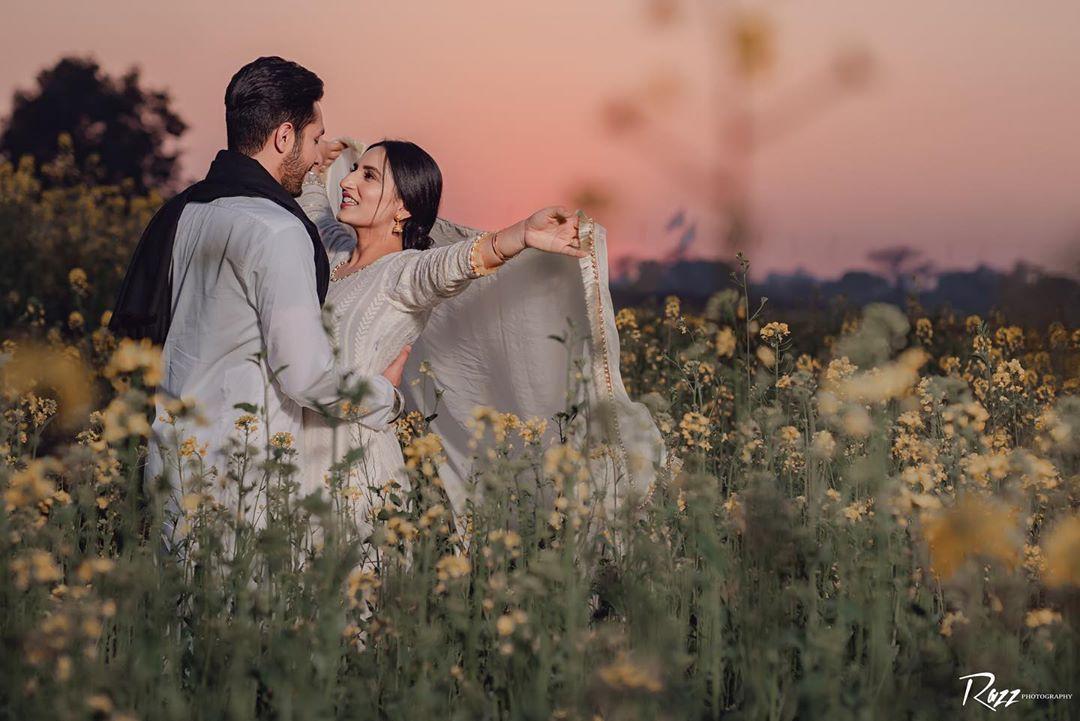 Did you all love it when the camera zoomed in on Shahrukh Khan and Kajol on a mustard field in the song Tujhe Dekha Toh Ye Jana Sanam? This bride and groom look nothing short of that filmy pose and who does not love a little bit of Bollywood in their pre-wedding shoot? The bride-to-be looks amazing in the white salwar suit, designed by Harsimran Arora, that she picked as her pre-wedding shoot dress. The minimal jewellery and the colours of the mustard field make this a beautiful picture. The groom with his white crisp cotton kurta with the black dupatta is one desi picture-perfect Jodi here.
The Breathtaking Sage Lehenga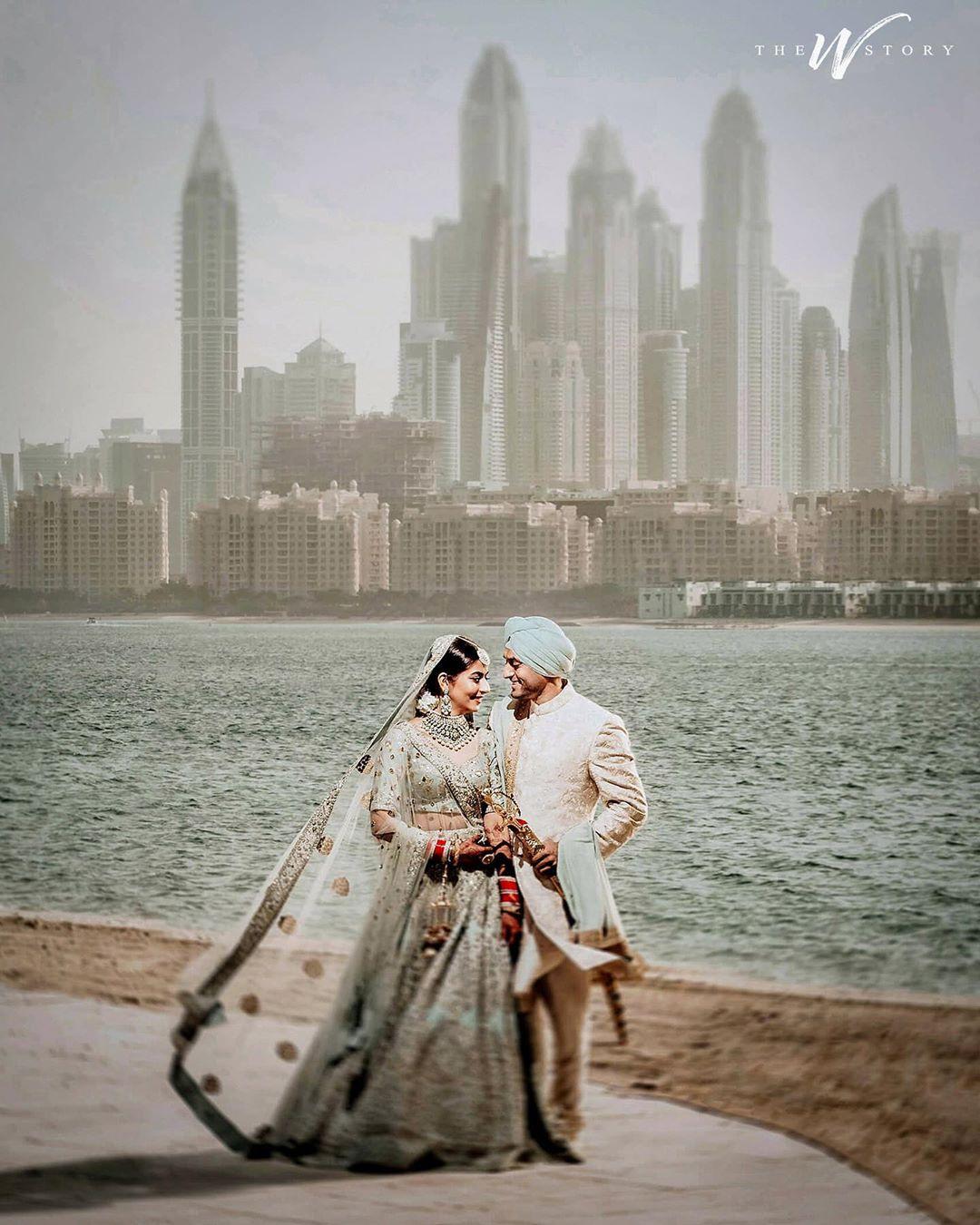 With the Dubai skyline painting a picturesque sight on the backdrop, this picture is just perfect. The sage lehenga that the bride-to-be wears for this picture complements the horizon behind. The sage lehenga is from the couture brand of ace designer Sabyasachi and it sure works some magic on the whole frame. Paired with beautiful jewellery this lehenga sure makes for the perfect pre-wedding shoot dress if your pre-wedding shoot is planned right before the wedding ceremony. The Sabyasachi groom in his cream sherwani is the perfect match indeed.
The Fiery Red Designer Gown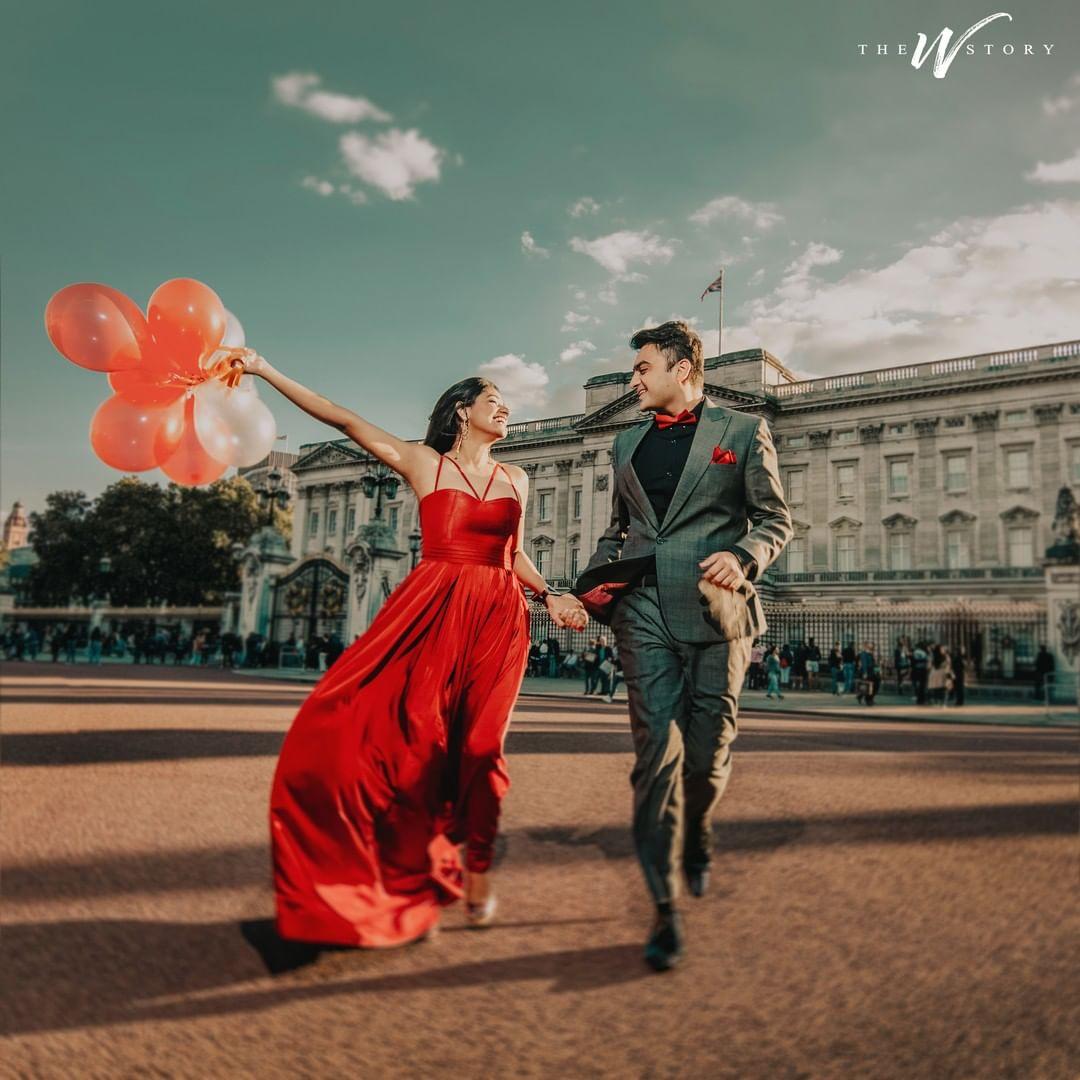 There is nothing that a red dress cannot solve. This designer fiery red gown that the bride-to-be wears for her pre-wedding photoshoot adds so much more beauty and elements of appreciation to the frame. Matching the colour of her sweetheart-neck gown, she has also used some adorable red balloons as props. The playful nature that this pre-wedding shoot picture captures is a memory to cherish forever. The grey suit that the groom flaunts compliments the bride perfectly.
The Off-white Designer Cropped Top & Skirt Set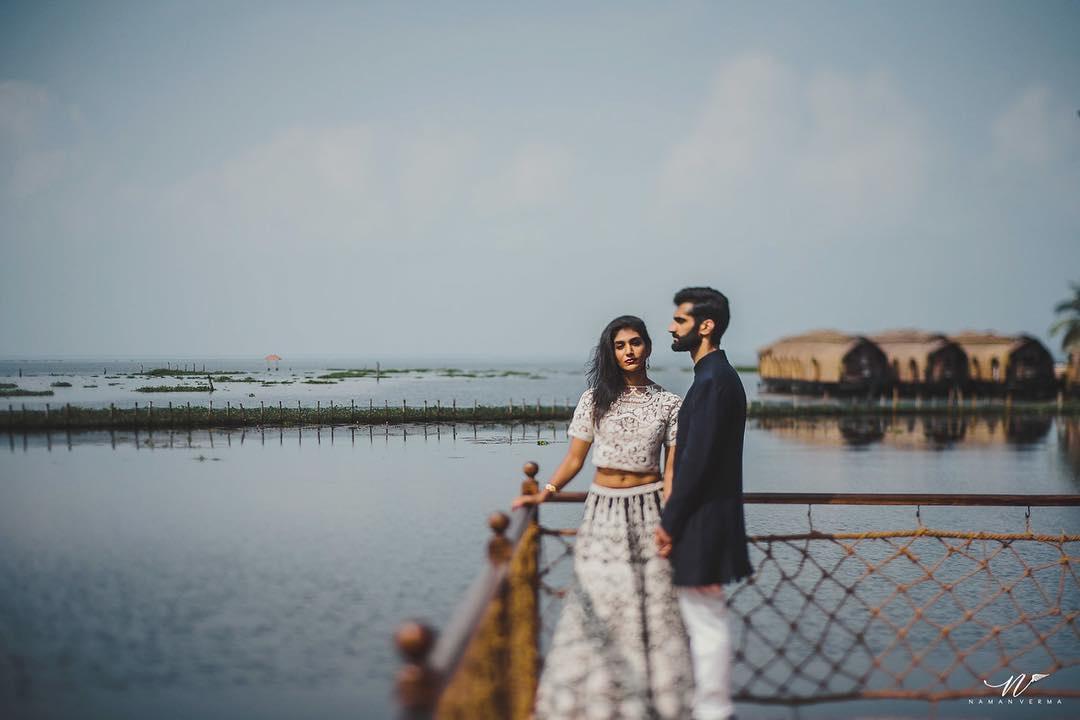 The intricate lacework on this off-white crop top and skirt set is not only a beautiful pre-wedding shoot dress but a prized possession to cherish forever. The bride-to-be looks super stylish in her dewy makeup and minimal accessories. If your pre-wedding shoot location is in Udaipur or Jaipur with beautiful architecture from historic times, an off-white crop top and skirt set will work wonders. The super-stylish groom is matching her beauty with his navy Bandhgala.
The Alluring Black Gown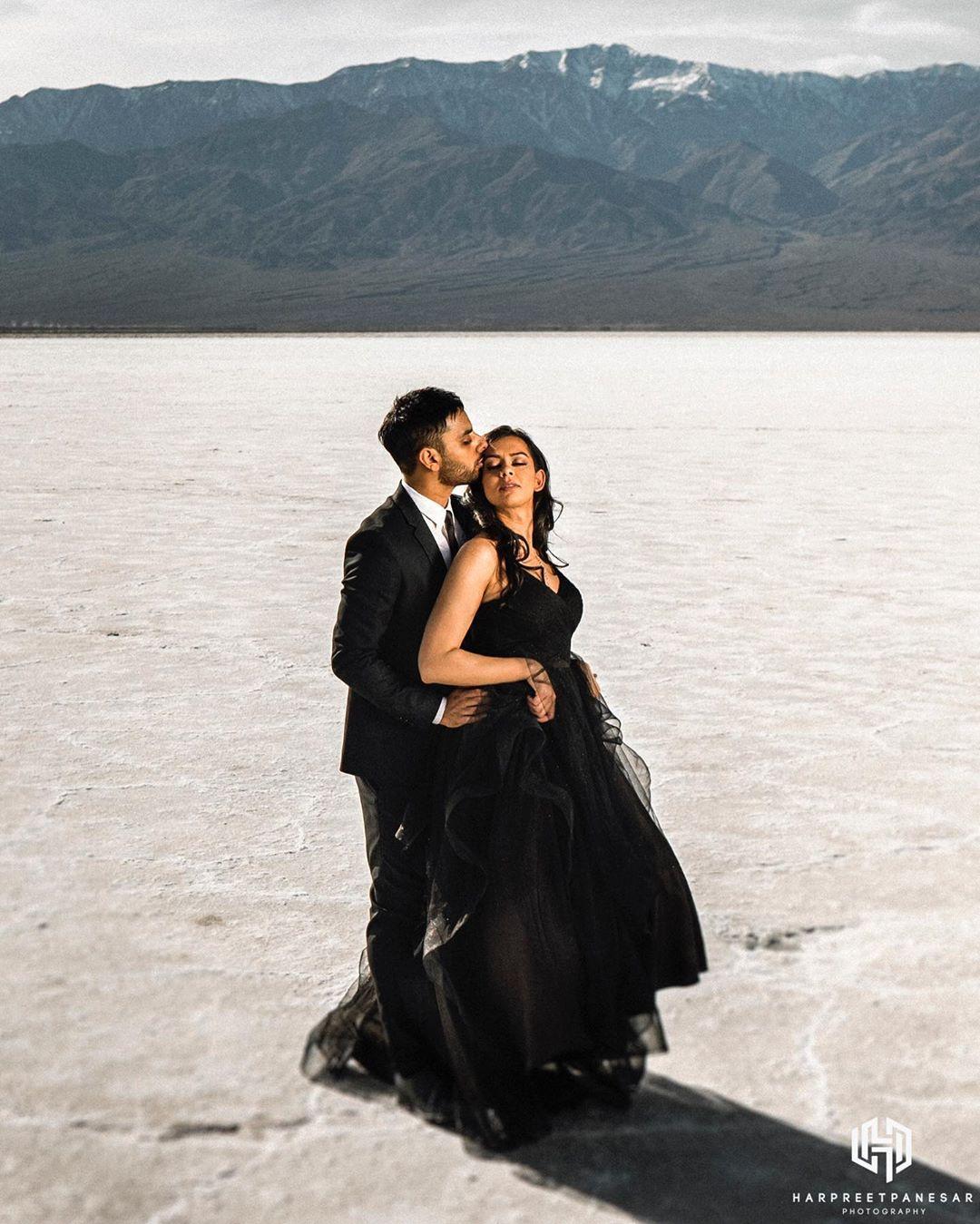 Image Courtesy: Harpreet Panesar Photography
The answer to every question that involves colour in it, might just be BLACK. This eye-catching black gown makes for the most effortless pre-wedding shoot dresses. Top it off with some diamond jewellery or stone studded jewellery and smokey eye makeup to make it perfect to the T. If you are a fan of Maleficent, then here is THE outfit for you. The groom can match your aura with a black tux.
The Stunning Structured Gown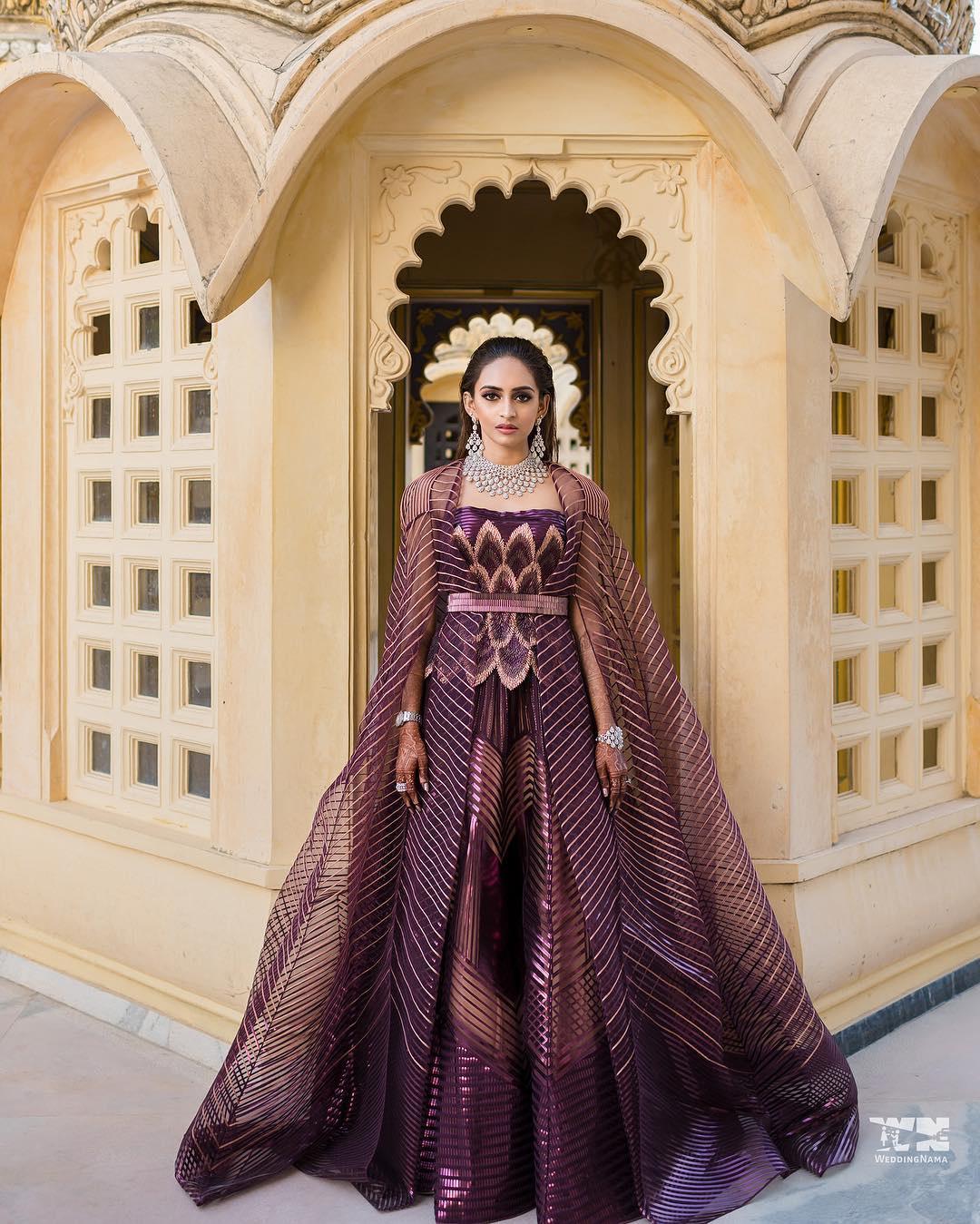 A structured couture Amit Aggarwal gown encrusted with ombré sequin hand embellishments and the brand's signature recycled polymer details in amethyst is one head-turning pre-wedding shoot dress. Accessorise it with a breathtaking diamond necklace and matching earrings and keep your eye bold to make a fashion statement.
The Casual White on Denim Look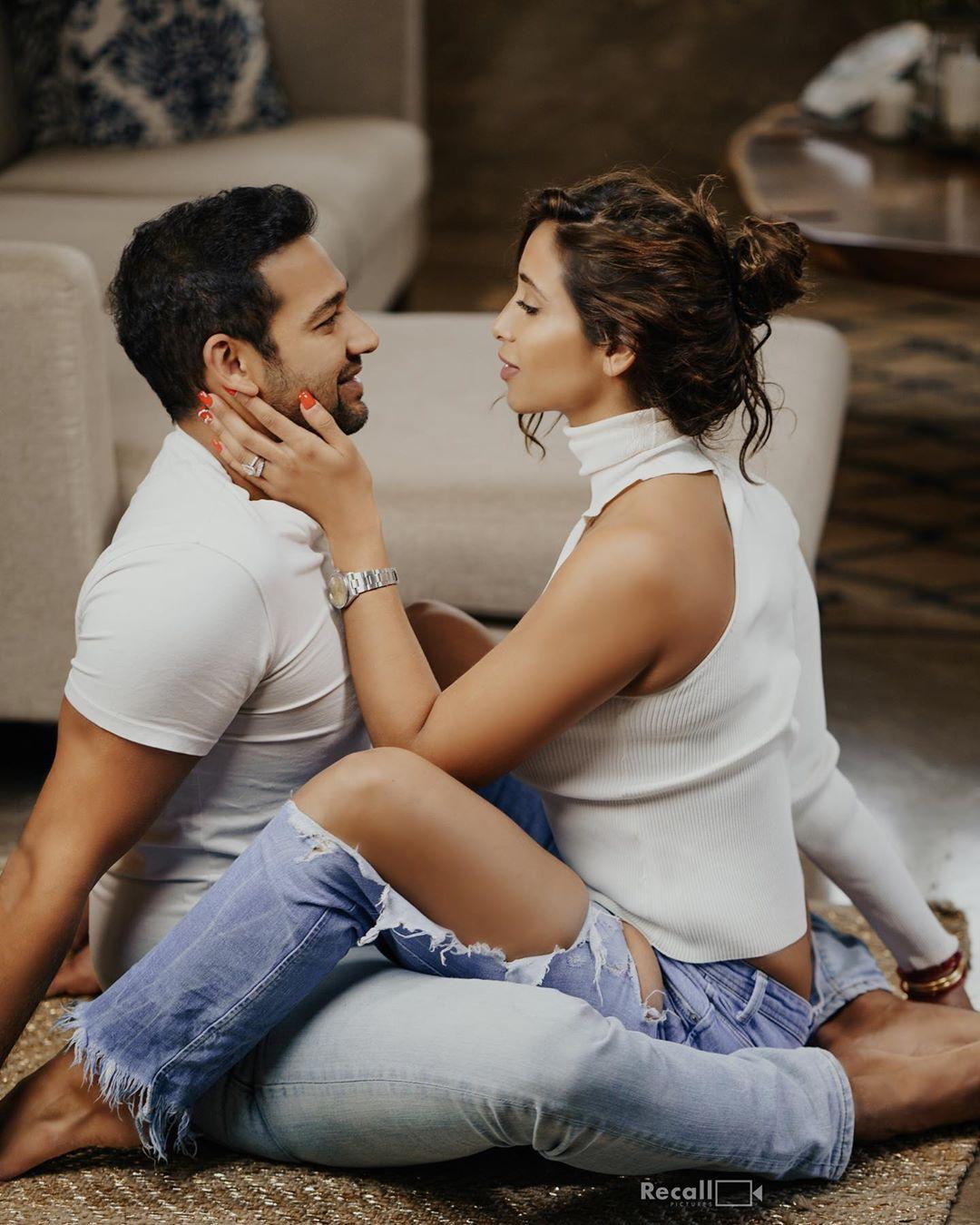 If an OTT pre-wedding shoot is not how you want it, you could go for a casual one with casual pre-wedding shoot dresses. The classic white on denim combination will never let you down. It is a great pick for a playful and casual date themed pre-wedding shoot. Keep it absolutely simple just like the couple in this pic with torn denim for the bride and a high-neck sleeveless ribbed top. the groom can complement the frame with a plain white tee and light blue denim.
The Striped Playsuit Look on The Beach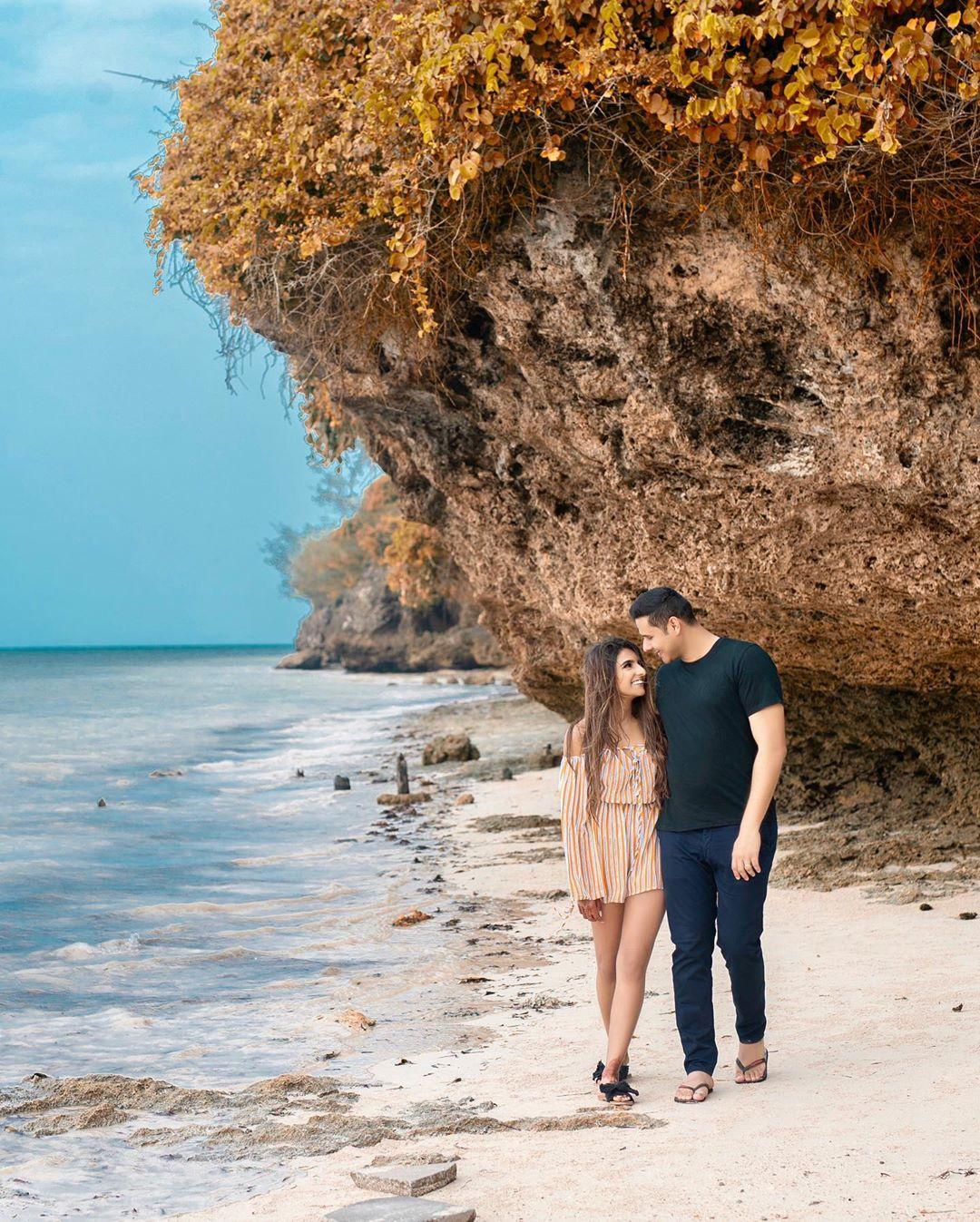 Playsuits always ooze a vibe of casual comfort and playfulness. The ease of the off-shoulder striped outfit with the cute feels is just right for your beach themed pre-wedding photoshoot. This is one of the most easily available pre-wedding shoot dresses. When paired with some chic flats, you are bound to look adorable for the camera. This easy-going outfit pick is matched by the groom's casual chino and t-shirt with thong slipper look.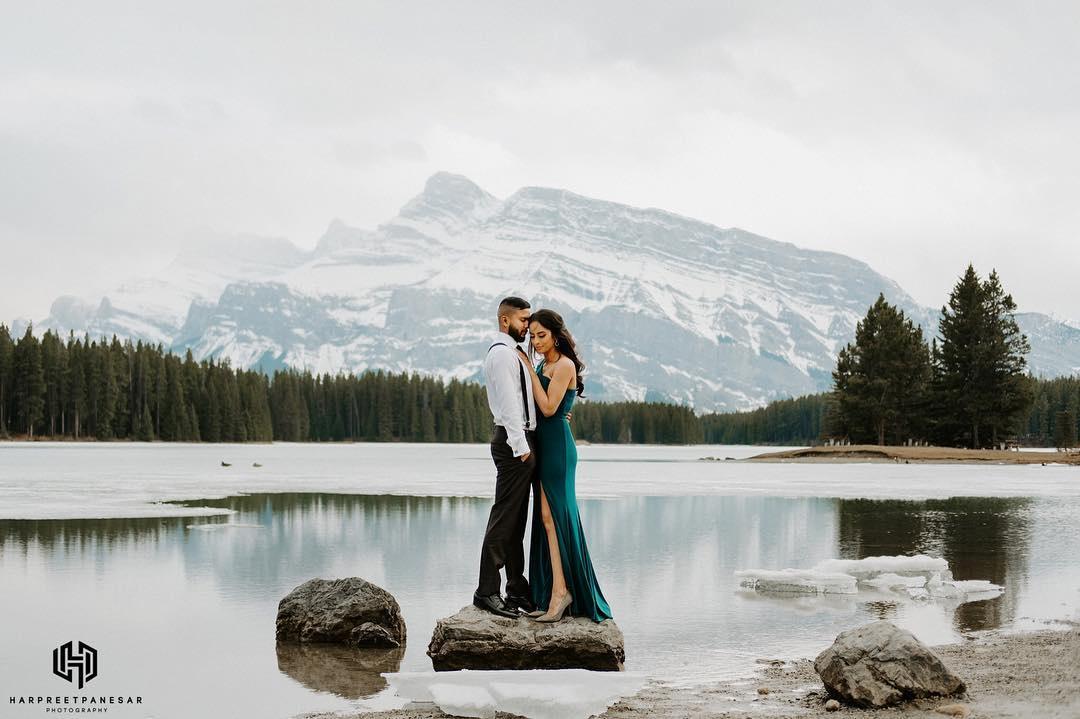 Image Courtesy: Harpreet Panesar Photography
It is very important to keep the pre-wedding shoot location in mind before picking the outfits. In order to match the ambience but at the same time, not completely blend in, we suggest you balance it out with the choice of your outfit and makeup. Ensure that the focus is on just the two of you. If you are looking for a mind blowing photoshoot, you might want to carry a change of 2-3 outfits so that you can bring the touch of variety.
And lastly, your wedding photographer has to be in sync with you and vice versa. Make sure to communicate well and bring out the best in each frame that is captured. The millennial couples invest ample time and money into getting a pre-wedding shoot. Nowadays, there are even pre-wedding shoot locations in NCR which solely create backdrops for a magical experience.
If you are looking for a pre-wedding shoot in the alleys of Santorini, you can get it right near your home in these photo studios near NCR. If you have not picked your pre-wedding shoot dresses yet, get in touch with our expert designers who can help you choose the perfect one.