The perfect pre-wedding shoot poses are those that are able to bring out the best of your individual personalities yet capture the love and story you share with each other. The main idea behind a pre-wedding photo shoot is to be able to capture some pure and happy moments shared by a couple. This photo shoot also allows couples to go crazy, experiment and just lose themselves in the moment.
Now, it's really important that you not just nail down on the perfect outfits and locations for your pre-wedding shoot, but also know the different kinds of poses that look great and enhance your couple story.
Let's take a look at 20 different kinds of pre-wedding shoot poses that work like a charm:
1. Let's run away...together
A picture such as this depicts a beautiful story of a couple wanting to escape the madness of the world, but together as a team. This will also bring out childlike emotions of playfulness and pure joy. You can create this pose at a beach, in the middle of a busy street or at any historical location like a fort.
2. Of swings and smiles
If you and your partner enjoy quiet moments of calm and love, a picture that presents serenity in each other's company is what will work best for you. Just sitting together and staring at the skies or lost in one another will bring out the best in you. Using a swing, like in the picture above, adds an element of style to the picture.
3. Sky Gazing
Just lie down on your back and gaze at the open sky above you for a dreamy and romantic couple picture. This picture represents hope and endless opportunities that lie ahead, just like the vast and open sky. The rose petals are a bonus to add the touch of romance!
4. Cute and Colorful
This is one of the must-haves of pre-wedding shoot poses. Why lose a chance to steal kisses and make your woman happy? Choose colourful backgrounds for a quirky and adorable picture.
5. Into the Wild
If you and your partner are wild and free, show it! Go to the forest or the mountains and create wild pictures where you are having fun, making memories and surrounding yourself with the beauty of nature.
6. Luxe Love
If you are all about luxury and class as a couple, what better way to show it off in style? Get on a yacht or in a resort to get some luxurious and beautiful shots.
7. Get Creative
Wedding photographers today can play with different tools and technological effects to bring out some really cool pictures.
8. Snuggle and Cuddle
Get up, close and cosy for some oh-so-romantic pre-wedding pictures. Just forget the camera and wrap yourselves around each other for some really lovely pictures.
9. Road Tripping for life
If you and your partner are fond of road trips and all things travel, then your pre-wedding shoot poses must definitely highlight that. Get in the car or on the bike and portray your love for travel. Your pet could be an added bonus here to show a 'family' picture.
10. Jumping in Love
This one takes a lot of practice and multiple shots. Jumping and smiling perfectly at the same time is not just a cool pose but also shows how your heart jumps with joy when filled with love.
11. Crazy Couple Shots
Love is about finding someone as crazy as you are and make sure your pre-wedding shoot poses capture and highlight that craziness too. Funny expressions, jumping jacks, playing together; anything that brings out the crazy stupid love feeling within.
12. Side by Side
A picture like this when you stand together as a team yet looking in opposite directions has a very impactful look; just like a superhero couple.
13. Pets and Pooches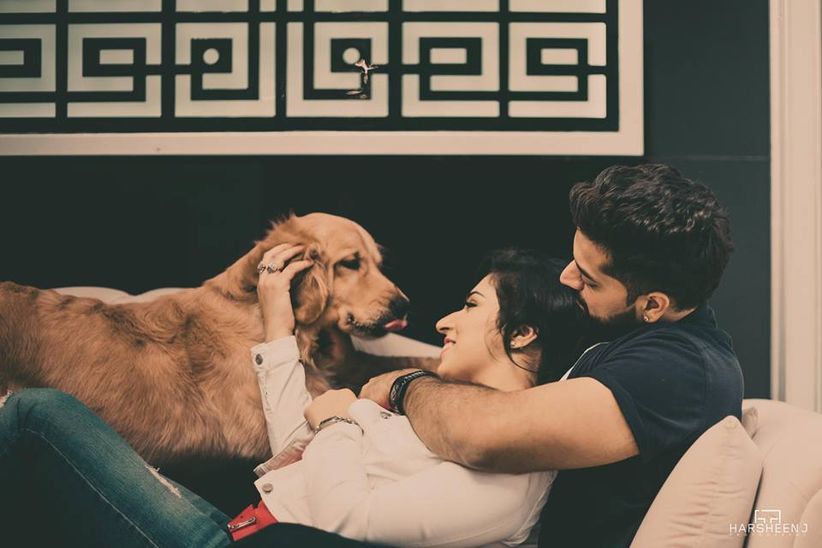 If you are soon going to not just be man and wife but also pet parents, bring in your baby for pure and beautiful pre-wedding pictures. Nothing gets more beautiful than these family pictures.
14. Under my Umbrella
The rain, a shared umbrella, the light of love and two people madly in love - what could be better than that? You could experiment with different things like sparkles and glitter instead of rain and LED lit umbrellas instead of plain ones.
15. Shared Interests
If you and your partner have a shared interest, like a sport or a hobby, bring it in for the most YOU pictures. This could beautifully depict the journey from sharing interests to sharing lives.
16. Underwater Adventures
If you want really cool pre-wedding shoot poses go underwater. Wedding photographers today are ready to go any extent to get the perfect clicks and why not make the best of it!
17. Biker Buddies
Bikes, boys and their babes make for the perfect pictures. If you are a biker and enjoy the thrill of it as a couple, bring in both the bike and the babe for the picture. Ride away to a beautiful location and get clicking.
18. Sunsets and Silhouettes
The beach, the sunset and a couple who are about to start their life together, sounds like a dream right? Capture the sunset and let your silhouettes and shadows do all the talking.
19. Carry You Home
Do we really need to explain why this is one of the best pre-wedding shoot poses? It's all about love and romance here.
20. On Top of the World
If cute, cool and crazy is your couple style, then just go with the flow and let it show. Play with each other for some of the cutest couple pictures.
Pre-wedding shoot poses can range from romantic to crazy, magical to quirky, it all depends on what your couple story is. Are you the kind of couple who loves stealing moments of love or the kinds who enjoy a heart laugh and crazy things? If you let your natural couple story be the central theme of your pre-wedding shoot poses it will be nothing short of perfection.
What will your pre-wedding shoot poses be and how will you show your love story? Share with us.