Unique Pre-wedding Shoot Poses That Are Breaking the Internet
Want to know what's the secret to ace a perfect Pre-wedding shoot? Check out some stunning Pre-Wedding Shoot Poses clicked by top photographers for inspo!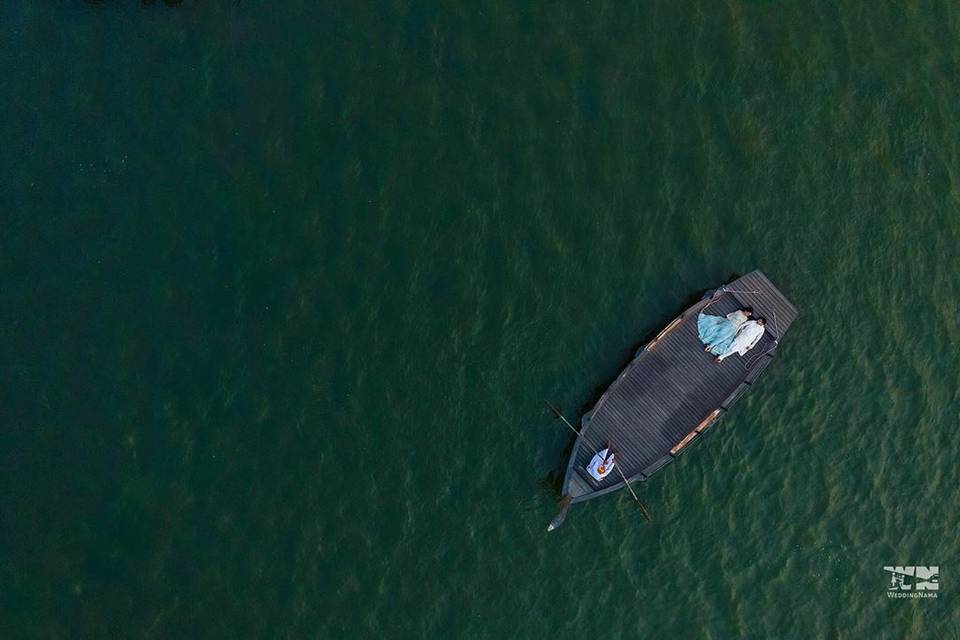 A pre-wedding shoot is no less than a full-fledged rom-com movie shoot these days. Couples and photographers go to great extents to acquire outstanding results. From travelling abroad for a destination wedding shoot to multiple costume changes, using interesting shoot props and releasing a teaser trailer before the full shoot - the whole process involves large scale planning and implementation.
So, if you're a to-be-married couple who would not want to compromise on your pre-wedding shoot, there are some major points for you to remember. Take a look at how some of the top-notch photographers in India have captured couples in the most romantic poses and get inspired!
The Iconic Titanic Moment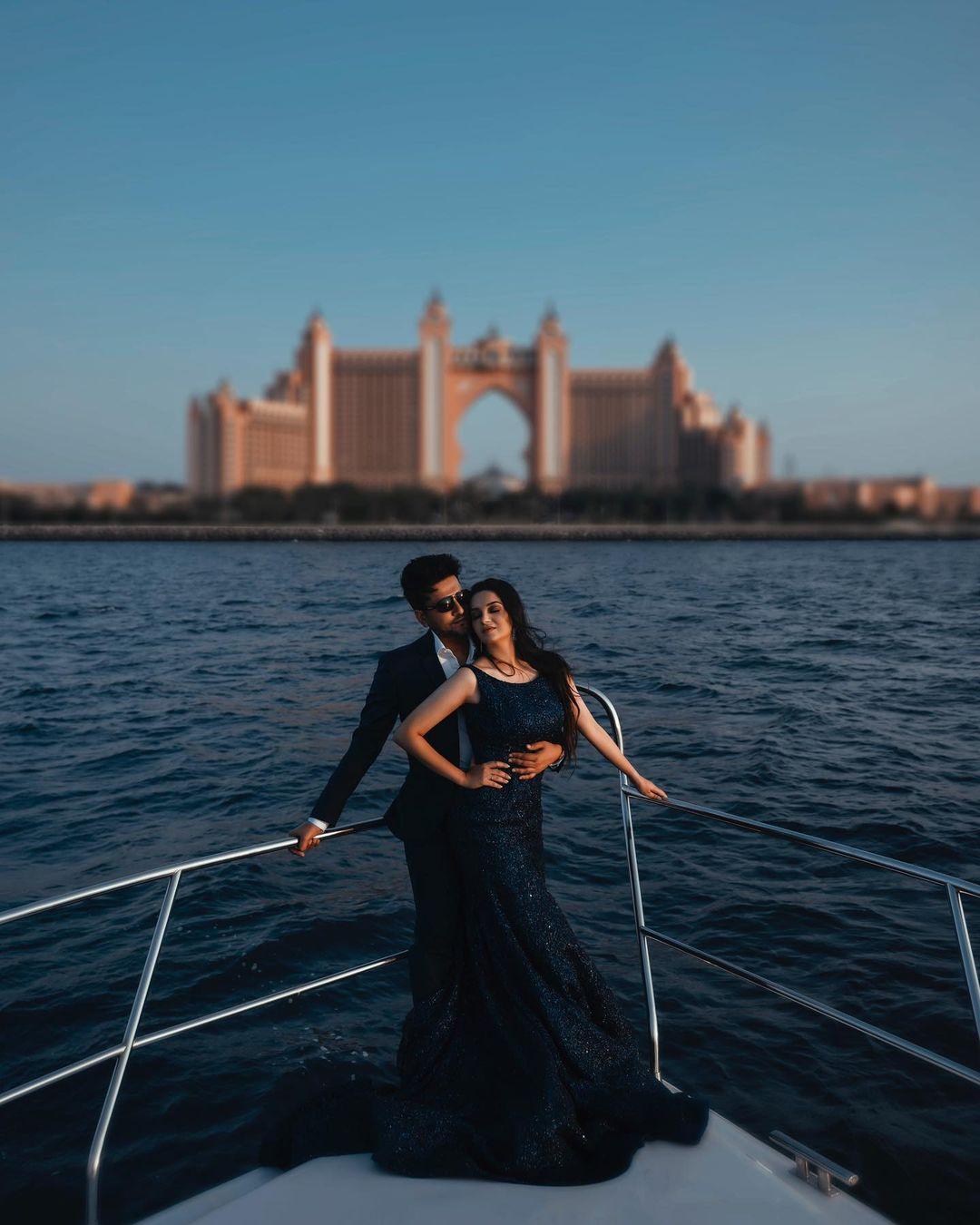 Remember the iconic scene from the movie Titanic? How our hearts fluttered when Jack and Rose stood at the edge of the beautiful deck! for your pre-wedding shot pose, recreate this legendary moment by standing with your arms spread out wide with your partner right behind you and the gushing wind in your hair. Wear the latest gown designs and ask your partner to suit up for this shoot!
The One With The Books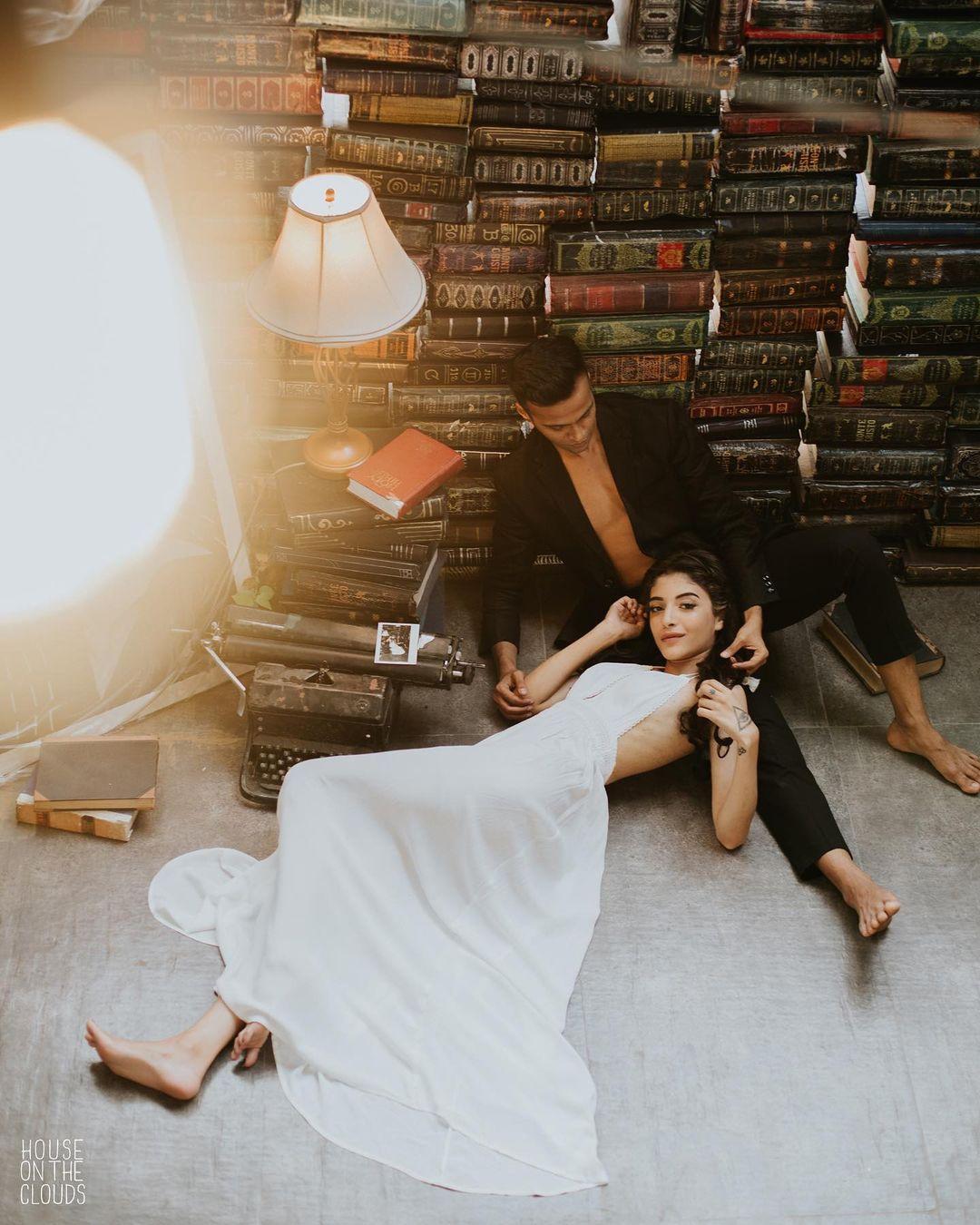 Image Courtesy: House On The Clouds
You can actually make your pre-wedding shoot poses tell a story. For instance, if you met your soulmate at a library, you could actually recreate the moment with a romantic and aesthetic twist and plan your pre-wedding shoot pose accordingly. Arrange for the classic and other books to serve as your backdrop and dress dainty with your partner for the perfect click.
The Picnic Story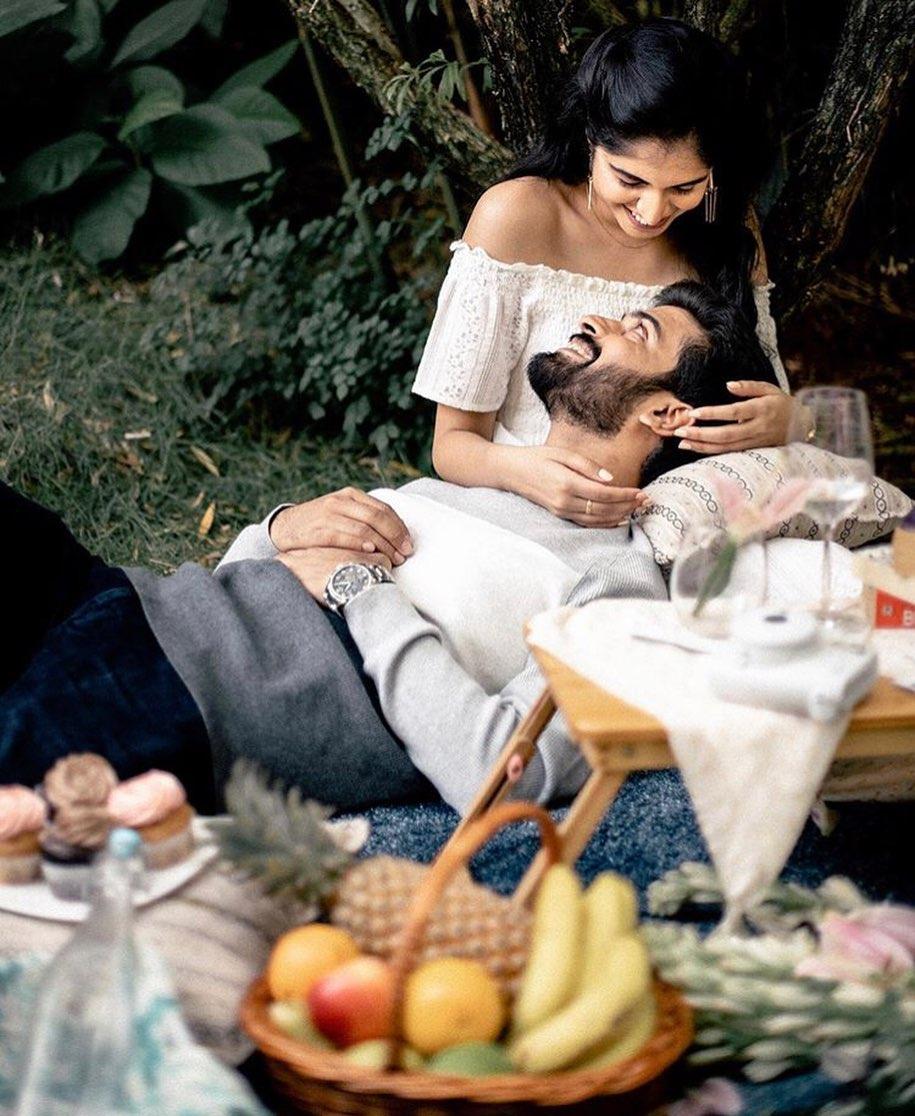 Aren't picnics the cutest and most romantic time to spend with your partner out in the woods? Plan for a picnic with your beloved and let the candid moments be a part fo your pre-wedding shoot poses. Pack an adorable picnic basket and let the photographer capture the magic that unfurls!
Sail in The Love Boat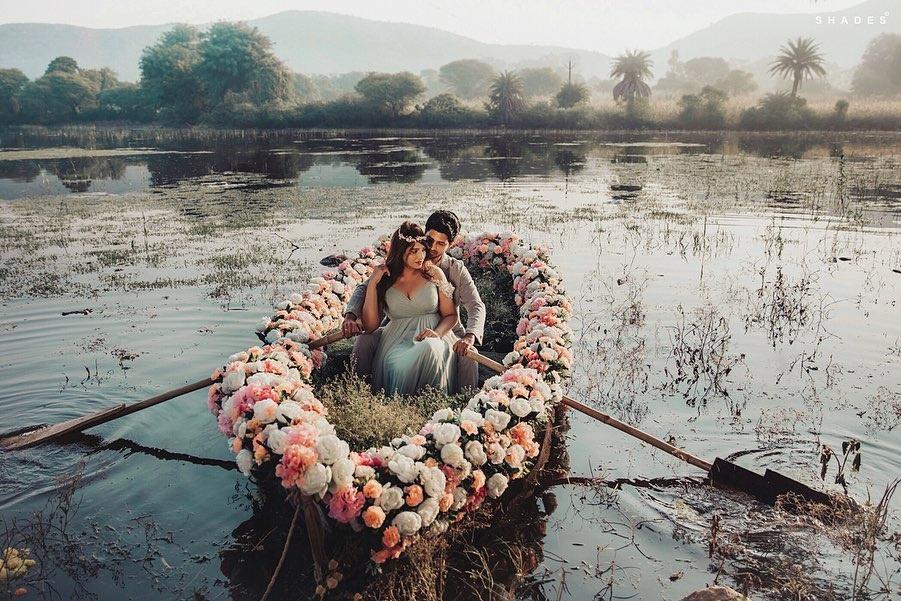 Image Credits: Shades Photography
Give your partner a ride on the love boat...literally! One of the most dreamy pre-wedding shoot poses is the romantic boat ride. Doll up your boat with flower decorations. Wear a flowy pink designer gown and a floral tiara. Row on a secluded lake amidst the nature with your beloved. The whole idea of boating itself exudes romanticism. Trust us, this particular pre-wedding photo would look like a picture from a fairytale book!
Boogie By The Beach
Brush up your salsa and Boogie moves to create some smashing pre-wedding shoot poses! If you've been practising your couple dance for Sangeet, why not try some of them out while shooting for your pre-wedding? Take the dip, do the lift or just twirl! And if you could do all this with the sea waves in your background, you got a winner photoshoot already! Wear a flowy skirt or a breezy summer dress for beach vibes!
Wine & Dine By The Sea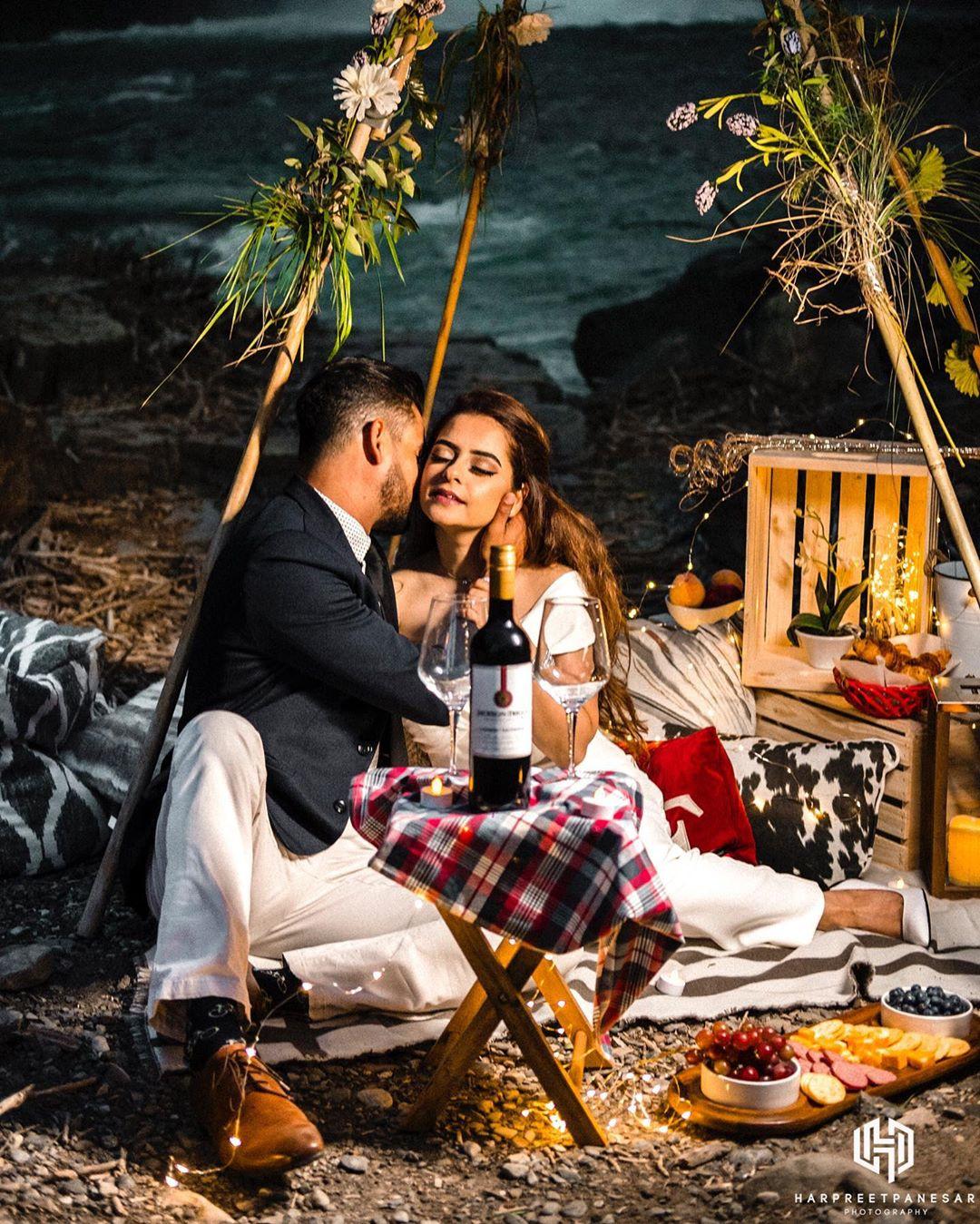 Image Credits: HarpreetPanesarPhotography
A date night by the sea! How can you go wrong with that kind of pre-wedding shoot pose? Harpreet Panesar and their team have particularly paid attention to every little detail for creating this gorgeous photo. The wine, cheese platter, wooden table and fairy lights-all these elements create a fairytale ambience for the shoot. And the subtle hint of sea at the background only spikes up the romance quotient.
Just You & I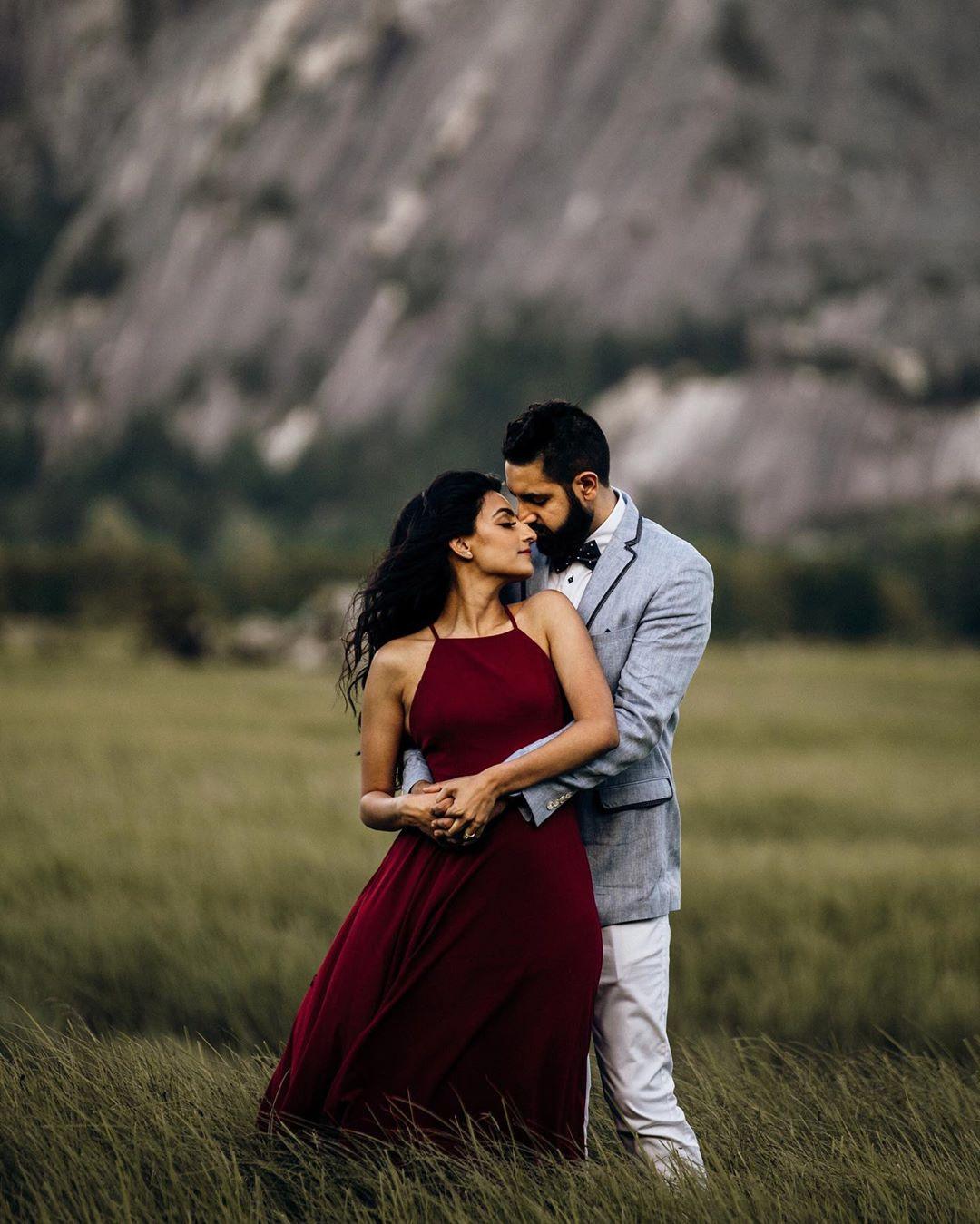 Image Credits: DreamBox Creations
Sometimes, all you need to ace your pre-wedding shoot poses is just the perfect chemistry between the two of you. When you hug your partner expressing the innermost feelings, you really don't need much as your photo prop! However, the landscape in the background only adds to the finesse of this pre-wedding couple photo. With the right colours and lighting, you can obtain a stellar photo.
Water, Water Everywhere!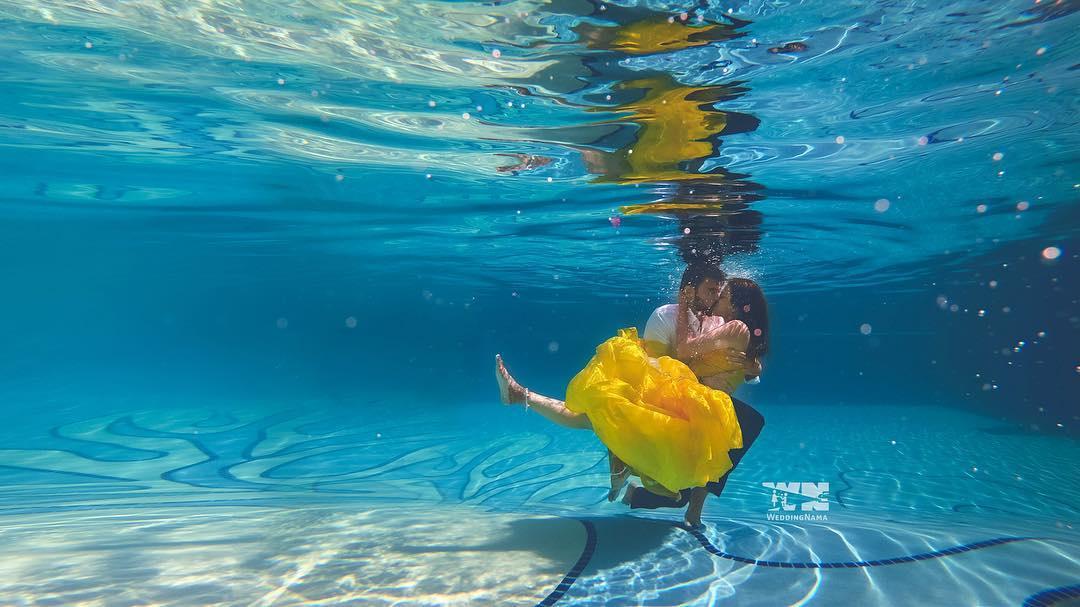 Swimmers, this one is especially for you! One of the most popular pre-wedding shoot poses is an underwater shot. You can even recreate your proposal underwater, by asking her hand with a wedding ring! Just flow with the water in bright colour outfits for some breathtaking photography!
The Desi Pre-Wedding Pose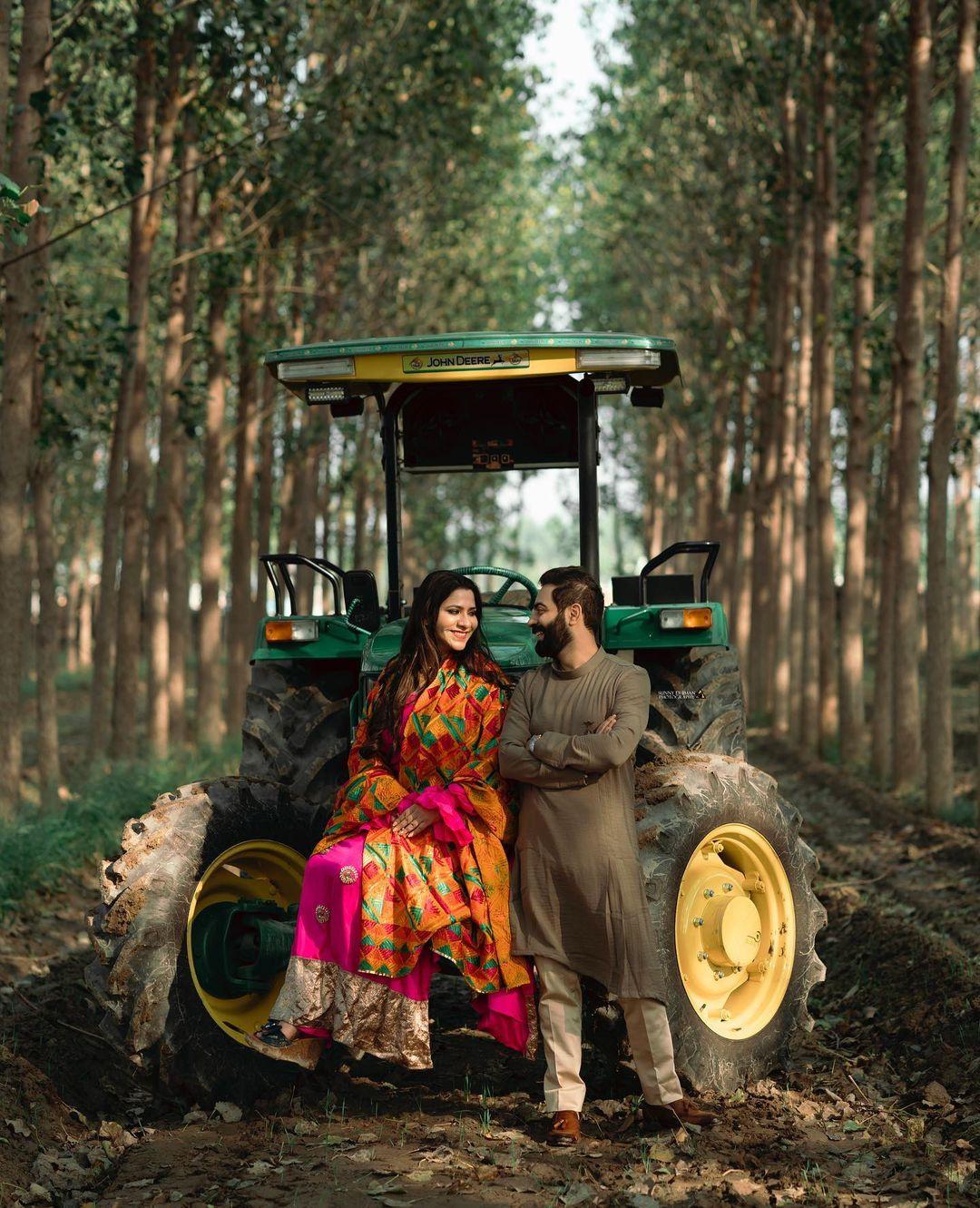 Bring in the Pind vibes and show off the rich culture of the northern part of India in your pre-wedding shot with this pose. This is one of the coolest pre-wedding shoot poses that a couple from Punjab region and other parts of India that is heavily influenced by agriculture can opt for. Wear a glamorous Punjabi suit or sharara set and the grooom-to-b can flaunt his Kurta with jacket set to make this picture phenomenal.
For The Love Of Taj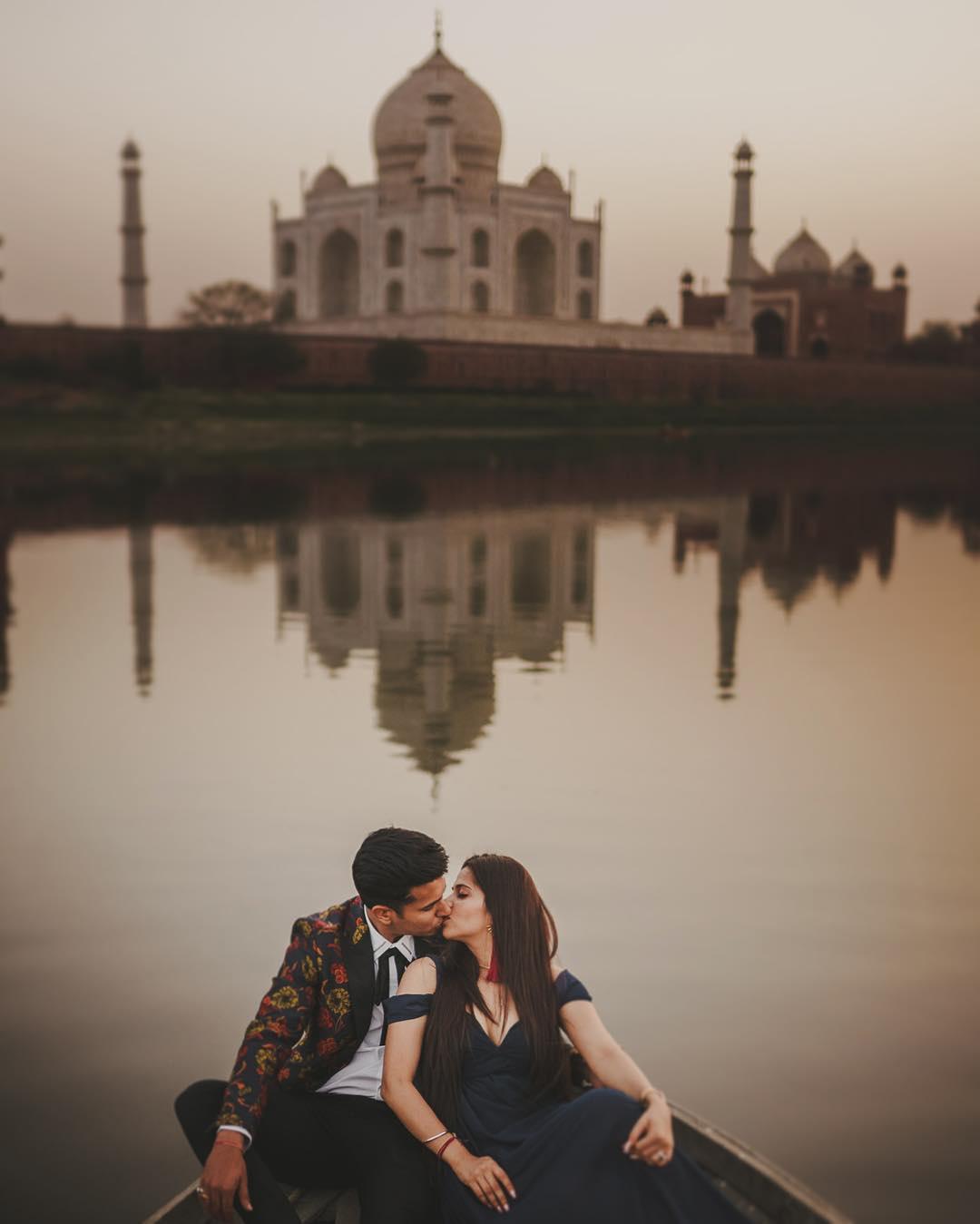 Some pre-wedding shoot poses never get old. Posing in front of the Taj Mahal is surely one of them. Famous photographer Naman Verma has captured this beautiful couple kissing with the symbol of eternal love in perfect symmetry in the background. Even though the Taj is at the backdrop, you can feel its royal presence in the photo.
Moscow Magic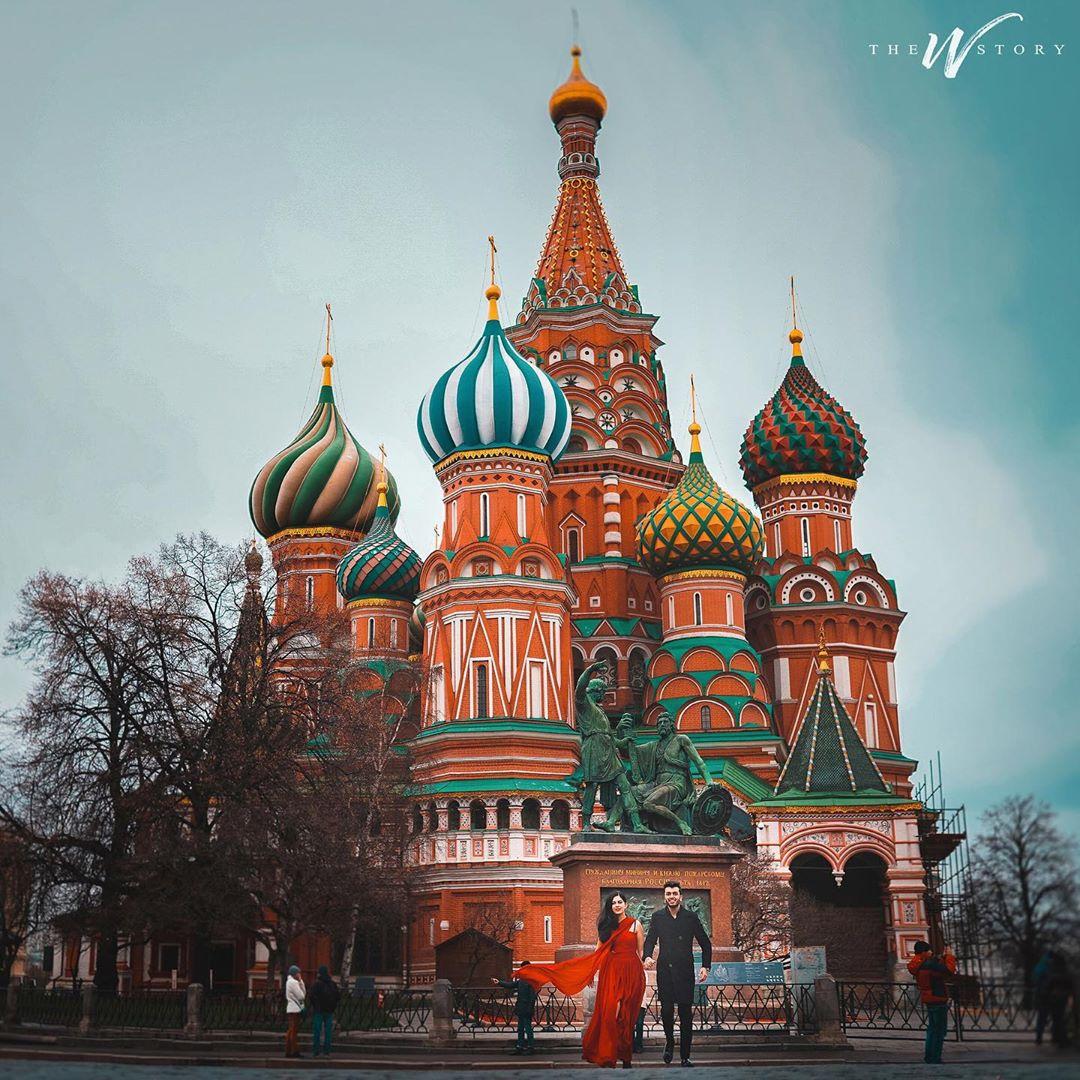 Image Credits: The Wedding Story
The vibrant St. Basil's cathedral is an excellent location to click beautiful pre-wedding shoot poses. The vivid colours of the cathedral can naturally bring out the vibrancy in your photos. Wear a red dress and black suit, hold hands, laugh together and simply get candid in front of the camera!
Get Chic In A Luxe Car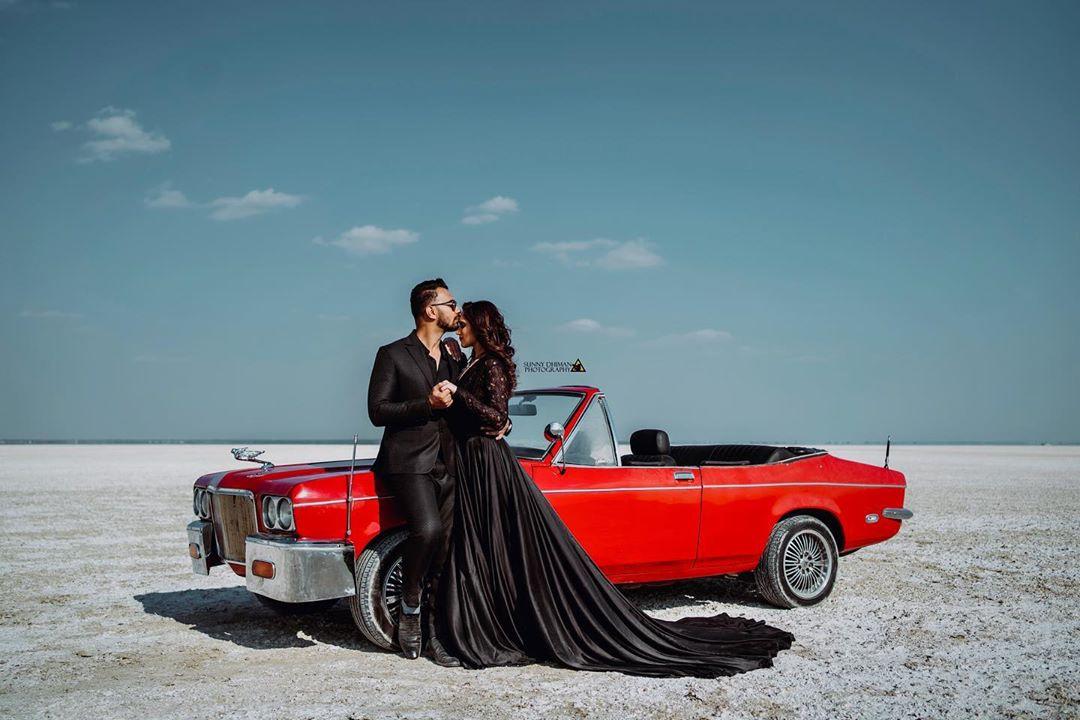 Want to raise the swank in your pre-wedding shoot poses? Using luxe cars as pre-wedding shoot props is quite a popular idea among millennial couples. Go on a drive, kiss inside the car or simply pose in front of it. The elegance of the machine will take care of the rest! Don't forget to dress up first!
Drenched In Love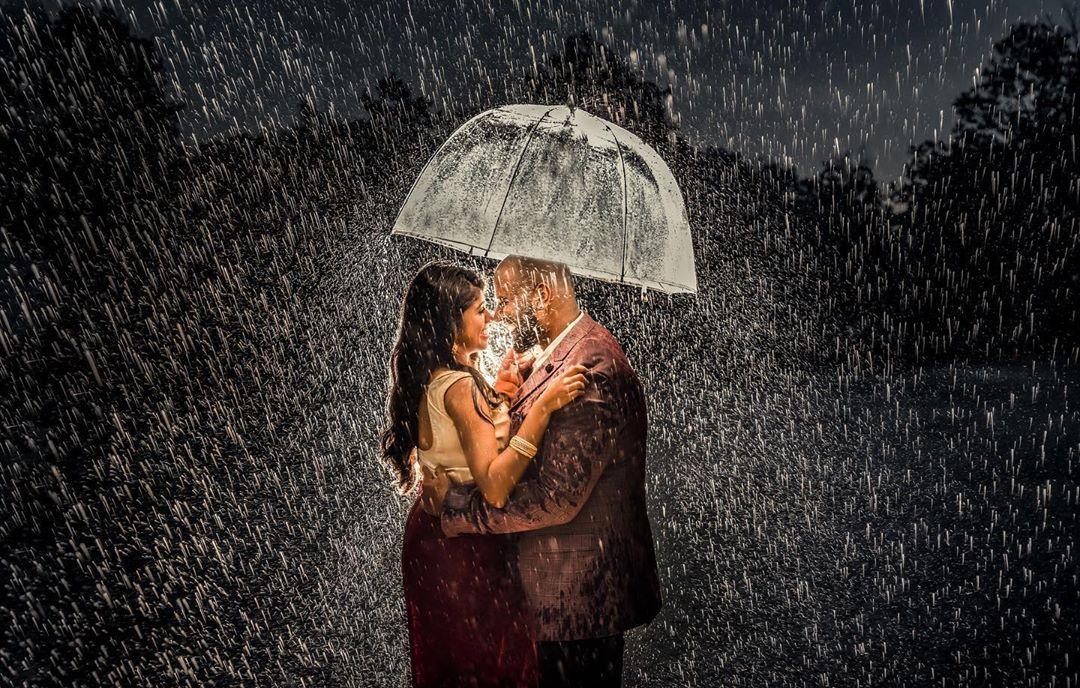 Image Credits: Trails of Memories
Add some Bollywood Tadka to your pre-wedding shoot poses! Get drenched in the rain clinging to each other under one umbrella. Simply recreate Raj Kapoor-Nargis' Pyar Hua Ikraar hua scene in your own colours. The pouring water droplets over the adorable couple gives this pre-wedding photo the perfect amount of drama and romance. Sport a retro-style saree to keep up with the magic!
Get creative, think outside the box, do a little acting or play totally candid-your pre-wedding shoot poses should reflect the chemistry between you and your partner. If you're planning a beach destination wedding, take advantage of the fact and get some beachy captures. Don't try too hard to do what everyone else is doing. Being comfortable with your poses is the most important thing. Trust your photographer, forget the camera and just be yourselves!
If you haven't booked your pre-wedding photographer yet, take a look at our vendors' list!
-With words from Anwesha Das.