17 Perfect Pre-Wedding Videos To Fuel Your Own Cinematic Love Story
Pre-wedding videos are a popular, expressive way of narrating your love story. Watch these creative videos & add your own flavour to make one that's distinctly you! Scroll on.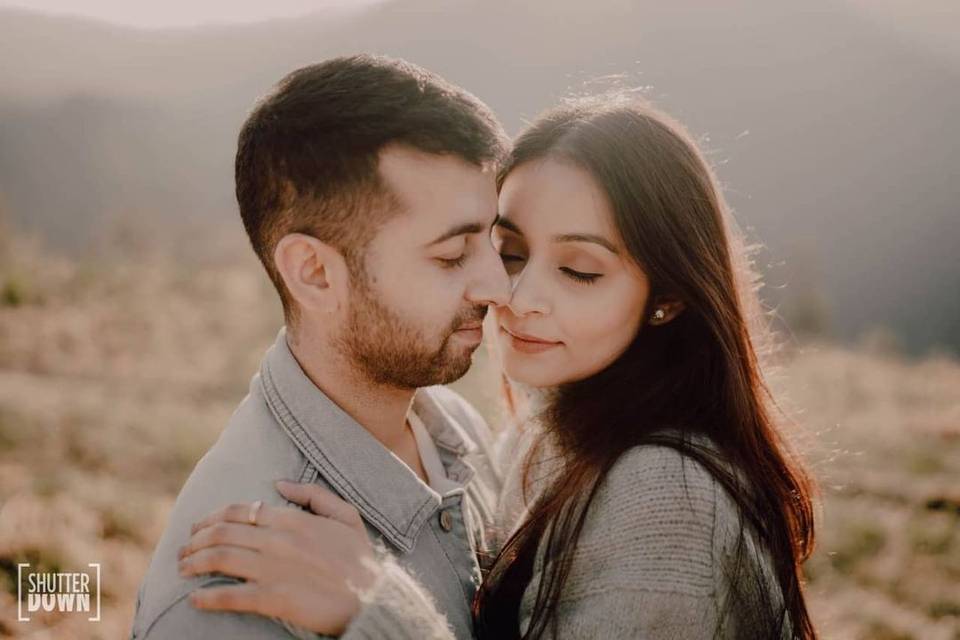 Scenic beauty, heartfelt music, and pouring emotions - these are some of the elements which lead to perfect pre-wedding videos! Capturing the essence of your relationship, these videos select breathtaking sceneries and add a dash of the perfect tune to narrate your love story. You can take them to the next level with different themes, music and destinations that reflect your relationship and your personality.
We have gathered some amazing and unique pre-wedding videos that are crazy popular and trending. Let them light a spark of imagination within you and inspire you to find interesting ways to narrate your story.
The Palatial Pre-Wedding Video
Capturing the breathtaking beauty of the Suryagarh Palace in Jaisalmer, this pre-wedding video is everything royal. The palace sure makes for the perfect backdrop of this video that shows the love unfurling between the two. The subtlety and slow-mo moments in the video make it even more dreamy and unreal for the beholder. To top it all, the song Tera Ban Jaunga from Kabir Singh adds to the serenity.
It's A Punjabi Music Video - Almost!
We all know how absolutely cool the Punjabi music videos are. From the latest and trending frames and shots to trendsetting sequence - a Punjabi music video is a hoot. If you are a fan of how Diljeet Dosanjh or Sidhu Moose Wala do it in their mindblowing music videos, you can get your own version in your pre-wedding shoot. Work closely with your cinematographer and make the diva in you capture the lenses. This pre-wedding video shot by Sunny Dhiman Photography is surely straight out of a Punjabi music video.
Malvika & Akhil Pre-wedding Engagement Video
Whoever said that a pre-wedding video needs to be solely a pre-wedding video, can definitely take inspiration from this engagement video of Malvika Sitlani and Akhil Aryan. The candidness of this video is everything that makes it so special. Their engagement was celebrated way before their wedding and the spontaneity of the video deserves to be played in a background montage at the reception or later at a family get together. If you pick this format for your own pre-wedding video then the added advantage is that the pre-wedding video will not only be about you and your partner but all your loved ones too! Make their contribution memorable in your pre-wedding video.
The Quirky Pre-Wedding Video
The perfect balance between close-us and shifting frames that capture the couple in their element is what makes this pre-wedding video so much fun and yet aesthetic. The quirky relationship of the couple and their playful nature with the alluring backdrop is a priceless combo. Take your destination wedding plans to the next level with destination shoots for pre-wedding videos. Take this opportunity to escape the wedding hustle, with your partner, and lose yourself in the romance that surrounds you two. Alluring beaches, romantic music, watersports, dinner dates, plan a mini vacation and capture each special moment creating pre-wedding videos with a bonus of beautiful memories.
The Studio Pre-Wedding Video
This pre-wedding video got its charm on right from the start. It is often said that Shayari happens to capture more hearts and Farhan Akhtar's poetry at the beginning of the video with a slow and comforting shift to a Darshan Raval number is sure a catch. While most people plan to visit outstation locations to get their pre-wedding video shoot done, you can pick a studio set up near your city to get the perfect pre-wedding video shoot done. This couple's pre-wedding video has a beautiful sequence that slowly shifts the frames between different locations as well as a studio set-up. Plan your outfits well if you would want to capture different backgrounds in the video.
An Adventurous Dubai Pre-Wedding Shoot
With pre-wedding videos becoming the next big thing when it comes to millennial weddings, couples grab this opportunity as a way to show their behind the scenes or to tell a story of who they are. This couple's pre-wedding shoot in Dubai with their skydiving footages included along with them enjoying themselves dancing is one such pre-wedding video where the couple has picked up different elements of their liking and interest as the theme of their shoot. You could pick the 5 things that you and your partner enjoy doing together and work with your cinematographer to create something unique. In fact like the couple in the video who picked the film Anjana Anjani's title song and a similar shoot location, you could recreate your favourite film for your pre-wedding too!
The Minimalist Save The Date Pre-Wedding Video
While spontaneous frames are raging when it comes to pre-wedding video trends, you could actually get inspired by the pre-wedding/Save The Date video of this couple. Pick a vintage theme and coordinate your outfits and looks according to the era you want to recreate. Recall Pictures has created this video not only in a sepia-like frame but also included vintage elements in the video that add to the couple's aesthetic. Instead of picking a song you both like you could also do a voice over of your own voices and take help from the videographer to plan it right. The work of your hair and makeup artist is very crucial because whether you want a vintage finger curl on your hair or your hair in a bun to make the look suited right for the video is going to depend a lot on your HMUA.
The Quintessential Rural Pre-wedding Video
A quintessential Punjabi Pind is shown in this pre-wedding video. The rural elements of a classic Punjabi culture like the Pujabi Jutti, the bride-to-be in her Patiala suit and long braids with tassels, the groom-to-be in a kurta pyjama along with the turban - makes this video a visual treat. Ever imagined yourself running down the mustard fields like Kajol in the timeless classic movie DDLJ? Well then take inspiration from this pre-wedding video and shine on. The transition in the video where the couple is in Germany adds to the beauty of it. Ask you videographer to plan a shoot that tells your story right!
Pre-Wedding Video Shoot in Ladakh
For the couples who are planning to take your pre-wedding video shoot outdoors and are confused about which place would be perfect for you, we have just the place in mind. Ladakh is a sight for sore eyes without a doubt. The cold desert makes for a wonderful shoot location for your pre-wedding video. The serenity of the Pangong Tso Lake or the Nubra Valley with the magnificent prayer flags is one place that is sure to make your pre-wedding video a treat for all to witness. Get a cruiser bike or a Thar and bring out the wanderer in you for the camera.
Aesthetic Pre-Wedding Video at Bali
If you are a water baby and your partner loves the woods - you might be caught in a fix. But you do not always have to pick one - you can pick both. How? Well Bali is one of the quaintest islands that has both beaches as well as the enchanting forests dotted with tropical vibes that will turn your pre-wedding video into a fantastic montage. How the video starts with flaunting the nature in Bali and moves on to a timelapse and finally the story starts unraveling. The sequence is wonderful. Do not forget to get the outfits ready for this tropical pre-wedding shoot in Bali.
Cute Pre-Wedding Video at Maldives
When there is sand under your feet and the stretch of the endless blue sea for a backdrop, your cute love story sure blooms its best. Let the videographer capture your candidness during your pre-wedding shoot and keep it minimal yet very realistic. With the sea behind you, you and your partner are going to look straight out of a dream for sure. You can even plan the timings with your cinematographer inorder to capture some early shots like one with the sunrise or maybe one with the sea plane and so on. It is all in the frames!
Pre-wedding Video for The Mountain Lovers
While the tropical sunsets add colours to your pre-wedding shoots, the snow makes your pre-wedding video as enchanting as it could be. This pre-wedding video by Premix Studio is shot in Manali. From the playful spirit of the journey that transcends into a fairytale like scene with the couple in formals in the snow is a visual treat. The adorable relationship of the duo that is nothing short of a friendship turned into love is indeed magical and how the scenery keeps getting better with each frame is just wonderful. If you plan to get a pre-wedding video similar to this, we suggest include a beautiful gown in your wardrobe.
Romantic Pre-wedding Video
This pre-wedding video captures the romance between the two. The couple is seen lost in each other's eyes with endless chivalry and ofcourse the romantic poses that one includes in a pre-wedding shoot. It does not matter what location you choose, as long as you are celebrating the candid love that you both share for the camera to capture each moment.
Fairytale Pre-Wedding Shoot
This pre-wedding video by Prism Films wins hearts right from the start with the beautiful song selection. The choice of song that you pick for your pre-wedding video plays a very significant role in making or breaking the pre-wedding video's beauty. With the bride in a flowing white gown and the groom is a tuxedo, the duo look absolutely mesmerising in the heritage city of Udaipur with the heritage buidings in the backdrop. From there to the beach in a playful jumpsuit with the groom in a cycle, this pre-wedding video takes the viewers for a joyous ride.
Pre-wedding Video Song Mashup
Wedding Birds Films brings this beautiful pre-wedding video for inspiration. The perfect remix of the most trending romantic songs from Bollywood have come together in one sound track to give this adorable pre-wedding video that is romantic yet minimal.
Storytelling Pre-wedding Video
Some couples have used the pre-wedding videos to tell their loved ones the story right from the beginning - how they met and what followed. This pre-wedding video is one such storyteller based in Udaipur. If you want your guests to know your story through a montage or in fact store all your memories of how you met and fell in love in a video to relive it - this storytelling themed pre-wedding shoot is going to be it!
The OTT Pre-wedding Video Shoot
Have you seen people go overboard in love? All the time! While many couples love to keep it lowkey and minimal, some love the rush of OTT elements. From the vast stretches of the sandy desert to the dock where the couple boards a luxury boat together - Studio Kelly Photography has definitely shot a beautiful OTT pre-wedding video for the duo. The video ends in the couple recreating their proposal and how we loved the romance on screen!
Pre-wedding videos are like a chance to be in a movie for some and for some it is to let the camera freeze their candidness for them to revisit it in the future to rekindle the love. No matter what your perspectie of a pre-wedding video is, make sure to put in your best foot forward. With the best technology like drones and GoPros, videography has become a dream project for the wedding videographers and you will be their muse and how!
These pre-wedding videos will inspire you to select a theme that suits the two of you as a couple. Book a destination/space that you've always wanted to visit together, plan it around activities or hobbies that you share, play your favourite tune in the background while you enjoy each other's company amidst an amazing landscape/setup. Add in your own flavour to make it truly unique and personalised.
Which among the above pre-wedding videos made you daydream about your own? Let us know in the comments below!