Unique Photo Studios in Delhi NCR for a Perfect Pre-wedding Shoot
Planning a fun & unique pre-wedding shoot in the city just got better with these photo studios in Delhi NCR to give you mesmerising backdrops to your memories. Read to know.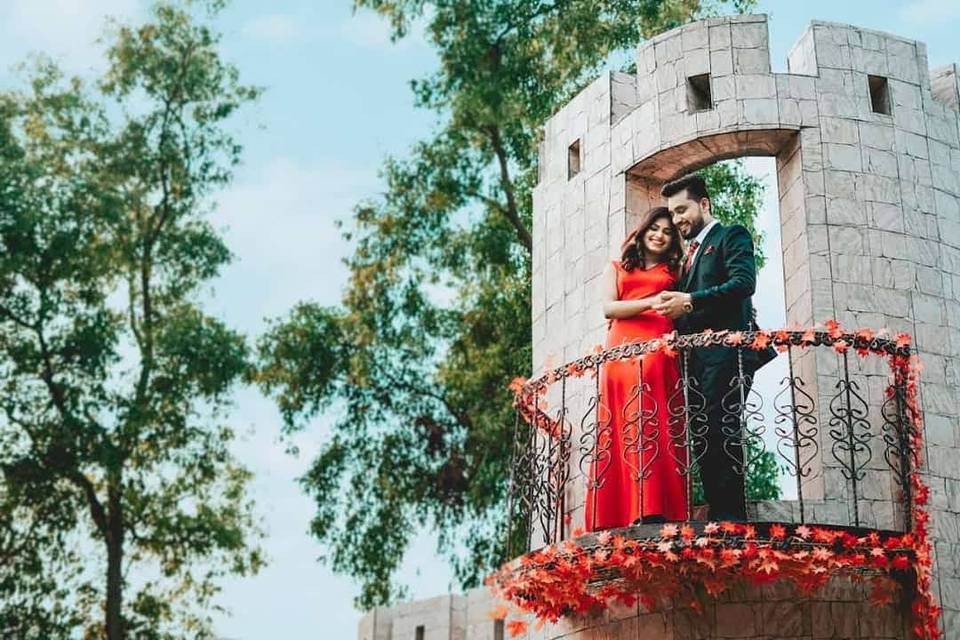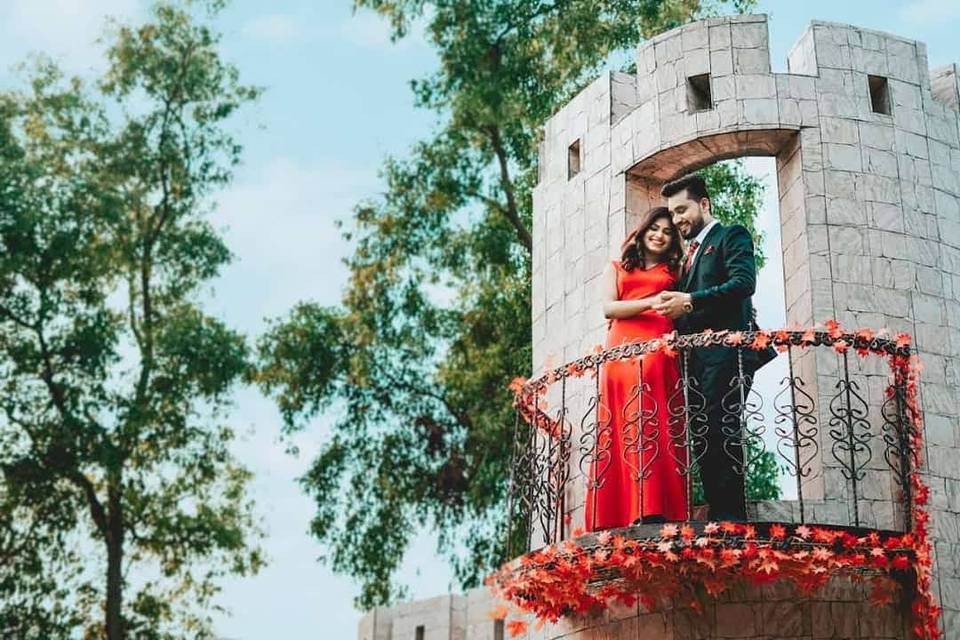 Image Courtesy: Photo Rachna Studios
Planning on shooting a romantic pre-wedding shoot in Delhi NCR for the perfect wedding album? Everything about pre-wedding shoots has remarkably evolved over the years. The quality of the lenses, quirky props, innovative themes and striking backdrops have set a new benchmark for pre-wedding photography. Couples have experimented with candid photography and even posing in breathtaking destinations with their partner that resulted in phenomenal photo albums that they can cherish forever.
Another trend that has been added to the list is the artificial sets created for pre-wedding shoots in photography studios near you, that are closer to your home and easily accessible in case travel is not on the cards right before your wedding. You can flaunt amazing pre-wedding shoot poses with the mesmerising set of Santorini in the background and a wide range of other backdrops, without it having to be the real locale.
You do not have to actually be at the Ajmer Fort for your pre-wedding shoot or go OTT with a pre-wedding shoot in Jaipur. All you have to do is drive to the suburbs of the city for an unforgettable pre-wedding shoot in Delhi.
These picturesque artificial sets are found in beautiful photo studios in Delhi NCR. So if you are looking forward to experimenting with the aesthetic and quirkiness of your pre-wedding shoot ideas with stunning backdrops, here is a guide to some of the best photo studios in Delhi NCR to help you identify the best photo studios near you.
Love City, Gurgaon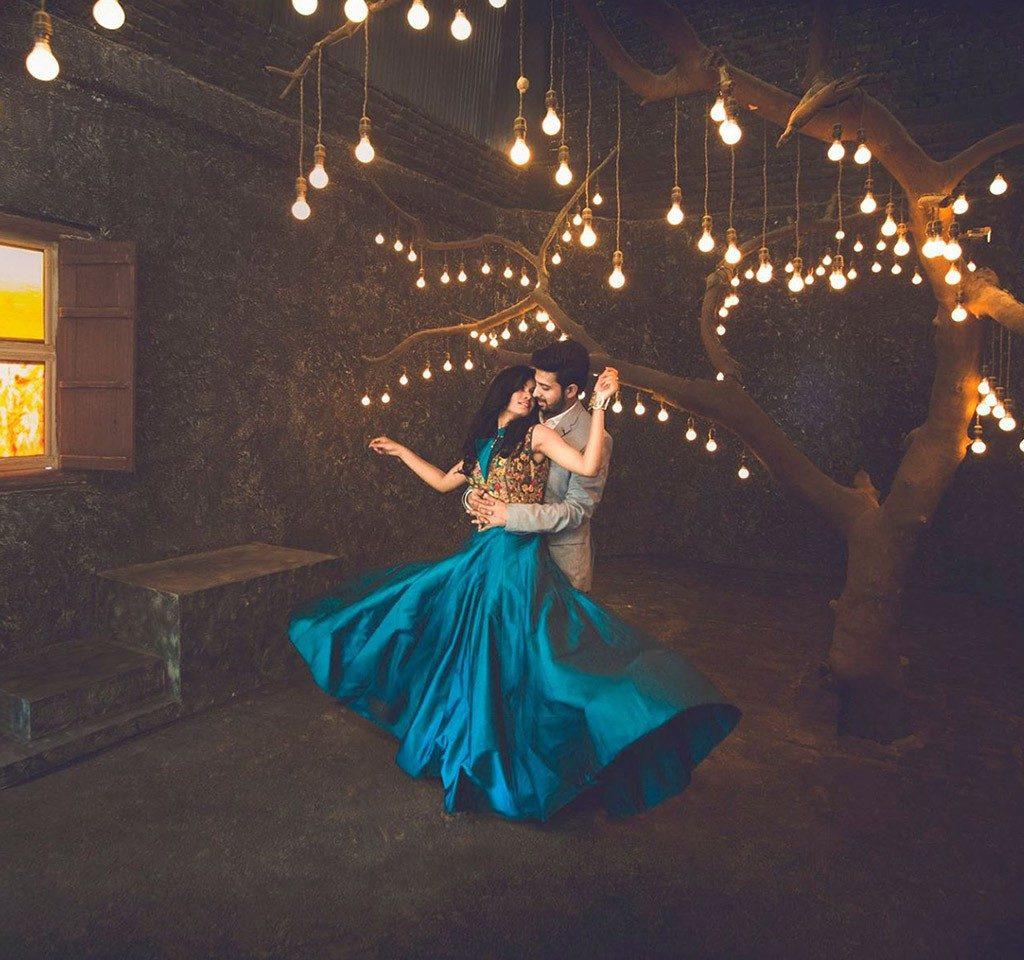 With 35 different backdrops to pick from and above 100 props to make it as quirky as it gets, the quirky photo studio, Love City in New Delhi is spread over a vast area of 6 acres. It has indoor setups of a library, a restaurant, a fun kitchen and many more options that will make your pre-wedding shoot a spectacular one.
Located in GT Karnal Road, it is easily accessible by the couples who are residing in Delhi NCR. They allow you unlimited access to their props and backdrops and is a budget-friendly location on the outskirts of the city.
Estimated Pricing: ₹10,000 to ₹20,000.
Your Dream Location, Delhi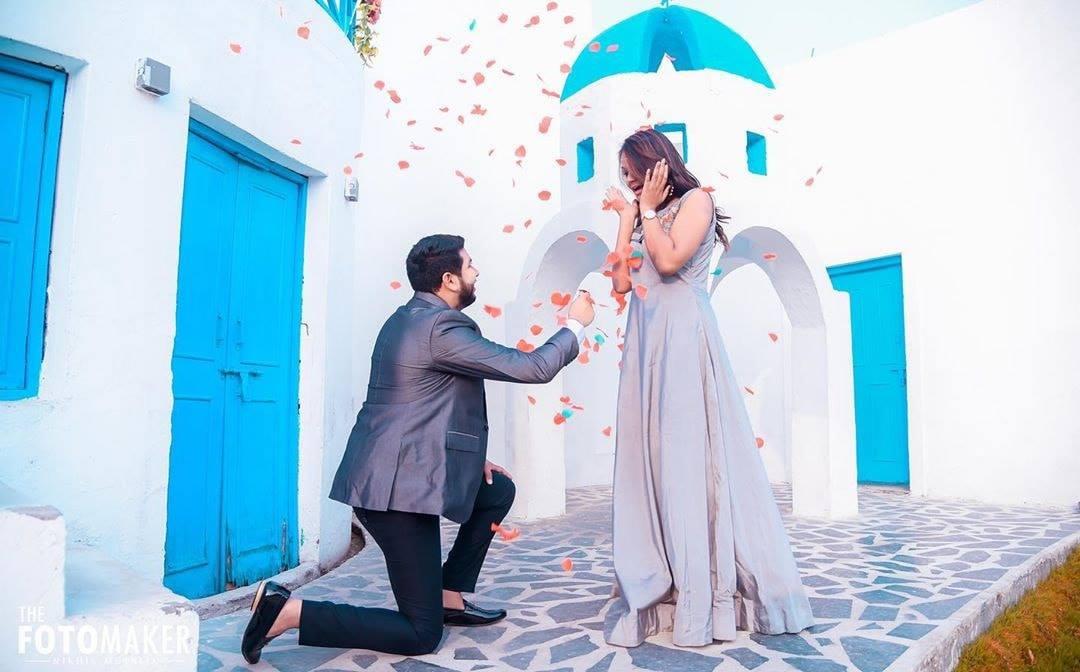 Image Courtesy: The Fotomaker
Your Dream Location is a mammoth-sized location that is decked up with above 30 different artificial setups with sizeable spaces that provide a variety of indoor setups and beautiful natural farms for the outdoor ambience required to make your pre-wedding shoot in Delhi experience, an enthralling one. They have a team who will ideate an extraordinary shoot that can be both traditional or contemporary. They have 100+ props, including separate props for the brides-to-be with makeup rooms and changing rooms at the location too. The Punjabi Pind setup available here is an amazing one if you are planning a Punjabi pre-wedding shoot! Don't forget to don a Phulkari dupatta for your desi pre-wedding shoot.
Estimated Pricing: ₹5,000 to ₹15,000 depending on the customisation.
Picture Destination, Sonipat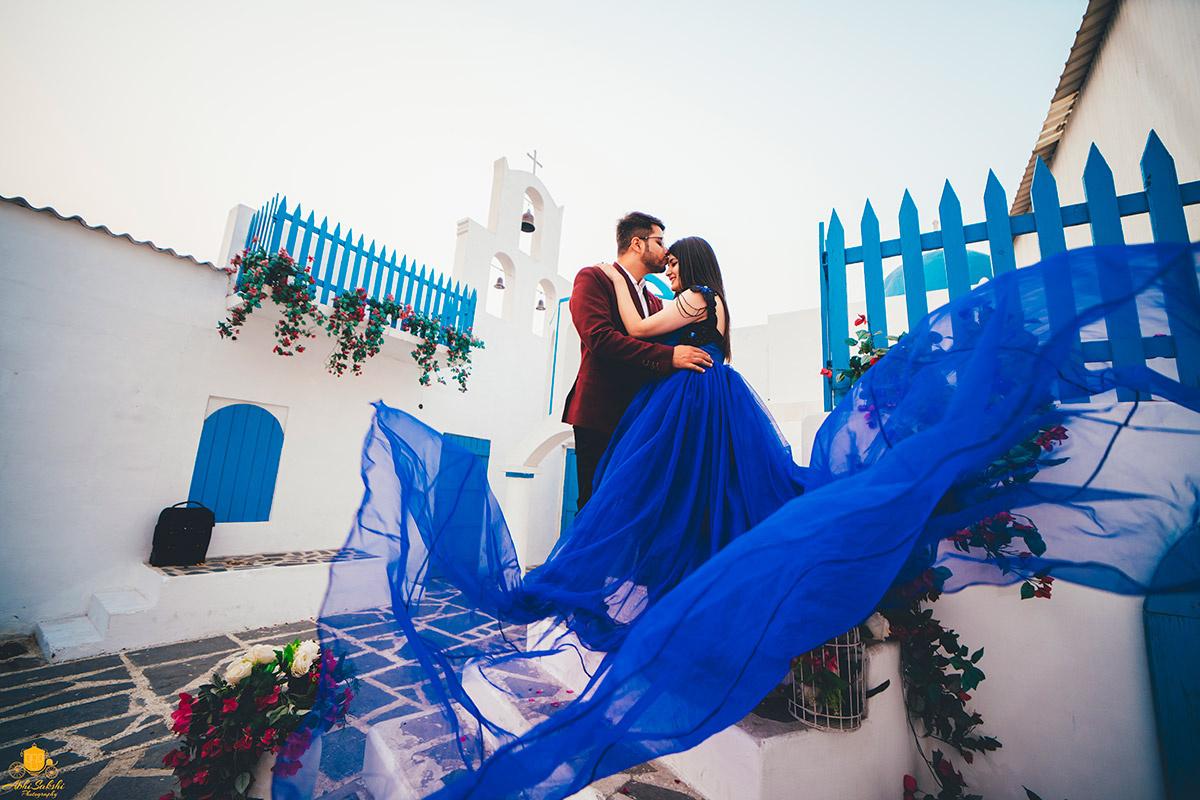 While travelling can be really hectic right before the wedding to get that perfect pre-wedding shoot done at a dreamy destination, you can actually get rid of the taxing parts and drive to Picture Destination situated in GT Karnal Road, Sonipat, Haryana. The site is ideally suited for pre-wedding photography in Delhi NCR with 25+ indoor and outdoor artificial sets with complete photography and videography solutions. The air-conditioned makeup and changing rooms are a definite pro to the location. There are complimentary snacks and beverages and they allow flexibility in prop customisation too. Pick some stunning pre-wedding shoot dresses to add to the glam factor and plan an epic wedding shoot in NCR.
Estimated Pricing: ₹15,000 to ₹25,000 based on the packages.
The Perfect Location, Faridabad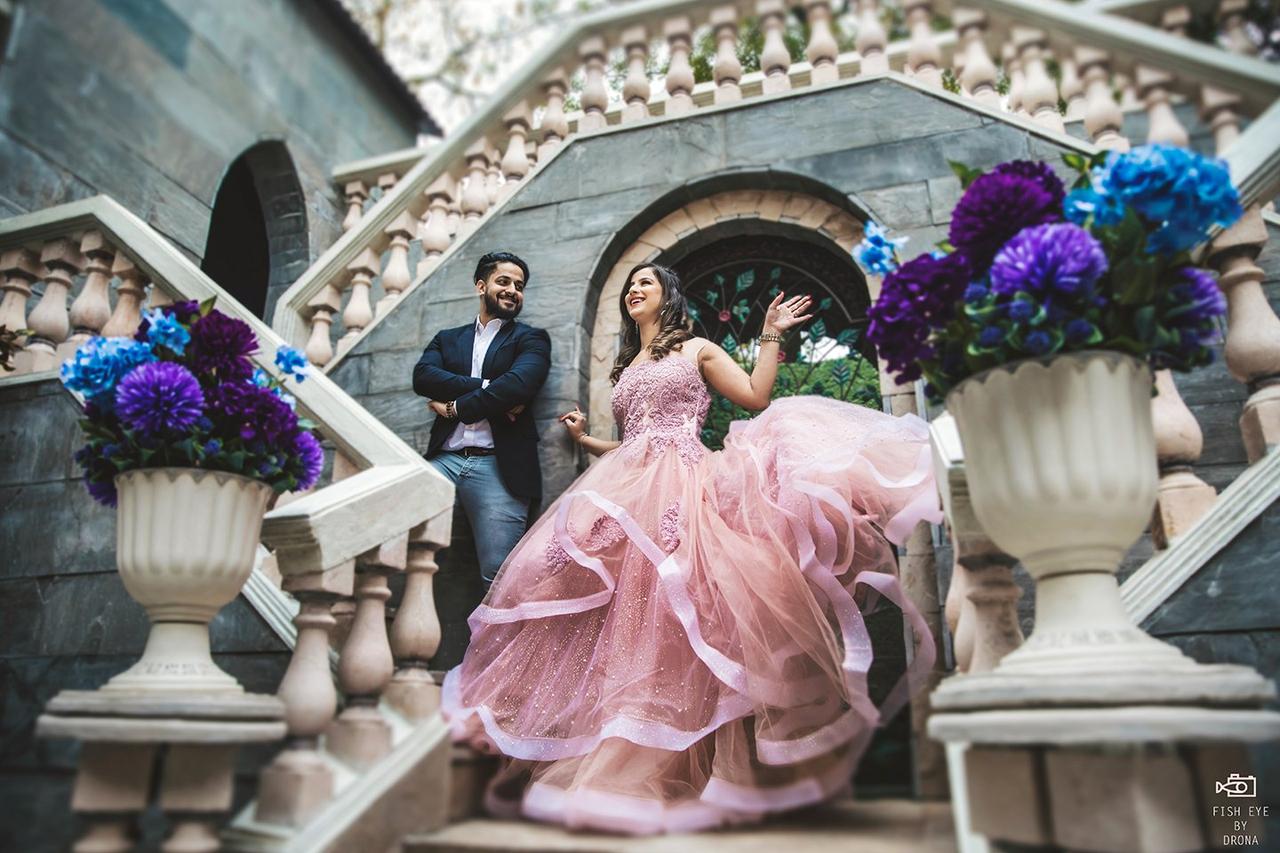 Image Courtesy: Fish Eye by Drona
The Perfect Location is the trailblazer of the idea of artificial sets for pre-wedding photography. With the concept of photo studio sets that they launched early in 2015, they have a wonderful variety of 26+ artificial sets that have over 200 props to choose from. This is one of the best photo studios in NCR and has Santorini and Tuscany themed setups that look so real and have grabbed the attention of ace photographers in the city. They have a variety of packages to offer and you can pick the one that suits your needs best with complementary props. They also have a team of experienced professionals to assist you in-situ.
Estimated Pricing: ₹20,000 to ₹35,000 depending on the time slots.
Photo Paradise, New Delhi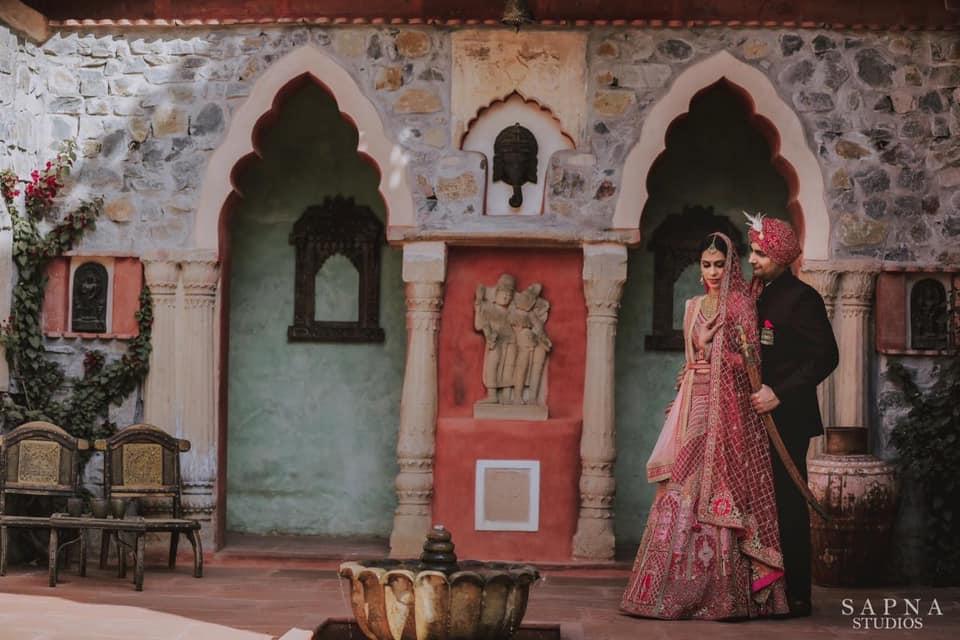 Designed with excellent architectural finesse and proficiency, Photo Paradise is a studio set up in Qutabgarh over an area of 30,000 square yards. The sets are planned keeping even the most minute details in mind during customisation to allow the best of both photography and videography space. The originality of the set designs makes it an all-purpose shoot destination for your pre-wedding photoshoot. It is one of the best professional photo studios in Delhi NCR.
Estimated Pricing: ₹12,000 to ₹30,000 approximately.
Studio Future Forward, Haryana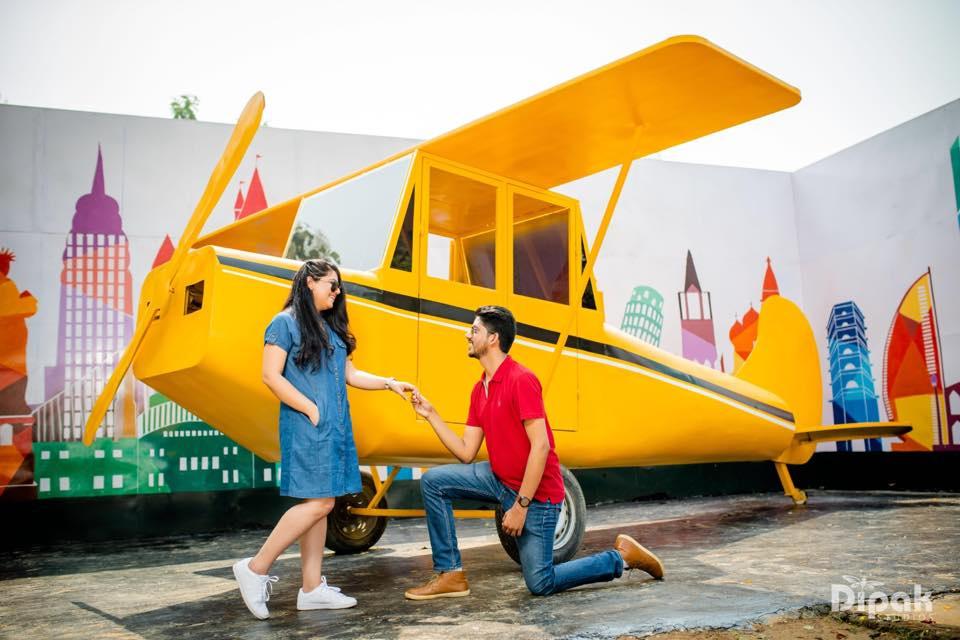 Studio Future Forward is pre-designed set up shoot location for professional photography and offers more than 30 different setups for your flawless picture. It is one of the most well-known photo shoot studios in Delhi NCR located in the Faridabad-Gurgaon road. You can have your magical moments captured in these pre-designed sets/locations at the studio that will provide an impeccable backdrop to your photos and make it all the more memorable.
Estimated Pricing: ₹5,000 and above.
Photo Rachna Studios, Gurugram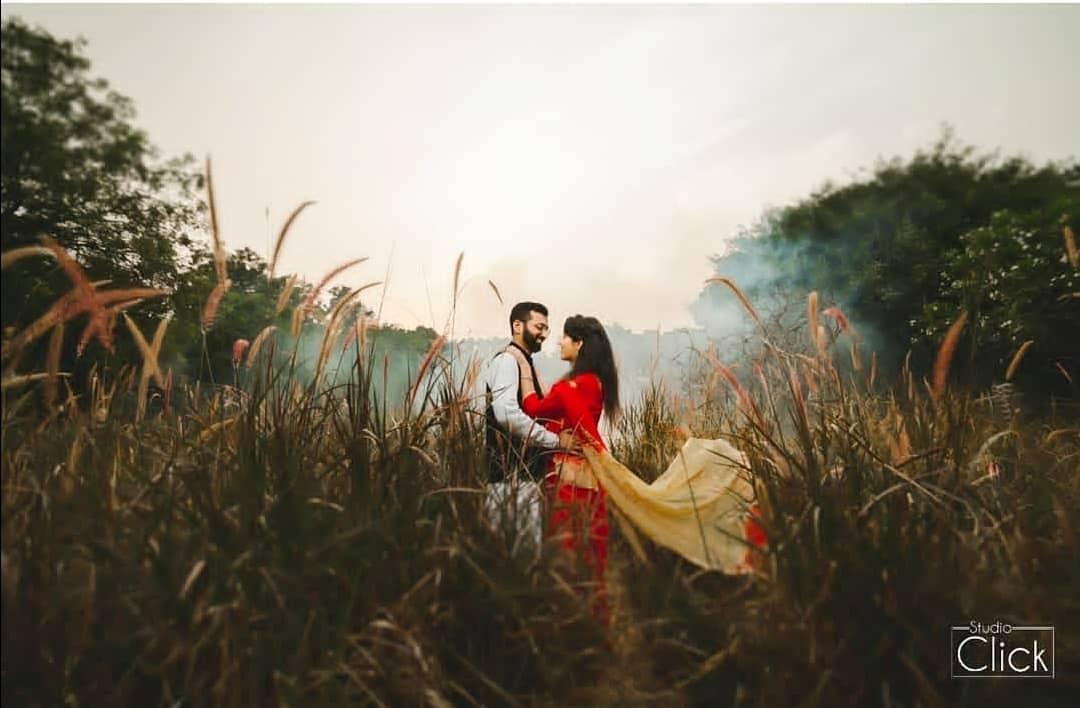 Located in the outskirts of the city in a serene setting on the Faridabad-Gurgaon road, Photo Rachna Studios is a professional photography setup, with 45+ backdrops that will leave you spoilt for choice. Designed with utmost precision and technical accuracy, Photo Rachna Studios allows the photographer to experiment with every angle without having to worry about the lighting or other factors. With the best cinematic and candid exposures they are one of the best pre-wedding photo studios in Delhi NCR and have sets of beaches, villages, cafes, graffiti walls and a lot more exciting props to add to the fun ride!
Estimated Pricing: On request and customisation.
Location For You, Delhi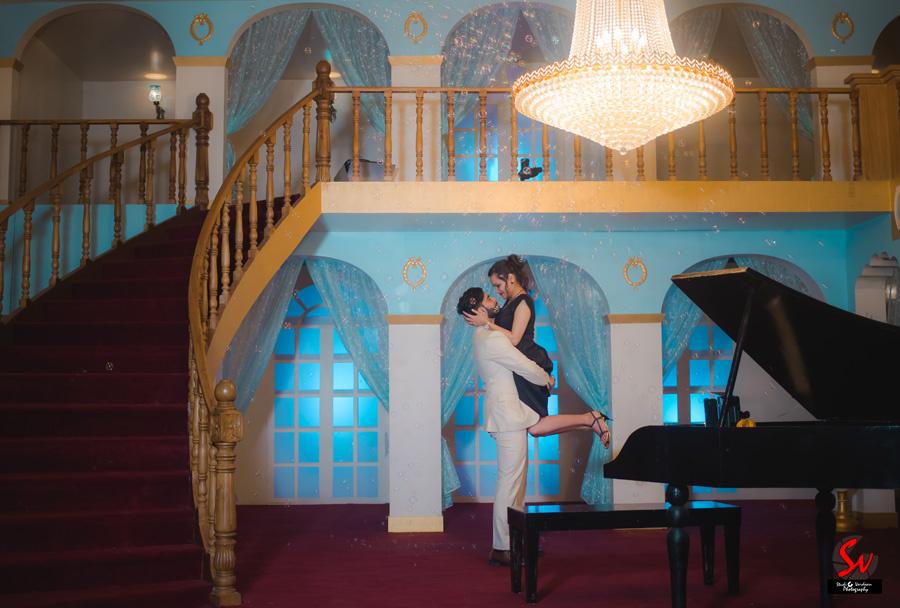 Image Courtesy: SV Photography
Located in the suburbs of the city and away from the pollution and noise, Location For You is a professional setup for photography and cinematography purposes and one of the best photo studios in Delhi. Santorini, Goa, Shimla, Jodhpur, phone booth, kitchen, northern villages - name it and you have it ready! With a vast number of charming backdrops and props on the ready and their affable staff always on board to assist you, you can flaunt some amazing poses to the photographer. Make your wedding album a beautiful myriad to cherish forever.
Estimated Pricing: On request and time period.
While getting your pre-wedding photography done, you can also try a pre-wedding shoot with a Bollywood twist with your partner, bridesmaids and groomsmen. You should bookmark these photo studios along with some of your favourite pre-wedding shoots and unconventional ideas to make it all the more memorable. After all, all those Bollywood movies must have inspired you to try some romantic poses for your pre-wedding photos.
If posing in front of memorials and historical monuments are too mainstream and you want to try something out of the box and quirky, these photo studios in Delhi NCR are some of the best places to get your pre-wedding shoot done. You can hire the best professional wedding photographers in the city to get this rolling!
If you have any more recommendations to add, let us know in the comments below.