12 Bride-To-Be Props That Will Breathe Life into Your Pre-Wedding Shoot
Having a pre-wedding shoot is on its way to becoming a tradition in itself. When planning your shoot, consider using these funky bride-to-be props!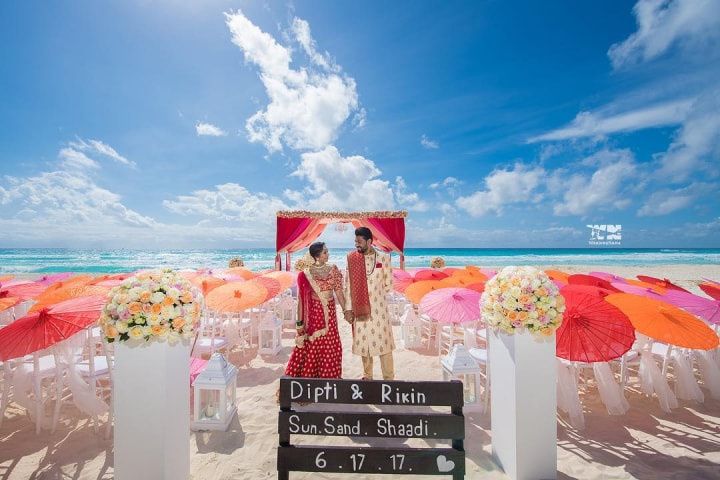 In theatrical terms, a prop is any movable object that adds value to a scene. This includes random items, lighting, costumes, and even, at times, certain elements of the location. With your pre-wedding shoot, you want to be able to use props that not just enhance the image, but also tell your story by highlighting something important to you. So, when planning all the details of your shoot, don't forget to use these funky bride-to-be props!
1. Signs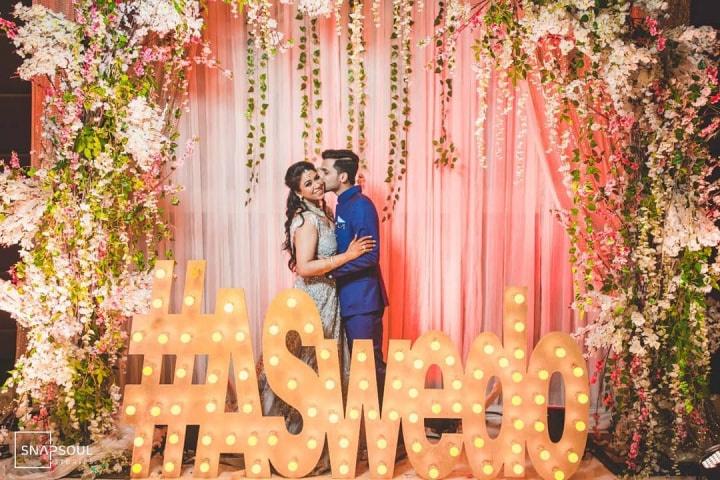 Signs are perhaps the easiest bride-to-be props to source. That, and the fact that they are so customisable makes them one of the most popular props used by brides. Your signs can have pictures, icons, text – really, anything you like. Make sure they say something that has a deeper meaning to your relationship so that you cherish the idea forever.
2. Flowers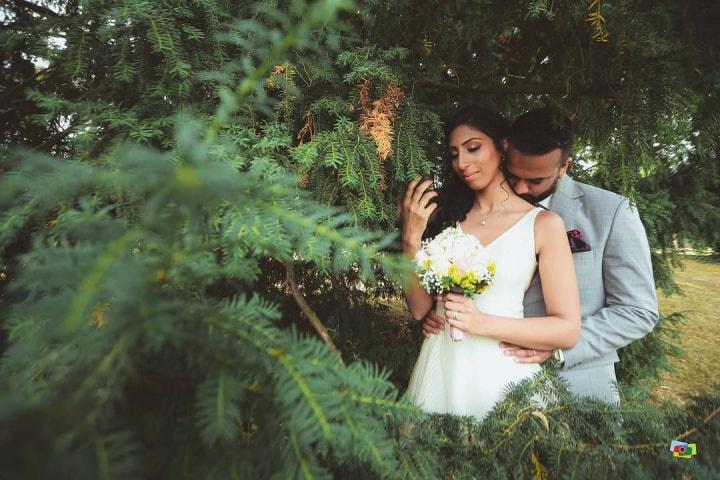 If you're going for timeless elegance with a hint of innocence in your pictures, then using flowers is a great way to achieve that. From holding a bouquet of pristine white flowers to having them rain down on you from above, flowers can be used in many different ways as props to add dimension and emotion in a pre-wedding shoot.
3. Your favourite things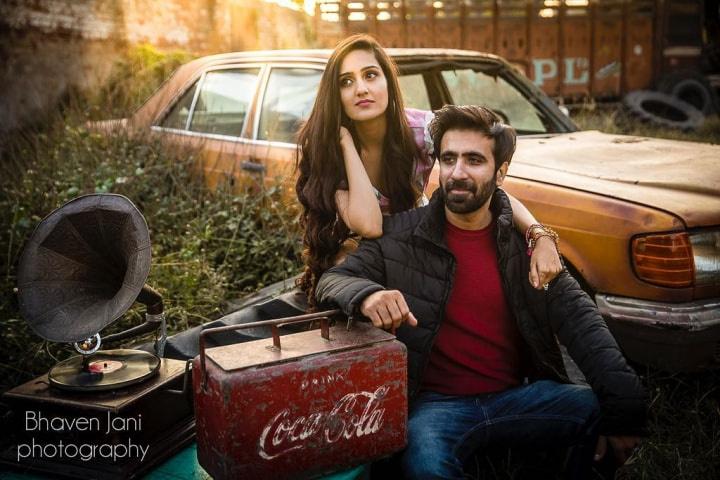 If you and your boo share a few things in common, you should use them as props in your pre-wedding shoot. Whether it's a love for vinyl records, a vintage aesthetic or snazzy cars, let these items be a part of the picture you create.
4. Quirky things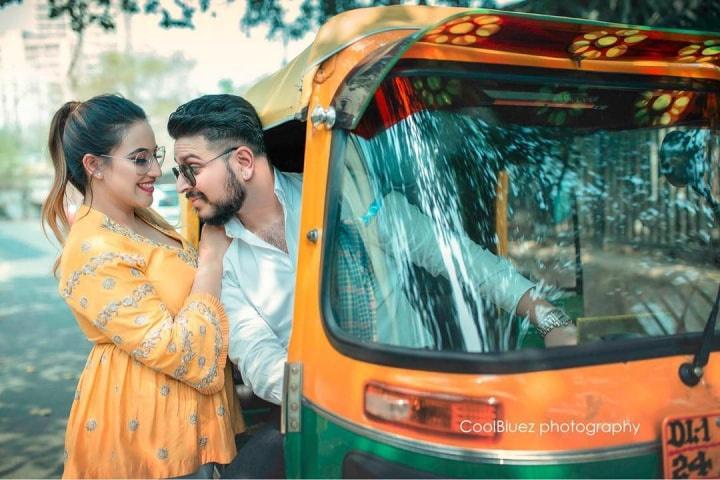 Quirky things can be great props to add an element of intrigue to your image. But make sure that they have some connection with your love story, and aren't just there for the sake of it. For instance, if you have a great inside joke about travelling to see each other, you can incorporate it in your pre-wedding shoot, like this auto!
5. Books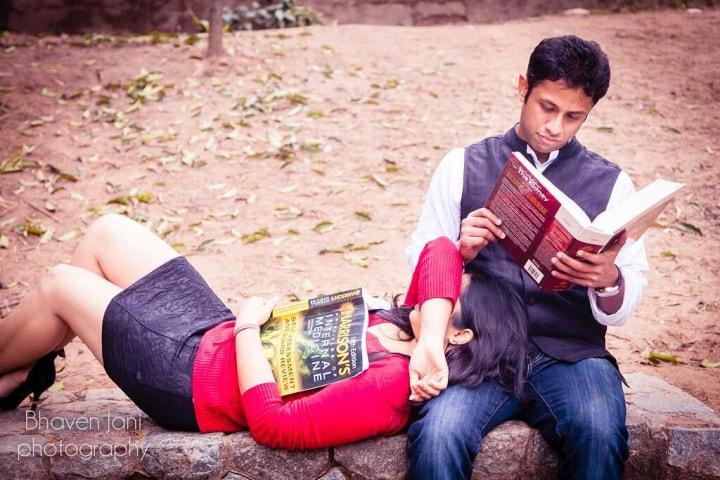 Do you and your spouse share a love for books? Did you meet in college and help each other study for finals? Was your first date deep within the burrows of a cosy library? If your answer to any of these questions was a resounding yes, then why not use books as props in your pre-wedding shoot? If you're a die-hard Potterhead, you've probably fantasised about a magical wedding at some point in your life. This is a great way to incorporate some of that magic without any CGI.
6. Umbrellas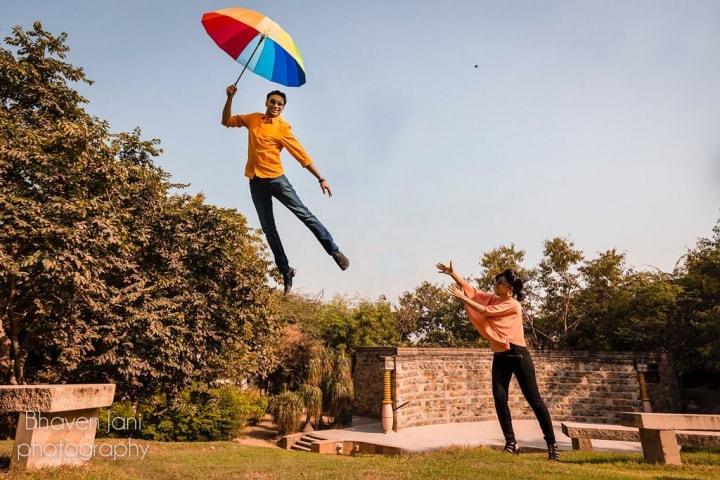 Umbrellas are great props to use as they not only add a splash of colour but can convey many different emotions. A sense of secrecy, tons of intimacy, and even fantasy can all be a part of your pictures with an artfully placed umbrella. The best part is that they're easy to find and easy to manage.
7. Feathers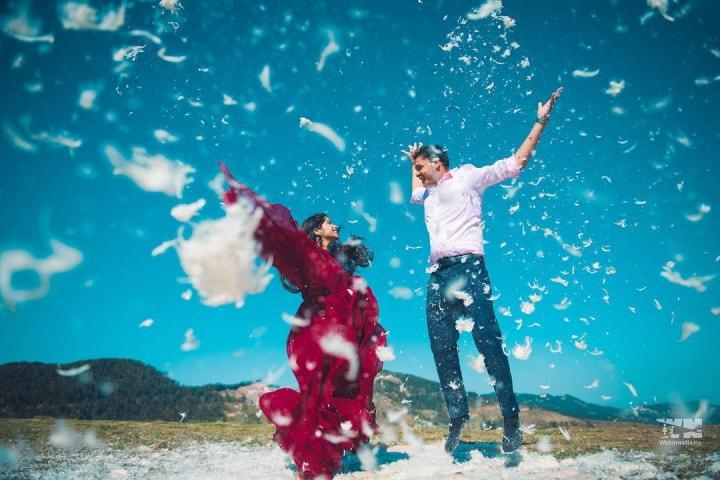 Feathers can look brilliant in photographs, especially if they fall from above like light confetti. If you and your spouse indulge in a ton of pillow fights, or often think of yourselves as two love birds, then feathers are a great way to express the same. They can also be used to convey a sense of delicateness or fragility, adding more emotional depth to the picture.
8. Balloons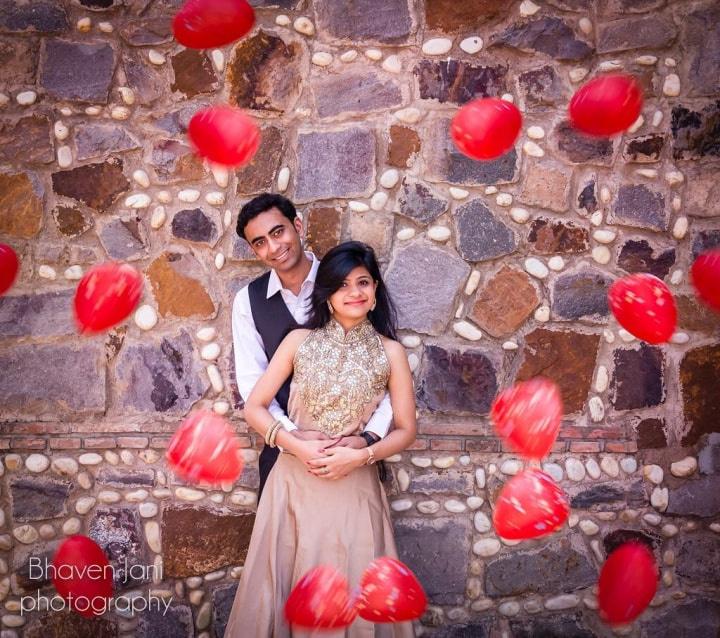 Balloons are fun, plain and simple. They add colour, depth and personality to an image and can be used in a variety of different ways to jazz up your pre-wedding shoot.
9. Candles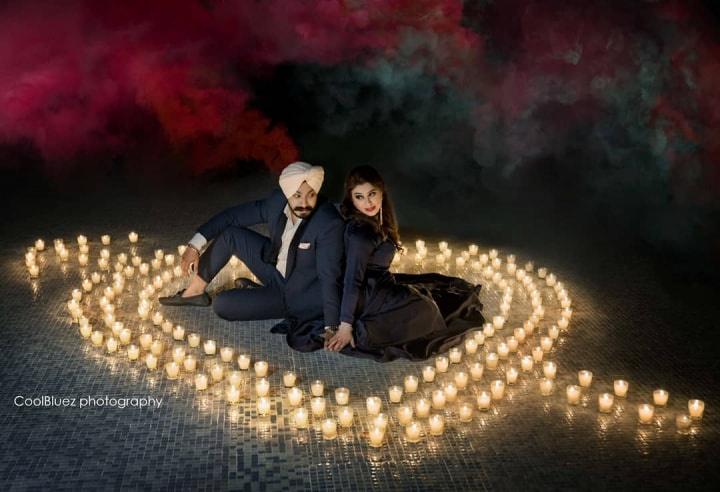 If you are planning to have a night shoot, or want a photographer to be present on the day you propose, then candles can be a great prop. They can be used to add light to the picture and also to create a romantic vibe. From sparkling ones that never go off to tiny tea-light candles, you can source a huge variety of them to create different ambiences.
10. Water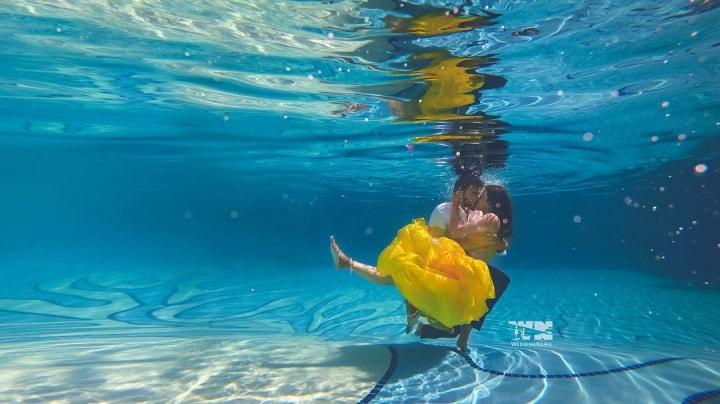 Water adds an element of emotional fluidity and motion to pictures, which can be used if you think of yourselves as people who are flexible in their relationships. From posing near an elaborate fountain, to orchestrating an underwater shoot, water can really help you create great pictures that you'll cherish forever.
11. Hot air balloons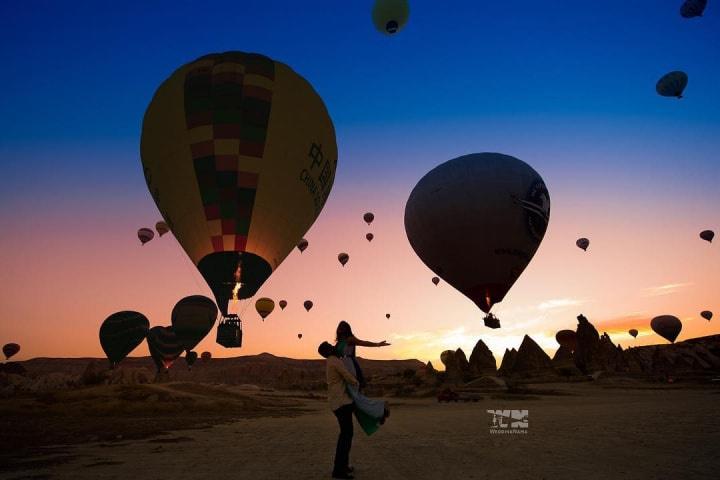 Does your love make you feel lighter than air? A great way to show that is to have your pictures against a backdrop of hot air balloons rising majestically into the sky!
12. Ornate frames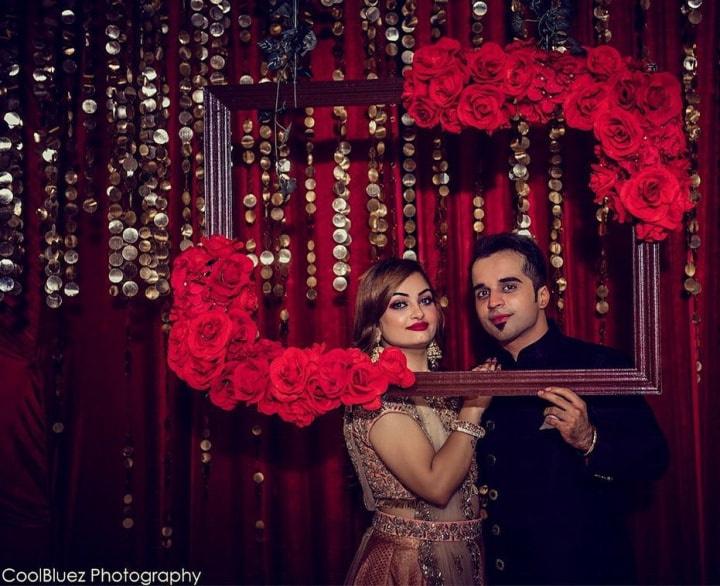 If you want to add an element of luxury to your photographs, you can use an ornate frame to do so!
Nothing will stop your pictures from turning out to be anything short of amazing with these bride-to-be props!
Book any of our expert wedding photographers to plan a creative and cool pre-wedding shoot!