10 + All Possible Ways to Use Lush Peacock Designs for Your Monsoon Wedding
Add a touch of glam and a whole lot of grandeur with some stunning ideas of peacock designs for your monsoon wedding. Check out how!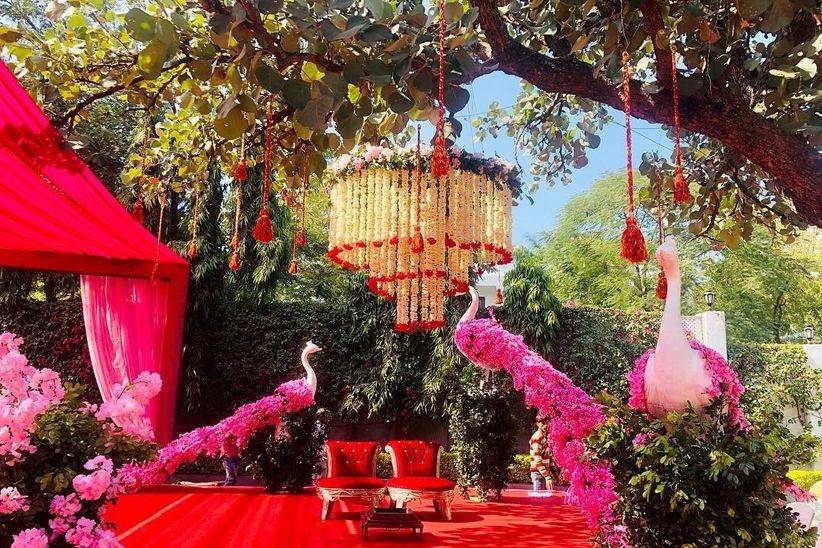 Monsoons are the dancing season for our national bird, peacock and that in itself is a magical occurrence and a sight for sore eyes, indeed. Peacocks not only are an epitome of royalty and grace but they hold an undying significance in Indian weddings, especially by Hindu families. Some of the many attributes of a peacock are in full harmony with that of Indian weddings; wisdom, love, longevity, foundation, sensuality and sexuality being some of the most symbolic ones. No wonder Indian weddings are heartily pious affairs!
So if you're having a monsoon wedding, the peacock-inspired theme might just be the vibe you're looking for. We can't emphasise enough on how magnificent the colour palette of the peacock is. The bright hues of iridescent blue, java green, copper, yellow and pigments of purple make for an amazing colour palette for monsoon weddings too.
Without further ado, let's show you some creative ideas wherein you can use peacock designs for your monsoon wedding. Be it for the decor, invitations or the wedding cake, there are myriads of ways to amplify the vibe of your monsoon wedding.
Wedding Decor Noteworthy Installations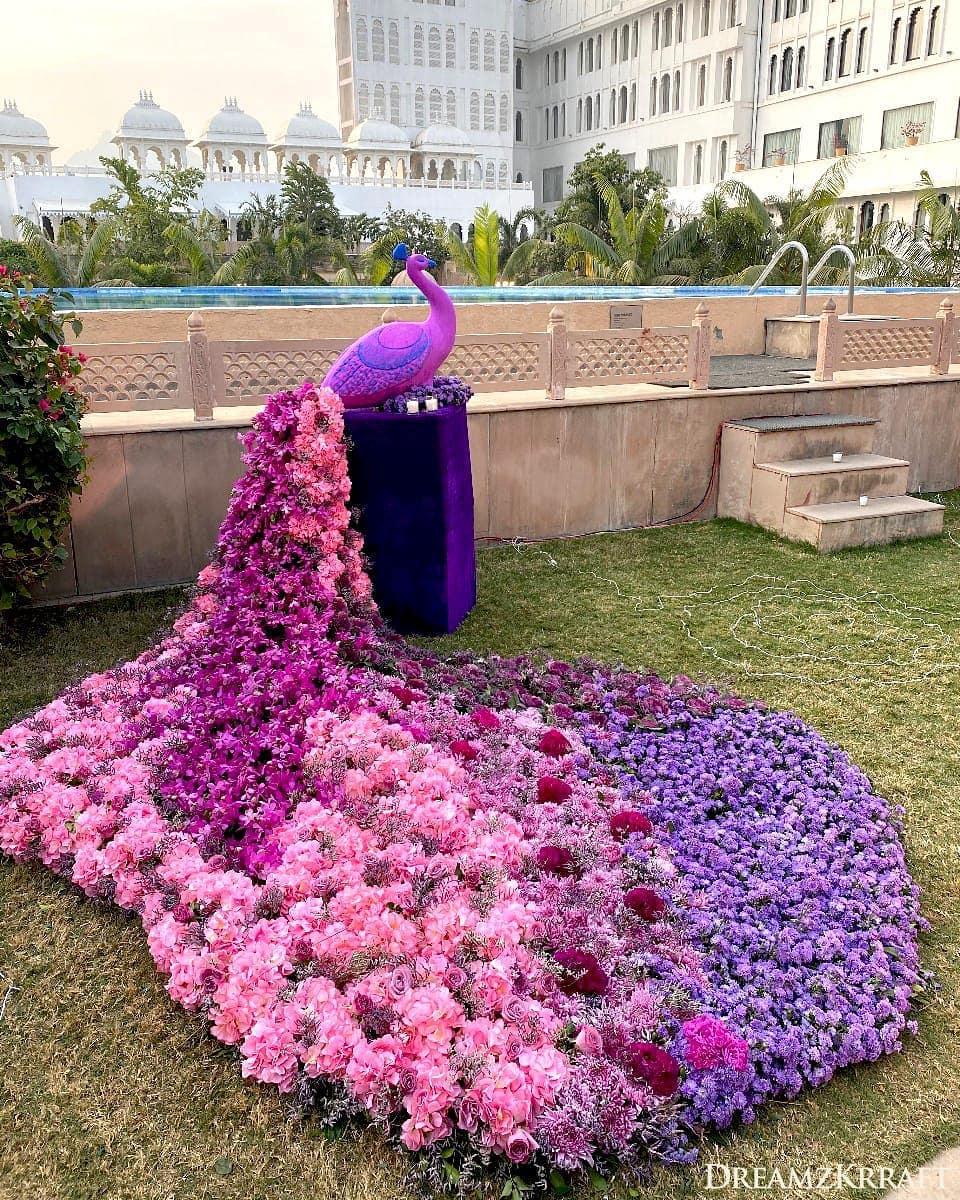 Peacocks are beautiful creatures and attract one's attention almost suddenly and so a huge florally-assembled installation of the peacock will be a striking decor element to place around the wedding venue. Indoors or outdoors, you decide! This ombre-hued installation is taking our breath away!
Adorable Couple Seating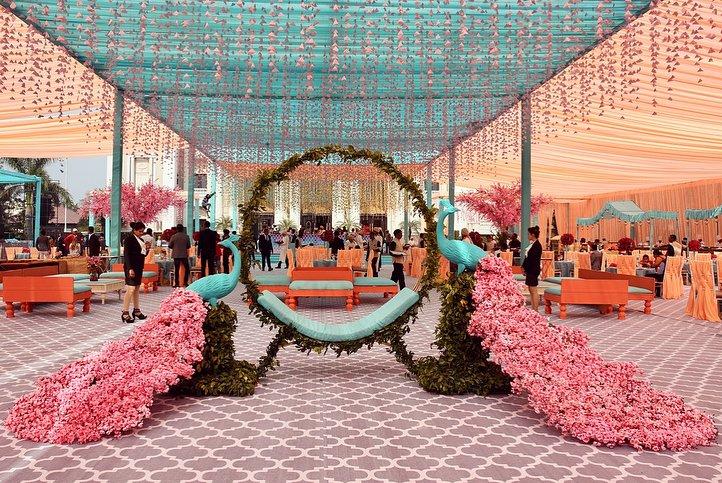 This extremely vivacious wreath seating with elaborated peacock figurines at both ends makes this an adorable spot for couples to begin their wedding festivities. It sure adds elements of quirk as well as grandeur to the monsoon nuptials. This larger-than-life seating can easily sum up as a romantic photo booth too!
Also Read - Things to Source From the Local Artisans for Intimate Wedding Decor
Quirky Bar Decor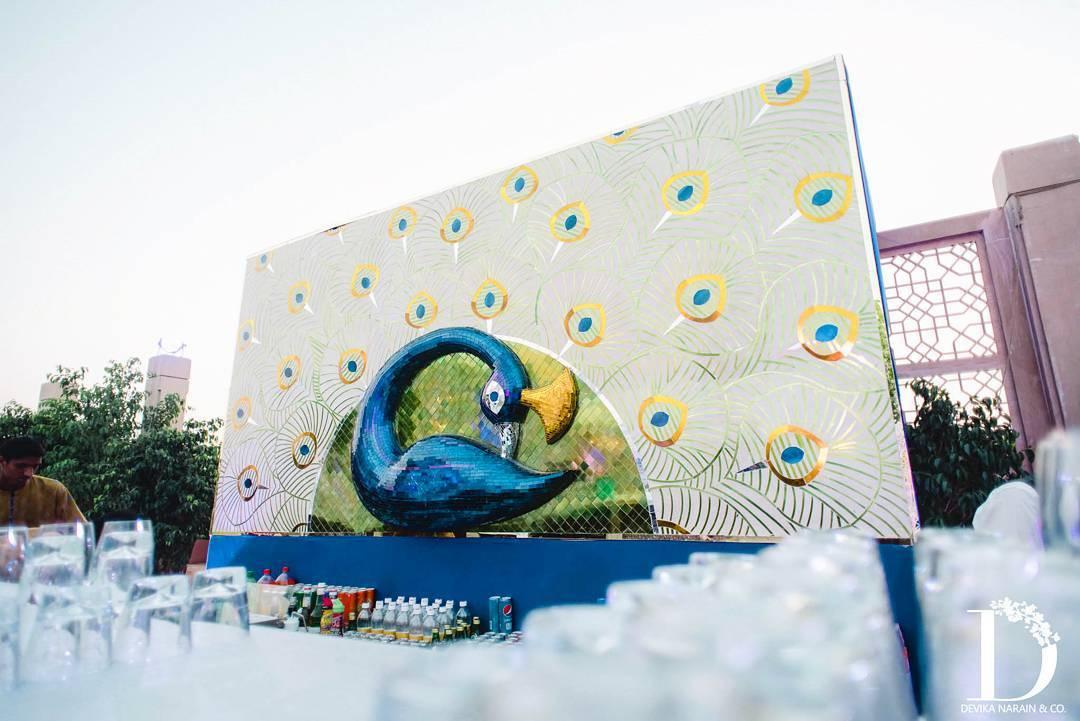 Give your bar area and innovative spin by placing a huge peacock installation as the backdrop of your bar setup and brace yourself up to get flooded with compliments. This one-of-a-kind bar decor is sure to stun your guests with his uniqueness and add a modernistic element to your otherwise traditional wedding festivities.
Sophisticated Table Setting & Centerpiece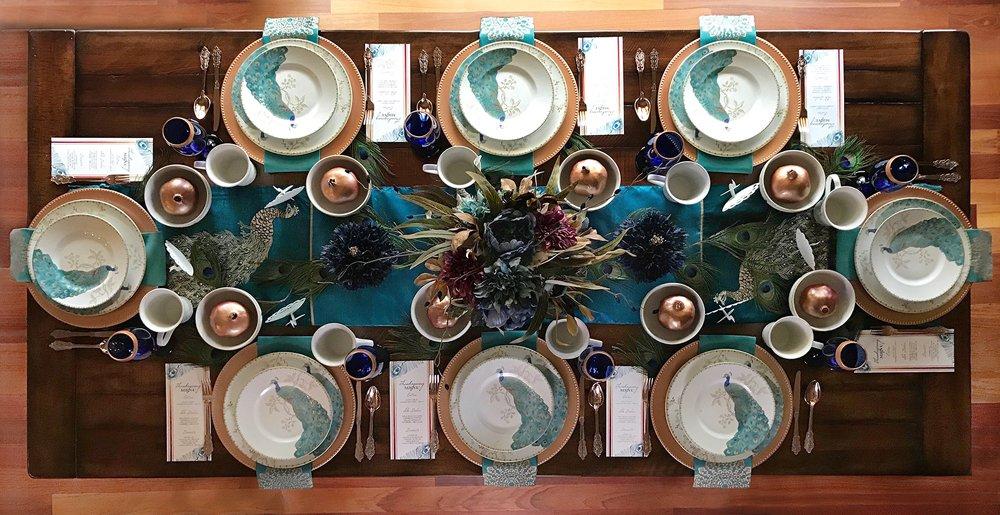 Image Courtesy: Parties With A Cause
Another impressive idea to add peacock designs to your monsoon wedding is by laying a table spread with everything peacock-inspired. From colours to feathers to even peacock printed plates, go all out. Table setting decor is the newest fad in Indian weddings and is receiving a lot of importance lately so make it worth it!
Elaborate Entrance Decor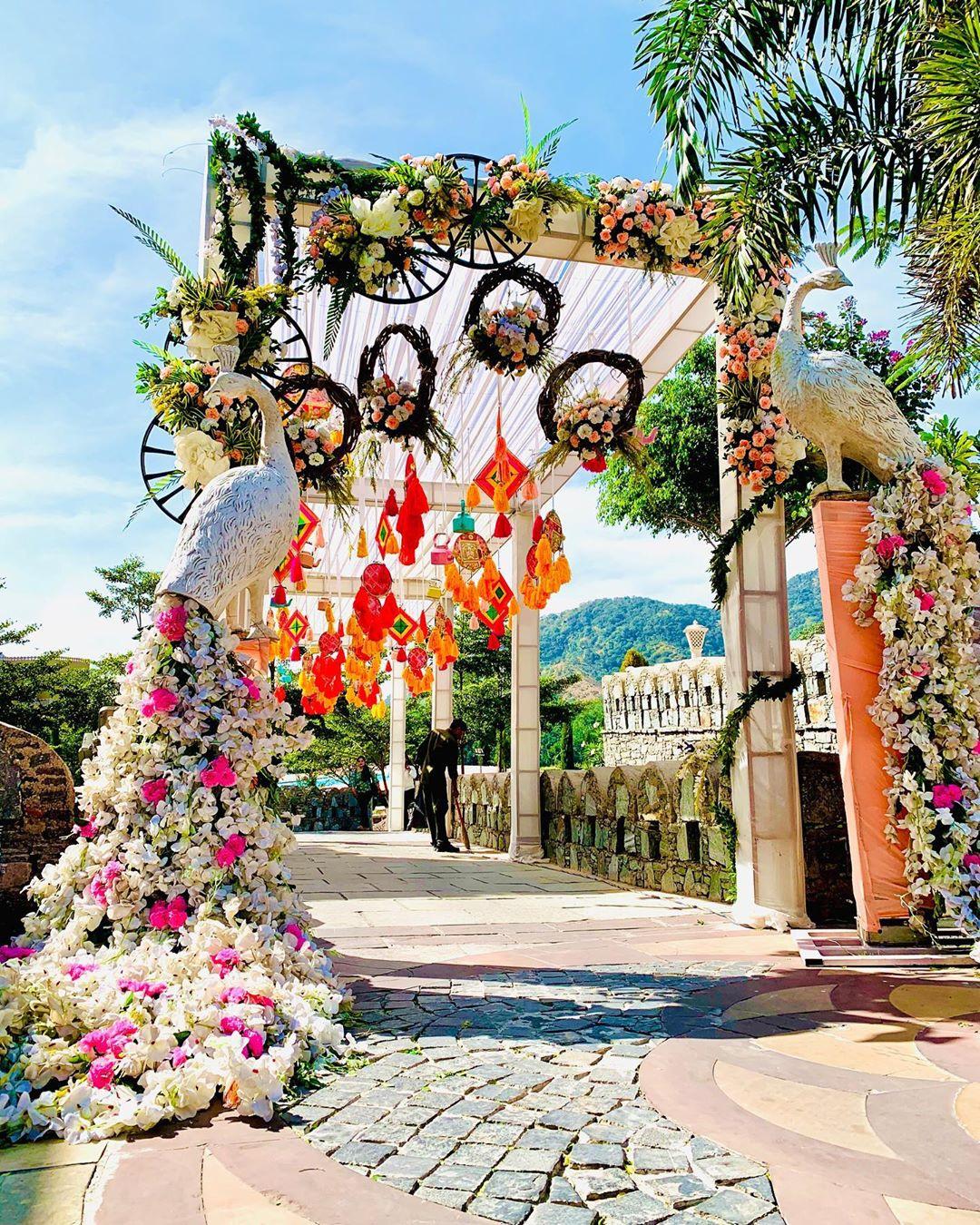 Give your guests a grand welcome by placing larger-than-life peacock figurines at the entrance of your wedding venue. Astrologically, peacock feathers bring in prosperity and luck and keep you away from any negative energy. Placing them at the entrance of your wedding venue can attract positivity in heaps.
Read More - The Wedding Decoration Trends You Need to Know for an Intimate Wedding
Grand Mandap Decor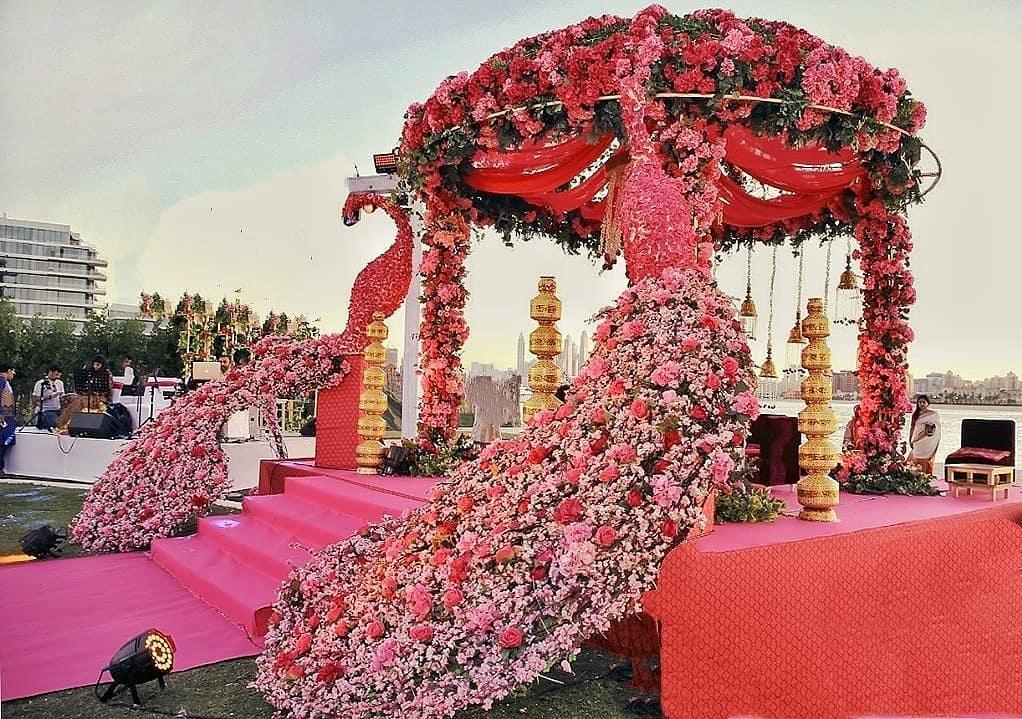 Image Courtesy: FNP Floral Touch, Dubai
The mandap is an uncompromisable element of wedding decor and so you must ensure it is a striking one. Make your pheras all the more dreamy by opting for a peacock design for your mandap decor. The gigantic figures placed at the entrance of the mandap will ensure you have a rather boisterous bridal entry.
Invitation & Stationery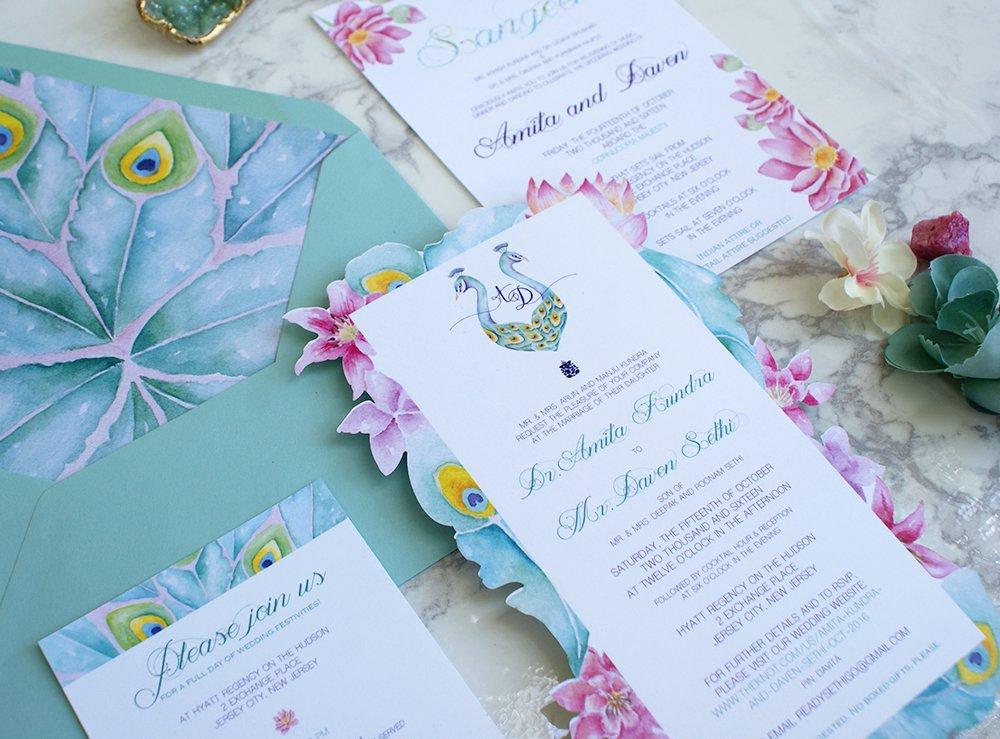 Image Courtesy: Bohemianmint
While peacock designs have been used in wedding cards since forever, new and innovative designs make sure they never go out of trend. Just like this insanely beautiful hand-painted and laser-cut peacock-inspired wedding card. Designed in pastel colours, this wedding card is a winner for your monsoon wedding!
Wedding Cake Couple Peacock Cake Topper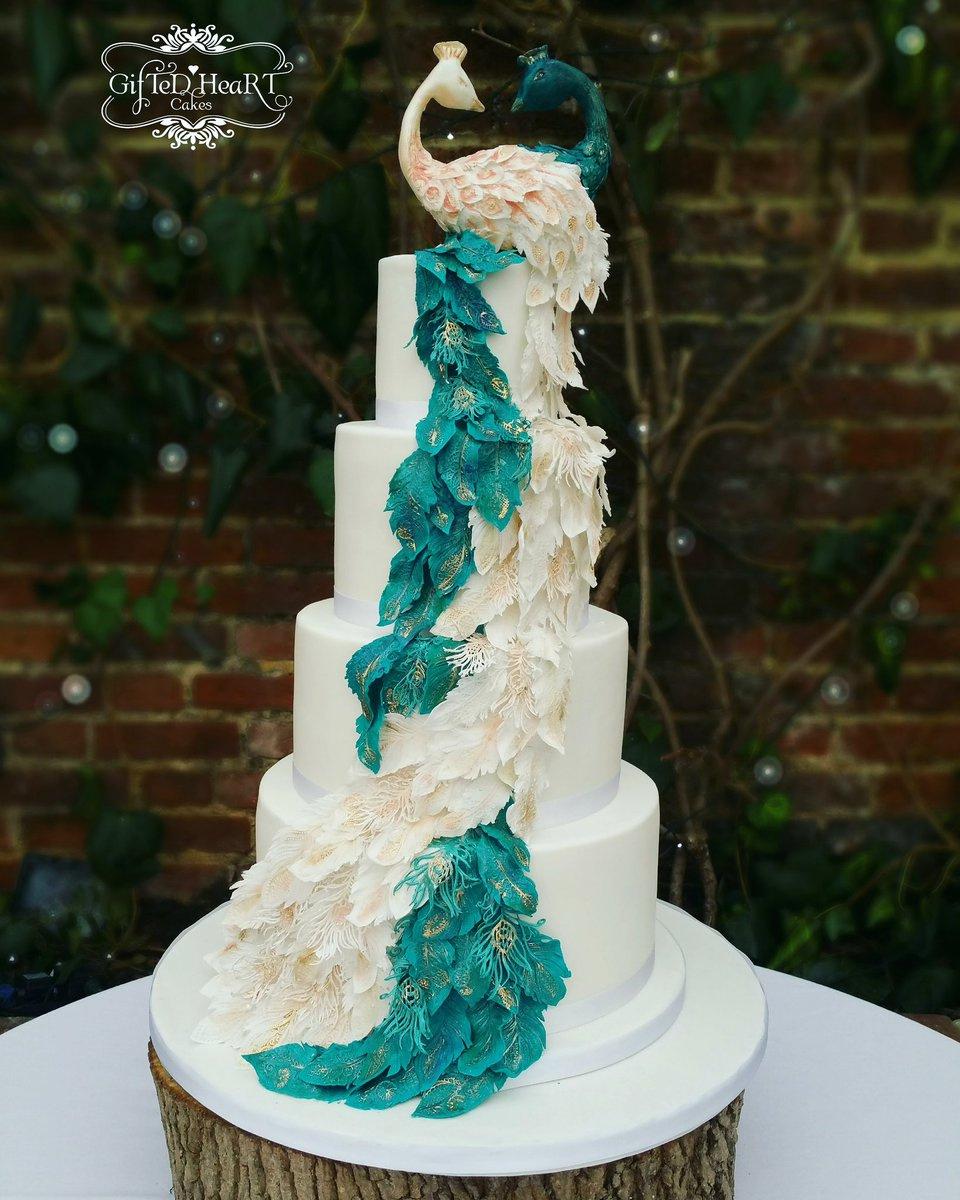 Image Courtesy: Gifted Hear Cakes
Ditch the regular bride and groom cake topper and opt for this extremely romantic and pristine-looking peacock cake topper. The intertwined peacocks in turquoise and white express romance and togetherness and make for a rather alluring wedding cake.
Feather Cupcakes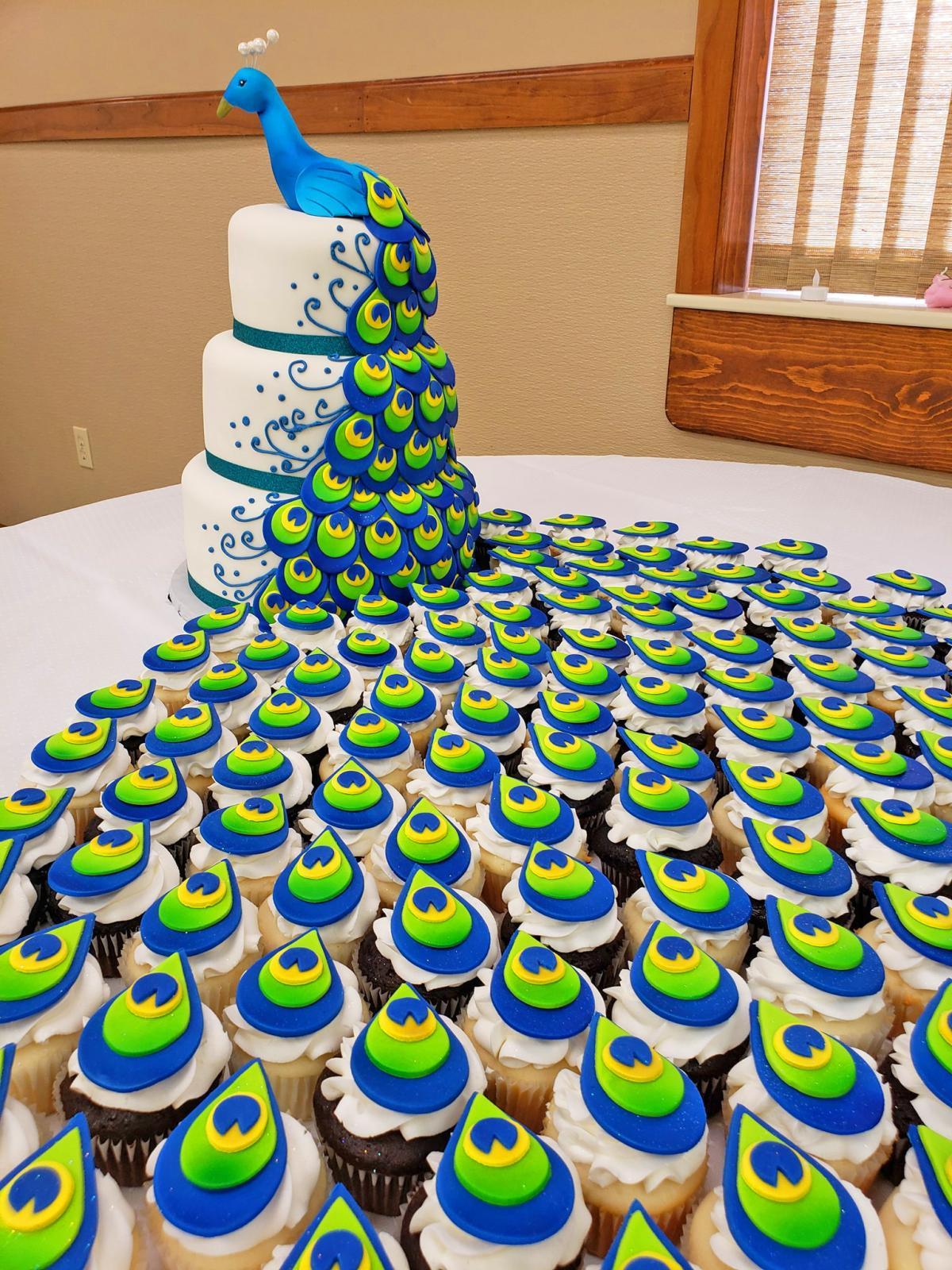 Image Courtesy: Malizzi Cakes and Pastries
Add drama and dimension to your peacock-inspired wedding cake by leaving a trail of cupcakes that are topped with peacock feathers made from fondant. This is such a refreshing concept to add to your monsoon wedding. What do you think?
We're totally swooning and how! If you wish to take the peacock fever to a whole new level, you can incorporate peacock designs in your bridal mehndi, get them embroidered on your wedding lehenga or use its mesmerising colours as the colour theme for your entire wedding. You'll be stunned at how magical it turns out to be. We can't wait for you to try it out!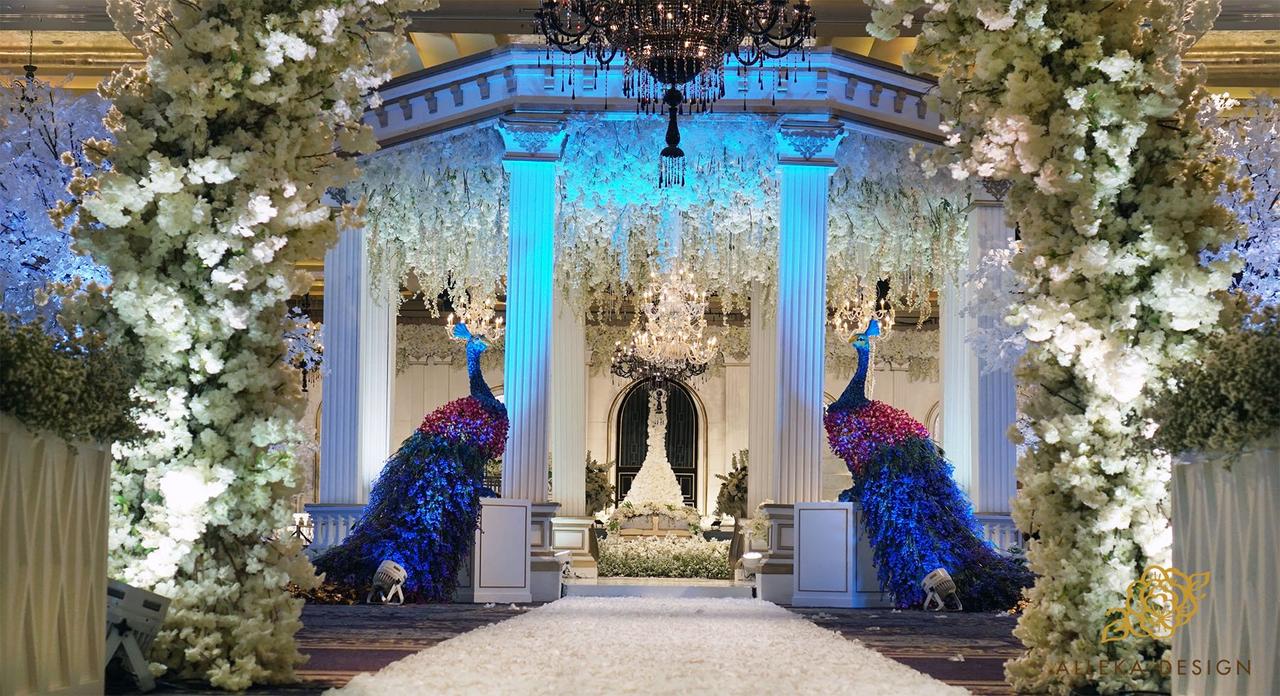 Image Courtesy: Alleka Design
Read More - Breathtaking Marigold Flower Decoration Images for Wedding
How are you incorporating peacock designs for your monsoon wedding? Tell us in the comments and book the best wedding vendors to make it happen for you!
With Words By Meha Khera