30+ Latest Wedding Stage Decoration Trends
Having a beautiful wedding stage can spice things up & help you design your dream wedding venue perfectly. Check out some of the latest wedding stage decoration trends below.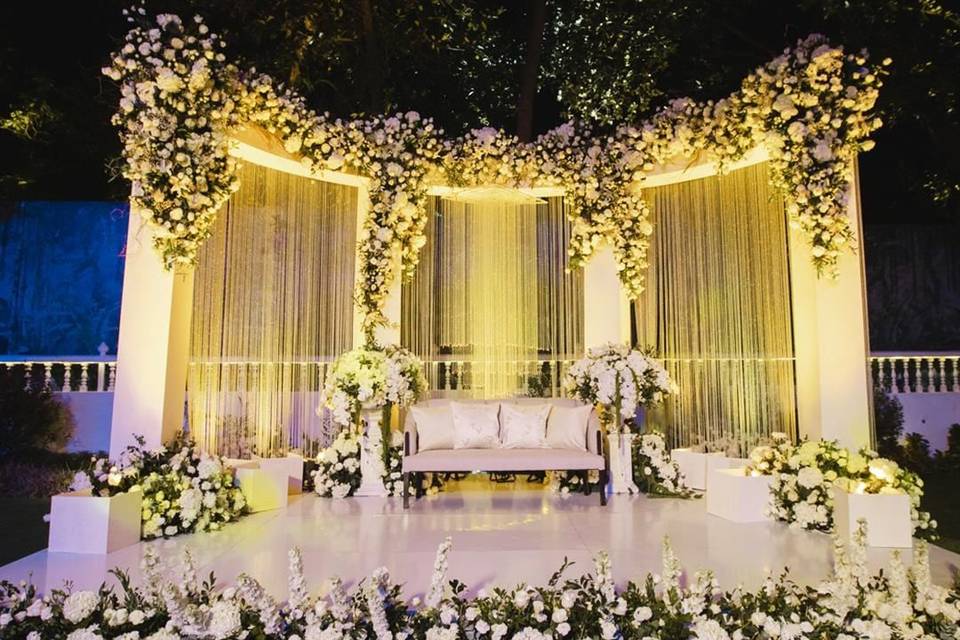 It is by now established that weddings are one of the most important celebrations in your lives. Whether you are the bride or groom, the parents of the couple or even their friends on the guestlist - weddings are quite momentous in general. You hire the best wedding photographers out there to capture each moment with precision and beauty and you spend hours scouting for the best lehenga designs to look alluring during each of the ceremonies. You hire the top wedding planner available to deck up each nook and corner of your wedding venue to the T and you literally spend hours tasting the food that makes the cut for your wedding menu. There are thousands of choices that you need to make to plan an unforgettable wedding - one that leaves a lasting impression on everyone who gets to be a part of it. One of these crucial decisions is to pick an exemplary wedding stage.
Wedding Stage Decoration & Design Types
The efforts that go into making your wedding venue look outstanding are unfathomable. In fact, one of the most significant elements of wedding decoration is the wedding stage. You will realise that experts always advise you to allocate a good chunk of your wedding budget to the decoration of the stage and if you are wondering why then there are a handful of reasons like:
A lot of prominent rituals take place on the stage.
Photography sessions and meet-and-greet happen on the wedding stage making it the focal point.
The reception ceremony setup is often planned around the wedding stage.
The wedding stage is the highlight of your ceremony, literally.
It helps the guests enjoy a clear view of the couple and vice versa.
This dedicated area needs a lot of planning and perfection because unique or not, wedding stage decoration can make your event extra special and exquisite. So are looking for the most captivating wedding stage decoration ideas to make your wedding all the more gorgeous? Then take a look at some of the latest and trending wedding stage decor ideas that we have cherry-picked for you to add luxurious aesthetics to your magnificent wedding.
While you are scrolling through, do not forget to note the details and bookmark your favourite ones!
Peach Wedding Stage Decoration
Image Courtesy: Crystal Celebrations
A graceful peach themed wedding stage decoration with golden detailing will make you look ethereal in your peach lehenga on the reception day. The dainty chandeliers amp up the entire stage decor and the flowers arranged in the form of a waterfall from the table with the twinkling candles makes it all the more pleasing to look at. The peach and golden drapes are a beautiful addition to the whole setup.
Ivory & Cyan Wedding Stage
Image Courtesy: Destination of Dreams by Simran Bhatia
White wedding stage decor has been in vogue with millennial couples. With a white themed wedding soiree, white lehengas and white sherwanis, a pinch of the cyan blue lights in the backdrop add to the galore. The wall of flowers in the backdrop and the white chairs with golden detailing are absolutely alluring.
Extravagant Floral & Foliage Wedding Stage Decor
Image Courtesy: AbiGaanaa Weddings
Wedding decorations without flowers are incomplete. But this floral extravaganza on the wedding stage is jaw-dropping. The diwan-shaped seat with the peacock designs to add to the details look extraordinary and rampant. This kind of lush wedding stage decoration idea is for the couples who want to go all out on their wedding reception.
Simple Foliage Stage Decor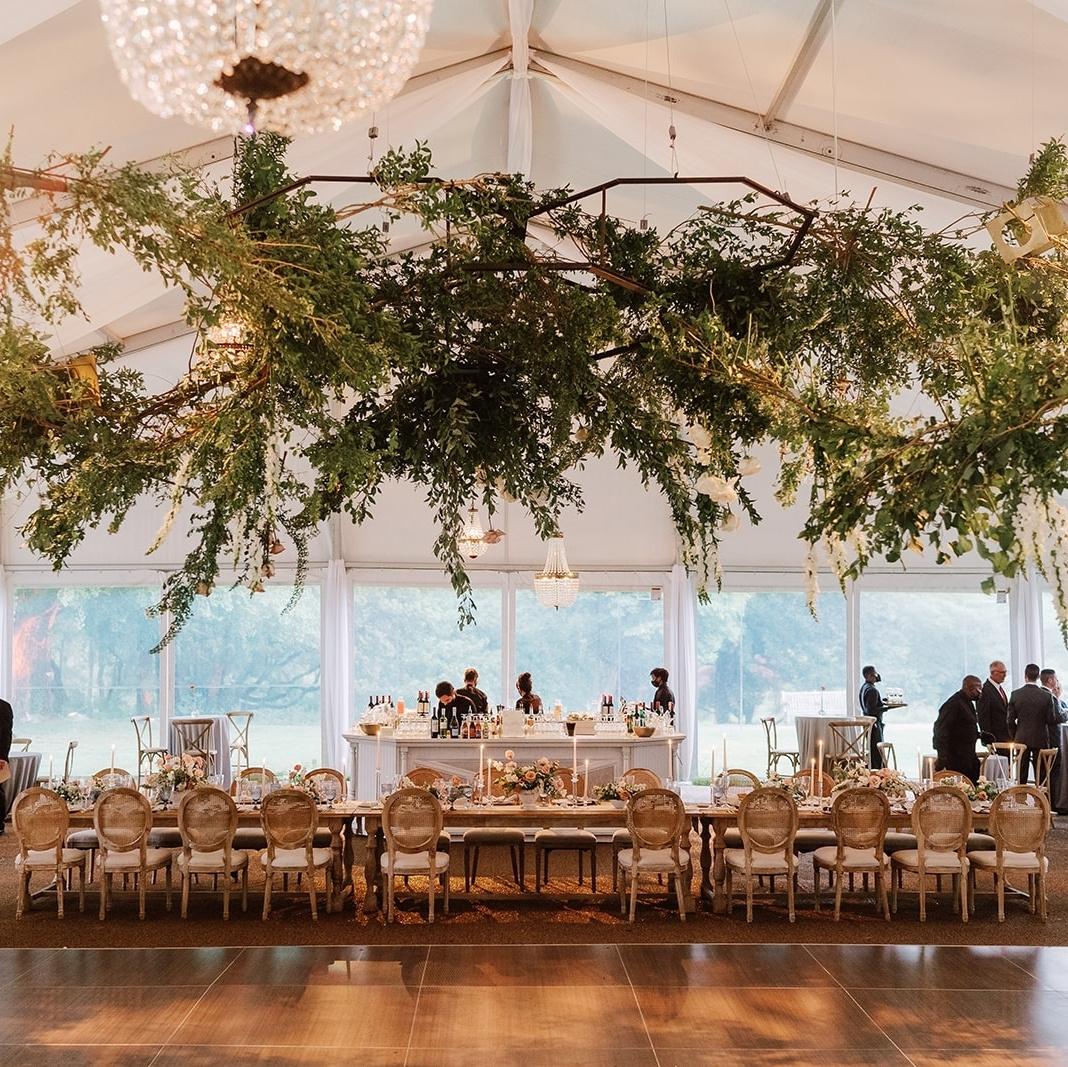 Image Courtesy: Revolution Event Production
This wedding stage does not abide by the idea of a conventional stage with raised platforms and demarcated areas for the bride and groom to stand/seat. Instead of a beautiful seating arrangement and foliage decor on the roof, the cane chairs around the table make for a quintessential western wedding stage decor. The meet and greets might not be on the list for this kind of a setup, nonetheless, it looks gorgeous. The vintage candle stands and tall candles add to the ideal supper layout.
Royal Red Wedding Stage Design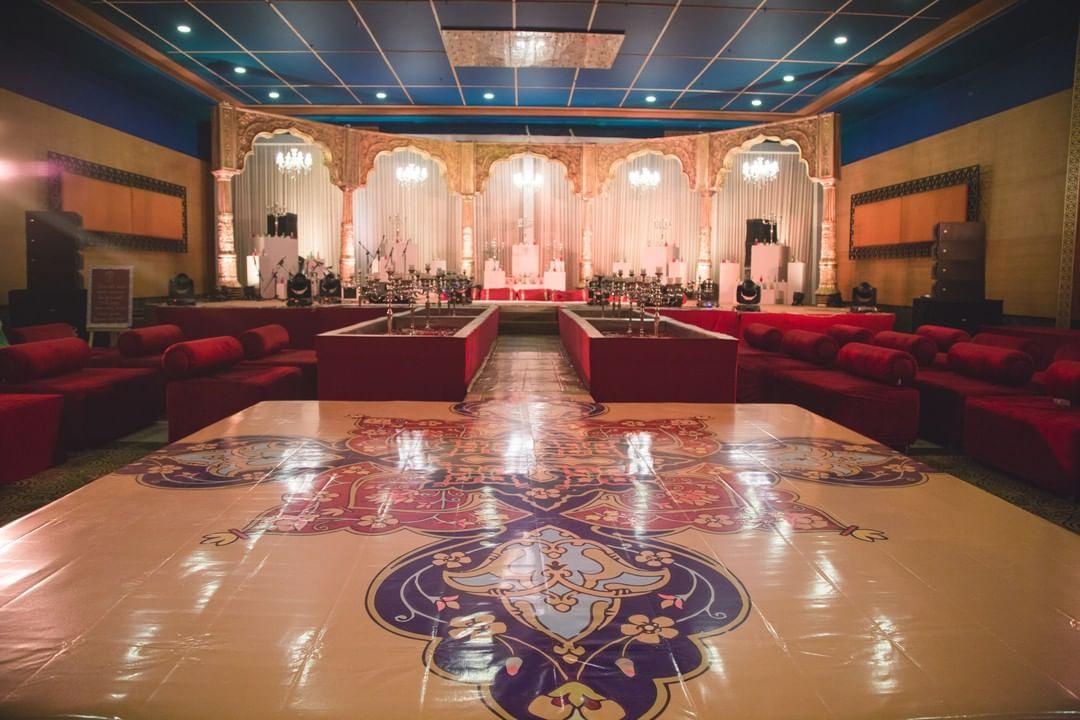 Velvet is a fabric that speaks of royalty. There is no substitute for velvet. The velvet seating and the white arch-shaped velvet decor with the lamps shaped like small chandeliers create a royal vibe and this royal wedding stage is like no other. Ideal for a reception post a Nikah ceremony, this wedding stage emits the charm of the bygone era.
Bougainvillaea on White Wedding Stage Decoration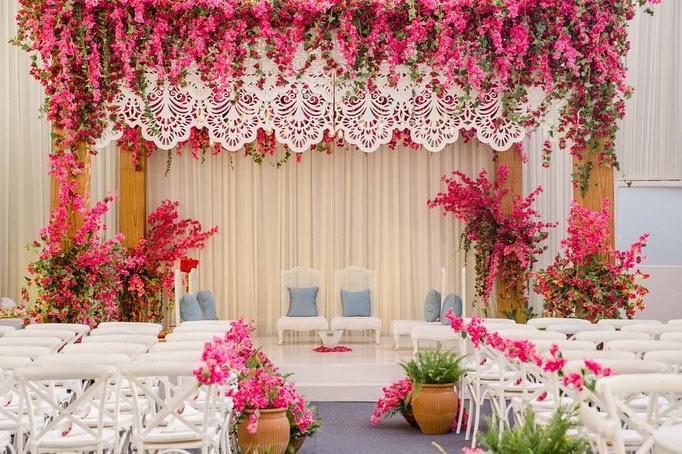 In a combination of pink and white, what's not to like! Well here is a dainty wedding stage decorated with pretty pink bougainvillaea chains with the green leaves peeking from places that adds to the beauty and elegance of this wedding stage. The precision of the cutouts hanging from the roof gives this wedding stage the perfect ounce of grace and thus making it an ideal wedding stage for an intimate wedding ceremony or a day wedding ceremony even.
Vintage Themed Wedding Stage Design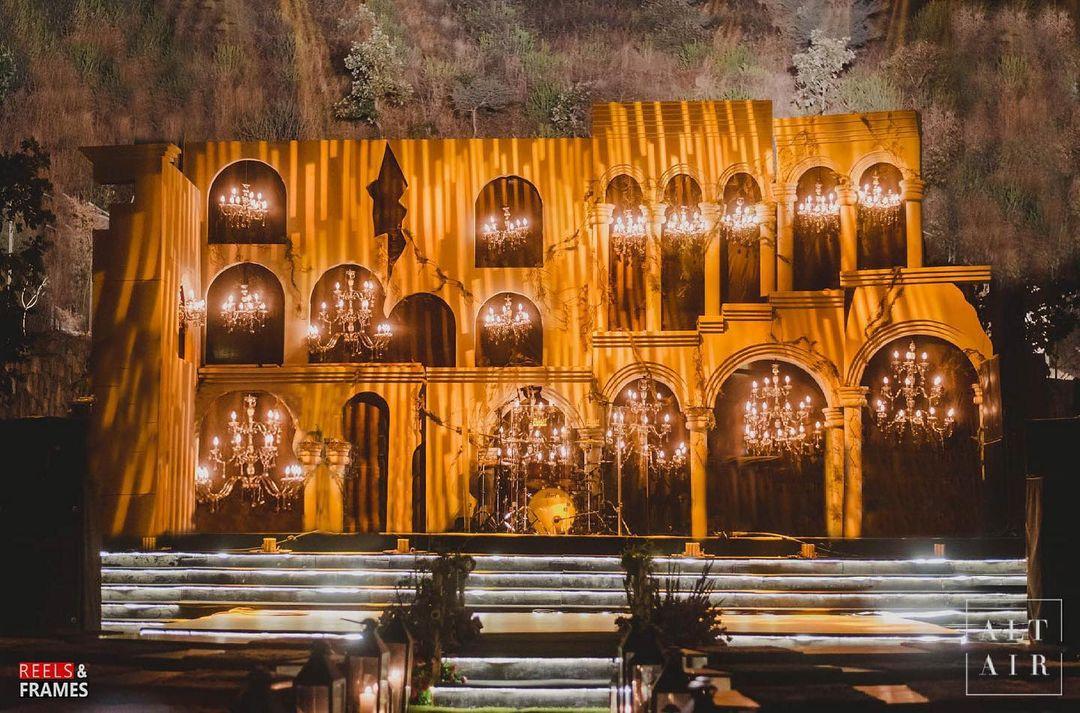 Image Courtesy: Altair Decor
If you have planned a destination wedding in a fort or a palace then you have the perfect backdrop to execute this wedding stage decoration idea. Light up the stairs that lead up to the platform area and make the best of the background that the property provides. Make sure you ask the decorators to use the perfect lighting so that every picture turns out photogenic and this enchanted fort set amidst a natural backdrop, stole the show!
Foliage & Pampas on Wedding Stage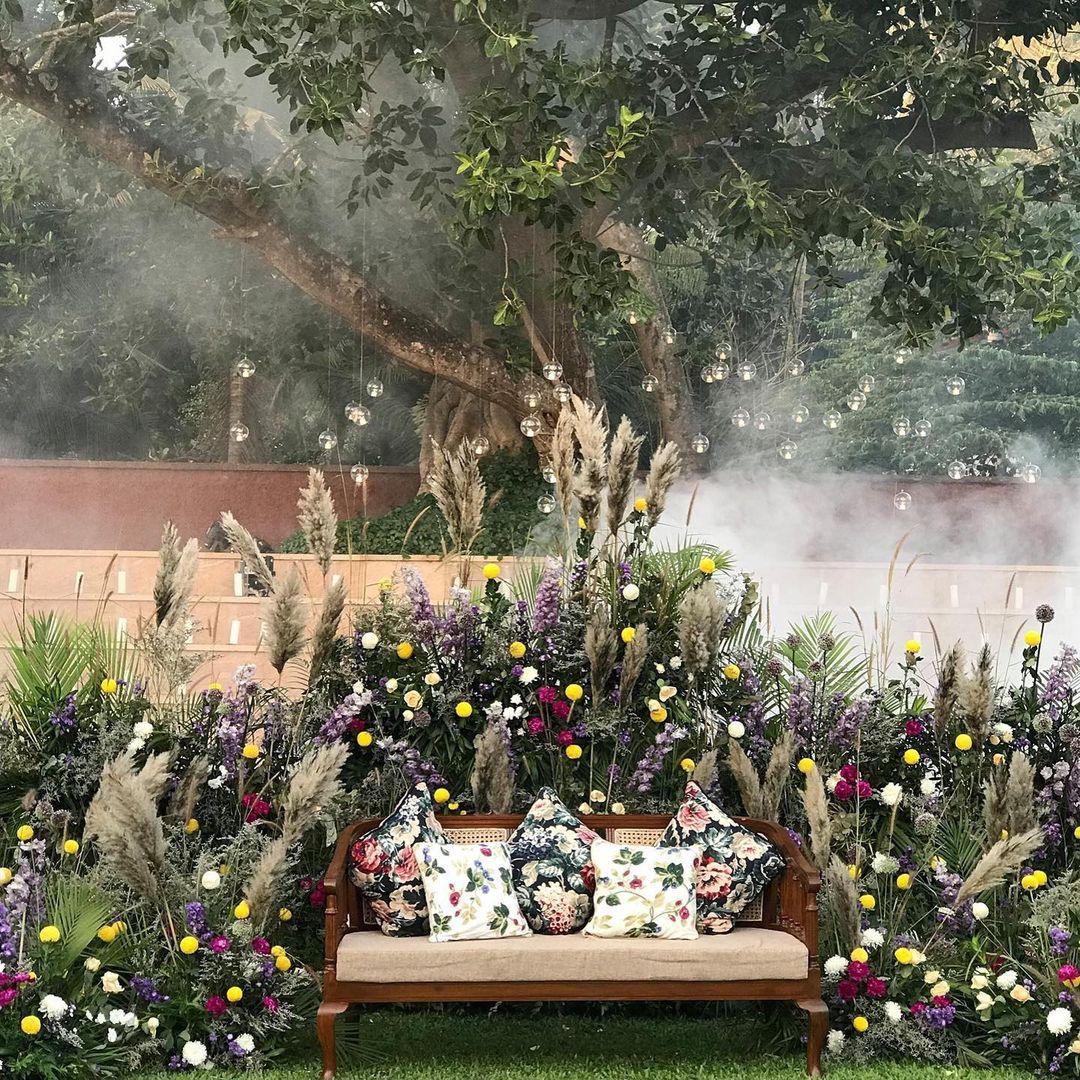 Foliage is the new flora! The pampas grass and greens make the whole rustic vibe bloom at its best. With the suspended lanterns from the tree above and the smoke that is set up behind the wedding stage area, your whole rustic wedding vibe is going to be at its peak. Moreover, the cane bench adds to your overall aesthetic. Oh, we're also completely in love with the floral cushions and how!
Simple Pastel Wedding Stage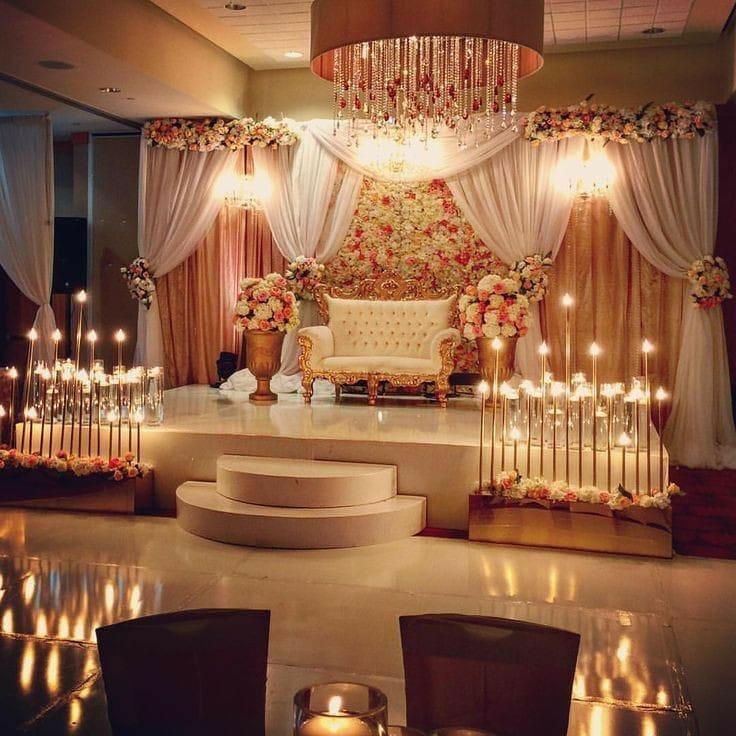 The tall candles and lamps used to adorn this wedding stage decoration is a timeless beauty. The pretty drapes with floral bouquets used to wrap the gathers and the matching shades of flowers used in this wedding decoration makes this stage perfect for the bride who flaunts a pastel lehenga.
Also Read: 8 Paper Flower Wall Décor Ideas to Deck the D-day Venue Up for You
Rose Wedding Stage Decoration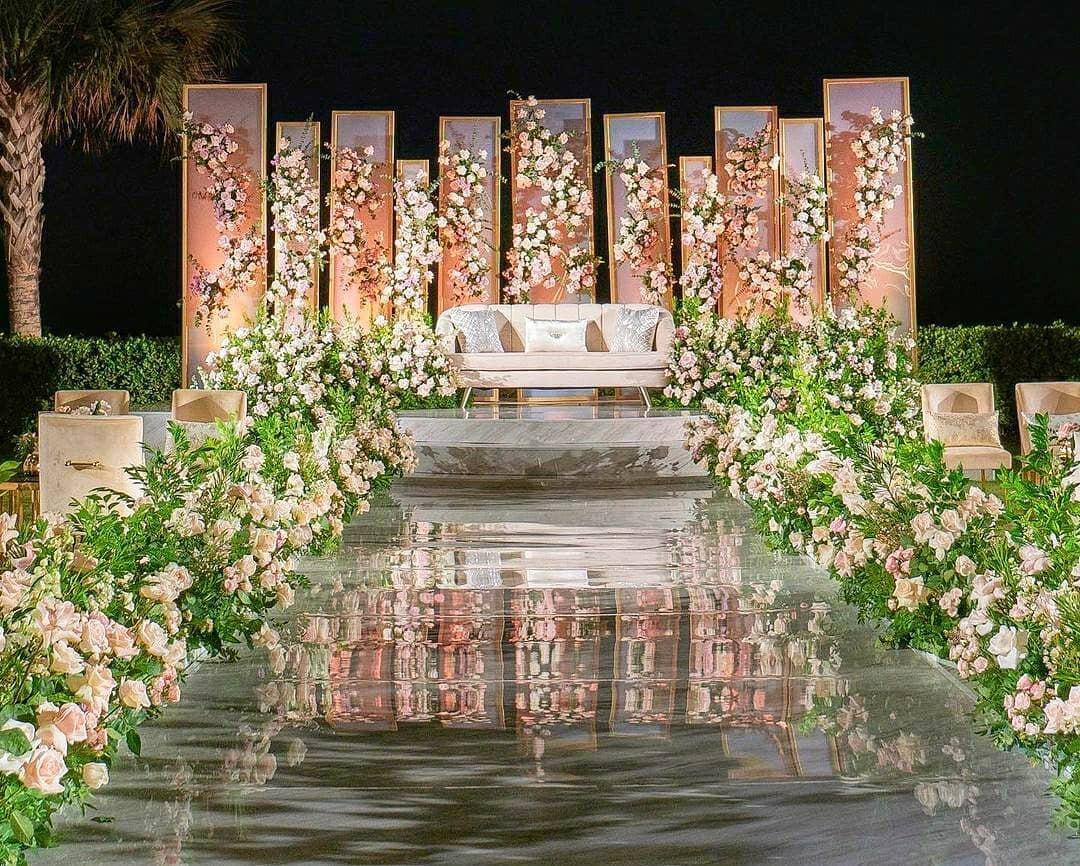 Image Courtesy: Bianca Events, Dubai
Check this simple yet sophisticated wedding stage decoration. The floral arrangements on the windows set behind the seat put out for the bride and groom make the whole set-up look enchanting. The floral hedges on both sides of the path that leads up to the wedding stage turn this into an exquisite marriage stage decoration.
Elegant Floral Stage Design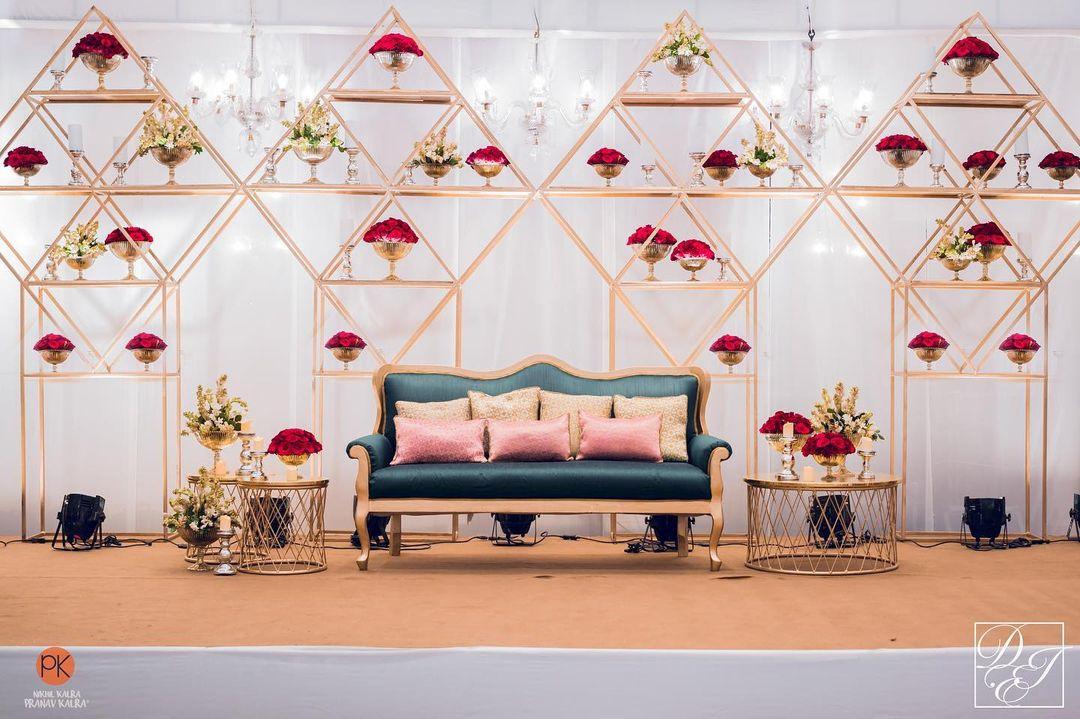 Simplicity at its best, this stage decoration idea brings keeps it subtle yet adds to the aura of the event. The brass and copperware that hold the flower bunches match the frame that makes for the elegant backdrop and the emerald green seat with the contrast coloured cushions are the cherry on top. For an intimate wedding stage decor, this elegant and simple marriage stage decoration idea can be your go-to.
Regal Wedding Stage on Water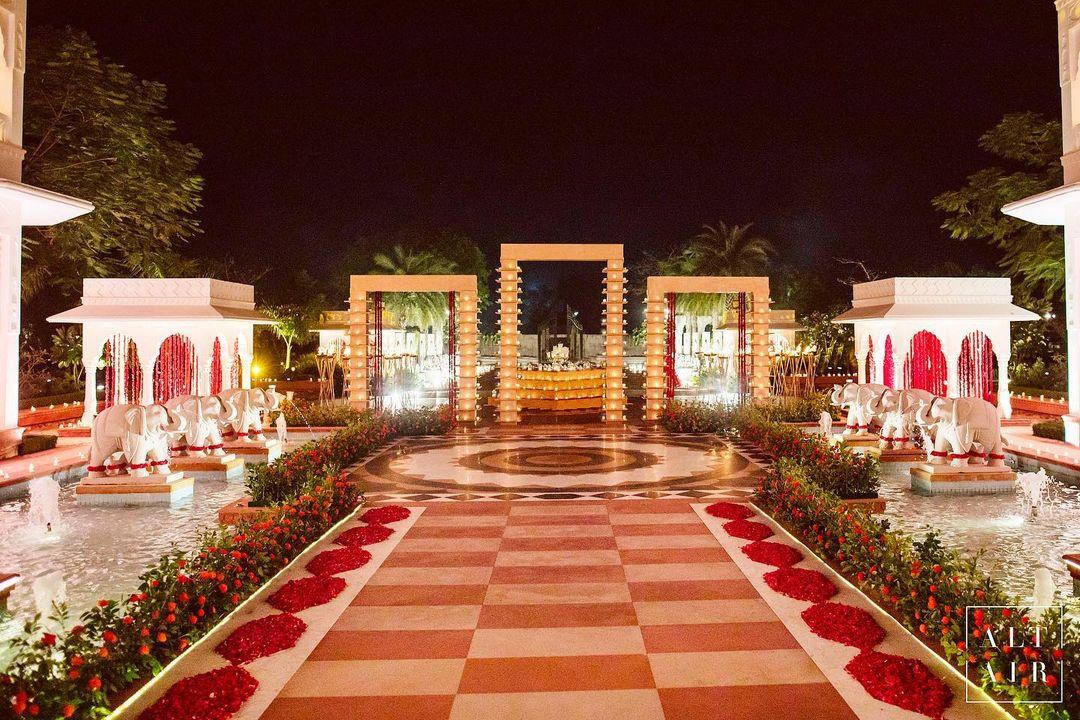 Image Courtesy: Altair Decor
We all have witnessed wedding mandaps on the water in the past years of wedding planning. The sweet smell of Indian heritage, bells and birds sound so bold at the sight of orange florals and royal reds on this wedding stage that is decked up with water all around it. The elephants and the diyas add to the magnificence that the tiny waterfalls create.
Also Read: Floating Mandap Ideas for Your Pheras Straight Out of a Fairytale
Austere Canopy Wedding Stage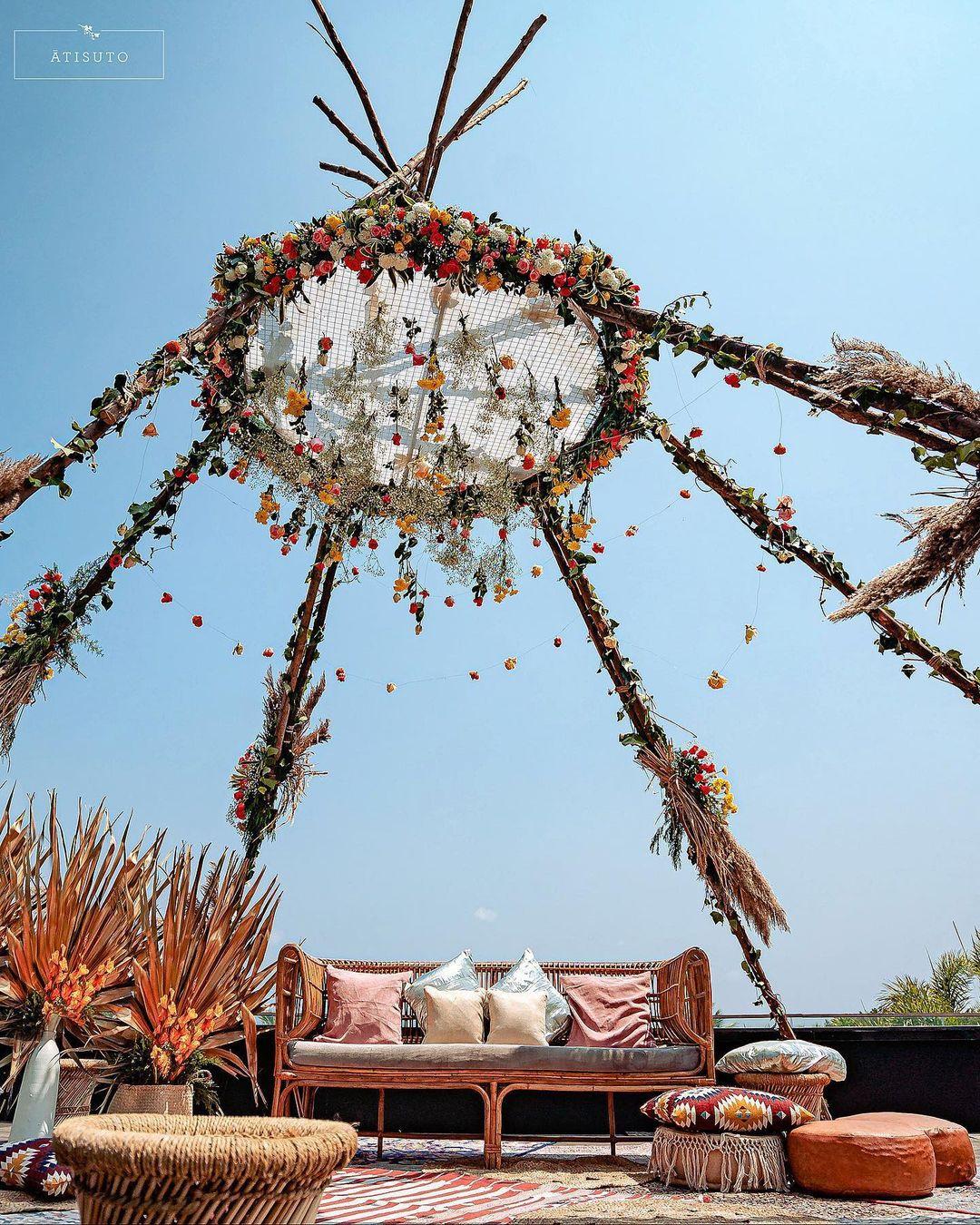 Taking the idea of a flower shower at weddings to a whole new level, here are showers of flowers suspended from a bamboo teepee to create a floral rain kind of seating for the bride and groom. The whole rustic yet chic vibe about this wedding stage set-up gives us the cosy feels and we love it!
Also Read: Take a Look at These Floral Decorations for Intimate Weddings for Inpso
Wedding Stage Decor with Thrones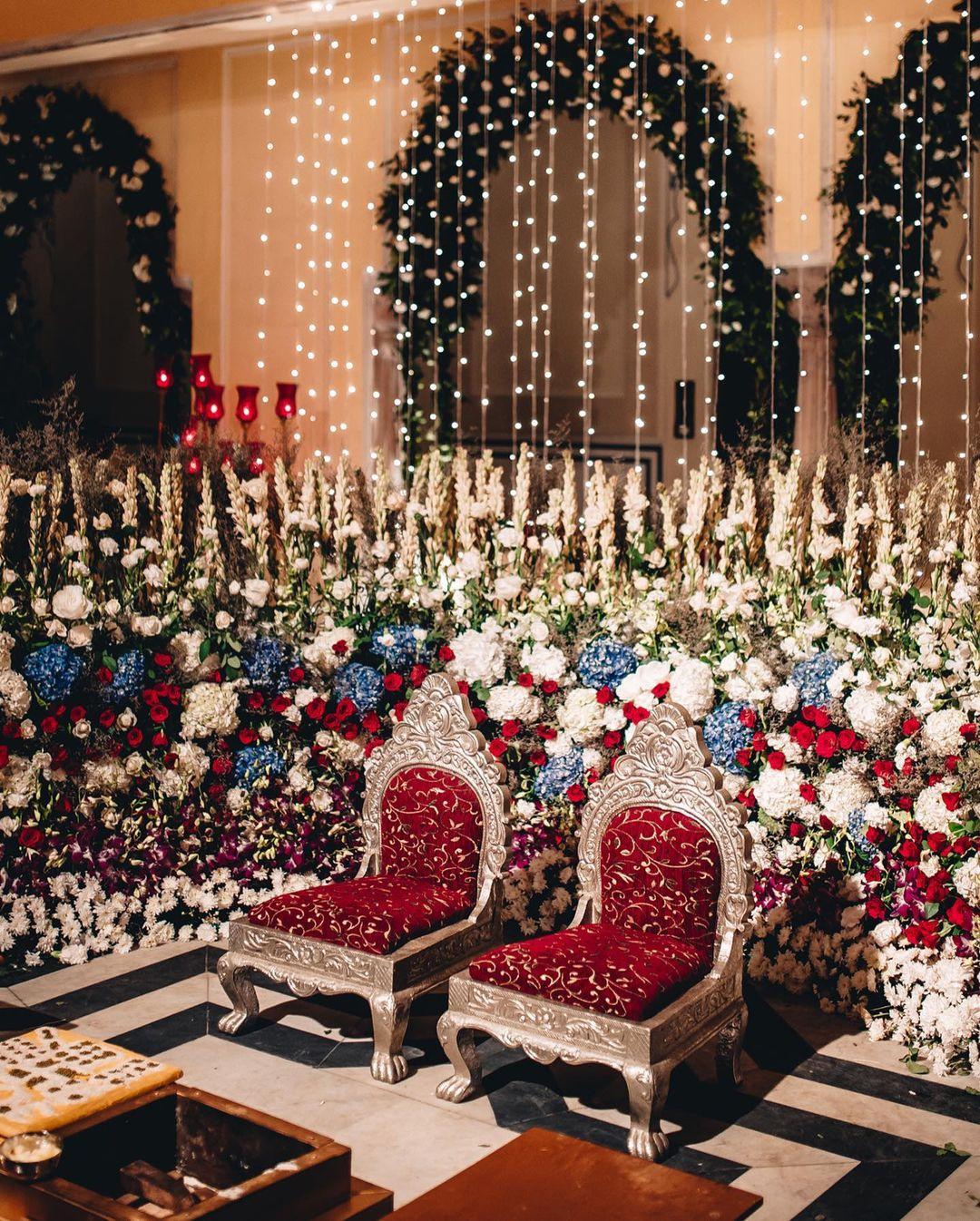 This quaint wedding stage decoration includes a lot of floral arrangements. The dense floral wall setup makes the wedding stage look exquisite as ever. With your red lehenga or a wedding gown of your choice and all the beautiful lights on you, this wedding stage is going to make your wedding album look glamourous.
Lavish Tuberose Curtains for Wedding Stage Decor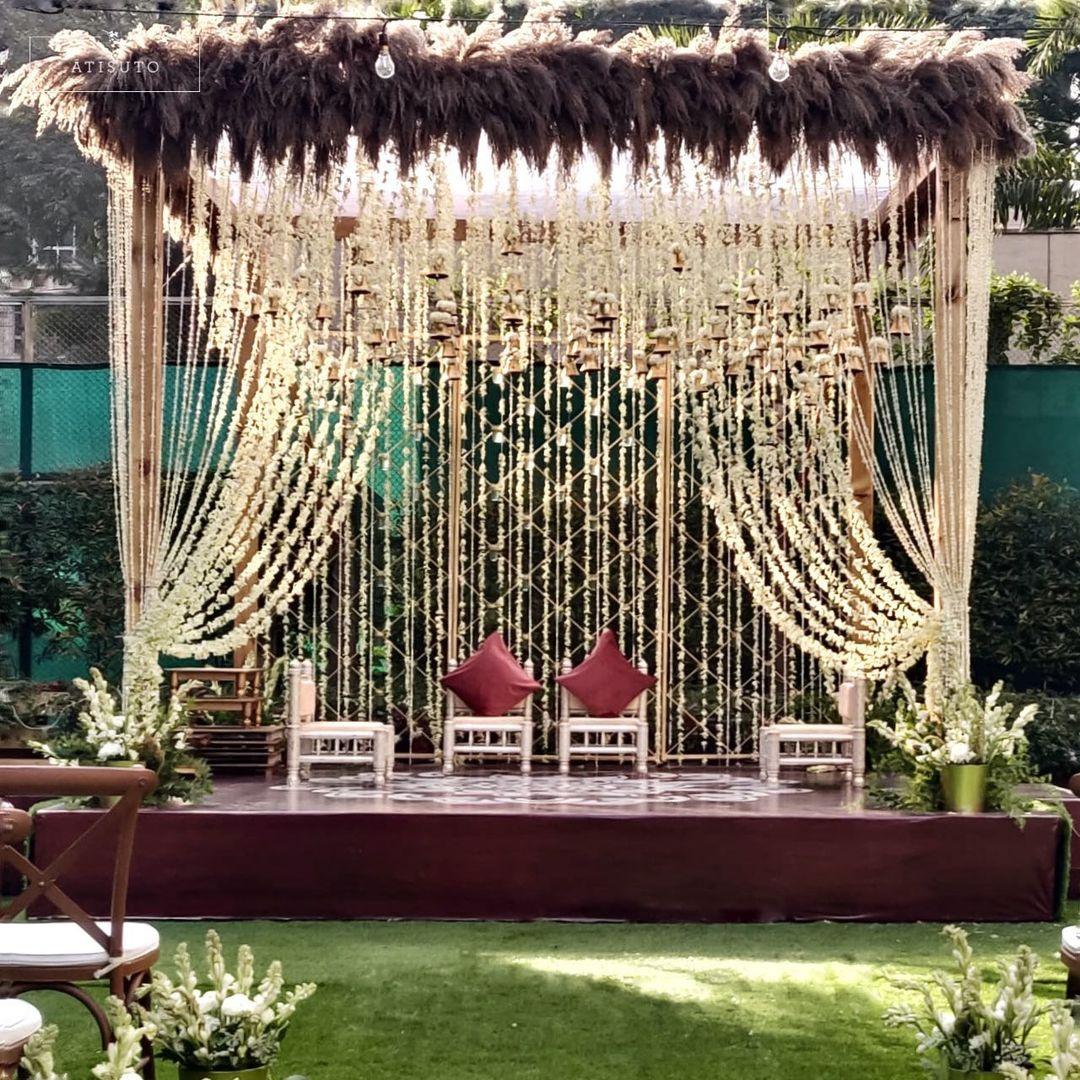 The fragrance of tuberoses is the best and second to none. Rajnigandha as these flowers are commonly known in the country is known to be a popular flower for special occasions especially traditional celebrations. With an aroma that spreads around your wedding venue, the wedding stage is going to look mesmerising and smell nice too!
Waterfall Lights Wedding Stage Decoration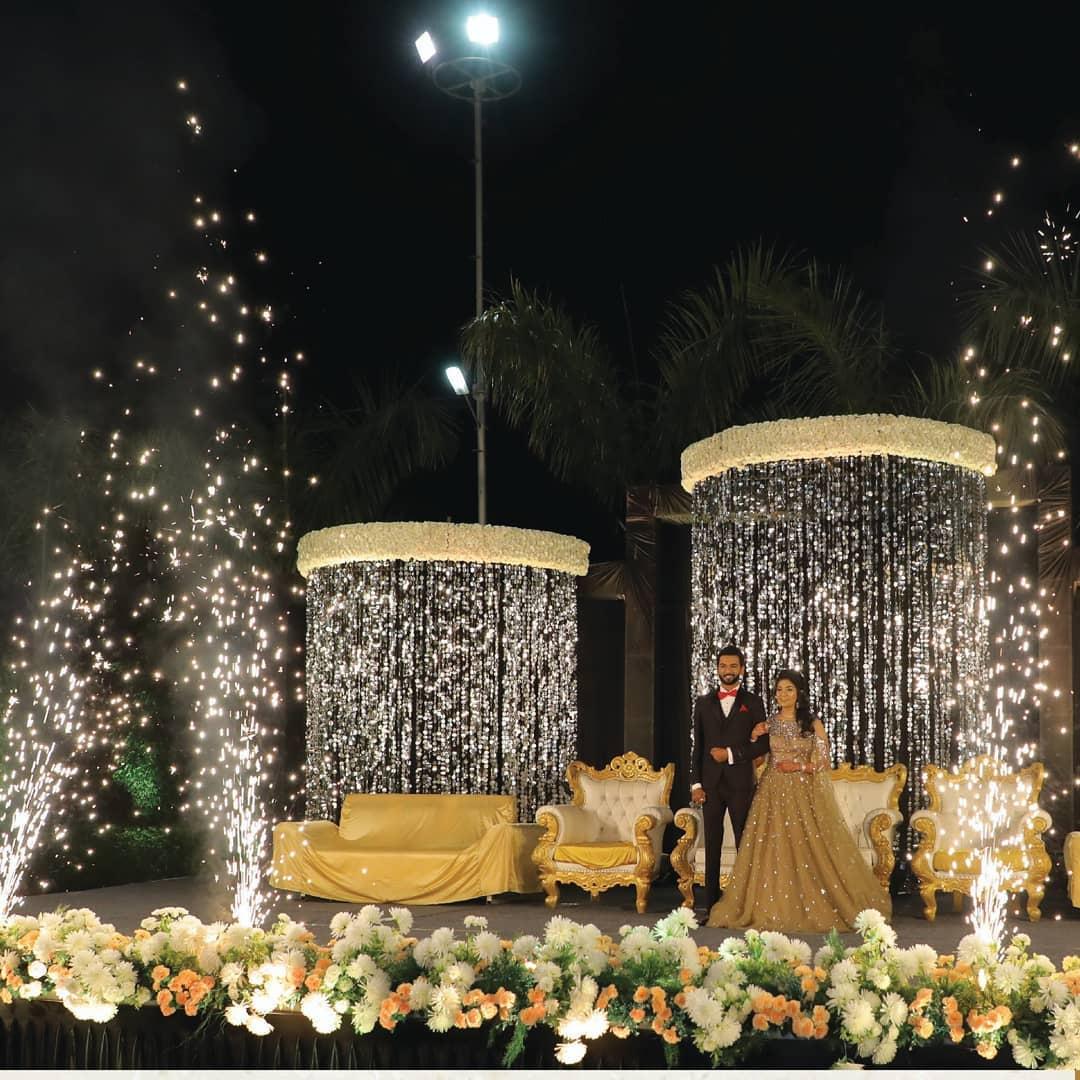 Image Courtesy: Mudita Events
One of our favourite marriage stage decoration ideas, this simple yet stunning wedding stage is a hoot! The waterfall lights and the fireworks with the simple seating arrangement make it the appropriate place for you to host your meet and greet with the guests who have cone to bless you on your new beginnings.
Arch-shaped Wedding Stage Decor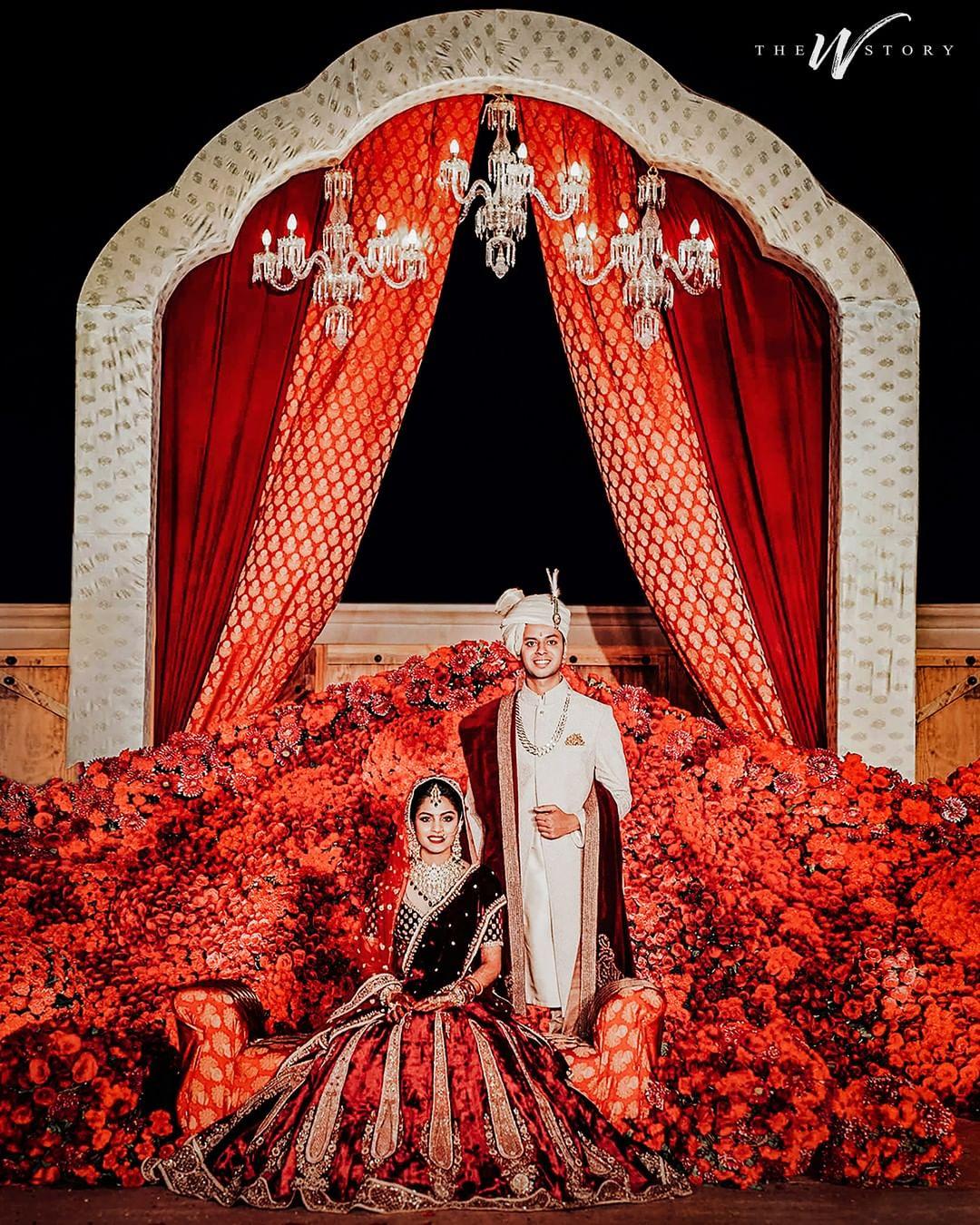 Take a look at this regal garden, with lots of red roses and lush green foliage adorning every inch of the venue. Adding to the floral setting were cascading red drapes and gleaming chandeliers to set the right mood. While the bride looked regal in her red Sabyasachi lehenga, the groom opted for an embroidered sherwani from Shantanu & Nikhil to create the traditional and quintessential photograph of just married couples on a wedding stage. Chandeliers are romantic and considered the symbol of grace and wealth. Use them well on your wedding stage to increase its elegance and class - and, of course, to give your wedding pictures a fairytale-like charm. Pick chandeliers in various shapes and sizes and use a few candles too. This style can be further enhanced with jewel-toned drapes.
Rustic Wedding Stage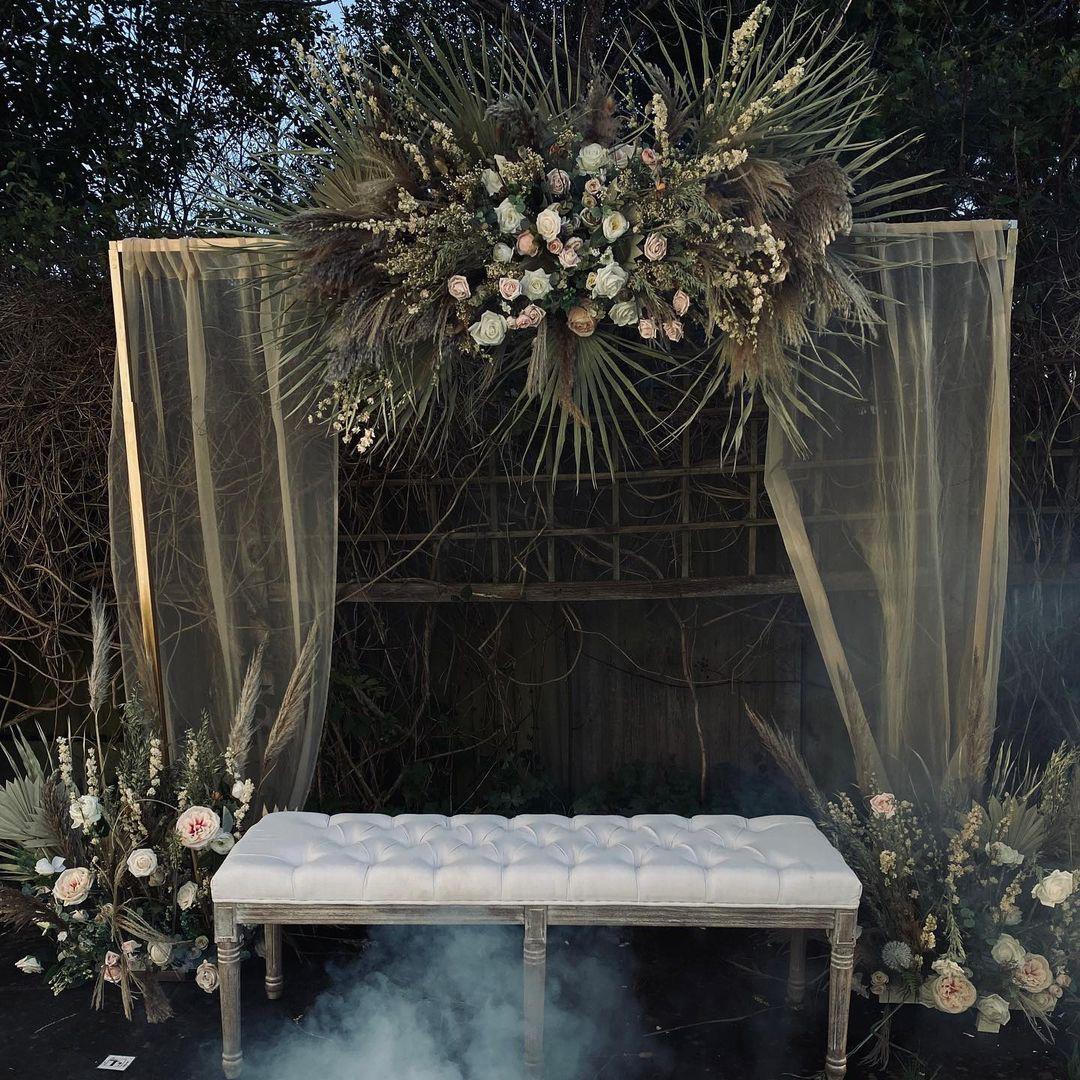 Image Courtesy: The Event Garden
Flowers and pampas grass with wooden frames do stimulate the feeling of a rustic feeling and this wedding in the woods is without a doubt one of the most enchanting wedding stage ideas you will ever come across. Simple and easy to put together, the austerity of this type of marriage stage decoration is what makes it unique and unforgettable. You can click amazing couple photos here!
Floral Wedding Stage Decoration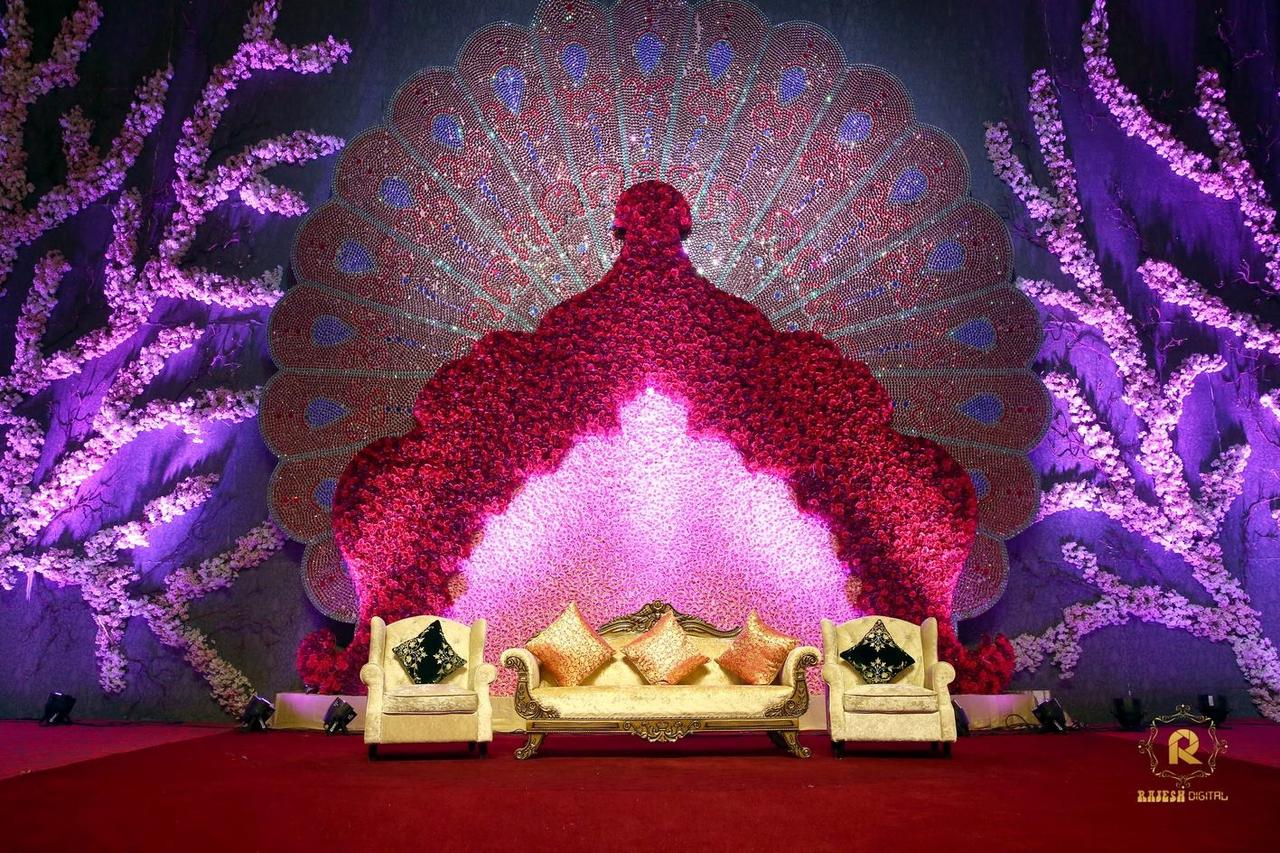 Amidst the noise that modern marriage stage decorations have created, here is a mesmerising floral wedding stage decoration with a golden couch for the couple to sit on while they attend to the guests on the wedding stage. The conventional beauty of red roses in the shape of a peacock and the lively lighting makes this wedding stage a catch!
Butterfly Wedding Stage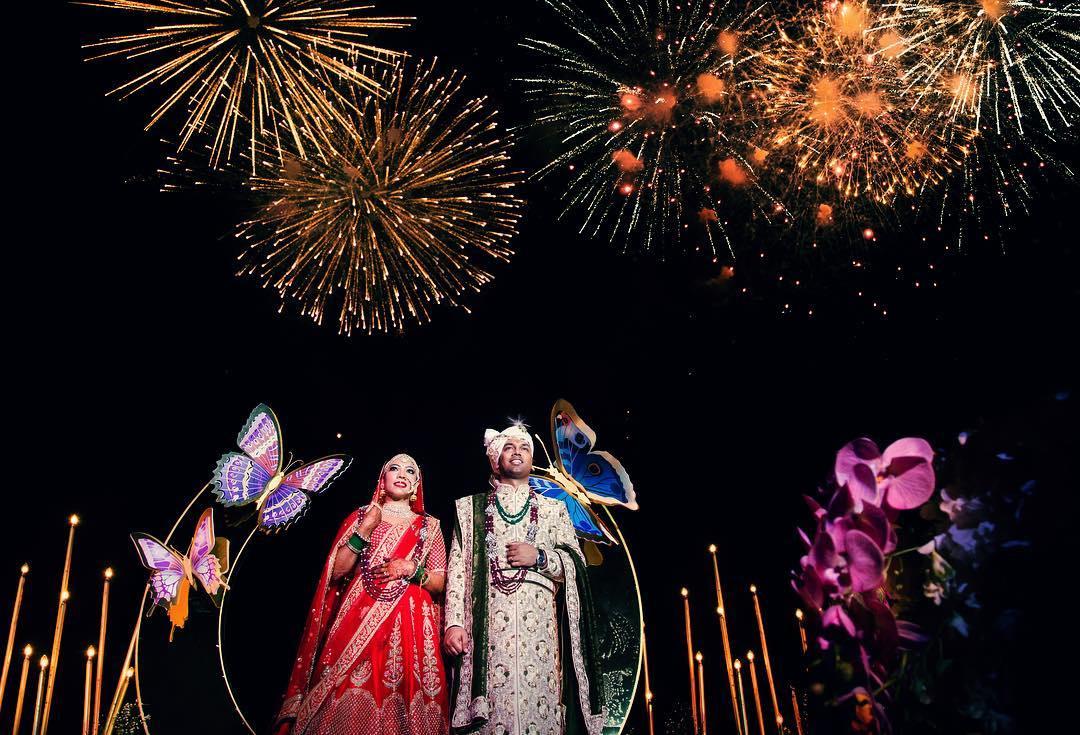 For a couple that likes to go the extra mile, here is an excellent idea to amp up your stage. Choose elements such as flowers, lights and canopies and even larger than life butterfly installations, in a very baroque fashion. To further accentuate the beauty and plush factor of your wedding, pick royal colours such as gold, purple and maroon.
OTT Floral wedding Stage Decor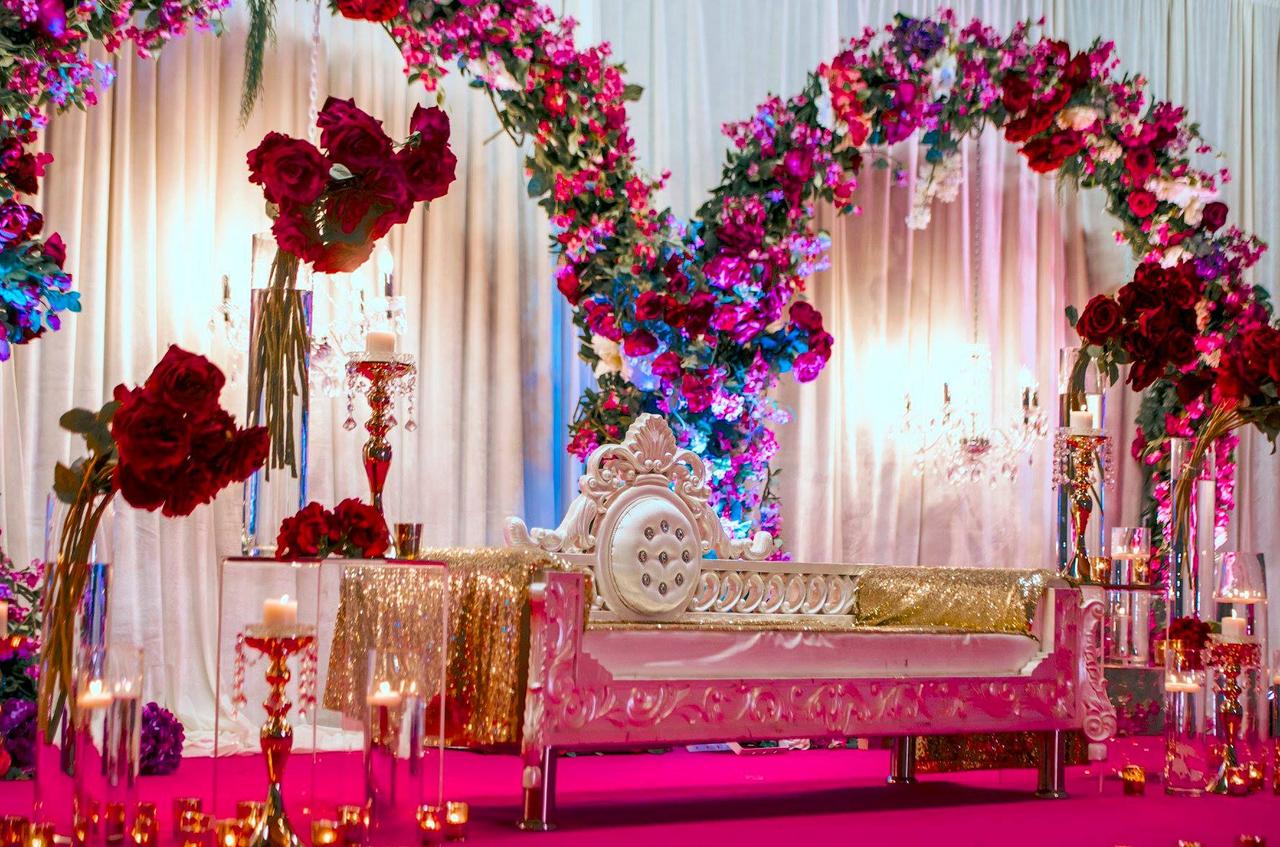 Image Courtesy: Chandni Events
Nothing catches attention like sparkly, shiny and shimmery details. If you are anything but subtle, glamorous and shiny elements - such as lamps, chandeliers, candles - with creative use of flowers and drapes will help you create magic. To balance the engaging look, keep your furniture to a minimum on the stage - or go all out because it is YOUR wedding after all.
White Floral Plush Wedding Stage Decoration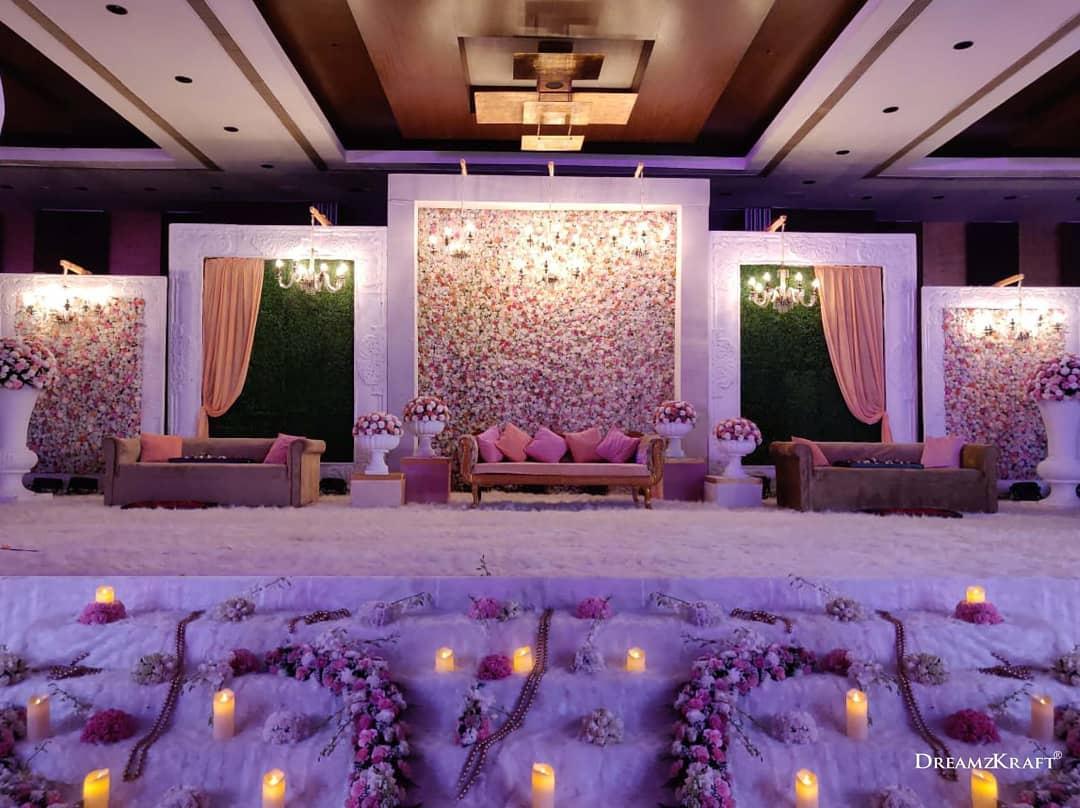 Image Courtesy: DreamzKraft
To make your stage look absolutely exotic, go for extensive use of fascinating flowers and lots of candelabra chandeliers. Also, make great use of drapes and carpets; pick shades that suit your wedding theme colours the most. For a more dramatic effect, lighten up the path to the stage with hundreds of candles.
Nude Colours & Lights on Wedding Stage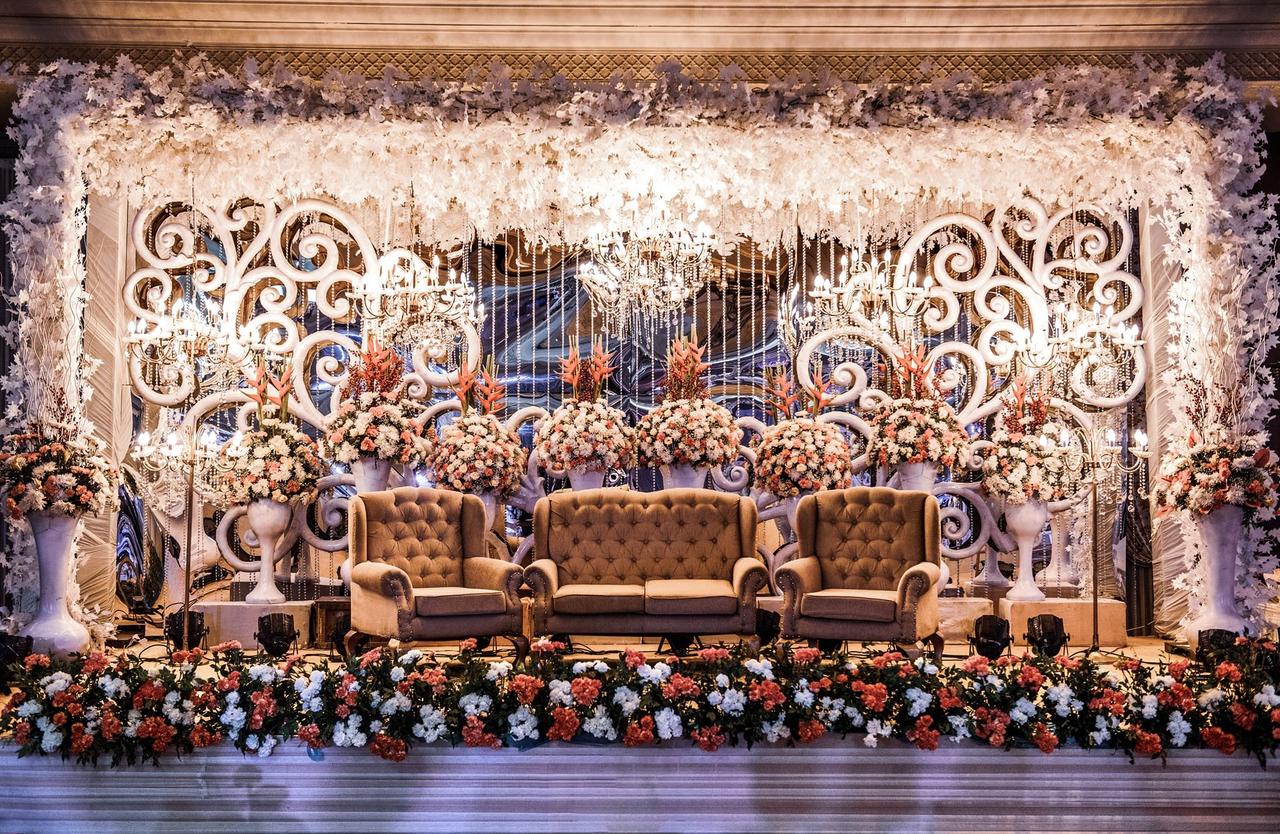 What do you do when you cannot decide between various awesome components? Well, you get them all! Lush flowers, sparkly chandeliers, bright lights – if you cannot pick one or two of them, just go for all of them. Ask your wedding planner to present ideas that depict your taste as a couple or the theme of the wedding.
Elevated Wedding Stage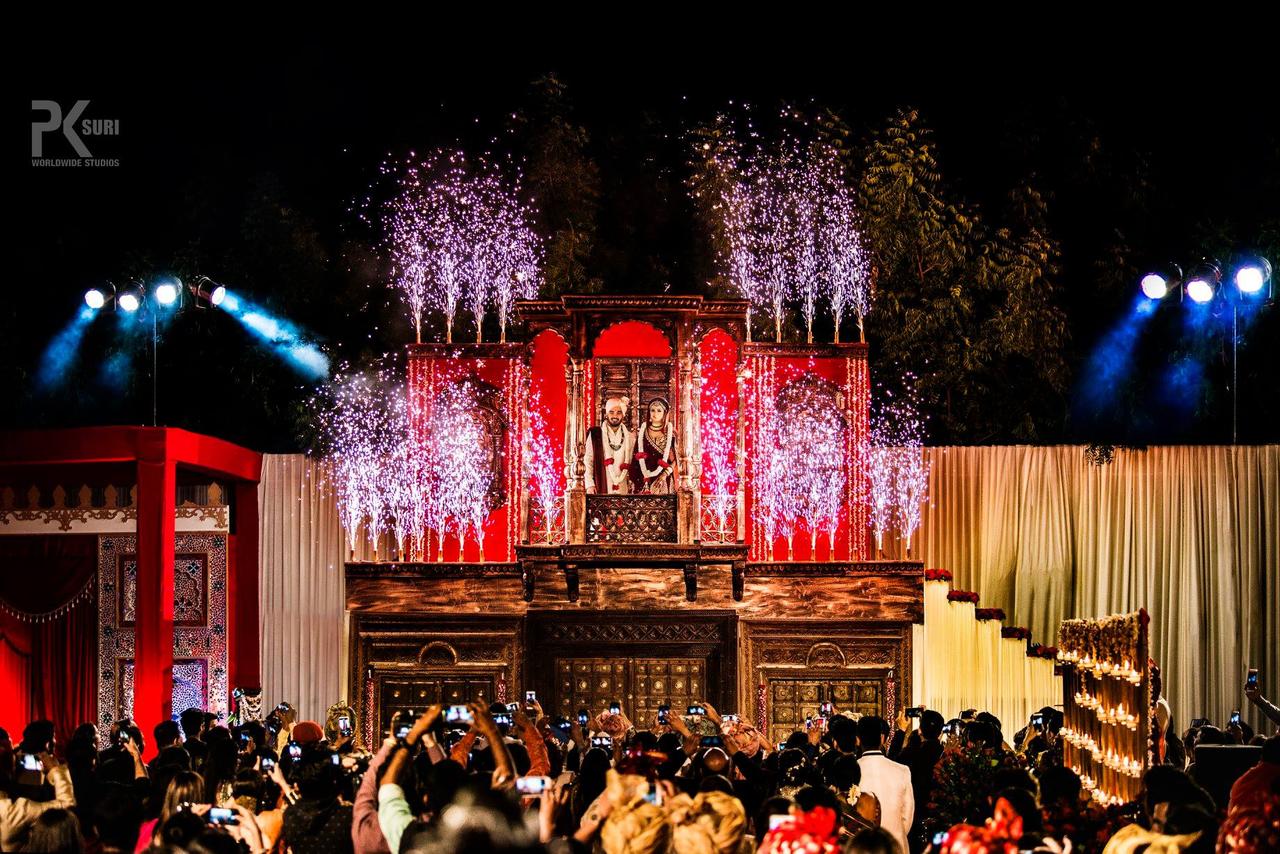 Is there a more statement way to announce your union than fireworks? Fireworks can surely add a dramatic but majestic factor to any wedding. Ask the planner about various options of fireworks and the safety measures they're willing to offer. Make sure you are fully aware of the firework placement in advance to avoid any accident on D-day. Make your marriage stage decoration a monumental one for all to remember!
Traditional Wedding Stage with Lamps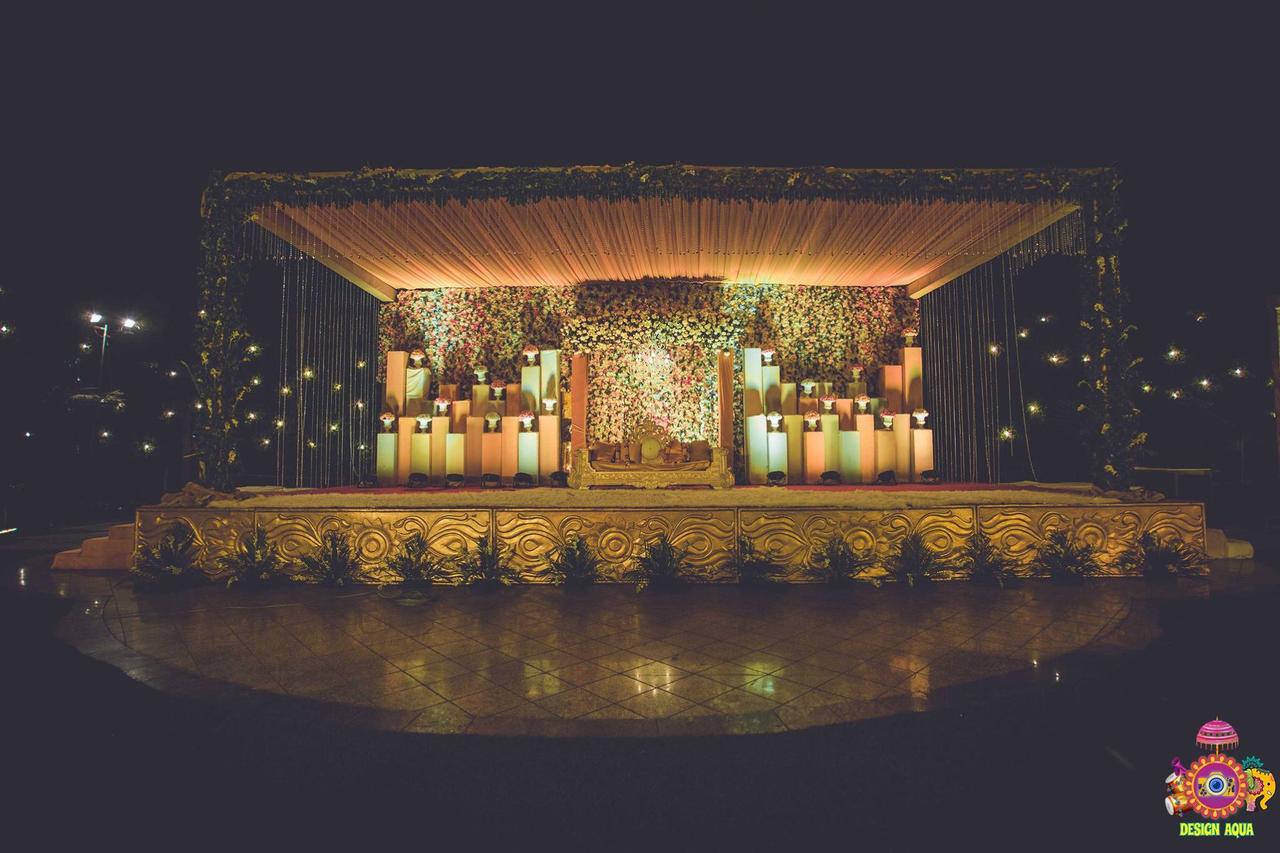 Nobody ever gets tired of seeing beautiful flowers adorning the wedding venue and flower decoration is always appreciated! Having a huge floral background wall fills up the entire venue with its sweet fragrance and looks absolutely stunning in pictures. With this idea, you can mix and match and pick flowers that you both love the most. The lamps will just add to the oomph.
Theatrical Wedding Stage Decor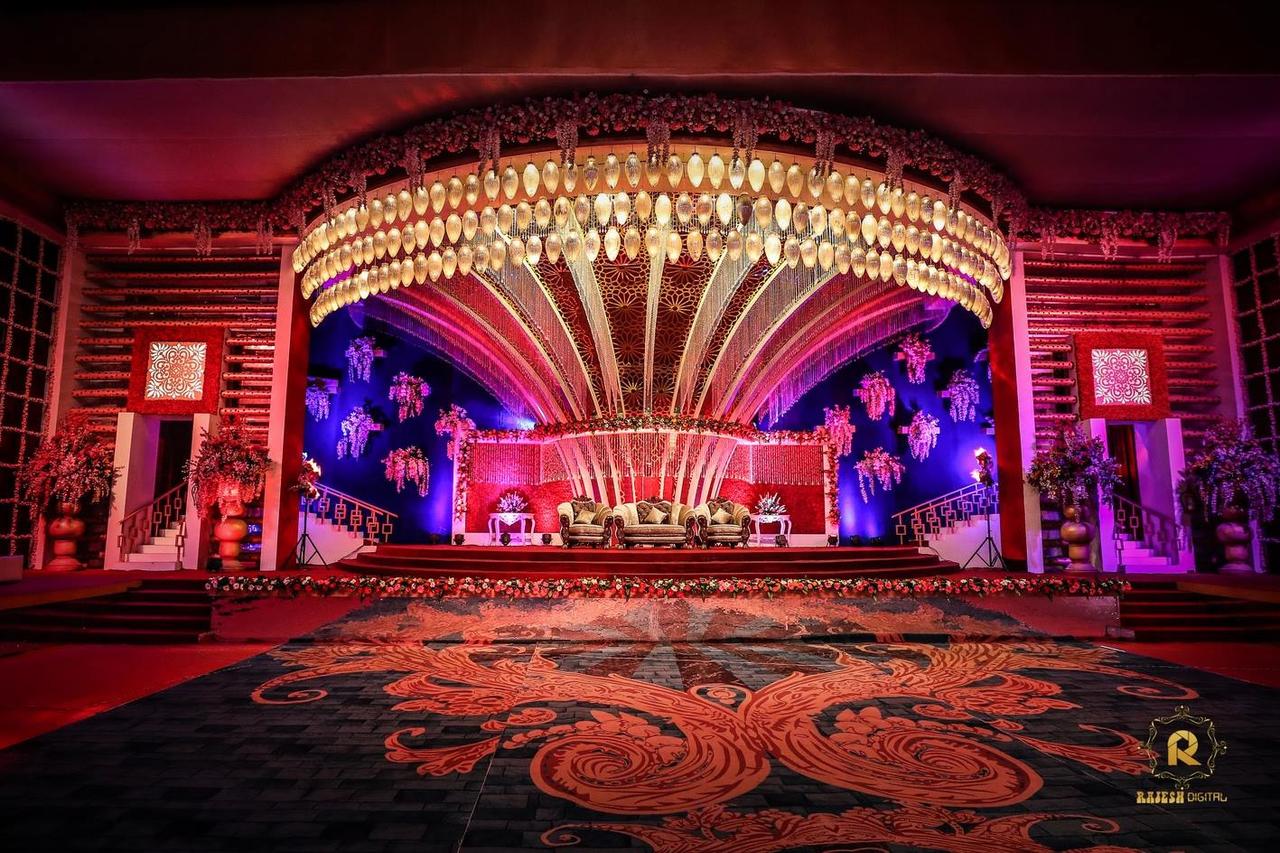 The celebration of your marriage deserves a wedding stage that exudes a larger-than-life vibe, especially if you're aiming for a very regal and luxe theme. For such a grand celebration, pick a wedding venue that can offer scope for a massive wedding stage. Here is a massive marriage stage in the theme of a carnival to light up the night just right for all the jazz and fun!
Elegant White Wedding Stage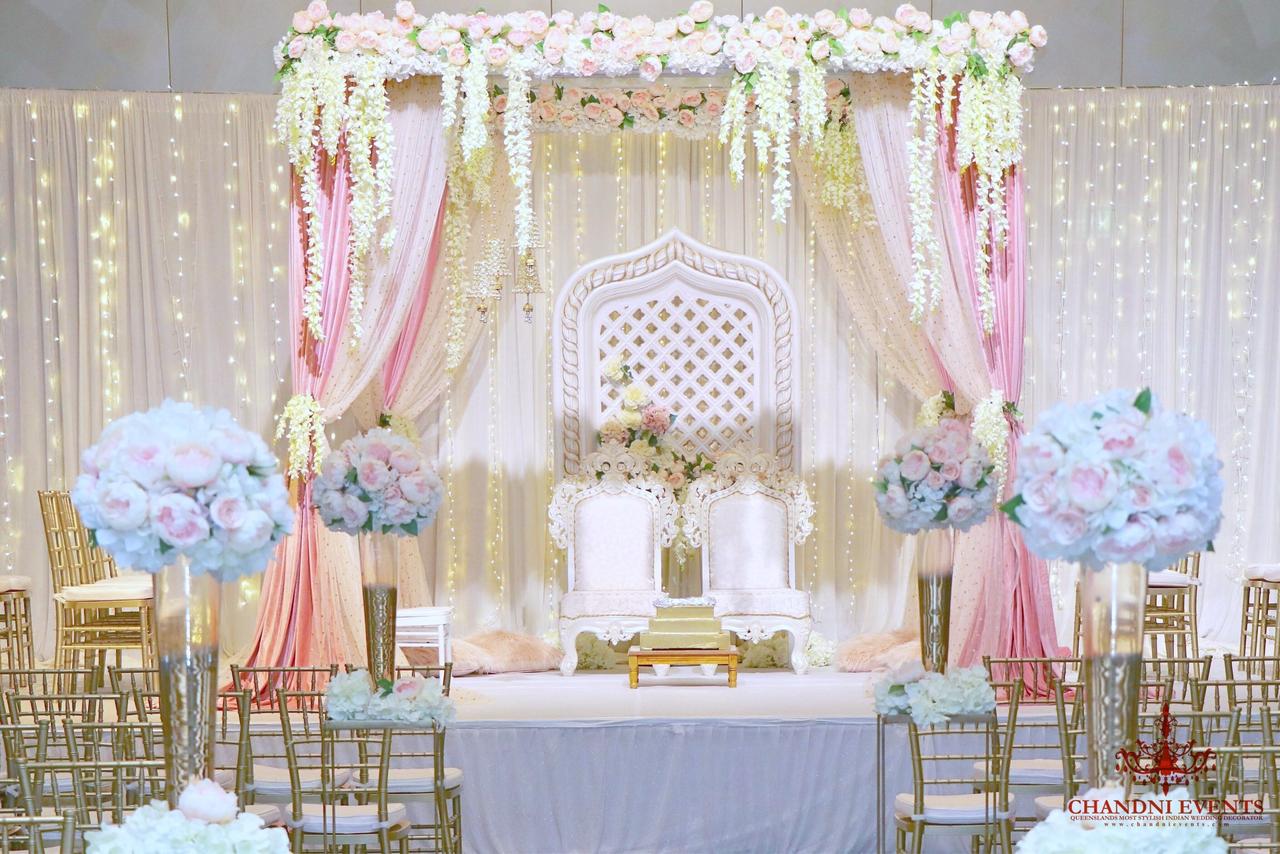 Image Courtesy: Chandni Events
Pastel colours are classy and illuminate day weddings without being too loud. For your grand wedding, we suggest an optimum mix of whites and pastels with gold. This combination is unbeatable and always creates a true example of sophistication without screaming for attention. Carefully chosen pastel essentials and a creative way of decoration can make your elegant wedding surreal!
Floral Extensions on Wedding Stage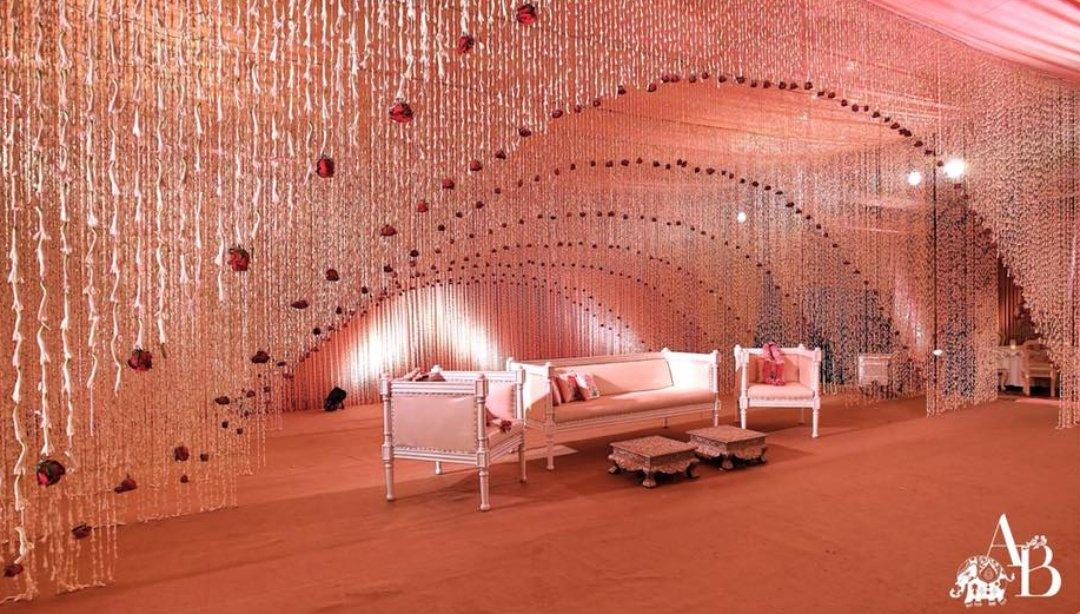 Flowers set the vibe and ambience of the wedding. Mogra, rajnigandha and rose flowers are an indispensable part of an Indian wedding and so are the garlands. To give your wedding stage a very regal look, decorate it with tones of cascading garlands. Made with more than 20,000 tuberose strings, these flower curtains are unparalleled and magnificent. The cascading effect and minimal furniture further accentuate this statement stage. Don't miss the creative and subdued use of roses to add an extra hint of colour and romance.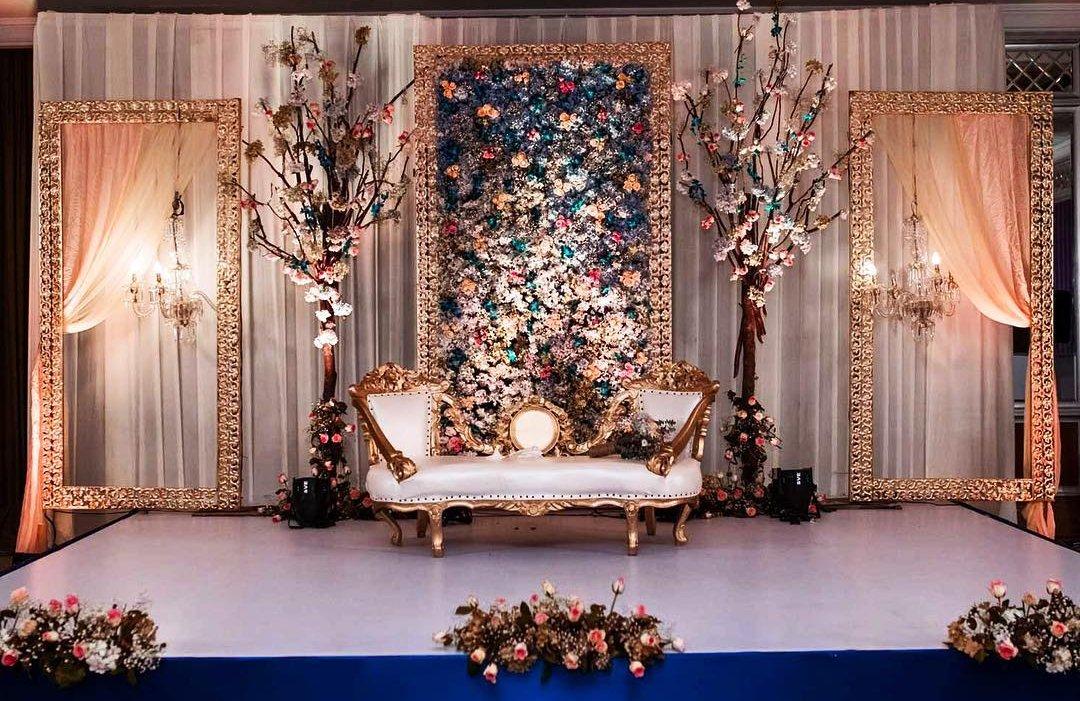 Couples used to steer clear of rustic elements but not anymore! Rustic flavours are now often used to create exclusive, chic wedding stages. Whether you're planning an indoor or outdoor wedding rustic details, such as frames, chandeliers etc, can work wonders.
Indian weddings are a beautiful affair. Couples and their families do not shy away from creating a grand experience for the guests, hence the choices are infinite. Whether you choose an indoor venue or an outdoor one, these grand wedding stage ideas will surely help you finalise the perfect design.
Planning and decorating might or might not be your favourite thing to do - especially if it is your own wedding. This list of the latest wedding stage decoration ideas will not only solve your worries about your wedding stage decor but also help you save time that you can use to now enjoy because this list has got your back! Screenshot your favourite designs or bookmark the ones that you like and show it to your wedding decorator for the best results.
If you'd like to share your grand wedding stage ideas, leave your comments below!
Read More -
Mehndi Design | Proposal Lines | Simple Finger Mehndi Design | Arabic Mehndi Design | Propose Day Quotes for Boyfriend | Wedding Anniversary Wishes for Sister | Change Aadhar Card Name after Marriage | Tamil Wedding Calendar | Simple Mehndi Design | Pre Wedding Quotes | Engagement Anniversary Wishes | Funny Wedding Wishes for Bestfriend | Blouse Design | Rangoli Design | First Night Tips for Bride | Wedding Anniversary Wishes