In the wake of COVID-19, finding a sustainable approach to 'life and living standards' has become the new normal. Couples who were planning a big fat Indian wedding, embraced the new wave of intimate 50 people weddings with an inspiring deftness. Weddings in India that were held in the month of May and June might have carved a new niche for the industry - from guests living across the world attending wedding ceremonies over a Zoom call, to couples tying the knot as only their closest friends and family bear witness to the celebration.
Weddings; intimate with a 50 people gathering, or lavish with a large guest list; will always be made of dreams. A couple's dreams are their own and they can widely differ from another individual's dream and definition of a perfect wedding celebration. If your clients have found themselves tied in cobwebs of questions like how to plan a 50 people wedding, how to choose the right venue, how to downsize a huge guest list to 50 and more, we have the experts' guide to walk our service partners as well as real couples, through the most important decisions of planning a 50 people wedding.
Finalising a 50 people wedding guest list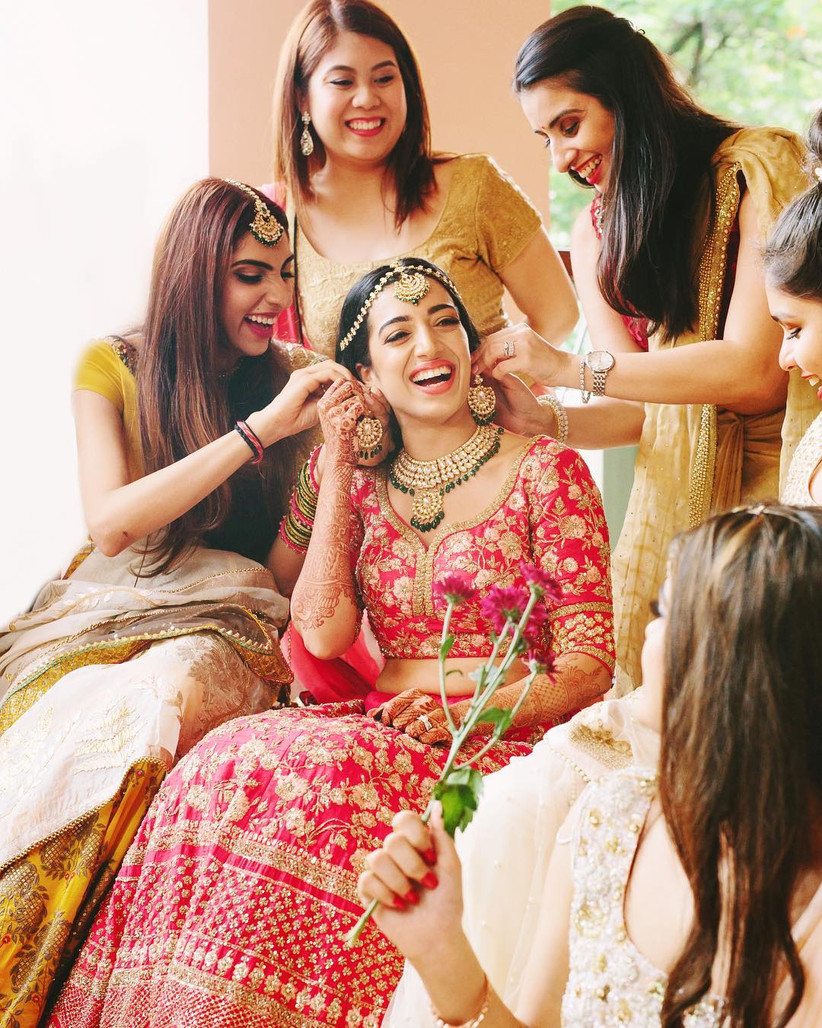 Image Courtesy: The House on the Clouds
Even when the reason for this activity is to defend the planet from a dominant predicament, curbing down the guest list is one of the most challenging tasks. In India, we believe in the ideology of Atithee Devo Bhava and have practised it wholeheartedly all our life. It has been inculcated in us like a seed of value by our parents and grandparents. A wedding in the family is a long awaited event where the guests- relatives and friends come together to celebrate the bride and groom's day with great pomp and show. The pandemic has hit us all with a wilful and intense blow of change. To ease the dilemma, we spoke to Shweta Acharya, Founder of Baraati Inc, and have enlisted her priceless advice.
Create different guest lists for each event. For example, for the Mehndi ceremony: The bride can make it a ladies only event! Suggest them to invite 10 relatives, 10 of their school/college buddies, 10 office colleagues/associates, 10 of core girl tribe & 10 miscellaneous ladies important to their mom or those who they will not be able to invite for the other events. Similarly, couples can host different groups for different events, keeping only the inner core circle of parents, siblings, grandparents, BFF etc for the wedding day!
Make a standby guest list. We are in uncertain times, incase any guest cannot make it to the big day, suggest couples to offer the slot to the guest who was not in the primary guest list. That way they can accommodate as many of their loved ones as possible.
Don't Shy away from requesting for a Kid-free celebration. Let the invitation do the talking. If couples are worried that their friends won't get the message, suggest them to reach out beforehand. They should not cave here and grant any exceptions; that would be rude to guests who abide by the request.
Bringing a +1 is NOT for everyone. Couples should consider offering a +1 only to those friends and family members who are either engaged, married, already living together or have been dating for a really long time.
Bhavnesh Sawhney, Co-Founder of FB Celebrations shares, "First, it is important to decide the scale. Are your clients planning just an intimate family affair? Are they considering including some relatives? They need to determine the maximum number of people they can host considering the prevailing environment. It would be beneficial to divide the number of guests equally, or as per the requirement of both the sides. Also remind them to keep in mind that the wedding planner and other integral wedding makers will be a part of the guest list."

Handling Guest Communication
The Experts have confirmed! Here are the best ideas to handle smooth communication with guests and keep them informed about the intimate wedding celebration.
Save The Dates
"Since it's going to be an intimate wedding, send out the Save the Date to your clients' primary guest list at least 6 months in advance, and request a revert within 4 weeks at max. This will allow you to set the primary guest list in stone and work towards accommodating those in the stand-by guest list," Acharya shares.
E-invites
Trrishant S Sidhwani, Director and COO of Dreamzkrraft, shares, "Digital communication is the best way to go - with thematic designed video invitations and detailed itineraries. Gifts accompanying the invitation should be sent out from the source itself to reduce the number of hands it passes through before reaching the receiver. The vendor should ensure that packing, sanitisation and delivery takes place with complete regard to hygiene, following the recommended protocol for the current times."
"Online creatives, e-invites are the order of the day. Ask couples to avoid personal visits and substance contracting. Communicate a date for the official wedding ceremony, even if it's a zoom invite sent through whatsapp or email images. Specify what the flow of the events is, as this is a novel concept for everyone. This way everyone will know if some wedding events have been cancelled due to the pandemic. (for instance if Sangeet has been moved to a date in the future)," Vikram Mehta, Founder of Mpire Events, weighs in.
Custom Wedding Website
Shruti Acharya advises, "Create a custom wedding website and logins for the intimate guest list so that they see those events which they are invited to. This can also be a great platform to entertain those guests who couldn't make it the big day due to uncertain circumstances and situations. Plan for live feeds, game hours and more to keep the festivities going in the virtual world always."
Using Social Media
"Create a wedding Instagram page, where you can share live updates and special moments from your couples celebration on-the go. Your clients can handle these websites themselves. Post-wedding, this can be the platform where they can share guest images, indulge in conversations and stay connected until the next big milestone," Acharya adds.
Live Webcast
"Webcast the ceremony online on the private wedding website or on Zoom/BlueJeans. Allow everyone to send their love and blessings virtually while couples make the most of their big day with their closest family and friends," says Acharya.
If couples had a planned guest list of 200 or more friends, family and acquaintances and had to suddenly re-plan an intimate wedding for 50 people only, communicating the change of plans to the remaining relatives might be very challenging. Sawhney shares the most realistic advice, "This is a global pandemic which has left no one untouched. Communication, which is clear, honest and from the heart will be received with understanding. Social distancing may be a part of our lives for longer than we can imagine right, so restructuring the guest list and informing guests with a heartfelt apology will be well accepted. We recommend personal messages and phone calls as they will go a long way in helping people to receive the message well. Today, everyone understands health comes first. Once the situation improves, depending on their plans, couples could always communicate their intention to hold a party or reception post pandemic."
Planning Pre-wedding Virtual Events with Guests
There is no doubt that Digitalisation has been a blessing as the clouds of a new normal wrap around our blues skies. Family and friends who live in a different city or country are attending wedding ceremonies through Zoom calls. Namha Malhotra and Edul Mahudavala, Founders of Castles & Coasters, share a new possibility. They reveal, "We are planning multiple virtual engagements for family & friends so that the near and dear ones of the couple can be a part of the celebrations. It's very important to make the celebrations seem as fun and graceful as before and not let them miss the weddings of earlier times. Also, we are ensuring that communication and follow ups will now be pre and post the celebration for safeguarding good health of all family & friends."
Non-Saaya Dates, Weekday and Day Wedding Plans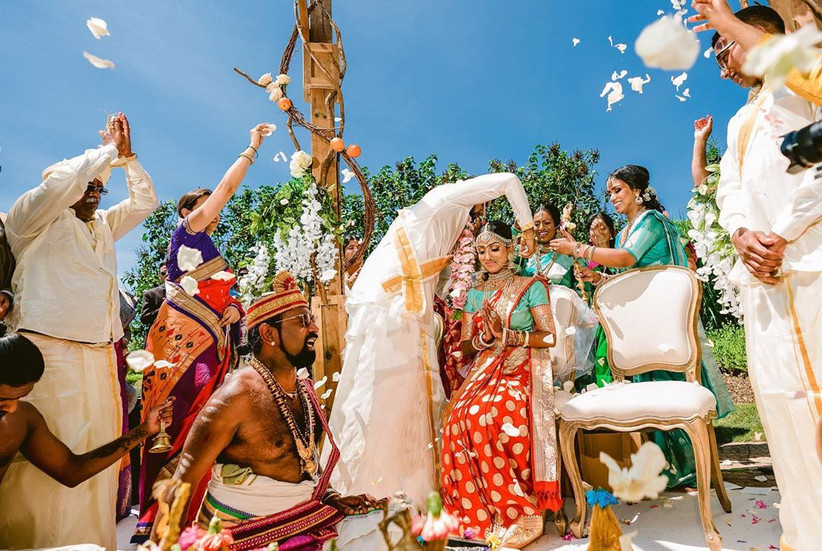 Image Courtesy: Em Photography
Vikram Mehta, highlights the new wave in wedding planning that is challenging many traditional norms of India. "The auspicious date, day, time have all taken a back seat with the pandemic hijacking our lives. There's no doubt that you'll see a lot of day weddings, morning events, weekday weddings now. The prerequisites will change from weekend and holiday, to location and setting. Day events will also be preferred as most cities have a curfew on late night gatherings even with the relaxation of the lockdown." Namha and Edul weigh in, "Weddings will be starting in the day moving to late evenings.What the space and services of the venue can offer will be a more important aspect than the time of the day or day of the week. People will opt for indoor/outdoor properties that are larger in nature where social distancing is possible and made to feel 'normal'. The suitable date and time can be one's choice, as it's going to be an intimate one and no doubt be the most special day of their life at any hour of the day."
Re-Planning a Postponed Wedding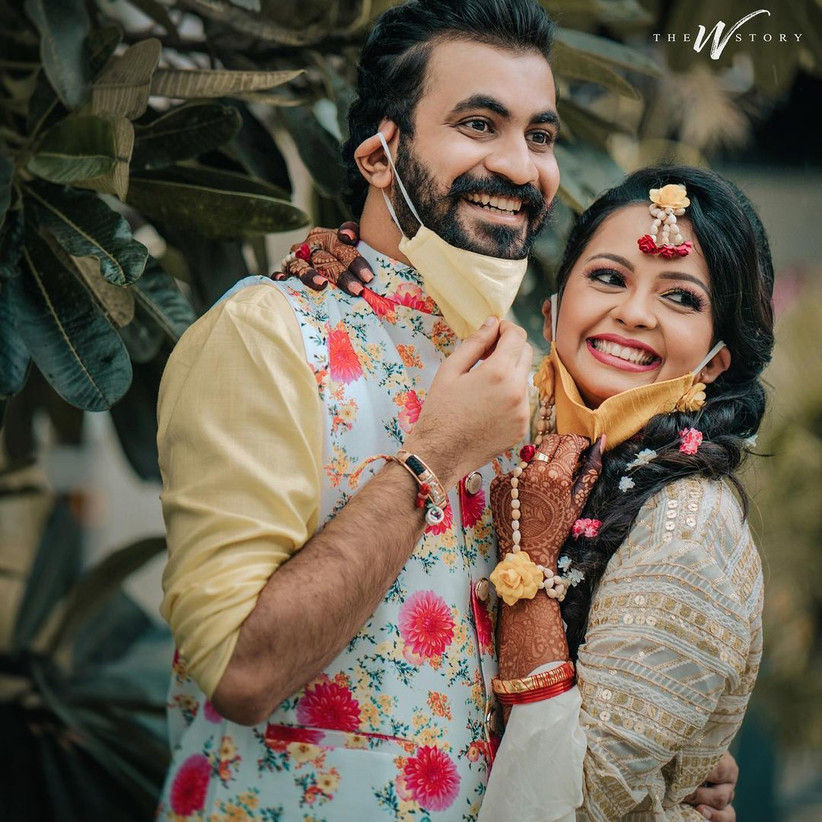 Image Courtesy: The Wedding Story Official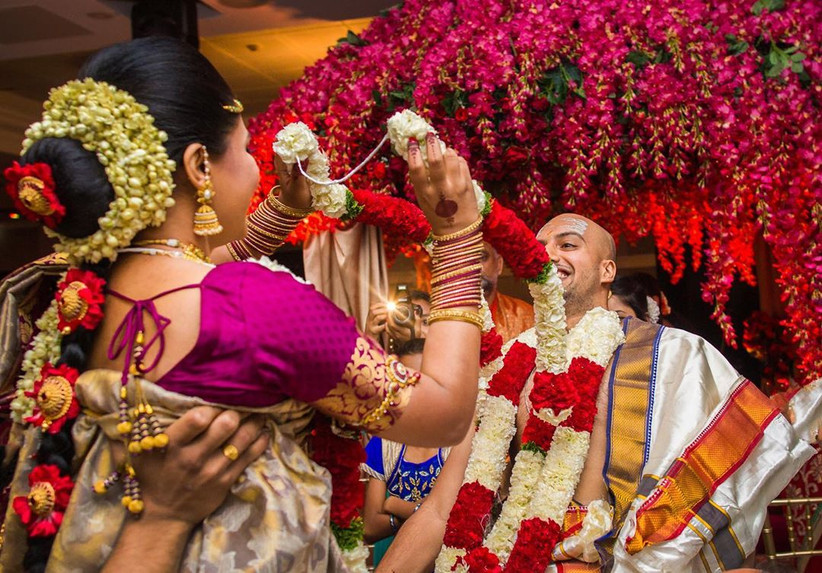 Image Courtesy: Soozana Pvan
There's no denying that the growing impact of COVID-19 keeps shining the torch light to all the shadowy crevices of wedding plans, big fat wedding dreams and honeymoon plans of 2020. Many couples had to cancel their 2020 Spring-Summer wedding celebrations because of the sudden shock of corona. If your clients had a big fat wedding planned, and are now looking at ways to re-plan their wedding into an intimate ceremony, here's our well-planned guide to help the wedding planning journey with inputs from Shweta Acharya:
Choose a Family Home or Quaint Resort as your Wedding Venue. You do not need a huge space for a 30-50 people gathering, so why waste the budget on one? Opt for a family house/farm house in the hills or country-side, or choose a house on Airbnb and check if the owner is willing to rent out the whole bungalow for a small wedding.
For a Home wedding, divide the house into different hosting zones for different events. Creating movement in the house will be key! For example, one can host, 1. A Boho-Parisian mehendi on the terrace or Sangeet and Cocktails in the lawn under fairy lights. 2. A beautiful floral wedding 'mandap' in the lawn will be ideal to host the Wedding during the day
You can now plan sit down dinner, picnic luncheons and barbeque sundowners! Conceptualise the food menu, plan the catering and dining style keeping with the vibe (formal, informal, casual, community hangout) that the couple wants to create for the event.
No Physical Gifts. Create a gift registry and share all information with regards to it on the website or in the invitations.
Intimate Weddings are the fur-fect place for the four pawed kids. Couples can make their fur-buds dress in their best and welcome them to the wedding party. Hire an instrumentalist to spread songs of love at the venue.
Personalise! Customisation is old school; personalisation is the new norm. Don't think about how to change the looks of a décor by choosing a colour palette of the couple's choice, rather think of ways in which their personality showcases in every aspect of the wedding. Personalise outfits, to menus, to décor, to song playlist.
You know all those dinner sets that have been saved since the 90's in the couple's house, they can take them out and use them for service of the event meals or source beautiful crockery sets from local artisans. Now you can add a bit of tradition and story to the wedding table setting!
Table Assignments at Intimate Weddings
Sit down meals are the way forward during corona times. Top Wedding Decorators have also revealed the Decoration trends for Intimate Weddings and confirmed that the seating ideas at intimate wedding ceremonies will respect the government's guidelines of maintaining safe distance. That must have left you wondering, how does one assign seats to guests in a certain planned manner to abide by the distancing norms. Here's what the experts have to say:
Separate Seating Areas for Friends, Family & Children
Sawhney shares, "Essentially due to social distancing, the physical placement of chairs on each table will reduce to be able to keep a 6 ft distance from one another. Elderly guests can be seated together, away from the youngsters. Children can even have their own corner. There will be great trust and bonding due to the closeness of family; this will lend a homelike feel to the ceremony."
Pre-planning Seating Charts
The duo at Castles & Coasters share, "It's preferable to not have theatre or lounge seating anymore as it's harder to control social distancing. Table seating; be it round, rectangle, "U" shaped, a zig-zag table or rectangular table seating will be preferred for each function with half the capacity than before. Pre-planning the seating charts, innovative name tags, personalised table layouts are the trends that will prevail this season."
Seating 'Place cards'
"We forecast these as a new element of focus for the celebration. More unique and personalised place cards on tables will be a trend," Sawhney shares.
Planning the Pre and Post Wedding Events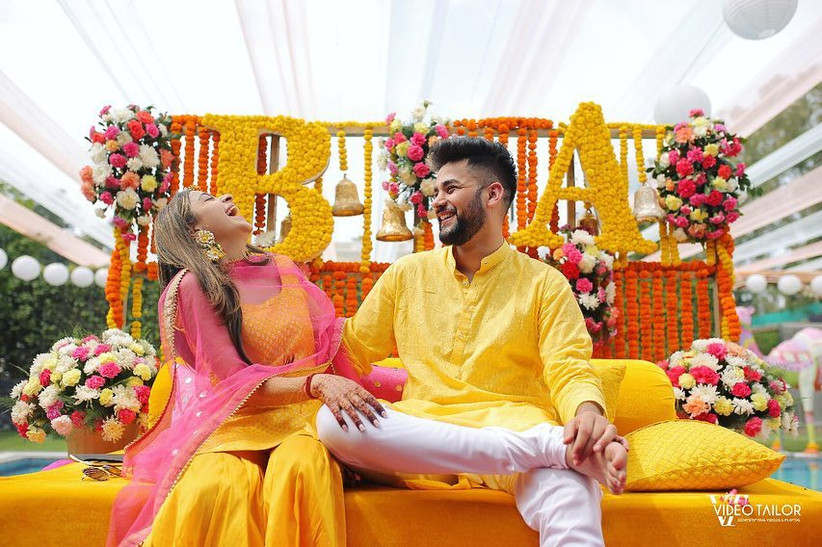 Image Courtesy: Video Tailor
The decision of planning multiple pre and post wedding events is clear, but the decision making process - overwhelming! Indian weddings are mostly incomplete without the sacred touch of haldi, smeared on the bride and groom's face by their loving family and friends, an eventful mehendi and sangeet night with heartfelt speeches and dance performances of excited cousins, relatives and friends who have been practising the sequence of their dance for weeks, and the post-wedding grand reception where the bride slips into the avatar of a contemporary diva. Namha and Edul suggest, "Couples can plan a one day celebration which incorporates hints of all the ceremonies. We have gone from a big fat wedding to small and virtual but having said that everyone wants their wedding to be "different & unique". One of the key ways to do this is through personalisation. The more intimate the wedding, the more we are able to successfully customise experiences for each one of the guests."
Planning the Entertainment at Intimate Weddings
Nitin Arora from Katalyst Entertainment shares the brighter side of the story. "Inviting famous singers and performers to the wedding is very much possible in intimate weddings. The only difference is that singers and actors don't travel with bigger teams these days. They are also mostly restricted to the stage and are not open to taking too many photographs with their fans." Your wedding entertainment will largely depend on your budget for the wedding and not on the no. of people you invite at the wedding. Cozy, small knitted gatherings can be made all the more special with a soulful singer's performance. However the planning that goes around these entertainment activities have definitely become more extensive post-COVID. Arora confirms, "Planning requirements have increased given the current scenario. Separate teams are being hired to ensure that the hygiene protocols are being followed by all. The step by step procedure - from checking for COVID test reports, to ensuring people are wearing masks and sanitising themselves at the venue, has become more extensive. Earlier we were very much used to following the same steps for entertainment planning in each wedding, but more hard work is going into the planning process now as wedding guidelines differ from state to another." Speaking of the role of digitisation in wedding entertainment, Arora shares, "We recently organised a live screening performance of Ranveer Singh for our client in Hong Kong. Although digitisation is playing a huge part in the industry, weddings are more about the live experiences. I do not see this as a trend that will continue in the future for wedding entertainment, because weddings are all about emotions." [Nitin Arora's Interview by Anwesha Das]
This pandemic has blown the foghorn loud and clear. A change is coming and if you take a closer look, it is not everything bad and gloomy. An intimate wedding celebration could give couples the opportunity to focus on the minute details in the wedding decoration- personalise the wedding as per their subjective choices, spend their wedding budget on the things they specifically care about, source decorative objects from the local artisans and homegrown designers in India- therefore, supporting the Made in India movement, and create precious, once in a lifetime memories with their closest friends and family.
Did you recently plan an intimate wedding? Drop your contact id below or reach out to us to discuss your top planning tips!