16 Unique Palace Wedding Venues in India That Will Sweep You off Your Feet
With some of the biggest and the most majestic palaces in the world, India hosts thousands of palace weddings every year, redefining the meaning of grandeur.
India is the home to rich ancient history, jewels, and royalty. Belonging from the nation of influential monarchy, it's only appropriate to live the biggest day of your life like a queen. Luxury, elegance, architectural delights, and your prince charming in front of you; it will all make you forget the Disney fairy-tales because you'll be living a real one.
Below, we present to you some of the most charming palace wedding venues in India that will give your event a touch of sovereignty you always wanted:
Taj Lake Palace, Udaipur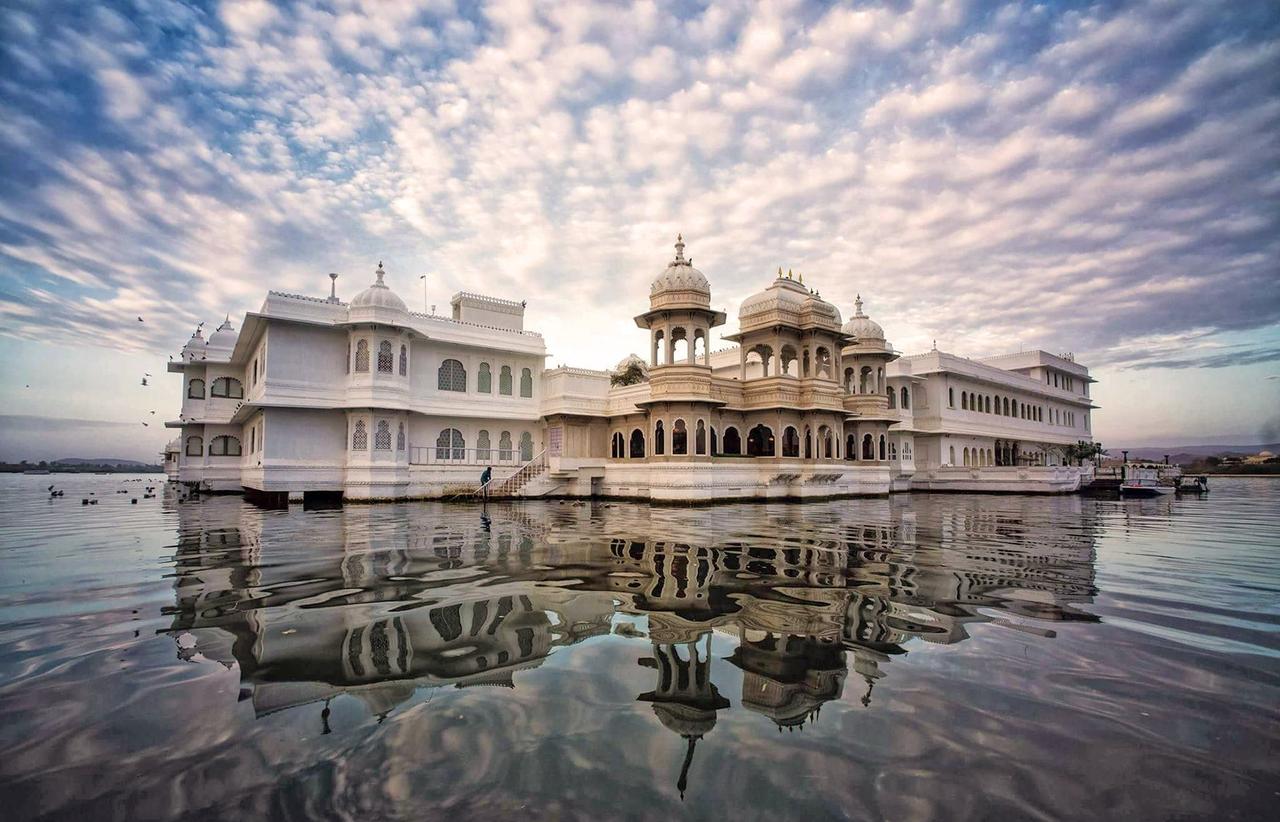 The Taj Lake Palace in Udaipur is one of the most famous and unique palace wedding venues in India. Located in the middle of Lake Pichola, this venue appears to be floating on the water surface. Build in the year 1746, by the then prince Maharana Jagat Singh II of Udaipur, this place happens to offer breathtaking views from every angle of the property.
The palace provides signature dishes from a variety of cuisines with each restaurant specialising in one type of cuisine. With the lake water reflecting the beauty of this romantic venue, this is one of the best palace wedding destinations that will fit perfect for your fairytale soiree. One can experience the unique dining experiences along with the luxury spa and heritage walk too.
Neemrana Fort, Rajasthan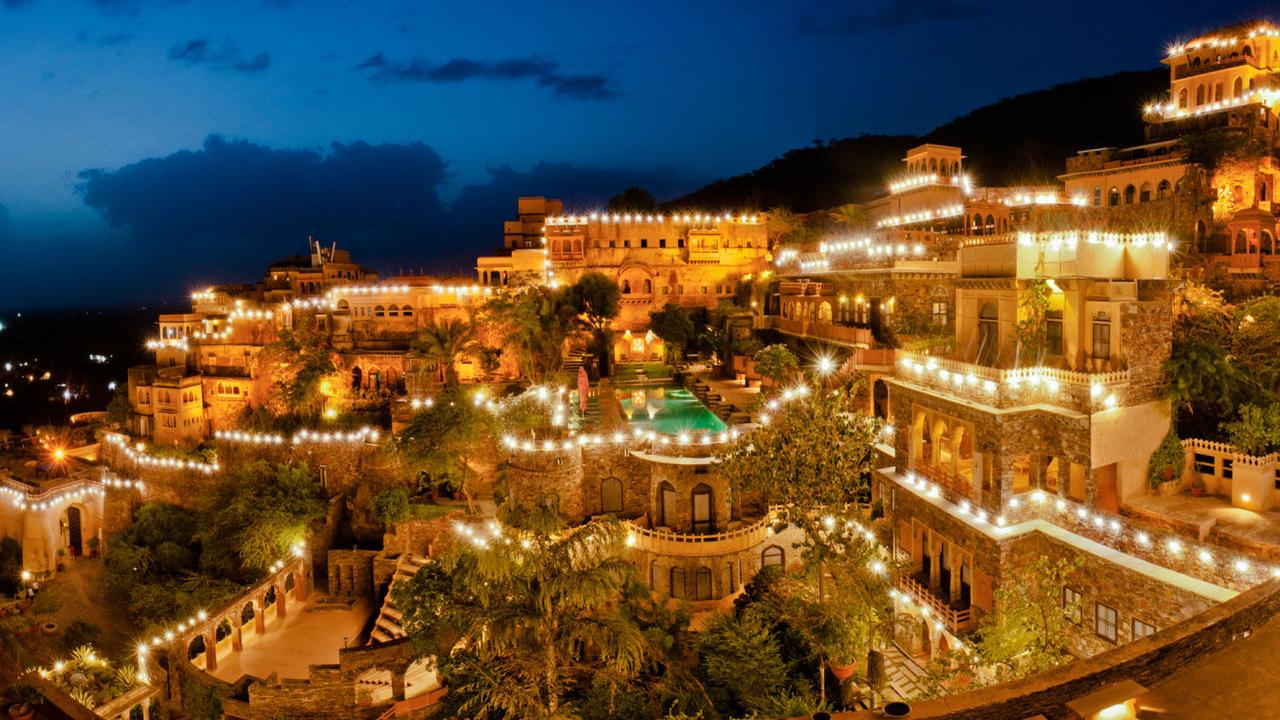 Build in the 15th century, this palatial venue for weddings is one of the most sought after destinations for weddings in India. This centuries-old piece of magnificence is a flourishing (almost) 14-tiered estate that is surrounded by the royalty of the bygone era. Let the royalty of this unique palace wedding venue in India add the touch of glory to your big day and make your royal wedding all the more unforgettable.
City Palace, Udaipur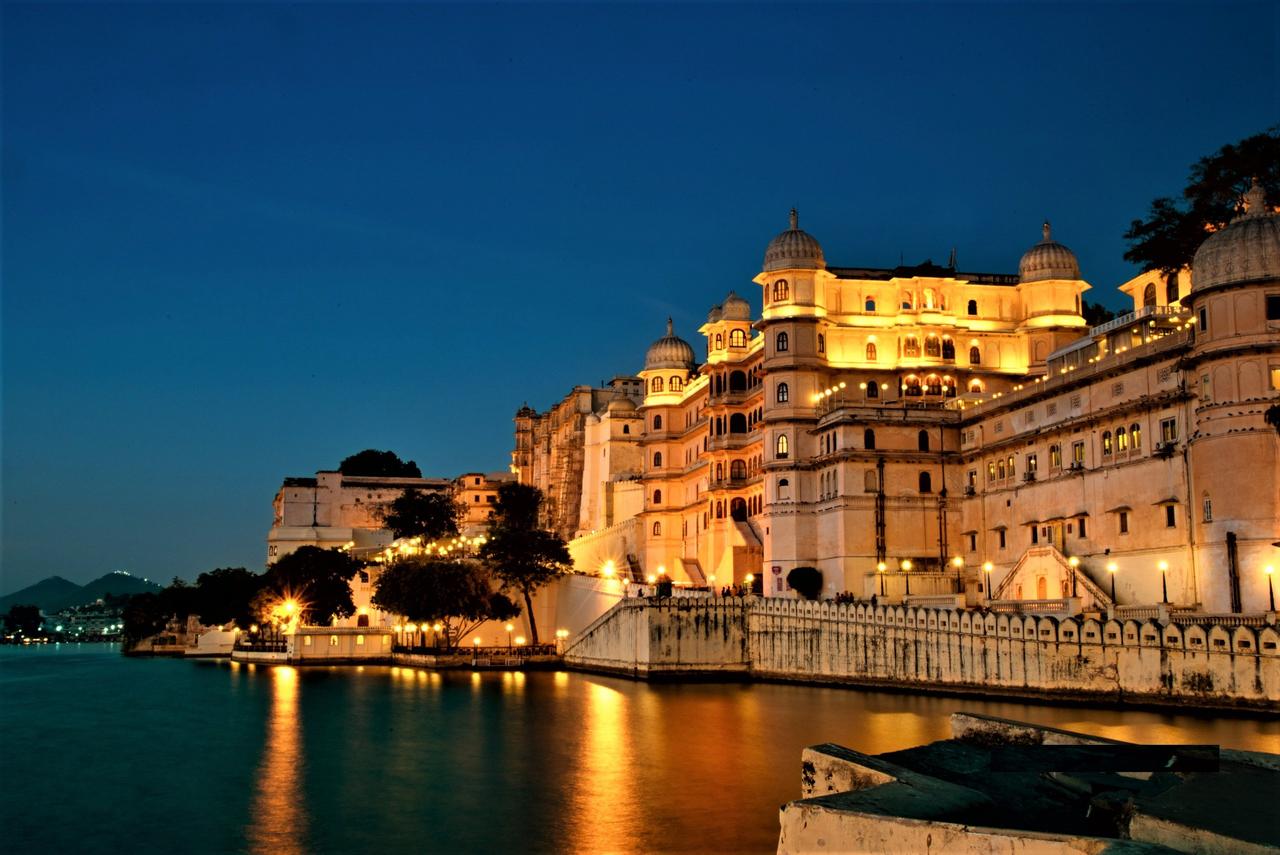 Image Courtesy: City Palace, Udaipur
Another breathtaking venue in Udaipur when it comes to palace wedding venues in India, City Palace is one of the most popular destination wedding venues in India. If you are looking for a palace wedding in Udaipur, then you must consider the City Palace. The City Palace is a complex of palaces in the city that combines two heritage hotels called the Shiv Niwas Palace and the Fateh Prakash Palace along with Jagmandir Island Palace, Zenana Mahal, Darbar Hall and the Manek Chowk.
You could pick any one of these monuments of historical and cultural significance or plan your wedding across these places. This medieval era palace-turned-heritage-hotel will leave you flabbergasted with its antique chandeliers, paintings and illustrations and regal artefacts and you have the Mewar dynasty to thank for the majestic views. For your perfect City Palace, Udaipur wedding you can hire professionals to assist you at all times and make the experience fuss-free.
Umaid Bhawan Palace, Jodhpur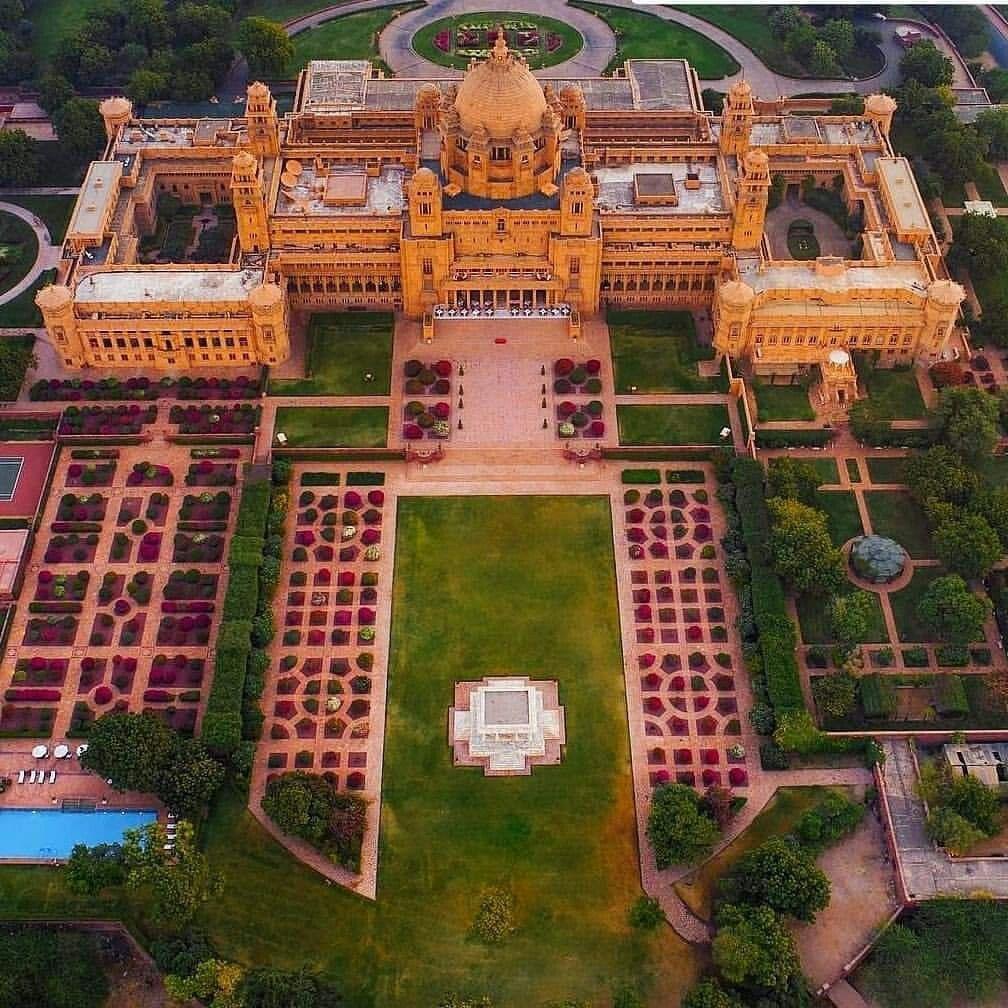 Umaid Bhawan Palace was breaking the internet and doing its fair share of rounds after Priyanka Chopra and Nick Jonas' palace wedding. It is one of the biggest private residences in the world and has the reputation of being the best wedding palace in Rajasthan. Located in Jodhpur, Rajasthan, part of the property is managed by Taj Hotels where one can have a magical wedding affair. The property also entails a museum that showcases the unique collection of Marwari rulers. You can view Mehrangarh fort from here and feel like a royal while making your bridal entry.
Samode Palace, Jaipur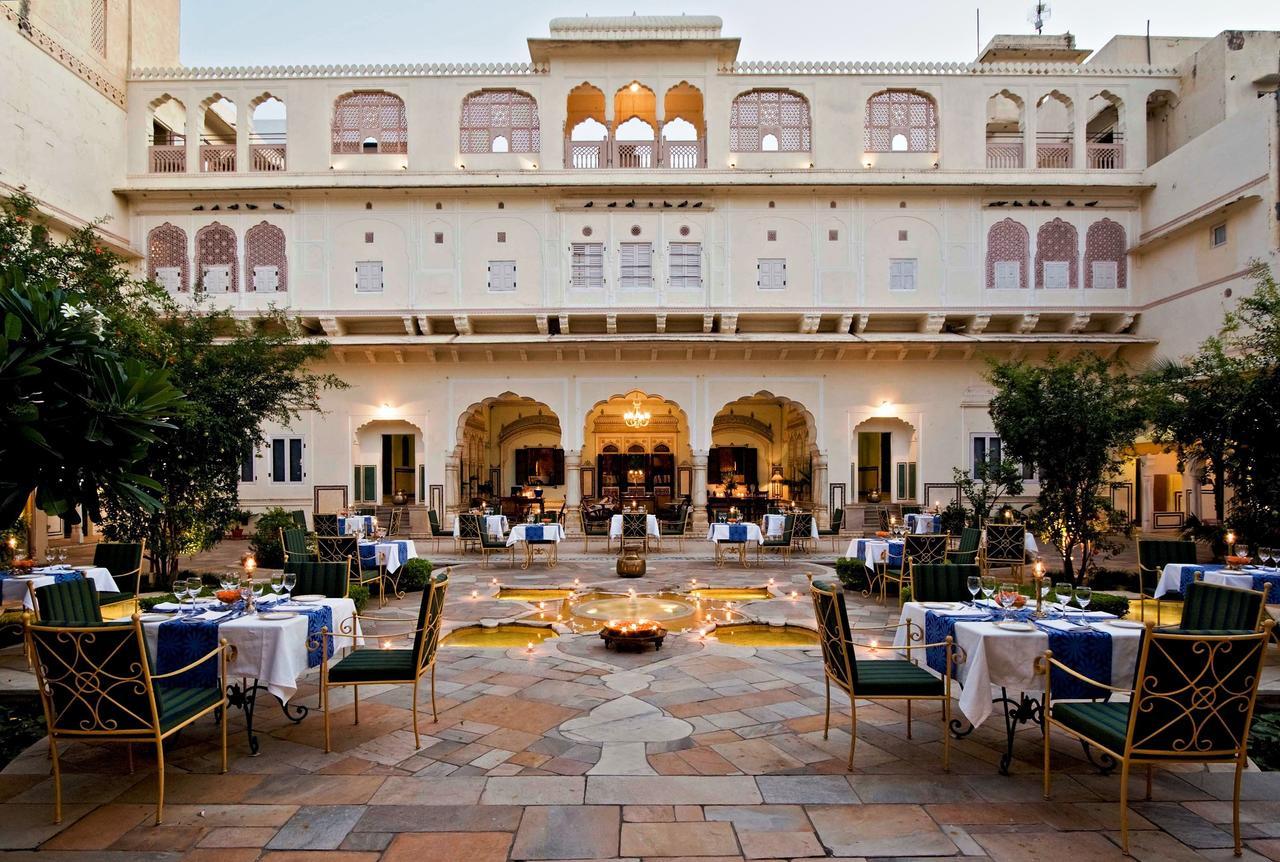 If you are looking for a palace for wedding in Jaipur, Samode Bagh or Samode Palace can be the answer to all your prayers. Samode Palace in Jaipur is known for having a spacious lawn that is ideal for having an open-air function on your wedding. If it is not a day wedding at this unique palace wedding venue, you are sure to see the magic that the lights and lamps create all across space. You need not worry about your guests who come a long way to attend your functions as the venue offers them a comfortable stay while keeping it typically regal at all times.
Oberoi Udaivilas, Udaipur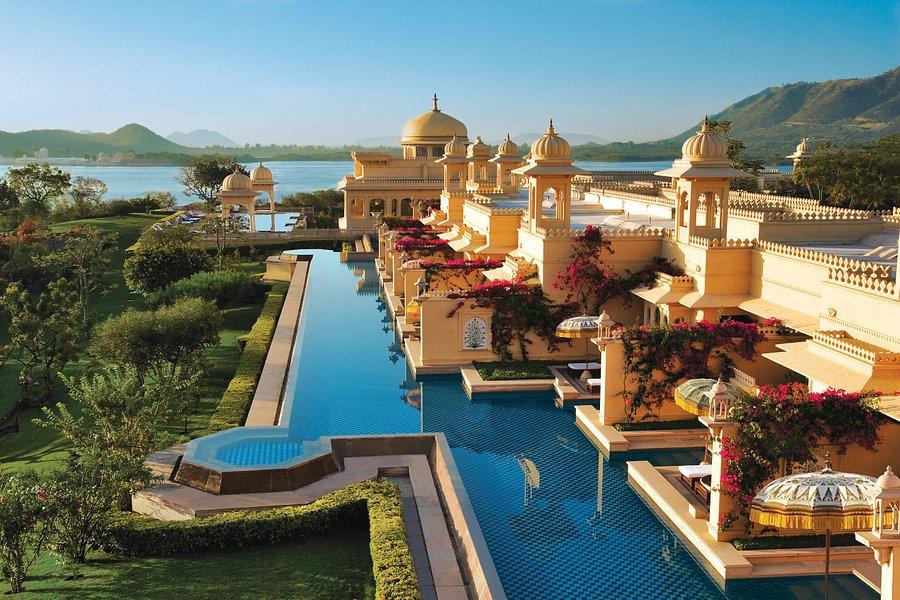 Oberoi Udaivilas is an unforgettable wedding space that the millennials have given their hearts too ever since we all watched the dream wedding sequence in Yeh Jawani Hai Deewani. If you are looking for a big fat Indian wedding (irrespective of the size of the guest list), Oberoi Udaivilas can be the destination to your unique palace wedding in India. Overlooking the Aravallis with beautiful pools and fountains inside the property, the venue tends to augment the entire wedding ceremony to a fairytale wedding of the queen and the king. Recreate your royal fairytale at Oberoi Udaivilas and do not forget to plan the seating arrangement well.
The Leela Palace, Udaipur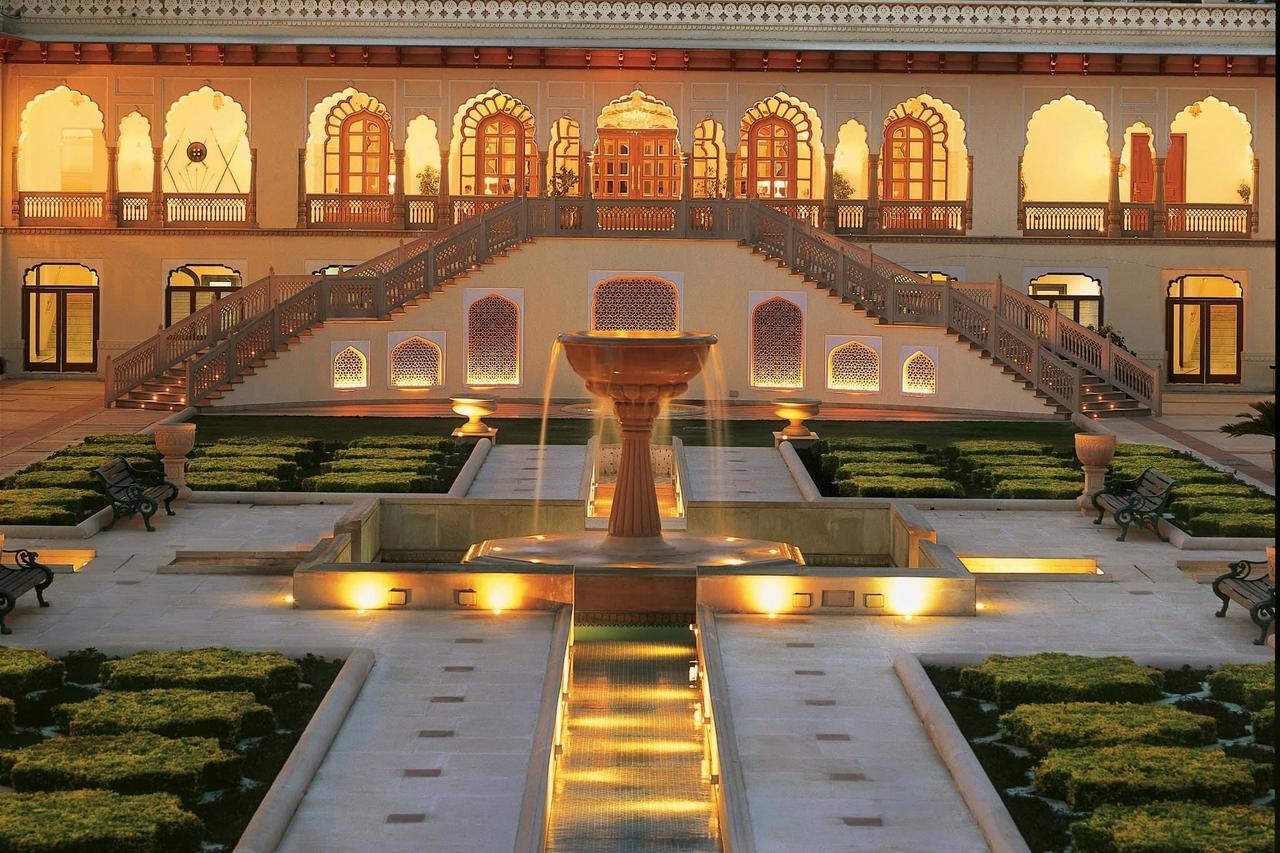 Another jewel on the shores of Lake Pichola, The Leela Palace in Udaipur is an epitome of beauty. Upholding the grandeur of the royal heritage and culture through the architecture, Leela Palace is the perfect balance between royalty and the touch of an elegant yet contemporary venue for the millennial wedding ceremonies. Bringing comfort and luxury together this Rajasthan palace for wedding is truly alluring. Your Leela Palace, Udaipur wedding is sure to be a memorable affair.
WelcomHotel Khimsar Fort & Dunes, Jodhpur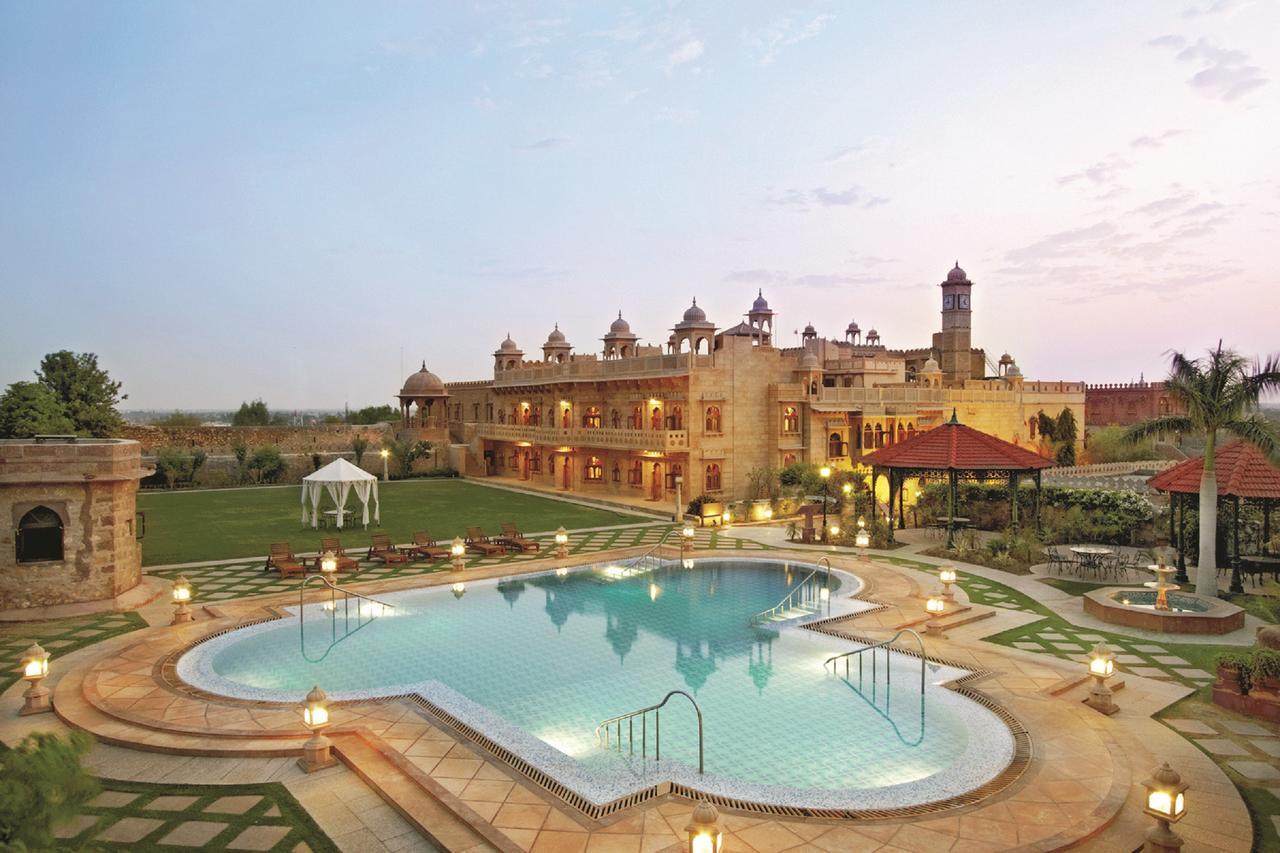 Khimsar Dunes has an attractive ambience which makes your guests feel welcomed. Apart from having multiple spaces that allow you to host parties and different ceremonies simultaneously, Khimsar Fort & Dunes has lush green lawns that are great for having open-air functions under the starlit sky. It has a small banquet hall that is best for having indoor functions. Plan your forthcoming events at WelcomHotel Khimsar Fort and Dunes, Khimsar, Jodhpur to make them a memorable one. This charming yet heritage place makes for your perfect palace for wedding.
Alila Fort, Bishangarh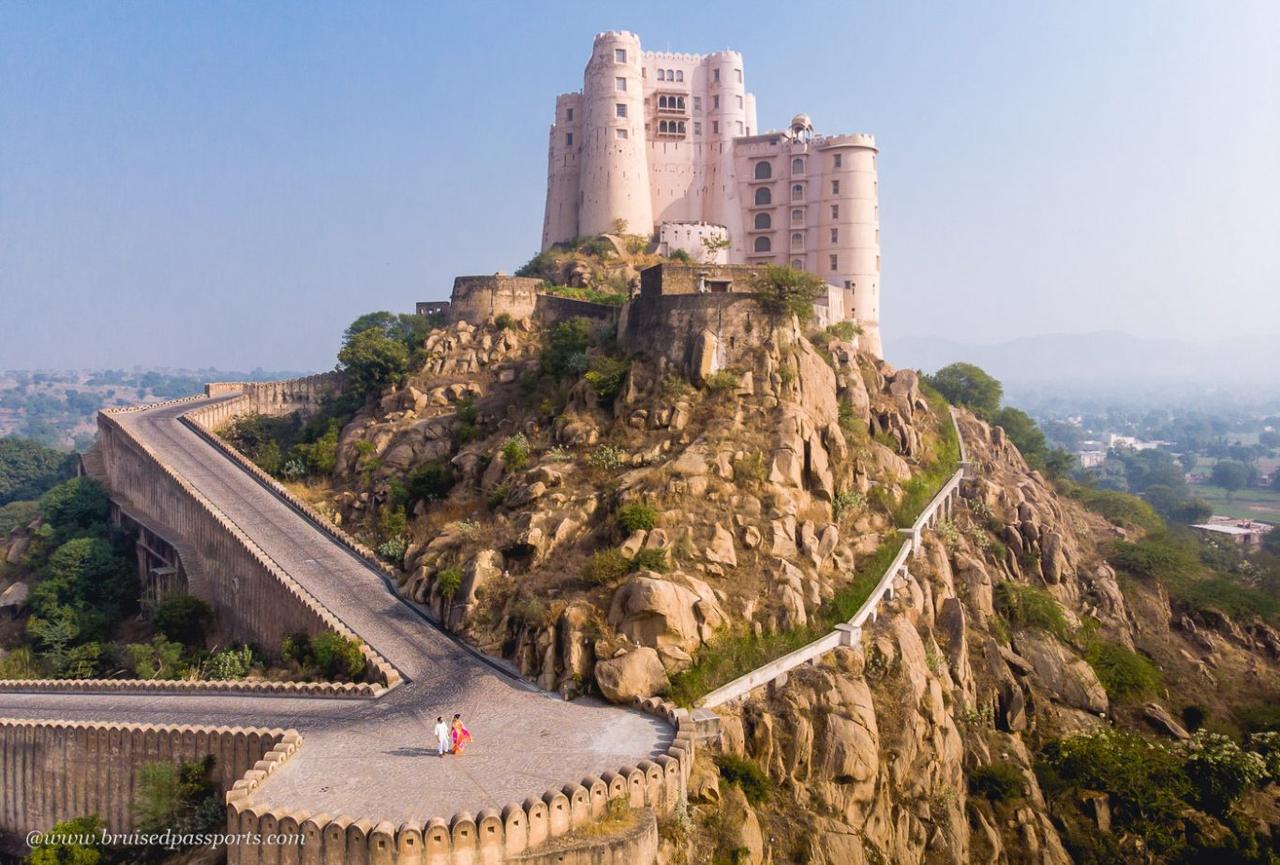 Image Courtesy: Bruised Passports
If you look at the list of places for a destination wedding in Jaipur, Alila has to be one of the freshest finds. Live the dream of a fairytale wedding amid the sublime splendour and romance that the Alila Fort in Bishangarh provides. The beautiful fort will leave you awestruck with the 360-degree view of Rajasthan. The landscape is breathtaking and this backdrop makes palace wedding a beaut in here. If you are the bride who is looking for a palace wedding but also plan to keep it simple and a private affair, Alila fort is the right place for you to be at.
The fort can be exclusively booked for your wedding and you can enjoy uninterrupted privacy on one of the biggest celebrations of your life. Alila is one of the most magical wedding venues in Jaipur for a palace wedding. Every detail, from dining and decoration to photography and entertainment, is exquisitely tailored to create a spectacular once-in-a-lifetime celebration that's everything, and more, you could imagine.
Chomu Palace, Jaipur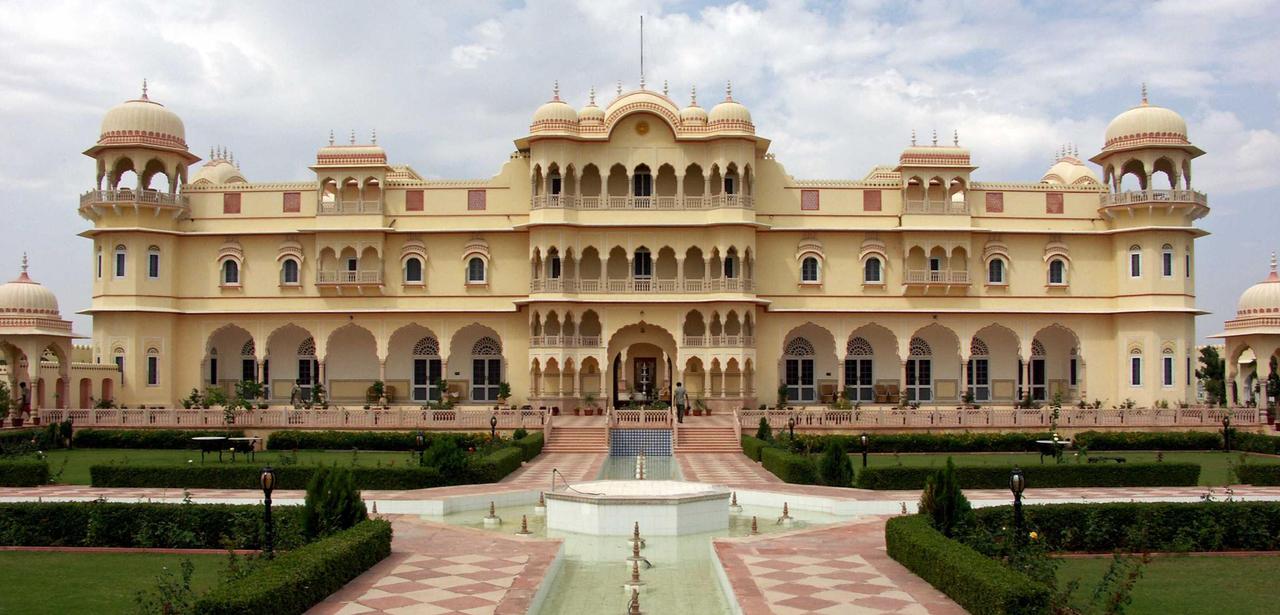 Chomu Palace is another marvellous structure that you will find in Jaipur. The royal residence is a reflection of the Royalty from 300 years ago. This elegant fortified palace hotel is one of the most beautiful yet subtle palaces in the city to host your wedding. The authentic and historic palace discreetly blends modern amenities and facilities to make it a grand monument that will be perfect. This historic monument is designed according to the Indian Vastushastra philosophy.
Tie the knot in a beautiful day ceremony at Chomu Palace, Jaipur with a beautiful aristocratic touch to your big day. Plan a palace themed jaimala ceremony with flower shower and make this day an unforgettable one.
Taj Falaknuma Palace, Hyderabad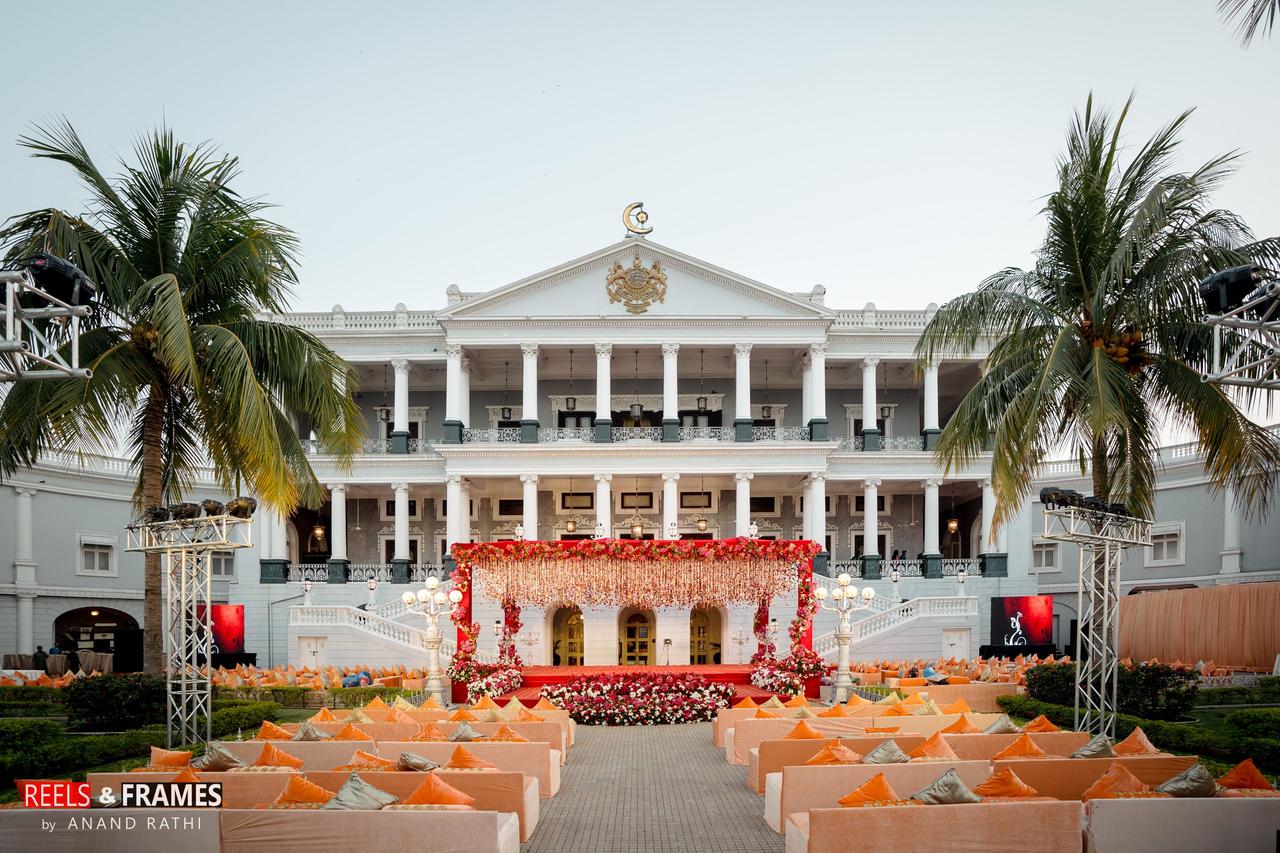 Taj Falaknuma Palace is a gem resting in the beautiful palace hotel perched 2000 feet above the city of Hyderabad in Telangana. Constructed by the Nizams in 1984, this ornament in the city of pearls is perfect for hosting a palace wedding. From the moment you arrive at Taj Falaknuma Palace in a horse-drawn carriage, their palace butlers treat you like royalty. Many famous celebrities have tied the knot at this very venue like Rana Daggubati and Miheeka Bajaj, singer Neeti Mohan and Nihar Pandya, actor Nithiin and Shalini to name a few.
This enchanting palace hotel in Hyderabad exudes romance and grandeur that take one back to when the Nizam ruled Hyderabad and with the right kind of decor it is sure to make your wedding the perfect fairytale that you have always dreamt of. Get in touch with the best decorators in the city to adorn this palace and add beauty to the regal touch.
Taj Hari Mahal Palace, Jodhpur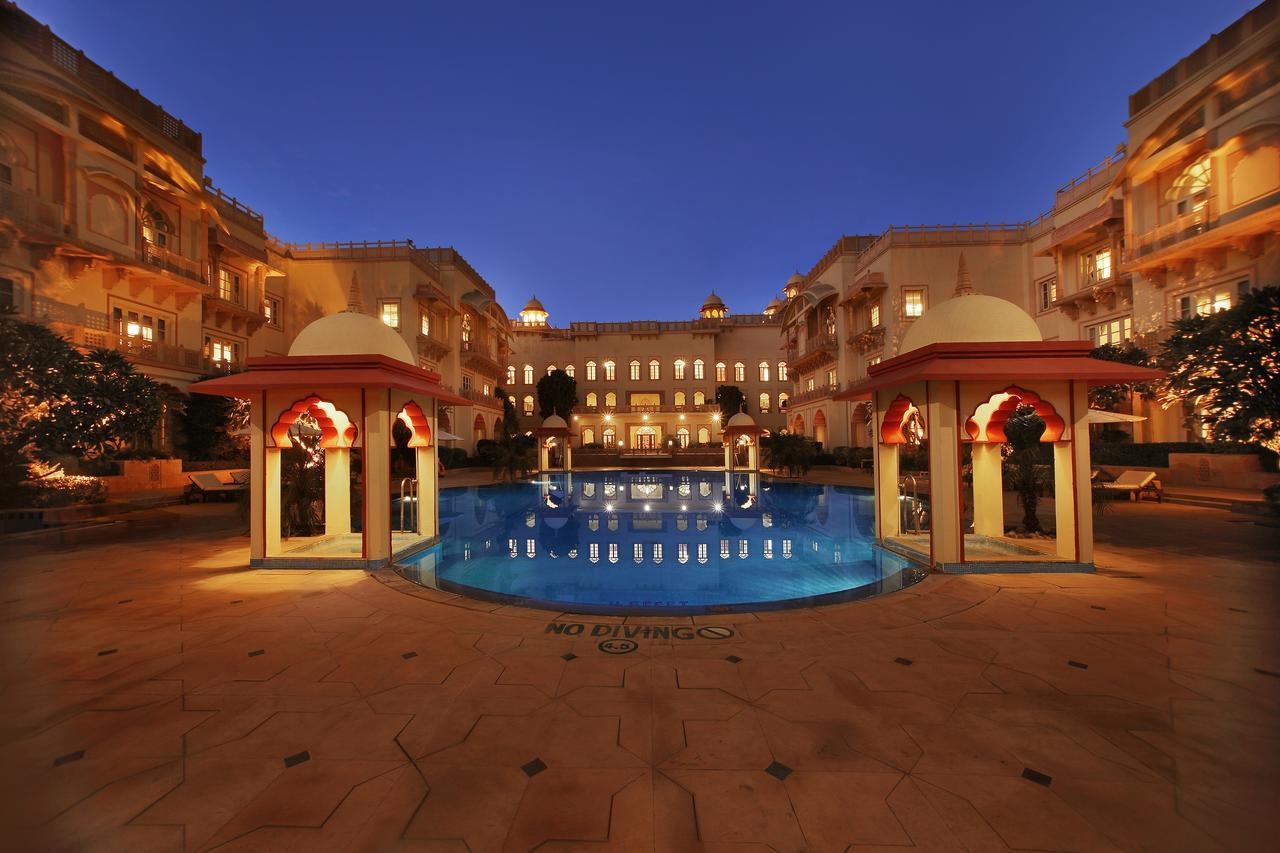 A resort with top of the line luxurious amenities, Taj Hari Mahal pulls out all stops for an enchanting vacation in Jodhpur, India's exotic 'Blue City.' Spread over six acres of landscaped lawns and manicured gardens, Taj Hari Mahal celebrates the grandeur of Rajput and Mughal architecture, from its arch-shaped swimming pool, beguiling frescoes, latticed windows and flower-strewn water fountains to miniature artwork and jewel-toned furnishings inside the plush suites.
The wedding is going to be a glamorous soiree, making this palace hotel your premier choice for a rendezvous in Jodhpur.
Devigarh Palace, Udaipur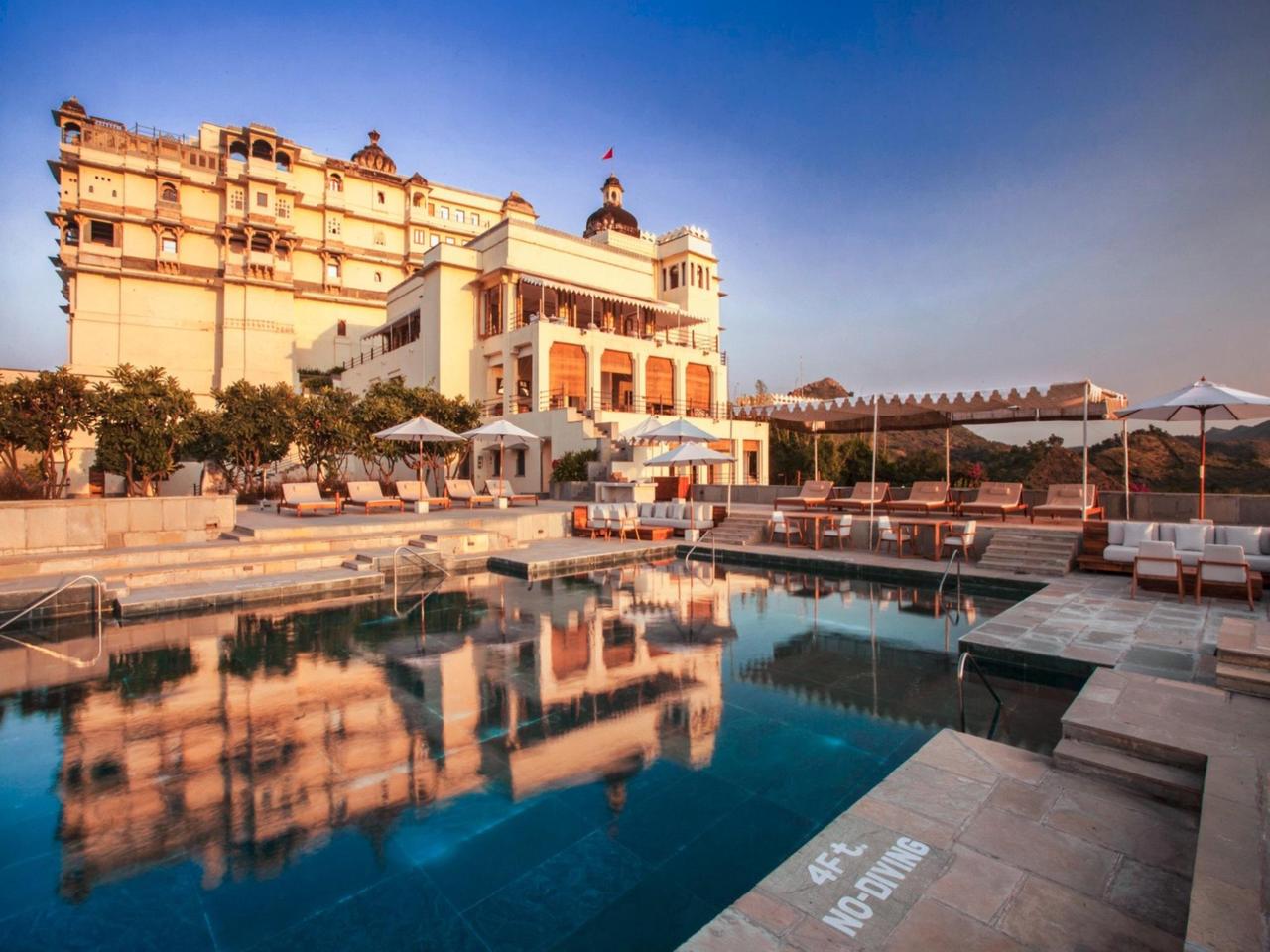 Image Courtesy: Devigarh Palace
Built-in the 18th century, Devigarh Palace is a luxurious heritage hotel and resort situated in the middle of the Aravalli hills in Delwara, Udaipur. It is beautifully surrounded by vast lush green lawns and mountains, allowing you and your guests to have a royal wedding amidst a serene and calm environment. This medieval seven-storied beauty is an aesthetically pleasing fusion of modern minimalistic elements and traditional Rajasthani relics that is sure to make your wedding ceremony an unforgettable soiree.
Mysore Palace, Mysore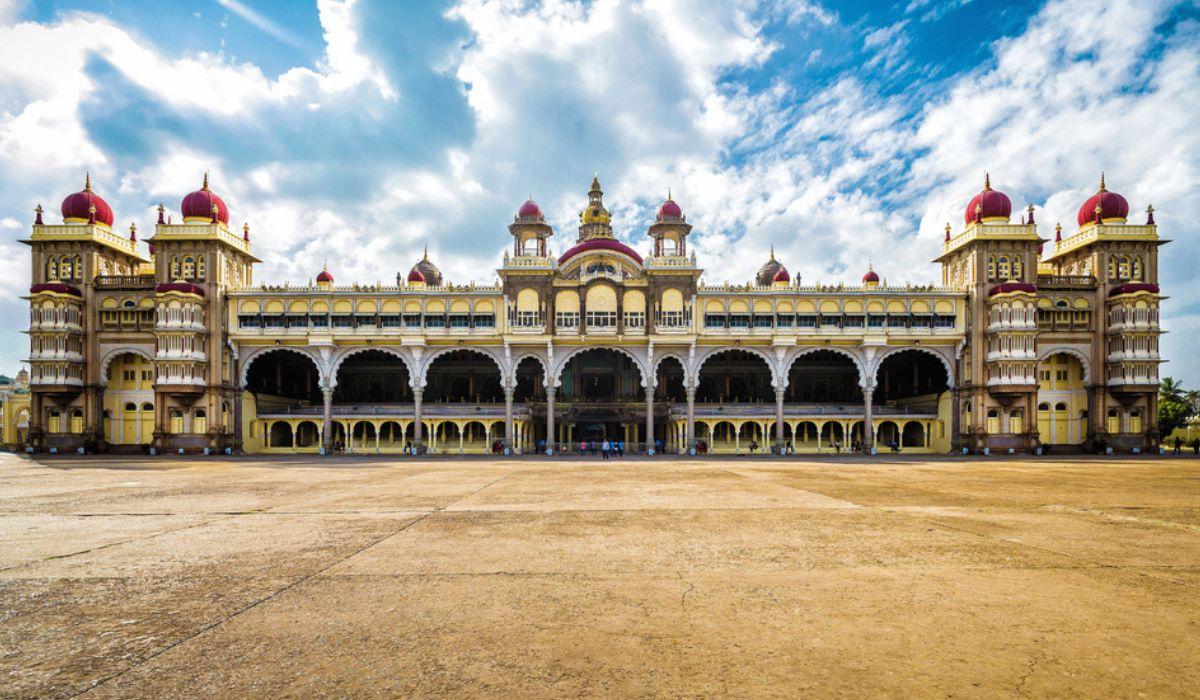 Image Courtesy: Mysore Palace
Mysore is also described as the city of palaces; nevertheless, this palace, in particular, is one of the most gargantuan and mesmerizing architectural pleasures of Karnataka. It is made of grey granite and designed with solid pink marble domes; a spectacular conception of Henry Irwin. Carved with Hindu, Muslim, Rajput, and Gothic styles, it will take the majesty and splendour of your castle wedding experience to a whole new level.
Gorbandh Palace, Jaisalmer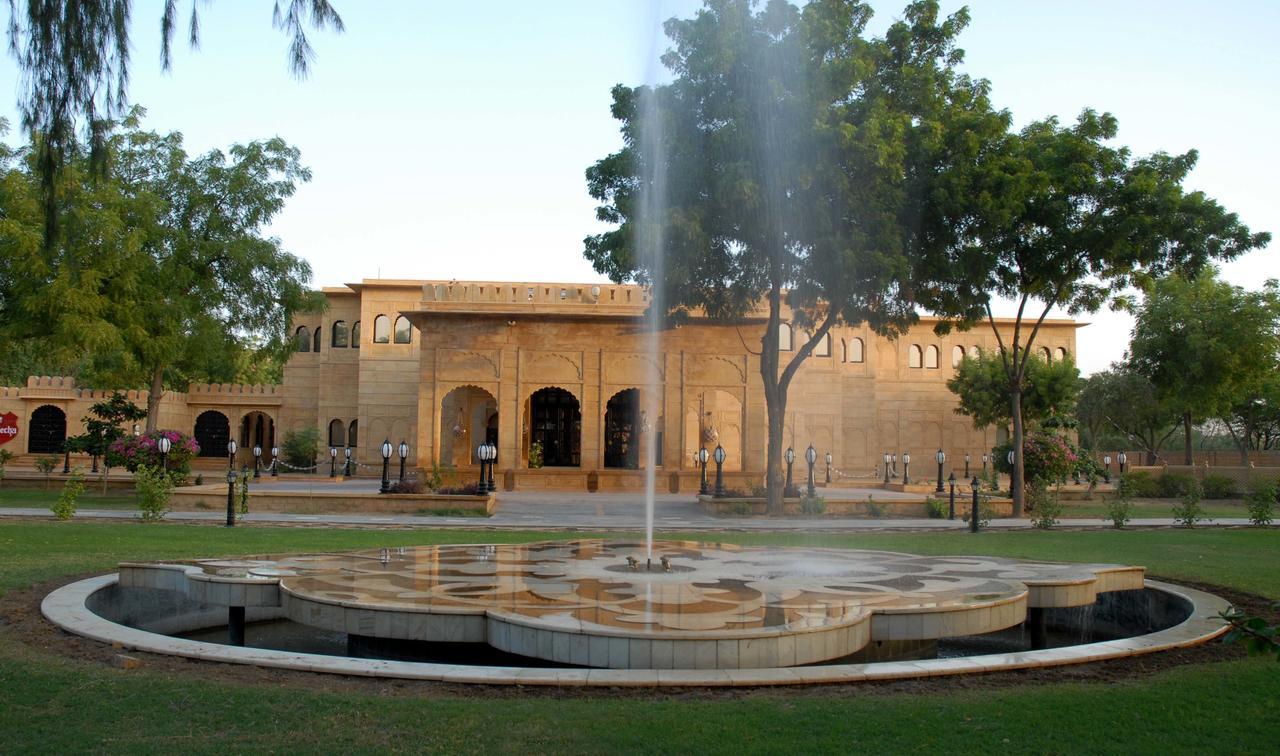 If you want to experience the traditional Mewari hospitality surrounded by picturesque views, Gorbandh Palace is the place for you. This medieval palace is built with yellow sandstone and its architectonics is inspired by different Rajasthani deserts and their respective stories. Roaming around on camels and getting the real sovereign vibes is what this majestic place has to offer to you and your loved ones.
Jawahar Niwas Palace, Jaisalmer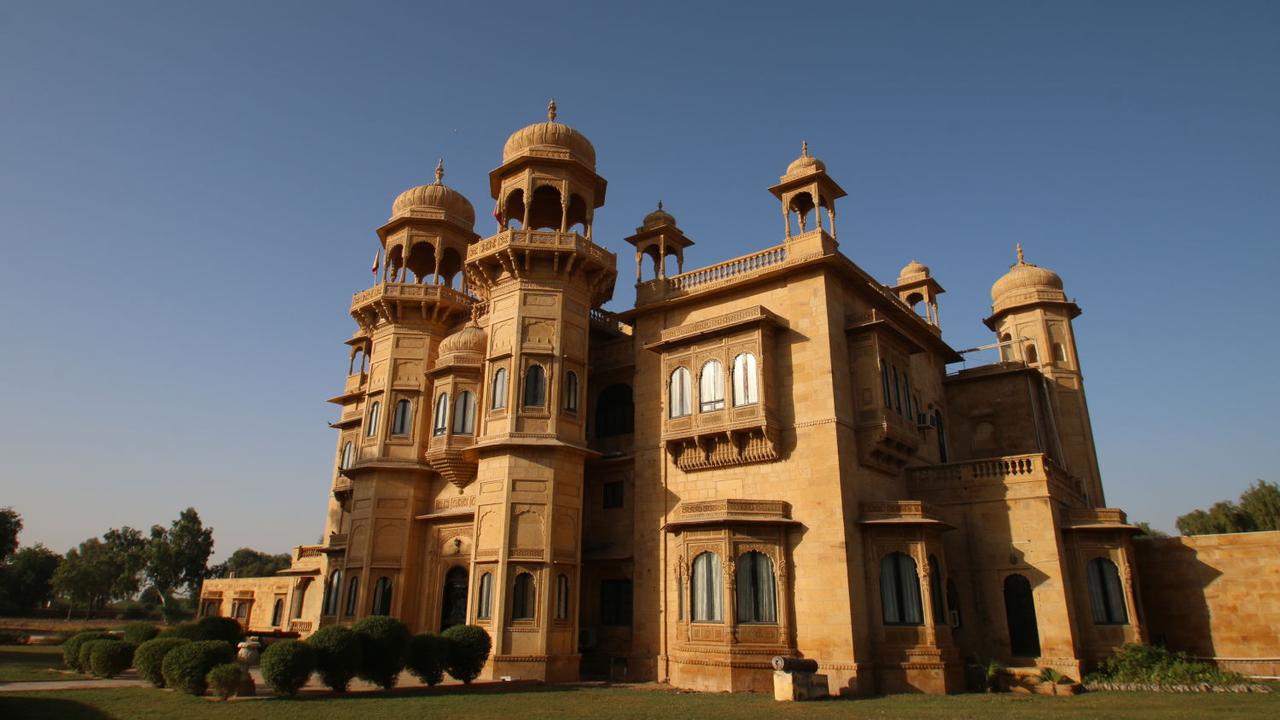 Image Courtesy: Jawahar Niwas Palace
Jawahar Niwas Palace was founded in the 19th century by Shree Maharawal Shalivahan Singhji which has become one of the most exclusive and luxurious heritage hotels in Jaisalmer. Assembled with golden sandstone and enigmatic traditional Jharokhas and Chhatries, this masterpiece is a demonstration of true Jaisalmer architecture. Along with ethnic décor, it is equipped with all the modern amenities and facilities bringing in your wedding an ideal balance between colourful, folkloric ambience and an imperial-like feel.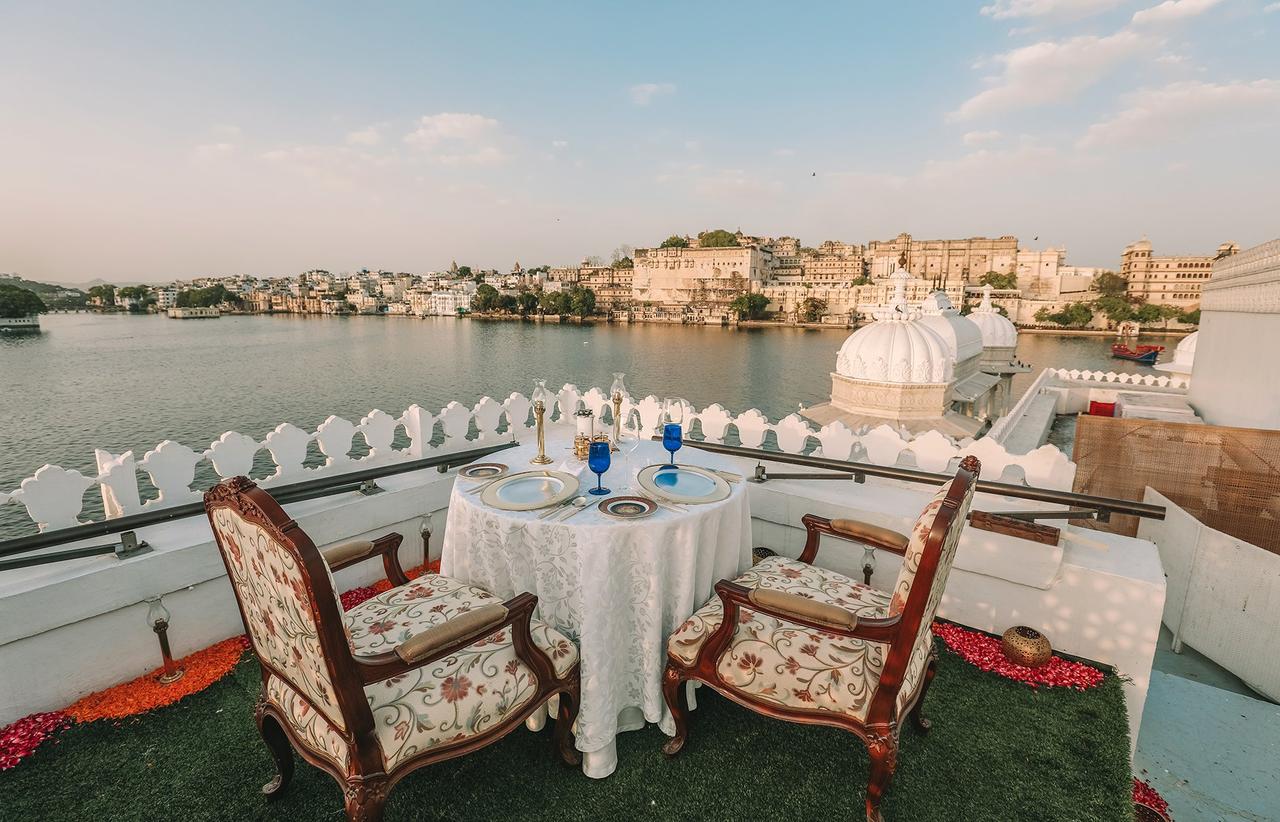 When you go for luxury, why not enjoy the royal regality that the palaces of India offer. Fulfil your childhood dreams by having a magical palace wedding. The royal theme will come out perfectly at one of these wedding venues. So which of these are you planning to book?
Share your thoughts with us the comments below.