The Role of a Bangle Ceremony in a Traditional Indian Wedding
A bangle ceremony is a pre-wedding ritual performed differently in different states. Let's take a look at each in detail.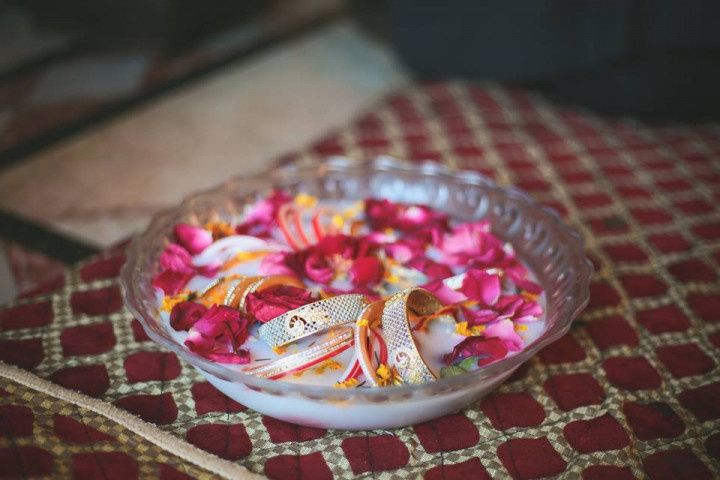 Do you know that bangles hold a special significance in the life of a married Hindu woman? Without bangles, her Solah Singaar looks incomplete.
Every Hindu wedding has customs and rituals, and the bangle ceremony is one among the most important. This ceremony is done in the bride's home where the groom's family or the bride's maternal family takes bangles for her. The ceremony is considered mandatory in all Hindu weddings, though; the customs and the type of bangles are different for each community. Do take a look at few of the states:
1. Punjab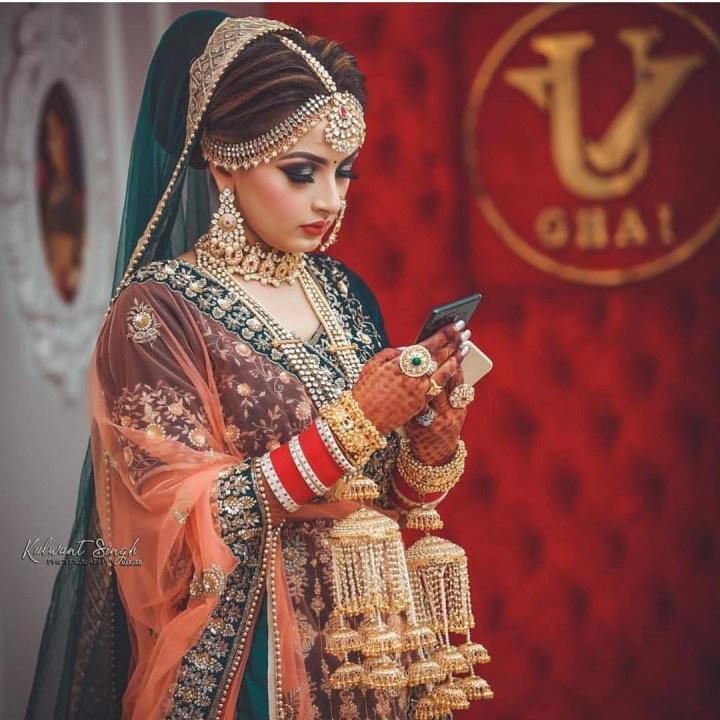 Image Courtesy: Kulwant Photography
Punjabi brides, both Sikh and non-Sikh wear a typical red coloured bangle known in India as a Chura. Without it, a Punjabi bride looks unmarried and incomplete. All Punjabi brides have to wear traditional Chura during their wedding.
The red and white bangles are a symbol of a married Punjabi woman and come in a variety of styles. A Chura must be worn for one full year. The bangle ceremony in Punjab is known as Chura wearing ritual that is performed on the morning of the marriage. During this ceremony, the bride is also made to wear Kalire, gold and silver bells in a dome shape. These are hung from her Chura by her friends and cousins.
2. Maharashtra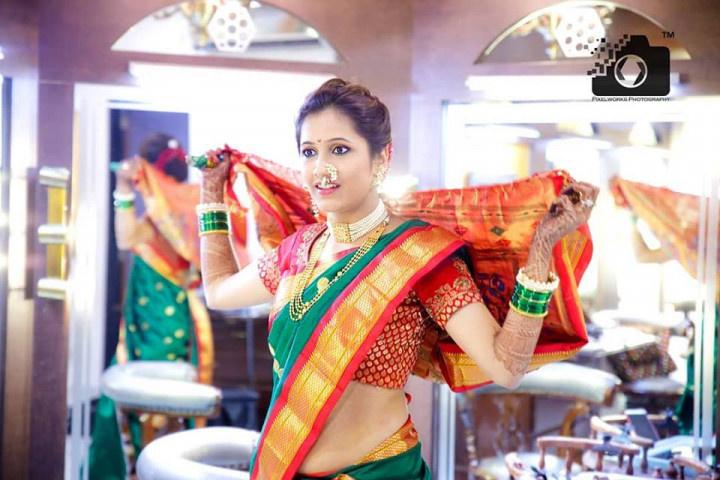 Maharashtrian weddings too have a bangle ceremony in which the bride to wear green coloured bangles. Green is considered pious and a symbol of a wedded Maharashtrian lady. These days Maharashtrian women wear a combination of green bangles and golden Kadas to look trendy. The gold Kadas look classy with intricate motifs that lend a traditional look to a bride.
3. Gujarat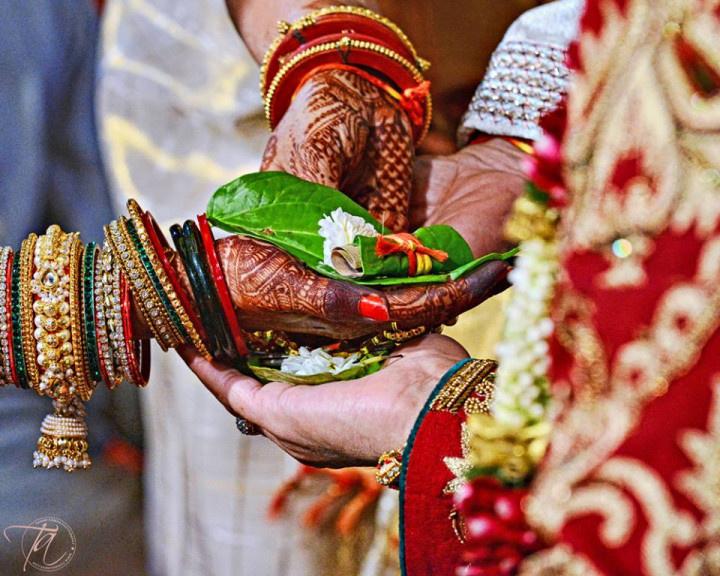 A Gujarati bride wears an eclectic mix of gold, green and red bangles in a Gujarati styled bangle ceremony. It is an important ritual in every Gujarati wedding where a mother gives bangles in red, gold and green to her daughter to bless her for a happy married life. The bangles look traditional with gorgeous designs in stone.
4. Kerala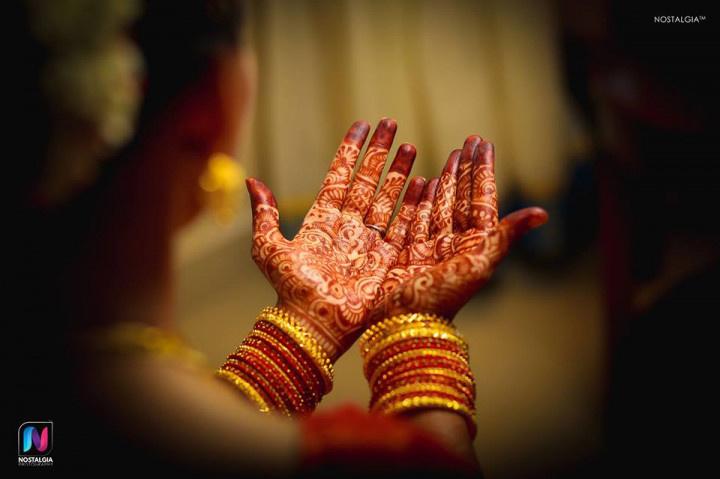 In Kerala, no bridal look is complete if the bride does not show off heavy gold jewellery. All Malyali brides take part in a bangle ceremony when they get married. This ritual is done at the bride's place amidst her family and is done to bless her with a happy married life. A typical Malayali bride wears beautiful golden Kadas with intricate designs and work.
5. Karnataka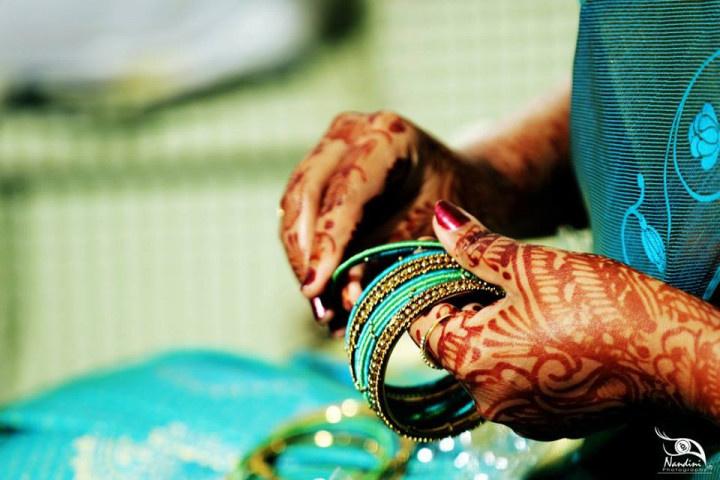 In the bangle ceremony of a Kannadiga woman, she is made to wear rather simpler looking glass and golden bangles. These bangles are pretty simple in design when compared to the ones worn by a Malayali bride. Brides of Karnataka wear glass bangles in myriad colours like yellow, blue, green and red. They combine these glass bangles with golden Kadas for a trendier look. Even brides of Telangana wear glass and golden bangles.
6. Rajasthan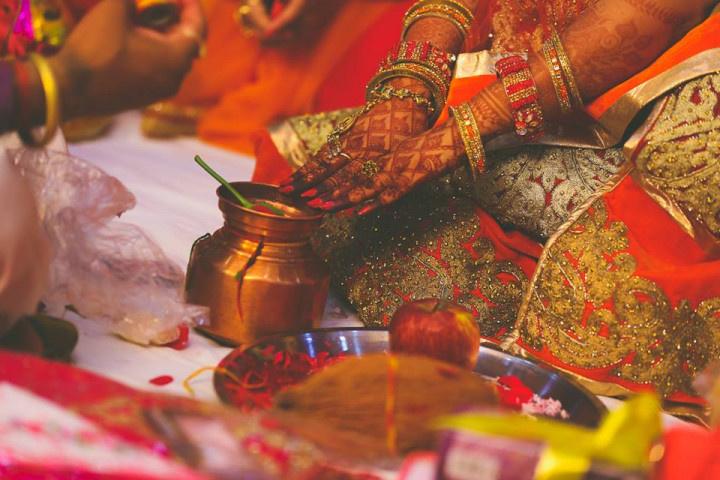 Lehariya work on a Rajasthani bride's bangles lends her a very traditional look. Every Rajasthani bride wants to look like a Rajput queen on her wedding day, and therefore, it's no surprise when you spot colourfully designed bangles on her wrist on her special day. These bangles look exquisite and are made up of lac. All Rajasthani bangles are colourful and are famous for their intricate designs in stones and pearls.
7. Kolkota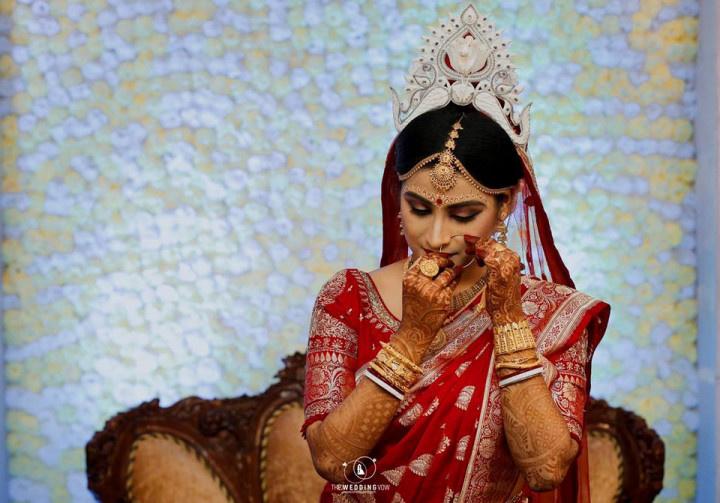 The bangle ceremony in a Bengali household is carried out auspiciously by seven married ladies at the bride's home. During this ritual, the bride is made to wear the traditional bangles made out of shell and coral. These are also called Shankh (conch shell) and Paula (red corals). While Shankh is a white coloured bangle, Paula is red. In the olden times, rich married women used to wear Shankha made out of ivory. Every Bengali bride must wear these in order to be called married. These bangles symbolise a blissful married life.
Different coloured bangles and what they symbolise
Every Indian bride wears bangles of various shades. Do you know what they stand for? Do read them:
1. Red bangles in bangle ceremony
The colour red stands for prosperity and positive energy. It is the most common colour seen on bangles worn by married Indian women.
2. Blue bangles
The colour blue symbolises wisdom. Every mother wishes her daughter to begin her new life by using her wisdom and intellect.
3. Green bangles
Green colour stands for fertility and good luck.
4. White bangles
They symbolise the start of a new life.
5. Silver bangles
They signify strength.
6. Golden bangles
They stand for prosperity and fortune.
7. Orange bangles
They stand for success.
Every state of India follows certain rituals of which a bangle ceremony is one of the most important. Though the type of bangles worn by brides is different, the aim of the ceremony remains the same-to bless the soon to wed bride good luck, health and prosperity.
Have you ever attended a bangle ceremony? Let us know through comments.