150+ Best Bridal Mehndi Designs for Full Hands
Looking forward to beautiful arms adorned in alluring artistic lines of henna? Keep scrolling through our list of impeccable bridal mehndi designs for full hands & find the perfect one.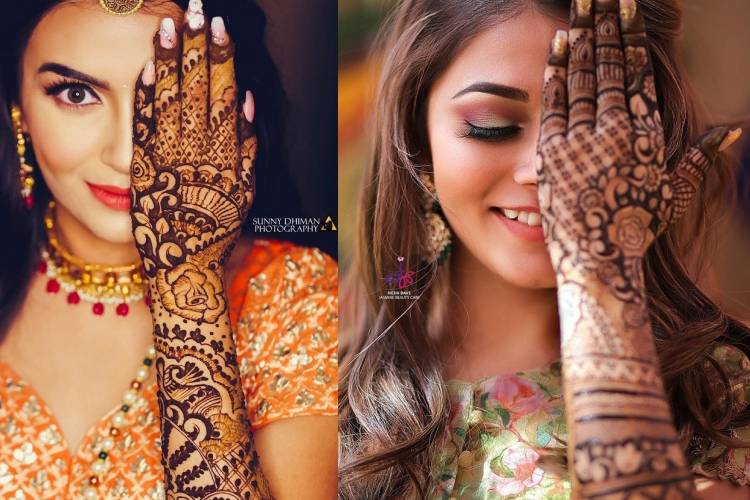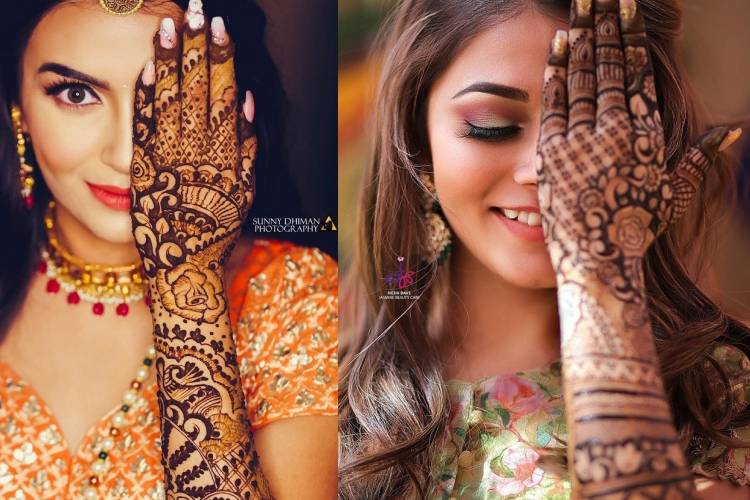 Image Courtesy: Sunny Dhiman Photography (L), Jasmine Beauty Care (R)
Wedding bells around the corner? Then it's nearly time for you to start prepping about all the pretty things that would deck you for your big day, including your chosen set of mehndi designs. The Mehndi ceremony is one of the most happening pre-wedding ceremonies and while the fun and frills last, this is also that ritual where you get your arms and legs adorned in gorgeous henna cone designs. Just like the search for your favourite bridal outfit requires going through an endless set of the latest designer bridal lehengas, picking mehndi designs also require a lot of research. It's time to start browsing full hand mehndi designs for brides, that convey your sense of celebration and your bridal henna story in the best way.
There are various bridal mehndi designs for full hands that have intricate patterns inspired by natural elements like the alluring flora and fauna, personal tales and caricatures, traditional motifs, minimal patterns, divine images and even comical components. Paisley and flowers share equal space with peacocks, chains, victorian lace, Morrocan circles and Arabic vines along with arches and Jaalis. Each of these designs is a work of art that will leave you breathless and even though the process is time-consuming - the results are stunning, we guarantee.
Henna has been a favourite with brides for epochs and for all the right reasons. From traditional henna pastes in mehndi cones to the present instant henna stickers, bridal mehndi designs are beautiful and look stunning with any traditional attire while flaunting its symbolic aura as well.
We have cherry-picked some of the best bridal mehndi designs for full hand for you and curated this list of the best and trending Dulhan mehndi designs that you can pick from for your D-day. Scroll to know more.
In this article:
1. Personalised Dulhan Mehndi Designs for Full Hands
2. Latest Dulhan Mehndi Design
3. Bridal Mehndi Designs for Full Hands
4. Full Hand Dulhan Mehndi with Paisley Patterns
5. Simple Dulhan mehndi Design
6. Pakistani Full Hand Dulhan Mehndi Designs
7. Moroccan Dulhan Mehndi Designs For Full Hands
8. Modern Fancy Dulhan Mehndi for Full Hands
Personalised Dulhan Mehndi Designs for Full Hands
Agreed that there are a zillion beautiful mehndi designs out there that look picture perfect and are lying in your screenshot gallery or pinned to your mood board, but you can always add oomph to these trending designs by adding a personalised touch with patterns that tell your story or resonate with you. This will be something that has never been done before because these personalised Dulhan mehndi designs take inspiration from a very unique source - YOU!
Imagine if the full hand mehndi design that you picked not only enhances your overall Dulhan look, but at the same time these full hand Dulhan mehndi designs become an unforgettable part of your wedding that you carry in your heart? Sound just perfect. Your personalised simple full hand Dulhan mehndi design can have your first pet, your special/memorable dates, phrases and quotes that brought the two of you together, et al. Personalisation of outfits, wedding decor, wedding cakes and so on have been trending for quite some time and now even personalised wedding bridal mehndi designs for full hands have become a raging set of mehndi trends these days and that's the reason why you should also consider this unique tinge to your own mehndi designs.
Here are a few inspirations to fuel your choice of beautiful Dulhan mehndi designs for full hands: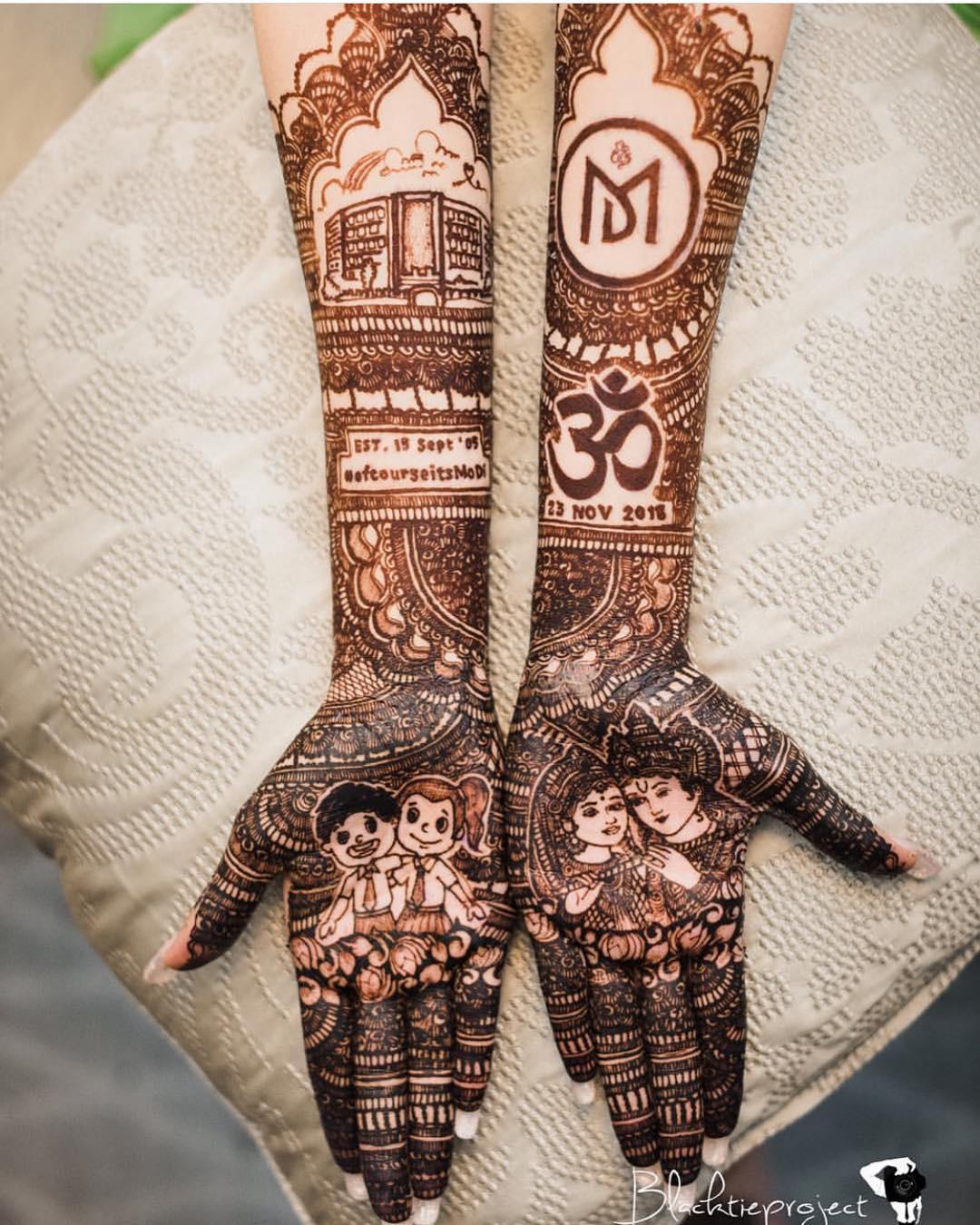 Image courtesy: Black Tie Project
This full hand mehndi design is a perfect fusion of religious elements and a romantic whim. On one hand (quite literally!), we have the religious and spiritual emblem of love and partnership Radha-Krishna, on the other, we have quite an adorable childhood representation of the soon to be newlyweds. The personalised logo adds another statement to this gorgeous full hand dulhan mehndi pattern.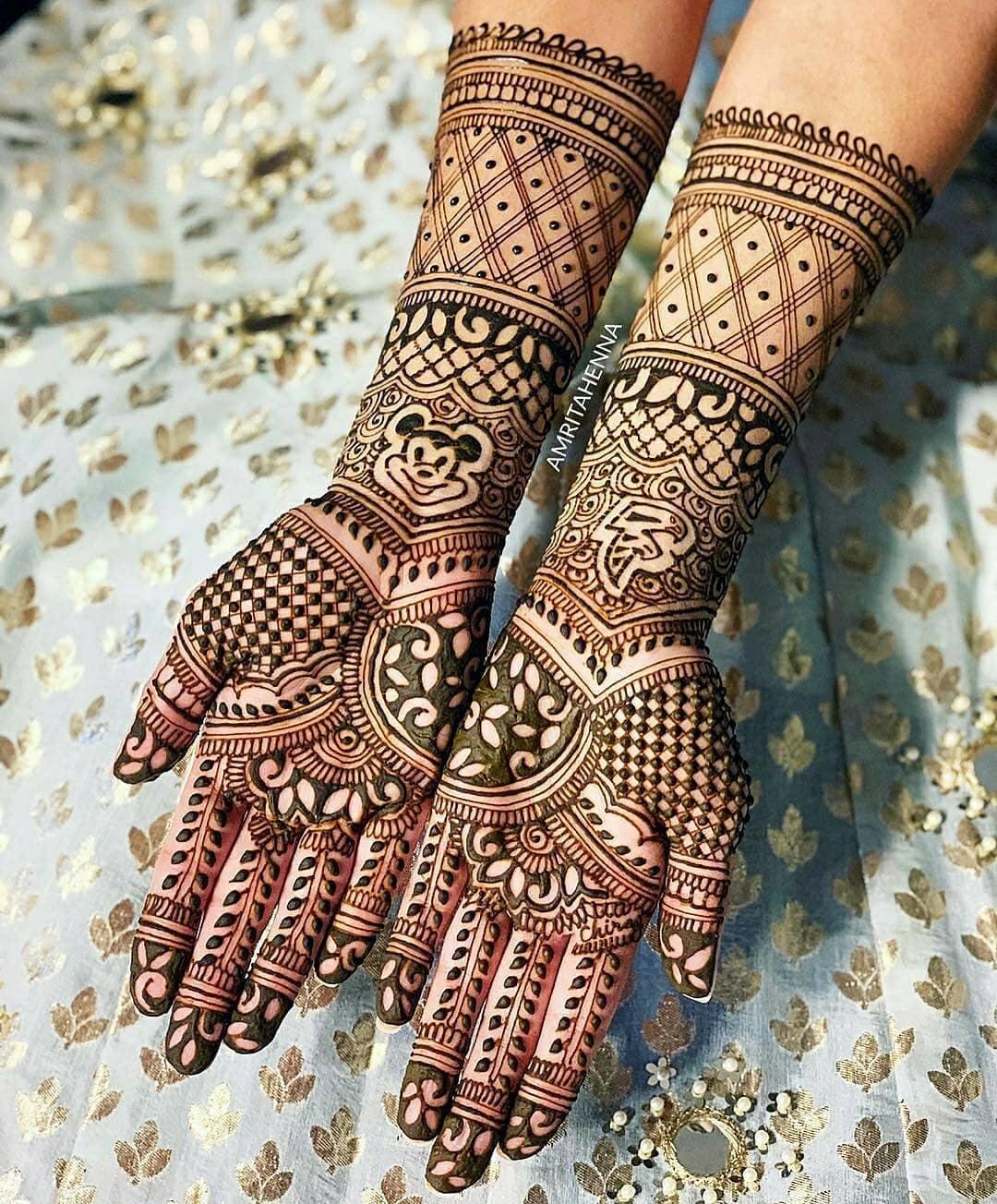 Image courtesy: Amrita Henna
Think Shaadi is all about growing up? Well, 'Dil Toh Bacha Hai Jee'! And no better way to show this younger side in you than to get your yesteryear favourites inked on your hands. It could be one of your favourite cartoons, a princess/prince from your favourite fairytale and so on. Love the way Mickey Mouse sits pretty amid a pretty ornate set of mehndi designs for full hands here.
Also Read: Arabic Mehndi Designs: 105+ Simple & Easy Arabic Design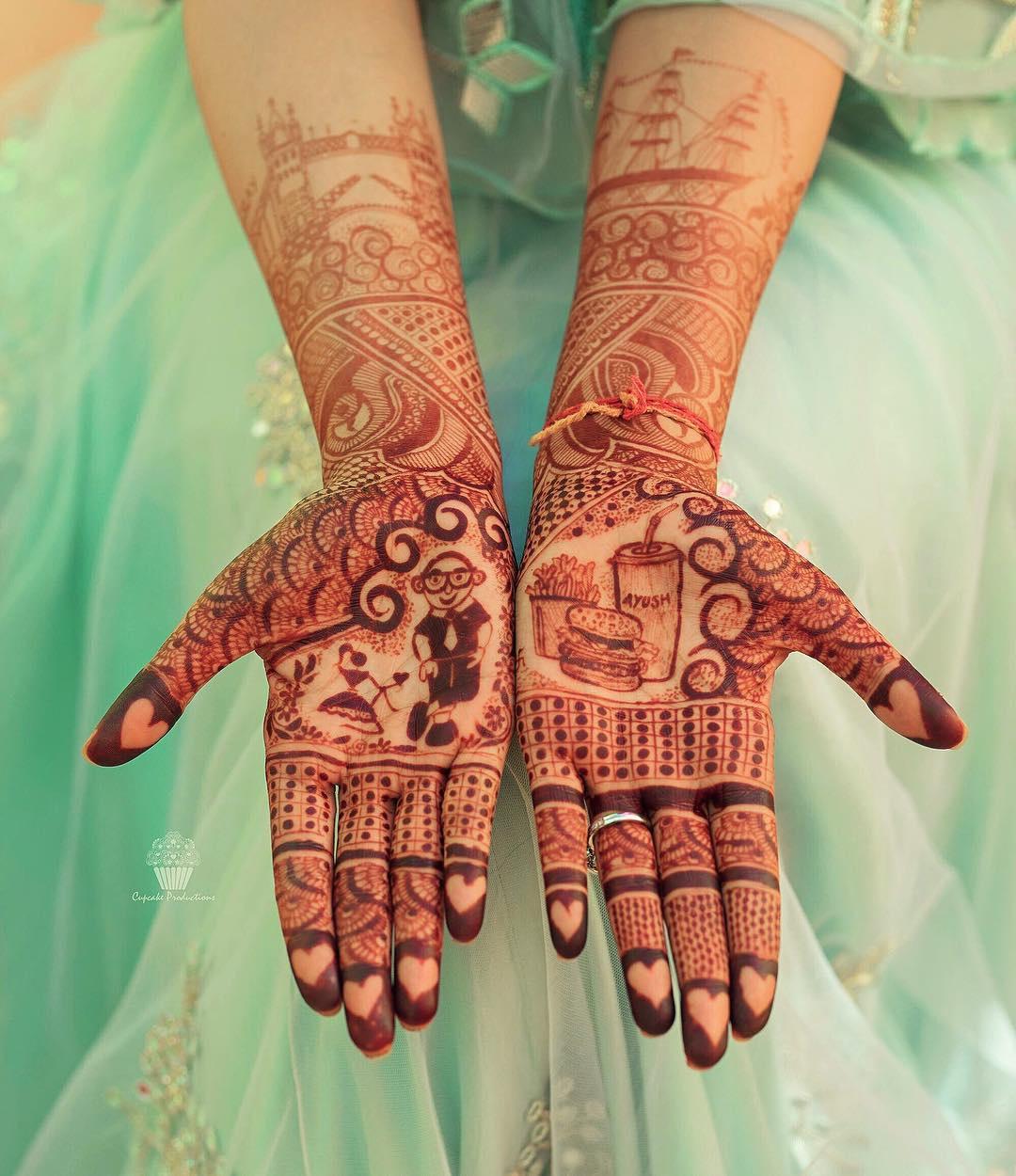 Let's hear it for the 'Piya Ki Pyaaris'. Show your love for your significant other with a caricature of him and all of the things that make him so adorable for you - be it his love for fast food, his dressing sense or even the story of your life ever after on foreign shores!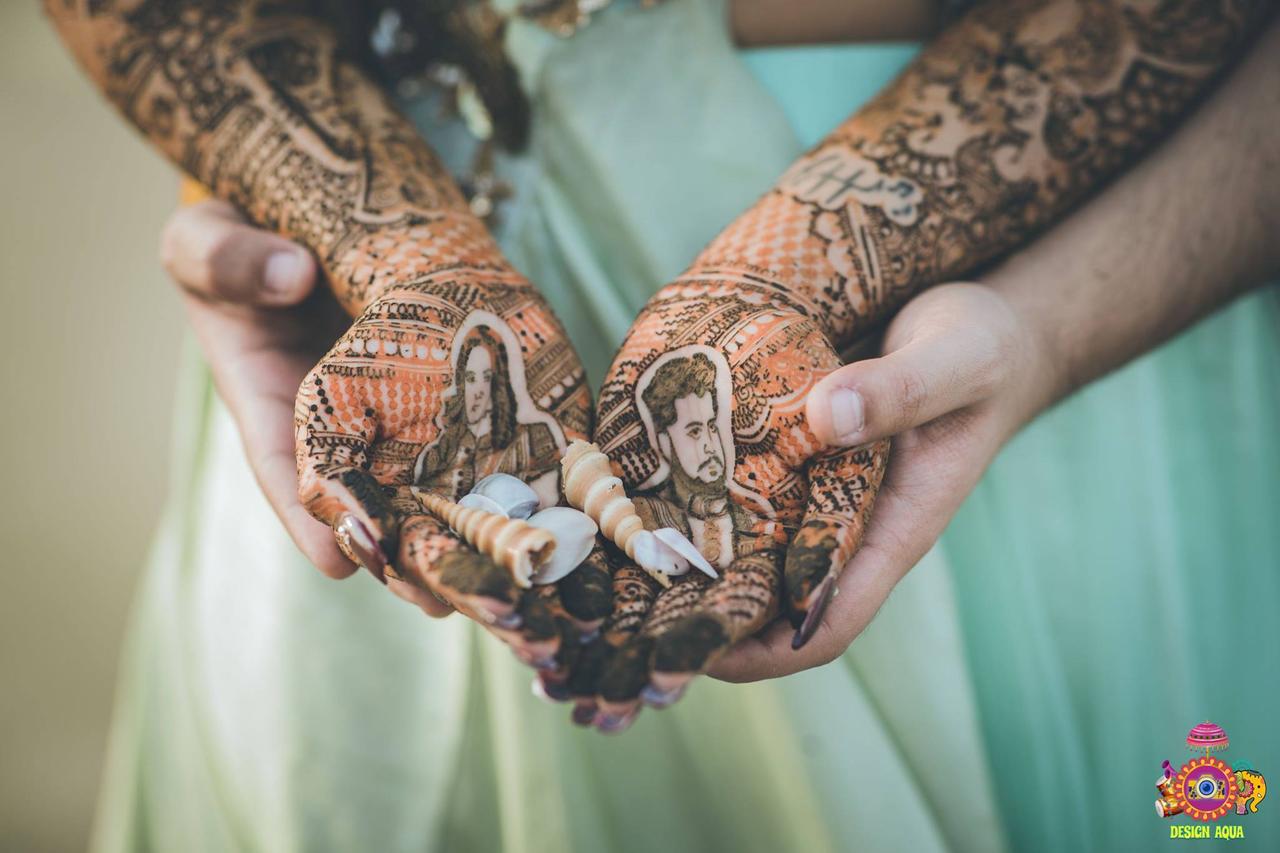 There is nothing as complete as adding his and her images to your mehndi designs for full hands. These full hand mehndi designs provide prime space to the portraits with the rest of the work as detailed, intricate fillers. What can be more personalised in your full hand bridal mehndi design than your own portraits?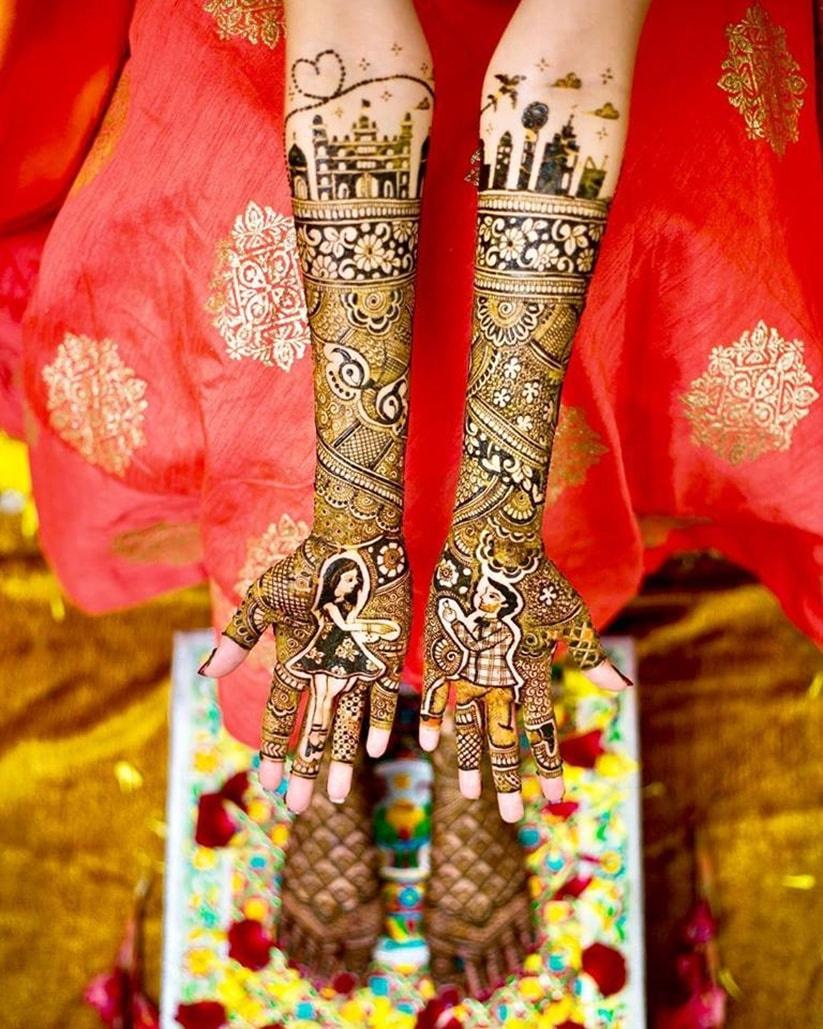 Do you remember your 'I said yes' moment? Was it perfect? Was it beautiful? Do you want to get a henna tattoo of the same? If you think it befits the space among the best proposal ideas ever, immortalise it in henna and ensure that everyone gets a chance to wow at it (be it on the day or through your wedding album). You can share your tale with the Mehndi artist and sit with bated breath while they etch it all out for you on your full hand dulhan mehndi design!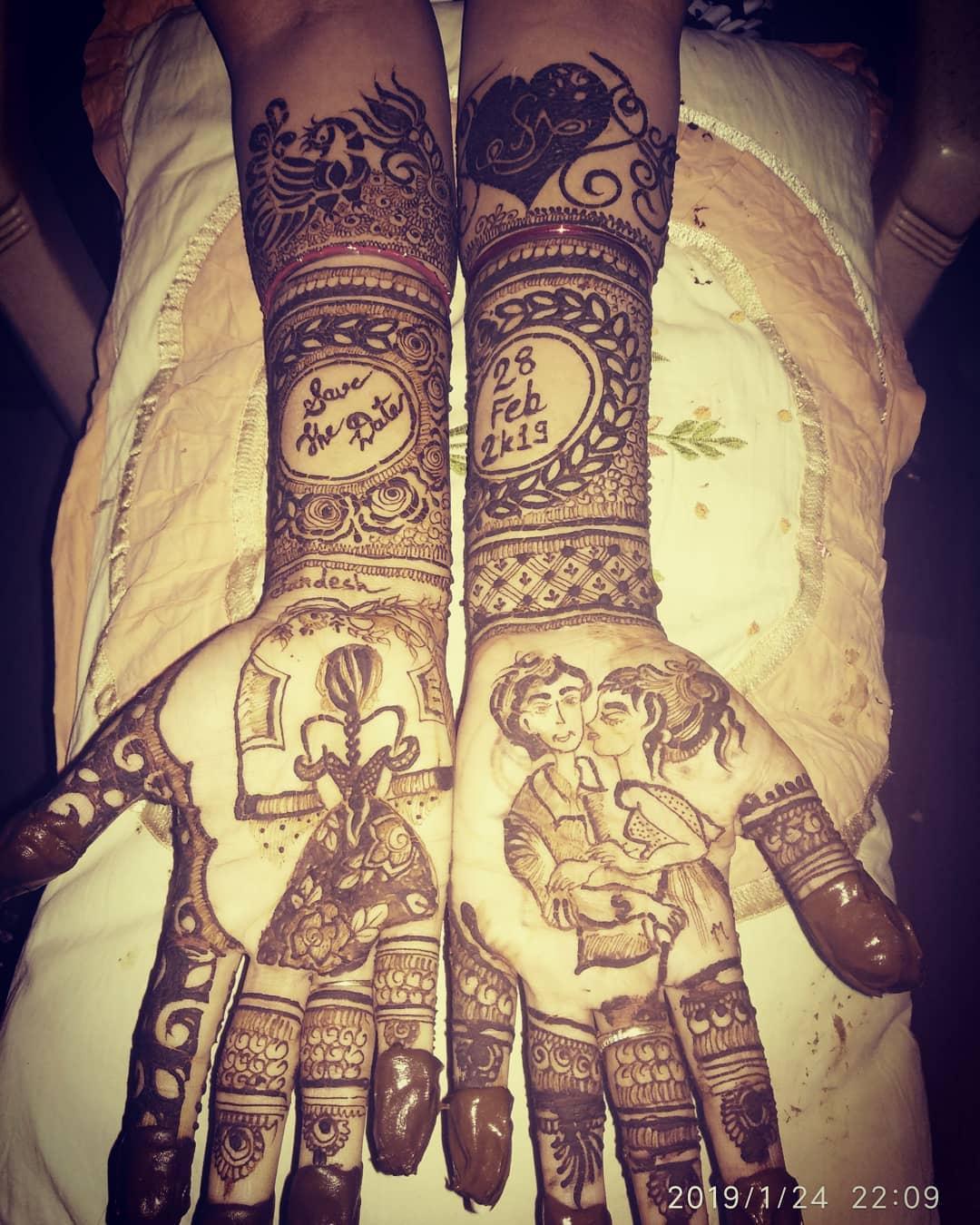 We met, we fell in love. Let that Pehla Nasha moment is transcribed in your full hand mehndi design. Bonus points for names and even a save the date reminder like we saw the artist at Jyoti Mehndi do for this very smitten bride. Of all the bridal mehndi designs for full hands, you can actually pick this full hand mehndi design for Dulhan and flaunt it months before the wedding as a gesture to celebrate your big day that is approaching.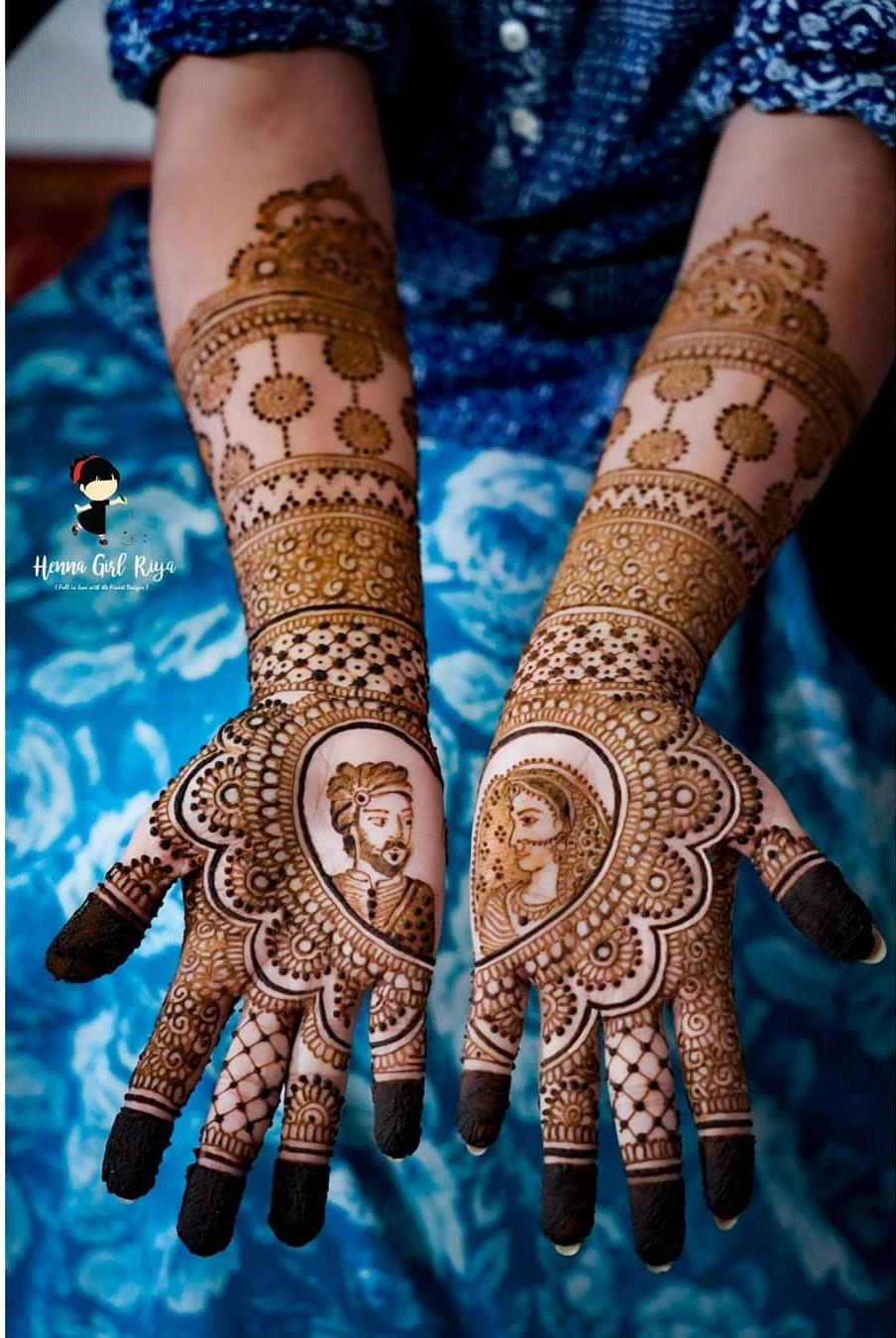 Image courtesy: Henna Girl Riya
Once upon a time, there was a maiden fair, who stole a king's heart. Ek Tha Raja, Ek Thi Rani - Dono Sang Hue, Bani Kahani. Heart the entry for yourself with traditional Rajasthani and Mughal miniature feels, smartly done in circles around a heart-shaped Jharokha. This neat, yet complete full hand mehndi design for brides is a definite yes if you wish to immortalise your love in mehndi magic.
Latest Dulhan Mehndi Design
From paisley wedding Dulhan mehndi designs to floral full hand Dulhan mehndi designs, from Arabic mehndi designs for her to Jaali full hand mehndi - the latest Dulhan mehndi designs are here to steal the show. Not just that, the delicate strokes of the mehndi cone and the bold lines that highlight the silhouette of the intricate latest Dulhan mehndi designs will definitely melt your heart.
The latest Dulhan mehndi for full hands designs often tell stories that are close to your heart with caricatures and fonts that are mindblowing. The spectrum is huge when one starts talking about the latest Dulhan mehndi designs and each is as beautiful as the other.
However, to help you pick the best suited latest Dulhan mehndi design for you to look fabulous at your wedding, we have curated a list of the latest simple bridal mehndi designs for full hands: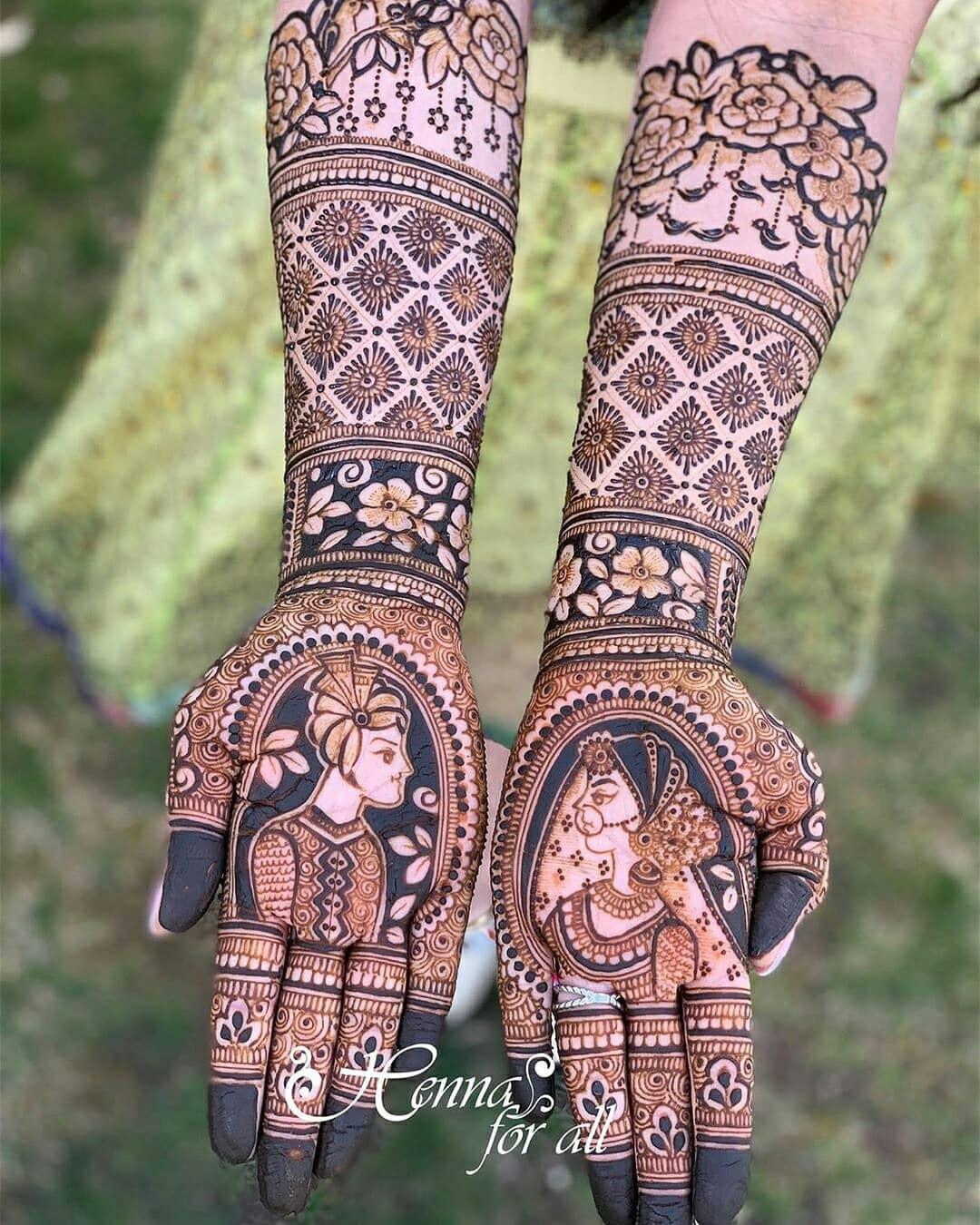 Image courtesy: Henna for all
What's better than a precision perfect bridal makeup artist working on your full hand mehndi designs? One who has their finger on the pulse of all of the latest henna trends - reverse mehndi, portrait mehndi, Jaal mehndi and floral mehndi designs. And can do them altogether in one! Whew! The final effect is visually stunning and definitely one of a kind.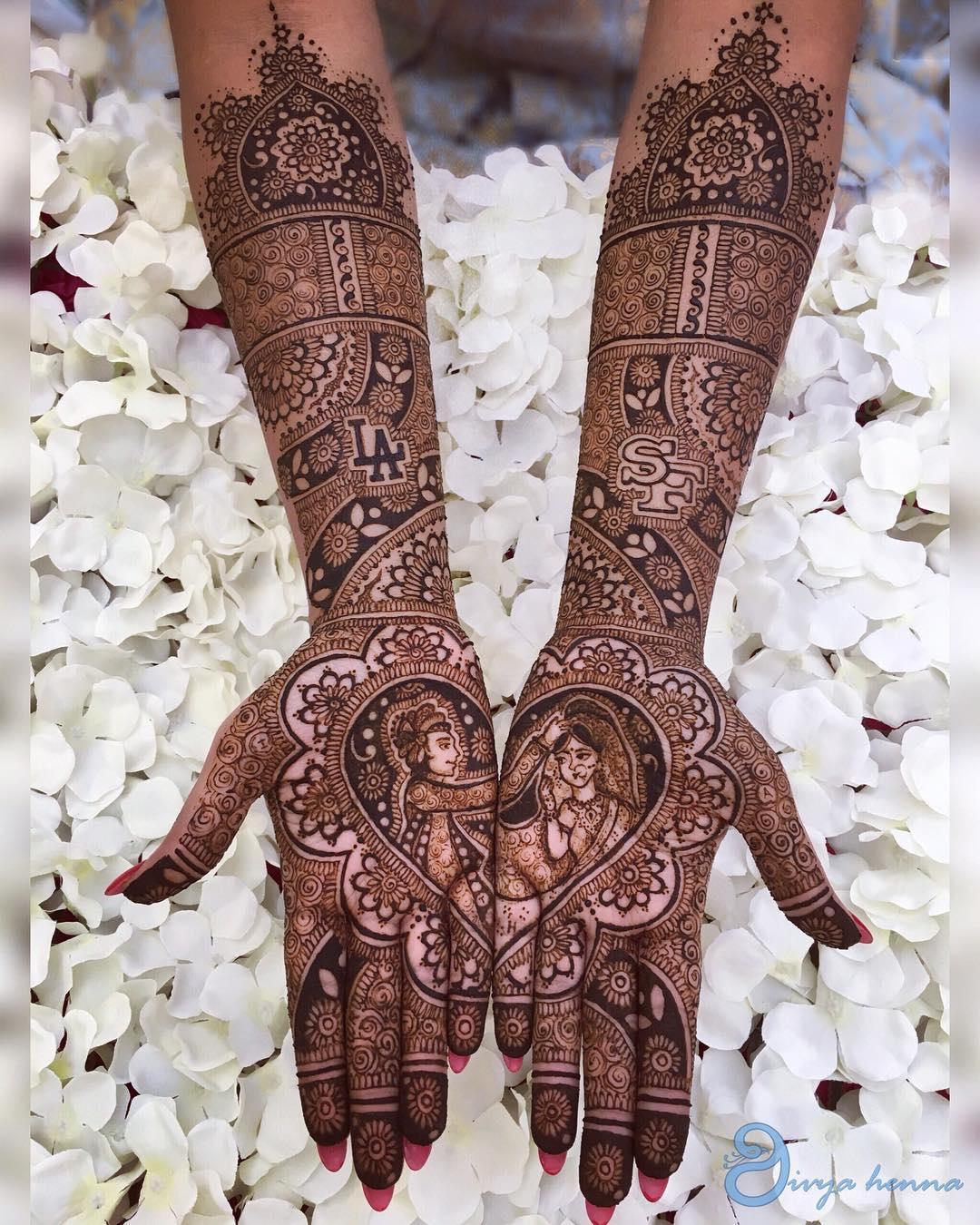 Image courtesy: Divya Henna by Prashanta
Wow! Make the Dulha-Dulhan image your own, with subtle plays on your faces and details that are intimately and personally you. In this case, the details are the obvious location references for this Ram-milayi San Fransisco meets LA jodi. Delicate flowers in reverse mehndi, interspersed with whorls make it match with traditional sensibilities too.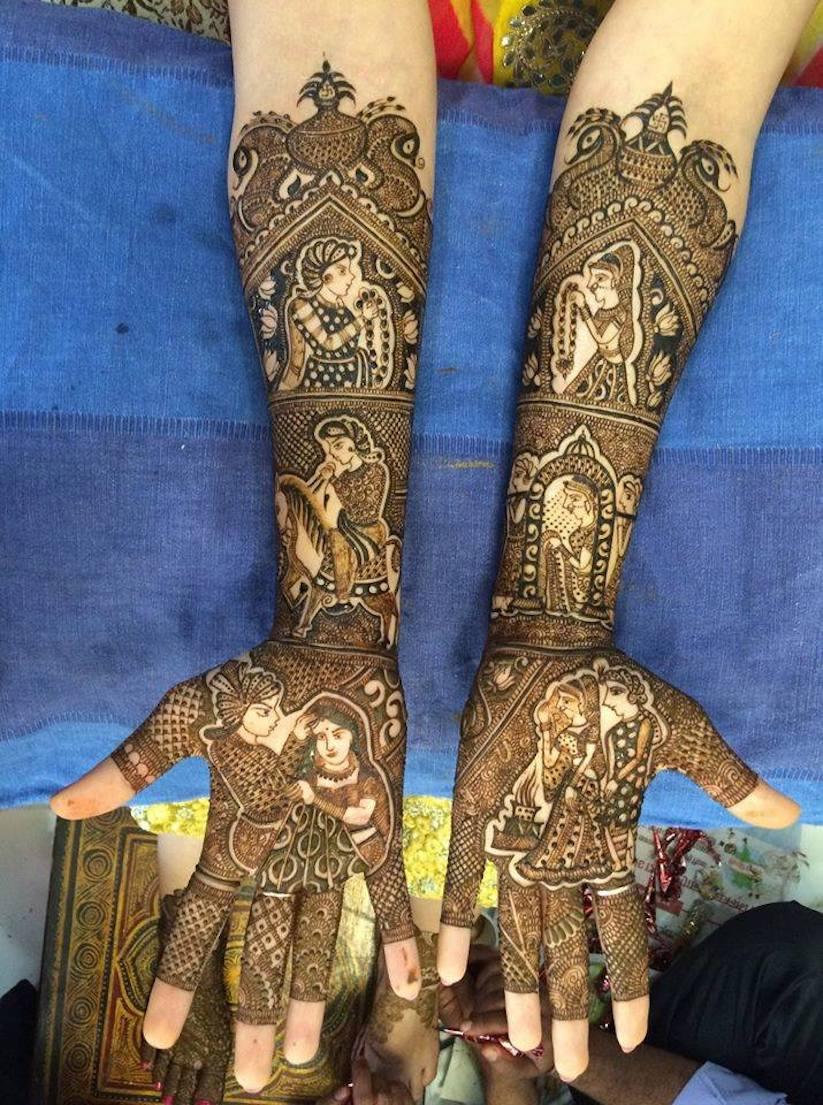 Imagine the complete wedding ceremony nestled on your full hand - how wonderful! From the arrival of the groom, exchange of garlands during the Jaimala ceremony, the Saat Phere and Bidaai with the bride in the bridal Doli. Even as you wait for your own nuptials, let your full hand mehndi design take you on a romanticised journey of what lies ahead.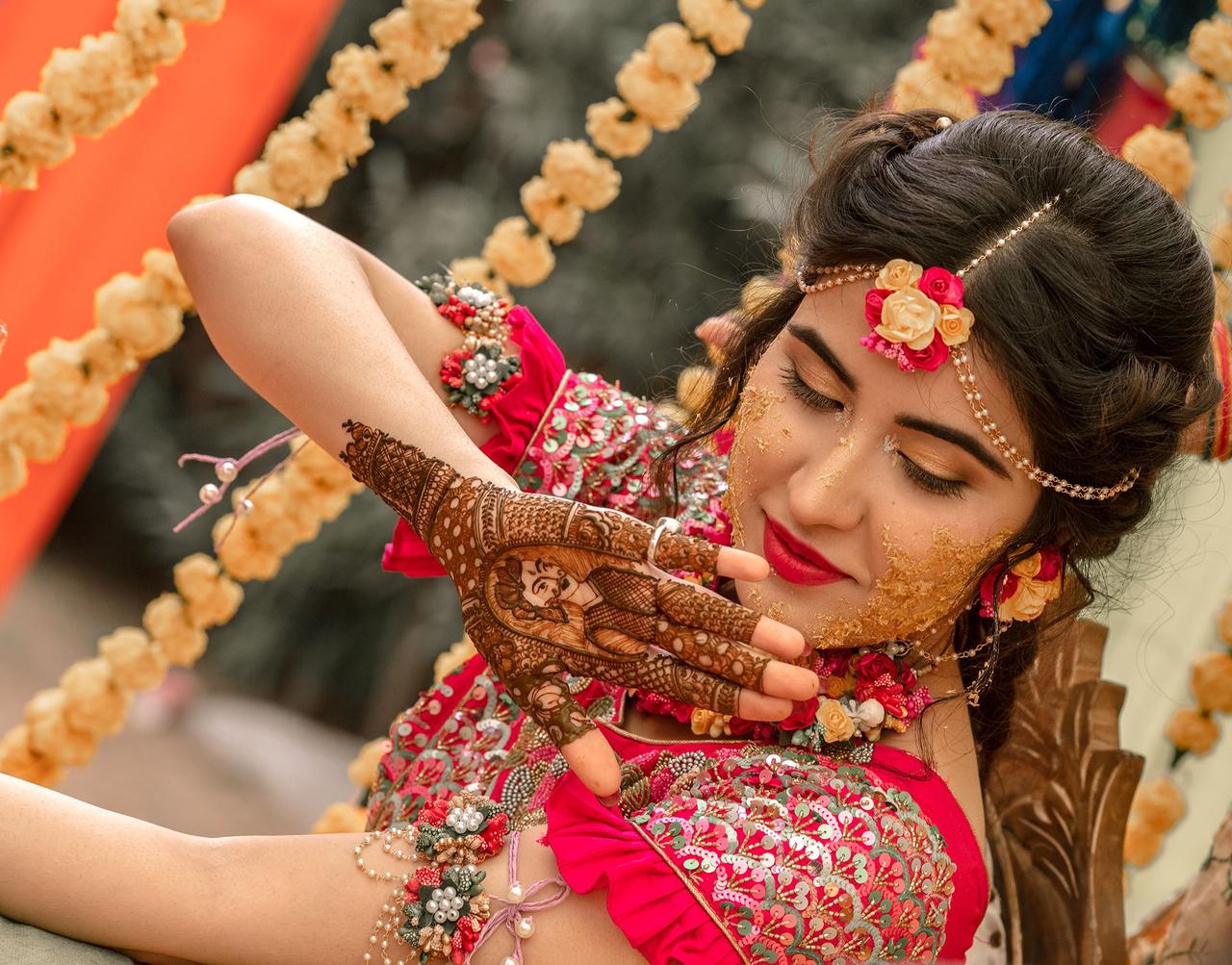 Waiting for that moment when your eyes would meet and be together as one? Do it now, by smiling down to his visage that's enmeshed in full hands mehndi design. It will surely reach him and tug at his heartstrings too. The demure mehndi shot adds to this beautiful bride's Mehndi look and we wish her the best of everything in her new journey.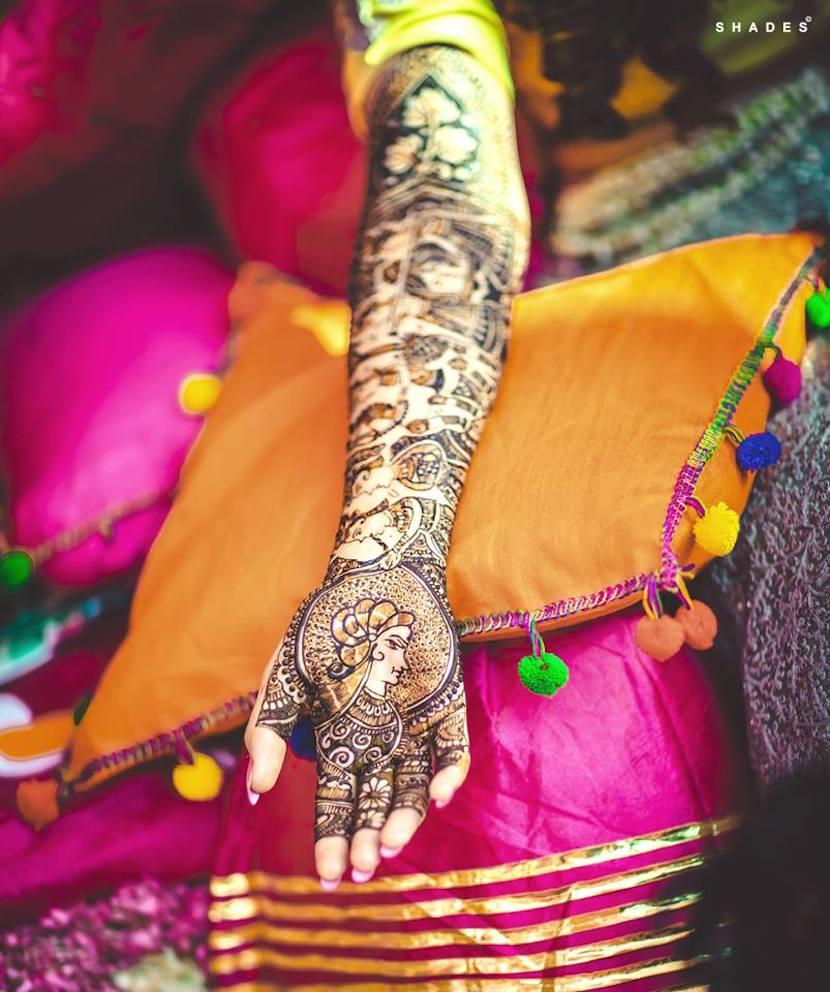 Image courtesy: Shades Photography
Yes, he's here with a Baraat to take you away. Tell the Mehndiwala to capture that scene for your bridal henna with the groom planted straight on your palms, while you can have the rest of the Baraat march down your arm. By the way, this bridal full hand mehndi design is intricate and requires as much time as the real baraat would take to knock on your door maybe, but it will be worth the wait!
Bridal Mehndi Designs for Full Hands
No bridal mehndi is complete without an ode or nod to the marriage ceremony. And there's no better way to do this in your full hand mehndi design than to get a set of Dulha-Dulhan motifs in them. Get the blushing bride or the dapper groom adorned on your hands, either sitting at the base of your palms or high up on your arms.
Dulha Dulhan designs go as far back as mehndi patterns, and with time they are turning out to be better and better. With talented mehndi artists who keep practising their art, more and more realistic figurines are adorning the hands of the brides of today. At this rate, time is not far that you could get your own caricatures or life-like image on your hand.
Here are a few ways in which you can draw inspirations for Dulhan mehndi or even a set of Dulha Dulhan images as part of your mehndi designs for full hands: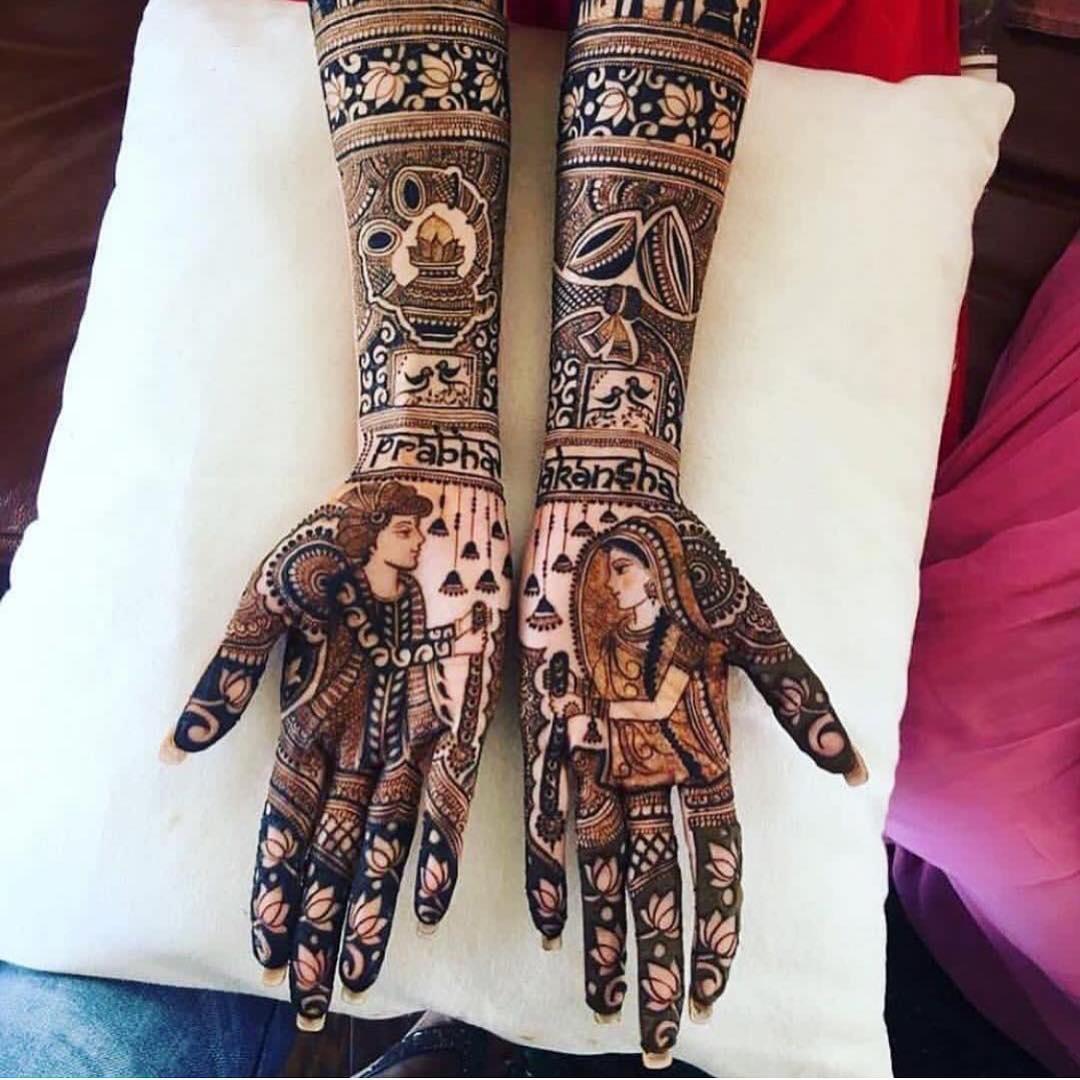 Image courtesy: Mayuri Mehandi Artist
This bridal mehndi design for full hand goes one step ahead. Rather than just adding the couple's name to the mix, there's a Raja and a Rani too! There are wedding symbols aplenty in this design, from the Jaimala moment to Mangalkalash and Shahnai. Love the interplay in which the artist has placed the bride on one hand and the groom on the other, making them each a part of a matched set. A good allegory for your life as a married couple - when you look at each hand individually both are complete in their own way, but when the hands come together the Dulhan mehndi design for full hand is complete and the beauty (of life) is increased tenfolds.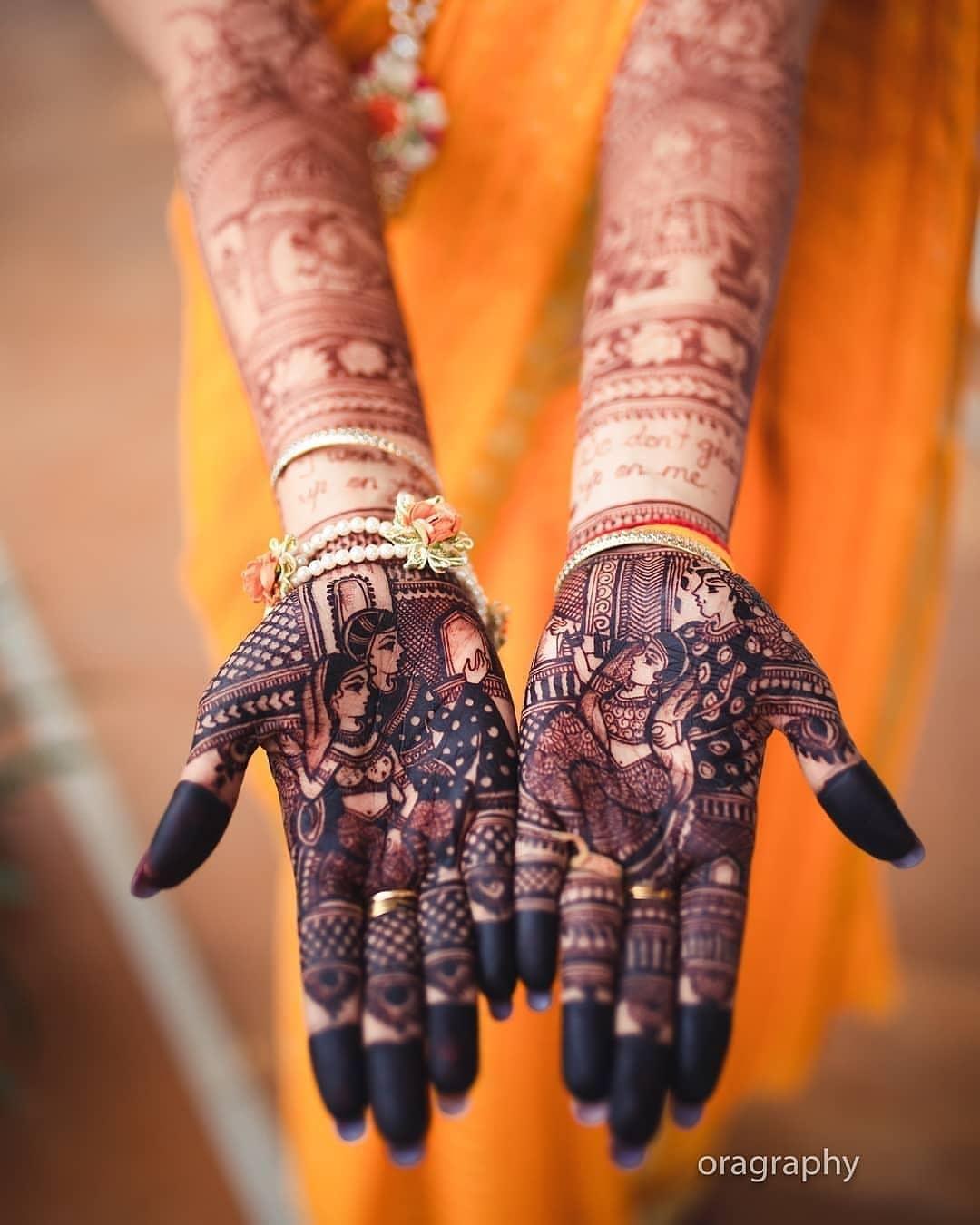 What's better than a beautiful set of the two of you sitting pretty on your palms? Obviously two of them! What works for this princess in canary yellow is a deep, dark black mehndi that captures two very special moments together. Now, you only need to recreate them as part of your story and feel your moist eyes - get the drift?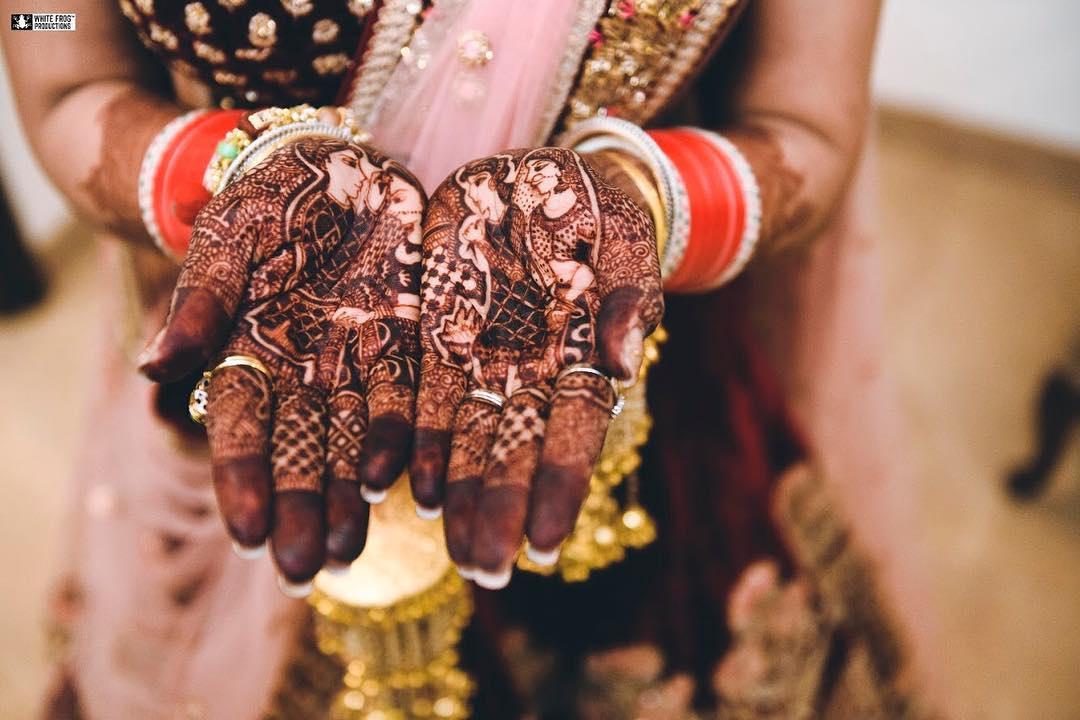 The Sindoor ceremony is the moment that marks the two of you together as one from now to forever. If the Dulha-Dulhan way is the direction that you want your full hand mehndi design to go, then nab the chance by depicting this moment in your henna.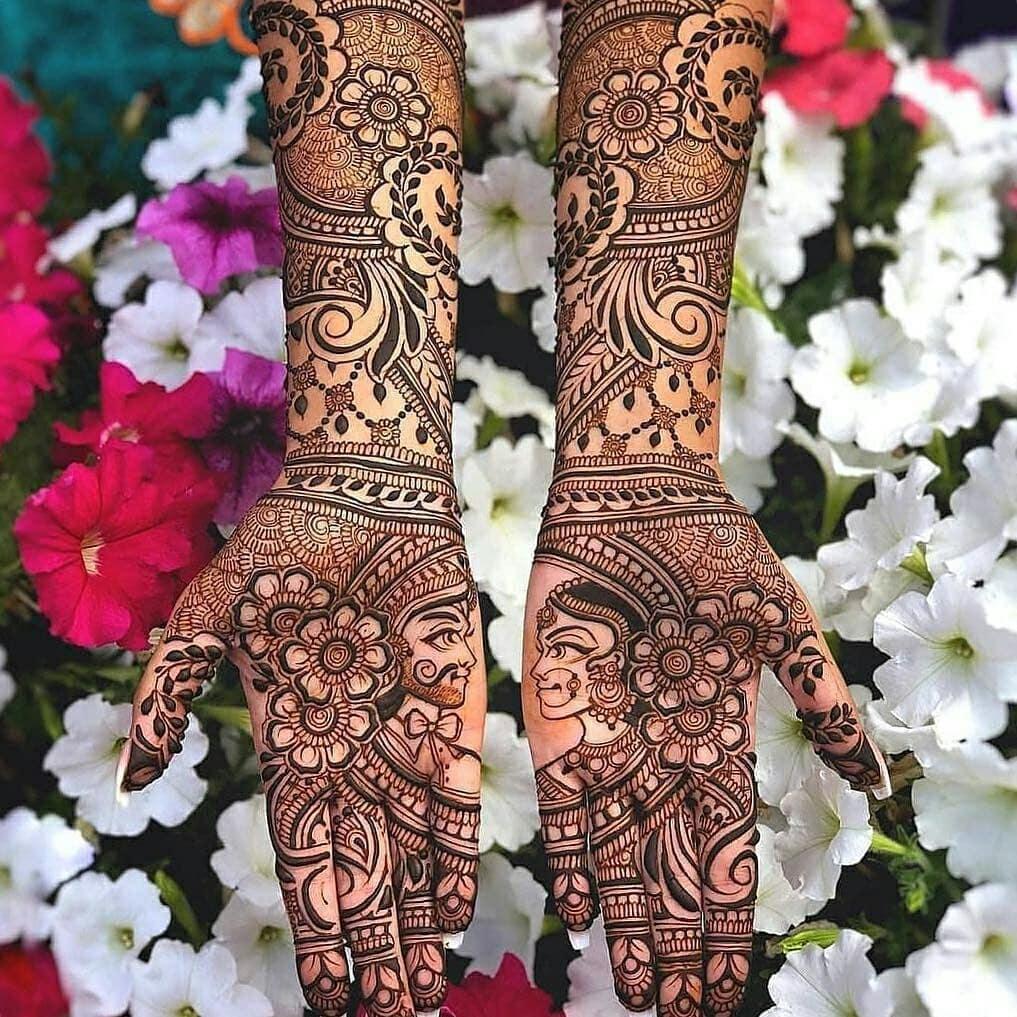 We love the delicate, clean and spaced out way in which the Dulha-Dulhan and the pretty florals and curves mirror each other. And OMG! Look at the sheer detail in which these full hand mehndi designs have been etched out - from the curly moustache to her elegant bridal Nath, the vines on the thumbs, to the conches underneath the portraits. It's so, so beautifully there!
Full hand Dulhan Mehndi with Paisley Patterns
Paisley is a timeless classic. You can see this design in Indian, Pakistani and Arabic designs. The shape is easy to draw and you can fill it up in numerous ways. This makes it versatile. Often, while drawing a bridal mehndi design, artists first place the paisley and then make a pattern around it. It doesn't have to be a centrepiece.
It can be anywhere on the palm and yet, it fits perfectly. Another advantage is, paisley can be big or large yet, it doesn't look bad. That's why the trend of using paisleys in design is on the rise. You can ask the designer to create bridal mehndi designs for full hands using only paisley design.
Here are a few inspirations: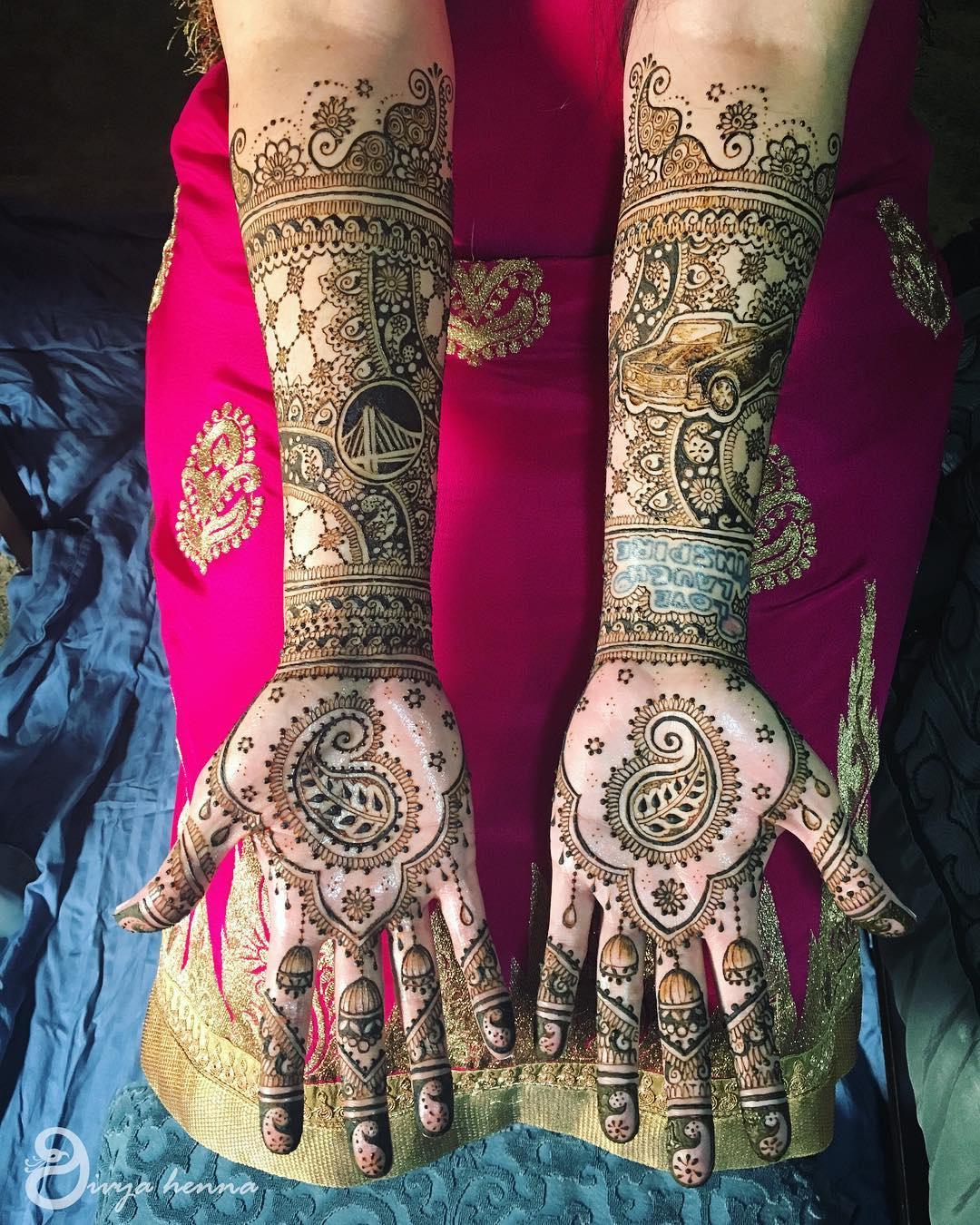 Image courtesy: Divya Henna by Prashanta
In the midst of traditional motifs and patterns like paisley, flowers and vines you see modern loves of the bride slipped in quite subtly. The bridge and the car definitely point towards the wanderlust of our kickass bride, don't you think?

Image courtesy: Morvi images
Let your paisleys be a part of the pattern by asking your mehndi artist to place them covertly into the design. Disguise these comma-like motifs into blank design cut-outs, waves and conches to get an ethereal look from them.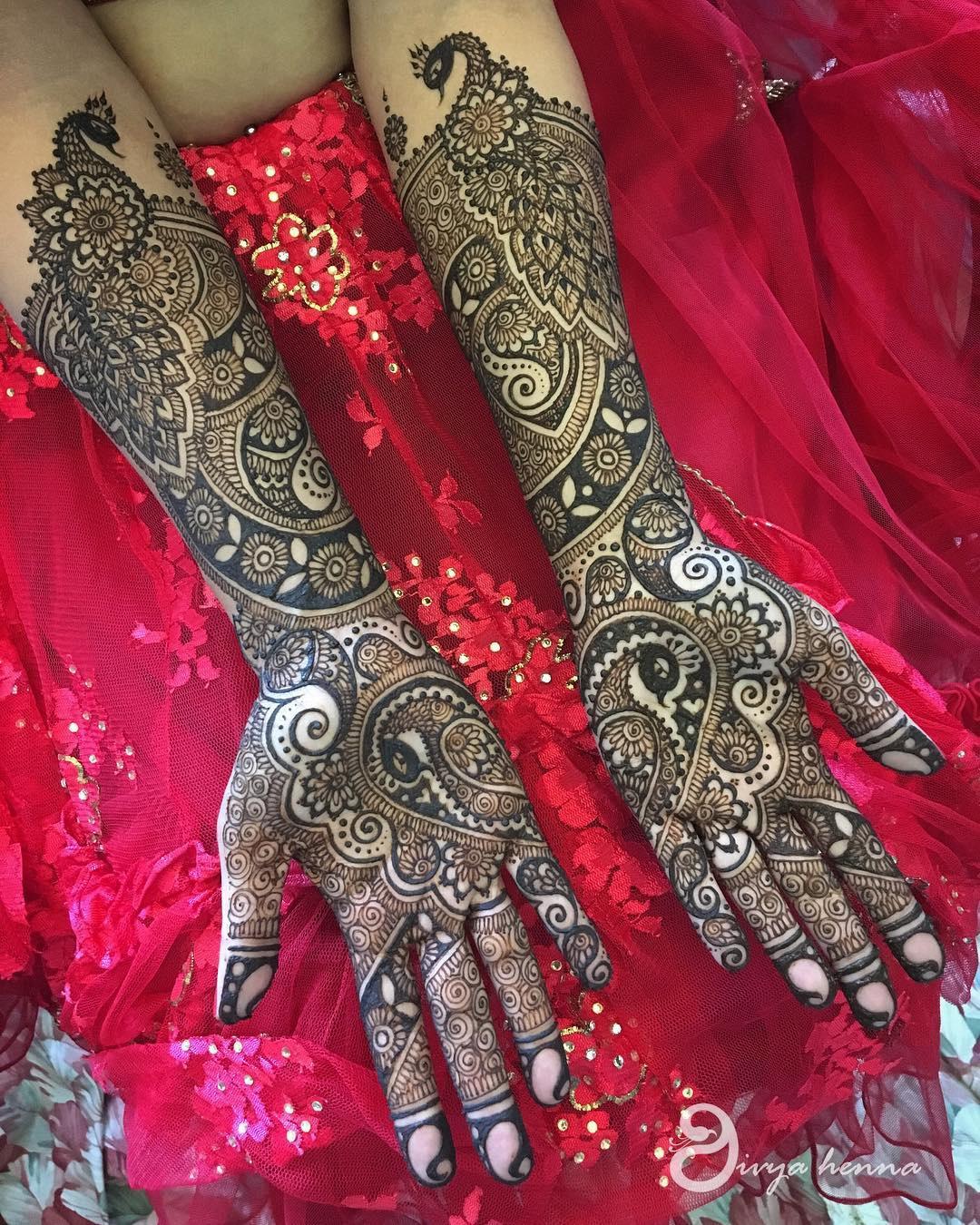 Image courtesy: Divya Henna by Prashanta
Mango madness take centre stage with most of the lovely henna designs you find from Divya Henna by Prashanta, and this is no different. There are ambis in reverse on fingertips, on the smaller fingers, around the heart-like set of peacocks and up the arms. And what's more, these peacocks look like a set of paisleys too.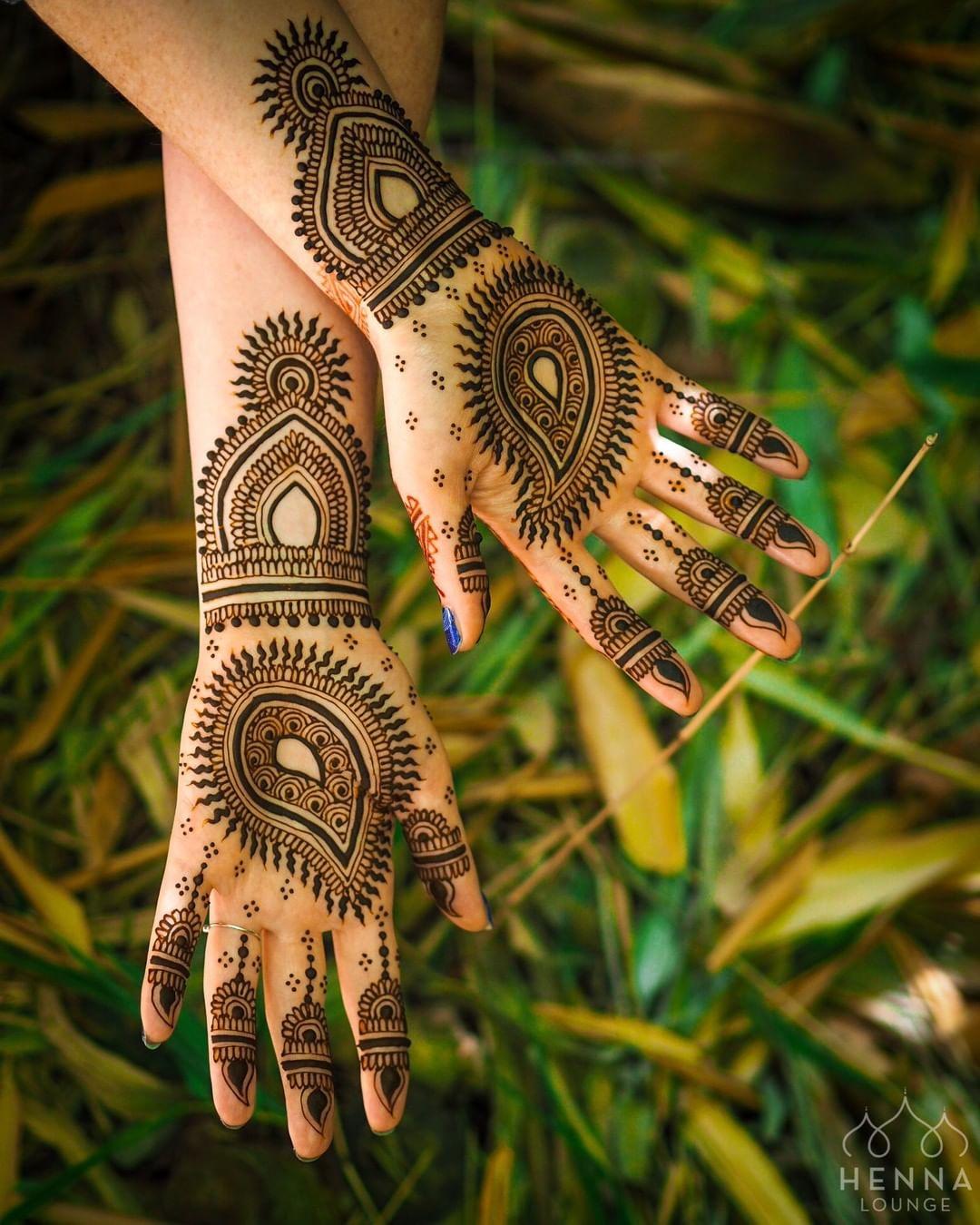 Image courtesy: Henna Lounge
The bigger, the better - that's the way our love for paisley goes. Find your own by feasting your eyes on these fist-sized 'Ambis', offset by tiny ones on the tips. Bonus points for the fact that this would barely take any of your special time. So, after this set of full hand mehndi design is done in a jiff, get ready to jump onto the dance floor for your Mehndi party.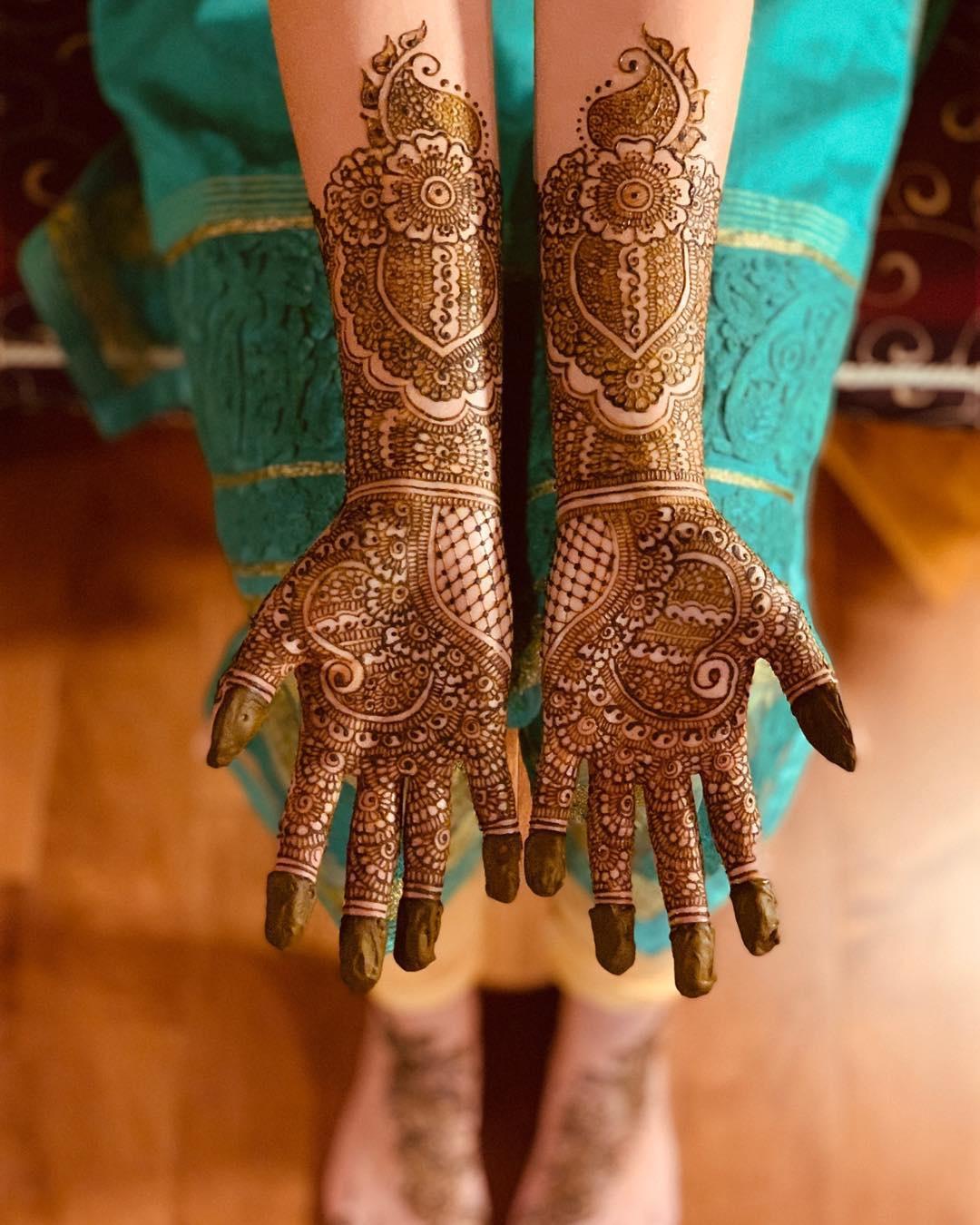 Image courtesy: Henna Lounge
The best part about opting for full hand mehndi designs with paisley patterns is the sheer versatility with which you could ask your henna artist to draw them on. They can be shells, leaves, peacocks, mirrors and even Jaal prints if that's what you want them to be. We've even seen skilled artists who are able to turn them into portraits!
Case in point, these intricately done-up leaves.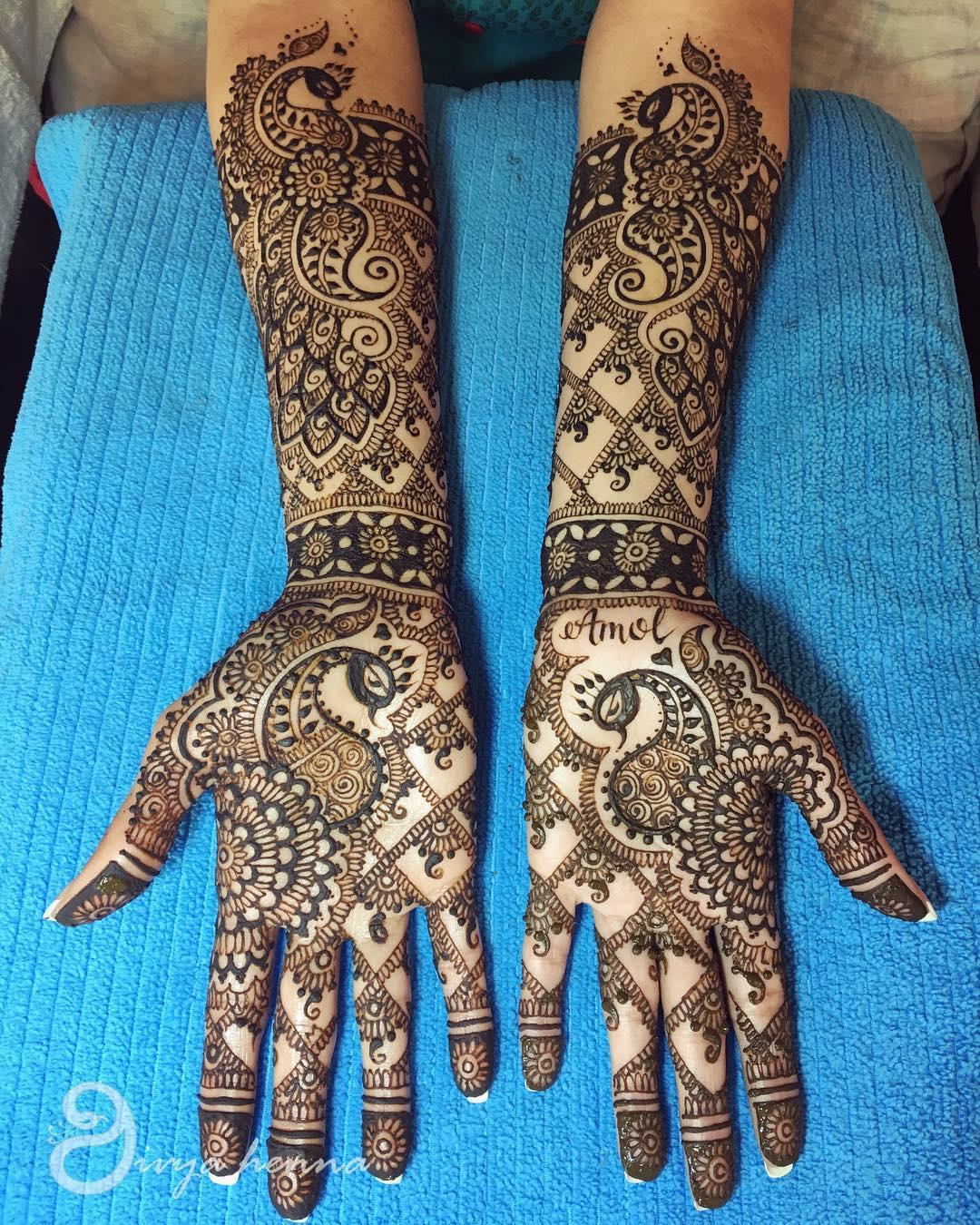 Image courtesy: Divya Henna by Prashanta
Coy peacocks on a chirpy bride! We love how these look coyly from lowered lids, even as they sit on a perfectly drawn up Jaal on the palms and high up on the elbow. And if you take a minute to look away and come back, you'll see how all of them are just carefully placed paisleys. Now that's a perfect full hand mehndi design!
Also Read: Latest And Simple Full Hand Mehndi Designs For Millennials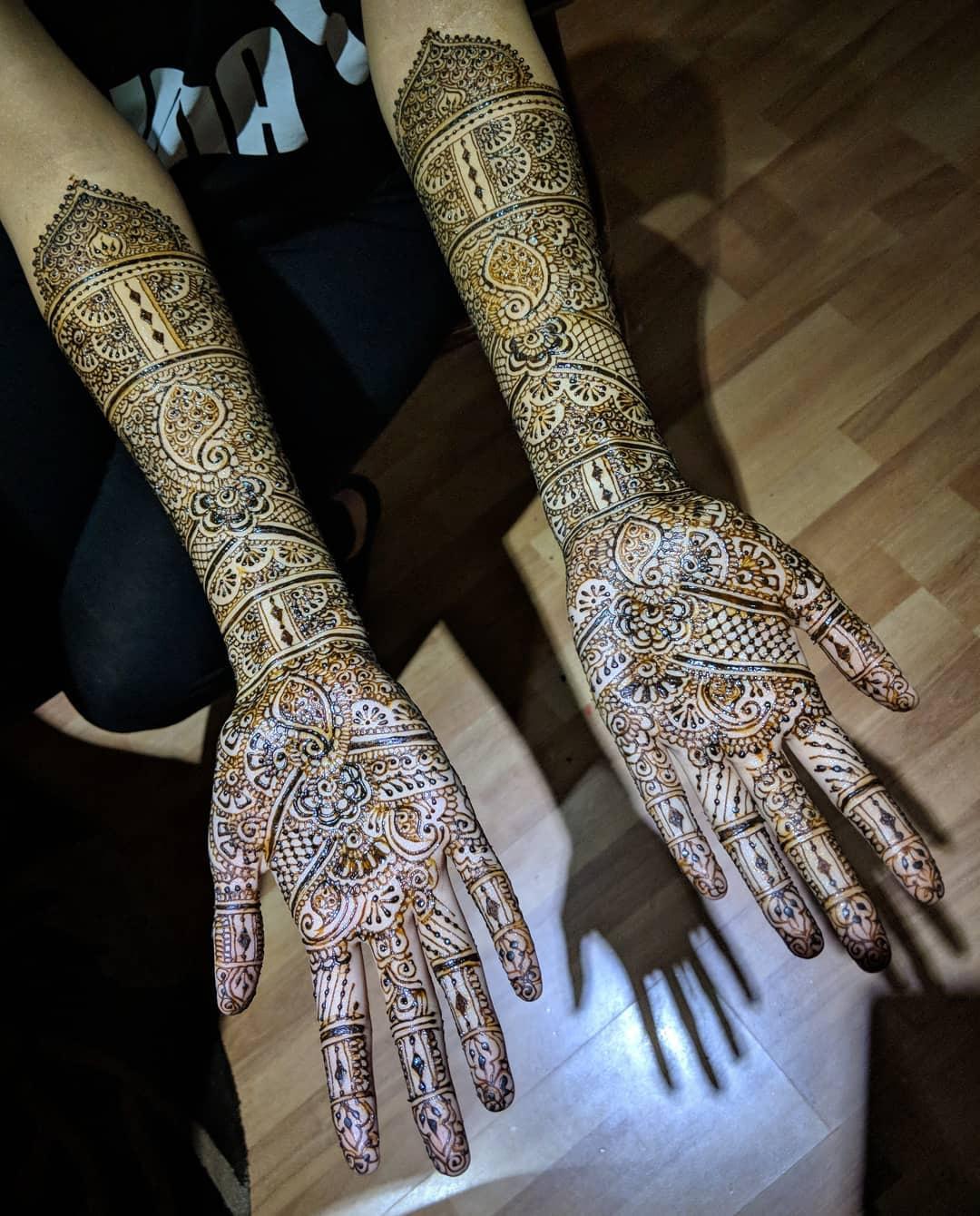 Image courtesy: Henna by Fariyal
Yes, there's no such thing as too many Ambis. Can you spot the 20+ paisleys drawn into these mehndi designs for full hands? Go ahead and count, while we sit back after our own exhausting take through it. Brownie points and patience indeed!
Simple Dulhan Mehndi Design
If you are a person who has a knack for simple mehndi designs on your hands even for the wedding mehndi or maybe you are not that into intricate patterns that will cover the entire hand when it comes to your bridal henna, then simple Dulhan mehndi designs are the best choice for you. These simple bridal mehndi designs for full hands strike the balance between intricate patterns and bold and beautiful lines that are very similar to the Arabic style of mehndi art.
Here are a few inspirations: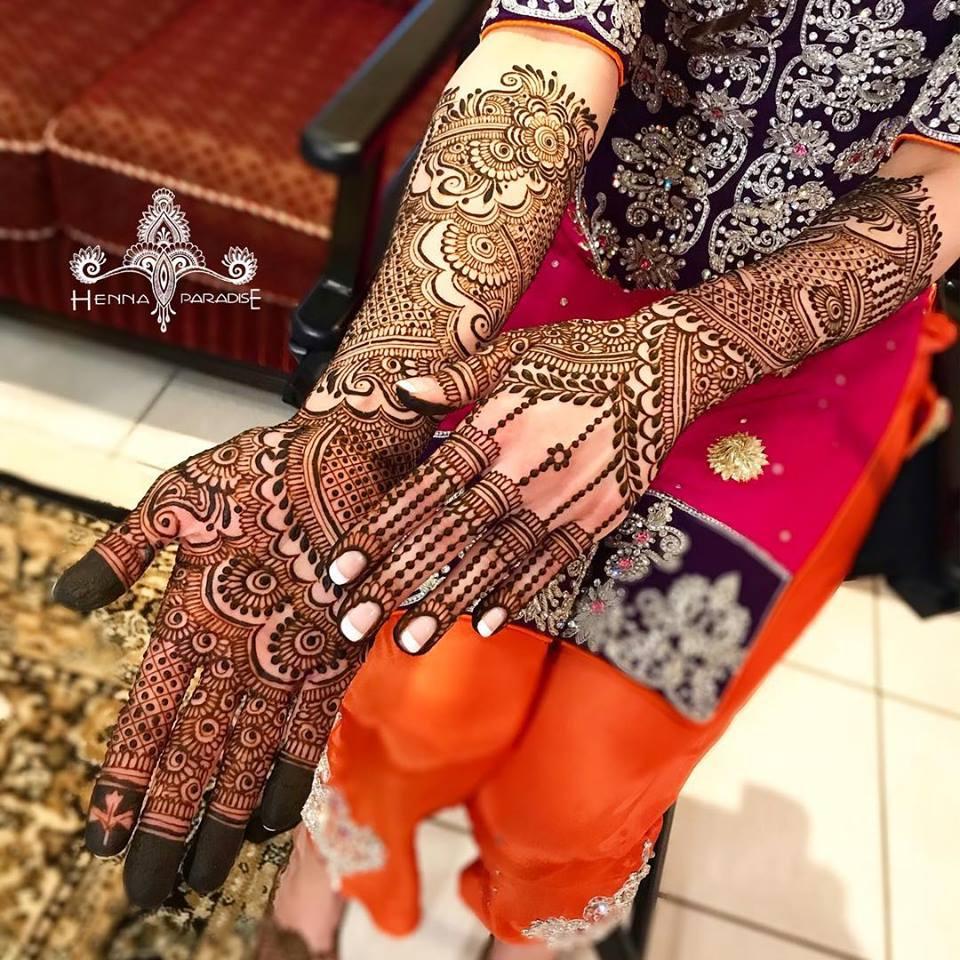 Image courtesy: Henna Paradise Brisbane
The use of arches and vines is quite prominent in most Arabic mehndi designs. Here we see a beautiful pattern of clean and well-spaced leaf vines, intricate arches and swirling flowers on the fingers. They are coming together seamlessly without crowding the hand and yet, at the same time, it doesn't look like the hand is empty. This full hand mehndi design manages to cover the hand without making it too complicated and thus we can appreciate each motif in its own right.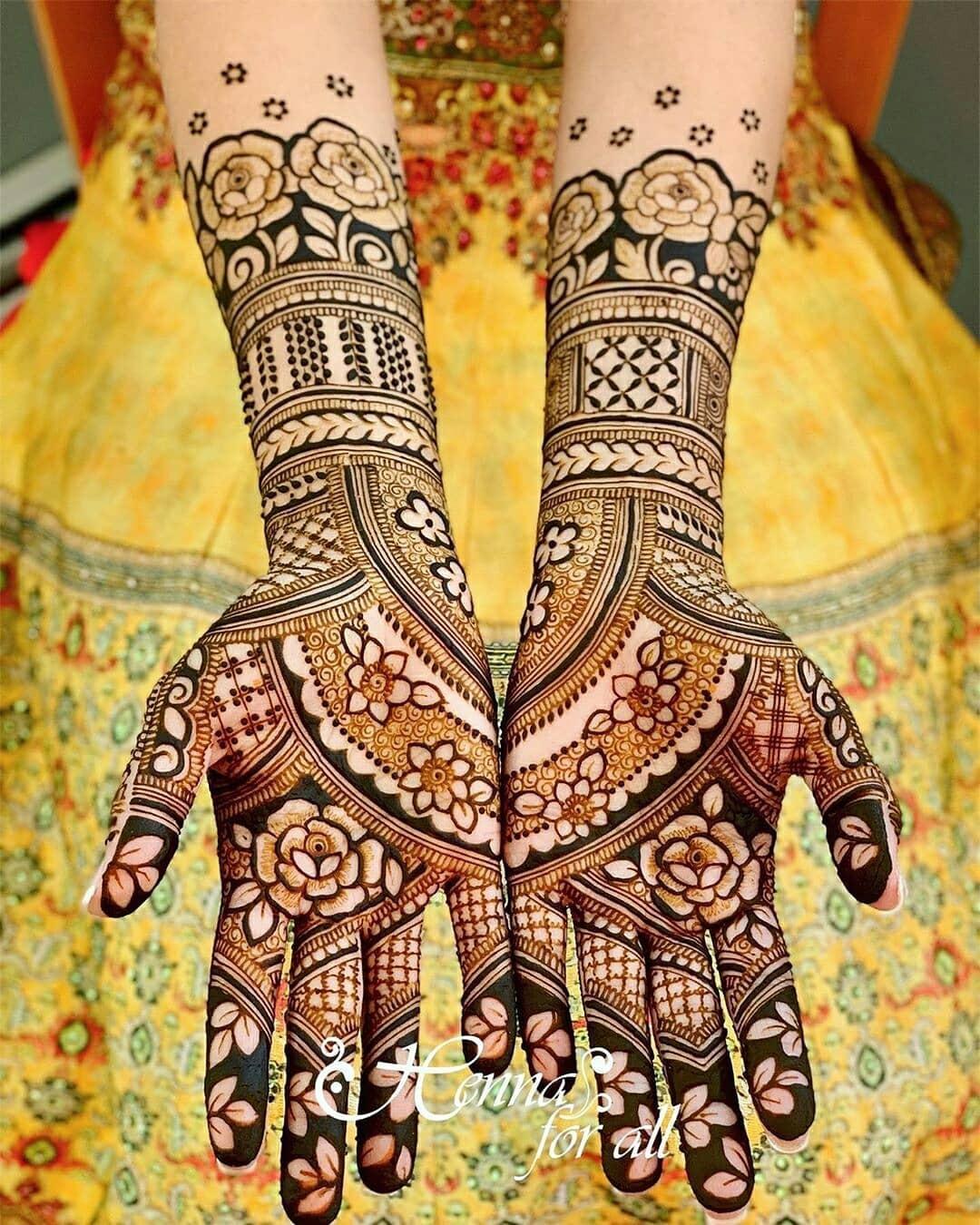 Image courtesy: Henna for all
Think bold, beautiful henna designs and you'd have to begin with a set of blossoms on your hands. The perfectly mirrored set of hands work beautifully if you have floral ambitions, mirror designs or tattooed perfection for your digits on your mind.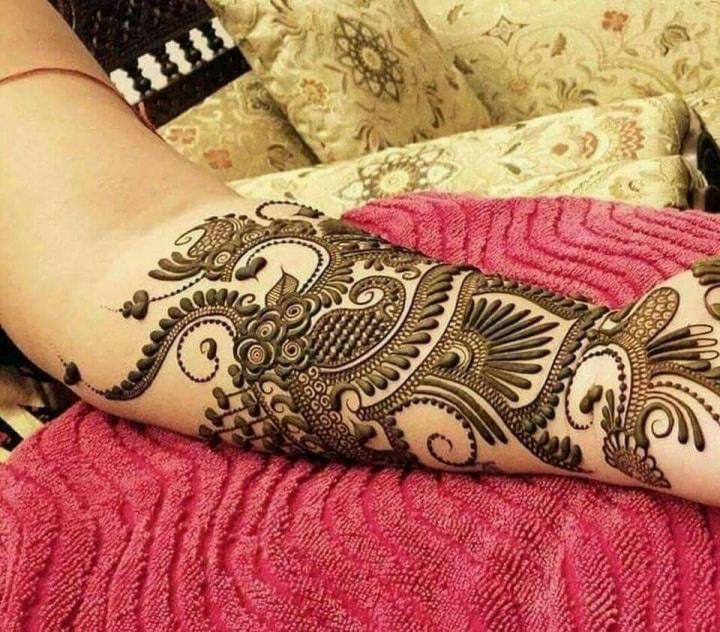 Usually, the designer draws an intricate pattern of flowers, leaves and net to fill up the palm. At times they fill up the net pattern with some design as well. These designs will make your hands look more graceful. And if you are going for a bridal mehndi design for full hands, make sure that the designs on both hands are in sync.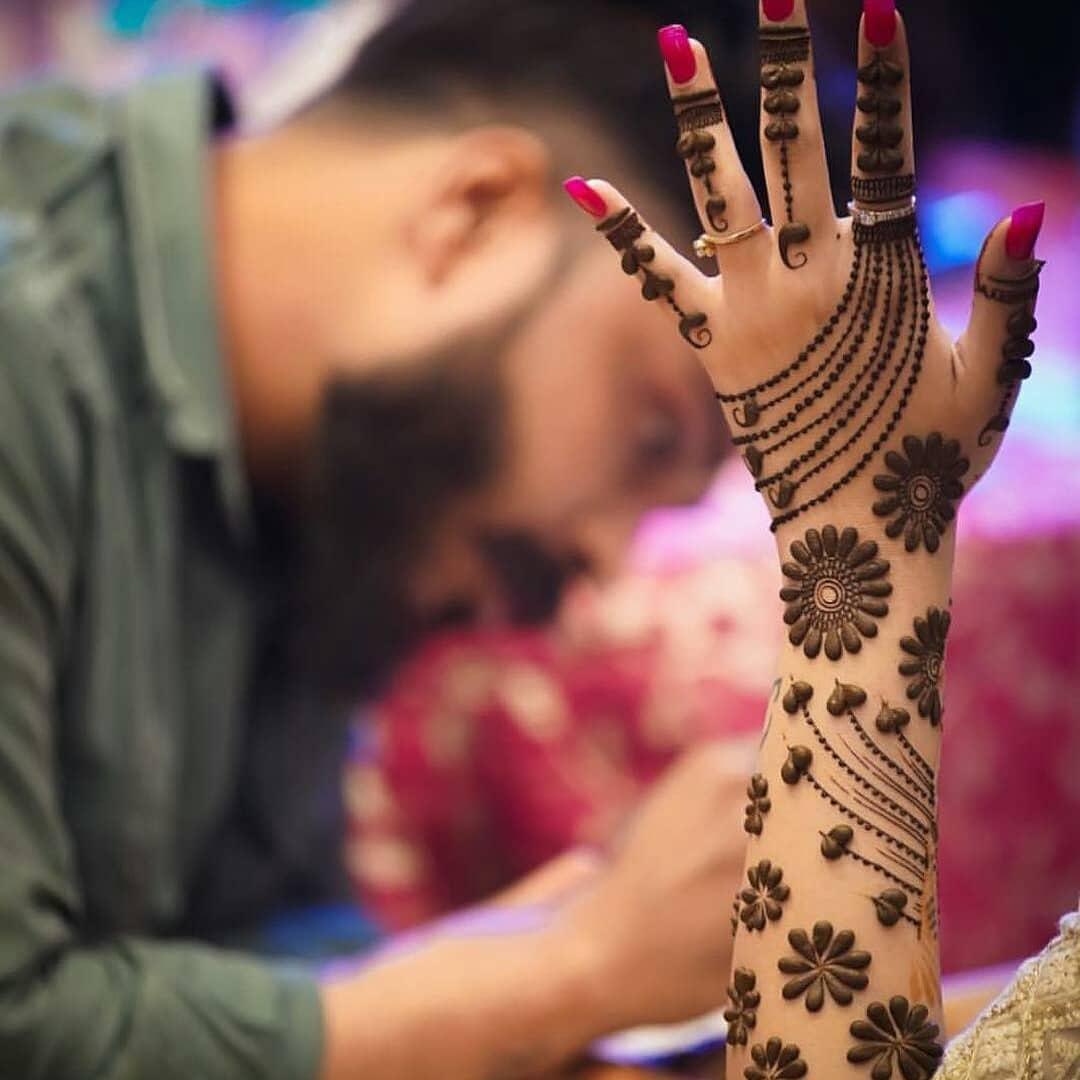 Image courtesy: Aman Gupta
Pop art is all about ballooning patterns in bright shades. Imagine your crimson henna to be the palette for these trippy flowers and strands, which would barely take an hour of a sit-down after you've confirmed your full hand mehndi design with your chosen mehndi artist. And while you're at it, go through this gentleman's Instagram profile - it's worth the inspiration!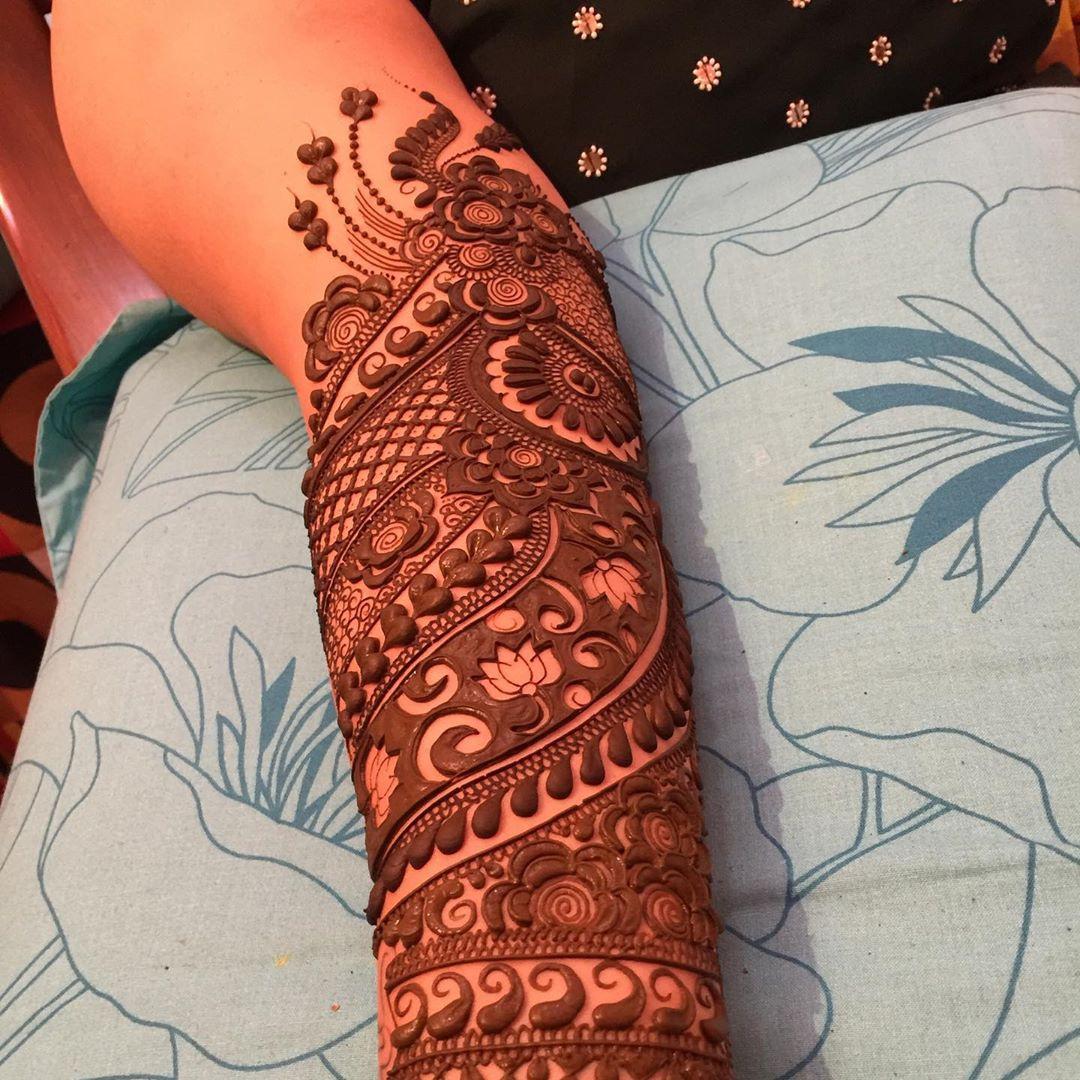 Image courtesy: Aman Gupta
Ever since #SonamKiShaadi, lotus patterns in reverse mehndi designs have become a staple for any fashion-forward bride. Enjoy their trails on your own arms alongside other full hand mehndi design biggies like filled-up Ambis, large size flowers and teardrops. Really, really worth the effort and the time.
Image courtesy: Aman Gupta
Get the magic of a detailed and intricate set of Rajasthani mehndi patterns at half the time, when you ask your Mehndiwalla to draw it in this big, Arabic mehndi style. Such mehndi designs for full hands will ensure that your henna is visible to everyone who comes to wish you for your big day. Satisfaction guaranteed!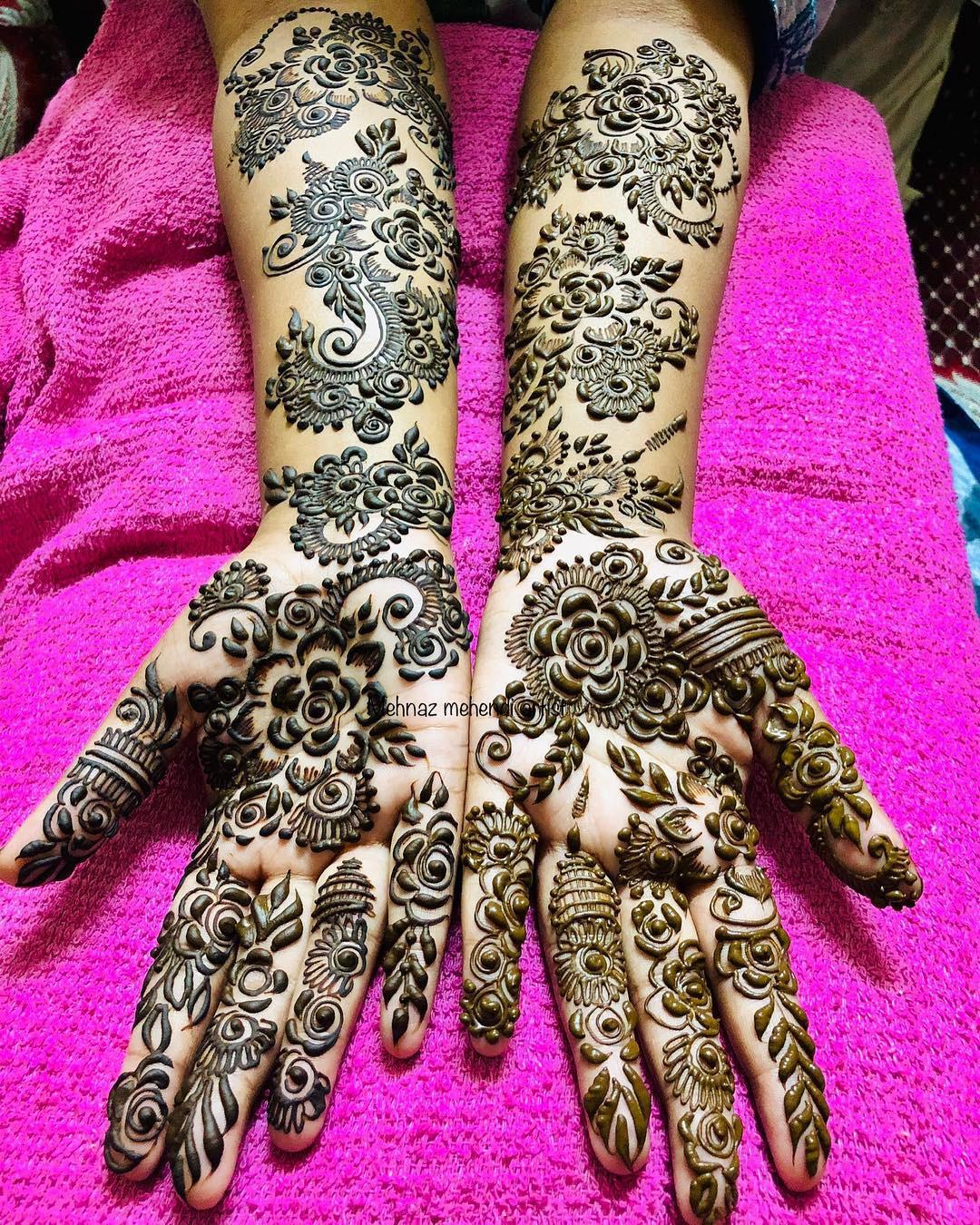 Image courtesy: Mehnaz Mehndi
Phool Khilen Hai Gulshan Gulshan, anyone?
Let flowers work their magic in this heavy set of mehndi designs for full hands, from the tips of your fingers to up your palms and snaking across your wrists to your elbows. Look closely, as this magically done hand is actually a set of five flowers that work wonders across your arms. I'd recommend getting your henna artist to work on it in two different shades so that the design pops!
Also Read: 150+ Simple Mehndi Designs for Feet That Will Mesmerise All Indian Brides
Pakistani Full Hand Dulhan Mehndi Designs
Pakistani mehndi designs are a great pick for bridal mehndi designs for full hands if you want to try something different than usual Indian and Arabic designs. Pakistani style of bridal mehndi design is unique as they use two colours in the design. Usually, the henna artists use black coloured mehndi to create a basic outline of the simple mehndi design and red-toned mehndi to fill in the shapes created with black mehndi.
It almost often consists of these two standard colours and you can switch them according to your skin colour or end up picking either. These designs are suitable for those brides who are looking for a unique henna art that would make her stand out on her wedding album photos.
Here are a few inspirations for the style: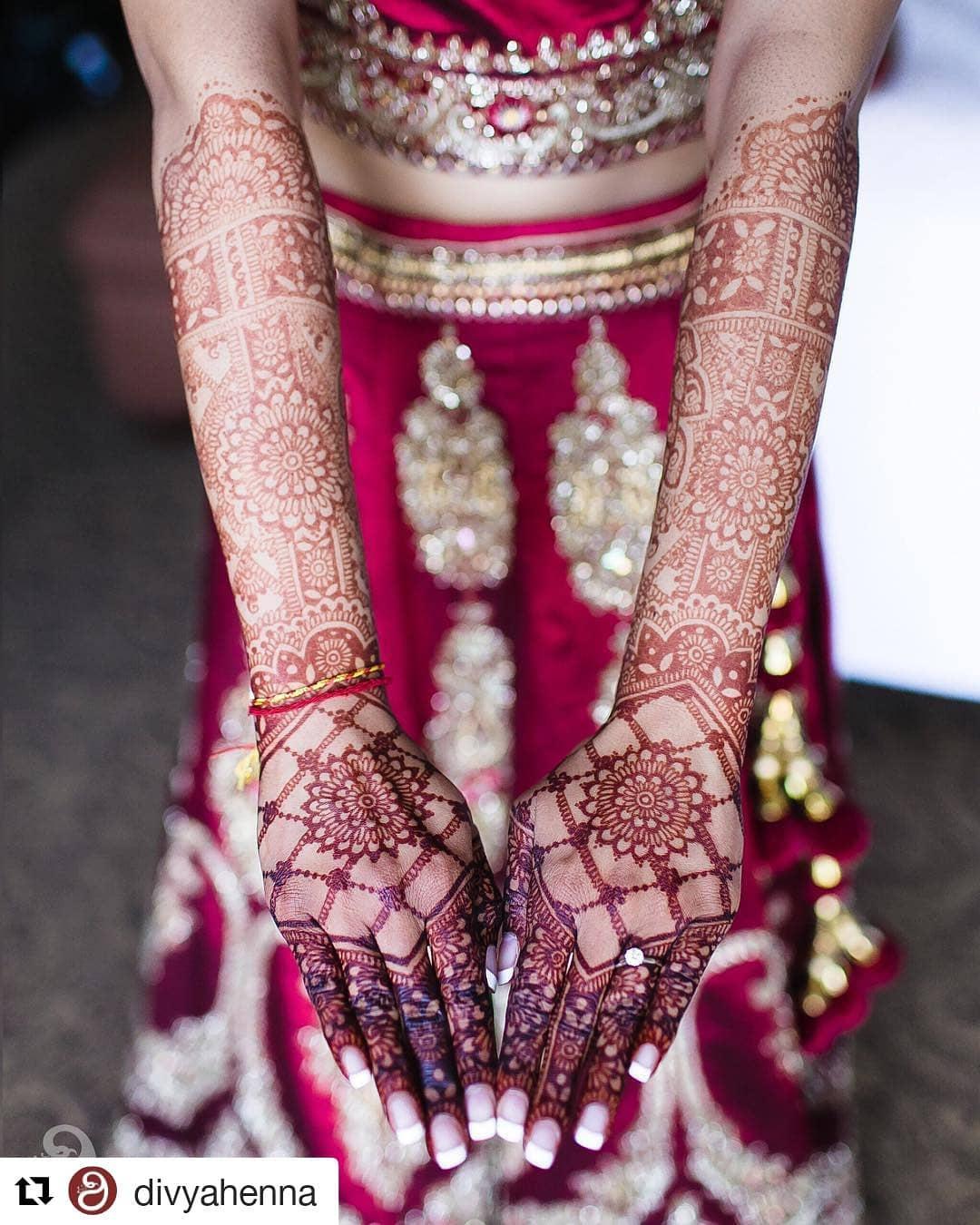 Image courtesy: Divya by Henna
Lattices are very prominent in all the Pakistani mehndi designs. Combining that with concentric Mandalas has come together beautifully. As beautiful as the back of the hand is, you really need to appreciate the beauty of the full hand mehndi design achieved using a multitude of techniques and motifs.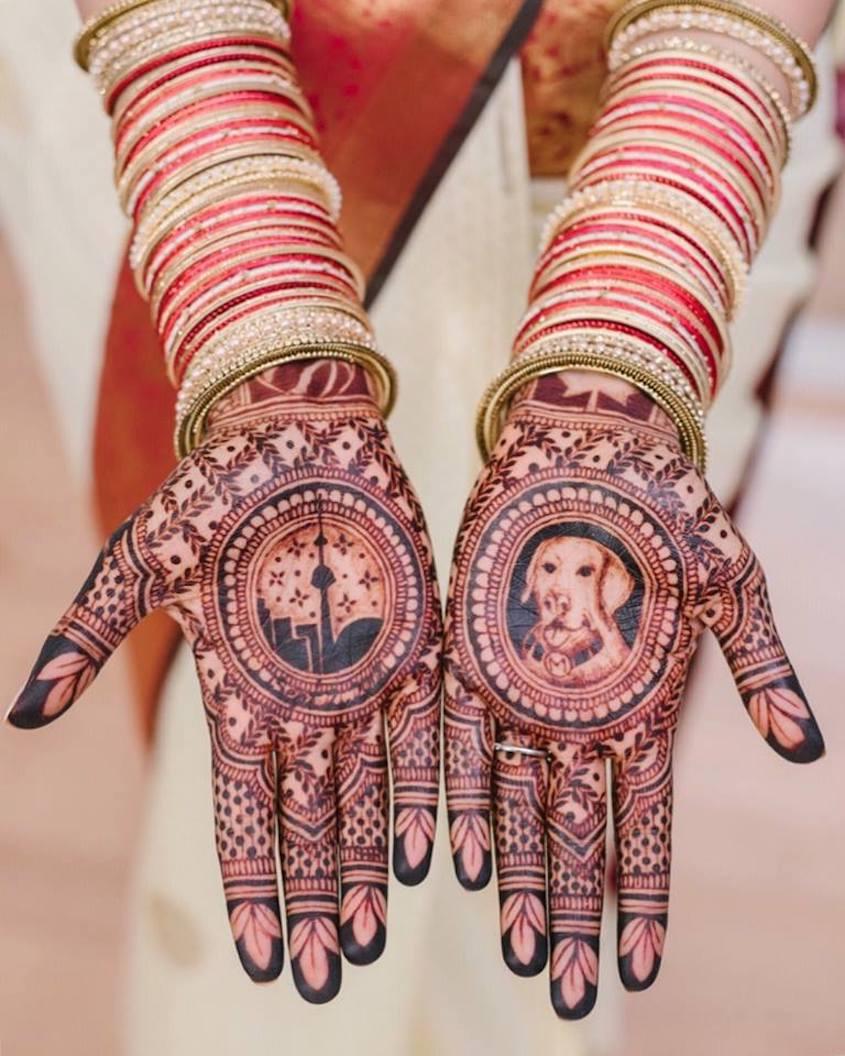 Image courtesy: Henna by Divya
Mehndi miniatures are a work of art, agree?
While we're so obviously in love with Henna by Divya and all of the magic that she does on her blank canvas palms, this one indeed took our breath away. The two talismans in reverse - the Toronto skyline and the four-pawed friend are such a refreshing sight, that it makes me sigh!
And then there's the geometric precision with which she drew the vines and the lines. Wow!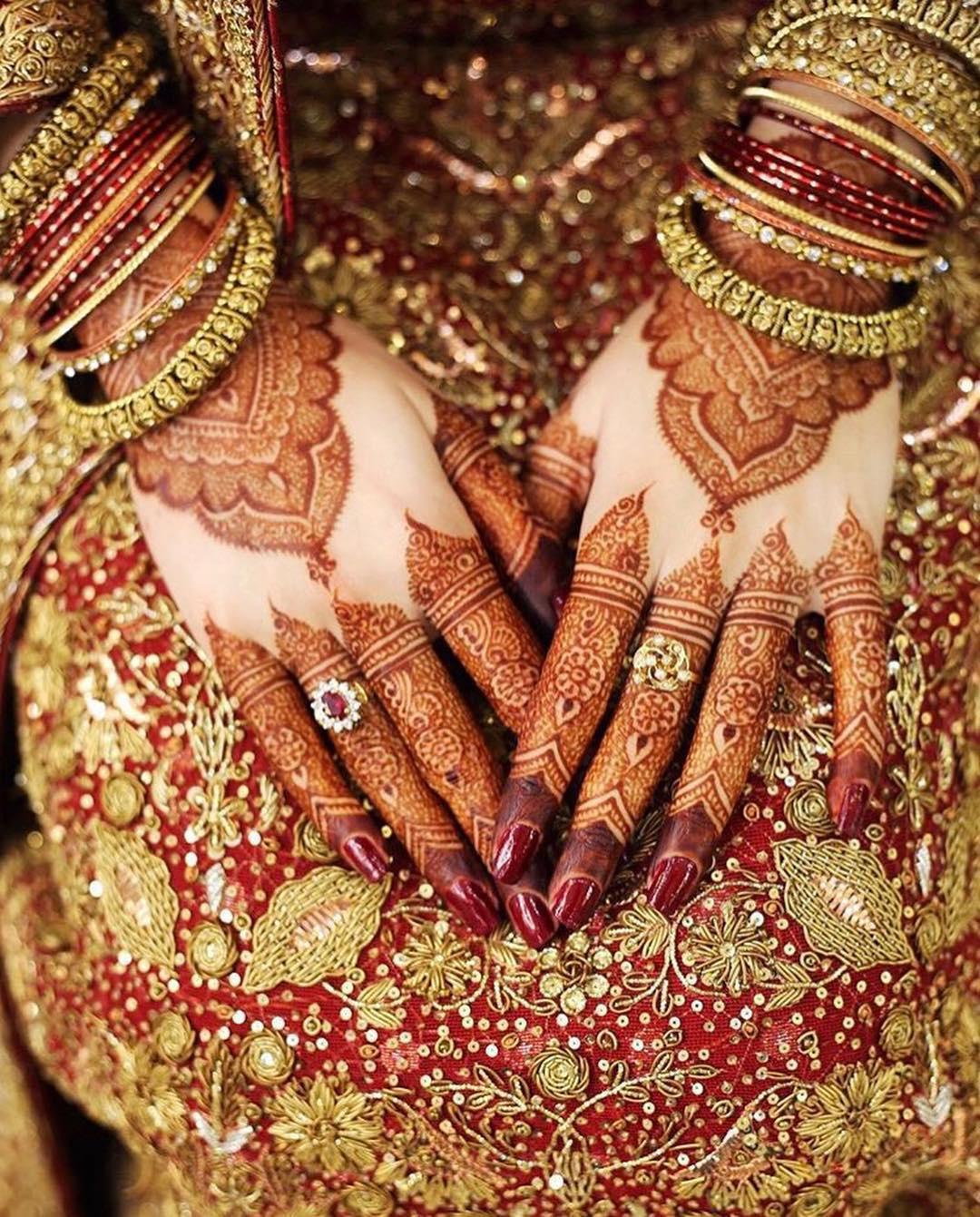 Image courtesy: Natasha Salon
It's there - plain and symbol - geometric shapes like triangles, circles, squares and arches? Check. Two distinct henna shades? Check. Perfect coordination with this bride's red Sharara and crimson nails? Check. Lavish gold to encompass it all? Double-check.
Get it done and you'd have a timeless set of mehndi designs for full hands, which would work with a blood-red bridal lehenga or red saree equally.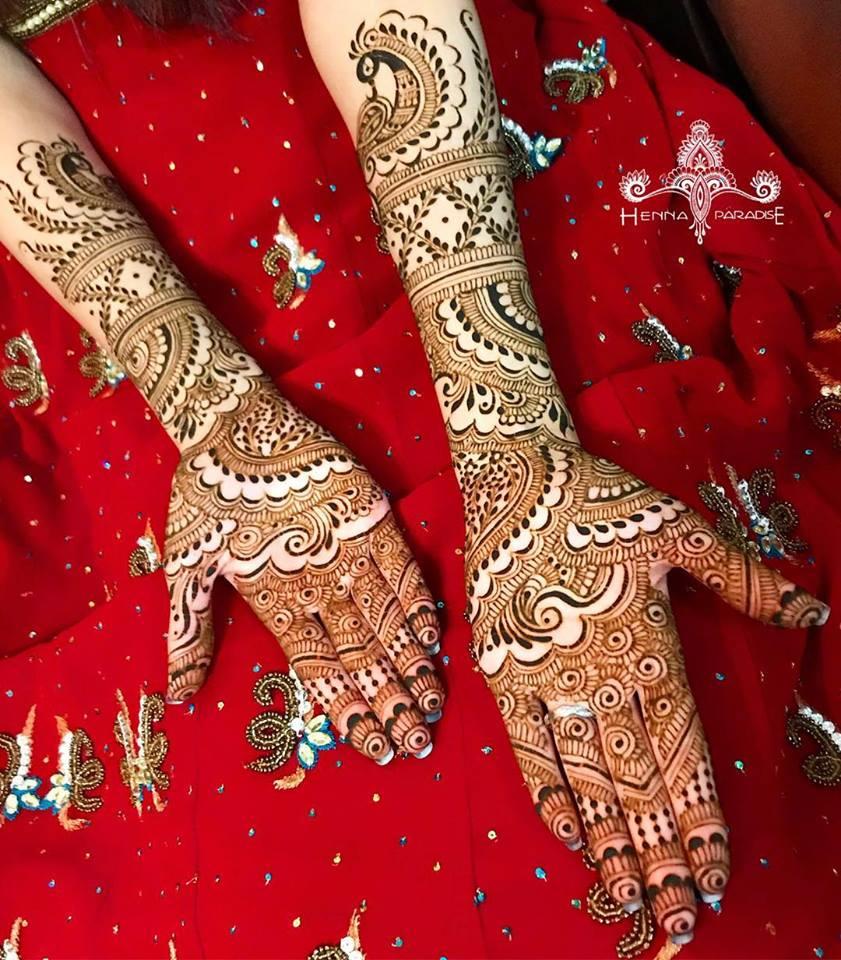 Image courtesy: Henna Paradise Brisbane
Gather your senses as we move into a curvy overdrive. This set of mehndi designs for full hands has two distinct colours, twisting and undulating to form these new patterns, which effortlessly spreads itself till the crook of the elbow. Now, ask your mehndi design artist - Ab yeh karke dikhaao!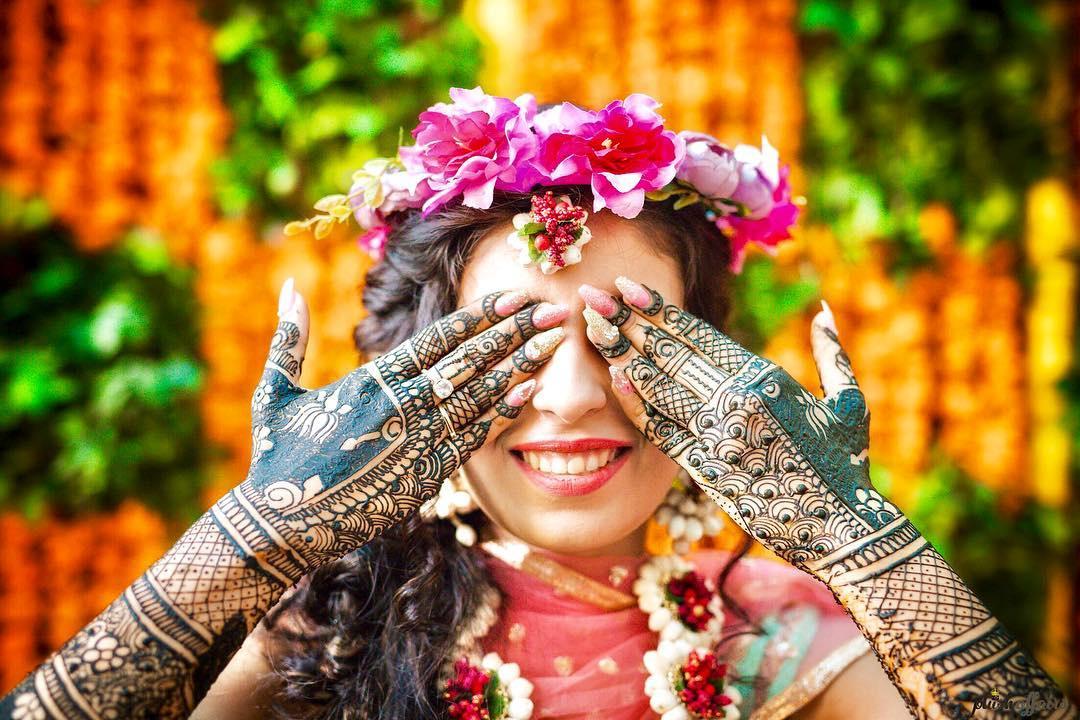 Darker designs mark a set of full hand mehndi designs as those with an Arabic inspiration. Choose this way, if you want the best of both the worlds - intricate patterns and darker mehndi. It's also time to invest in tips to make mehndi darker, which will make you ace the game, without fail.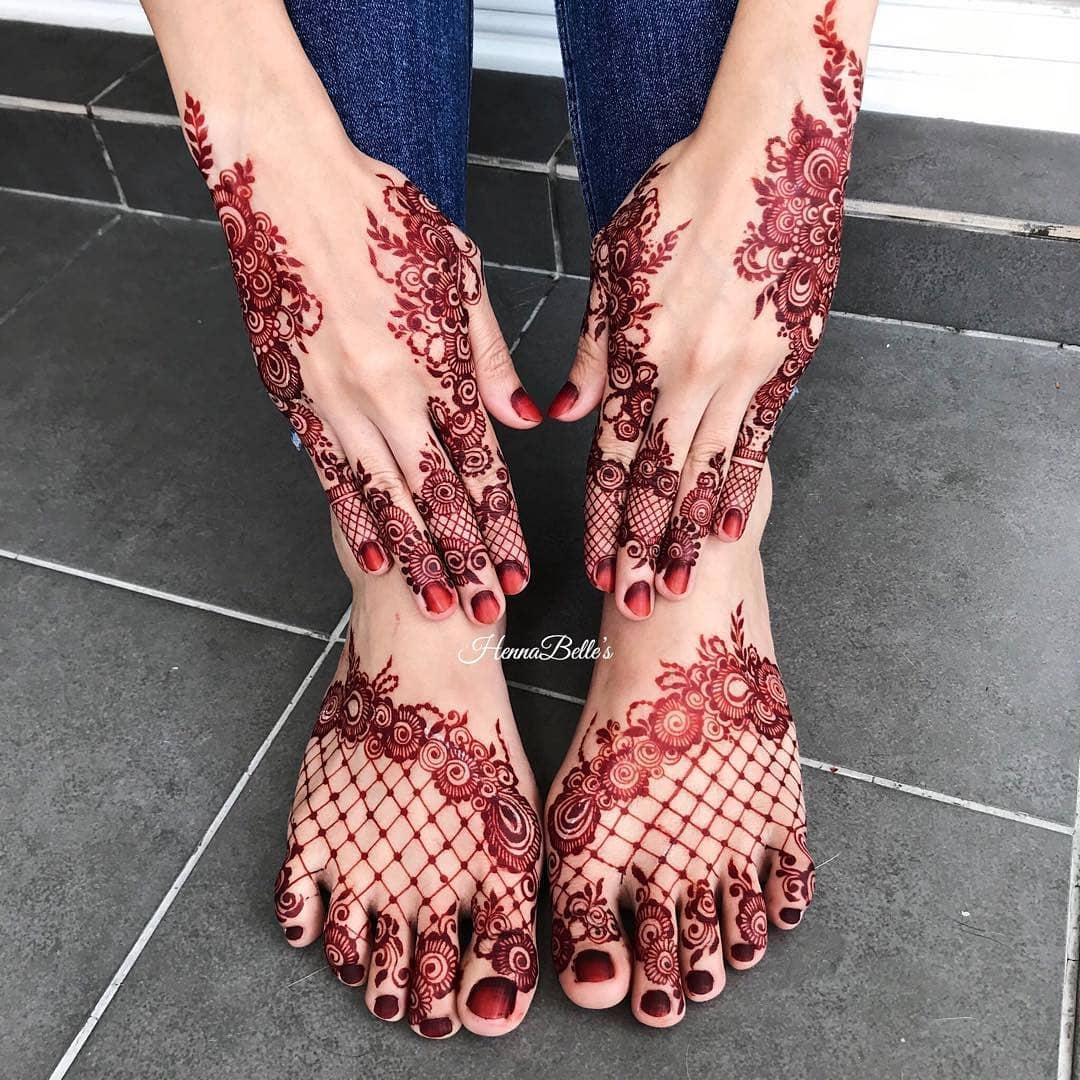 Image courtesy: Henna Bella
Jaals and florals make up the world for this set of effortless full hand mehndi designs, done in a rich, chocolatey brown. The darker hands patterns would stand in perfect contrast with a pastel or golden bridal lehenga. They would also work beautifully with Indo-western outfits.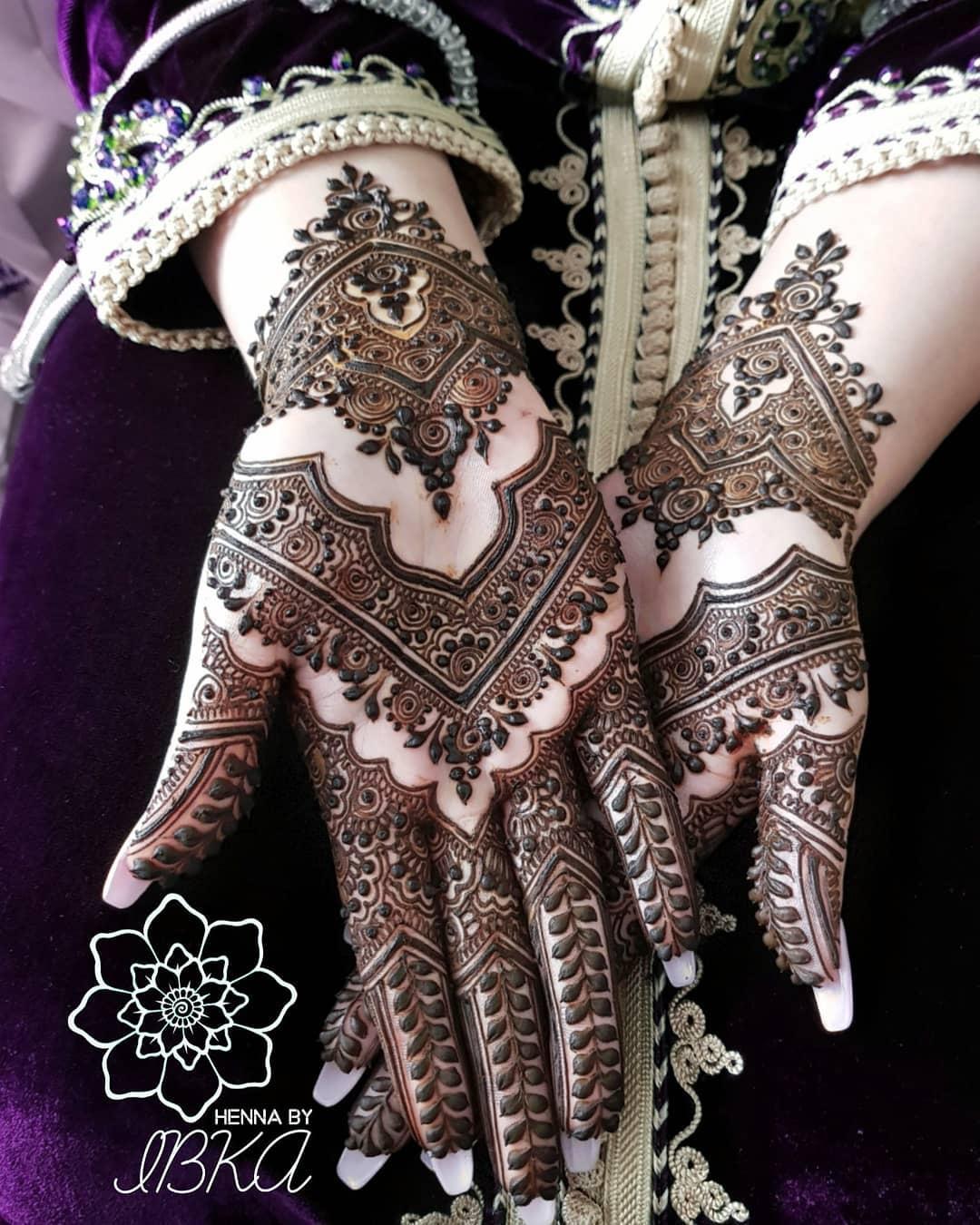 Image courtesy: Henna by IBKA
Combine your love for intricate full hand mehndi designs with the practical realities of your outfit. In this case, for example, the bride wears a full sleeve garment, which would make applying a mehndi upto her arms an odd task. She chooses a wrist-length design to work her magic now.
Moroccan Dulhan Mehndi Designs for Full Hands
Moroccan mehndi is a contemporary take on traditional Indian mehndi designs. The design pattern in Moroccan mehndi art is inspired by Indian mehndi but they are more structured. These designs have geometrical patterns and symmetry in the design on both the hands.
Though Moroccan designs are not the first preference when it comes to bridal mehndi designs for full hands, these days, brides are demanding for this minimal style that offers the best of Indian style with a modern take on it.
Here are a few more inspirations: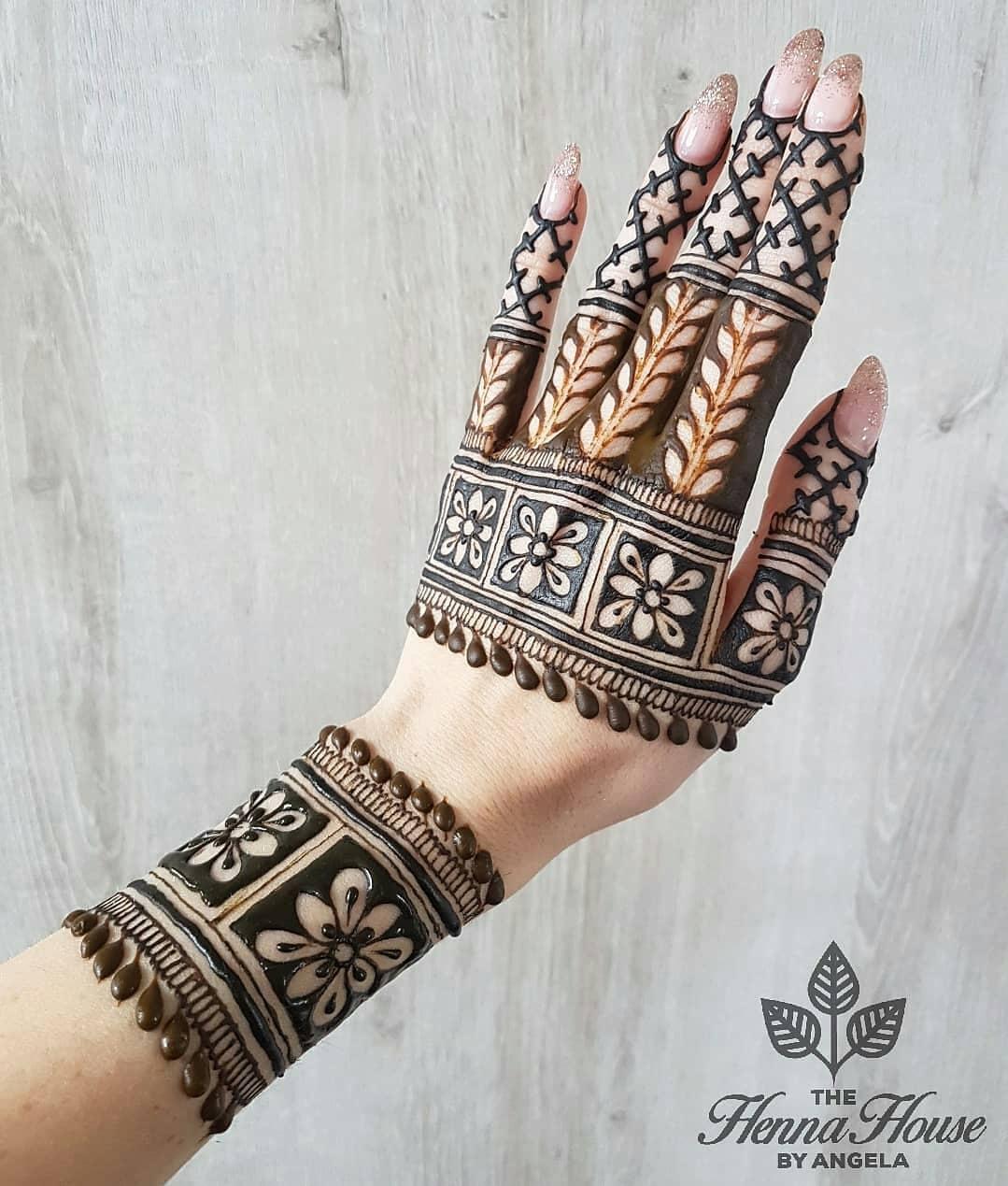 Image courtesy: Henna House of Angela
You've heard of regular Henna and you've heard of Black henna, but have you ever seen the two together? Well, here you are and we have to say this combination is really making us want to pick our henna cones right away to start experimenting.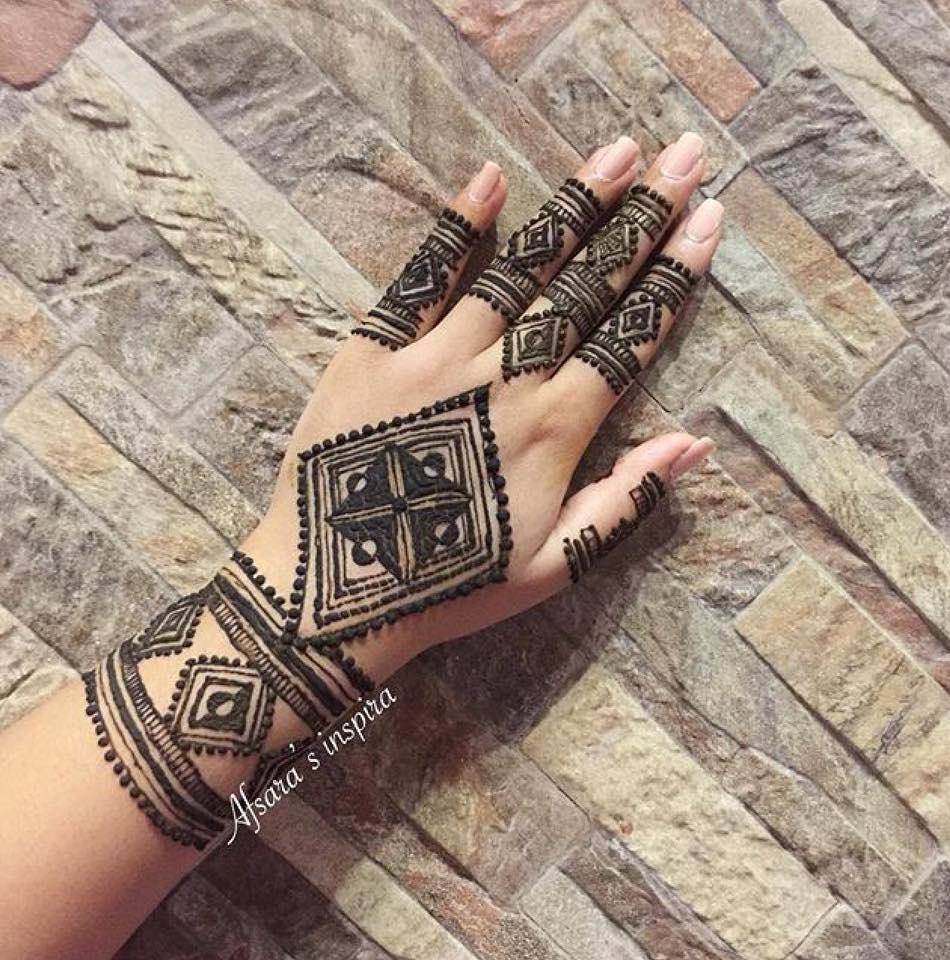 Image courtesy: Afsara Inspirar
A freehand take at Moroccan mehndi designs, this set of diagonal squares represent a set of soothing motifs for the eye and the soul. Like it? We know you do.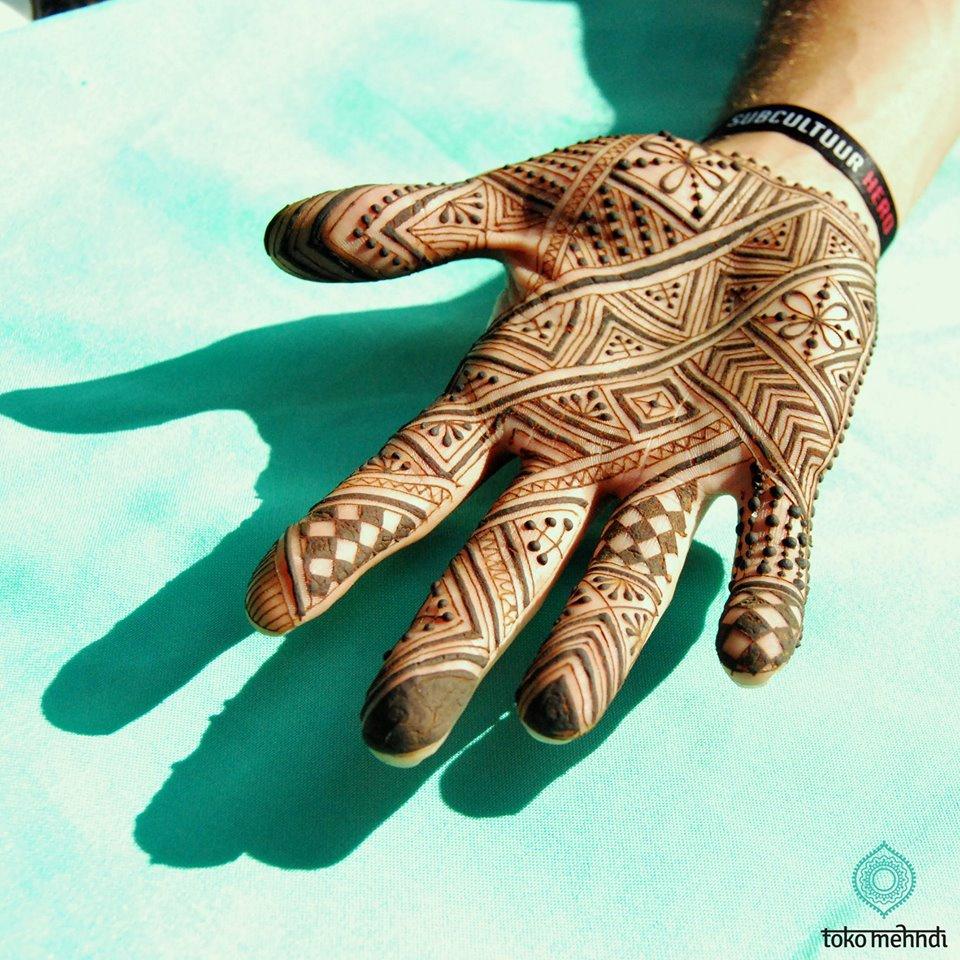 Image courtesy: Toko Mehndi
Get a ruler, please! These squares have been plotted with precision and that means these full hand mehndi designs will work with equal aplomb on wonder for both the bride and the groom.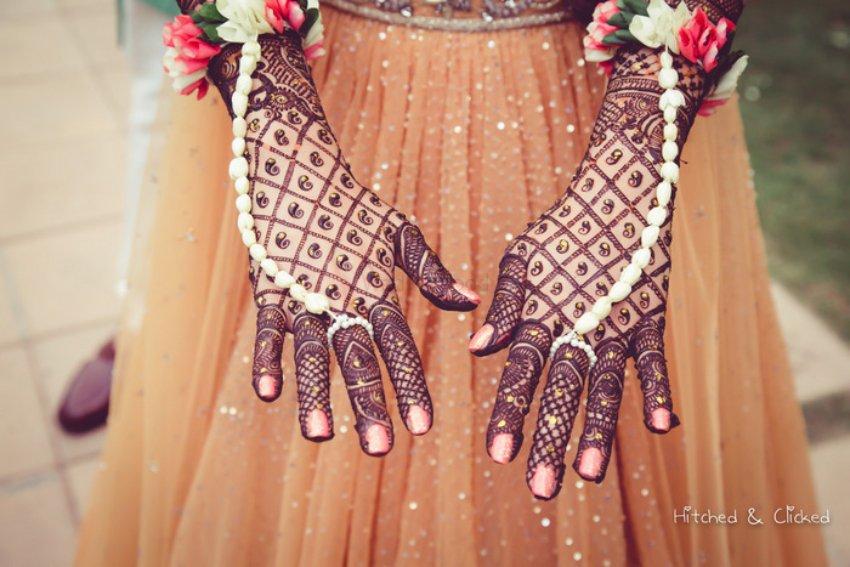 Intricate details, geometric grids and a gold foil overlay? Yes, these mehndi designs for full hands cover all of this and much, much more.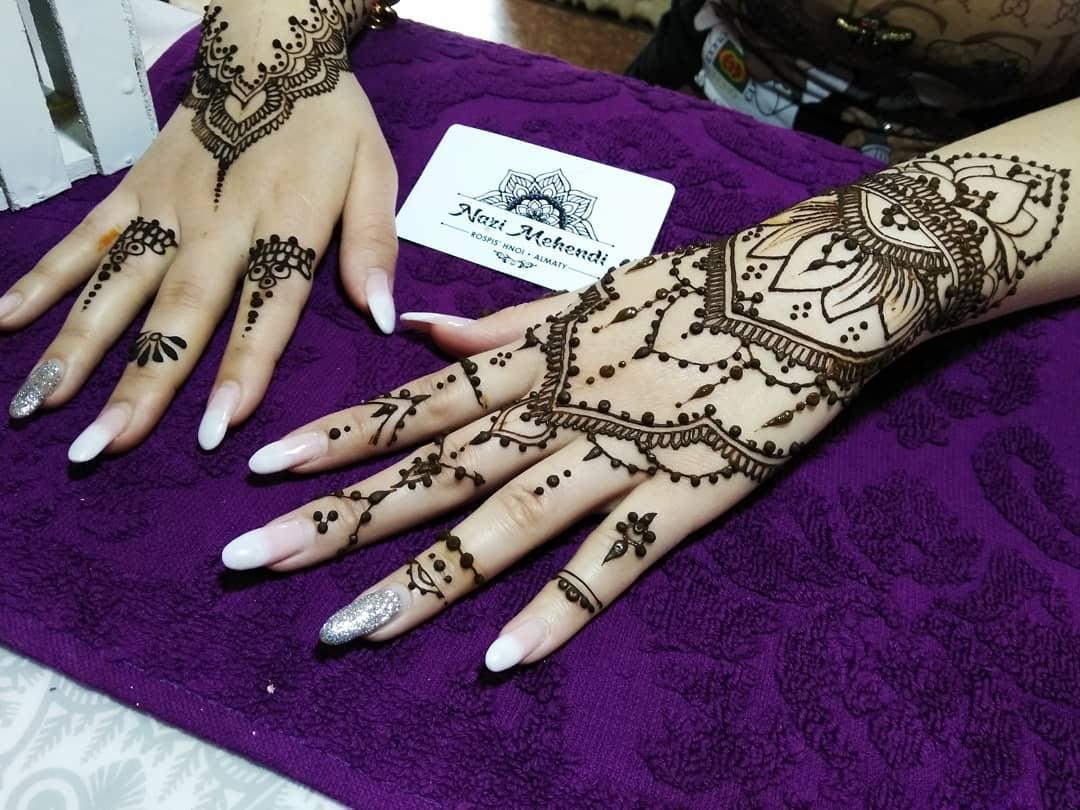 Image courtesy: Nazi Mehendi
While Moroccan mehndi designs for full hands are all about straight lines and square styles, it's also about a sense of balance and space. And that's what comes through in this bejewelled henna design.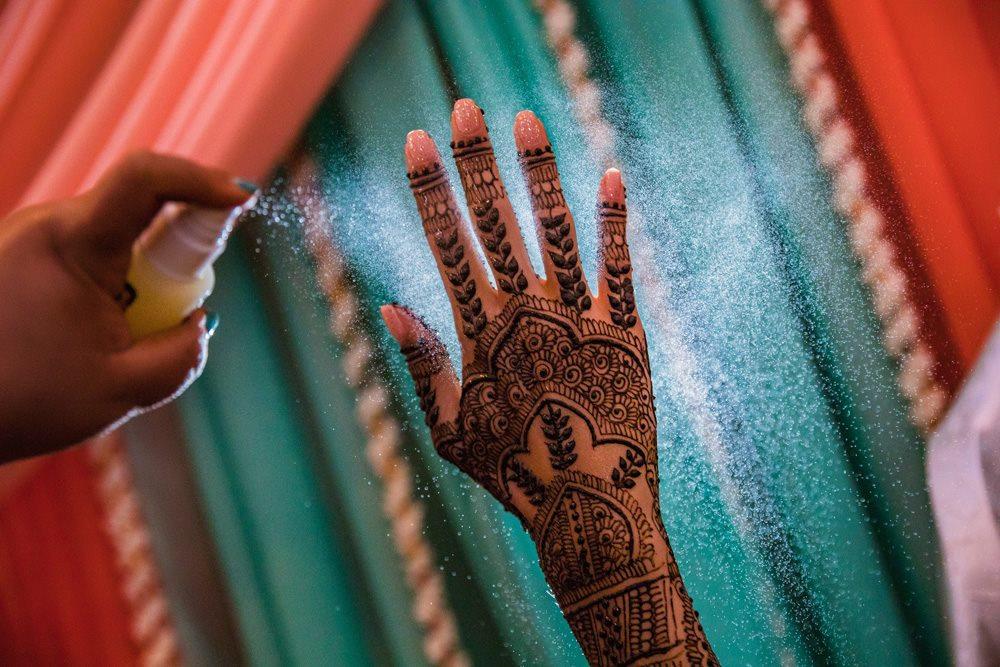 Image courtesy: Wedding Documentary
What happens when these Morroccon sensibilities become a part of Indian henna designs? A marriage of sheer perfection. See the magic come alive when Jharokhas and arches join straight lines and bands. This style of full hand mehndi designs has become all the rage and is being cherished across the board.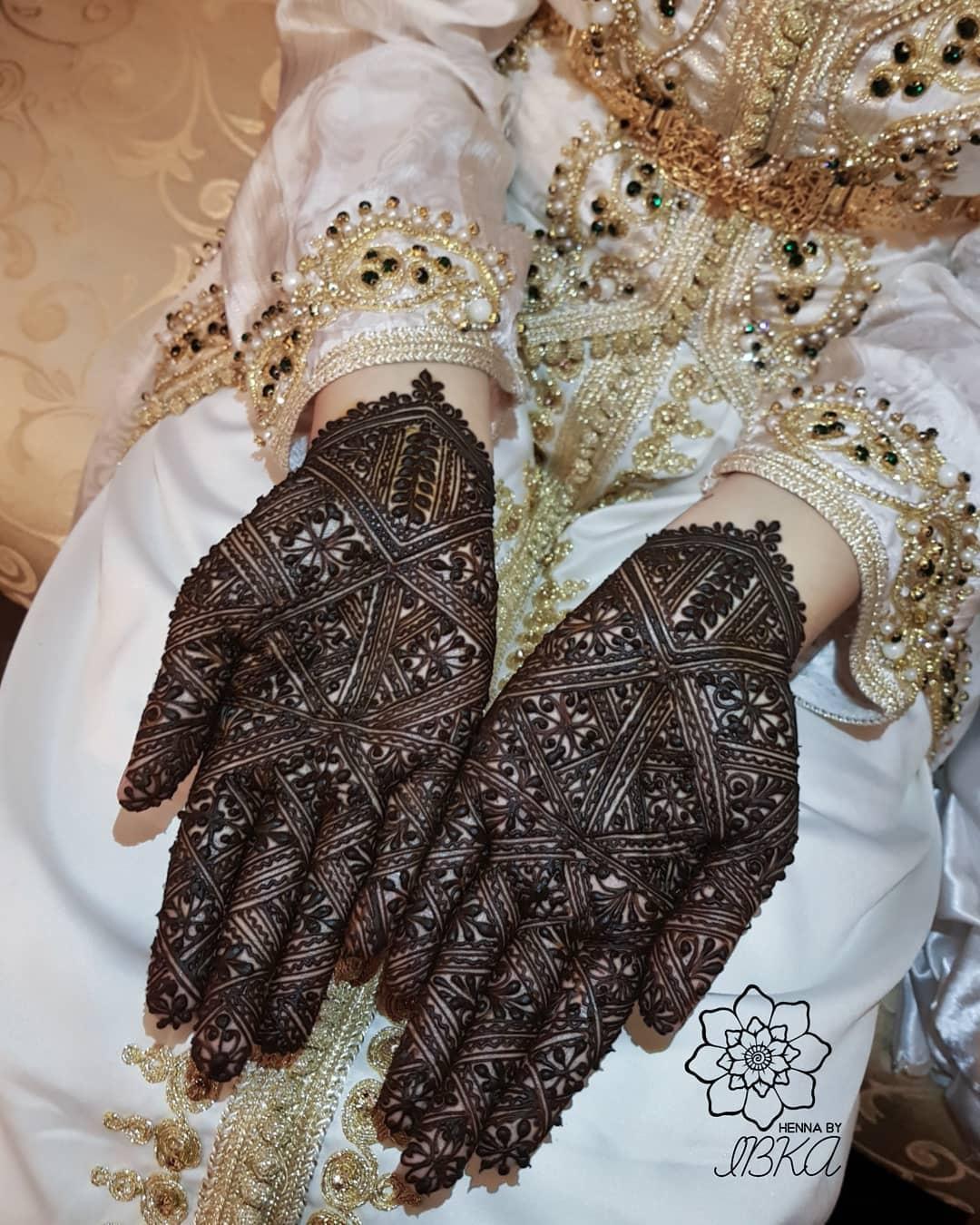 Image courtesy: Henna by IBKA
Often bridal mehndi designs for full hands tend to feature absolutely filled in hands till the wrists, especially if the bride-to-be is from Morrocco, Pakistan or Dubai. Let the length of the design not bog you down as you can still have a fill of your world within such a space.
Modern Fancy Dulhan Mehndi for Full Hands
Millennial brides are unafraid of trying out newer trends and fashions. They are on-board with experimenting with their bridal outfit and bridal mehndi is no exception. From Mehndi only dedicated to enamour just fingers to a mandala pattern, the possibilities are endless.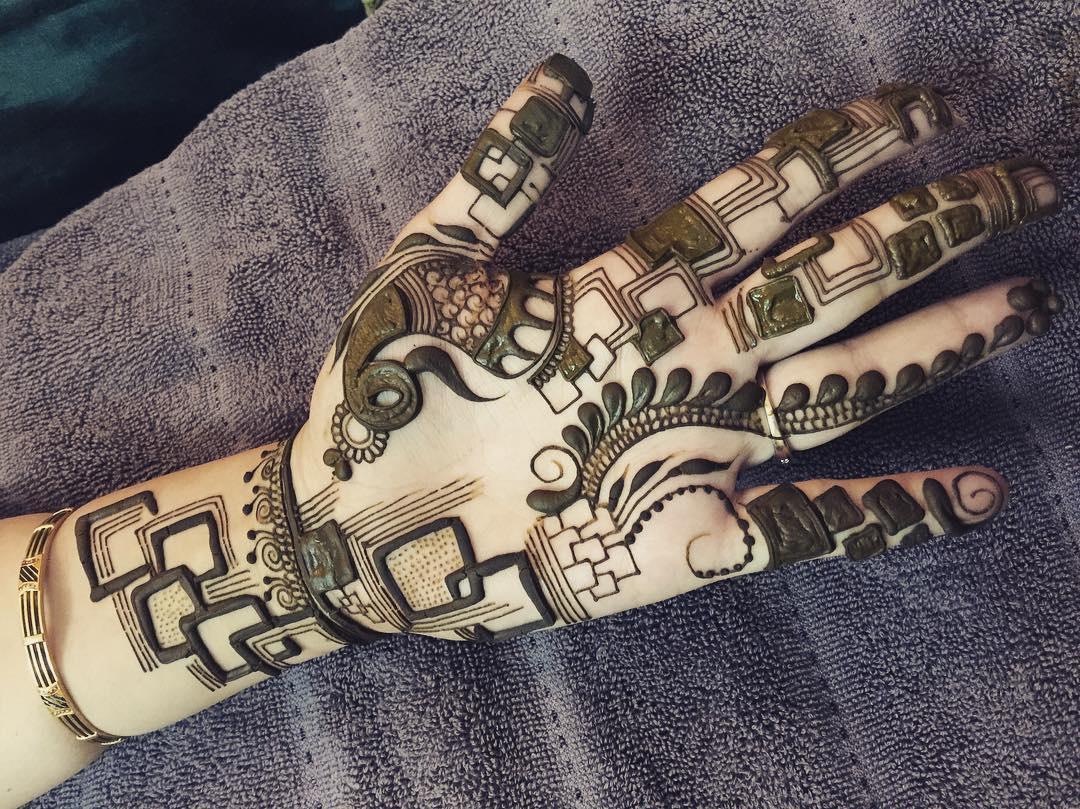 Image courtesy: Aman Gupta
Abstract art with traditional Indian mehndi patterns coming together to make this gorgeous full hand mehndi design. You know what you need to do the next time you want to look a bit Hatt-ke from the crowd.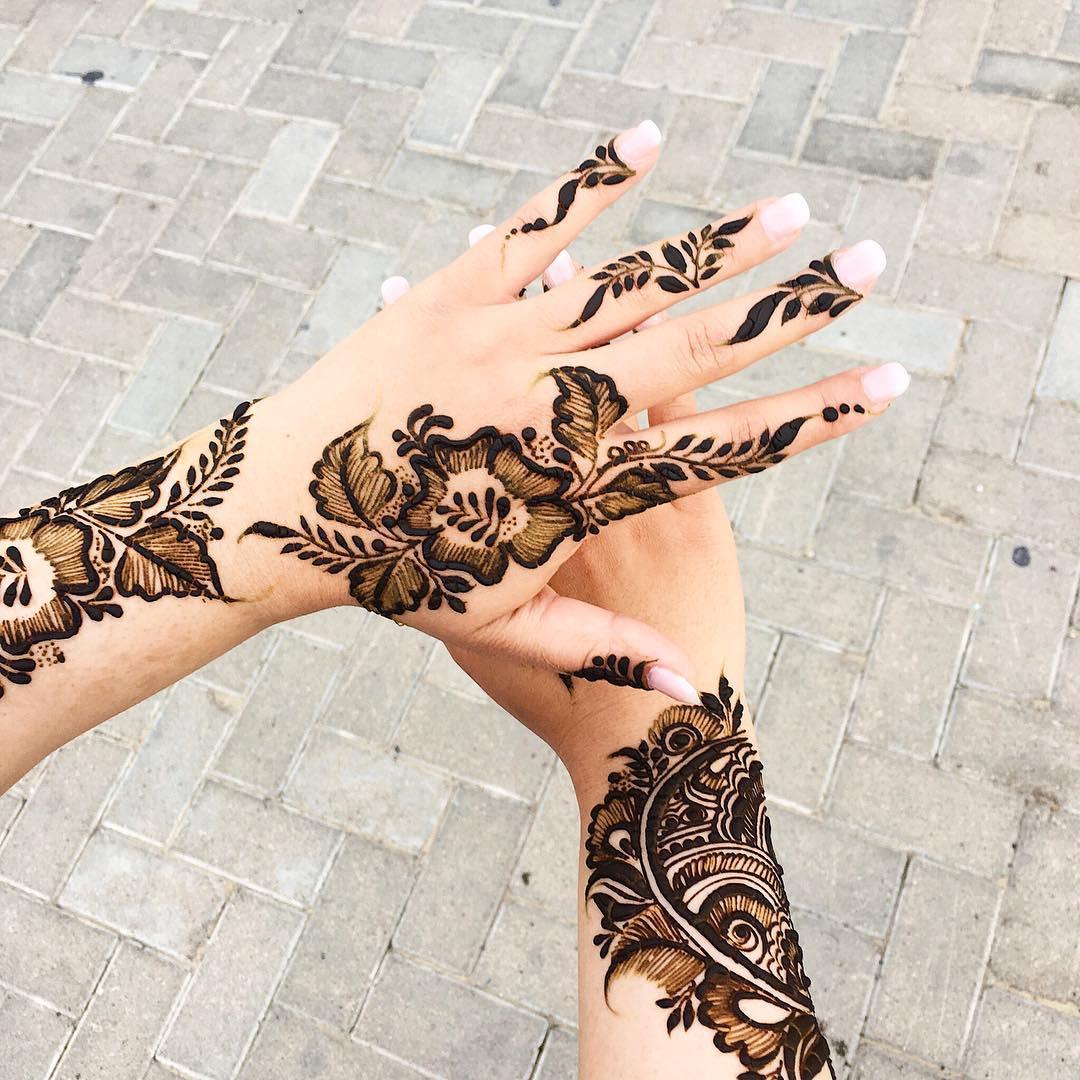 Image courtesy: Sarra Hannah
Though you might have seen many, many floral vines, we like the way it's been shaded in for perfection. The curves undulate from the front side of the arms to the back, making it part and parcel of the shining bride within. Mehndiwalle bhaiya, try to do this one!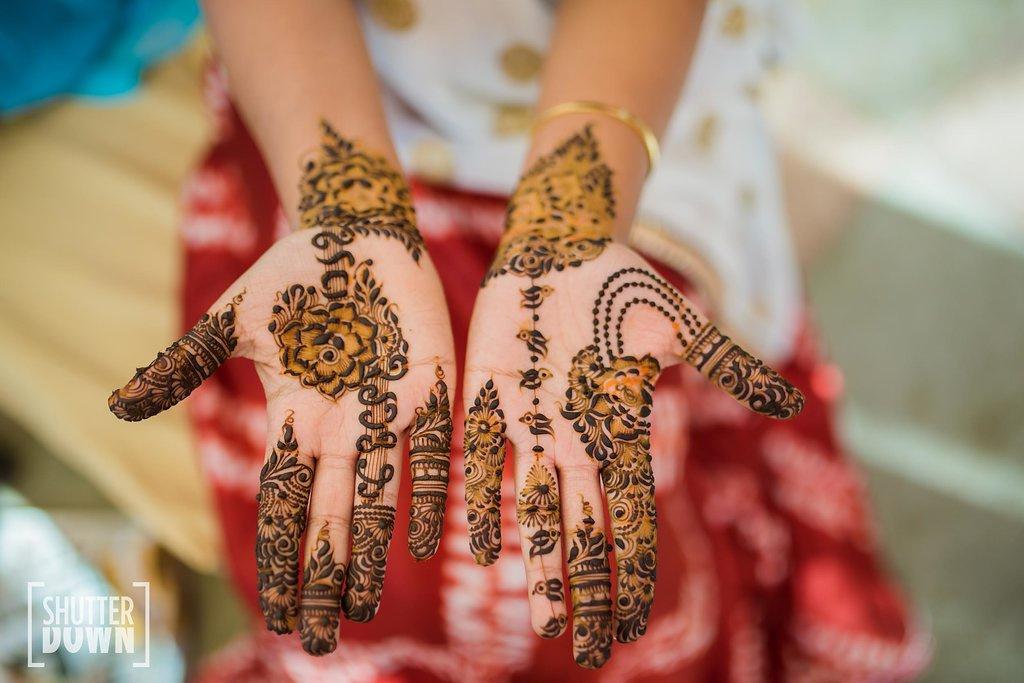 We're awestruck by the work, the sheer work that was done to get the design just right! Floral mehndi elements happened first, followed by darker outlines in the petals. Then came the pillars, the finger mehndi designs and the string of parrots. Love, thy name is mehndi!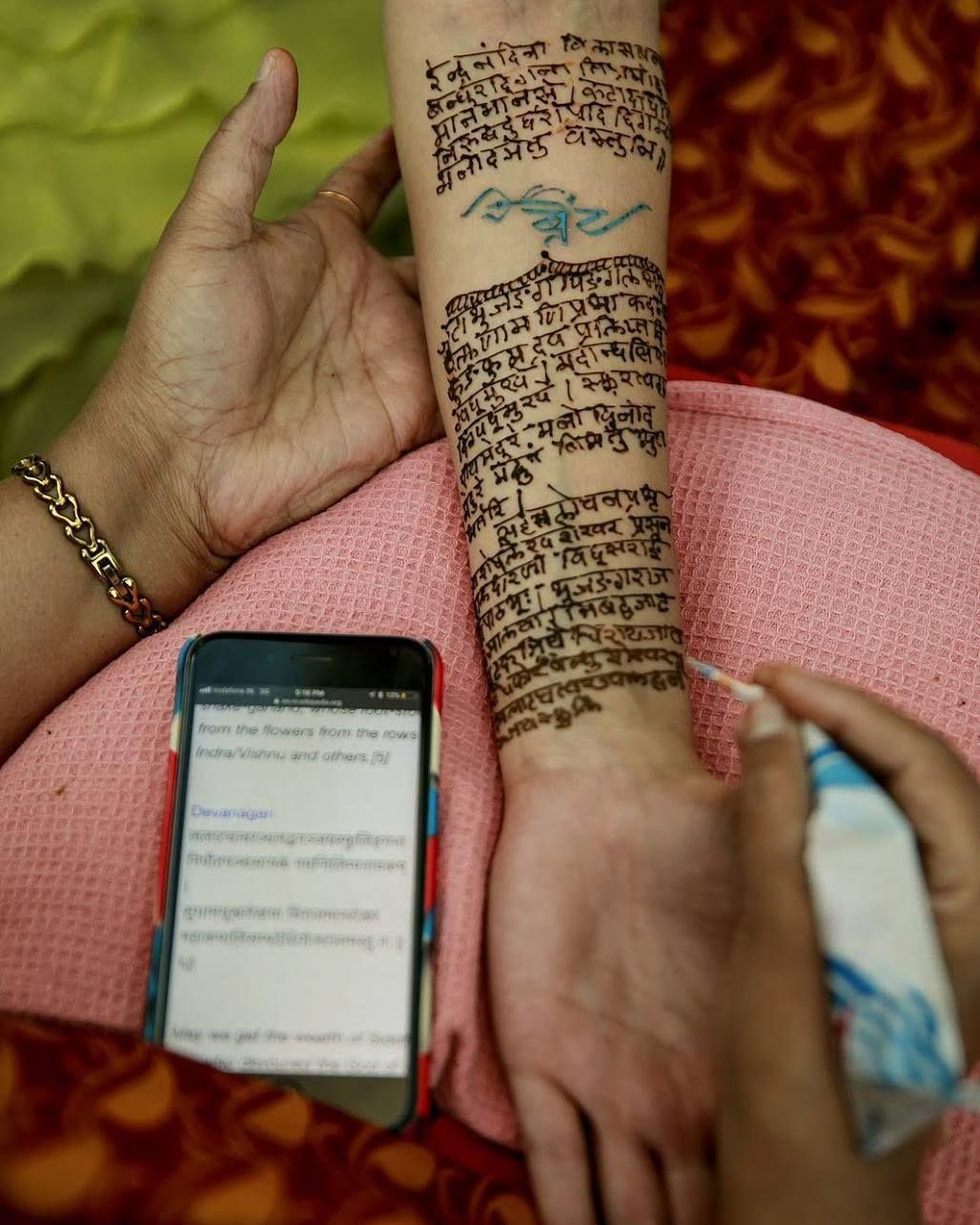 Invoke the blessings of the Almighty and ask them for guidance and support on your big day.
Isn't that what you're told to do when the anxiety builds up, so close to your wedding day? Invoke their favour (as per your own religious and spiritual inclinations) and add it to your literal sleeve. Share your texts with your Mehndi artist and see how they're able to bring them alive on your palms, arms and hands.
We've seen brides choosing the Gayatri mantra, texts from the Rig Veda, Aayats from the Quran and even the Ek Omkar in full hand mehndi designs. We've also seen special love quotes in the same space.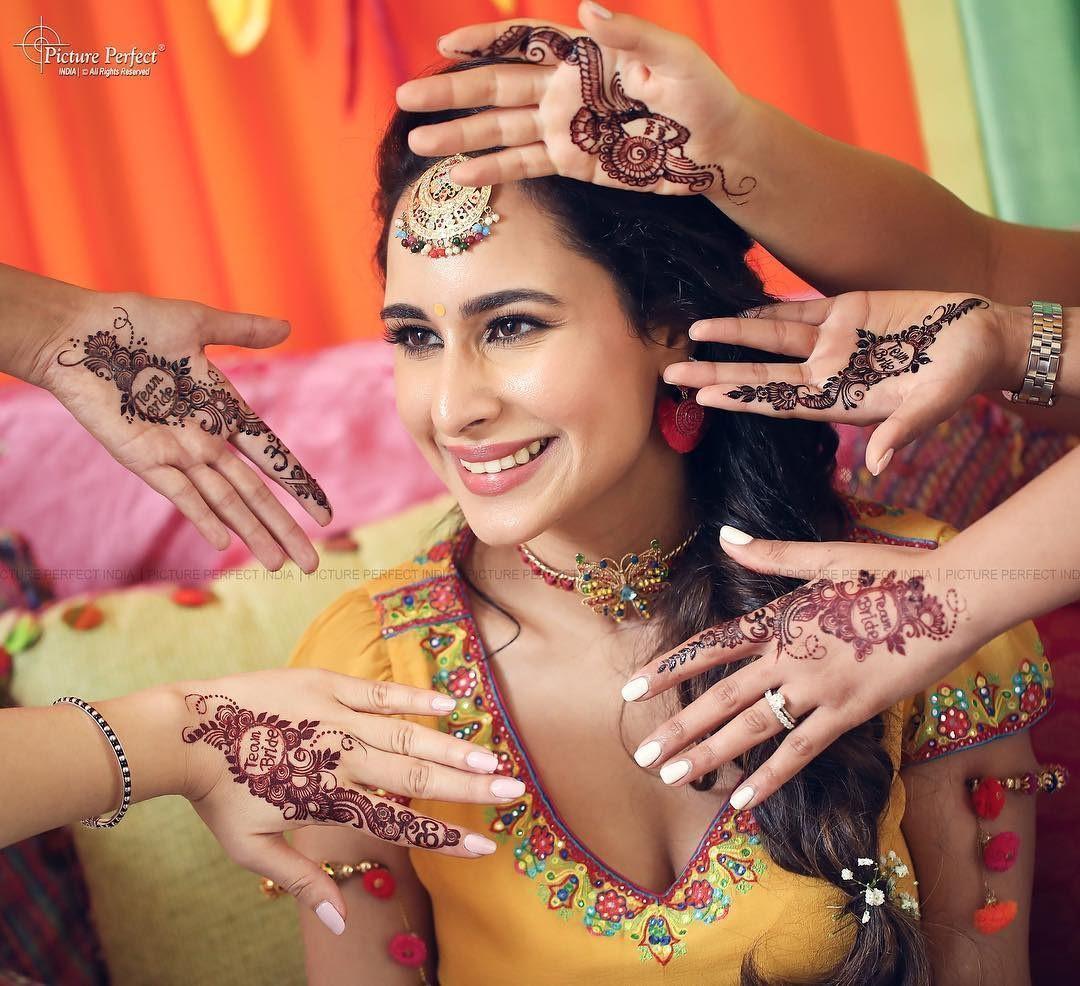 Now, we've seen it all! While getting your girls inked in henna is a done thing since time immemorial, this bride decided to own the trend by getting her bridesmaids these identical 'Team Bride' henna designs. Get your own set for your girls and even think of the possibility of converting them into full hand mehndi designs.
Here are a few more ideas to pique your interest -
Mirror patterns
Get a central, quirky motif - it could be circular design, a dialogue box or even a creature feature (and no we mean peacocks, parrots and even elephants here). Then, add a statement item to it. Try your hand with words like Patakha, Ladkiwale or even Team Dulhaniya. You could even garnish it with a nath to get the message across. And then request (or bully) all of your bridesmaids into donning the henna print.
Broken pattern
Get an ornate pattern (like a set of wings, leaves or even flowers), broken across the hands of all of your bridesmaids and keep your own full hand mehndi designs as the centrepiece. This requires some patience. Then, get ready to click with all of your hands coming together to bring the henna to life.
We assure you, these ideas will look as perfect as this click by Picture Perfect.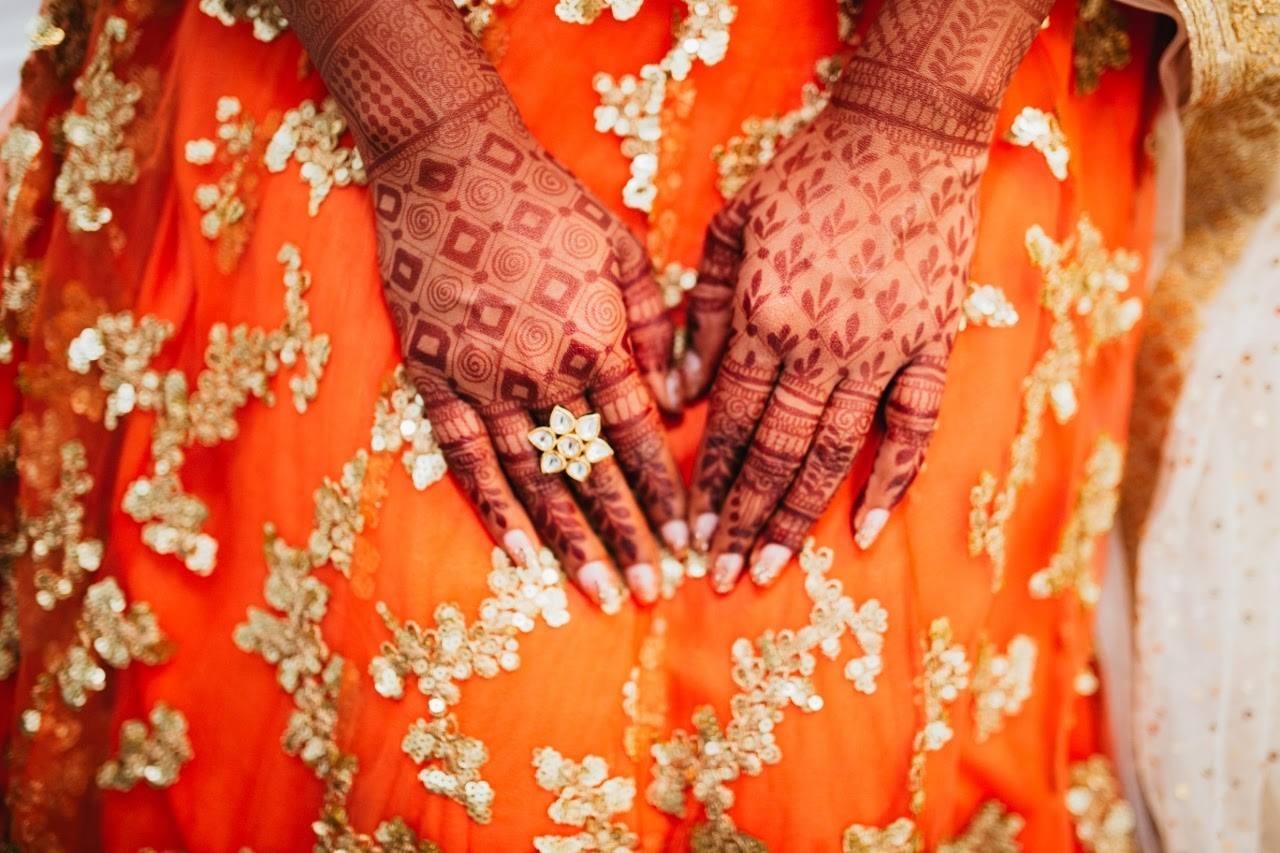 Geometric grids like the thin set of lines that cover the back of the hands here, work as excellent mehndi fillers, neatly covering up space without a sense of clutter or overkill. These go perfectly with modern sensibilities and can be a good addition to your own mehndi designs for full hands.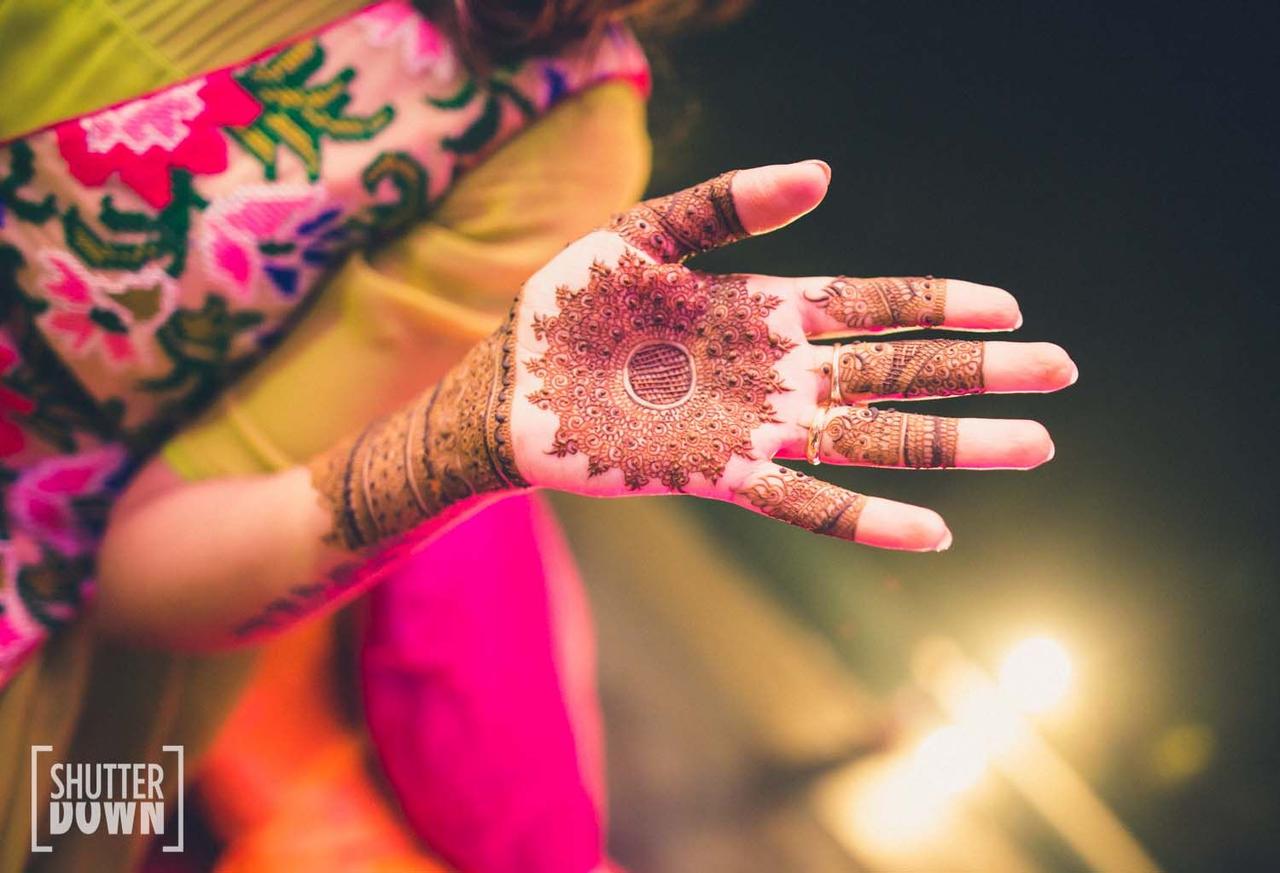 And then, there are the Mandalas, perfect concentric circles, flowers and geometric shapes (as some can be even hexagons or octagons), that fill the centre of palms and back of hands in modern full hand mehndi designs. These shapes are soothing to the eye and the soul, from the moment when your mehndi artist plants one on your hands, to the time when you raise them to the public eye.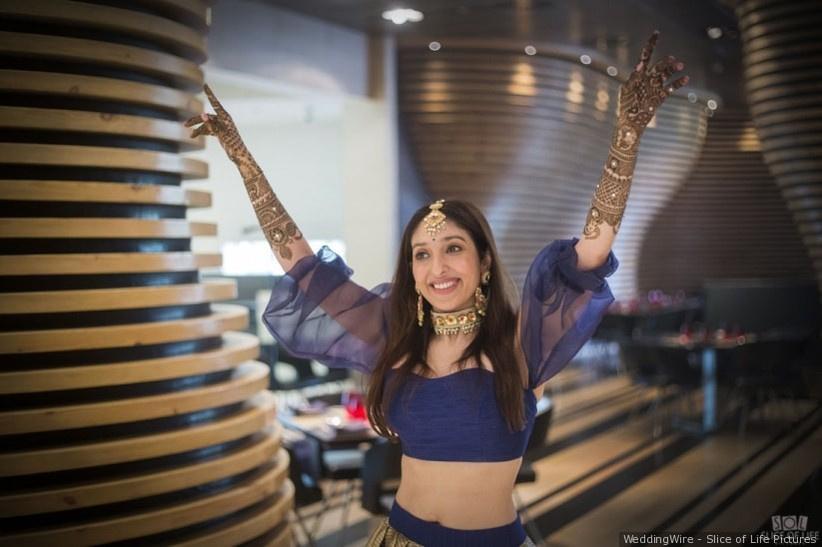 While glitter mehndi and stone (or sequin highlights) may just be a thing for the mehndi party, wear yours with pride and absolute joy, especially if that's what you've dreamed about for your wedding day. Choose your wedding saga to be bedecked in some much-needed shine as you hold your darkened designs over your head and choose to go into a trance watching the pretty lights.
Mehndi has seen a resurgence in terms of style and design over the years. From traditional to contemporary to a mix of both, nothing no longer is out-of-the-box and unexpected.
There are more styles and patterns of mehndi designs that you can play around when it comes to using them for bridal mehndi. While an engagement ring can never leave a bride's hands, using henna to replace jewellery items like Payal and Haath Phool is another trend that is on the rise nowadays. You can try all the patterns listed above for a perfect bridal mehndi design for full hands or you can mix and match and create your own patterns that will look stunning even as wedding invitation card designs.
Have a design or two to add to the list? Write to us through comments and share your design through snapshots.
Read More -
Mehndi Design | Proposal Lines | Simple Finger Mehndi Design | Arabic Mehndi Design | Propose Day Quotes for Boyfriend | Wedding Anniversary Wishes for Sister | Tamil Wedding Calendar | Simple Mehndi Design | Pre Wedding Quotes | Engagement Anniversary Wishes | Funny Wedding Wishes for Bestfriend | Blouse Design | Rangoli Design | First Night Tips for Bride | Wedding Anniversary Wishes