The Top 4 Indian Mehndi Designs for Weddings
Have a look at the most beautiful bridal mehndi designs that you can sport on your wedding day.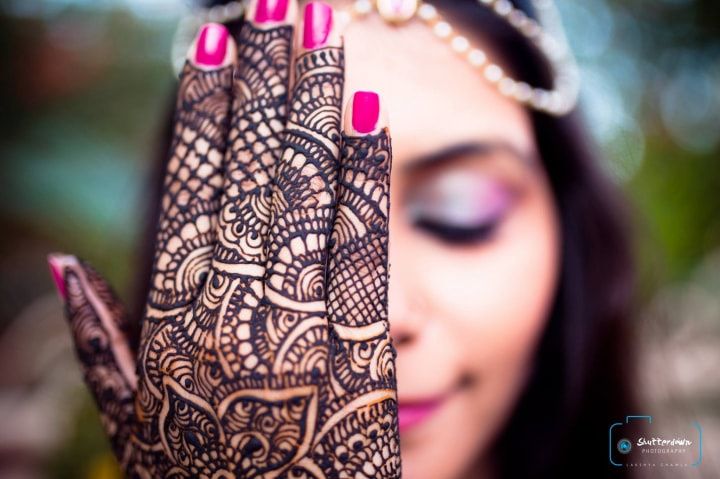 In India, no festival or wedding ceremony is complete without mehndi. Indian mehndi designs are one of the most striking parts of our culture and have now grown to be admired world over. Even within the country, all women celebrate weddings with new clothes, bridal makeup and wedding hairstyles and latest mehndi designs. Every year we see mehndi design artists come up with new styles. But that doesn't take away from classic Indian mehndi designs like the Rajasthani mehndi design, Marwari mehndi designs, dulhan mehndi design and Arabic mehndi designs. We list down some of the most popular styles, which you can use for your mehndi function.
Rajasthani Mehndi Design
This is one of the most popular types of Indian mehndi designs. These designs are a perfect balance between simple and complex and consist of round shapes, curved patterns, paisley prints, peacocks and flowers. The mehndi artist makes sure to leave no gap between two patterns while drawing this design. They fill up the empty spaces with small motifs like leaves, little flowers, hearts, an arrangement of dots or scalloped shapes. Drawing Rajasthani mehndi design is hard as the final product must look flowing, but without being overdone. These days, brides request for intricate mehndi design for hands Rajasthani style - like the 'Dulhan Ki Doli' or 'Baraat' on both their palms. In these designs, the artists create an entire wedding scene with minute details for the bride. These mehndi designs cost anything between ₹ 2,000 to ₹ 18,000, depending upon the complexity and length of the design.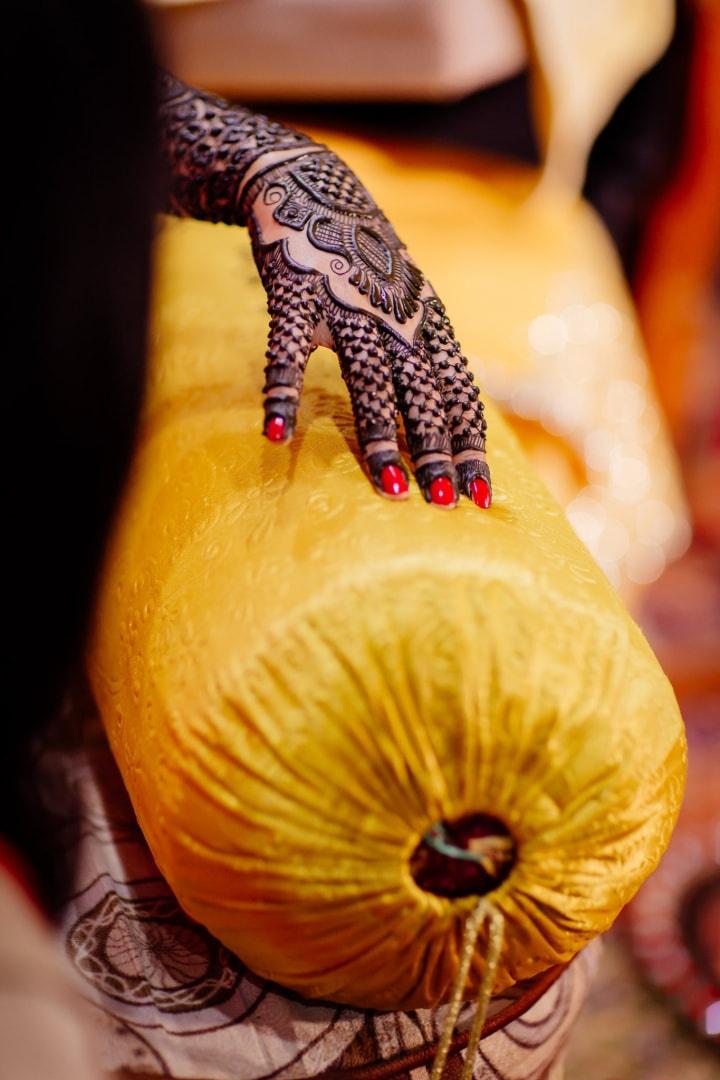 Modern Indian Mehndi Design
This type of mehndi design is far less complicated than the bridal one. Though it has same patterns as above, the artists pay more attention towards filling in the gaps than the detailing. Hence, it takes less time compared to the bridal mehndi design for full hands. Along with the usual patterns like peacocks, paisley and flowers, the artists use innovative net patterns to fill in the gaps. At times the net pattern is decorated with roses, delicate leaf designs or a simple dot pattern. It costs between ₹ 200 to ₹ 1500, depending upon the length and delicacy of the pattern and is popular among the bridesmaids and friends of the bride.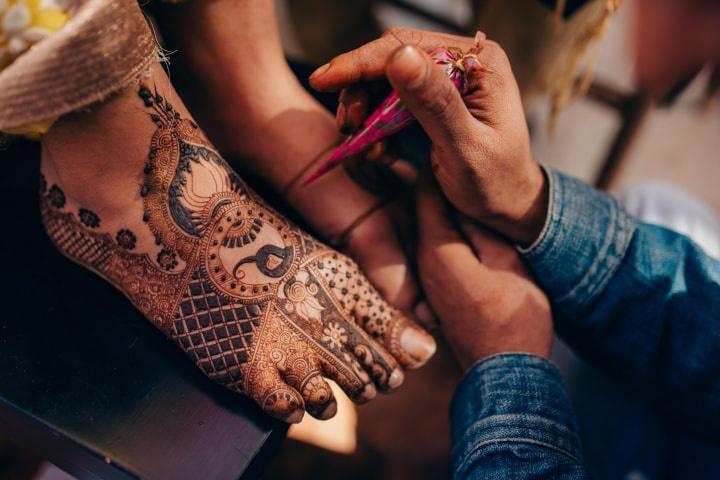 Indo-Arabic Mehndi Design
In the last few years, Arabic mehndi designs have gained popularity because of their bold in contrast to the delicacy of Indian mehndi design. Though Arabic designs are not as complex as Indian mehndi designs, they look amazing with lines filled in large shapes, dots and bold, broad outlines. Since the designs are smaller than Indian mehndi designs, they are easy to draw and expose more skin. Striking a perfect balance between the design and blank spaces is the key here. Arabic designs work for brides who don't like mehndi designs for full hands. The delicate and curvy patterns from Indian bridal mehndi designs meet the art of negative spaces from Arabic style resulting in gorgeous, Instagram-worthy mehndi hands. Since these designs are easy to draw, they cost between ₹ 100 to ₹ 300 per hand.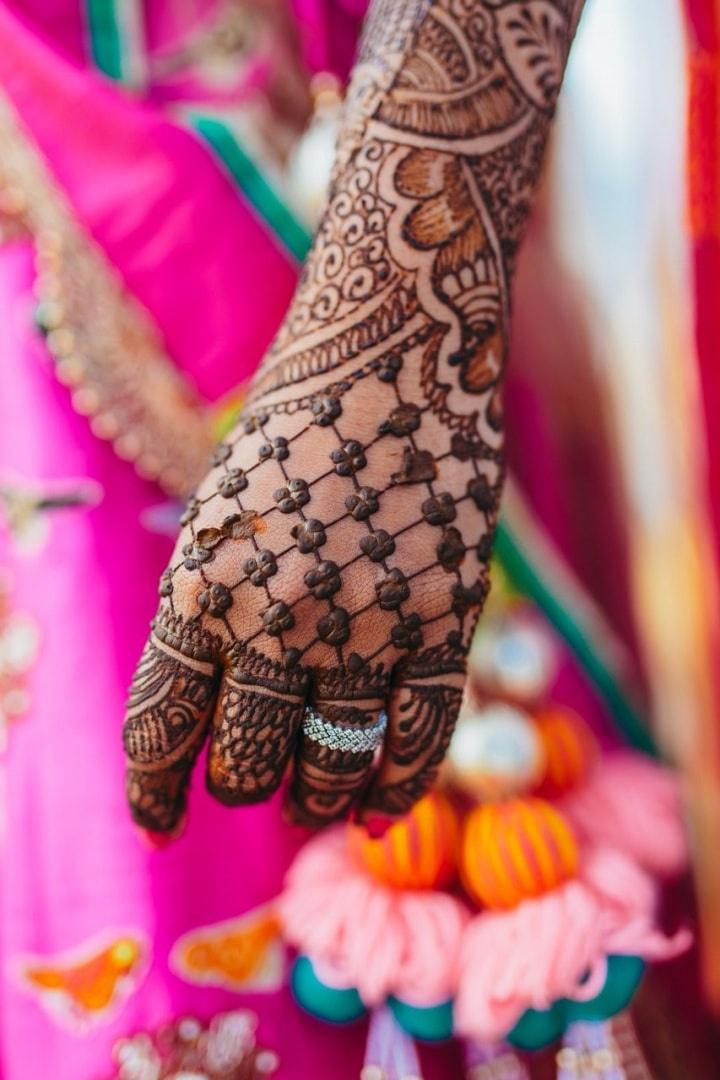 Mehndi Designs Like Jewellery
This is the hottest wedding mehndi design trend. A design that looks like bangles, anklet, necklace or Haath-Phool is often demanded by brides. Most of these designs are made in pure Arabic style as it is bold yet beautiful and is easier to incorporate into such designs. These are hard to draw as one needs to keep the similarity and continuity in the design. A lot of design ideas for this kind of mehndi ke designs can be found online or in the gorgeous wedding pictures of a lot of brides these days. They usually cost around ₹ 500 to ₹ 2000.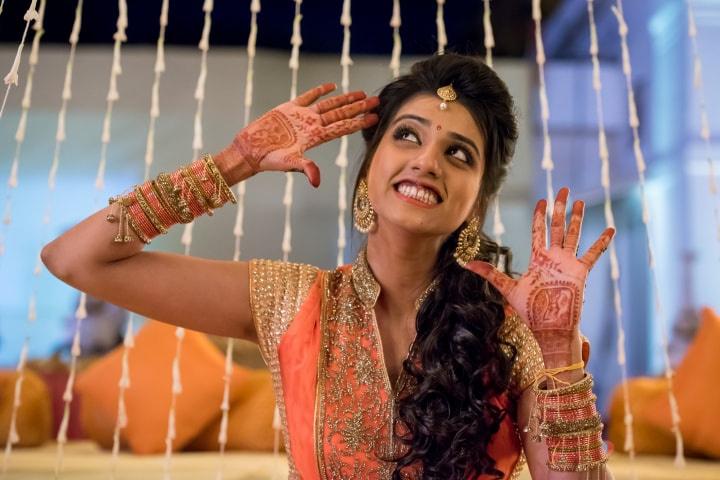 Mehndi is an important part of our wedding rituals. There are plenty of brides that go for fusion mehndi designs these days because when it comes to bridal mehndi, the sky is the limit. Spend time browsing through your mehndi designers' catalogue and finalise a design that matches your bridal lehenga style and makes your engagement ring stand out.