'Mehndi' instantly brings the picture of a bride's hands to one's mind. It is a beautiful form of art that has evolved over the years. With many bridal mehndi artists now contributing to this unique art form, the designs and styles of mehndi have become extensive. Be it a simple and minimalistic design or a complex and elaborate one, bridal mehndi designs offer endless possibilities. As does the event, where a light atmosphere is created by the creative and colourful venue décor. Ensure your seating at the event is comfortable to have your hands and feet adorned with beautiful mehndi designs such as these popular ones.
1. Chaadar design
Think of a beautifully embroidered dupatta of a designer bridal lehenga, the way the motifs and embroidery run all over with little gaps and spaces in between - now turn it into a mehndi design! The Chaadar design is a great bridal mehndi design for legs and arms as even amidst the bangles and anklets, the design stands out. This is especially great for the back of the hands and the feet.
2. Paisleys and Floral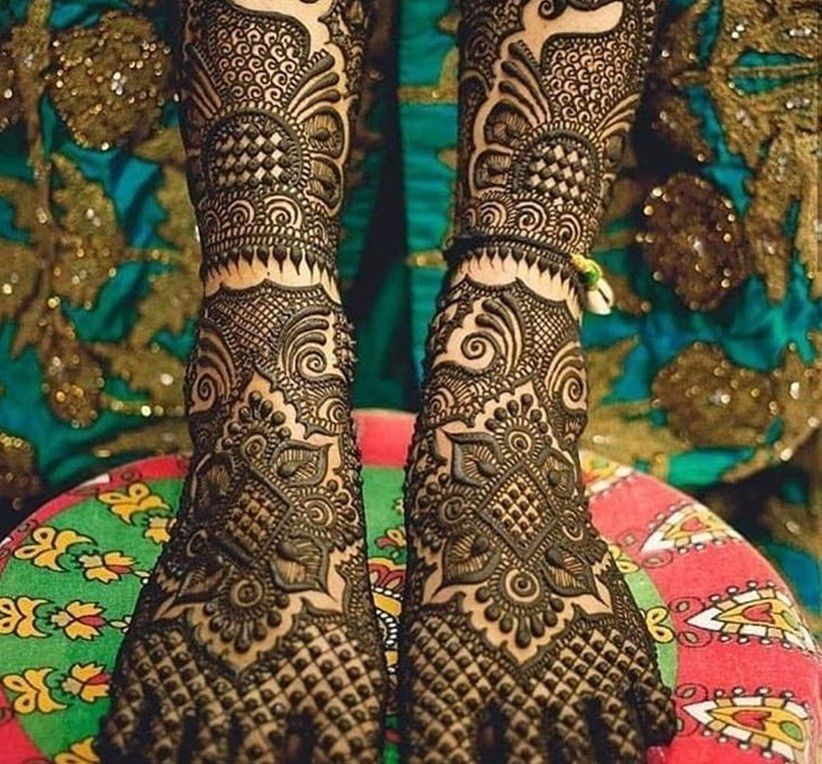 Paisley motifs are one of the most common and also, the most attractive designs when it comes to Indian mehndi designs. It creates a graceful look and can easily be complemented by floral designs all around it. Whether you want a very elaborate design or a simple one, paisleys are perfect for all.
3. Matching Mehndi Designs for Legs and Arms
Mehndi designs for weddings must be beautifully woven together for legs and arms, it should like one seamless flow of design. A matching design like a Chaadar design or a paisley one can make it look like an endless work of art. In most cases, only your hands and feet will show, if at all, so make it an endless canvas!
4. Arabic Mehndi Designs
Arabic designs are less elaborate but equally intricate. If you don't want your entire hands and feet to be covered in mehndi, then Arabic bridal mehndi is the best option for you. It can run from the lower corner of the palm, diagonally to the index finger or cover the palm diagonally and then spread to all the fingers. These simple mehndi designs look very graceful at the back of hands and the feet.
5. Dulha Dulhan Mehndi Designs
Make your hands a canvas and paint a story! The special Dulhan mehndi designs can be pre-selected or you can let your mehndi artist create an original masterpiece. Bridal mehndi designs with a groom drawn on one hand and the bride on the other look very beautiful. It's a traditional design that beautifully signifies the wedding.
6. Peacock Design
Another very popular bridal mehndi design is the graceful peacock design. The peacock head can be the perfect finishing touch to your bridal mehndi design for full arms or legs. It looks graceful and definitely very stunning!
There are some brides who like to pick their own mehndi designs, the way you choose bridal makeup and wedding hairstyle, while some like to just go with the flow, quite literally! If you haven't picked a bridal mehndi design yet, pick one from the pictures here or just trust your mehndi artist to do a great job. With your pretty, manicured nails and the beautiful bridal lehenga, every design will complement your look.
Ensure you surf the market for some latest mehndi trends. It's you mehndi ceremony so don't compromise on the quality of the henna or the creativity of the design. Everything should be perfect.
Did we skip a mehndi design or two? Write to us through comments.