The Magical Mehndi Ceremony Explainer - What's Done, How And Why!
Love the henna but confused about the ritual behind it all? We break down the absolutely essential Mehndi ceremony - listing why it happens, what all should be done and how do you ace it as part of your pre-wedding functions. Stay tuned!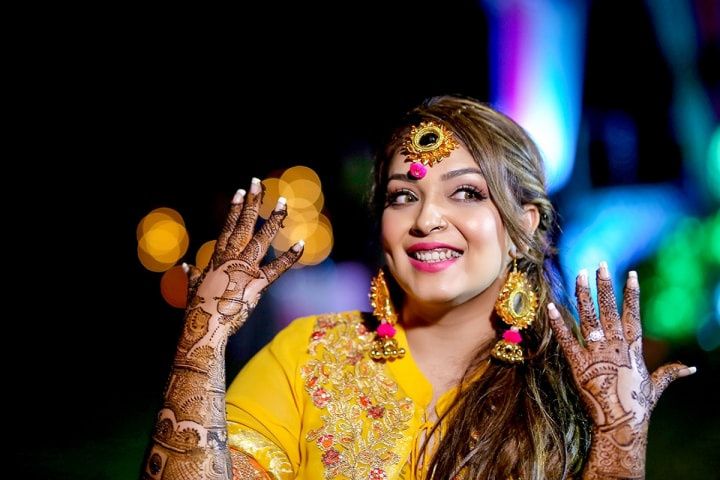 'Mehndi hai rachne wali, haathon par gehri laali...
Kahe sakhiyan, ab kaliyan, haathon par khilne wali hai'
There is no better way to elaborate the significance of these delicate henna designs which blossom on the palms and feet of a bride-to-be. A traditional aspect of the ancient Solah Shringaar, the Mehndi is an inalienable part of an Indian bride's wedding look. And so's the ritual around it. We pay homage here to the Mehndi ceremony, explaining what it's all about and how you would find it in every cultural sub-set in India.
The Mehndi ceremony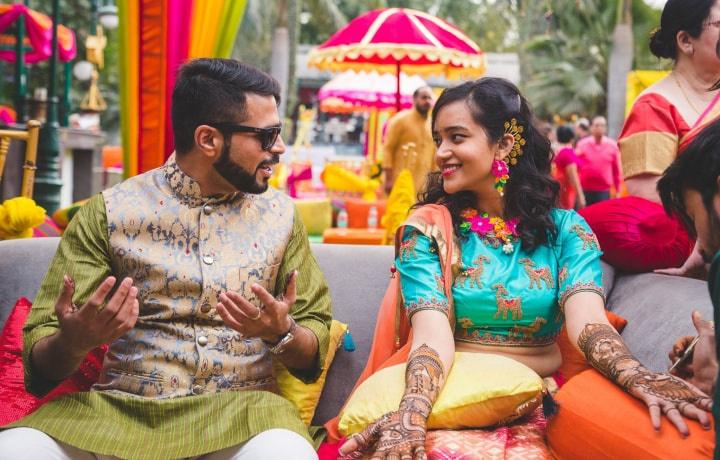 Held a day before the actual wedding, the Mehndi ceremony is a fun-filled, nostalgic sit-down for the bride, her cousins, siblings, friends, aunts and others. This is their day, filled with fun, laughter, songs, dances and games as each sits down for a dollop of Mehndi over their hands and feet.
Often held on a sunny day outdoors, the Mehndi ceremony actually occurs for both the bride and the groom on the same day. Nowadays, many brides-to-be choose to do one combined mehndi function, for double the madness and fun!
Everyone up for some Mehndi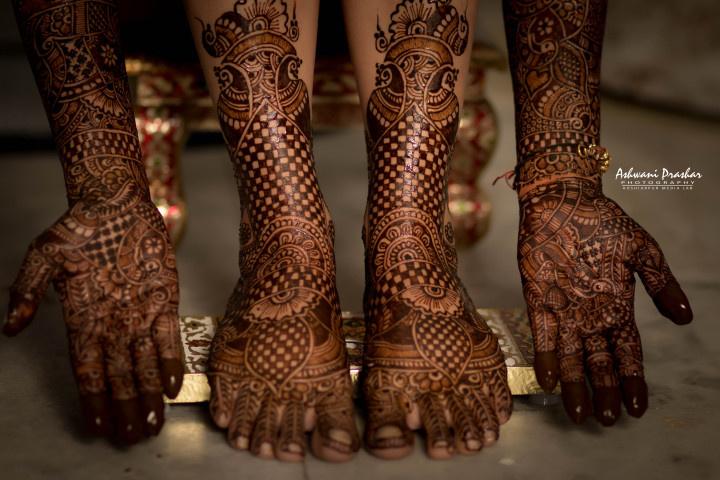 It's called the Mailanchi Raavu in Kerala, the Maenziraat during a Kashmiri wedding and a Mehndi Ki Raat (a combination of the Mehndi and Sangeet ceremony in different Hindu wedding ceremonies). In fact, it's also a part of an Indian Christian wedding.
It's celebrated with equal, eager fervour in a Punjabi wedding, a Jain wedding, a Gujarati wedding, a Marwari wedding, an Arya Samaj wedding, a Sikh Anand Karaj and a Sindhi marriage.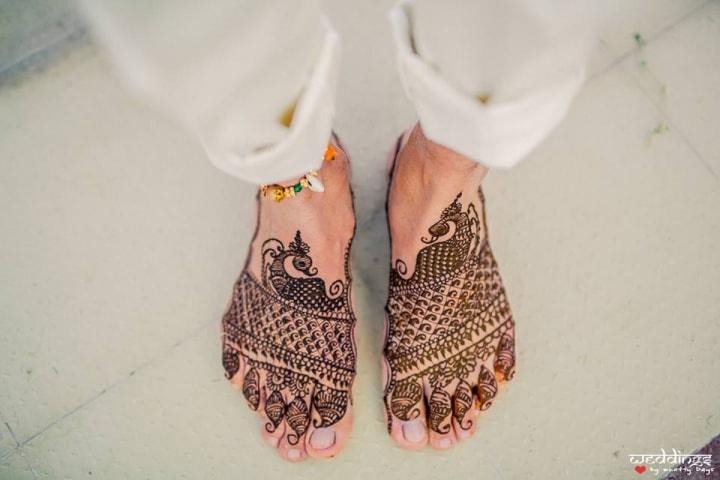 And it's not just for the women! In fact, groom mehndi inspirations and designs have become a hot buzzword these days as well.
How to conduct the Mehndi ceremony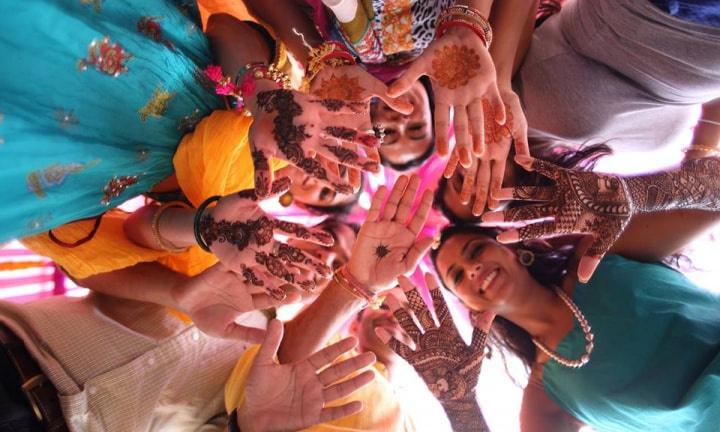 Normally, a Mehndi ceremony is an emotional Shringaar ceremony, aimed at ritualistically beautifying the bride and groom and preparing them for their wedding day. It begins with the arrival of Mehndi from the groom's side for the bride, a step that's mirrored with the Haldi ceremony or Pithi Dastoor.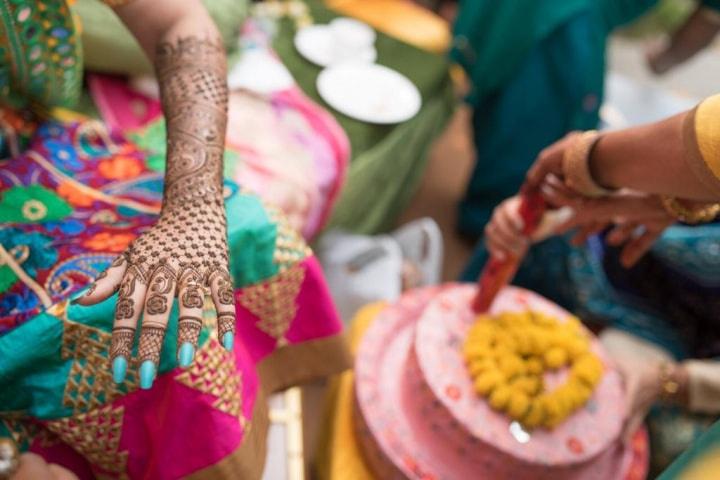 Often, this is a symbolic representation and a dollop of it is added to the bride's hands, alongside the professionally made mehndi cones of the bridal mehndi artist who's been called for the day. Yes, a professional! This professional also replaces the idea that the women of the family (largely married women), who were to make the exquisite henna designs on her hands.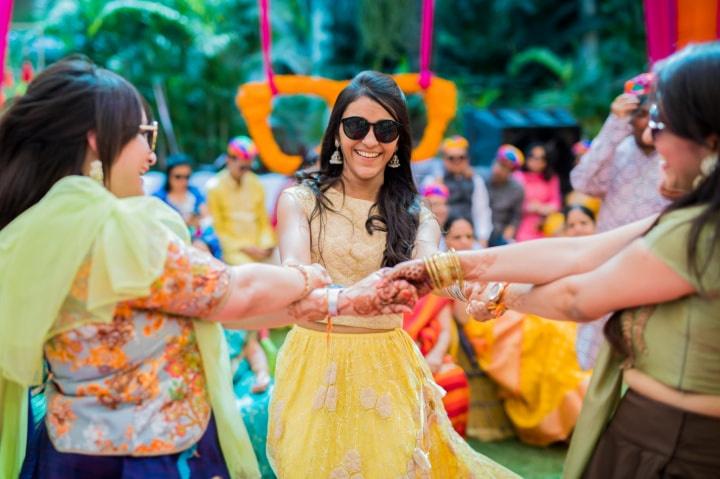 These days, the Mehndi ceremony is a fun-filled day, with song and dance performances while the women relatives vie to get the latest henna designs on their hands and feet. The bride has already had her bridal mehndi (often across her hands and feet) and is ready to party! Held in a colourful mehndi function venue, it requires a specially curated Mehndi songs playlist, choreographed dance performances and in comfortable clothes.
What to wear for your Mehndi ceremony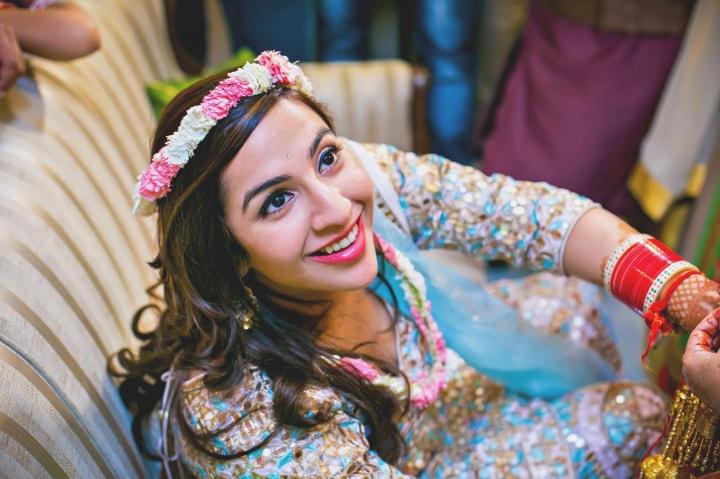 Want to ace your Mehndi look? Think spring! Pastel shades and yellows on one end and peppy colours like orange, green, blue and pink on the other are evergreen ideas when it comes to your Mehndi ceremony dresses.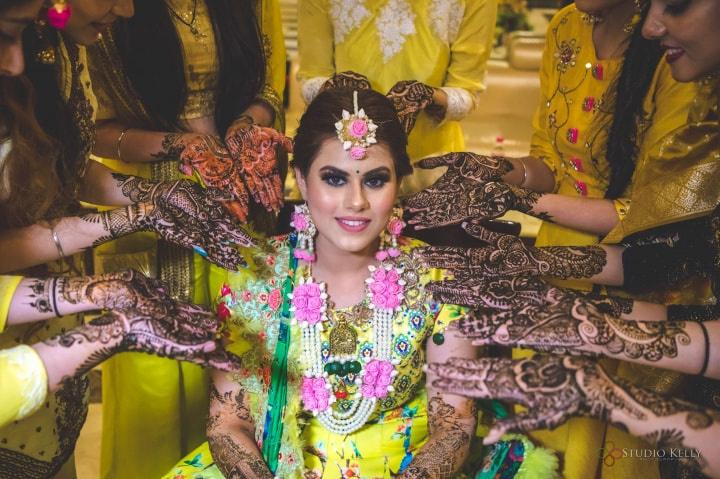 The next step? Top these with flower jewellery designs - the more the merrier. You could go over the top with a large-size Maatha Patti, earrings, necklaces, haath phool, armlets, cuffs and even anklets. You may also go for silk thread jewellery and Gota Patti jewellery.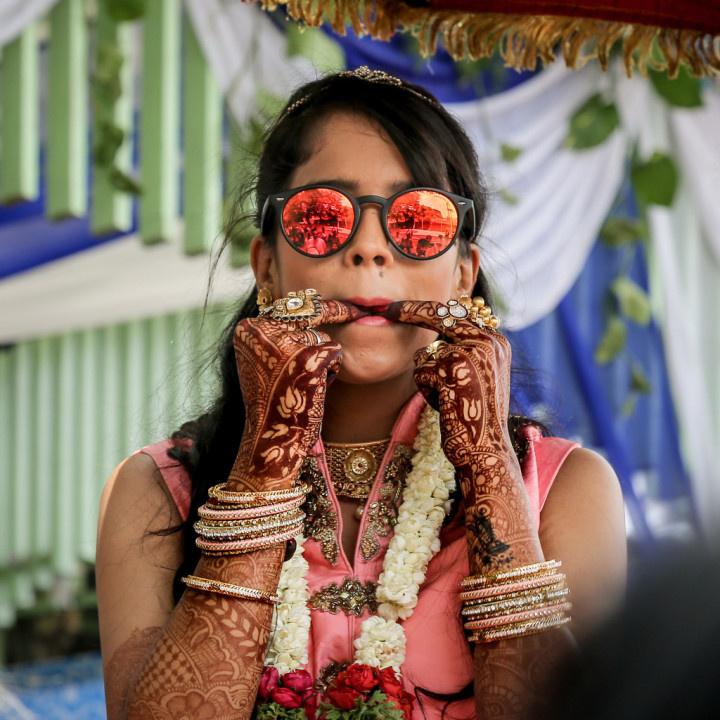 You could also go for swag-worthy style statements like a safa or a turban, large earrings, juttis or brooches which say 'Betiwale', 'Swag bride', 'Pataka' and 'Dulhan'.
Finally, match and coordinate with your beau, best friend or soul sisters also makes for nice mehndi photos!
Decor and design - Organising a Mehndi ceremony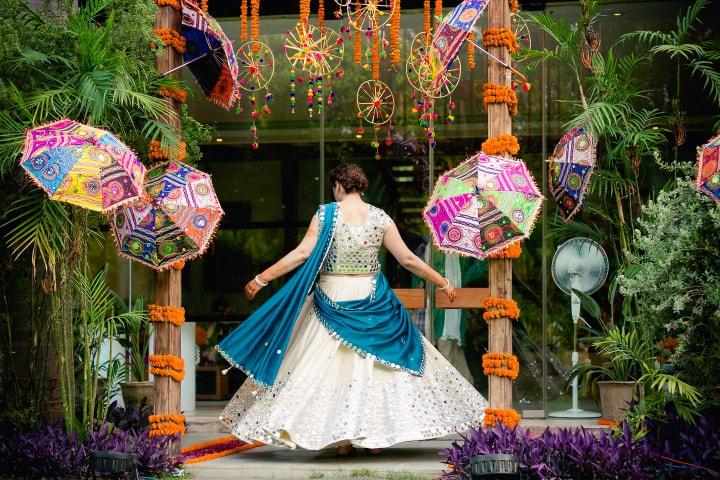 A Mehndi ceremony is all about fun, enthusiasm and a pop of light during a hectic wedding period. This peppy mood translates best to the mehndi decor as well. Imagine bright colours - pink, magenta, yellow, orange, blue and green across the venue, either as fabric awnings, floral elements, live performers, perky installations or even photobooths.
So, what are the elements that can be added to your henna day setup? Here are some takeaways -
1. Installations -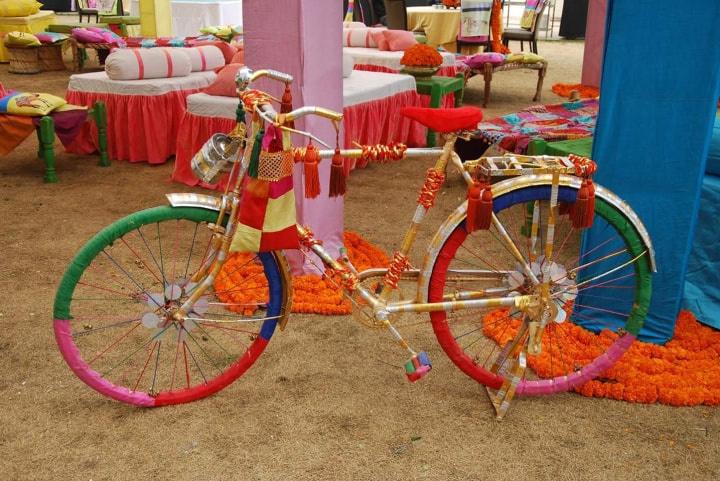 These installations can be rickshaws, bikes, scooters or even other photobooth elements that add to the fun of the occasion.
2. Flowers -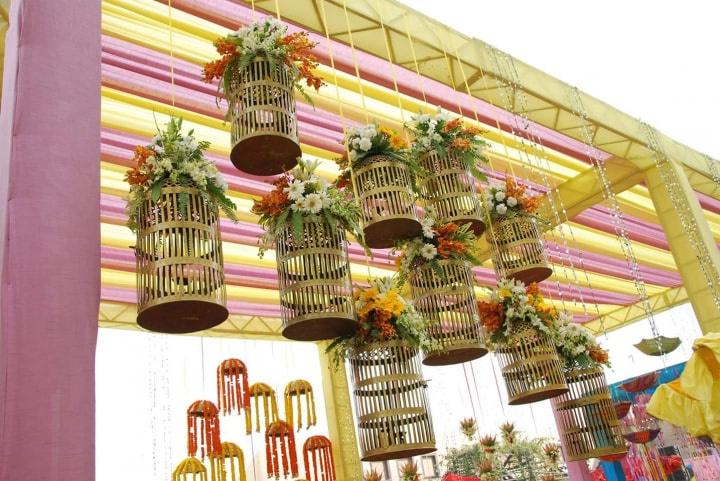 Flower decoration can enhance the appeal, be it with a focal element, like the bridal seat or bridal swing, as a floral backdrop or even venue and entrances.
3. Live performers -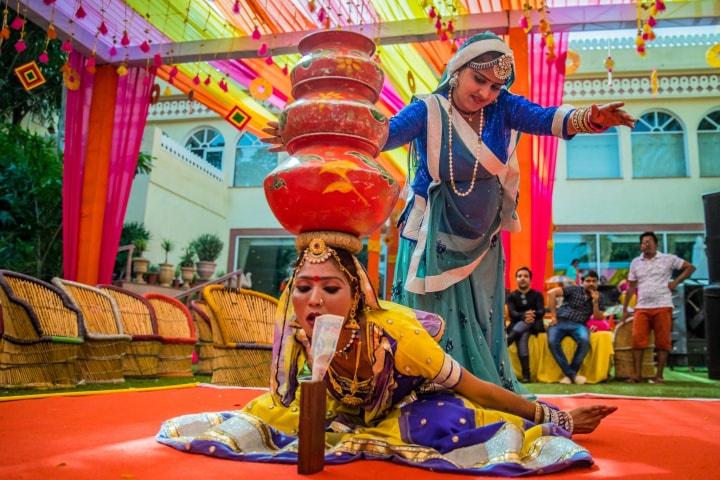 Think of a DIY engagement idea that will keep all of your Mehndi guests in sheer delight. These could be dancers or musicians or even bangle makers, other mehndi artists and stalls for mehndi games.
A mehndi ceremony is expected to be a point of delight, tradition and beauty, with emotional tangents. We hope that this island of fun adds many more memories to your wedding experience.
Need to know more? Try your hand with our collection of top 10 mehndi designs.