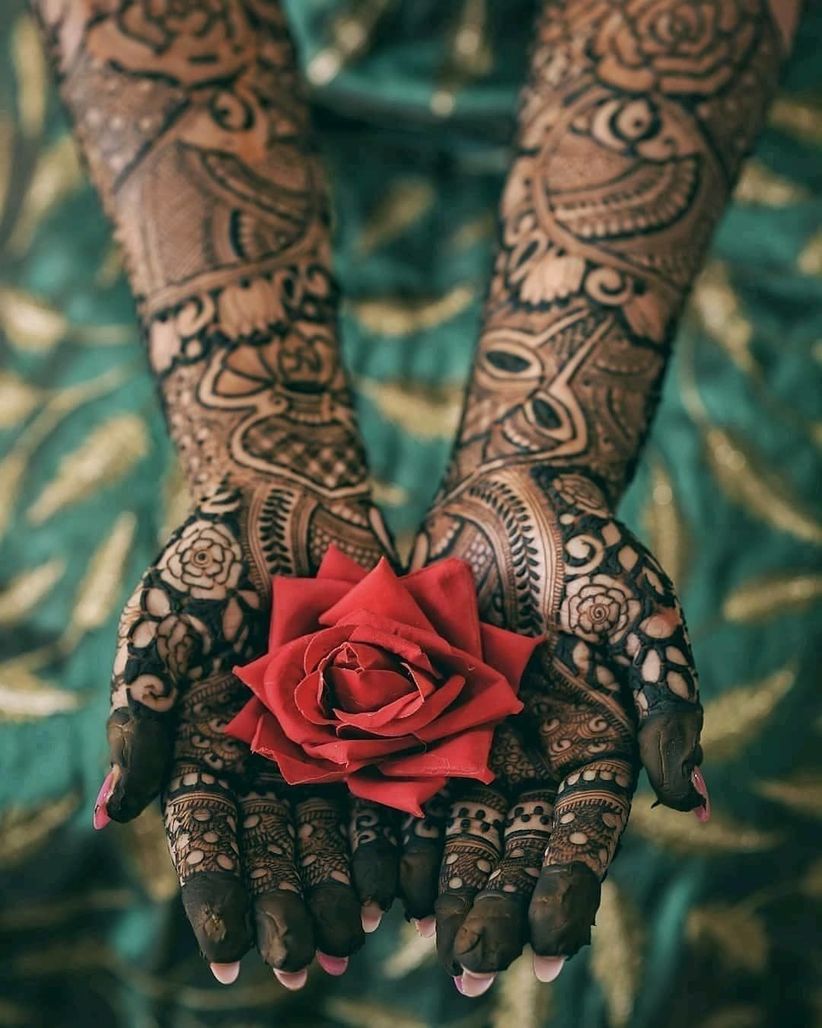 Image Courtesy: Crazie Cancerian
Every year we round up some mehndi designs which provide us with bridal mehndi goals! While we all know the reason why every bride adorns her hands with henna in intricate patterns as it is an age-old custom, but these designs are anything but antique. These top 10 mehndi designs are flirty yet pretty, unique yet magical and definitely #bridalhennagoals! Give your eyes a much-deserved feast by gorging at these top 10 mehndi designs that are drop-dead gorgeous, unique and a total head turner to say the least!
Top 10 Mehndi Designs to Make You Look G.O.R.G.E.O.U.S from Head to Toe!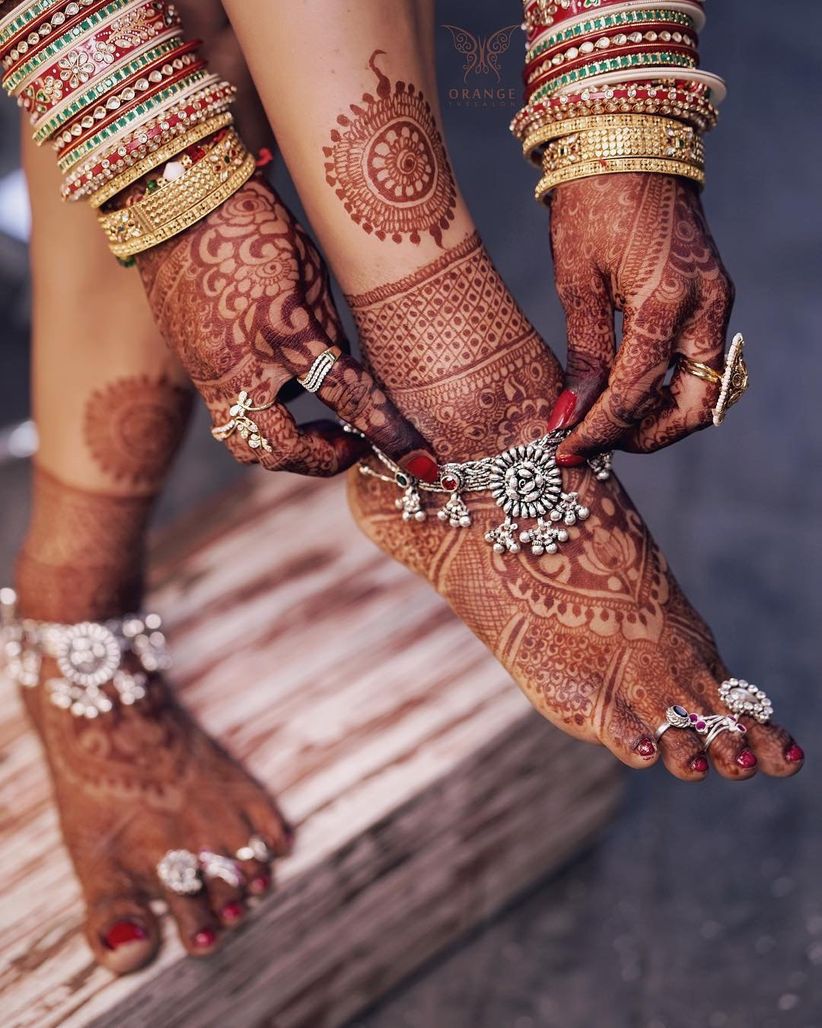 Image Courtesy: Aanal Savaliya
Your nerve-wracking and painstakingly long search will come to a halt now! These top 10 mehndi designs have a story to tell, a glamorous statement to make and they aim to please!
1. Rose, Lotus & Daisies - Bridal Mehndi That Screams Spring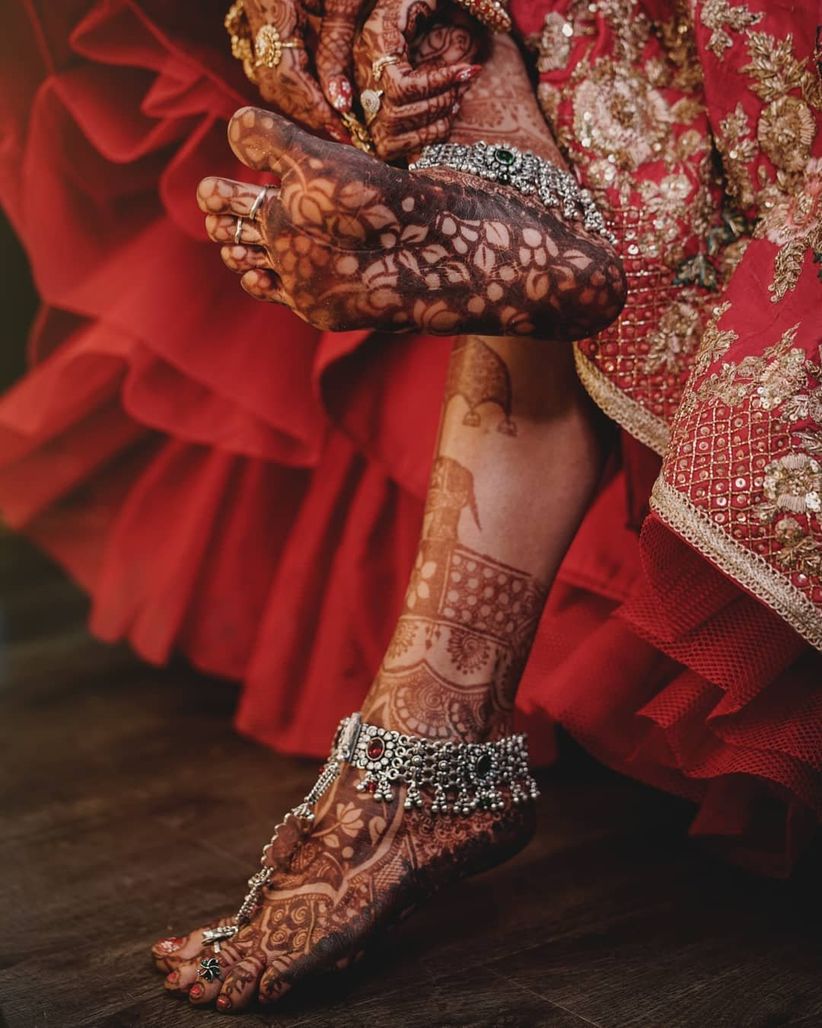 Image Courtesy: Deep_Joshi_Gallery
From a replication of your favourite flowers to replication of elephant motif - turns out all is possible when it comes to bridal mehndi. Encapsulating the feels of a beautiful spring day, this mehndi design tops our chart in the list of the top 10 mehndi designs. We love this design for its thoughtful approach and how seamlessly it suits the intrinsic details of the bride's lehenga.
2. Dearest Dulhaniya - Bridal Mehndi That Traces the Shlokas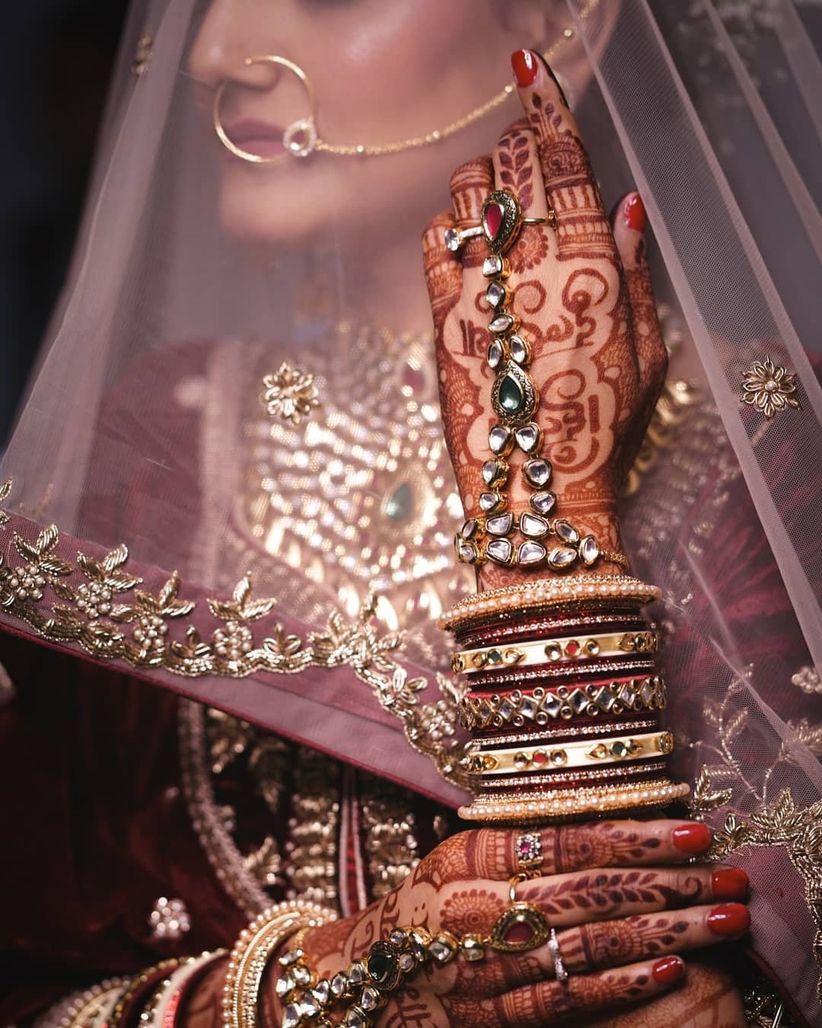 Image Courtesy: Deep_Joshi_Gallery
If you were always fascinated with Indian Shlokas and the Vedas, then using the same to curate your very own bridal mehndi design is totally worth a try. A little bit of the reverse mehndi element in the centre and a detailed fingertip design, this design is the quintessential piece of art for any Dulhan. We love this design as it makes her Haath Phool and Kada's look all the more beautiful. From this real bride's pastel mauve net Dupatta to her gold bridal Nath with a string, she is legit goals!
3. The Mandala Design with a Floral Wow Factor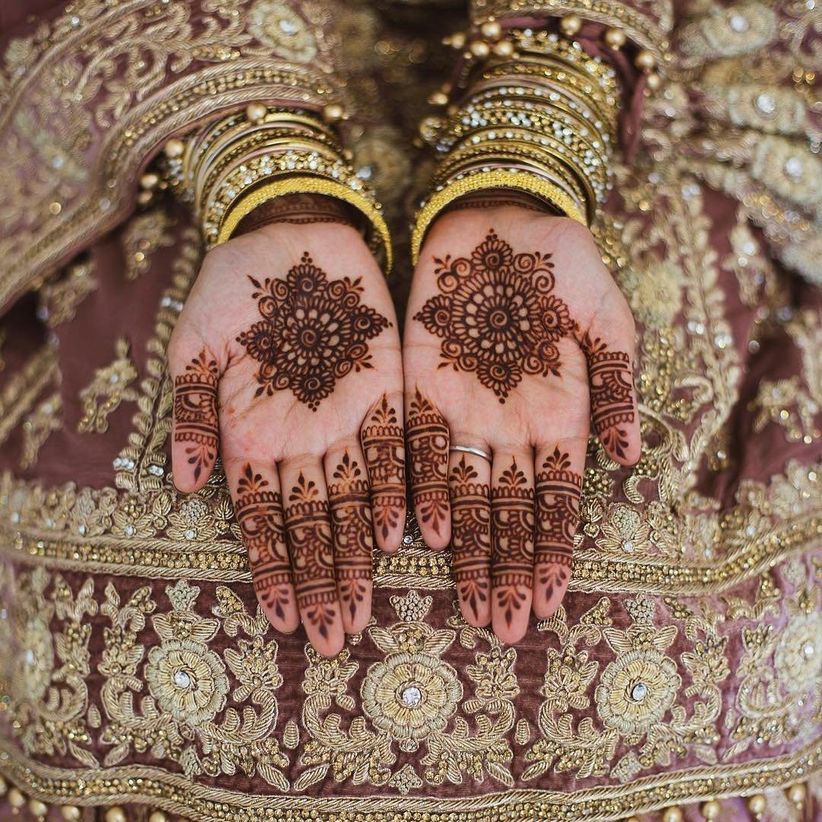 Image Courtesy: Tamanna Takes
If you ever wish to understand symmetry in its purest form then looking at this top 10 mehndi designs will make you feel right at home. Every inch of this mehndi masterpiece is edged out equally - it's almost like looking through a mirror. The delicate flower seated in the centre of this bride's palm and her minimalistic fingertip mehndi - she is a treat for sore eyes! Her pastel mauve lehenga matches to the pinkness of her palms and gives us jitters.
4. Gulabo - The Mehndi Design Which Left Us Speechless
For real brides who are all game for challenging the myth of 'less is more' this Jaal design is yours for the taking! One of the most breathtaking designs of the top 10 mehndi designs that we have chosen - it's a design pattern that we continue to spot everywhere. You can also step your fashion goals up a notch by getting a manicure with some flowers and rhinestones for the much-desired bling factor! And, we hope you were able to spot that famous symbol of romance - the Gulab right in the centre of the back of her palm.
5. The Mango Leaf - Details That Left Us Spellbound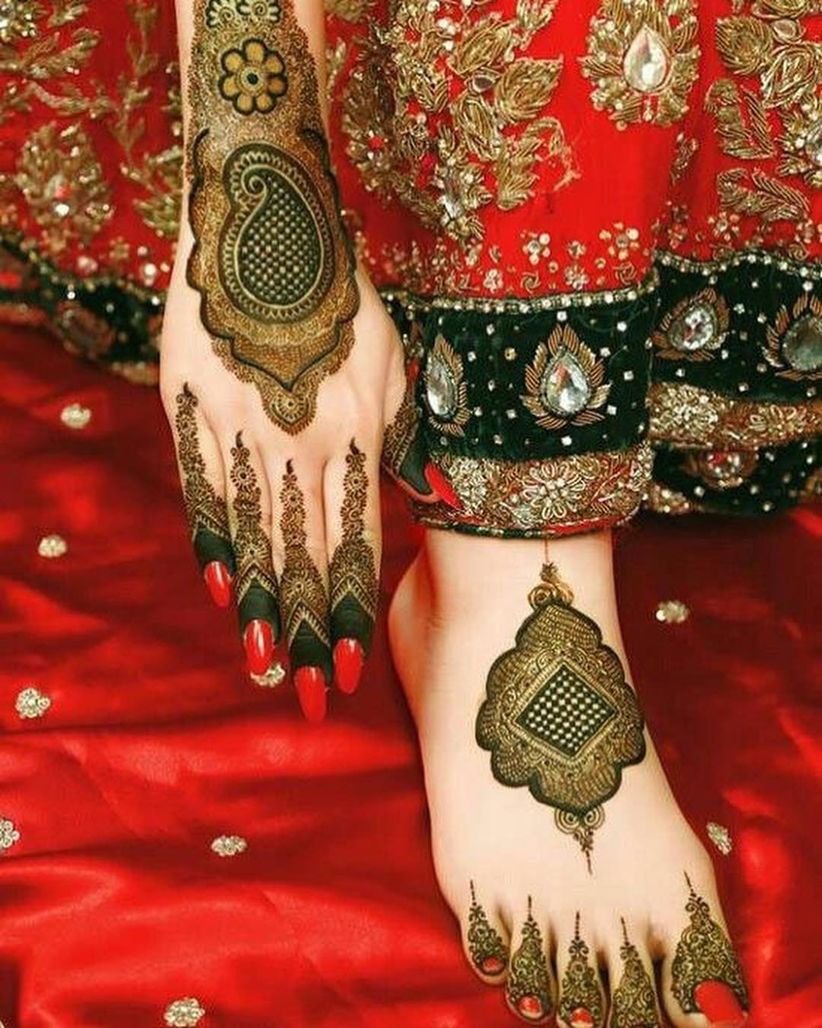 Image Courtesy: Kashees Official
Can you imagine the moment of euphoria you will be encircled with if your mehndi pattern was as intense and detailed as your bridal lehenga? It is all in the details and this photograph instilled our faith in the same. From the length of the mehndi application to the design, we can only imagine the threshold of hard work that the mehndi artist would have put in to curate such a remarkable piece of art. We can vouch that you will fall in love with this photograph and design from our list of top 10 mehndi designs in the first look.
6. Rose, Lotus & Daisies - Bridal Mehndi That Screams Love at First Sight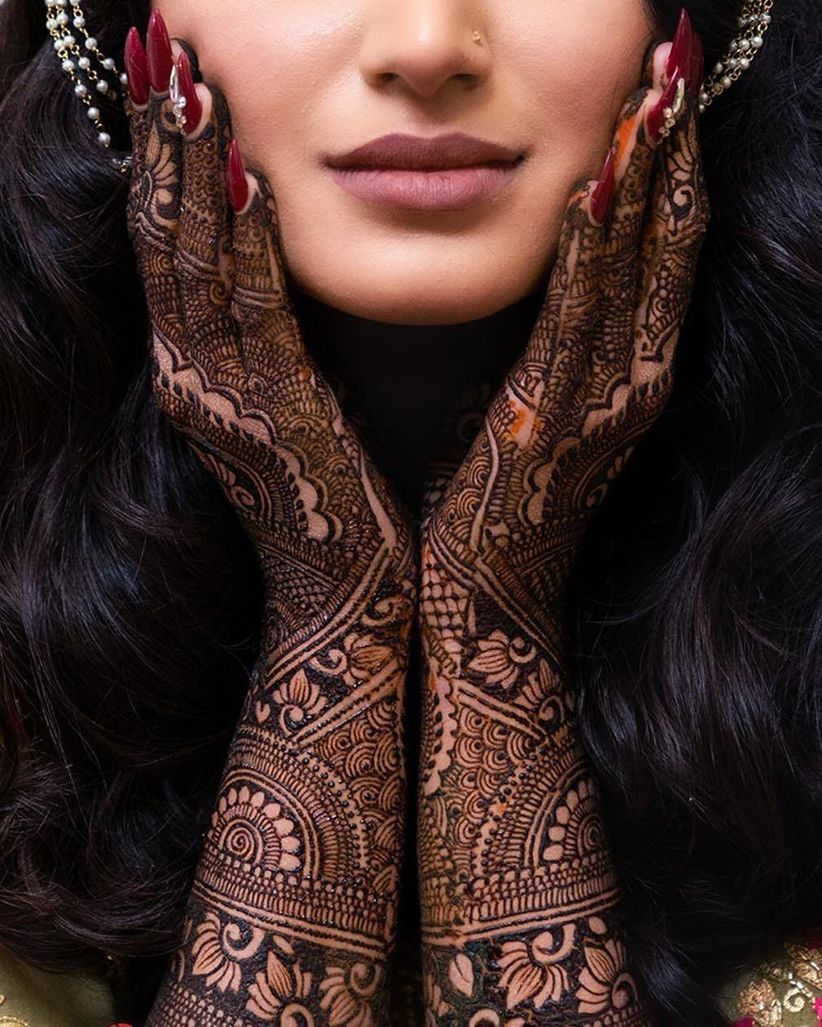 Image Courtesy: Vision One Studio
With every detailing coming close to a perfect trace of technique, this design from our list of top 10 mehndi designs is one of those few rare masterpieces that has different intrinsic elements coming in close to form the perfect concoction of different henna elements. Reverse lotus floral elements deck up this bride's forearms and narrow and widespread flowers trace her fingers - it is hands down a visual treat!
7. Peek a Boo - the Girl with the Caricature Mehndi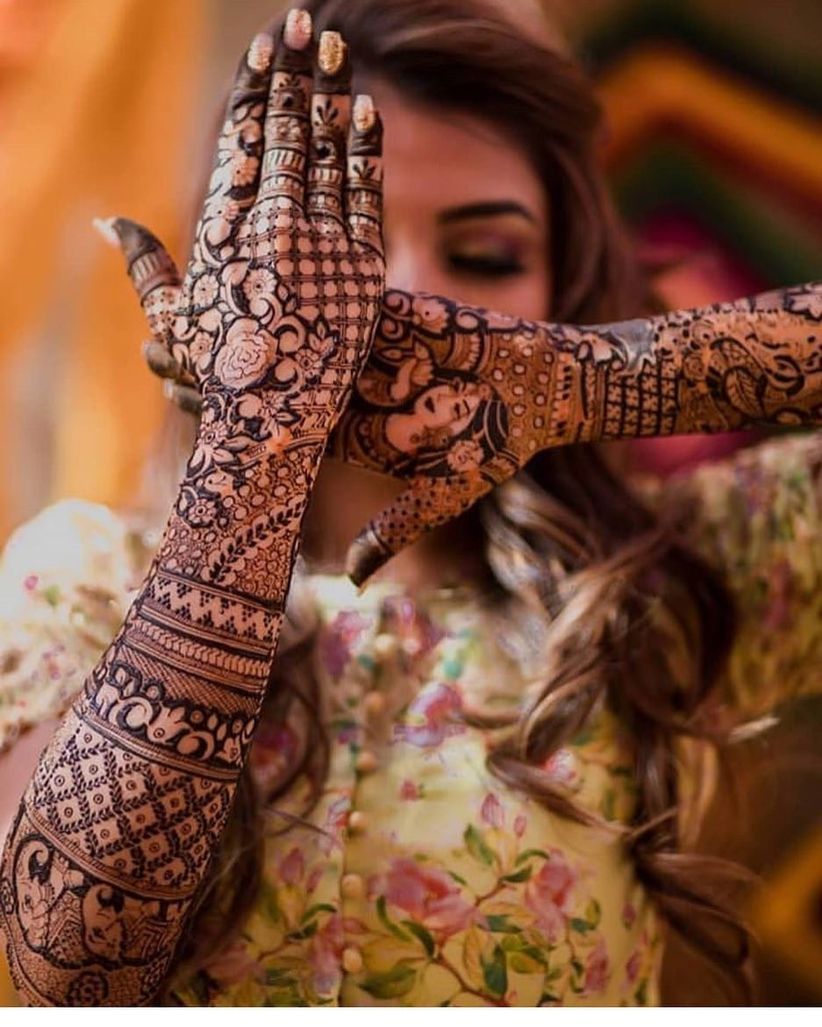 Image Courtesy: The Wed Capture
If one could catch feelings by just looking at henna then we definitely made the cut as we keep getting obsessed with this design the longer we keep looking at it. What caught our attention and prompted us to add this stunning trove of creativity into our list of top 10 mehndi designs is that girl in the centre of her palms. It looks so real as if she would jump right off of it any minute!
8. From Tassels to Encircling Patterns - We Love Them All
From curling, mango leaves to the swirling rose flower design, gorge your eyes on this real brides, oh, so stunning feet donned with bridal mehndi designs! We love the pretty red hue of her henna and it looks even spectacular in her golden and sparkly footwear!
9. Unique Mandala - Fine Lines - a Sight for Sore Eyes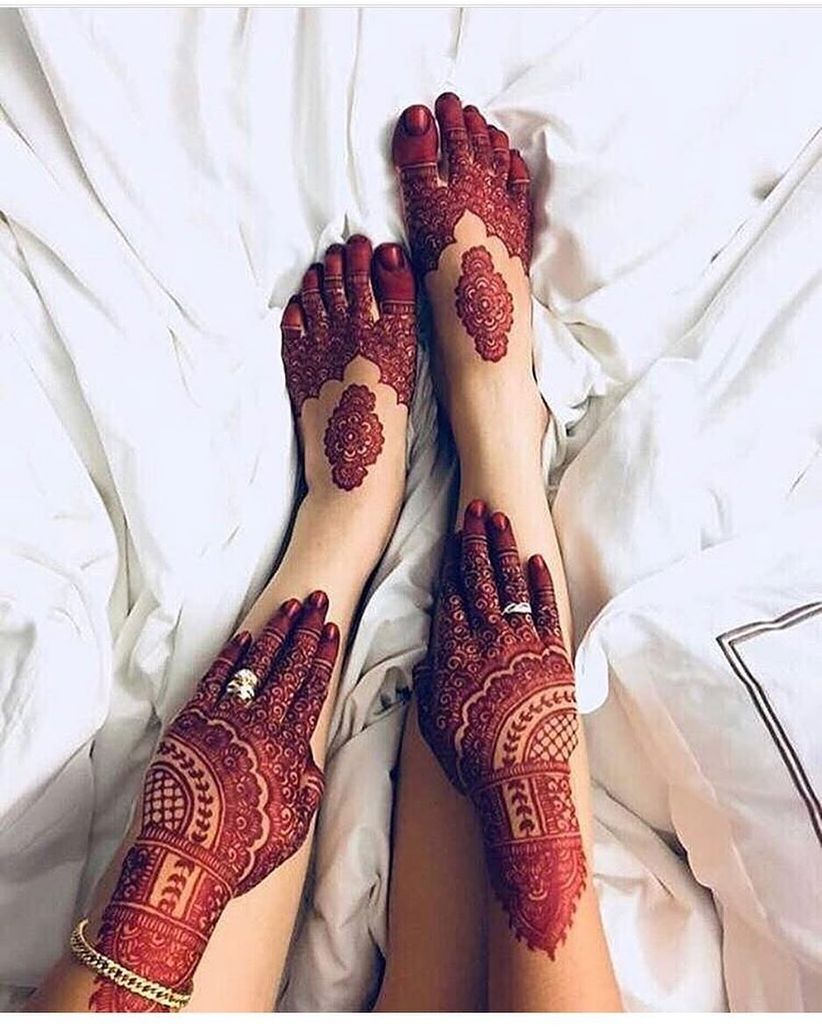 Image Courtesy: The Cage Story
The between the sheets magic truly comes full circle in what happens to be the quintessential post-wedding shot of every bride-to-be! It is all in the details and this photograph proves why. But, the one element that really caught our eyes and made us gasp is the maroon tint of her mehndi! It is stunning through and through!
10. Cage Me Not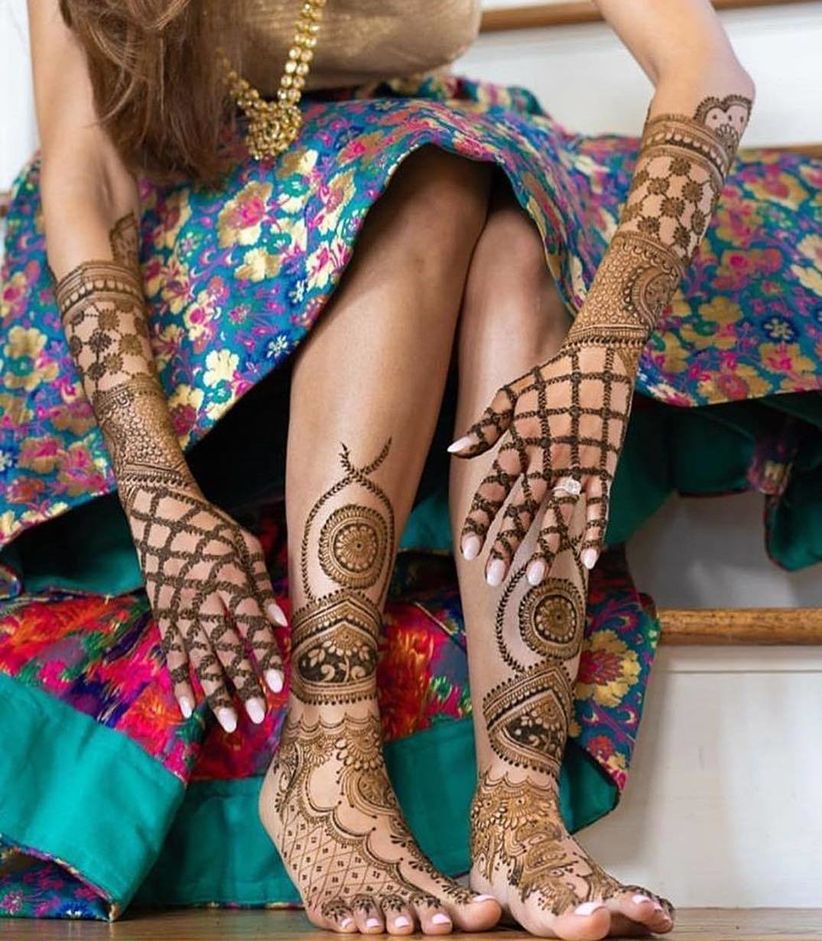 Image Courtesy: Amit Photo Video
Being quirky yet keeping up with the traditions, this mehndi is the perfect example that sums up this thought and does justice to it. If you are looking for some quick inspiration then pair the Parisian floral motifs with minimal motif-work and complete the look with the famous Jaali work. If you are yet to finalise a design for your own Mehndi ceremony, then probably this is the one for you.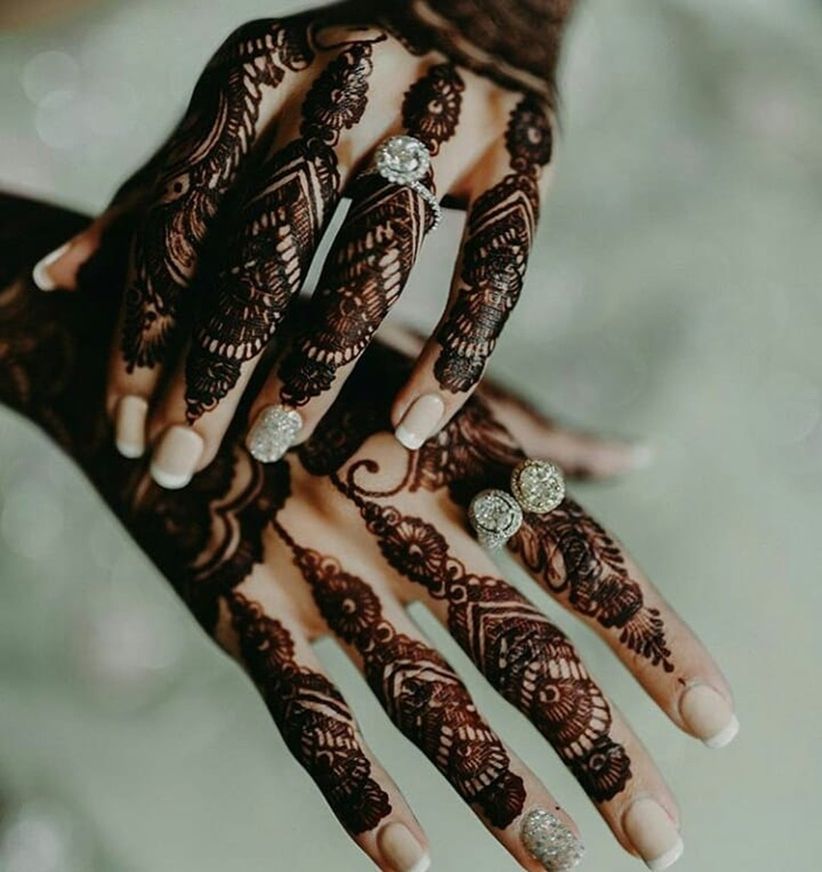 Image Courtesy: Black Tie Project
We hope this month's round up of the top 10 mehndi designs left you speechless, a little inspired and a whole lot excited for your very own Mehndi ceremony. These top 10 mehndi designs definitely gave us some major #bridalhennagoals!
We hope you enjoyed reading it as much as we enjoyed writing it for you. Which of these top 10 mehndi designs did you love best? Tell us through the comments!