65+ Latest Wedding Dresses for Men to Get Your Hands on Right Away
Puzzled about your wedding outfit choices? Relax, you are on the right page! Browse through the ideas for the latest wedding dresses for men listed below!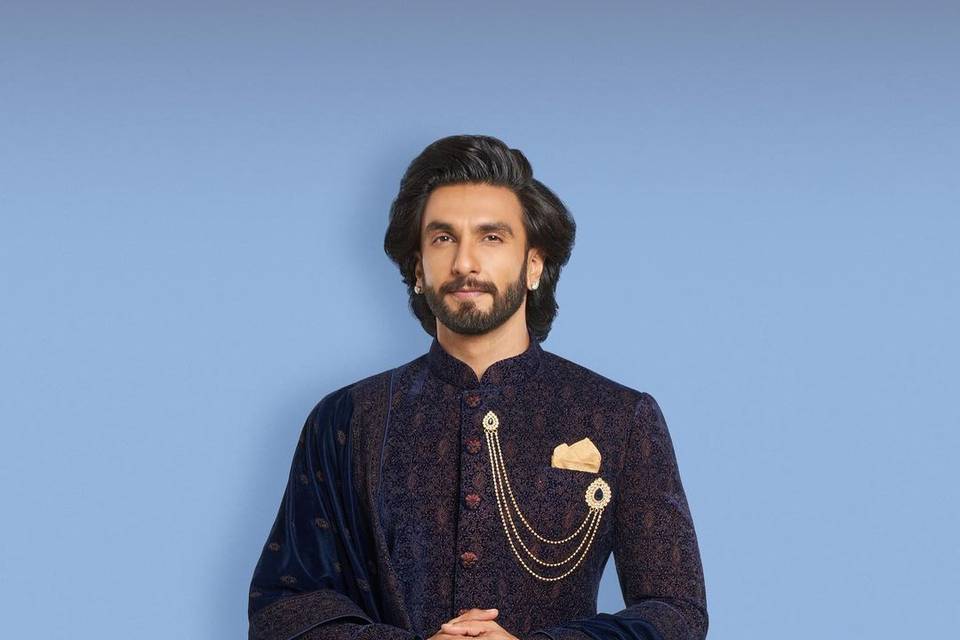 While weddings are one of the most momentous occasions for the couple and their families, it is also a wonderful time to up your fashion game and slay the wedding festivities by choosing stunning outfits. Whether you wish to coordinate your outfit with your bride, wear the traditional sherwani design or experiment with your fashion choices, grooms of today have much more options when it comes to choosing wedding dresses for men. Weddings are synonymous with fashion and style, and grooms are considered trendsetters when it comes to men's fashion. This is why you must take care of all your ensembles. You can get your wedding dress made to order with different customisations and unique designs, or you can also get your hands on some readymade designer pieces.
You must shortlist a few ideas and designs before you freeze your wedding dress. The latest wedding dresses for men are usually matching or color-coordinated with the bride. Additionally, there are times when people like their event to be quite upscale, and they set a formal dress code for the wedding. We also have the perfect designs for you for similar situations.
In this Article -
1. Best Wedding Dresses for Men
2. Wedding Dress for Men in Summer
3. Formal Wedding Dress For Men
4. Indian Wedding Dress For Men
From amazing slick wedding suits to classic traditional Indian attires, the latest wedding dresses for men today are a dreamy sight to behold. Let's scroll to help you find your perfect wedding outfit to bookmark!
Best Wedding Dresses for Men
White Wedding Sherwani for Men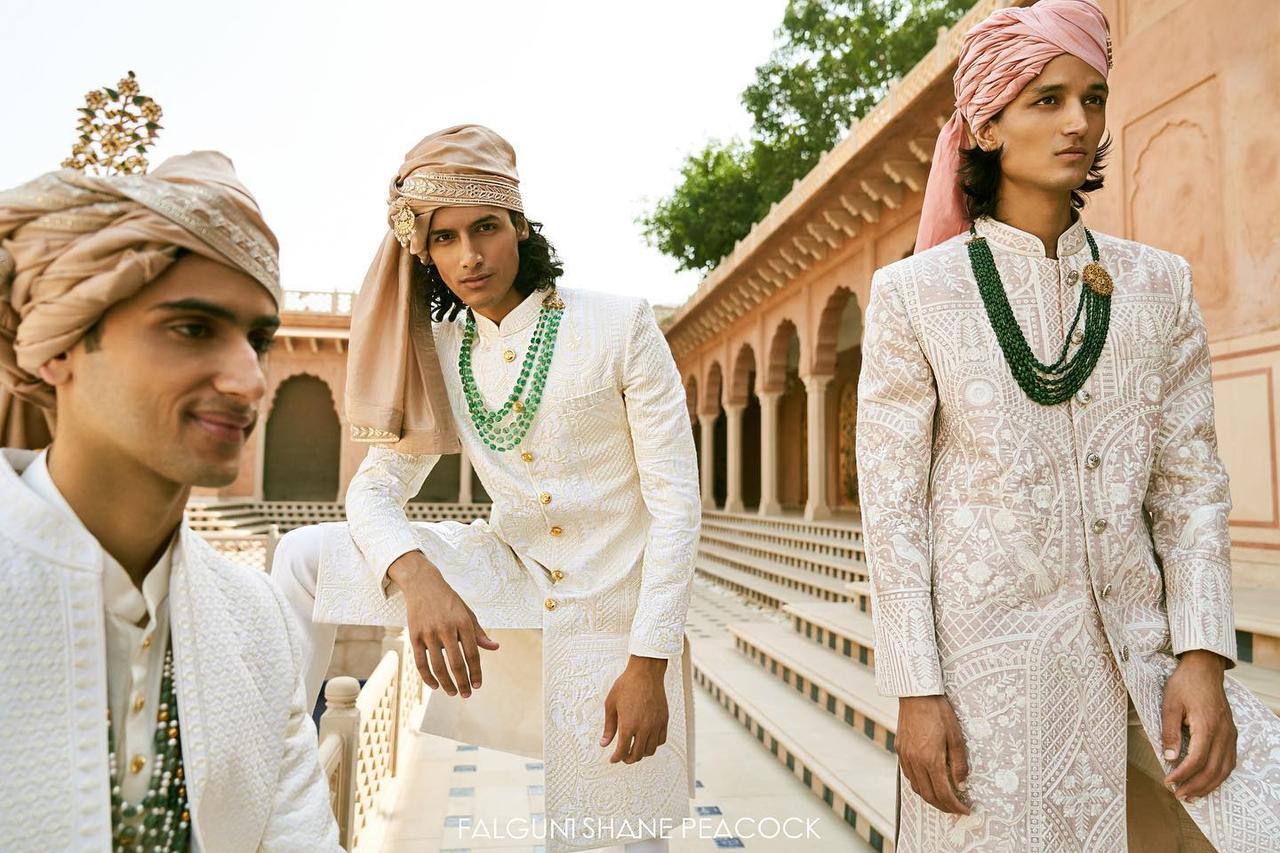 Image Courtesy: Falguni Shane Peacock
Want to choose a timeless wedding dress for men to adorn on your big day that will look nothing but the best? Choose the regal and classic white sherwani from Falguni Shane Peacock. With stunning designs and colour palettes, the details of the collection seek to translate the visionary saga of love by borrowing from the beauty of the Taj Mahal.
Traditional Colours for Your Wedding Dress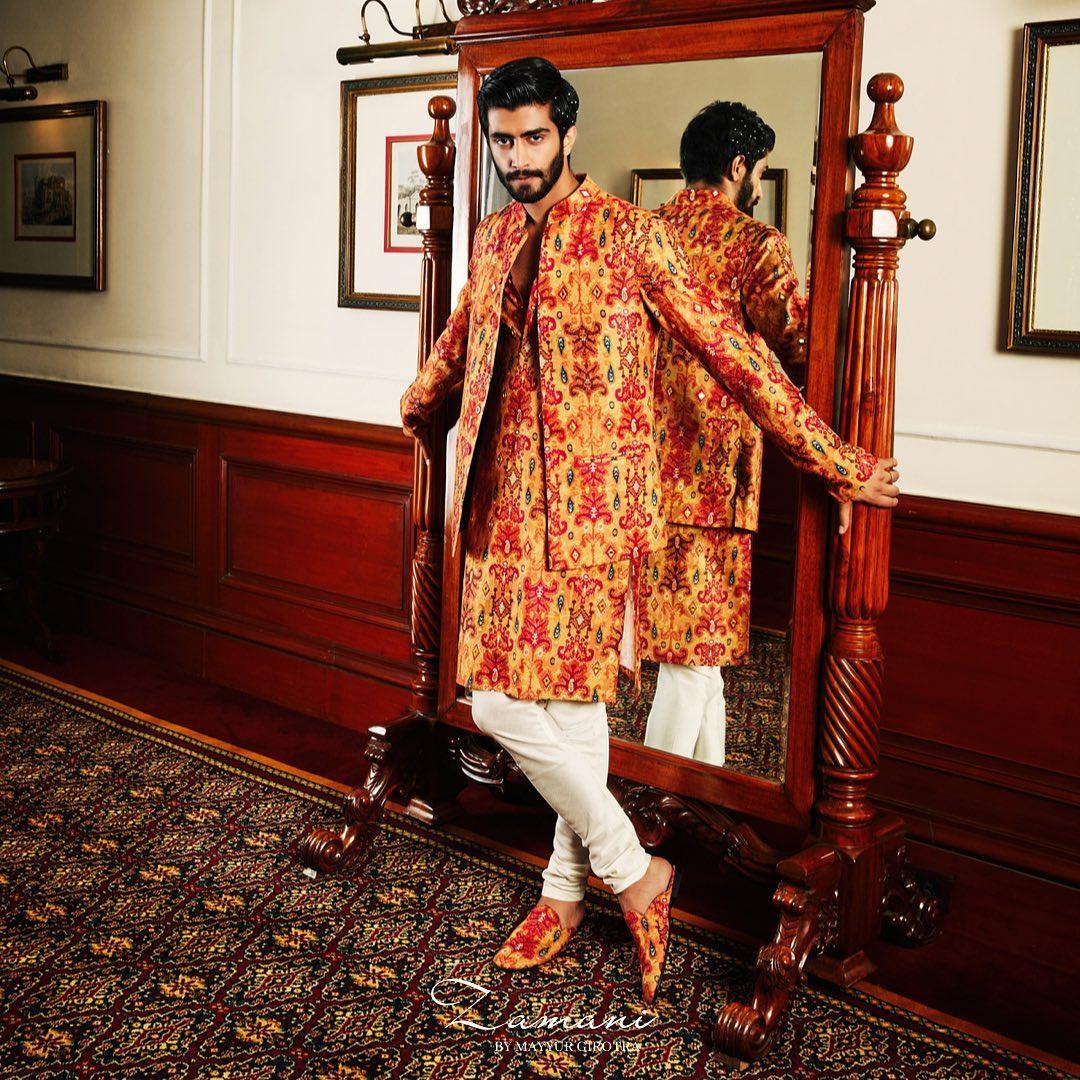 Be a ray of sunshine this wedding season by choosing some of the best wedding dresses for men with eye-catching palettes perfect for your wedding festivities. This gorgeous design by Mayyur R Girotra Couture recreates the sublime artistry of centuries past, where you can lose yourself in the magic of timeless design that stems from a finer era.
Quilted Wedding Dress for Men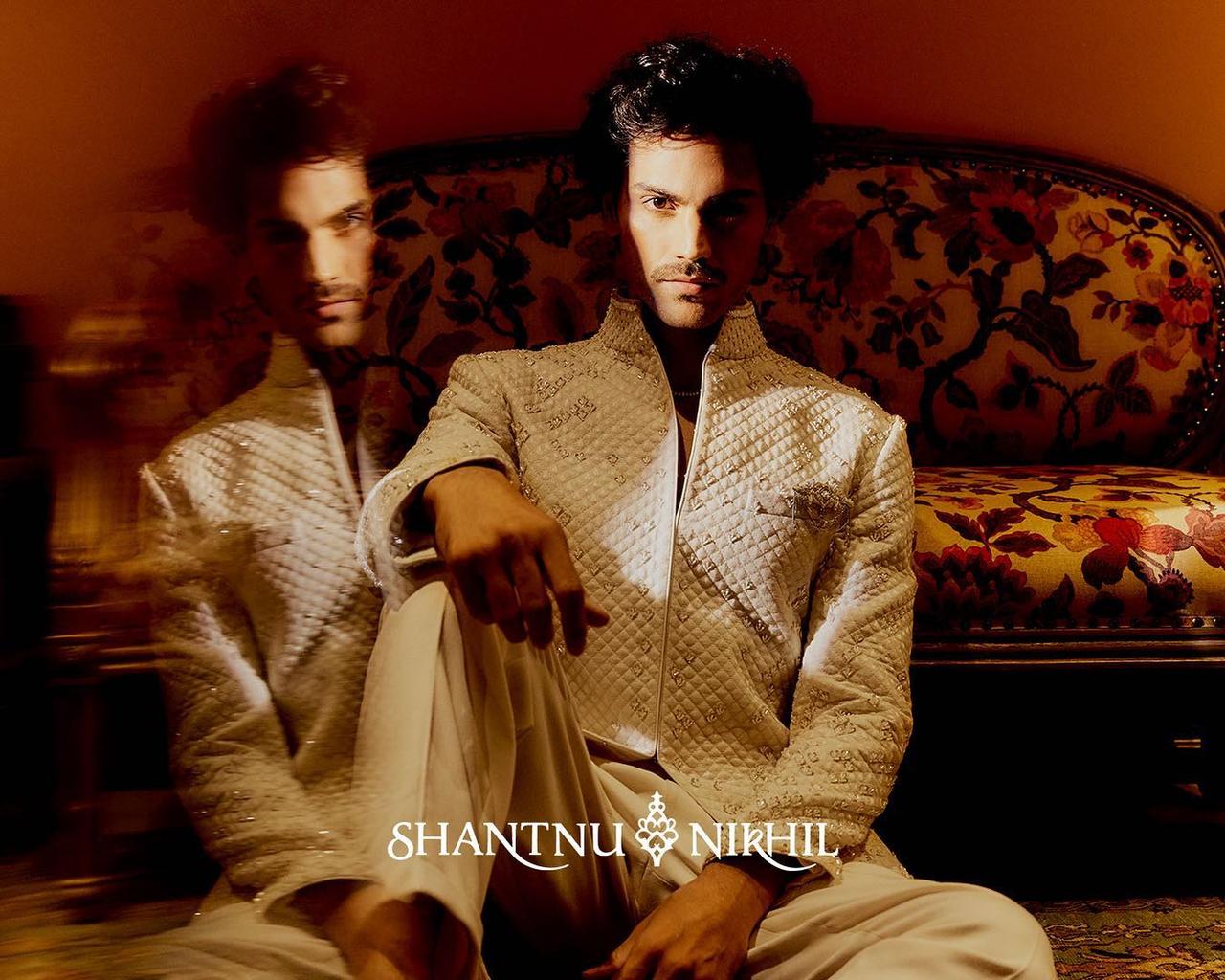 White sherwanis for men rank not only among the best wedding dresses for men but look effortlessly chic and timeless. To choose a wonderful sherwani for your big day, look no further than Shantanu & Nikhil's design is adorned with galaxy spurt white bugel beads and intricate thread work. Their contemporary silhouettes make way for the perfect occasion wear.
Timeless Black Sherwani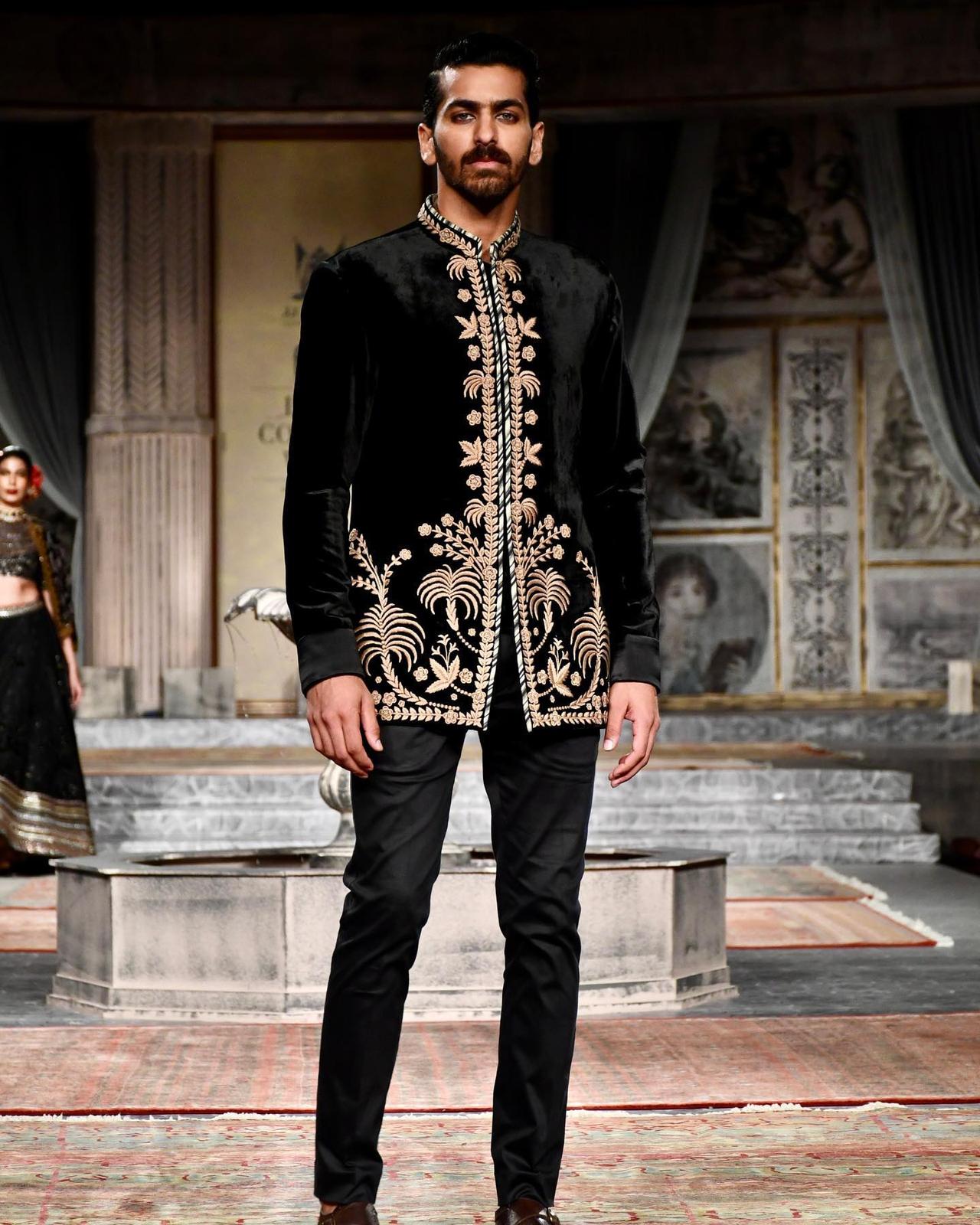 One of the best wedding dresses for men that you can choose for your big day celebrations is an ethereal black attire that looks elegant as ever. A part of JJ Valaya's Fall Winter 2022 Couture collection, it presents a glorious medley of the season's Spanish flavour with several of their fabulous collections of the past.
Embroidered Kurta Set for Grooms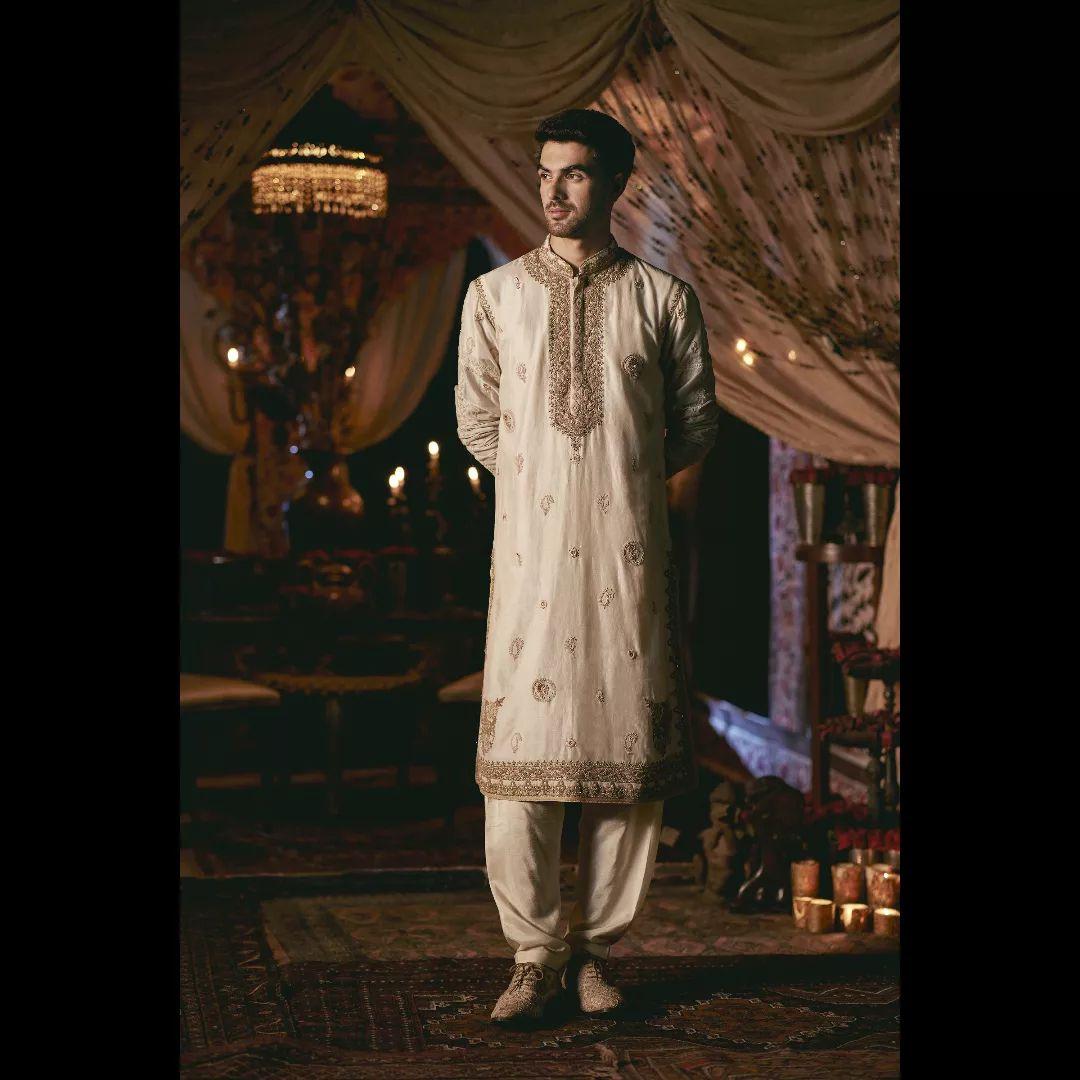 Perfect for your pre-wedding festivities, capture the perfect traditional aura of an Indian groom by wearing a gorgeous kurta set by Rimple & Harpreet Narula. From their Mehtaab collection, an ivory silk kurta paired with a salwar has embroidered motifs derived from archival chikankari fragments, and are rendered with resham zardozi, kasab-dori Marodi ka kaam, sequins and pearls.
Floral Wedding Outfit for Men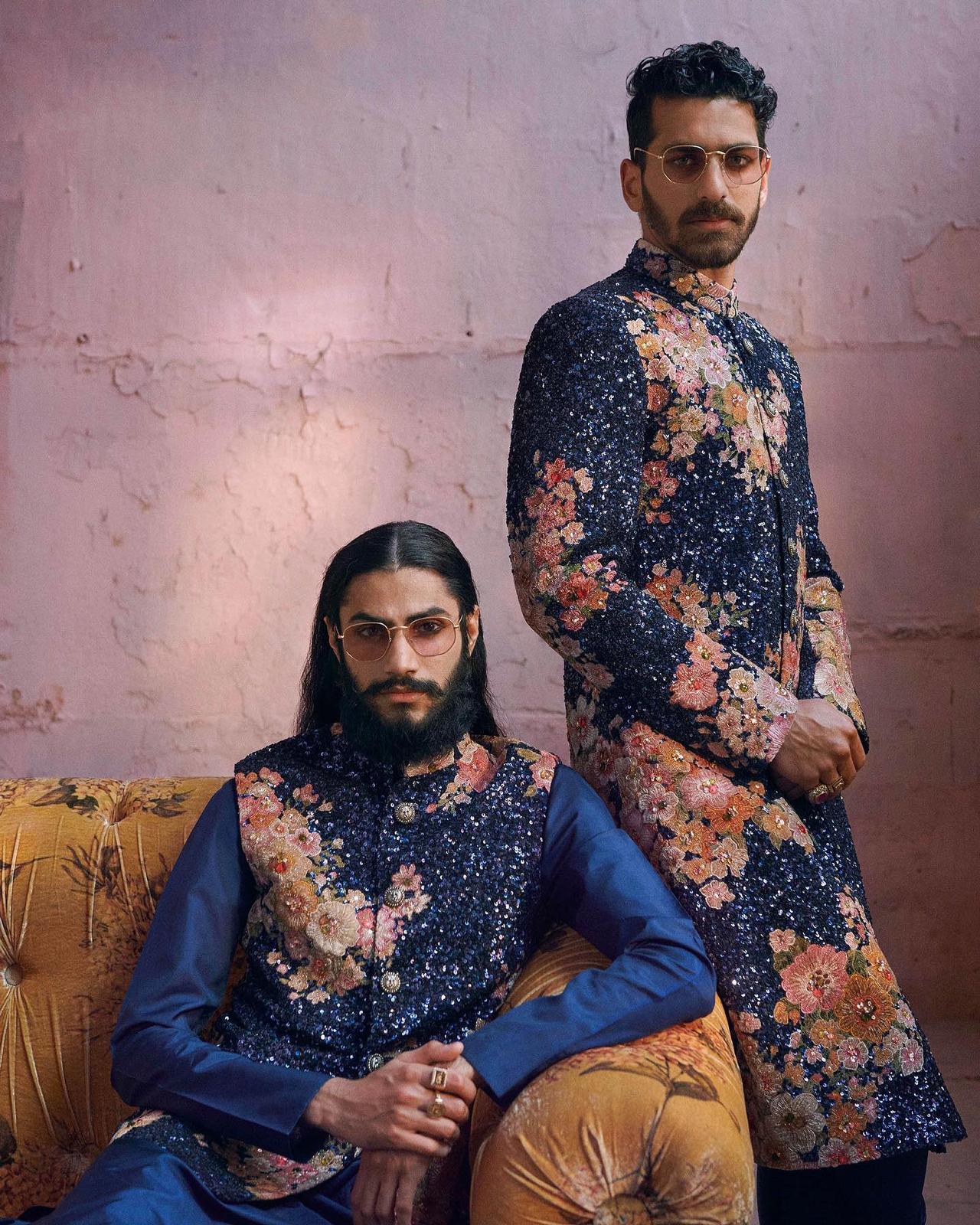 Image Courtesy: Sabyasachi Official
Gone are the days when the fashion choices for the best wedding dresses for men were confined to limited colour palettes and outfit options. Up your fashion game by choosing bright colours and designs for your wedding attires, just like Sabyasachi's Couture 2022 for groomsmen, which celebrates the timelessness of nonchalant glamour by featuring a velvet bandhgala with embroidered and sequinned vintage florals.
Neutral Tones for Your Wedding Dress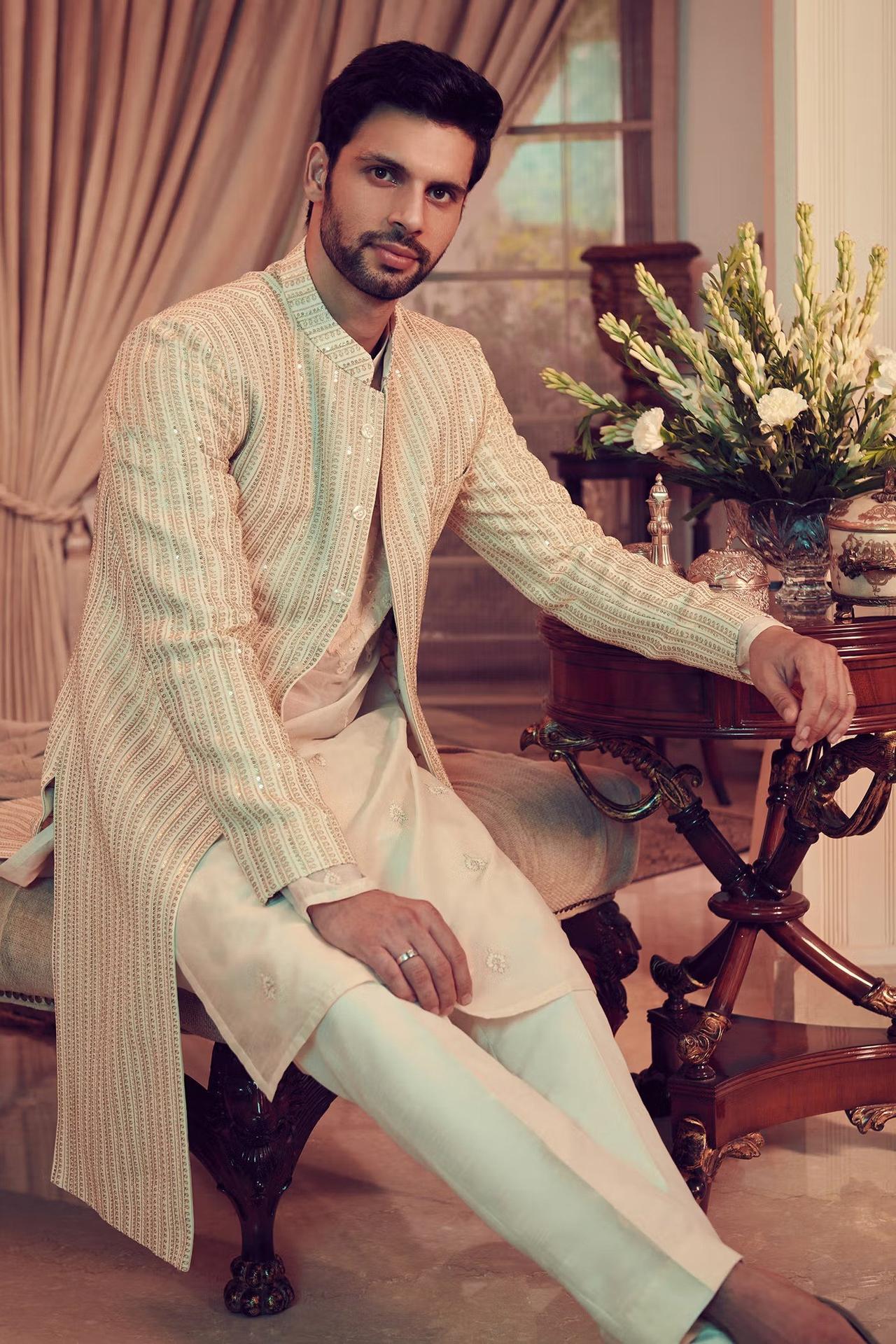 Before you get down to choosing the latest wedding dresses for men for your different ceremonies and functions, the first and foremost question that you should ask yourself is the style you are most comfortable with. If being the traditional Indian groom is your calling, then choose nothing else than the finest ivory sherwani with sequin embroidered, zardozi work, patch pocket and front button placket by Sawan Gandhi.
Traditional Indian Wedding Sherwani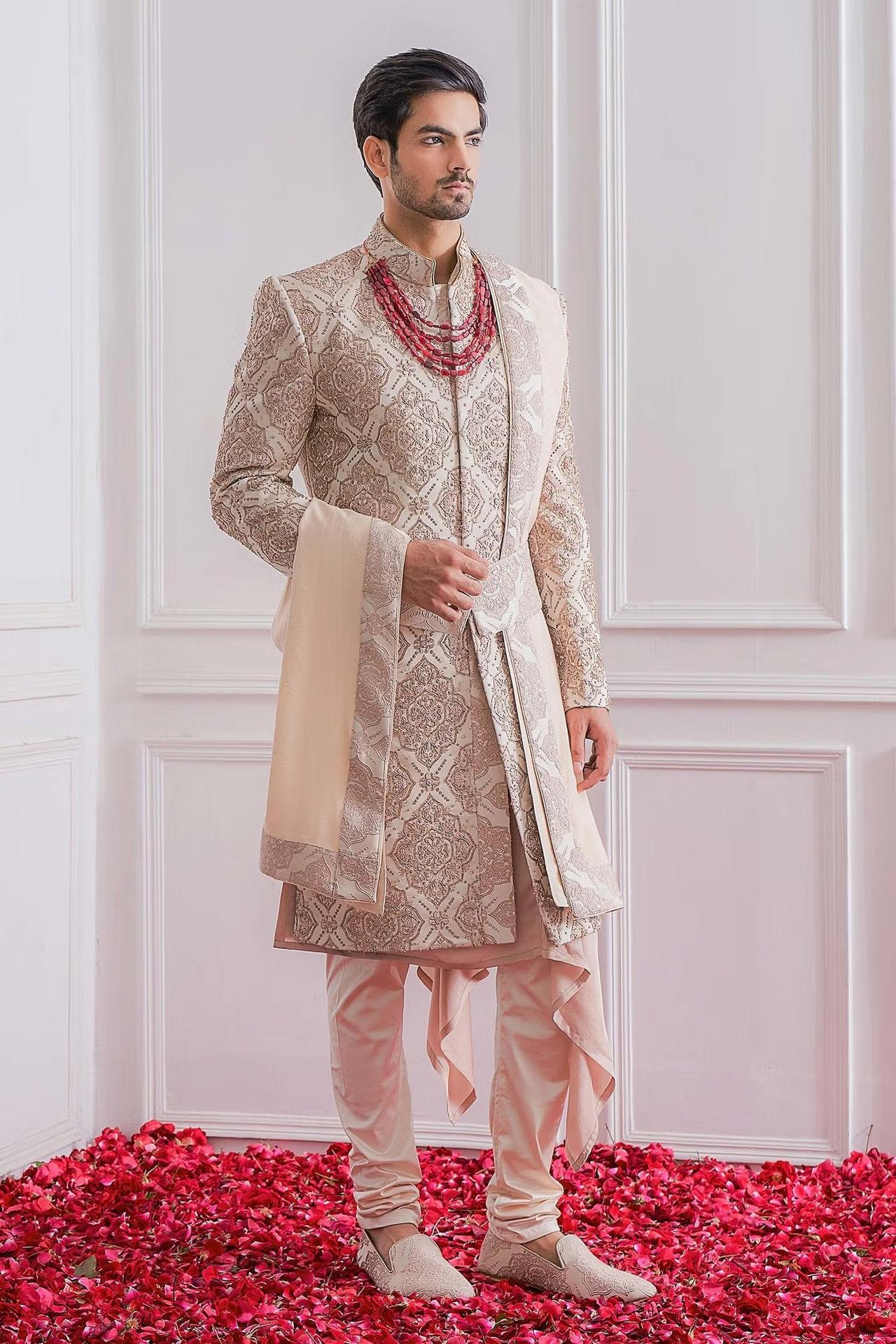 Image Courtesy: Ankit V Kapoor
If you are planning a royal destination wedding in India, you have to look nothing less than regal yourself. A dusty rose jacquard and crepe base sherwani with floral embroidered motifs, mandarin collar and full sleeves from Ankit V Kapoor have to be your choice.
Green Gota Embroidered Sherwani Set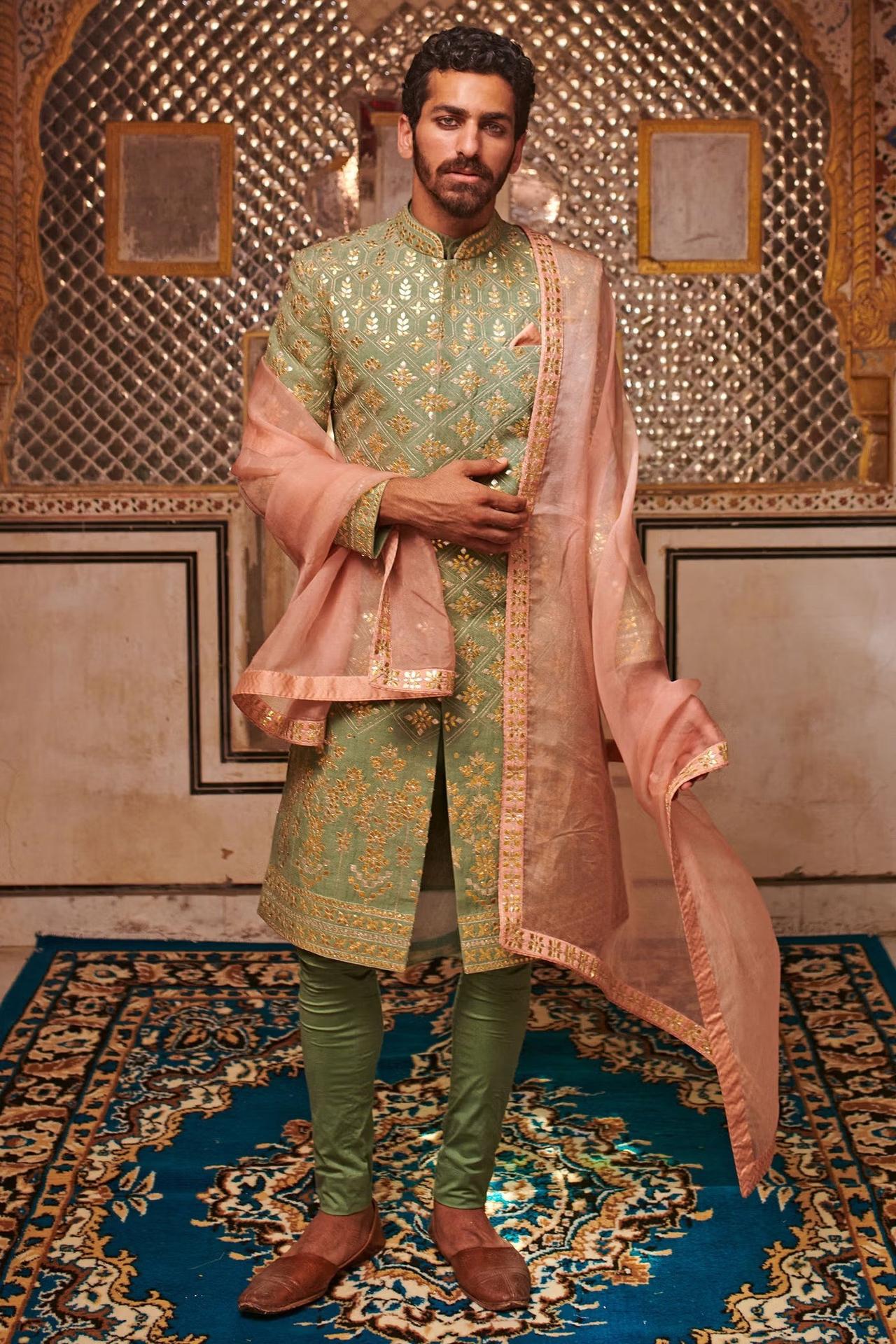 Image Courtesy: Itrh
One of the most popular choices for the best wedding dresses for men is, hands-down a classic sherwani for the big day. But if you are looking for an out-of-the-box colour palette for your wedding day outfit, you can always explore the styling collection of Itrh, like this elegant green sherwani in linen base with floral motifs Gota Patti embroidery. Paired with an organza kurta, cotton lycra pants, and pastel pink organza stole, the sherwani has overall floral jaal motifs and comes with a Gota Patti border dupatta.
Wedding Dress for Men in Summer
Pastel Wedding Suit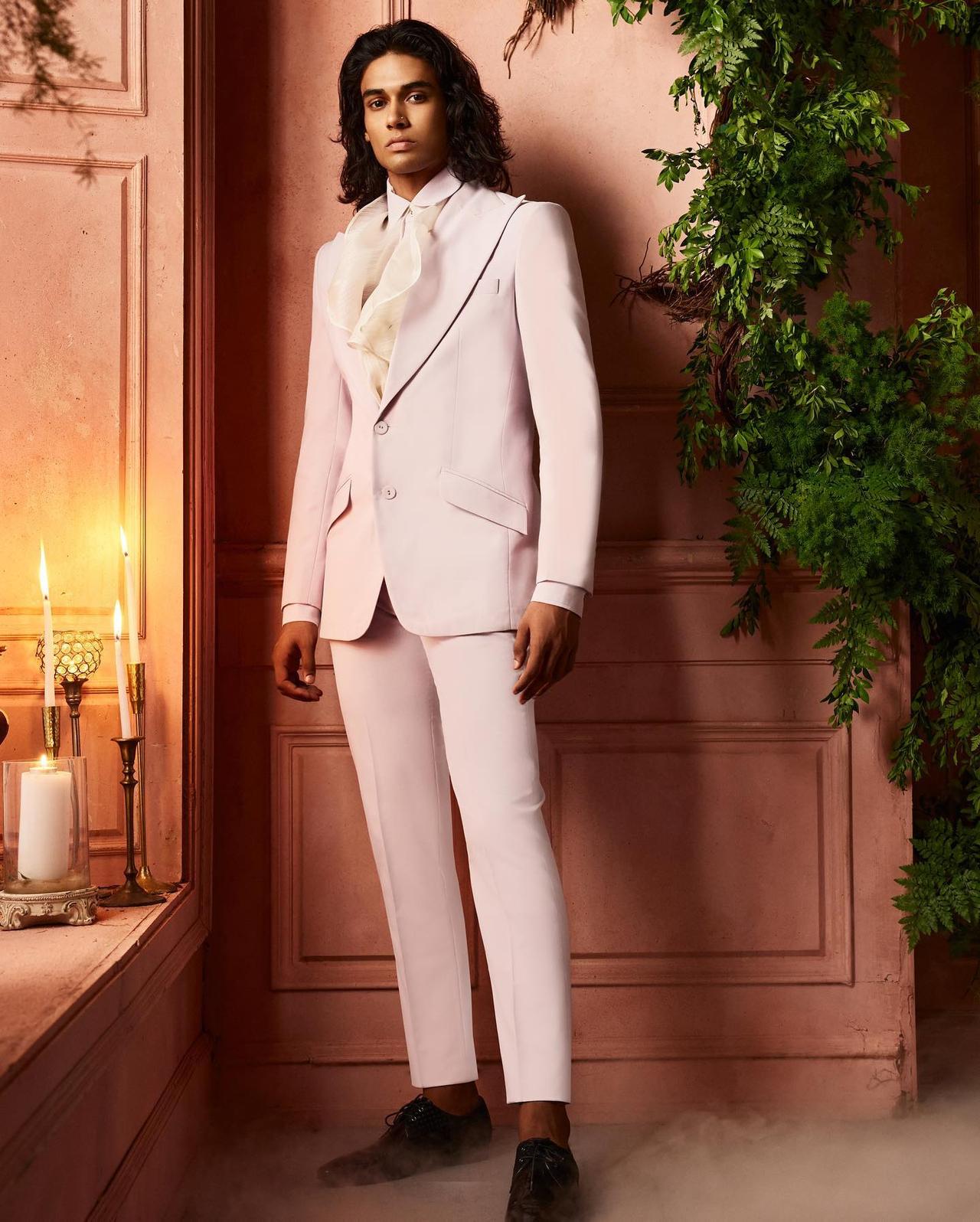 Image Courtesy: Manish Malhotra
If you are looking for a charming wedding reception dress for men, look no further than choosing a timeless wedding suit with a fitting silhouette. Amp up your style statement with this flattering lilac suit with off-white organza ruffled bowtie and lilac shirt from Khaab collection of Manish Malhotra Couture 2022.
Printed Pink Wedding Dress for Men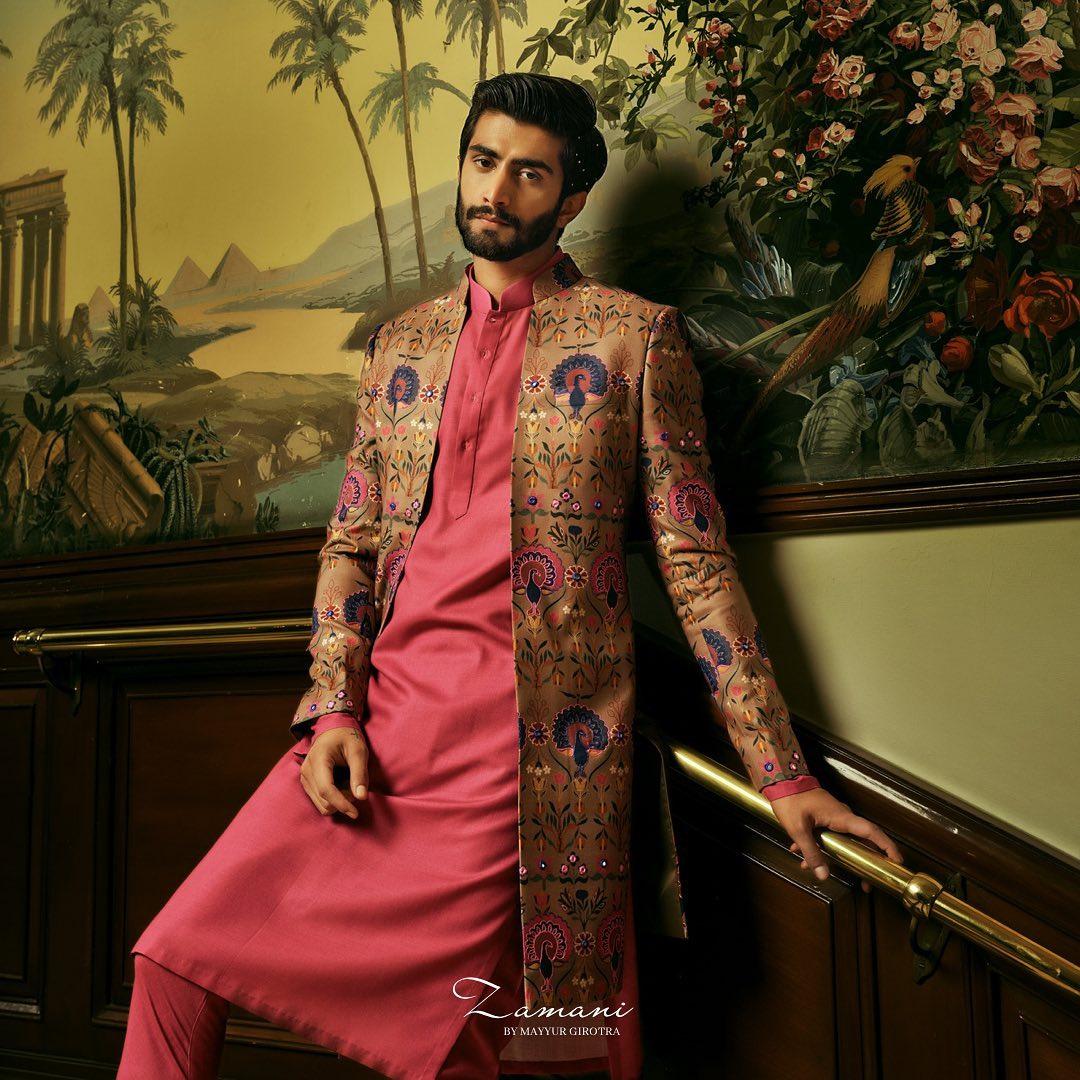 Planning a summer destination wedding calls for playful and vibrant colour palettes to make your choice of the latest wedding dresses for men stand out from the rest. The printed pink ensemble by Mayyur R Girotra Couture celebrates a legacy of exquisite artistry, where history reclaims its glory, reminiscing once again the fading splendour of a long forgotten tale.
White Spectrum Achkan Set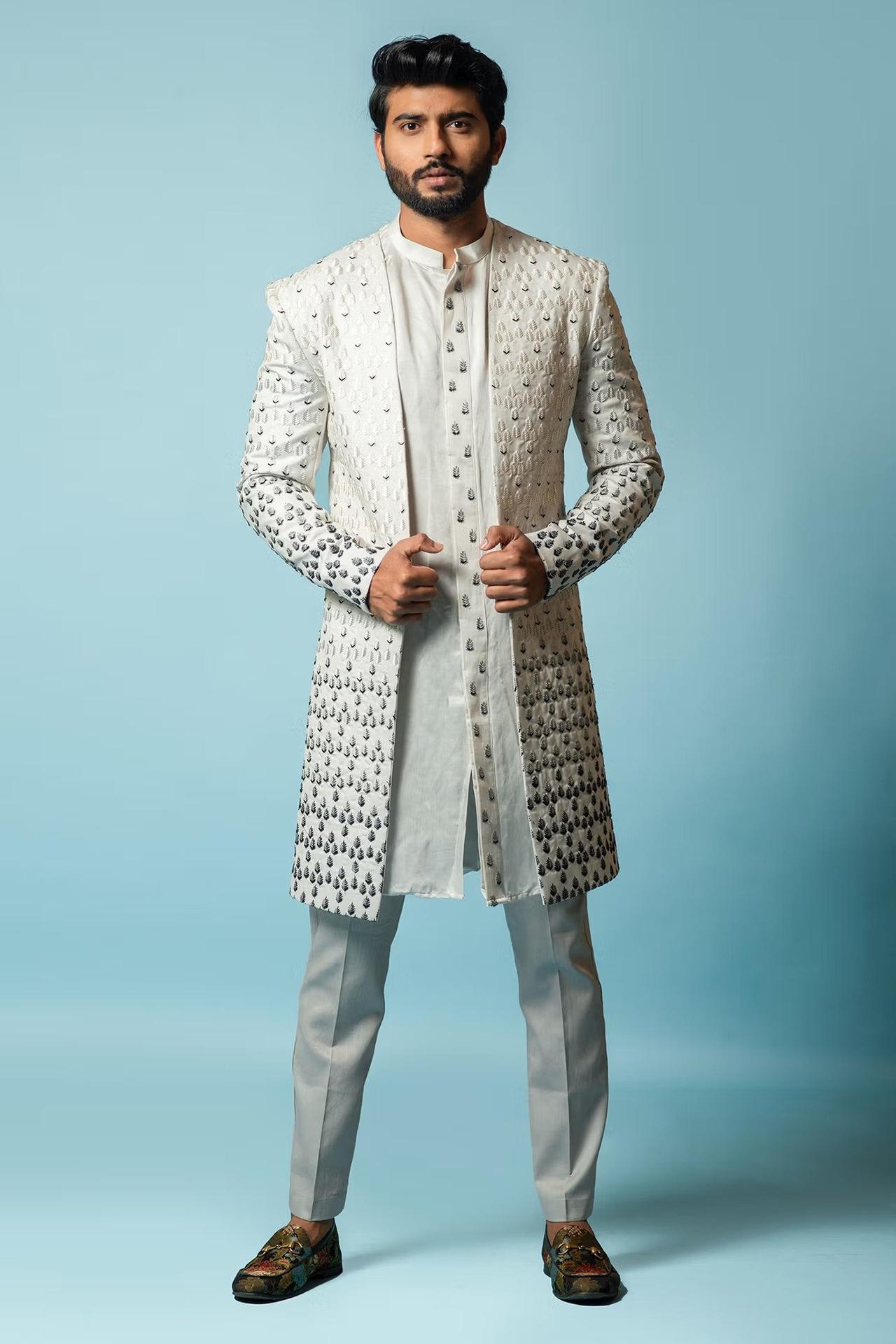 A perfect choice for a wedding dress for men in summer has to be light and pleasing to the eyes. A white spectrum linen satin achkan set by Paarsh has a pearl river front-open achkan with leaf embroidery. Paired with a linen satin shirt style kurta and slim-fit trousers, it will look amazing for any of your pre-wedding festivities.
Pop of Colour for Your Wedding Outfit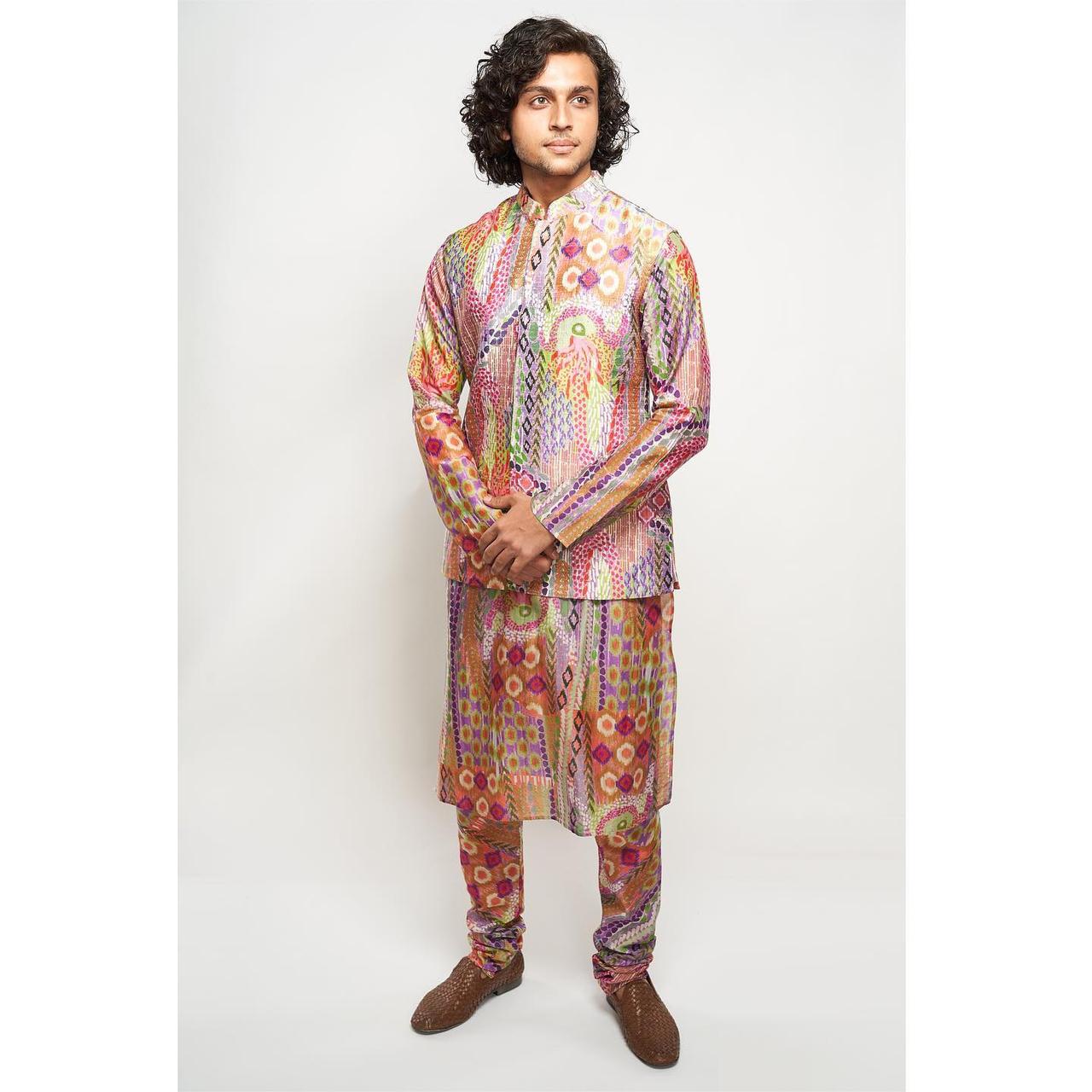 Image Courtesy: Payal Singhal
Look class apart with a kaleidoscope of colours while choosing this elegant wedding dress for men in summer. From the spring summer collection 2022 of Payal Singhal, look effortlessly handsome for your wedding celebrations.
Fuschia Printed Kurta Set
Image Courtesy: Punit Balana
Floral prints have their unique charm and add elegance to your outfit, whether you are the bride or groom. The blooming flowery patterns will look absolutely spectacular, and this cherry red kurta in satin silk base with floral prints by Punit Balana is a perfect example of it. Complete your look with printed linen joggers and dushala.
Printed Contrasting Bundi and Kurta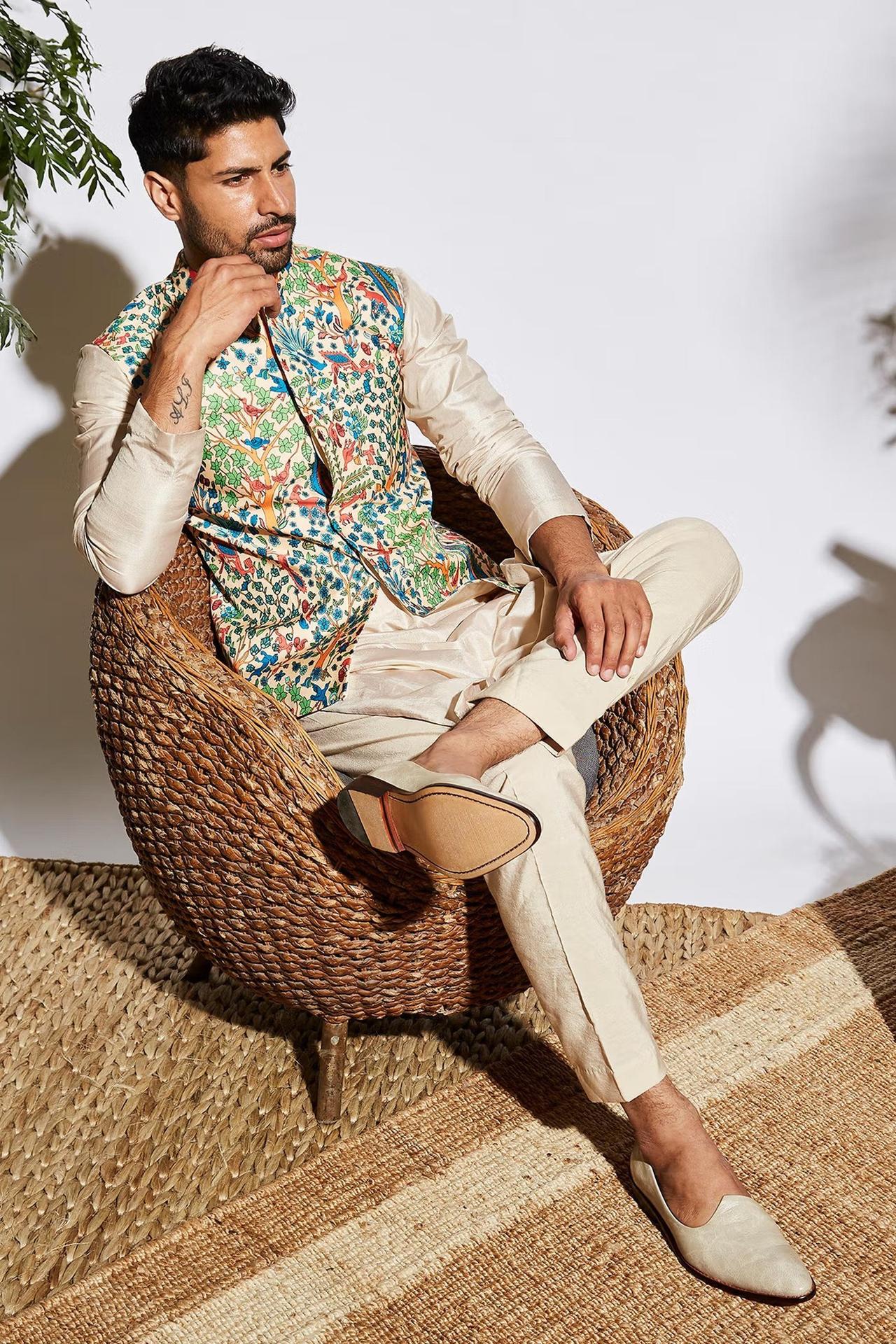 Are you the groom who wants to experiment with his choices of the best wedding dresses for men but is not sure how to go about it? We are here to help you. You can choose a classic solid colour Kurta set with a colourful printed bundi and be assured that you will be the star of the evening. From the collection of SVA by Sonam & Paras Modi, this beige bundi with all-over botanical and animal prints with a front button closure will be the perfect pick.
Royal Red Embroidered Sherwani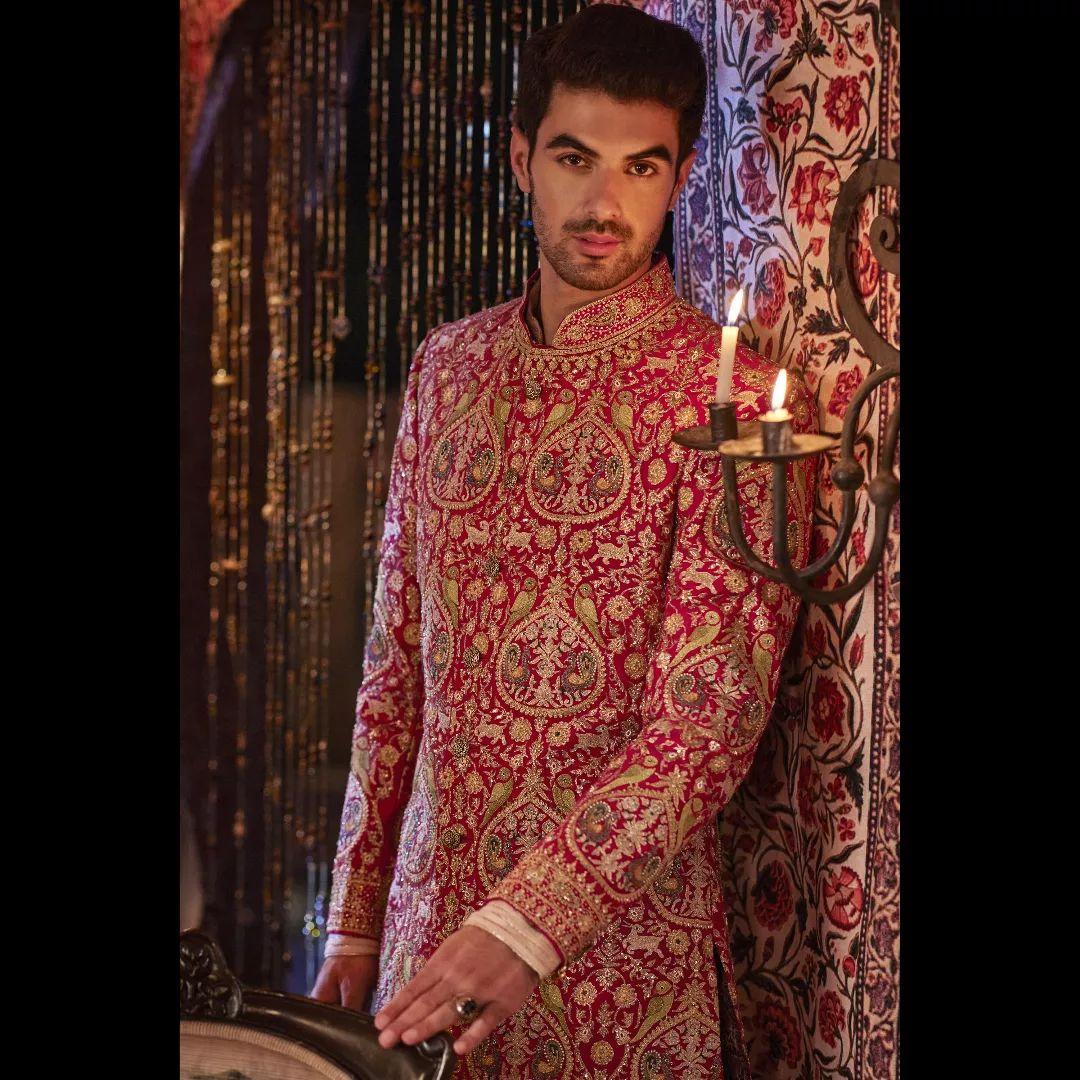 One of the latest wedding dresses for men is the bold statement piece like a gorgeous red palette which you can colour-coordinate with your bride. Featured here from Mehtaab collection of Rimple & Harpreet Narula, a pomegranate-hued silk sherwani with all-over flora and fauna motifs derived from a vintage shikargah Benarasi brocade fragment. The embroideries are rendered using kasab-dori marodi ka kaam, Kashmiri tilla, resham zardozi, sequins and pearls. It is paired with an embroidered georgette kurta and a silk churidar.
Suave Blue Sherwani Set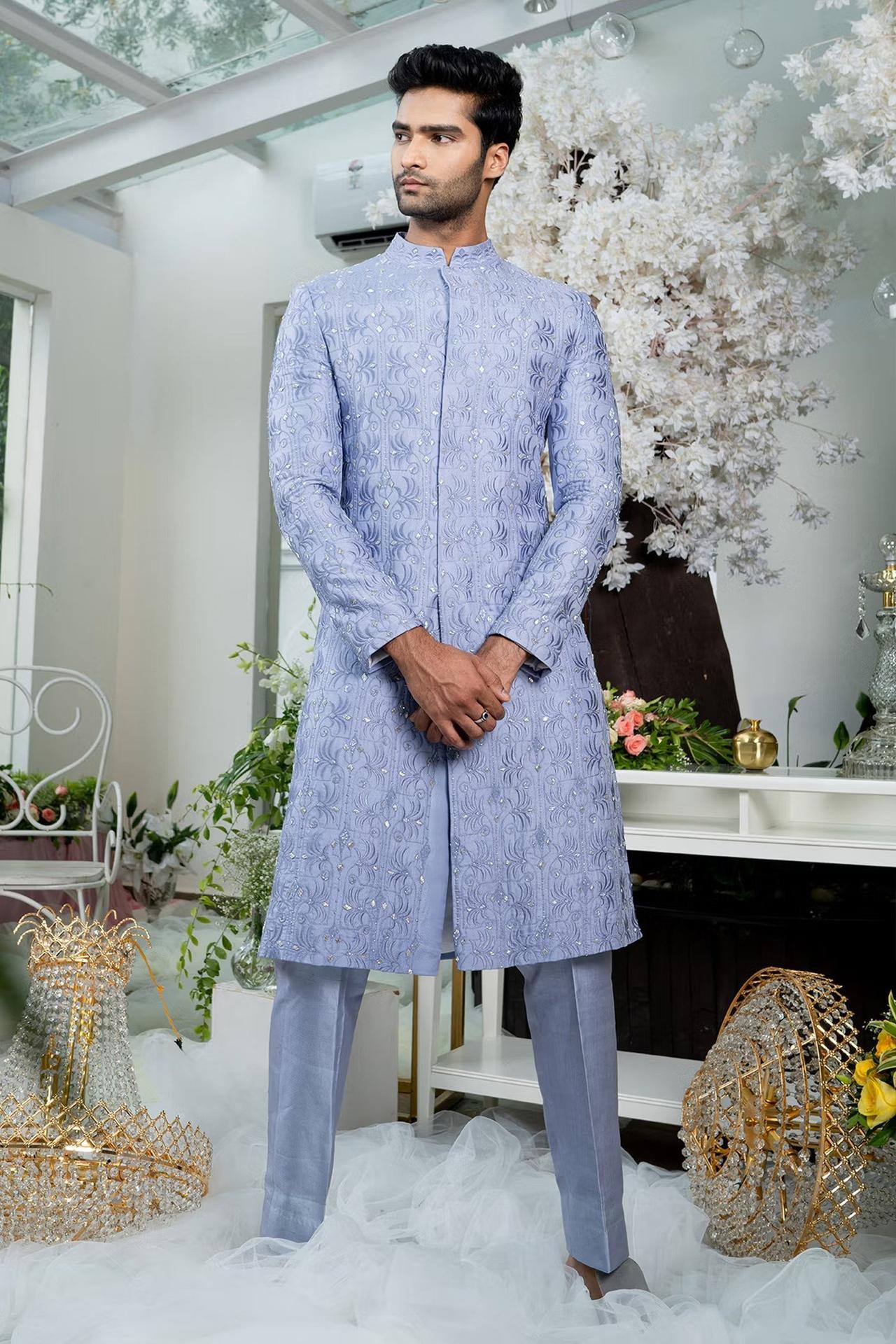 Image Courtesy: Varun Chakkilam
A quintessential wedding dress for men in summer is the edgy and bold colours that will look wonderful for your wedding or pre-wedding festivities. A perfect summer wedding outfit that you have to add to your wardrobe is lilac blue sherwani by Varun Chakkilam with embroidered geometric motifs, bugle beads, thread and sequin.
Pastel Colour Palette for Wedding Sherwanis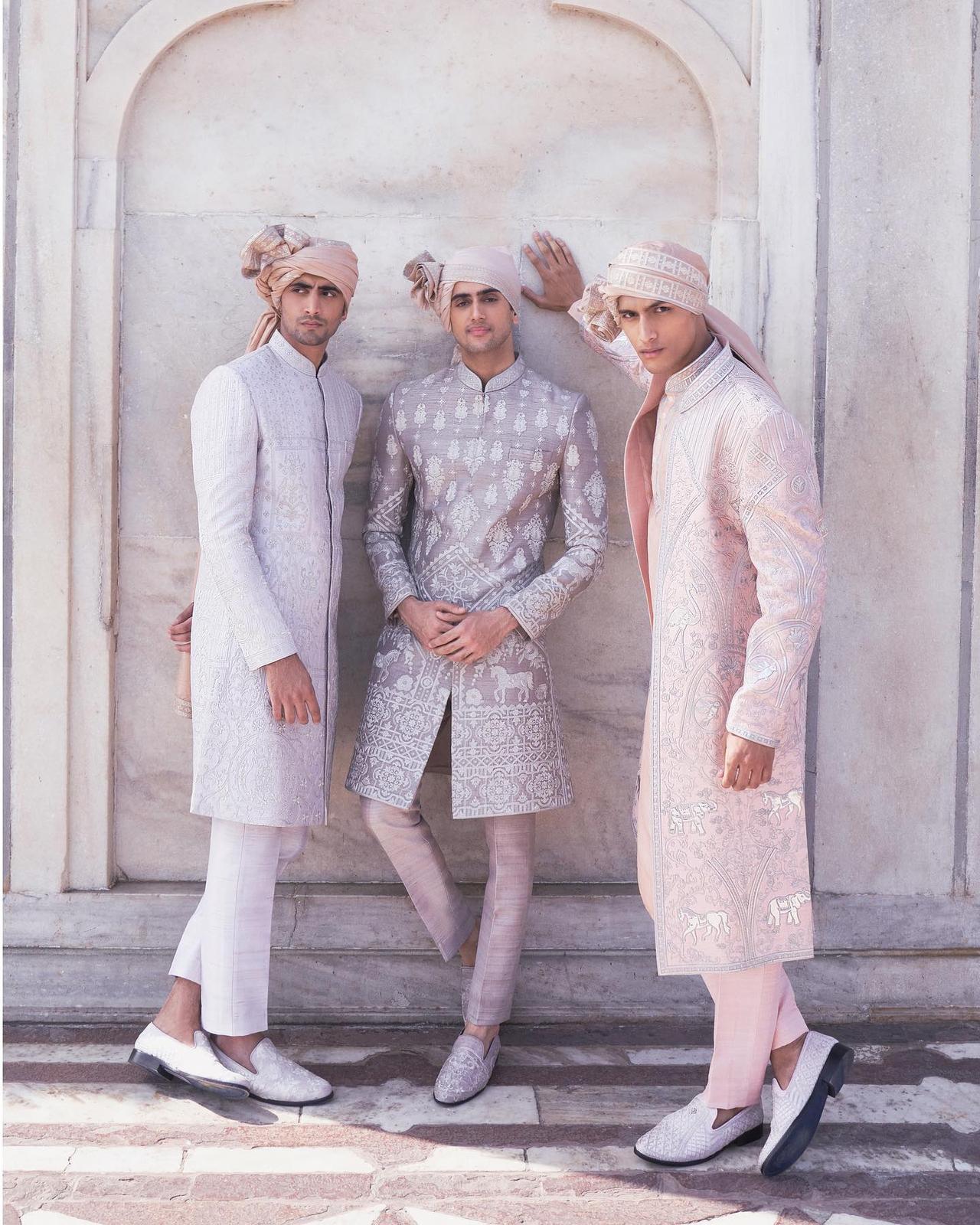 Image Courtesy: Falguni Shane Peacock
For an ultimate mix of tradition and modernity, choose wedding dresses for men in summer that are easy on the eyes and look ever the more dapper. Take a cue from the elegant collection Love Always by Falguni Shane Peacock, which marks a vibrant take on the melange of colours that mark the beginning of the wedding season. With the spirit of celebrations in the air, find yourself in the company of stringing colours of pastel hues that will stand out.
Royal Wedding Dress for Men
Look royal as ever for your big day festivities by choosing a dapper wedding dress for men in summer from the Fall Winter Couture 2022 of JJ Valaya. With soothing fabric, intricate detailing and extensive embroideries, this ensemble speak everything royal for your wedding ceremonies.
Floral Motifs on Your Wedding Outfit
Up your fashion game and look stylish as ever in this pleasing blue satin organza embroidered sherwani set by Mahima Mahajan that features floral motifs and placement embroidery.
Formal Wedding Dress For Men
Sequined Wedding Tux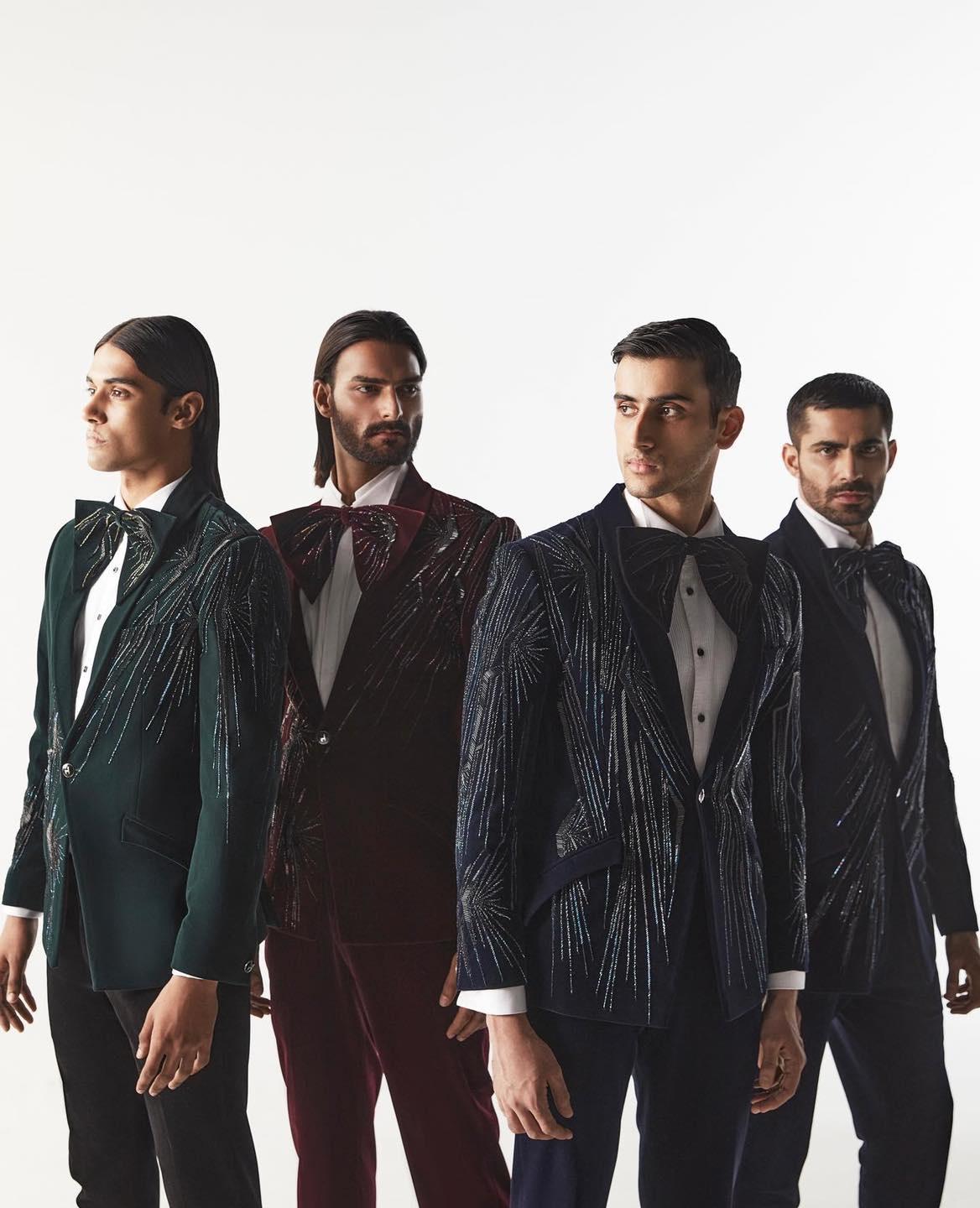 Get your hands on the best formal dress for men for weddings this festive season by exploring the stunning collection of wedding suits from Gaurav Gupta. Look absolutely debonair in their stylish collection of stardust tuxedos in a gorgeous colour palette and sequin detailing.
Off-beat Wedding Suit for Men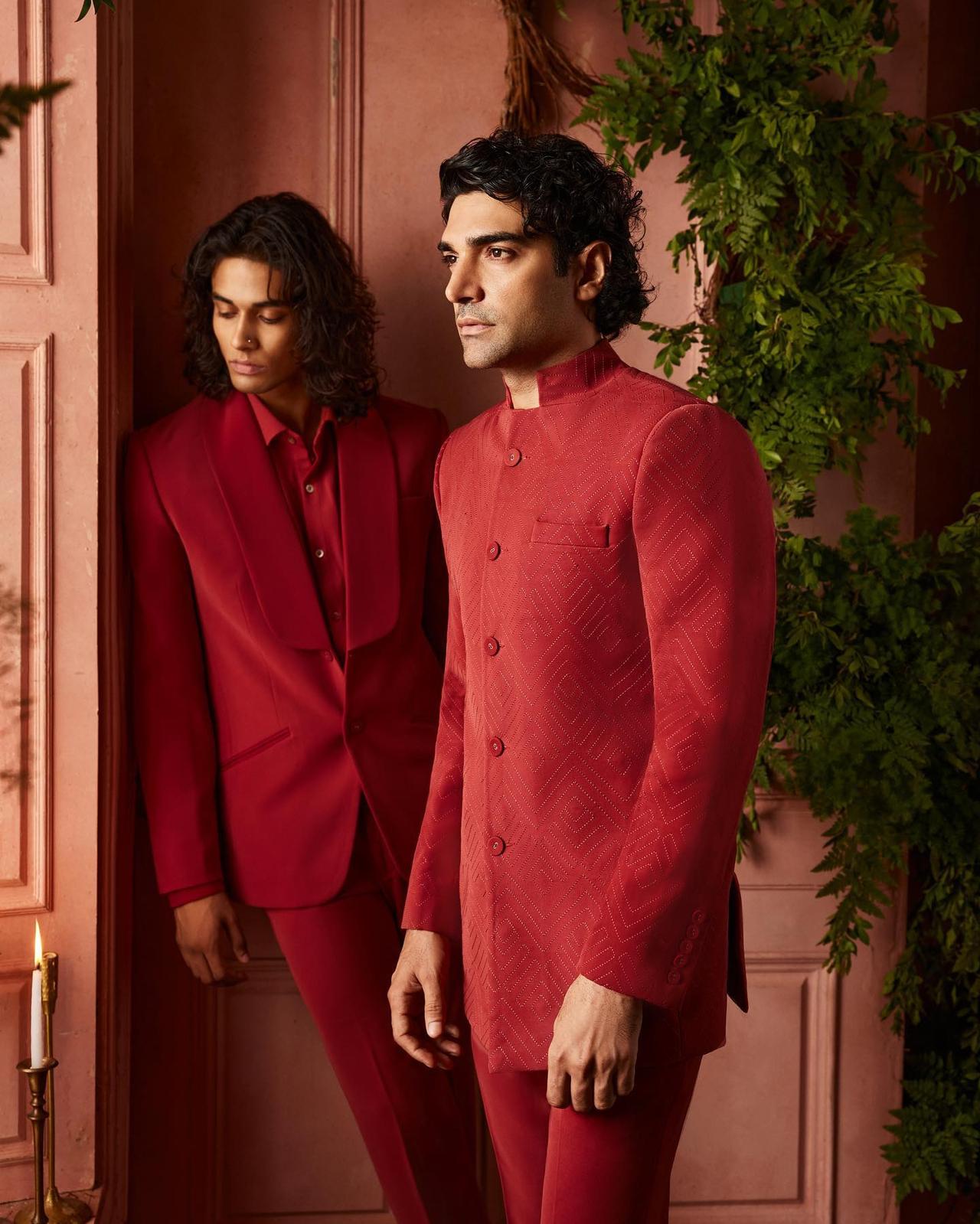 Image Courtesy: Manish Malhotra
Wish to make bold fashion choices while picking out trending wedding dresses for men? Manish Malhotra's Khaab Couture 2022 has all the right answers that you are looking for. The rust-quilted bandhgala styled with plain rust trousers will look absolutely stunning.
Statement Wedding Suit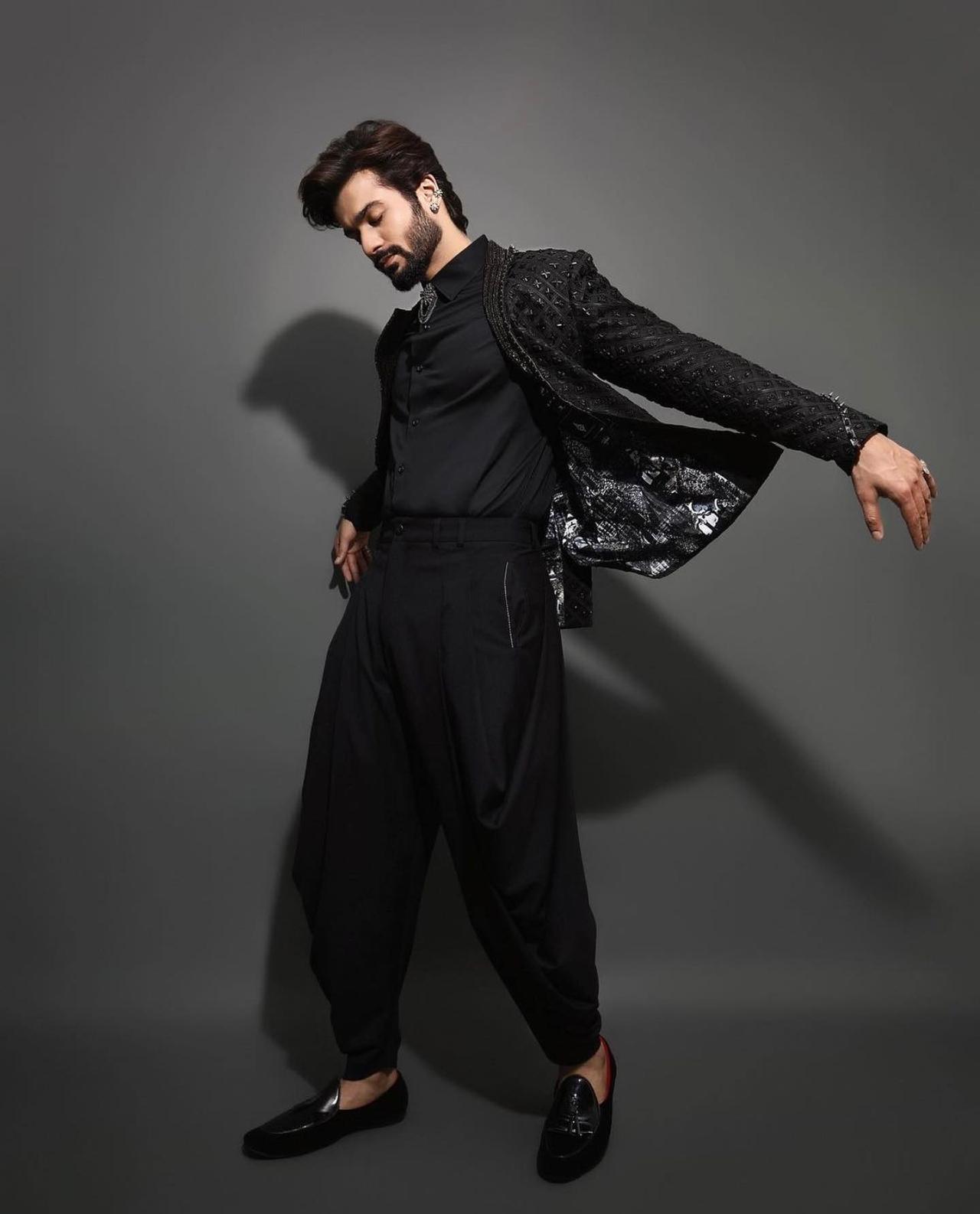 When choosing a formal dress for men for wedding, how can you not get your hand on the bold and beautiful black outfit options in which you will look effortlessly handsome? From the collection of Shantanu & Nikhil, look dapper in their tuxedo ornamented with tonal, geometric matte crystal texture and a play of metal punctuated details.
Black Formal Wedding Dress for Men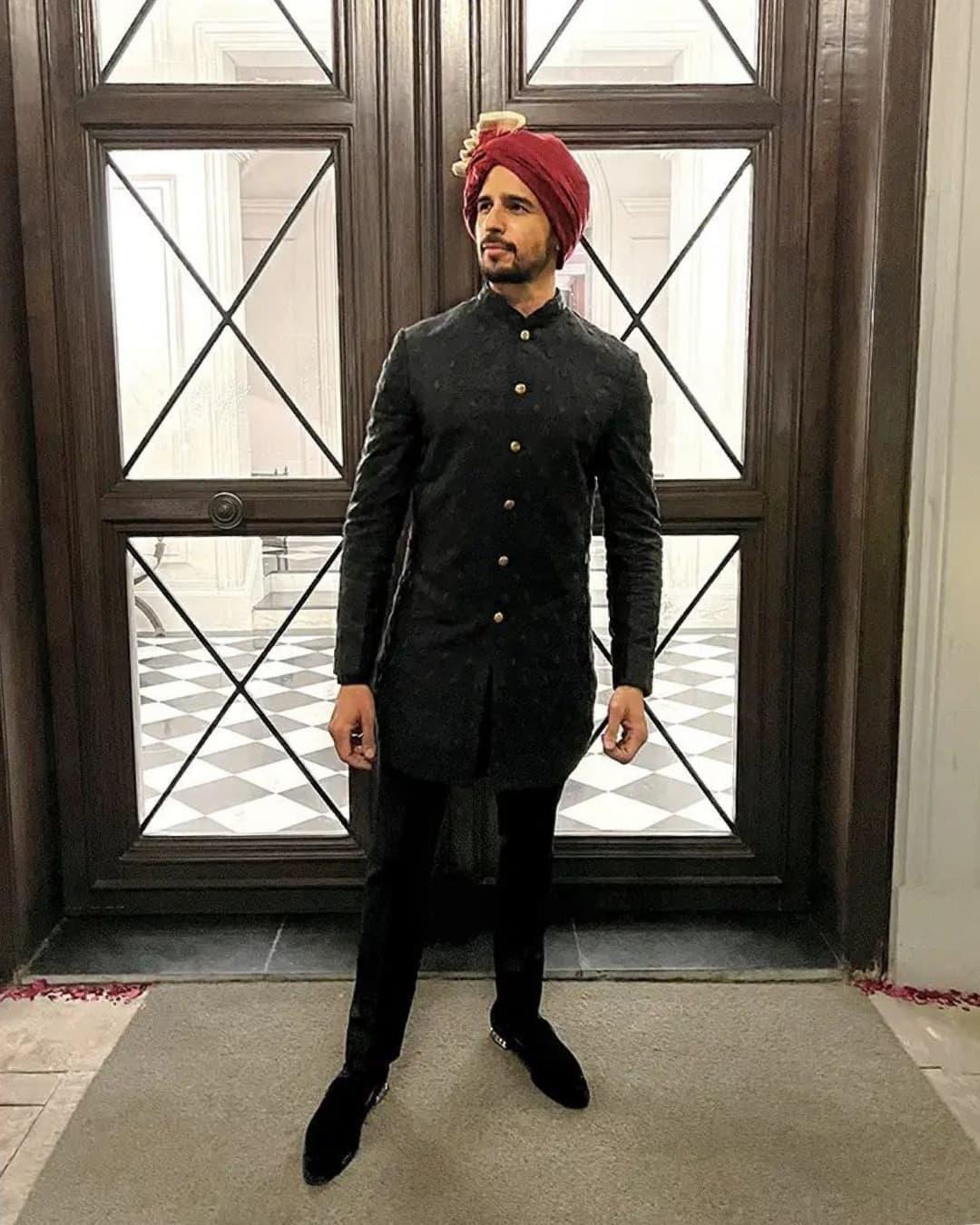 Image Credits - Pinterest
For your reference, remember that the tie can be colour-coordinated with the outfit or be in contrast. Such the latest wedding dresses for men will certainly make you look dapper.
Unconventional Wedding Suit for Grooms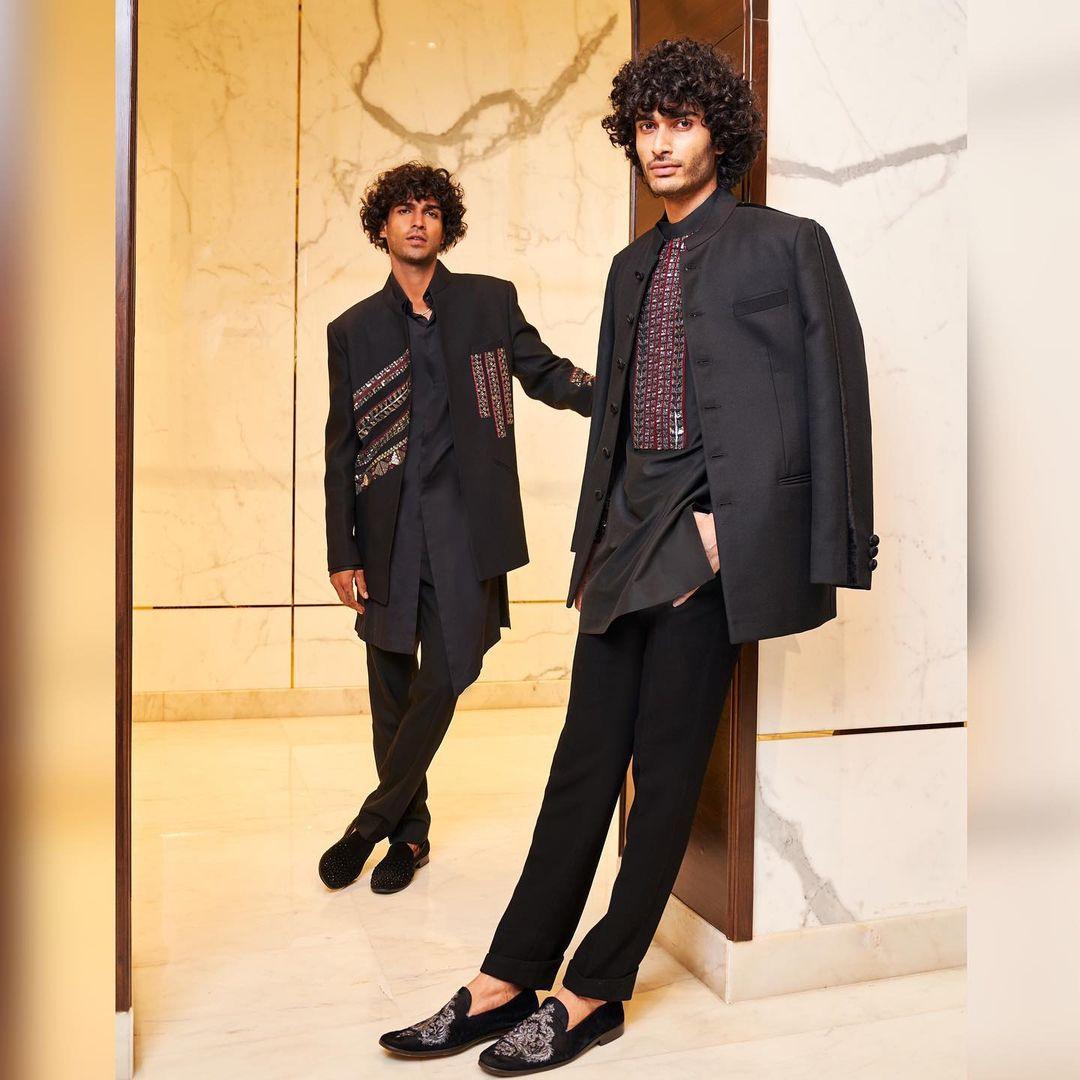 Image Credits - Pinterest
Try out this combination if you are fond of checks and want to wear a print that is relatively muted. You can play with the colour of the shoes and pocket square according to your choice. This is one of the best Indian wedding dresses for men.
Also Read - Indian Wedding Dress for Grooms in Summer Ideas 2022
Wedding Suit for Men With Intricate Detailing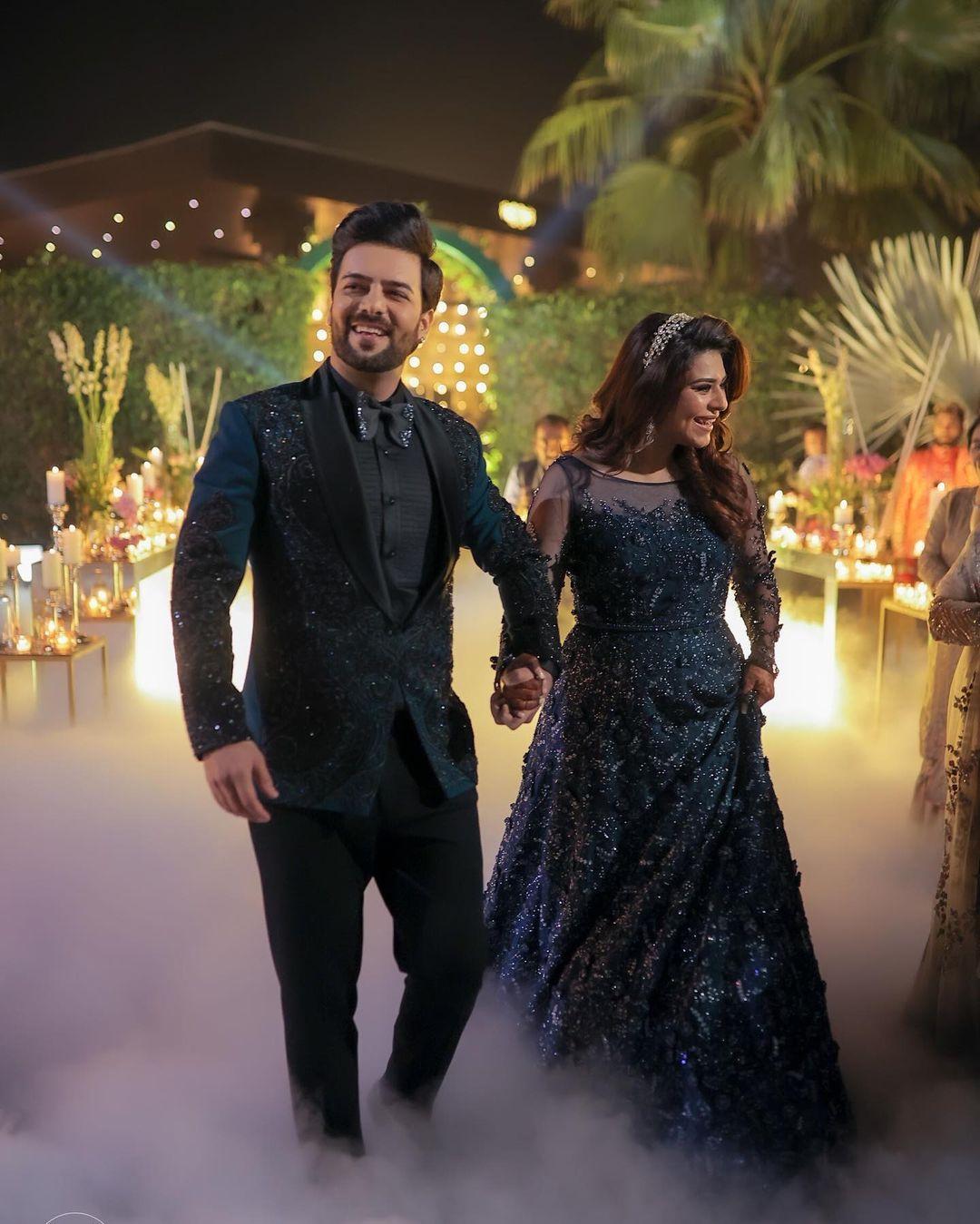 Image Credits - Sanjay Bhagnani's Insta Handle
You can get this piece made to order or buy it ready-made Indian wedding dress for men. This piece is something that should be paired with traditional accessories only. Actor Sanjay Gagnani is carrying this with enough panache. Are you ready to carry this with the same elan too?
Edgy Design for Wedding Suits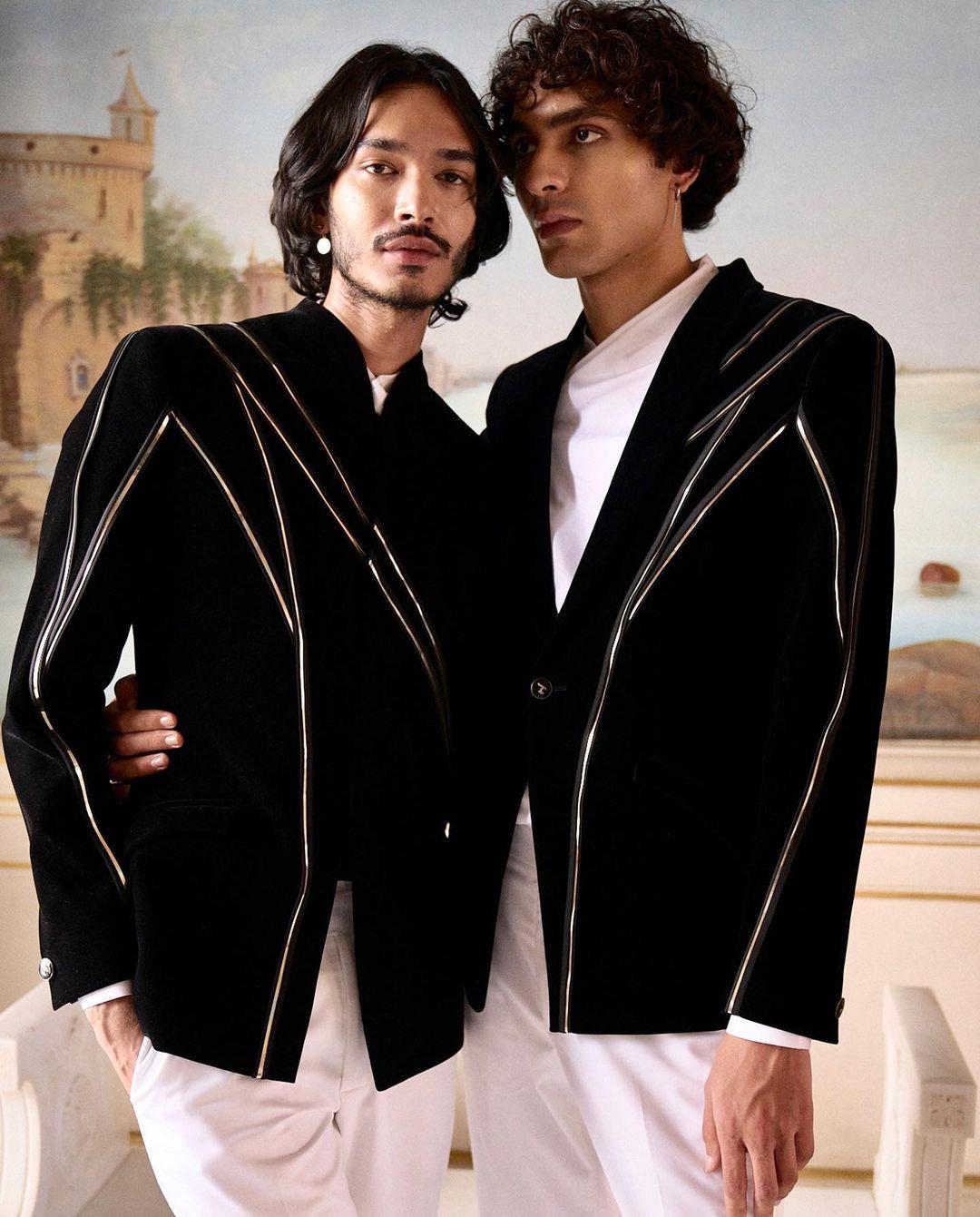 This overlapping Bandhgala is enhanced by sculpted satin strips extending from the shoulders up to the asymmetric collar and is punctuated with angular cut pocket flaps. Dressing the lookup requires a classic mandarin collared or Gaurav Gupta Orion shirt that peeks barely through the Bandhgala. Consider velvet loafers for a sangeet or reception to temper this Indian wedding dress for men or outfits.
Semi-formal Wedding Dress for Men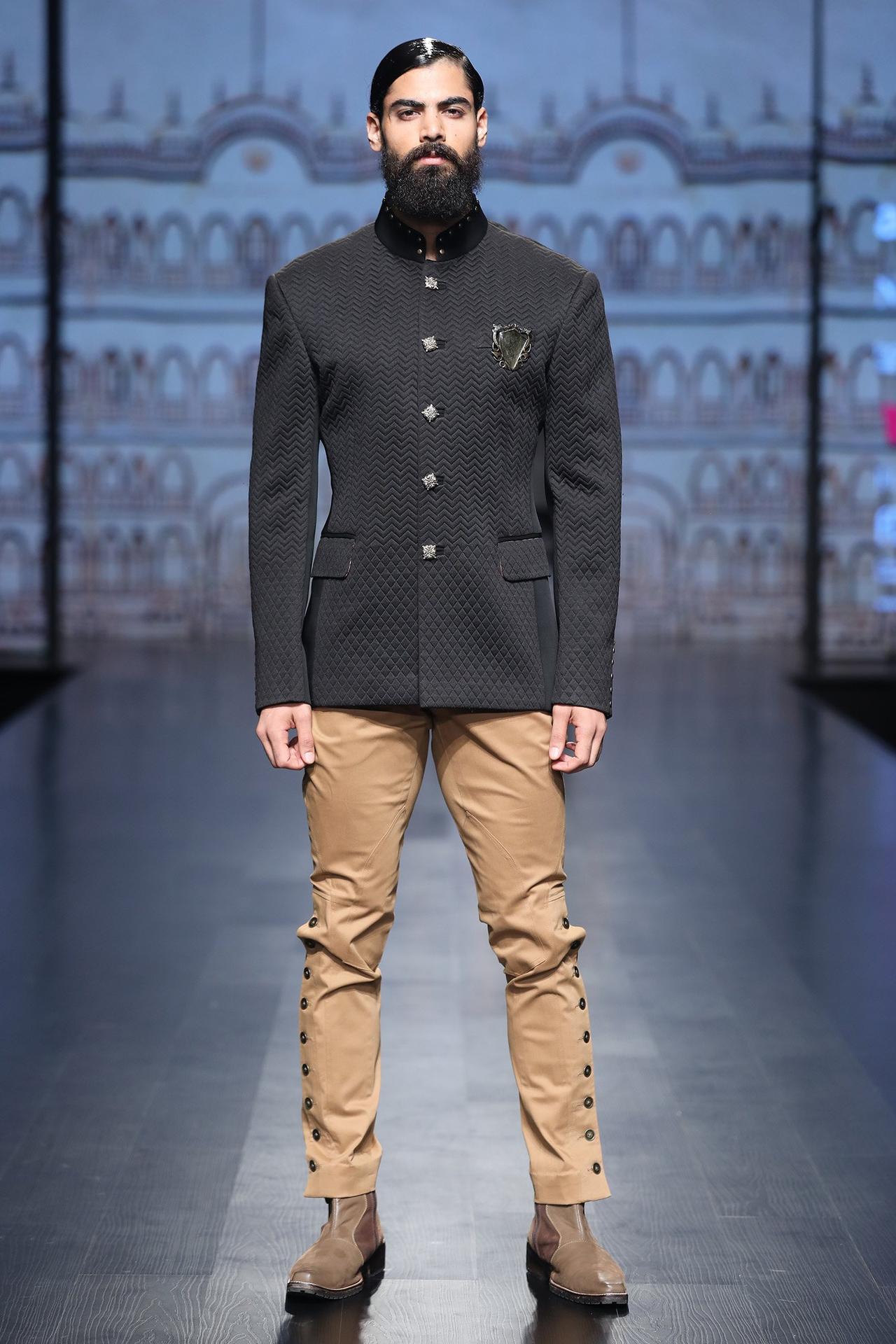 Image courtesy: Rohit Kamra
If you want to look fierce at your engagement or adorn the best wedding dress for men, or any other function, you can choose a black quilted Jodpuri jacket in black. Styles with riveted collars, long sleeves, a button-down collar, and pocket flaps will give you a chic look. For an extraordinary look, pair this jacket with semi-formal pants featuring statement details at the seam and suede boots.
Panelled Wedding Suit for Men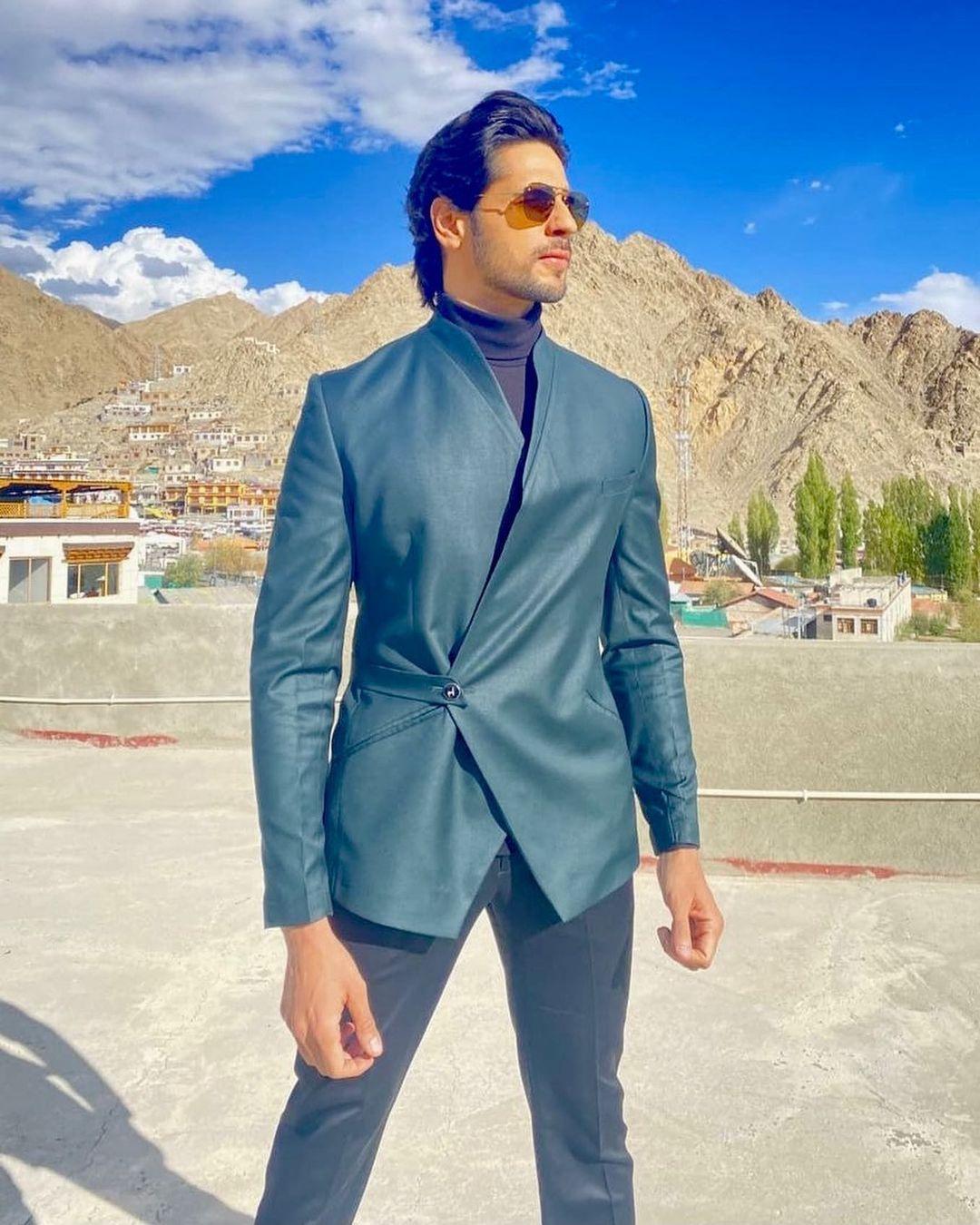 The Multi-Angular Set Wrap Bandgala Set is another trending latest wedding trend for men. This is ideal for reception and pre-wedding functions. Also, perfect trendy wear for the groom's friends and brothers too. Do try this as one of the best latest wedding dresses for men for a stunning look!
Jodhpuri Bandhagala Suit for Wedding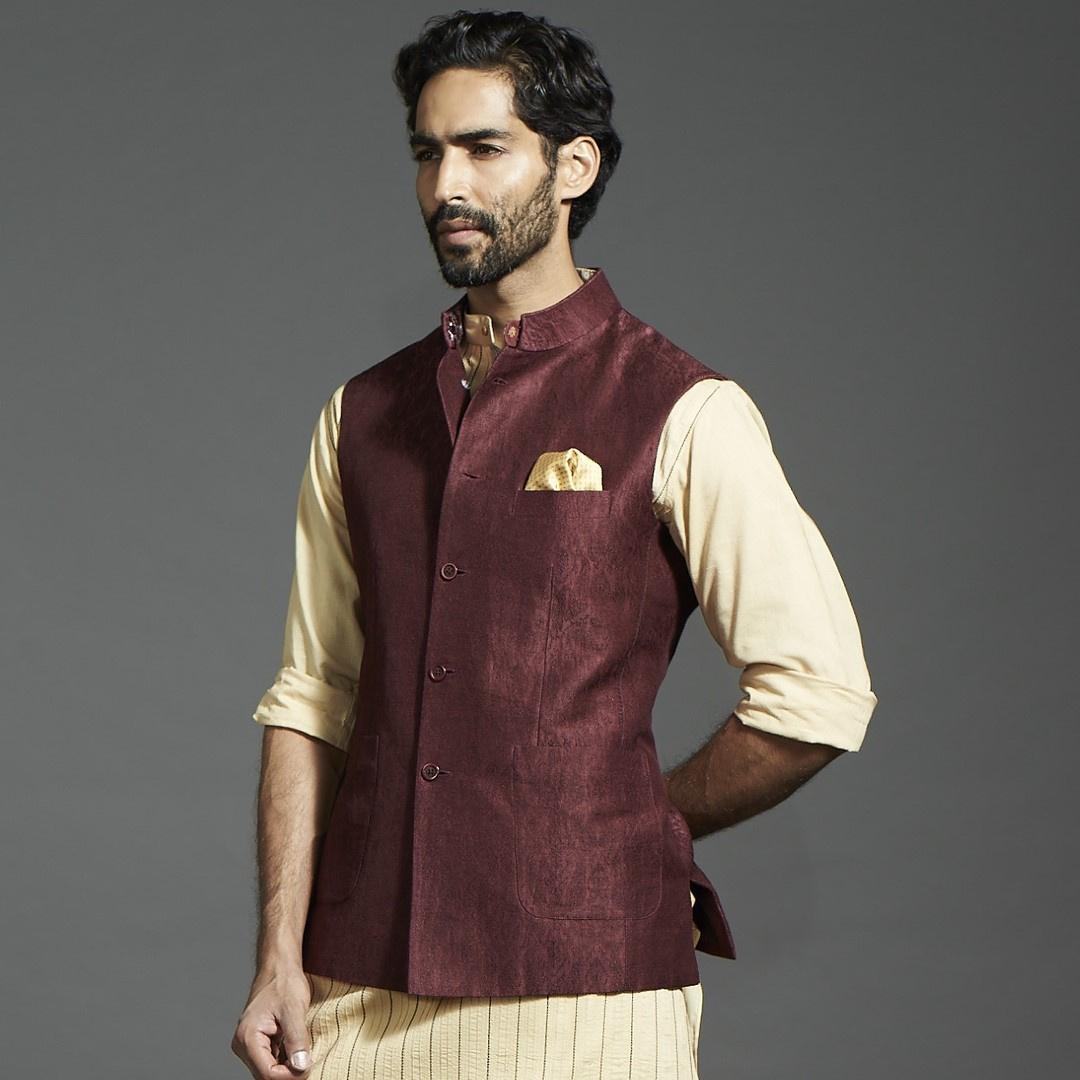 Image Credits: Raghavendra Rathore Jodhpur
Modern-day Jodhpuri Bandhagala suits, as well as their classic versions, can accentuate your personality within minutes. With its effortless charm, the outfit is suitable for all wedding functions and is equally suited to all ages and shapes.
Textured Tailcoat Wedding Suit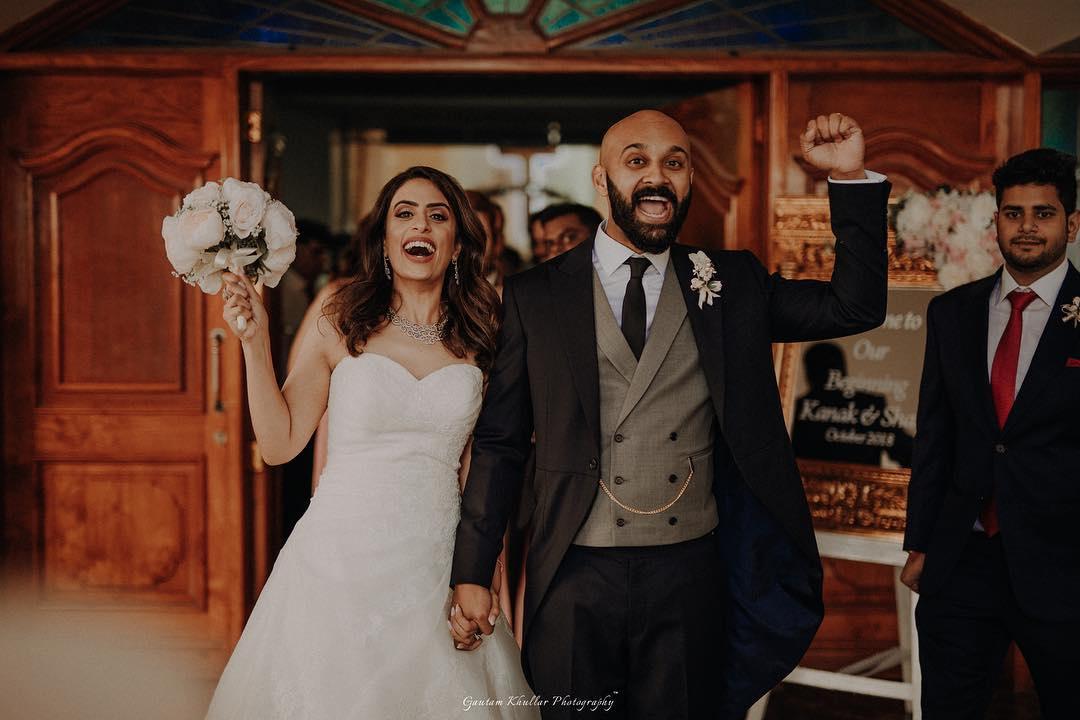 The handsome groom decided to wear a textured tailcoat suit under which he wore a beige vest. The white shirt under the vest gives a formal look to the entire outfit and lifts some of the heavy aurae of the garment, which has predominantly dark shades. To accessorize his look, this savvy groom added a brooch on the lapel.
Cowl Velvet Wedding Dress for Men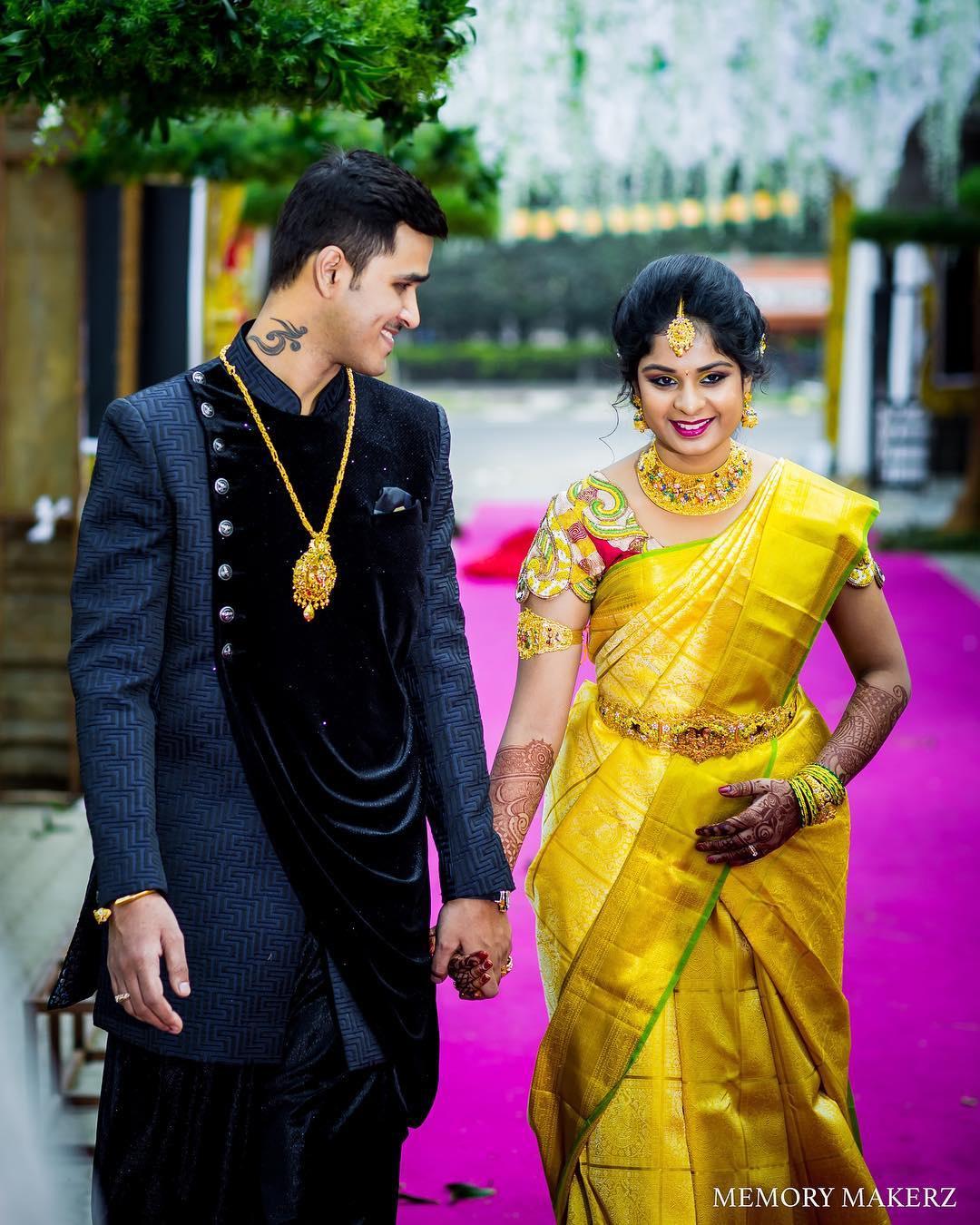 Simple wedding dresses for men can never do you wrong. The dark blue printed designer sherwani has a velvet cloth pleated and tucked in such a way that it makes the outfit look royal. The groom decided to accessorise with a piece of gold jewelry that makes him look great! Tip: Do not go overboard with men's jewellery, as velvet outfit ideas for grooms speak for itself.
Checkered Wedding Suit for Men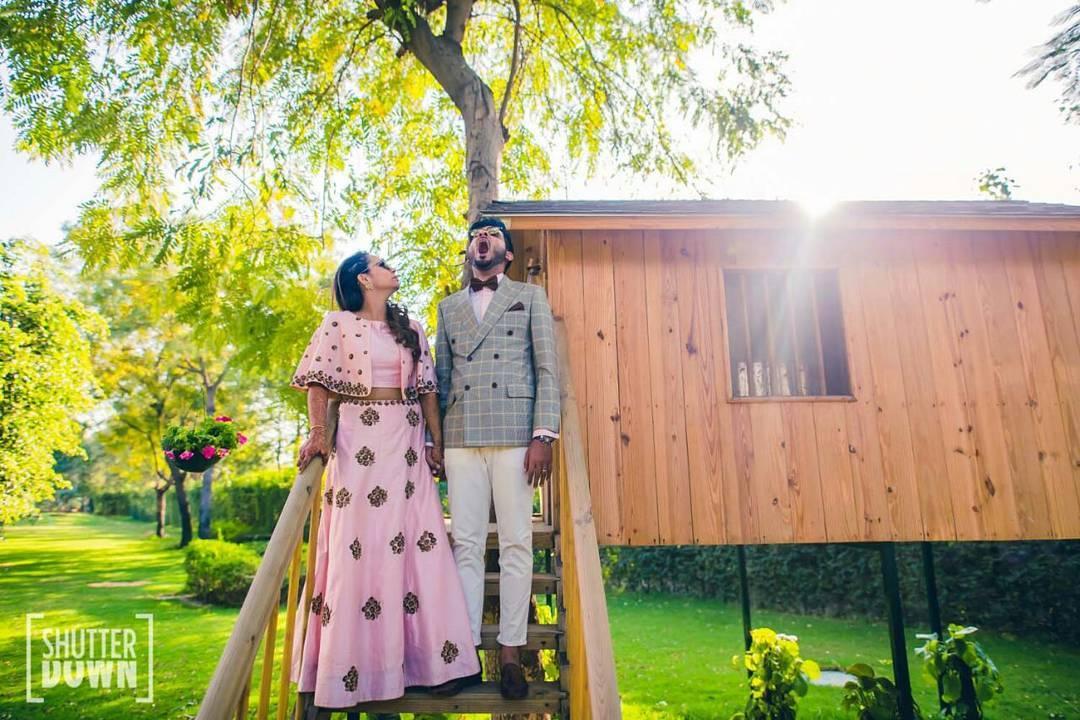 This checked coat teamed up with the white ankle-length trousers looks dapper. The dark brown bow tie and the matching pocket square of the same colour have given a new edge to this wedding dress for men. The latest wedding dresses for men have hints of print in them.
Indian Wedding Dress For Men
Chrome Appliqué Wedding Kurta Sets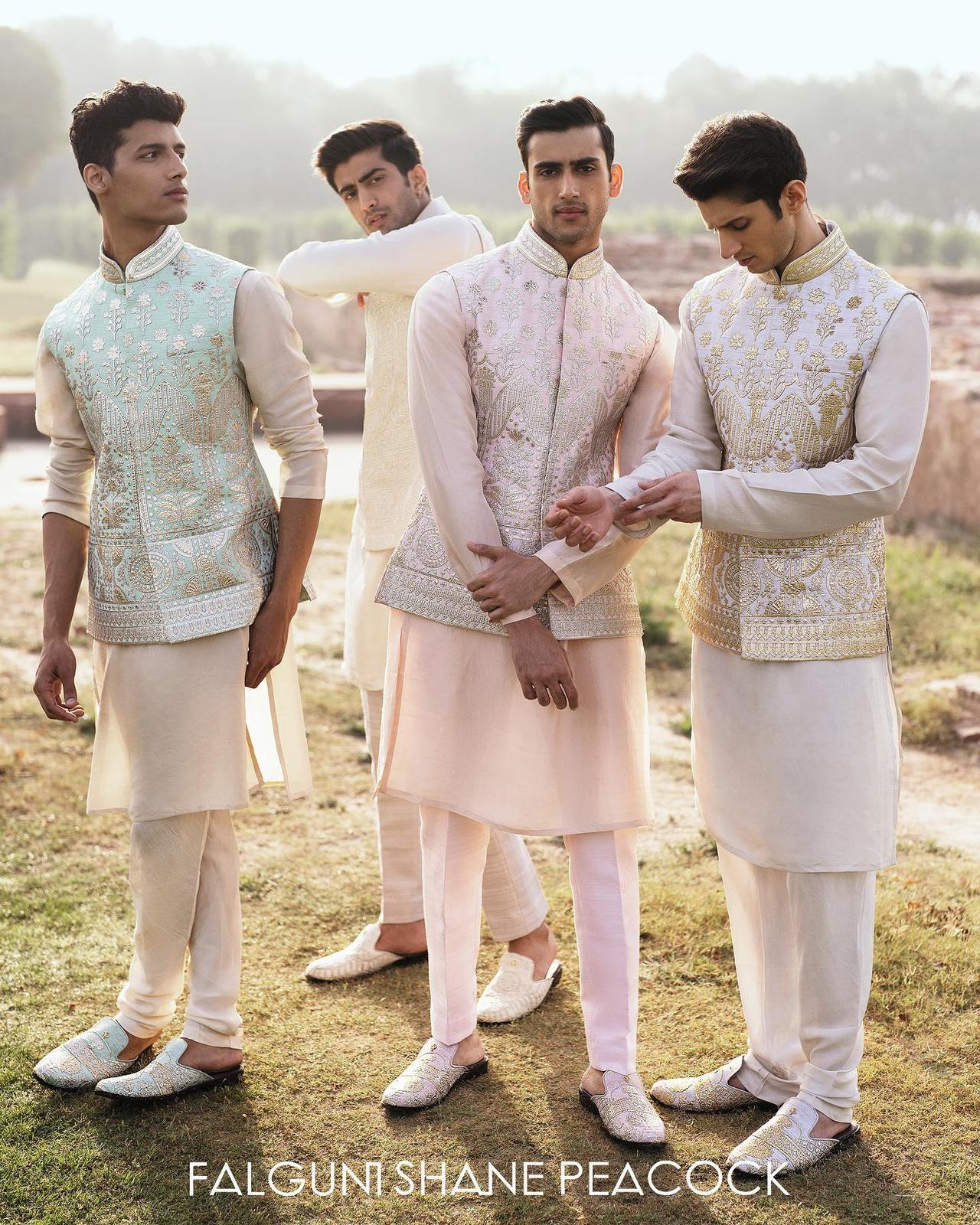 Image Courtesy: Falguni Shane Peacock
One of the most extensively worn and recognised traditional and Indian wedding dress for men worldwide, a subtle kurta set can captivate you with its eye-catching presence. With Love Always, Falguni Shane Peacock reinvented the ensemble by infusing its signature elements of prints in chrome appliqué. Perfect sherwanis for men who like to keep it minimalistic and dapper, it's one of the latest wedding dresses for men that you should get your hands on.
Kurta With Embroidered Nehru Jacket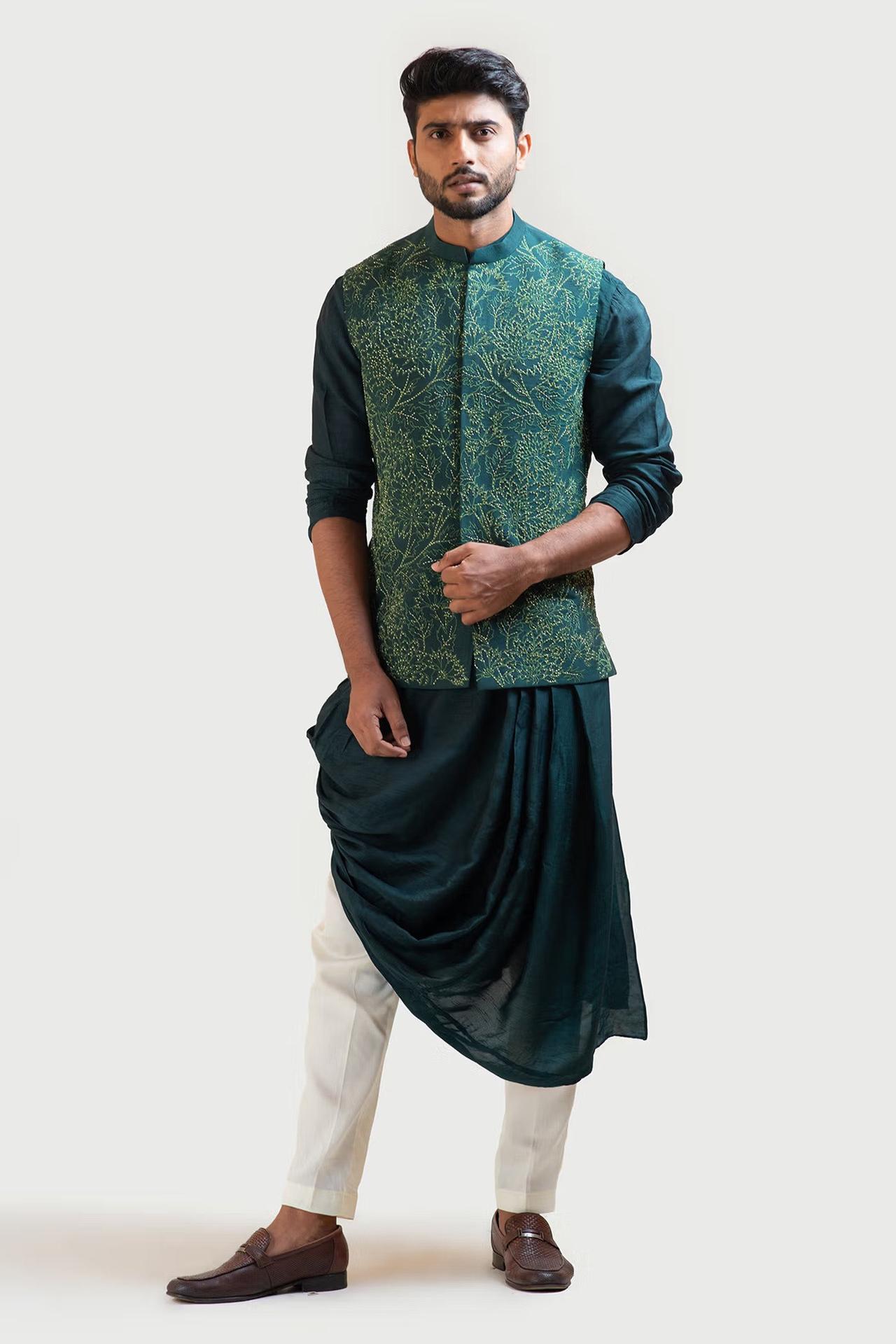 Image Courtesy: Smriti by Anju Agarwal
If you are looking for a different wedding dress for men that will make your wedding guests talk in appreciation of your fashion choices, an edgy cowl kurta for any one of your wedding festivities has to be it. Moss green Nehru jacket in bam silk with embroidery work from Smriti by Anju Agarwal is paired with emerald green kurta with cascading pleat drapes and contrasting white pants.
Gota Patti Sherwani for Grooms
Image Courtesy: Itrh
One of the trending Indian wedding dress for men that you have to include in your wedding trousseau is vibrant purple silk chanderi gota patti sherwani by Itrh. While looking elegant and impressive, it comes with floral jaal Gota Patti embroidery.
Colour Block Wedding Dress for Men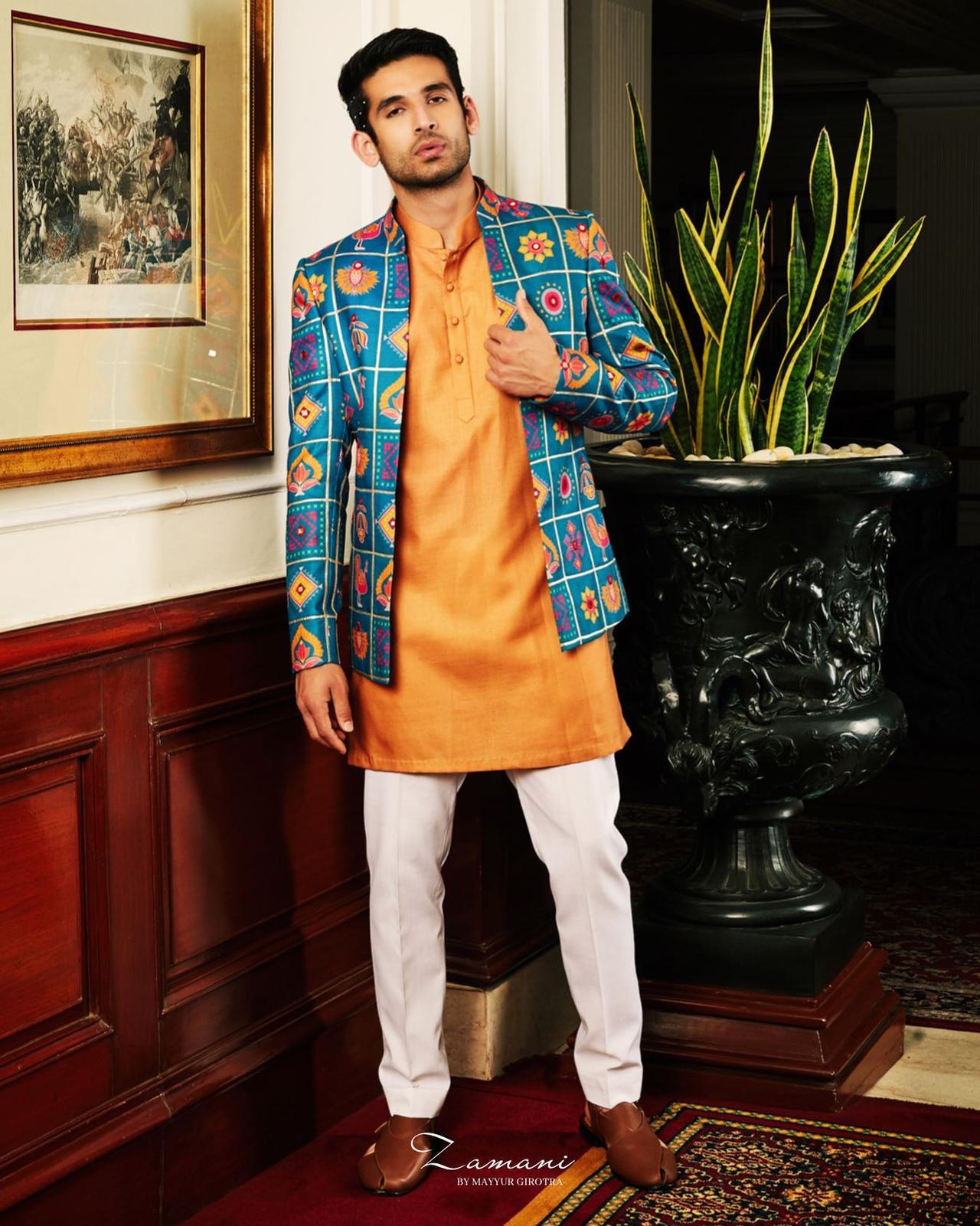 The essence of tradition leaves behind an indelible stamp on our souls. Rediscover its magic through the timeless charm of handcrafted couture by Mayyur R Girotra Couture with their colour-block ensemble.
Classic Embroidered Wedding Sherwani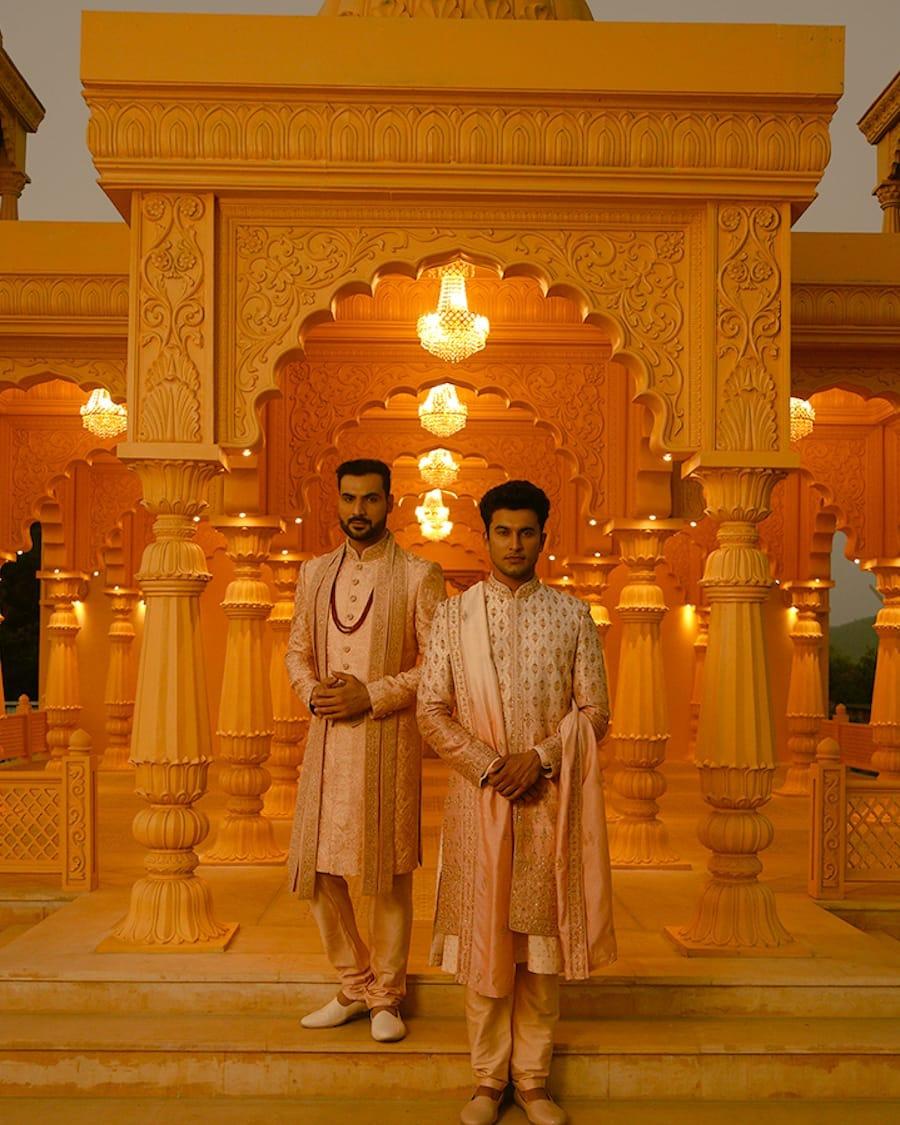 Image Credits - VANSHIK
Just pick up your wedding wear according to your physique and complexion. Let us glance through a few latest wedding dresses for men that will help you plan your look further.
Embroidered Bandhgala for Your Wedding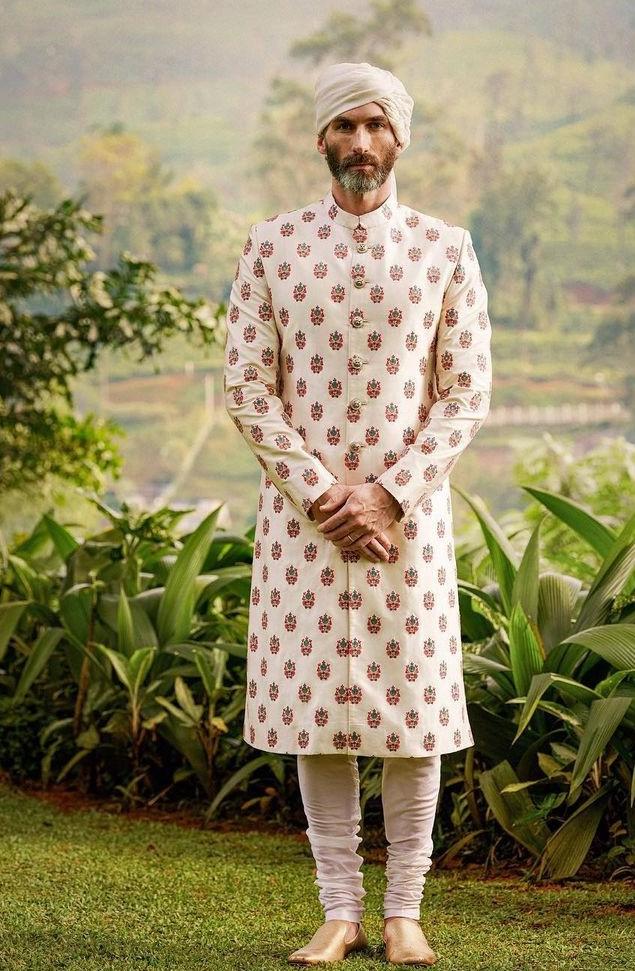 Image Credits - Sabyasachi Official
When we talk about the latest wedding dresses for men, a garment with a traditional touch is necessary. If you are someone who likes to keep it all basic with minimal effort, this is your thing. This yellow Sherwani has heavy thread work and that's what makes stand out. The yellow embroidery on the Sherwani makes everything look on point.
Also Read - 15 Royal Jodhpuri Dress Ideas for Indian Wedding
Sage Green Wedding Sherwani for Grooms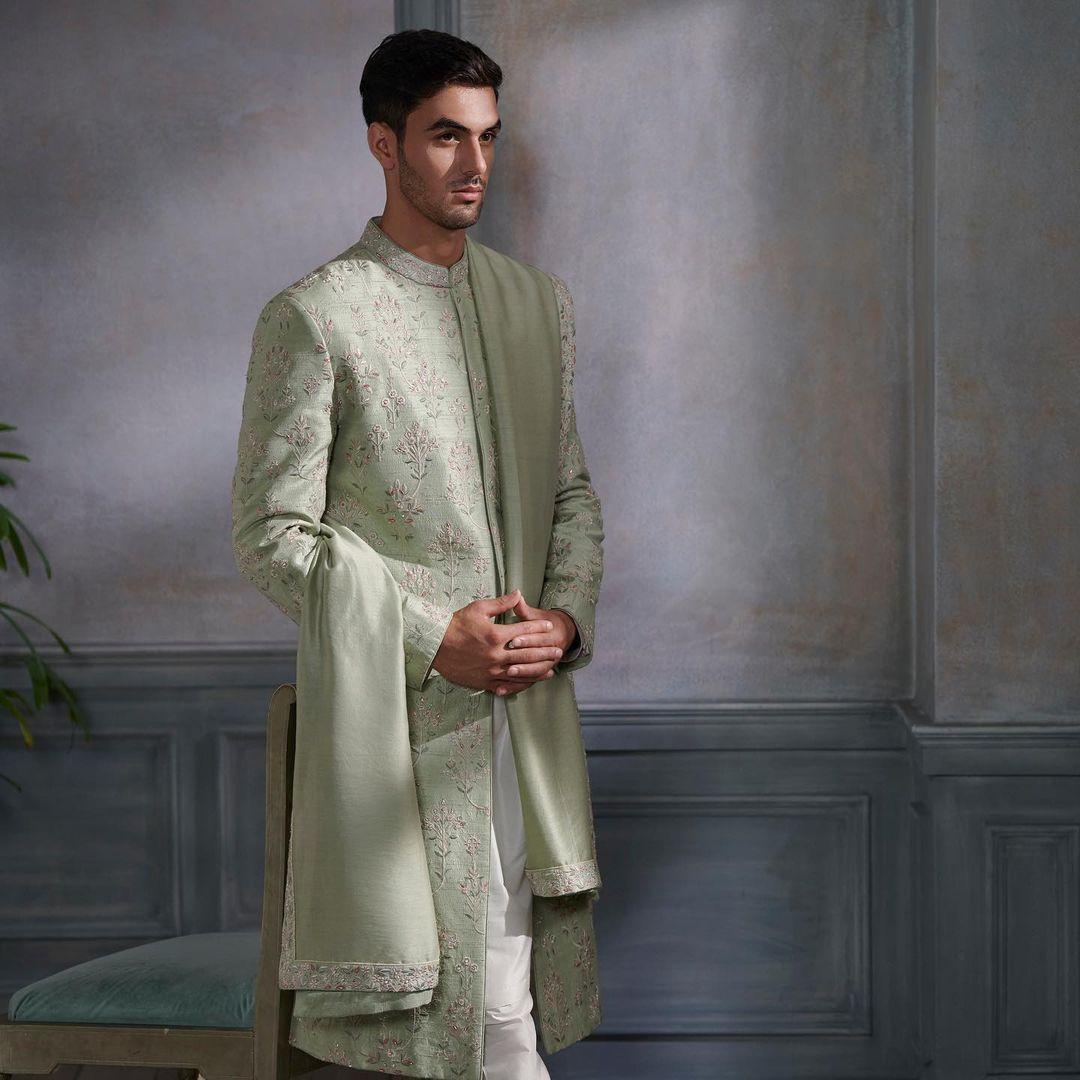 Image Credits: Anita Dongre
Anita Dongre's wedding couture always tends to make ripples in the market. Here this decent groom is wearing an elegant Linay Sherwani, Sage Green softened with colourful pops of wildflower embroidery. Isn't it mesmerising? Bookmark it for your wedding look! You can mismatch it with white churidar and carry it with enough poise.
Contemporary Wedding Dress for Men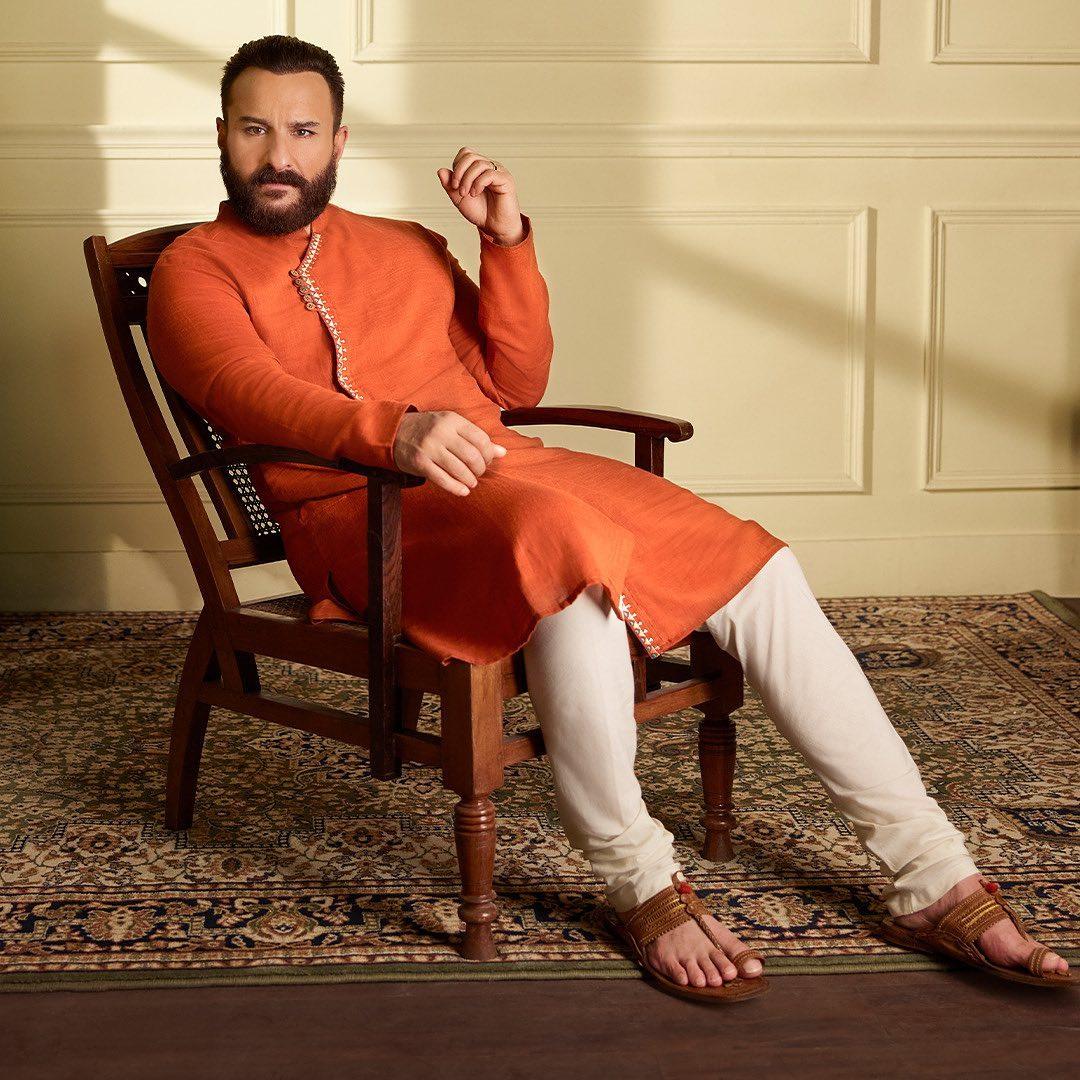 Image Credits: House Of Pataudi
Make your pre-wedding function a vibrant affair by wearing this kurta pajama from House of Pataudi. A perfect pair which is a blend of vintage hues and contemporary details - this latest wedding dress for grooms and grooms maid is trending and creating ripples for all fashionable reasons.
Chevron Sherwani for Wedding Day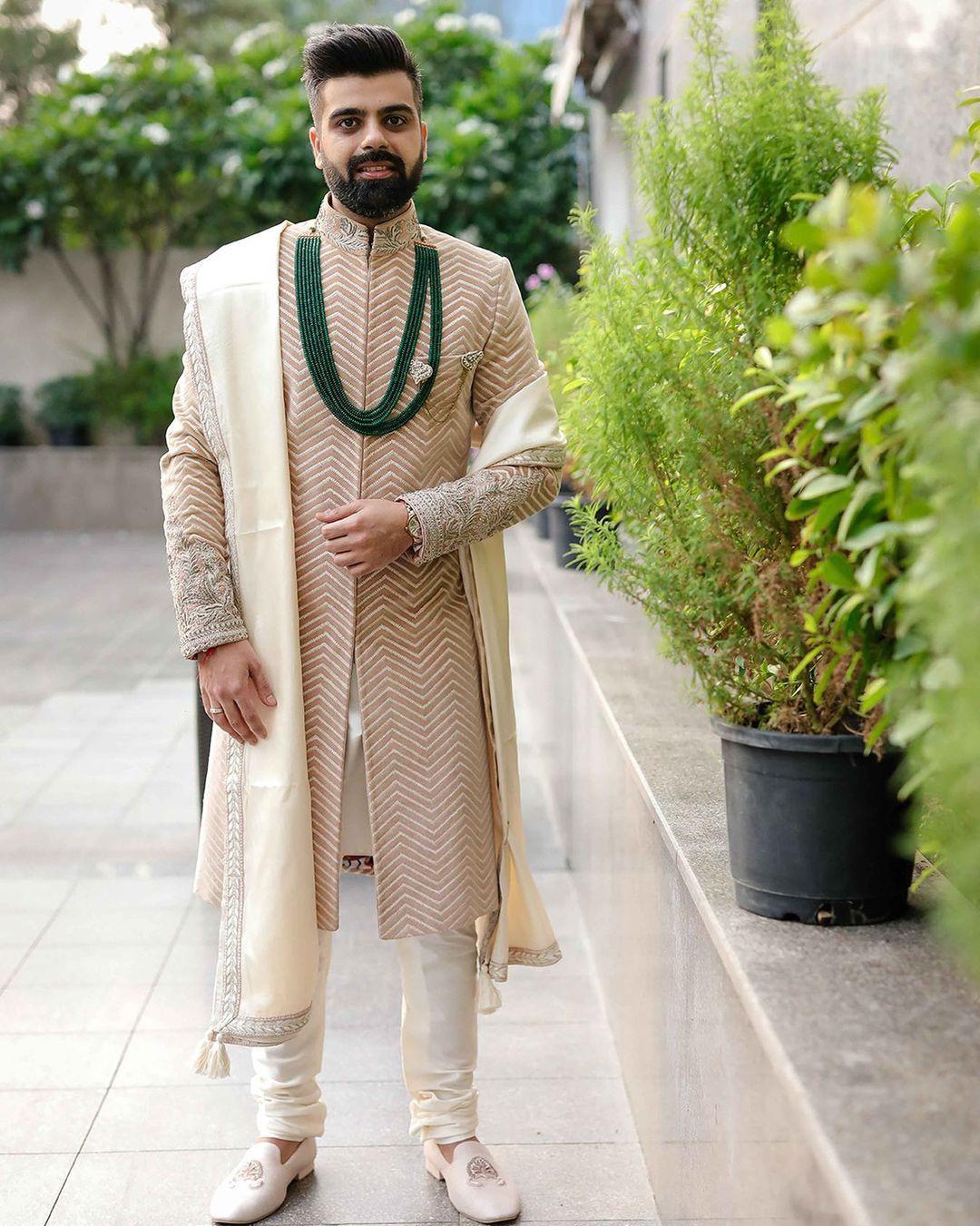 This dashing Shantanu & Nikhil groom is adorning a spectacular sherwani in pastel hues with tone-on-tone detailing. He is carrying this with an ivory stole. It is an ideal Indian wedding dress for men who are looking for something subtle, classy, and comfortable.
Read More - 7 Wedding Sherwani Online Designs We're Currently Crushing On
Classic Kurta and Floral Detailing
Aditya Seal looks breathtaking in this traditional attire by Manyavar. He is effortlessly slaying like a king and flaunting well. Further, his Kurta Jacket is worth show-stealing and bookmarking for any of your special occasions.
Elegant Black Wedding Sherwani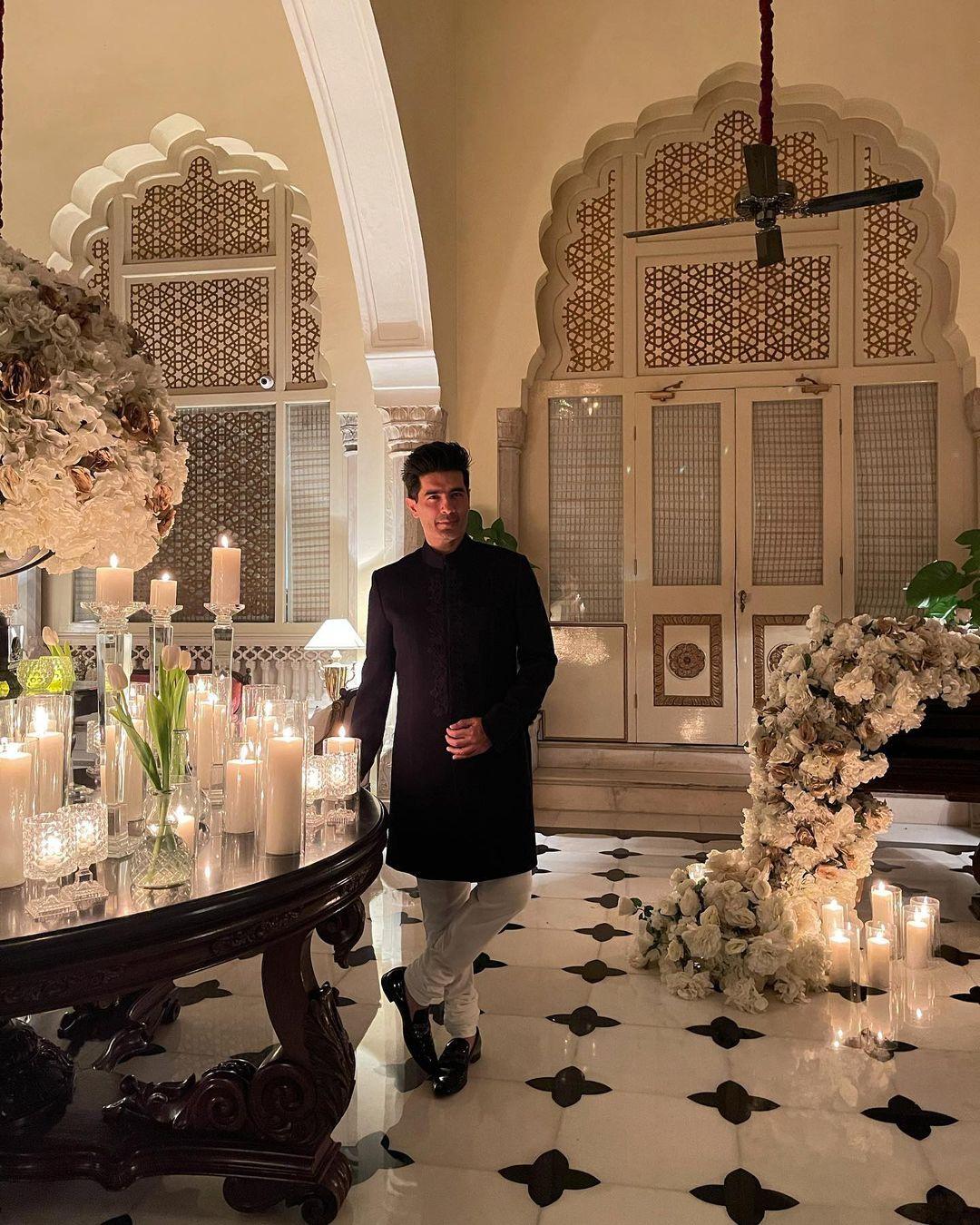 Image Credits: Manish Malhotra
You can never go wrong with black colour and classic sherwani. Be it a destination wedding or a resort wedding - you will create your charm and vibe among the crowd. Do try to turn your head in any post and pre-wedding function of your best friend.
Lilac Wedding Dress for Men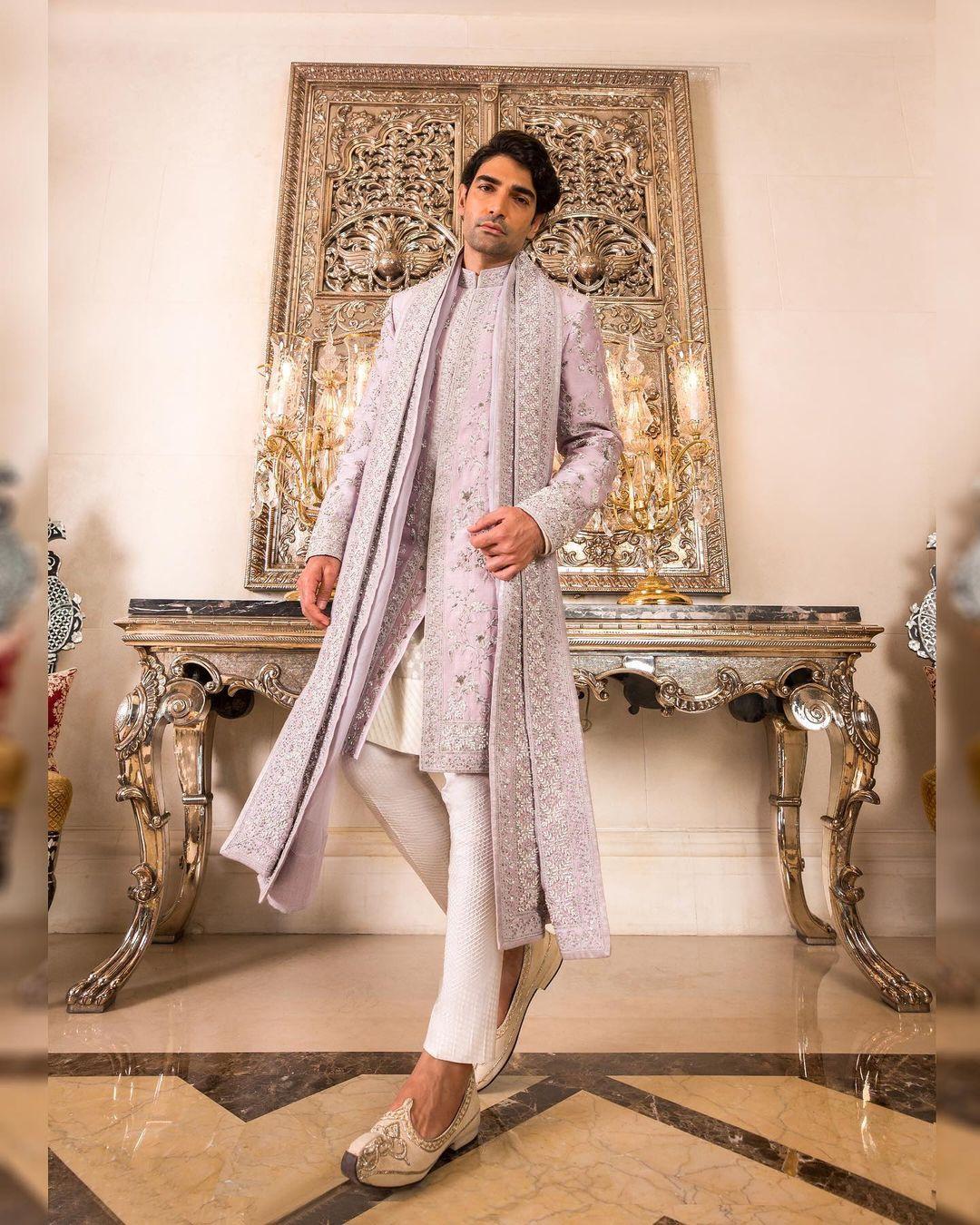 Check out brands like Manyavaar and designers like Gaurav Gupta for the latest fashion updates. It is your day, look striking and wow your bride!
Brocade Sherwani for Your Wedding Day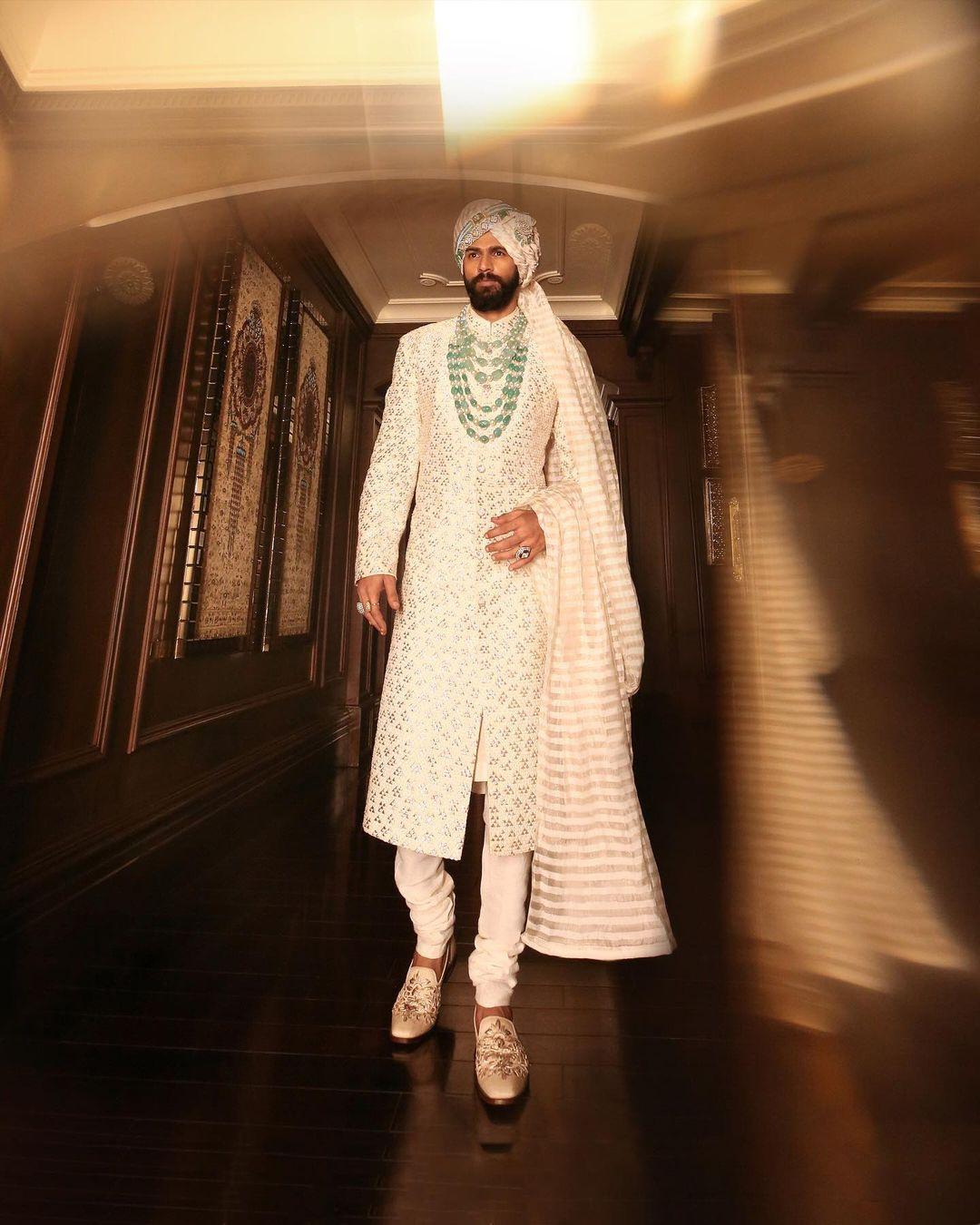 Image Courtesy: Manish Malhotra
When it comes to designing wedding outfits, Manish Malhotra tops the charts! Are you getting married this summer? You can wear this ivory raw silk sherwani to create an imperial look. Ivory raw silk sherwanis go well with tonal striped wedding safas. If you're looking to add a dash of glitz to your summer wedding look, wear the right footwear and exquisite jewellery.
Also Read - Jaw-Dropping White Sherwani Styles for the Grooms
Wedding Kurta With Drape Detailing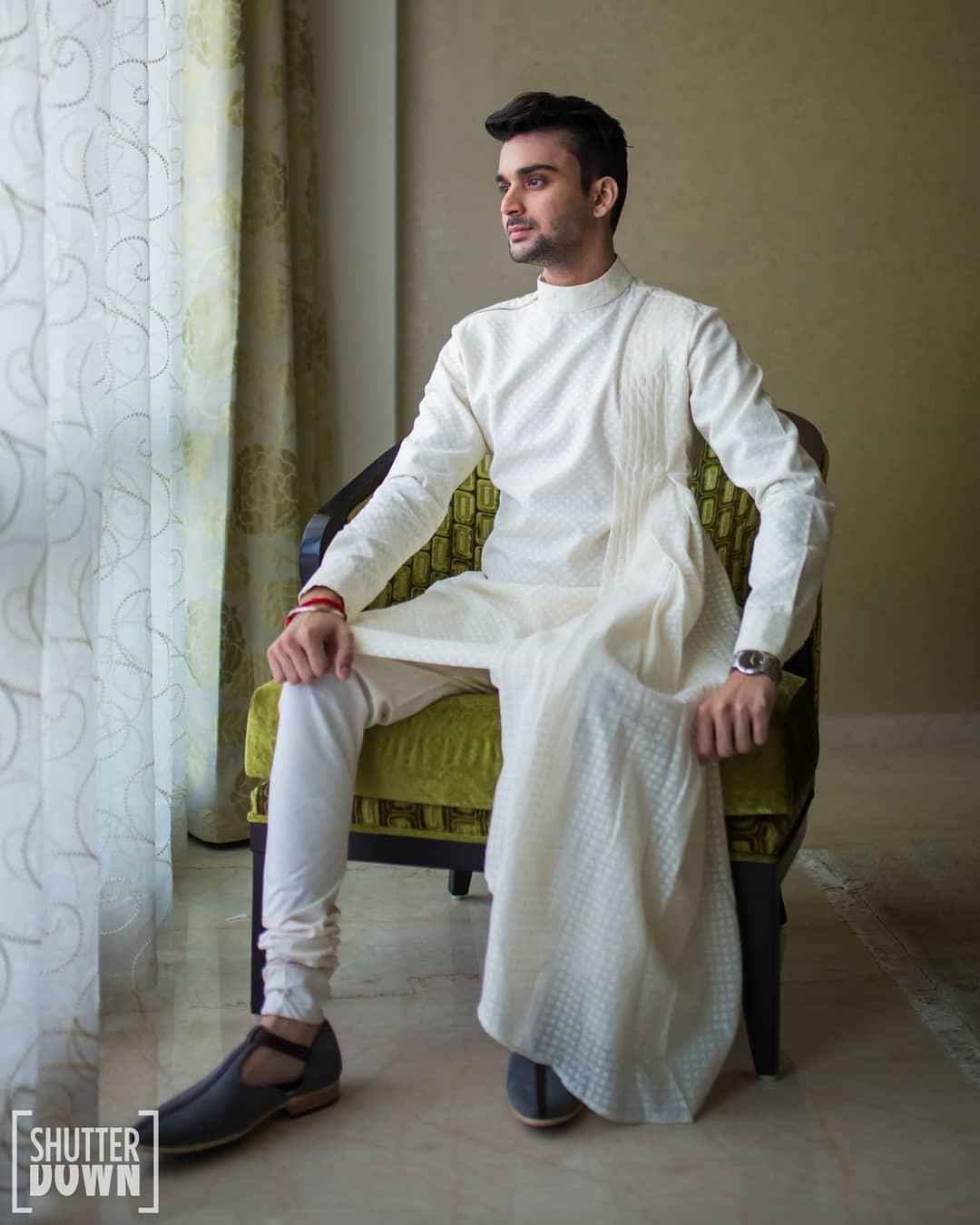 If you are looking for something modish and traditional, both, here is a white half-slit Sherwani. The high-neck garment has a piece of cloth draped in such a style that it gives it a voguish touch. The drape adds oodles of charm to these latest wedding dresses for men. It's a great piece for men who want to make a statement.
Statement Silk Sherwani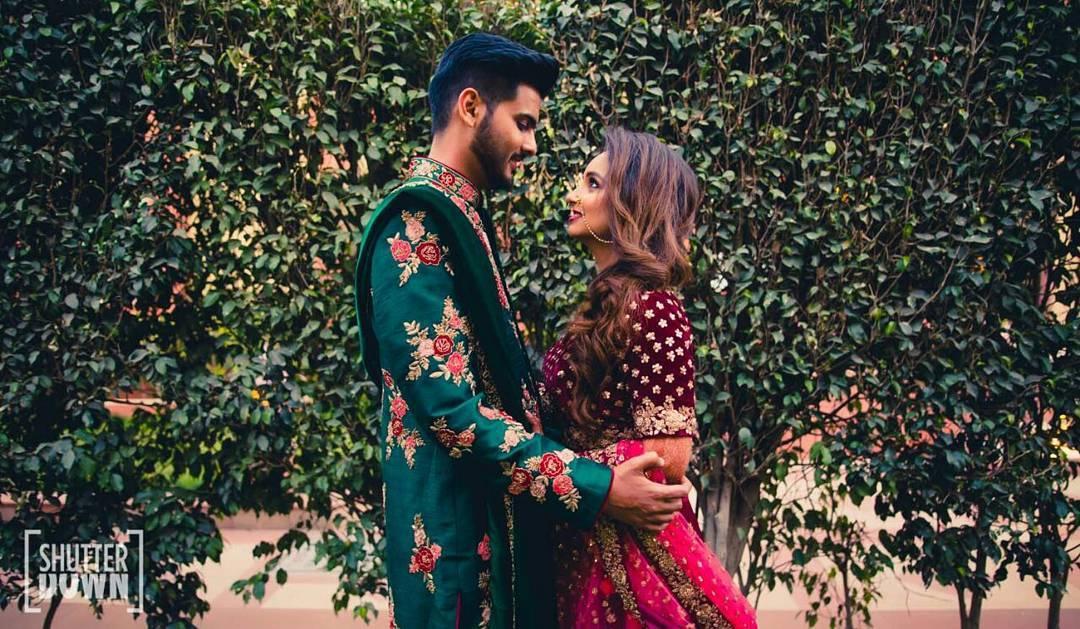 This silk Sherwani is a lovely peacock green statement piece. The random patches that are stuck on the front and the long sleeves of the sherwani make it traditional yet modern at the same time. The groom also paired a stylish velvet stole that made him look like a style icon. You can team up tan loafers to complete the look.
Wedding Dress With Contrasting Hues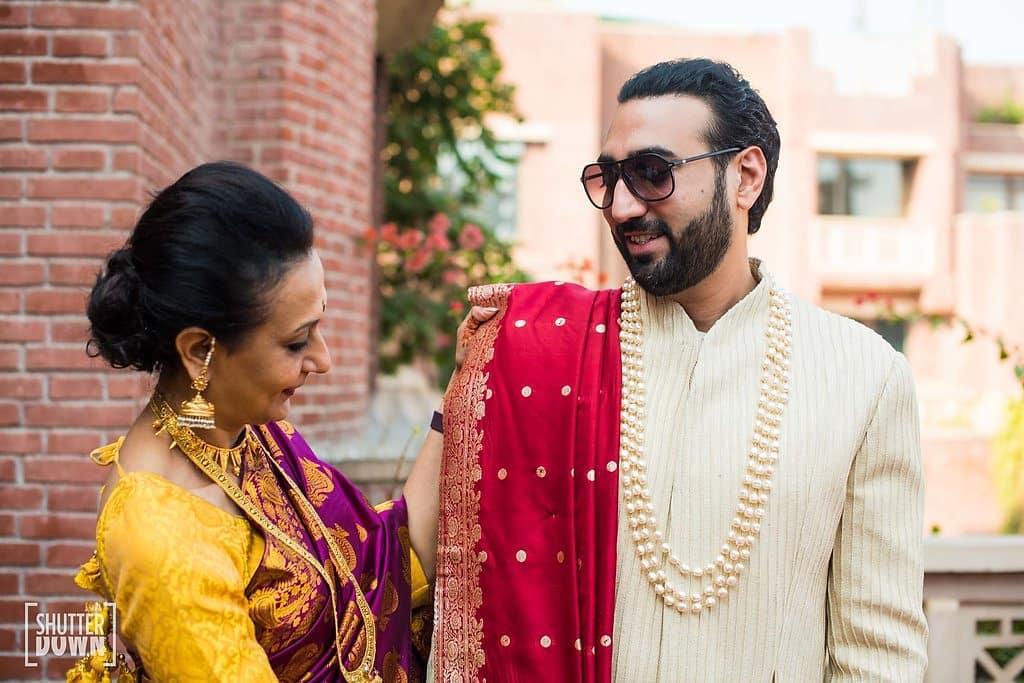 Elegance lies in white. This off-white Sherwani looks dapper on the groom. This elegant Sherwani has a Bandhgala and makes for a regal choice. This has to be one of the latest wedding dresses for men. Wearing Oxford shoes was a great choice!
Anarkali-style Wedding Sherwani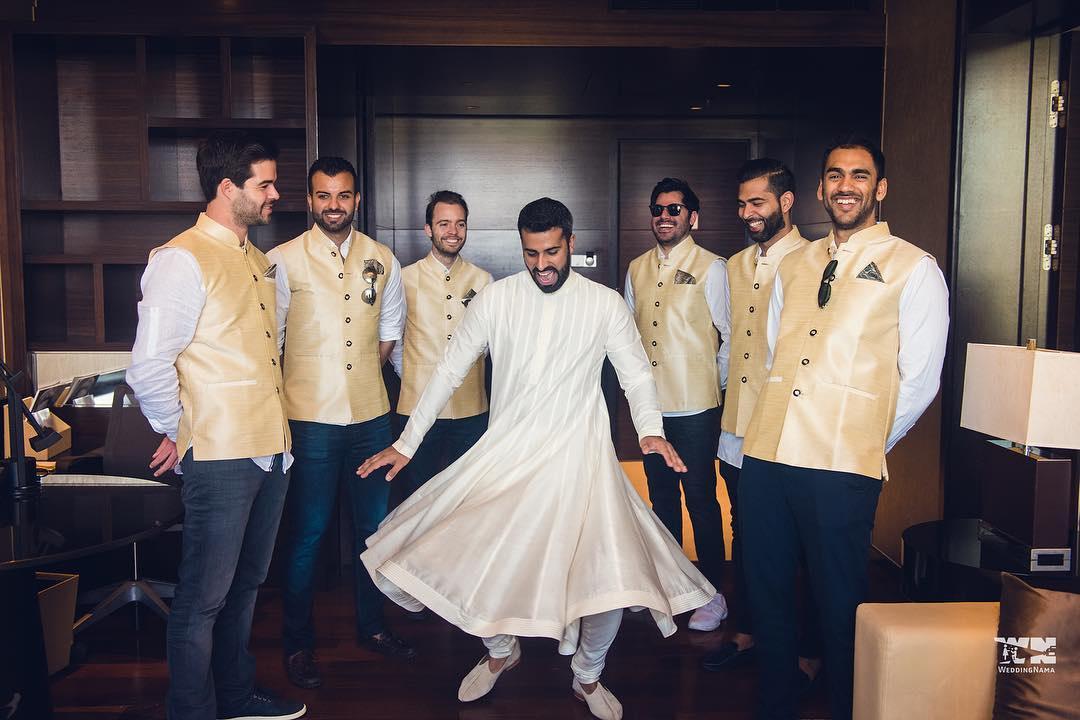 Are you a fashion-savvy groom? If yes, get your hands on this Anarkali-style Sherwani. Simply throw on a pair of Patiala Juttis and you will be good to go. Let us take a moment to appreciate how boldly the groom pulls off this Anarkali Sherwani for his wedding day!
Velvet Wedding Sherwani for Grooms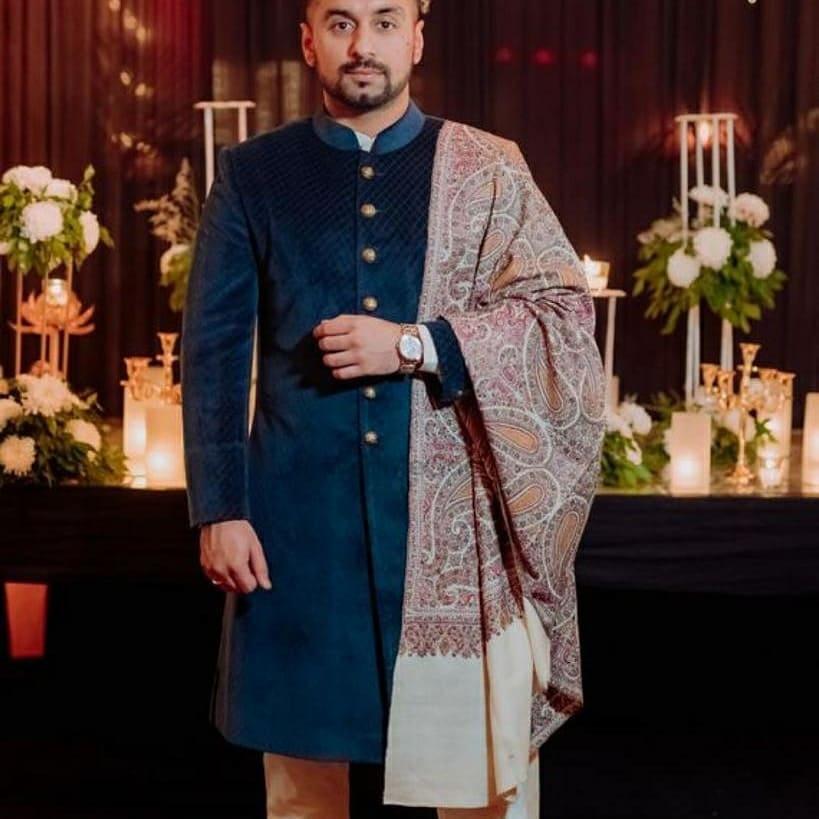 Image Credits - Pinterest
With a list of the latest wedding dresses for men, hopefully, it is now easy for you to pick your outfit. Look for various fabrics and styles, mix and match and create something out of the box for your big day.
Gold & Ivory Wedding Sherwani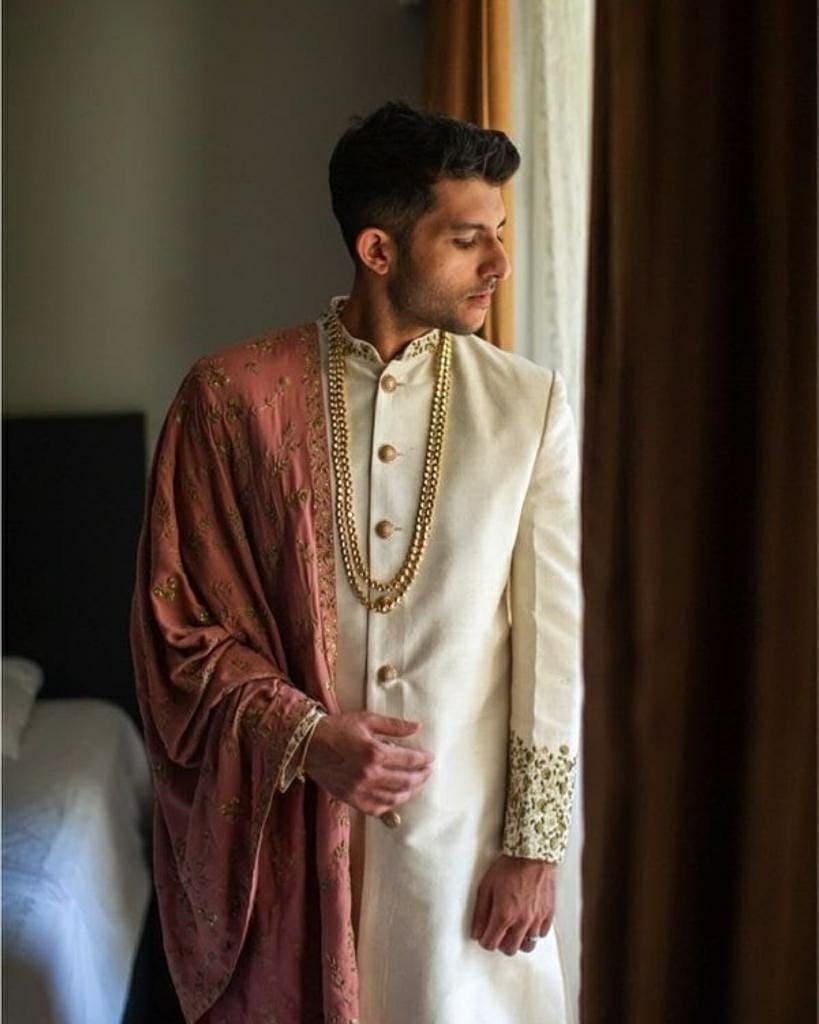 Image Credits: Pinterest
As a groom, you have to set the perfect example of men's fashion in front of your friends and family. The bride has the chance to look just as stunning at the wedding, so why should the attention go all to her? Today's modern designs are incorporated with traditional styles, giving men plenty of options to look their best on their wedding day.
Subtle Floral Embroideried Sherwani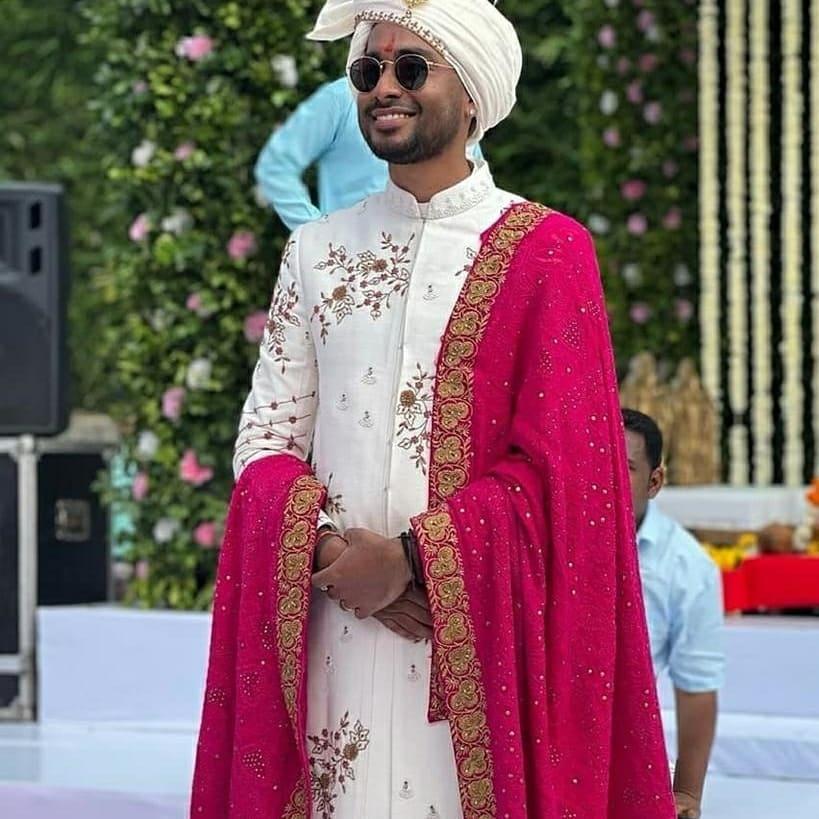 Image Credits: Pinterest
Men can choose summer wedding dresses that range from voguish sherwani designs to dapper tuxedos. Additionally, with designers creating a wide and trendy range of Indian wedding dresses for men in summer, grooms no longer have to worry about not having enough options!
Regal Wedding Dress for Men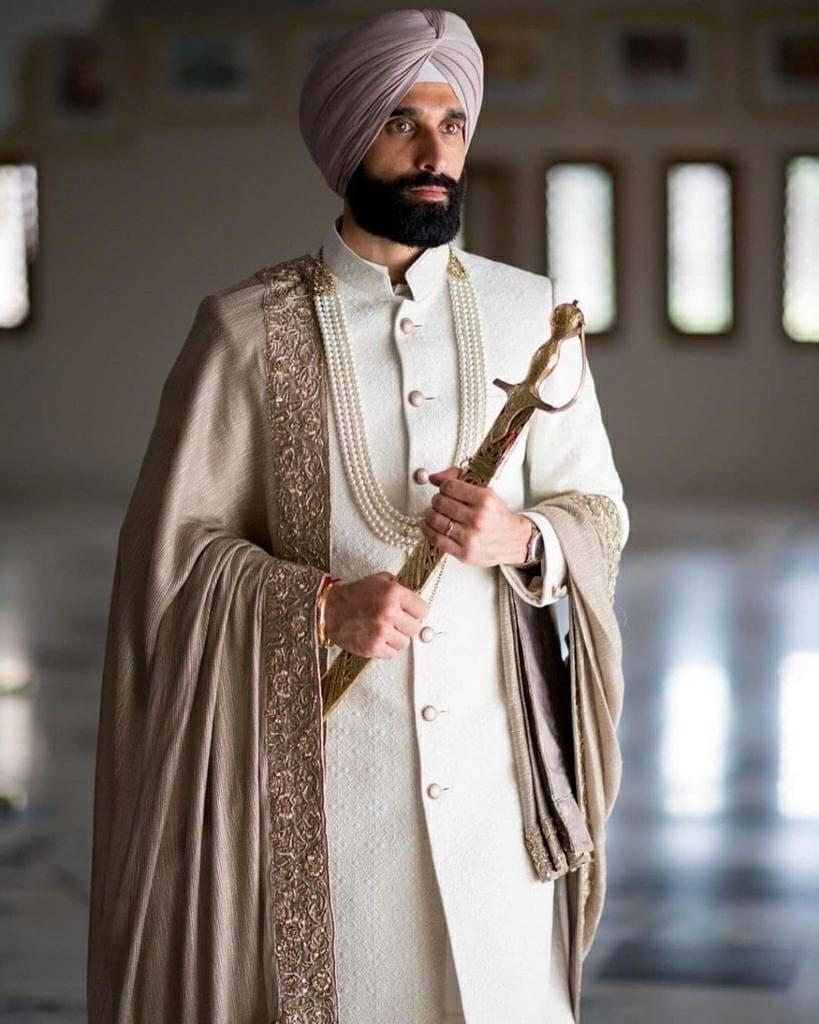 Image Credits: Pinterest
Ideally, Indian wedding dresses for grooms in the summer should hit the bar of both trend and comfort. In addition to elaborate embroidery on jackets and cowls, hemline designs, as well as pleated groom sherwanis, there are innumerable designs in development by designers around the country.
Royal White Embroidered Sherwani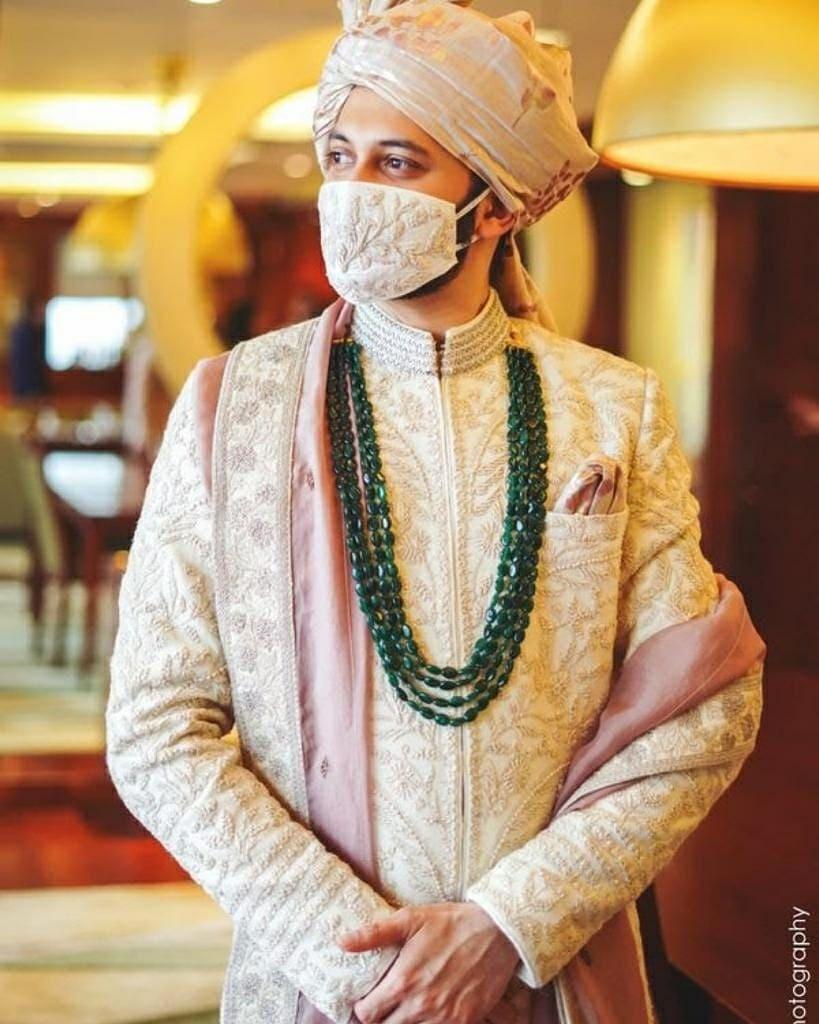 We understand that some grooms-to-be like to follow current fashion trends - if you are one of them, you have come to the right place! This simple wedding dress for men is elegant to the core.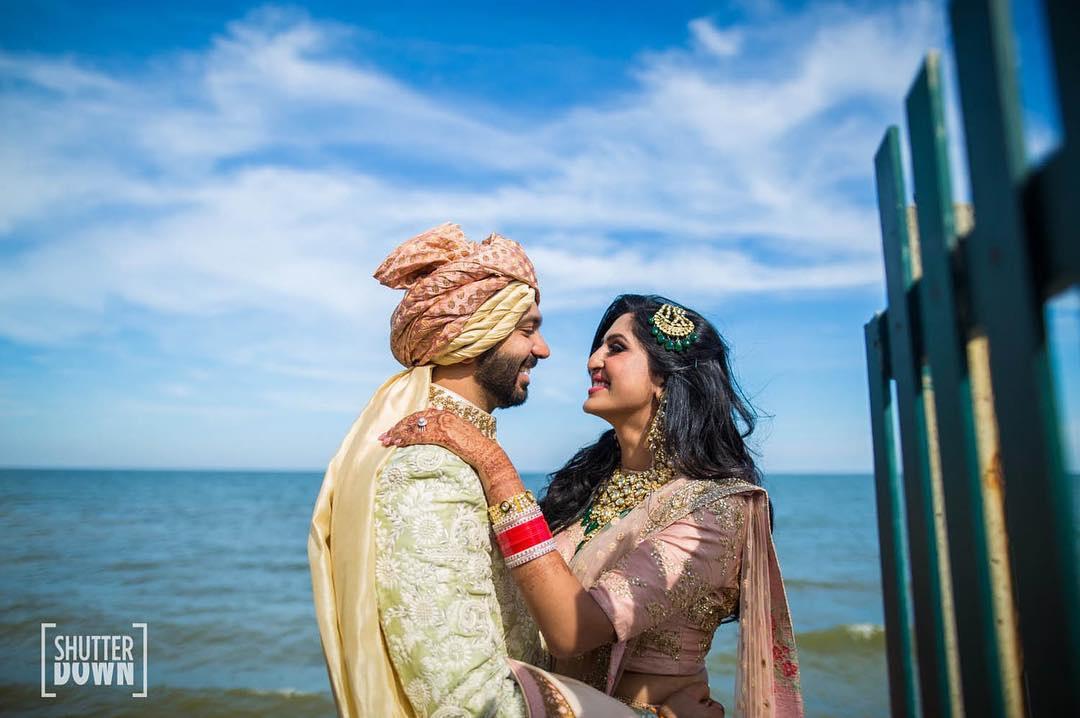 Make your shopping list easier with our top picks of wedding dresses for men that you should bookmark right away. Whether you want to choose the latest safa trends to make with your outfit or stunning engagement dresses to look your most dapper self, we'll help you pick out the best one as per your style and choices.
Check out these stores near you that offer Sherwanis.
With Words By Meha Khera
Top Blogs on WeddingWire India