Dress Combination for Couples Alert: the Wedding Trend That Truly Shows That You're a Team!
A couple that figures out their dress combinations together, stays together! There are so many ways to look like a dynamic duo during your ceremonies! From matching to contrasting outfits, check out all these ideas!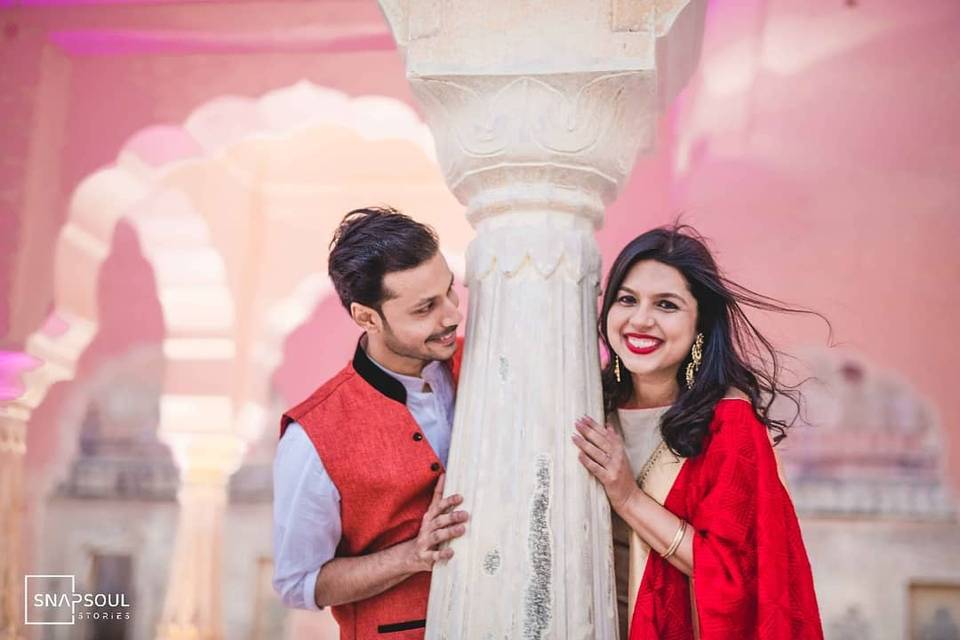 Weddings are the perfect time for exhibiting your fashion sense. On this occasion, the bride and groom both mark the day with their royal wedding ensembles. While the bride wears her wedding lehenga to look like a queen, the groom either wears a sherwani or a suit to celebrate getting married to his queen. As it's a special day for both of them, most couples these days are following the recent trend of making a great dress combination with their wedding attire.
They either wear contrasting colours or go for matching colours. Either way, you can look perfect for each other when wearing a dress combination and also look great in the wedding photos. We are here to show you some of these wedding dress combinations to give you an idea so that you can apply the same at your wedding!
1. Black and White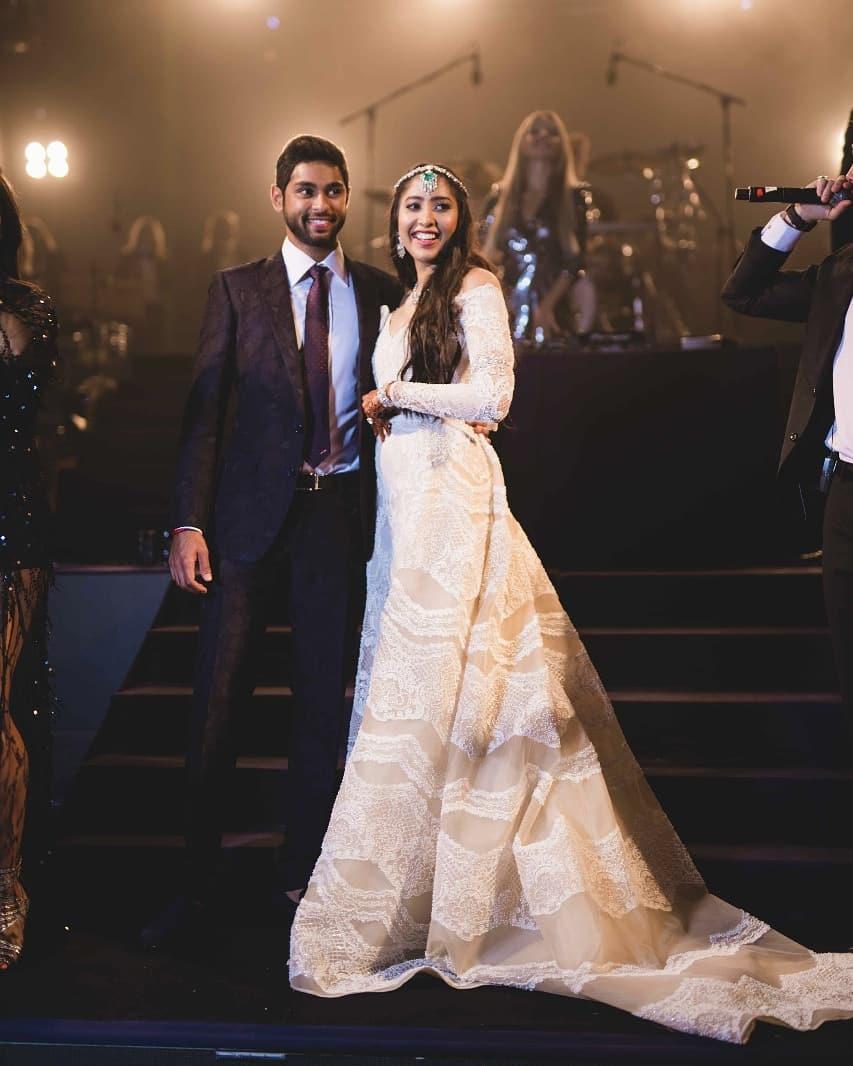 One of the most common yet beautiful dress combination themes is the black and white dress combo for a bride and groom. Whether you choose it for your wedding day, the cocktail party, Sangeet ceremony or the reception, it certainly pays off with its style and looks. As the groom, you must wear a black suit, as a white one would just look retro.
A black suit or tuxedo would be perfect with gelled hair. The bride must wear a nice white gown and both of you will be good to go! This dress combination will certainly charm the wedding guests.
2. Jewellery Combination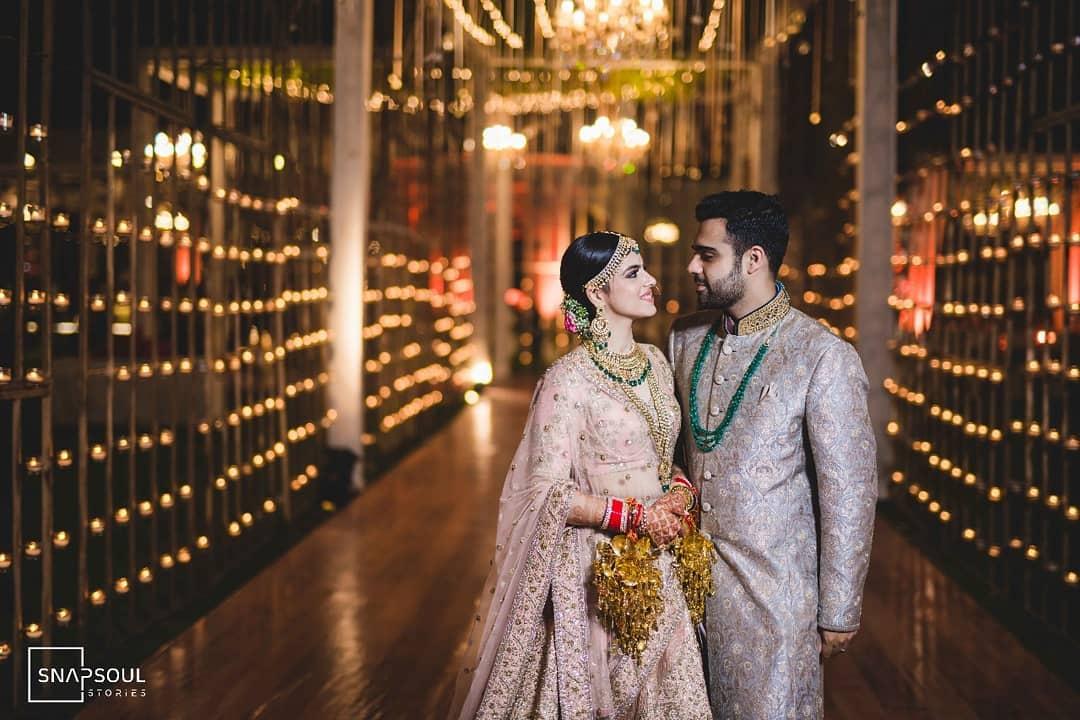 Your wedding lehenga doesn't have to match your groom's sherwani; it can be a bit unique too. While your groom can wear grey coloured embroidered sherwani, you can wear that perfect wedding ensemble that you had finally found after months of searching. However, you guys can still match it with jewellery.
While you wear a gold necklace embellished with green gems, your groom can have a golden embroidered collar and wear a long green gemstones necklace. A true way of showing true love with the perfect dress combination! Don't forget, your jewellery combination can be a thematic one too, as both of you can wear Hyderabad jewellery!
3. Golden Combo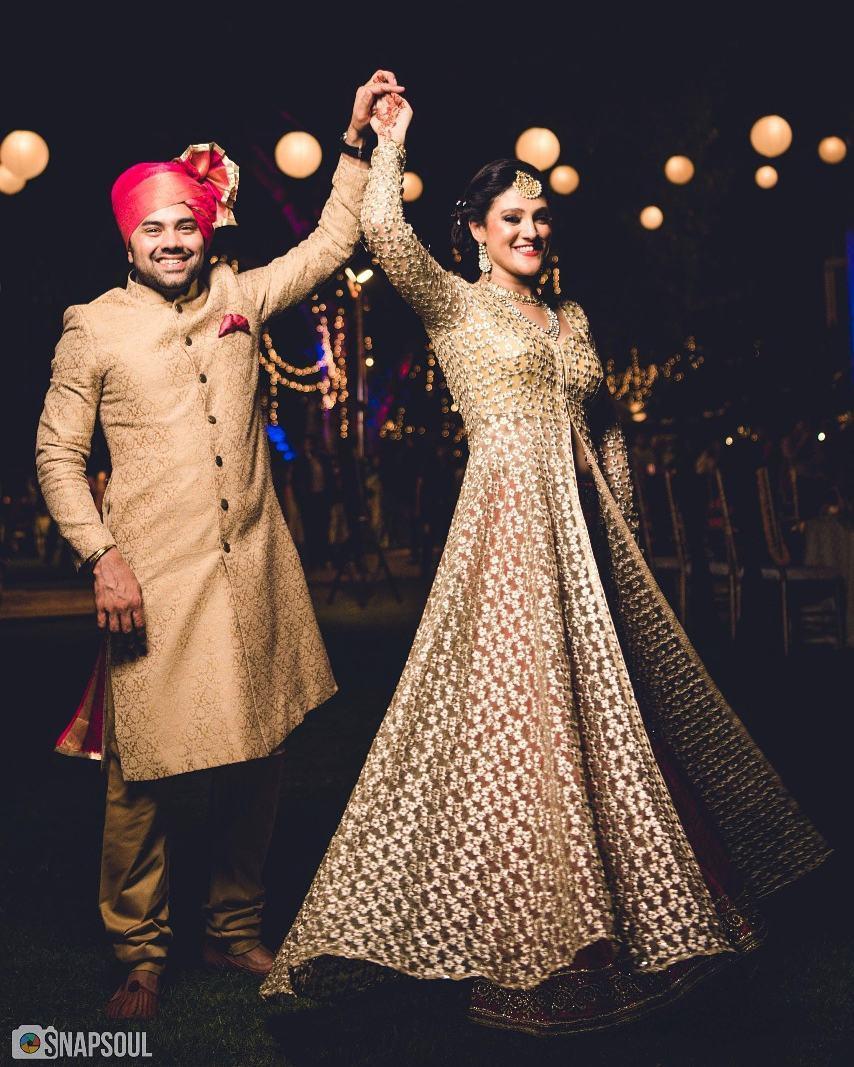 Golden is not only a royal colour but also a colour that's associated with weddings. It is always incorporated somehow in weddings and this time it is being used in clothes. While the beautiful bride wears a flared golden gown, the groom is wearing a shimmery golden sherwani.
While they both are wearing matching colours, they still took time to create a slight contrast in the type of dresses that they wanted. This type of dress combination looks heavenly on them and makes them look like royals.
4. Baby Pink Combo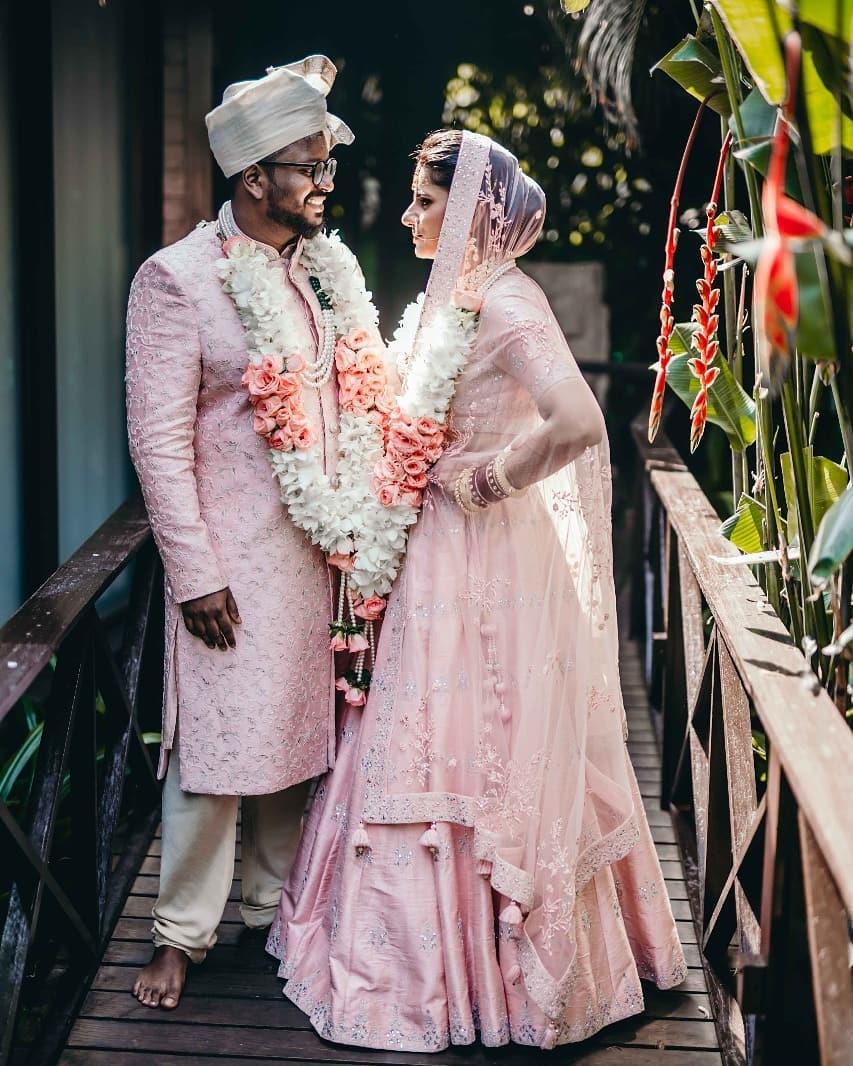 Wearing the very same colour, this newly married couple looks very cute and ready to spend their lives together. It is not always possible to wear the very same coloured lehenga choli and sherwani for a wedding as everyone has their own tastes, however, this wedding couple has totally nailed it and looks like fantastic in these clothes. Such a dress combination is quite eye-catching and easily brings you into the limelight. You both will be the talk of the town for weeks!
5. Green Combo for Parties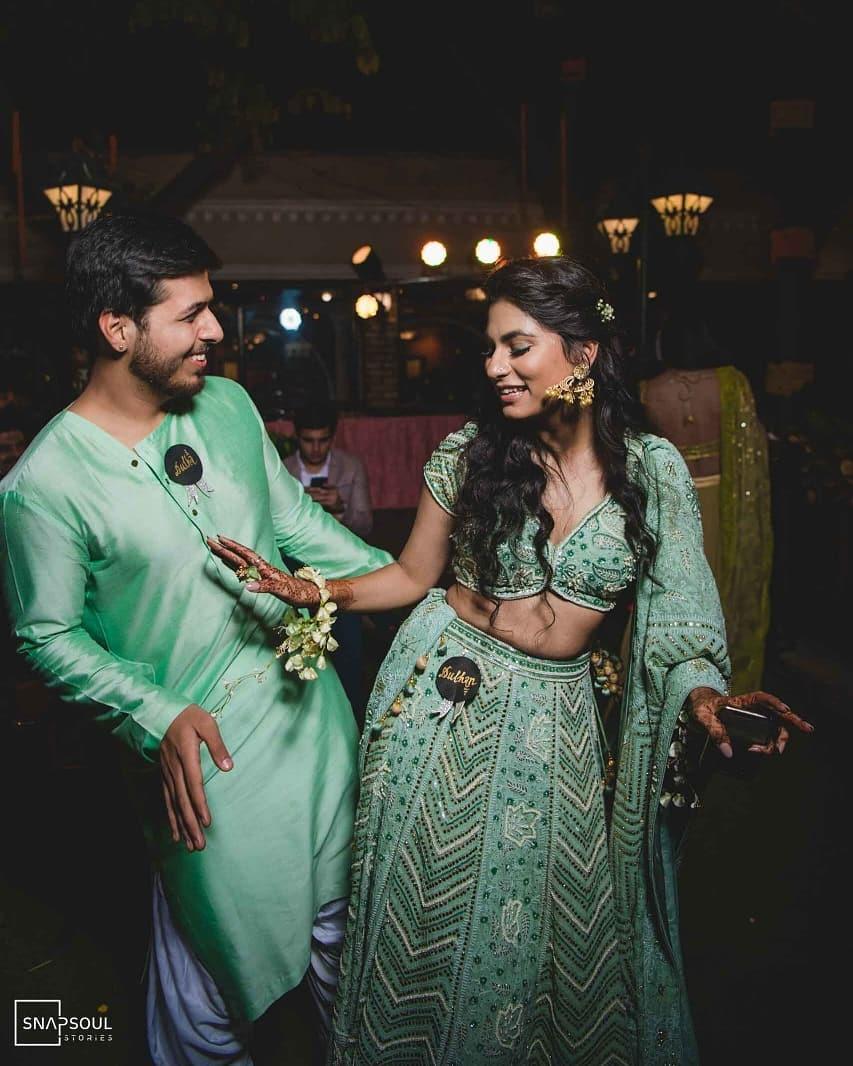 A perfect dress combination for your Sangeet ceremony, this is a shimmering pale green colour which becomes the life of the party once you and your partner don it. While you wear a light embroidered lehenga, he wears a light, plain sherwani.
Spend the whole night dancing to the latest tunes of Bollywood in style. Both of you will become a fashion star in these fancy clothes, donning such traditional yet contemporary pieces of art!
6. Blue-Blue Matchy-Matchy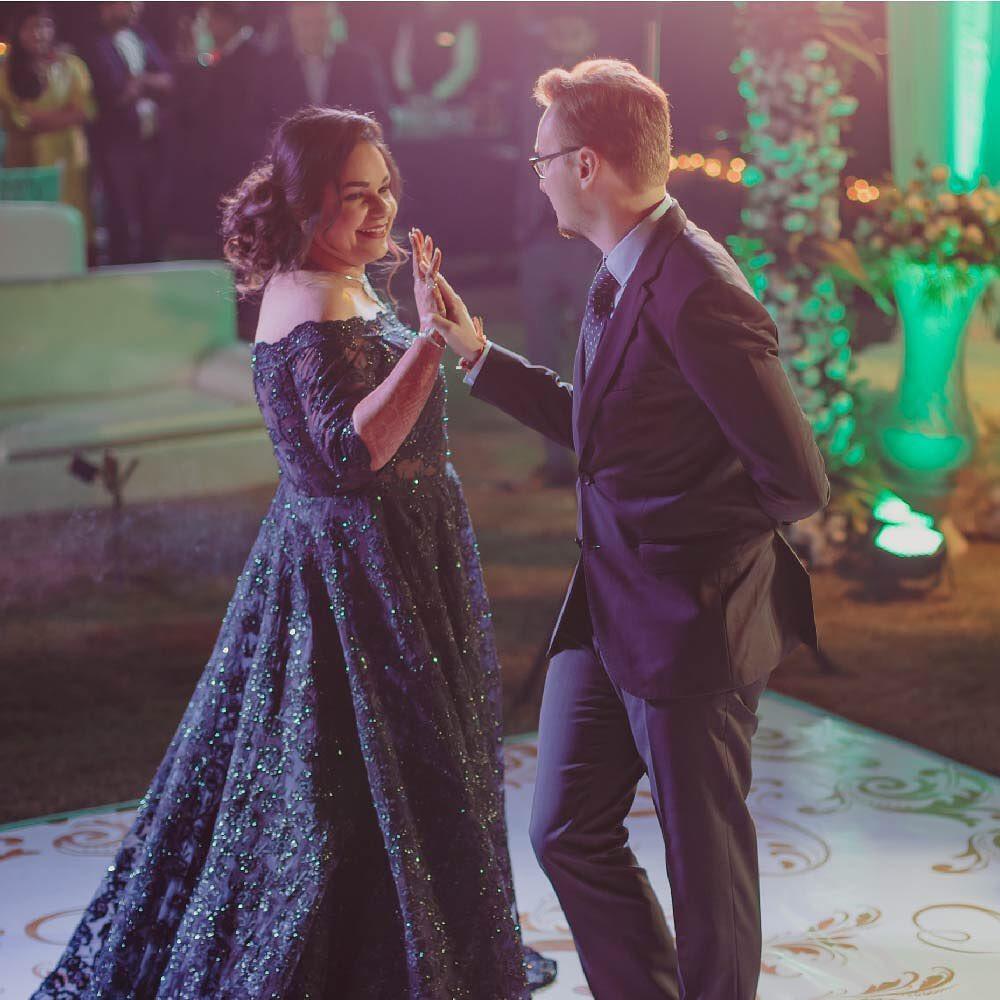 While you wear an intricately embroidered blue coloured contemporary gown, he will be cleaning up his look by stepping into a nice blue wedding suit for your Sangeet ceremony. Dark blue is the perfect colour to go for at night time and looks beautiful in both gowns and suits.
Embroidered well, it can make you look like a queen with neck designs like off shoulder or round neck designs. With everyone waiting for your performance, wow them with not just your dance steps, but also your coordinated clothes!
Wearing a dress combination at your wedding might be common, but it is something that still makes the wedding guests go gaga. No matter how much planning it takes for the both of you, do wear a proper dress combination, whether on your wedding day or a pre-wedding ceremony like the Sangeet ceremony. Such small practices make a deep impact, not only on your wedding but also on your marriage, making your bond stronger! So, go ahead and create a sensation with your couple dress combination!
Check out these wedding photographers who can capture your fashion sense perfectly! Get in touch with them today!