Brand Talking Threads Reveals The Latest Menswear Trends For This Wedding Season
Wondering how to keep up with the latest grooms wear trends? We spoke to Talking Threads, a brand rooted in rich Indian legacy of masterful artisanal skills and exceptional menswear. Explore grooms-wear trends and find your perfect wedding ensemble.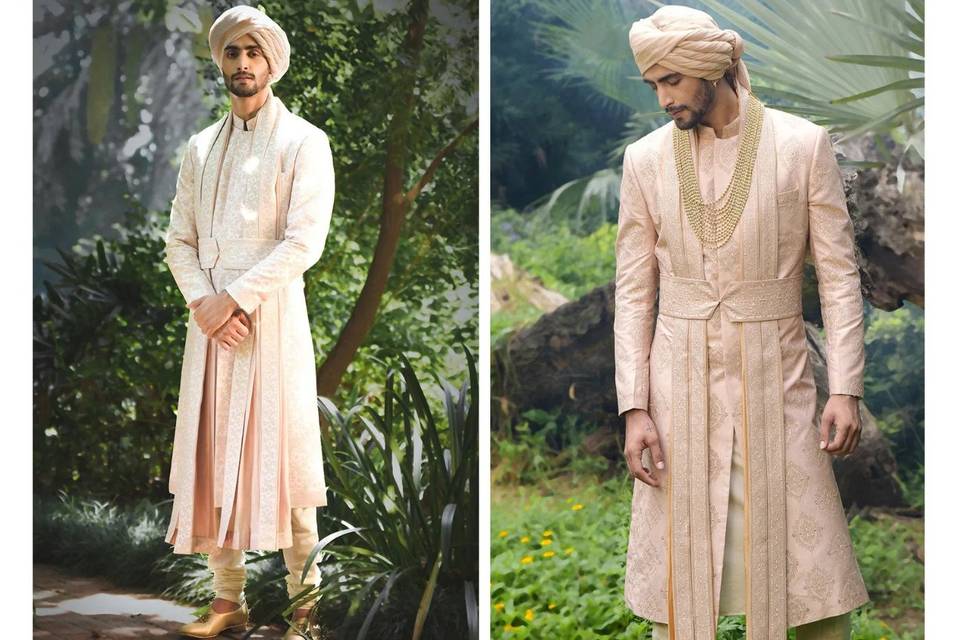 Since its inception six years ago, Talking Threads has been a brand that celebrates fashion and culture with its intricate craftsmanship. From offering beautiful bridal outfits for all millennial brides to trailblazing reception dresses for men, Talking Threads is a brand you can rely on for your festive and wedding shopping woes. Inspired by traditions and imbibing trends of the modern world, the brand offers you customised pieces of luxury that you can cherish for life.
Founded by Pearl Uppal Kachru, Talking Threads boasts itself as an ethical and socially responsible design house that offers you stunning menswear, a variety of bridal lehengas, as well as outfits for pre-wedding festivities. In an exclusive conversation with the brand, we have explored the latest trends and ideas perfect to suit the millennial grooms who are currently on the lookout for out-of-the-box fashion choices.
Unconventional Groom Wear Colours for the Upcoming Wedding Season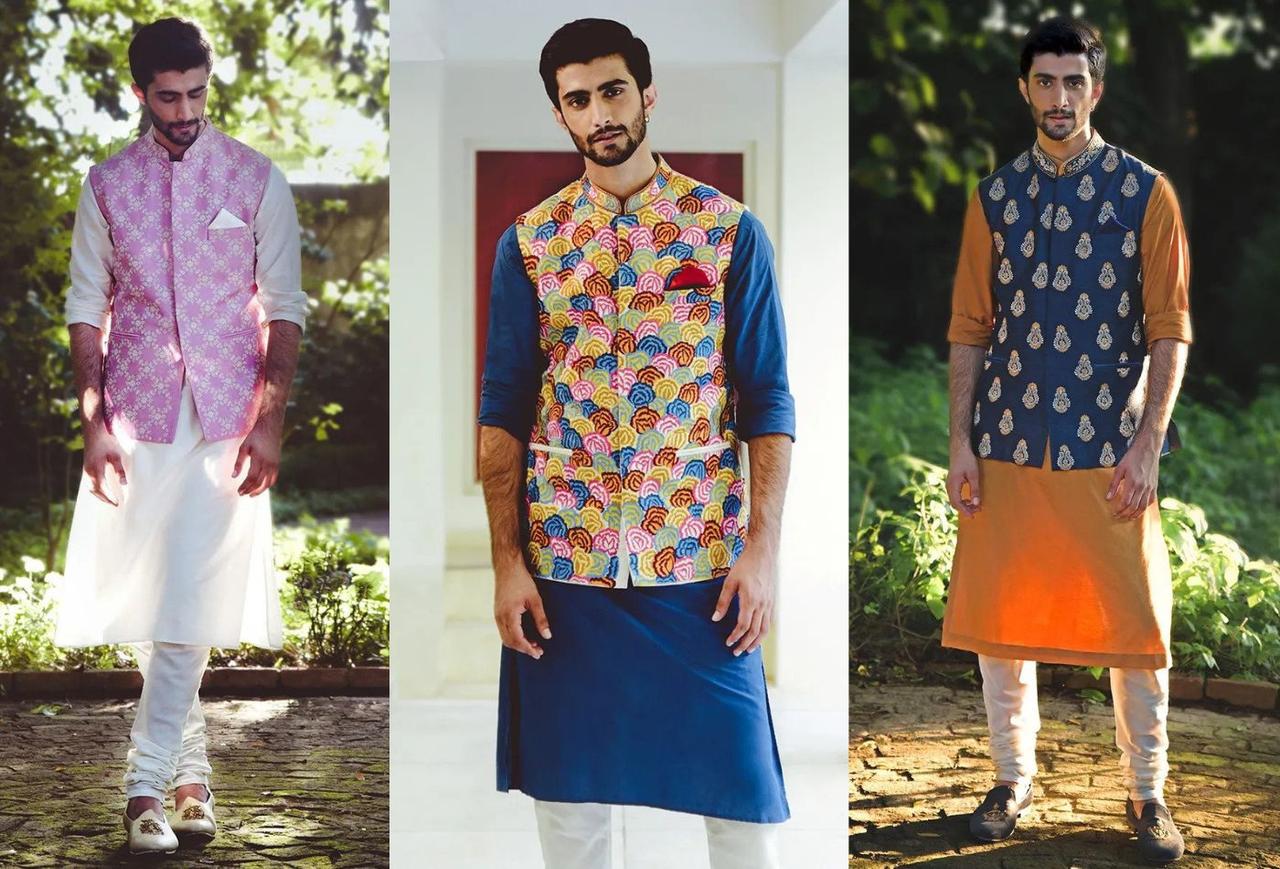 Shop From Their Latest Collection
While we have seen beautiful pastel sherwanis for day weddings, bold and bright colours are always chosen for glam wedding festivities at night. Pearl Uppal Kachru says, "It's more about choosing an unconventional hue of classic colour and going for striking colour pairings rather that steering away from the classic colour palette. For the wedding ceremony, ivory with touches of gold and light pink are classics that are always on trend. We are seeing pistachio, mint and lilacs becoming a favourite in pastels."
"Deep reds and burgundy are also strong on the list. For the sangeet and cocktail, mysterious tones of blue and jewel tones of green are a hot pick among the bespoke pieces we are doing for grooms. For Haldi and Mehandi events, while yellows and greens remain a classic, we see pink and lilac pastels, as well as striking colour combinations like gold and blue, gold and plum, becoming a preferred choice."
Trends, Embroideries and Fabrics for the Minimalistic Groom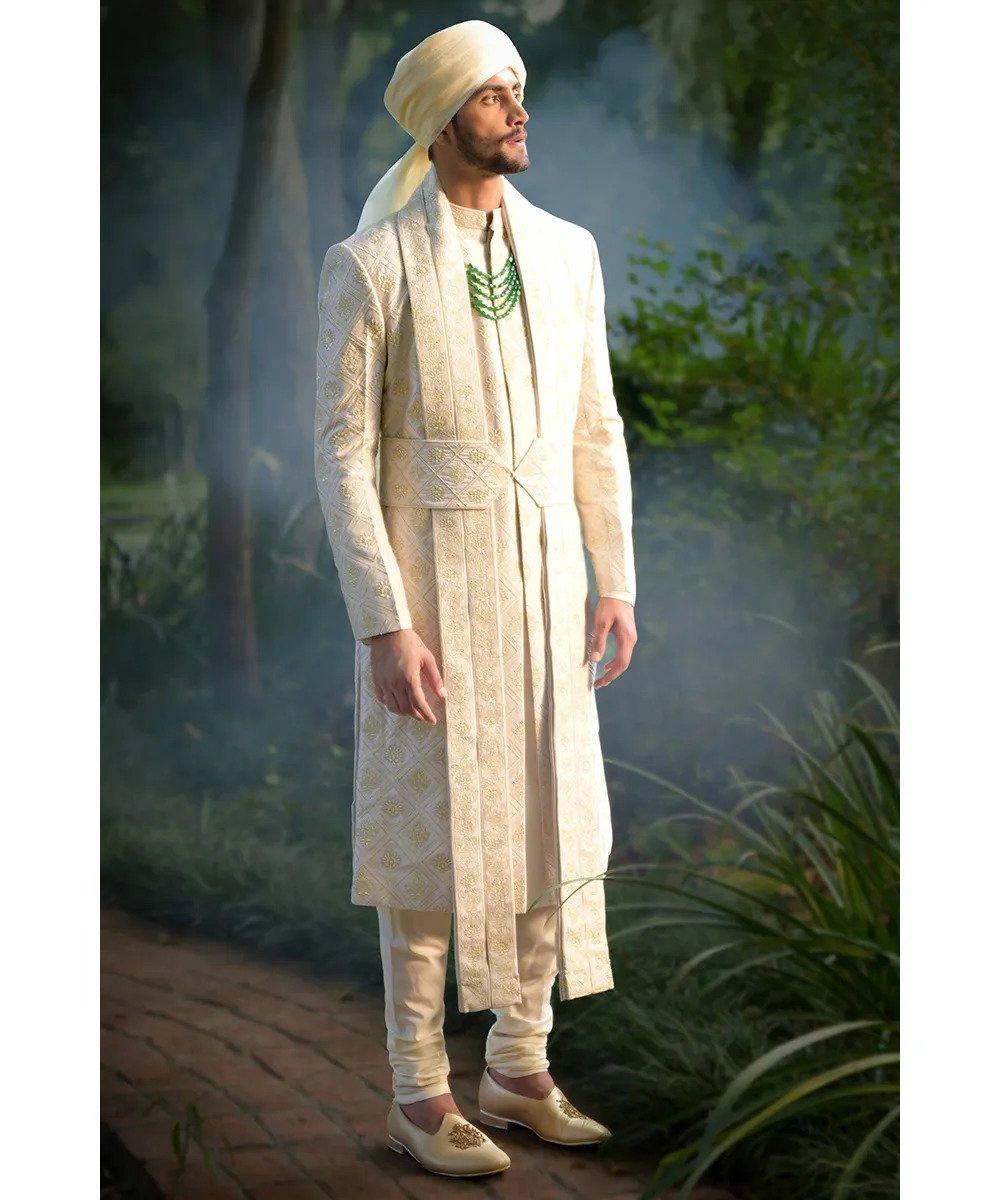 The top trends for minimalist grooms that we have identified include tonal silk thread embroidered surfaces, micro-quilted and pin-tucked silks, light touches of gold and minimalist but sharp accessorising. The focus is always on how the fabric, embroidery and tailored details come together to create a look that effortlessly blends suave style with timeless heritage.
At WeddingWire India, we believe that fabrics are the soul of a garment and especially so for menswear, because of the experience it provides to the grooms as well as the sprinkle of embroideries that not only elevate the entire look but add a touch of royalty. As Kachru rightly added, "I would say silks for winter weddings and linens for summer are my forever favourites for the groom. Manipulation of fabric surface through hand-stitched details is a technique we strongly lean on. As for embroidery, tonal intricate embroidered details with touches of gold. While florals will be a mainstay, geometric will also play their part, and the fusion of the two makes for very interesting artwork."
Exclusive 10% Discount On Their Collection
Notable Trends in Grooms-wear Post Covid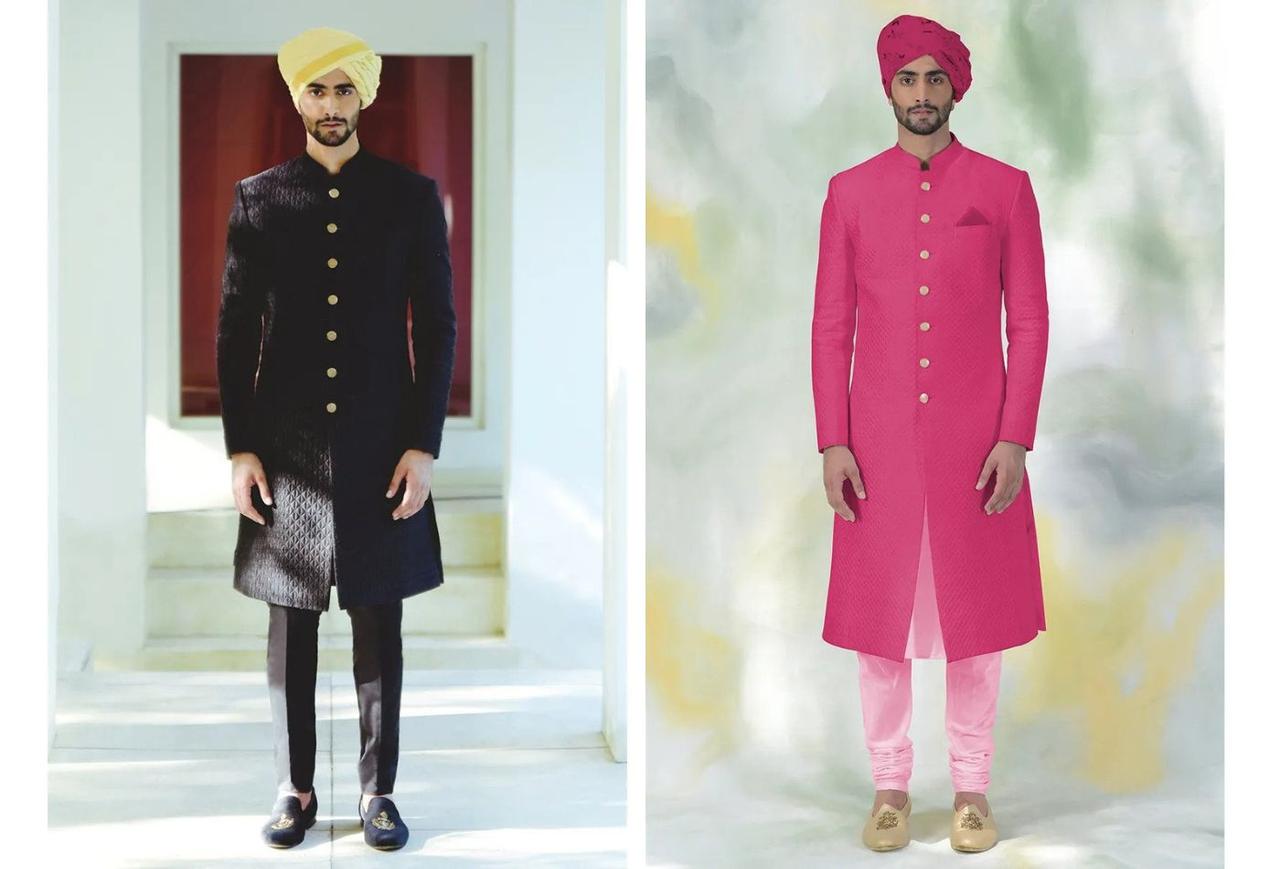 Clearly, grooms are opting for flamboyance. They want to choose groom outfits that complement a red bridal lehenga beautifully, but the bride's look is not dictating their sartorial choices. Couples are planning it together, and the groom wants to ensure his personal style comes through by adding little details that are close to their hearts. "At Talking Threads, refined opulence, restrained flamboyance and love for craftsmanship are the key codes for groom dressing", as explained by Kachru.
About Their Latest Collection - Sonnet 18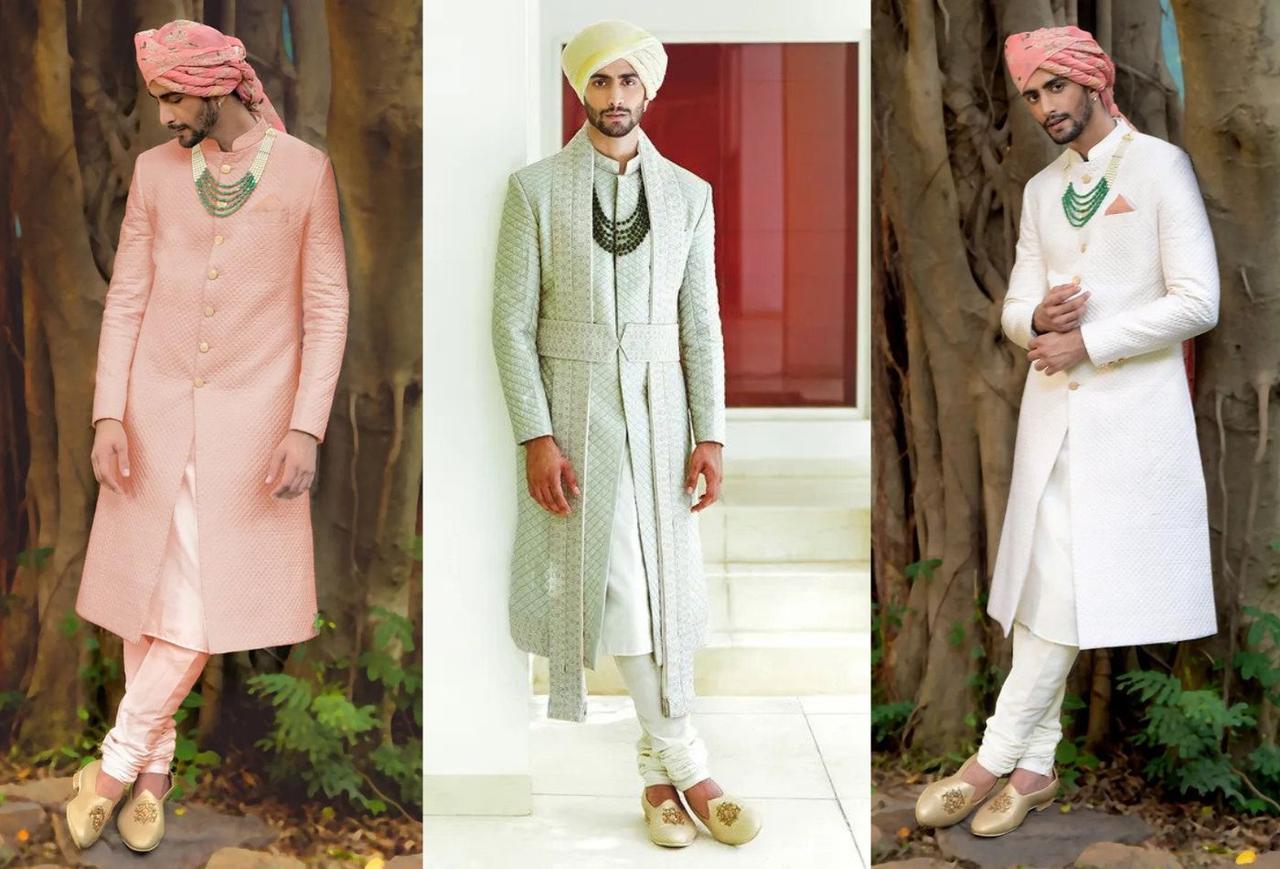 "Sonnet -18 is an ode to love that inspired this collection. Keeping alive the graceful and purist workmanship of our indigenous craftsmen, the collection echoes love poems from around the globe. It finds its symbolism in Shakespeare's Sonnet 18 and honours the renewal reflected in the wedding ceremony as the couple transitions from bride and groom to husband and wife. The 18 ensembles reflect all shades of love, growing from young affection to eternal devotion."
The gorgeous Sonnet 18 collection by Talking Threads highlights the beautiful blend of fashion and art where timeless tradition meets modern aesthetics, artful hand embroideries, and romantic details meet meticulous craftsmanship. Each garment is customisable to the bride and groom's preferences, be it colour, silhouette, necklines, sleeves or even the couple's personal story incorporated into the garments to make their wedding day the most special moment of their lives.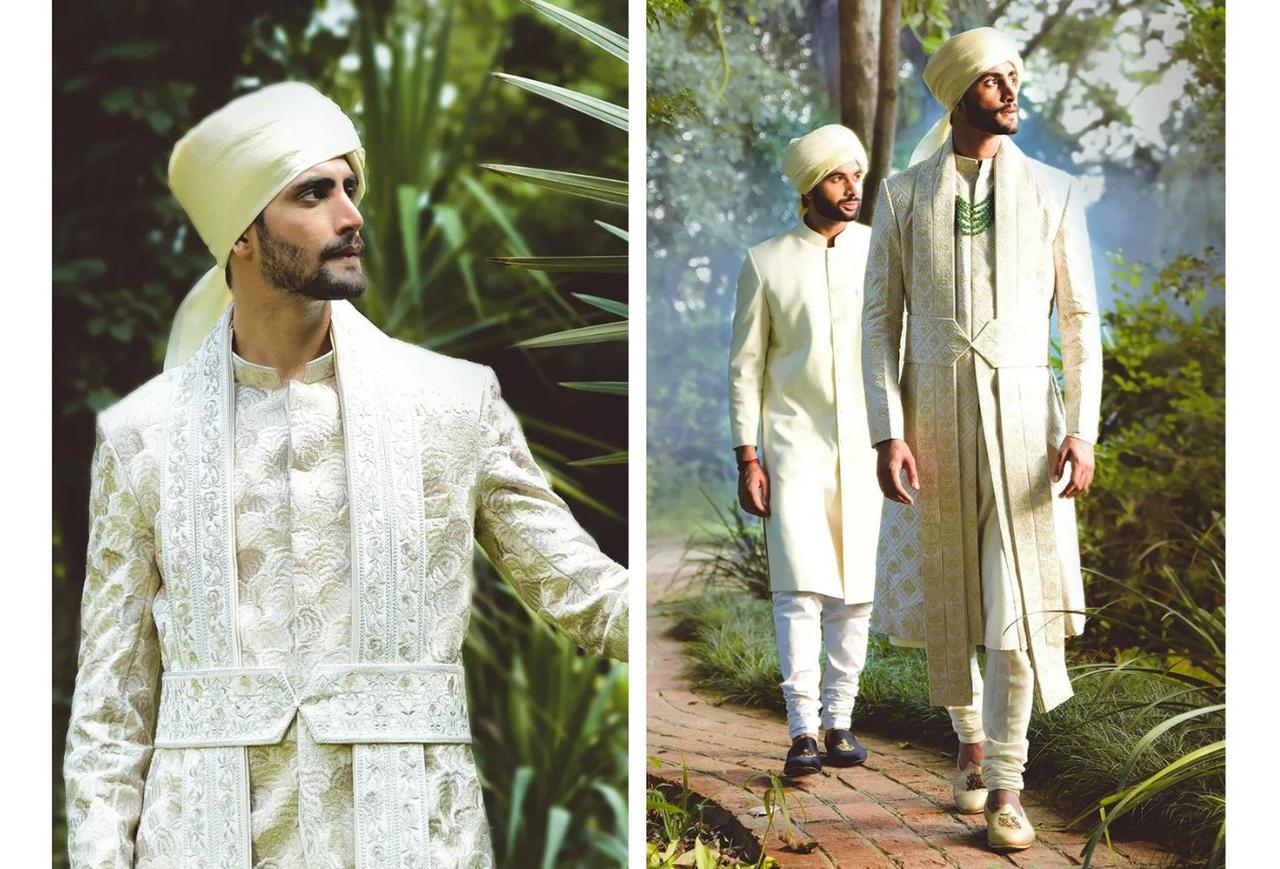 If you are the groom looking for a bold or pastel colour palette for your wedding sherwani, look no further than the amazing collection from Talking Threads. For Indian wedding couture, the brand focuses on timeless and classic aesthetics, especially for exceptional menswear.
We are amazed to see how the brand offers something unique yet trendy for their grooms-wear collection, where every outfit portrays a story of exceptional craftsmanship and artisanal contribution to offer you a world of luxury right at your doorstep.
All images have been sourced from the brand Talking Threads.
Which one of these stunning fashion trends for grooms would you choose for your wedding day? Do let us know in the comments below!
Top Blogs on WeddingWire India