Image Credits - Brand Nama
A wedding invitation is a formal announcement, requesting near and dear ones to join in the celebrations. It can be considered as a heartfelt rendition of your love respect and intend to invite someone to your most important event in the life. Therefore, with a purpose to convey your love for the person whom your inviting should be appropriately articulated. The articulation in India wedding cards is mostly done through Wedding Quotes nowadays as it conveys your heartfelt gesture in the most eloquent way.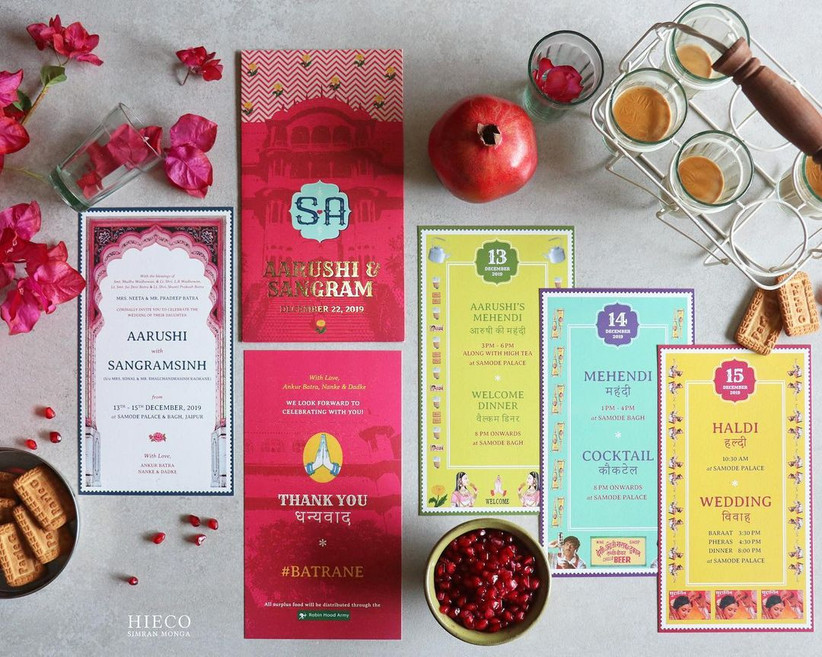 Image Credits - HIECO - Simran Monda
Today, a wedding invitation is shared through various mediums, each with wedding invitation quotes informing guests and requesting them to be a part of this grand celebration. You can even find some wedding songs that have lyrics which make beautiful invitation quotes as sweet and meaningful words that convey the deepest feelings. Even the simplest quote can evoke a myriad of emotions. Some wedding quotes on invitation is creative and some are rhyming so that it can narrate your feeling perfectly.

Quirky Wedding Invitation Quotes for Friends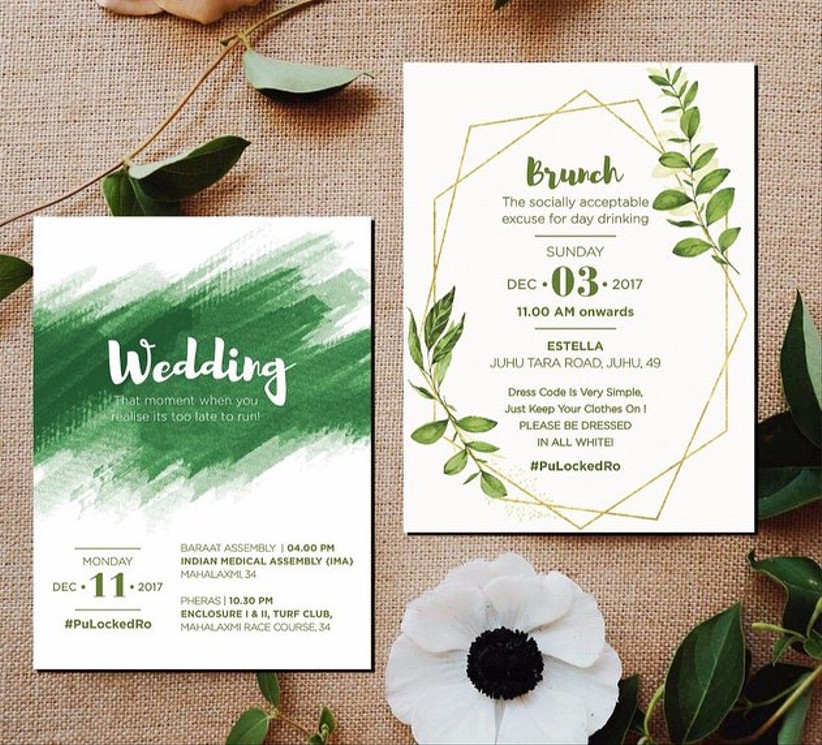 Image Credit - Studio Works Co.
Friendship is a bond that stay forever and thereby there is no need to invite your childhood buddies with a formal and boring invitation. Yes, Wedding invitation Quote for friends can be informal, funny and quirky. Here are some examples –
1. Our grins will only get wider, and our giggles bigger, with our friends on our side as we take the plunge!
Celebrate our big day with us
Brunch – The socially acceptable excuse for day drinking
Dress code is very simple – just keep your clothes on! Please be dressed in ALL WHITE!
Sangeet – Now get out there and shake what your mamma gave you!
Wedding – That moment when you realise it's too late to run!
Heartfelt Wedding Invitation Quotes for Sister's Marriage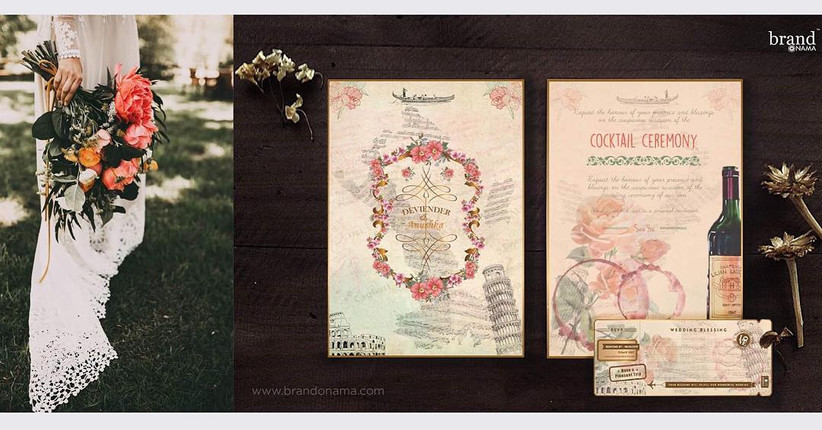 Image Credits - Bandonoma Creatives
A bond between brother and sister is enormously important and which is why it is extremely crucial to jot her wedding invitation quote in a really special way. Here are some examples -
1. It's going to be the most remarkable jiff of my sister's life, and we could think of no one more special to be there with us.
2. Priceless moments in living are meant to be acknowledged in the presence of the ones you love, which is why we wish to see you at our sister's wedding ceremony. ·
3. My beautiful sister is heading down the alley, and we'd love for you to be there and cheer us on.
Noteworthy Wedding Invitation Quotes from Parents

Image Credits - Pinterest
Who else can be more overwhelmed than parents? Yes, getting your child married is not easy as there is so much do and get it fixed. Thereby to make your wedding invitation process easy- here we curated list of wedding quotes for your beloved child – Find here –
1. Life is not measured by the number of breaths we take, but by moments that take our breath away Brock and Meagan Smith ask you to join them as their daughter
2. We learn to experience love in our families and our friends… this unity of new love will not be complete until you share with us this special day We request the honour of your presence at the marriage of our daughter.
Wedding Invitation Quotes from Bible/Holy Scripture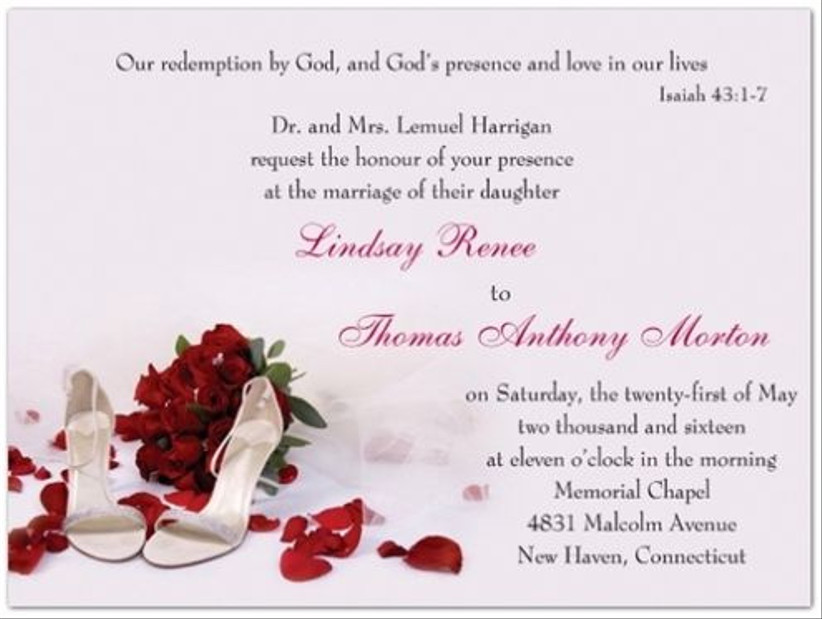 Image Credits - Pinterest
Taking phrase from Bible and inviting your family and friends is considered auspicious and pious. Here are some instances –
Love is patient, love is kind. It does not envy, it does not boast, it is not proud. It does not dishonour others, it is not self-seeking, it is not easily angered, it keeps no record of wrongs. Love does not delight in evil but rejoices with the truth. It always protects, always trusts, always hopes, always perseveres. Love never fails. But where there are prophecies, they will cease; where there are tongues, they will be stilled; where there is knowledge, it will pass away. 1 Corinthians 13:4-8
Above all, love each other deeply, because love covers over a multitude of sins. 1 Peter 4:8
Popular and Generic Marriage Wedding Invitation Cards with Quotes
1. We may not have it all together, but together we have it all.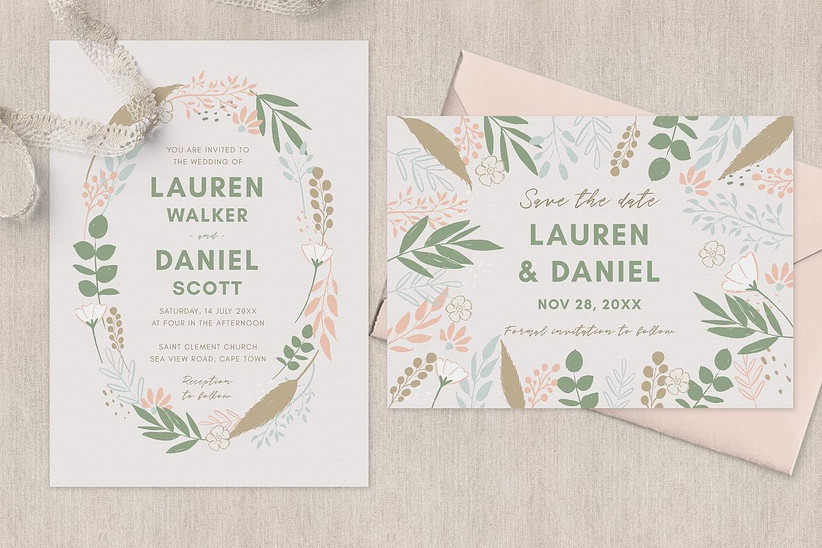 Image Courtesy: Design Bundles
It's the perfect date for a 'Save the Date' announcement. Whether you are announcing on social media or sending out e-invites, a cute picture of the couple along with this wedding invitation quote will make everyone feel the love and bond you share.
2. This day for us is special
"This day for us is special
A time beyond compare
The joy we feel deep in our hearts
We hope you will come and share
Your presence there with us
Means more than words can say
Please try to be there
To celebrate this special day."
Image Credits - Design by Harpriya Singh
A tiny little invitation poem on the wedding invitation cards that is cute and conveys a great meaning. It shows your love and happiness and how important it is for you to share this special day with your loved ones. For personalizing them, you can also get mehndi designs for weddings or the beautiful engagement rings for women and men printed on them.
3. Love fills the moment and the moment begins eternity
Short, simple and significant! Just as the simplest no-makeup look is the best of all bridal makeup, so is this quote. Start the invitation with the simplest words that convey a deep and beautiful meaning. It's the start of your life together' a life of love and happiness!
4. Come for the Cake... Stay For the Vows!
Now that's a funny and great wedding invitation quotes for your friends. If you have in mind separate wedding invitation designs for different guests, this could be the perfect quote for friends. It's funny, it's witty and it's totally sassy!
5. A new day, a new life together
Image Credits - Diksha Mehta
Like it's said, it's the simplest of words that can say it all. When you are beginning a new life together, all you need is your loved ones to be there and bless you for this new phase in life.
6. And I choose you in hundred lifetimes, in a hundred worlds, in any version of reality, I'd find you and I'd choose you.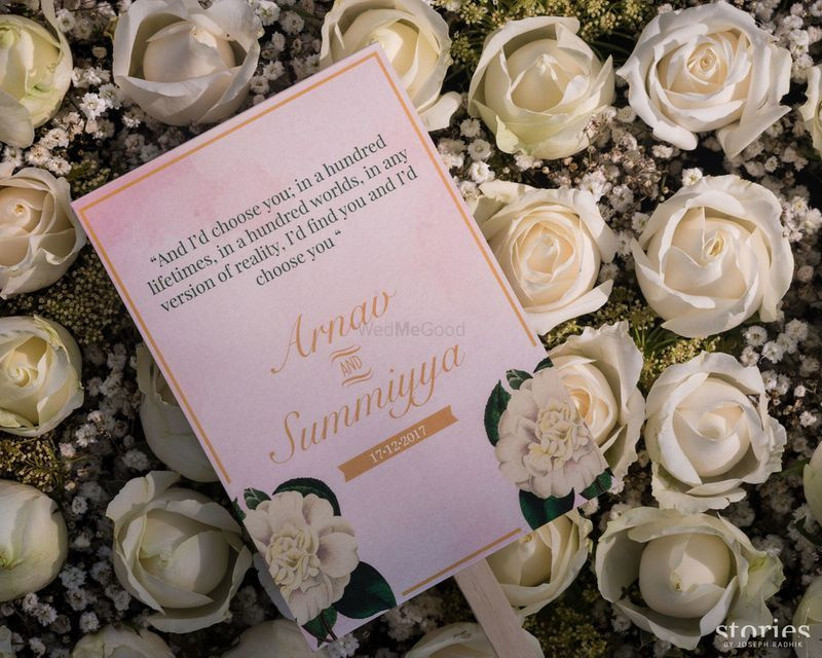 Image Credits - Stories by Joseph Radhik
This is Victorian era like romantic quote that will resonate your love story in a beautiful way. It is generic and can be forwarded to anyone in your family and friends.
7. Pyaar Dosti Hain
For Bollywood enthusiasts who still want to keep things classy and happening! This one is so cute, and we love how it is on the envelope!
8. Shit Just Got Real
This is one of the quirkiest ones out of all the wedding quotes for marriage, and we honestly love it!
9. Holy shit, we are actually getting married!
This is trendy, quirky, funny and humorous- a wedding quote saying that millennials would definitely swear by. I'm sure you can also take an inspiration for your card too.
10. 'We've waited 6 years to party with you. Please party accordingly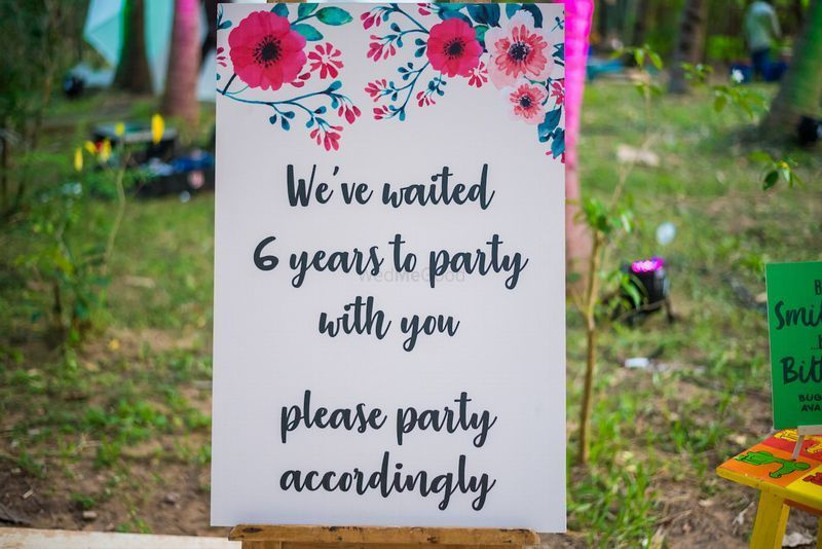 Image Credits - Pinterest
This one is so apt for childhood friend who turned into couples. A sassy and a cute wedding invitation saying for your wedding.
Tips for Choosing Marriage Invitation Quotes: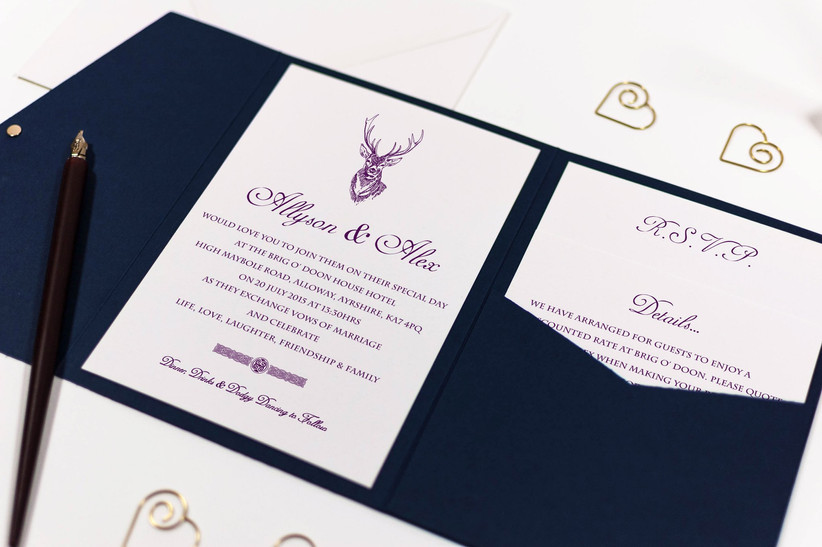 Image Courtesy: Wedding Invitations by Com Bassa
The quote you choose depends on who is inviting. If it's an invitation from the couple the quotes can be more personal but if it's from the parents, then the quote can be more general about the feeling of love and sanctity of marriage.
The quote you pick is also dependent on who you are sending it to. If you are making a common invitation for all then keep it simple and sweet. If you have a different invitation for your friends, you can make it more funny and witty.
The quote can be placed right in the front or at the end. If you are using a quote at the beginning, choose something that shows a 'start of something special'.
You can also go for some song lyrics that explains your relationship the best. A movie dialogue or something, and you can also use the same to get printed on some beautiful sheet of fabrics in a stunning font and use the same to enhance your wedding decor or add the same to your photo booth and use the same for a candid and on the spot photography session with your wedding photographer
You can use these wedding invitation quotes and add it in your wedding decor, cutlery or in curating some personalised wedding favour which has your wedding invitation quotes as a personalised message.
Wedding invitation quotes need not be big chunks of words, it could also be a simple phrase that resonates the most with you as a coupl
These were our top 10 picks of wedding invitation quotes and there are many more to choose from. Choose a quote that touches your heart! For the design, you can get your engagement rings printed inside or ask your wedding photographer for the best pre-wedding shoot pictures. We hope now you're more than just inspired by these wedding invitation quotes. Pen down your invites and curate for yourself a wedding invite that sums up your beautiful, unique and special bond!
Did you use some wedding invitation quotes before you printed your wedding invites and penned down your feelings on your invitation? If yes, what did it say? Tell us through the comments!