Trending Bengali Wedding Cards for the Classic Biye Invites
Getting married in a true blue Bong style but yet to do the invites? Take a look at all there is to know about Bengali wedding cards and create your own.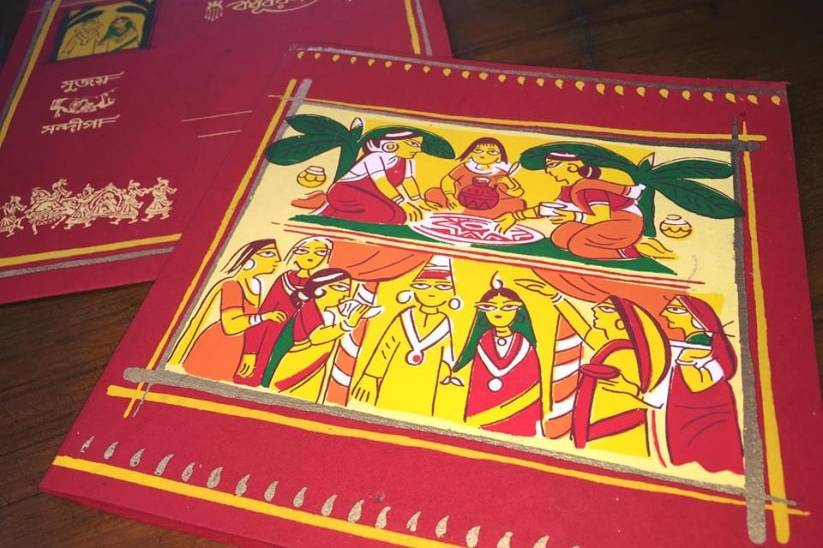 From Ashirbad to Bou-bhaat, you have chalked out almost everything for your wedding planning. Now it's time to actually start taking actions. And the first action that you take in the whole wedding scenario is creating the wedding invitations.
The wedding invites are one of the most crucial parts of the wedding planning and you will need to put in the extra effort to be extra cautious about what goes into the card and if it is portraying your emotions the right way while keeping the traditional touch intact, because like every culture, the Bong-ness in the Bengali wedding has to be present in every aspect.
Extravagant and weddings are words that go hand in hand but then the new-age couples have shown how to get weddings done in a simple and elegant manner.
You have read all about how to create Indian wedding cards and wedding invitation for friends. Now a Bengali wedding is all about elegance, subtlety and beauty. And that's what should reflect on Bengali wedding cards.
Read on to know all about a Bengali wedding card and innovative ways to create them:
1. It's all about Art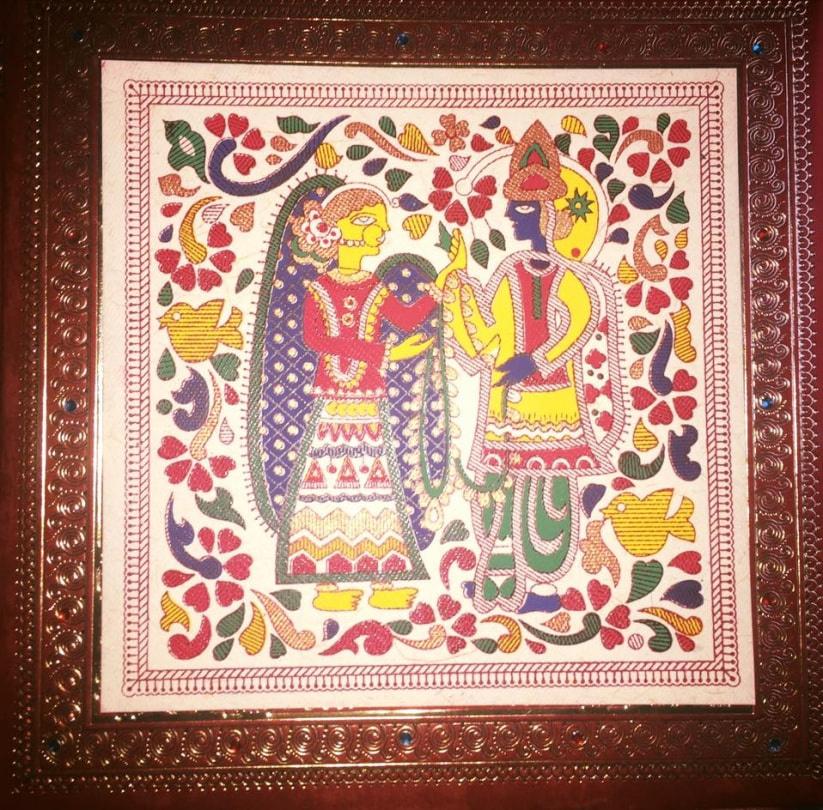 Some of the most impeccable art forms of India originate from Bengal. So it's only natural that Bengali wedding cards are exhibits of such exquisite art. From Jamini Roy paintings to Kantha embroidery to Dokra art of Gods and Goddesses - you have an ocean of opportunities to integrate different art forms of Bengal on your wedding card.
In fact, you can synchronise your wedding theme with your invitation card by opting for a particular art form example terracotta or clay pot paintings.
The beauty of the conventional ones with the impressions of the gods and goddesses is indeed untouched but the fun that the colours and intricate detailing brings about in the invitation cards is commendable.
The modern art infused with the art that has been fostered for so many years by the cultural growth open the doors and create possibilities for your creativity to flow into the invitations where you can put forward your thoughts and add the personal touch for ones that go to your friends and close family members so that your emotional investment is clear through the fun and yet warm Bengali wedding card.
2. What's the Motif?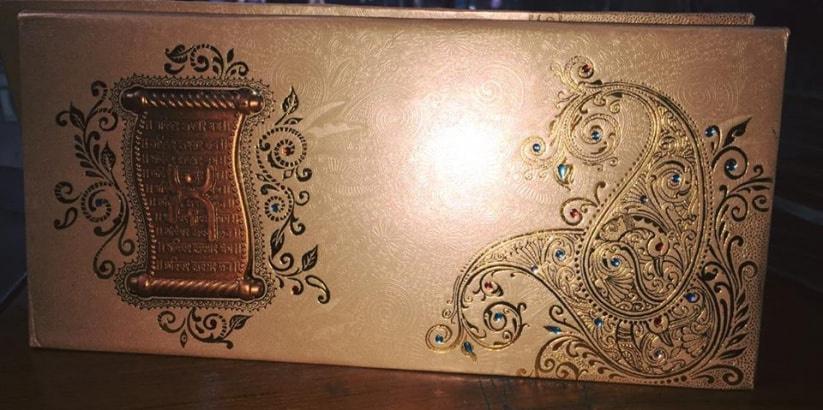 Wedding invitations at different parts of India have certain traditional motifs or symbols which are used on a wedding card. Like an Allah or a crescent moon is a must on a Muslim wedding invitation card. Similarly, the following are the most commonly and exclusively used icons, motifs and symbols on Bengali wedding cards:
Butterfly
Almost every wedding card has a butterfly motif with a line saying "Om Prajapataye Namah". This sign is considered auspicious for a marital bond. Invoking blessing is the core of every wedding invitation in every culture and every religion.
Shankh or a Shell
The sound of a Shankh is believed to be pious and wards off evil. It is also a big part of any shondhi pujo and your big day is one of the most auspicious days in your life as well as in the lives of your family members. Therefore every Bengali wedding has significant Shankh sounds and Shankh icons on the invitation cards.
The bride on Palki
Another quite common icon on Bengali invitations is a picture of a bride riding a Palki. This is typically the way brides were brought to the Mandap and carried to her new home in older times, well unless of course, it became a fantastic entrance idea for the bride in her doli.
The bride & the groom
Cute sketches of the bride or the groom are very popular additions as a Bengali wedding card icon. Although sometimes these days the sketches are replaced by photographs or quirky caricatures of the couple, it is still fun to receive these Bengali wedding cards.
The Paisley
If not mandatory but definitely one of the most preferred symbols for a Bong invitation card is the paisley. You will hardly find any wedding card that doesn't have a paisley design on it. It might be very common, but it also upholds the essence of the traditions.
Mukut & Topor
The beautiful Mukut of a Bong bride and the Topor (hat) of the groom are very symbolic of a Bengali wedding. Hence quite famously used as an invitation motif.
Betel leaves and betel nuts
Considered as very auspicious in weddings betel leaves are also used quite often as invitation motifs.
3. Colour, Designs and Fabric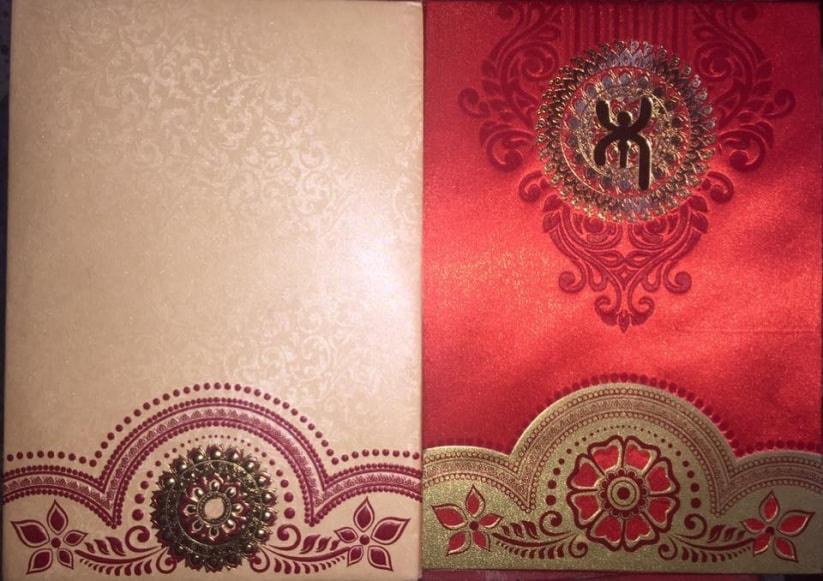 Red being the colour of love and weddings, it is the most popular choice when it comes to Bengali wedding cards, with a combination of cream, beige yellow or off-white. Maroon, pink, magenta, fuchsia and brick are some of the other popular colours that are often contrasted with the golden colour to craft gorgeous Bengali wedding cards.
Apart from paisley, floral designs with vines and garlands Bengali wedding invitations use some other interesting designs too:
Wedding instruments like Shehnai and Dholak.
Bride's bangles, bride's face or bride's palms with Aalta.
Sweets like Roshogolla, Sandesh and other exotic Bong sweet delicacies.
Engraved, multiple folds and unique shaped cards.
Handmade papers, coarse texture paper, silk scrolls, Sholapith (Indian cork) are some of the fine fabrics used in Bengali wedding invitations. The sheen is much required when it comes to choosing the material to print your Bengali wedding card because what is a celebration without some glitz and glam sprinkled all over it.
Take a look at the extravagant options that M.D. Card corner and Mohta Cards have to offer to you in Bengali wedding cards, for more such lovely designs.
4. The Right Words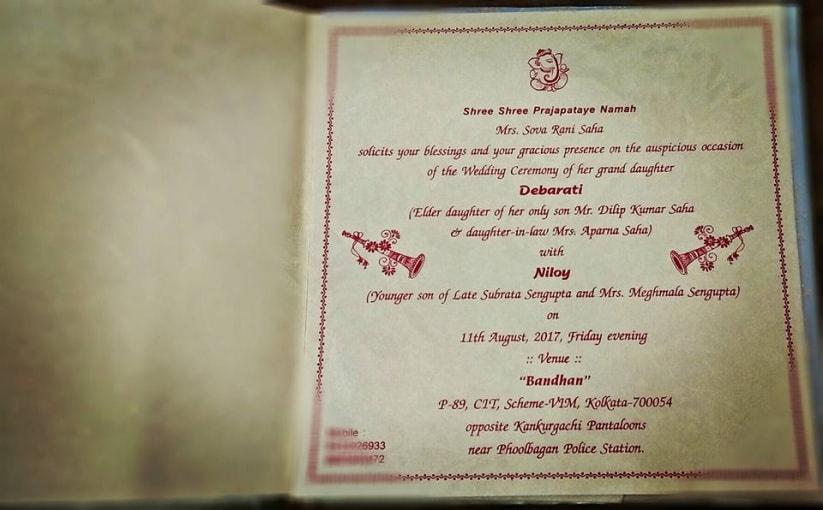 Mastering the art of creating the right wedding invitation text needs work. You have to be smart, funny, creative yet maintain certain traditional vibes. Bengali wedding cards usually are written in Bengali and English both. Here are a few text ideas to use for your own Bong invites:
Traditional:
"Om Prajapataye Namah
"Beauty is the harmony realized in the things which are bound by law. Love is the harmony in wills which are free."- Tagore
By the grace of God
You are all cordially invited to the
Wedding ceremony of our only daughter
Sudeshna
With
Ayan
Only S/o Mrs & Mr Biren Majumdar
Date:
Time:
Venue:
Modern:
"When Roshogolla met Phuchka,
You know it's a beginning of a sweet, tangy and spicy relationship!!
We welcome you all to join us on the delicious journey we're about to commence!
Don't forget to bring loads of appetite along!!!"
Date:
Time:
Venue:
RSVP:
Some couples go for separate invitation leaflets for separate wedding ceremonies. Or you could ditch the paper completely and opt for digital invitations. Even if you decide to go for video invitations through Whatsapp or create a wedding page, add a little bit of your Bong touch to the Bengali wedding cards.
Speak in Bangla, add your Bengali wedding menu to the invitation card or use Bengali songs...maybe do a dub-mash of popular Bengali movie dialogues while creating your wedding invitation video. Let the creative juices flow and craft an artistic wedding invitation for yourself.
If you have any out of the box ideas to help us and our readers, let us know through comments!