5 Trendsetting Dulhan Doli Styles to Turn the Heads & Waltz In
Look at how these real brides owned their wedding night in these Dulhan Doli pictures. Narrow down the one you love best and slay!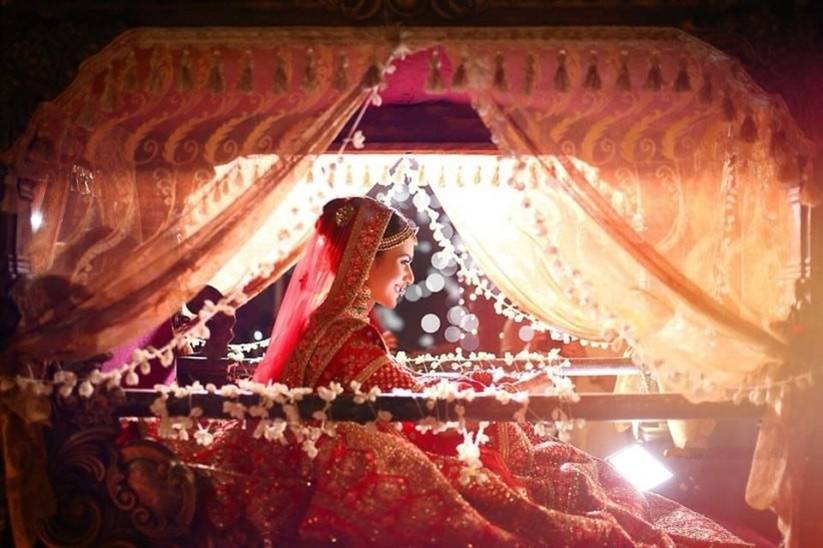 Doli saja ke rakhna! Lene tujhe o gori aayenge tere sajna!
The invites are out, food spread is set, guests have flown from all across the globe, your wedding outfit is on point and your wedding venue is gleaming! When all eyes are set on the exquisite wedding venue decoration give your guests and hubby-to-be a reason to look at you instead.
It is always the entry of the hero and heroine in the movie that is more significant and impacts the audience the most where they wait for this scene excitedly. It is time for you to make the same impact on your guests with your innovative Dulhan Doli entry and make the benchmarks for the weddings to follow really high.
So make the entrance to your fairytale day and walk down to the mandap looking as fabulous as the stars from B-town red carpets and make the "wow" and gasping whispers of surprise follow as you make your way to the aisle flaunting the gorgeous lehenga and making a grand entry in style.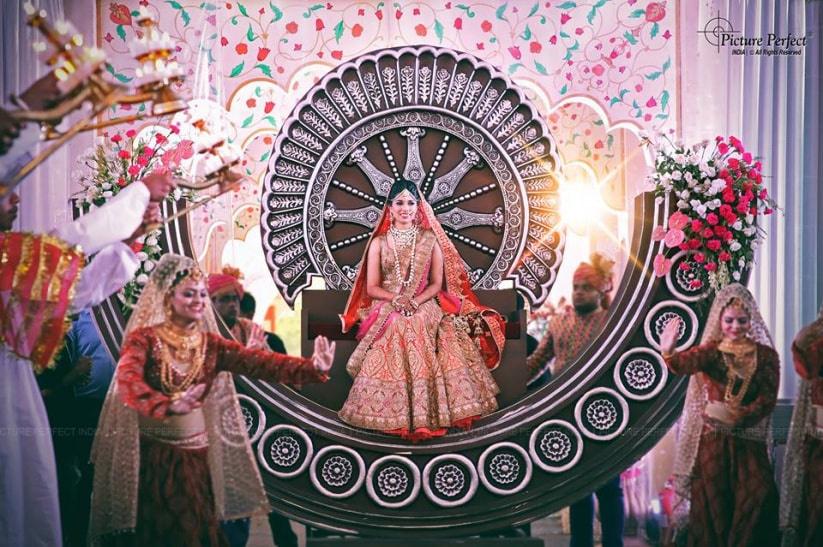 Thanks to some of these real brides who ditched nonchalant ways of making a bridal entry and paved way for newer trends (bullet entry, the entry on a rickshaw and whatnot). But, there is some beauty and earthiness when one looks at a bride, shyly and coyly seated in a Dulhan Doli looking like a true vision in her bridal outfit, her coyness and ethereal beauty.
A bride seated in a palanquin or perhaps a floral carriage, truly a sight even for sore eyes! We bring to you some stunning Dulhan Doli images that some real brides slew in. They are beautiful, larger than life and an instrument of true royalty.
1. Dulhan Doli with an Opulence of Copper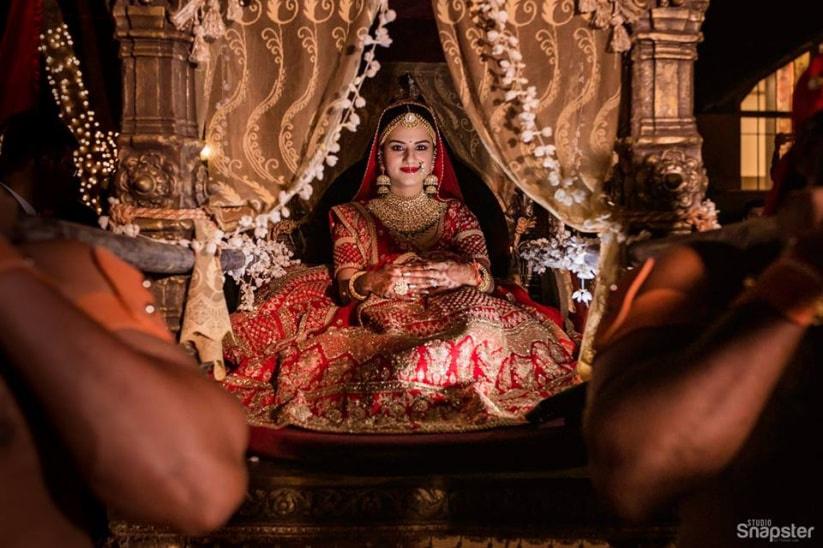 This picture and this real bride captivated us with the royal vibes that she is exhuming. A quintessential Indian bride with heavy gold jewellery set, a red bridal lehenga seated amidst a Dulhan Doli ornated with flowers in an earthy backdrop is a treat. A regal appearance for the wedding it is indeed.
If you're getting married soon and haven't decided on your bridal entry yet, then bookmark this! Make your guests swoon and leave whatever they were up to before you paved your way into your wedding venue.
Bridal Entry Song suggestion: Din Shagna Da Aaya Ni Aao Sakhiyon ( Film - Dillagi)
2. A Floral Basket Inspired Dulhan Doli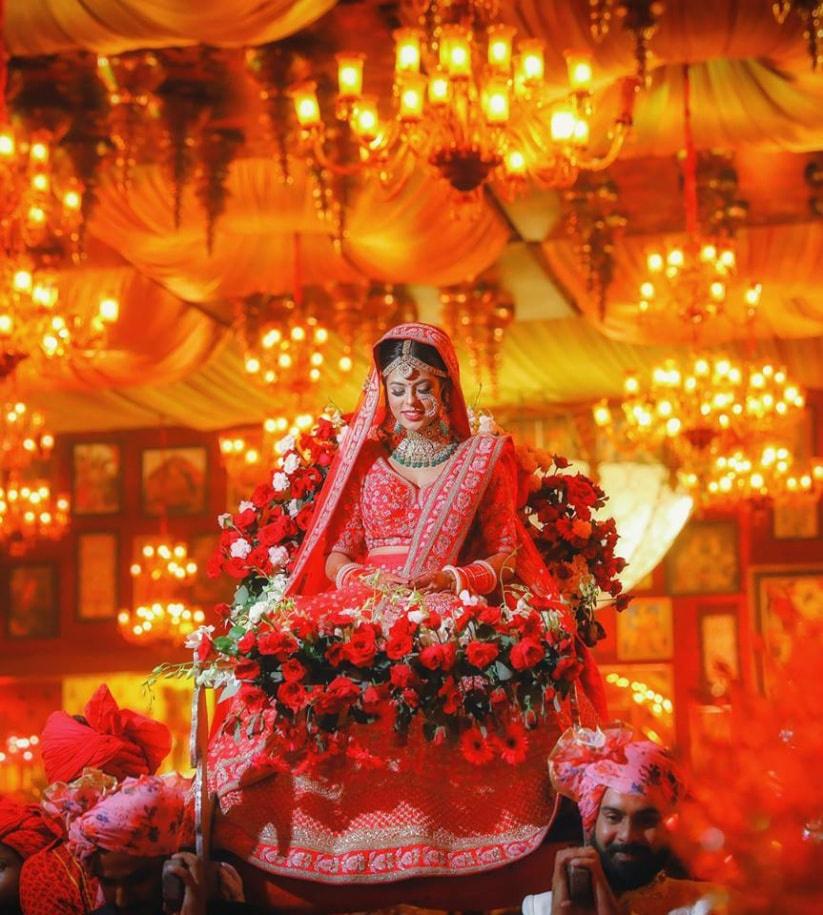 Let this bridal entry be the reason why some of your guests fight over to get a glance of you. And trust us they will! Just look at this real bride! Such a fairytale moment. Is it not? You can use your favourite flowers or perhaps choose them according to your wedding theme colour. A shy and coy bride, in a red outfit enamoured with jewels in a floral Paalki, is everything! Your husband-to-be will surely skip a beat or two as soon as his eyes find yours!
Bridal Entry Song suggestion: Paalki Mein Hoge Saawar Chali Re (This song is perfect for brides who want a peppy entrance. Film - Hero)
3. Outrageously Cool Golf Cart Dulhan Doli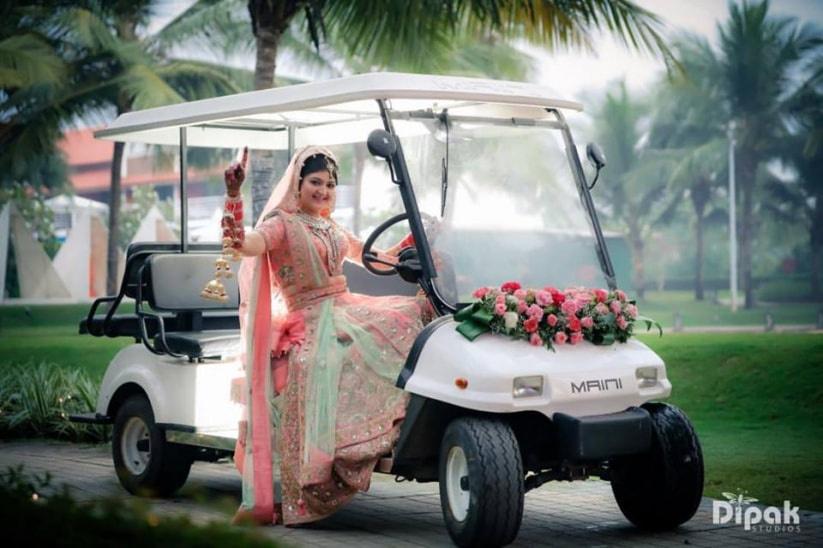 Becked in Polki jewellery, donning a concoction of pastel pink and mint green lehenga, this real bride not only looked like what a millennial bride ought to but also led to some major slayage! I mean who would have thought! A golf cart to be used as a Dulhan Doli? What a kickass way to make a statement. She surely has our attention. Does she have yours?
If your wedding venue is a farmhouse or a marriage garden that has wide open areas to host the ceremonies, they will have golf-carts of their own but you can also hire one of your own if need be. It is a quirky idea and surely out of the conventional books.
Striking this stunning pose, Kalire on point, and the golf cart she rode to pave her way, surely her groom would have been awestruck with her boss confidence. It is an ideal Dulhan Doli entrance if your wedding venue is in a golf course or a farmhouse with spacious event area. The swag on point, you will also look cute and adorable in it.
Bridal Entry Song suggestion: Bhangra ta Sajda
When no one gives a damn (This song is perfect for brides who know how to slay. Film - Veere Di Wedding)
4. The Frozen Princess Moment In this Dulhan Doli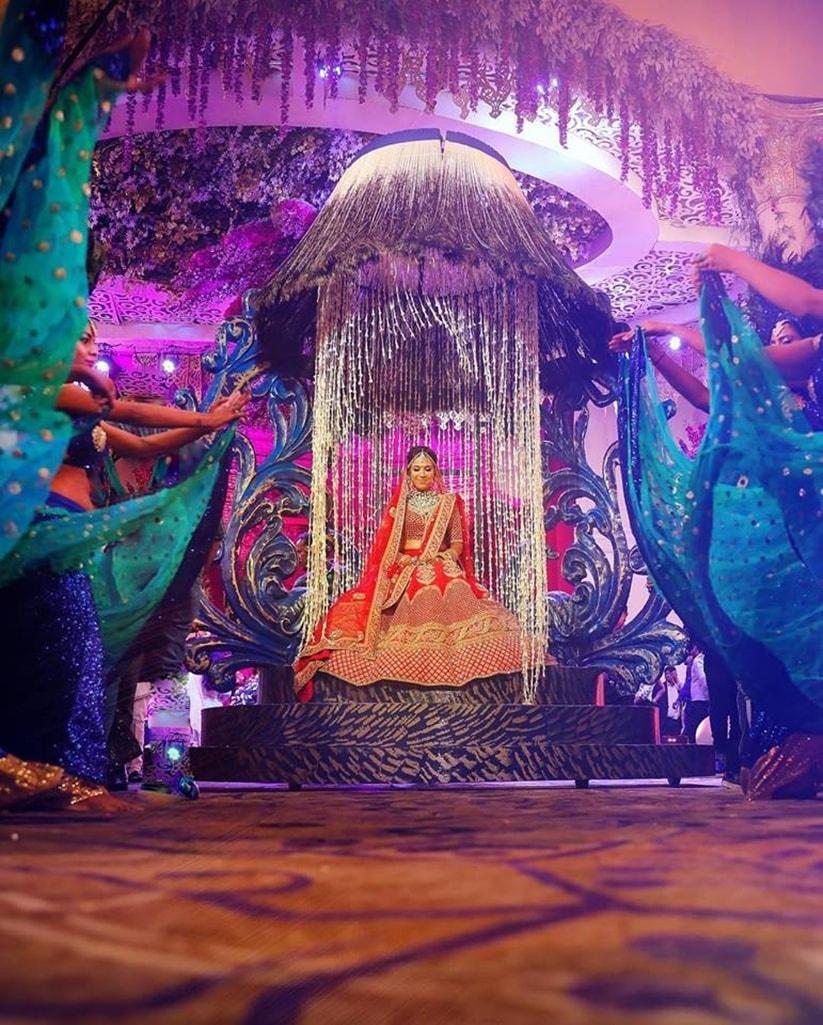 There is something enticing about this real bride and one must be credible to the designer who made this stunning Dulhan Doli or Palki. With metal carving in the back and strings of flowers covering the bride as she sits in the middle. The peacock feathers on top accentuate the colour scheme and her crimson red is upheld. We love her and this picture!
Bridal Entry Song Suggestion: Dulhan Toh Jayegi Dulhe Raja Ke Saath (Film - Dulhe Raja)
5. Merc your Way In, Girl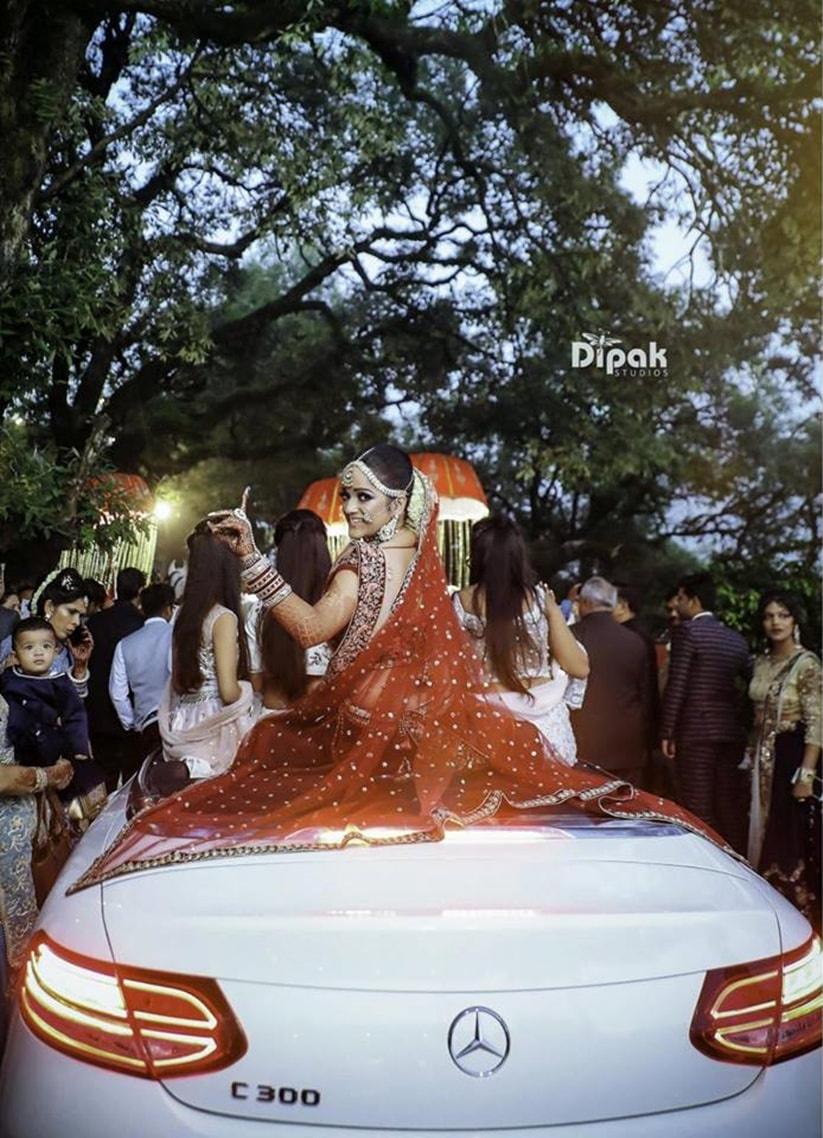 A C-class Mercedes, the bride riding on the hood of the car, a convertible! Sure, it's unconventional. But, is it cool? Hell Yes! We will surely remember this real bride and this picture of course till we find something more dapper and dope than this. Until then she rules our hearts! She drove in style and she did it right for the mark she wants to begin her new journey with! Dropping sass as she drives by, you go girl!
Bridal Entry Song Suggestion: Who run the world? Girls (Artist: Beyonce Album: 4 )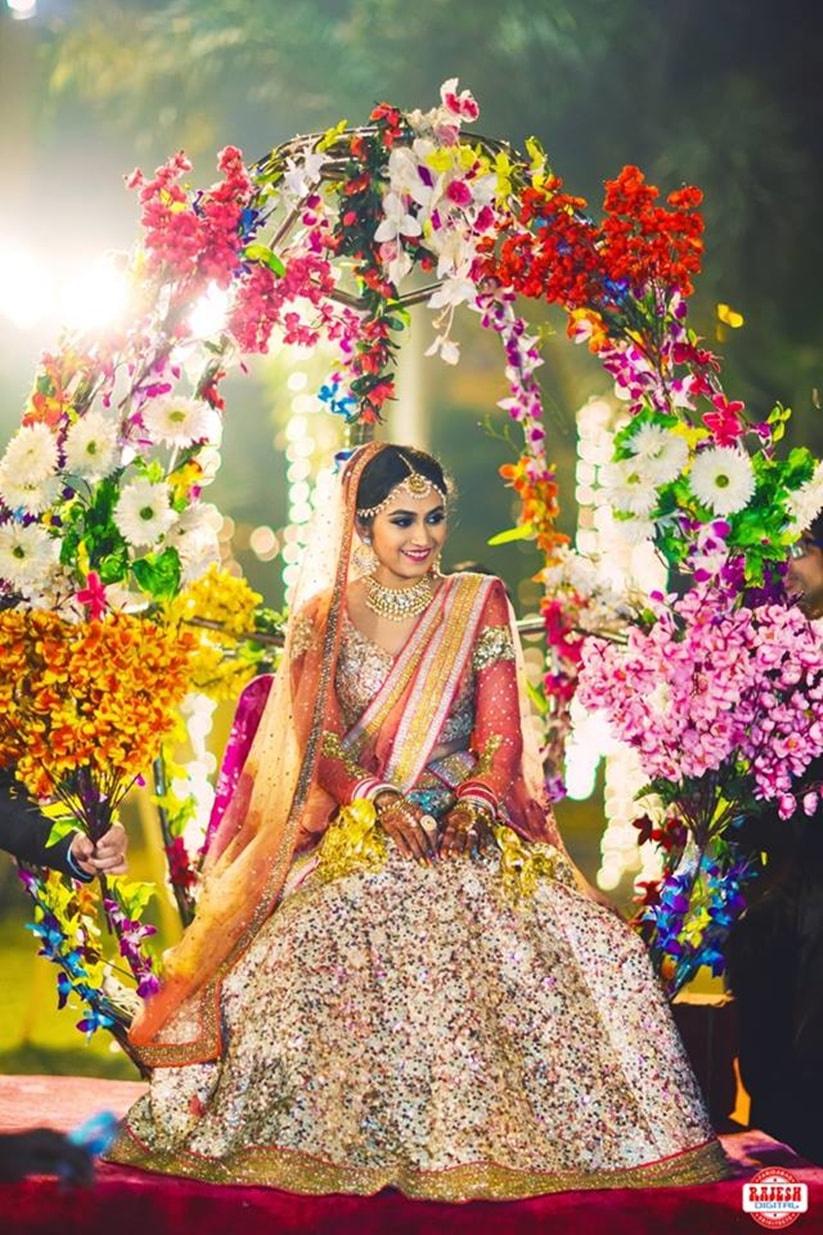 With so much emphasis that is on grooms making their entry on horseback, convertibles or carriages, why shouldn't brides have an equal share of fun? For so long we've seen them making their bridal entry on foot under Phoolon Ki Chaadar. It's beautiful, sure! But, its time for something more. Dearest Banno, find the time to design a Dulhan Doli for yourself one that screams you. You can always keep it as a token of memory, something that reminds you of your big day. You can use one of these Dulhan Doli images for inspo and reinvent them however you please. Make them your own. Own them completely and then slay some more!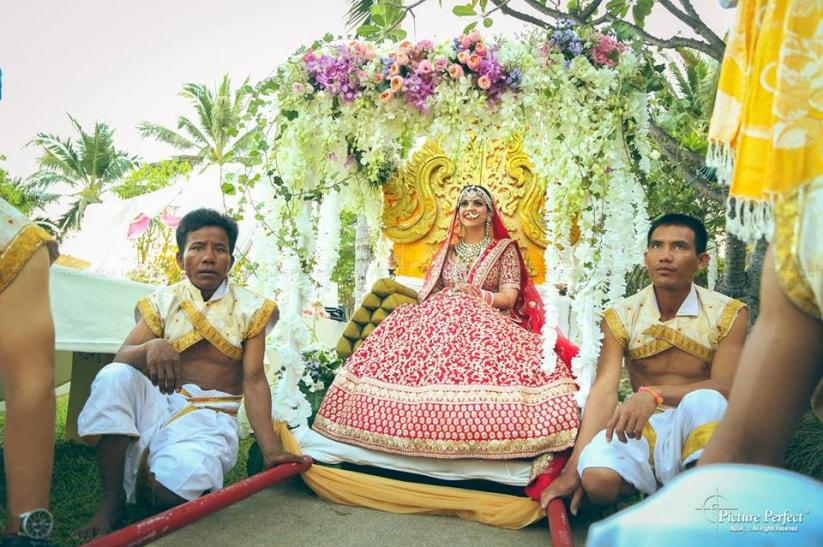 There are a million reasons to remember you as the gorgeous bride you will be dressed for on your D-day, but one of them should surely be your entry because even if your groom comes in with a dash of swag in his Royal Enfiled, you have your card to play too! Let the friends and family talk of the Dulhan Doli and your cousins be ready with theirs inspired from yours!
We loved these real brides and their exquisite bridal entry. How about you? Tell us through comments.