5 Wedding Theme Colours That Are Absolutely Breathtaking and Will Amp up Your Decor Game
While you are preoccupied paying attention to every detail of your wedding preparations, we are here to help you couples curate the ultimate palette of wedding theme colours for a summer or winter wonderland inspiration worthy wedding décor.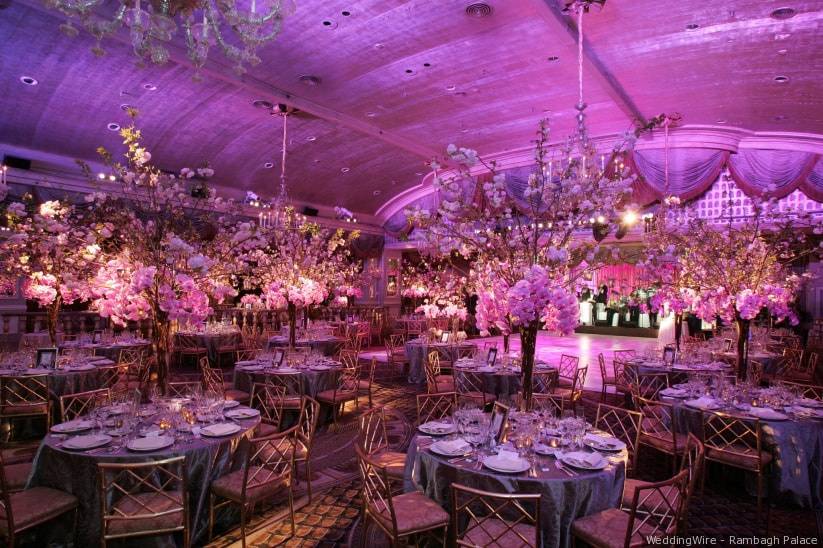 Want to know everything about wedding décor planning for pre-wedding, wedding and post-wedding functions? Sit back & relax, as we have curated a list of trending wedding theme colours which make for an ideal décor option for weddings hosted amidst summer and winter seasons. Worried about how to plan and execute your wedding or your daughter's wedding or son's engagement party? Have an idea about how you would like your wedding venue to look like but cannot turn your ideas into a reality? All your qualms about the ideation, design and execution will come to a halt after reading this article
For the summer vibes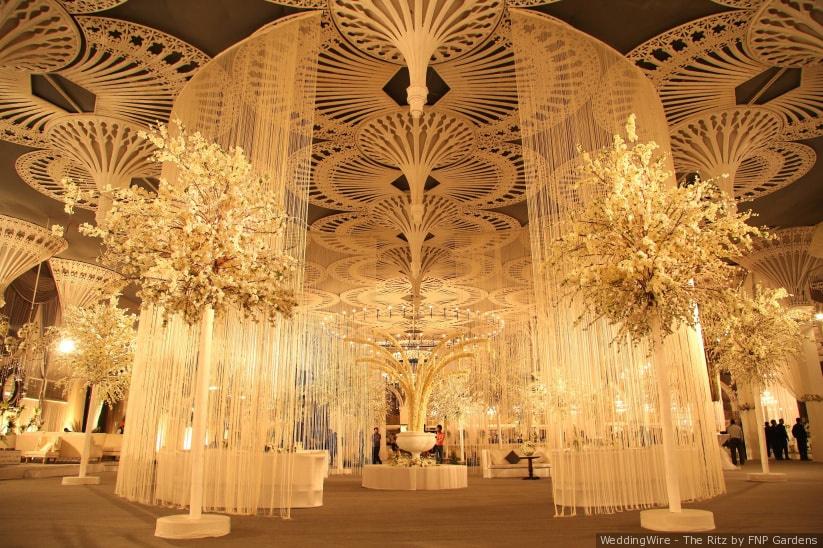 Keen on making your function a roller coaster ride with extraordinary and out-of-the-box decorations? Let your worries come to a standstill as we have some over the top decor inspirations to take your breath away.
1. Rose Gold and All things Golden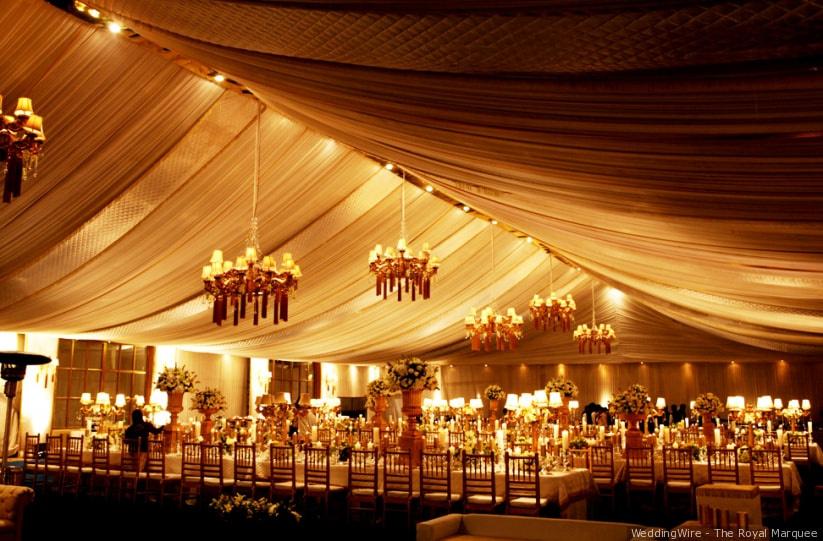 Want to invest in a decorator you are certain will turn all your décor dreams to life? If yes, then this would be an ultimate combination to consider for your decoration. Rose gold is a trending colour this wedding season. It is the perfect colour for a breezy and summertime residential or destination wedding. You can incorporate idyllic candle holders or table lanterns to add light to your wedding décor.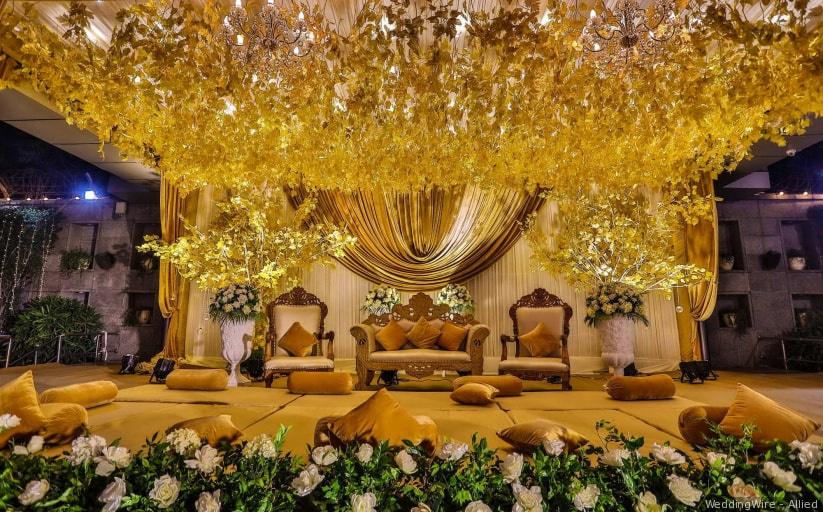 Doesn't this exquisite decor ring bells in your heart? It does in our hearts too! If you want anything like this to be featured in one of your wedding functions, then bookmark this image, add it to your moddboard for wedding design and decoration idea and share it with your wedding planners and wedding decorators. They will weave their magic and make your day completely spectacular!
2. Wedding cutlery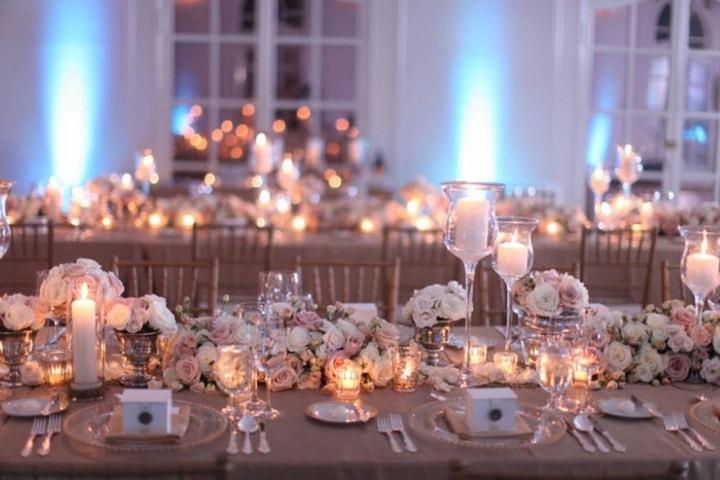 Image Courtesy: Facebook
Let summer colours dance their way around in bringing the best of your wedding décor inspiration. Themed decorations are all the rage in today's time. Choose rose gold & gold as the main wedding theme colour for your decor. Let your cutlery and table centrepieces be of the same colour scheme and add grace to your functions. Incorporate floral assortments as well and decorate them seamlessly with fairy lights for the desired effect.
3. Hues of pastel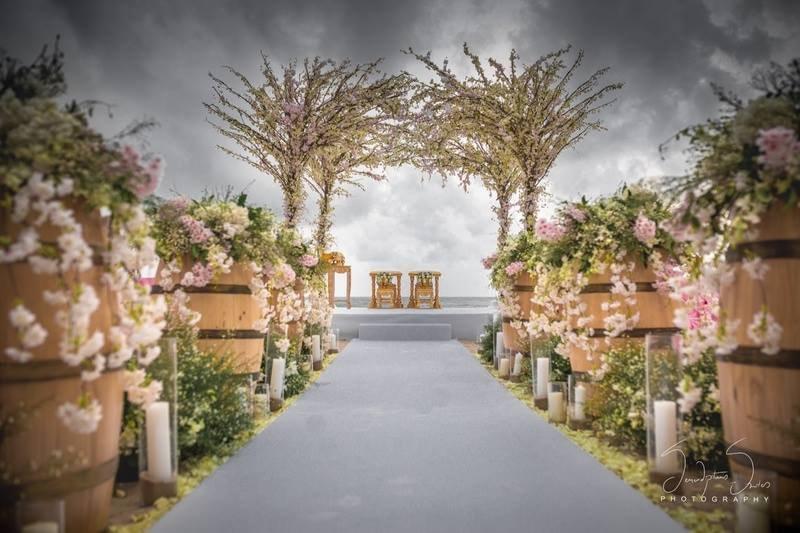 I saw her, she saw me, we fell in love and that's how began our love story. Nothing describes love better than a wedding theme colour of lilac, lavender, peach & pink. Go for lanterns, table runners, hangings and centrepieces in this same colour palette. Let these shades be the theme of your wedding decor. Apart from using flowers as decorations, centrepieces, suspended decor elements, you can choose pastel drapes to enhance the wedding setup which will blow the minds of your guests.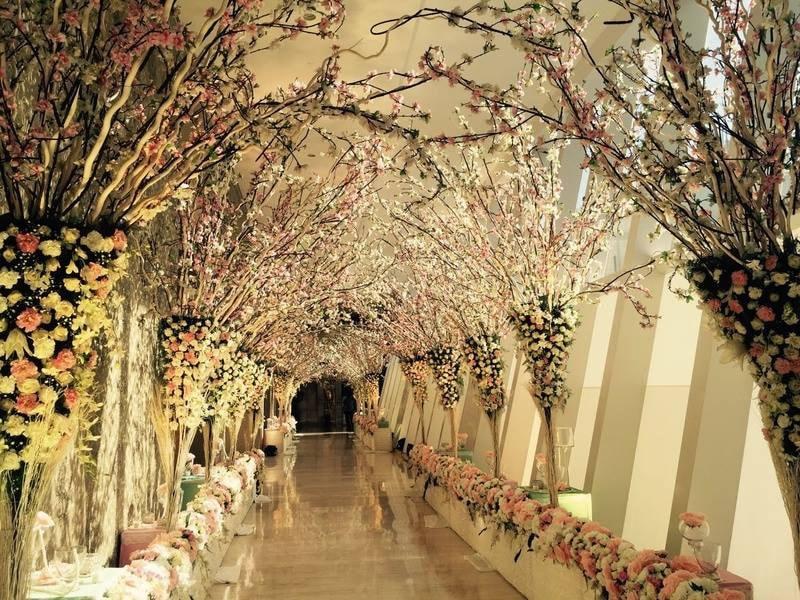 If your big day is approaching and you don't know where to begin with, the first step you should be taking is by maintaining the colour scheme. Ensure that your cutlery, table set up décor also mimics the pastel shades and you can always coordinate your outfit as per your wedding theme colour.
For your winter wonderland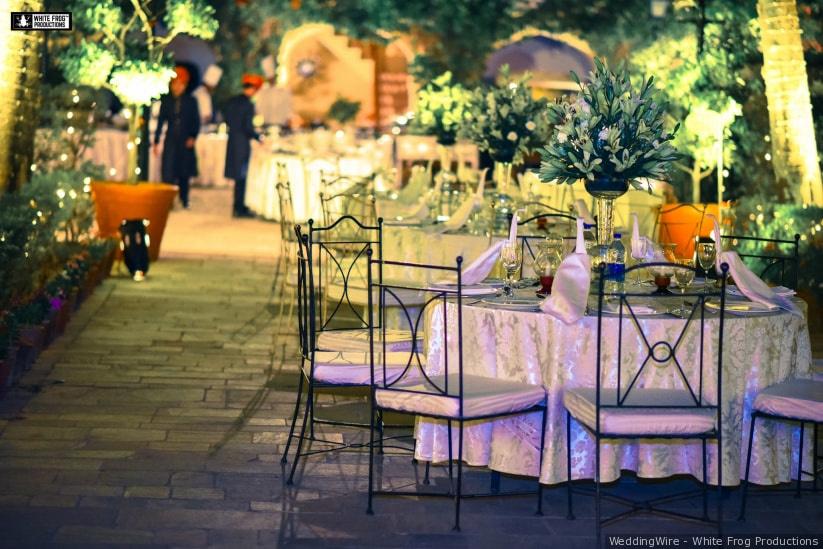 Add charm to your decor by taking inspirations from these stunning decorations. Let the weather be reflected in your decor inspiration too! If you too want such a rustic charm to become a part of your wedding reception's seating arrangements, then decide the wedding theme colours first and then raid the markets in trying to source all the decor materials and artefacts in the same wedding theme colours and you're good to go!
4. White mist and silver lining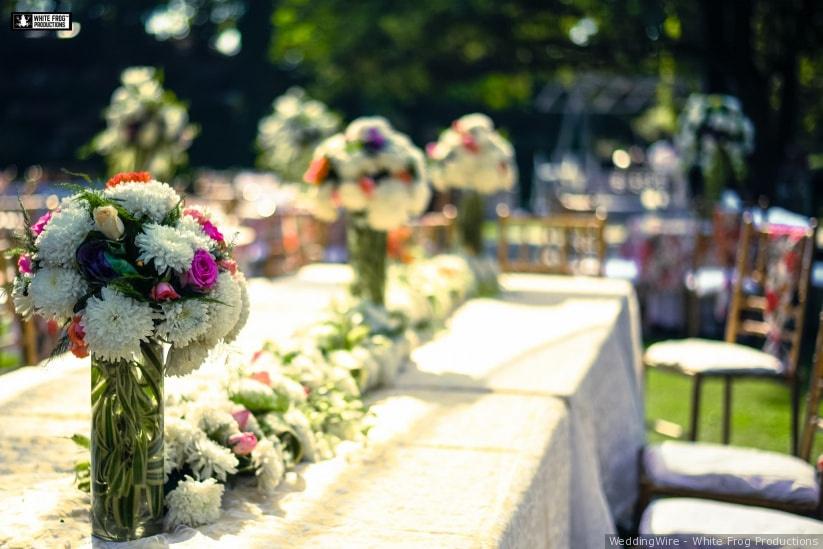 Winter is the season for jubilation and the perfect time to host your ceremonies during the day. Go for white and silver décor to maintain the softness of the season. Use white lilies, orchids, tulips, carnations, rose and white hibiscus to create floral arrangements. Use them as décor for signages, table centrepieces and mandap setup to enhance the entrance of your events. Also, use these wedding theme colours for styling your hair or give them as a bouquet or as a boutonniere to your bridesmaids and groomsmen.
5. Blue seas, dash of Teal & muted tones of violet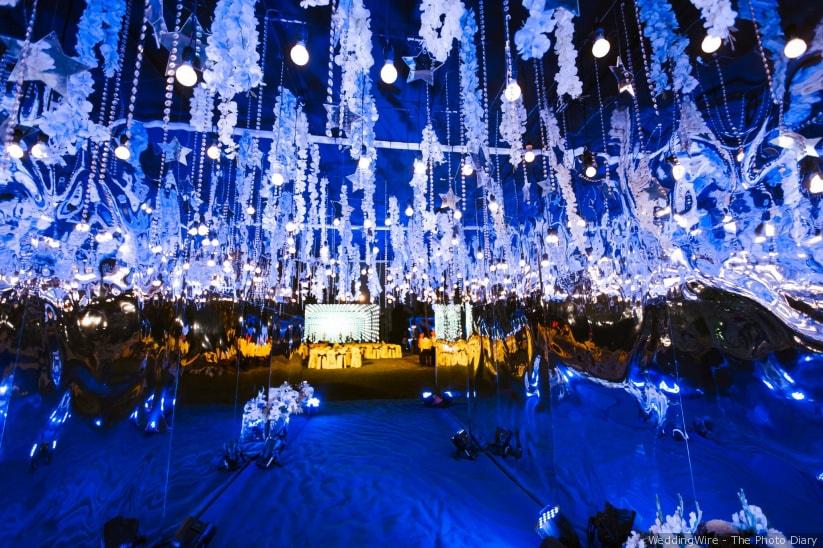 We've seen some magnificent wedding theme colours when it comes to hosting a nuptial ceremony during winters. Coat your wedding day using hues which remind you of a wintery night sky, cold, beautiful and panoramic. You can go for blue décor. Place lanterns by each décor piece to bring out the desired effect. Use lavenders, clematis, and orchids to customise each of your centrepieces and place them on tables decorated using silver drapes and white cutlery. This wedding theme colour combination exhumes class and a chic sense of bespoke fashion.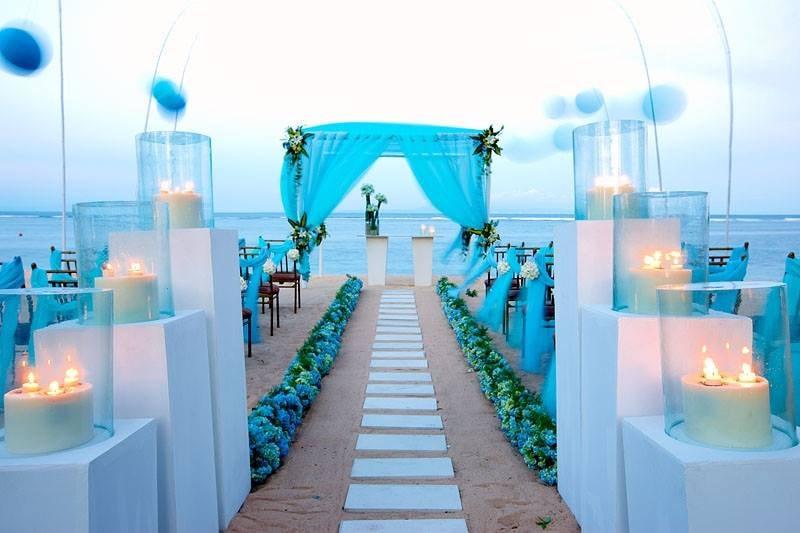 These colours make for an ideal palette of wedding theme colours, each of which is open for customisation and personal touch to make your décors a resemblance of your personal choice and personality. Deciding on a certain colour for your wedding is a fun way to keep things fun and light with your spouse-to-be. You can go and hunt for materials together, like a team who is in it to win it.
Each one of these wedding theme colours is breezy and will result in some breathtaking photographs that you will forever cherish. All you need is an eye for perfection and detail and once you nail that part down, there is nothing stopping you from making your wedding look like a dream that all your wedding guests will be wowed with.
Do you have any more interesting wedding theme colours to suggest? Write back to us about your experience and head over to some of our other related blogs to find your wedding theme colour inspiration for making your nuptial ceremony a glorious event.