Top Wedding Trends For Your 2024 Wedding
20 Industry experts have come together to help us create the ultimate wedding trends guide for 2024. Find our new free downloadable guide here to learn about the top wedding trends.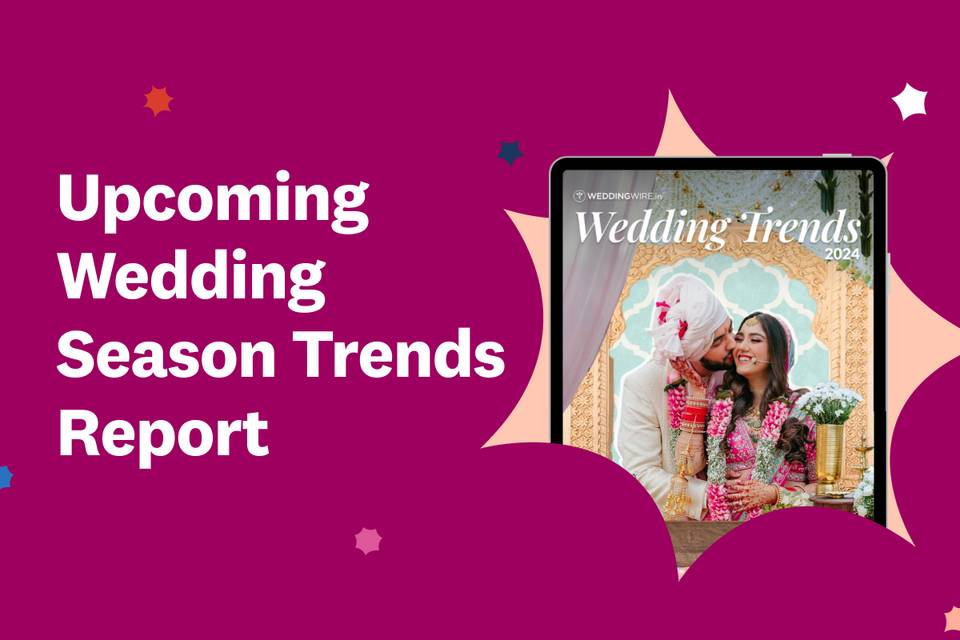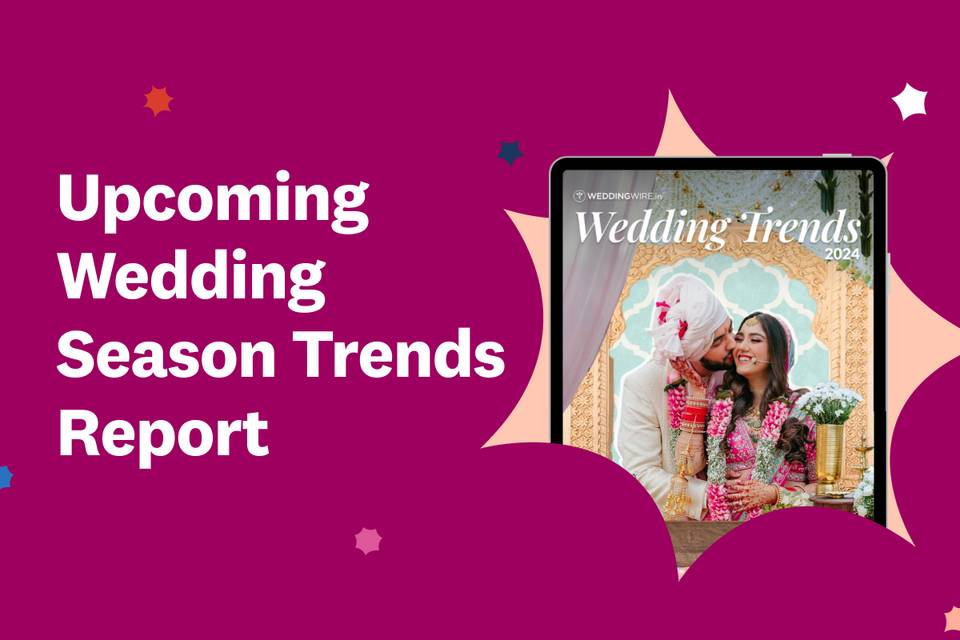 Wedding Photography: Magic Motion Media
If I had to describe Indian weddings today in one quote, I would pen down the popular phrase "Ever thine, Ever Mine, Ever Ours" by Ludwig van Beethoven. It goes without saying that the biggest wedding trend we are seeing in 2024 is a new era of intimate and pristine weddings, and celebrating the magnanimity of love is at the heart of these events.
In this article, you will find the top wedding trends for the upcoming wedding season and input from the change-makers in the Indian wedding industry. My favorite observation is that having fun is at the core of everything. Couples are prioritizing celebrating their day above all while embracing traditions for their sacred union. If you are planning your wedding and want to make it special, explore 2-3 day-long wedding chapters in experiential destination wedding venues with endless parties and a myriad of wedding themes. Personalize everything because you want your wedding to be a true reflection of your personality and love story. Request your wedding vendors to share insights on wedding technology to upgrade the wedding experience.
If you are planning your dream wedding in the upcoming wedding season, WWI has a detailed wedding trends guide for you.
This eBook is a complete guide to 'What will trend in the upcoming wedding season?' and 'How to incorporate these trends in your wedding?' 20 industry leaders: Bhavnesh Sawhney (FB Celebrations), Devanshi Patel (Shreem Events), Ambika Gupta (The A-Cube Project), Jinal Patel (The Doli Diary), Ekta Saigal Lulla (ESL Weddings), Pramod Lunawat (Marriageuana), Pritesh Sharma (Mapsor Experiential Weddings), Abhirath Shah (ANS Weddings), Kaveri Vij, Akshay Chopra (Designer Events Inc.), Prerna Joshi (Atelier Events), Ruchika Arora Bansal (Plush Weddings), Namha Malhotra (Castles & Coasters), Akansha Verma (Lenseyezia Productions), Deepali Shah Chandan (The Crimson Circle), Gautam Valli (Welcomhotel The Savoy, Mussoorie), Aashima Arora (AROOSI), Designer Seema Gujral, Itchha Talreja (Itchha Talreja Designs), and Anam Zubair, Head of B2C Marketing, (WeddingWire India), have come together to share their top insights on couple demands and top trends for 2024 weddings.
In this article:
1. Popular Wedding Planning Trends for 2024
2. Global Wedding Trends Seen in Indian Weddings
3. Trending Wedding Dresses for 2024
4. New Floral Wedding Decoration Trends for 2024
Our Wedding Trends Report 2024
Popular Wedding Planning Trends for 2024
2024 is forecast to be the year that will let go of 'all that was', and embrace 'all that can be'! It's been a year of experimenting with more technology and planning larger-than-life wedding celebrations for close-knit gatherings. Weddings will now be more personal than ever, with an emphasis on elevating the guest experience and giving them a celebration to remember for years to come. Remember that your personality should reflect in all aspects of your wedding, be it the type of venue, themes for each event, decoration, outfits, or simple gestures like the bridal entry or your varmala moment. "Personalization is the love story of any wedding that exudes a sense of belonging for every person attending that wedding. There could be 100 ways to personalize a wedding, but what matters is your and your guests interests," add Kaveri Vij & Akshay Chopra, Dreamers from Designer Events Inc.
Most couples share that guest experience is top of mind for their wedding planning. From experiential wedding themes to personalized decor and thematic food, 2024 weddings are all about weaving a unique wedding story. Experts reveal the top wedding trends that can help you achieve this vision.
Ambitainment: Ambience Entertainment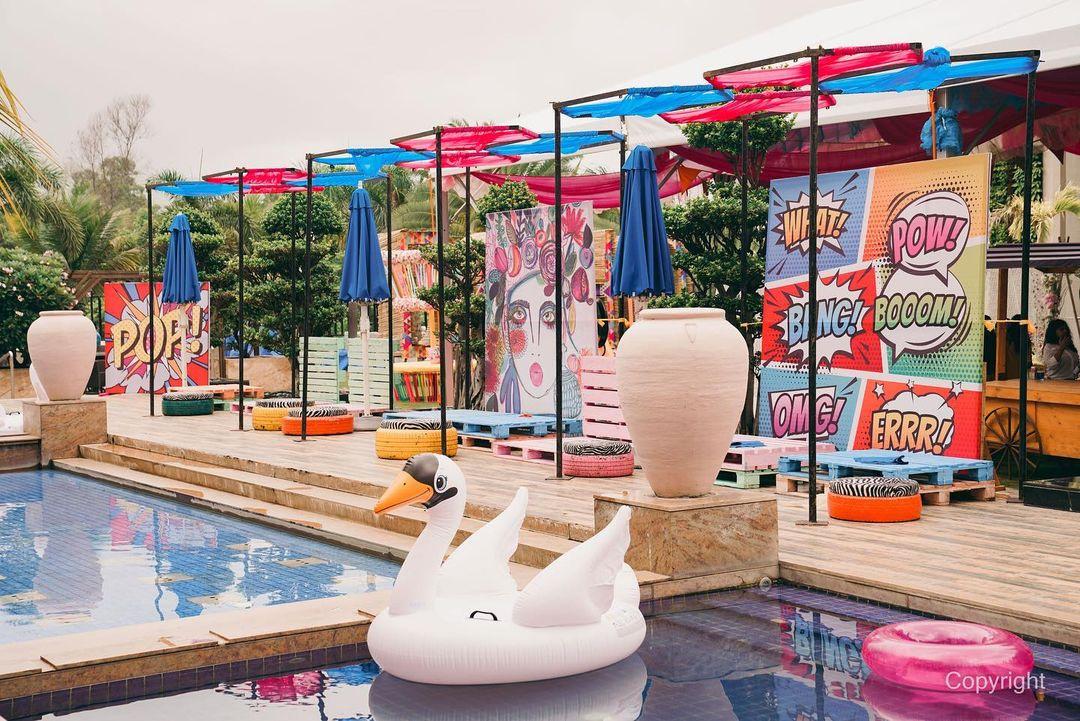 Decor: The Wedding Factory, Photography: Stories by Inside Me
Earlier, wedding entertainment was planned for guests to sit and listen to or watch performances. "That's not a trend anymore," confirms Devanshi Patel, Founder, Shreem Events.
"If you're calling 100–200 guests, you want to keep them entertained for two days. Interactive entertainment has become a big part of weddings." Ekta Saigal Lulla, Founder, Weddings by Ekta Saigal Lulla, further confirms one of the biggest trends for 2024: "Events and parties are becoming more thematic. We call this ambitainment, which means ambiance entertainment and emotional catering. It starts right from the time your guests enter the wedding venue." Pramod Lunawat, Founder & CEO, Marriageuana, adds, "People don't expect to see a Bengali chow dance if I am doing a wedding in Rajasthan. I am also doing events in the Middle East where people want a belly dancer or a Qanun player to perform."
Personalized Wedding Experiences
Planner: The Crimson Circle, Decor: Deep Roots Decor and Events
"Begin the personalization journey with bespoke wedding invitations. Ask your designer to add your monogram, theme colors, or a meaningful symbol that represents your relationship," says Jinal Patel, Co-Founder, The Doli Diary. Itchha Talreja, Founder, Itchha Talreja Designs, shares, "Give us your mood boards, and we will start conceptualizing the invite as per the storyline. We are trying to move away from the regular theme-based invites and focus on personalization and the destination. People want something that is easy on the eyes."
Ekta Saigal Lulla shares, "One of our couples had a long-distance relationship for seven years. We developed a theme called Seasons of Love for them because they met in different seasons." The wedding experience is also shaped by the couple's memories together. "A groom I am working with writes poetry. In different phases of their relationship, he wrote poems for the bride and sent them as letters or photo frames. We are currently trying to incorporate all his shayari in their wedding decor," shares Aashima Arora, Co-Founder, AROOSI.
Planning a Wedding Theme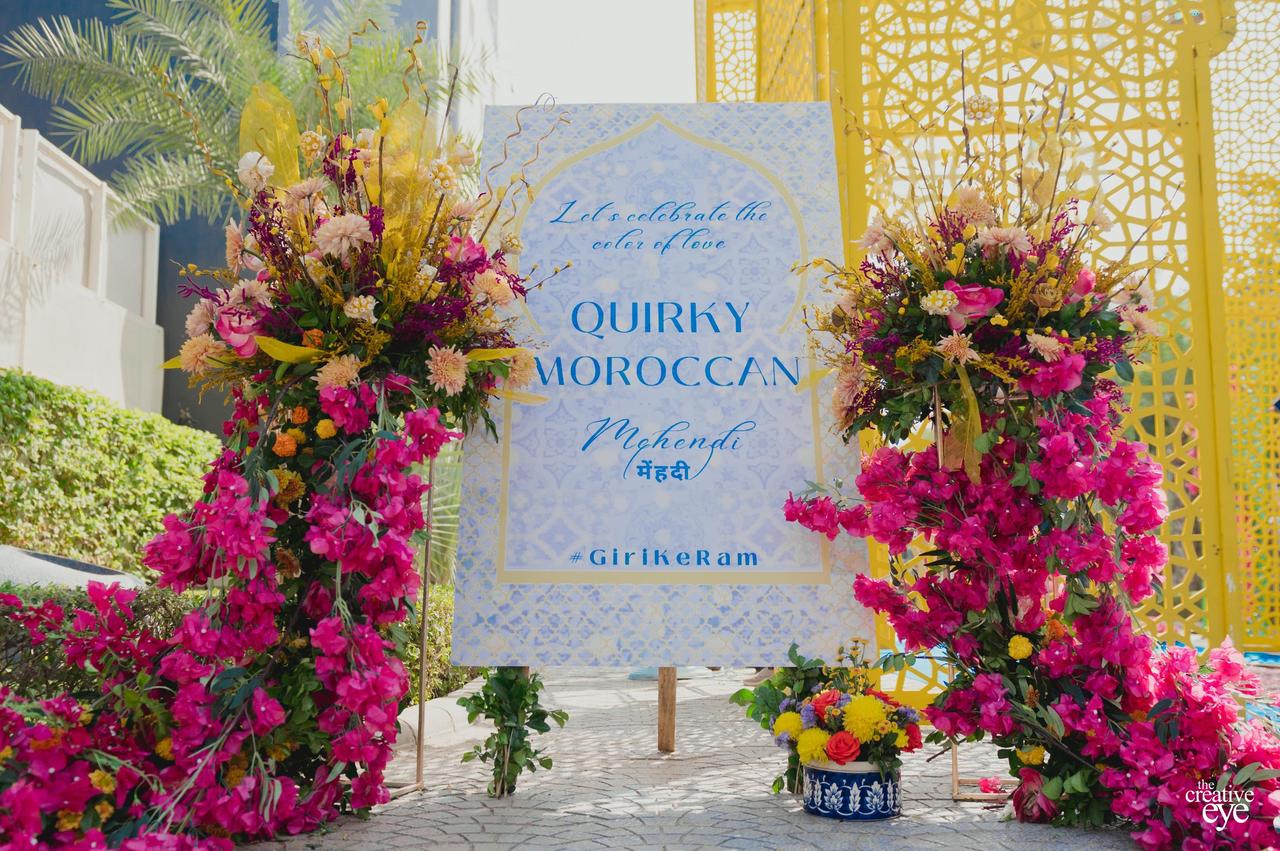 Design & Concept: Mapsor Experiential Weddings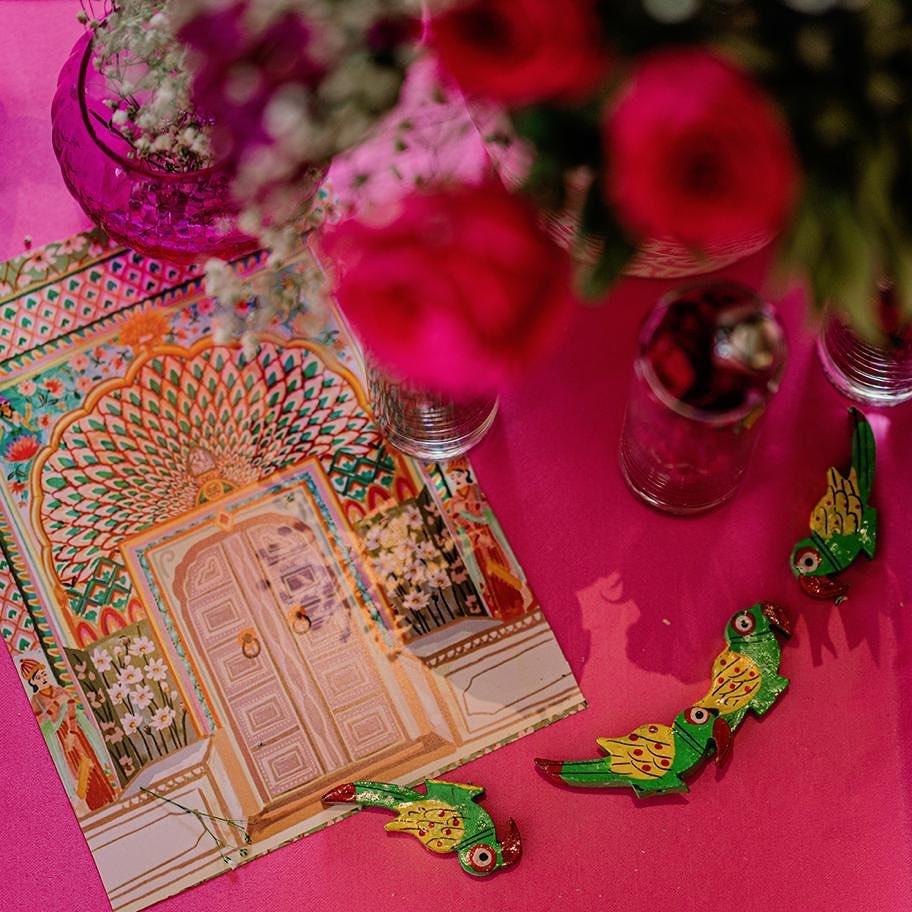 Wedding Planner: Marriageuana
Pritesh Sharma, Director, Mapsor Experiential Weddings, reveals trending themes for 2024. "Taking eco-friendliness to new heights, the Enchanted Garden Soiree theme will bring the outdoors inside. Lush greenery, floral canopies, and whimsical lighting will transform venues into ethereal, otherworldly spaces. Another trend for 2024 is nomadic wanderlust. This theme embodies the spirit of adventure. Drawing from global influences, it features a mix of textiles, patterns, and decor from around the world, reflecting a couple's wanderlust and love for exploration."
Popular Wedding Decoration Trends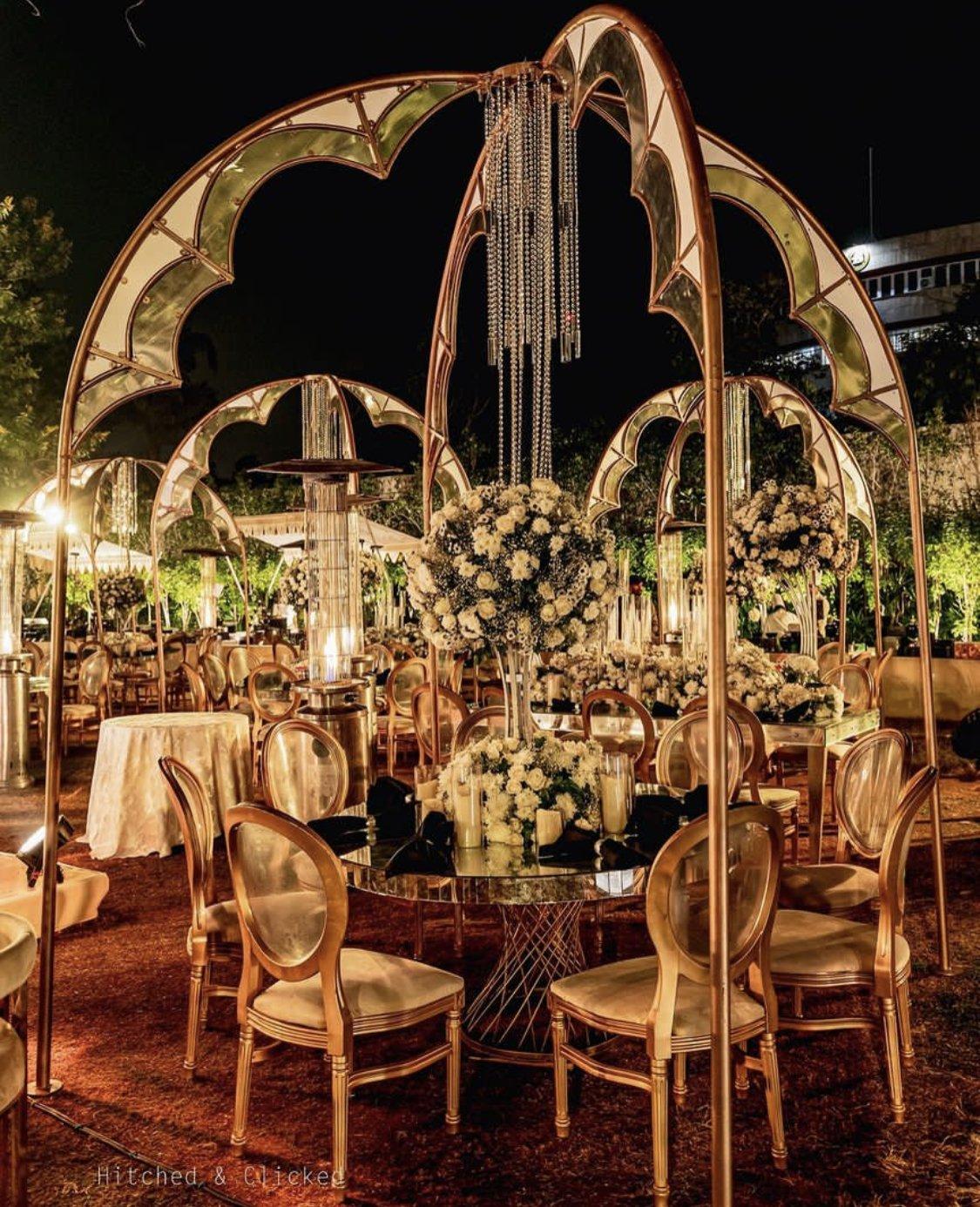 Planning & Decor: - FB Celebrations
Sharing decoration trends that enhance the intimate experience of couples, Bhavnesh Sawhney, Co-Founder and Director of FB Celebrations, reveals, "Transform large reception wedding venues by creating personalized nooks in large spaces and using partitions to create dining booths. Breakout lounges, small clusters of couches or chairs that allow groups to socialize without overcrowding, are cozy wedding trends. Consider providing small tables and refreshments in these areas to make it even more comfortable for guests."
Popular Wedding Menu Trends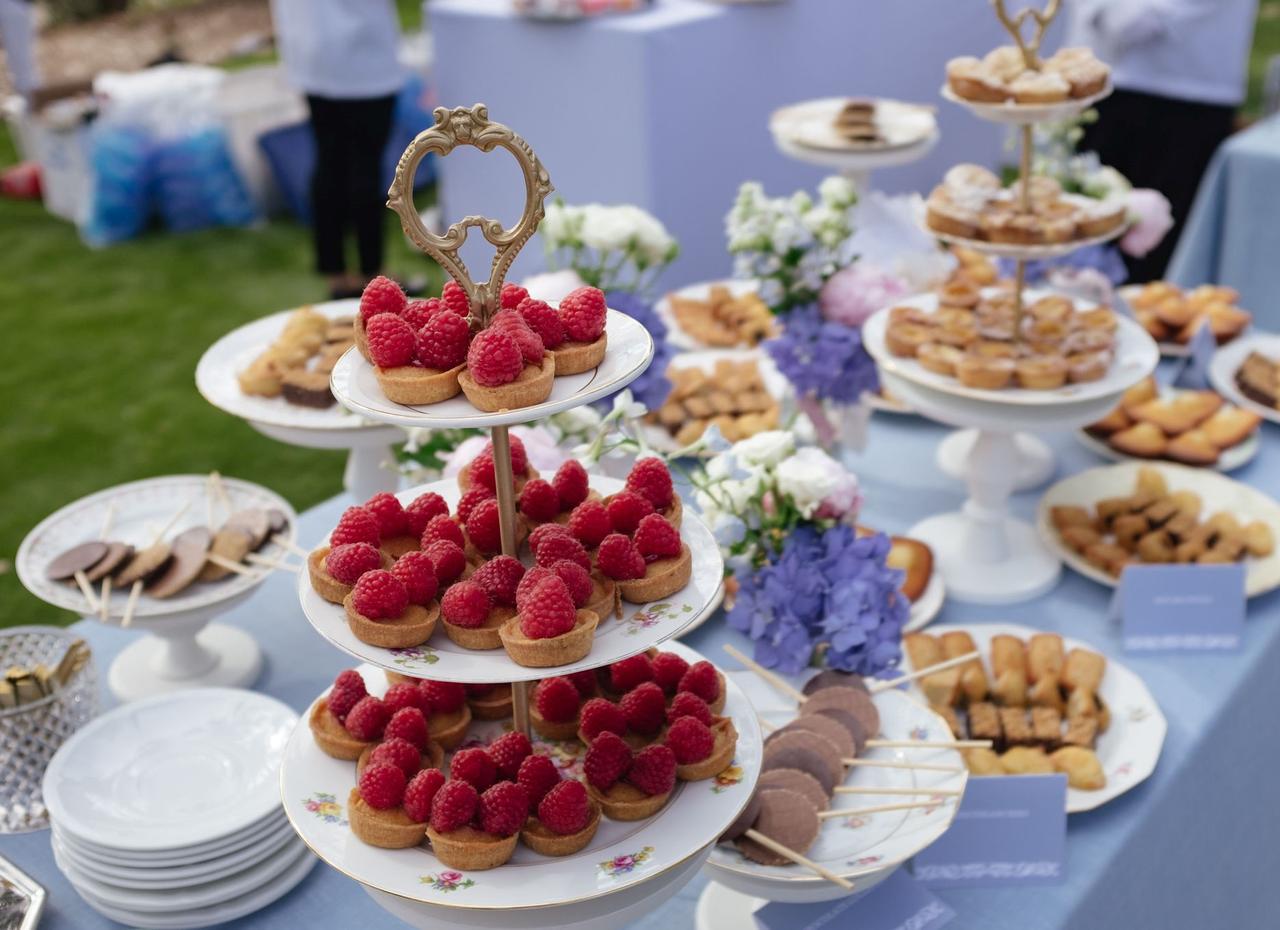 Wedding Planning: ShreeM Events
"Rather than passing around one special cocktail, couples are leaning into the drinking experience. Think Bemelmans-inspired tableside martinis, a roaming gin cart with an exotic array of fixings, dinner courses paired with sipping tequila, or a full-on tequila bar. From decadent desserts or grazing tables to custom cocktails and DIY drink stations, guests are loving doing it for themselves. There's something exciting about having your own ice cream truck at an event. In a day and age where customization is expected, DIY stations give that option for both variety and personalization," highlights Abhirath Shah, Founder, ANS Weddings.
Top Wedding Planners in Your Budget
Say 'Yes' to New Destinations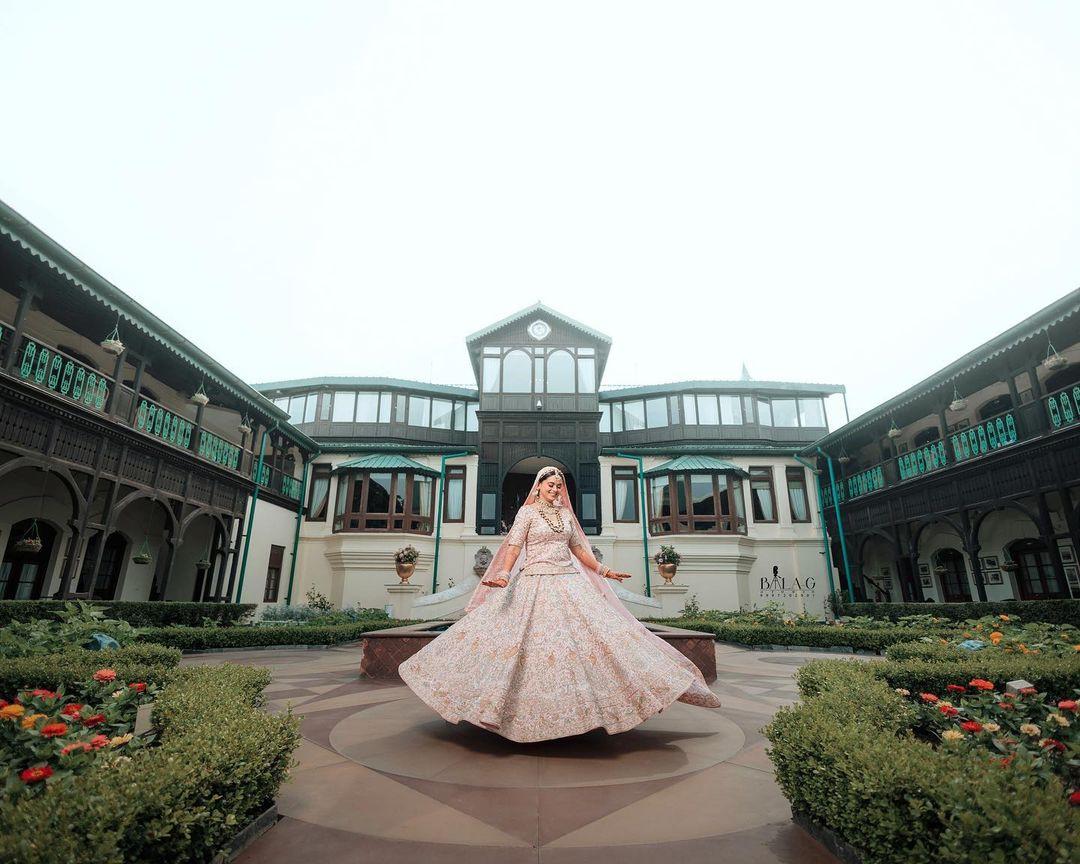 Venue: Welcomhotel by ITC Hotels, The Savoy, Mussoorie, Photography: Bala G Studio
"It's fascinating to see how weddings have changed among younger generations. Every detail is carefully planned to create a memorable experience, from elegant sundowners to exciting after parties and even the presence of gaze artists. We are witnessing a higher demand for complete buyouts. This trend of growth has continued for the past two years, and a strong pipeline is already there for the first quarter of next year. There's an increased inclination towards customized and intimate wedding experiences, which is undoubtedly encouraging for the wedding industry," confirms Gautam Valli, General Manager, Welcomhotel by ITC Hotels, The Savoy Mussoorie.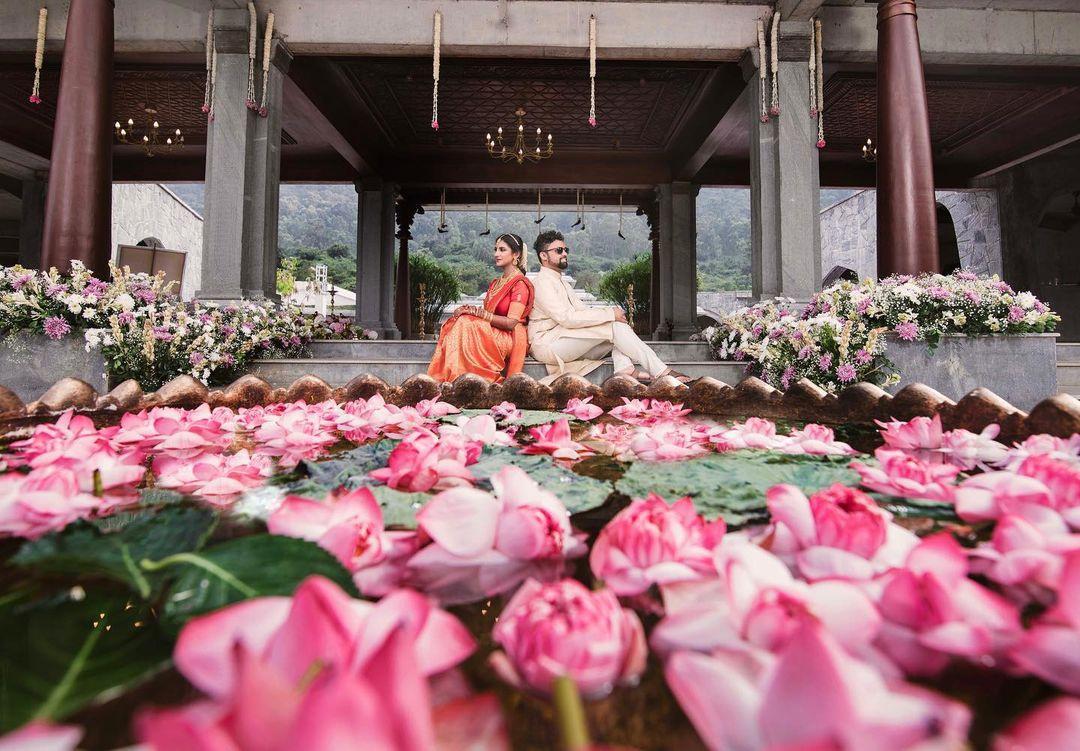 Venue: Amita Rasa, Photography: Shishir Gaurav Photography
"Earlier, all big, fat weddings were either hosted in Rajasthan or Goa. South India is picking up quite a bit of prominence now. Kochi, Kovalam, venues near Bangalore, and Mahabalipuram are some of the popular destinations to explore in 2024. Hill stations in India like Rishikesh, Haridwar, and even Siliguri are in demand for upcoming weddings. Owing to the proximity of these destinations to metropolitan cities, families are finding them affordable as well as pristine for destination weddings," shares Ekta Saigal Lulla.
"I think the trend for 2024 will be a lot of destination weddings at newer destinations. In the Middle East, for example, Indian weddings will not just be planned in Dubai or Abu Dhabi. Couples should explore Jordan and Oman. Couples are also exploring Krabi in Southeast Asia. They will continue going to Bali for weddings. Singapore will emerge as a top destination for Indian weddings in the next couple of years. Indian destination weddings in Europe will not just be about weddings in Italy. Intimate weddings are being planned in Eastern European countries—the Czech Republic, Prague, or Budapest—as couples realize that the airfare that you pay for Italy or Budapest is nearly the same," opines Pramod Lunawat.
Wedding Venues In Your Preferred City
Wedding Tech-Over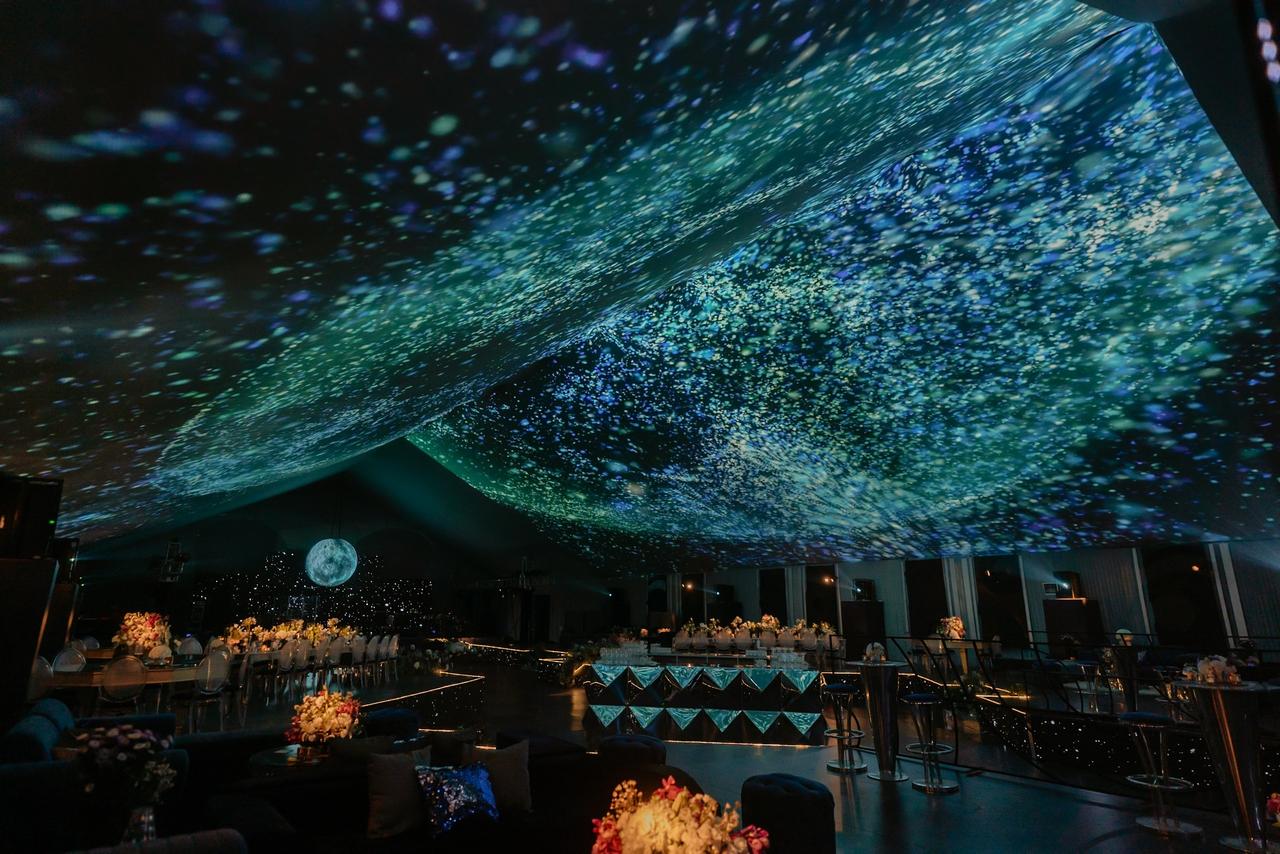 Wedding Designer: The A-Cube Project, Photography: Epic Stories
The wedding takeover by technology is a much-anticipated trend that we can't wait to evaluate in 2024. It's been a year of experimenting with how to strike a balance between the human elements while wedding planners and designers ensure the use of technology to make wedding experiences more immersive and eco-friendly for you and your guests.
Projection/3D Mapping
"Projecting mesmerizing visuals, patterns, and designs onto wedding venues will become a prominent trend. 3D mapping technology will transform plain surfaces into captivating displays," confirms Namha Malhotra, Founder, Castles & Coasters. Devanshi Patel shares a live example: "We planned a wedding in a chateau at Cannes. The chateau was pretty huge to be completely decorated. You cannot go all out in terms of doing flowers in every nook and cranny. I didn't want to leave two loose fabrics on the wall or just some toran hanging on the facade. So, we did a complete mapping of that facade. The whole thing looked alive because of technology. The venue looked like an enchanted garden with butterflies roaming." Discuss the possibility with your wedding designer and planner if you would like to create a unique tech-driven ambience for one of your events.
Wedding Planning Online
Anam Zubair, Head of Marketing, WWI, shares, "Every 4 seconds, a couple searches for a wedding vendor on WWI, which clearly indicates the evolving nature of wedding planning in India. While families heavily relied only on 'word of mouth' recommendations earlier when seeking out wedding venues and vendors, they are increasingly trusting and using online wedding technology platforms such as WeddingWire India to find ideas, inspiration, wedding vendors, and free wedding planning tools. As per our recent brand survey for 2023, the adoption of wedtech platforms rose from 49% to 58% within two years. We saw 21% YoY growth for our registered couples. We also saw 57% of couples surveyed choosing to share their wedding announcements through messaging platform WhatsApp; 52% of people have used Instagram; and 41% have used Pinterest for their wedding inspiration."
Technology in Budget
Mapping is expensive compared to any other projection or technology-based wedding decor, but Devanshi Patel has affordable suggestions for tech-loving and eco-friendly couples. "You can go for LED panels or create a tunnel as an entrance to the wedding venue, which is very futuristic, or you can opt for a projection room for a DJ night. We are also doing techno nights with just lasers. Your design team can just put in four LED batons, and you're sorted. Ask your wedding planner for that foresight because you would not know what could fit your wedding budget."
Drone Shows Instead of Fireworks
Namha Malhotra shares, "If you are an eco-conscious couple, you can opt for captivating drone shows as an alternative to traditional fireworks. Choreographed drone displays will illuminate the sky, adding a touch of modernity and eco-friendliness to the wedding festivities."
Find Top and Trusted Wedding Decorators
Global Wedding Trends Seen in Indian Weddings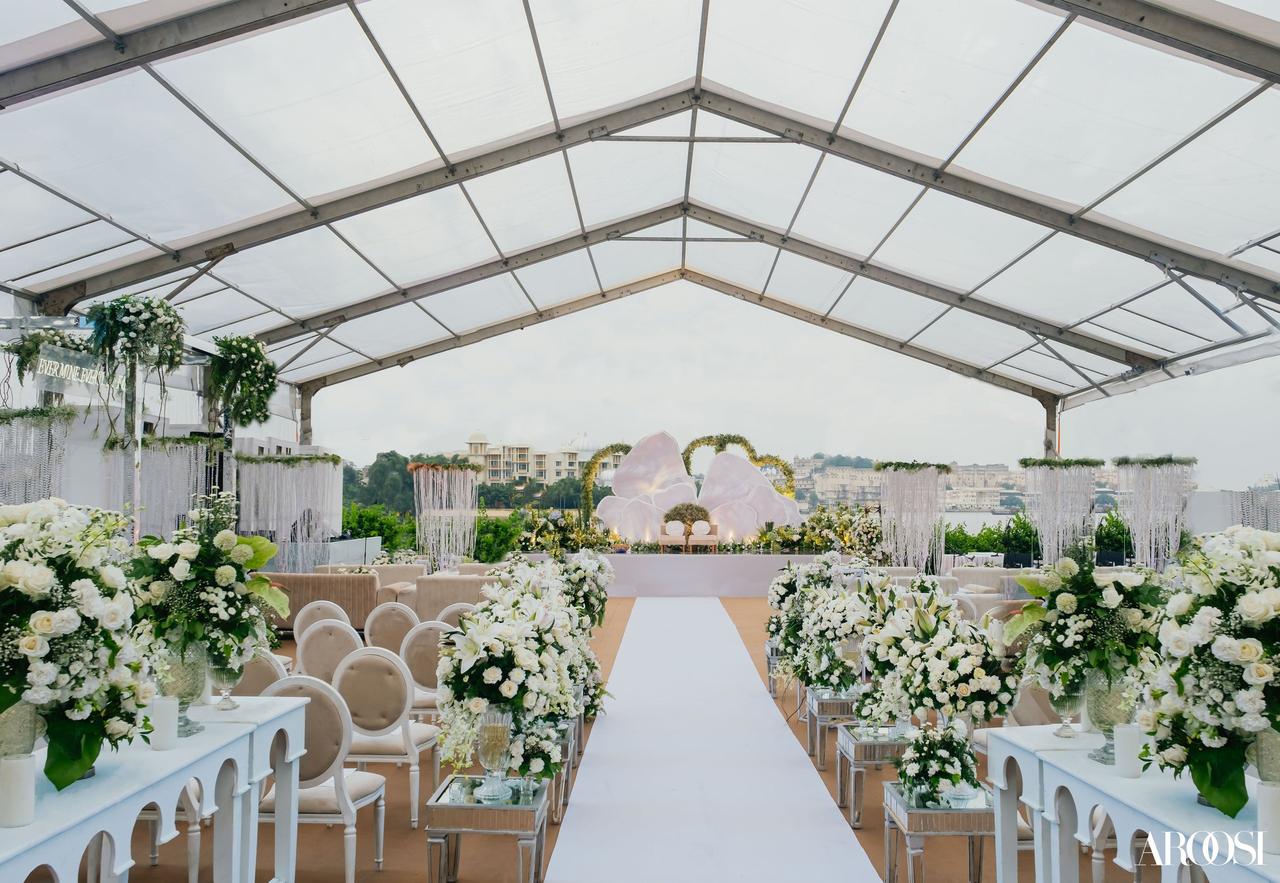 Design: AROOSI, Photography: House On The Clouds
Neoculturation is one of my favorite words. It means 'the creation of a new cultural phenomenon as a result of the intermingling of separate cultures," and in this context, the infusion of international concepts in Indian weddings. Deepali Shah Chandan, co-founder of The Crimson Circle, quotes some of the most trending examples of neoculturation. "White weddings, elaborate brunches with a music festival vibe, lively Haldi events resembling carnivals, and sangeets with a concert-like atmosphere have made pre-wedding celebrations more enjoyable and relaxed." For Ruchika Arora Bansal, Director, Plush Weddings, your personality takes center stage, and global themes can be incorporated accordingly. "You can discuss English high tea or a carnival of sorts with your designer, or take inspiration from Tomorrowland for your after-party. Your wedding set can be inspired by Dubai's miracle garden. It could be at an international destination or in India with globally inspired wedding sets."
Ivory or White Weddings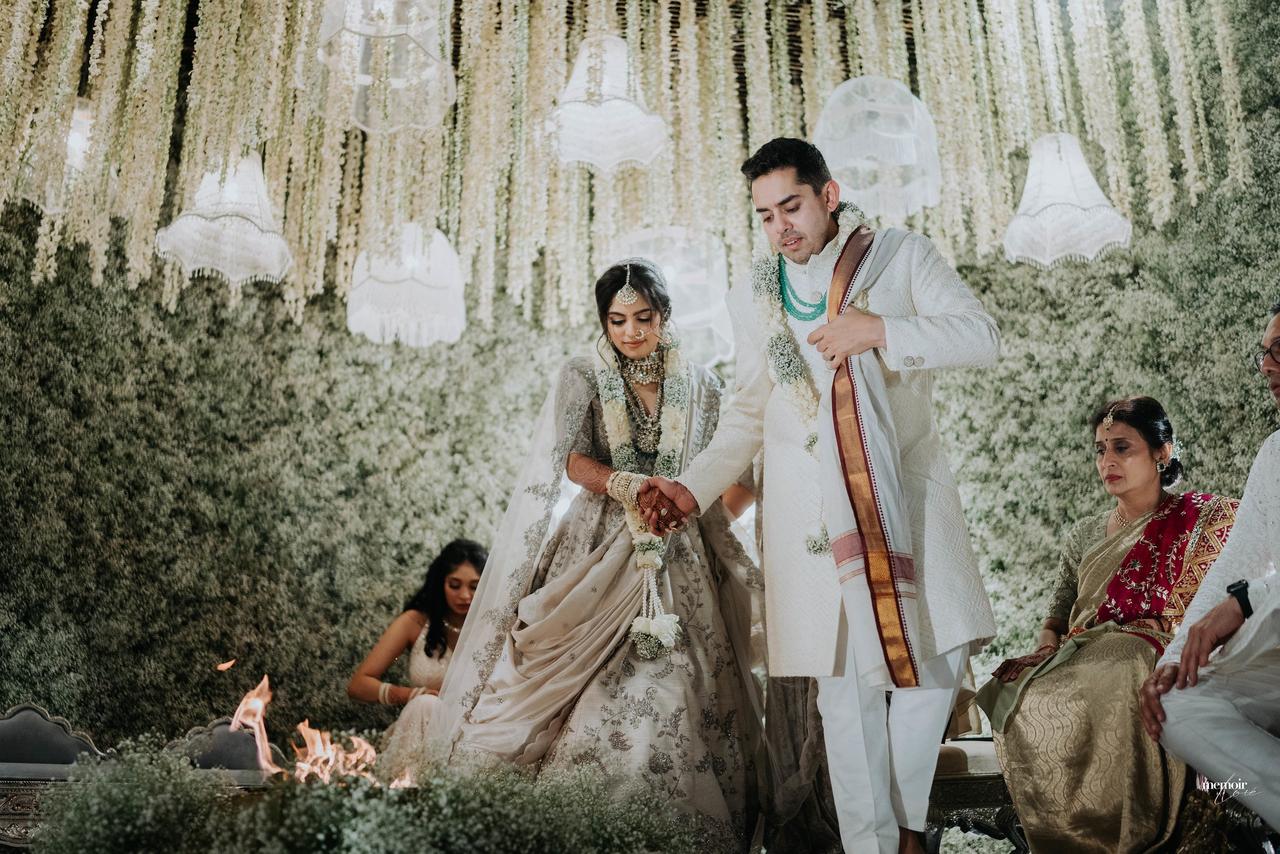 Wedding Decor: Atelier by Prerna Joshi
🔍 Searches for White Weddings have grown by 173%*
Few religions in India have come a long way from limiting white as the color of mourning. Symbolizing purity, peace, new beginnings, and elegance, white weddings' is the word of the year. You will also see near-neutral whites and mettalic shades (off whites, ivory, and lighter shades of gold, grey, and beige) growing in demand for their timeless elegance. While minimal bridal looks will be a raging trend for this theme, decor concepts will be much more dramatic with traditional Indian flowers and fabrics.
Well Lit White Wedding Mandaps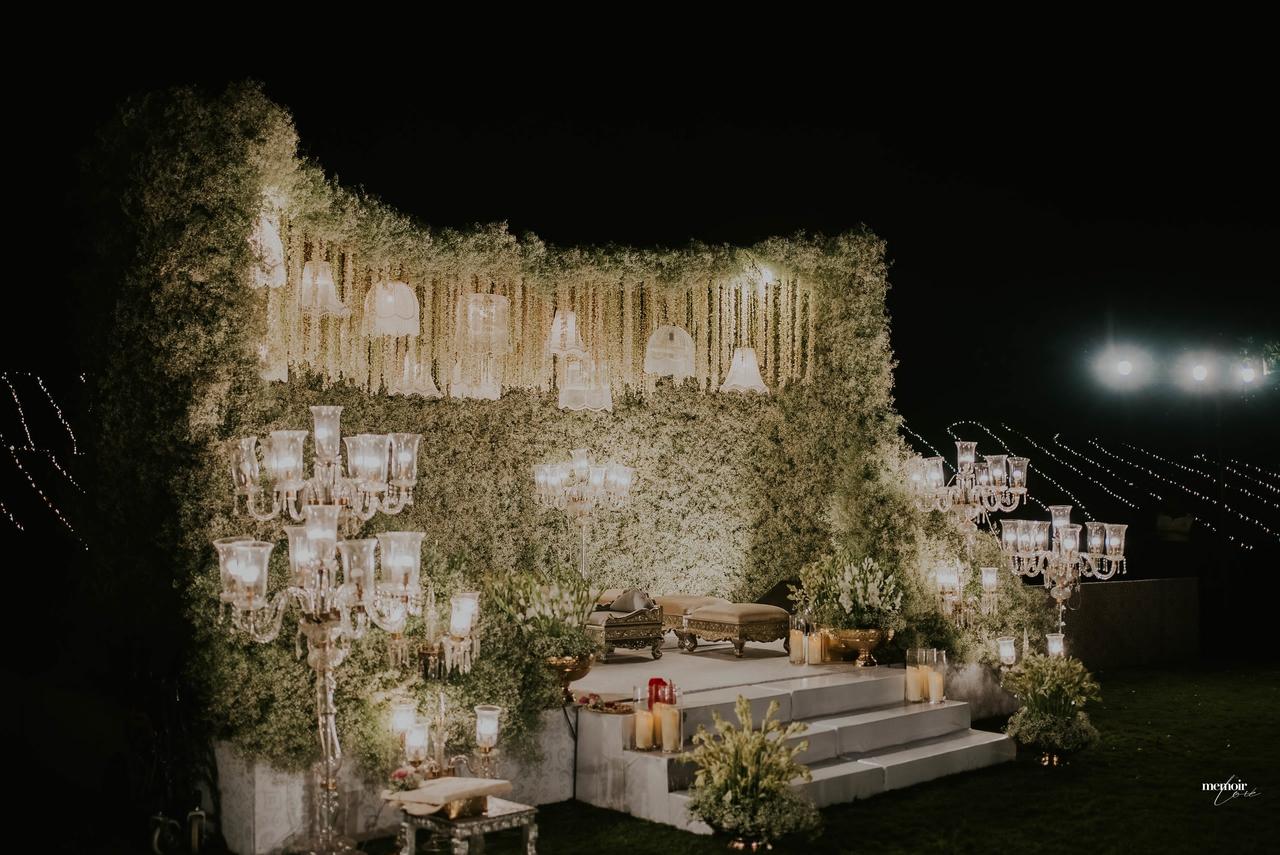 Wedding Decor: Atelier by Prerna Joshi
"White wedding decoration at night can create a romantic and elegant ambiance for winter weddings. Although it is a commonly used color palette, it remains a classic one. It depends on how you and your decorator decide to make it different. It can be the quantities, the kind of flowers, or the prop or fabric they use to style the palette with. The wedding venue is the most important part of designing any concept. If the wedding is on a beautiful lawn with a slightly hilly background, you can ask for a traditional four-pole structure to match the surroundings. For nighttime weddings, your mandap should be well lit. Playing with colors and flowers in daylight can be a little less challenging. I suggest using florals, but in a concentrated manner, where your decoration focuses on highlighting that one flower that would tie the rest together. Adding samadhan-shaped decor will bring a subtle touch of Indian aesthetics overall," shares Prerna Joshi, Creative Director, Atelier Events.
Fairytale White Whispers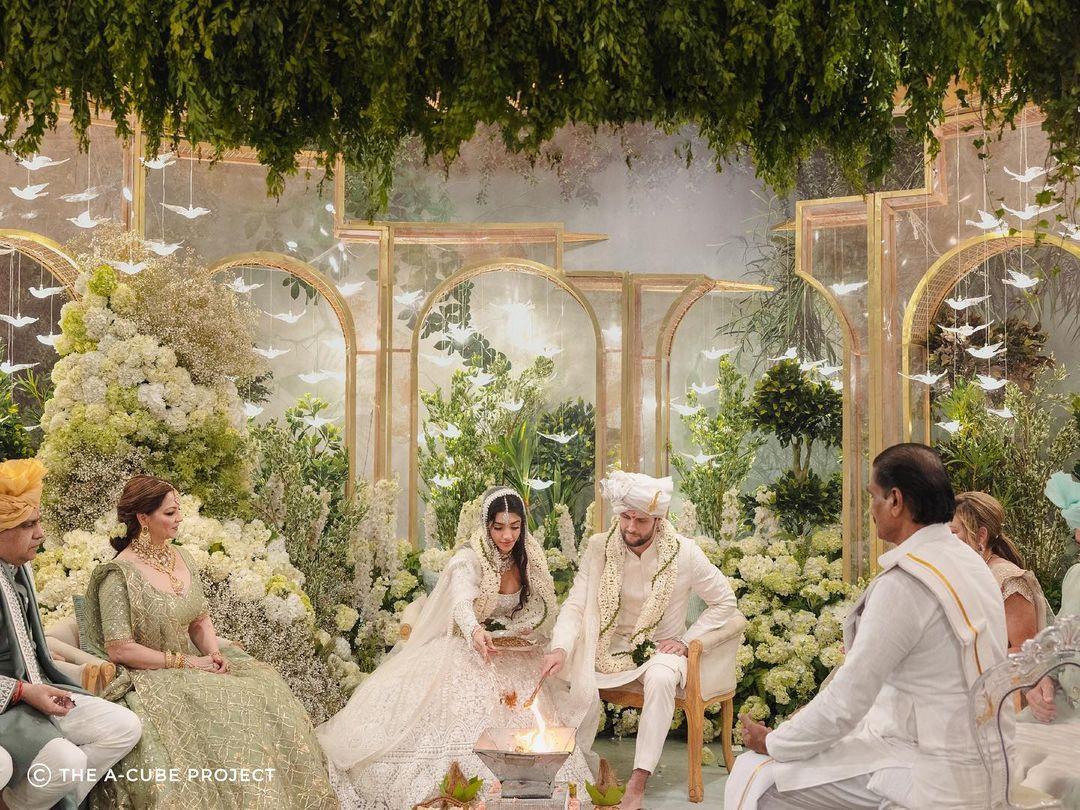 Wedding Decor: The A-Cube Project, Wedding Venue: Taj Mahal, Mumbai
Alanna Panday and Ivor McCray's wedding ceremony decorations set the most inspiring trends for a white wedding ambience. Ambika Gupta, founder of The A-Cube Project, shares the inspiration story. "Playing on their love for nature and all things earthy, the hall was transformed into a magical garden filled with lush white florals and wild greens with twinkling lights on the aisle to create a dazzling setting. A long mirror aisle lined with flowers and twinkling garden lights reflected the wild beauty of the mandap as Alanna walked down the aisle to meet Ivor. The mandap features deconstructed acrylic arches arranged in a semi-circular ring to create a cozy gazebo with greens and in-lit birds hanging overhead for Alanna and Ivor to take their pheras."
Stunning Ivory/White Wedding Wear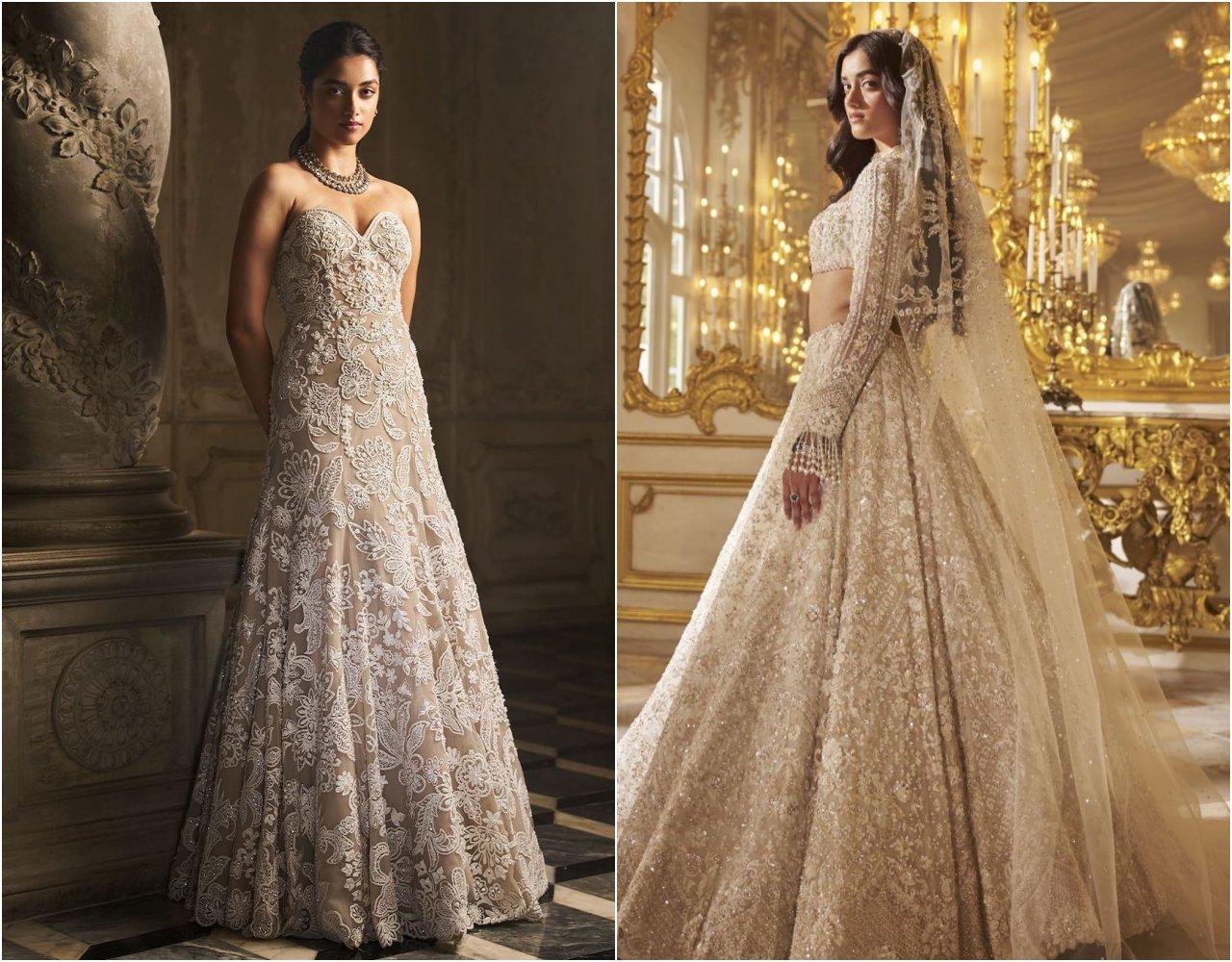 Outfit Designer: Seema Gujral
If you are planning resplendent white weddings, you should also embrace the timeless allure of white and off-white shades for your wedding wear. While white gowns are a traditional pick for Christian brides, we are seeing a growing demand for ivory bridal lehengas and sherwanis as well. Celebrated Indian couturier Seema Gujral elaborates on embroidery trends for white and ivory bridal lehengas, bridal sarees, and wedding gowns. "We cannot overlook the plethora of truly iconic embroidery and motifs used in white and ivory lehengas. Zardozi, undoubtedly, is an awe-inspiring form of metal embroidery that effortlessly elevates the level of sophistication in any formal ensemble. Gota patti, a truly captivating technique, showcases the art of attaching fragments of gold or silver ribbon to create a mesmerizing effect. These are a few embroidery projects that I like to work on." White sherwanis are a classic favorite for Indian grooms because they easily coordinate with a bright red lehenga or saree. I would love to see more all-white dhoti sets and embroidered pant suits on experimental grooms.
Top Color Combinations to Try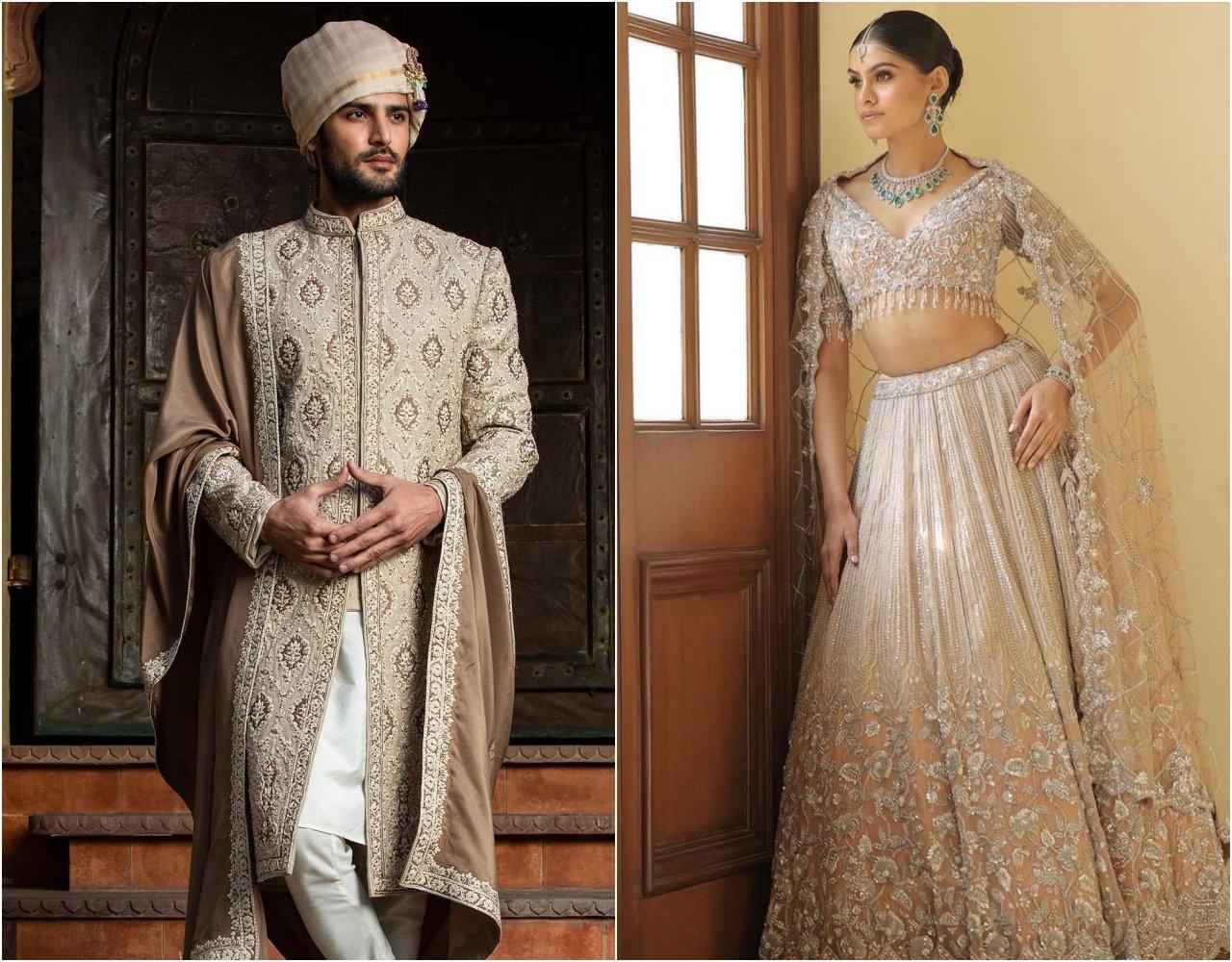 Outfit Designer: Nitika Gujral
You can either opt for monotones or ombres in 2024, or you can experiment with a few color combinations that maintain the elegance of white weddings. "A rich and luxurious pure tone combined with lush green will create a subtle statement in wedding decor," says Jinal Patel. Seema Gujral shares her top favorites, "I love the combination of gold and white/ivory: gold embellishments, embroidery, or motifs on a white or ivory lehenga can create a regal and timeless look. If you believe in donning red for your wedding day, you can choose the red and white/ivory combination. This could be a white or ivory lehenga with intricate red embroidery, borders, or a dupatta to add a vibrant touch to the overall ensemble. Navy blue, white, or ivory can also be opted for for a bold and dramatic look. However, it's essential to choose colors that resonate with your personal style and wedding theme."
Carnival-themed Weddings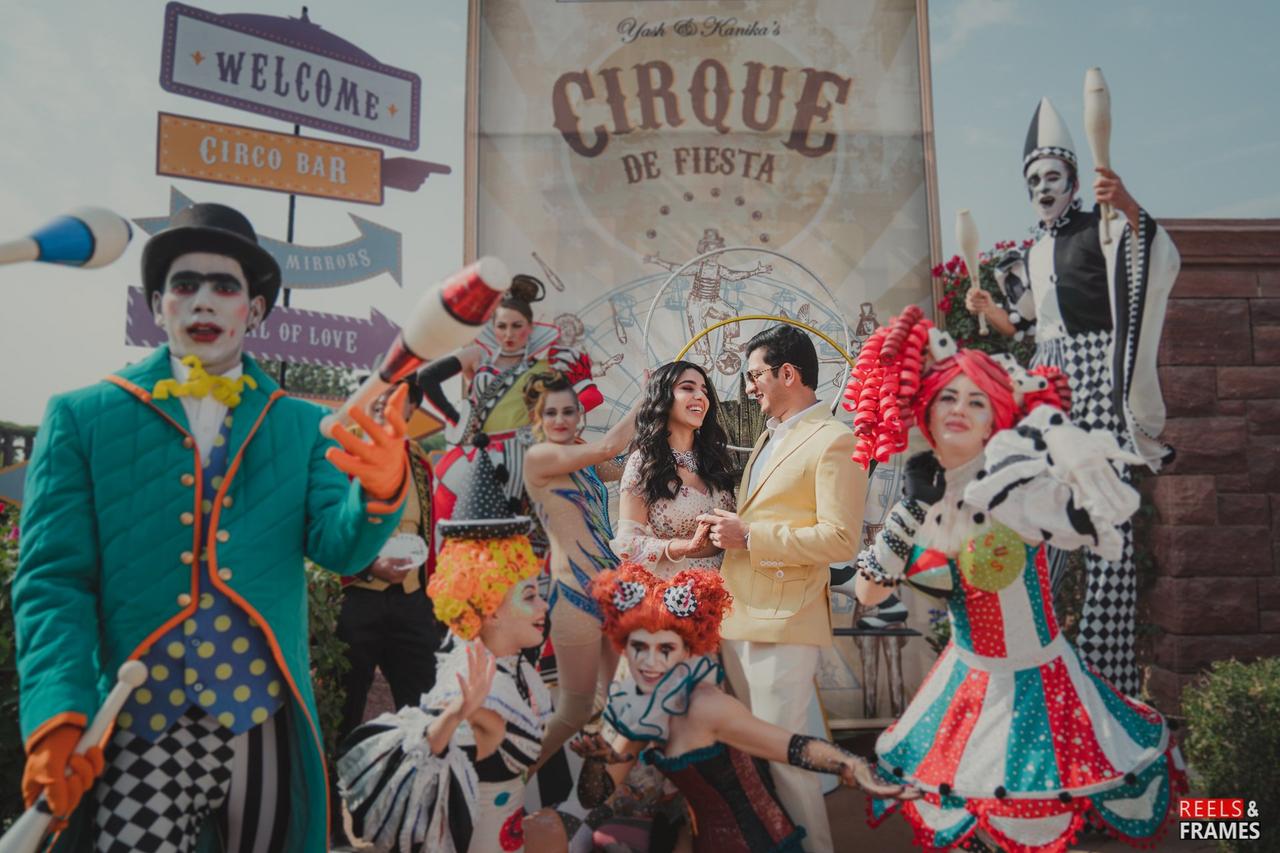 Wedding Planner: ESL Weddings , Photography: Reels & Frames
Searches for carnival-themed weddings have grown by 53%
There is much in common between Indian weddings and carnivals. For example, heartfelt celebrations amidst a myriad of colors, dressing up as per unique themes, and delicious finger-licking food to complement the essence of the event
Ekta Saigal Lulla shares different types of unique ideas to explore. "To plan a carnival theme, you first need to discuss with your wedding designer what kind of carnivals you will connect with. For example, Cirque du Soleil has a bit of a dark side to it, and there are acrobatics. We have planned weddings with carnival themes like the retro circus carnival, Cirque du Soleil, black and white carnival, enchanted carnival, run-of-the-mill carnival, and more. When you're doing something thematic, the costumes and the color themes are very important. Ambitainment and emotional catering also play a key role in building this theme." Ruchika Arora Bansal reminisces about how she turned a destination Indian wedding celebration in Nigeria into a global carnival. "The groom had friends coming from the US, UK, Albania, and Spain. He wanted every night of his wedding to be a raging party. So one night we got a DJ from India who played till 5 in the morning. The next night, we had Walter Scalzone come in, and he took over the party alongside fabulous dancers from Africa. The third night was all about traditional family performances with endless tequila and champagne."
Sharing tips on how to make food for carnival themes interesting, Deepali Shah Chandan shares, "Western food stalls like gelato and Boba tea stalls, undiscovered cuisines like Turkish and Spanish, and personalized keepsakes from events—like an evil eye stall for a Turkish themed event or a plate-breaking ceremony for a Greek themed brunch—can be considered depending on the theme."
Bridal Entry Dupatta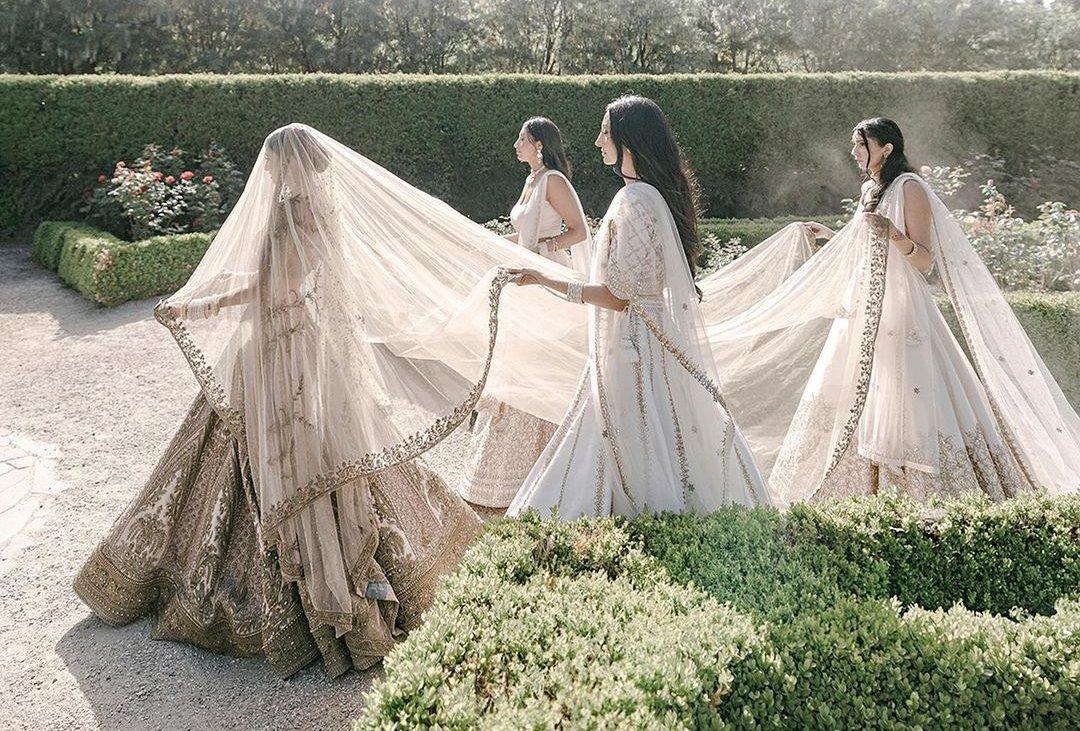 Photography: Amrit Photography
🔍 Searches for Bridal Entry Dupatta have grown by 213% *
Long, dramatic bridal veils will become a mainstay for your bridal entry in the upcoming wedding season. While Designer Arpita Mehta's Lifting the Dramatic Long Veil Bridal Entry Moment is etched in our hearts forever, as an upcoming wedding season bride, you might want to ditch the ghungat and pay more attention to how long your bridal veil's trail is. "Aerial entrances, where the bride descends from a suspended platform or enters from a balcony, can add a touch of drama and excitement," shares Akanksha Verma, Lenseyezia Productions.
Pro Tip: Let your bridal entry be as unique as your own personality. Be it a minimalistic ghungat that your groom lifts right before the varmala moment, walking down the stairs as a dramatic veil adds a royal feel, or a bridal entry moment as your bridesmaids hold the long veil trail, you should choose what best resonates with you.
First Dance Ritual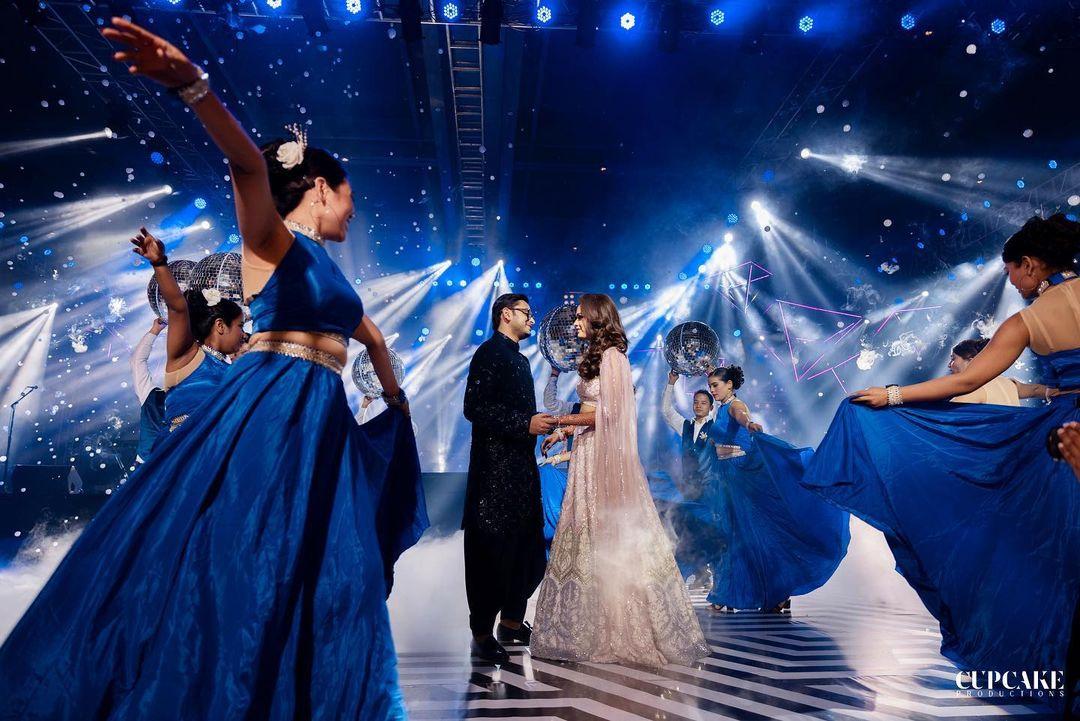 Choreography: YSDC Wedding Choreography, Photography: Cupcake Productions
Our Newly Wed 2023 survey shows that 20% of Indian couples surveyed had followed the global trend of a first dance during their wedding. Are you planning one too?
Pro Tip: Let Bollywood, Sufi, or other traditional themes rule the pre-wedding sangeet night and save a ballroom dance for your first dance at your post-wedding reception or cocktail night. Add your voiceover or get a song custom-made to make this performance truly personal for the two of you.
Wedding Vows
Few couples have hopped on the'sharing wedding vows' ritual, which is inspired by English weddings. We hope to see a more candid exchange of vows on the engagement night or right before the varmala ceremony.
Pro Tip: "Write heartfelt personal vows for each other. This touching exchange of promises will make the ceremony even more personal and memorable for the two of you and your loved ones," confirms Jinal Patel.
Trending Wedding Dresses for 2024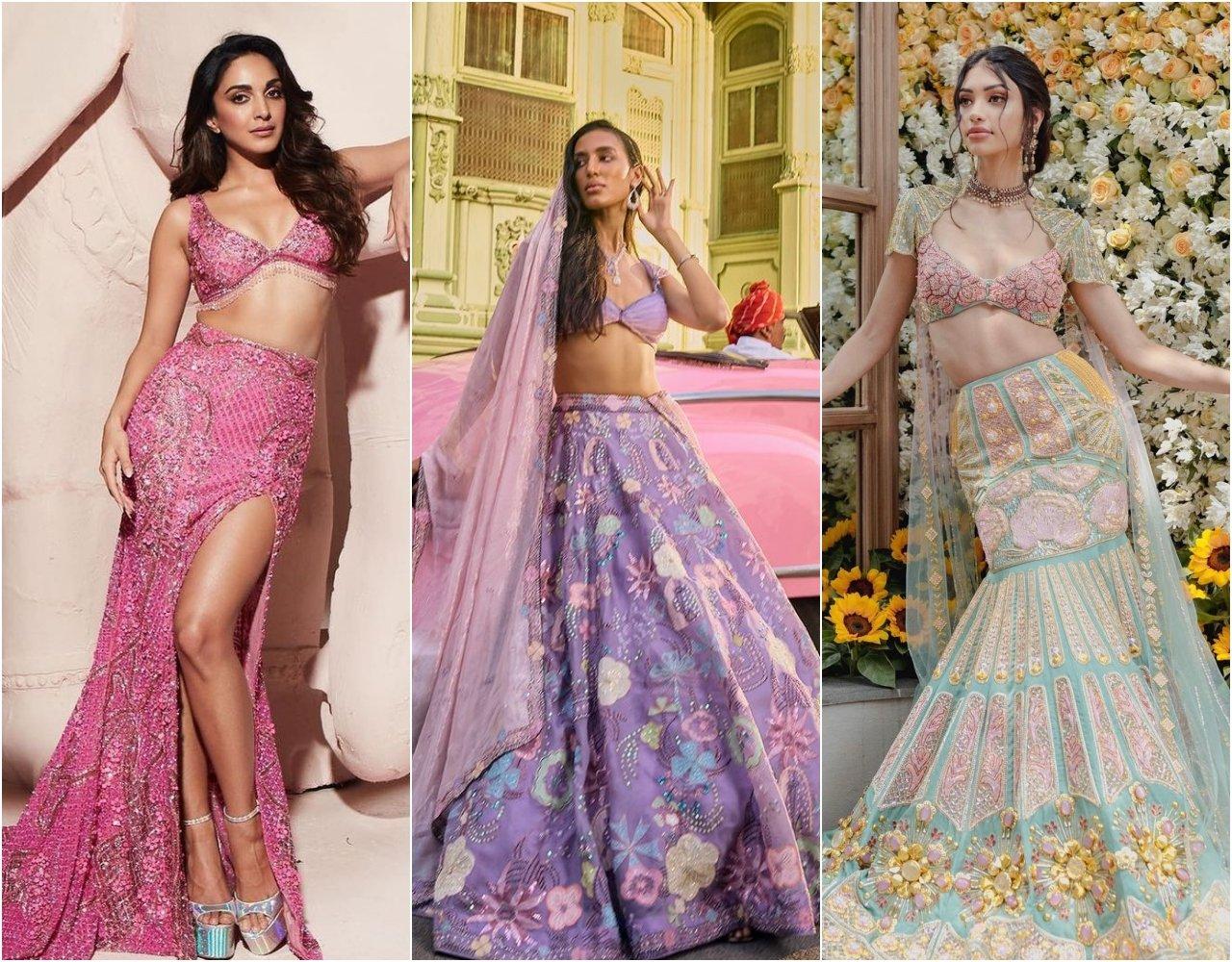 Designers (L-R): Falguni Shane Peacock, Aisha Rao, Papa Don't Preach by Shubhika
How many of you brides-to-be want to be seen setting a trend instead of following one? We bring to you insights on wedding fashion for bridal wear styles that have been climbing the radar. Find these tips to ensure your wedding look is one-of-a-kind.
Lavender Lehenga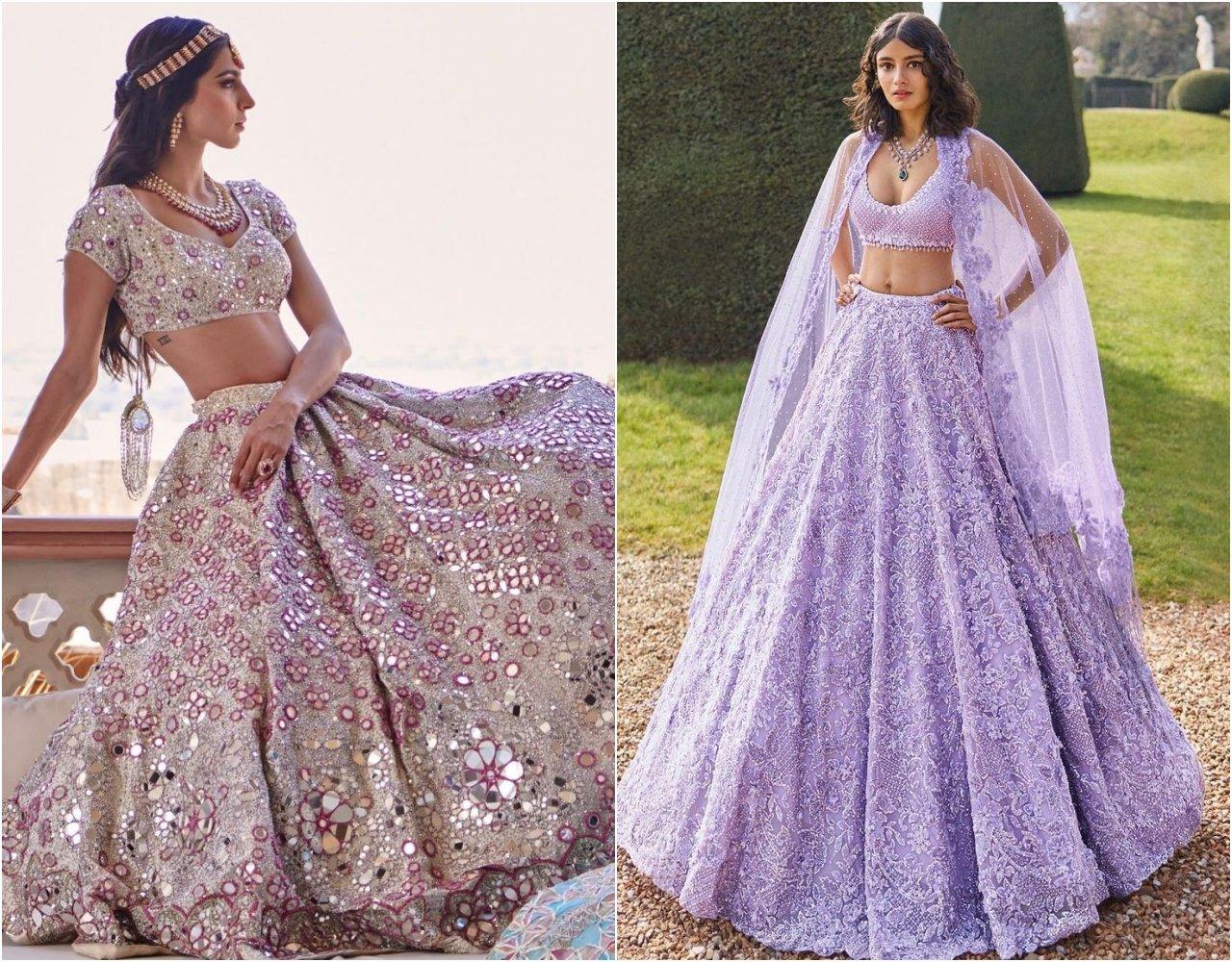 Designers (L-R): Abhinav Mishra, Seema Gujral
🔍 Searches for Lavender lehenga have grown by 73%
If you are looking for sheer, elegant bridal lehengas but are not keen to jump on the white, baby pink, or ivory bandwagon, opt for a bridal lehenga in a lavender shade. After the Bridgerton effect, the search trend for lavender lehengas has been growing year after year. The subtle shade can complement flowy fabrics and the in-demand crystal, pearl, or minimal chikankari embroidery effortlessly. It is also the perfect shade for modern minimalistic, dreamy, and whimsical wedding themes.
Mermaid Lehenga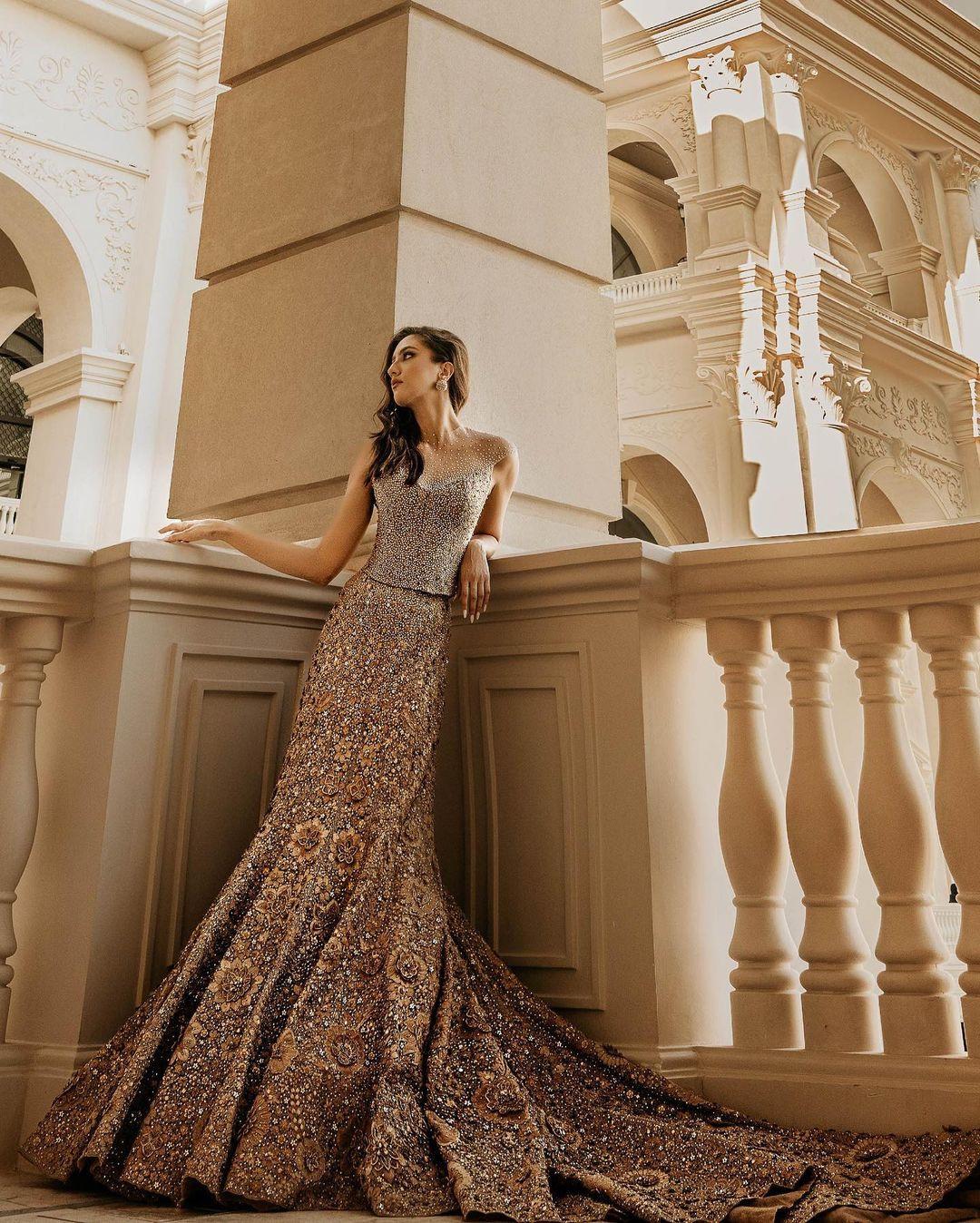 Designer: Tarun Tahiliani
🔍 Searches for mermaid lehenga have grown by 105%*
Look what's back in fashion's recurring cycle: the mermaid lehenga. Quintessential and voluminous lehengas will continue to reign for the main wedding day bridal look, but I forecast mermaid lehenga skirts with high slits taking over the endless pre-wedding events and parties. As a new-age bride, opt for eclectic fish-cut lehenga styles for your pre-wedding events and dazzling engagement nights over gowns.
Barbie Pink Bridalwear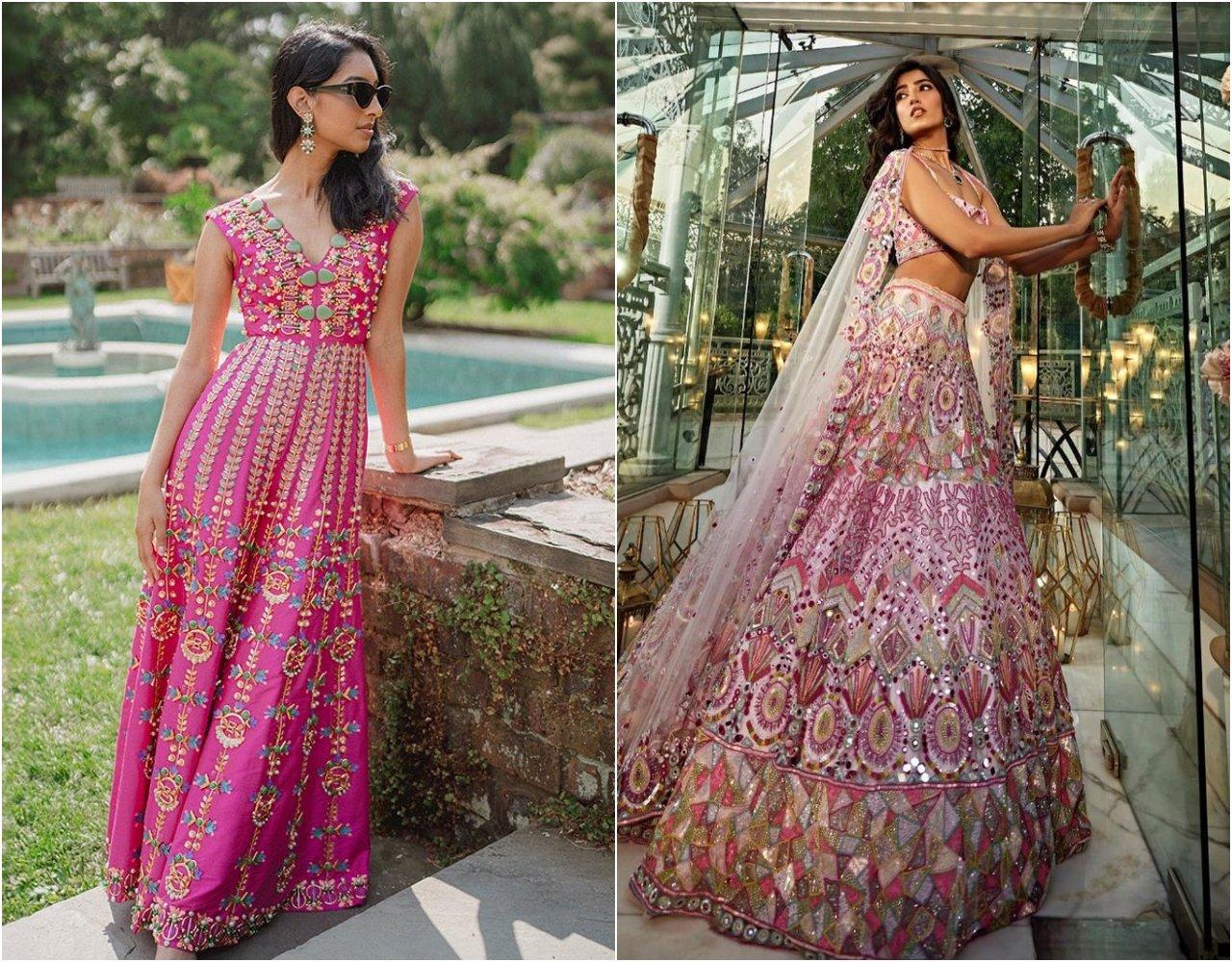 Designer (L-R): Papa Don't Preach by Shubhika, Surabhi Chopra Label
🔍 Searches for Barbie pink dress have grown by 50%*
It goes without saying that 'pink' is here to stay, while the trending tone can slightly differ. If you are a Barbie fan, now is the perfect time to invest in Barbie-core pink lehengas or gowns for one of your wedding events. No other color flaunts the femininity of a bride as effortlessly as pink, and the brighter Barbiecore pink shade also adds an edge of boldness and free-spirited diva to the overall look.
Best Bridal Lehenga Stores Near You
New Floral Wedding Decoration Trends for 2024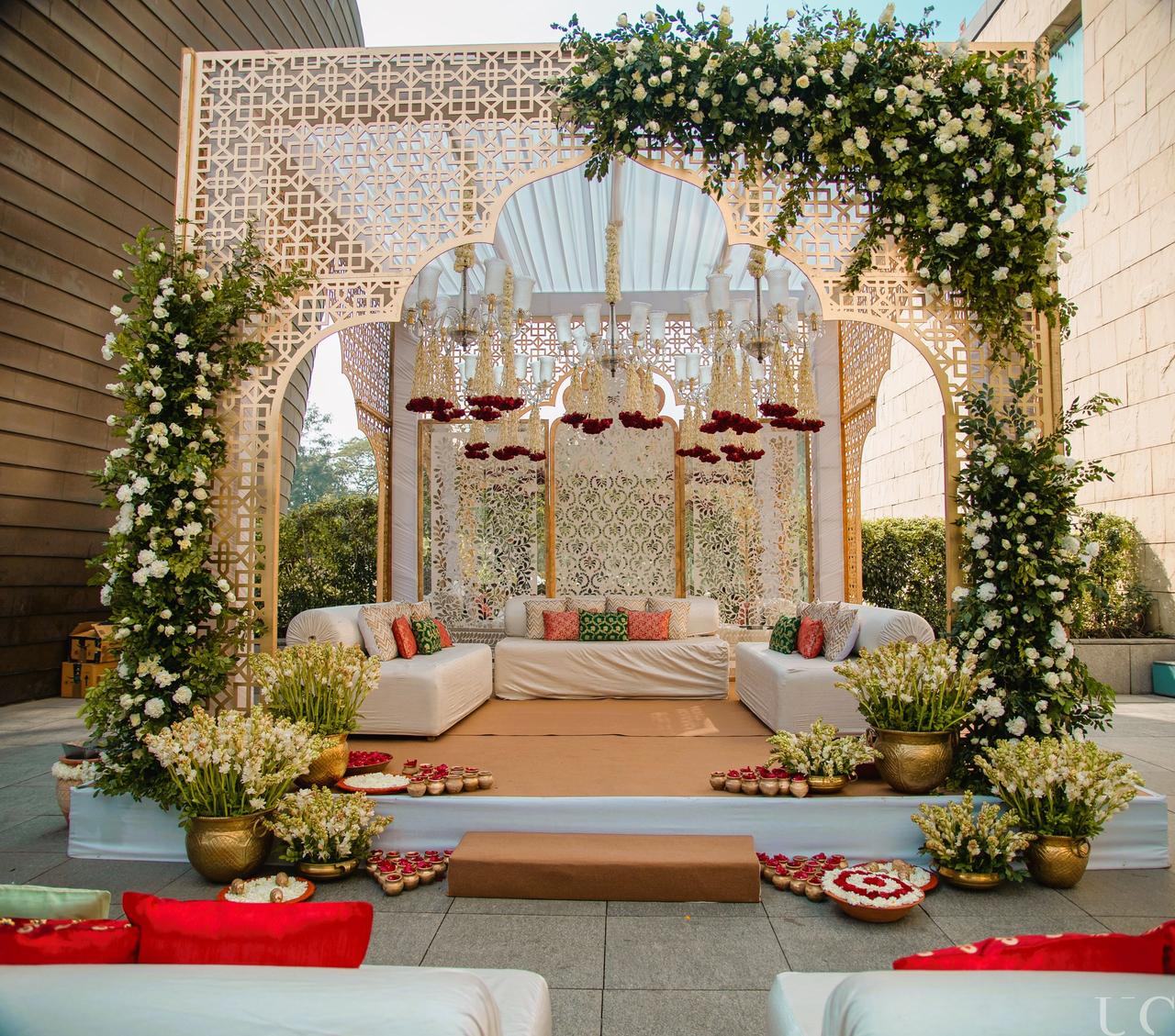 Wedding Design: Designer Events Inc
Flowers are one of the most popular and traditional love languages. The implementation of floral delights is often practiced to honor our traditional roots in auspicious ceremonies and weddings. 2024 is about embracing floral decorations that represent your personality and the overall wedding theme you choose. From the petals on your Haldi tray to floral installations and mandap adornments, flowers are now one of the core expressions of a personalized design story. We spoke to expert wedding decorators to help you with trending floral decoration ideas for your wedding events.
HOW TO?
Go Local
"No one's obsessing about imported flowers anymore. They love the concept of using more grass and Rajnigandhas. If you want an Indian touch, you can ask your wedding decorator to source local flowers. Also remember the essence of fragrance that comes with using flowers like Desi gulab, Mogra, and Rajnigandha as you plan your wedding sets," says Aashima Arora.
HOW TO?
Personalize with Flowers
Ambika Gupta suggests, "You can go with a softer look like ombre or monotone, opting for quiet luxury. Ensure the flowers are displayed as per your event theme. You can get a make-your-own bouquet station installed and also add innovative entrance signage with different mediums, like we did for Alanna Panday and Ivor McCray's Haldi ceremony inspired by the Italian Farmers Market."
HOW TO?
Go Over the Top
We hear you! Royal wedding themes need OTT decor requirements, and we are here to make sure you have the right tips to plan. Bhavnesh Sawhney states, "Over-the-top flower arrangements are a major staple at luxury weddings. From jaw-dropping wedding ceremony arches to table backdrops and floral canopies above the dance floor, you can use flowers to completely transform the space into something straight out of a fairytale. Tall wedding centerpieces are another way to leave your guests in awe as soon as they enter the room."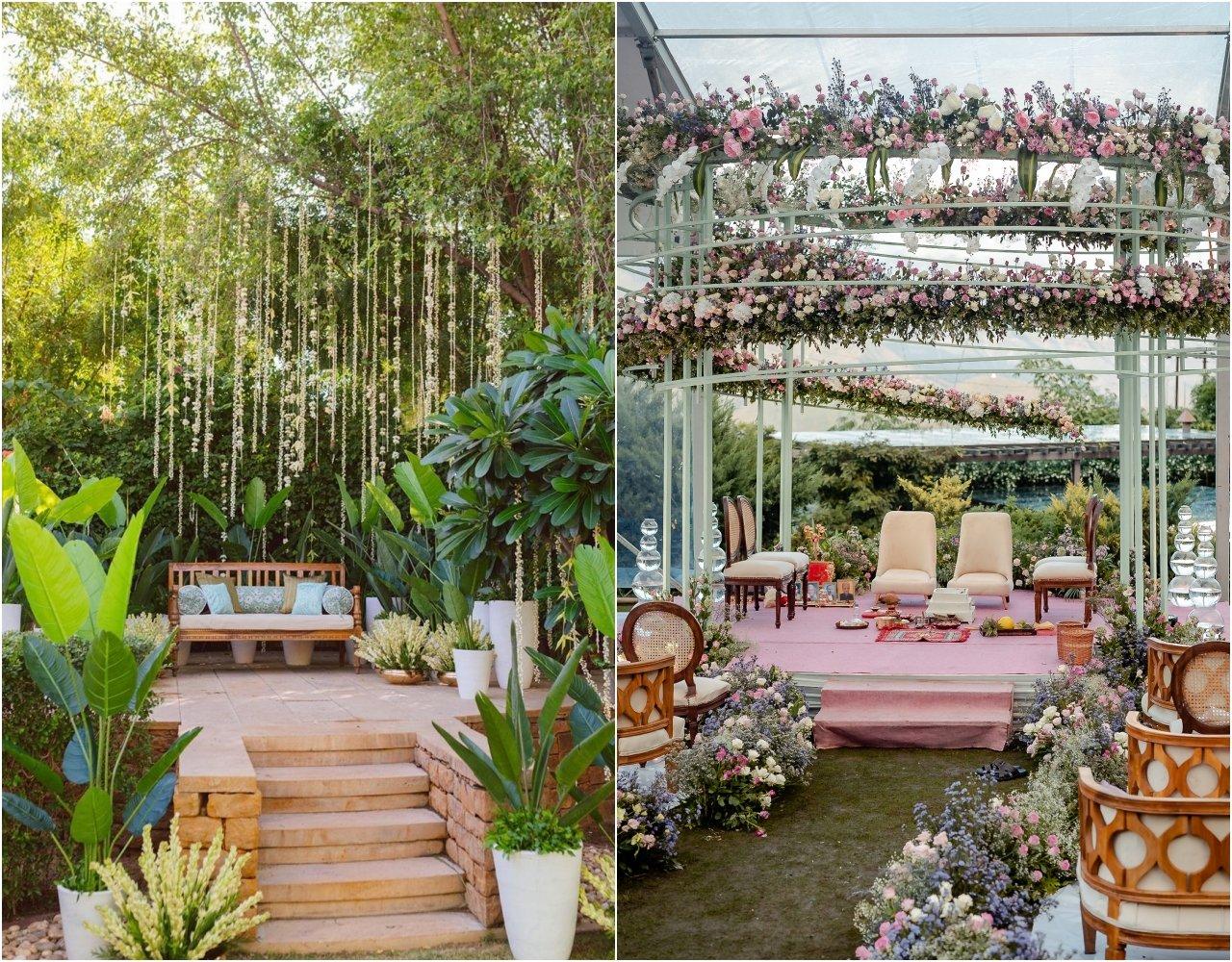 Wedding Decor (L-R): The Doli Diary
HOW TO?
Be Eco-Friendly
"Sustainability will take center stage with a surge in plant-centric designs and reusable elements," says Pritesh Sharma. Prerika Puri quotes an example to suggest eco-friendly mandap ideas. "We created a mandap with locally sourced wood for its pillars. We also gathered pine cones from the property, and the entire structure came alive with the fragrance of local flowers and foliage. A unique touch was the pebble counter, where guests wrote their heartfelt messages on pebbles collected from the River Beas."
HOW TO?
Use Dry Flowers
"It's fascinating to observe the increasing popularity of dry flowers at weddings. Add dried lotus stems, bajra sticks, cotton flowers, wooden cups, and pine cones. High demand for Pampas grass created a boho Pampas vibe last season. Incorporating these dry flowers can bring a fresh and captivating addition to the whole aesthetic. The combination of Pampas grass and dry flowers will undoubtedly enhance the overall ambience and create a mesmerizing atmosphere for your wedding," confirms Prerika Puri.
Now that you have a detailed guide to wedding trends for 2024, zero in on your favorites and start planning the wedding of your dreams. Don't forget to visit our website to access free planning tools, find top wedding venues and wedding vendors, and read through more trend blogs.
*(Search data sourced from SEMrush comparing search volume in India from August 2022 to August 2023)
Top Blogs on WeddingWire India