Questions You Must Ask a Wedding Photographer Before Hiring
Planning to hire a wedding photography team? Don't forget to ask these questions and clarify your doubts before you send the booking amount.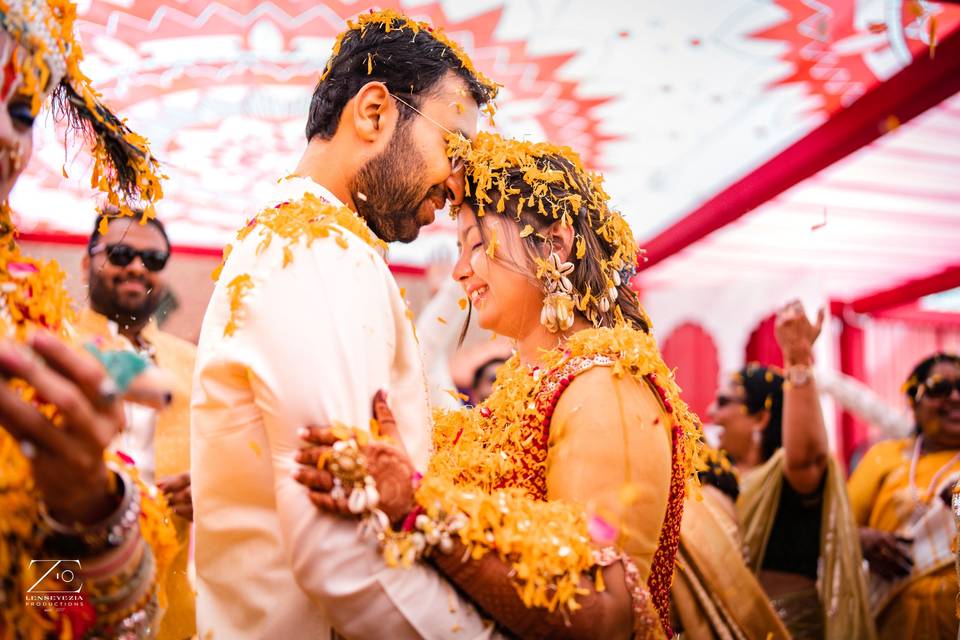 Wedding Photography - Lenseyezia Productions
Finding wedding photographers that match your personality and definition of wedding aesthetics is not difficult anymore. Thanks to social media platforms and our marketplace, of course. But in a pool of too many options to choose from, how do you zero in on 'the one'? My advice is to plan a quick video/face-to-face meeting with the vendor and ask the most important set of questions.
How can an interview help before you book them? Simply by ensuring that you will get enough opportunities to clear all your doubts. If the wedding photography team connects you to their business/marketing contact, please request that they ensure the senior wedding photographer who will cover your wedding will be present during the call. Get to know them and their work style beforehand before you finalize this wedding vendor.
To make this process easier, I have prepared a set of questions that you can simply read out in your meeting. Keep this link handy and moonwalk into hiring the best wedding photographers with this set of questions that you can ask your wedding photographer.
In this blog:
2. Questions on Price & Packages
3. Questions on Experience & Background
Find Top Wedding Photographers in India
Questions on Availability
Wedding Photography - Omega Productions
Are you available on our wedding date?
Will you be shooting my wedding? If not, can I please meet the senior photographer who is supposed to cover our wedding day?
How many people will be coming to shoot our wedding?
In case of accommodation - how many rooms will your team need?
Questions on Price & Packages
Wedding Photography - Dream Diaries
Always send your basic wedding details before discussing the wedding package. This helps the wedding vendors evaluate your requirements and send you the best package. Your wedding details should cover your planned wedding date, venue, number of events, and total guest list number for each event. Let the photographer's team get back to you with their best packages as per your requirements before you plan a meeting/interview with them.
A list of questions to ask your wedding photographer about their pricing and packages -
Thank you for sharing your package with us. Can you customize this as per our wedding budget?
I hope the quoted package covers all our pre and post-wedding ceremonies. Do you charge for the extra rituals, if any?
Please share the complete list of deliverables that are covered in your quoted price.
Do you include the travel and stay costs in the package, or will we have to bear that separately?
How many edited photos from each event will you deliver in this package?
Are you open to video edits as per our feedback?
Find Top Wedding Venues in India
Questions on Experience & Background
Wedding Photography - Dipak Studios
Feel free to ask your wedding photographer questions about their total work experience in the industry or how many weddings they have covered so far! It goes without saying that some of the finest wedding photography teams in India have rich portfolios and have covered weddings in different parts of India as well as abroad.
Here are a few questions to ask your shortlisted wedding photographer about their experience and exposure -
How long have you been shooting weddings?
How many weddings have you photographed so far?
Have you photographed similar weddings to the one we are planning? (For example, - could be related to a destination wedding or an intimate wedding that you are planning.)
Can we see some of your unedited work as well?
Did you cover weddings at our booked wedding venue before? If not, would you be planning a recee? (It works best if you are planning a local wedding.)
Have you ever worked with the wedding vendors we have booked before?
Top Rated Videographers for Your Wedding Film
Questions on Style
Wedding Photography - The VS Productions
Wedding photography is not limited to capturing traditional memories of your wedding anymore. With newer trends and event formats doing the rounds, the requirement for new wedding photography styles has evolved. Couples are now asking for candids only and exceptional cinematography and are extremely inspired by wedding films created by celebrity couples.
Ask these questions to your wedding photographer to ensure your vision of wedding photographs is aligned with their photography style -
How would you describe your photography style?
Do you prefer capturing candid moments, or would you want to dedicate additional time before the ceremonies to capture wedding photography poses?
Can you choreograph our pre-wedding shoot?
What is the equipment that you will be using to capture our wedding photos?
Do you also cover drone videography? Is there an additional cost for that?
Find a Detailed Wedding Planning Checklist here
Questions on Deliverables
Wedding Photography - Ombre by Harsheen Jammu
Get a curated deliverable list from your wedding photographer when they send you their wedding package. You can then customize it further if your budget allows. This can include the total number of edited photos from each event, reels (if any), a video teaser, a trailer, and the main wedding film. Some professional photography teams also offer digital wedding invites and save-the-date creatives at a lower cost. Discuss the requirements before you close the deal.
You can ask these questions to your wedding photographer about the final deliverables in your package -
Will you provide the raw data - including wedding photos and videos?
How long do you take to deliver the final images and videos? Please share a timeline with us.
Apart from sharing the photos digitally with us, do you also provide printed wedding albums?
Can we customize the designs of these albums?
Will we have the rights to the images for sharing with friends, family, or third parties?
Best Bridal Make-up Artists in India
Questions on Policies
Wedding Photography - Raghav Production
Will you be providing a detailed contract mentioning the cost of all deliverables discussed?
How much do you charge to book your services?
When do we need to deposit the booking amount?
Do you accept payments in instalments?
What is the cancellation and refund policy?
Do you provide any insurance?
Do you have a backup for any emergency where you cannot come for the shoot or if you lose any wedding coverage due to technical defaults?
Will you be posting our photos on your social media pages and website?
Will you submit our photos for third-party features?
If you have started your wedding planning journey, check out the list of questions to ask a wedding planner and questions to ask a hair & make-up artist before you book them.
Top Blogs on WeddingWire India