40+ Trending Wedding Photography Poses That Set the Goals Right
These wedding photography poses that have made the wedding albums an impeccable affair. Here's a throwback to all the fun moments on camera, say cheese!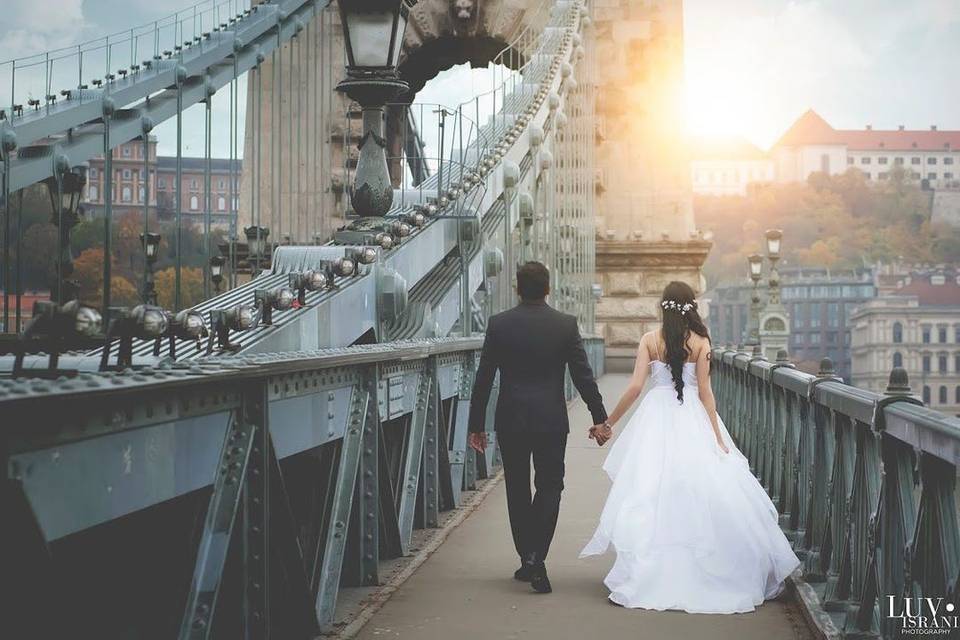 Did you notice that the idea of wedding photography has been a lot about candid pictures - emotions caught in the moment, raw and undoctored, in all honesty? We did too, but despite the raging candid pictures, it has to be about poses at a wedding! From pre-wedding shoots to the bidaai moments, it's all captured right in the reels.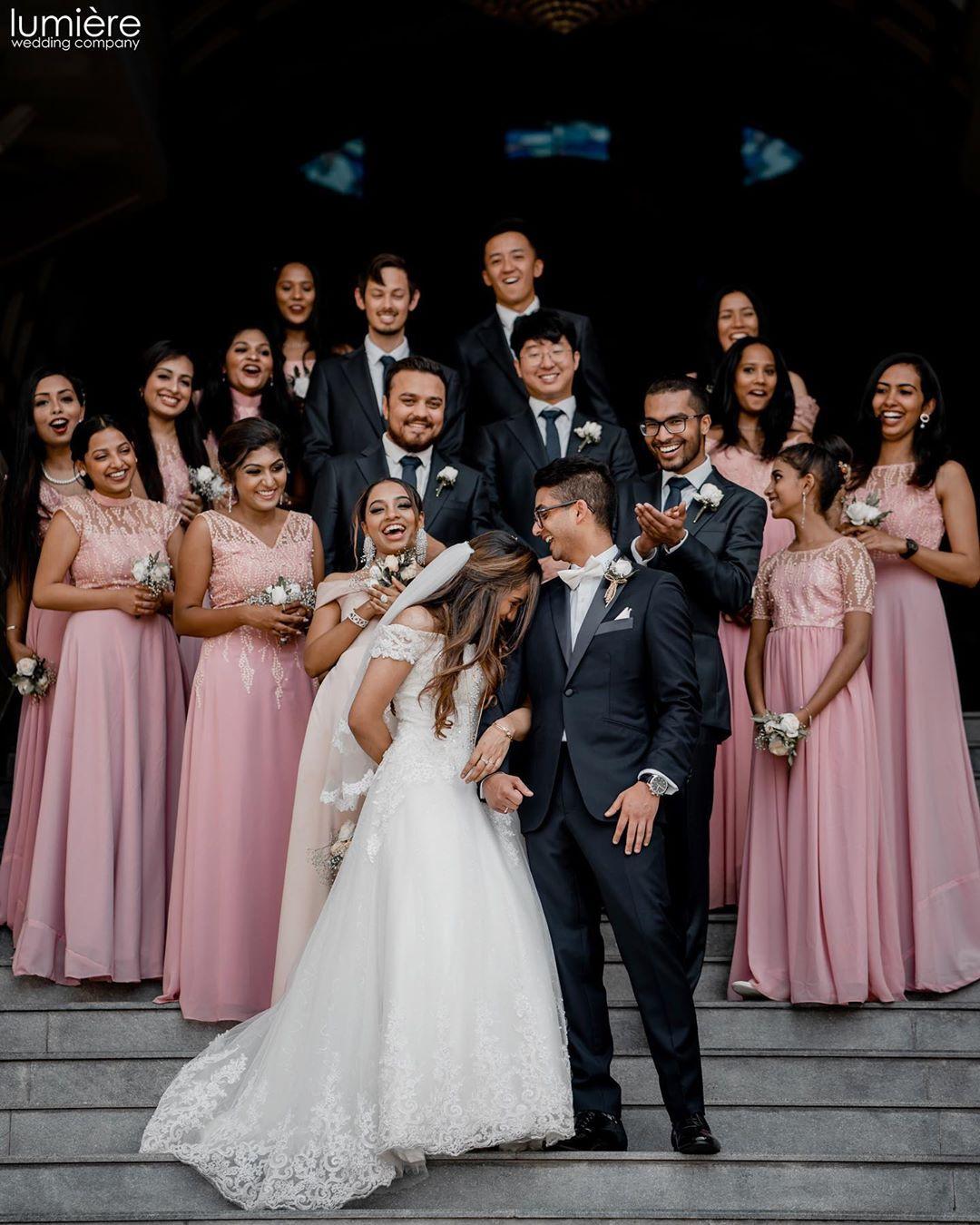 Wedding albums are a treat and to go back to the moments through the pictures is a beautiful drive through the memory lane. Here we have some wedding photography poses that are sure to set the right trends. We have cherry picked our favourites and we hope that you love these too!
About Pre Wedding Poses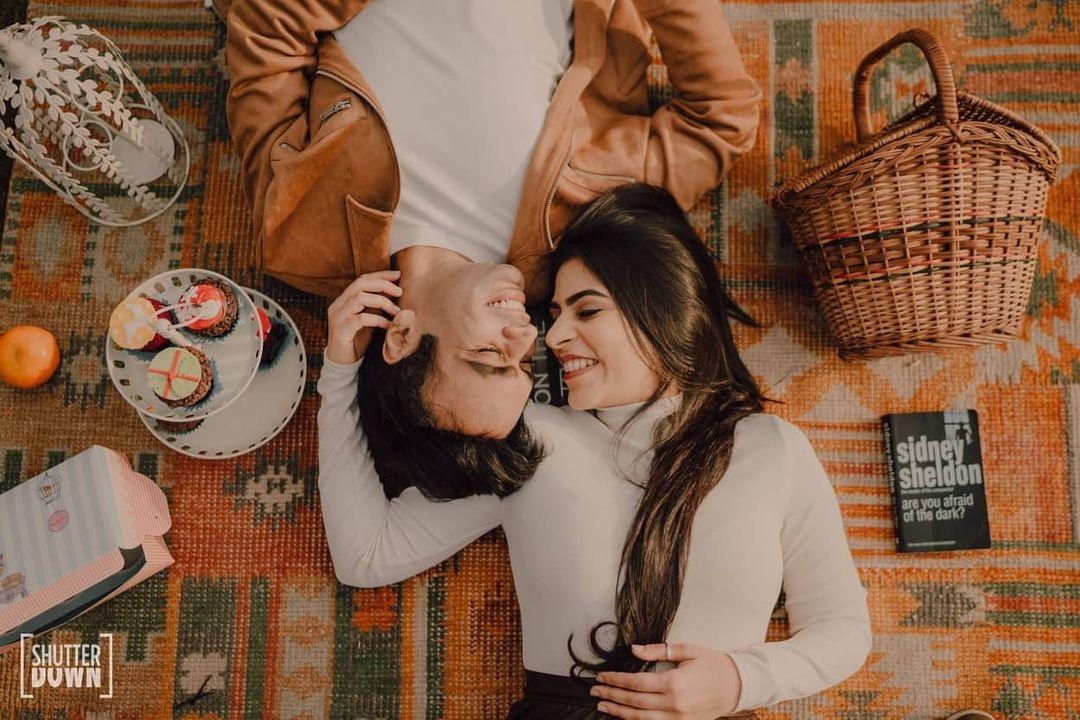 Pre-wedding photoshoot poses generally depict the quirky, jovial façade of the bride and groom. Generally, pre-wedding poses are quirky, chirpy and fun unlike wedding photography poses which are serious, mature and traditional. Here we bring some pre-wedding poses that will add spark to your pre-wedding photoshoot poses. You will get lured to see how these pre-photography poses will exhibit emotions and love in a creative way. These pictures will narrate your story in a beautiful manner. Also, we have deliberately picked pictures that are gleeful, vibrant and matches well with the taste of trendy millennials. These pictures are a perfect inspiration for you if you are looking for the couple portrait images along with some traditional ideas too.
The Pre-wedding Photoshoot Poses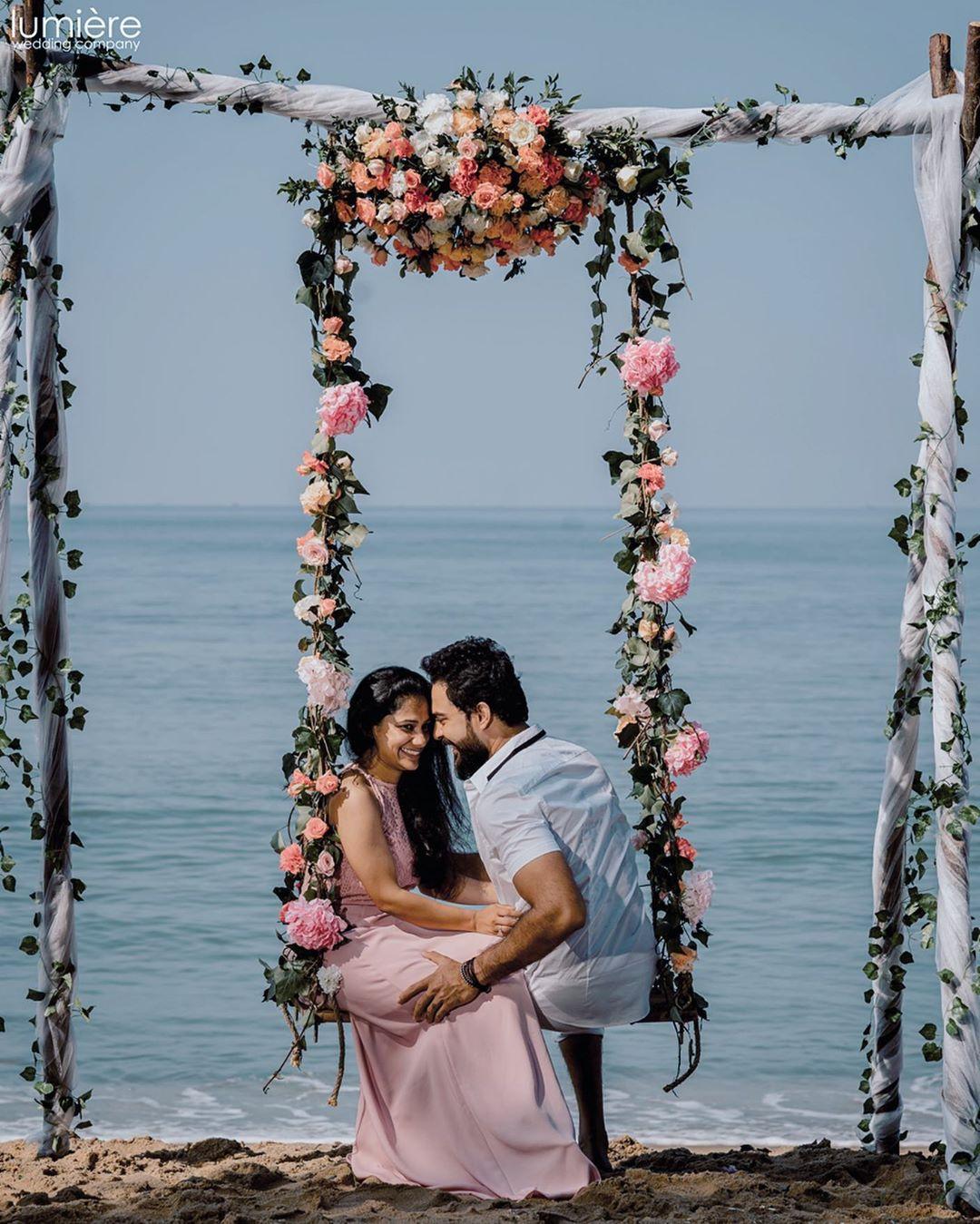 Starting from the #followmeto pose to the one where the couple is decked up, to the one that captures moments like popping the champagne bottle to the candid one, these pre-wedding poses are warm and cute moments captured right. The subtle blushes and winks of love blooming between the two are adorable and the scenic beauty has kept us wanting for more! Check these pre-wedding poses and bookmark it for your own special day. If you confused pertaining the outfit, then also you will get a fair idea from these pre-wedding photo poses.
The #followmeto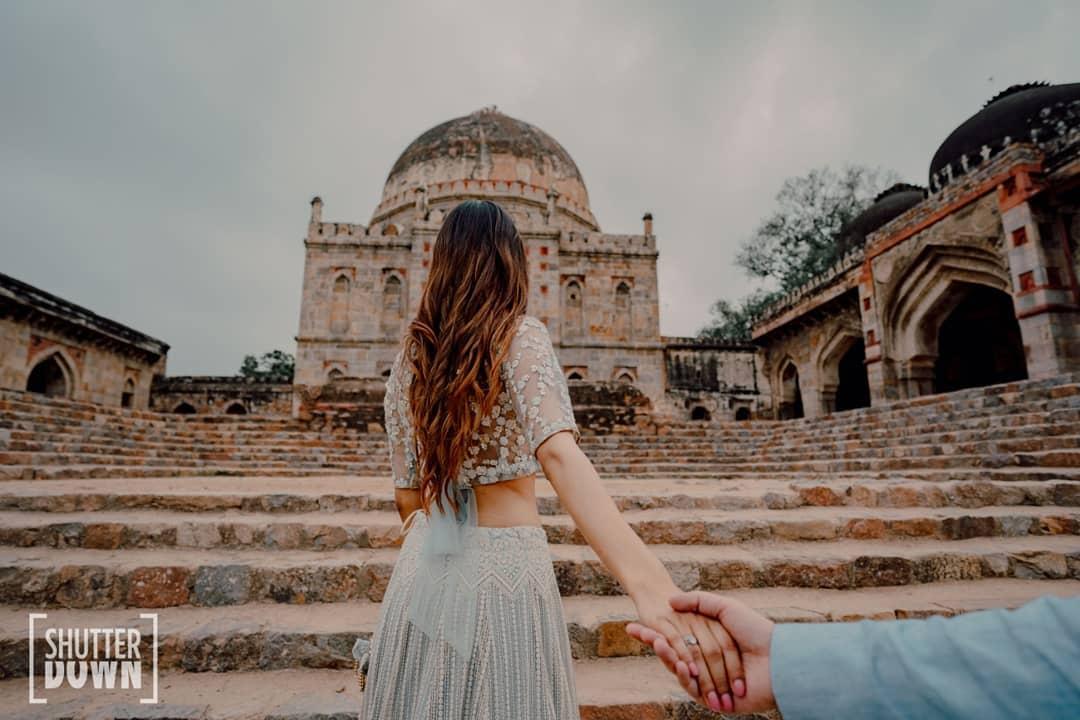 This follow me photo pose is one of the most popular pre-wedding photo pose for all good reasons. This pose clearly narrates the deep bonding of the couple. In other words, the pre-wedding photo pose suggests that "I will never let you go." Hence, these poses for pre-wedding photo poses will help you to narrate your love story in a surreal way. Don't forget to compile these as wonderful throwback memories.
The Champagne Picnic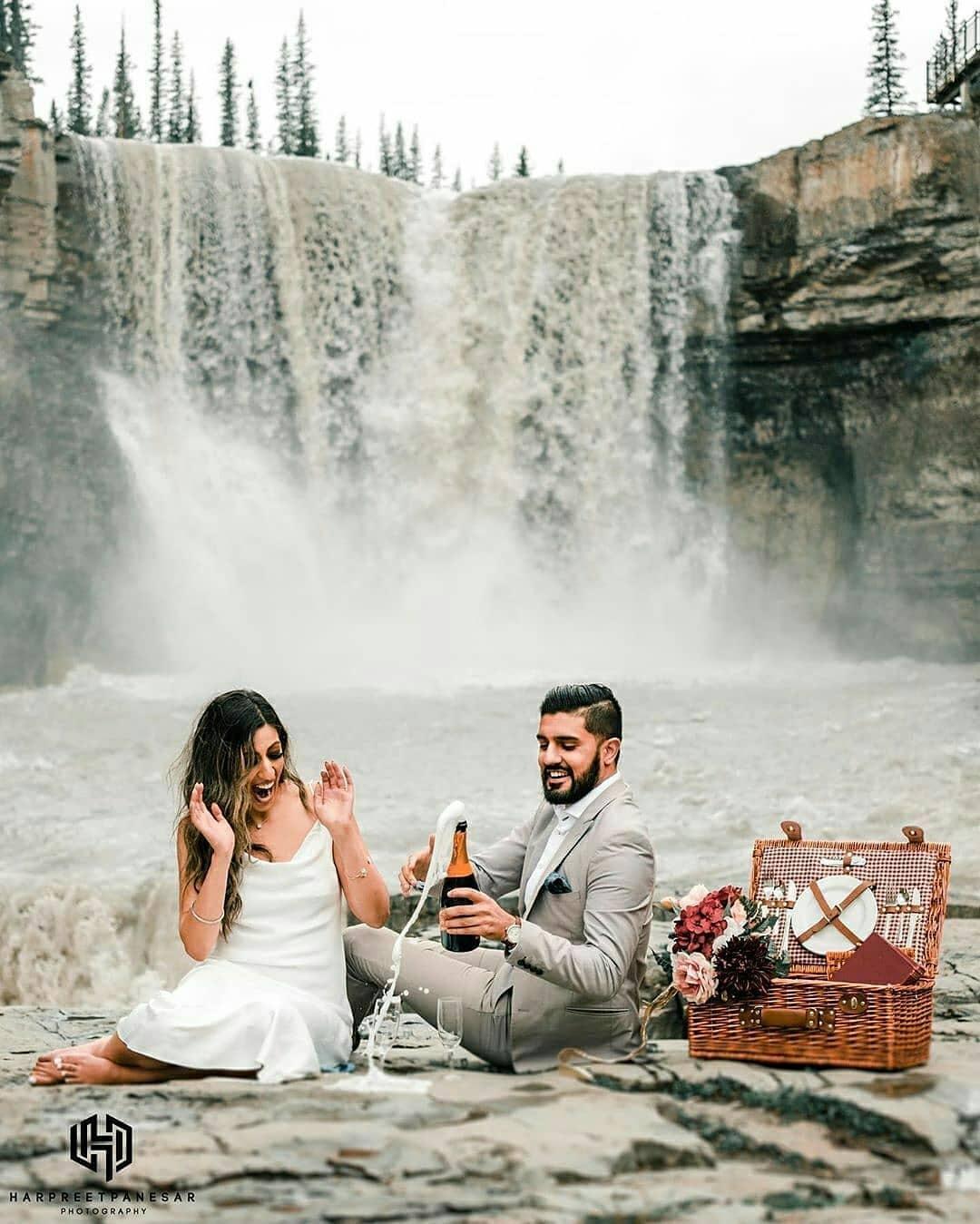 Image Courtesy: Harpreet Panesar Photography
There is nothing as classy as champagne when it comes to celebrating love and togetherness with your loved ones. Thereby, this photo pose is worth bookmarking if you are looking for aww worthy poses for photoshoot.
The Classic One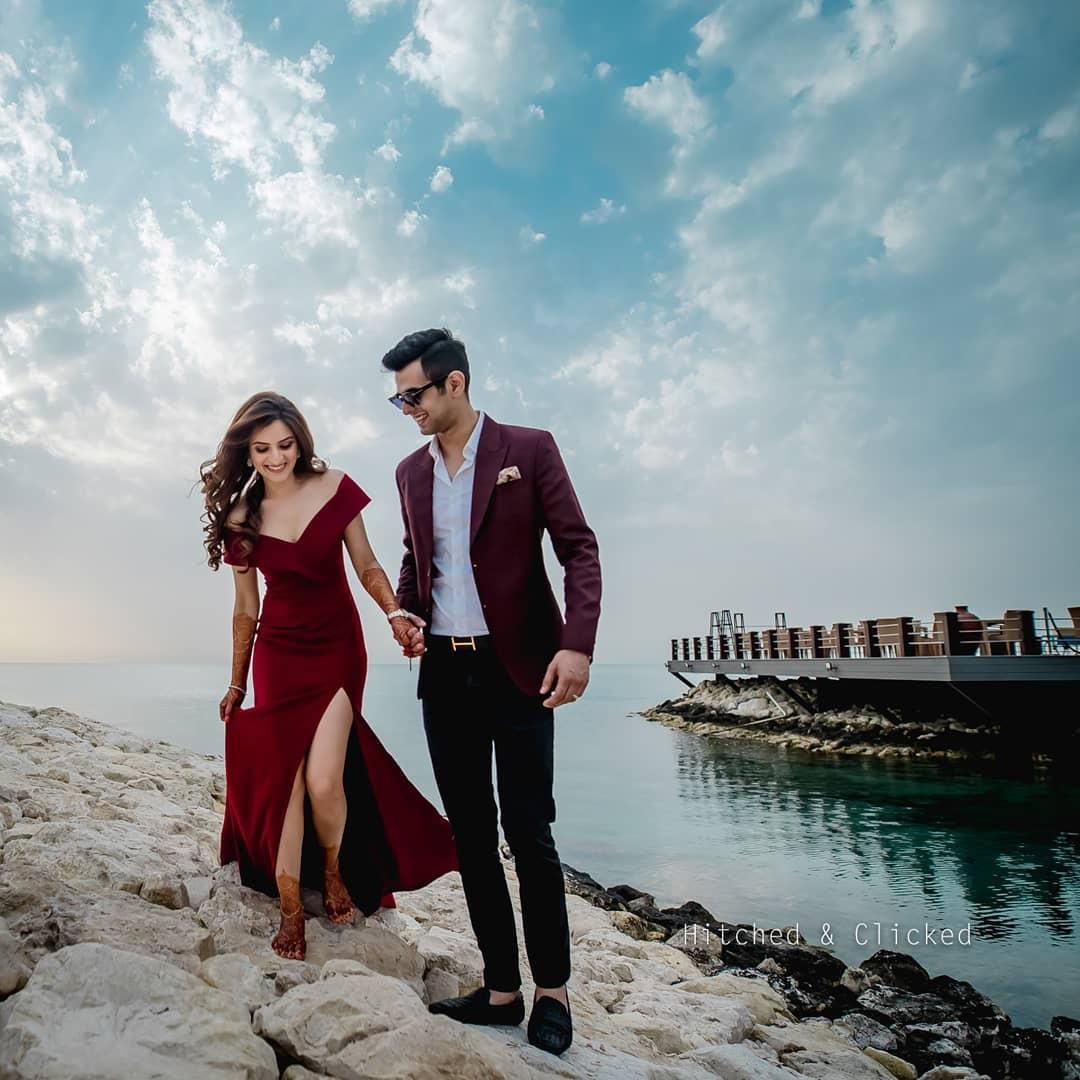 Walking hand in hand is an evergreen wedding pose for married as well unmarried couples. Time to take a cue from this brilliant photo pose and start prepping for your upcoming pre-wedding photoshoot. This is a classic pose where a couple is walking hand-hand.
The #SquadGoals Poses

Image Courtesy: Aaron Obed
Its time to flaunt those #squadgoals on camera. Your bridesmaids and groomsmen are the fun factor of the wedding and the best poses are often coming from frames that you share with them. Show off the giggles and comfort and make sure the camera captures tons of memories for you to cherish!
Fun Wedding Photography Poses
From getting your hair done to fixing your attire to the fun grooming sessions, the squad has got your back. These poses will be the certificate of absolute fun! These photoshoot poses will help you to visualize your own story with your favorite gang. Take a look and start pinning some creative options.
The Conversational Group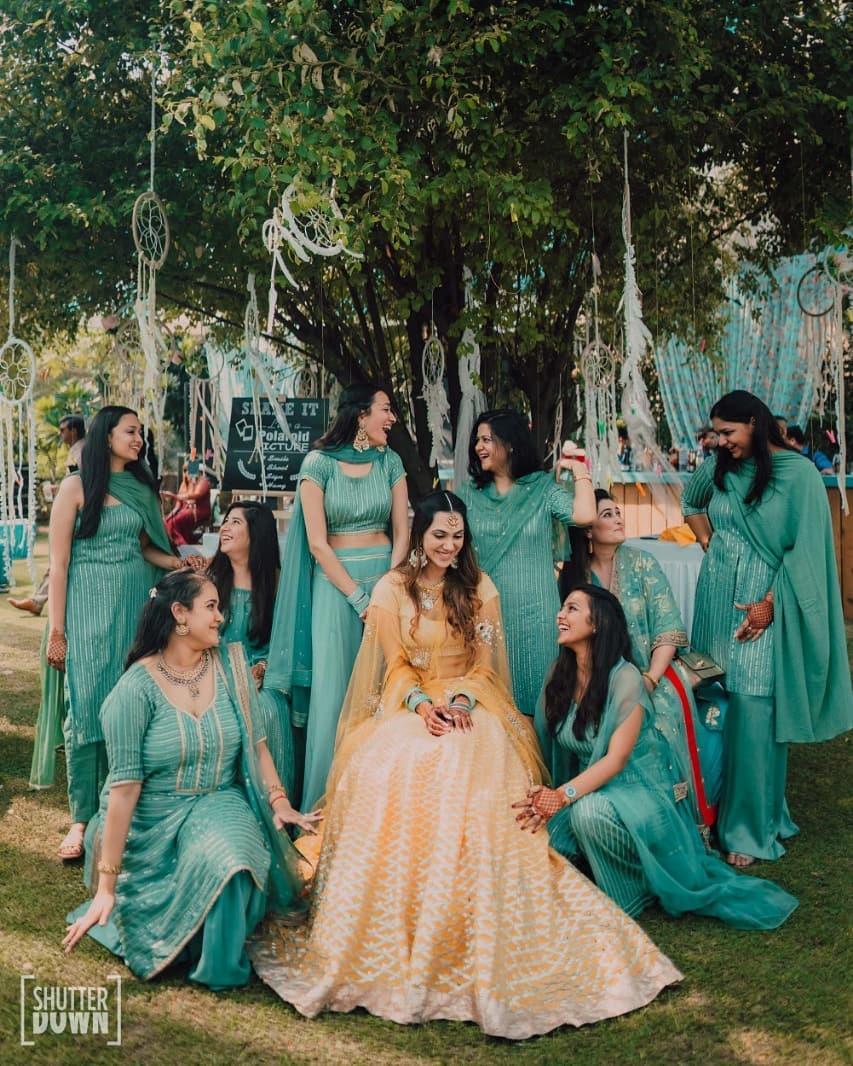 Fun pre-wedding photoshoot poses reflects your inner happy state so that is why we recommend you to exhibit your true inner happiness to get that perfect picture moment. Look at these captures- how naturally they are posing for this photo pose here.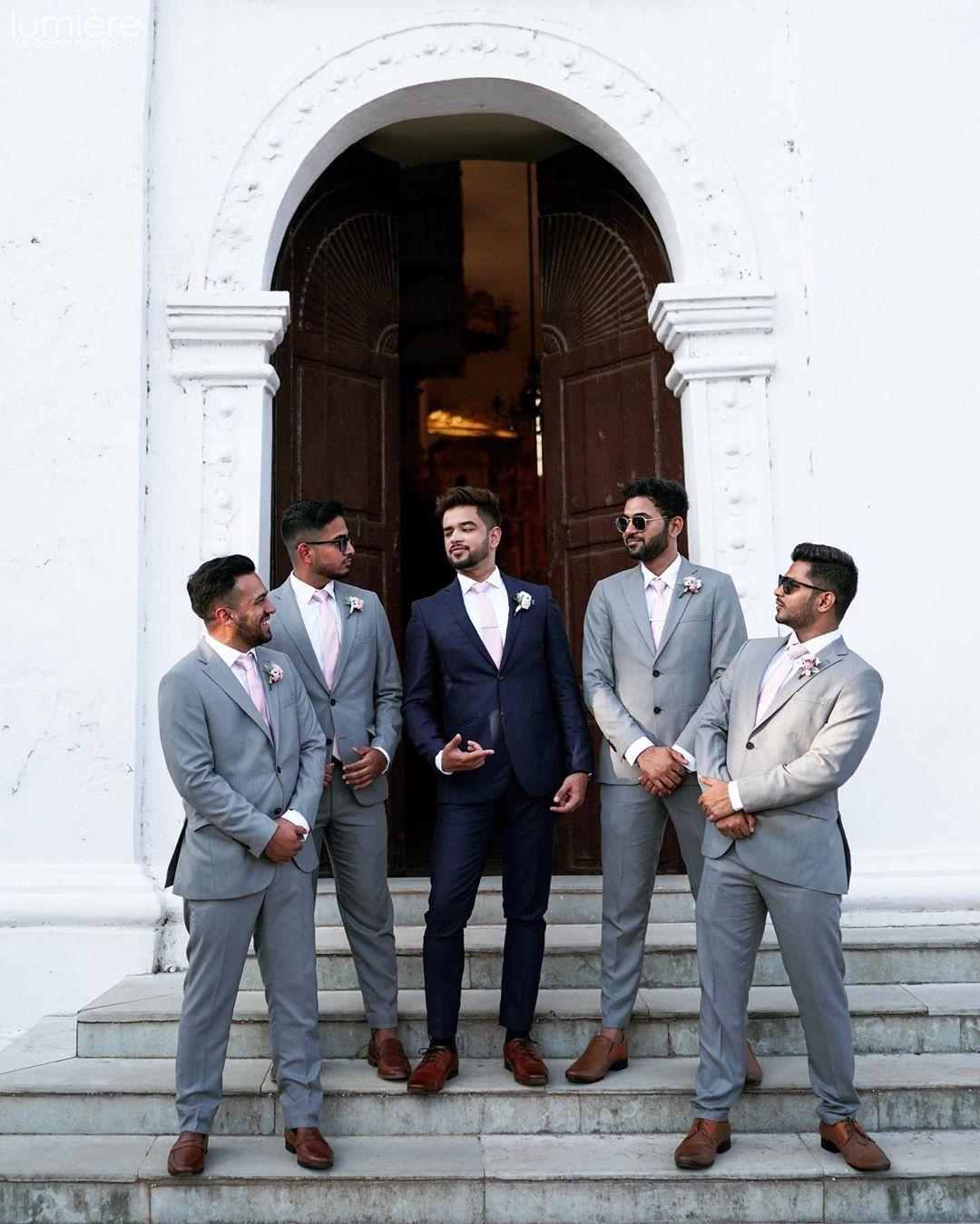 Boys can be big time posers too. Here, we have this dapper groom squad who is posing in a trailblazing way. If you are a groom, then you can bookmark this in pre-wedding photoshoot poses checklist. You can show to your photographer and ask him to capture these fun moments in his creative way.
The Happy People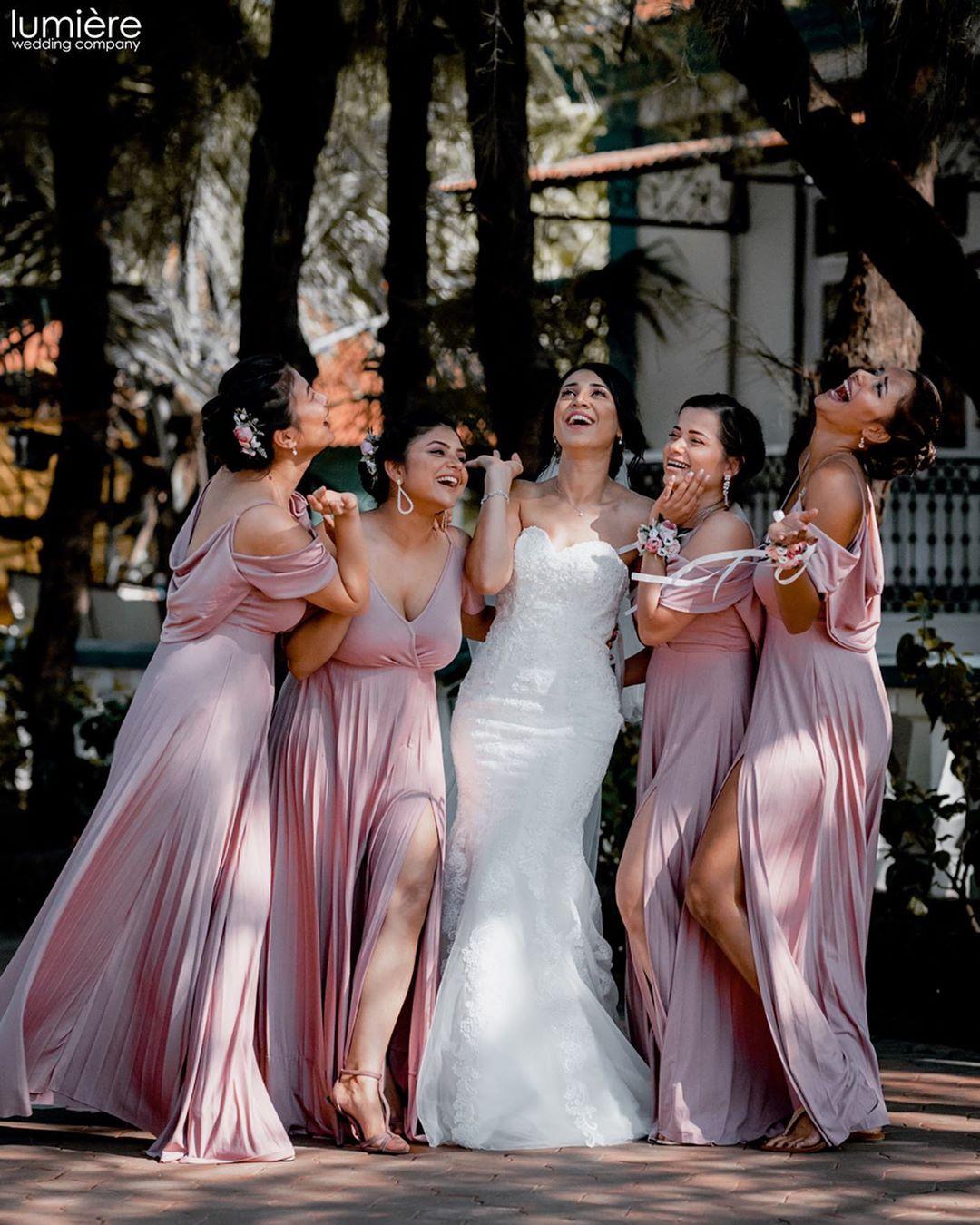 Picture perfect moments are synonymous to happy photography poses. You can see the glow, shine on theses faces when they are happy and brimming with joy. Thereby, just be happy to get those stellar wedding images.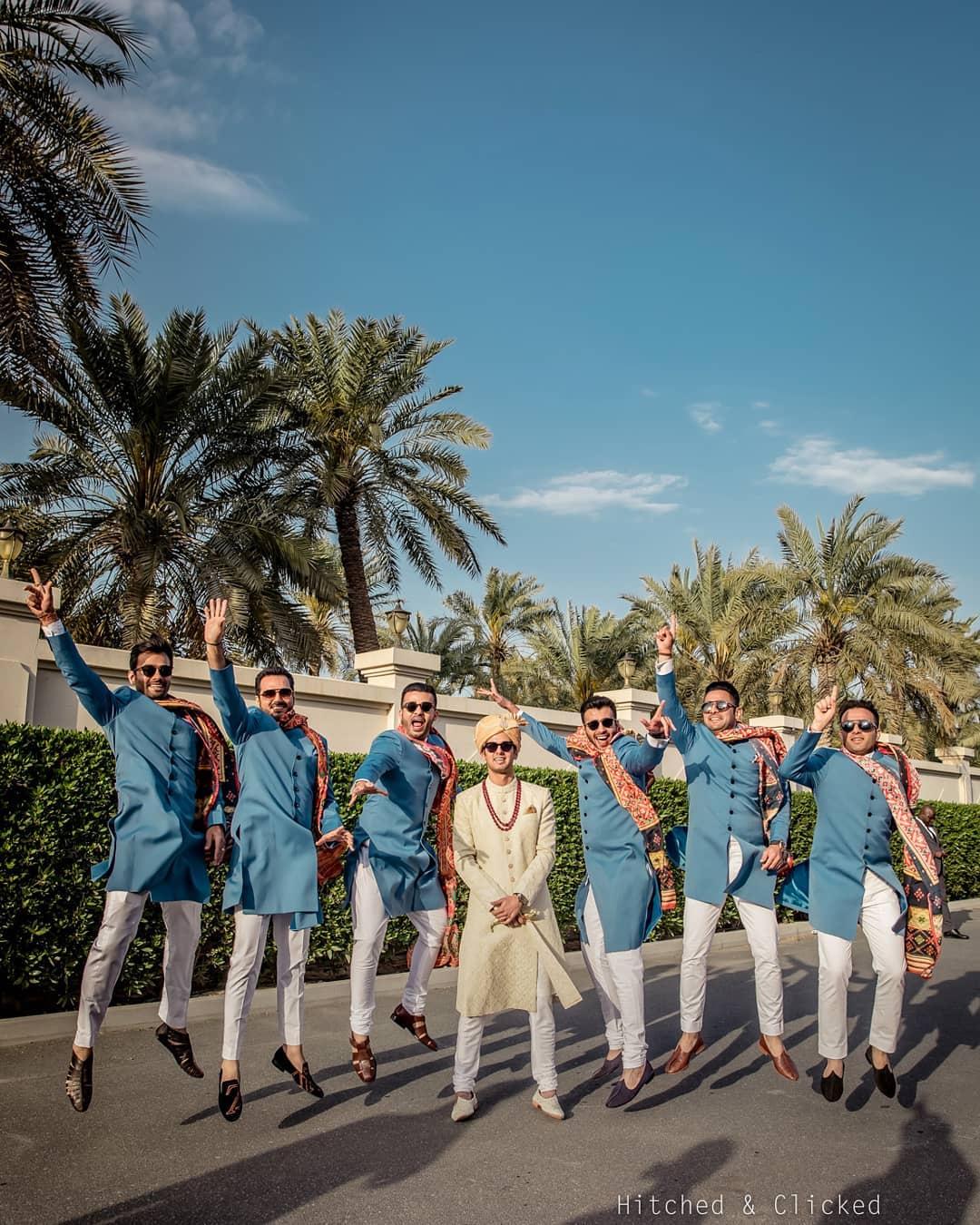 The jump in the air moment can never go wrong with your boys gang. Aren't these dapper men slaying this photo pose with enough swag?
The Mehndi Day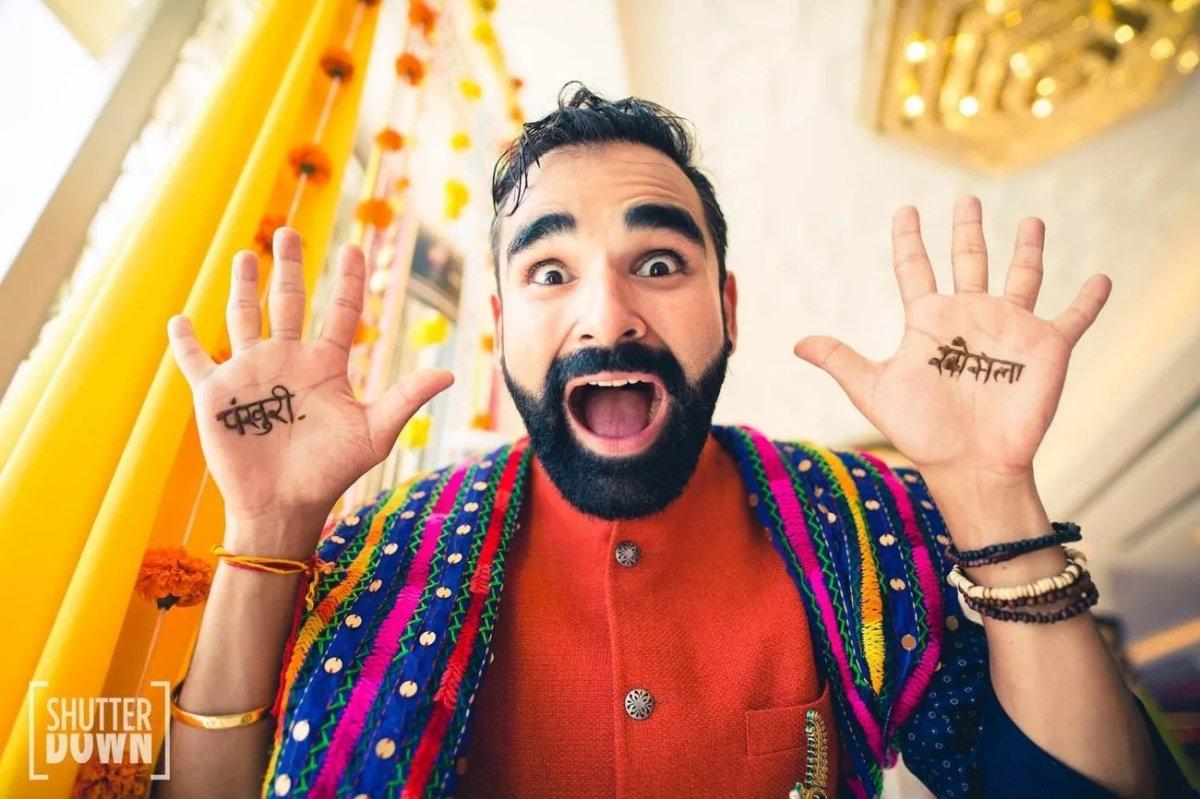 Mehndi Day is all about fun, frolic and frenzy and it is the right time to unveil your quirky façade with these crazy photoshoot pre wedding photography poses.
About Indian Engagement Photography Poses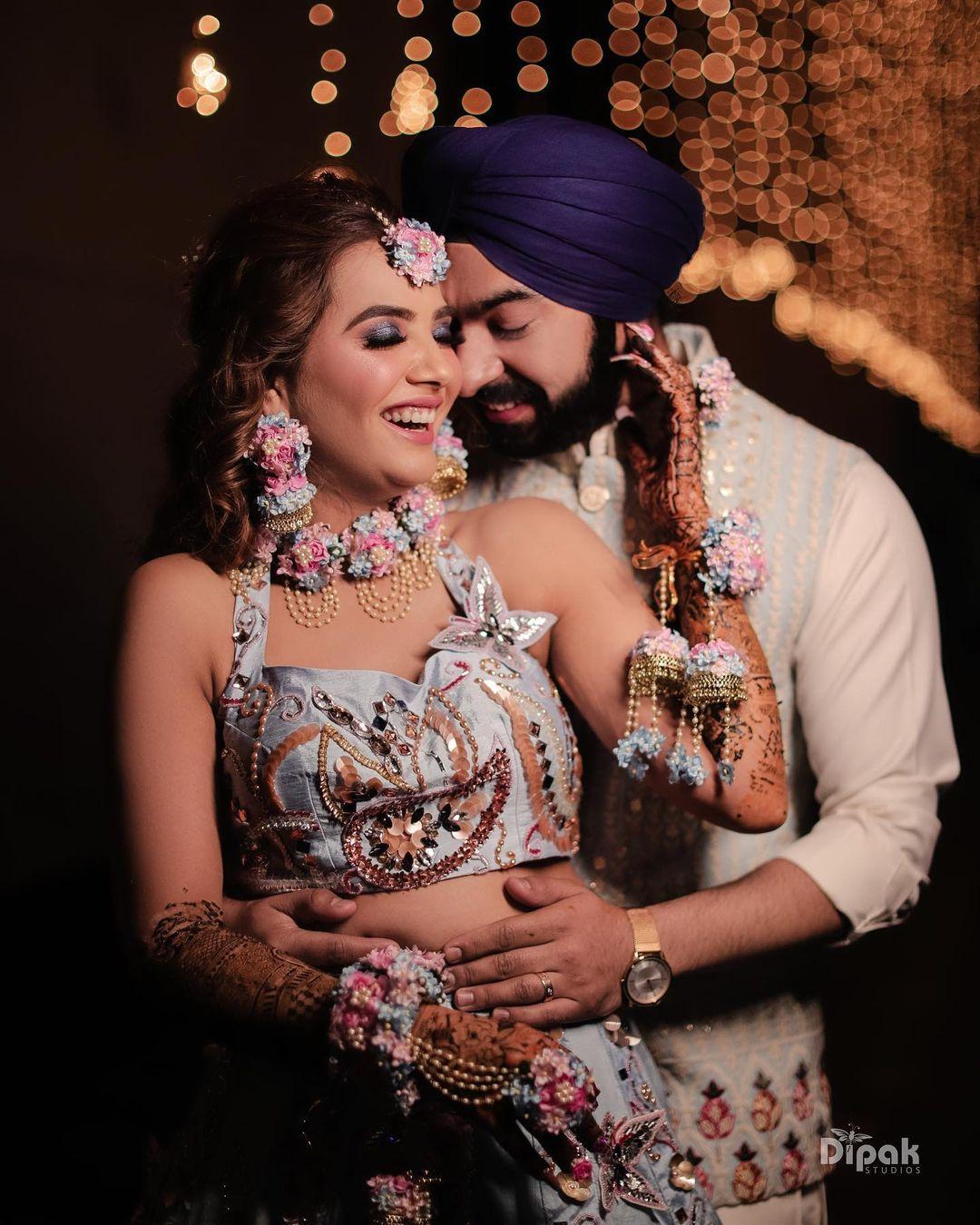 Indian engagement photography poses are basically mushy mushy brimming with romance and chirpiness. Take a look at these trending photography poses and then finalize some interesting poses.
Couple Photoshoot P
oses for Engagement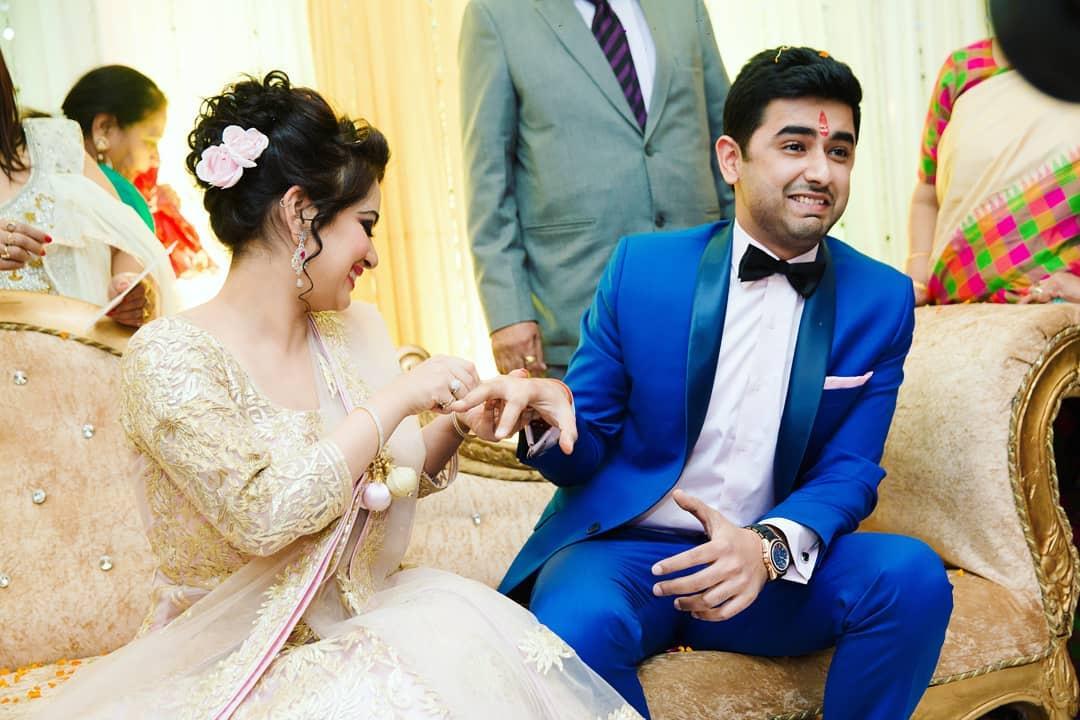 For couple photoshoot poses for engagement, we advise you to get candid couple photography poses in your engagement ceremony. Such natural pictures help you to collect cheerful memories.
Candid Photography Poses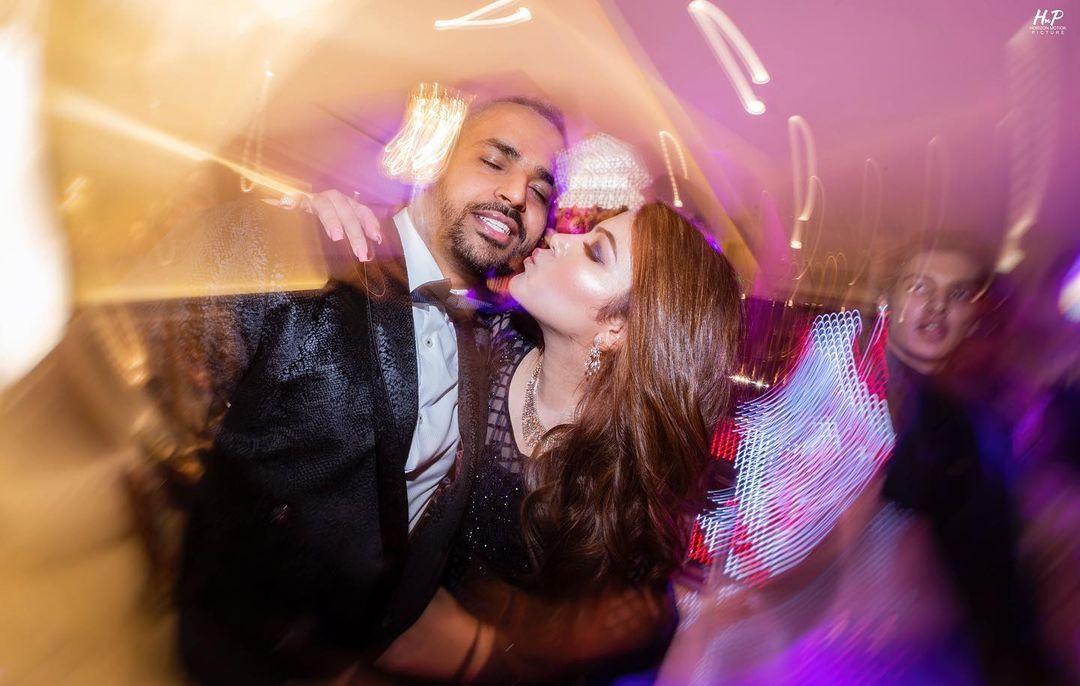 Kissing is the purest form of love and if this love gets encapsulated in the wedding pictures, then it can do wonders. Check this candid photography pose for some scintillating ideas for your engagement and reception photo stills.
Latest Poses for Photos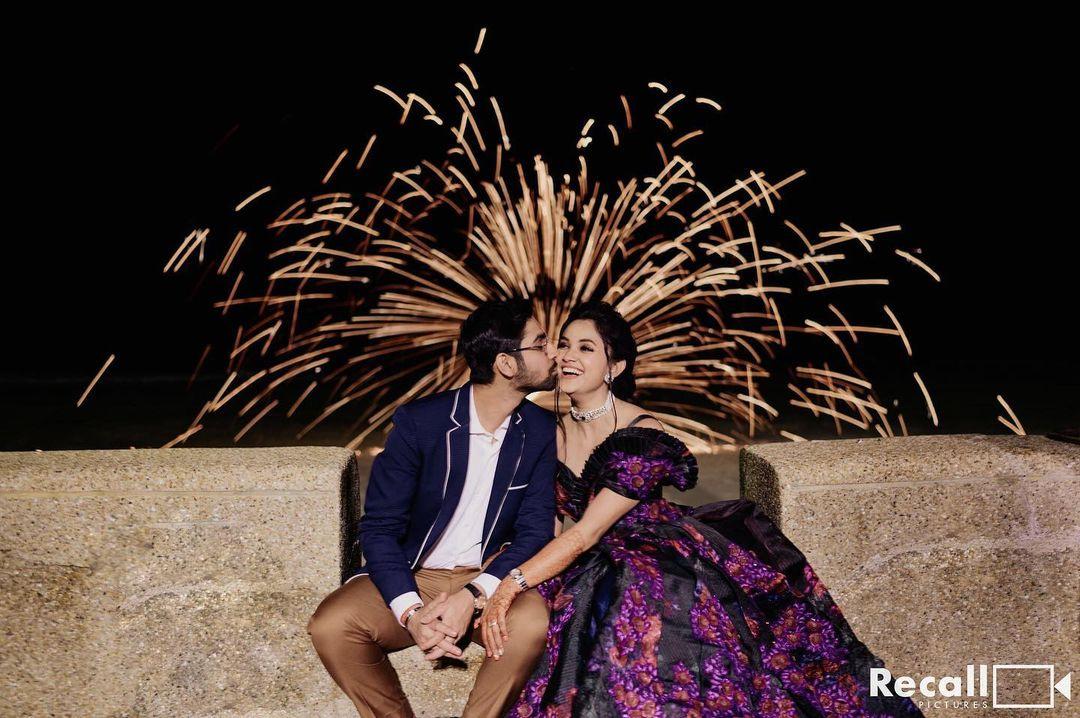 This adorable pose can be used if you plan to only pose in a cute way. Kissing is an evergreen pose and this pose can never be monotonous. However, the candid kisses look more adorable than anything.
About Wedding Photoshoot Poses
The wedding photoshoot poses are traditional classy and encompasses more Indian traditions. Here are some photoshoot poses from the weddings that are doing round on the internet. Take a look and pin or bookmark it for your own ceremonies.
The Bride & Groom Have Some Fun

There is so much to celebrate before you finally take the walk down the aisle and every ceremony, in fact every moment until the wedding is worth capturing for the memories it holds. The pictures of brides and grooms that were the trendsetters. These are few poses that both the brides and the grooms have flaunted and the clicks will make you happy in the heart!
The Swagger Shades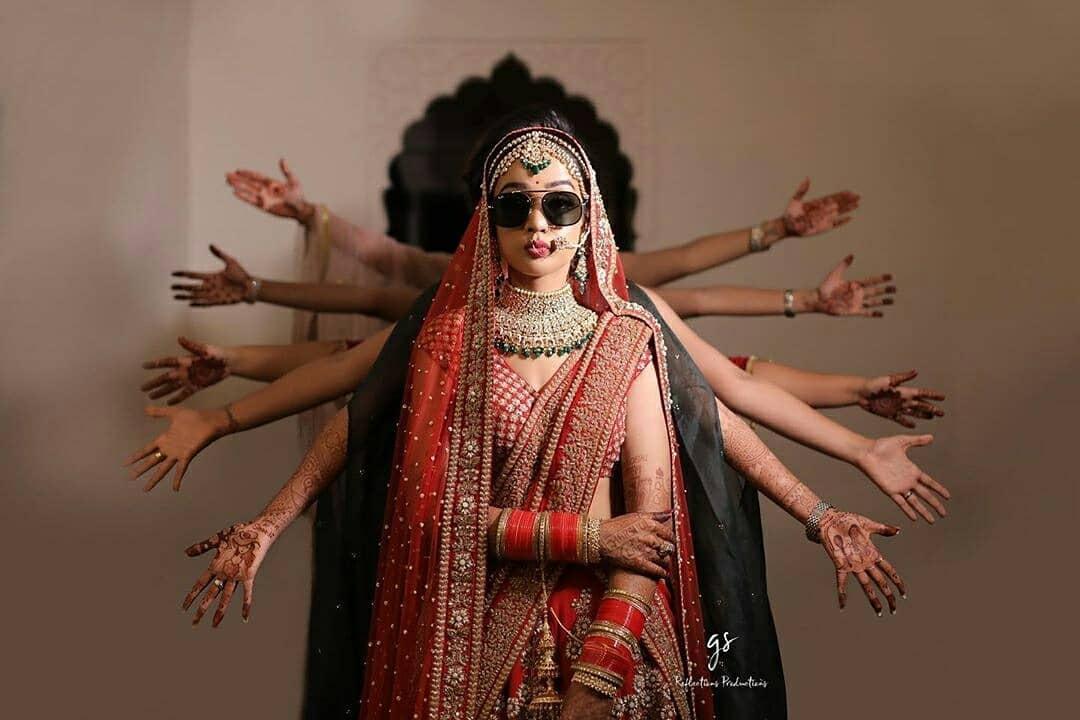 Image Courtesy: Reflections Studio
Modern women have traits akin to Goddess. The contemporary woman has sternness, confidence, adaptability, dignity, and confidence like Ma Durga. So why not to pose akin to this with your girly gang?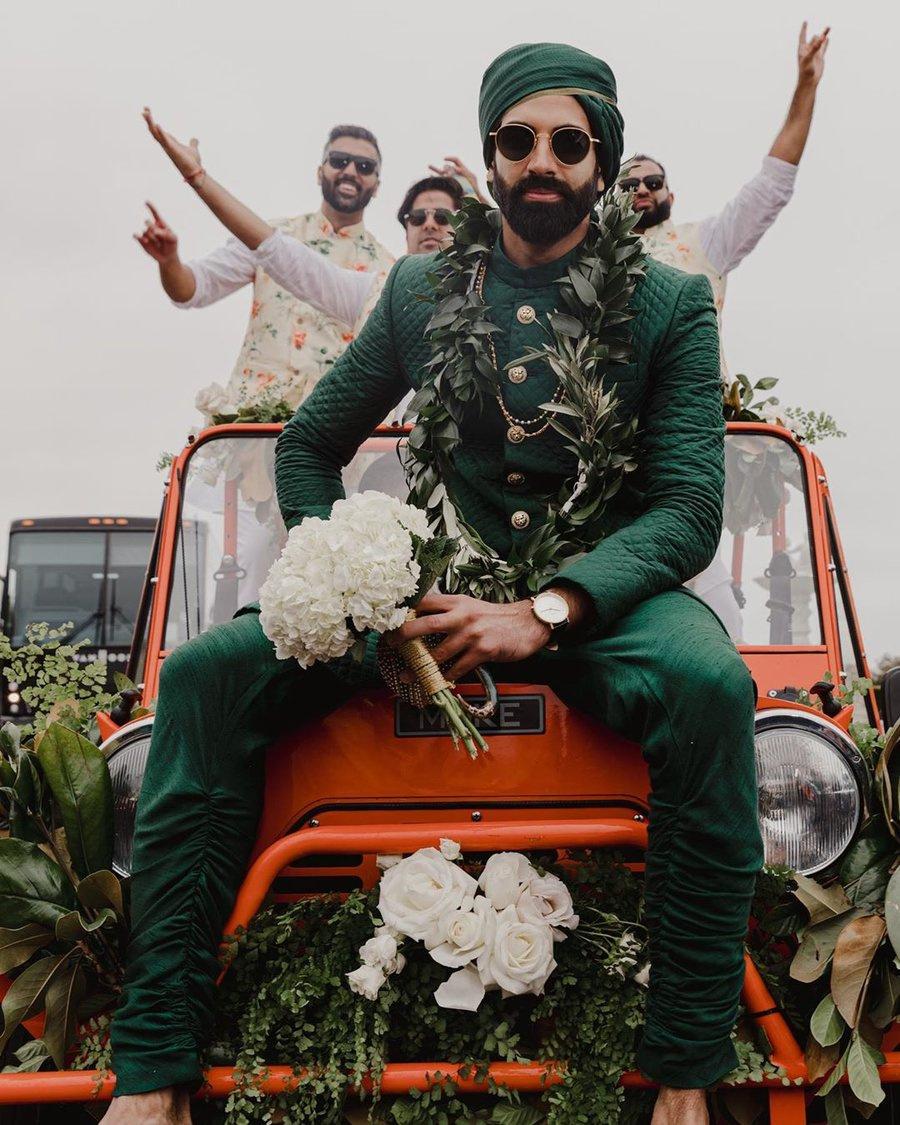 Image Courtesy: Mili Ghosh
The grooms are also not less whilst posing with their gang. Check these uber cool references for some interesting photoshoot ideas. These are best photo poses that can be done with your gang.
The Getting-ready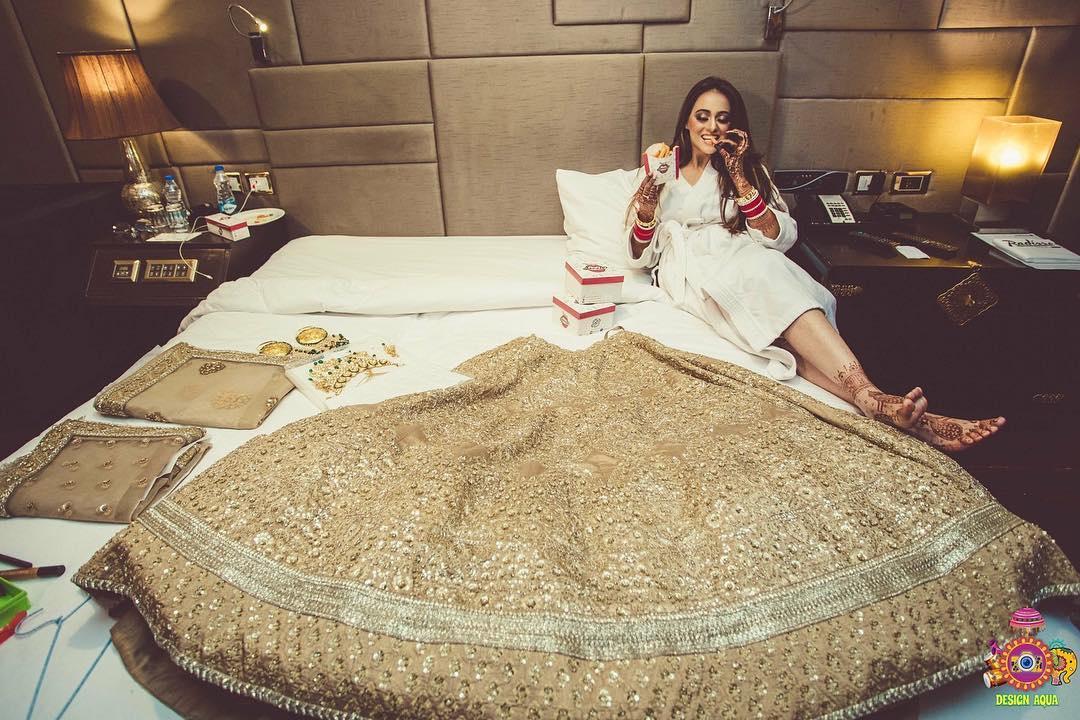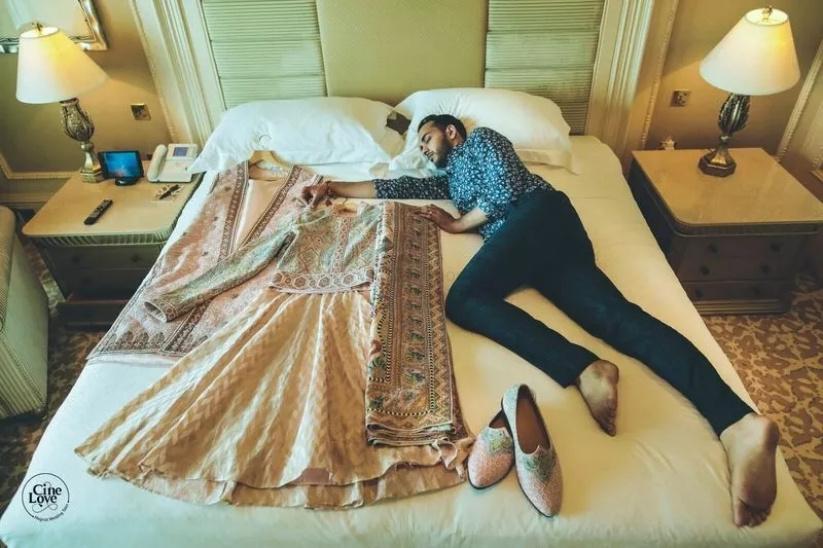 The getting ready wedding photoshoot images are taking the internet by storm due to its rawness. The outcome of the pictures come exceptionally well. Look at these bride and groom. They are rocking in this photoshoot pose. Isn't it?
The Bathtub Shot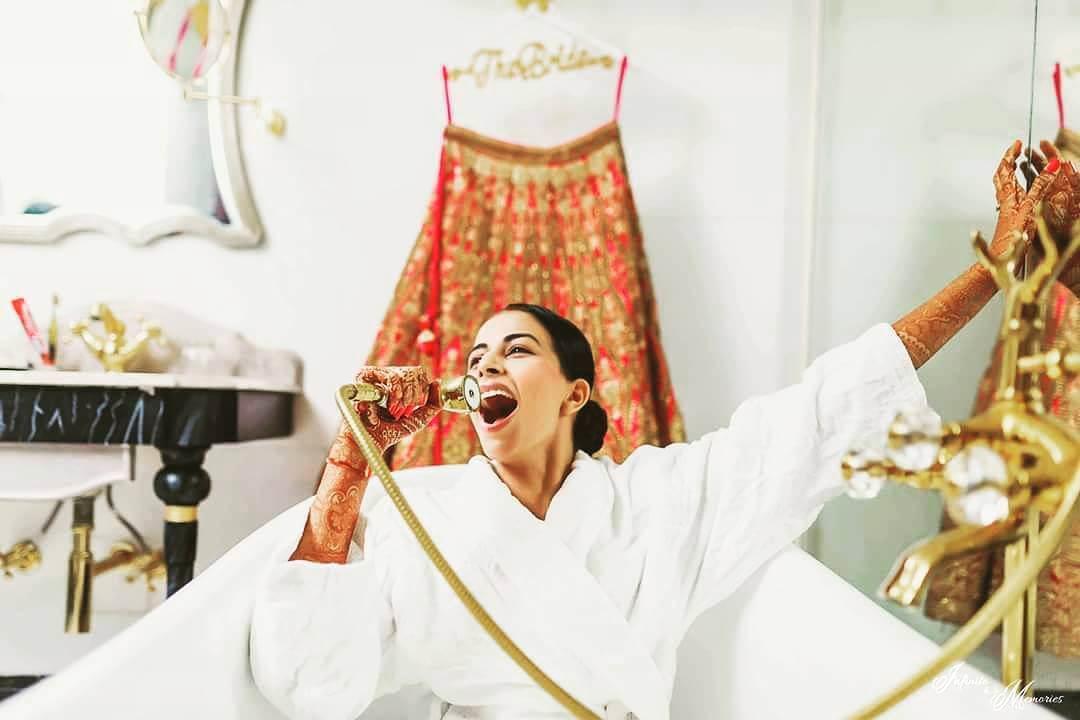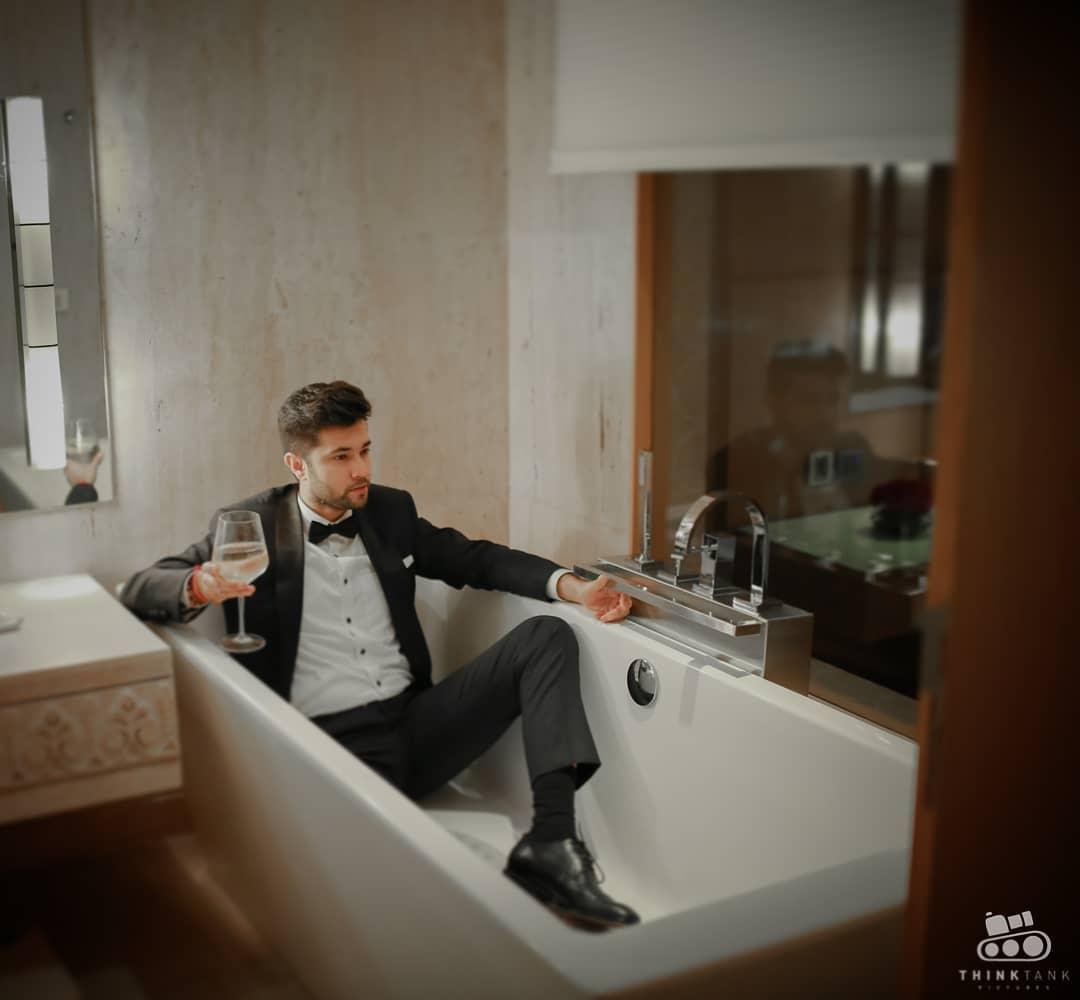 Sensational. contemporary and quirky - the bathtub marriage stills are trending amid the millennials. These millennials are posing with a swag after getting ready for the ceremony. Check it out here.
The Hairstyling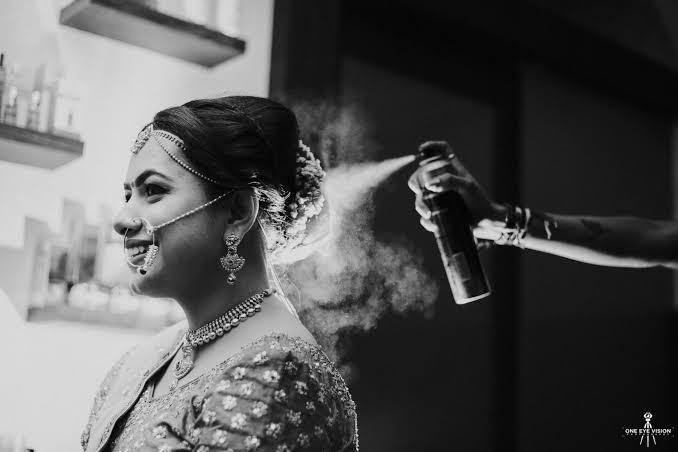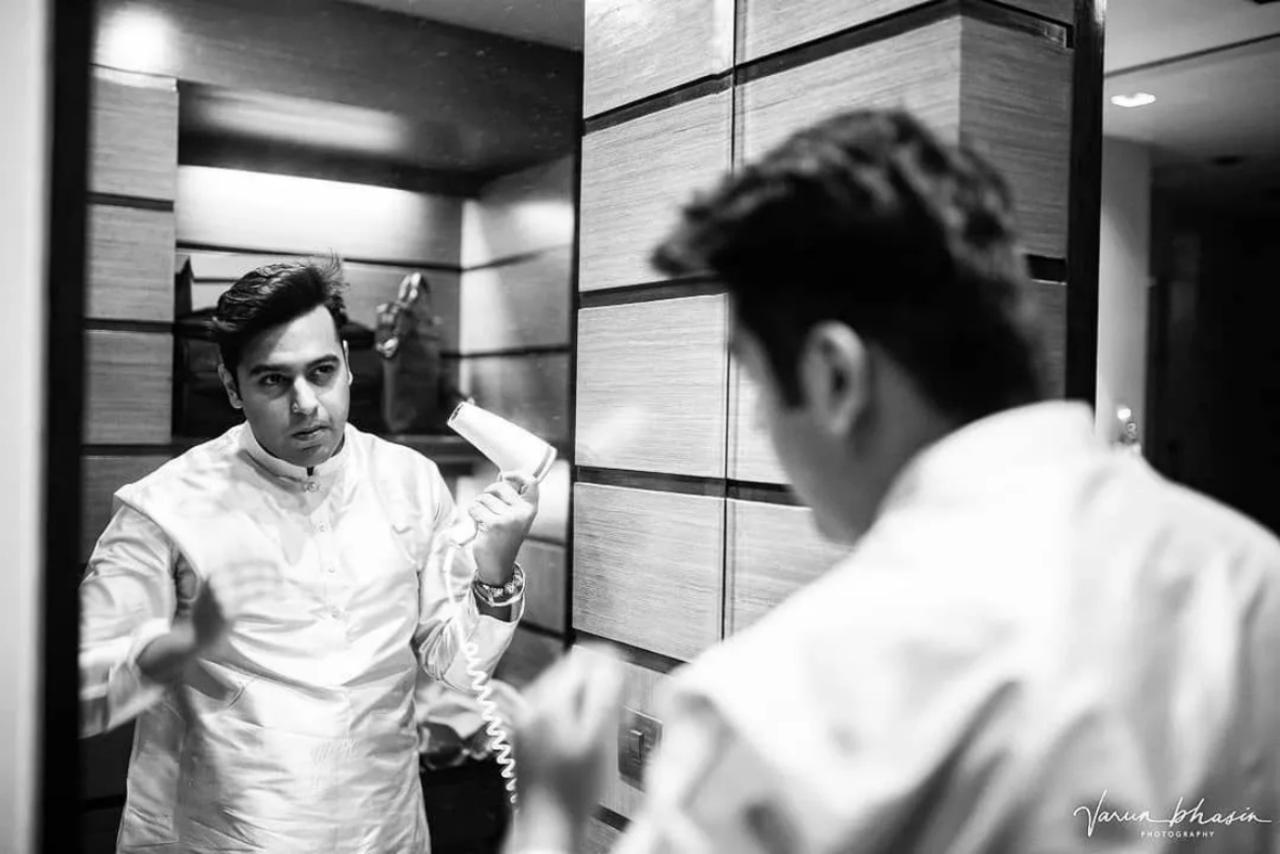 Getting the hair game strong is nowadays taken as a chic photo pose for the couples. The couples prefer to capture every moment of this special day and thereby they prefer getting clicked whilst getting the hair done. The parlour couple photoshoot poses are also doing on rounds on the internet. Bookmark to get some reference for your own D-day.
The Mama-bear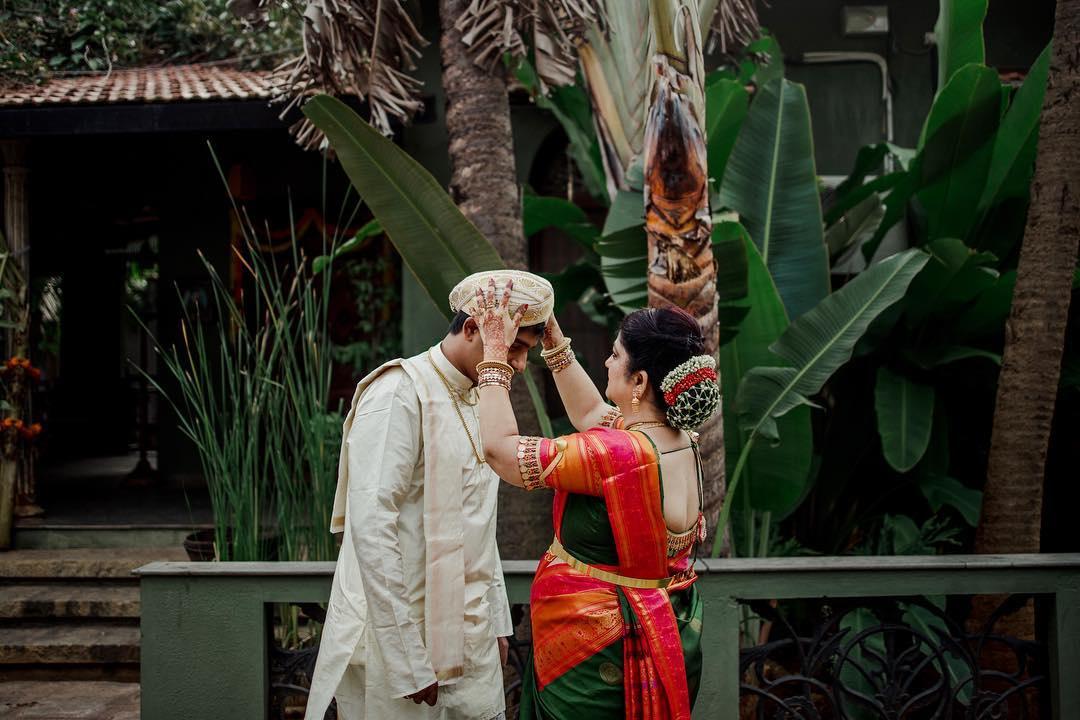 Image Courtesy: Aaron Obed
Every mother plays an integral part in their child's wedding. So, make sure to get pictures with her done impeccably. After all, her hard work deserves the best pictures. You can take some traditional photoshoot ideas - like asking your mother to dress you and then you can ask your photographer to click a candid shot for the same. After all, there is no comparison to the natural poses.
The Ready Couple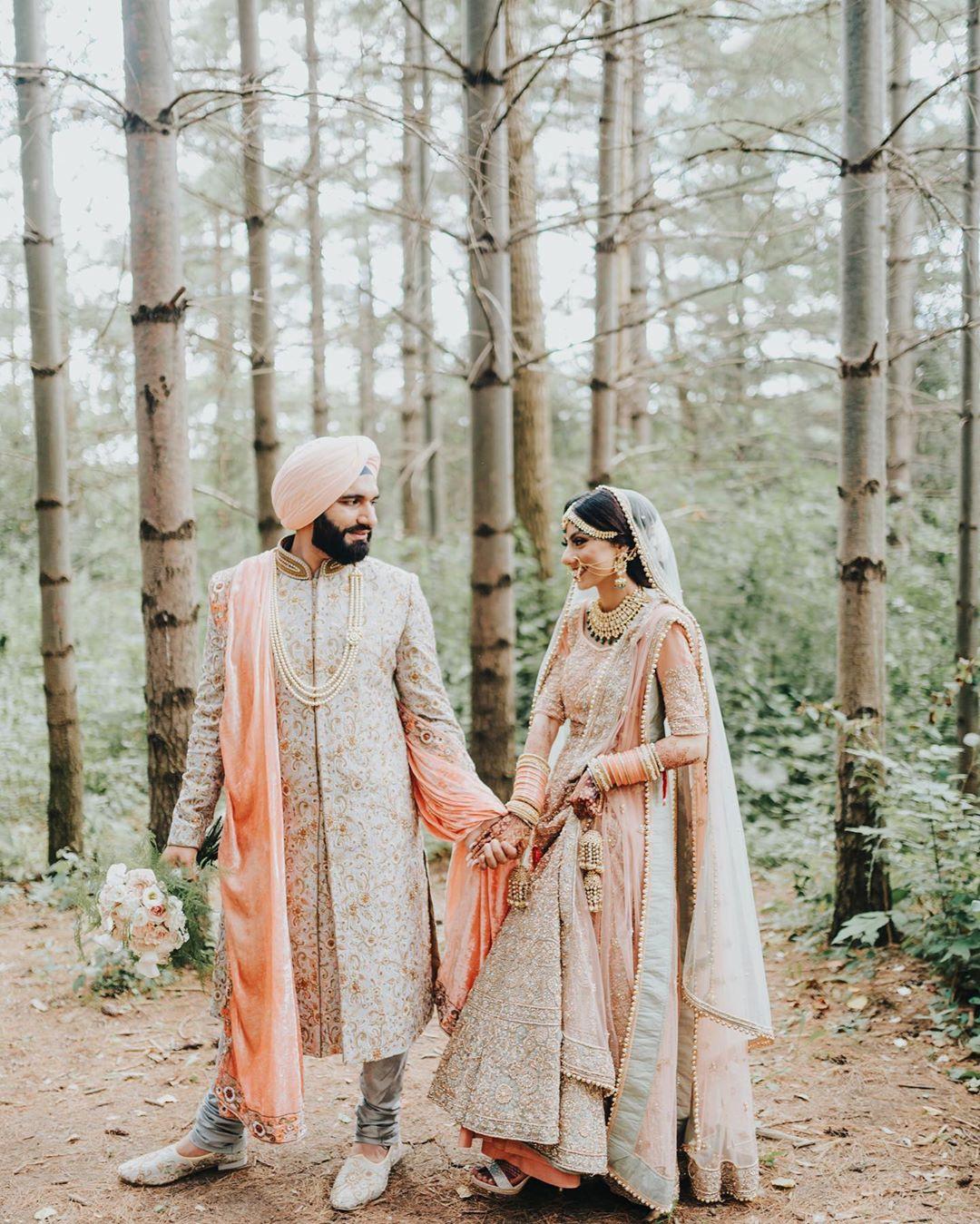 Image Courtesy: Tirath Shergil
It is once in lifetime that you get decked up in your best attire. Just posing normally after getting ready will also be considered as one of the best wedding pic poses. You guise will itself speak volumes about your D-day, the happiness you carry in your heart, and excitement to get married to the love of your life. You can also get clicked like the couple in the above picture. They are slaying in this couple photo pose.
The Sibling Bond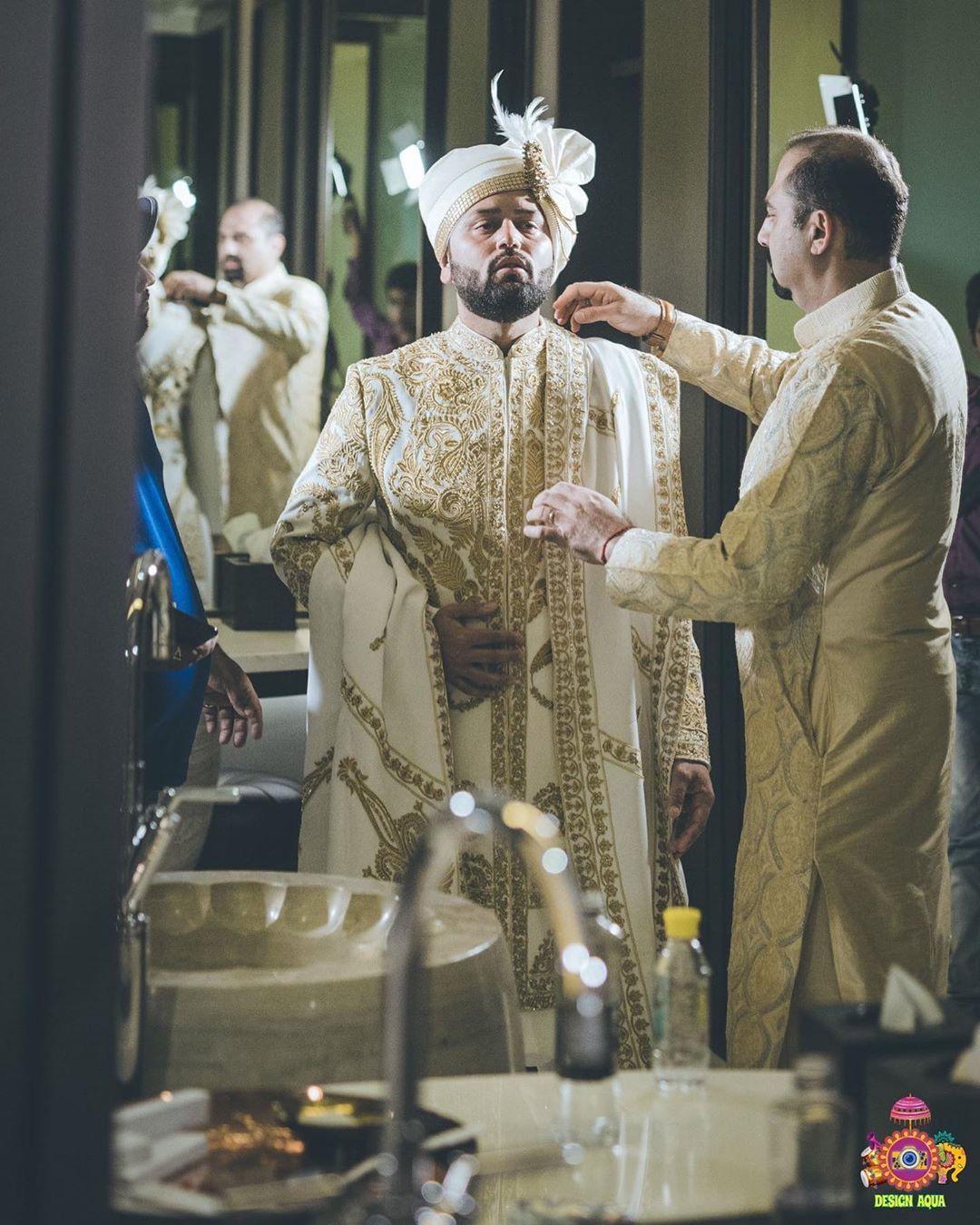 Siblings are friends forever; they have been with you in every thick and thin So, why not to get a memorable shadi photoshoot with them. Look and grab some interesting traditional photoshoot ideas with a contemporary twist where you both are sharing some beautiful moments. Those moments that talk about the bond that you both share with each other. These photoshoot poses talk about the reverence you hold for each other. Here are some inspirations for you, these photo poses are natural and candid.
The Regal Entry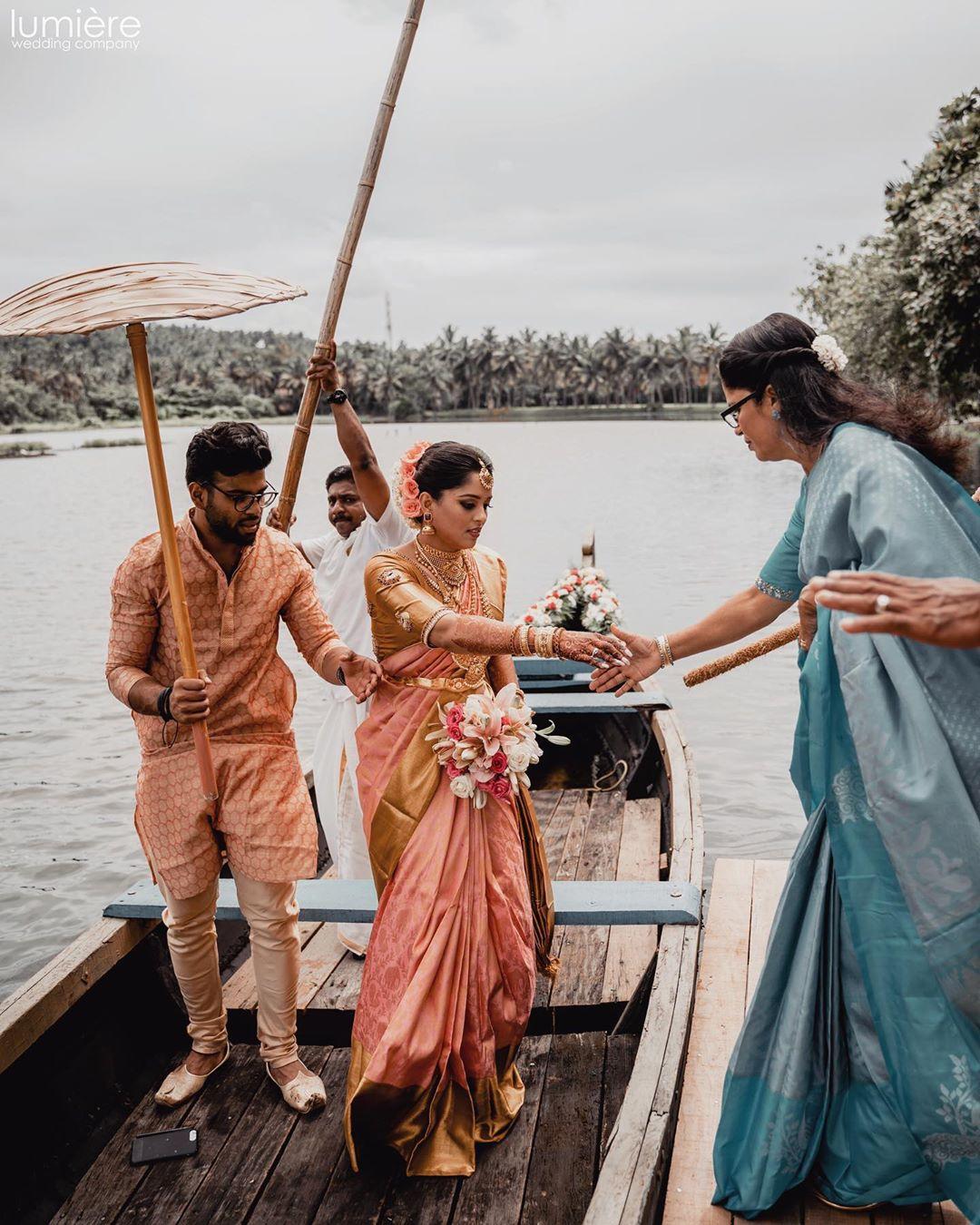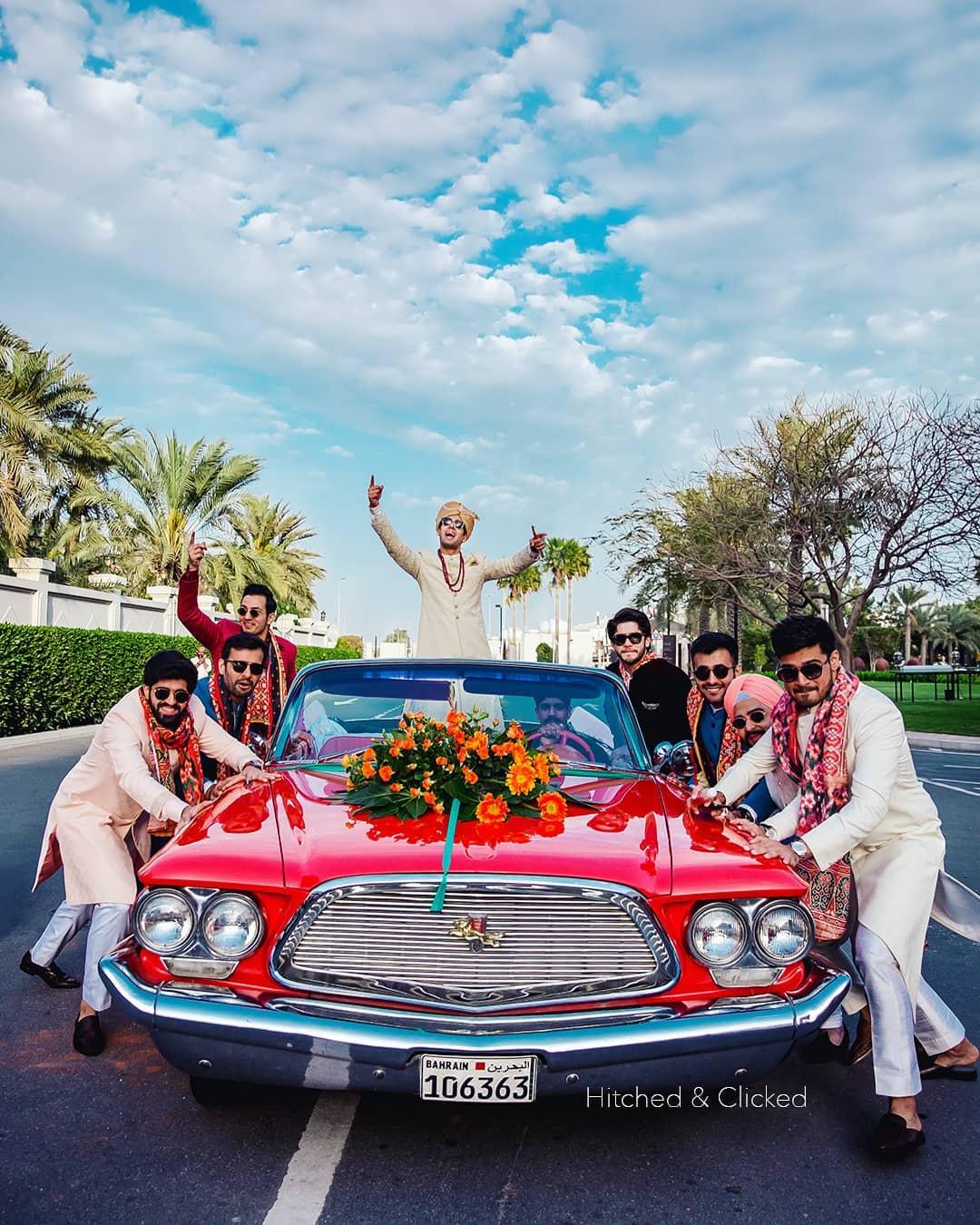 Check these merry yet eye-pleasing photoshoots poses for your wedding. These entries are always memorable, fun and vivacious. After all, great entries have a lasting impression.
The Big Day Poses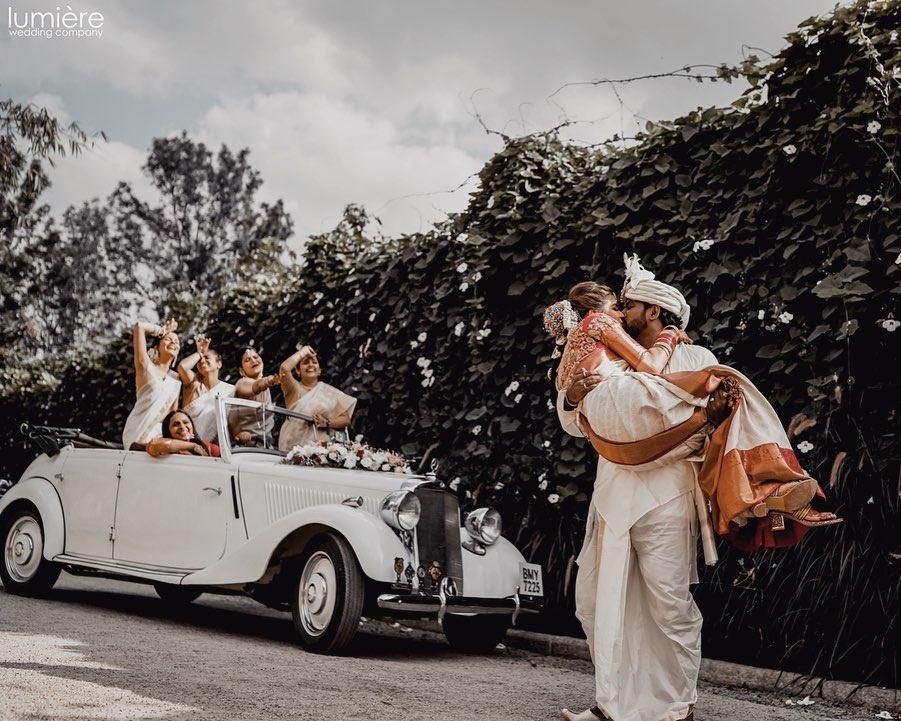 Couple poses are the mandatory clicks without which the wedding album is incomplete. There were a variety of poses that were taking the year by a storm and the fun element in them has won our hearts like "AWW"!
The Gorgeous Twirl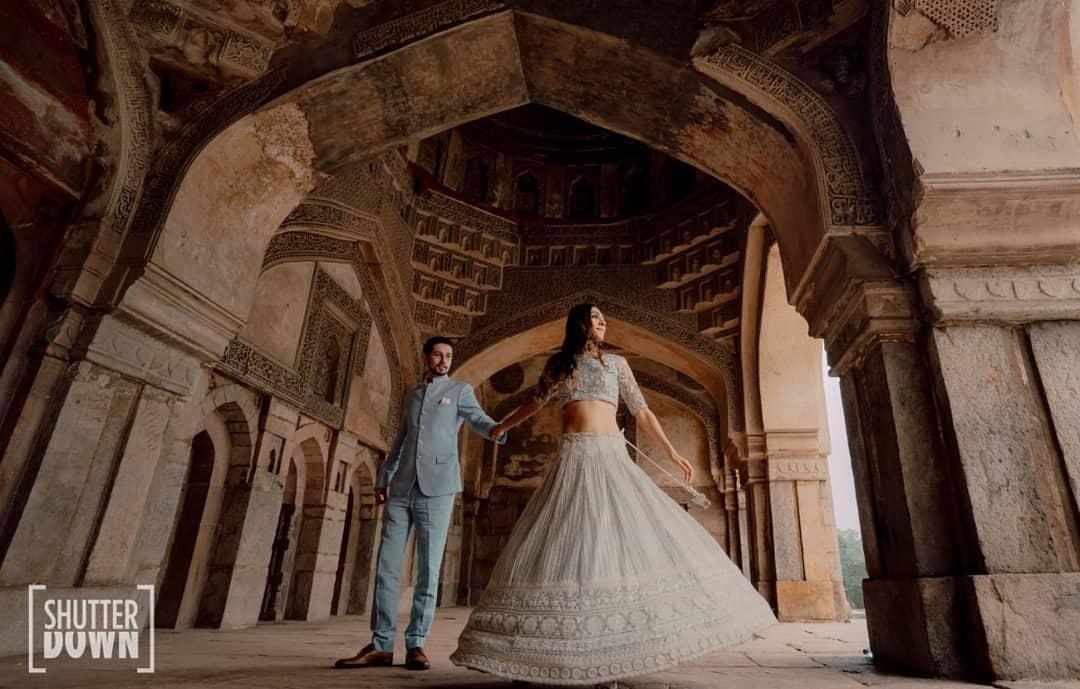 Twirls are back in fashion with a contemporary twist. So, whether you plan for husband and wife poses or if you want to pose for a pre-wedding ceremony, this photo pose will surely drool everyone. The twirling girl in white wedding gown is setting some serious fashion goals.
The Sudden Kiss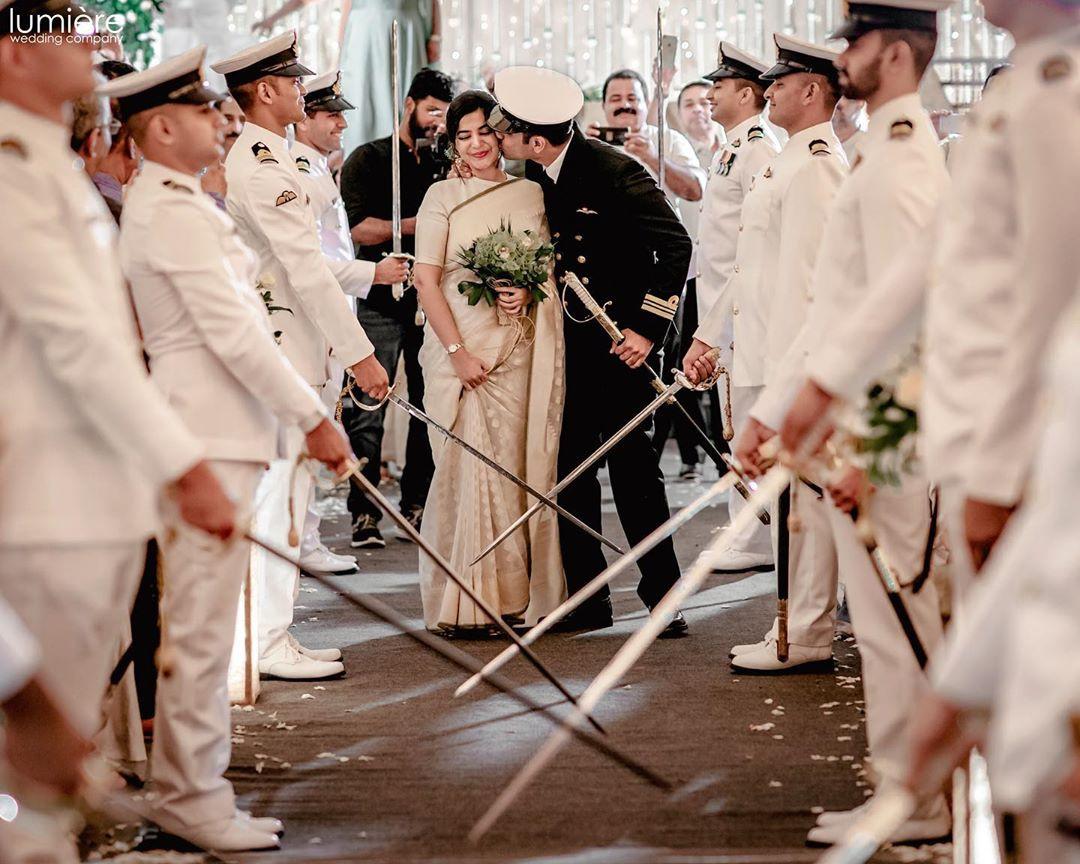 If you want to make sure that every pose that you choose, speaks of the impeccable romance that you and the love of your life share, then try this cute wedding couple image for a memorable experience.
About Reception Photoshoot
Reception Photoshoot poses are classier and daintier. Here we have picked some photoshoot poses for all of you that you can use as inspiration. These are some latest photo poses for boys and girls along with some snippets from the reception day.
Latest Photo Pose for Boys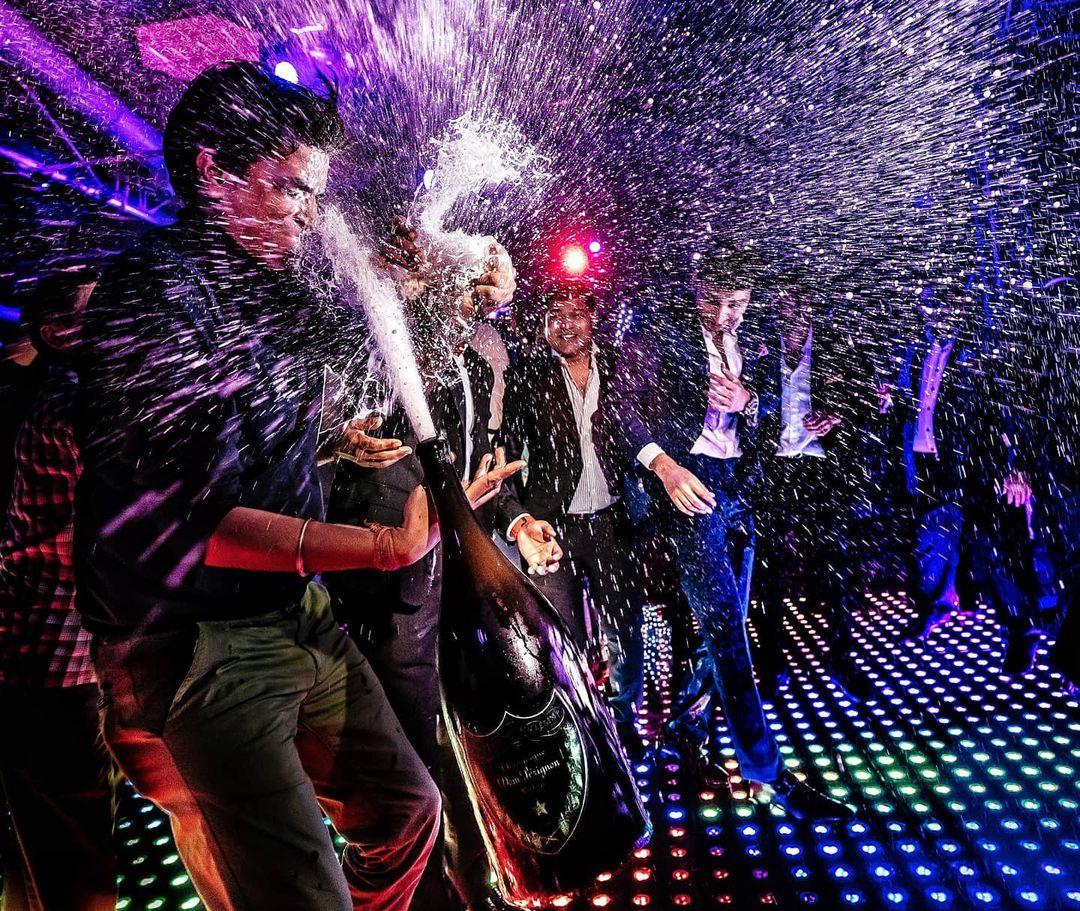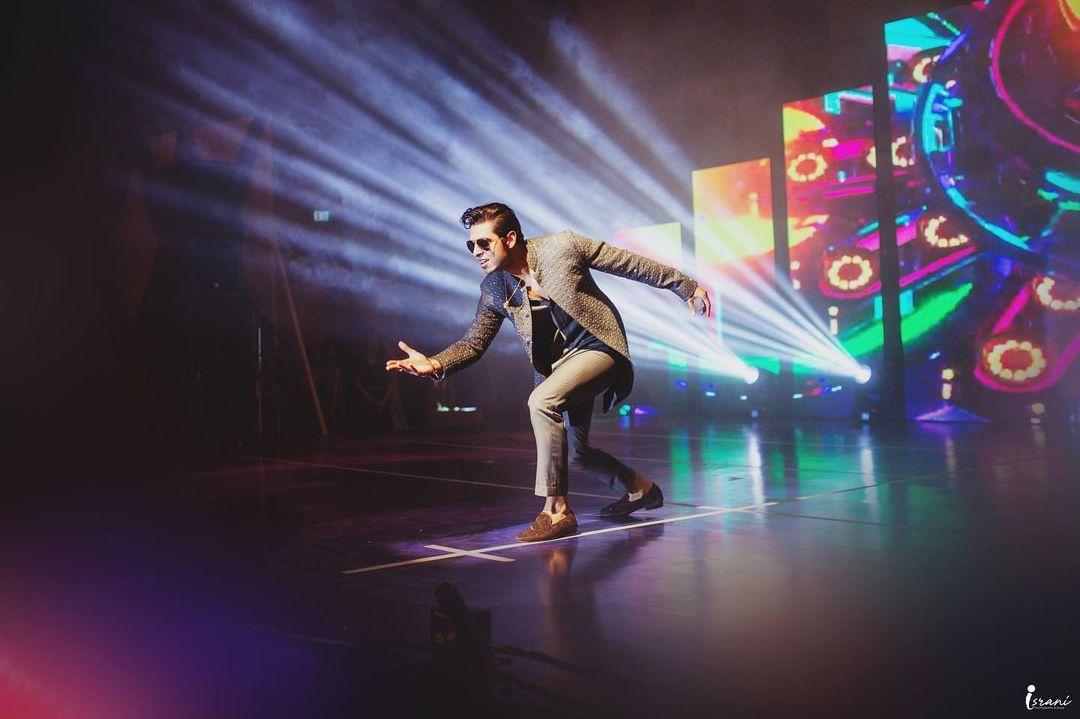 From candid captures while you share a moment with your father, or the one where you show off your mehndi designs, the wedding album is one of the most prized possessions that you will be the bearer of for years to come. Take a note of these grooving moments and use them while you will be posing for unique poses.
Latest Photo poses for Couples
There are a million memories attached to the wedding and the ceremonies and the photographs are your tickets to relive these moments whenever you wish to! If these poses from 2019,2020 and 2021 inspired you or you have your favorites picked from above, get in touch with the stunning professionals to make your album look gorgeous!
It is your chance to make the fairytale come true and what better than choosing the best of places for dreamy backdrops and sets, with moments that look larger than life. Make sure every pose that you choose, speaks of the impeccable romance that you and the love of your life share. Last but not the least, get inventive, think outside the box, do a little drama or play totally candid- for your pre-wedding shoot poses. Ideally, these photo poses should reflect the chemistry between you and your partner. If you're planning a beach destination wedding, take advantage of the fact and get some amazing captures. Trust your photographer as he will know what is best for you.
If these poses inspired you or you have your favourites picked from above, get in touch with the stunning professionals to make your album look gorgeous!
With words by Anwesha Das