Bridal Poses Ideas To Nail Your Wedding Day Shoot
Wedding Trousseau, check! Wedding jewellery, check! Wedding makeup, check! Bridal poses, not sure? Let us show you how to pose for your bridal photoshoot.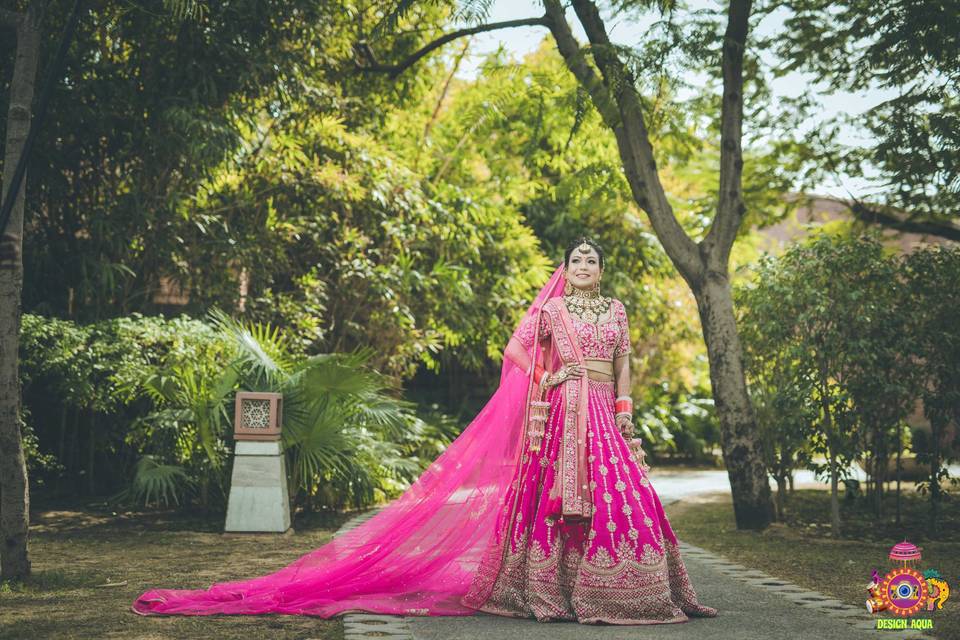 The correct bridal poses are very important when a bride is gearing up for her wedding day but often forgets about it completely. If you won't adhere by the right bridal poses, your wedding trousseau or your air-brushed makeup won't be justified on the camera right!
But worry not, because acing the art of bridal poses is no rocket science. Our guide here will help you understand different bridal poses that are approved by fashion stylists and photography experts. Which means these poses will guarantee that your photographs come out perfect, just the way you would wish for.
And once you have understood the art, go ahead and discuss them with your photographer who can help you finalise on the poses, saving you time on the D-day. But before doing that, check out the following bridal poses for your reference.
1. The 'Look Behind' Pose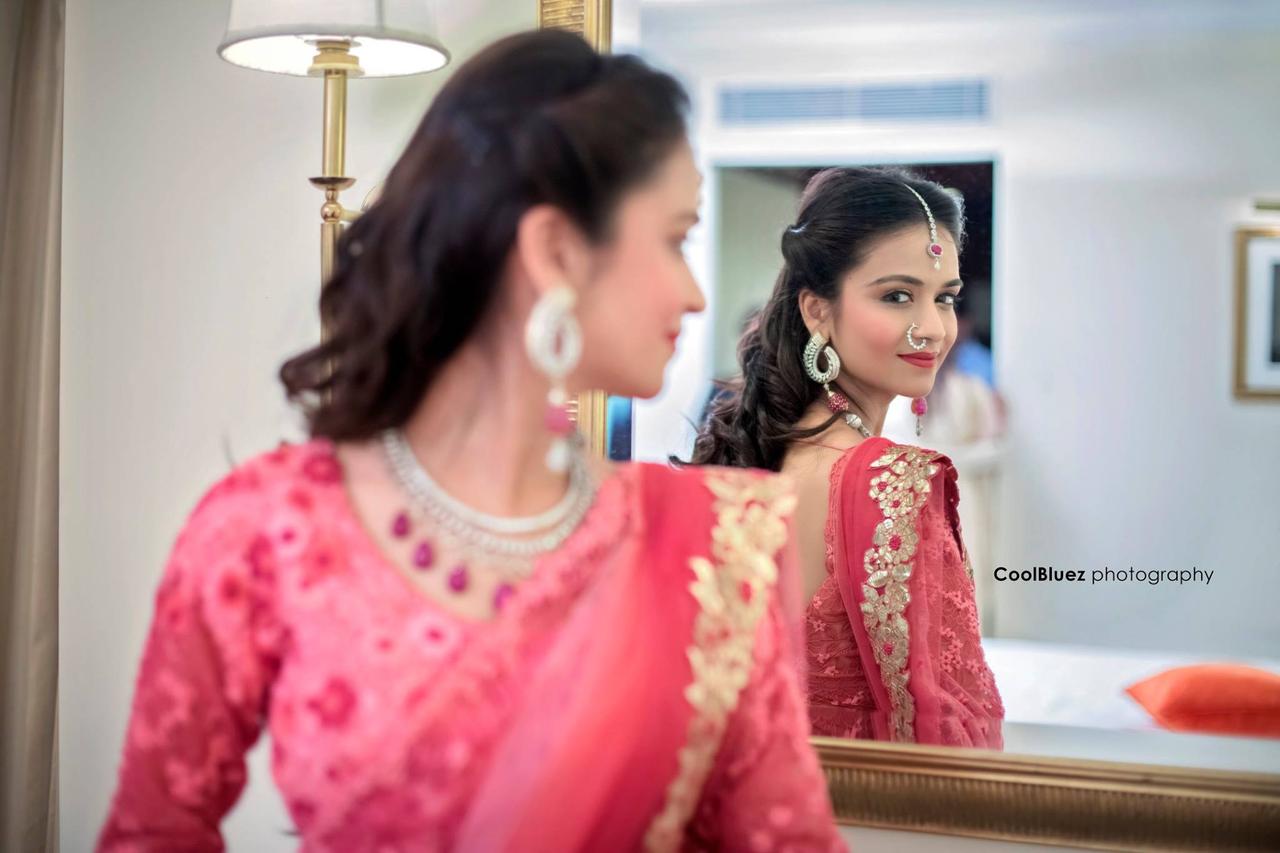 Look behind in the mirror, look at yourself, think about how beautiful you look and smile! That's it. That's all you need to do in this pose. If you have browsed through plenty of blouse designs and have shortlisted the one with a beautiful sexy back, then this pose is a must on your list of bridal poses.
Whenever you position yourself in front of the mirror, make sure that you don't force stretch your neck to look behind. Position yourself at a 30 degrees angle, so that looking back becomes easy and your back is properly visible as well. Bonus Points to your jawline and chin area stretched to look more sculpted, while you do this pose.
2. The Royal Standing Pose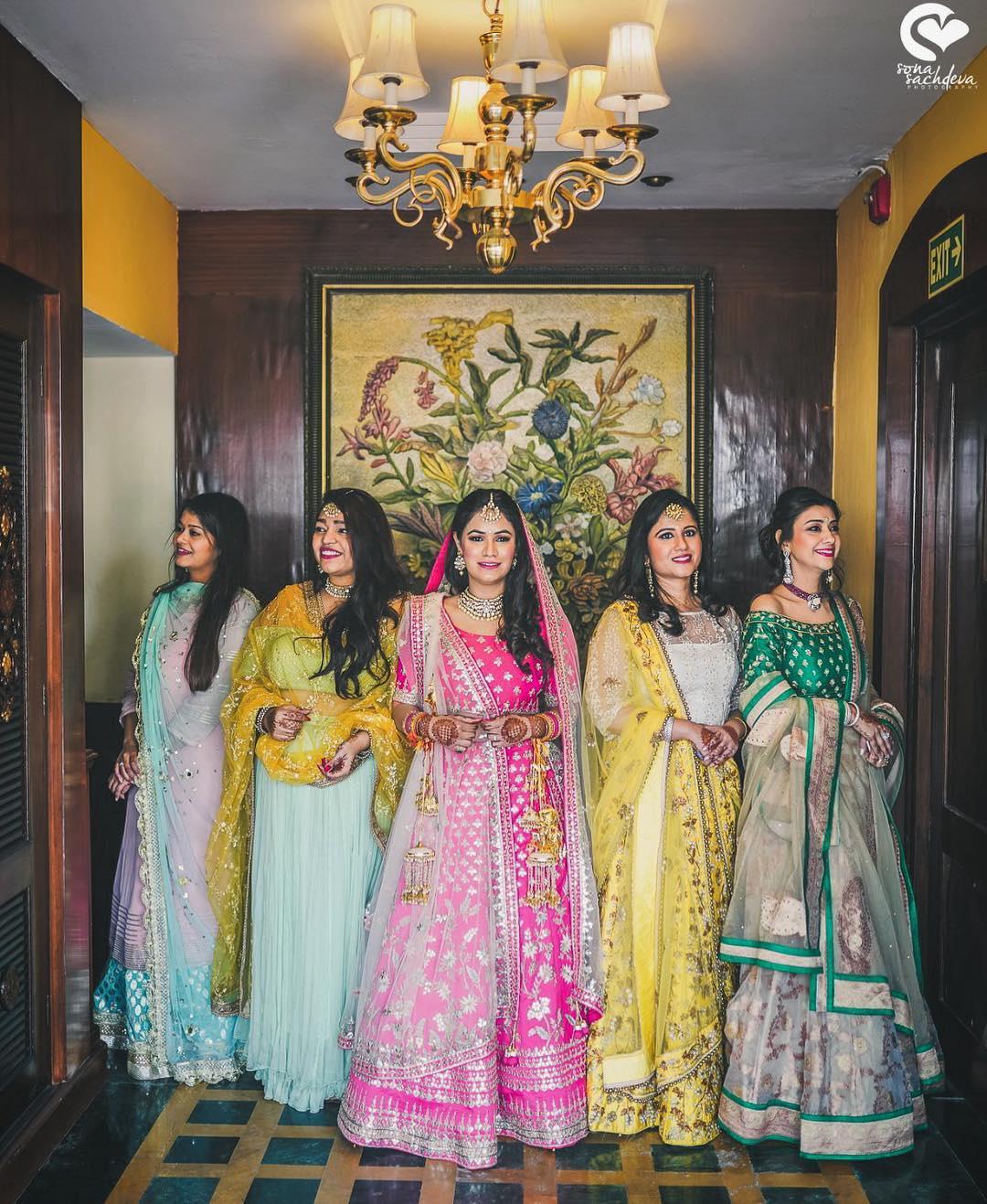 For this one, begin with breathing in and breathing out. Calm your expressions down a bit, even if you have jitters, you need to relax your nerves. Fold your hands in a manner that the tips of your fingers touch each other. Imagine yourself creating a relaxed square with your hands and arms to achieve this pose.
Then look straight on the lens of the camera and give neutral expressions or a hinted smile for that royal standing pose. You can even look at a few legit royal portraits to get an idea on this one and practice replicating those expressions in front of the mirror beforehand. Such bridal poses are perfect when you have a regal and dimly lit background, against which, you get to shine. Keeping your body relaxed is the key to this one!
3. The Mehndi Pose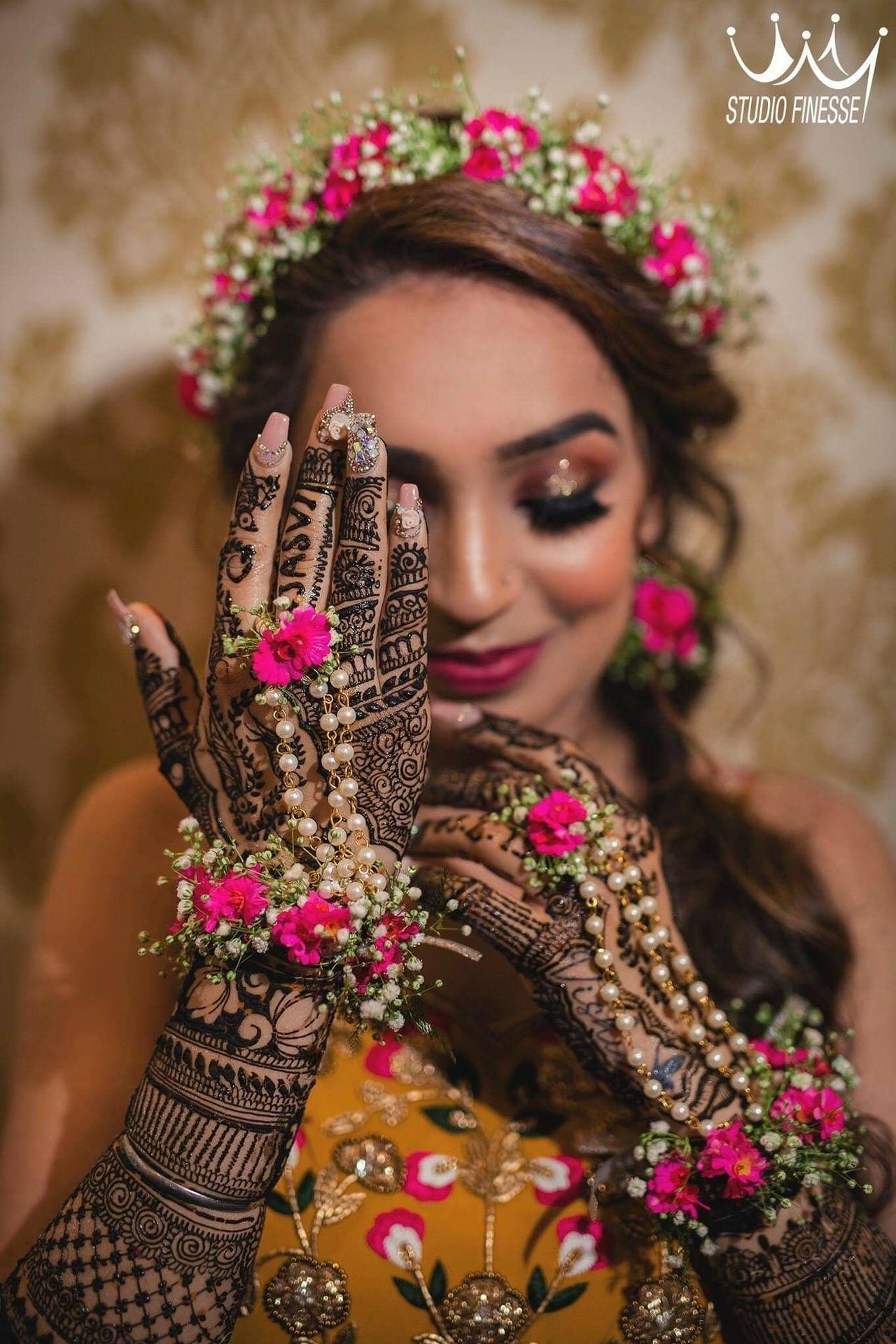 There are many bridal poses to show-off your Mehndi design in style. Out of many styles though, the one mehndi pose that stands out is half-face covering pose. The focus remains on the mehndi design, but the bride too is visible, smiling, but blurred out slightly. Such bridal poses turn out to be quite candid, making them the number one choice of every bride for getting enlarged and framed at her new home.
If you keep your eyes down or close, the beauty of your eye makeup will also be hinted upon, giving a more colourful overall look to the final photograph.
Pro Tip - In case you are conscious about your chin, you can keep your other hand in front of the chin area, as shown in this image, to make the pose look natural, yet taking away any attention from your jawline.
4. The One With The Dupatta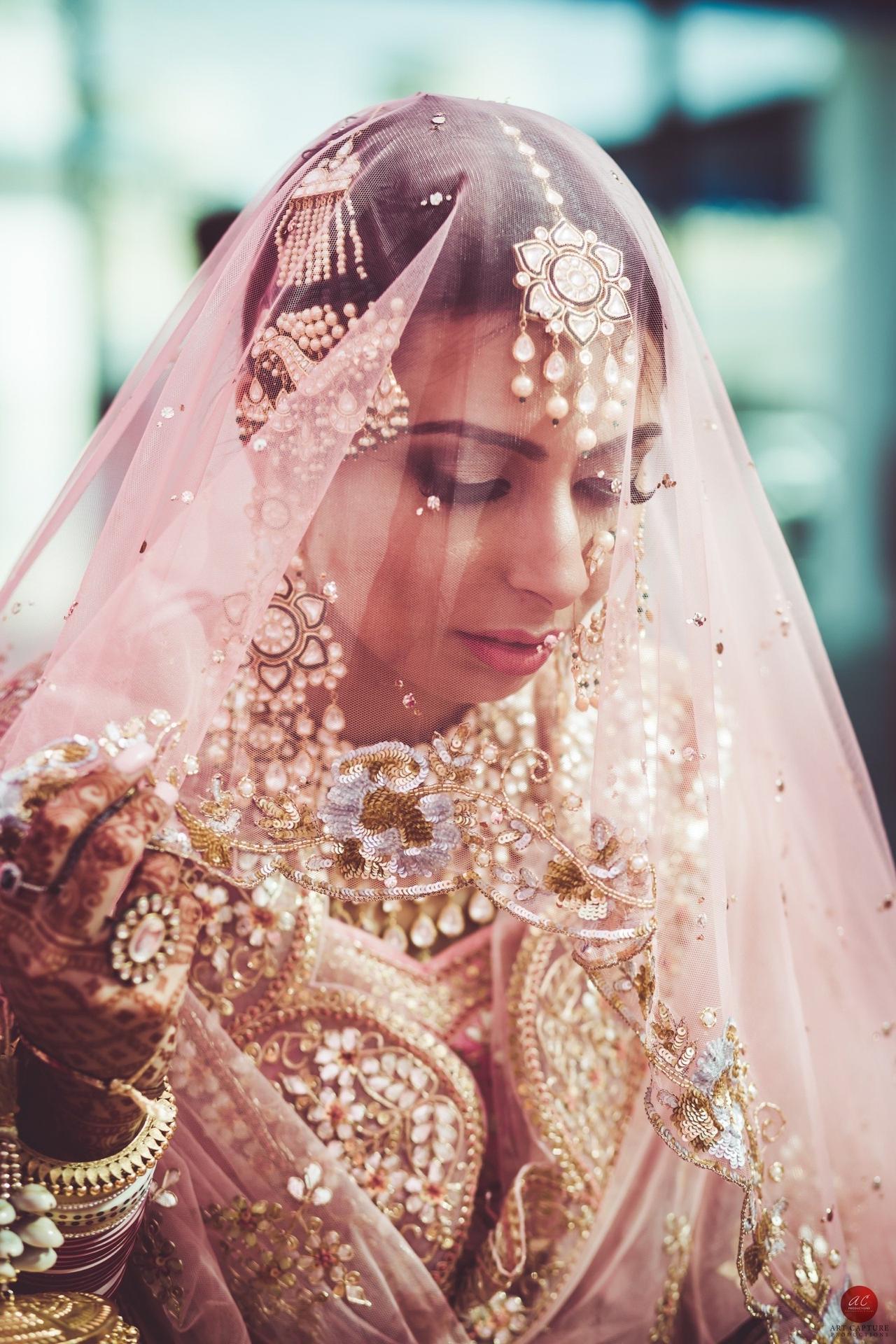 For bridal trousseau consisting of a net dupatta/veil, a set of bridal poses with the veil are a must. Whether you want to showcase the intricate embroidery details of your bridal lehenga, you want to show yourself behind the veil, or you want to focus on the heavy Kundan jewellery that you are adorning; every pose with a net dupatta will look graceful.
For this pose, keep your shoulders relaxed, your neck straight, your head slightly down with your eyes too directed towards the downward position. You can either simply cover your head with the dupatta and let the light and the photographer's skills take the perfect shot for you, or you can hold the border of the dupatta in-between one of your hands to achieve a more traditional look.
The best way to practice these poses is by doing so in front of the mirror. That way, you will be able to correct yourself as well, in case your bridal poses are not aligned with your body right. This practice will also give you the opportunity to figure out your good side. A good half side of every individual is what looks better in photographs as compared to the other half.
This knowledge too helps a great way in deciding what poses should you go ahead with. Do remember, that no matter how well versed you are with the bridal poses on the day of your wedding, if you remain nervous and don't ease out to give a genuine smile, no right pose will be able to justify the shots. So make sure that you take deep breathes before posing and encourage your bridesmaids to crack a joke or two to help you achieve a natural laugh/smile during the wedding photoshoot.
Practising these bridal poses beforehand will also give you more confidence to pose easily on your wedding day easily. Do tell us which pose style is your personal favourite.