All You Need to Know About Wedding Venue Costs
Here's a complete guide on Wedding Venue costs that can help you plan your wedding venue budget better.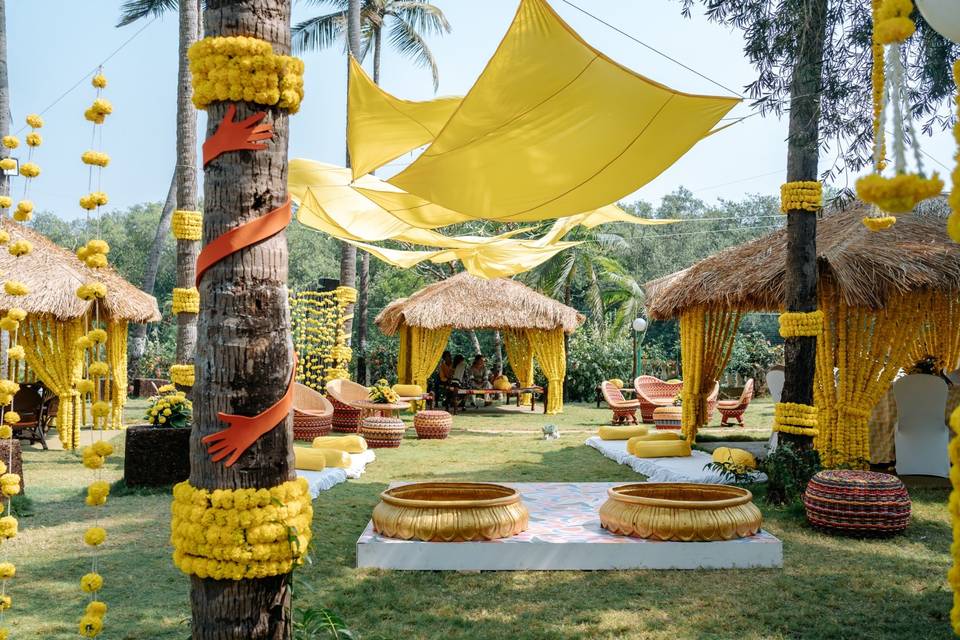 Venue - Mercure Goa Devaya Resort l Wedding Planning & Decor - Lateral Events, Rigger House LLP
Did you recently finalise your wedding date? The most important 2 steps on the top of your wedding planning checklist right now are 1. Planning the Wedding Budget & 2. Choosing a Perfect Wedding Venue within your wedding budget.
Booking a wedding venue is a very important cost in your wedding budget and there are various things about Venue pricing that you should keep in mind before you start exploring your wedding venue.
Find our complete guide on Wedding Venue Costs with details on the various types of Venue pricing for wedding venues in India, factors that can lead to additional costs adding to your wedding venue expenses, the most important factors that affect the booking cost of wedding venues and our tips on booking the right venue for your D-day!
Find Wedding Venues Within Your Budget
In this Article -
1. Factors that impact Venue Cost
2. Additional Costs for Wedding Venues
Factors that impact Venue Cost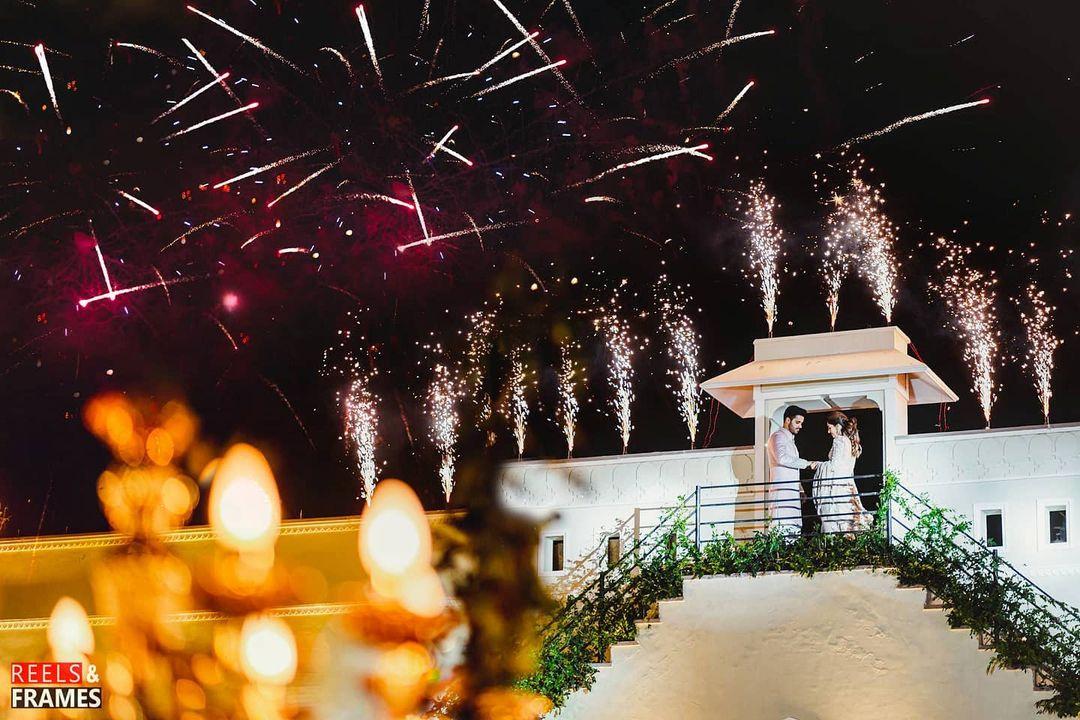 Venue - Alila Fort Bishangarh l Photography - Reels & Frames l Wedding Planner - Rudra Event
If you have decided your wedding budget but do not know how to allocate an estimated amount from your budget to wedding venues specifically, use WeddingWire India's Free Wedding Budget Calculator. Once you update your total wedding budget on the calculator, it estimates an average amount that you need to block from your budget for different wedding expenses like Venue rentals, Cost of Wedding Photographer, Transportation costs, Wedding Invitations, Jewellery expenses and more. This will help you identify an approximate budget that you can allocate to Venue bookings.
Some major factors that affect the Venue Cost includes -
Wedding Date - The rental price and prices per plate for Wedding Venues are usually higher in the peak season and Saaya dates.
Your Guest list size - Hotels and other premium wedding venues usually have multiple banquet halls and open air spaces to host more than one wedding in a day. The guest accommodation capacity of these halls/pool side area or open air spaces vary accordingly. If you are planning to rent a specific area within these venues, rental fee will vary according to the capacity of the place. If you are planning to book the wedding venue along with their catering services, you will be offered a 'price per plate' package - in these cases, your total venue cost will depend on your guest list size.
Additional services - Are you planning to rent out the hotel space/banquet hall only or also hire additional services provided by the venue like catering at the wedding function, wedding venue decoration, or DJ services? Your total wedding venue cost will depend on the exact services you choose.
Guest Accommodation - Many couples book rooms at the wedding venue (depending on availability) for their outstation guests. If you are planning to book rooms in a hotel/resort for your wedding guests, the total expenditure on your wedding venue will be comparatively more.
Location of Wedding Venue - If you are choosing a wedding venue situated in a prime location, the rental charges or price per plate will be more expensive. For example, hotels located at the centre of a metropolitan city, premium hotels situated near a city's airport. This also applies for venues that are perfect to host destination weddings - like a sea-side facing venue, or a famous resort at a hill station.
Also Read - How to Choose the Perfect Wedding Venue
Additional Costs for Wedding Venues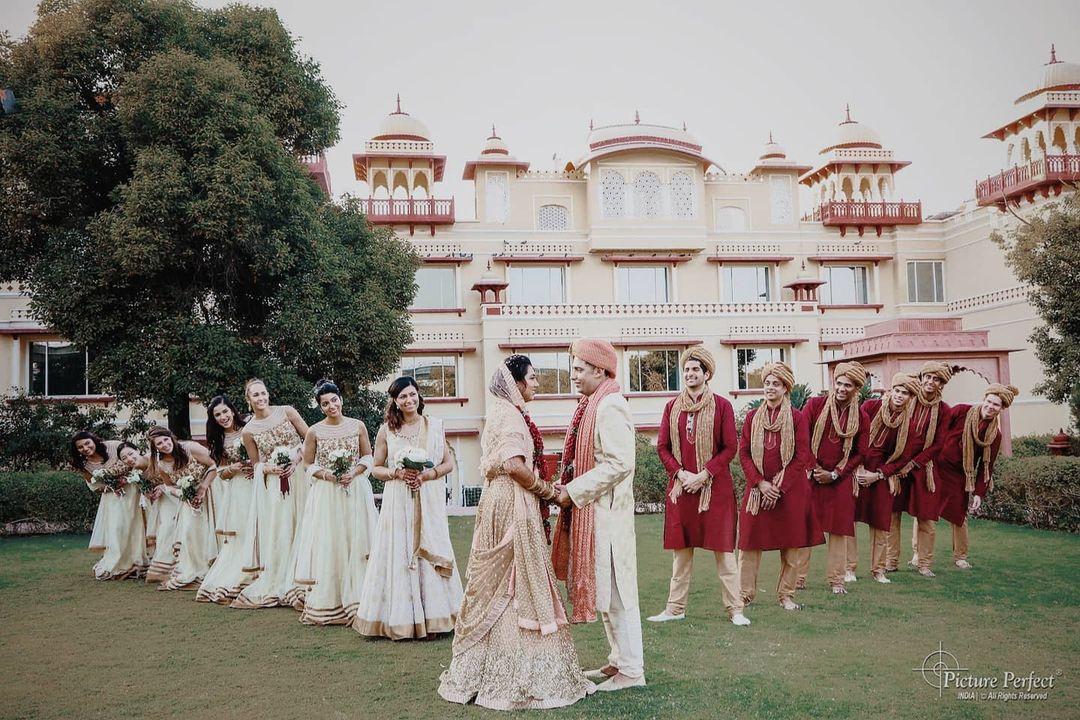 Venue - Jai Mahal Palace l Photography - Picture Perfect India
We briefly spoke previously about the additional amount that might be added to your wedding venue package depending on the services you choose. However, that's not it! There are various other factors that need to be considered as additional costs that you can expect when you are booking a wedding venue. To be clear about the extra investment you have to make, ask questions about these factors to the venue manager before you go ahead and pay the booking deposit amount.
Parking - Make sure to check with the venue manager, if the parking cost of your guests' cars will be covered in the total venue cost or will be added as an additional price? You should also ask about the availability of Valet services and the cost around it.
Catering - If you are booking the venue's catering services, you need to know if there are any additional costs for cutlery, use of kitchen and waiter services.
Rentals - A wedding venue must always be prepped with lighting equipment (for evening & night weddings), chairs and dining tables, and basic audio equipment. Check with the venue manager about the availability of these equipment and make sure to add them to your total negotiated venue package.
Decoration Cost - Talk to your venue manager to understand if they are willing to handle the wedding venue decoration for an extra charge? If they offer this service, you can go through images/videos of some of the previous decorations they have planned at the venue and take a call. In this case, make sure you check with the venue manager, if the cost for the raw materials used for the venue decoration will be a part of the package or an additional cost? If you are planning to hire a wedding decorator separately, set up a meeting with your wedding venue to understand rules/regulations/additional charges.
Taxes & Service Charges - Ask your venue manager if there will be additional costs for gratuities, other service charges, and the exact tax amount payable to be completely aware of your total venue cost.
Event insurance - If you are planning a big fat wedding or an intimate wedding during the pandemic and want to insure your wedding event, expect some additional costs as suggested by your insurance company.
Cost of Logistics - Check with your venue manager if there is an additional cost for using storage spaces. This is more relevant if you are hiring wedding decorators/Wedding entertainment teams separately for your wedding celebration. Post the wedding function, the venue needs to be cleared out of furniture brought on rent, or decoration items and props, sound systems used by wedding djs and entertainment teams. If these vendors cannot pick up the items immediately after the wedding event, they have to be stored for the night. You should set up meetings with your vendors and the venue manager to clear these doubts and discuss if any additional charges will be levied in these cases.
Also Read - Questions You Should Ask a Wedding Venue Before You Book
Venue Booking Tips

Use WeddingWire India's app to shortlist venues online - Start shortlisting wedding venues in your preferred location online, as soon as you have decided your wedding budget.
Book your preferred venue early - Once you have finalised your wedding date, start your recce of the venues and reserve your preferred wedding venue as soon as you can. Booking early will help you find your favourite venue without much hassle.
Be flexible about dates - If you are eyeing a dream wedding venue like a premium fort or palatial venue in Rajasthan or one of the most popular farmhouses in Chattarpur, Delhi, you might want to be a little flexible about your wedding date. You can make a list of saaya dates when the wedding can be hosted and check with the venue about its availability.
Get a contract in place - Make sure you have your discussions in writing. You can have a detailed contract with the wedding venue which covers the most important aspects like the booking amount you have paid, the venue's cancellation policy, Force Majeure clause, and other legalities that need to be included.
Looking for the best wedding venue for your dream nuptials? Find all necessary details, along with venue images, videos and reviews from real couples who have hosted their weddings recently and book the perfect wedding venue here.