A Wedding Editor's Guide To Using a Free Indian Wedding Cost Calculator
If you are about to get married soon and are looking for a simple Indian wedding cost calculator, then your search ends here. Here is how the WeddingWire India Budget tool can guide you through your wedding budget planning, seamlessly. Read to know more.
Hi, I am the Lead Editor at WeddingWire India and I recently planned a residential wedding in Delhi NCR and used the WeddingWire India budget calculator to plan my expenses. Planning your wedding budget will always be the most important step of wedding planning. The first step on my wedding planning checklist, even before I started looking at wedding venues and wedding vendors was deciding the total budget for the wedding. I highly recommend this as the first and most important wedding planning step. Once you have an estimated wedding budget in mind, the next steps like the total guest list, the destination of the wedding, and choosing the perfect wedding venue will become easier.
The WeddingWire.IN's Budget tool is a blessing for all couples. I have put together my wedding budget planning experience here for your ease. Check it out here -
In this blog:
2. The WeddingWire India Budget Tool
4. Categories Under Budget Tool
5. Pros of Using the Budget Tool
Planning The Budget
If you are a millennial or Genz bride or groom-to-be who is here for wedding planning advice, I am assuming you are taking the major wedding planning decisions together. Even if your budget decision is being taken by your parents, it is so important to answer a few questions along the way. Here's how I reached the final wedding budget decision when I was planning my wedding -
1. What is our (couple + parents of both sides) wedding vision?
Are you dreaming of a destination wedding or do you want to focus on catering to all your contacts within the city and will opt for a local venue accordingly?
2. What's the tentative guest list you all have in mind?
A very important question that you must answer before the wedding planning begins is the desired wedding guest list size. Your budget and a lot of wedding planning decisions depend on this.
3. How many events do you want to plan?
How many pre and post-wedding events do you have in mind? This should be discussed well in advance with your partner and family to plan the total wedding budget and how it needs to be broken down for different categorical wedding planning decisions.
Once you have taken mutual decisions, put the estimated wedding budget on the tool and let the WWI free budget calculator break your main expenses down for you.
The WeddingWire India Budget Tool
Allotting a certain amount to each of the zillion requirements, major and small, is not that easy. This is when the WeddingWire India's Budget tool comes as your saviour. The Budget tool is a genie in a bottle. It is not only easy to use but also boasts of some automated estimation that helps you segregate a certain percentage of your wedding budget to each of the required sections from your planning checklist. The Budget tool will provide you with a clear idea of how much money from your budget needs to be invested in certain areas once you provide your estimated budget amount here.
How To Use The Budget Tool
Click on this Sign Up link and create your account on WeddingWire India. Follow the below-mentioned steps once you have logged in.
Step 1 - Create Your Account
You need to register on the WeddingWire, India App - Wedding Planner by WeddingWire.in, from the Play Store or App Store (for Apple) with your email or Facebook or Google account. You can also avail the benefits of the Budget Tool on the WeddingWire India website. Provide the details of your wedding including the wedding date, name of the groom and so on.
Step 2 - Select the Budget Option
Select the Budget option from the drop-down list under Planning tools.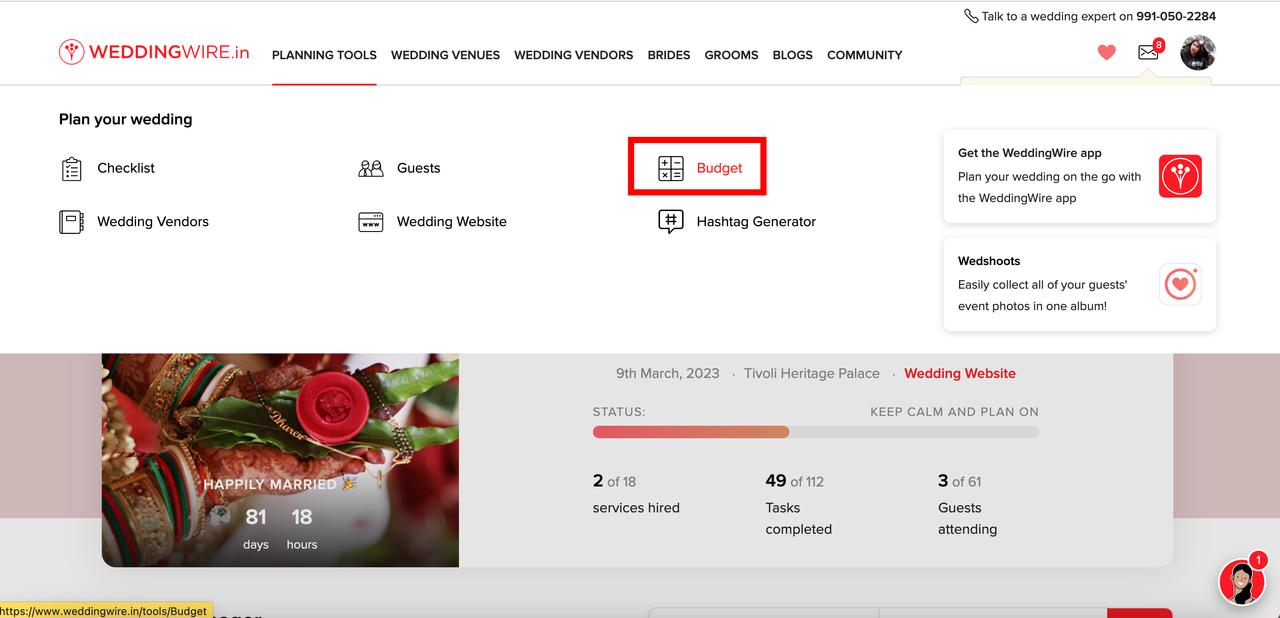 Step 3 - Add Estimated Budget for all Categories
The Budget Planner will now give you the option to add the 'estimated budget' that you have in mind for all wedding planning costs from booking the wedding venue, to hiring the wedding decorator, finalising catering costs, buying your wedding attires and more.
On the left-hand side of the screen, you will find the major cost categories listed like - Events, Catering, Photography and Videography. Click on each of these categories and start updating them as per your wedding requirements. The WWI Free Wedding Cost calculator will break your estimated budget down to major wedding expense decisions here. This can help you get a hang of the average budget you need to keep in mind for each category and ensure that you don't go overboard when you look for wedding venues & vendors.
Editor's Tip: Once you know your estimated venue budget, close on booking the wedding venue first. Try to find a wedding venue that offers amazing catering services in-house. Also, check with both families beforehand if you need accommodation within the venue or you will simply book the banquet space and catering services. This will help you finalise the biggest wedding cost.
Categories Under Budget Tool
There are 16 categories listed under the Budget tool and each of them leads to a list of sub-categories. This is an exhaustive tool that will ensure that your wedding budget is tailor-made and that the budget checklist does not miss out on even minute factors.
Events
The various expenses that you need to plan under the Events category include -
1. Venue rentals for each of your pre-wedding/wedding and post-wedding ceremony
2. Tent house rentals if you have outdoor spaces in the venue
3. Chairs, linens, etc
The Events category covers all the venue-related expenses. It is one of the major chunks of expenses where your budget gets spent. Indian weddings include various wedding ceremonies - both pre and post-wedding. If you have a separate venue in mind for each of these ceremonies, you can allot the estimated or agreeable amounts to each.
Editor's Tip: My tip would be to look for one picturesque wedding venue where all your events can be hosted. Many hotels and resorts have multiple spaces within the venue to host your wedding ceremonies like a poolside area, banquets, glass houses, terrace set-ups, lawns and more.
Book a Wedding Venue in Your Budget
Catering
The tool helps you plan your budget for the following catering-related expenses -
1. Meal costs for various wedding events
2. Cost of tea/snacks during baraat
3. Wedding cake
4. Mithaai and other desserts
The Catering section in the Budget tool takes care of the meal budget throughout the wedding. The wedding ceremonies will include guests and their meal costs and beverage expenses need to be kept in mind. The catering costs are generally calculated per plate according to the number of guests. You can also spare some amount of your budget for some customised plates. The wedding cake is also counted under this section.
Editor's Tip: Add your per-plate cost calculations here in the final cost section - this should be the amount that has been quoted by the venue/caterer. Once you update this cost, the tool will automatically deduct the total cost of the venue and catering from your total estimated budget. You will know exactly how much to spend on your remaining categories accordingly.
Find Top Caterers in Your City
Photography and Video
Photography has turned out to be one of the most important expenses for wedding planning these days. Photography and video charges vary from vendor to vendor and the requisites you would like to add to your wedding package. Some basic expenses include -
1. Engagement Shoot
2. Photographer chargers for wedding events
3. Videographer charges
4. Additional charges for Photobooth installation
The wedding ceremonies have different photography needs and to keep a tab on each of the Photography and Video requirements for each day - pre-wedding, wedding, etc, this category has listed different sub-categories like Engagement, photographer for the wedding events, videographer for the wedding events, the number of hard copies/prints that you need and so on. You must consider the different packages depending on your photography needs like candid photography, traditional photography, drone shots etc.
Find Top Wedding Photographers in Your Budget
Planning
1. Expense of hiring a professional wedding planner
2. You can ignore this section if you are planning the wedding yourself.
Editor's Tip: What I absolutely loved about this tool is how it adds vendor suggestions for each category within the calculated budget. You can also directly to our marketplace and add filters like fee, services offered etc to find an ideal wedding planner.
Find Trusted Wedding Planners in India
Jewellery
While we are mostly talking about bigger wedding planning costs like booking the wedding venue, it's so important to take the bridal jewellery cost into account. I mostly wore heirlooms for all my wedding events and didn't have to add an additional budget for it, I highly recommend doing the same if you want to add your family's legacy to your look. If you are an experimental bride and want to try out new looks and jewellery designs, make sure you add the total allotted cost to the budget calculator.
The two major expenses that have been enlisted in the budget calculator include -
1. Bridal Jewellery (total amount)
2. Wedding Rings
The bride can pick the groom's ring and vice versa, but the budget has to be in one place to tally it right. You can even plan on experimenting with jewellery on rent which is a big hit these days.
Editor's Tip: Don't skip this step because I have mostly seen families going over the budget here. It's advisable to allocate a certain budget for jewellery if you want to invest in statement pieces.
Bridal Jewellery Stores Near You
Flowers and Wedding Decoration
Endless wedding decoration inspiration from Bollywood movies and Instagram feeds now enable us to plan the most picturesque wedding boards for all of our events. The biggest celebration of our lives deserves the most amazing decoration. If you have a vision of a kind and want to explore elaborate wedding decoration ideas, put your decoration cost together using the tool.
1. Wedding event decoration
2. Lighting expense
3. Car decoration
Editor's Tip: Head to Pinterest or Instagram and put a mood board together with all the wedding decoration pictures you like. Share these links with the wedding decorators you are talking to and get separate quotes for the types of decor you choose. Do not skip these discussions and take the final quotations from the decorator for the decoration mood boards you finalise for each event. Negotiate and close on a final cost and ensure all the deliverables like phoolon ki chaadar, jai mala etc are covered.
Find Top Decorators For Your Wedding Events
Transportation
One category that we often miss till the last minute is booking transportation services for your guests. Plan airport picks up and drops, to and fro car rentals from the venue beforehand. The budget tool has taken into consideration these as well within the budget you have estimated and allocates about 2% of the budget to transportation.
Major expenses enlisted are -
1. Wedding car
2. Guest Transportation
3. Baraat: Groom Transportation
Hire Wedding Transportation Vendors in Your City
Wedding Cards
While WhatsApp invitations are taking the industry over, wedding cards still continue to be a must-have for many families in different parts of India. Be it digital or print, wedding invitation cards are a very important investment in wedding planning. The cost calculator covers -
1. Save the Dates
2. Wedding invitations.
You can add more categories if you plan on sending a different invitation for different ceremonies.
Top Wedding Invitation Designers In Your City
Bridal Accessories
Lehenga, Party dresses, shoes and lingerie are some of the most important buying decisions for your wedding events. Add your estimated budgets for each of these categories before you go outfit shopping. This needs to be done along with wedding jewellery budget planning if you want to invest in designer wear. Balance the costs accordingly.
Look for Bridal Lehenga Stores in Your City
Groom's Accessories
The bridal or groom accessories and outfit costs might be separate buying decisions for each of you but I would recommend adding your personal budgets here to stay on track. This section covers the cost of the groom's sherwani, shoes, and other accessories.
Beauty
How can we miss the cost of hiring a hair and makeup artist for your wedding celebrations? This has become one of the most fav decisions of brides today. Take your whole budget distribution into consideration before you start talking to our favourite HMU artists. Hire the best makeup and hair artists to ensure that you get the wedding look you have envisioned. Cost planning includes -
1. Bridal hair
2. Bridal makeup
3. Bridal beauty treatments
4. Mehndi Artist
The preps for the wedding glow start way before everything else. The expenditures for the regular salon visits and the mehndi artist can also be easily accounted for under the Health and Beauty tab of the budget tool.
Top Bridal Makeup Artists in Your City
Entertainment
The DJ, the wedding band, and the dholis in your Baraat are a part of the entertainment budget slot. You must also include the audio and video equipment and the professional choreographer's budget if you plan to hire them too. Apart from this if you want to hire musical bands, magicians, MCs and so on for live entertainment at your wedding you can add these under the entertainment slot of the budget.
Expenses you can calculate under this section include -
1. DJ
2. Dholi
3. Dance Choreography
4. Audio and Video equipment
Editor's Tip: If you are looking for entertainment vendors on a budget, ask your venue manager for top recommendations, Booking a vendor from their panel can save the cost of equipment rentals. Decorators and planners can also help you find entertainment vendors within your budget.
Find Top Wedding Entertainment Vendors
Guests
The WeddingWire India budget calculator tool has a dedicated category for 'guests'. You can enlist the following expenses below the tool -
1. Guest accommodations
2. Wedding favours
The budget tool plans the budget and the segregation is inclusive of the expenses for the guests. The guest accommodation is one of the major expenses set aside for the guests. However, I would recommend adding the accommodation costs to your venue budget. You can use this section if you are buying a separate rented house or rooms for your guests instead of accommodating them in the wedding hotel. Along with this, there is also the list of wedding favours and return gifts that you need to consider under this header. Be it the traditional mithai dabbas or other wedding favours, don't forget to add the cost here for your ease.
Find Luxury & Budget Wedding Gift Vendors
Ceremony
On the day of the ceremony, there are many minor expenses that need to be taken care of in the budget and are best accounted for while planning. Without you having to worry about the firewood, priest payments, donations, flowers and other miscellaneous expenses on the wedding day, the budget tool immediately sets aside 0.8% of the entire amount for the ceremony requirements.
Honeymoon
The budget tool also assists you to take into account the budget that you want to invest in a honeymoon. The honeymoon is often set aside from wedding planning. However late you may want to go for the honeymoon, if a honeymoon is on the books the budget tool makes sure to allot a certain amount of the budget to the honeymoon and divide it among the different requirements like the flights, hotel bookings, visa, etc. The free budget tool by WWI helps you plan your honeymoon budget with ease. The sections include -
1. Flights
2. Hotel
3. Excursions
4. Visas
Apart from the costs mentioned above, you can add other expenses to your honeymoon budget like your car rentals while travelling, food expenses and more.
Find Honeymoon Packages from Top Travel Agents
Other
The Budget tool on WeddingWire, India also allots a certain amount of the decided budget to the Other category. This category might not seem so crucial in the beginning, but setting this aside saves you from a lot of budget spillovers arising from unexpected expenses. Budget lists you will find under the 'Other' section -
1. Bride/groom accommodations
2. Family and in-law gifts
3. Car rentals
4. Bachelorette expenses
And you can always customise the list and add other expenses to it.
Pros of Using the Budget Tool
The Budget tool is always accessible. If you share the password and login ID with your partner and your family members, they can update the expenses and budget whenever they feel the need to do so.
It is eco-friendly without many crushed papers finding their way into your trashcan.
It is budget-friendly - sign-up for free!
It is a go-to organiser and checklist all in one.
The data remains as long as you do not delete the website and is therefore reliable.
Calculations are made easy.
It is easier to keep track and be on the same page with everyone else.
Millennial couples have tried their hand at jewellery on rent or lehenga on rent and so on and they have been super impressed with the idea. You can use alternative millennial options too to alter the course of the budget.
How about, you save on every possible frill and splurge it all on your honeymoon? Book a relaxing spa and rejuvenate your senses by just unwinding post-wedding. Going out on 18-hour flights won't help you do that so try booking a honeymoon destination which not so far away. Now that you have learned all the things about WeddingWire India's budget tool, make the most of it and nail your wedding planning process like a cakewalk.
Every little thing adds up — that's why we advise you to keep a "miscellaneous" fund that is around 1/10th of your wedding budget. What people generally ignore to account for are the costs for a bachelorette party, Baraat for the groom side, wedding giveaways, vendor meals and tips, marriage registration, overtime costs and Pandit Ji.
For a hassle-free experience, use WeddingWire's budgeting tool that takes care of tracking all the expenses for you.
Additional Words by Anwesha Das
Read More -
Mehndi Design | Proposal Lines | Simple Finger Mehndi Design | Arabic Mehndi Design | Propose Day Quotes for Boyfriend | Wedding Anniversary Wishes for Sister | Tamil Wedding Calendar | Simple Mehndi Design | Pre Wedding Quotes | Engagement Anniversary Wishes | Funny Wedding Wishes for Bestfriend | Blouse Design | Rangoli Design | First Night Tips for Bride | Wedding Anniversary Wishes