Your Personal Indian Wedding Cost Calculator
If you are about to get married soon and are looking for a simple Indian wedding cost calculator, then your search ends here. Read on to find out more.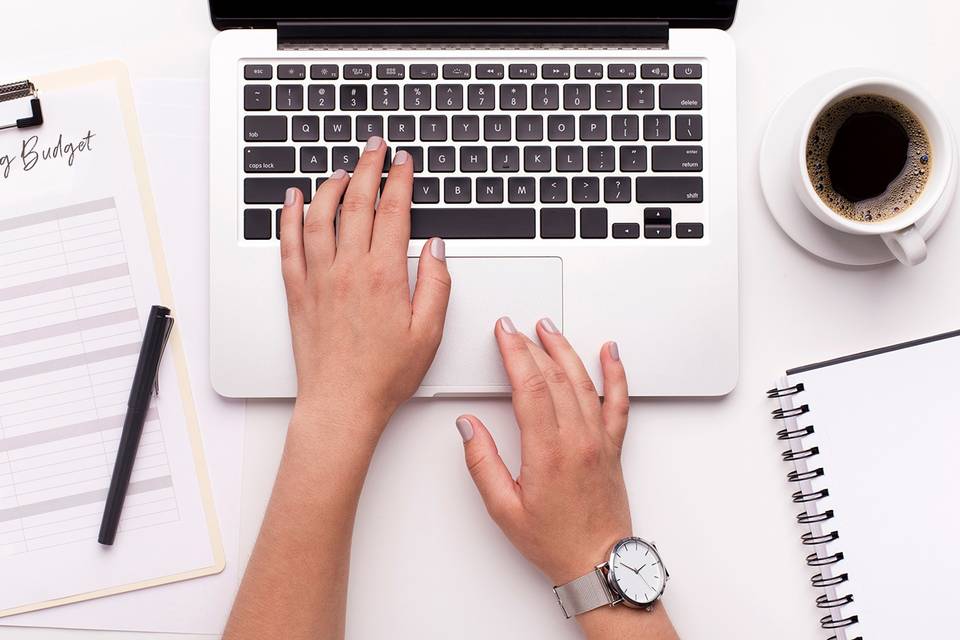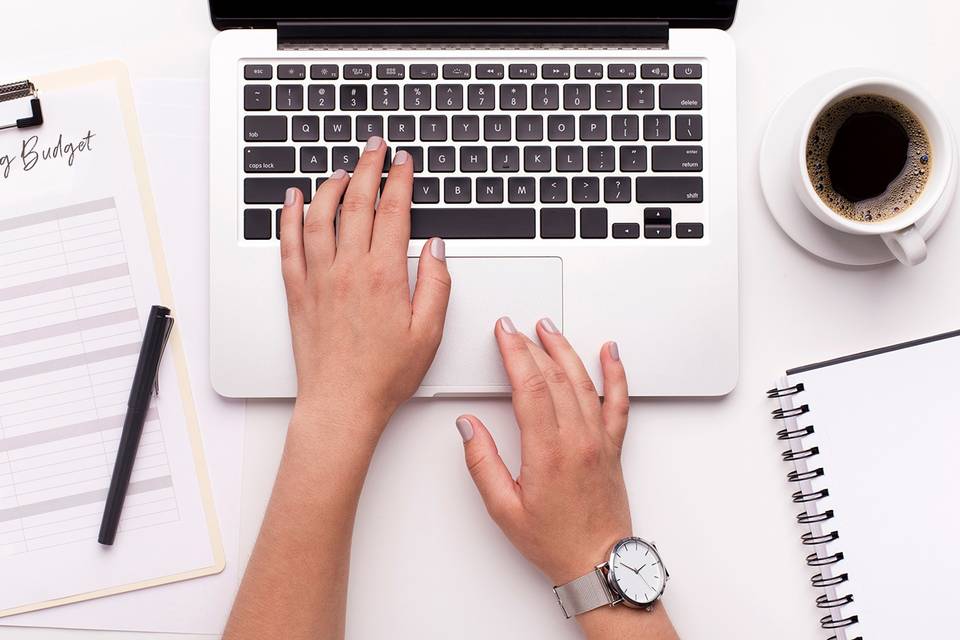 Hiring a wedding planner to help divide your wedding budget in the most suitable manner doesn't come free. But did you know you can successfully manage your wedding budget on your own, without spending a dime or stressing out your parents? It's time you tried WeddingWire's Budget tool - an Indian wedding cost calculator. It is the most wedding-friendly and practical calculator available in the market.
If you've read our previous article on Ultimate Wedding Budget Tool Guide then you are already aware that WeddingWire India's app and website offers a free budget calculator. Most weddings have two types of expenses: major expenses and minor expenses. While major expenses include the wedding venue, catering, decor, photography, wedding outfits and jewellery; minor expenses include invitations, makeup, guest accommodation, honeymoon and other miscellaneous expenses like Mehndi artists, DJ etc.
Understanding the Indian Wedding Cost Calculator:
To make your life simple, we have taken 3 categories of wedding budgets and have demonstrated how easy it is to manage your wedding budget with our budget tool.
Category 1: Up to ₹20 Lakh
Category 2: Up to ₹50 Lakh
Category 3: Up to ₹80 Lakh
CATEGORY 1: Up to ₹20 Lakh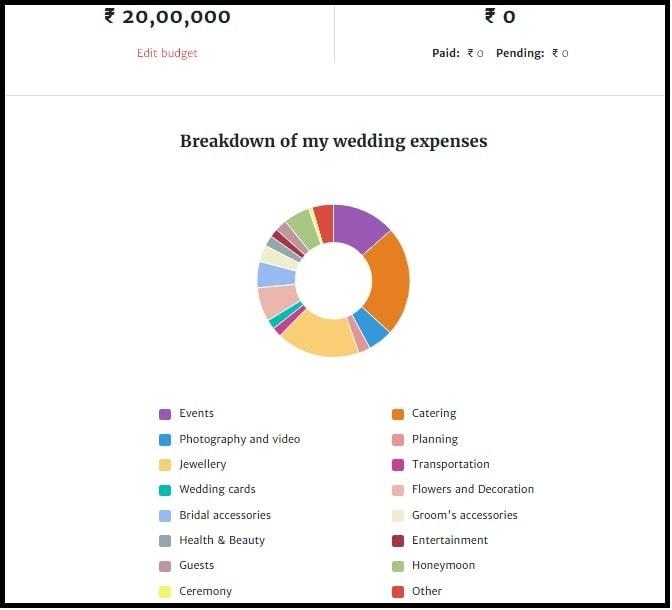 If your wedding budget's upper limit is ₹20 Lakhs, according to our budget tool, venue and catering (13.5% and 23.4% respectively) take up the major share of the wedding budget.
Tip: Instead of choosing a venue in the heart of the city, we suggest you book a venue on the outskirts. This will help you save on costs.
Jewellery and other bridal outfits (17.6% and 5.5%) is the next big chunk where you'll probably be spending more. I
Tip: To cut down on bridal jewellery costs, for at least one function we suggest you try out either fresh flower or gota jewellery. It's budget friendly and very chic. You can opt for fresh flower jewellery for your Haldi ceremony and choose silver jewellery for your sangeet/roka or reception night. Many millennial brides also choose to wear heirloom jewellery on their wedding day.
Decor (7.2%) and Photography (5.3%) are another two areas where you end up spending more.
Tip: Opt for budget quirky accessories like paper windmills to decorate your Mehndi ceremony, and opt for marigolds instead of exotic roses to decorate your wedding. When it comes to photographers, you can either request your friends and family to capture the intimate functions like Mehndi and Haldi and get professional photographers for other functions.
CATEGORY 2: Up to ₹50 Lakh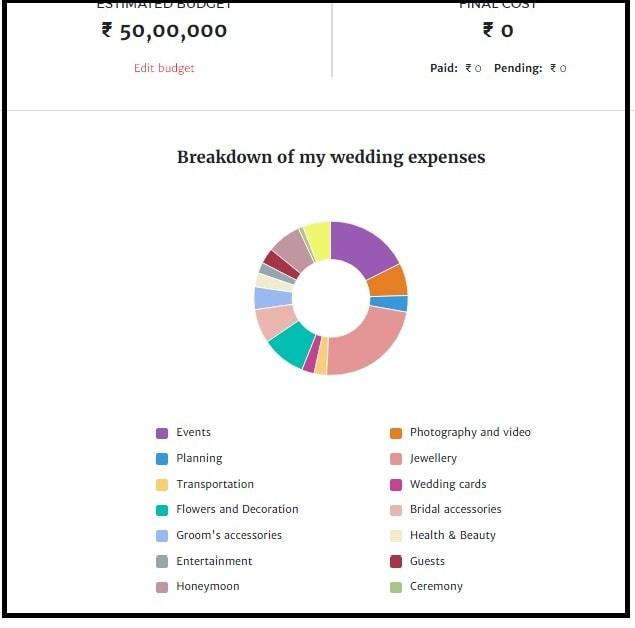 If your wedding budget's upper limit is around ₹50 Lakhs, then venue along with catering (18%) and Jewellery (23%) will take up most of your budget.
Tip: If you opt for venues that don't force you to take their in-house catering services, then you may be able to save on catering costs. Another way to save money is by renting jewellery. It can easily save you a few lakhs of rupees.
Decor (10%) is another area that will take a good chunk of the wedding budget.
Tip: Try decorating smaller functions with artificial flowers and lights to save on decor costs.
Photography, bridal outfits and honeymoon (6.9%, 7.2%, and 7.2% respectively) expenses are almost the same amount in this budget.
Tip: Instead of opting for high-end photographers, check for freelance photographers who will capture your wedding at a fraction of a cost. Did you know that just like people rent jewellery, you can also rent designer wedding outfits? Yes, you can save up a lot of money this way!
CATEGORY 3: Up to ₹80 Lakh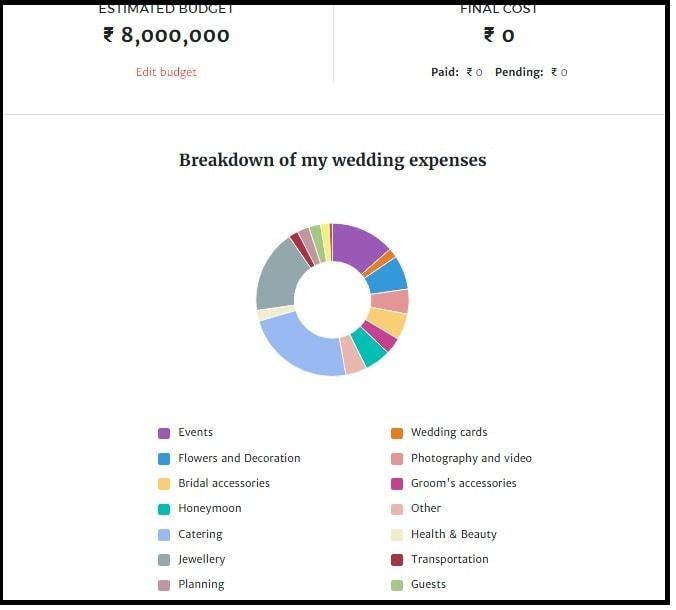 This high-end budget wedding should not let you worry too much about costs. But even in this budget, venue and catering (13.5% and 23.3%) together take a huge chunk of your budget.
Tip: Including international cuisines in the menu can shoot up the costs. On an average, an Indian meal plate costs around ₹800 per person. But with international cuisines, the plate cost can go up to ₹ 1500 per person.
Increase in the wedding budget also means a simultaneous increase in jewellery expenditure (18%). Whatever budget you choose, jewellery is one department that will see an exponential rise.
Tip: We suggest you buy jewellery around Dhanteras or Akshay Tritiya festivals so that you end up saving some money. A lot of jewellers offer discounts and promotions during these festivals.
Decoration, bridal outfits and honeymoon departments are the next set of high share expenses.
Tip: Try bargaining or opting for packages when you are planning for your honeymoon. This will help you save up so that you can use the balance to shop your heart out!
Advantages of using the Budget Calculator
1. Refine your wedding budget:
The Indian wedding cost calculator will give you a rough estimate of what would be the approximate cost of each vendor. That's not it. There is also an option of editing the cost at which you booked the vendor and also the amount that is due for payment.
2. Find budget-wise vendors:
There is a list of vendors that are available on the site. You can view their pages and see their work before booking them.
3. Edit your budget mid-way:
You can edit your budget mid-way and it will automatically calculate and adjust the costs of each vendor.
4. Easy to understand and control your costs:
The pie-chart estimation makes it very easy for you to see the major costs and work your way around to dial them down.
Each wedding foresees some miscellaneous expenses which sometimes are not mentioned anywhere. Please keep aside 4.5% of your total wedding budget for these miscellaneous expenses. We hope this Indian wedding cost calculator will lessen your burden and make the wedding planning a breeze!
Do tell us about your experience of the WeddingWire Budget tool in the comments below.