The Only Wedding Planning Checklist You'll Need for an Indian Wedding
Planning for a wedding can be confusing at times. To make sure that you do not forget anything at the last minute, we're here with the ultimate Indian wedding planning checklist for you!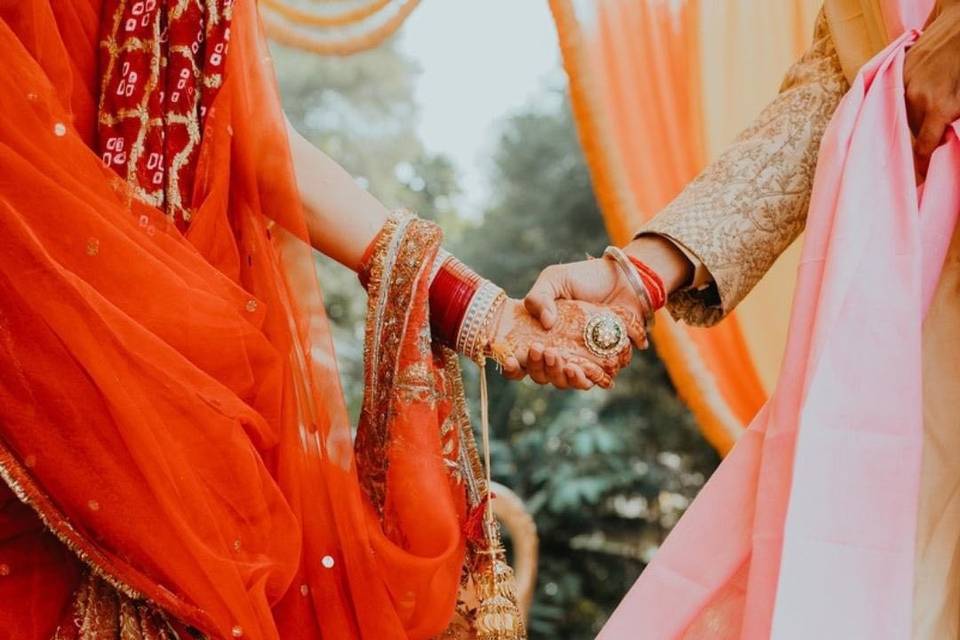 So you're all set to get married in a few months and are excited to just jump into the preparations? Hold on, take a deep breath and calm your mind once. Because there are going to be a million to-do lists in your head right now, and you need to organize it all. The best way to start preparing is by creating a wedding planning checklist, more specifically, an Indian wedding planning checklist. From wedding venues, decorators, caterers, and planners to salons, makeup, care packages and more, everything has to be planned and booked well ahead of time to make sure you get the best vendors and the best services.
To make a wedding planning checklist Indian easy for you, we're here with a 12-month wedding planning checklist that includes everything you'll need to take care of. So keep scrolling and start planning!
Why You Need a Wedding Planning Checklist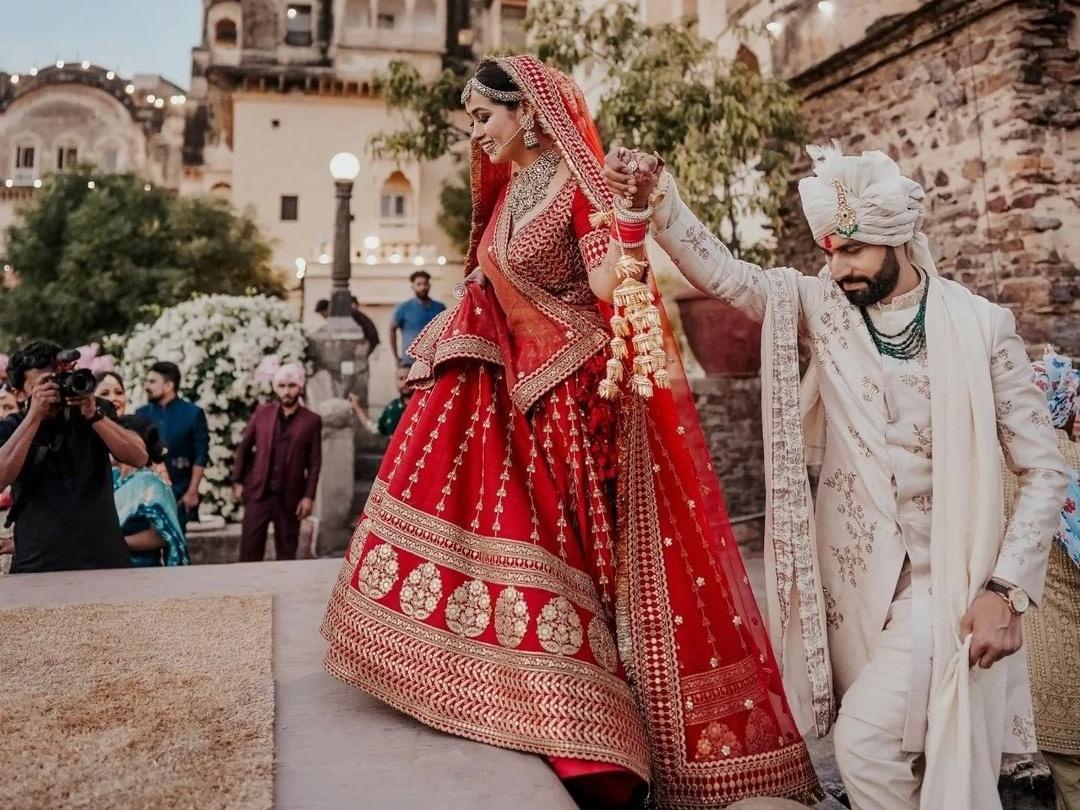 Image Courtesy: Contrast By Parth
Find Top Wedding Planners Near You
Planning a wedding is no joke and there's no one who understands this better than you right now. Having a wedding planning checklist will help you understand everything you need to book and take care of well in advance. A wedding planning checklist will also enable you to set a budget and choose where you want to spend how much of your money. It will help you avoid exceeding your budget. Moreover, when you have a wedding planning checklist, you also get enough time to choose the right vendors and book the best ones for your wedding.
Another thing having a wedding planning checklist will make easier for you are finalizing a guest list and making arrangements accordingly. Oftentimes, the bride and groom get too late in finalizing a guest list which further causes confusion for caterers, venue and other arrangements. If you create a wedding planning checklist, it will ensure you have a fixed guest list well ahead of time and this will further help you make the bookings accordingly.
Having a wedding planning checklist gives you enough time to plan and execute your wedding plans. This ensures there's nothing left to do at the last minute and that you get to enjoy your wedding to the fullest. Creating a wedding planning checklist is the key to a stress-free wedding for the couple, the family, and the vendors involved.
Indian Wedding Planning Checklist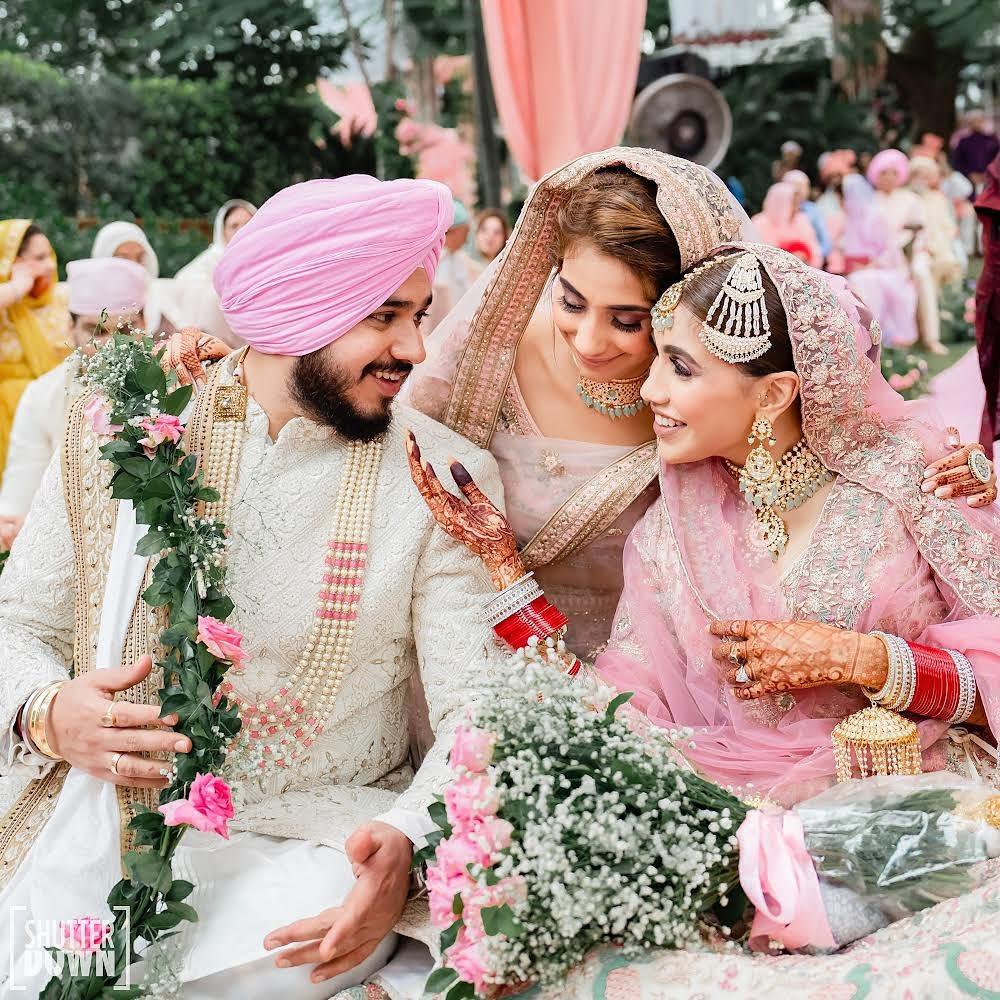 You will find tons of different wedding planning checklists on the internet. Most of these will include general vendor planning like decoration, catering and photography. Although, you will find a few wedding planning checklists created specifically for India. In India, weddings are a grand affair and there are so many things other than the generic planning that needs to be taken care of. For instance, buying jewellery or booking a Mehendi artist for your Mehndi function are going to be some of the most important tasks on your wedding planning checklist Indian.
To help you get started with the planning of your Indian wedding, we're here with an elaborate Indian wedding planning checklist that includes everything you'll need to plan and take care of for the perfect and stress-free desi wedding. We've done the homework for you, so all you have to do is scroll on and take notes.
12 Month Wedding Planning Checklist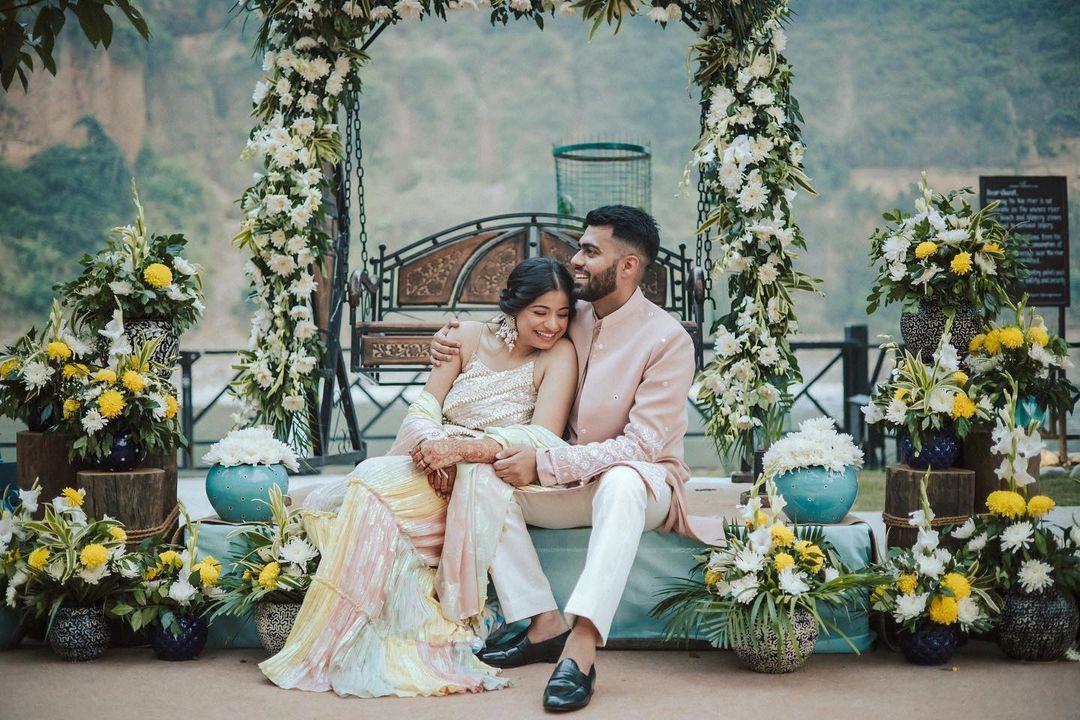 Image Courtesy: Photo Paparazzo's
It is always a good idea to start planning for your wedding a year in advance. But in case your wedding is finalized later and you only have a few months to go, it is okay to modify the wedding planning checklist and book your vendors a few months before your wedding too. Moreover, everybody has their own preferences for the scale of the wedding and that will also take out a massive chunk of to-dos from the Indian wedding planning checklist.
12 Months Before the Wedding
Set a wedding budget
Discuss priorities
Research the venue
Research decor, aesthetics and themes
Decide if you want a planner
Make a list of events
A year before the wedding, it is important to discuss a few important things with your partner and people who are going to fund your wedding like budget, venue, etc. If you're having a destination wedding, you must make sure you zero down on a location and venue as quickly as you can. Setting a wedding budget will make the next steps easy for you like zeroing down on venues, number of guests, etc. Once you have a budget and a rough idea of the number of people, you can start researching the venues for your wedding. Make sure you're physically inspecting each venue and asking the number of guests it can accommodate. If you do not want to spend a lot on transport, look for venues that also have hotel rooms. Other things you should be discussing with your partner at this time are the aesthetics of the wedding, the events and whether or not you will be needing a wedding planner.
11 Months Before the Wedding
Finalize and book the venues/s
Contact your non-negotiable guests
Make a tentative guest list
Finalize the dates
If you have a list of guests who you cannot have the wedding without, this is the time to give them a call and confirm if they have any prior commitments on the dates you're considering. Once your wedding dates are finalized, you can move on to making a tentative guest list to finally book the wedding venue for that number.
10 Months Before the Wedding
Book the popular wedding vendors you absolutely need
Book transportation for guests
Start shopping for wedding outfits and trousseau
Do you have a specific makeup artist, photographer or decorator you have been keeping an eye on for your wedding? Well, now is the time to give them a call and book an appointment with them. If they are popular, they could be booked for the same wedding dates as you very quickly. That's why it is a good idea to book them 10 months in advance. You must also start looking for your wedding lehenga and saree considering the fact that most bridal lehengas are made-to-order and take months to be customized. This will also leave a couple of months for alterations and slight changes towards the end and you will be able to get it done without any stress.
9 Months Before the Wedding
Shortlist wedding vendors
Get your passports and Visas ready (in case of international travel for honeymoon)
Choose the save the date
Research photographer for pre-wedding photoshoot
Nine months before the wedding is when you shortlist the remaining wedding vendors. If you're planning on going to an international destination for your honeymoon, this is also the time to apply for a Visa and see if your passport needs to be renewed. Another thing you should be taking care of at this time is the save-the-date designs including the paper, font and colours. Further, you must also start researching a pre-wedding photographer and ideas for the shoot.
8 Months Before the Wedding
Finalize the wedding invites
Make a registry and wedding website
Get insurance policies in place
If you're planning on sending physical invites, this is the time to finalize the message, colour, paper, font, design, etc. and send it for print. If you're looking to make a wedding website and a registry, now is the time to contact a designer and a developer and get the website up and running. Also, make sure you have the insurance policies necessary for the events and the vendors ready at this point.
7 Months Before the Wedding
Get all the wedding shopping done
Finalize & contact the chosen wedding vendors
Finalize and book a pre-wedding photographer
Plan a bachelor/bachelorette party
This is the right time to finish up on the remaining shopping for your wedding and trousseau. Contact the remaining shortlisted vendors and pre-wedding photographers to finalize a shoot date. This is also when you should look at bachelor or bachelorette party ideas with your gang.
6 Months Before the Wedding
Finalize the wedding guest list
Book your hair & makeup artists
Finalize the caterer and menu
Get the pre-wedding photoshoot done
Send save the dates
6 months before the wedding, you must have a final head count of the guests and confirm the same with the caterer you book. Get the pre-wedding photoshoot done and send the save-the-date to all your guests- via email or physically. This is also the right time to book your hair and makeup artist and talk to them about your requirements.
5 Months Before the Wedding
Get started on the pre-wedding care and beauty upkeep
Book a pandit or priest
Book a wedding decorator
Book a DJ/ entertainment
If you're planning on booking a bridal care package, this is the right time to do it. Discuss all your requirements and specifications with the salon before booking a beauty upkeep package. This is also the time to make the bookings for your wedding entertainment, the priest and a decorator.
4 Months Before the Wedding
Book tickets or make arrangements for the bachelor/bachelorette party or trip
Send bachelor/bachelorette party invites
Finalize the wedding ceremony, Haldi, Mehendi and Sangeet program with the planner
Create a wedding music playlist
Shop for wedding jewellery and accessories
Shop for engagement rings
Book a trainer & follow a diet chart if required
4 months before the wedding is when you should be shopping for your engagement rings and jewellery. Sit with your planner and set the schedule for all your wedding events. If you're looking to maintain a diet, this is the right time to contact a dietician or trainer. This is also the time to finalize the bachelor or bachelorette party or trip plans and send invites.
3 Months Before the Wedding
Book a choreographer
Throw a bachelor/bachelorette party
Send formal invitation cards
Book your honeymoon tickets
With just a few months left for the wedding, you should be sending out the final invites- if you're planning on sending physical invites. 3 months before the wedding is also the perfect time to enjoy your bachelor or bachelorette party. In case you're planning a honeymoon to a destination that does not require a Visa, this is the right time to book your flight tickets and hotel rooms, and plan your itinerary.
2 Months Before the Wedding
Shop and prepare wedding guest gifts and packs
Begin dance rehearsal
Book a Mehendi artist
Try your wedding outfits and send for alteration if needed
Book a mehendi artist at this time to ensure you get the best one. Make sure you discuss the kind of mehendi designs you want for your big day with them. The most important thing to do with just 2 months left for the wedding is to try your wedding outfits and further send them for alterations if needed. Get your wedding guest gifts ready and packed to go.
1 Month Before the Wedding
Send out e-invites
Follow up with booked vendors
Finish wedding trousseau and honeymoon shopping
Get the wedding outfits ready
To ensure you do not forget to pack anything, start the process with a month left for the wedding. Get all your wedding outfits ready and packed to wear on the final day. If you're sending out e-invites, this is the time to do it.
2 Weeks Before the Wedding
Have a final meeting with the planner
Book wedding appointments with hair and makeup artist
Send music wishlist to DJ
Book wedding cake
Assign responsibilities to family members and friends
Follow up with guests
Give headcount to the venue manager and caterer
Have a meeting with the wedding photographer
With just a couple of weeks left for the wedding, you should be assigning tasks to your friends and family members to ensure you enjoy your own wedding properly. Call up your special guests at this time and ensure they have RSVPed. Give a final headcount to the venue so that they can make the right arrangements accordingly and discuss your wedding picture ideas with your photographer.
Week of the Wedding
Arrange payments for wedding vendors
Book appointments for spa, manicure, pedicure
Book a hair grooming appointment
Steam iron outfits
Make an emergency kit
Confirm schedules and timings with vendors
Pack your bags for the events
One week before the wedding is the time you relax and prepare for the final event. Get a bridal manicure and a pedicure, and get a body massage and spa. Having an emergency kit that includes essentials like band-aids, cotton, painkillers, etc ensures you're well prepared in case of unforeseen events near your wedding day.
A Day Before the Wedding
Give gifts to family and wedding guests
Do final checks with the wedding planner
Stay hydrated and enjoy the wedding!
And finally, a day before the wedding, check up with the wedding planner to make sure everything's om place and that if there's anything needed from your end. Don't forget to take a good night's sleep, stay hydrated and have lots of energy foods.
Planning your own wedding can be stressful, but we hope this extensive Indian wedding planning checklist was able to help you sort your tasks.
If you have any questions or would like to add anything to this list, comment below and let us know!
Top Blogs on WeddingWire India