The Perfect Destination Wedding in Jaipur - Concept, Expectations, Prices & More
From scenic backdrops for jaw-dropping couple pictures to the best of vendors and caterers making sure every wedding detail is perfectly crafted for you; Jaipur is a beautiful destination for a wedding. Here's an overview of what the city offers.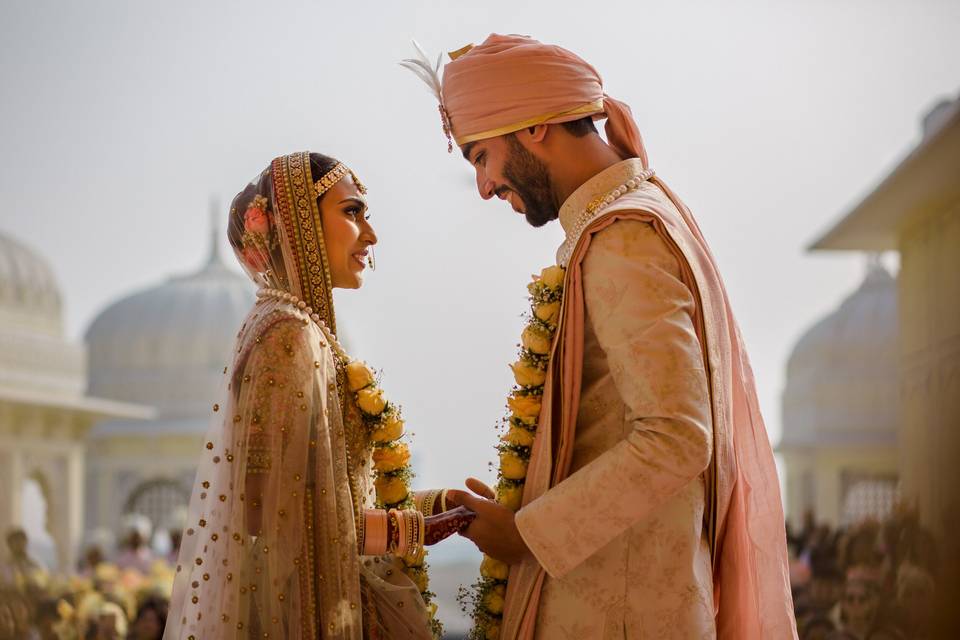 What comes to your mind when we say "destination weddings?" A delightful getaway, friends and family members under one roof, photoshoots and endless fun is the most common answer. Now with the geographical diversity that our nation boasts of, finding THE location for your dream destination wedding can be a task. And 4 out of 10 brides have said that the name Jaipur crosses their mind when they are picking a destination wedding location. With the fanfare that the forts and palaces of Jaipur have, we love the idea of a destination wedding in Jaipur - because what better for your fairytale wedding than the royal backdrops that Jaipur has?
A destination wedding in Jaipur is not that easy to plan and host unless you start planning a little early and with professional assistance. The thing with destination weddings in India or abroad is that you need to start planning well in time because 'last-minute glitches' still need time to be taken care of, unlike hosting a wedding in your home city. Things like RSVP's become increasingly important to know the exact headcount for comfortable accommodation and other bookings near the venue.
In order, to make your destination wedding planning in Jaipur a cakewalk, we have curated this detailed walkthrough. Right from what to expect from a destination wedding in Jaipur to the wedding costs and even recommended venues - we have got it all sorted right here. Alright, let's dive into the why, how much and what to do for your destination wedding in Jaipur.
Destination Wedding in Jaipur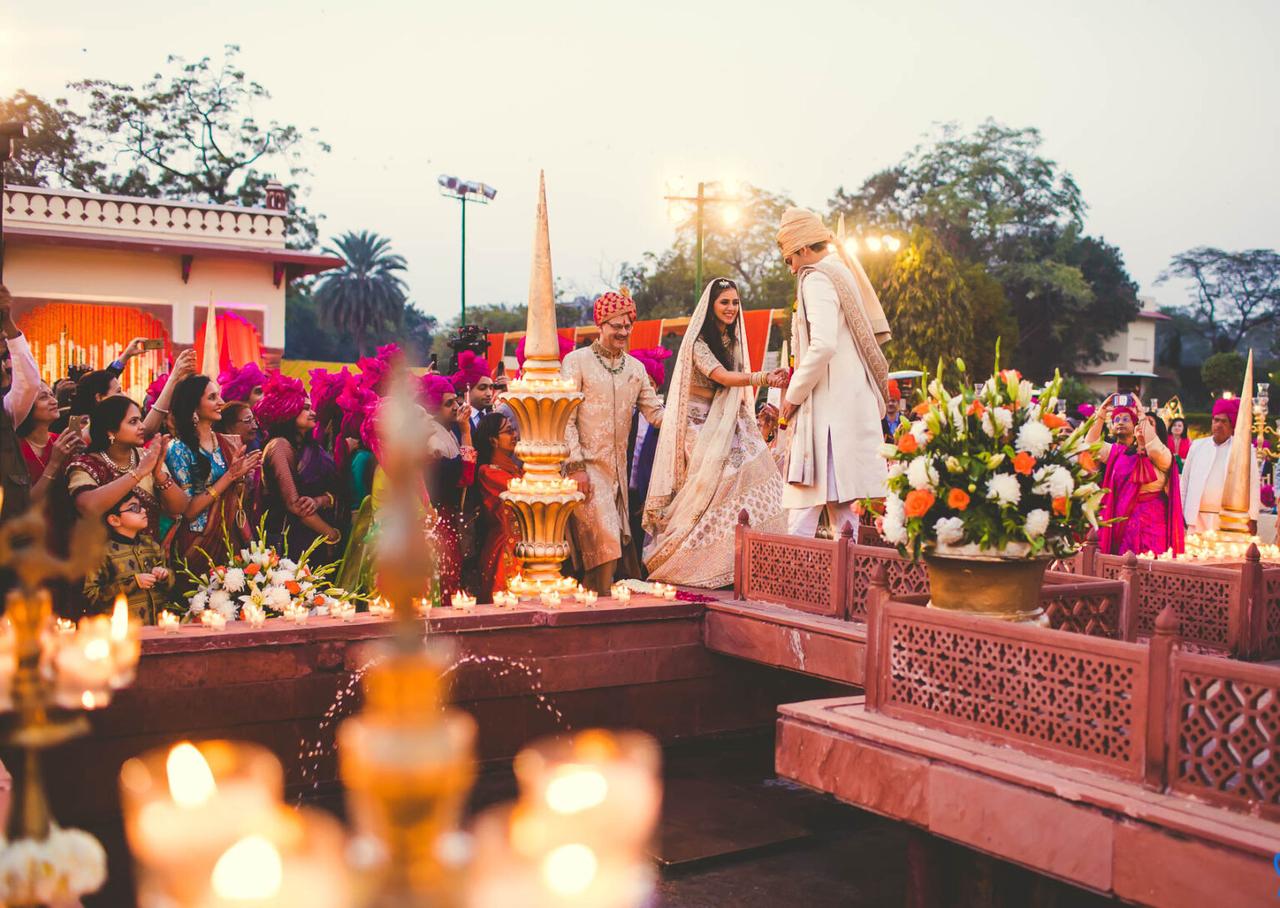 A destination wedding in Jaipur is more than just a 'get-away' from the chaotic life of metro cities or a sightseeing visit. A highly popular tourist city; Jaipur has also gained a reputation for being a fantastic destination to host weddings in the past decade. While we find many couples looking for sandy beaches by the sea for a beach destination wedding, there is in fact a large number of young millennial couples who crave the history, heritage, royalty and traditional setup that one can witness at the authentic Rajasthani weddings. The palaces and lakes, all embraced by the narrative of the yesteryears and by the rich culture, are a charm that attracts to-be-weds who want to make sure their wedding day is all things majestic and remarkable.
The main concept behind a destination wedding in Jaipur is to be amidst the rich culture and heritage of the state while being able to carry forth your traditions during the wedding. Rajasthani folk music and dances, traditional cuisines, colourful clothes and fabrics, palaces and heritage sites mark Jaipur as a distinct destination for something as spectacular as a wedding. With people from across the world visiting Jaipur and the many gems it is home to, the number of resorts, 4 and 5-star hotels has also increased. In fact, many of these properties once used to be a palace or a fort and has now opened up for you to host your dream wedding.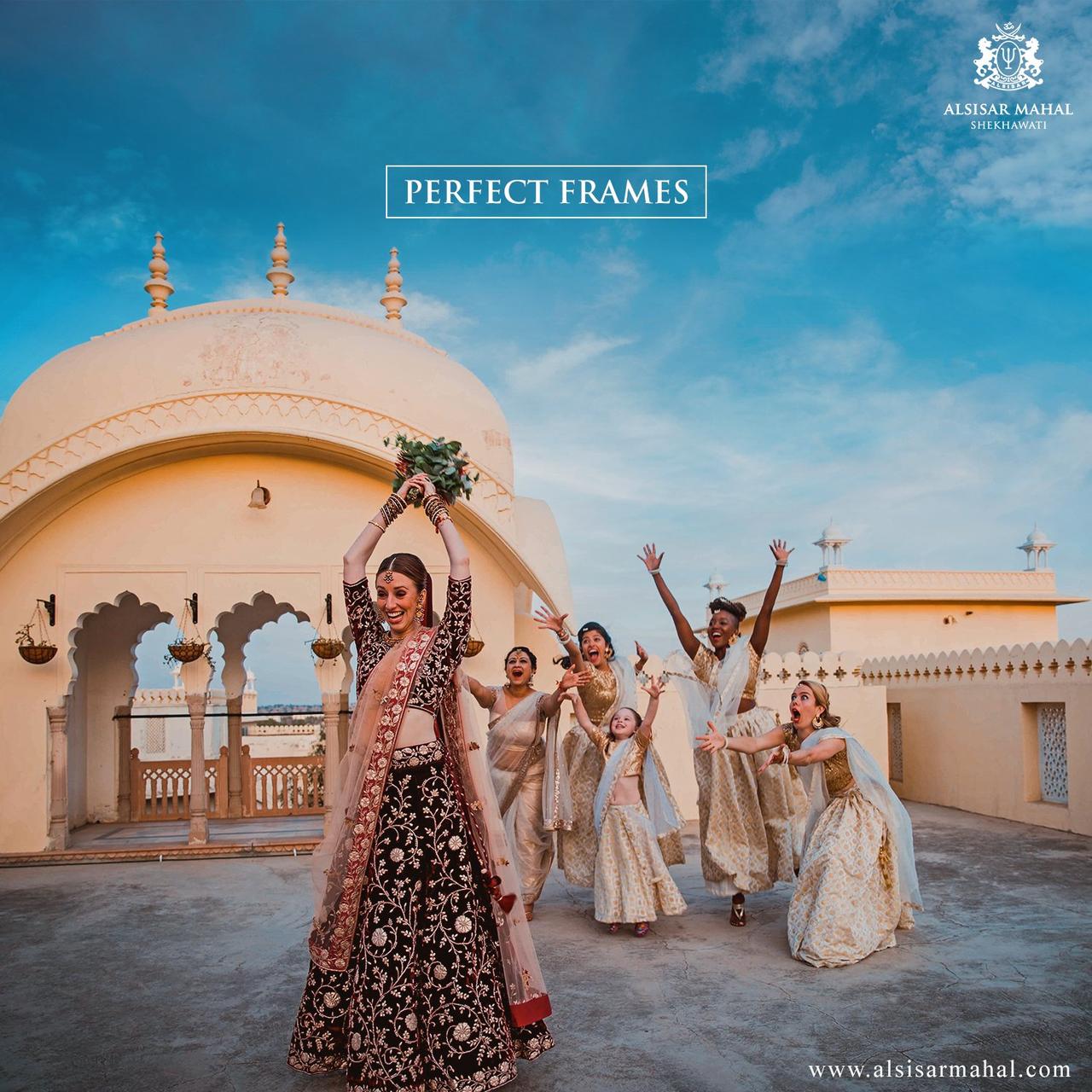 Another distinct factor that makes Jaipur a sought-after wedding destination is the easy connectivity from different cities along with the easy accessibility you can enjoy within the city. With all major airlines offering multiple flights to and from Jaipur and the road connectivity via buses, cars and taxis; wedding parties can easily plan their travels at their own convenience.
And of course, the biggest concept behind a destination wedding in Jaipur is the rise in wedding planning conveniences in terms of vendors, decorators and caterers that offer the finest details in making a wedding, a successful and memorable one.
Destination Wedding Cost in Jaipur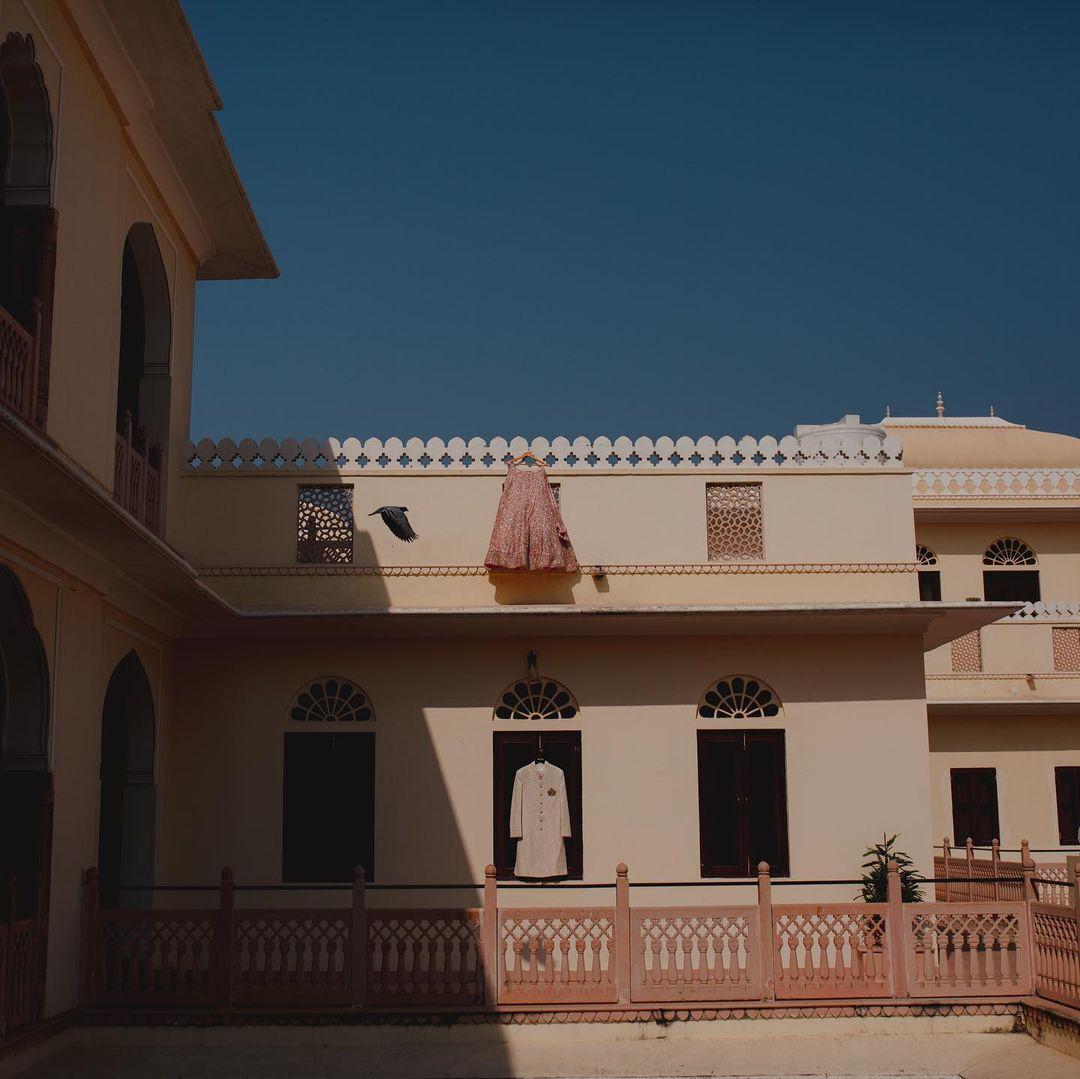 The wedding season commences in the month of November and lasts till February - owing to the pleasant weather one witnesses in this area during Indian winters. There are certain indoor weddings that take place during the other months, but most of them are not destination weddings because the temperatures reach a soaring 55°C during summers here.
This makes November to February a peak wedding season every year for destination weddings in Jaipur and if you are planning a wedding during this time - you must plan a budget of INR 30 lakhs to INR 90 lakhs. For most destination weddings in Jaipur that were hosted with a guest list of 130-150 people, this has been the cut.
Also Read: Plan & Maintain Your Wedding Budget Online With WeddingWire India
The budget of course depends on how simple or how lavish you want your wedding celebrations to be. The guest list plays a very significant role here. However, we have also known of couples who have planned an intimate wedding with less than 50 people in Jaipur, who have had to spend INR 40 lakhs or more. On the other hand, couples have often planned a very pocket-friendly wedding in Jaipur for less than INR 10 lakhs. While all of these costs are highly variable based on multiple factors, an average of INR 30 lakhs can be considered a minimum wedding budget for a 100-150 people destination wedding in Jaipur.
Tips to consider for planning a perfect destination wedding in Jaipur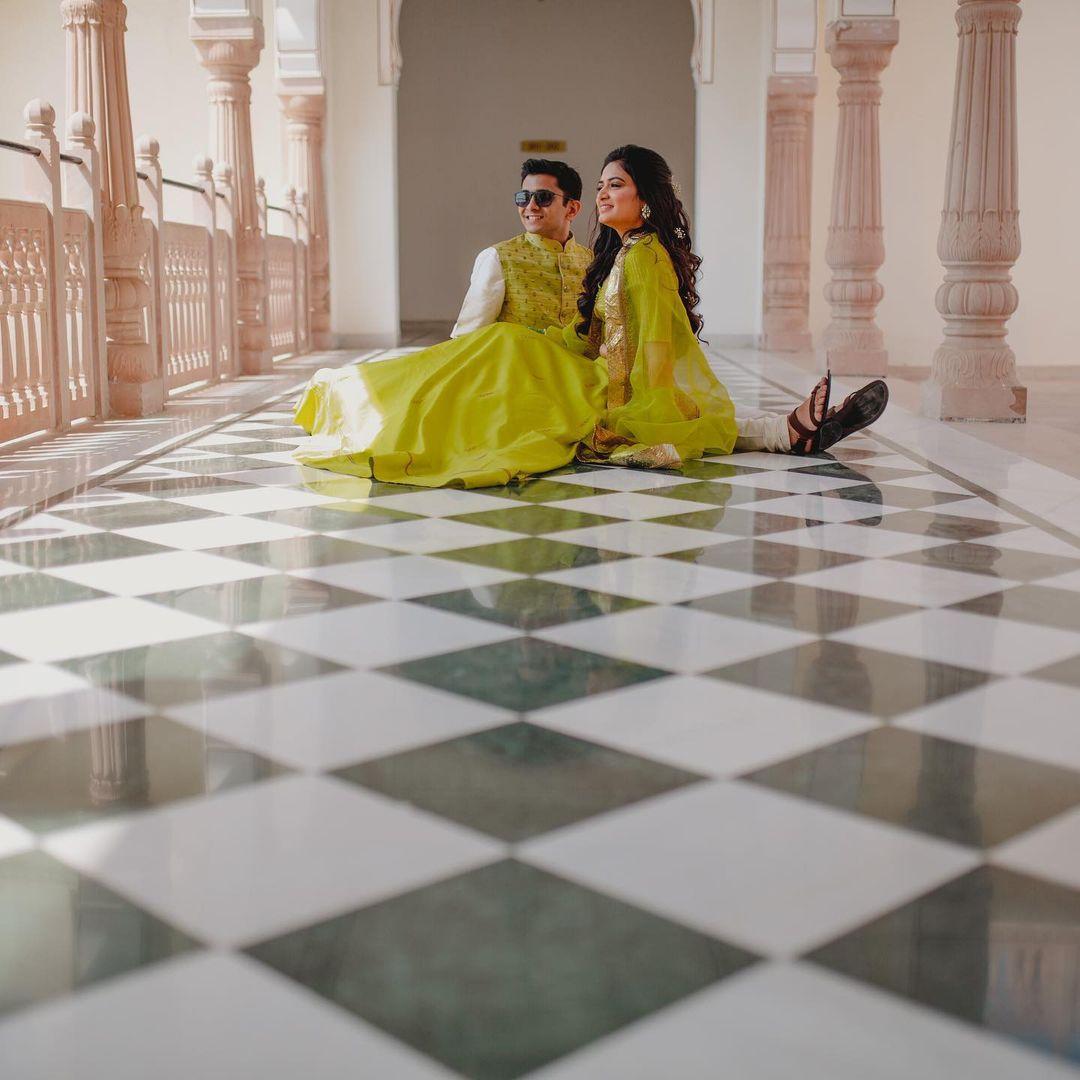 A destination wedding can always double as your dream vacation where you would get to spend time with your family and close friends. When you choose an architectural opulent and culturally rich city like Jaipur for your wedding festivities, a wedding celebration imbibing grandiosity is what you would surely want. To ensure that you get your dream destination wedding in Jaipur, here are a few points to consider for planning it in a flawless manner:
Pick a date - If you wish to plan a destination wedding, always go for dates around holidays or weekends where you can be assured of the availability of your guests and family members, as it is a celebration where you would want to be with them.
Decide your venue - Always choose a venue which you like as it is the celebration of your big day and the one that can cater to all of your planning needs. This would be the backdrop for a lifelong of memories that you would look back on, so it is better to choose wisely.
Keep the budget in check - Though a destination wedding calls for spending big, you need not go overboard with spending a lot. Instead, choose to invest in local vendors who can help you plan and organise your wedding festivities in a better manner.
Notify your guests - Send out your wedding invitations well in time so that more and more people can be a part of your wedding celebrations.
Arrive early - It is best to arrive early to go through all the preparations and details in person while exploring the event spaces that can suit your wedding functions.
Hire a pro - It is important to choose your wedding vendors wisely who can provide you with professional assistance.
Tailor your wedding outfit to the destination - You would not want to sweat in the scorching heat and ruin your mood on your wedding day. As the temperature in Jaipur is usually high, opt for breathable clothes.
Contingency plans - Always think ahead of time and plan a backup, in case something goes wrong. The possibility of something going wrong is always high irrespective of the fact that it is a destination wedding in Jaipur or a residential one in your city. Backups are the best!
Be considerate - As it is a destination wedding, you should be comfortable that not all of your wedding guests would be able to attend your celebrations.
Keep an extra/buffer day - With days of celebrations, you and all of your guests would need time to relax and plan for their departure, or better to explore the city.
Also Read: Details of a Destination Wedding In Goa: Planning & Costs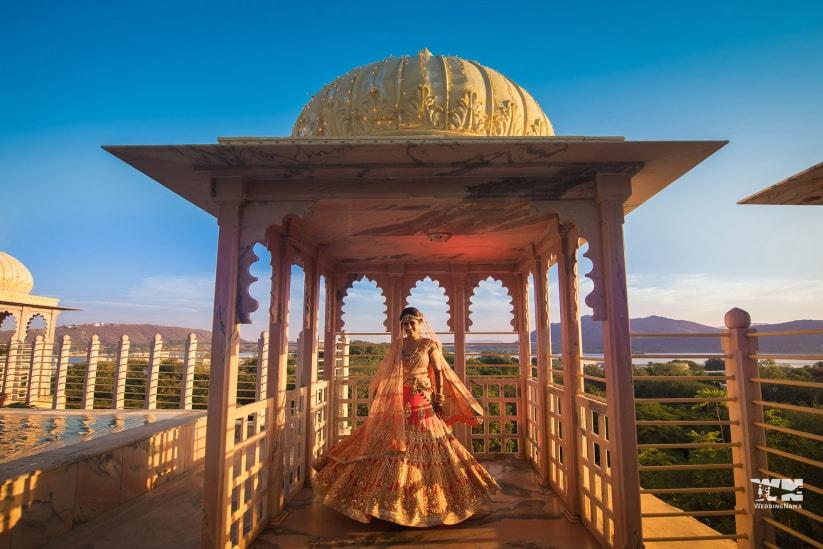 There's no limit to how much you can splurge at a destination wedding in Jaipur, but the best part is that you can easily do it within a set budget too. You can bring in a feeling of royalty, luxury, history and the dreamiest of décor and backdrops; all at your well-planned destination wedding in Jaipur.
Best Wedding Destinations in Jaipur
Here are our best picks if you are looking for destination wedding venues in Jaipur:
The Leela Palace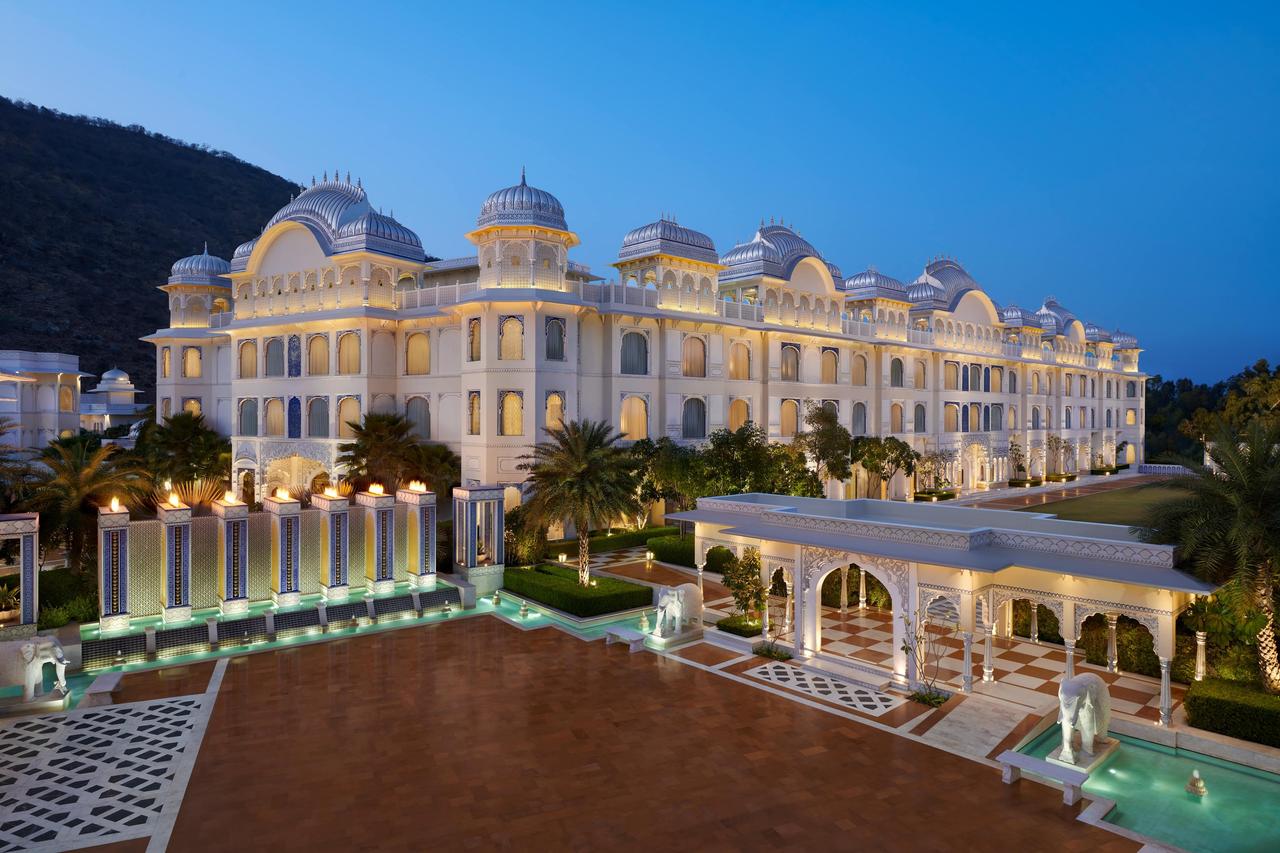 The Leela Palace offers a variety of indoor and outdoor banquet areas. The grand ballroom is an ensemble of three different ballrooms that can accommodate up to 400 guests; The royal ballroom is built with glorious columns and designed to make your wedding a great experience.
Average price per plate: INR 4500
Chomu Palace Hotel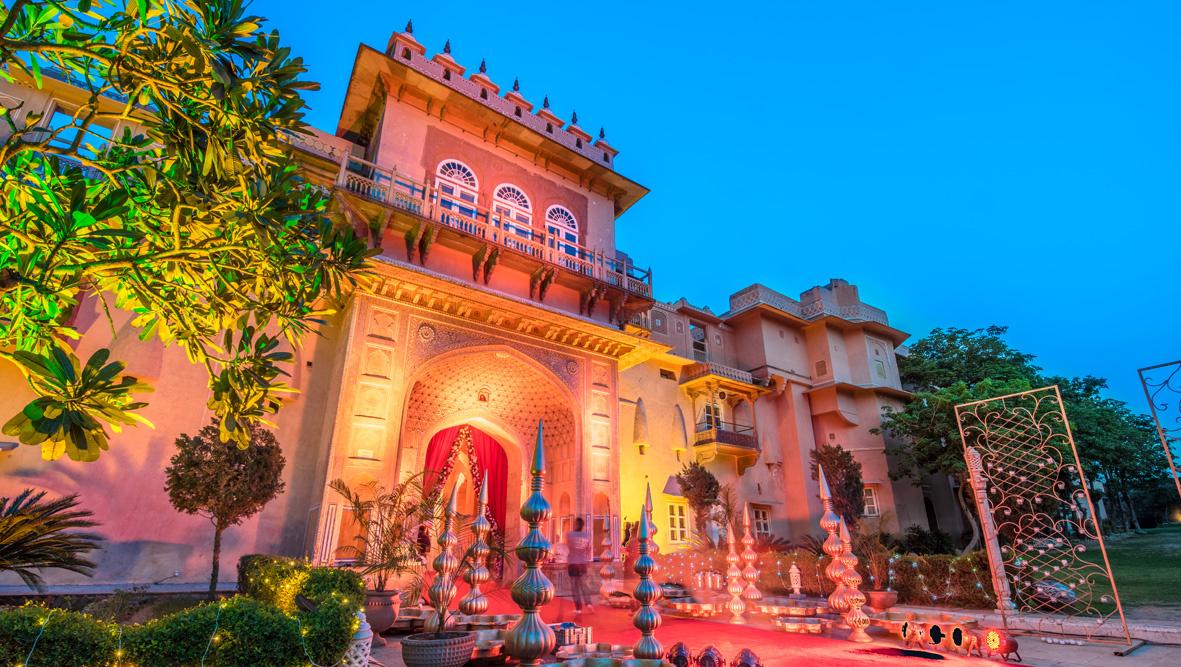 Chomu Palace Hotel is a reflection of the Royal Palaces of India with a 300-year-old elegance that can accommodate a strength of 1000 people in its event space and let you organize a great wedding function in an opulent and gracious style. Chomu Palace Hotel is a historical monument equipped with all modern amenities and facilities making you and your guests feel the utmost comfort.
Average price per plate: INR 1500
Shahpura Haveli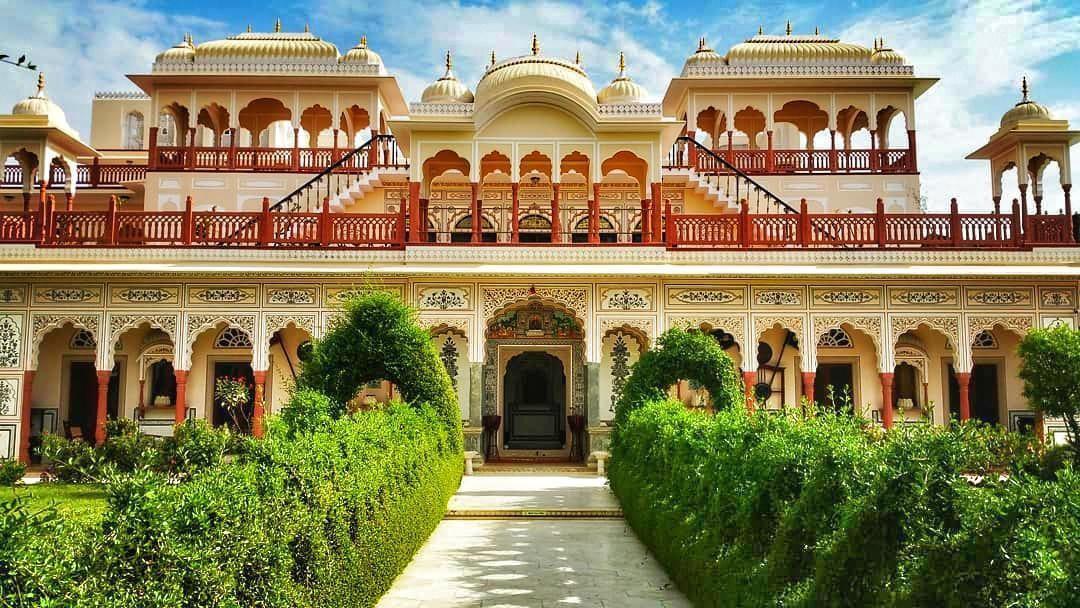 Shahpura Haveli can offer you multiple event spaces which you can choose from the range of functions that you need to host as well as all of your requirements. They can offer you their luxuriously built opulent banquet hall that has the capacity to accommodate 250 people at once as well as their lush lawn which is perfect for 500 guests.
Average price per plate: INR 1000
Atharva Weekend Getaway Resort

Atharva Weekend Gateway Resort can even offer you guest accommodations to be an ideal place for residential weddings as well. The services they can provide you with include in-house catering and in-house decor so that you have professional help at your disposal while planning your wedding and all of its other related functions. With ample indoor and outdoor space available, this is an ideal venue for your pre-wedding, wedding, as well as post-wedding functions.
Average price per plate: INR 1000
Patan Mahal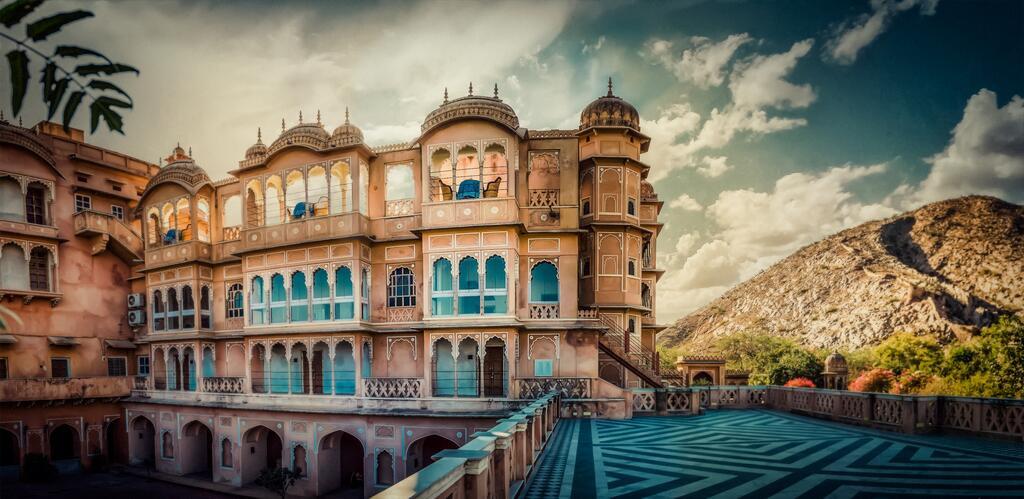 Nestled in a valley formed by 3 hills, Patan Mahal rises in the distance at the end of the city. The palace is well-located with an unhindered birds-eye view of the 13th-century ancestral fort and another palace called Badal Mahal which stands loftily at an imposing 2000 ft above sea level. Taking wedding vows here is nothing less than a blessing and the team of professionals at
Average price per plate: INR 2500
R Chandra's Palace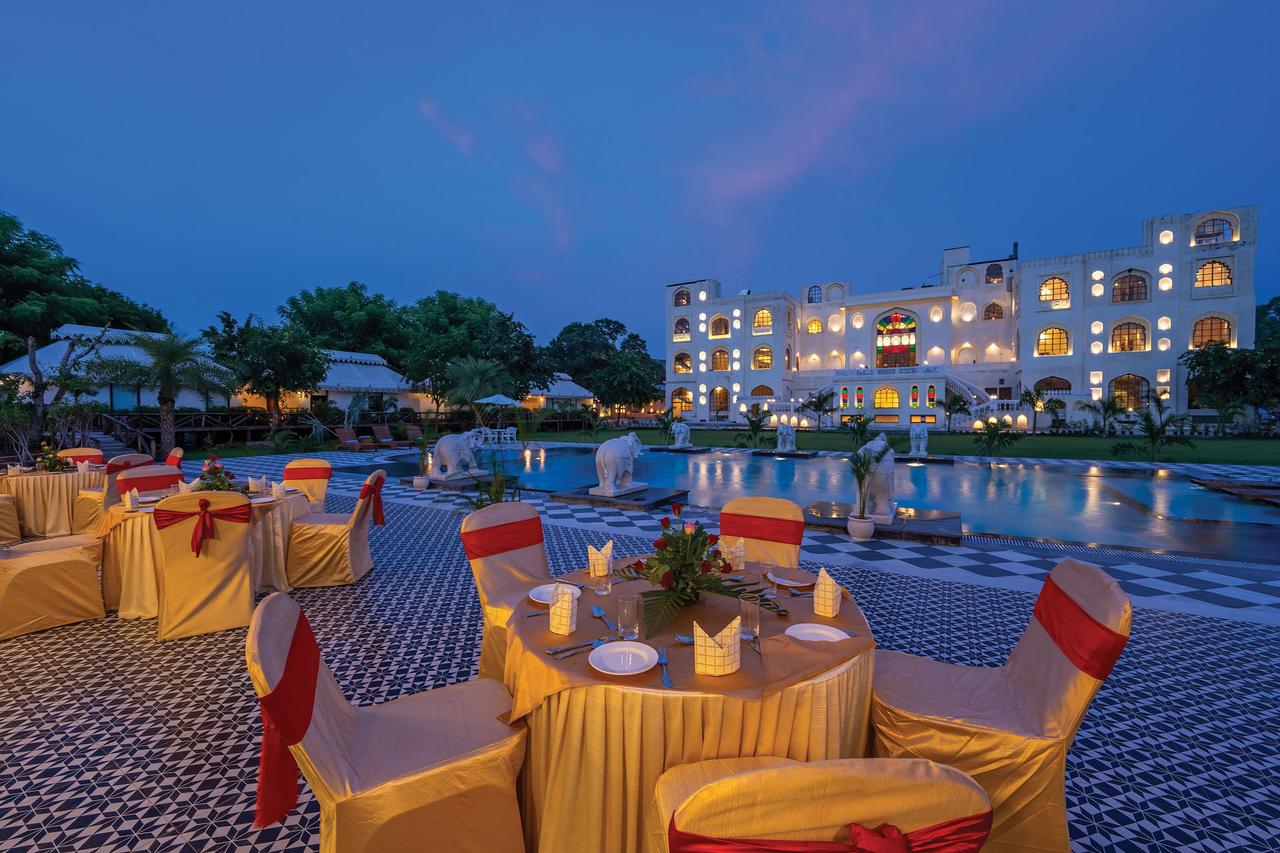 R Chandra's Palace Jaipur is highly spacious and can easily accommodate a crowd of up to 50 to 1200 people in its lawns and approximately 500 guests in its banquet hall. The rich green lawn is perfect for special outdoor wedding celebrations. There are multiple places for the couple to choose from and plan your big day in the best possible manner.
Average price per plate: INR 2350
The Oberoi Rajvilas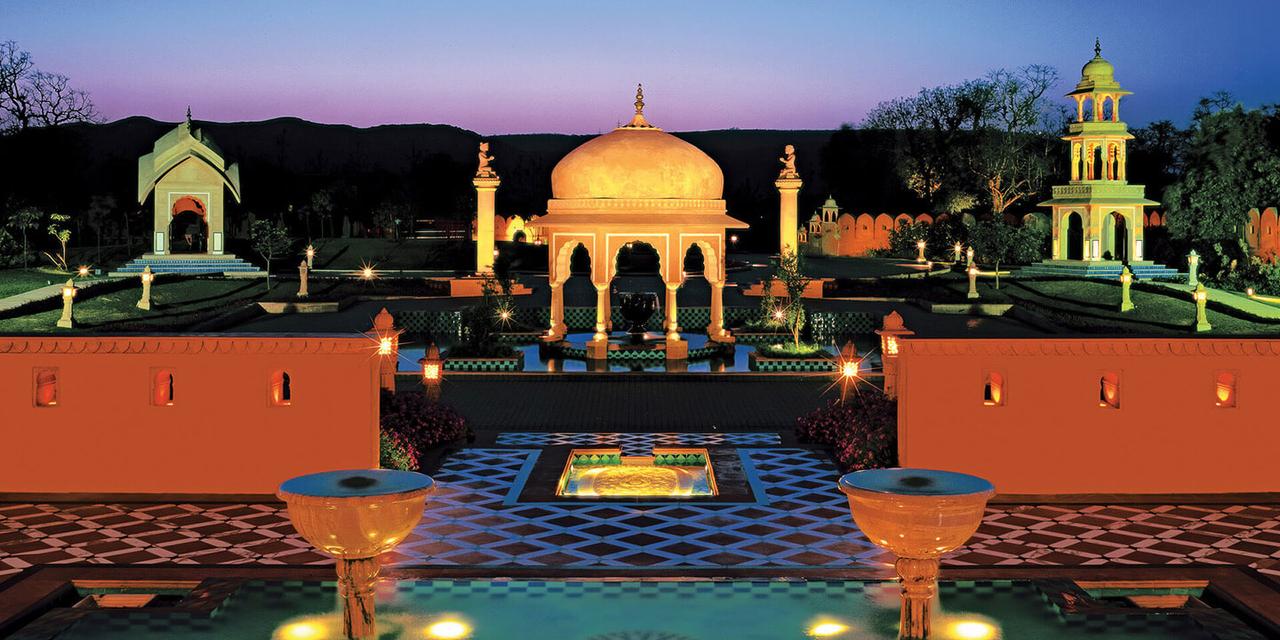 The Oberoi Rajvilas is located on the Goner Road of Jaipur city and is one of the most recognized names for excellence, attention to detail and personalized service. With a history spanning generations and a loyal list of guests and awards and accolades in the worldwide hospitality industry, this hotel does not need any introduction. Luxury redefined and world-class facilities and amenities to offer, no wonder The Oberoi Rajvilas is one of the favourite destinations for an elegant and classy wedding. They will definitely make your wedding a gala event.
Average price per plate: INR 7000
Jai Mahal Palace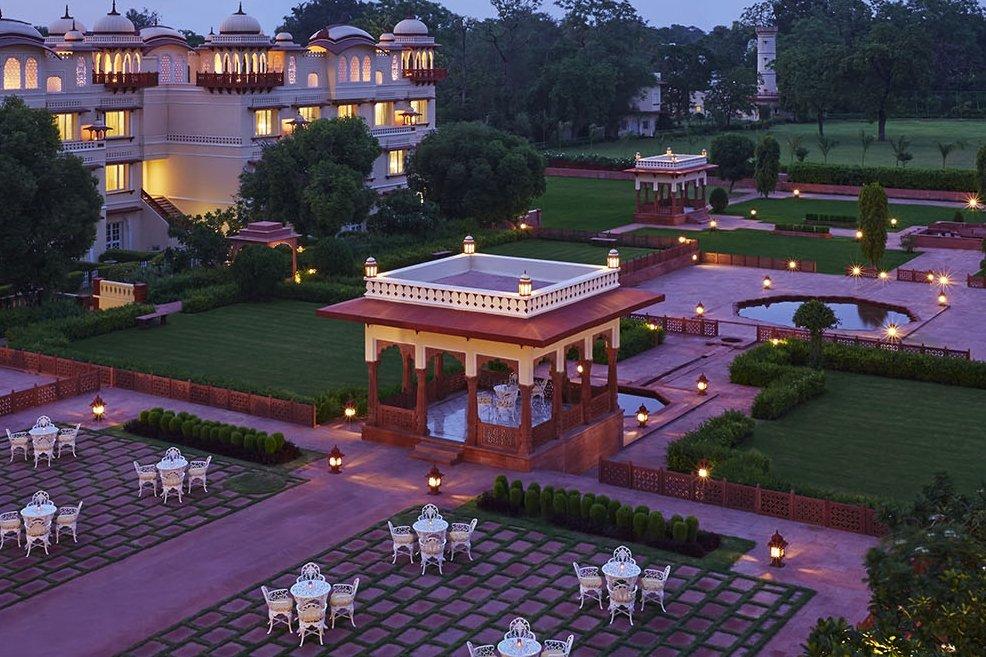 Jai Mahal Palace in Jaipur was built in 1745 and is a stunning piece of Rajasthan's heritage. Witness a maharaja welcome with some rose petals when entering the magnificent palace. Painstakingly restored this is a luxurious five star Taj heritage hotel that has all modern-day amenities and comforts and is a perfect location to get married. It is a one-stop destination for all your needs for an exemplary and luxurious wedding venue.
Average price per plate: INR 3500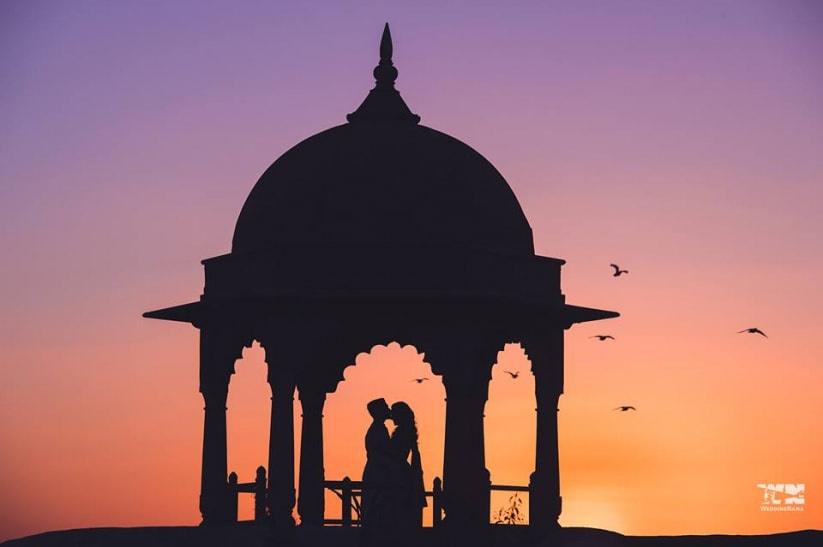 Are you planning a destination wedding in Jaipur? Let us know in the comments section below.
Find Top Blogs -
Mehndi Design | Proposal Lines | Simple Finger Mehndi Design | Arabic Mehndi Design | Propose Day Quotes for Boyfriend | Wedding Anniversary Wishes for Sister | Tamil Wedding Calendar | Simple Mehndi Design | Pre Wedding Quotes | Engagement Anniversary Wishes | Funny Wedding Wishes for Bestfriend | Blouse Design | Rangoli Design | First Night Tips for Bride | Wedding Anniversary Wishes