40 Mehndi Songs Perfect for Your Mehndi Party Playlist
Mehndi songs, like the ceremony, are all about fun and frolic. Here are 40 Mehndi songs that do just that and much more!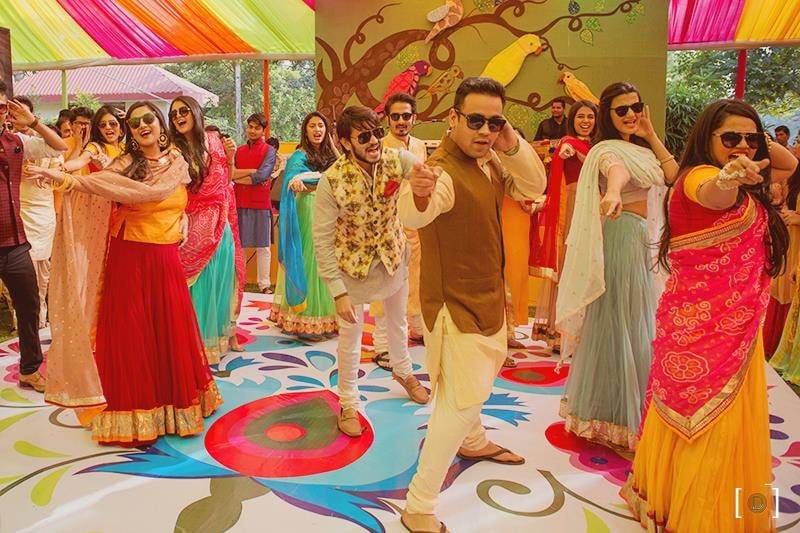 Henna, Sangeet, music and dance - these Mehndi songs come to mind when you think about the Mehndi ceremony. It's the time when you can shake a leg and have fun amid the stress that comes with planning the wedding and the mixed thoughts that strike you for your life ahead. And no dance - be it random steps to match or perfectly choreographed dance performances, is complete without the perfect Mehndi songs playlist.
We still have our aunts and mother and other female relatives tapping the dhol to some folk songs that have been a part of our traditions since forever, the classic spoon used to make a louder yet softer sound of the percussion instruments used to accompany the songs with folk music.
However, with the passing of time and the increasing of names in your guest list, the need for bigger music systems was inevitable and that is when you have Anil Kapoor walk into the wedding where women sit singing and then the beat drops in the initial scened of the movie Ek Ladki Ko Dekha Toh Aisa Laga... and did you not always imagine your mehndi to be as awesome as this?
When it comes to putting together a Mehndi songs playlist, you have a mix of fun dance beats, foot tapping music or a mellow number that talks about a girl's journey to becoming a bride. Some of these best mehndi songs can also be extremely emotional and meaningful too. And so, your choice of Mehndi songs and wedding dance will ensure that all of your dear ones, who are shaking a leg - the bride's sister, the groom's sister, parents, friends and the extended Parivaar, will have a day to remember.
Latest Mehndi Songs For Everyone
Most of us have grown up listening to 'Banno Rani' and 'Gud Naal Ishq Mitha', but choose to include the latest batch of peppy Bollywood songs, fusion songs and even old Hindi songs to the mix. But newer and fresher songs are added to the mehndi song list each year, adding to the fun and the freshness.
Our Mehndi songs playlist is on point on this and more. Put a fun spin to your function by indulging in some role play and drama and amp up your function with a little competition. Go for a bride's side versus the groom's and see who comes out as a victor. a little bit of dancing a little bit of singing but a lot of fun guaranteed.
Here are a few mehndi songs list that you can dance to and cherish the thumkas of your friends and family forever. Read on to find some trending songs which made to our wedding playlist of the year.
Mehndi Songs - For the Bride and her BFFs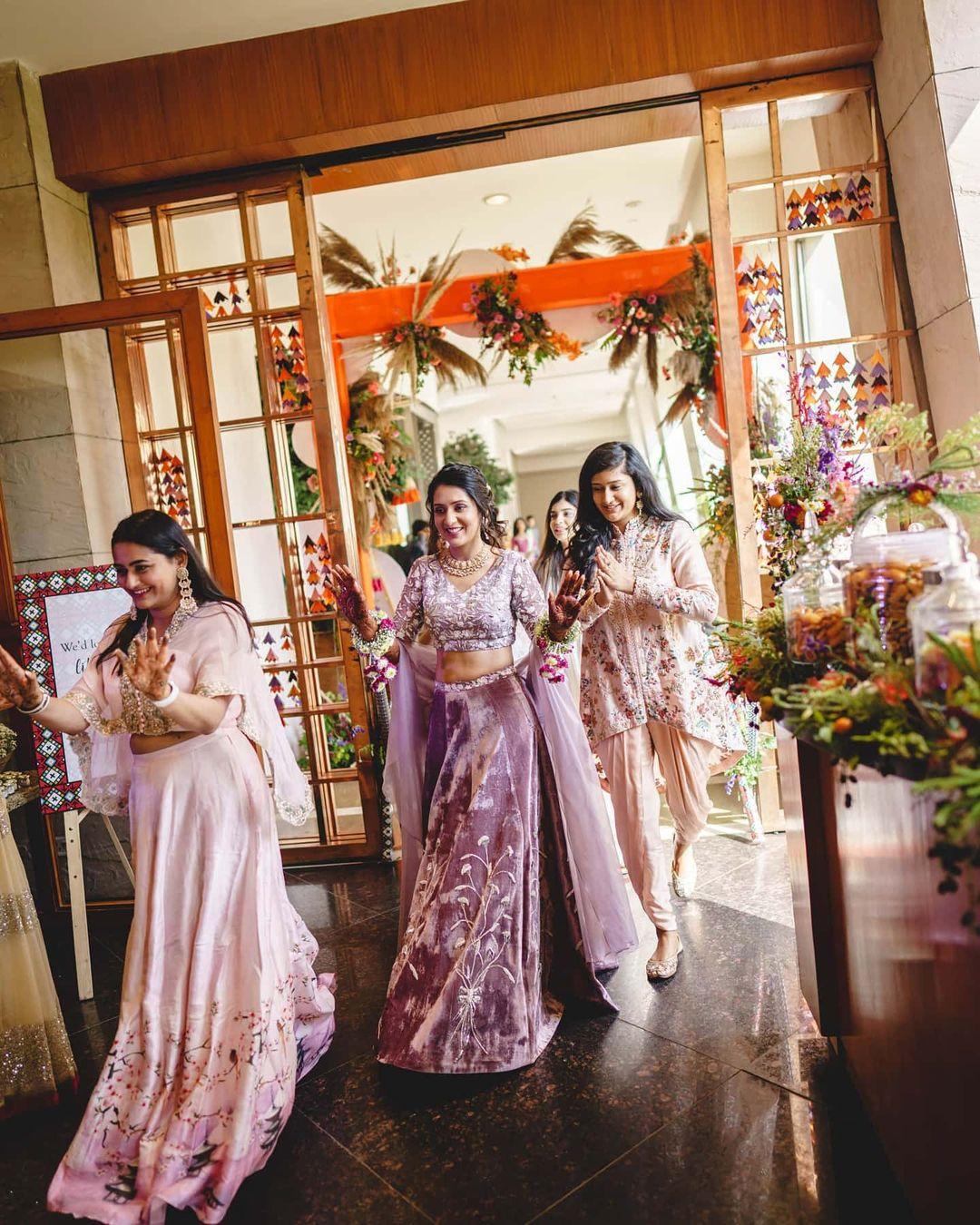 Dancing is fun, but dancing with your BFFs is another level of fun and joy altogether.
For the bride and her squad, this joy takes the form of a Mehndi songs list with fun, girly and even meaningful songs. You can add a range of songs, including the latest Bollywood numbers for a vibrant and dynamic performance. Some of the latest mehndi songs you can consider are:
1. Kithe Reh Gaya, Niti Mohan
What's best than performing on a Hatke mehndi song with your #Girlies? This song is one of the best mehndi songs which will amp up the aura with happiness. Bollywood mehndi songs hold a different level of buzz and ignite the filmy vibes within us. The feeling of performing on your mehndi function is just out of the world. This peppy mehndi song 2021 is an ultimate pick to let your feelings out to your better half! Get ready for the 'Mehndi hai rachne wali' moment while you elevate your emotions on this mehndi song
2. Genda Phool, Badshah
Are you that bride who loves to add a pinch of spice to everything? If yes, then this mehndi song is going to rock the bar of the mehndi function. Spill some sass with your 'Latke Jhatke' while you level up your mehndi function with your LIT girls. How danceable is this song? Get your favourite mehndi outfits on and get ready to groove on this trending mehndi song.
3. Lehenga, Jass Manak
Have you ever convinced your partner to take you shopping? If yes, then this is the right time to express your feelings through this evergreen mehndi song. This song still tops the charts of the mehndi song list. Learn a couple of steps and let your heart out on your mehndi function. Don't forget to add a pinch of romance to your henna!
4. Lagdi Hai Thaai (Simran)
If you want ideas for a Lagdi Hai Thaai dance performance, we recommend a wedding that was captured by CoolBluez Photography or this lip-dub version captured by Adjan Photos. You can choreograph a fun dance performance on this mehndi song and take it up a notch add some dramatic role play or two and your guests won't be able to stop themselves at whistling in appreciation and more.
5. Girls Like To Swing (Dil Dhadakne Do)
Happy Dancing Feet used this song to choreograph a stunning bride squad dance performance recently. You too should take some inspiration and put your dancing shoes on to get this party going. This mehndi song is the ultimate track to make memories!
6. Chittiyan Kalaiyan (Roy)
Three years after Roy released, this song is still entrenched in our collective mind spaces, often turning into a hot favourite for group dance performances. Consider it your mehndi song too. Put years of practice to use as you give the performance of your life with your girls backing you up as always.
7. Navrai Majhi (English Vinglish)
Keen on a few moves yourself. Watch this Navrai Majhi dance performance from Step 2 Step and you'll understand why this song made into our wedding playlist of the year.
8. London Thumakda
Nothing screams wedding as fiercely as London Thumakda. This song is legit an anthem and a bolt of energy and that is exactly what you need to turn your Mehndi in a party full of fun. Dance on this lovely track and make this your most favourite mehndi song.
9. Luka Chuppi: Tu Laung Main Elaachi
Fresh of the beat, this new-age mix is bound to get your groom in an awe mood among your Mehndi songs playlist. Take it a step ahead, with an expertly choreographed number - one where you can show off your wedding diet crushed Kamariya.
What are you waiting for? Raise the tempo with your girlfriends and show your moves, girl!
10. Lakk Mera Hit
He will be forced to look at your moves with zoomed-in eyes while you prep up for your big day on your Mehndi. Pump up the heat with your BFFs crushing your moves on this mehndi song, because Lakk Tera hit Baliye.
Mehndi Songs - For the groom and his Boys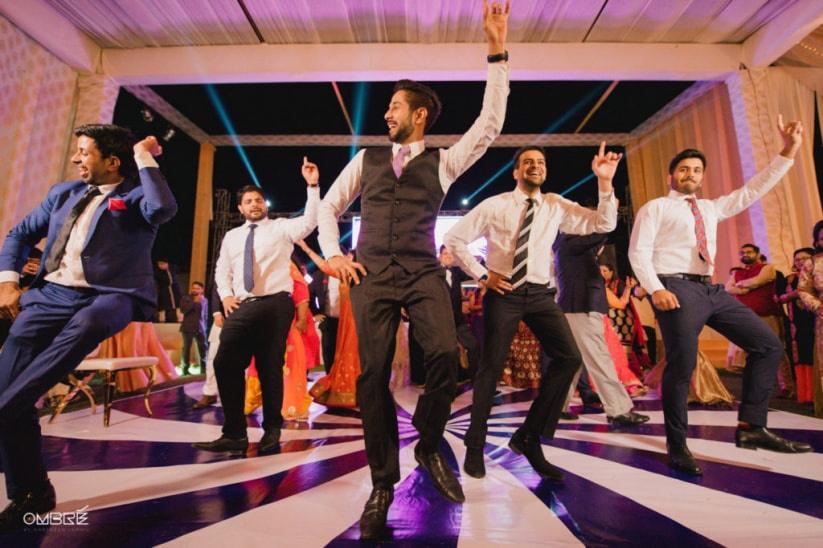 We can't ignore the groom and his besties, can we? They're involved too, be it in friendly banter or dance-offs. Mehndi songs for the groom and his groomsmen, cousins, sisters or friends can be exciting and add that punch and Masti to the whole affair. Some of the latest songs to consider include:
11. Mehendi Wale Hath, Guru Randhawa
Shoutout to all the grooms who love expressing their love to their partner! Roll the dice of precious moments while you see your cupid's 'Mehndi Wale Hath'. We Indians need a reason to hit the dance floor and enjoy ourselves with our loved ones. This track is one of the most appropriate mehndi songs for the groom. Woo your boo by performing on this beautiful song and start the bond of new beginnings with grace.
12. Husnn Hai Suhana, Coolie No. 1
The excitement of performing on the old remake Bollywood songs maximises when you are dancing with your #Squad. Remember the first time your partner took your 'Jiya'? Well, this latest mehndi song describes that feeling. This song is one of the most appropriate mehndi songs for the groom and his Bhai Log. Pull up your socks while you make some filmy moves in front of your Goriyan.
13. Mehndi Lagake Rakhna (Dilwale Dulhania Le Jayenge)
Mehandi Laga Ke Rakhna...Doli Saja Ke Rakhna!!! If you did not serenade with your spouse on this song, then what is the point of having a playlist that was specially curated for your Mehendi ceremony?
For a good inspiration on the track, we recommend how Nitya Srikishen Lakhi and her groom performed on the number for her Mehndi ceremony. Captured by Hitched And Clicked, the number makes for an authentic addition to any Mehndi songs list. DDLJ is the single most important movie when it comes to weddings and this song tops the chart when talking about hosting a Mehndi ceremony for obvious reasons. Who wouldn't like to be serenaded in the manner SRK serenaded Kajol, right? We agree!
14. Gal Mithi Mithi Bol (Aisha)
Yes, a little Naach-Gaana on this epic mehndi song is all you need to make your Mehendi ceremony a fantabulous affair that will outlive the ages.
15. Mari Gali (Tanu Weds Manu Returns)
If Kangana Ranaut could dance the night away on this hit Bollywood number, then why can't you? Dance to this Bollywood mehndi song while you enjoy your special day.
16. Maahi Ve (Kal Ho Naa Ho)
Yes, that's the way - Maahi Ve! Shake your body on this hot favourite song and make your Mehendi function a smashing hit!
Also Read - Top 50 Wedding Songs for Different Performances & D-day Functions
17. Kajra re (Bunty Aur Babli)
Remember Big B and how effortlessly cool he looked in that dapper leather jacket, tapping his feet on this item song? We sure do! If you are having a little fun competition between the groom's side of the family and the bride's side - then this song must be a part of your medley!
18. Laung Da Lashkara (Patiala House)
Laung Da Lashkara...Oh, baby Tera Jaan Se Pyaara! Yes, a couple dance is all you need to have a full-blown PDA moment and you don't necessarily have to stop at one - you can always have a couple of more!
19. Morni Banke
Lights, Camera, Action! Let him go gaga over your catwalk as he sings praises for you. Indian weddings demand drama and what better way to do it, by crushing it with your beau taking you to the floor and showing everyone whose day it is. This track is a must for your mehndi songs list.
For the aunts and uncles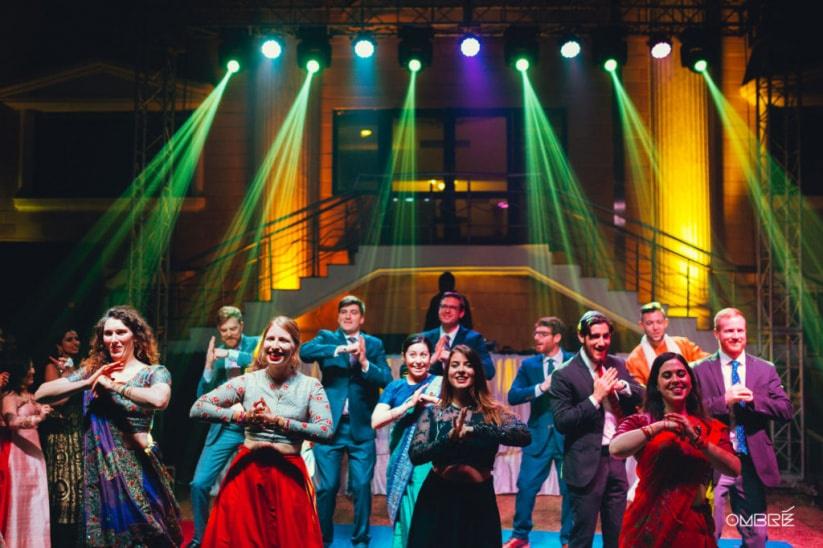 Some of the best dance performances at weddings come from the aunts and uncles of the bride and groom. They surpass the coolness factor that your friends and cousins bring to the wedding. Playing some shadi songs from yesteryears will get them straight to the dance floor. If you get the right mehndi songs for them, your aunts and uncles can be very entertaining, and they'll have fun too.
20. Sauda Khara Khara, Good Newz
Create a vibe of togetherness with your cousins and friends while you tap feet on this popular mehndi song. Dil Dena, Dil Lena is okay, but a pure bond is what makes a mehndi function memorable. A perfect mix of sound and beats, this song is the ultimate choice for your mehndi ceremony. This remixed mehndi song will do justice to the function with ease. Get ready to roll like Akshay Kumar and make tonnes of remembrance with your loved ones.
21. Punjabi MC, Jogi
Are you the one who loves to jam with fam on Punjabi songs? This mehndi song is the peppiest from the Punjabi mehndi songs playlist. Nothing beats the feeling of dancing to a Punjabi song with your family. This mehndi song will enhance the level of fun-shun with an ace! Are you ready to groove on one of the best mehndi dance songs?
22. Gudiya re Gudiya (Yeh Jawani Hai Deewani)
Tear Jerker Song Alert! If this does not make you and your aunts and uncles cry an endless river, then we don't know what will!
23. Sasural Genda Phool (Delhi 6)
To get things started and put them in perspective and have a rundown of your upcoming life - shake a leg with your mother-in-law and solidify that unbreakable bond!
24. Aj Mera Jee Karda
Yes, bride-to-be - a little Jee Karda is all you really need to get into the mood for the life that awaits you. Dance the night away on this number and welcome this new phase with a smile.
25. Lathe di Chadar
This is definitely the most famous family number! You must ass this famous song in your playlist of Mehndi songs and have a family moment by choreographing a dance that has all the uncles and aunties and grandfather and grandmothers.
26. Gur Nalon Ishq Mitha (Ek Ladki Ko Dekha Toh Aisa Laga)
Another wedding classic, also this song now has a remix which has broken all records which you must include in your mehndi song playlist for your upcoming wedding functions. A little dance choreography with your father and some step with your mother - this song will bring out the best of your family and give each one of you a memory to forever hold onto.
27. Shake it like Shammi (Hasee Toh Phasee)
Yes, for the youngsters of the family - you got to shake it on this epic item song number and remember to goof around a little with your cousins and siblings and have some fun while you're at it.
28. Baari Barsi
Time to drag all Aunts and Uncles to the floor! Baari Barsi is the perfect song to get everyone into the Mehndi groove.
29. Nachde ne Saare
No mehndi event is complete without a proper family performance which brings both you and your beau together on the floor. Dance along with your bae to this all together beat. And then watch the magic unfold as you take turns to pull everyone else to the dance floor. Get along with your bae and dance to this lovely mehndi song.
For the bride and the groom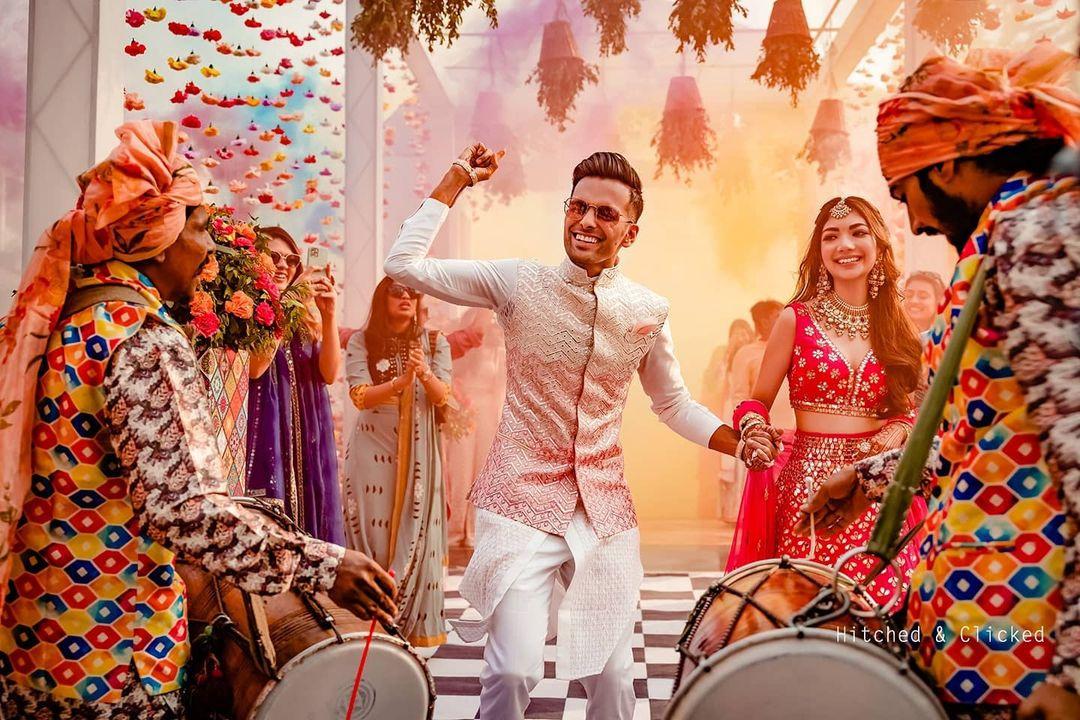 A wedding function isn't complete without a performance by the bride and groom. It's probably the cutest part of a wedding when the bride and groom step on to the floor and dance together in front of their families for the first time. But that doesn't mean it has to be a coy performance.
The couple's dance can be fun too. Imagine a cute performance on some trendy shaadi songs where the bride and groom are popping and locking their footsteps. Here's a list of mehndi songs that a playful bride and a cool groom can dance to.
30. Ghungroo, War
This mehndi song will take your mehndi function a notch higher! This song is the best couple dance song from the mehndi songs list. This Bollywood mehndi song is that one track that requires oodles of energy. Make some movies with your partner while you celebrate the happiness of your mehndi ceremony. Dance your heart out until you finally say 'Ki Gunghroo Toot Gaye'.
31. Laal Ghaghra, Good Newwz
Are you a filmy couple who loves to make moves on trending Bollywood songs? If yes, then this mehndi song is going to set the stage for you! The feeling of starting a new life with the love of your life is just out of the world. And the mehndi function is that one celebration which involves all the guests and friends. Why not make it a memorable one? This mehndi song will light up the aura with Bollywood feels and entertainment. Dancing on this Bollywood mehndi song with your loved ones would be so much fun!
32. Jhak Maarke (Desi Boyz)
Since it is an Indian wedding - Thora Drama Toh Banta Hai! You must add this number into your mehndi songs list if you want a function that sets the tone of the festivities which are to be followed right. Some dancing and some acting and this song will easily make for a stellar performance that attracts a hell lot of whistles and claps.
33. Tera Hero Idhar Hai (Main Tera Hero)
Yup, now who wouldn't want to be serenaded on this song? We sure would! If you are getting married anytime soon, prepare a dance on this song with your siblings, cousins and friends backing you up as you proclaim your love to your lady love! She won't be able to keep herself from smiling coyly as you make your smooth move!
34. Tenu Leke (Salaam-e-Ishq)
Again, following the same idea - tell her that you will steal her away from her family and friends (not literally) with this song playing in the background. Take some cues from this Bollywood mehndi song and shake a leg as you do that!
35. Kabhi Aana Tu Meri Gali
It does not get any cuter than this, quite literally. An ode to love that is pure and unique - this song will set the mood right and fill the atmosphere with your raw emotions and your love for one another.
Bonus: Bollywood's Original Mehndi Songs
36. Mehndi Hai Rachnewali (Zubeidaa)
Choreographed by Dancamaze, see how a bride-to-be and her squad pull off this amazing number. For the bride and her bride squad, this mehndi song happens to be the hit number for decades and we have seen a fair share of choreographies on this song since time immemorial. A little slow with some nerve-wracking beats - this song must be at the top of your mehndi songs playlist by default.
Or you could go with the sentiments of the original. A slow number but with a lot of meaning and a whole lot of overriding emotions - this song is surely a tear-jerker and you cannot have a mehndi songs playlist without it. Bring your mother-daughter moment on the fore which the onset of this song and seal the bond of never-ending love.
37. Mehendi Hai Rachnewali
38. Jad Mehndi Lag Lag Jaave
Dance the night away on this song and bring the IIFa moments to your own ceremony. Nobody, we repeat nobody will be able to keep themselves from breaking a leg on the dance floor when you play this song out loud.
39. Say Na Say Na
A decade-old tryst has still not taken the sheen off this Bluffmaster number from Priyanka's Pre-Desi Girl days. Use it to orchestrate your own swag Mehndi performance and let everyone know how you're ready to rock even to the tune of a basic 'Dhol Bajda'.
40. Iski Uski
Jiski bhi wedding, at the end 'Sab Vadiya Hi Hona Chahiye...' and this is the perfect song to wish everyone good fortunes for the upcoming big day. Ensure that it is on your Mehndi songs playlist.
You might wonder why there is no English music on this list. That's because Bollywood wedding dance songs are truly the best. Even wedding decor can be themed around Bollywood. It would definitely be a big hit among your guests. No music other than Hindi wedding songs can get your entire wedding party on the dance floor and also make for some really amusing shots for your wedding photographer to capture.
Play our mehndi songs list and get ready to party Bollywood style!
Also written by Surbhi Sachdeva & Meha Khera