10 Varmala Songs That Will Breathe Romance into Your Jaimala Ceremony
Wondering which Varmala songs to include in your wedding playlist? Here are the all-time hit Varmala songs for every wedding across India.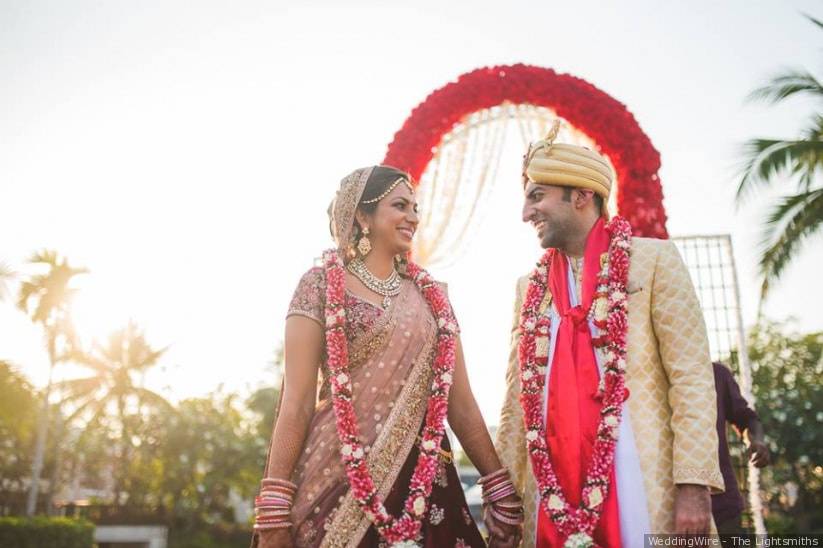 Varmala is that moment when the bride and the groom look into each other's eyes while taking the very first step towards holy matrimony. There is a lot of excitement, happiness and a realisation that this is all finally happening...for real! Just like any other Indian wedding ceremony, wedding music also plays a vital role during your Varmala moment. And you want the perfect playlist of Varmala songs to go with it, don't you? We've got a whole list of Varmala songs that are always in fashion for weddings all over the country. Take a look:
1. Tum Jo Aaye Zindagi Mein (Once upon a time in Mumbai)
Feel the magic of this Raahat Fateh Ali and Tulsi Kumar song while you exchange your Jaimalas. Give the wedding photographers those candid shots that will brighten up your wedding album.
2. Mangalayam (Saathiya)
This special moment is when your souls bonded in eternal togetherness. You can never go wrong with this A R Rahman gem for your Varmala songs playlist.
3. Jag Ghoomeya (Sultan)
Remember how much time you spent with your wedding florist to choose those perfect flowers for your Varmala? You want your Varmala songs to be as colourful as your Jaimala designs.
4. Dhol Yaara Dhol (Dev-D)
Can you feel the rhythm of the Dhol in your heartbeats and can't stop gushing? Ask your wedding DJ to play this beautiful song which paints the perfect picture of your emotions.
5. Ki Kore Toke Bolbo (Bengali)
One of the must-have Varmala songs for a Bengali wedding, get carried away with this soul-touching Arijit Singh number. And even if it's not a Bengali wedding, you still can't escape the musical spell of the song.
6. Olya Sanj Veli (Marathi)
Having a typical Marathi wedding and want to know which song to play? Sway to the tunes of this harmonious Varmala song on your Maharashtrian wedding for a perfect romantic vibe.
7. Din Shagna Da (Philauri)
Sometimes, the mood for a wedding is best expressed through verses and melody. Add this Punjabi wedding song to your Varmala songs playlist and just let your emotions flow with the music.
8. Rasaali Rasaali (Tamil)
This is the song for those who've been bitten by the love bug and don't want to hold it back. Just play this romantic A R Rahman Tamil song on your Varmala and see the crowd gush over your special moment!
9. Shubhaarambh (Kai Po Che)
How about a little touch of Garba on your wedding playlist? Add this brilliant folk-fusion composition by Amit Trivedi among your Varmala songs for a groovy musical effect. Have a talk with your wedding decorator for a Garba themed Jaimala stage decor accordingly.
10. Hua Hai Aaj Pehli Baar (Sanam Re)
Would you have thought of including this sensuous Armaan Malik number on your Varmala playlist? Choose your wedding decor to match this song for a deeply romantic Varmala moment.
Your wedding music should be a reflection of your wedding theme, wedding decorations as well as your taste and personalities as a couple. When the Varmala song plays in the background, it should reflect the story of how you two met, fell in love and what made you click. Make your requirements very clear to your wedding planner and DJ to avoid any last-minute surprises. Romantic, peppy, folk, traditional, sensuous or groovy...you can choose any kind of music for your Varmala song playlist depending on your musical inclination. Make every moment of your wedding special and make your dream of a perfect wedding a reality.
You're most welcome to share your favourite Varmala songs with us. Simply write to us in the comments section below.