11 Gorgeous Finger Mehndi Designs for the Bride and Her Bridesmaids
Need a new approach to mehndi designs for your hands for your own or a good friend's wedding? Consider these gorgeous finger mehndi designs for brides and bridesmaids.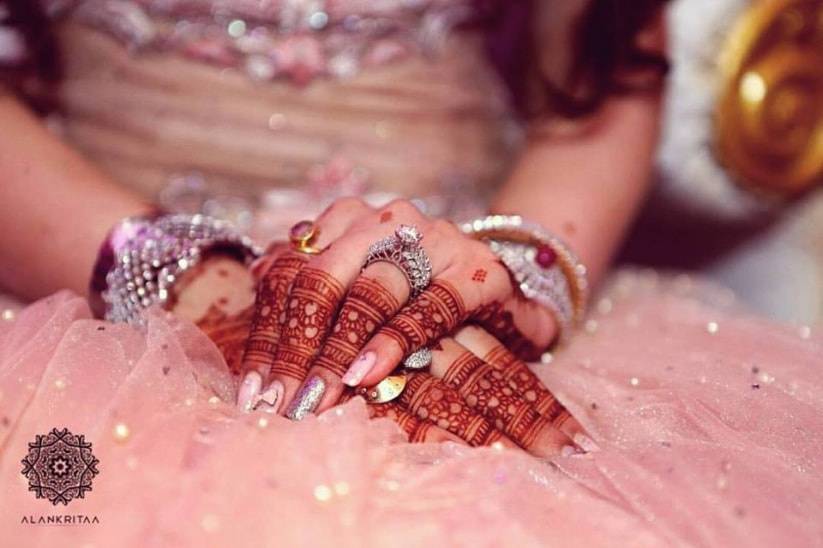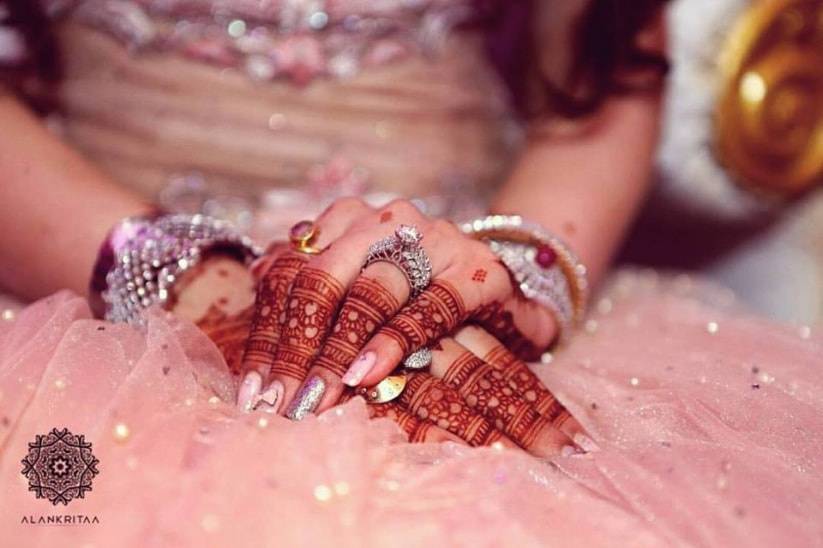 Indian weddings are incomplete without a function completely dedicated to mehndi. If you agree with us, we have some good news for you. The modern brides always try to experiment with their mehndi designs. The modern design patterns offer a contemporary twist to the designs. Let us introduce you to some of the concomitant mehndi designs. Draw these patterns on your delicate fingers and create a statement. Mehndi has always been an important and integral part of Indian wedding traditions as it is deeply rooted in the Indian sensibilities and cultures while being the most gorgeous folk art of this country.
Mehndi: An ancient Indian tradition
Indian weddings have surely come a long way. Many traditions have received a facelift but the tradition of applying henna or mehndi on palms and feet of the bride has always remained the same. However, a revival has come in the way mehndi is applied on the palms. The incorporation of dyes and glitter in mehndi is a sign of modern influence on this exquisite art form.
Choosing the right design that would look absolutely gorgeous on your hands is a difficult choice to make when there are so many options to spoil your choice. Check out these gorgeous finger mehndi designs for the brides to flaunt on your big day with style. If you are the bridesmaid, do not worry! You too can apply these eye-catching mehndi designs as well.
Voguish finger mehndi designs for you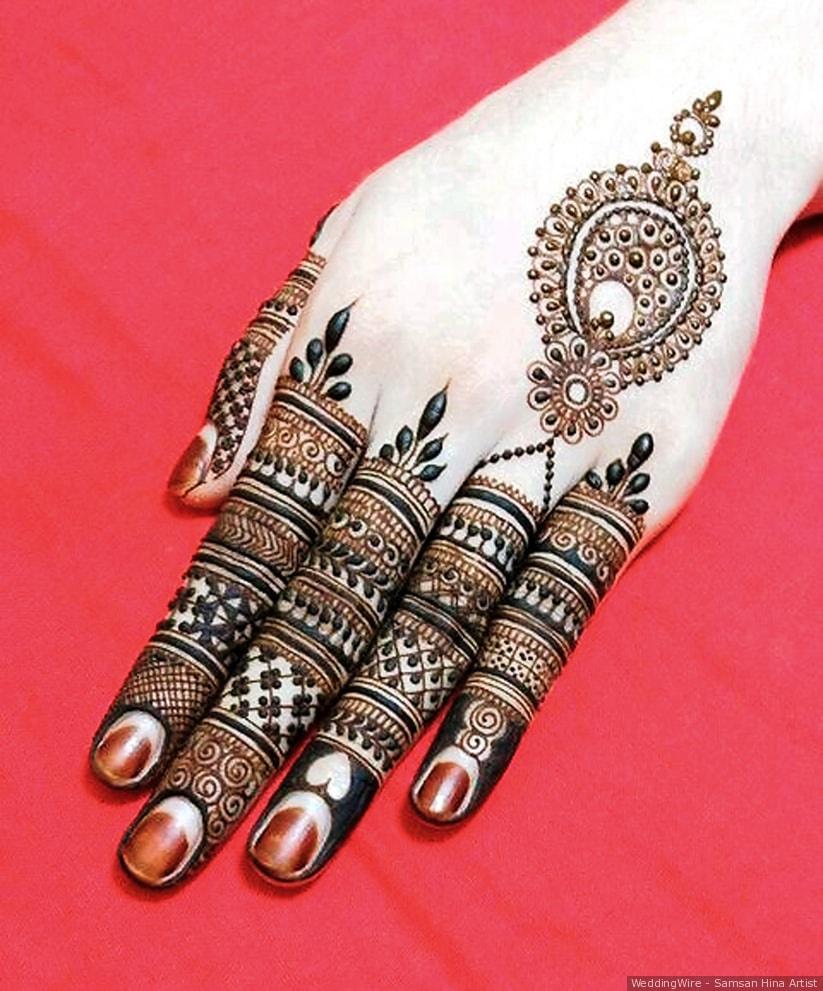 Forget about stuffing your palm with intricate mehndi designs. Applying henna on fingers is the latest trend. Beautiful designs adorning the slender digits are like a modern makeover of this old-school body art. At your wedding, you can either stick to the traditional finger mehndi designs or opt for quirky designs. Gone are the days for stuffy and old designs. The new approach towards henna designs involves delicate precision, intricate craftsmanship, as well as gorgeous hands, adorned in its deep red colour.
11 ravishing finger mehndi designs for the brides and bridesmaids
Keeping every kind of bride in mind, we have selected some of the most upscale and jazzy finger mehndi designs, that you can draw inspiration from to make unique and personalised designs or choose them as they are to make your festivities more joyful.
1. Arabic finger mehndi design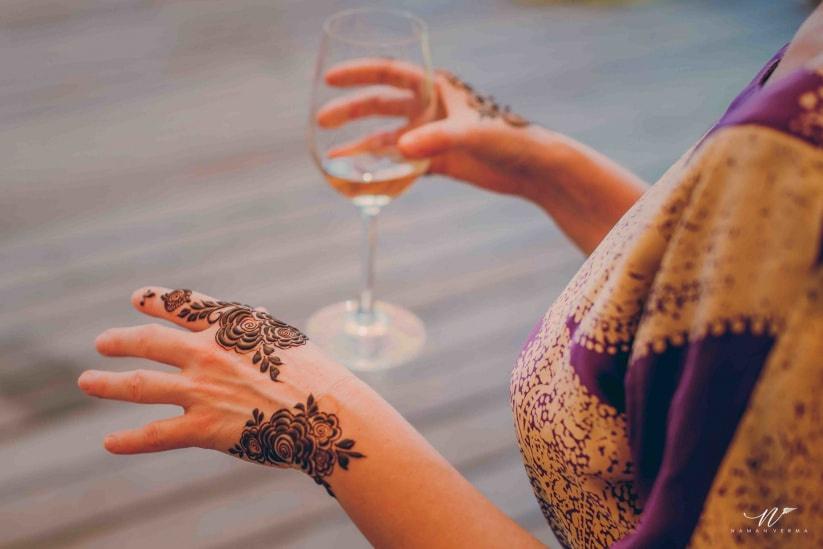 Arabic mehndi designs have always been a rage among the ladies. The thick design patterns covering a major portion of palms look contemporary. The Arabic mehndi incorporates designs like flowers, dots, paisley, leaves, and filled patters. The patterns are either filled with henna or left bare, giving a hint of the skin.
You can decide the variation yourself. Depending on your preference, you can either apply Arabic mehndi on all your fingers or on one or two. Arabic mehndi is a better option for bridesmaids.
2. Paisley finger mehndi design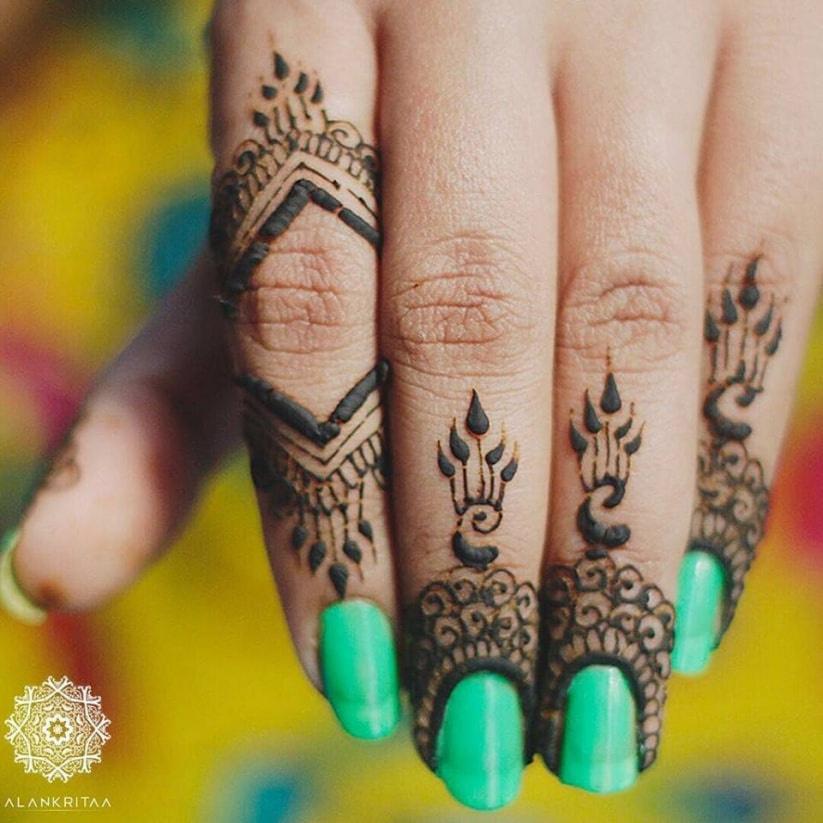 Paisley has always dominated the world of design. Be it paisley printed garments or décor, this design pattern is a favourite among the Indians. Paisley finger mehndi designs look ethereal. The little mango-shaped patterns look very graceful on fingers. There are many ways to create beautiful designs keeping the paisley pattern as a focal point.
You can opt for bigger paisley designs covering a major portion of your finger or small and intricate designs going the entire length of the finger. The choice is entirely yours.
3. Indian finger mehndi design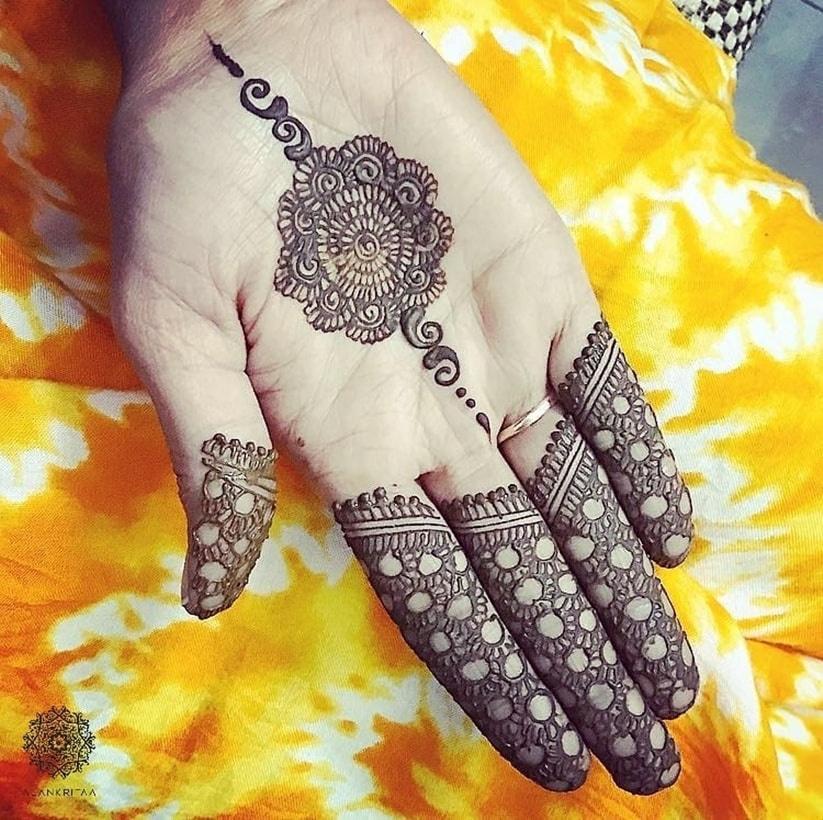 Indian finger mehndi designs are very popular in Indian weddings. This design pattern is very intricate. The hands are filled with delicate designs like flowers, leaves, mangoes, peacocks, etc. For weddings, the mehndi artists make complicated figurines like bride and groom. This is one of the most complex kinds of mehndi design as it involves minute circles. You can take inspiration from this mandala pattern finger mehndi.
You can combine the finger mehndi design seen here with a central palm motif - consider a butterfly mehndi design, a lotus mehndi design or a minimal mehndi print.
4. Single finger mehndi design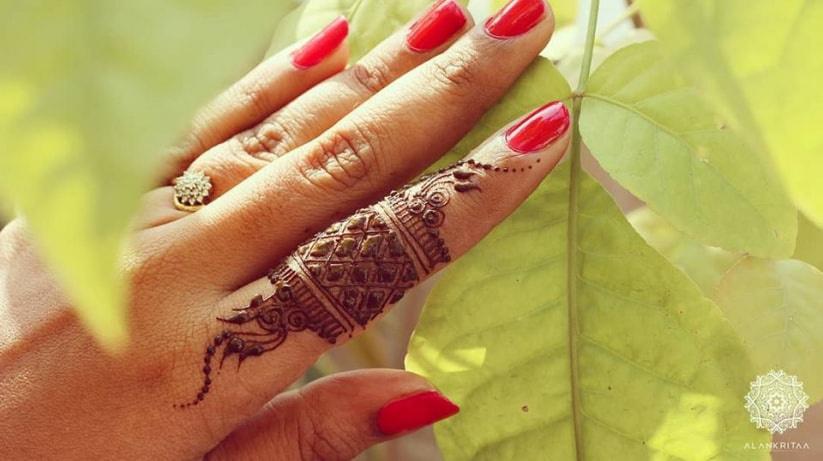 Single finger mehndi designs are great for the bridesmaids and other ladies of the family. And, also for the girls who are not bigger fans of this body art but are bound to apply henna as a part of the tradition. You can keep it simple by applying a single floral pattern in the centre of your palm and extending it to one finger. Apt for mode intricate and detailed design patterns to enhance the final look of your mehndi.
You can also consider a single line to quirk up such a finger mehndi design, like having the word 'Bride Tribe' or the popular hashtag '#Sistersbeforemisters' inked around the digit.
5. Simple leaves finger mehndi design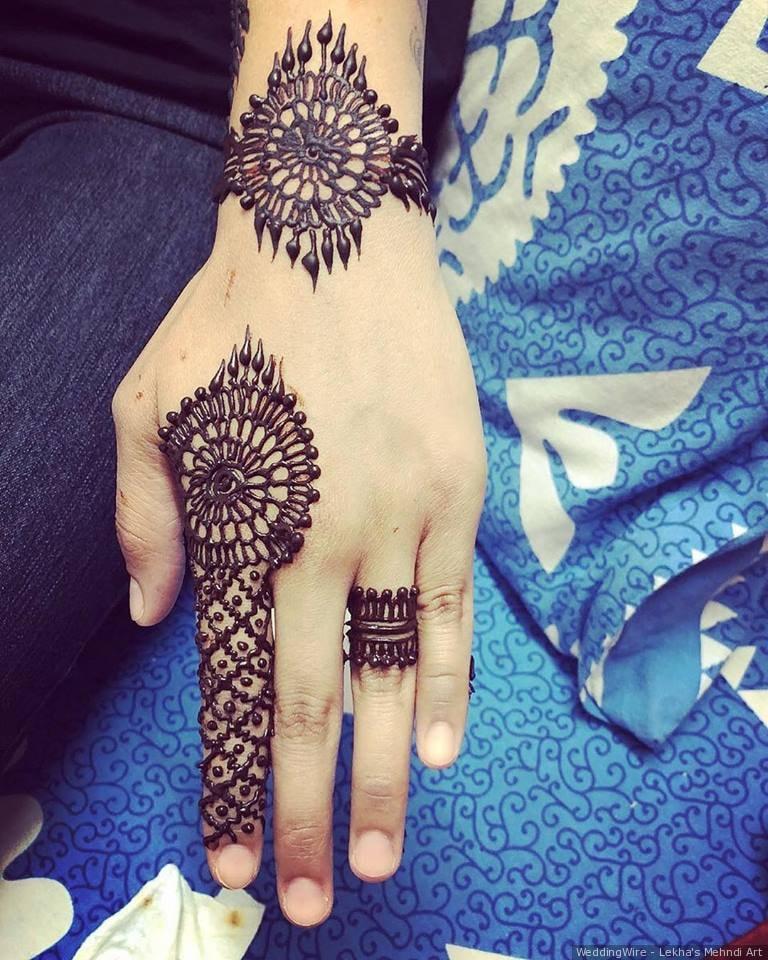 Simple but immensely beautiful; drawing small dots on the entire length of the finger looks very elegant. This design pattern can be categorised as Indian mehndi design. You can combine this design with other designs to create a gorgeous display of mehndi.
Imagine the impact of such a design when it's etched in black mehndi, to maintain its darkened appeal. You can also consider mirroring it across both sets of hands to get a wow factor for your mehndi shot.
6. Modern finger mehndi design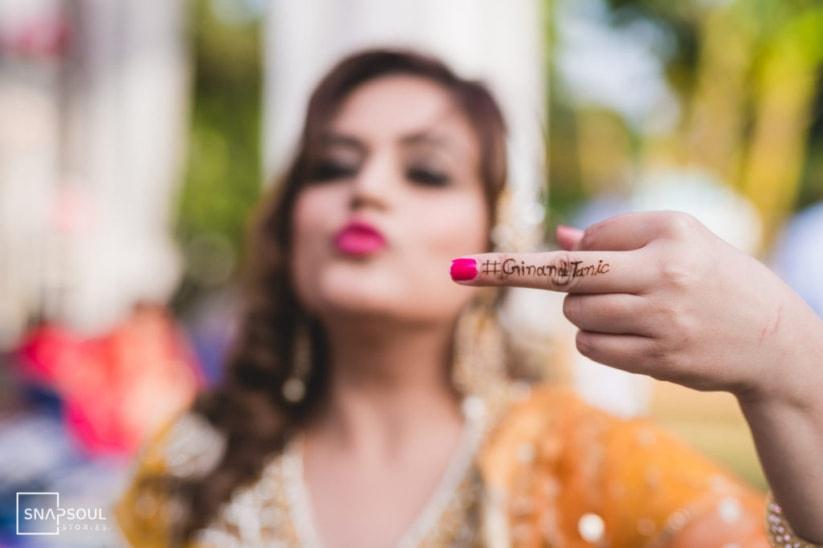 Modern finger mehndi design is all about experimentation. You can put your imagination to good use and draw any beautiful pattern on your fingers. The modern mehndi designs include lines, figures, written text, and other bold patterns. There is a lot of visible space between the patterns. You can play around the elements of your love story as well as draw your wedding hashtags to make it one of a kind element in your otherwise traditional mehndi design.
We would recommend working on the finger mehndi design to incorporate an etching, or a singular line around the hashtag, which would complete the set.
7. Geometrical finger mehndi design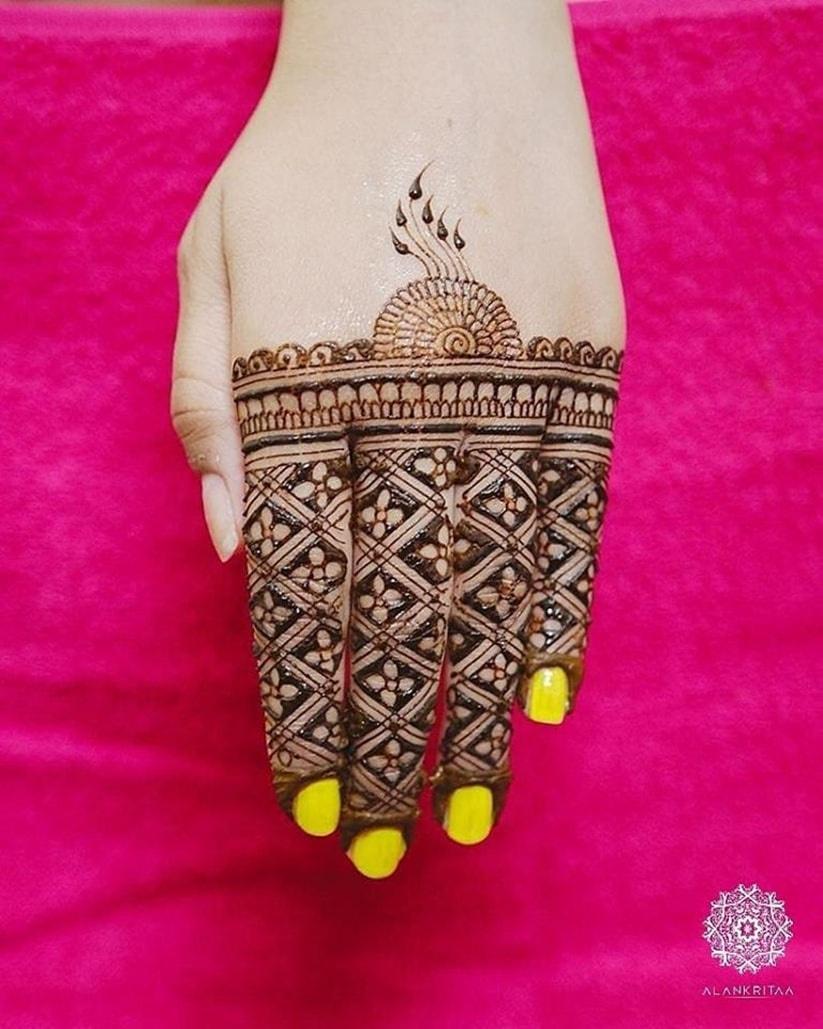 Geometrical mehndi design is a modern approach to traditional mehndi. It uses lots of lines. The design looks very beautiful and intricate. Geometrical mehndi designs predominantly cover the fingers. It is applied in combination with other designs like Indian or Arabic. The palm is filled with other design patterns and fingers are covered with geometrical designs.
The reverse mehndi print would really come out after the mehndi has dried out and stands in contrast with the rest of the pearly white hand. Combining that final look with a Haath Phool, preferably floral, will complete the set.
8. Band style finger mehndi design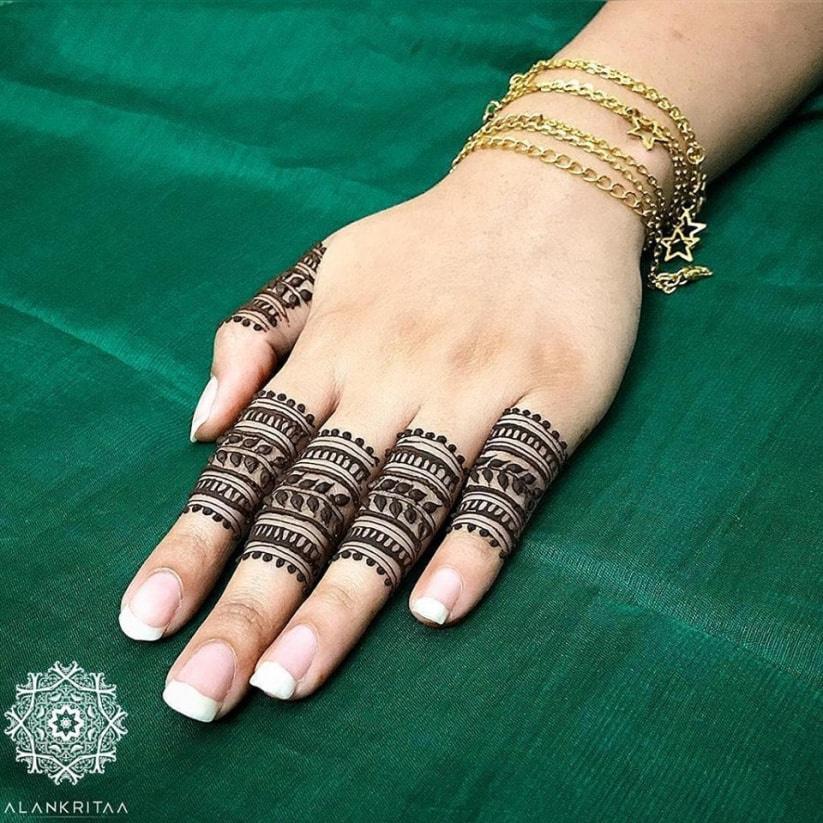 Band style finger mehndi incorporates drawing band patterns on the fingers. These patterns are either filled entirely or partially shaded with henna. Generally, lines are used to fill the bands. These designs look amazingly gorgeous.
The bands can function as inked midi rings, replete with minor trinkets to complete the look. We would recommend combining the look with an actual set of midi rings in a way that they become part of your finger mehndi design too.
9. Floral finger mehndi design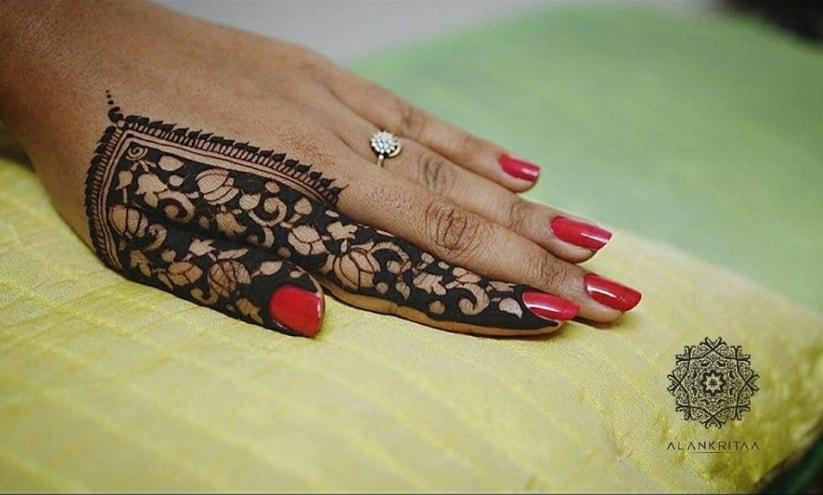 Another beautiful and popular mehndi design is floral mehndi. You can apply floral designs in combination with any style. Such floral mehndi designs, especially in the reverse style that we can see here, reflect a minimal appeal and would stand out in stark contrast against a set of heavy and intricate bridal mehndi designs.
Who knows - you may team up as a set of friends and get portions of the same design inked in all alternate fingers, so that they all come together to form a fabulous set themselves.
10. Marigold fingers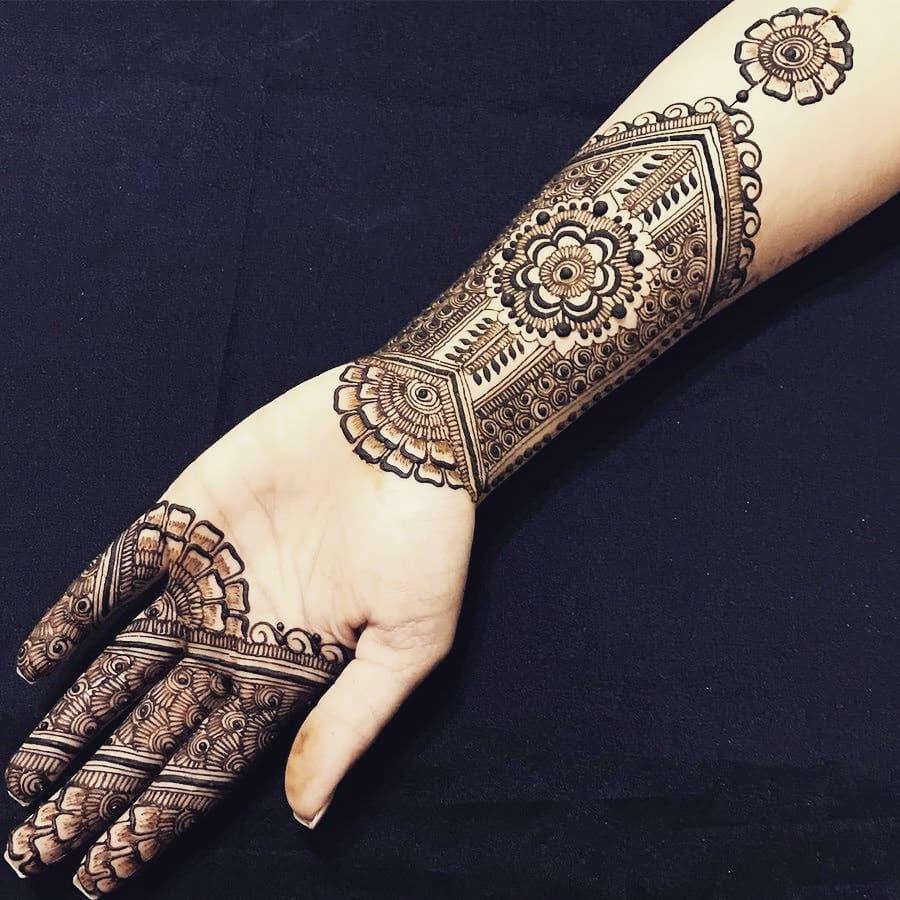 Image courtesy: On Patterned Palms on Instagram
11. Sectioned designs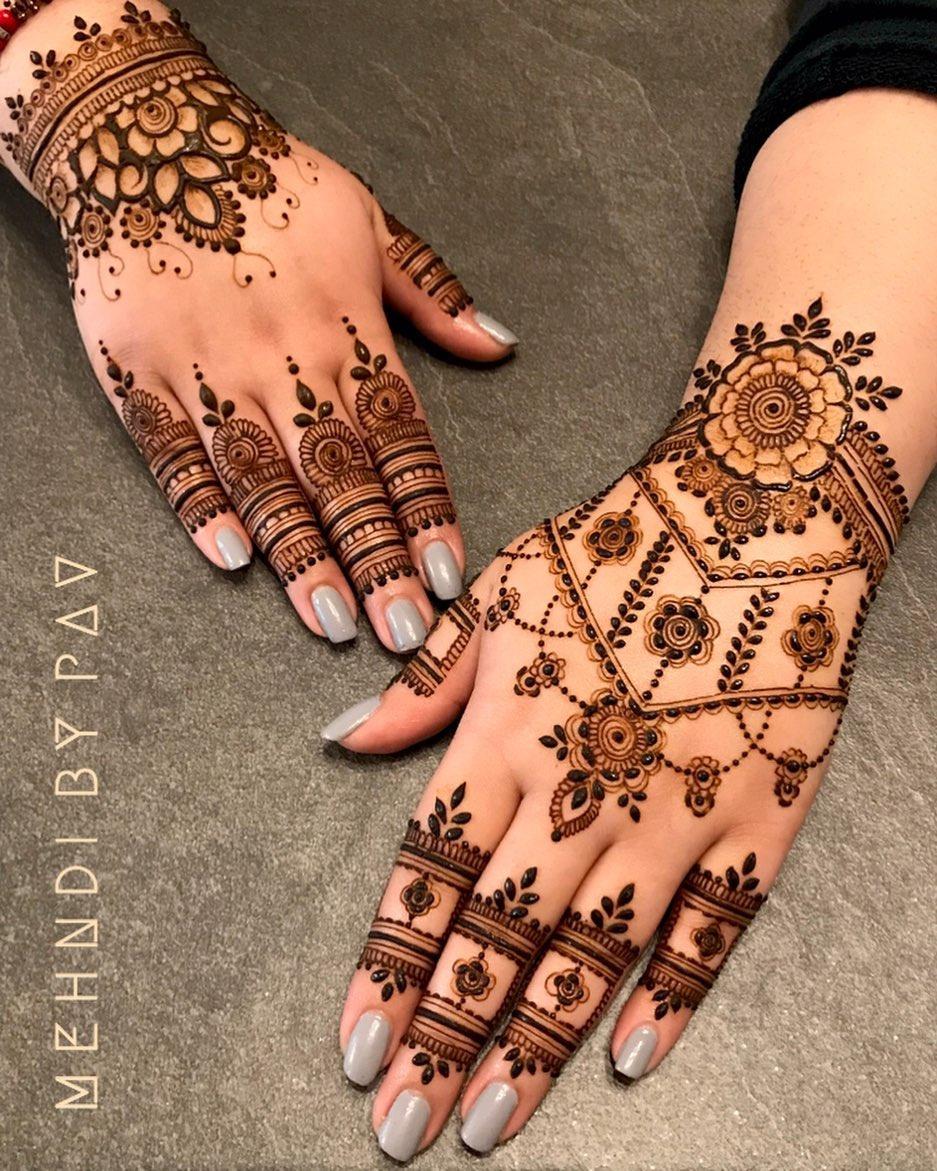 Image courtesy: Mehndi by Pav
Just because finger mehndi patterns are restricted to such a small space does not mean that you need to cut down on detail, if that's what drives your choice in henna patterns. We love the minuscule detailing done here to highlight the tiny blooms of baby's breath in their neat sections, bookended by a minimal set of olive branches on both ends.
While the whole design is a great must-have, we would recommend just the finger to create a very distinct look for your manicured hands and beautiful nail art.
We hope you've had a fair sense of inspiration from this set of finger mehndi compilations. Remember, as these designs bring the focus sharply to your digits, you need to ensure that your talon game is absolutely on point too, so that they can shine in the spotlight.
What style of finger mehndi would you prefer for your wedding? We are eagerly waiting to know. Drop a comment and let us know.