Trending Finger Mehndi Designs for the Bride and Her Bridesmaids
Need a new approach to mehndi designs for your hands for your own or a good friend's wedding? Consider these gorgeous finger mehndi designs for brides and bridesmaids.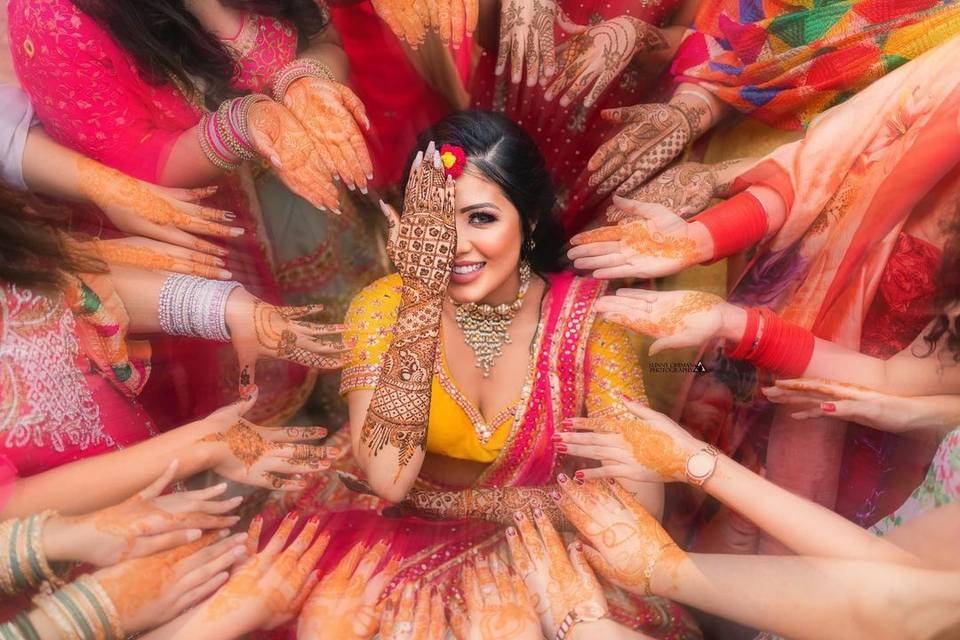 Deciding on what mehndi design to get during the wedding season can be quite tiring and thus, we are here to help you get through this decision-making process! The traditional Indian mehndi designs have intricate patterns, leaf motifs, designs related to Indian culture, and even architecture. Not just this, some of the designs have miniature portraits of a man and a woman, or patterns involving animals or birds, and other more complicated elements. The modern designs encompass finger mehndi designs, thumb mehndi designs, ring finger mehndi designs, etc. So here are some modern finger mehndi designs with a new take. Yes, here we bring some simple, intricate, and splendid rendition of henna art meant for the brides and their bridesmaids. Here we have finger mehndi designs simple for all the brides and their troops.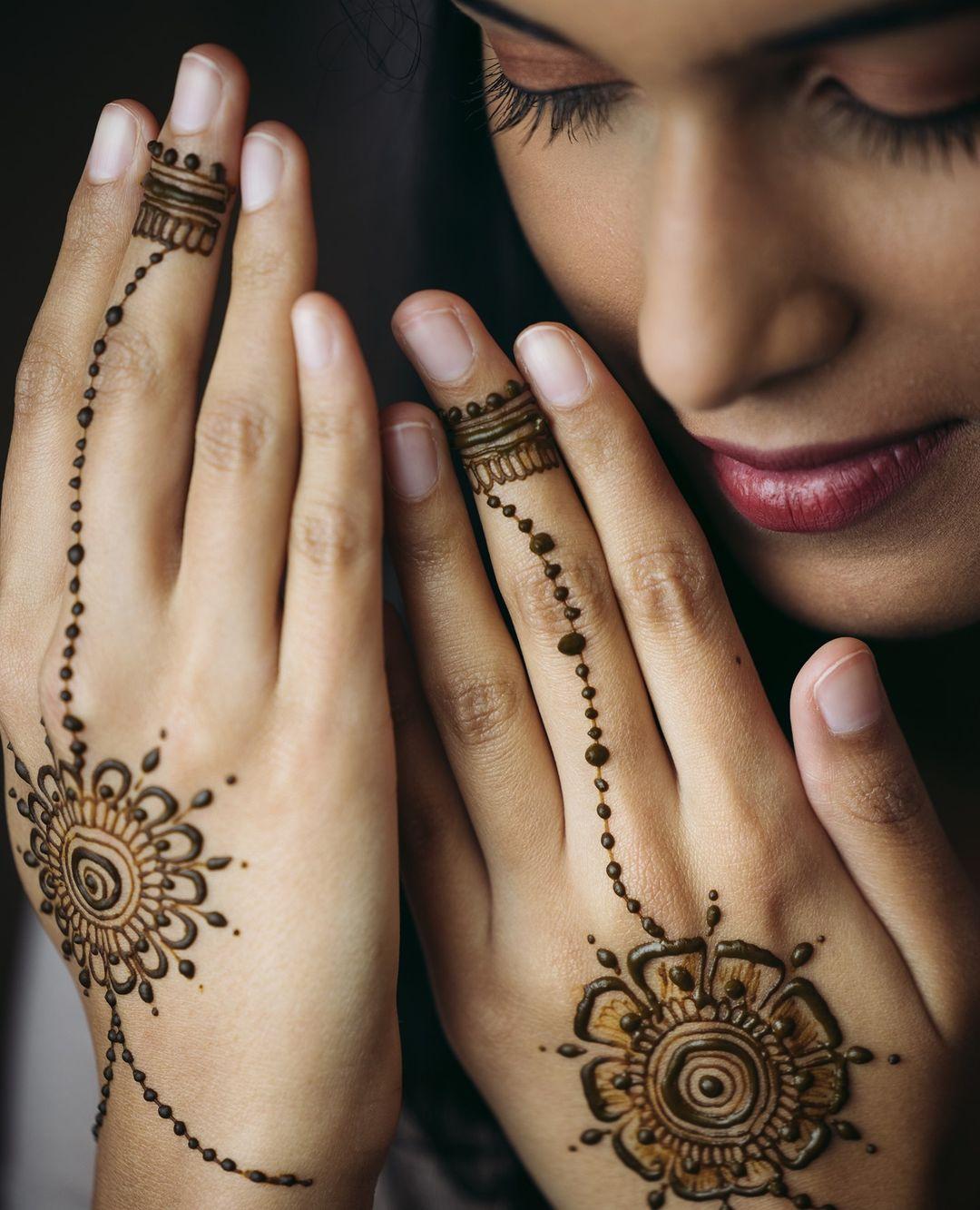 Image Credits - Henna by Purvi
In this Article -
1. Simple finger Mehndi Design
Simple Finger Mehandi Designs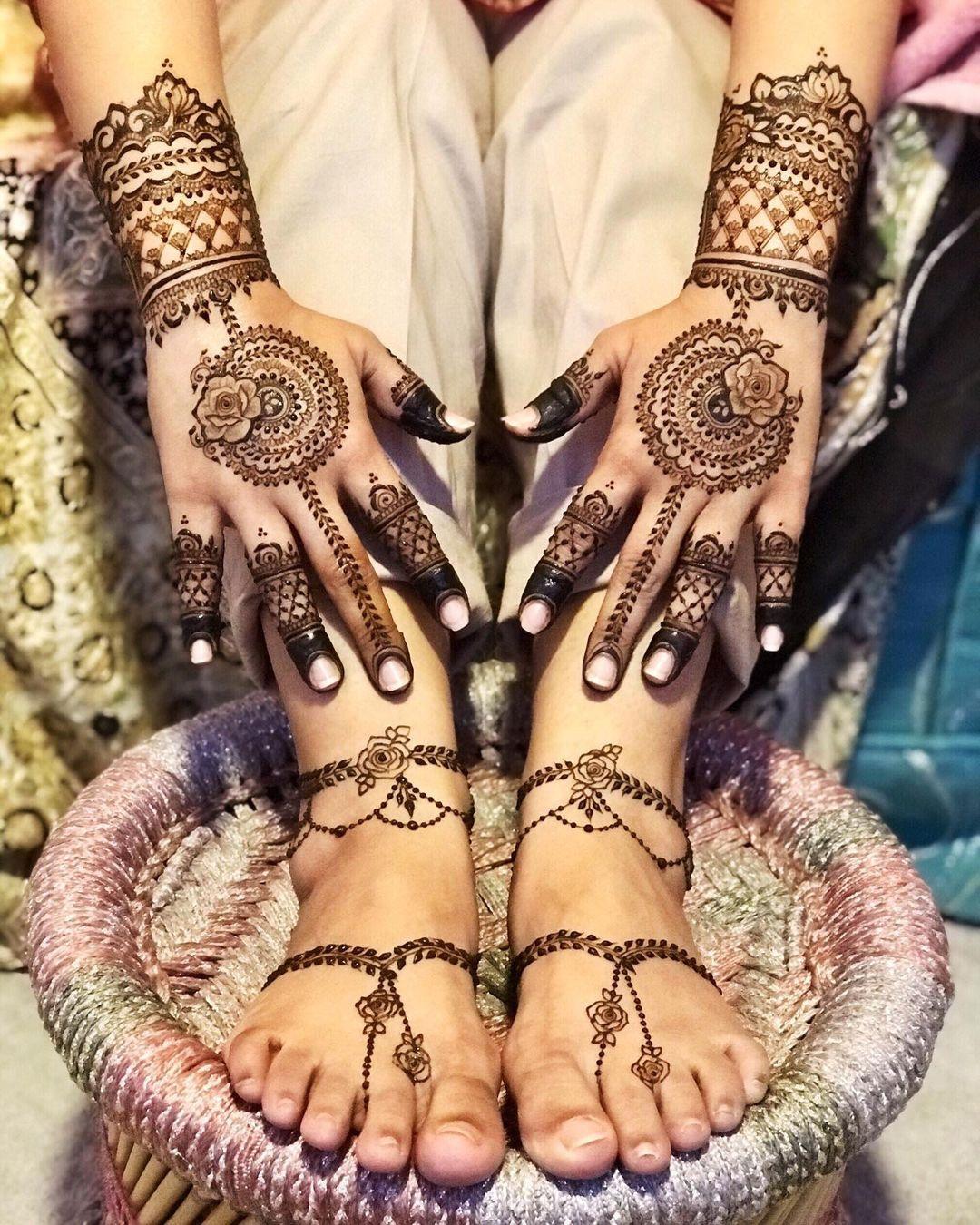 Image Credits- Saras Henna
Mehandi Designs for fingers are one way to go if you are a bride. This gives you the minimalistic look in all your pre-wedding functions like engagement, sagan, or even the Roka ceremony. Also, Finger Mehndi designs are for those brides who are looking for quick henna fixes. So if you are not one of the women who have a ton of patience for long Mehandi designs then the simple finger mehndi designs or small henna designs are the best options for you for all your pre-wedding ceremonies.
Simple Finger Mehndi Design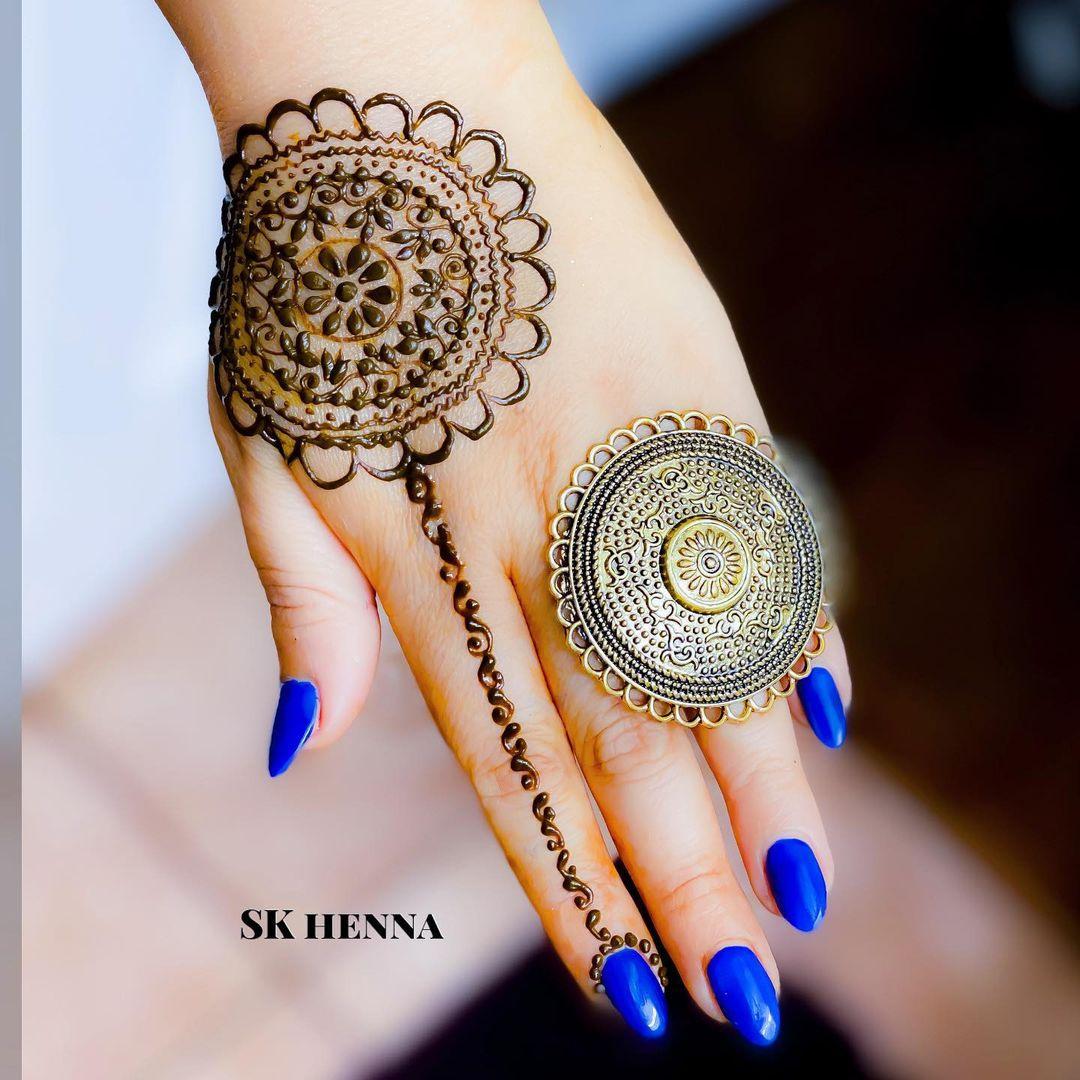 Image Credits - SK Henna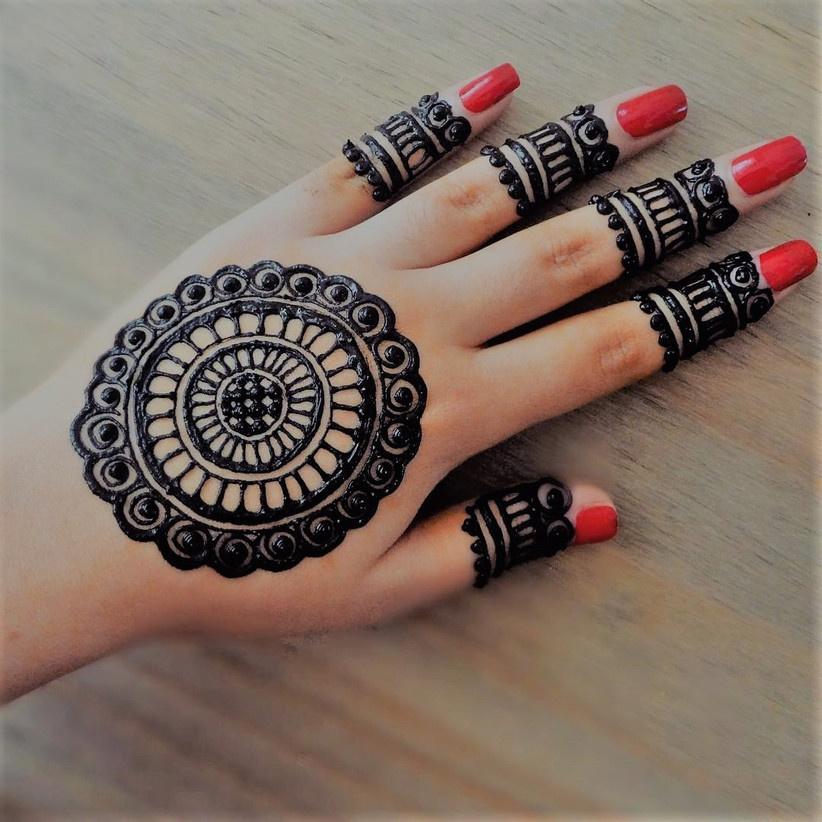 Image Courtesy: Mehndi Artist Hira
Trying mehndi finger design is also about personal preference. If you feel the traditional Indian designs are too cluttered, then you must look for other options that are much easier to apply and look much cleaner. Without any further ado, let us look into some of the stylish finger mehndi design that would look great on your hands. Yes, the above two-finger mehndi design images show some easy finger design patterns. You can bookmark these or pin these for some inspiration. The above designs fall under the category of tikky easy finger mehndi design or mandala mehndi design.
Filled Finger Mehndi Design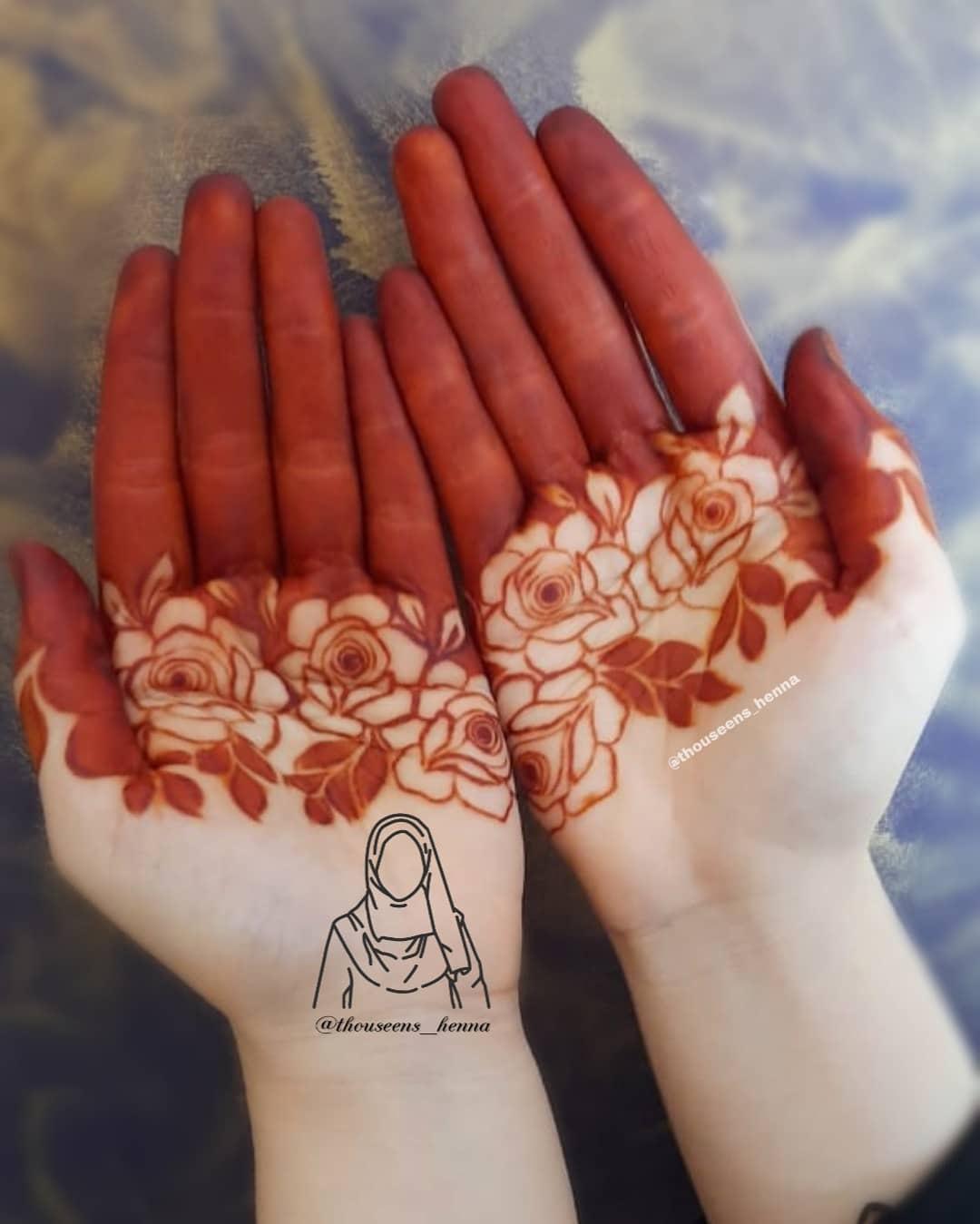 Image Credits - Thouseens Henna
This filled finger mehndi design is trending for all good reasons. Yes, this is finger mehndi filled is by Thouseens Henna. Isn't it awesome for all those brides who are looking forward to trendsetting and different designs? This mehndi simple design looks trending in the list having ample finger mehndi design 2020. Also, this henna rendition or simple finger mehndi design looks uber chic on the bridesmaid troop. You can try this simple new simple finger mehndi design at the pre-wedding ceremonies.
Rose on Fingers Mehandi design simple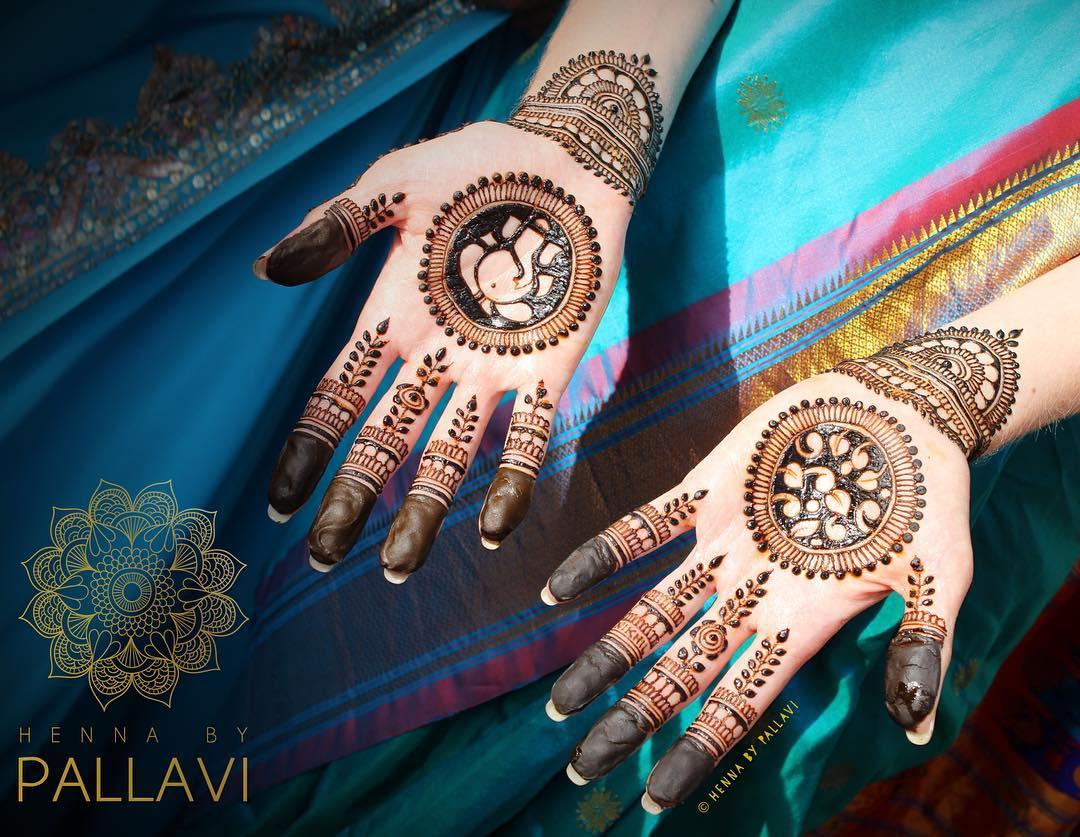 Image Credits - Henna By Pallavi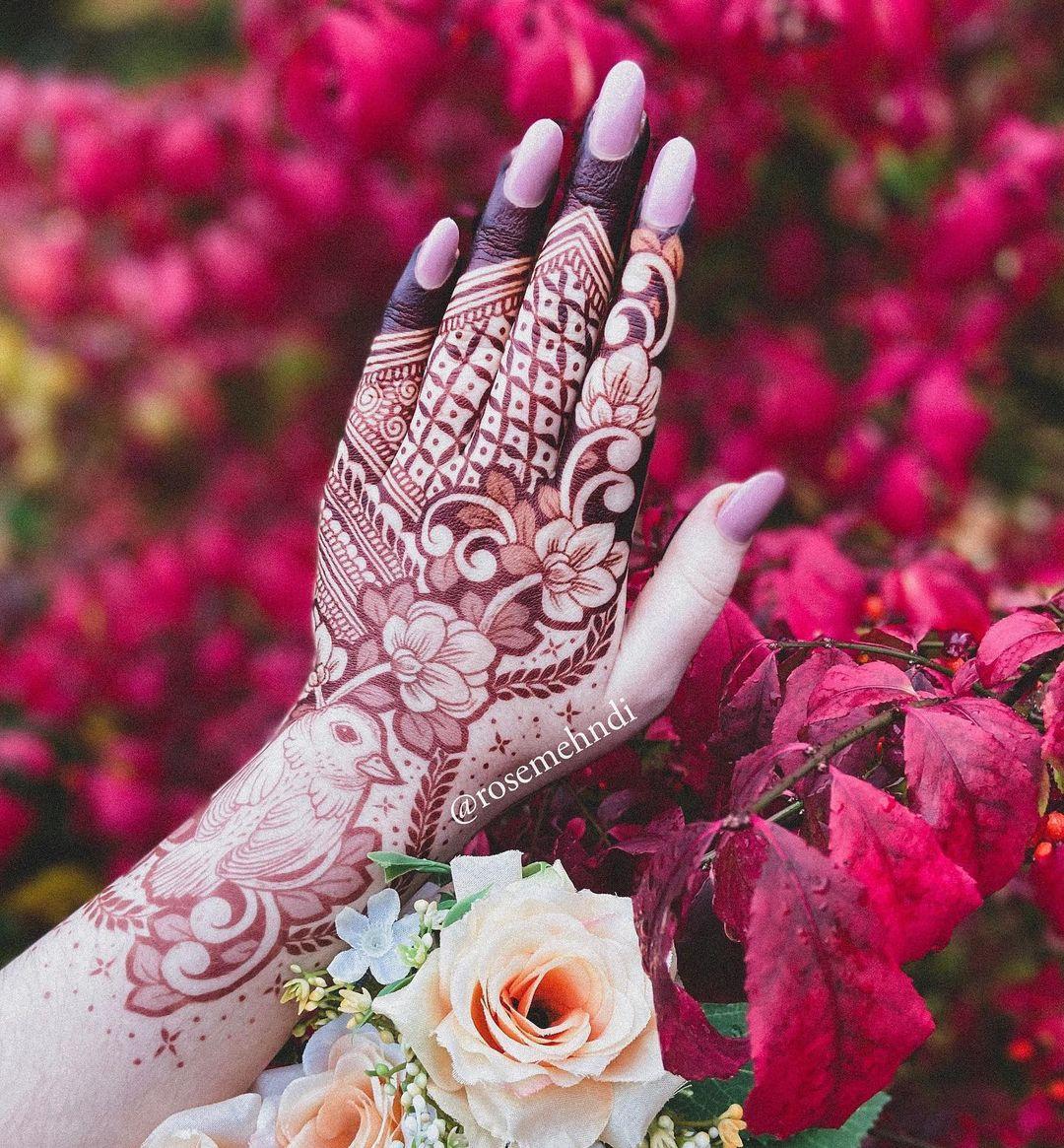 Image Credits - Rose Mehndi
We are sure that you must have bookmarked these finger mehndi designs filled with roses. These mehndi designs for fingers are for the brides who are looking to adorn Indo-western outfits on special days. Aren't these Mehandi designs easy and simple and beautiful?
Finger White Mehndi Designs Easy and Simple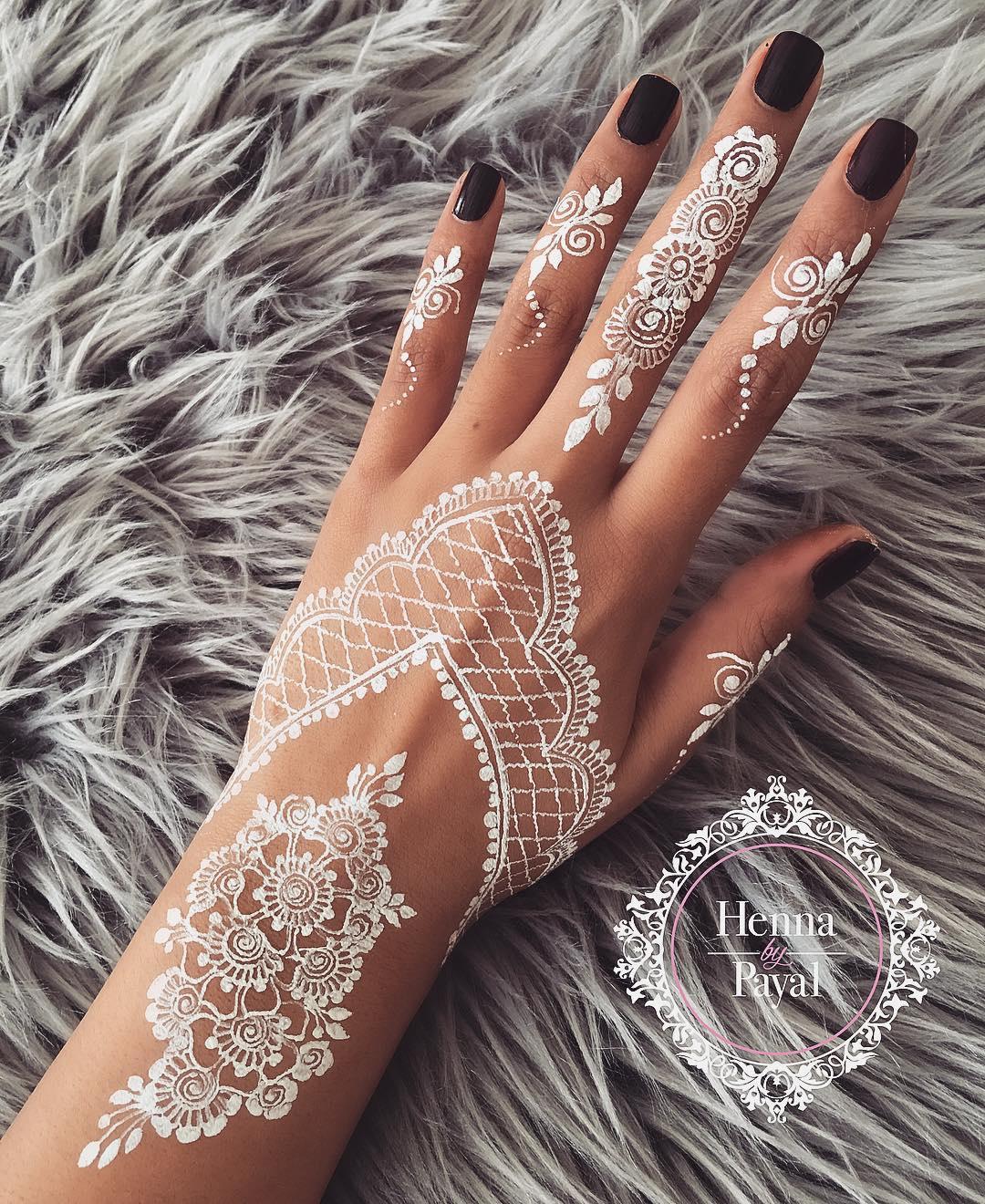 Image Credits - Henna by Payal
Finger mehndi design in white color is going to take your breath away! Yes, these white mehndi designs or white finger henna designs will perfectly go well with your dreamy wedding theme.
Simple Back Mehndi Design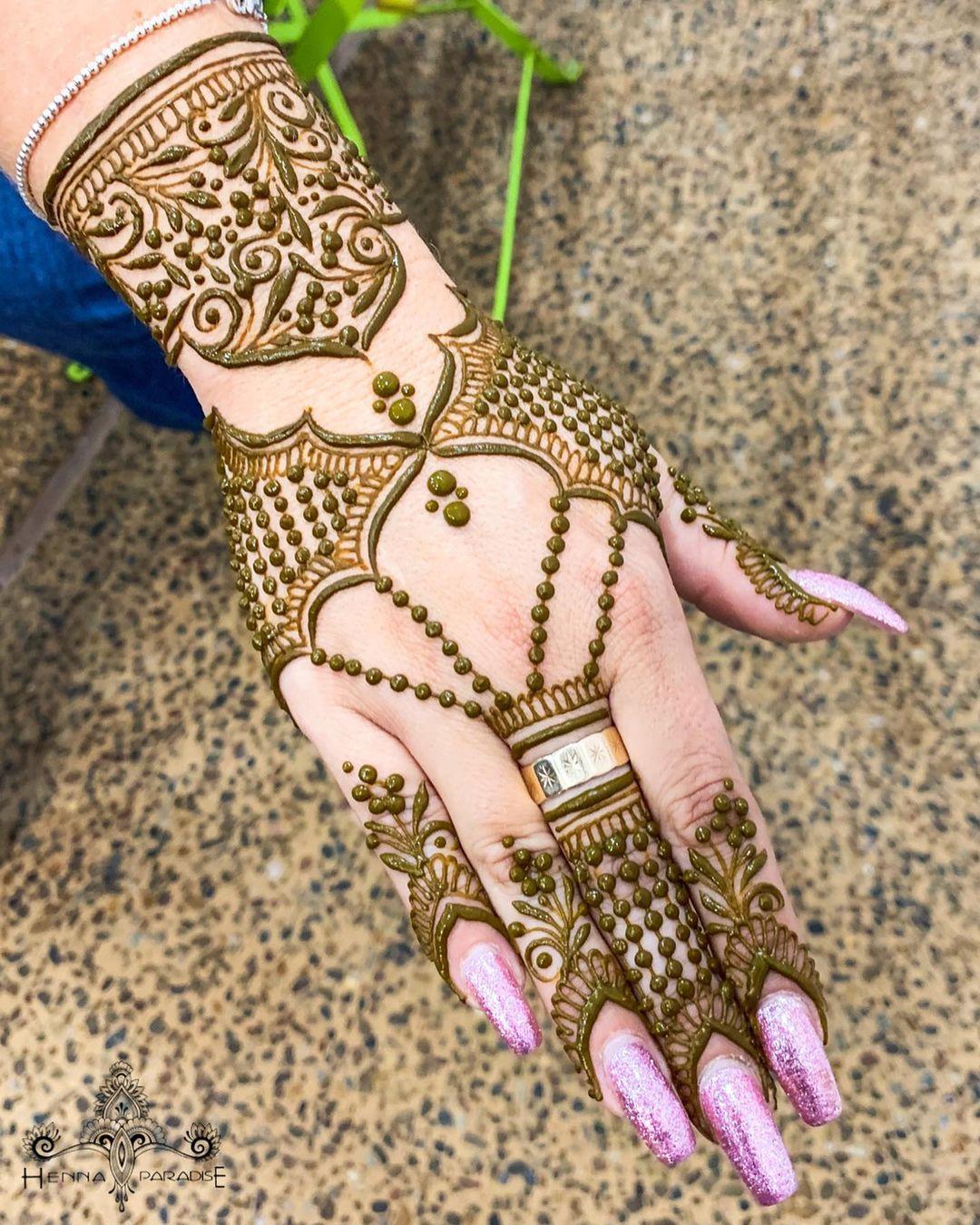 Image Credits - Henna Paradise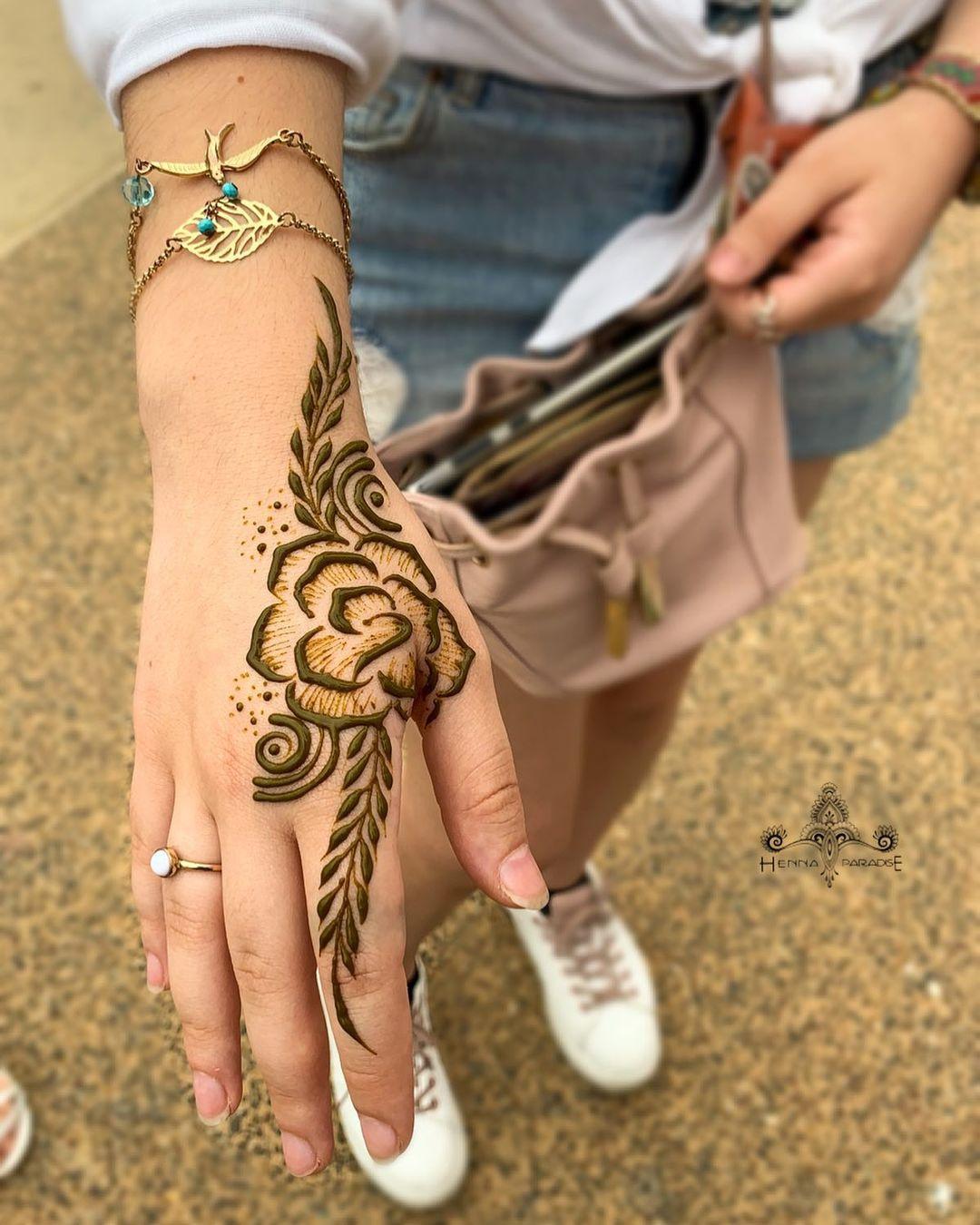 Image Credits - Henna Paradise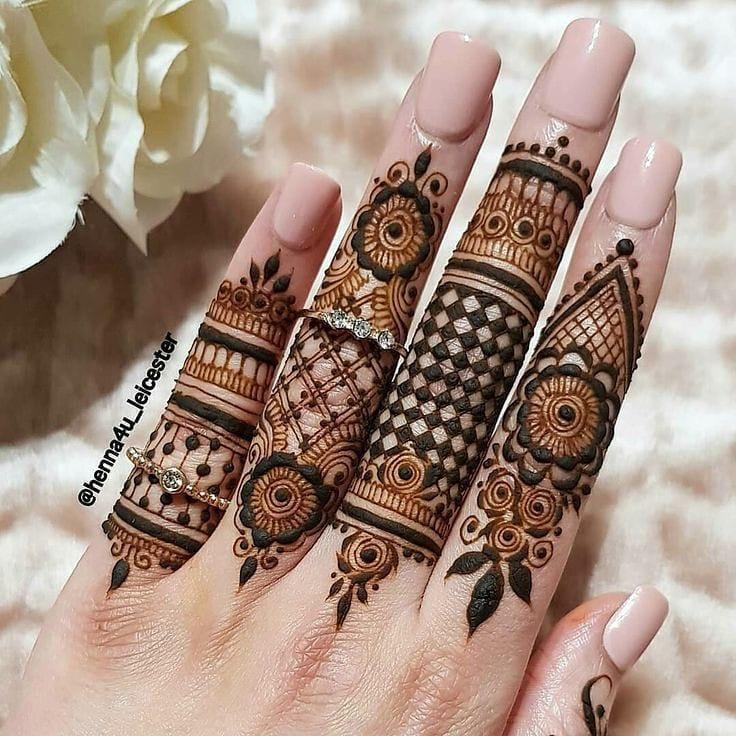 Image Credits - Henna designs hold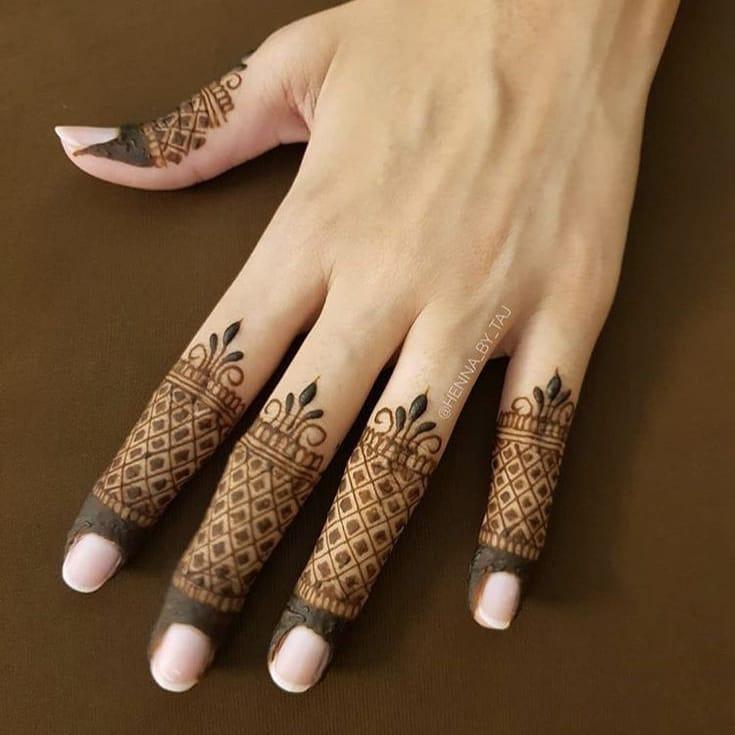 Image Credits - Henna By Taj
A good simple back mehndi design adds grace to your demeanor- it makes you look more elegant and beautiful as you move your hands gracefully. These graceful mehndi designs for fingers are going to give you some scintillating inspirations. Check these out for easy back mehndi designs and finger henna designs.
Modern Mehandi Design Simple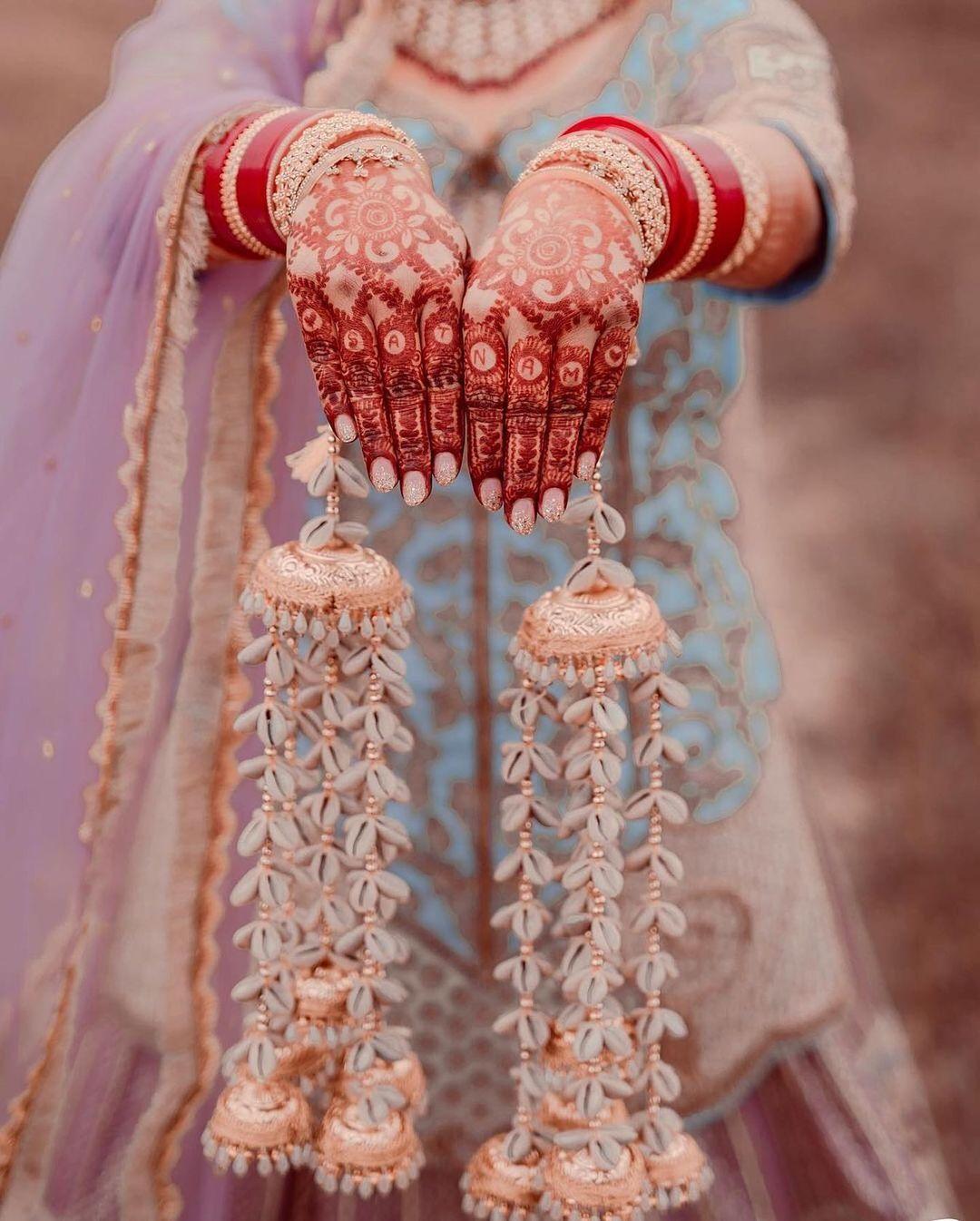 Image Credits - Mehndi Artist Karishma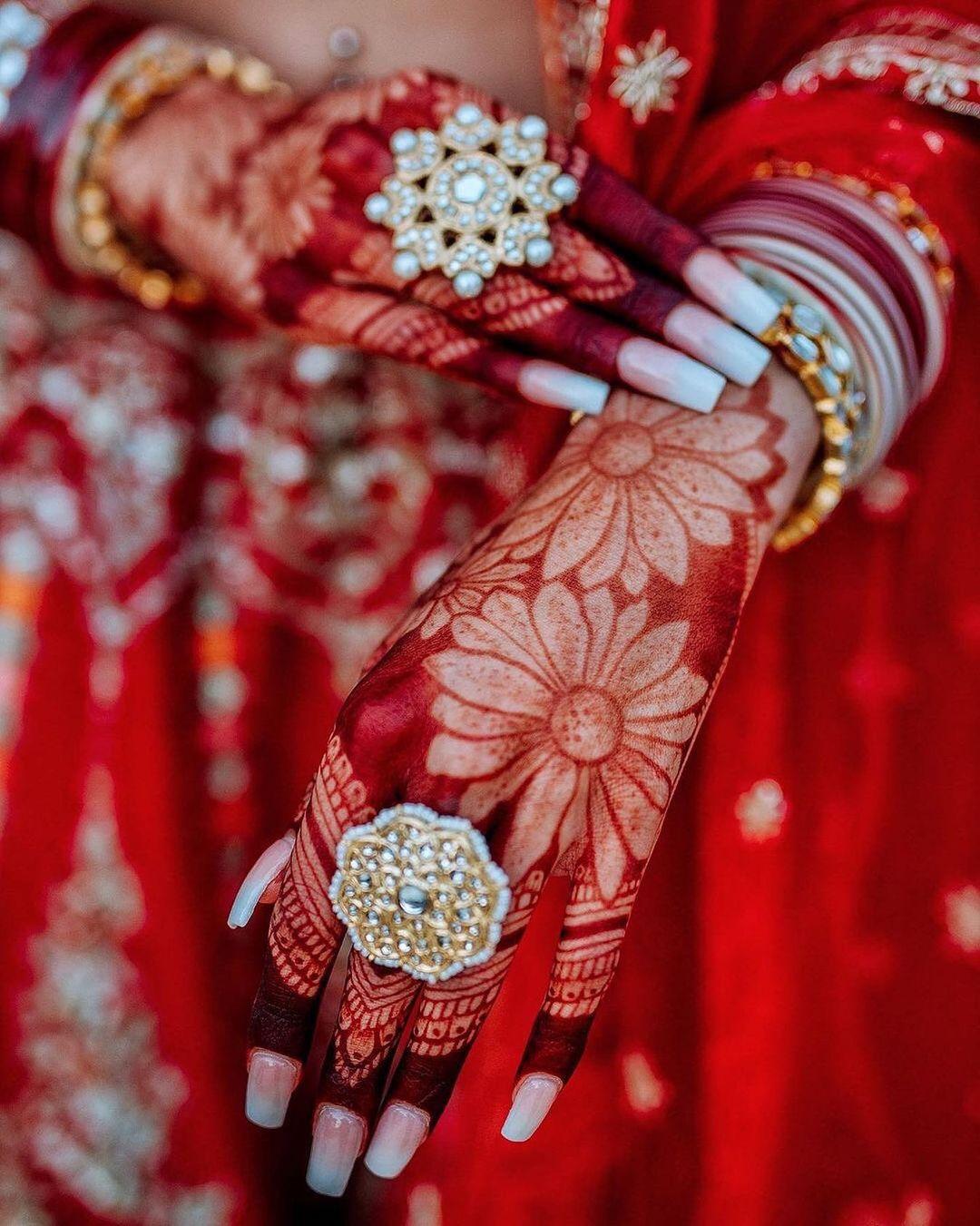 Image Credits - Toral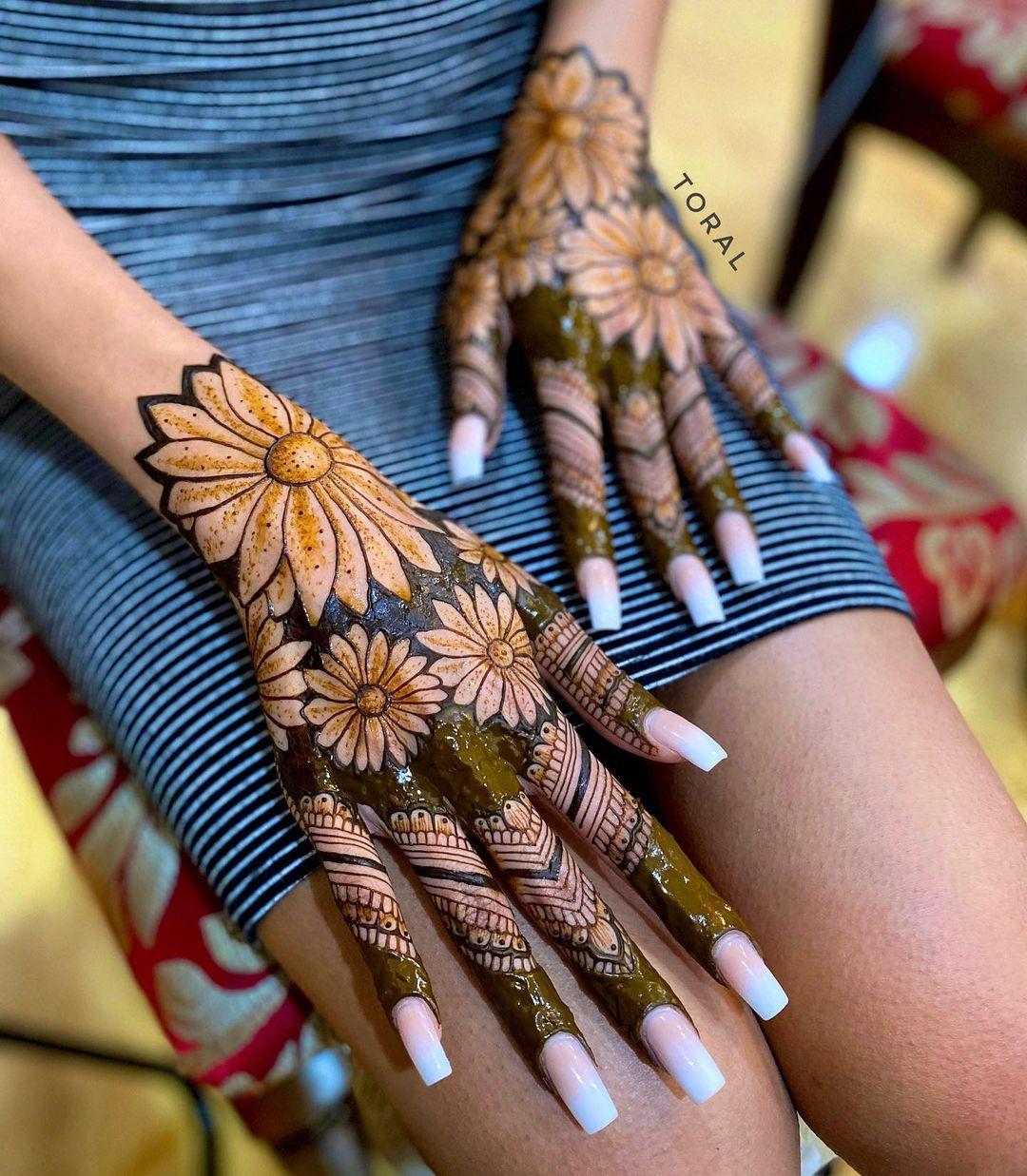 Image Credits - Toral
These are topping the list of mehndi designs that are easy, beautiful, and simple. Yes, these are scintillating, mehndi designs in simple yet modern patterns. Do try to give that chic yet beautiful façade to your persona with these latest finger mehndi designs.
Bridal Mehandi Design Simple for Feet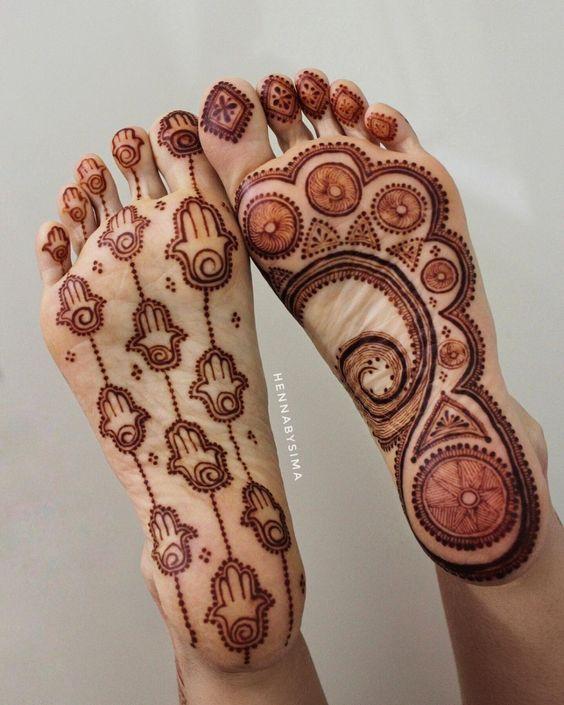 Image Credits - Henna By Seema
As the bride walks towards the aisle- she is in everyone's sight. Thereby, her feet should have something dainty and beautiful. So here are some Mehandi designs for the bride's feet. Take a look at these finger mehndi design images.
Simple leg finger mehndi designs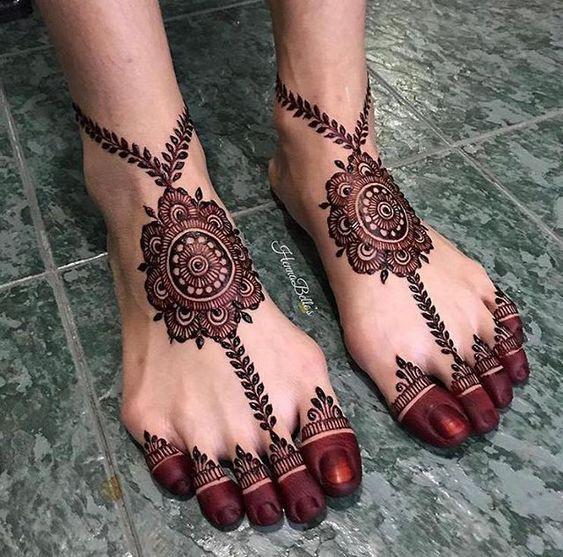 Image Credits - Henna Belle's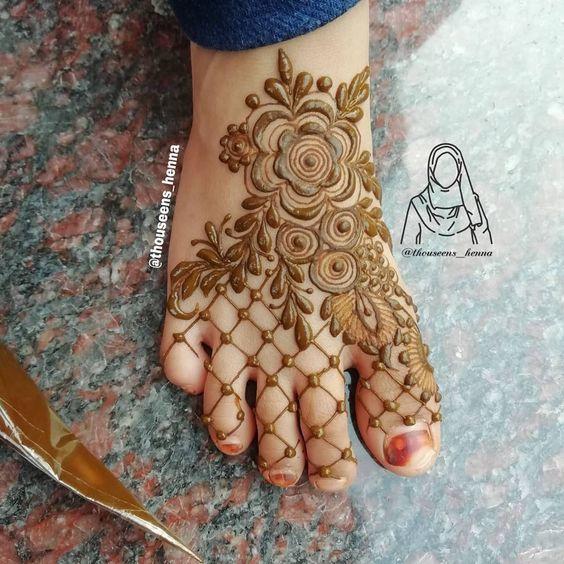 Image Credits -Thouseens Henna
In an age of minimalism, the leg finger mehndi design is considered classy, sassy, and chic. This is especially for those who don't want to overboard themselves with gaudy and heavy designs. Such simple leg finger mehndi designs do wonders on pre-weddings functions. Also, these mehndi designs work as a style statement for the bridesmaids too.
Finger Mehndi Design for Bridesmaids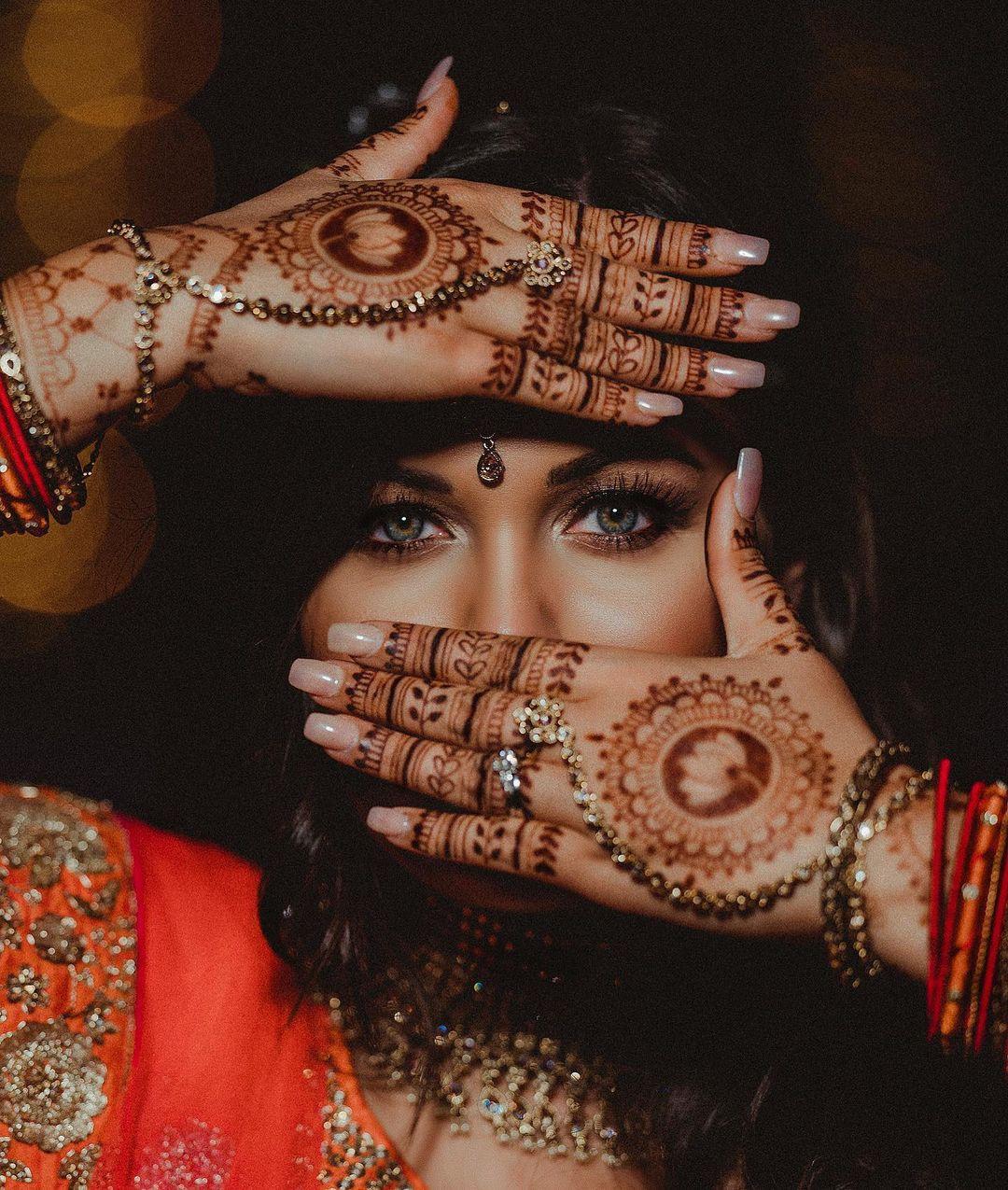 Image Credits -FireandIce
Bridesmaids prefer something unconventional and classy as they know they have all good reasons to steal the limelight! So here are some classy finger mehndi designs for the bridesmaids. Take a look and bookmark your favorite mehndi design now! This finger mehndi style guide is just curated for our bridesmaids who are looking for some finger mehndi designs from Pinterest and other popular artists.
Thumb Mehndi Design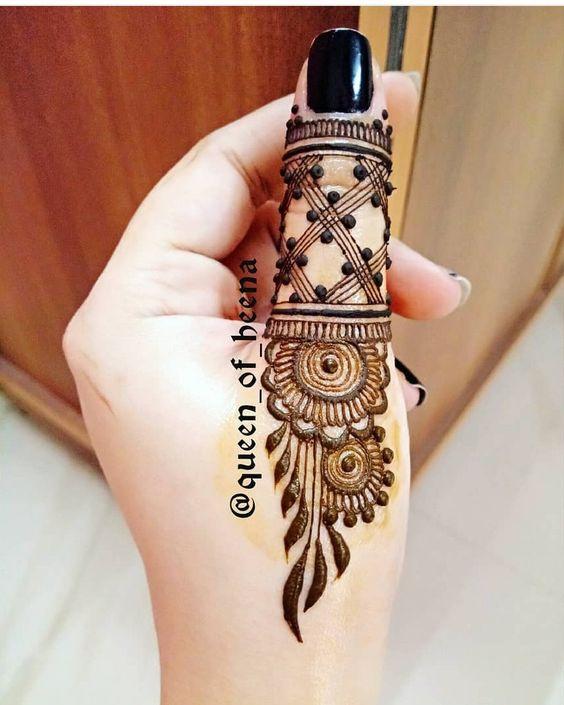 Image Credits- Queen of Henna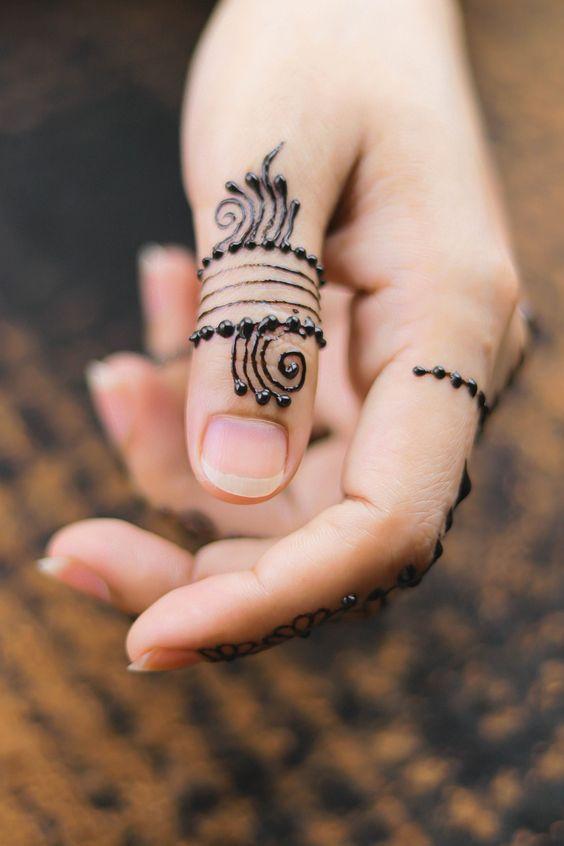 Image Credits - Pinterest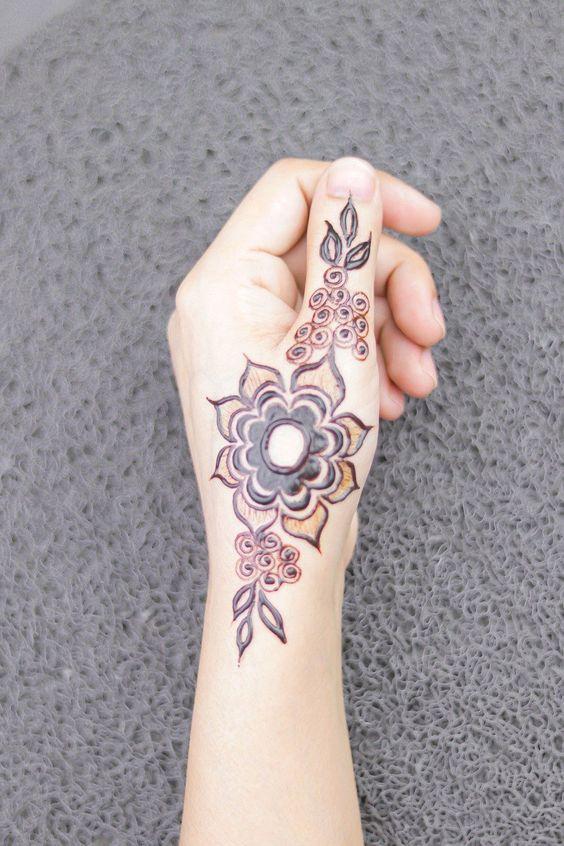 Image Credits - Pinterest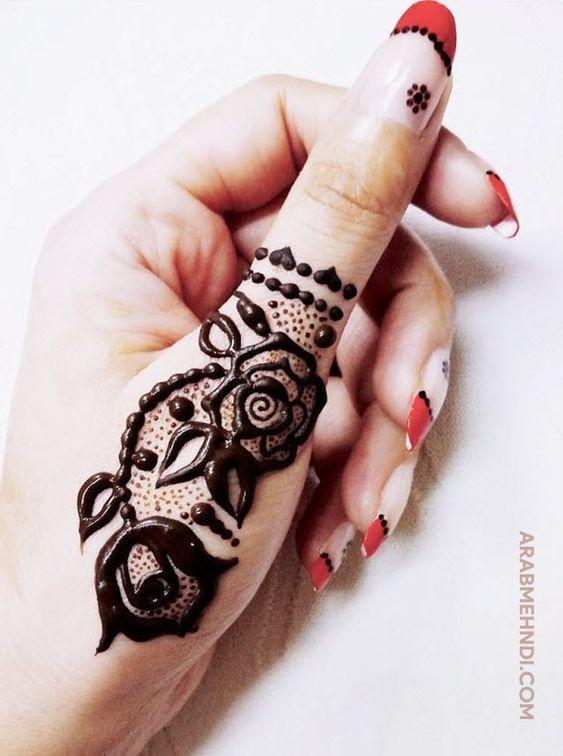 Image Credits - Pinterest
If elegance is the first thing in your mind when you think about henna, then these thumb finger mehndi designs are for you. With the thumb being the highlight of this design, it is surely a showstopper in this category. Keeping the focus on the thumb, finishing touches to this design are added with motifs of leaves, paisleys, bails, and swirls, etc. These thumb mehndi patterns surely need to be a part of your thumb mehndi designs list.
One Finger Mehndi Design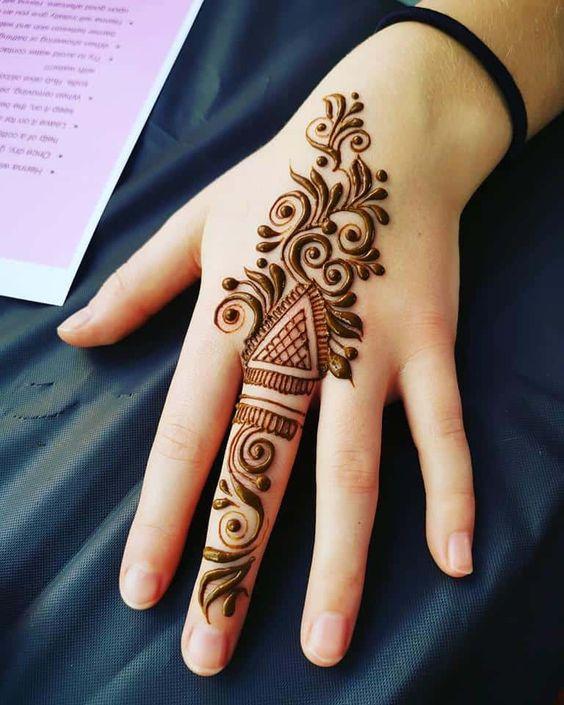 Image Credits - Pinterest

Image Credits - Sara Henna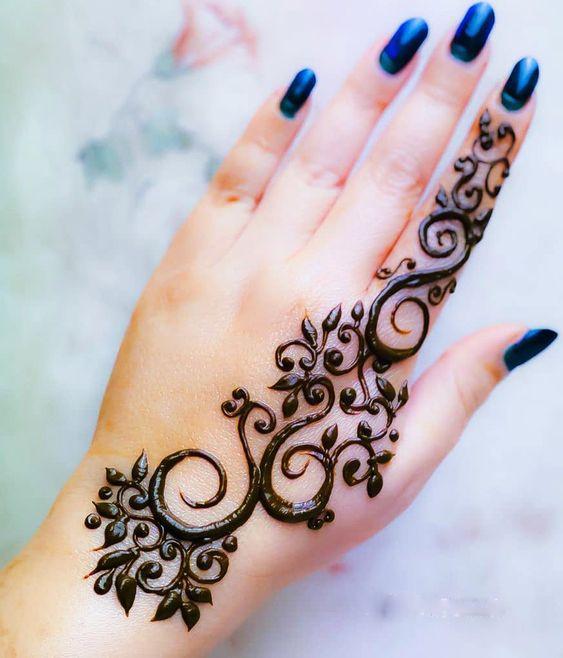 Image Credits - Pinterest

Image Credits - Pinterest
One-finger mehndi designs above are cool, chic, and classy. These are perfect for the bridesmaids who believe to cast a spell with their ethereal demeanor. These latest finger mehndi designs are trending for their elegant patterns. So you need to bookmark it immediately.
Ring Finger Mehndi Design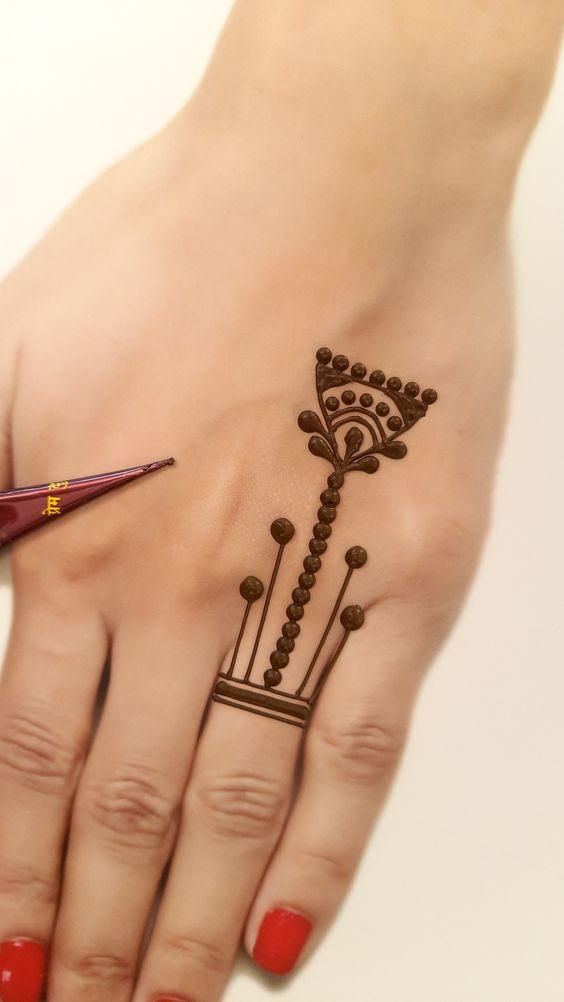 Image Credits - Pinterest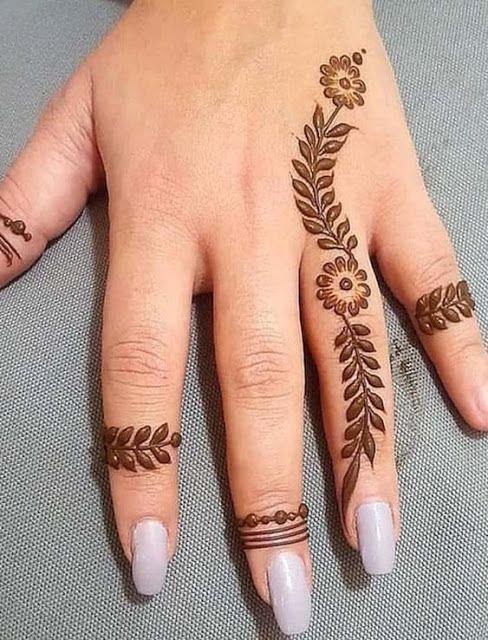 Image Credits - Pinterest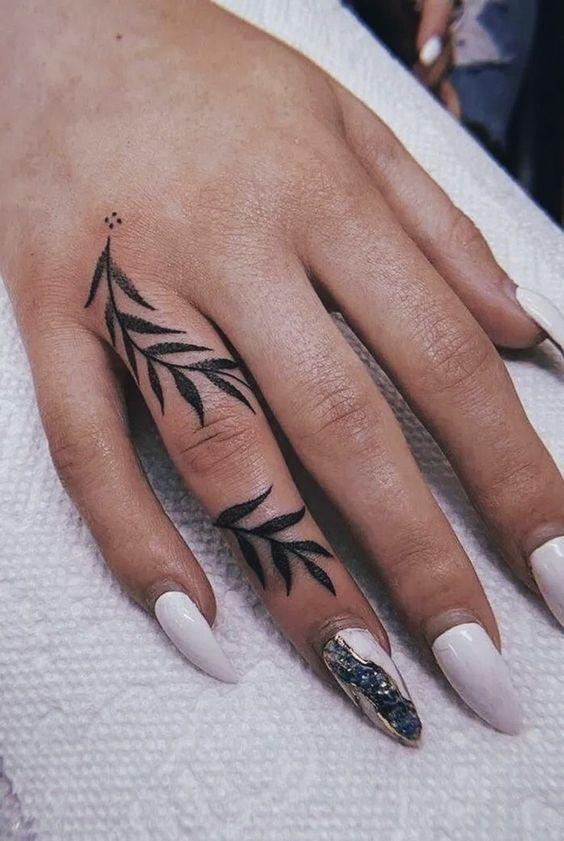 Image Credits - Pinterest
Simple finger mehndi designs Arabic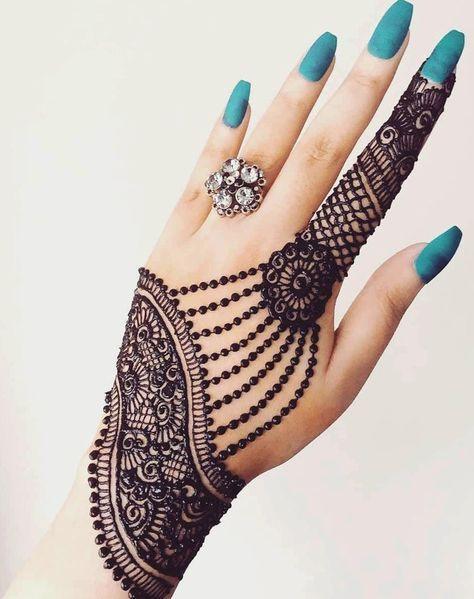 Image Credits - Pinterest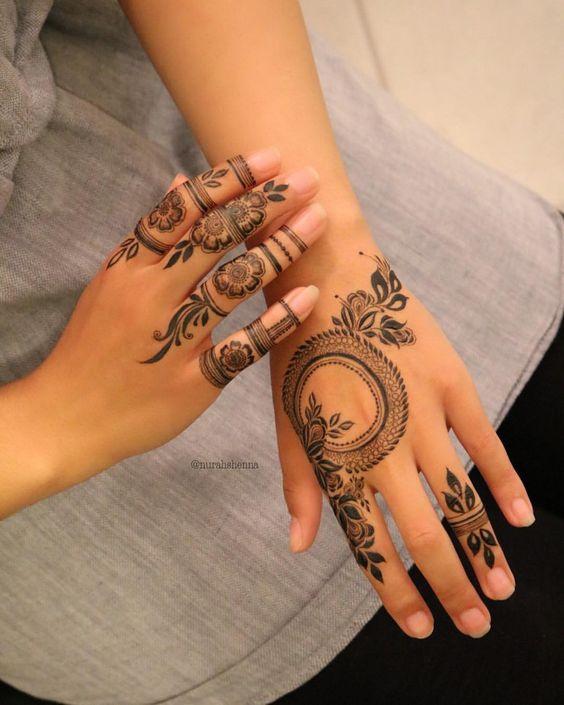 Image Credits - Pinterest
Arabic mehndi designs are the most popular designs in Indian weddings. These designs are an amalgamation of the designs that came from faraway lands of Pakistan, Afghanistan, Arabia, etc. Arabic mehndi designs are popular due to their connecting, leafy, and intricate patterns. These designs are old yet trending as they have been given a modern facet to them. Simple finger mehndi Arabic are stirring amid bridesmaids and brides for the pre-wedding functions. Even single-finger mehndi design Arabic looks sassy in the reception ceremony as it can be carried well with contemporary and indo-western attire.
Simple finger mehndi designs with beads to create lines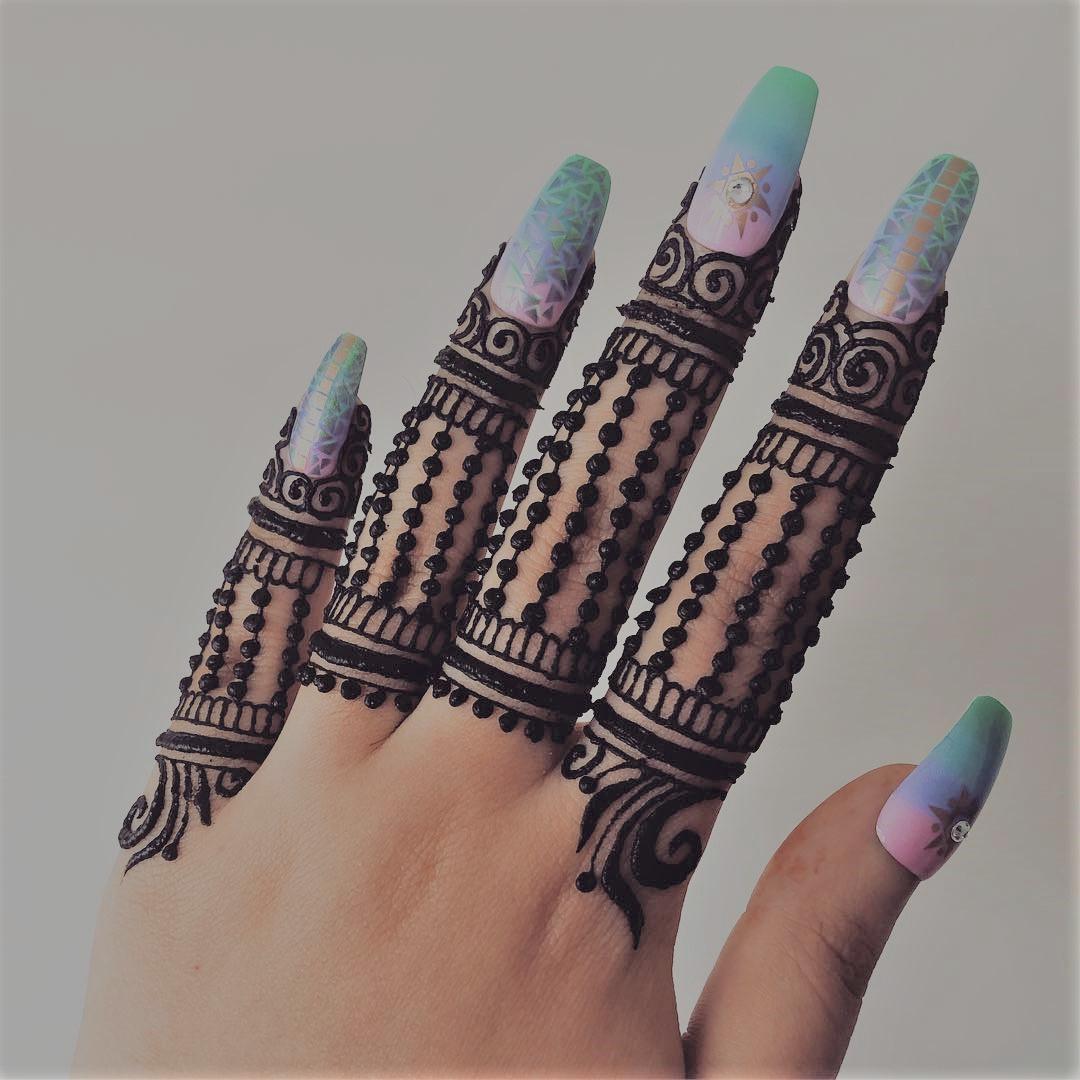 Image Courtesy: Mehndi Artist Hira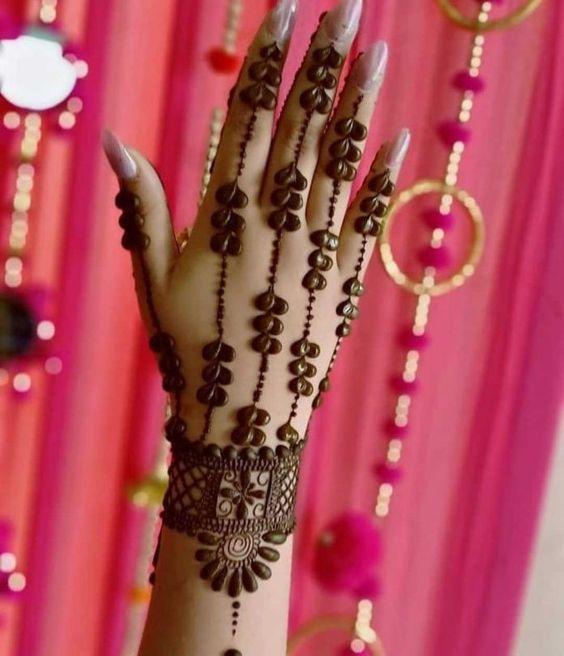 Image Credits - Pinterest
This design involves the use of just four fingers and not the thumb. The design is quite simple with small dots or bead-like elements joined together to form lines from one end of the fingers to the tip. The top and end of the design have simple Indian patterns. The rest of the back of the hand has no patterns on it, making it one of the best simple finger mehndi designs out there. The best thing about such a design is that you can do it on yourself if you have a bit of artistic touch in you.
Simple finger mehndi designs with the ornamental design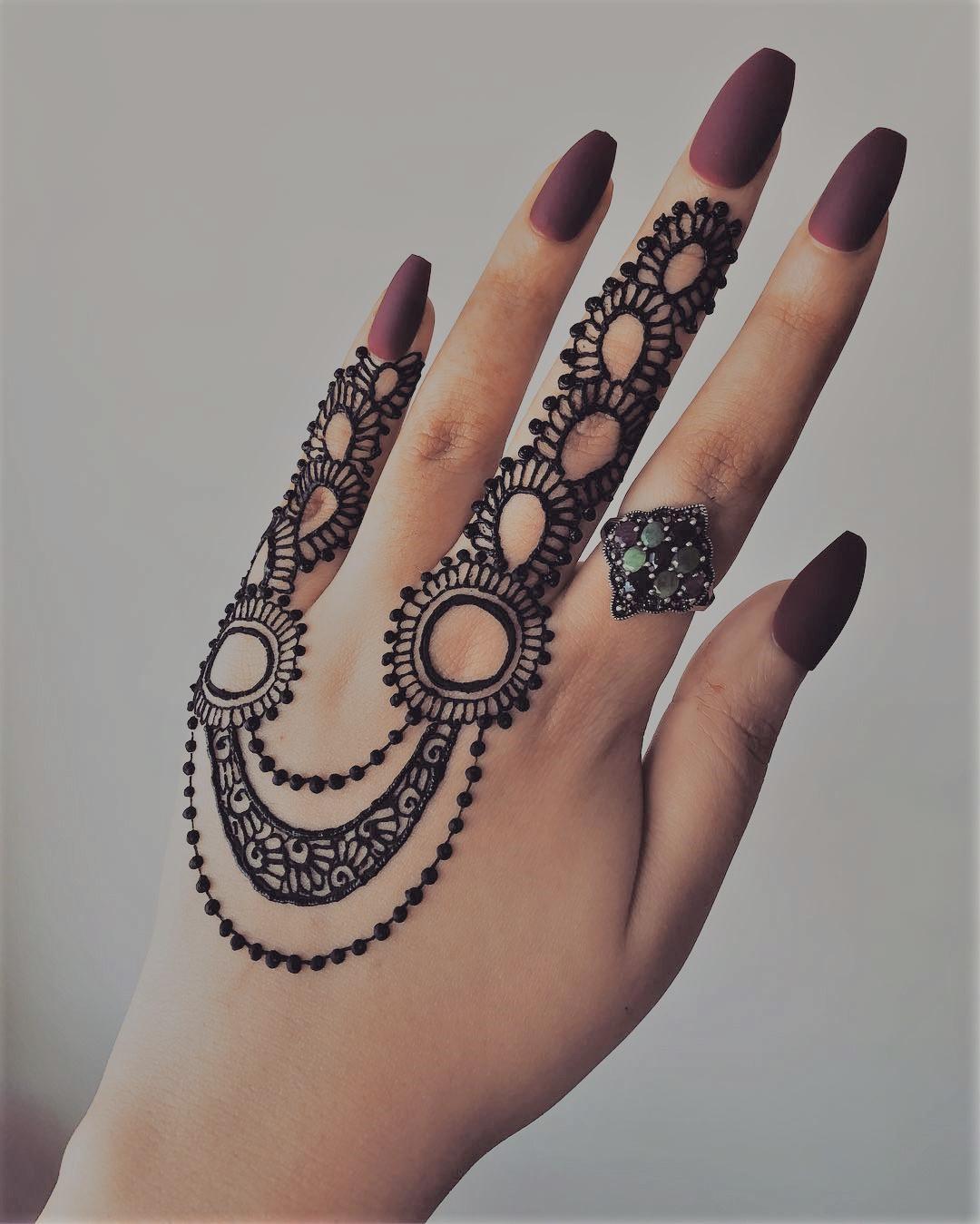 Image Courtesy: Mehndi Artist Hira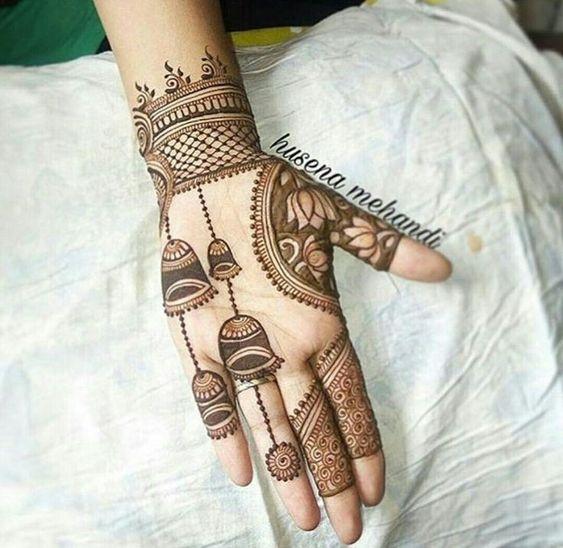 Making an ornament as your mehndi design is for sure one of the most innovative ideas. Even though it may look a bit tough to create, believe us, it is not! It is, in fact, one of the best simple finger mehndi designs that you can think of. The beautiful design follows the pattern of a finger chain, which is a popular ornament in Indian culture. Create a similar look with these mehndi patterns. The design just covers the smallest and middle finger and is joined by a chain design on the back of the hand. Wear a ring with a big rock on the index finger to complete the look. It is perfect for ivory-colored gowns or dresses.
Simple yet beautiful simple finger mehndi designs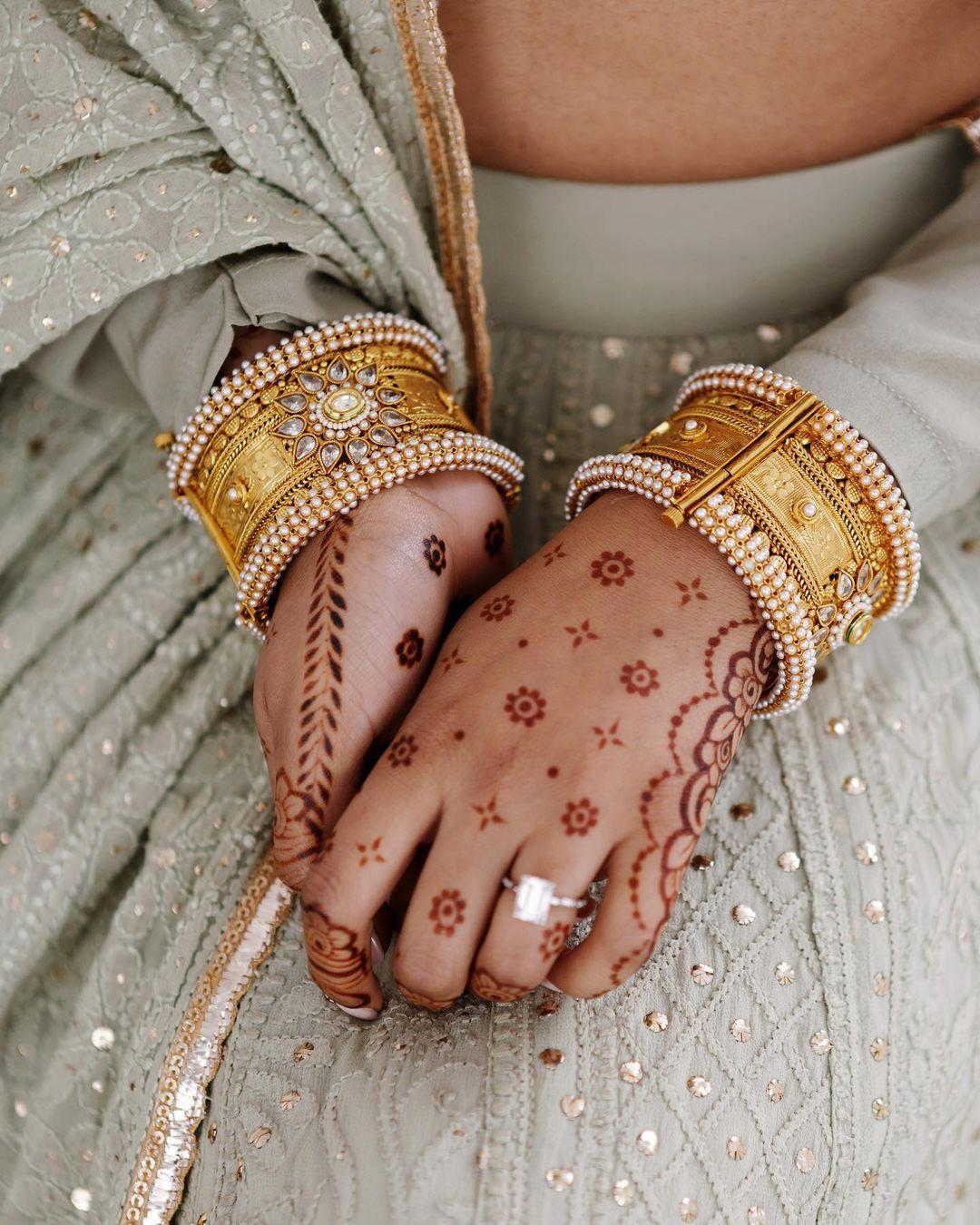 Image Credits - Henna by Divya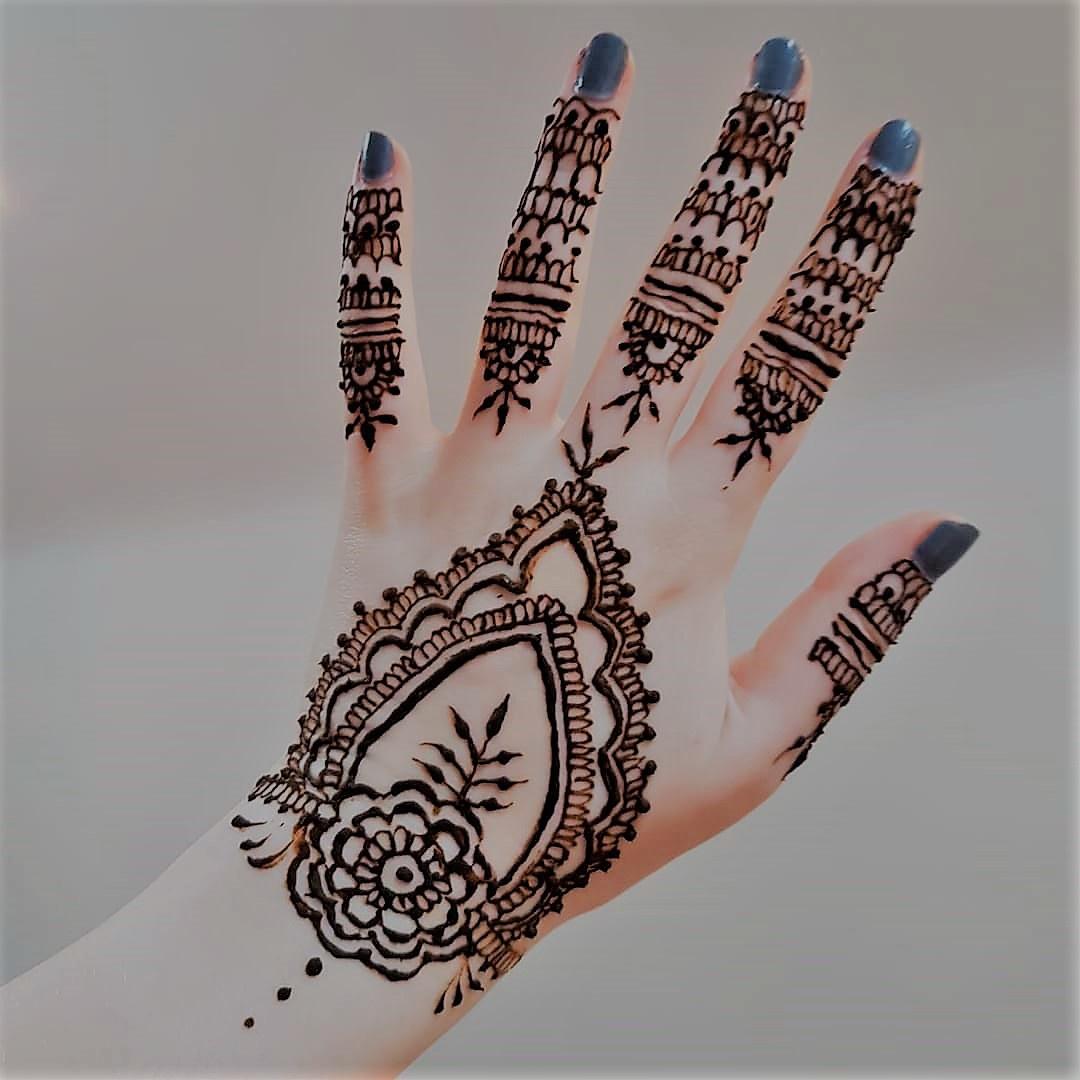 Image Courtesy: Mehndi By Ranvir
This is one of the simple finger mehndi designs that you can easily apply by yourself. This simple design looks beautiful and is not that difficult to create on your own. That is what makes it such a great design. At the wrist, the design starts with a flower and then a flame-like formation covering it. On top of it are the usual Indian curvy patterns. The fingers too have very simple designs with the use of small patterns.
The free fingertips simple finger mehndi designs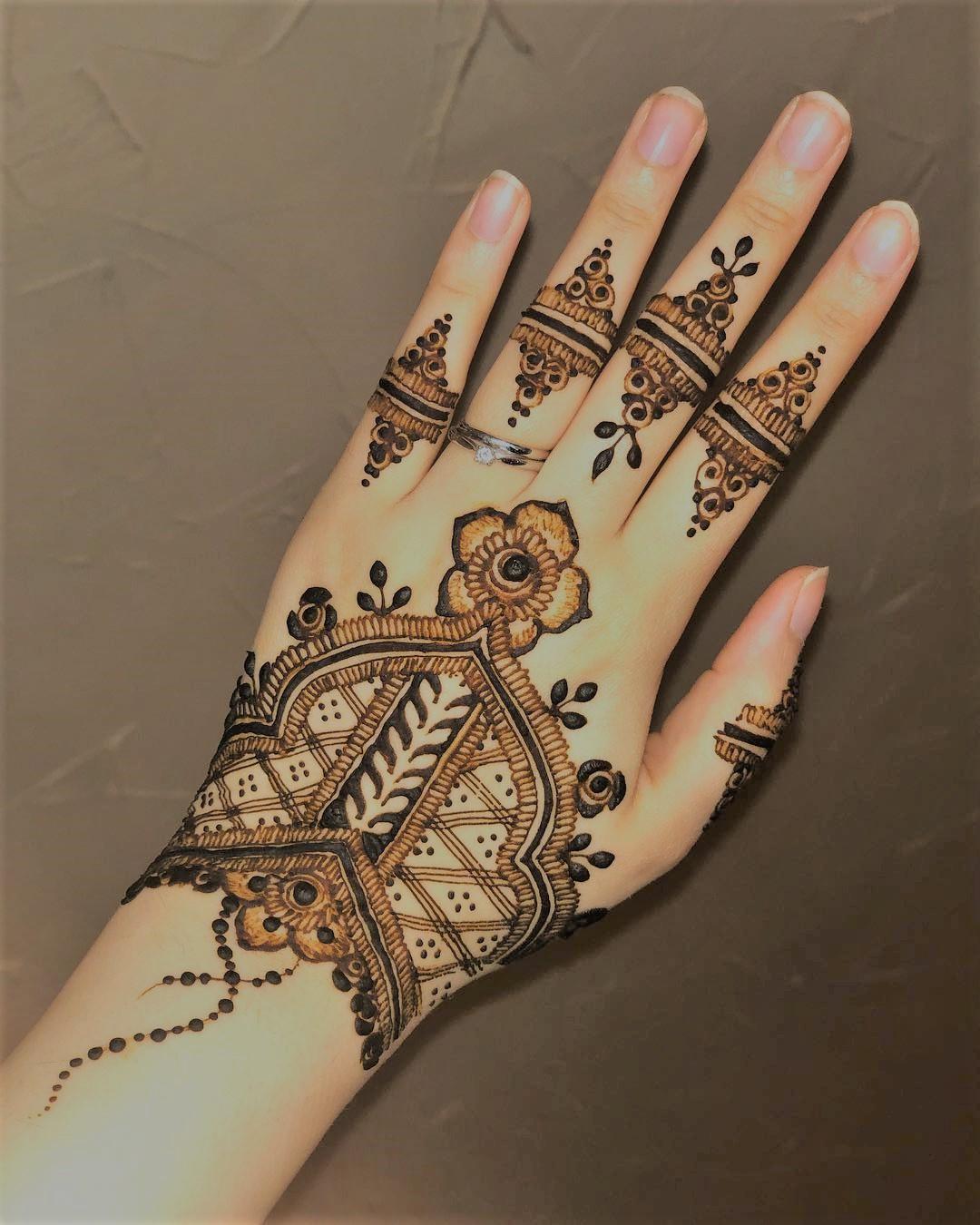 Image Courtesy: Mehndi Movement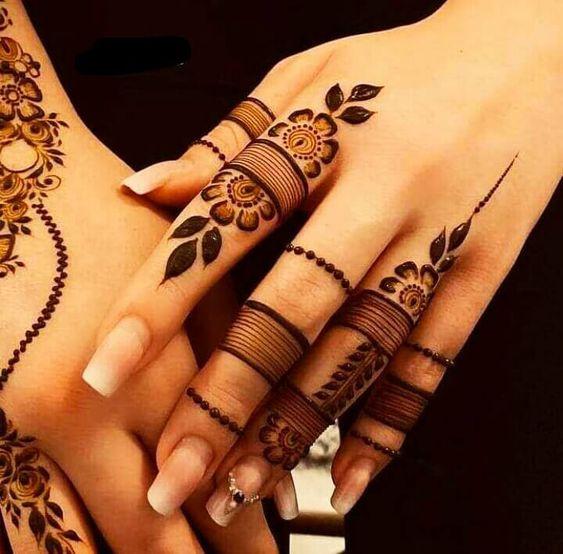 Image credits - Pinterest
Now, here is a design that is slightly more complicated than the others in this list are. However, the design on the fingers is quite easy and it even has a nude fingertip look, which is not at all the case with most Indian designs. The pattern on all fingers is the same, with the middle finger having a slightly elongated pattern on it. The rest of the back of the hand has intricate designs with gridlines, leaf motifs, and flowers. Another thing to note is the use of different shades of henna to give depth to the design. This design for the fingers makes it one of the top simple finger mehndi designs.
Stunning one finger simple finger mehndi designs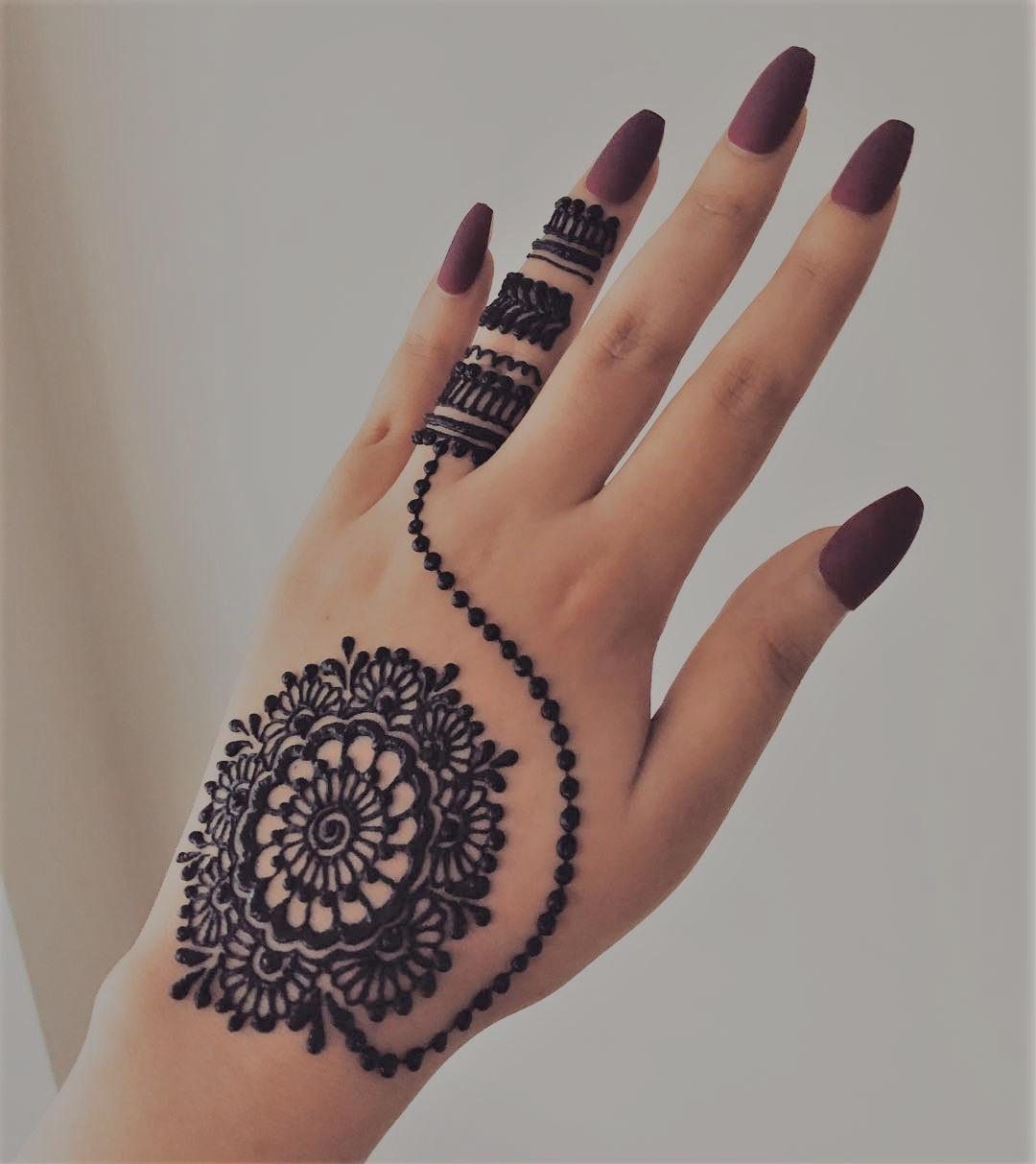 Image Courtesy: Mehndi Artist Hira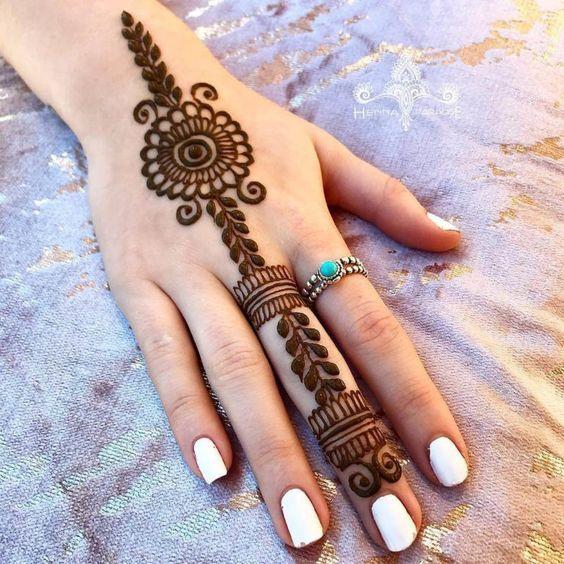 Image Credits - Pinterest
The use of black henna in itself is a great way to make any of the simple finger mehndi designs look great. This simple design has a rangoli-type formation connected to the ring finger with a line of beads and the ring finger has some of the simplest patterns to complete the look. This is for those who just want a simple and elegant mehndi design for the win.
Simple back finger mehndi design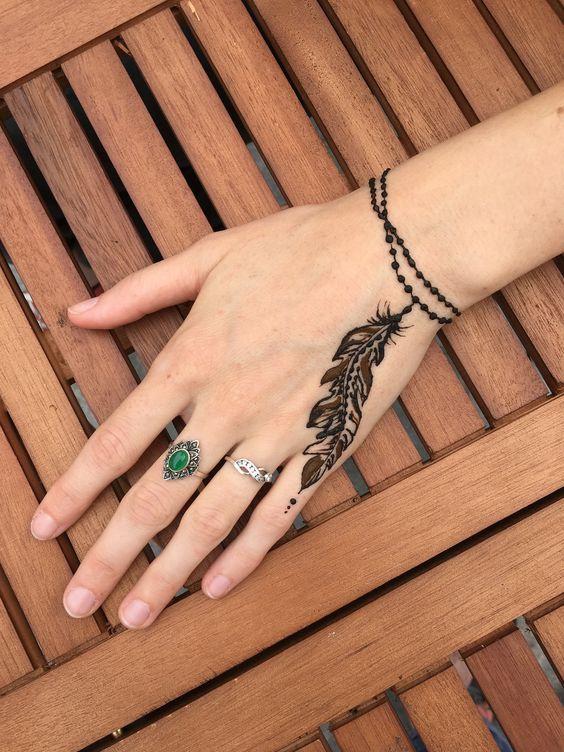 Image Credits - Yulia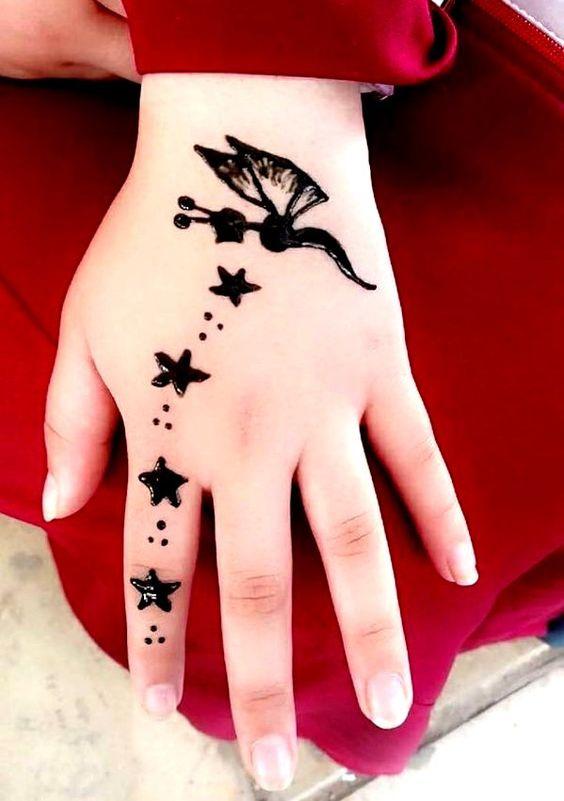 Image Credits - Pinterest
The beauty of a simple back finger mehndi design lies in the fact that it is easy to apply and looks very chic. This very simple finger mehndi design looks good for everyday purposes. If you do not wish your hands to be filled with henna then do not think further than these beautiful designs! And, to make your mehndi even darker follow these easy steps!
Simple mehndi designs ring finger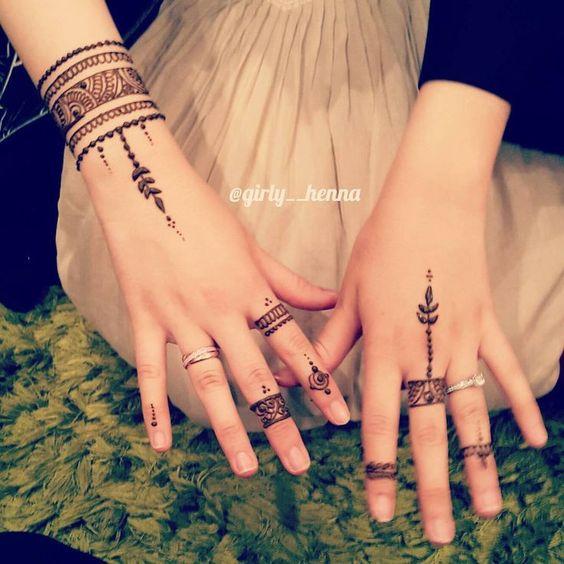 Image Credits - Girls Henna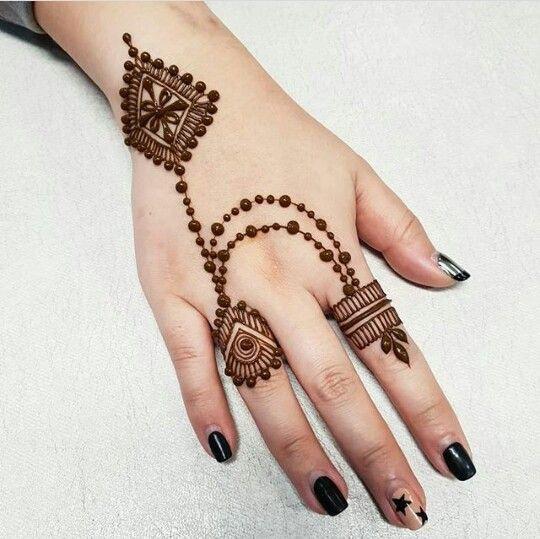 Image Credits - Pinterest
These designs are breakthrough patterns that can be adorned every day. Yes, these simple finger mehndi design can be adorned regularly as it doesn't need any special occasion. These designs are simple yet extremely chic. These designs are popular for engagement functions.
Read More - 12+ Dulhan Mehndi Design for Hands & Legs to Complete Bridal Look 2021
Now that we have ignited and inspired the creative fire in you, get down to picturing your mehndi design for feet. These are graceful, suave, and extremely. Add personal touches, unique motifs, and patterns that reflect your personality and style. Only then will you be able to create a truly unique rose mehndi design that is your own.
Easy finger mehndi designs for feet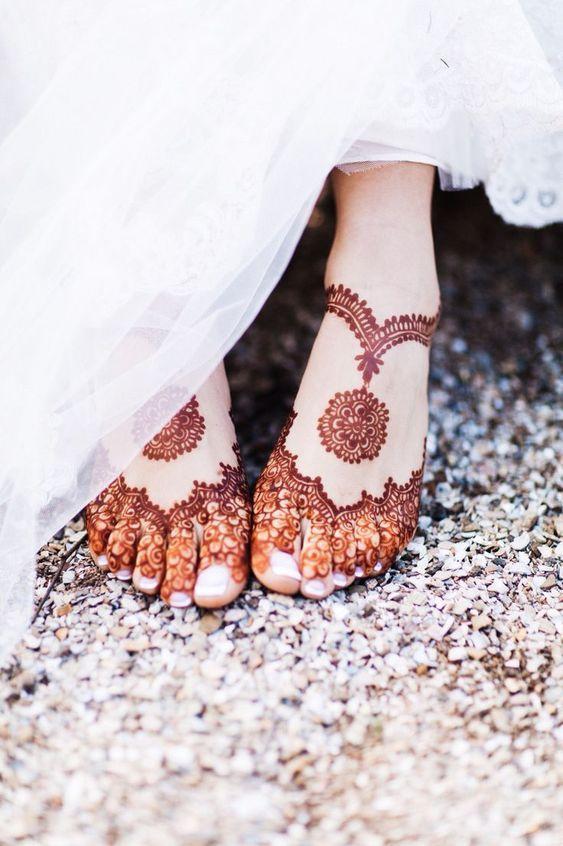 Image Credits - Pinterest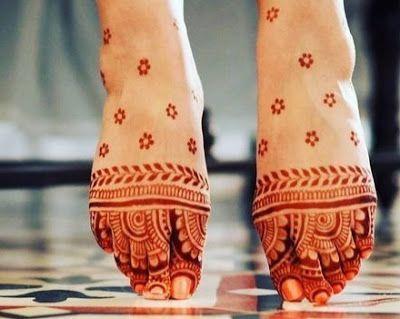 Image Credits - Pinterest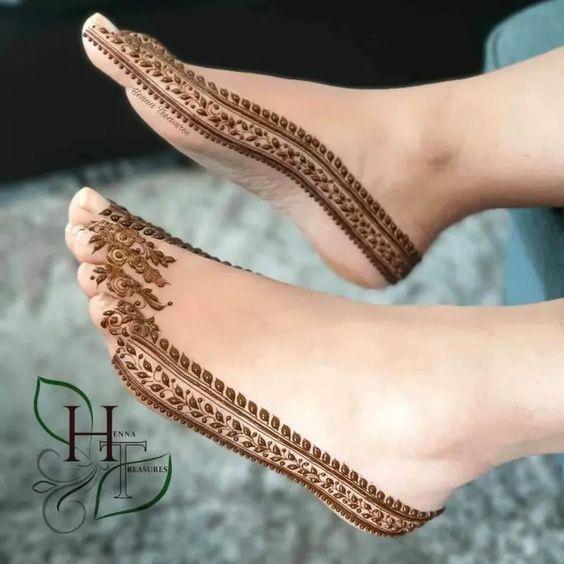 Image Credits - Pinterest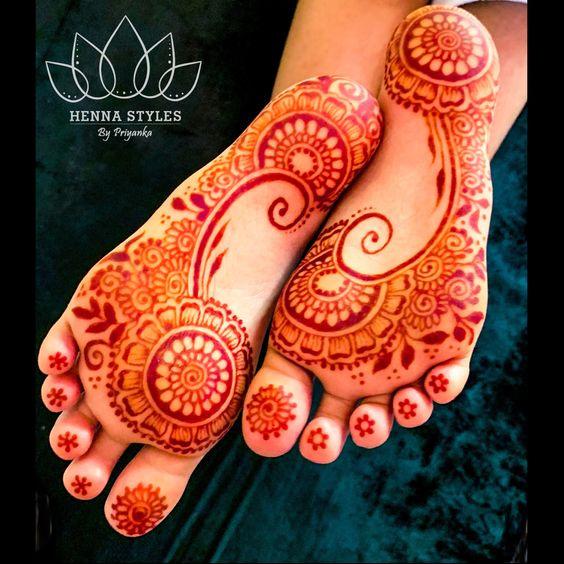 Image Credits - Henna Style by Priyanka
If you are looking for single-finger mehndi designs for feet - then these designs can slay your entire look. These finger mehndi design are creating a stir for their unconventional pattern. We are in love with it. Are you? Also if you are yearning to learn how to make a easy simple finger mehndi design, then here are some tips for you. Indian weddings are incomplete without a function completely dedicated to mehndi. If you agree with us, we have some good news for you. Modern brides always try to experiment with their mehndi designs. The modern design patterns offer a contemporary twist to the designs. Let us introduce you to some of the concomitant mehndi designs. Draw these patterns on your delicate fingers and create a statement. Mehndi has always been an important and integral part of Indian wedding traditions as it is deeply rooted in the Indian sensibilities and cultures while being the most gorgeous folk art of this country.
Royal Finger Mehndi Design for the Brides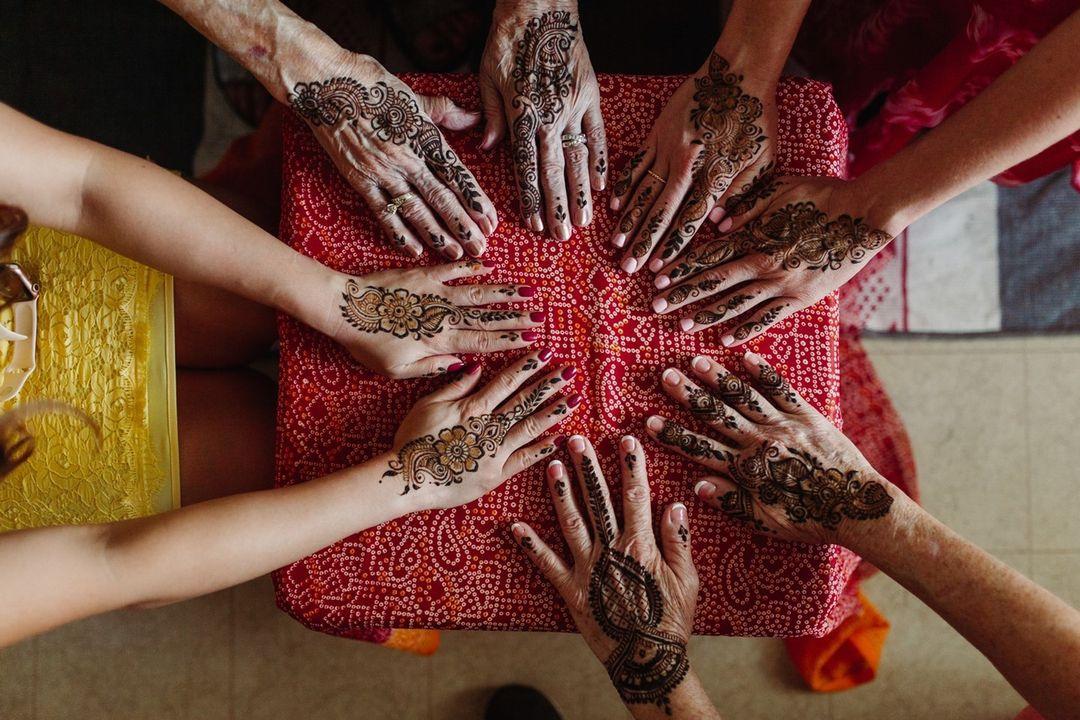 Indian weddings have surely come a long way. Many traditions have received a facelift but the tradition of applying henna or mehndi on the palms and feet of the bride has always remained the same. However, a revival has come in the way mehndi is applied on the palms. The incorporation of dyes and glitter in mehndi is a sign of modern influence on this exquisite art form. Choosing the right design that would look gorgeous on your hands is a difficult choice to make when there are so many options to spoil your choice. Check out these gorgeous finger mehndi designs for the brides to flaunt on your big day with style. If you are the bridesmaid, do not worry! You too can apply these eye-catching mehndi designs as well.
Stylish Finger Mehndi Designs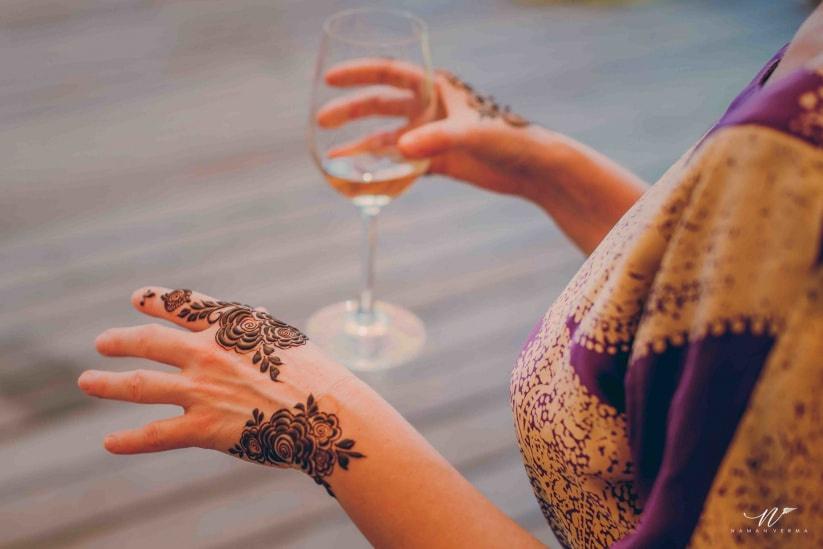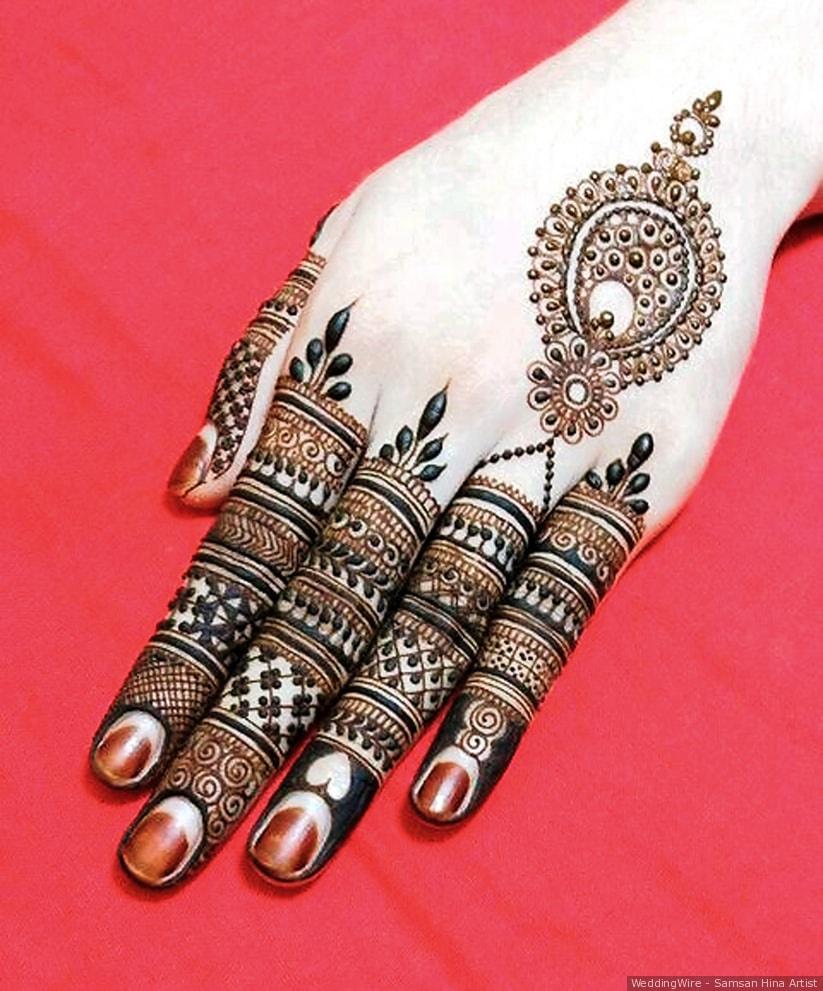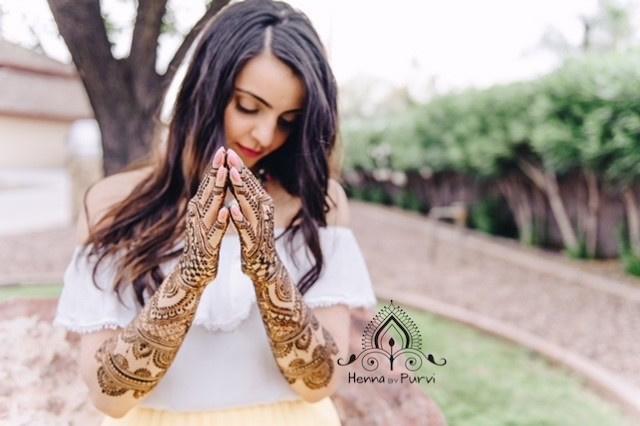 Forget about stuffing your palm with intricate mehndi designs. Applying henna on fingers is the latest trend. Beautiful designs adorning the slender digits are like a modern makeover of this old-school body art. At your wedding, you can either stick to the traditional finger mehndi designs or opt for quirky designs. Gone are the days for stuffy and old designs. The new approach towards henna designs involves delicate precision, intricate craftsmanship, as well as gorgeous hands, adorned in its deep red color.
Easy Finger Mehndi Design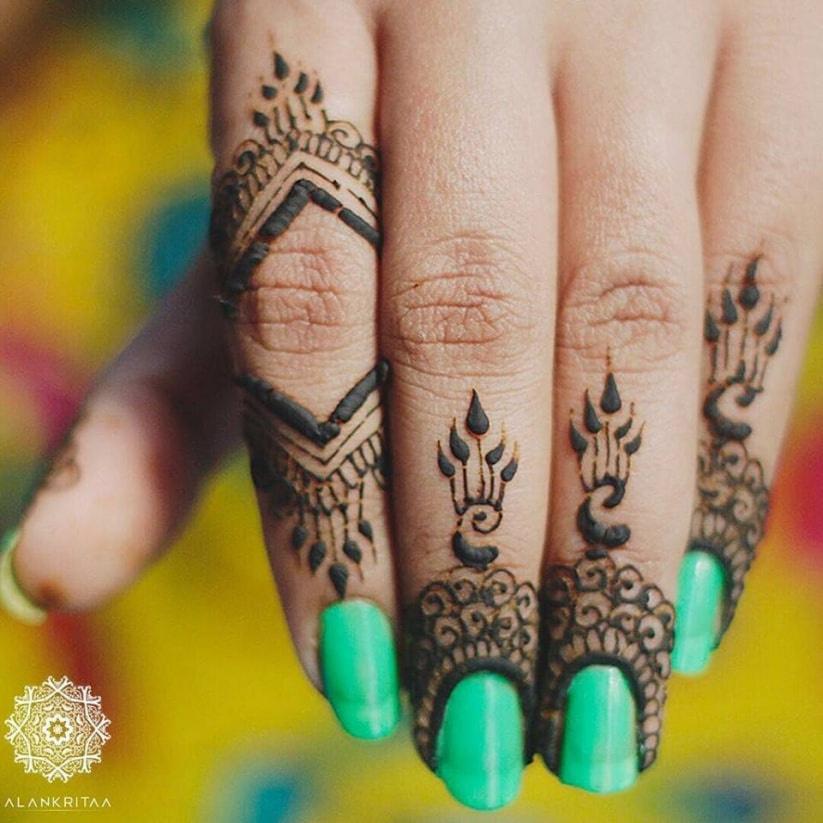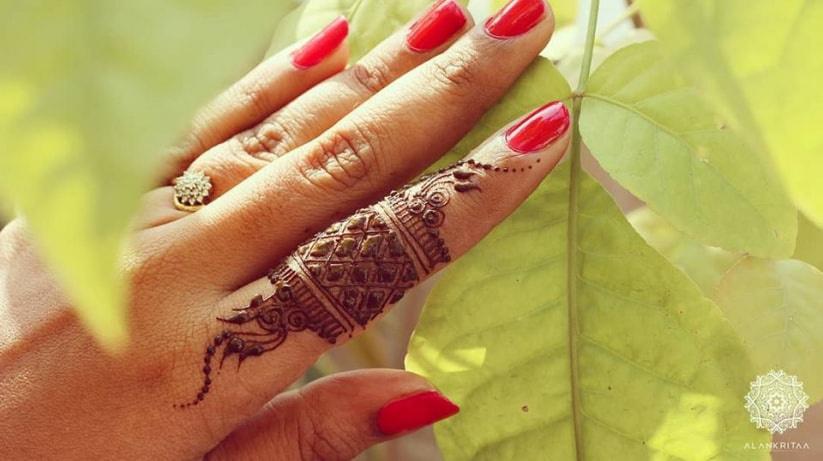 Keeping every kind of bride in mind, we have selected some of the most upscale and jazzy finger mehndi designs, that you can draw inspiration from to make unique and personalized designs or choose them as they are to make your festivities more joyful. Arabic mehndi designs have always been a rage among the ladies. The thick design patterns covering a major portion of palms look contemporary. The Arabic mehndi incorporates designs like flowers, dots, paisley, leaves, and fill patterns. The patterns are either filled with henna or left bare, giving a hint of the skin. You can decide the variation yourself. Depending on your preference, you can either apply Arabic mehndi on all your fingers or one or two. Arabic mehndi is a better option for bridesmaids.
Beautiful Finger Mehndi Designs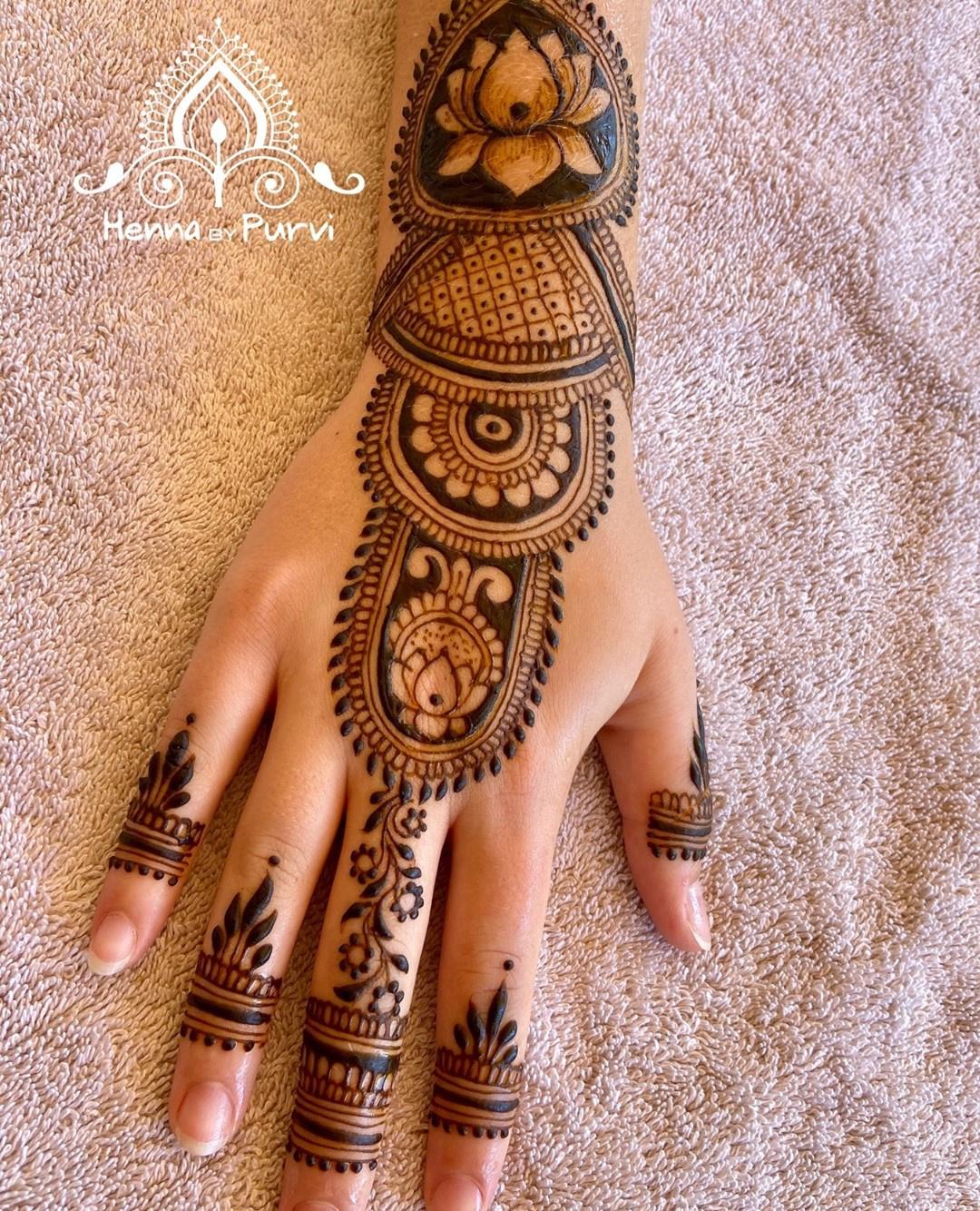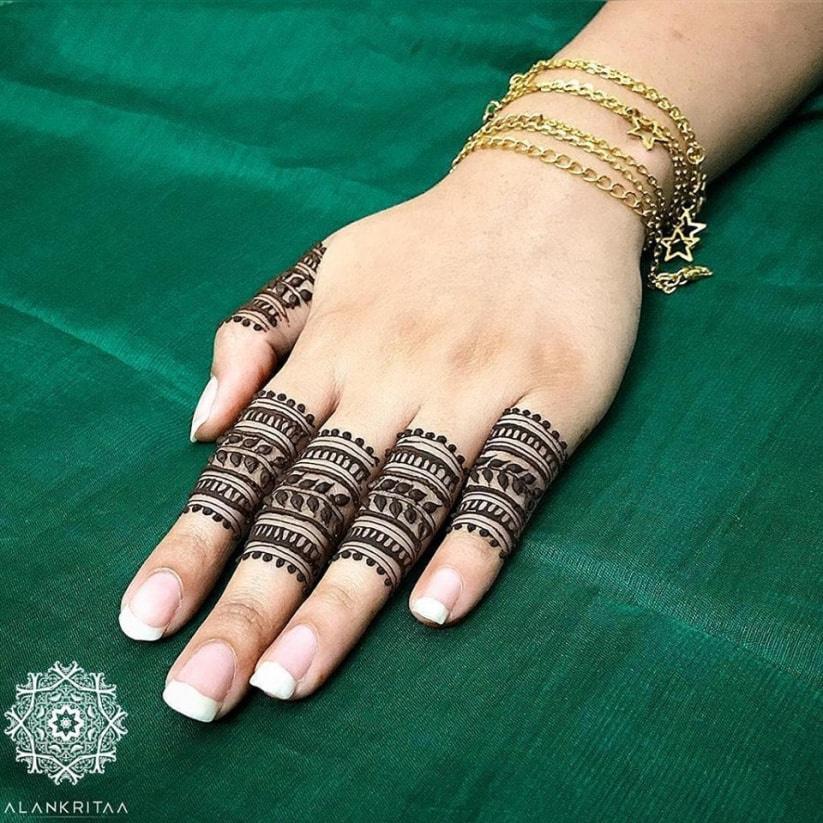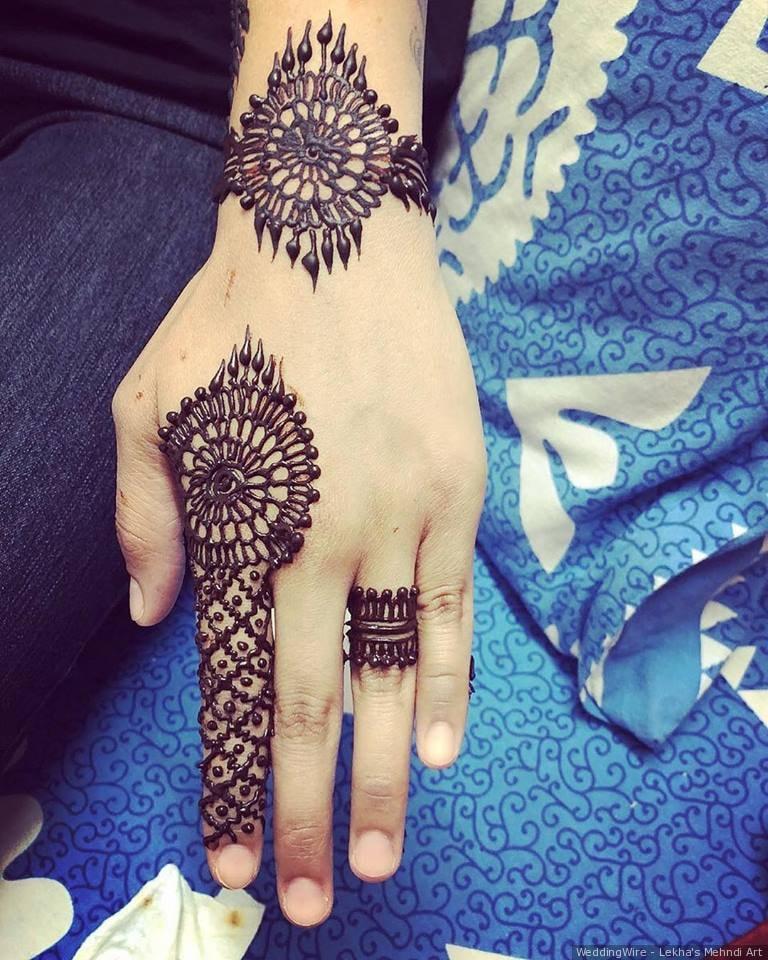 Paisley has always dominated the world of design. Be it paisley printed garments or décor, this design pattern is a favorite among the Indians. Paisley finger mehndi designs look ethereal. The little mango-shaped patterns look very graceful on fingers. There are many ways to create beautiful designs keeping the paisley pattern as a focal point. You can opt for bigger paisley designs covering a major portion of your finger or small and intricate designs going the entire length of the finger. The choice is entirely yours.
Traditional Finger Mehndi Design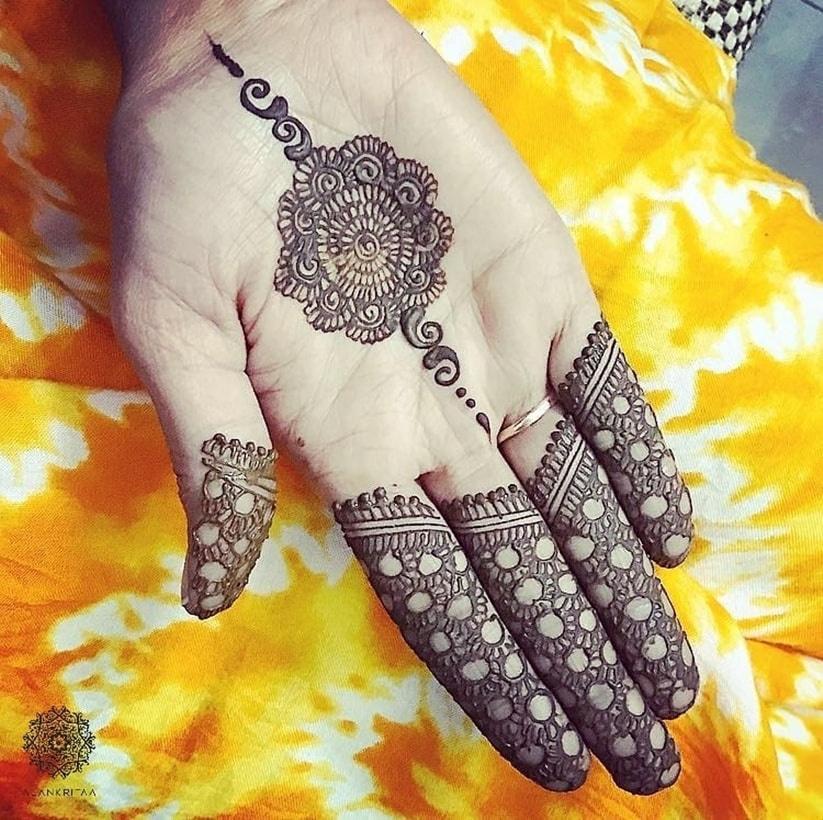 Indian finger mehndi designs are very popular in Indian weddings. This design pattern is very intricate. The hands are filled with delicate designs like flowers, leaves, mangoes, peacocks, etc. For weddings, the mehndi artists make complicated figurines like bride and groom. This is one of the most complex kinds of mehndi design as it involves minute circles. You can take inspiration from this mandala pattern finger mehndi. You can combine the finger mehndi design seen here with a central palm motif - consider a butterfly mehndi design, a lotus mehndi design, or a minimal mehndi print. Single-finger mehndi designs are great for the bridesmaids and other ladies of the family. And, also for the girls who are no bigger fans of this body art but are bound to apply henna as a part of the tradition. You can keep it simple by applying a single floral pattern in the center of your palm and extending it to one finger. Apt for mode intricate and detailed design patterns to enhance the final look of your mehndi. You can also consider a single line to quirk up such a finger mehndi design, like having the word 'Bride Tribe' or the popular hashtag '#Sistersbeforemisters' inked around the digit.
Modern finger mehndi design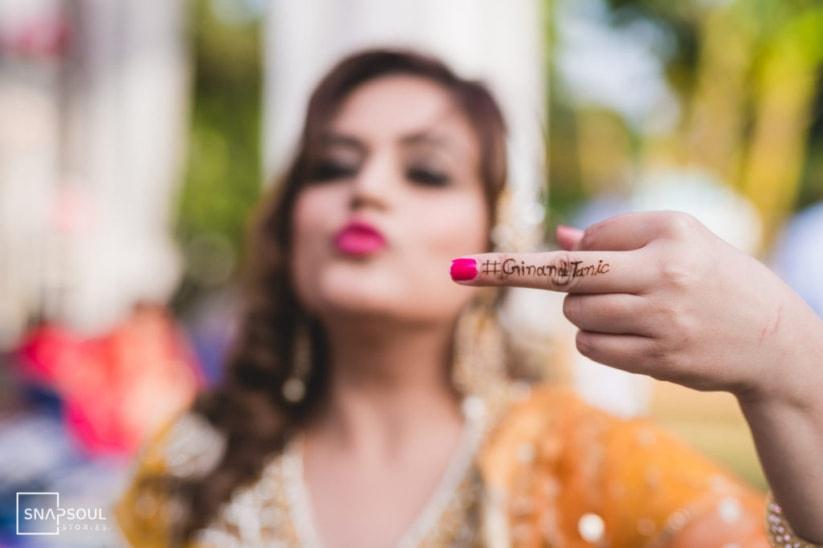 Simple but immensely beautiful; drawing small dots on the entire length of the finger looks very elegant. This design pattern can be categorized as an Indian mehndi design. You can combine this design with other designs to create a gorgeous display of mehndi. Imagine the impact of such a design when it's etched in black mehndi, to maintain its darkened appeal. You can also consider mirroring it across both sets of hands to get a wow factor for your mehndi shot. Modern finger mehndi design is all about experimentation. You can put your imagination to good use and draw any beautiful pattern on your fingers. The modern mehndi designs include lines, figures, written text, and other bold patterns. There is a lot of visible space between the patterns. You can play around with the elements of your love story as well as draw your wedding hashtags to make it one of a kind element in your otherwise traditional mehndi design. We would recommend working on the finger mehndi design to incorporate an etching, or a singular line around the hashtag, which would complete the set.
Geometrical finger mehndi design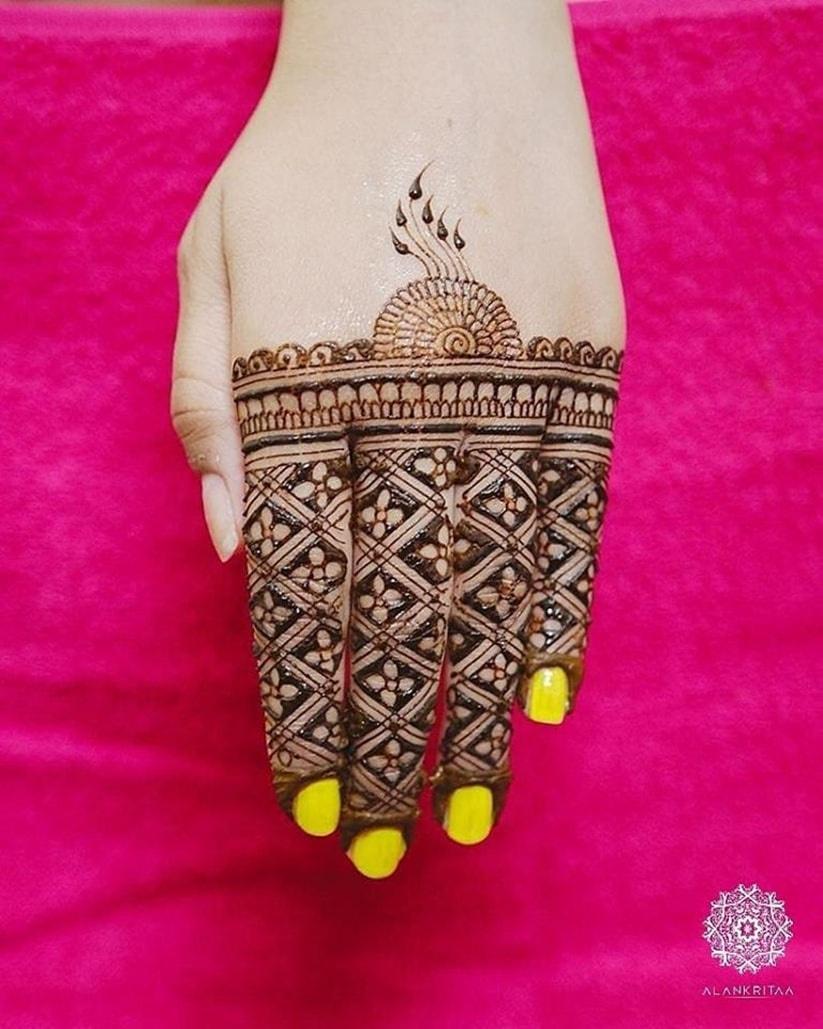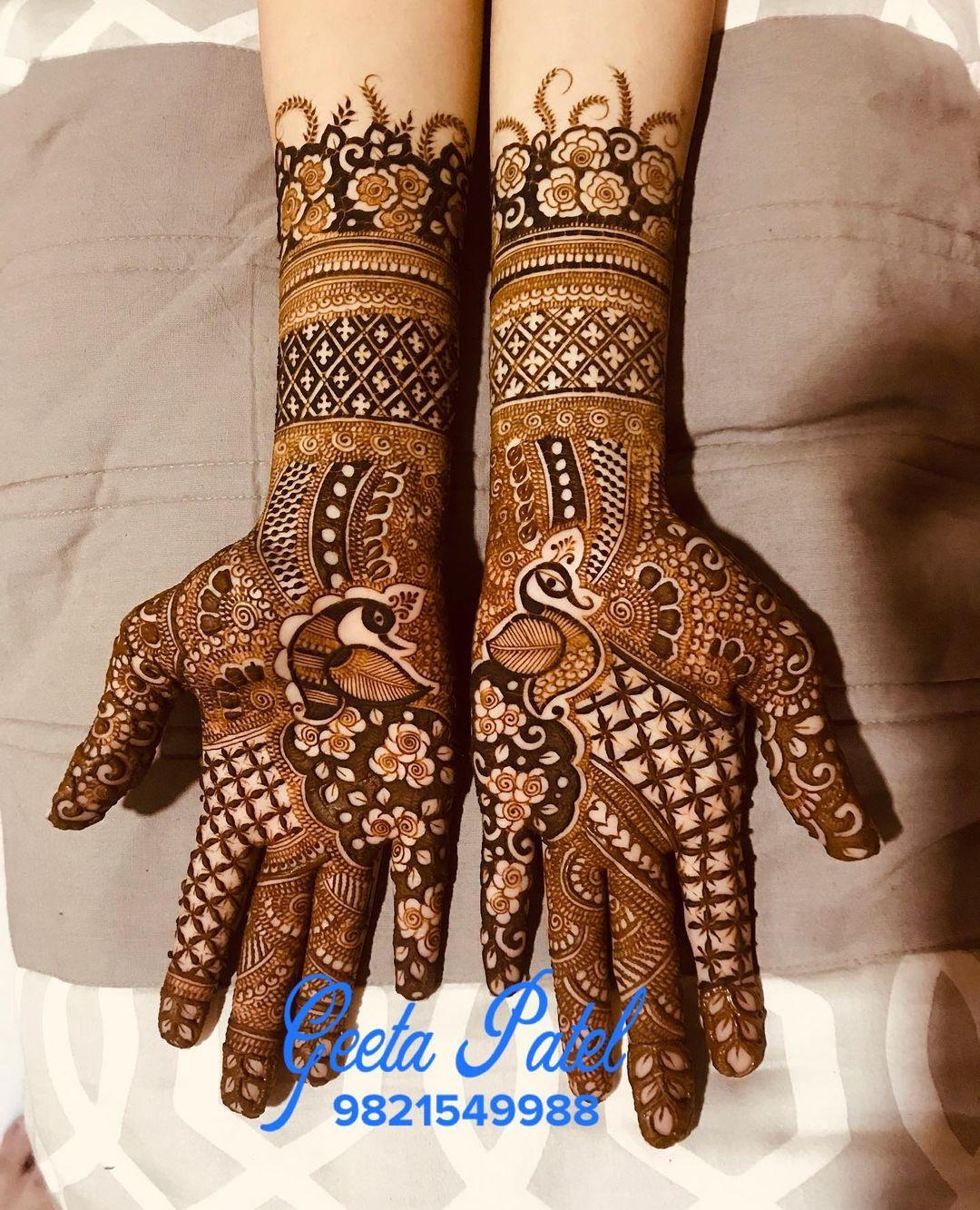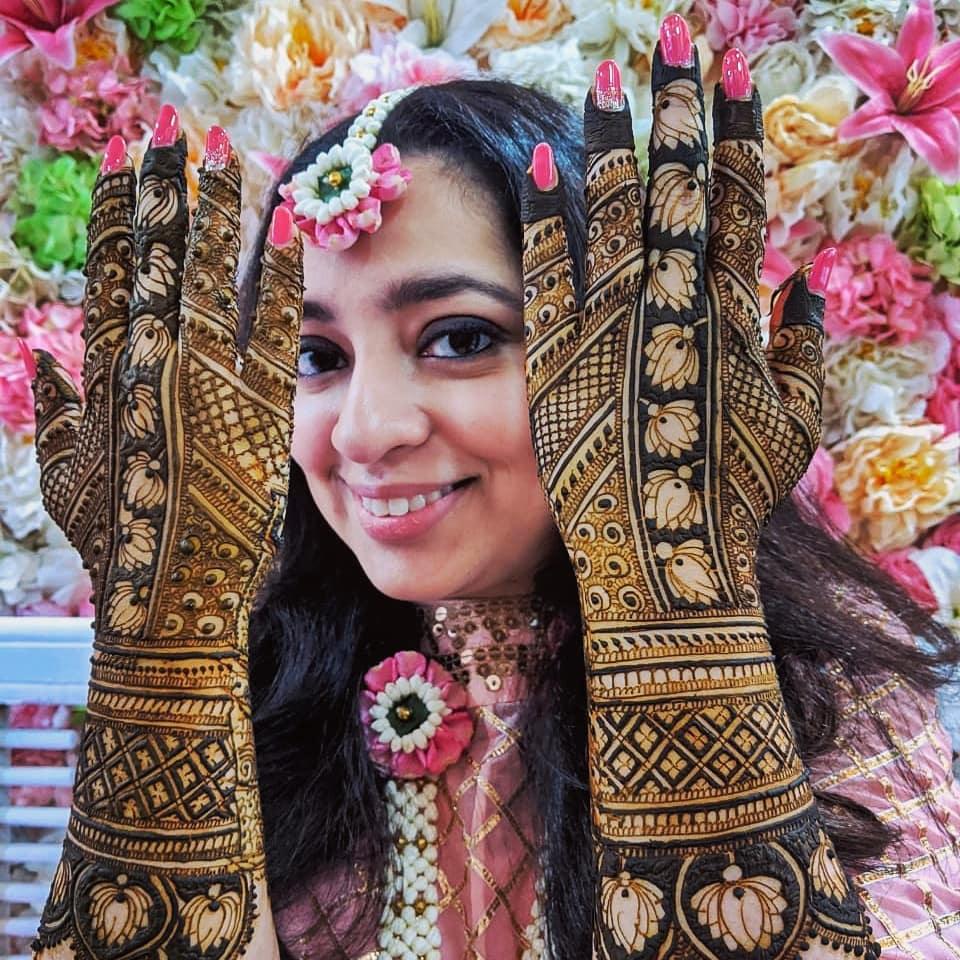 Geometrical mehndi design is a modern approach to traditional mehndi. It uses lots of lines. The design looks very beautiful and intricate. Geometrical mehndi designs predominantly cover the fingers. It is applied in combination with other designs like Indian or Arabic. The palm is filled with other design patterns and fingers are covered with geometrical designs.
The reverse mehndi print would come out after the mehndi has dried out and stands in contrast with the rest of the pearly white hand. Combining that final look with a Haath Phool, preferably floral, will complete the set.
Unique finger mehndi design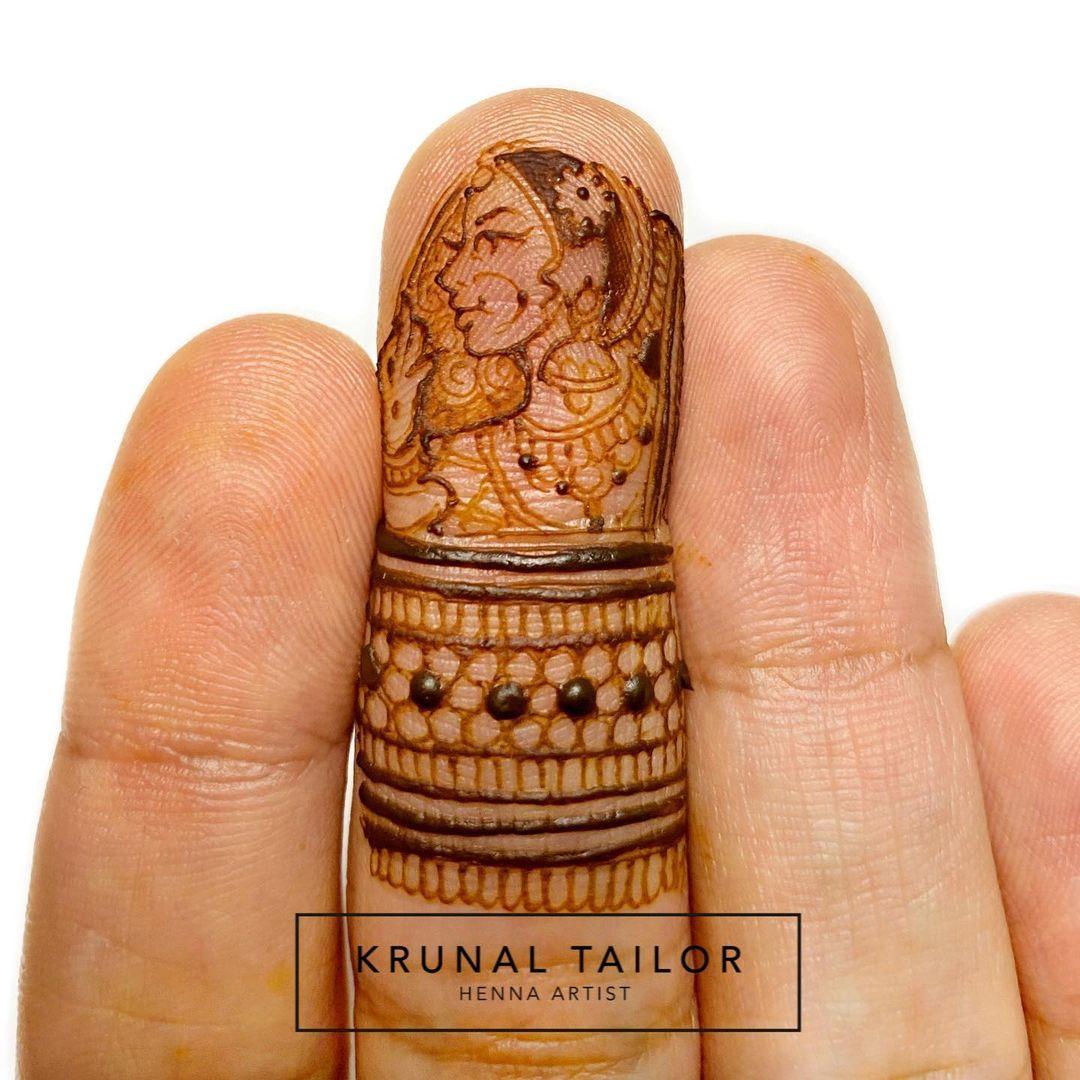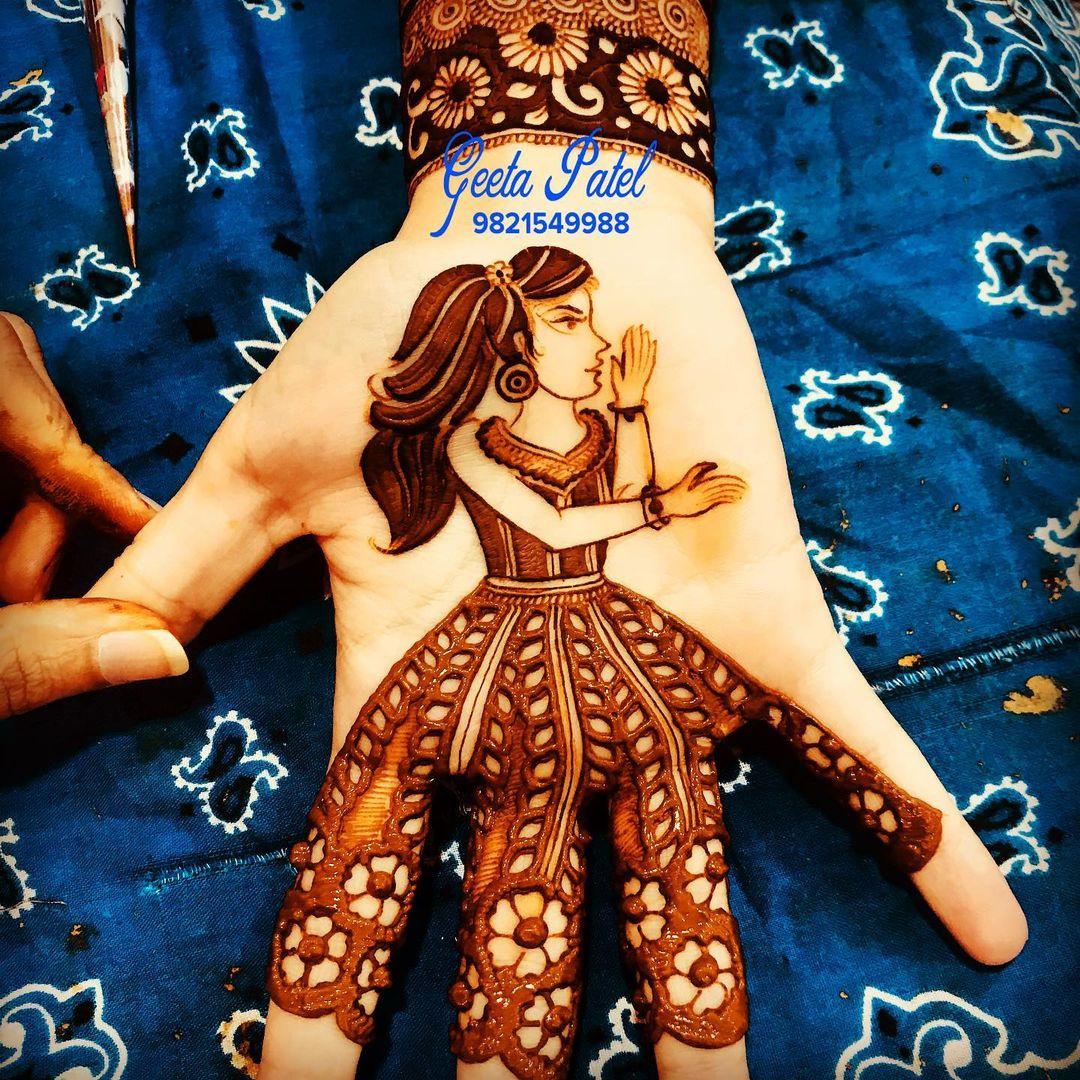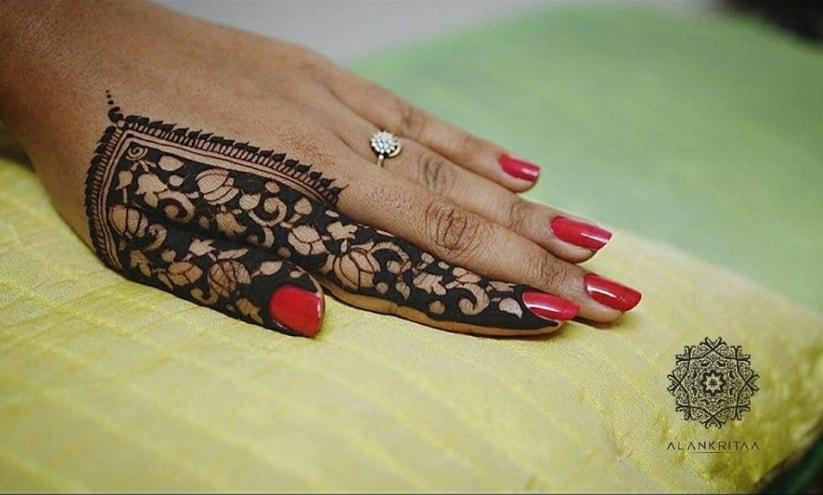 Band style finger mehndi incorporates drawing band patterns on the fingers. These patterns are either filled entirely or partially shaded with henna. Generally, lines are used to fill the bands. These designs look amazingly gorgeous.
The bands can function as inked midi rings, replete with minor trinkets to complete the look. We would recommend combining the look with an actual set of midi rings in a way that they become part of your finger mehndi design too.
Floral finger mehndi design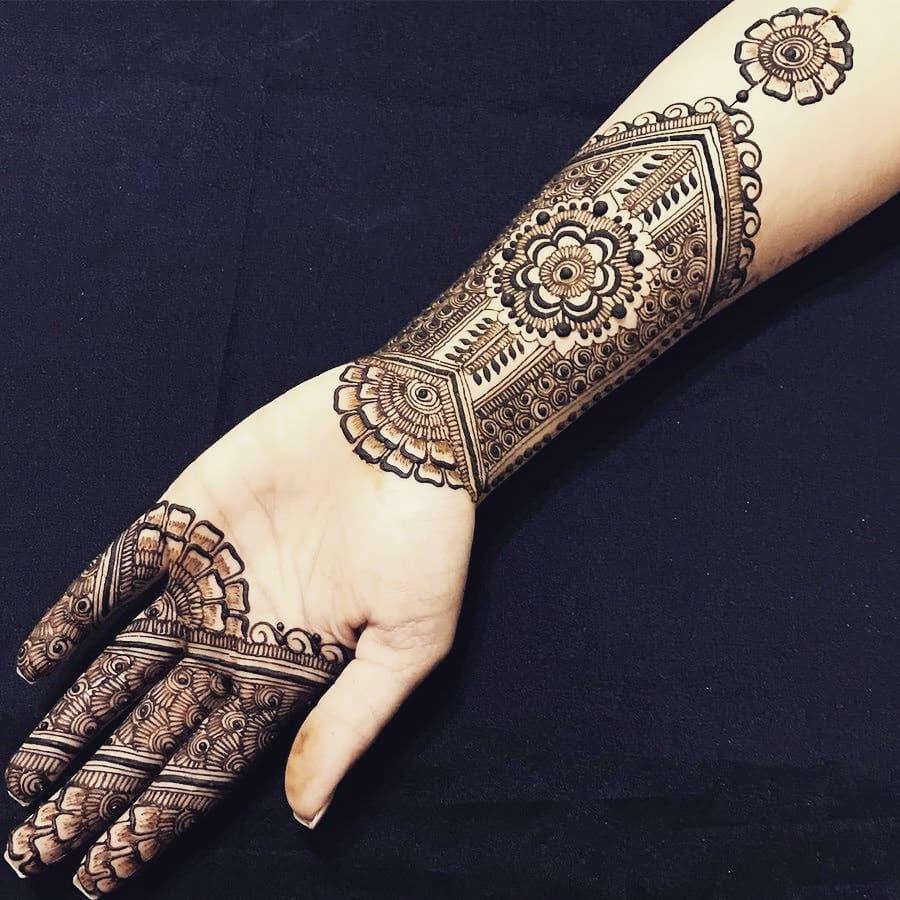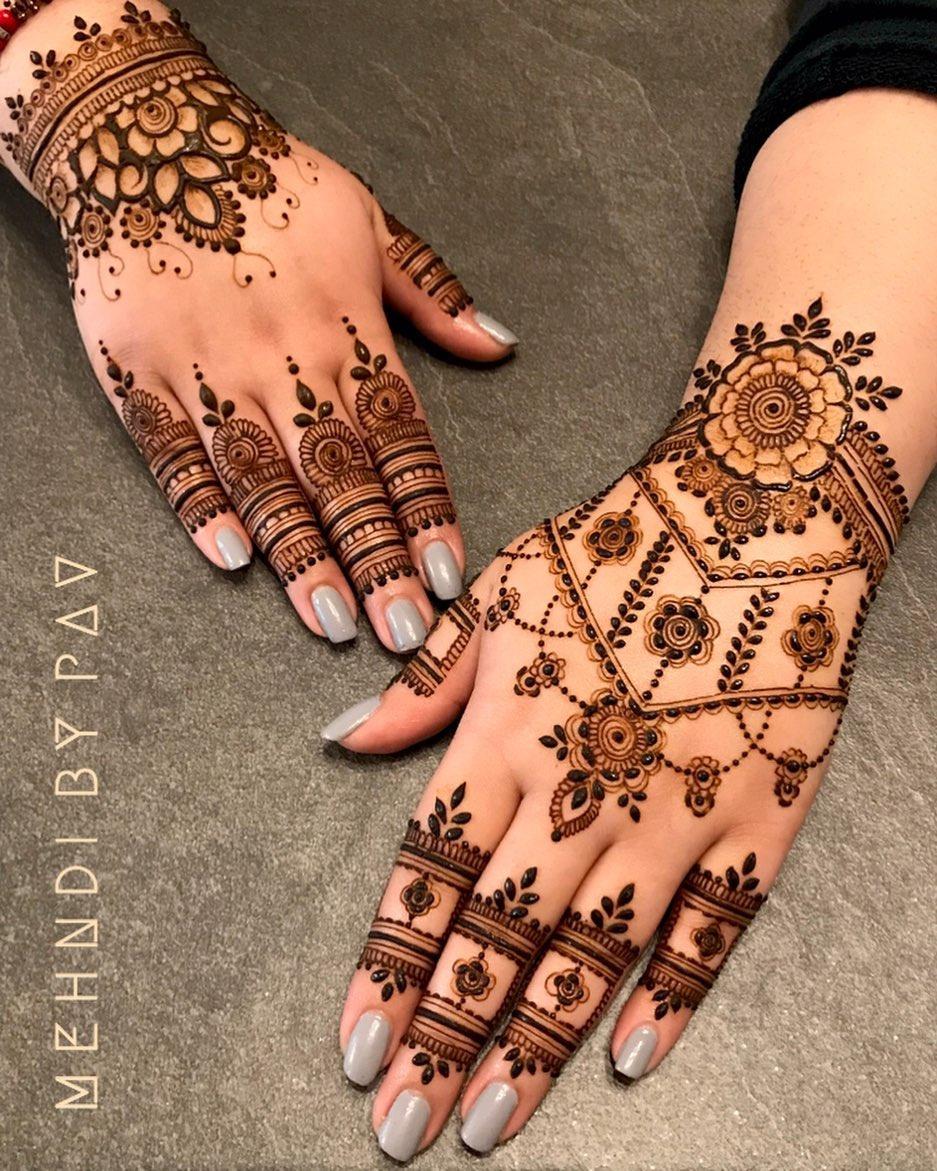 Another beautiful and popular mehndi design is the floral mehndi. You can apply floral designs in combination with any style. Such floral mehndi designs, especially in the reverse style that we can see here, reflect a minimal appeal and would stand out in stark contrast against a set of heavy and intricate bridal mehndi designs. Who knows - you may team up as a set of friends and get portions of the same design inked in all alternate fingers so that they all come together to form a fabulous set themselves.
Designer Royal Finger Mehndi Design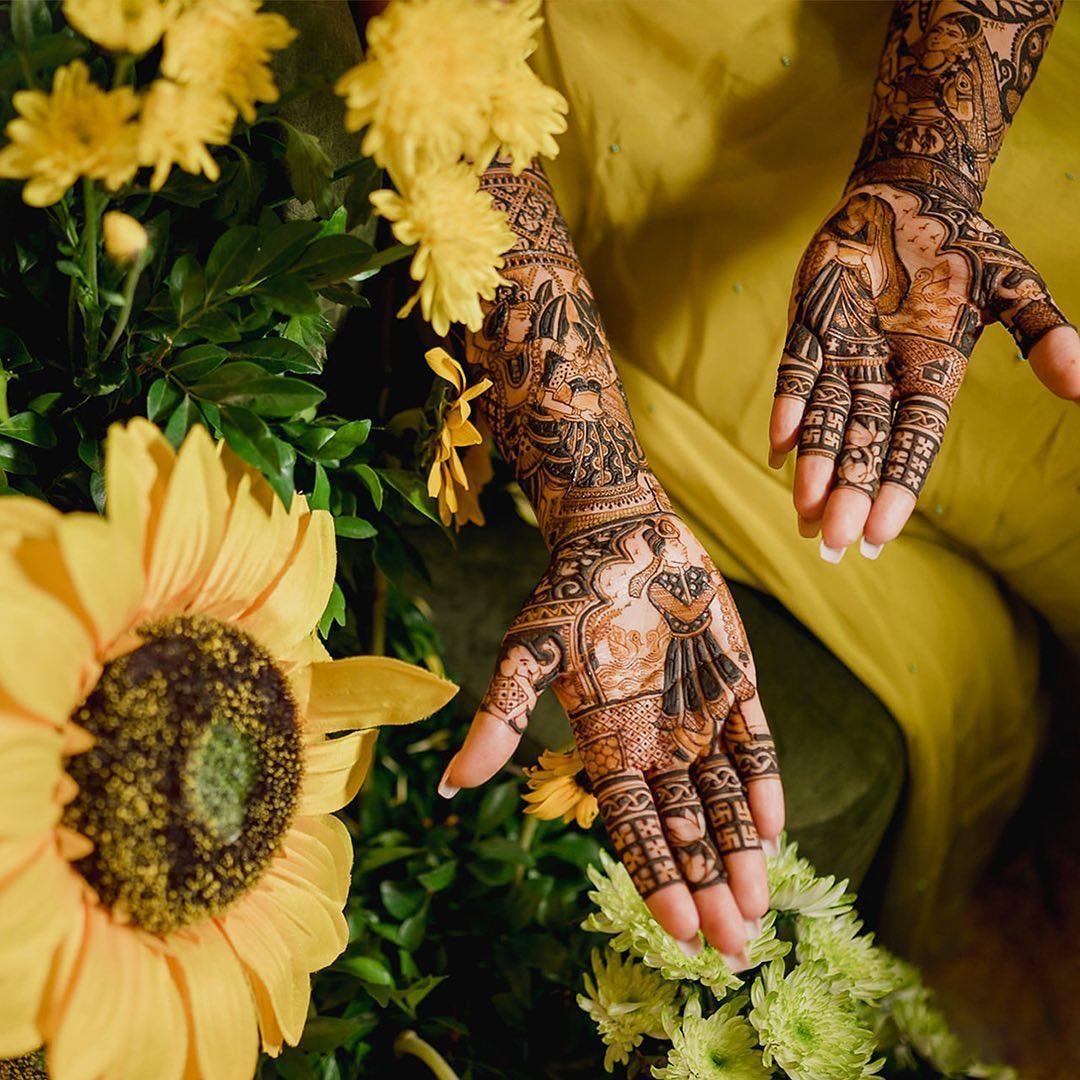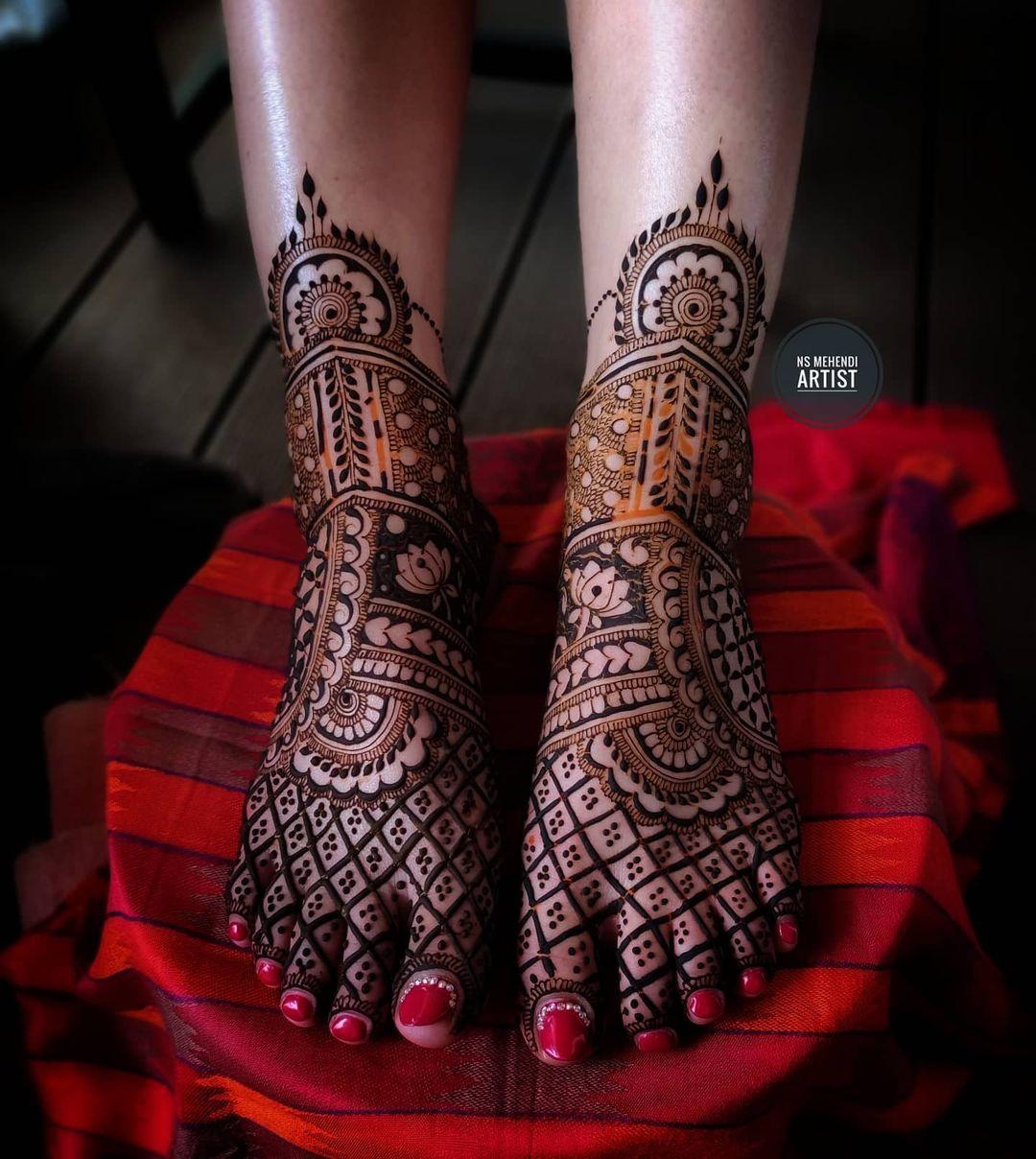 Just because finger mehndi patterns are restricted to such a small space does not mean that you need to cut down on detail, if that's what drives your choice in henna patterns. We love the minuscule detailing done here to highlight the tiny blooms of baby's breath in their neat sections, bookended by a minimal set of olive branches on both ends.
Heavy Finger Mehndi Designs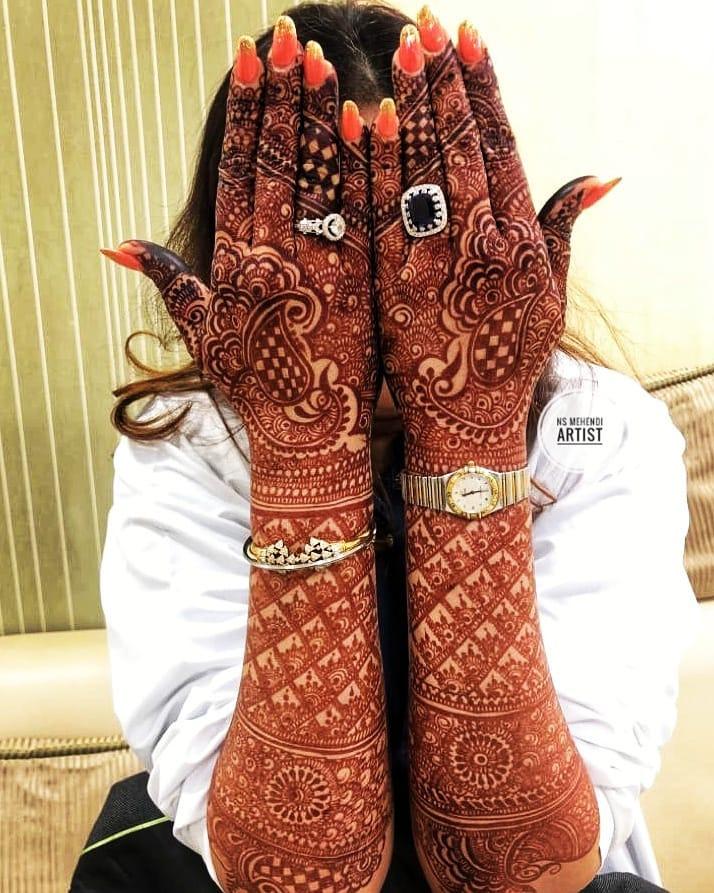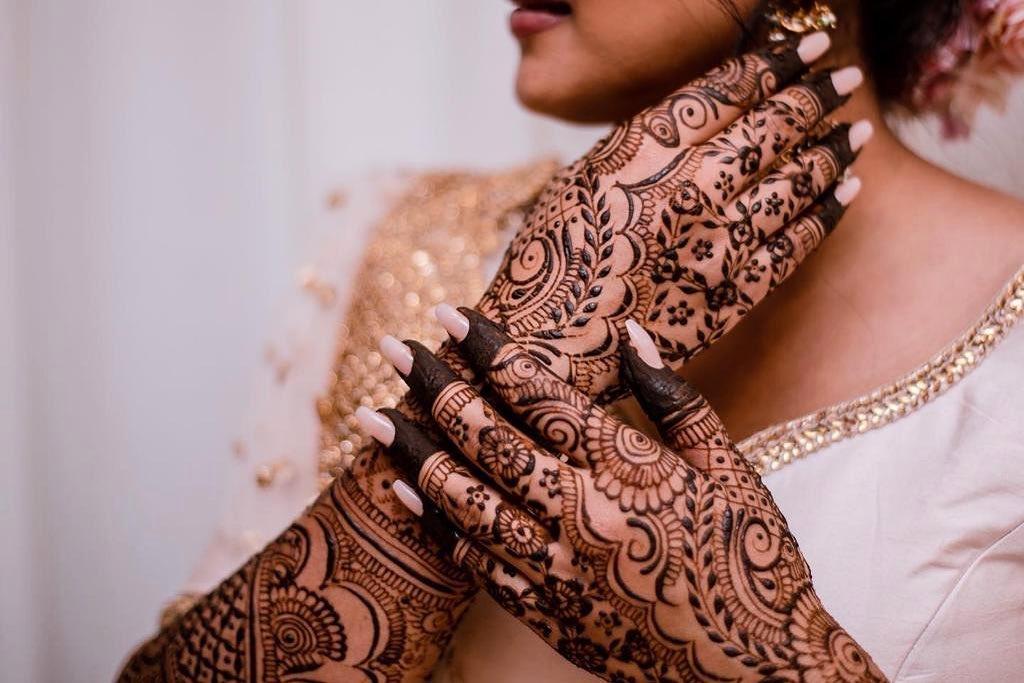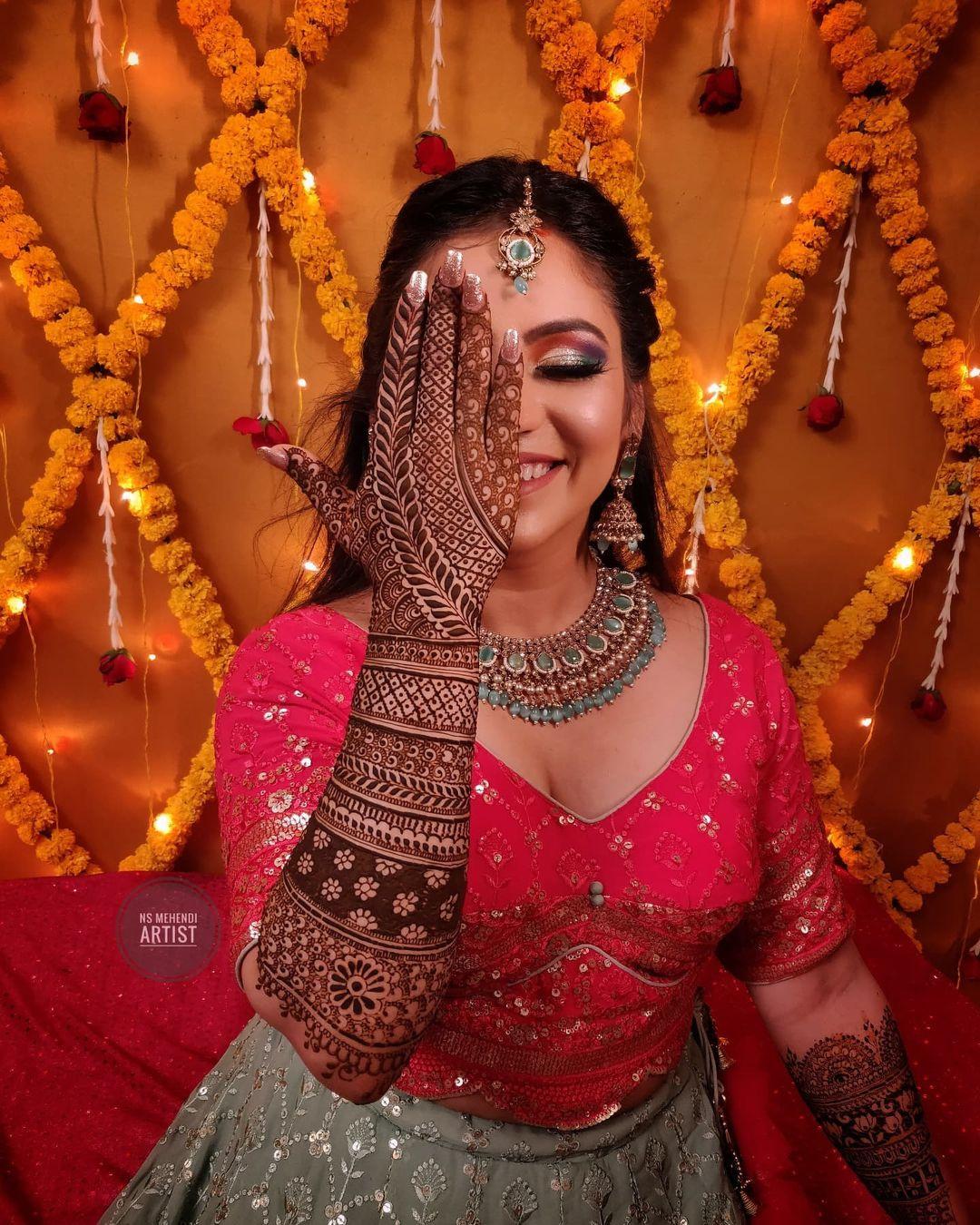 Light Finger Mehndi Designs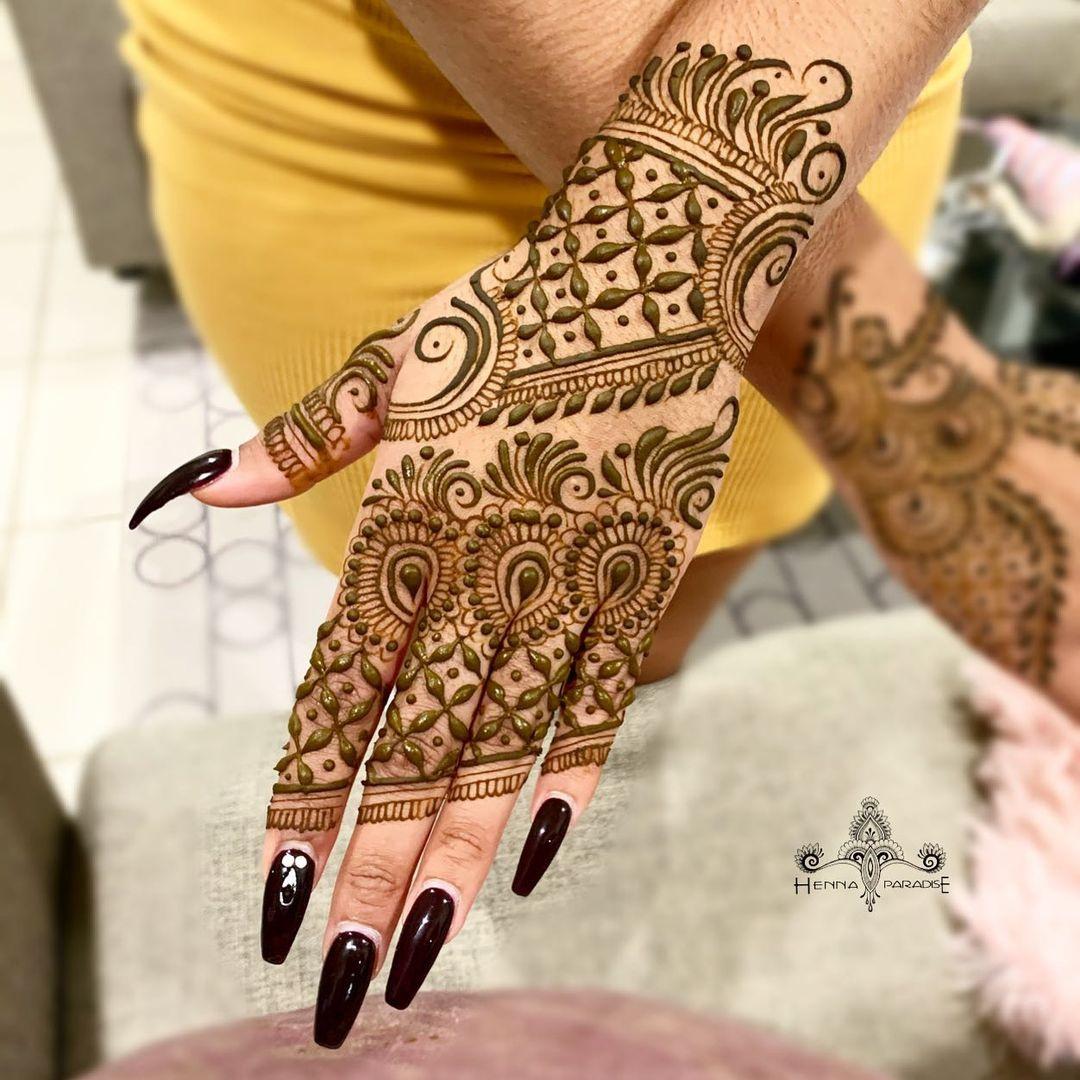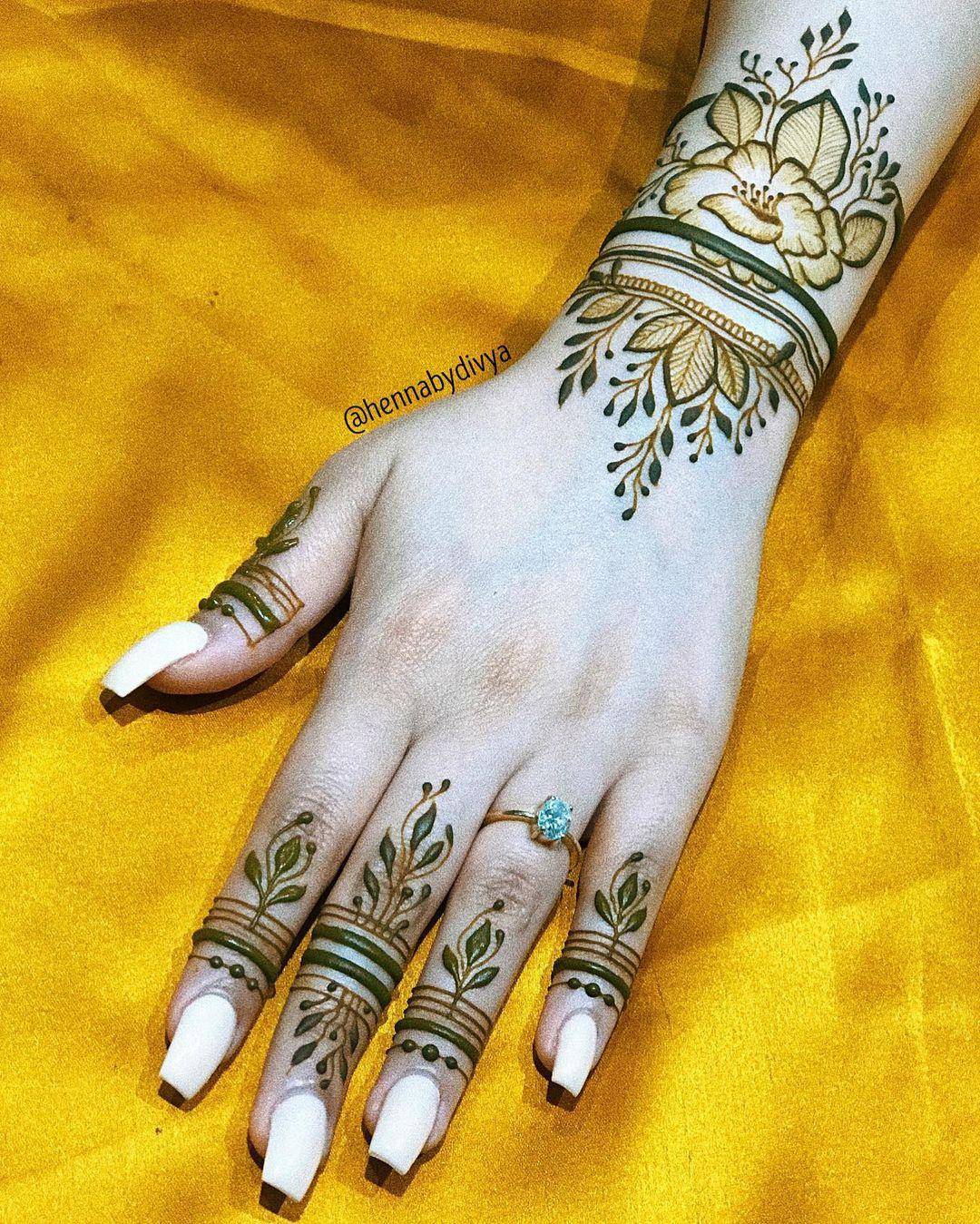 While the whole design is a great must-have, we would recommend just the finger to create a very distinct look for your manicured hands and beautiful nail art.
We hope you've had a fair sense of inspiration from this set of finger mehndi compilations. Remember, as these designs bring the focus sharply to your digits, you need to ensure that your talon game is absolutely on point too, so that they can shine in the spotlight. What style of finger mehndi would you prefer for your wedding? We are eagerly waiting to know. Drop a comment and let us know.
Read More -
Mehndi Design | Proposal Lines | Simple Finger Mehndi Design | Arabic Mehndi Design | Propose Day Quotes for Boyfriend | Wedding Anniversary Wishes for Sister | Change Aadhar Card Name after Marriage | Tamil Wedding Calendar | Simple Mehndi Design | Pre Wedding Quotes | Engagement Anniversary Wishes | Funny Wedding Wishes for Bestfriend | Blouse Design | Rangoli Design | First Night Tips for Bride | Wedding Anniversary Wishes