These 9 Saree Draping Styles Work For Your Cocktail and Sangeet Looks
Sure, draping a saree is a huge task...but trying out experimental saree draping styles can prove to be a lot of fun! Here are some for your Sangeet or Cocktail parties.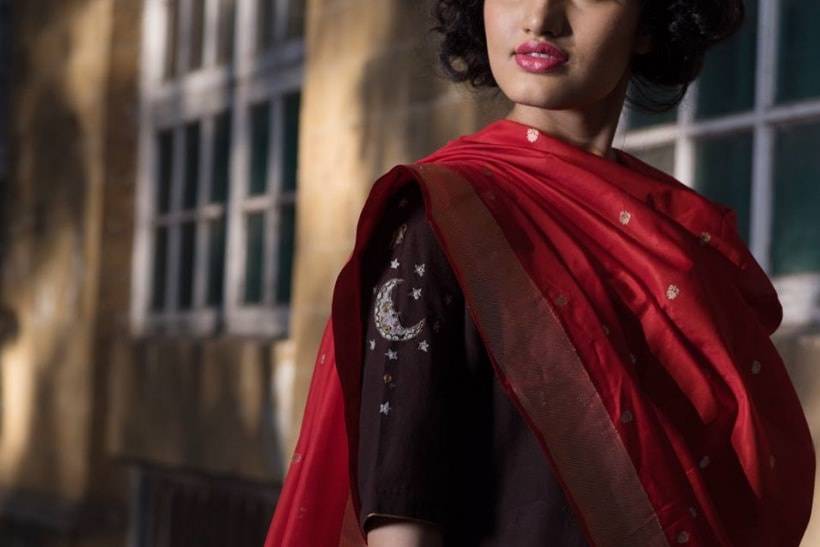 It's unbelievable how a single piece of cloth can be draped in so many styles and completely change the way you look. A simple saree can give you strong, shy, fun, traditional, sassy and elegant looks just with a difference in the drape! And if you are looking for something fusion and experimental on your Sangeet or cocktail, you should definitely try some fun Saree draping styles for an edgy look.
With interesting colour combinations, pairing up with a shirt, kurti or top, playing with the pallu...the possibilities are endless. Read on to know more and pick your own style.
1. Red Star printed saree with long Pallu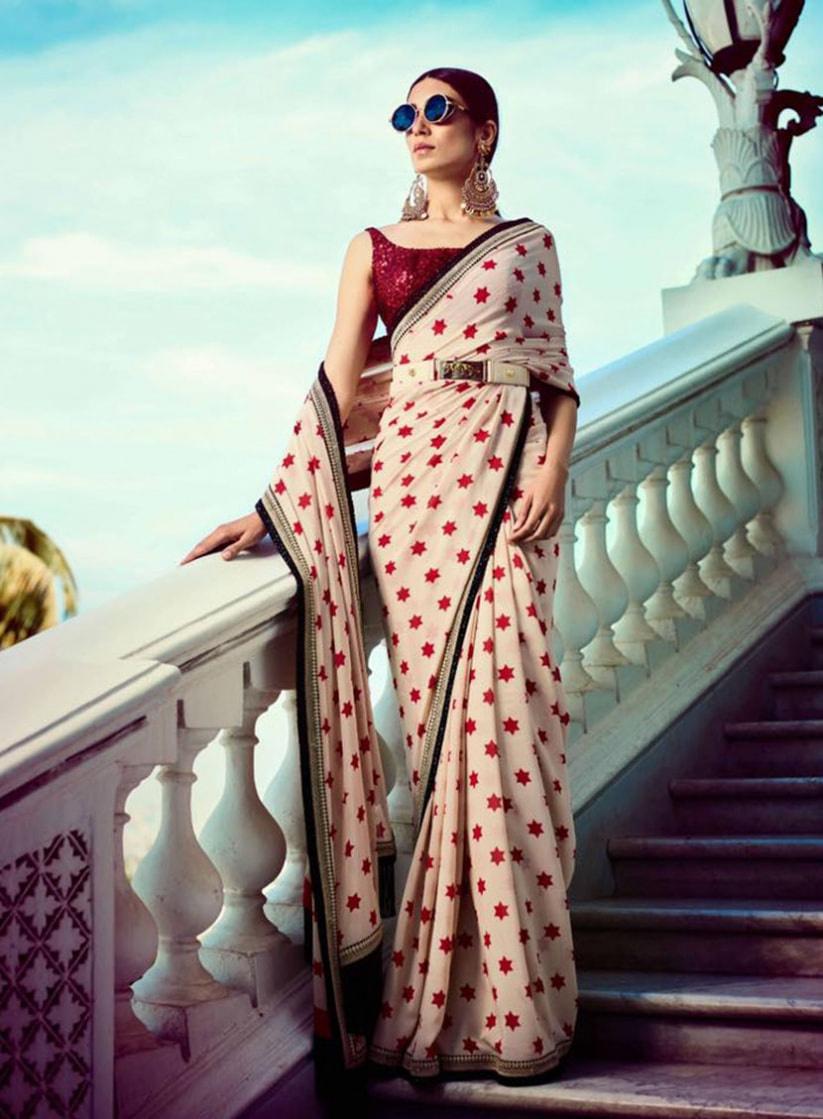 Photo Courtesy: Sabyasachi
Try on a Sabyasachi blush pink saree with hand printed red stars on it. One of the most popular saree draping styles that would go with this is a really long fringed pallu and a belt. It's a simple saree drape yet makes quite a statement. Pair it up with a sequin red sleeveless blouse. You can also go with a red full sleeve blouse with this.
Accessories: Ivory belt, round or oval sunglasses, huge Chandbaalis.
Hair: Tight bun with mid parting.
2. Ivory laced saree with front plait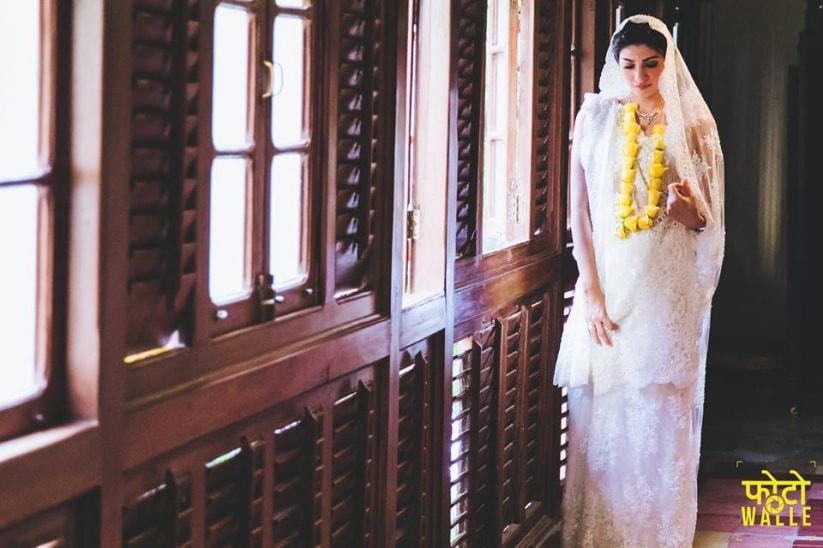 Get inspired by the traditional Parsi wedding attire, and sport a front pallu laced saree for your Sangeet. This particular saree draping style involves donning a white or ivory saree covered with lacework with a front plait. The bride actually carries a veil too, which you can ditch if you want. Go with some uber chic blouse designs with it!
Accessories: Silver or white stone jewellery, ivory or silver clutch.
Hair: Messy bun or loose tresses with soft curls.
3. Sea Blue georgette with a strapless blouse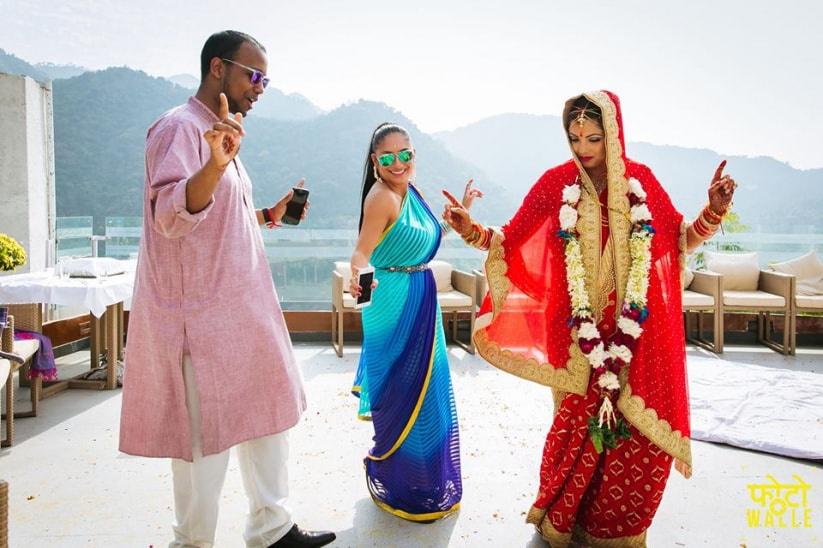 Perfect for a summer wedding or any outdoor poolside fun events, we say, go strapless! Rock a sea green/turquoise blue striped georgette or chiffon saree on your cocktail or Sangeet. Go with a strapless/off shoulder or halter neck blouse with it in a contrasting shade. If you're looking for a cool, fun destination wedding event look, this is one of the saree draping styles just for you!
Accessories: Long dangling silver earrings, blue/green shaded sunglasses, silver or rustic metallic coloured belt.
Hair: High ponytail, or a high bun.
4. Black & Bronze: Kurti blouse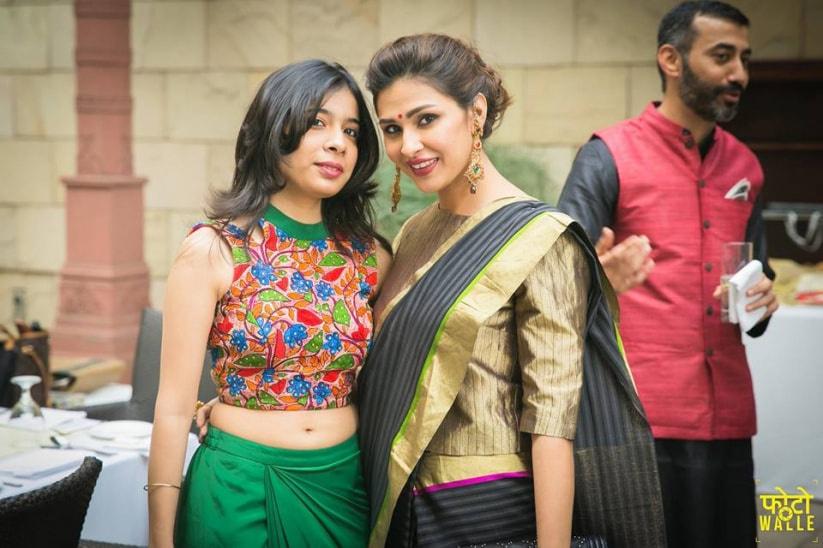 Now here's a saree draping style for the experimental brides! Donning a kurti as a blouse with your saree is the hippest fashion idea that would dazzle everyone! Opt for a black plaited saree with bronze borders and team it up with a bronze kurti blouse with 3/4th sleeves. You can look for more designer Kurtis to try as a blouse with your drape.
Accessories: Large gold earrings with red stones or oxidised gold earrings, a bronze coloured Potli bag, red Bindi.
Hair: Loose bun or cascading loose hair at one side.
5. Tan Ivory embroidered saree with sheer top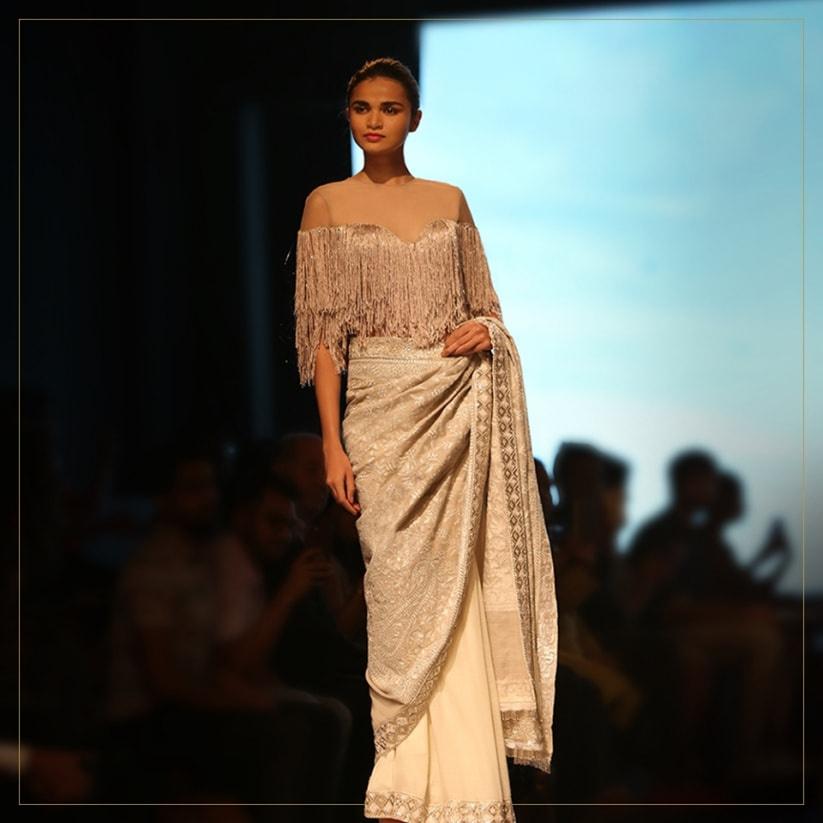 Photo Courtesy: Manish Malhotra
Are you ready for some Manish Malhotra magic? Drape his tan ivory saree with gorgeous Kashmiri handiwork and sport a sheer top displaying his signature fringed tassels. This kind of saree draping style would be apt for any evening occasion like Sangeet, cocktail or reception.
Accessories: An ivory shaded clutch.
Hair: Neat bun.
6. Indigo Handloom saree with loose plaits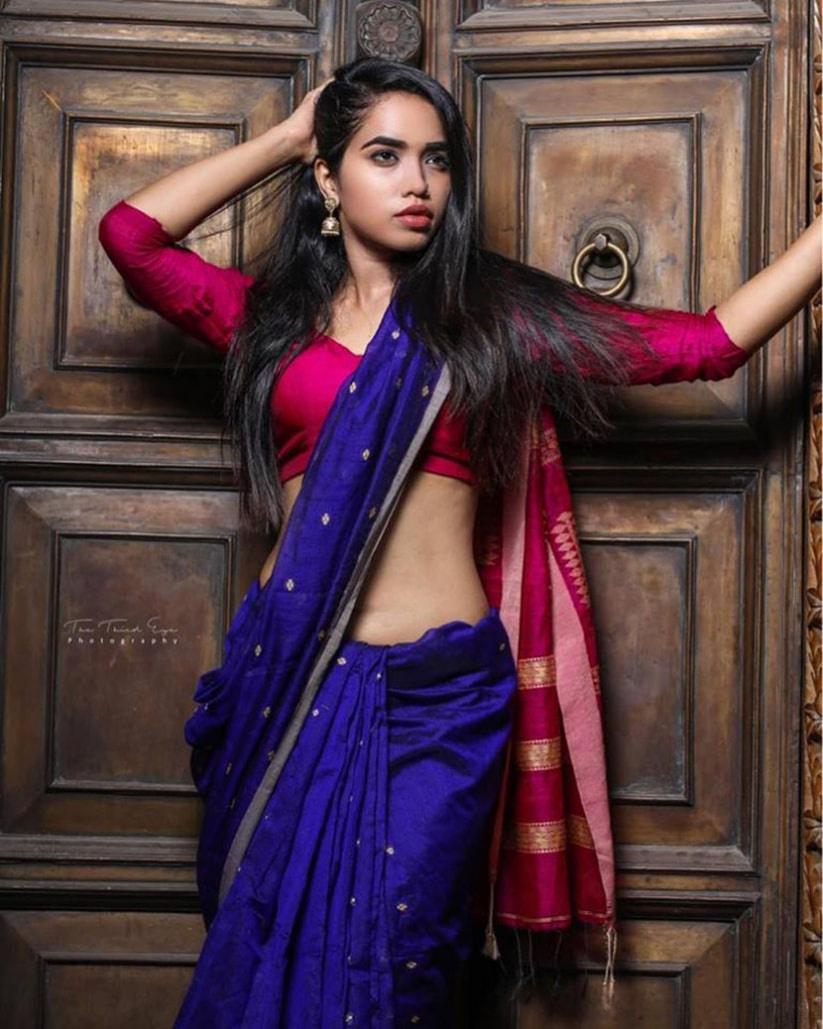 Bring out the divinity with this stunning indigo handloom saree and drape it in style. Pair it up with a long or 3/4th sleeved magenta blouse. The beauty of this saree draping style is the fusion of traditional fabric with a modern twist in the drape. Keep your front plate loose by the side and pin it up on your shoulder.
Accessories: Oxidised gold Jhumkas and black Bindi.
Hair: Messy loose hair or soft waves.
7. Pastel hues with fringe detailing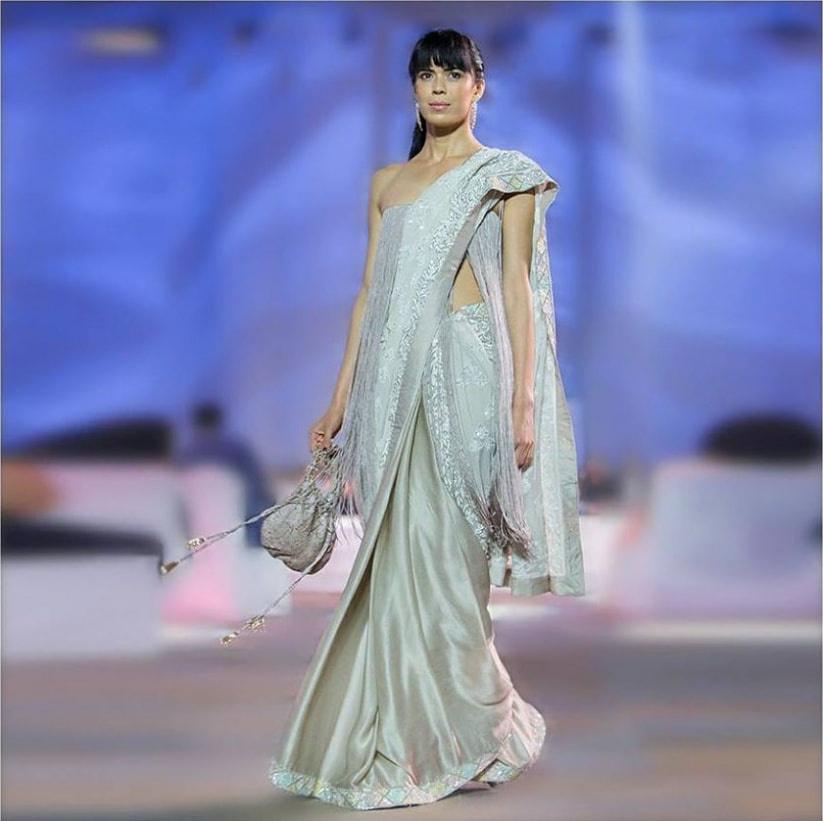 Photo Courtesy: Manish Malhotra
Flatter yourself in this timeless pastel shade saree with a contemporary touch. Slay your wedding events with a futuristic blouse and fringes. When you go for such ravishing saree draping styles on your wedding, your photographers just wouldn't get enough of you!
Accessories: Pastel shaded Potli bag with fringes, diamond earrings.
Hair: Ponytail or a French bun.
8. Go Traditional - The Marathi Shalu drape

Image courtesy: House of Neeta Lulla
Bring in the old and the new alike by following this bride's choice to go truly traditional with the Marathi Shalu for her wedding. A very distinct look amid saree draping styles, this 14-yard sensation comes together by the painstaking way in which the saree envelops each leg, comes together as a two-fold pallu and then sweeps the floor akin to a train for a modern gown.
Accessories: A Potli bag, traditional Marathi jewellery
Hair: An updo, preferably with a Marathi Ambada hairpin
9. The Stitched Saree Gown

Move over, pleated saree draping styles. A cocktail or Sangeet function is all about having a lot of fun on the dance floor and so your look for it should be one that's fuss-free and yet eye-grabbing. Choose a saree gown or a stitched saree to get the same sense of an Indo-western outfit with your look.
Accessories: Statement jewellery, particularly earrings and bracelets
Hair: Think fancy hairstyles, with either partially open hair, or those sculpted into a form
Pick your saree draping styles to go with your taste and attitude. You don't have to conform to the so-called trends. Be bold and dare to set your own trends. Consult your designer and choose your jewellery and accessories accordingly. Drape those nine yards in a style that the future brides would love to follow!
Tell us which draping style you loved the most? Tell us in the comments below.