10 Stunning Styling Ideas for Red Sarees for Wedding for the Upcoming Wedding Season
If you're ready to embrace, wrap and flaunt the colour of love and passion, we have some special styling cues for your red sarees for wedding!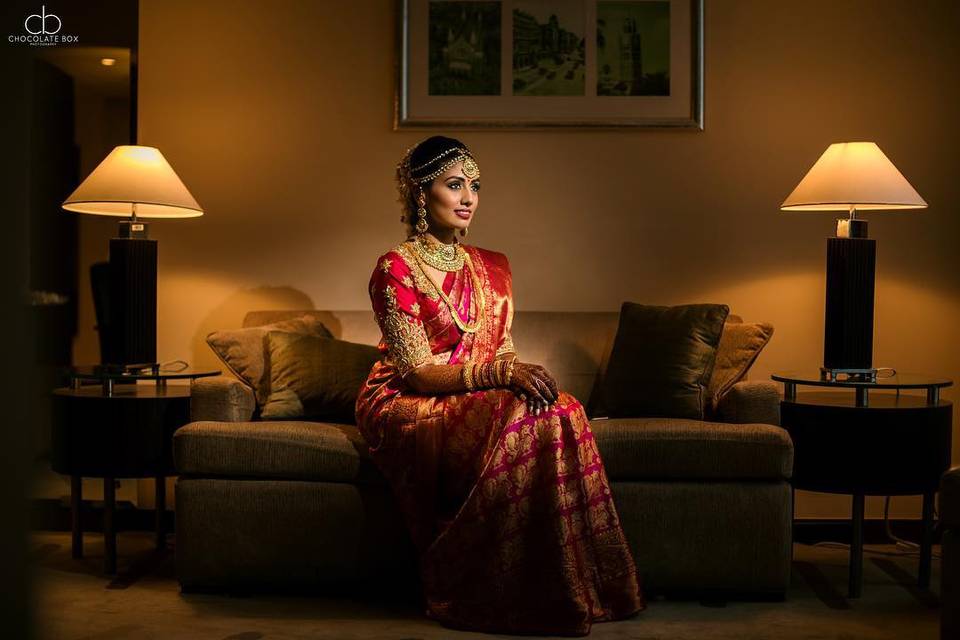 The colour red symbolises love, desire, prosperity and fertility. Hence, Indian brides like to embark the new phase of their lives, draped in the auspicious hues of this holy colour. Sarees are the epitome of tradition, which brides, including modern brides, like to glorify on their wedding.
Red sarees for wedding are considered pious and they increase the natural beauty of brides. When paired with other bridal elements - such as henna, bindi and sindoor - red sarees for wedding can prove to be the best possible choice. If you also want to wear a red saree at your wedding, here are some styling tips to intensify its grace!
1. Contrasting blouse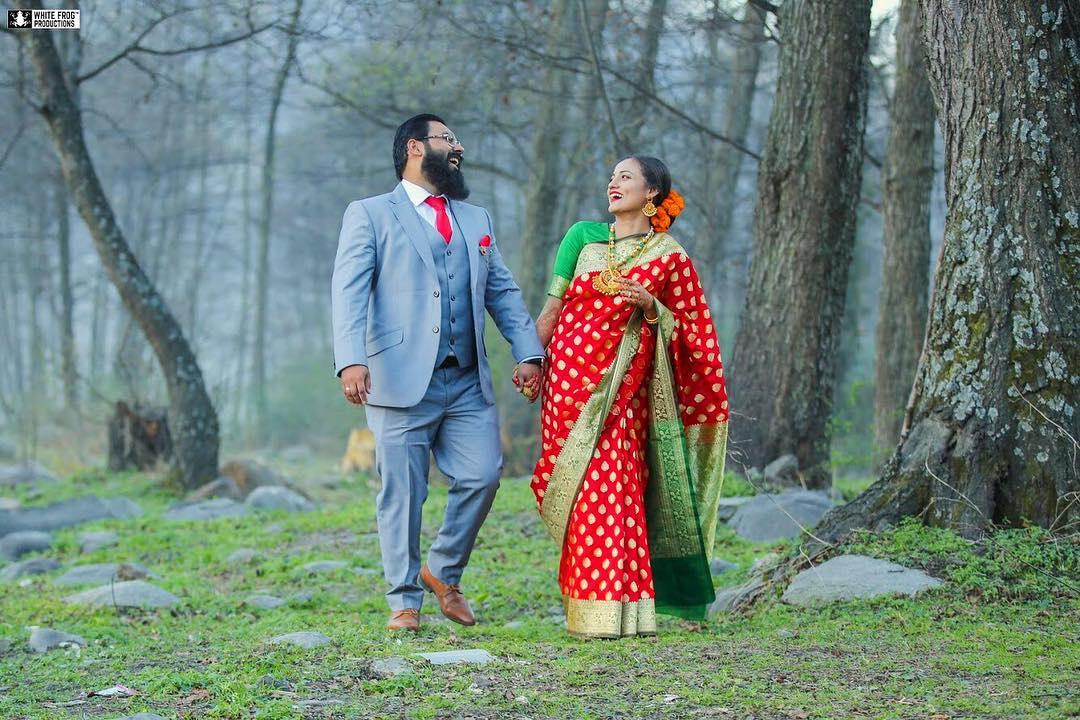 A colour scheme with three colours is considered highly fashionable. When looking for red sarees for wedding, keep an eye on red sarees that feature two or more colours. This bride chose a red saree with green and golden accents and paired it with a green coloured blouse.
2. A deep neckline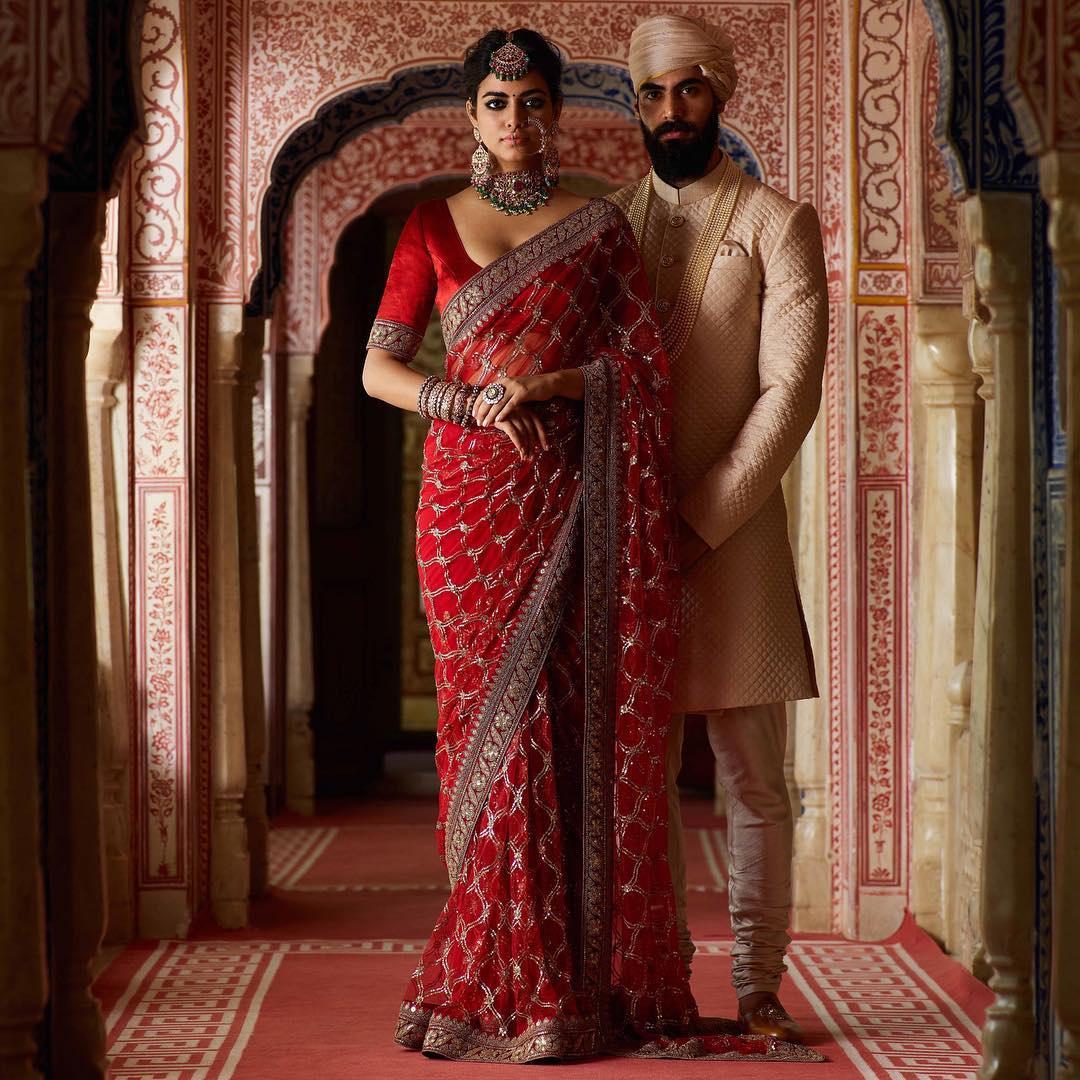 Image Courtesy: Sabyasachi's Facebook
Brides usually refrain from deep neck blouse designs but a tastefully picked low neckline can enhance the sensuality and glamour of your Indian bridal look. This style looks especially attractive with a sheer saree and an open pallu. Keep your hair away from the face to highlight the neckline as well as the collarbone.
3. Dewy makeup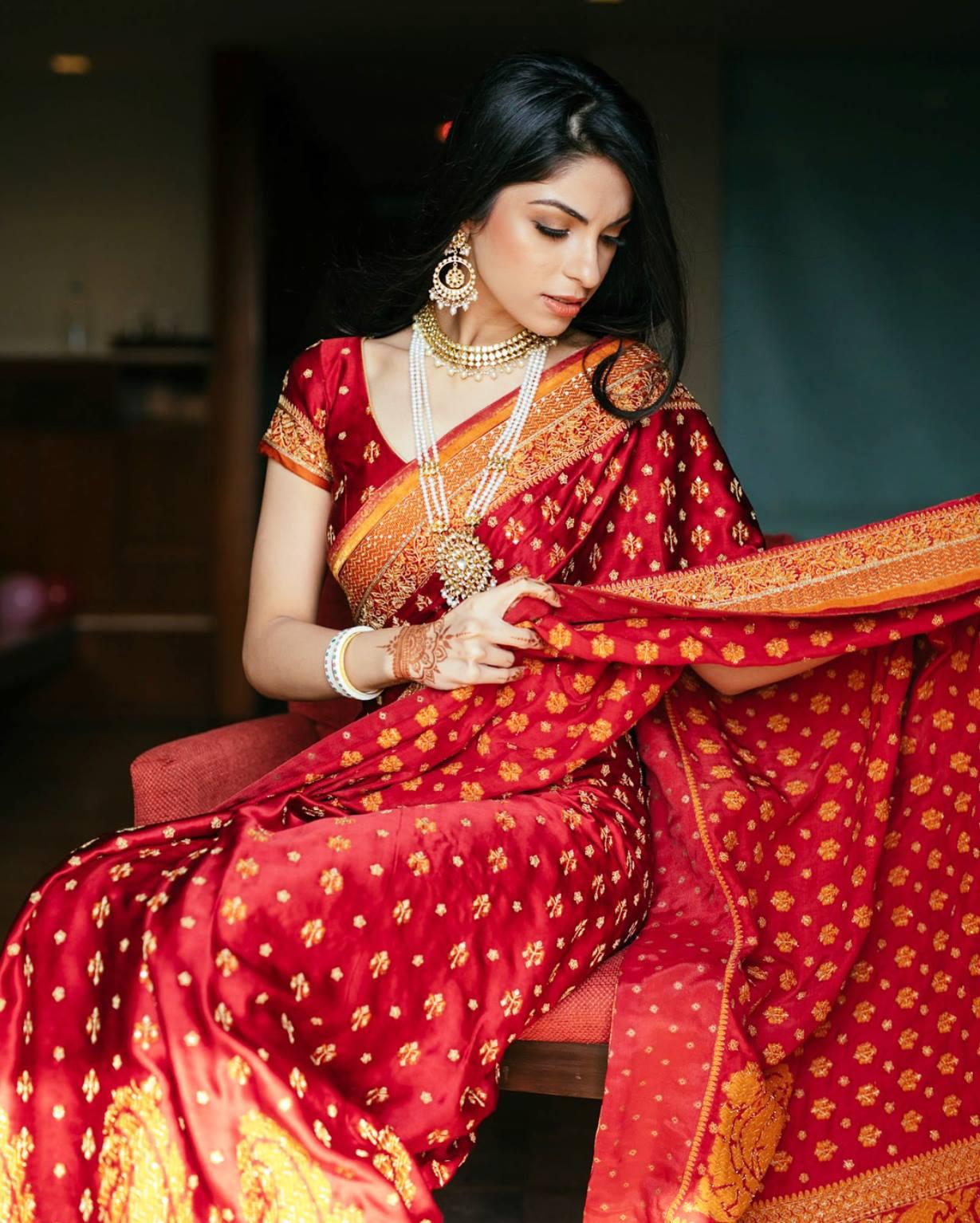 Red is a bold and eye-catching colour and you would not want to ruin its beauty with an overly done makeup look. With your red wedding saree, opt for subtle dewy makeup to enhance your features with techniques such as illuminated skin or nude lips. This is a fabulous way to experiment with other elements, such as accessories and hairstyle, without going overboard.
4. Gold jewellery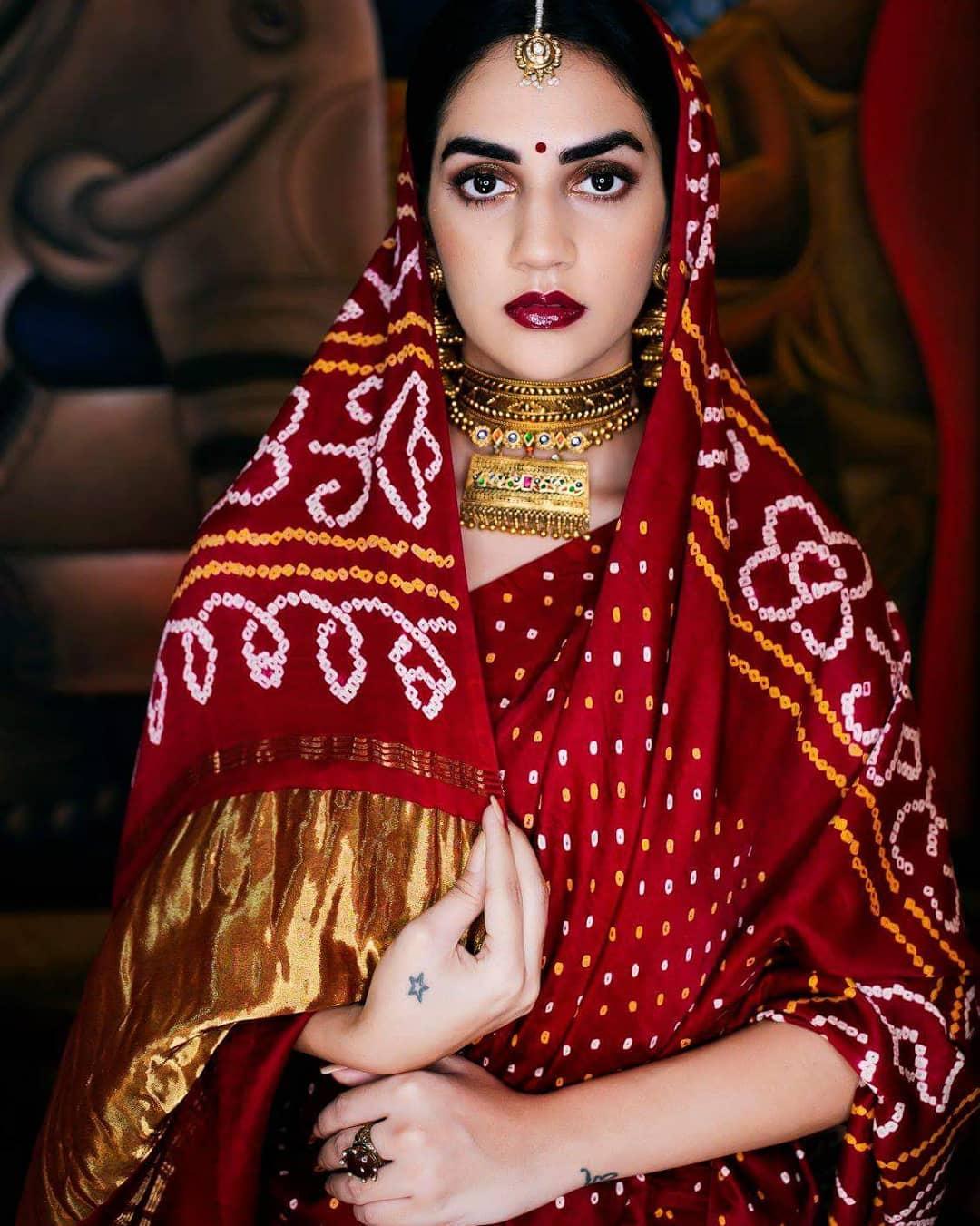 Gold and red have been best friends for ages and will continue to share this special bond. Red sarees give you the opportunity to ditch costume jewellery and embrace traditional gold ones. Pick a very traditional saree style, like a Bandhani or a Kanjeevaram saree, if you intend to wear your gold jewellery.
5. Cinch it with a belt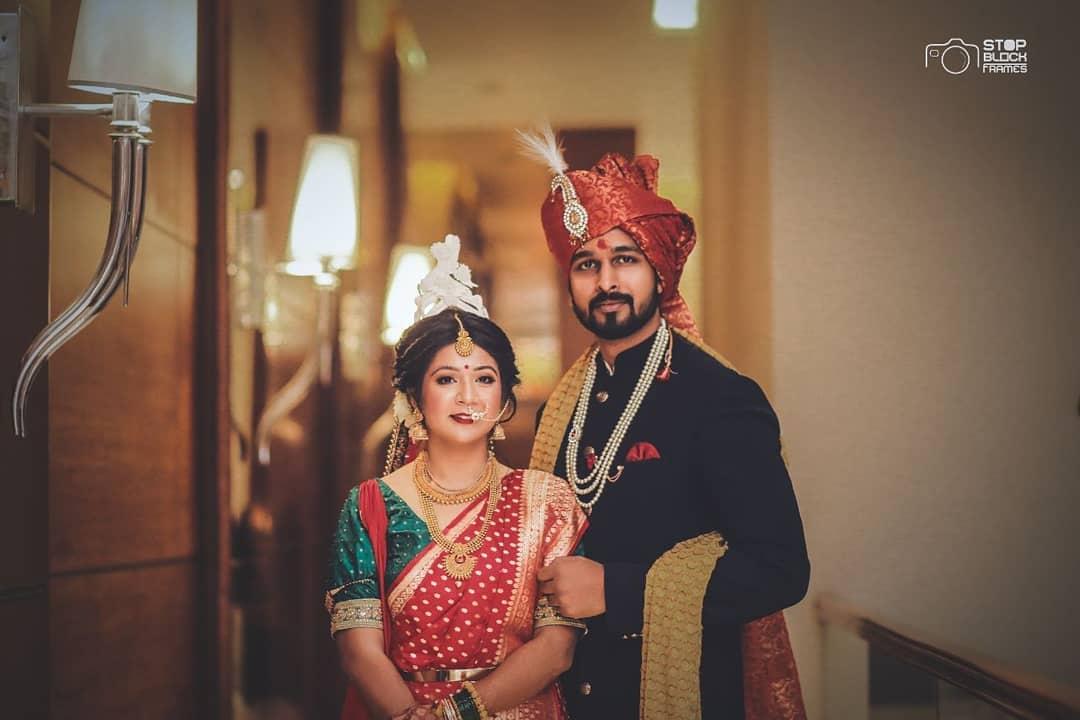 A waistband (or Kamarband) is native to various Indian cultures but a lot of us are yet to adopt it. If you are wearing a red saree at your wedding, here is your chance to give this unique accessory a try. It will help cinch your waist, giving it a more structured and toned look. Also, it will serve as an excellent style statement. You can go for a traditional gold one or go for a signature metal belt that various designers offer.
6. Modern blouse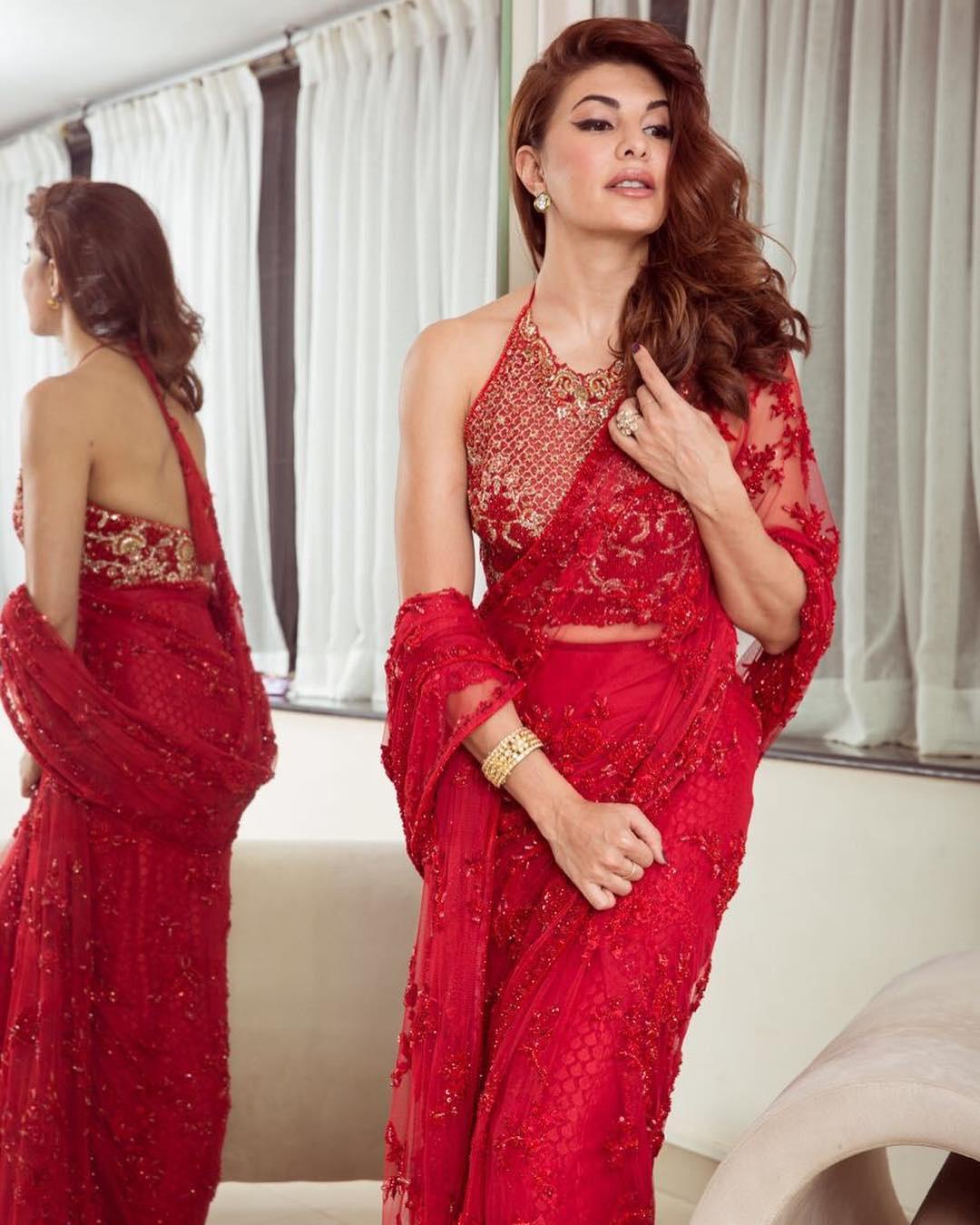 Image Courtesy: Faraz Manon
Millennial brides like to mix modern details with traditional ones. And, here is yet another trick to do it right with red sarees for wedding. If you are picking a traditional red colour for your saree, pair it with a super contemporary blouse. Sleeveless blouses, halter necklines, backless details - all these are some amazing ideas for an Indo-Western effect.
7. Open pallu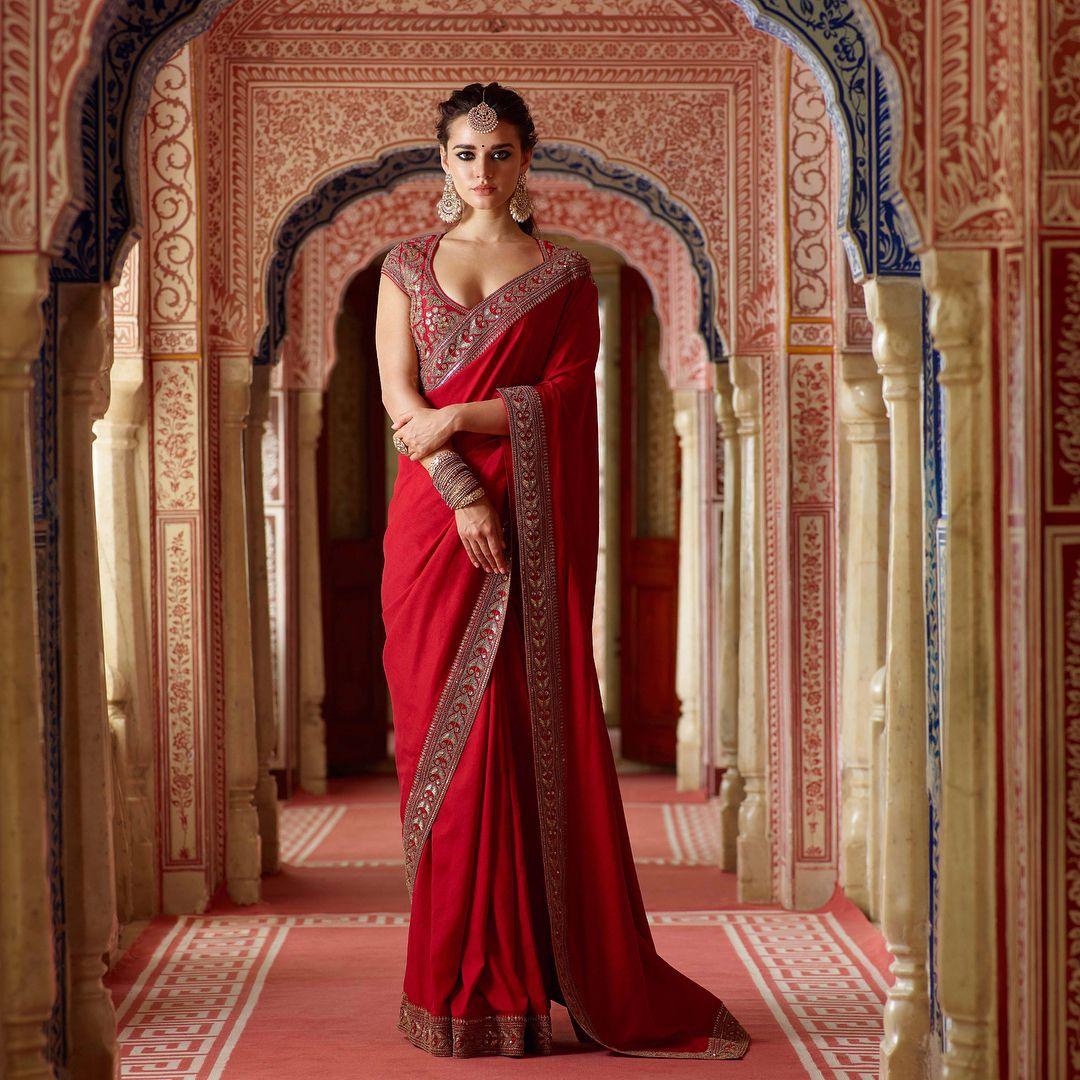 Image Courtesy: Sabyasachi's Facebook
Believe us, the charm of open pallu will never go away, hence it is a great way to make your red saree look memorable. This style of pallu draping flatters all body types; in fact, it actually accentuates the figure while revealing only the right curves. If you're planning to keep your pallu open, make sure either the pallu or your blouse has some statement-making factors.
8. Shiny and shimmery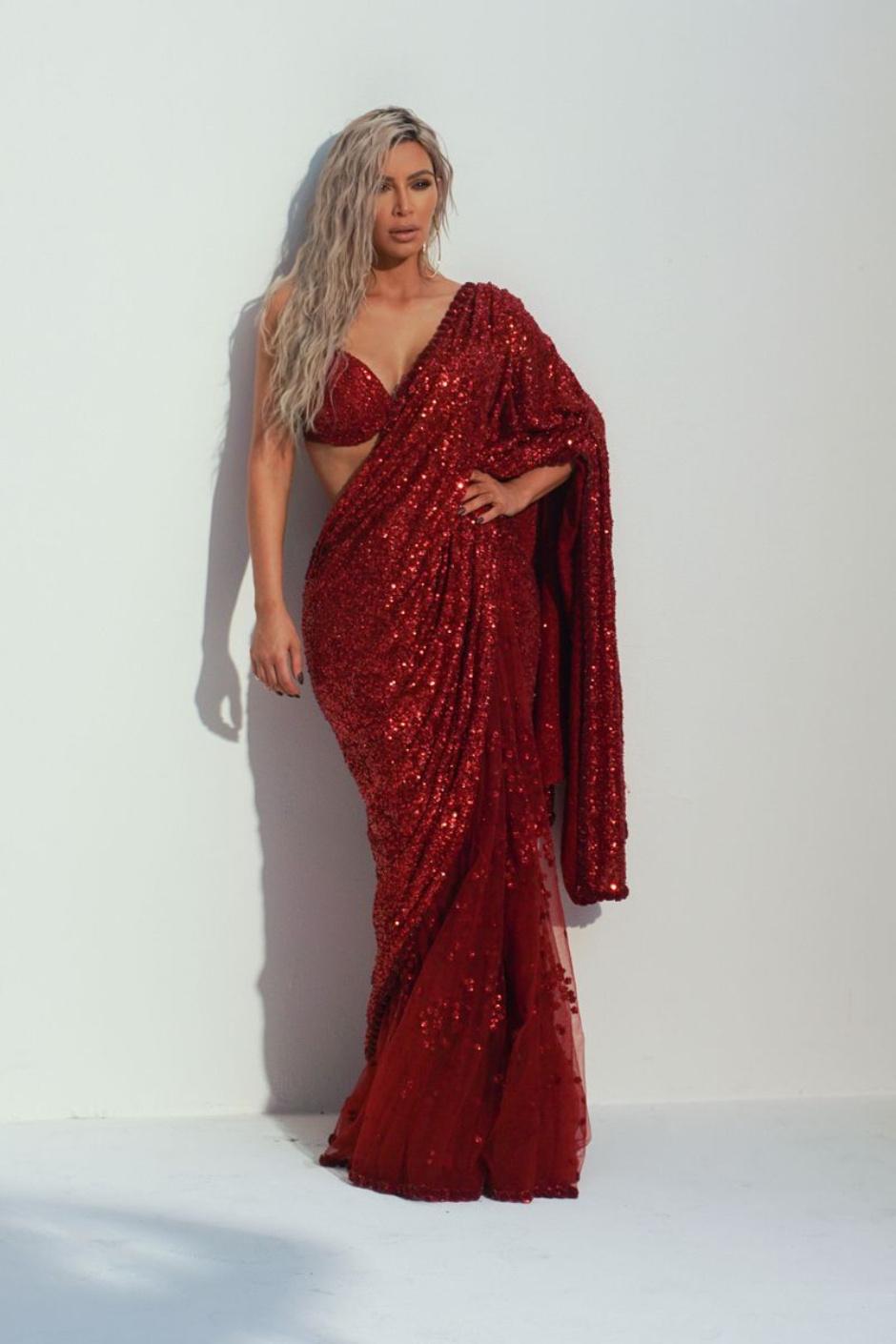 Image Courtesy: Sabyasachi
For girls who cannot keep calm without going overboard, a super shimmery saree is the best bet. Go for a saree that's loaded with shimmer or sequins and wear it with a matching blouse. This styling idea for red sarees for wedding is perfect for a nighttime wedding as well as the reception. Nude makeup and light weight jewellery are the way to accentuate this look.
9. Traditional vibes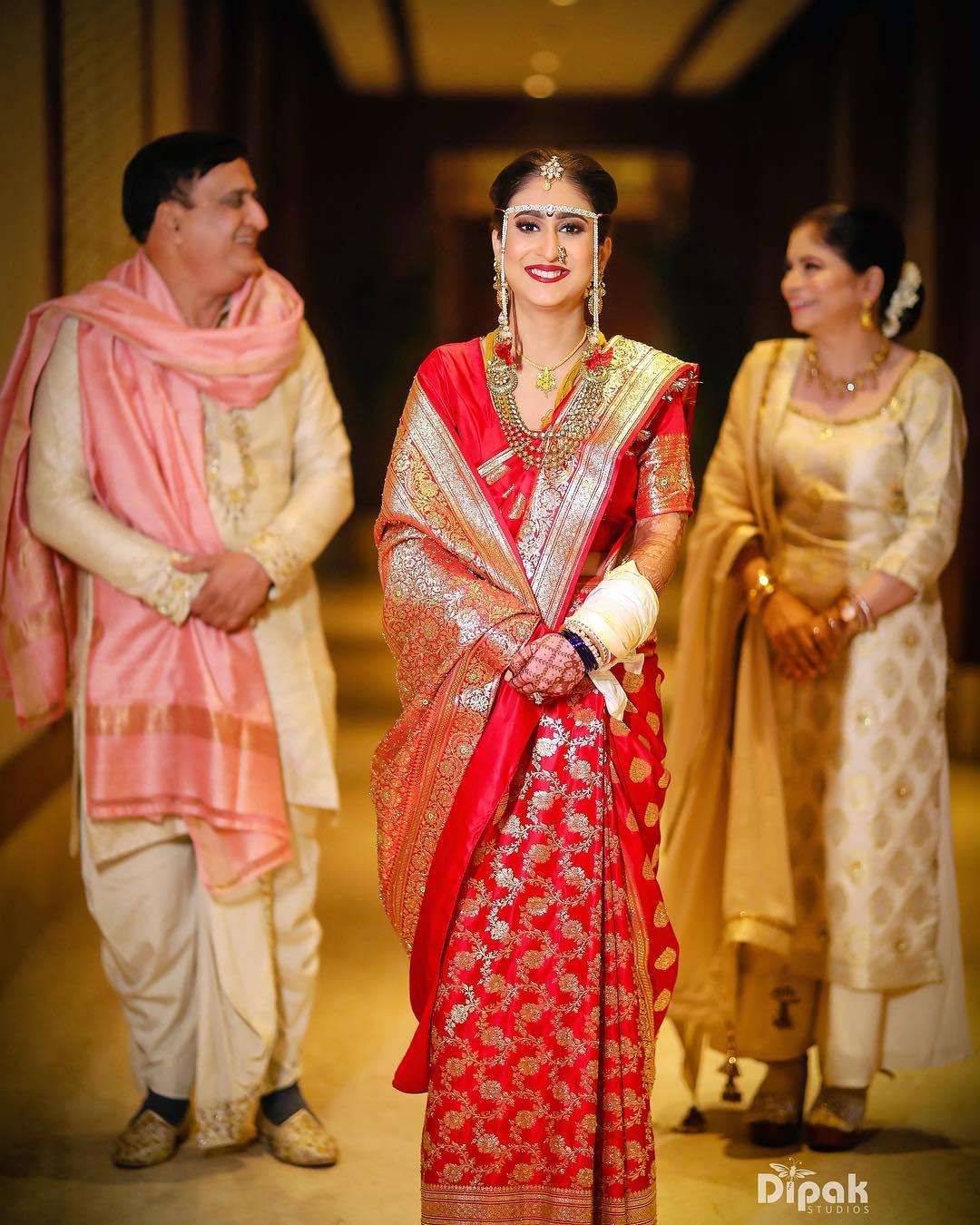 When it comes to red sarees for wedding, the options are endless but nothing beats the evergreen charm of classic weaves. For a unique bridal look, pick any red saree and drape it in a style that's unique to your culture to pay an ode. Bengali, Maharashtrian, Assamese - the options are unlimited when it comes to saree draping in India, so don't forget to explore all states.
10. A la mode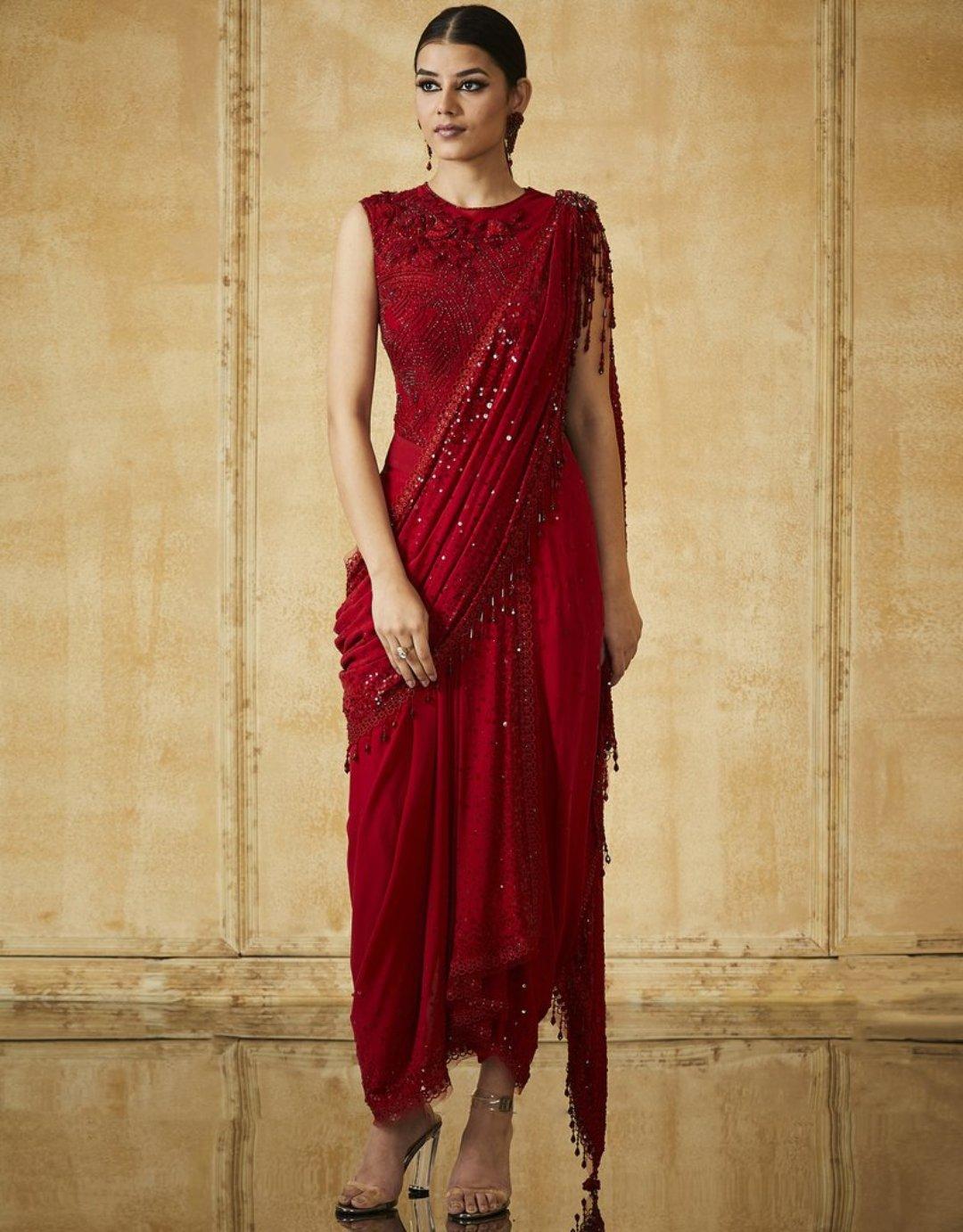 Saree gowns, pre-draped sarees, dhoti sarees – all these ultra-modern options are perfect for brides who do not wish to create the same old red saree looks. Try and test which style works for your personality and body type and pick it in red colour. Just one tip - make sure your groom's outfit matches the modern vibe of your outfit!
Sarees have been draped in diverse ways and reinvented ever so often but their beauty and importance among Indian brides have increased with time. Customisation, personalisation and accessorising can make a world of difference, and therefore don't forget to explore all these options while shopping. We hope you'll keep these little pointers in mind when you go out to find those spectacular red sarees for wedding.
Would you like to wear red sarees for wedding instead of lehengas? Don't forget to tell us!