15 Deep Neck Blouse Designs from Sabyasachi That You've Got to Get Your Hands On!
Wearing a deep neck blouse design is a great way to make a fashion statement at your own wedding. If you're trying to make up your mind about whether this style is right for you, check out these 15 amazing options from Sabyasachi!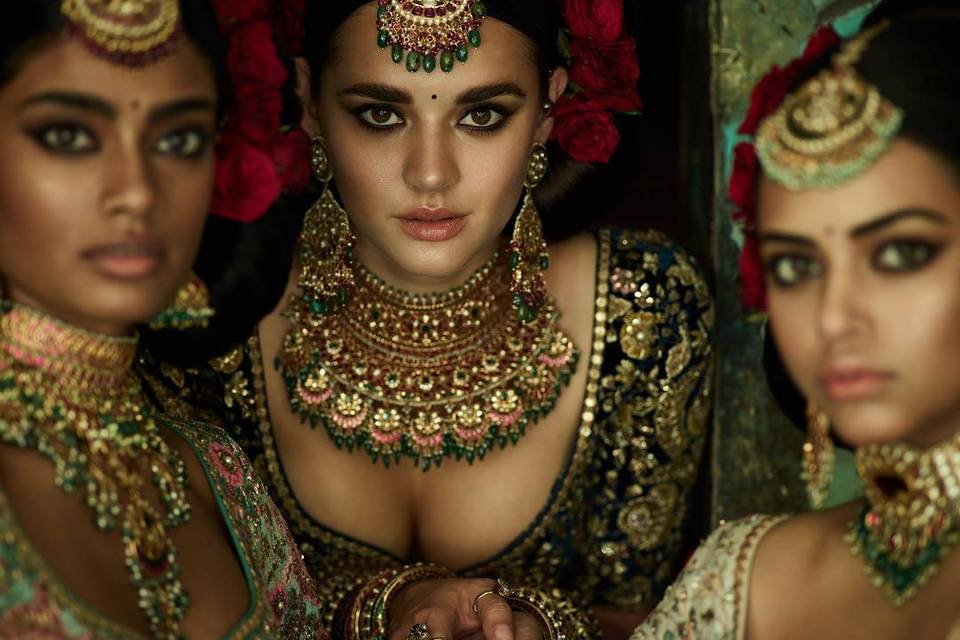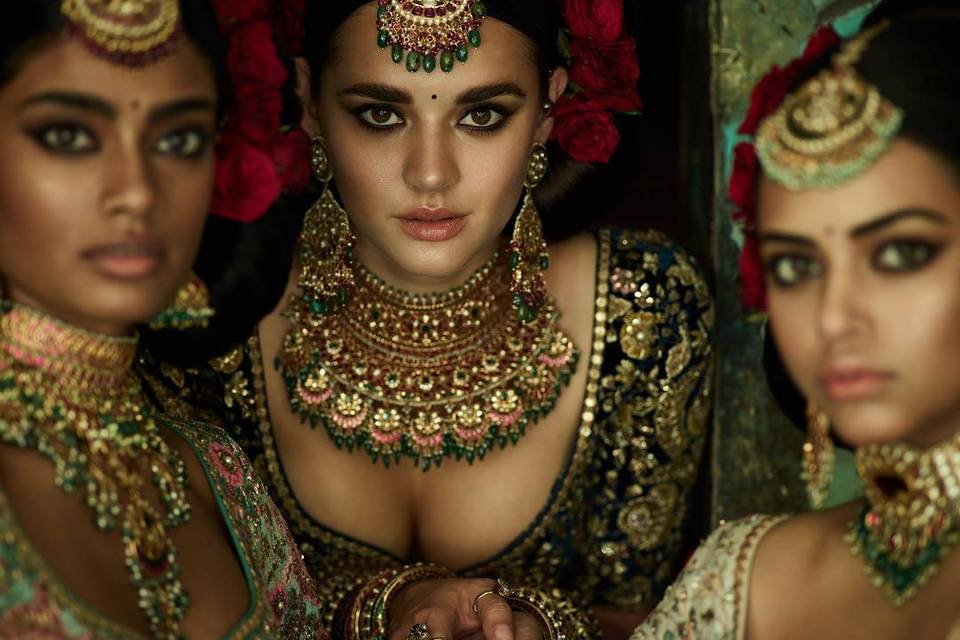 With the perfect blend of popular designs and risqué design elements, there's no secret by Sabyasachi is one of the leading designers in India today. His insane colours like acid yellow, love for raw beauty that presents itself in the cuts, and designs that have a mass appeal have made him a household name for every bride in the country. In this article, let's list out 15 gorgeous deep neck blouse designs created by Sabyasachi that we love! Get your hands on them if you want to stand out at your wedding!
1. Floral deep neck with three quarter sleeves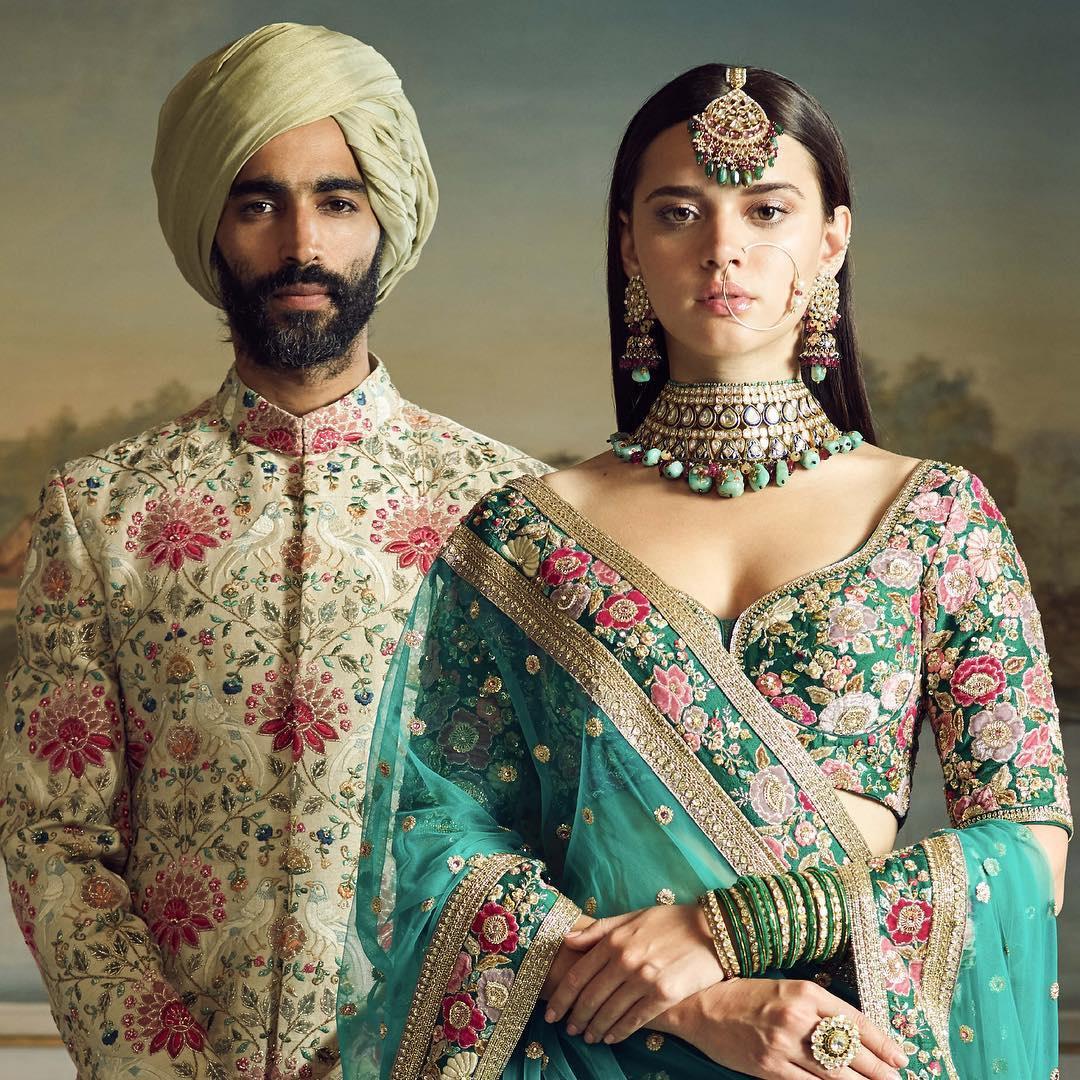 This turquoise blue deep neck blouse design is ideal for brides who love to experiment with colour. It has beige and bright pink flowers strewn all across the blouse, and three-quartered sleeves that help create a distinct look.
2. Deep red velvet blouse with gold embroidery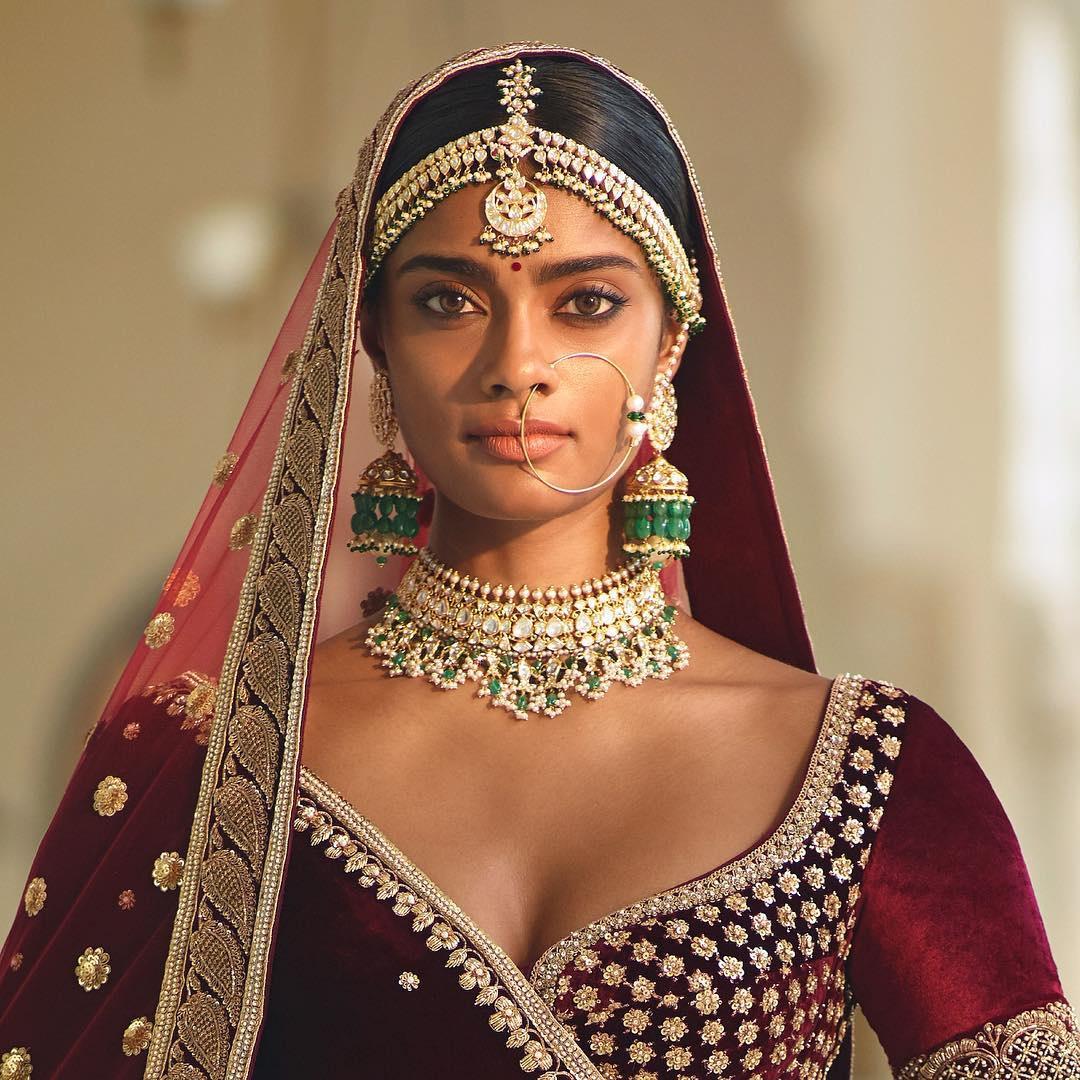 This rich blouse made from velvet has intricate gold embroidery work on it, making it ideal for bridal attire. The Dupatta accompanying the blouse is also a velvet one, contributing the luxurious look of the garment.
3. V neck blue sleeveless blouse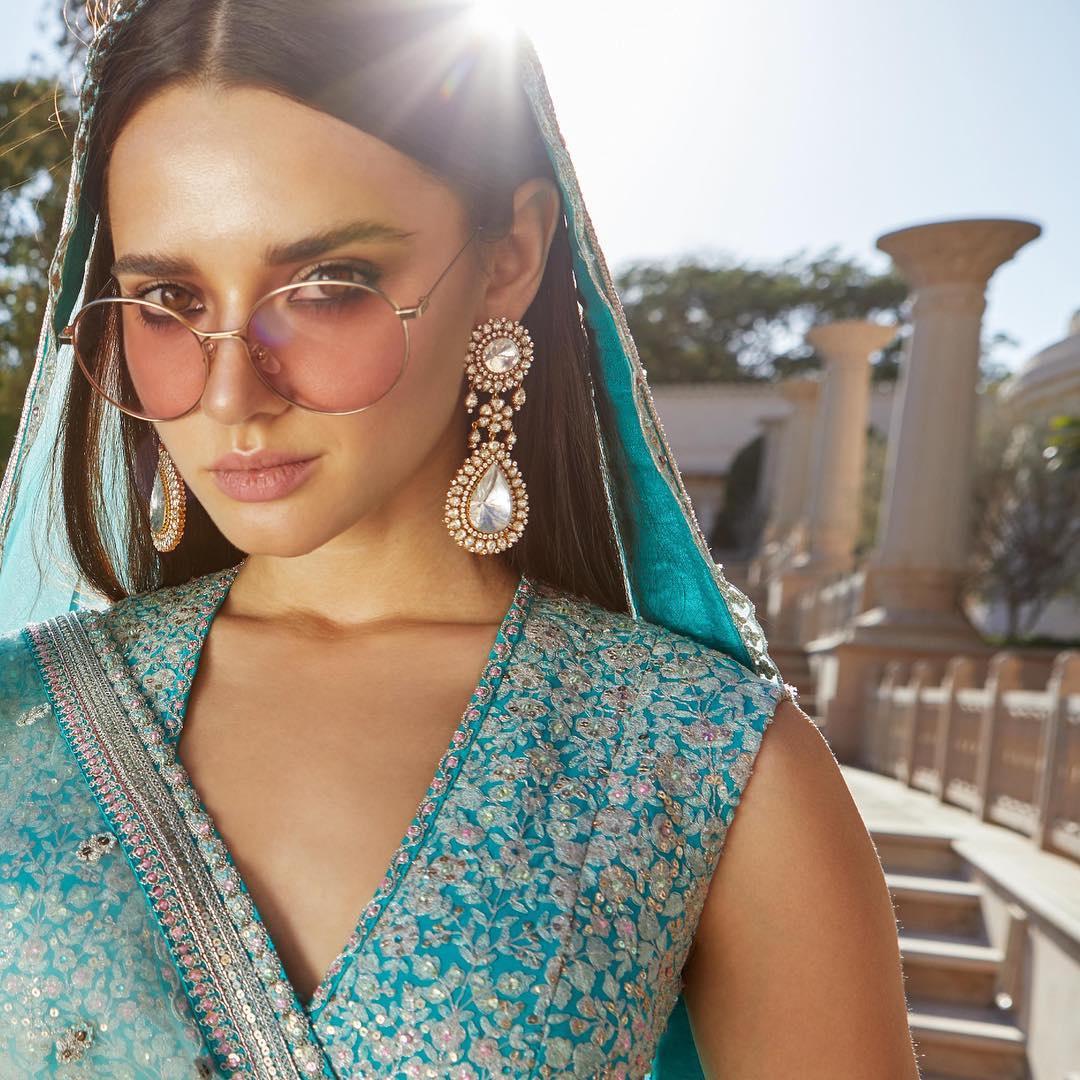 This deep neck blouse design is ideal for brides who want a slightly subtle way of rocking the deep neck look. The V neckline plunges down but is kept toned down by the structure of the blouse and the sleeveless look.
4. Classic beige deep neck blouse designs with a light pattern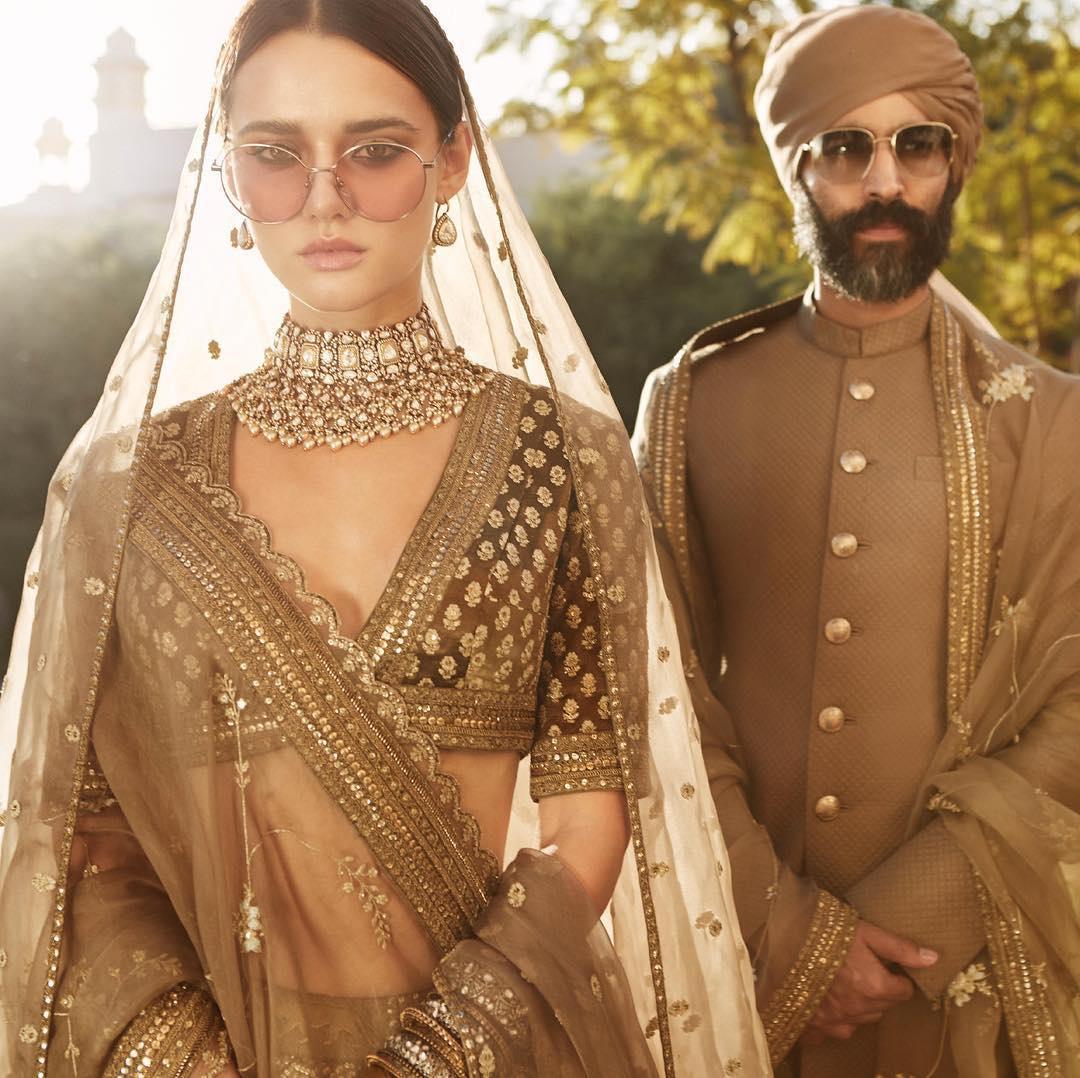 With a deep beige base, this deep neck blouse design is paired with a similarly toned skirt and a gauzy Dupatta, making it ideal for brides who want a neutral colour scheme. It is lightly patterned and can carry off heavy jewellery because of this.
5. Acid yellow deep necked blouse in Chanderi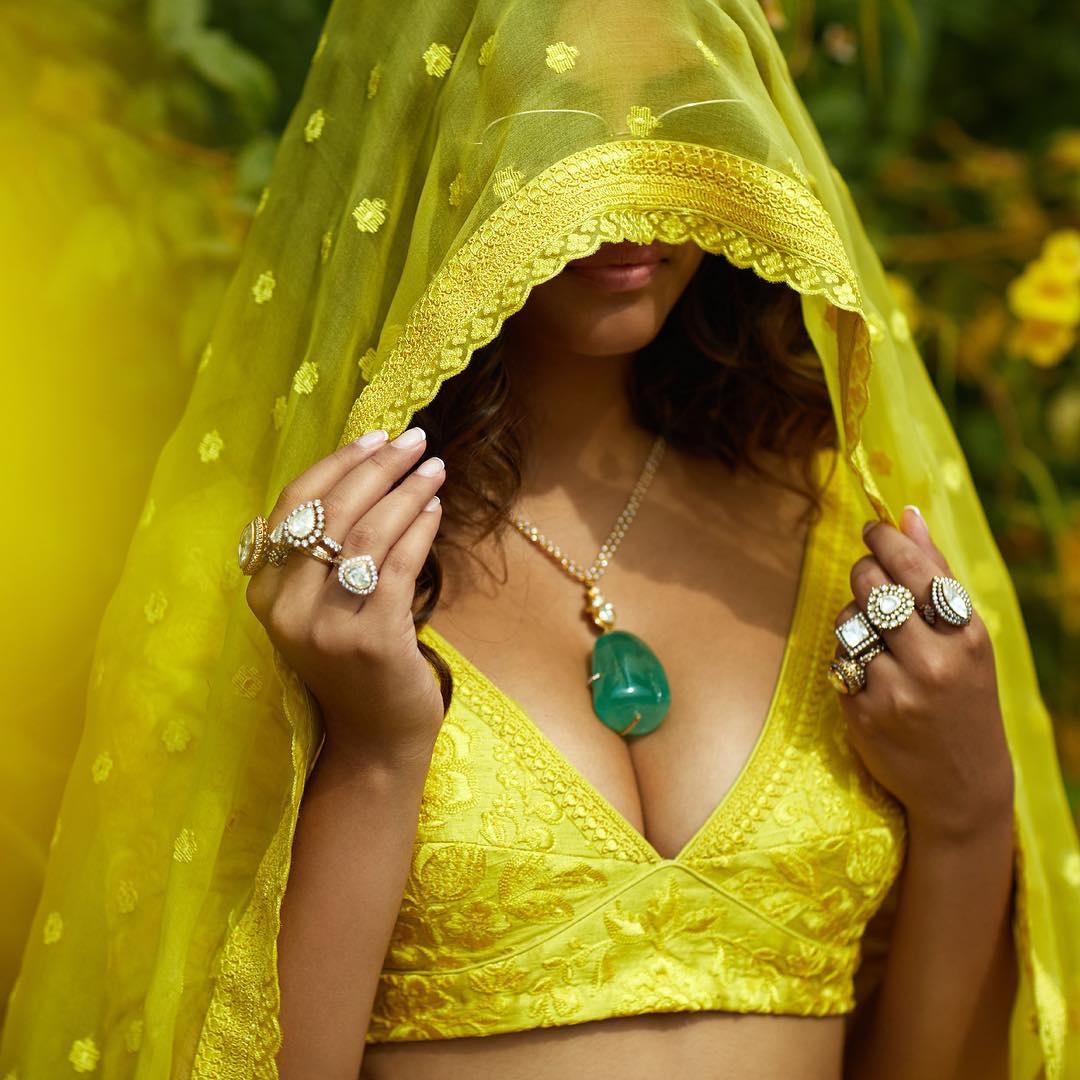 Want to look unforgettable during your Mehndi? Wear this acid yellow deep neck blouse design and blind everyone with your beauty! It has light embroidery work in the same thread, making it a really funky outfit for you to try!
6. Ivory deep neck blouse with an underwire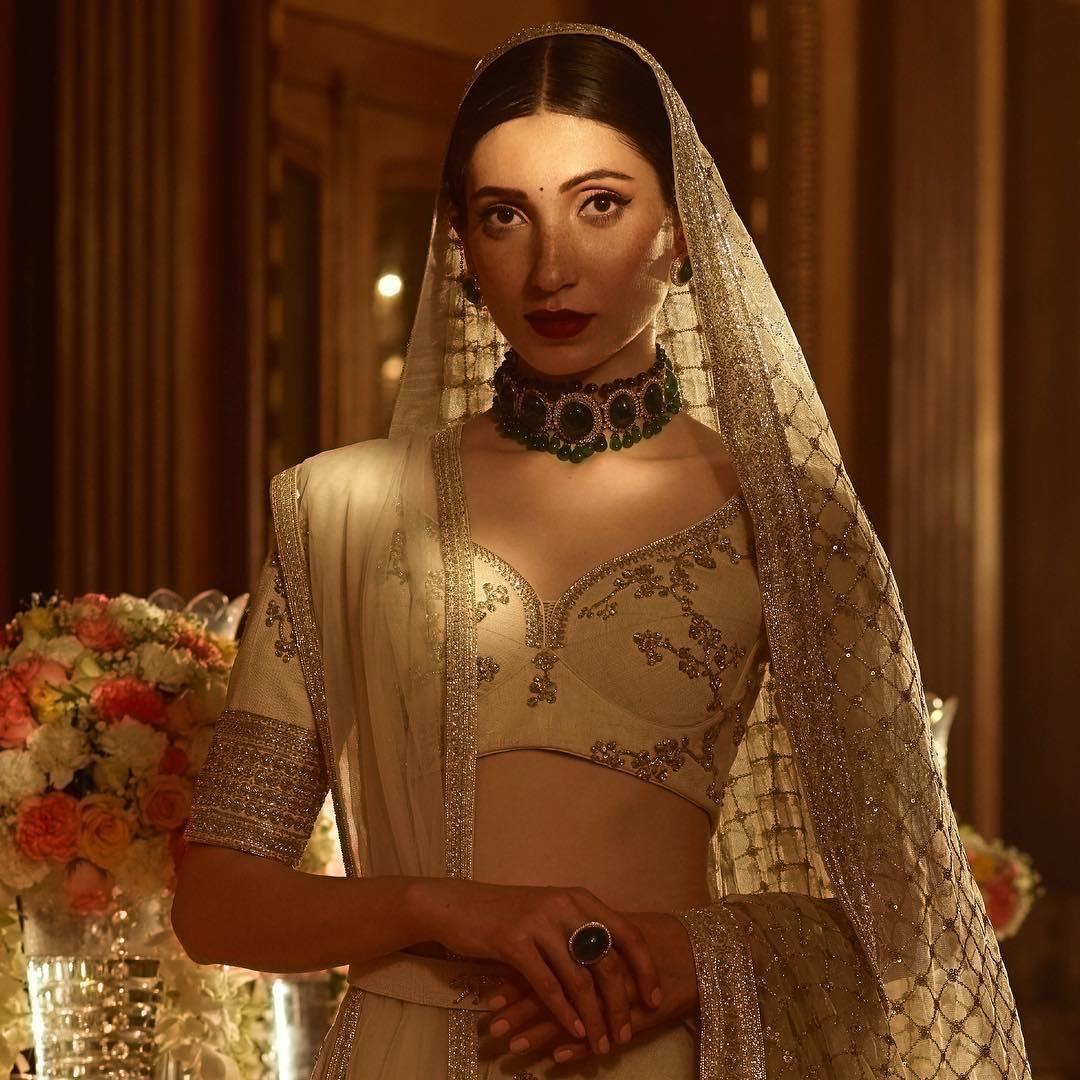 Another great option for brides who love neutral colours, this ivory deep neck blouse design is both subtle and hard to miss! The embroidery on the blouse's border accentuates the deep neckline while the underwire gives it a classic corset look.
7. Heavily embellished green blouse with beadwork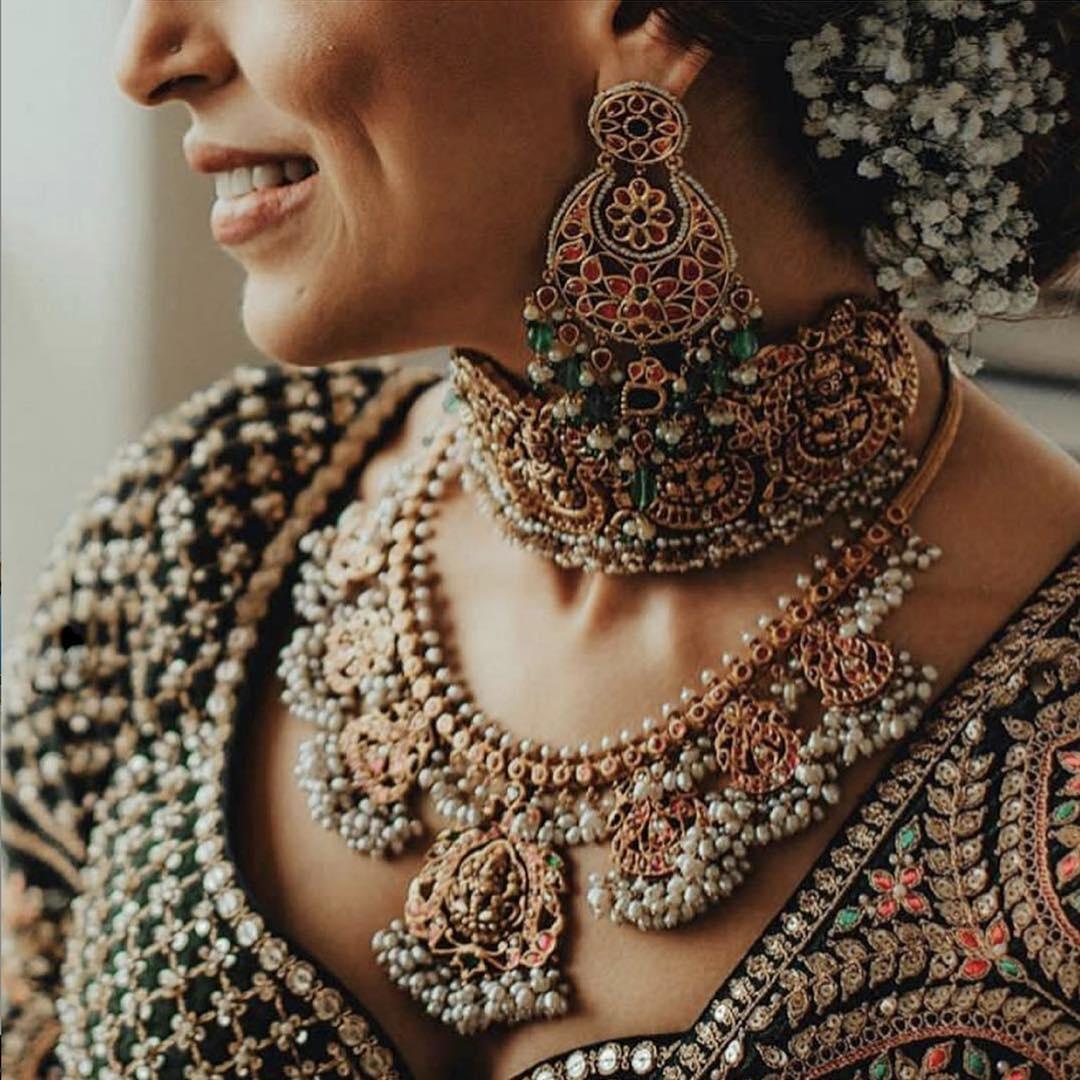 If you want to wear a green lehenga during your wedding, this heavily embellished option is apt for a fantastic bridal look! The deep neck blouse design incorporates little pops of pink that you can match your lipstick with!
8. Deep neck sari blouse in pistachio green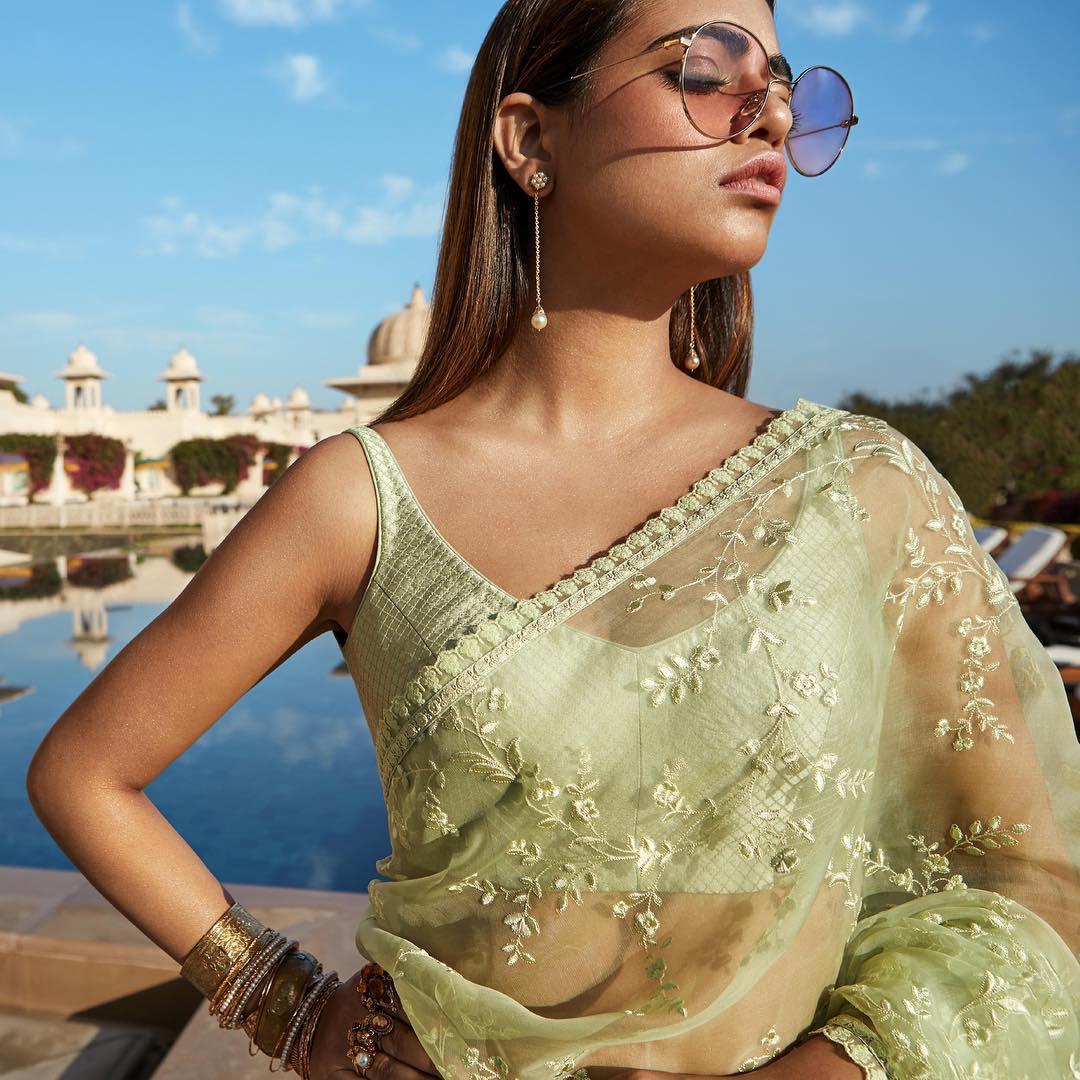 This pistachio green Sari with a deep neck blouse design that can only be described as a minimalist is ideal for a friend's Mehndi function. You'll look absolutely unforgettable!
9. Super risqué pink blouse perfect for your Sangeet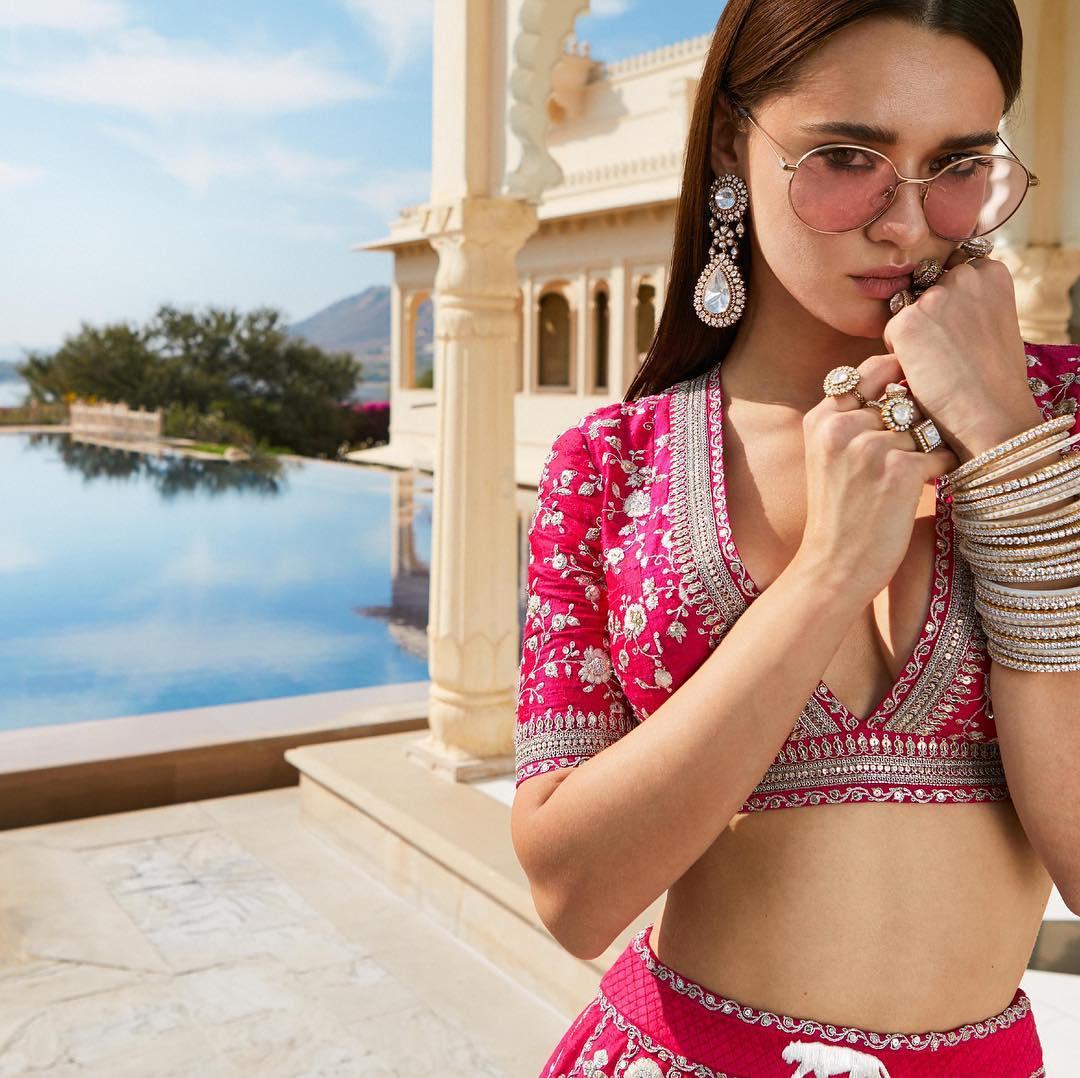 Want all eyes on you during your Sangeet ceremony? Wear this gorgeous pink lehenga that comes with a really deep neckline. Pair it with silver jewellery from Dariba Kalan for a gipsy vibe.
10. Frieda Kahlo inspired blouse designs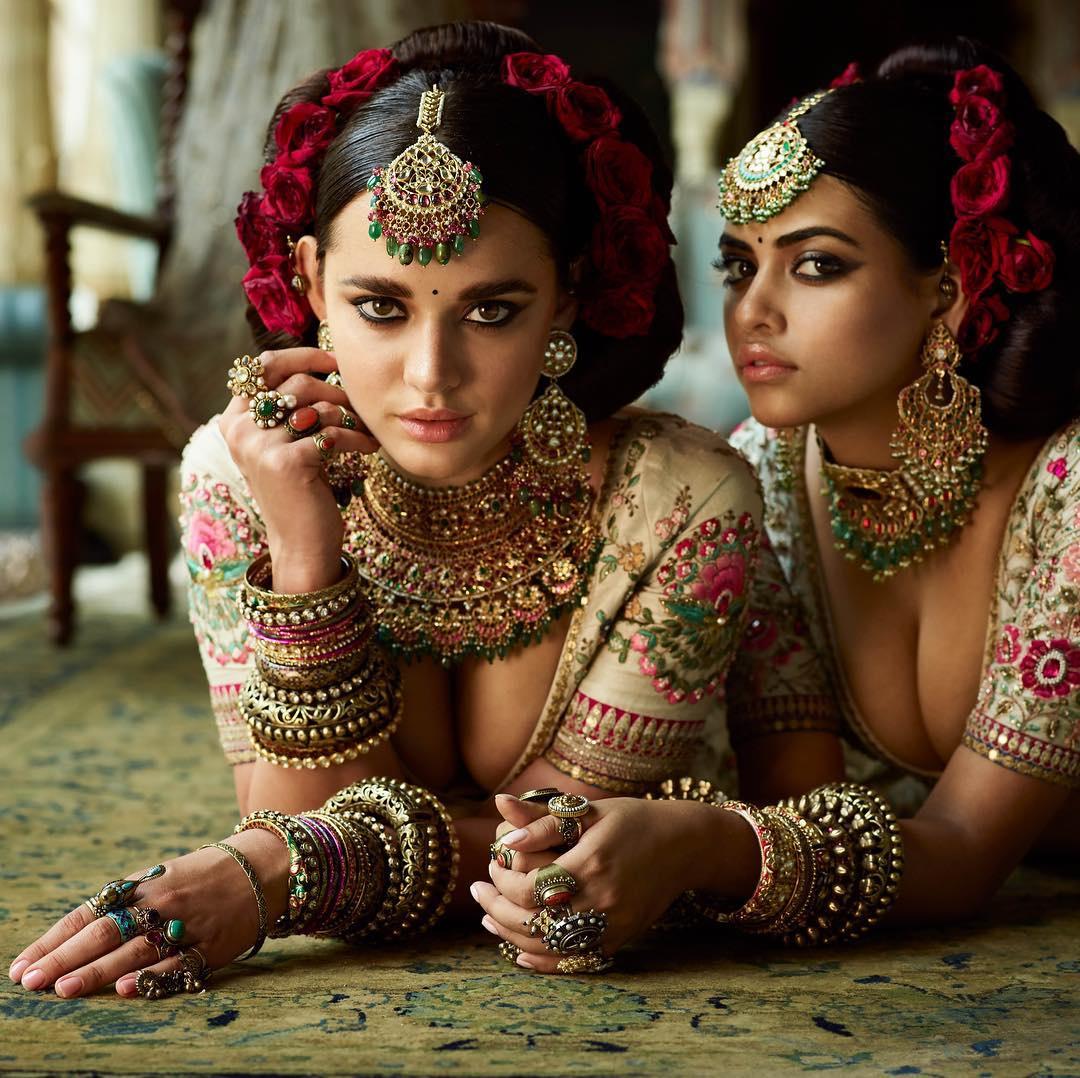 With floral embroidery in pinks and greens, this blouse has strong Freida Kahlo vibes. If you think of yourself as a strong, independent woman, then this collection is the one for you! Don't forget to style your hair with roses like these models to really complete that look.
11. Heavily embroidered blouses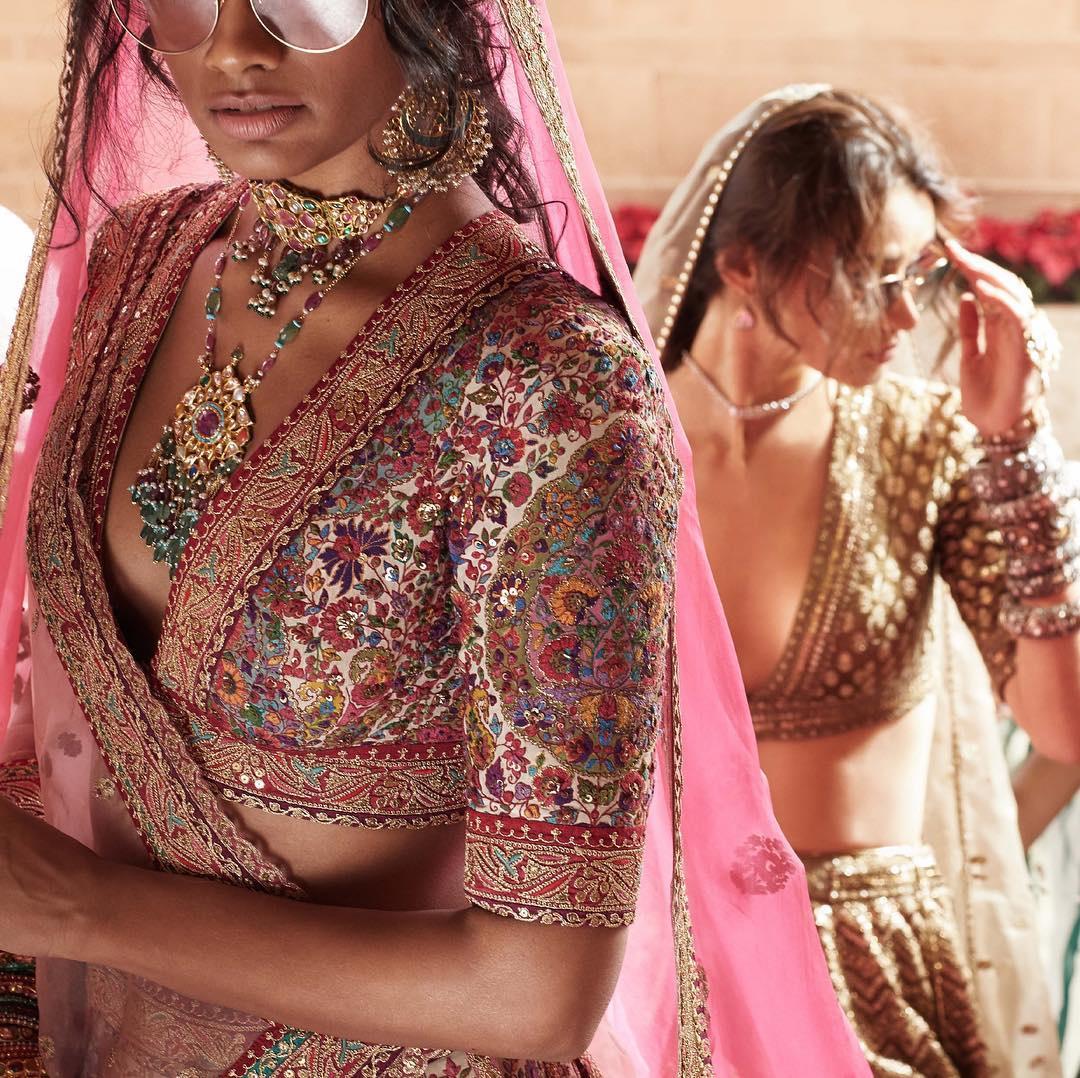 Pink, blue and green flowers stitched onto a white base make this one of the girliest deep neck blouse designs from this designer's collection. It does have Kashmiri crewel embroidery vibes, but we are not sure if that's intentional, or just us!
12. Bridal red with minimalist embroidery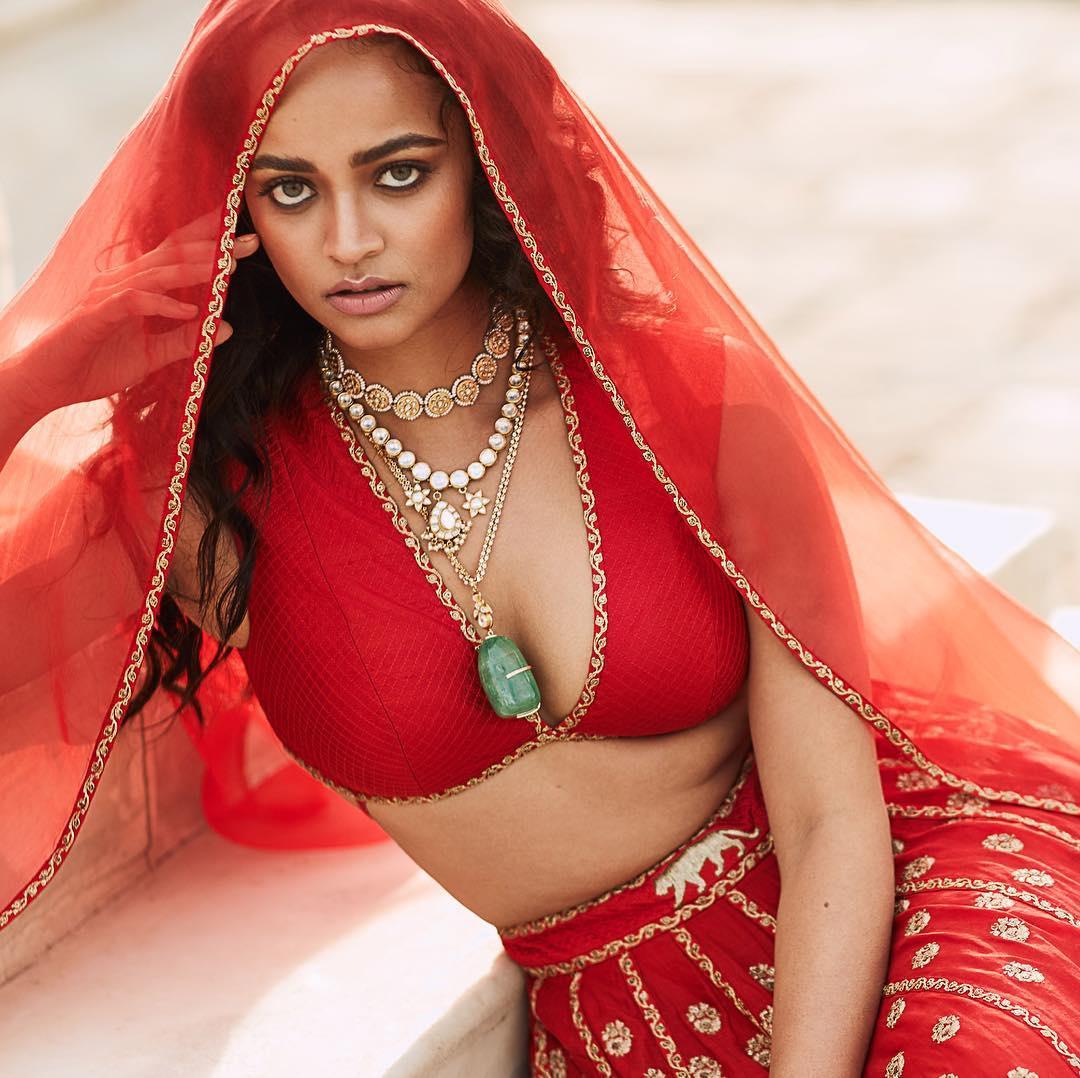 We cannot talk about building a wedding collection for brides without include at least one red item in the list. With the velvet option from above, this one makes two! This blouse has a deep neck along with a band of embroidery at the borders to accentuate its cut.
13. Textured beige blouse with a Sari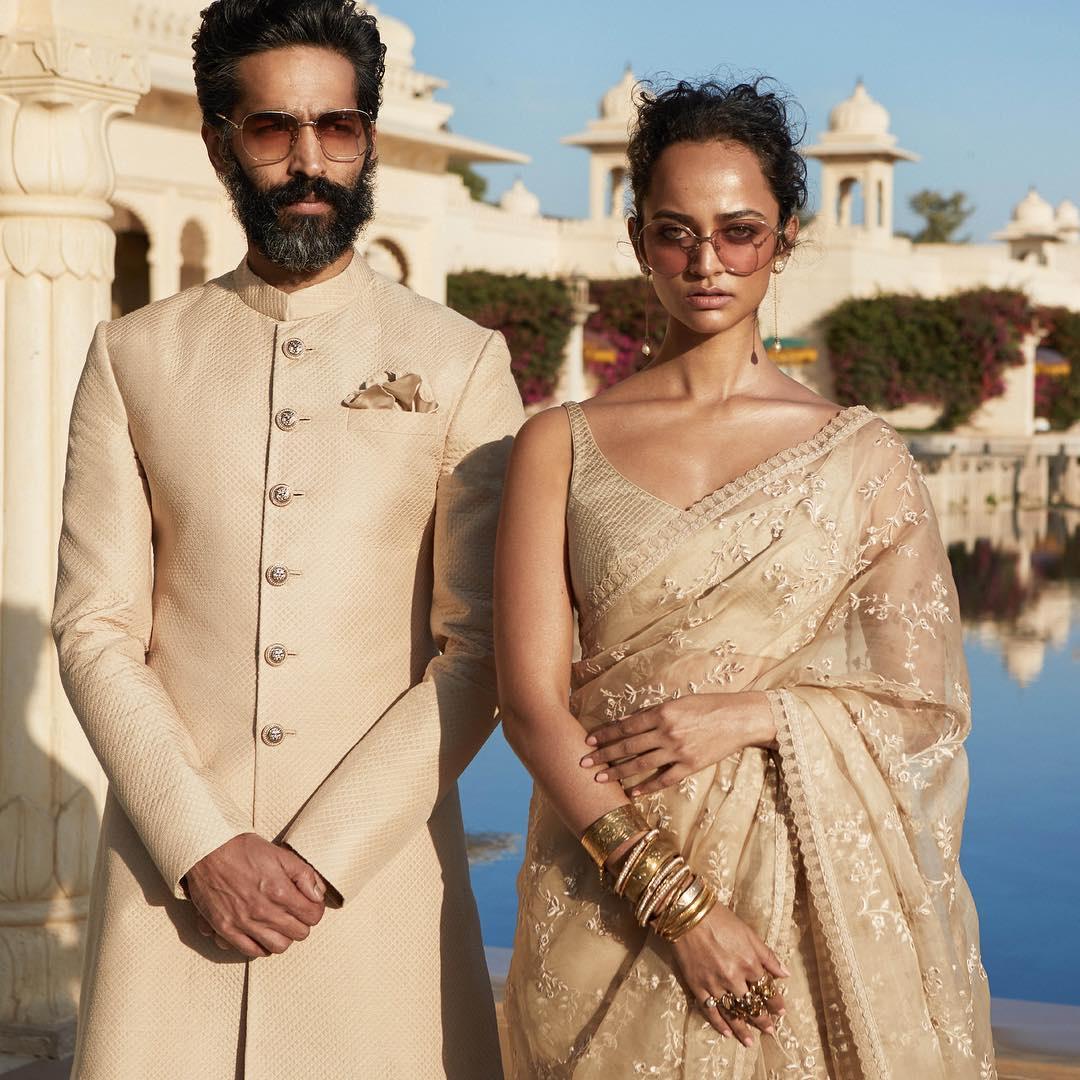 Texture forms a huge part of this deep neck blouse design. The Sari's Pallu has a sheer look, making it absolutely to die for!
14. Sweetheart neckline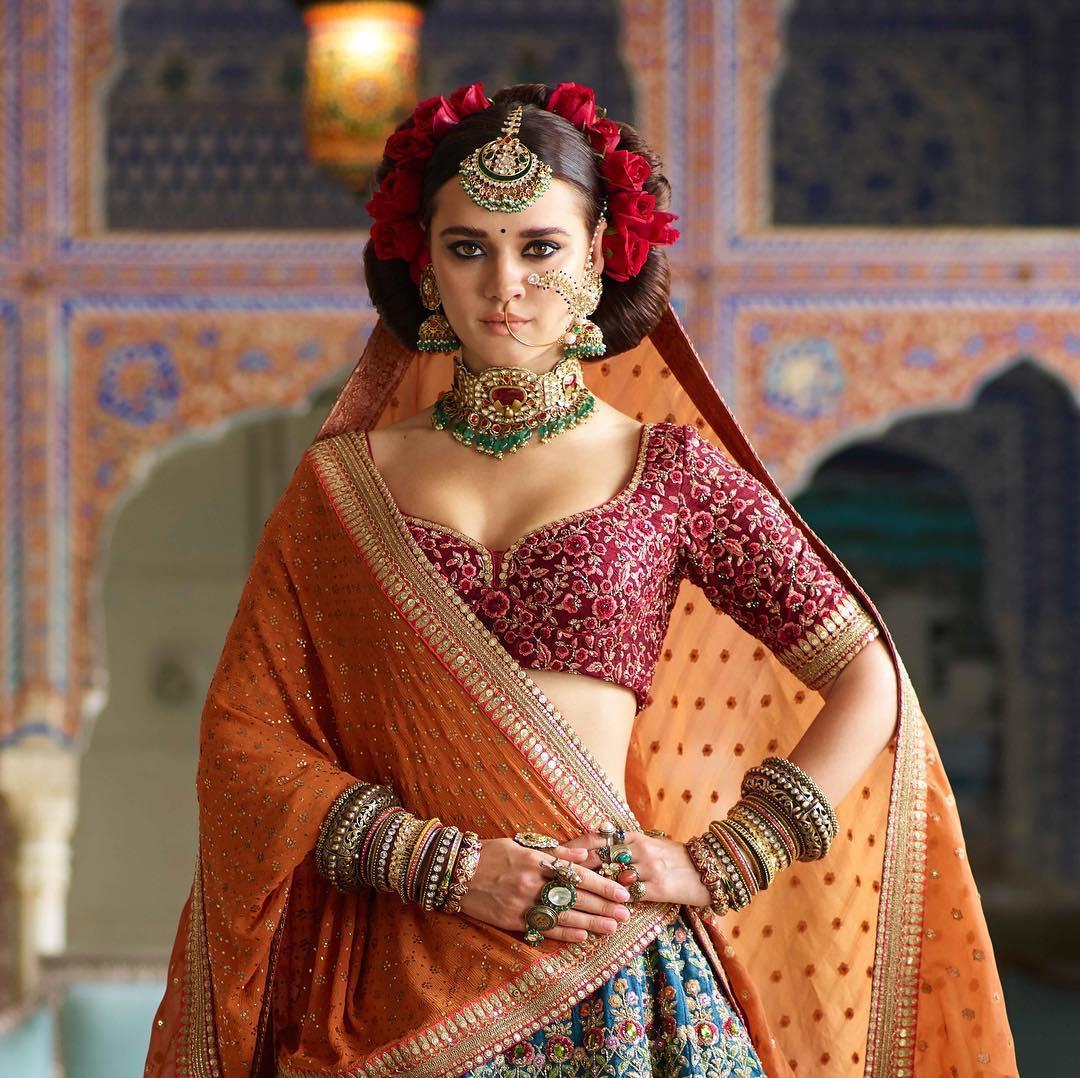 A sweetheart neckline is a highly feminine one and this blouse by Sabyasachi captures the spirit of the modern woman beautifully!
15. Bonus: A light trousseau option with a deep neck blouse design!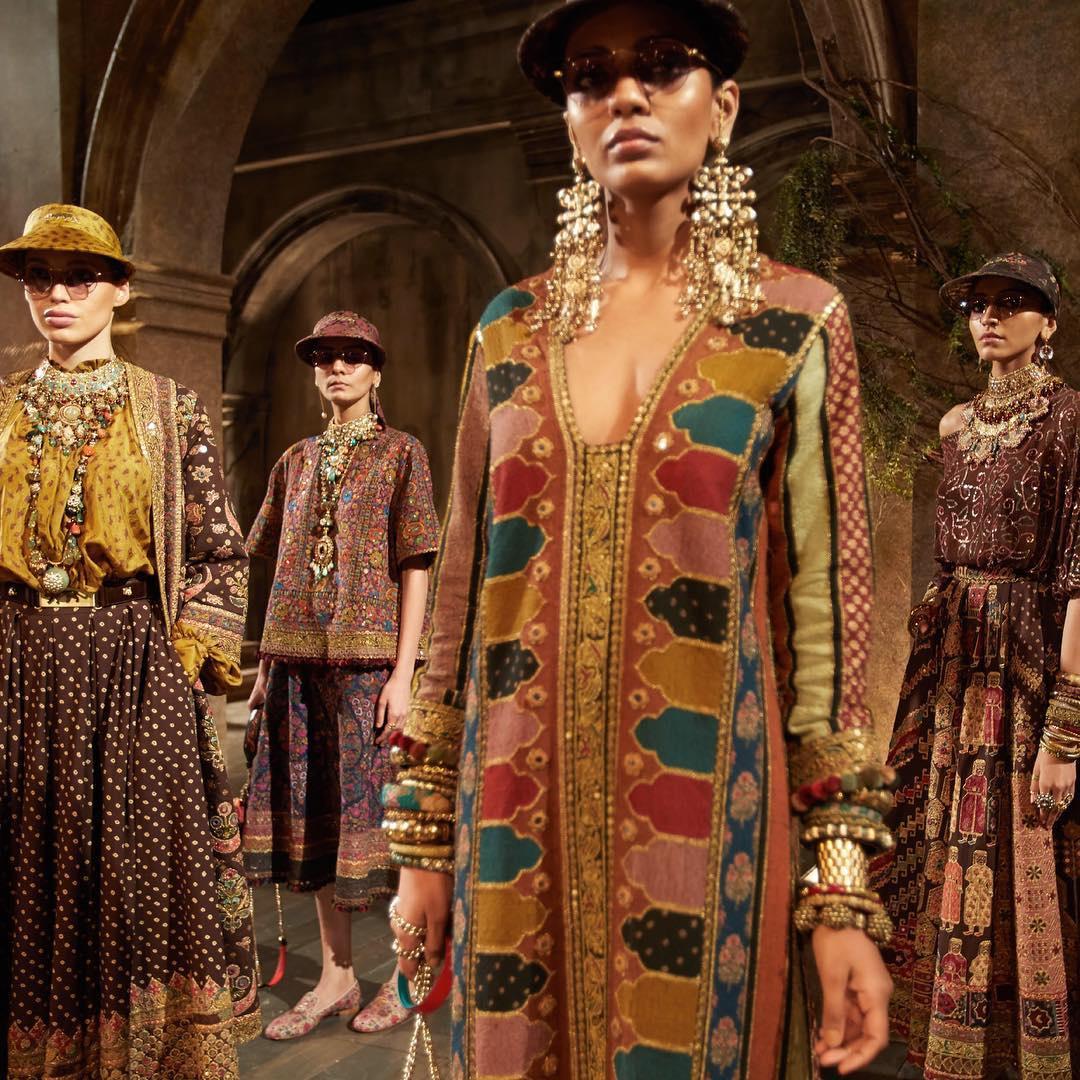 Though not strictly a blouse, we can't resist adding a garment from the Kashgar Bazaar collection because it's so funky. This is one is ideal for brides building their trousseau and looking for lighter options too!
Go ahead and start building your collection because the wedding date will be on your head before you even know it!
Get in touch with our jewellery vendors to complete your outfit!
Note: All images are taken from Sabyasachi's Facebook