7 Mehndi Design Videos to Tickle Your Satisfaction Nerve
While some people love getting mehndi applied, other's find joy in just watching a mehndi design video. Well, this article is for the latter to enjoy the most satisfying DIY mehndi tutorials.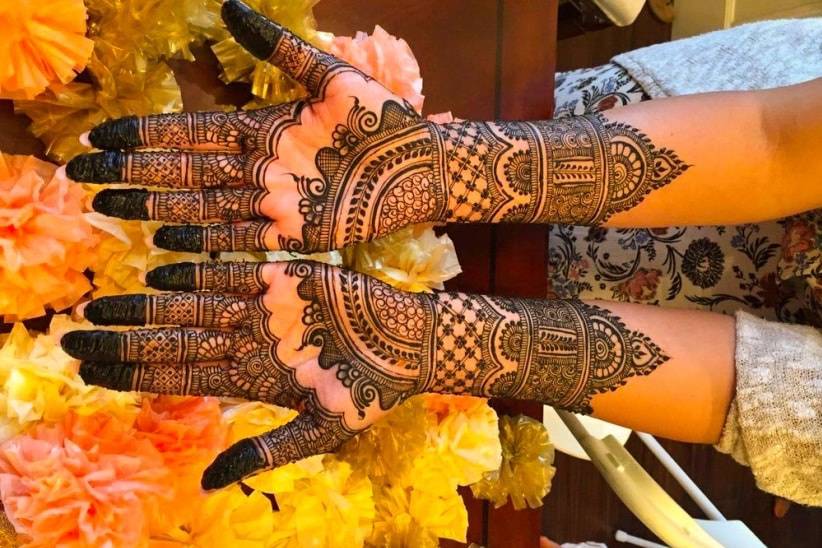 The mehndi design videos are a hit for various reasons. Some like to learn the technique through them while others copy the designs to make their mehndi pattern rather unique and quirky. However, some just like to watch it for their odd satisfaction and love the form of art being graciously drawn on the palms, feet, or anywhere else on the body for that matter.
If you belong to the same category as us, then don't worry because no one is judging you here. Also, we have a surprise for you as we have shortlisted some of our favourite mehndi design videos that are a pleasure to watch every time. So go ahead and scroll through our list to see if these mehndi design videos evoke the same kind of interest and passion for you too.
The Heart Shaped Rose Mehndi
Let's start with a short but sweet mehndi design video that is usual and yet unusual in its own way. While floral mehndi is one of the most common designs, this one incorporates hearts in the flower to make for a great design. The use of bold strokes for the heart-shaped rose and the intricate detailing around it make it one of a kind and very satisfying to watch.
The Cotton Bud Mehndi Design
While we are sure that you have seen a lot of mehndi design videos that were creatively satisfying, this one is to interest you with novel ideas that mehndi artists use to make their mehndi more interesting and the videos more satisfying. The cotton bud mehndi design uses the jaal pattern on the fingers and goes in for the dots to neatly use the cotton bud and turn it into a beautiful floral mehndi design. This is a video that you mustn't miss if you haven't experienced a cotton bud mehndi video ever.
The Gorgeous Kada Mehndi Design
The kada mehndi design, also known as the bangle mehndi design is a beautiful concept that leaves clean spaces between patterns on the wrist creating the illusion of kadas. Apart from being a unique concept, this mehndi design video is a net one to watch. For all the viewers and mehndi video lovers that have their OCD triggered looking at messy designs or unclean spaces, this one will surely bring you some satisfaction.
The Negative Space Henna Design
For those of you that are not aware with what negative space in a henna design is, it is the space between and around the main designs. While these designs work to make the negative spaces more evident, this mehndi design video uses the concept of colouring the negative spaces instead of the main designs to give the mehndi design as well as your satisfaction the perfect thumbs up.
The Classic Mandala Design
Who doesn't love the classic mandala design in mehndi? Well, this must be a difficult question to answer. But, who doesn't love a beautifully and intricately done mandala design video, must be the easier question to answer. So here's a classic video for those that love the round strokes and are in awe of the mandala design. This one is intricate and beautifully done to satisfy your creativity and your urges to see something perfect.
The Caricature Mehndi Video for Bride's Feet
The mehndi design on the bride's hands and feet are always more elaborate and detailed. The caricature mehndi design video is for those of you that love to see how mehndi artists trace down caricatures with mehndi or whether they do it freehand. Watch this beautiful mehndi design video that uses bold and intricate strokes together with the effortless caricature of the bride with a kalash being the focus of this design.
The Simple but Unique Mehndi Design Video
Last but not the least on our list is this simple yet quirky mehndi design video that is drawn in arcs to give it an angular twist. The spaces between these arc designs make for a refreshing new concept and are sure to satisfy those that love something simple yet effective. If intricate designs on this short mehndi design video don't classify as perfection, then we don't know what would.
Whether long or short, intricate or bold, classic or unique, these are some of the best mehndi tutorials that we came across on the internet. While we promise you they are all very satisfying, we are sure you'll find your niche amongst our list of wisely curated mehndi design videos. So wait no longer and watch them to satisfy your creative bones as well as inspire your creativity.
Tell us in comments which mehndi design video satisfied you the most and why.