70+ Romantic Bollywood Songs: All-time Hits For a Memorable Wedding Playlist
From SRK's evergreen romantic songs to new, heart-melting love songs for this generation of couples, we bring to you 70+ all-time hits for a romantic Bollywood wedding playlist.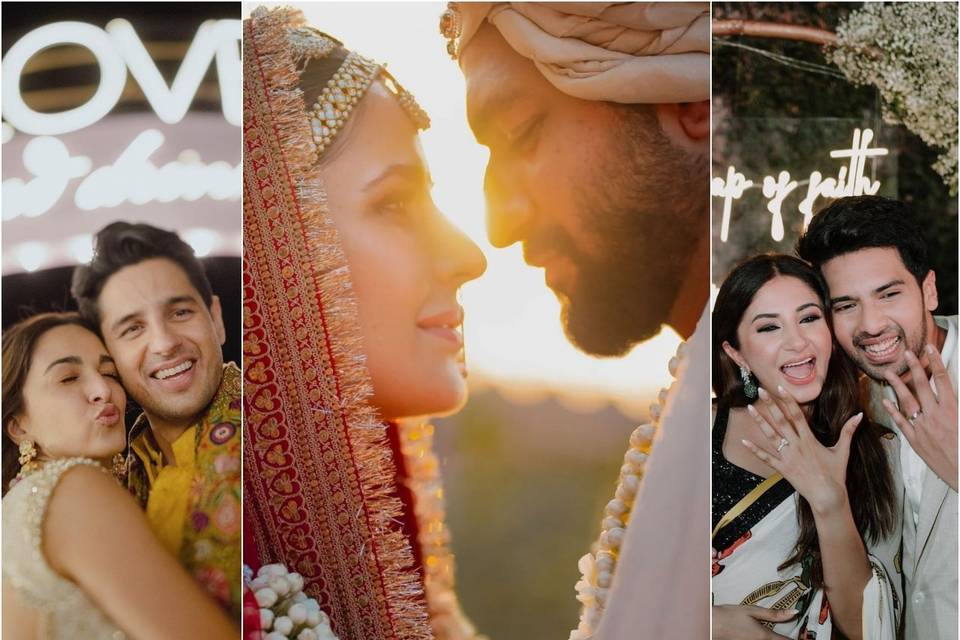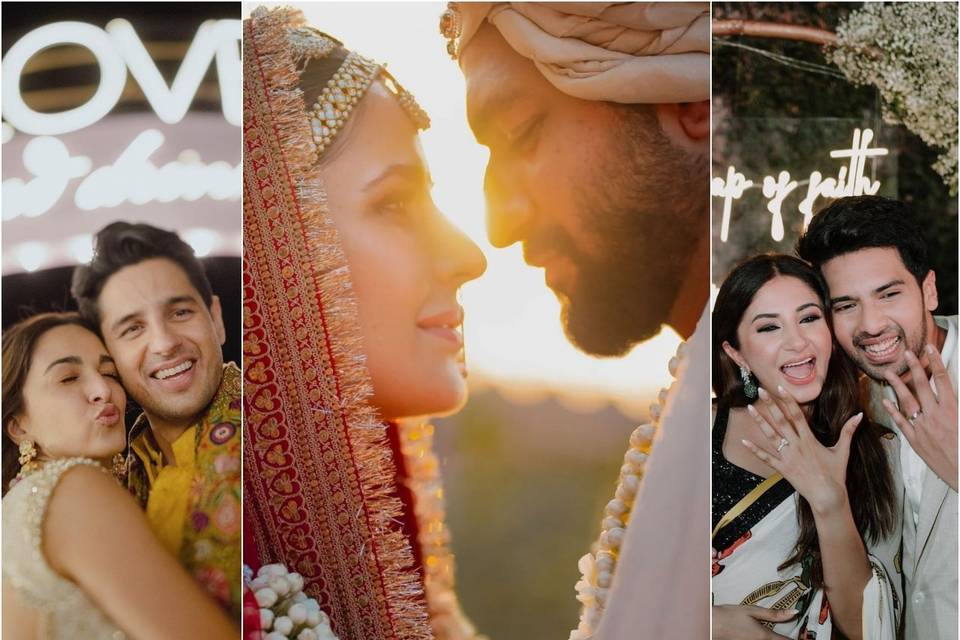 Wedding Photography (L-R): House on the Clouds, Stories by Joseph Radhik, Ivory Films
Timeless Hindi ballads never go out of style, and the latest romantic songs can breathe life into your romance not only at the beginning of your relationship but also during your wedding celebrations with your partner, your wedding anniversaries, or on any other special occasion you celebrate as a couple.
Check out our list of the latest and evergreen romantic and best Hindi songs of all time that can strike a cupid's arrow and fill any room with love. The right song sets the tone for every event of your wedding function, be it the proposal, the bridal and groom entry moments, the perfect song for your couple's performance, or more.
70+ Timeless Romantic Bollywood Songs
1. Chaleya from Jawan
New-age romance comes to life in Shahrukh Khan's blockbuster hit, Jawan's top romantic song, Chaleya. Choose the current best Bollywood romantic song for a special couple performance on your sangeet night.
2. Apna Bana Le from Bhediya
We do love ourselves a power-packed, entertaining Bollywood movie with our favorite stars. But what about the songs? One of the latest and new Bollywood romantic songs that is making the rounds on the internet and is on the minds of everyone in love is definitely the beautiful soundtrack called Apna Bana Le from the movie Bhediya.
3. Raatan Lambiyan from Shershaah
A soulful top romantic song by Jubin Nautiyal for the movie Shershah, Raatan Lambiyan, is a perfect engagement song, especially for a groom's proposal performance.
4. Dil Se Title track from Dil Se
On the top of our Bollywood romantic song list is another Shahrukh Khan starrer track from the 1980s movie 'Dil Se' that can give us goosebumps even today. If you are planning an intense performance with your partner, this is the perfect track for you.
5. Rabba Janda from Mission Majnu
Weave a beautiful tale of love with the soulful Bollywood romantic song Rabba Janda from the movie Mission Majnu. Recognized as the love song of the year, this beautiful track will make you fall in love all over again.
6. Tum Hi Ho from Aashiqui 2
Grooms, hold your breath! This is the best romantic song to say what's in your heart to your bride-to-be at your engagement or sangeet night. This is also a song for every romantic soul out there, from youngsters experiencing the fresh blush of love to our elders at home who are celebrating their 50th wedding anniversary.
7. Pal from Jalebi
This song explains how love can be pure when it is with the right person. Dive deep in the vibe of love by checking out this romantic Bollywood song video on Youtube. You could also play this during the bridal entry.
8. Jab Tak from M.S Dhoni
Here's another best Bollywood romantic song in Dhvani Bhanushali's amazing voice for your bridal entry moment. Jab Tak from the blockbuster hit M.S. Dhoni continues to win hearts even in 2023!
9. Raabta from Agent Vinod
A soulful song that remains a top favorite track for many is 'raabta' from the movie Agent Vinod. Prepare a solo dance performance on this beautiful song for the love of your life. It's an absolutely perfect pick if you are looking for a romantic Bollywood song with meaningful lyrics.
10. Rangisari from Jug Jugg Jeeyo
Looking for the latest Bollywood romantic song that sparks the spirit of celebration at your wedding functions? Check out 'rangisari' from Jug Jugg jeeyo. Play it at your Haldi ceremony or mehndi festivity to set the dancing mood for everyone.
Find the Best Wedding Choreographers Near You
11. Sau Aasmaan from Baar Baar Dekho
Singers Armaan Malik and Neeti Mohan set the stage for celebration with this romantic duet from the movie Baar Baar Dekho. The song Sau aasmaano ko, aur ye jaahano ko, chor ke aayi tere paas is a fun choice for a quirky and adorable bridal entrance.
12. Kaise Hua from Kabir Singh
Looking for a romantic song to dedicate a heartfelt performance to your bride at your sangeet or wedding reception party? You can plan the first dance to this song after your wedding party to surprise your beautiful bride.
13. Galliyan from Ek Villain
Here's another slow Bollywood romantic song that tops the list of the best songs for couples. Pick Galliyan to dedicate a song to your paramour that expresses their role in your life beautifully in the soothing voice of Ankit Tiwari.
14. Nainowaale Ne from Padmavat
Neeti Mohan tops our favorite Bollywood songs list again with this beautiful track from the Deepika Padukone-starrer movie Padmavat. Groove to this rhythm in love, just like Deepika did in this move. Brides can plan a beautiful performance on this song for their partner.
15. Duniya from Luka Chupi
Say it out loud with a song dedication or a dance performance on this beautiful Hindi romantic Bollywood song at your wedding, at your boyfriend's birthday party, on the day you propose, or on your anniversary night.
16. Rasiya from Brahmāstra
This beautiful and melodious track, Rasiya, from the movie Brahmāstra, has been the love anthem for quite some time now. Add this to your wedding playlist and brew romance in the air.
17. Tera Ban Jaunga from Kabir Singh
This was one of the best romantic songs of 2019. Don't we all agree? Paint your love story on the stage with a song that speaks about your promise to stay together forever! Let your chemistry do the talking and melt your partner's heart with a passionate and loving performance for your 'one and only'!
18. Tum Kya Mile from Rocky aur Rani kii Prem Kahaani
The latest melodious romantic couple song that has Bollywood lovers grooving is Tum Kya Mile, sung by Arijit Singh and Shreya Ghoshal. If you want to create a Bollywood moment at your wedding or dedicate a heartfelt song to your partner, this is the song for you.
19. Khairiyat from Chhichhore
Khairiyat from the Sushant Singh Rajput and Shraddha Kapoor starrer 'Chhichhore' is one of the most melodious and sincere Bollywood love songs from 2019. On the top of every Bollywood list of song downloads, Khairiyat has won the hearts of lovers regardless of their age. Perform a beautiful duet with your partner and make all the old and young hearts at your wedding party hum with this most romantic song from Bollywood's best singer, Arijit Singh.
20. Kesariya from Bhramasthra
The nation is grooving to this song, and so are we! Kesariya, from Bollywood's blockbuster hit Brahmastra, is every couple's favorite romantic song. From preparing your bridal dance to choreographing that perfect couple dance to these lyrics and also choosing this track as the background song for your ring exchange ceremony, there are so many ways this song can chime on your wedding day.
21. Besharam Rang from Pathaan
Despite the song's constant controversy since its release, it has gained a similar amount of popularity online. Besharam Rang, starring gorgeous Deepika Padukone and the king of hearts Shah Rukh Khan, is for all the Gen Z couples who are planning a pre-wedding party to remember for their friends.
22. Fitoor from Shamshera
A quintessential love song that everybody seems to adore and definitely has to make it to this list is the beautiful song Fitoor from the movie Shamshera. A new love anthem in the melodious voice of Arijit Singh, it's one of the best new Bollywood romantic songs to add to your wedding playlist.
23. Tere Jeya Hor Disda by The Yellow Diary
Every couple's favorite Hindi song, especially for their wedding films, Tere Jeya Hor Disda, is a perfect composition for all things wedding. You can choose the track for simple and sweet moments like your ring ceremony, varmala exchange, or bridal entry.
24. Enna Sona from Ok Jaanu
An evergreen presence on the top of Bollywood love song lists, Enna Sona from the movie Ok Jaanu, expresses the dilemma of loving someone blindfolded like no other! We recommend this as one of the best love songs for date nights and proposals during the engagement ceremony.
25. Saiyaan by Kailash Kher
A romantic song that has been the "go-to" track to express devotion in love, 'Saiyaan' by Kailash Kher, was released in 2007. If you want a soulful romantic song for your bridal entry for a bridal solo performance, this is the song for you.
26. Ranjha from Shershaah
This beautiful romantic Bollywood song will take you back to your favorite nostalgic lane. Taken from this stirring Shershah movie, this song by B. Praak, Jasleen Royal, Romy, and Anvita Dutt is everyone's favorite. A full romantic song like this is the perfect number for wedding choreography.
27. Tu Mileya by Darshan Raval
Another latest Hindi-Bollywood romantic song that has to be on your wedding playlist is Tu Mileya by Darshan Raval. The soulful melody can energize the evening of your engagement or can also be a perfect bridal entry track.
28. Maiya Mainu by Sachet Parampara, Jersey
Feel your first love after listening to this romantic song. The beautiful, gripping, and astounding love story is depicted here in a fairy tale way. You will definitely have goosebumps after listening to this romantic Bollywood song from our list of favorite romantic songs that were launched recently.
29. Phir Aur Kya Chahiye from Zara Hatke Zara Bachke
Sachin-Jigar's composition 'phir aur kya chahiye' is a melodious take on love that can alone suffice the ups and downs of life. With song lyrics that are heartfelt and express your emotions for your partner beautifully, this melodious track in Arijit Singh's voice is perfect for a song or dance dedication to your bride.
30. Dil Diya Gallan from Tiger Zinda Hai
Make your D-day memorable with this soulful romantic Bollywood song list, but don't forget to top the chart with this heartwarming new song. 'Dil Diya Gallan' can always be cherished when your partner is beside you. Prepare an overwhelming couple dance performance and soften the hearts of the guests with a heartfelt performance.
31. Doobey from Gehraiyaan
Lothika performs a heartfelt song that Kausar Munir wrote, OAFF produced, and OAFF and Savera jointly composed and produced. From the movie 'Gehraiyaan', Doobey is irresistible. This is one of the most romantic Hindi songs released recently and has a vibe of it's own. Pick this for an easy-going and fun Haldi ceremony.
32. Humraah from Malang
Here's one of our absolute favorite Bollywood songs from the movie Malang, released in 2020. Dedicated to the spirit and celebration of eternal love, this is a song for couples' who have had an adventurous journey together. Add this to your Haldi or Mehndi ceremony playlist now!
33. Shayad from Love Aaj Kal
Shayad from Love Aaj Kal is the perfect song to add to your romantic Sangeet night playlist. Go down on your knees and pop the proposal question once again with the lyrics "jo tum na ho, rahege hum nahi" playing on repeat.
34. Tum Se Hi from Sadak 2
Wish to express the importance of your partner in your life in the form of a Hindi romantic song? Here's a composition with the most heartfelt lyrics to express their importance in our lives in the most creative way! If you were born with singing genes, you could also perform this Hindi couple song to propose to your partner.
35. Teri Ore from Singh is King
This is one of the most romantic Bollywood songs from the 2008 movie Singh is King, which has touched millions of hearts. From couple dance performances to sisters and friends, the lyrics of this romantic Bollywood song are perfect for every kind of dedication. Don't miss adding this beautiful track to your playlist.
36. Main Rang Sharbaton Ka from Phata Poster Nikla Hero
As far as romantic Bollywood songs are considered, Arijit Singh's songs are timeless and continue to be top of mind. Main Rang Sharbaton Ka from the Shahid Kapoor starrer 2013 film is an absolute favorite romantic song for couples. Play this during the ring ceremony or plan a cute performance together.
37. Tujh Mein Rab Dikhta hai from Rab Ne Bana Di Jodi
A love song that portrays dedication like no other! Tujh me Rab dikhta hai is a favorite composition for lovers who want to express the purity of their feelings and their dedication to their partner. Add it to your playlist today if love is the easiest example of God and his power for you.
38. O Saathi from Baaghi 2
Here's one of the most beloved romantic love songs from Bollywood's 2018 movie releases. Featuring the gorgeous Disha Patani alongside Tiger Shroff, the song strikes the chords of new love and romance in every young heart. Top your wedding playlist with this best romantic Hindi song if you aim to fill the evening's air with love vibes!
39. Tere Bin from Simba
Start your new beginning with a lovely couple dance and seize the moments forever in your hearts. This is one of the most romantic Hindi Bollywood songs for couple dance that not only has soulful music but upbeat tunes to turn up the romance. Add this to your engagement playlist or plan a beautiful a first-dance with this song.
40. Aaj Din Chadheya from Love Aaj Kal
Planning a grand anniversary celebration of your parents? They must perform on Aaj Din Chadheya from Love Aaj Kal. The innocence and purity of love trickle down in every word of this song and nothing explains the joy of celebrating years and years of love and togetherness as beautifully as the lyrics of this song.
41. Tere Sang Yaara from Rustom
This love song from Bollywood's favorite Akshay Kumar starrer - Rustom is for all the couples who want to express their 'Ishq' on their wedding day. Top up your playlist of romantic Bollywood songs on your engagement or cocktail night.
42. Baarish Ki Jaaye by B Praak
Grooms, don't shy away from doing something special for your partner during your wedding events. This is a once-in-a lifetime opportunity, and you should not miss it for the world. Our suggestion is to plan a heart-melting performance on 'Baarish ki Jaaye' The innocence and passion in this song, along with B Praak's voice, give us goosebumps for all the right reasons.
43. Chahun Main Ya Naa from Aashiqui 2
While it's impossible to choose one Hindi romantic song from Aashiqui 2 as our favorite, 'Chahun Main Ya Naa' could be your easy pick to pop the question in a creative style! This cute Bollywood couple song could also be an interesting dedication to your love interest if you are looking for ways to drop hints about your feelings.
44. Tum Se Hi from Jab We Met
Be it your wedding anniversary party or a couple performance for your sangeet celebrations, fall in love all over again with this one-of-a-kind soul-soothing romantic song from Bollywood's blockbuster hit movie Jab We Met. Get a wedding choreographer to plan the most graceful moves for the two of you and create a one-of-a-kind memory.
45. Bol Na Halke Halke from Jhoom Barabar Jhoom
For the hearts that beat louder when the rhythm of Sufi songs takes over - here's Bollywood's favorite track for lovers, 'Bol na halke halke' to drench in the beauty of pure and deep connections.
46. Lag Ja Gale from Woh Kaun Thi
An iconic old Bollywood romantic song, 'Lag Ja Gale" from the movie Woh Kaun Thi can be a perfect pick if you are planning a song performance for your groom. Truly timeless, this romantic song can also help your parents. in-laws, uncles and aunts revive the magic of their love at your wedding events.
47. Pehla Nasha from Jo Jeeta Wohi Sikander
Here's another classic love song of love from a memorable Bollywood movie - Jo Jeeta Wohi Sikander. Pehla Nasha is always the anthem of first love. Nothing surpasses the pure and adorable vibes of these romantic Bollywood songs lyrics!
48. Tu Mile Dil Khile from Criminal
A cult classic 90s Bollywood romantic song that has to be on your wedding playlist is Tu Mile Dil Khile from the movie Criminal. Make the section "chanda tujhe dekhne ko" your bridal entry song and watch your guests melt in love as you walk towards the aisle.
49. Bahon Ke Darmiyan from Khamoshi: The Musical
If you want to add one of the best 90s Bollywood romantic songs to your wedding playlist, how can you miss the soulful Bahon Ke Darmiyan from the movie Khamoshi: The Musical? A song that still tops our favourite chartbusters of evergreen Hindi songs, this will be perfect for all the 90s babies tying the knot.
50. Suraj Hua Maddham from K3G
Here comes our favorite Bollywood jodi, to sweep you and your lover off your feet. Suraj hua maddham is one of the most popular love songs of its time. From the couple featured in the video to the ambiance and music of the song, everything was meant to invoke the passion in your love story. Say it like you mean it with this cute romantic couple song.
51. Khuda Jaane from Bachna Ae Haseeno
Here's another Bollywood couple whose chemistry makes us go 'wow'! Ranbir and Deepika's sizzling performance on 'Khuda Jaane' had definitely set some love goals for millennial couples. Grooms, if you love the lyrics of the song, add it to your wedding list today.
52. Chura Liya Hai Tumne Jo Dil Ko from Yaadon Ki Baaraat
One of the most famous music composers of all time, RD Burman, wove nothing but magic with his songs. His songs continue to mesmerise us even today, and one such beautiful song from the movie Yaadon Ki Baaraat is the most romantic Bollywood song, 'Chura Liya Hai Tumne Jo Dil Ko'. Add this to your Haldi ceremony song playlist to add some fun to your colorful party.
53. Sanu EK Pal Chain from Raid
This track has all the rights to be on our romantic love video favourites list! This heartwarming love song from the movie Raid is as pure as love. Couples who are planning a destination wedding in Rajasthan or any other fort in India, should definitely add this song to their playlist.
54. Socho Ke Jheelon Ka Shehar from Mission Kashmir
Weave a beautiful story of your forever after with your partner with this romantic and soothing Hindi Bollywood song playing in the background. 'Socho ke jheelon ka sheher' is a heart-melting composition meant for young couples and we would love to see a new-gen take to the dance floor and perform on this cute and romantic love song.
55. Roop Tera Mastana from Aradhana
One of the most beautiful old Bollywood romantic songs that continues to be in our top favorite list even after 50 years is 'Roop Tera Mastana' from the movie Aradhana. This beautiful love song just refuses to grow old and would definitely make your wedding playlist stand out. Make your parents groove to these lyrics to make your sangeet party truly memorable.
56. Do Lafzon Ki Hai Dil Ki Kahani from The Great Gambler
Another super hit love song that will instantly add energy to your wedding playlist is Do Lafzon Ki Hai Dil Ki Kahani from The Great Gambler. Weave magic into your wedding festivities with this mesmerising old Bollywood romantic song.
57. Heeriye Jasleen Royal ft. Arijit Singh
Gen Z's favorite romantic track that has gone viral on all social media channels—'Heeriye' is a top-of-mind song for your well-curated candid wedding film. Make your wedding film truly epic, like a Bollywood movie that has perfect storytelling, by adding this song to the film.
58. Channa Ve from Bhoot - Part One
Channa Ve from the 2020 movie Bhoot Part One: The Haunted Ship continues to be a top favorite romantic song on Youtube. Pick this for your sangeet playlist or wedding day to add the innocence of pure love to your events.
59. Ranjhaana Hua Mai Tera from Ranjhaana
The lyrics of this Bollywood romantic song say it all! Pick this song for your dance performance and surprise your bride with the best moves. This is a perfect composition by the legendary A. R. Rehman and celebrates romance like no other!
60. Chal Chaiyya Chaiyya from Dil Se
Another timeless Bollywood love song that people often confuse only for party and dance songs, 'Chal Chaiyya Chaiyya' is a romantic song loaded with so much energy and a perfect track for your wedding celebration. You can also plan a couple performance and dance the night away in romantic lines like 'mera yaar hai jo khusbhoo ki tarah, jiski zubaan urdu ki tarah,'
61. Titli from Chennair Express
An innocent song that resembles the spirit of new love, 'Titli' from Chennai Express is a perfect addition to your Mehndi or Haldi wedding song playlist. Add this cute romantic love song to your playlist and allow Chinmayi Shripada's beautiful and melodious voice to add a memorable sweetness to your wedding.
62. Janiya from Chor Nikal Ke Bhaaga
Another top favorite romantic song for Gen Z couples, 'Janiye' by Vishal Mishra, is a perfect proposal song if you are planning a surprise event for her. You could also consider this track for your wedding teaser or for a song performance at your wedding.
63. Udd Jaa Kaale Kaavan from Gadar 2
This beautiful romantic Bollywood song is a must-have in your wedding playlist for all the right reasons. Ask your parents, uncles, and aunts to plan a sweet performance of this song for your sangeet night and make it a memorable celebration for your family.
64. Tera Hone Laga Hu from Ajab Prem ki Ghazab Kahaani
The cutest romantic love song of all time on our list is 'Tera Hone Laga Hoon' from the Ranbir Kapoor and Katrina Kaif starrer 2009 film 'Ajab Prem ki Ghazab Kahaani'. You can never go wrong with this song! Use this love song as your proposal song, or ring ceremony song because the song lyrics is as special as your romantic moment.
65. Tere Bina from Guru
Another A.R. Rahman blockbuster hit from the famous 2007 Bollywood movie 'Guru', 'Tere Bina' is a beautiful romantic composition that is perfect for your Mehndi or Haldi wedding song playlist. The traditional rhythm and lyrics of this song can add a beautiful sense of nostalgia and old-school love to your wedding romance.
66. Bana Sharabi from Govinda Naam Mera
Looking for a romantic ballad to add to your wedding song playlist? The soulful track 'Bana Sharabi from Govinda Naam Mera' is one romantic Bollywood song that you cannot miss out on. The video is set in a beautiful palace set-up with chandeliers and Roman art on the walls as Kiara and Vicky romance each other. Imagine your pre-engagement shoot with this love song.
67. Haule Haule from Rab Ne Bana Di Jodi
The 2008 Shahrukh Khan-starrer Bollywood film 'Rab Ne Bana Di Jodi' gave us beautiful love songs and lessons in romance to cherish and remember for years to come. 'Haule Haule ho jaayega pyaar' is the perfect song that groomsmen can choose to dedicate a fun performance to their friend who is tying the knot in an arranged marriage. Add Sukhwinder Singh's song to the wedding playlist, as his melodious voice adds rhyme and rhythm to this beautiful composition.
68. Jaan Ban Gaye from Khuda Haafiz
One of the most loved new songs from Bollywood's 2020 releases, this track is the grandest declaration of love, composed and sung in the most simple and beautiful way! Choose the soothing music and deep lyrics of this new Hindi romantic song to dedicate a performance to your paramour.
69. Ik Mulaqaat from Dream Girl
The lure of first love couldn't be expressed better than this! Here's a romantic Bollywood song that has us daydreaming about finding love at first sight! If you and your partner have a similar 'Ik Mulaqaat' story, you know you have found the right love song to dedicate to them.
70. Maula Mere Maula from Anwar
In 2007, Mithoon composed a song that became a love anthem for generations to come. Maula mere Maula is a beautiful romantic composition that continues to take our breath away because of the depth of the lyrics, the music, and Roop Kumar Rathod's brilliant voice. Feel free to make this your bridal entry song to stun your guests and Instagram with an old song that is precious even today.
71.

Jogi from Shaadi Me Zaroor Aana

Perform one of the best romantic Bollywood songs while you sync the dance steps with each other. Let your partner know how 'Sohna' their love is, and don't forget to look into their eyes while giving a memorable couple dance performance. One of the most romantic Bollywood songs, and your beloved in your arms—what else could one ask for?
72. Dheere Dheere Se Meri Zindagi Mein Aana from Aashiqui
While becoming the best-selling romantic Bollywood song album of all time, the movie Aashiqui was a game-changer for the Indian music industry. If you want to feel the same love around your wedding festivities, don't forget to add this beautiful 90s Bollywood romantic song to your wedding playlist.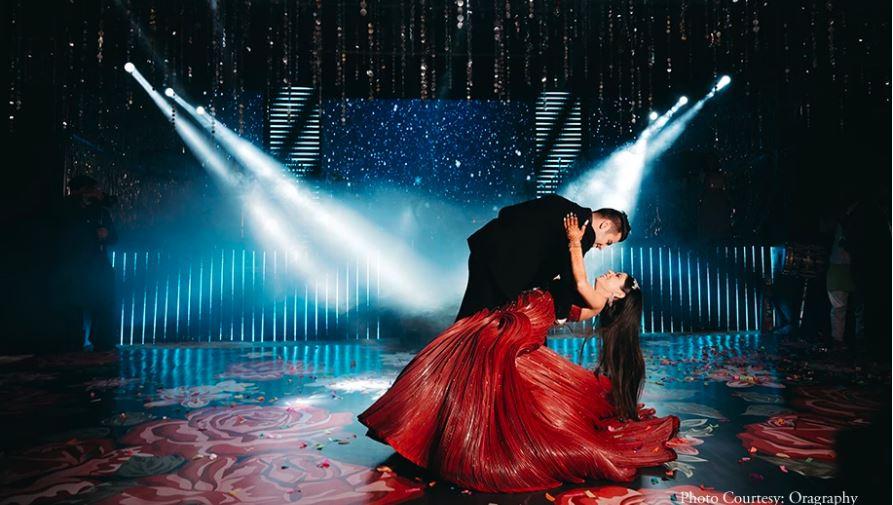 Wedding Photography: Oragraphy I Bride's Outfit: Gaurav Gupta
From a mix of quick, quirky beats to soulful music, don't miss out on a dance with your better half. Your wedding will be one of the most important days of your life. Make it count by enjoying every minute to the fullest. We understand if you have never danced. Ask the choreographer to pick out soulful steps that can help you match the beats and rhythm of one of your favorite romantic songs from this romantic song list of Bollywood hit songs.
We hope that you have saved this romantic Bollywood song playlist already. If you are looking for the right wedding choreographer, we have a list of the best ones that will suit every pocket! Meanwhile, let us know your favorite romantic song from this list in the comment box below.
Additional Words from Queenie Singh
Top Blogs on WeddingWire India