100+ Most Romantic Hindi Bollywood Songs for Couples with Videos
From SRK's evergreen romantic no.s to new, heart-melting love songs for this generation of couples - too many Hindi romantic Bollywood songs have struck cupid's arrow in young hearts. Find your favorites top Bollywood romantic songs here.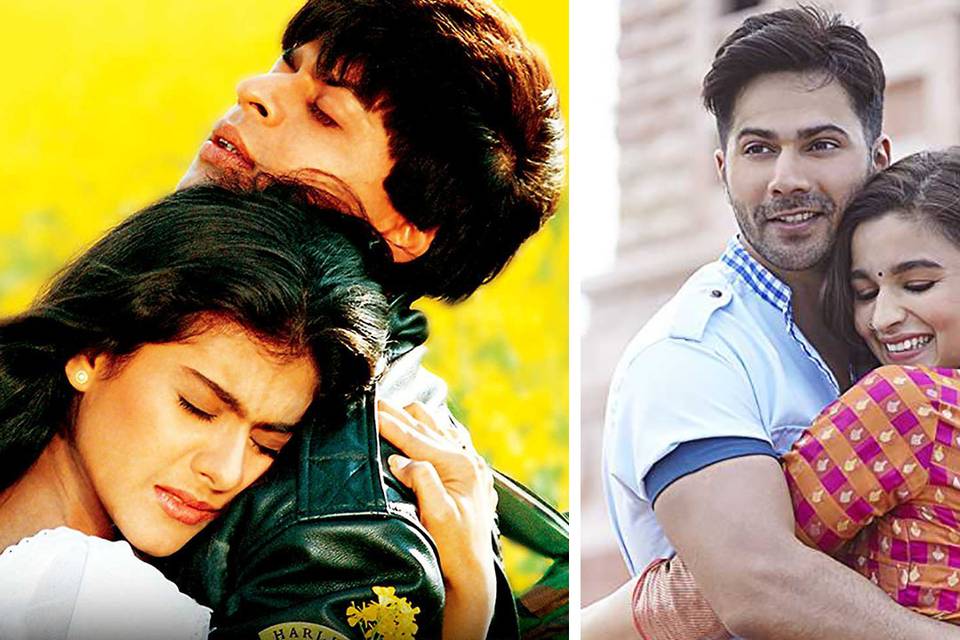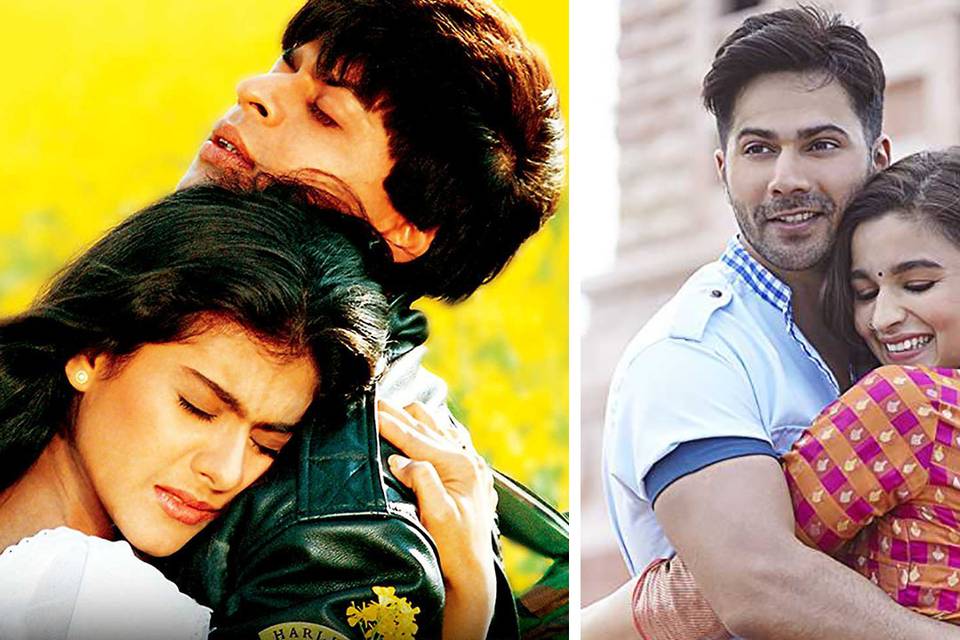 Image Credits - Pinterest
Timeless Hindi ballads never go out of style and the latest romantic songs can breathe life into your romance not only at the beginning of your relationship but also during your wedding celebrations with your partner, your wedding anniversaries, or on any other special occasion you celebrate as a couple. While you are checking the wedding calendar for 2023, finalising your wedding date and wedding planning has begun, putting your wedding album together is always delayed in the hustle of wedding planning.
Check out our list of favourite latest and evergreen romantic Hindi Bollywood songs that can strike a cupid's arrow and fill any room with love. The right song sets the tone for every event of your wedding function - be it the proposal, the bridal and groom entry moments, the perfect song for your couple's performance or more.
This blog comprises of:
1. Latest Romantic Couple Songs
2. Top Romantic Hindi Couple Songs
3. All-Time Favourite Hindi Romantic Songs
Latest Romantic Couple Songs
Kesariya from Bhramasthra
The nation is grooving to this song and so are we! Kesariya from Bollywood's blockbuster hit Bhramastra, composed by none other than Arijit Singh, is every couple's favourite romantic song right now. From preparing your bridal dance to choreographing that perfect couple dance to these lyrics, and also choosing this track as the background song for your ring exchange ceremony - there are so many ways this song can chime your wedding day.
Khwahishon ke Moti by Dhaval Kothari
Here's a romantic song we can't get enough of! If you are looking for a soothing and heart-melting song for the love of your life, dedicate Khwahishon ke moti to express your feelings to her. While Dhaval Kothari's voice will set the most romantic mood for you two - the lyrics of this song is like a precious jewel on the crown.
Maiya Mainu by Sachet Parampara, Jersey
Feel the first love after listening to this romantic song. The beautiful, gripping and astounding love story is depicted here in a fairy tale way. You will definitely have goosebumps after listening to this romantic Bollywood song from our list of favourite romantic songs that were launched recently.
Doobey from Gehraiyaan
Lothika sings a heart-thumping song written by Kausar Munir, produced by OAFF and Savera, composed and produced by OAFF and Savera. From the movie 'Gehraiyaan', the first song 'Doobey' is irresistible. This is one of the most romantic Hindi songs released recently and have a vibe of it's own!
Meri Jaan by Neeti Mohan from Gangubai Kathiawadi
Groove to the beat of this romantic Bollywood song from Gangubai Kathiawadi. The music is composed by Sanjay Leela Bhansali. This romantic video song is doing rounds on the internet cause of the lyrics and of course due to gorgeous Alia Bhatt who is carrying this song effortlessly.
Soch Liya from Radhe Shyam
This latest romantic Bollywood song is tugging the right chords as this is getting popular amid millennials who are in long-distance relationships or are struggling to find a way to each other. Taken from the movie Radhe Shyam which going to release soon - this song is already a hit. We are finding it as one of the most romantic Bollywood songs of this year. What about you? A perfect romantic song that can be played in an engagement ceremony too.
Tip Tip Barsa Paani from Sooryavanshi
Launched around the time of Katrina and Vicky Kaushal's wedding, Kat's sizzling performance to the remake of Tip Tip Barsa Paani for Sooryavanshi. This romantic song is doing rounds on the internet and how. Revamp the 90s nostalgia by planning a couple's performance to this romantic bollywood song of the season.
Hone Laga by Jubin Nautiyal from ANTIM: The Final Truth
Salman Khan's latest release 'Antim' has already so many fan followers. This Hindi romantic song is giving us goosebumps with some powerful lyrics. Similar to those old romantic songs, this song has the freshness of real love, purity, and union of true soulmates. You can dedicate this song along with some romantic proposal lines to your beloved.
Also read - An Engagement Songs Playlist for All - Bride, Groom, Their Friends and Family
Meri Zindagi Hain Tu from Satyameva Jayate 2
This latest romantic song "Meri Zindagi Hai Tu" from Satyamev Jayate is just out and in such a short period it has garnered 75 million views. Isn't it spectacular? The comeback of John Abraham is alluring the girls out there. We are smitten with these lyrics. Are you loving this full romantic song from this new release?
Ranjha from Shershaah
This beautiful romantic Bollywood song will take you back to your favourite nostalgic lane. Taken from this stirring Shershah movie - this song by B Praak, Jasleen Royal, Romy, Anvita Dutt is everyone's favorite and how. A full romantic song like this is a perfect number for wedding choreography.
Tumse Bhi Zyada from Tadap
Hearing Arijit Singh's voice is a treat to our ears and soul. This movie has a beautiful romantic song list and this one caught our attention due to the romantic connotations in it. This can be considered the most romantic song of 2021 for sure. Check it out and dedicate it to the one you love.
Raatan Lambiyan from Shershaah
This romantic Bollywood song will skip your heartbeat and will make you yearn to cuddle your sweetheart. A soulful top romantic song by Jubin from Shershah - is sure to make you go weak on your knees. We are mesmerized by this romantic Bollywood song- what about you?
Phisal Jaa Tu from Haseen Dillruba
Enchanting and alluring - this romantic Bollywood song speaks a lot about contemporary love. Sung by Abhijeet and composed by Amit Trivedi - this song from Haseen Dilruba made our hearts flutter. The lyrics by Kshitij Patwardhan are soothing to the core. I'm sure you never stop playing this on loop.
Hum Dum by Ankit Tiwari from Shiddat
The romantic Bollywood song from the upcoming movie - Shiddat is already creating a brouhaha for its beautiful composition and lyrics. A soulful love song that resonates with true yearnings and emotions. Choose the soothing music and deep lyrics from this new romantic Bollywood song and dedicate it to your beloved.
Pehli Baar from Hungama 2
This is a super cute romantic Bollywood song, "Pehli Baar", from Hungama 2. that will take your heart away. This bubbly song is for millennials who are madly in love with each other. Choose the soothing music and deep lyrics of this new romantic song to dedicate it to your childhood love.
Milaa Yun from Haseen Dillruba
This romantic song is sung by Yashita Sharma & Abhay Jodhpurkar, composed by Amit Trivedi and the lyrics are written by Kshitij Patwardhan. It is a soulful romantic Bollywood song by Haseen Dillruba that will melt your heart to the core.
Lakeeran by Amit Trivedi from Haseen Dillruba
"Lakeeran" from the movie "Haseen Dillruba", The film stars Taapsee Pannu, Vikrant Massey, Harshvardhan Rane, Aditya Srivastava. This romantic Bollywood song track is sung by Asees Kaur & Devenderpal Singh, composed by Amit Trivedi and the lyrics are written by Sidhant Mago. A beautiful love song that resonates with true love and yearnings.
Baarish Ban Jaana by Payal Dev
The latest romantic Bollywood favorite on every lover's list is Baarish Ban Jaana. A song composed by Payal Dev starring Big Boss fame Hina Khan alongside TV Actor Shaheer Sheikh. This monsoon season, express your love for one another with a beautiful romantic Bollywood song that adds a poetic essence of rain to love like no other!
Also Read - 90s Bollywood Songs - 30+ Romantic Karaoke Hindi Songs List to Rock
Lut Gaye by Jubin Nautiyal
Inspired by Ustad Nusrat Fateh Ali Khan's composition 'Ankh uthi mohabbat ne angdai li', Jubin Nautiyal creates magic with his sensational voice with an Emraan Hashmi starred romantic ballad. Any exhaustive list for a couple of songs in Hindi will be incomplete without the mention of this composition from now on!
Main Hoon Na Tere Sath from Saina
Here's a heart-melting composition from Armaan Malik that can perfectly fit in as a background score during your planned proposal idea, a beautiful couple's wedding dance performance, or a soul-soothing marriage anniversary song at the celebration party.
Taaron Ke Shehar by Neha Kakkar
Bollywood's sweetheart Neha Kakkar sings yet another melodious super hit romantic Bollywood song dipped in romance for millennial lovers! Groove to the soothing beats of one of the best new Bollywood songs of 2020, Chal le chale tumhe, taaron ke shehar me - sung to perfection by Jubin Nautiyal alongside Neha Kakkar. Spark the air of your engagement night with love with this all-new Hindi song.
Rahogi Meri from Love Aaj Kal
Share your love and the promise to keep them close with this track from 'Love Aaj Kal'. Dance away the night with a romantic setup made especially for your partner on the foot-tapping music of the latest Bollywood song with your paramour. You know you can never go wrong with a love song as deep as the lyrics of Rahogi meri.
Humraah from Malang
Here's one of our absolute favorites from the latest Bollywood songs dedicated to the spirit and celebration of eternal love. If your love story has been nothing but adventurous, this romantic Bollywood song could be a perfect match to dedicate to each other. We are a fan of every word because it tugs into your heartstrings. You know your love has no boundaries, so your performance on your D-day celebration should be as free-spirited as your love.
Shayad from Love Aaj Kal
Dance to this soulful number to express your love on the Sangeet night and let them know they are all you want. A Hindi romantic song as soulful as this has the power to set the tone right for the evening. You can create major love goals for all your family members with a beautiful and slow dance performance on this romantic Bollywood song with the love of your life. This Romantic Bollywood song is definitely perfect for a hit couple performance.
Jaan Ban Gaye from Khuda Haafiz
One of the most loved new songs from Bollywood's 2020 releases - this track is the grandest declaration of love composed and sung in the most simple and beautiful way! Choose the soothing music and deep lyrics of this new hindi romantic song to dedicate a performance to your paramour.
Tum Se Hi from Sadak 2
Wish to express the importance of your partner in your life in the form of a hindi romantic song? Here's a composition with the most heart-felt lyrics to express their importance in our life in the most creative way! If you were born with the singing genes, you could also perform this Hindi couple song to propose to your partner.
Top-Romantic-Hindi-Couple-Songs
Tujhe Kitna Chahne Lage from Kabir Singh
The title speaks for itself; dance with your better half on this beautifully sung song by Bollywood's favorite, Arijit Singh. One of the best Bollywood songs - Tujhe Kitna Chahne Lage gives every lover goosebumps and your scintillating performance can do the same to your party/wedding guests. Isn't this Hindi romantic song just too amazing?
Khairiyat from Chhichhore
Etched in minds and stuck to the lips of this generation, Khairiyat from Sushant Singh Rajput and Shraddha Kapoor starrer 'Chhichhore' is one of the most melodious and sincere latest Bollywood songs of 2019. On the top of every Bollywood list of song downloads, Khairiyat has won the hearts of lovers regardless of their age. Strike the cupid's arrow at your reception or engagement party, by adding the melody of this song to the evening. Perform a beautiful duet with your partner and make all the old and young hearts at your wedding party humm with this most romantic song from Bollywood's best - Arijit Singh.
Kinna Sona from Marjaavaan
If you want a quirky yet hindi romantic song number that has a lot of beats for you to match your stepson, this track from Marjaavaaan is a great choice. A romantic Bollywood song with up and hip beats to keep you grooving - isn't that what we are all looking for!
Tera Ban Jaunga from Kabir Singh
This was one of the best romantic songs of the year 2019. Don't we all agree? Paint your love story on the stage with a song that speaks about your promise to stay together forever! Let your chemistry do the talking and melt your partner's heart with a passionate and loving performance for your 'one and only'!
Duniya from Luka Chupi
Here's a song that expresses exactly what's in your heart with the sweetest lyrics. Say it out loud with a song dedication or a dance performance on this beautiful romantic song at your wedding/at your bae's birthday party/on the day your propose and even at your anniversary night. This melodious Hindi romantic song is a perfect way to express your cherub feelings to bae and let them know how much you love them.
Ik Mulaqaat from Dream Girl
The lure of first love couldn't be expressed better than this! Here's a romantic Bollywood song that has us daydreaming about finding love at first sight! If you and your partner have a similar 'Ik Mulaqaat' story, you know you have found the right song to dedicate to them.
Kaise Hua from Kabir Singh
Looking for a romantic song to dedicate a heartfelt performance to your partner on the eve of your relationship anniversary or at your wedding reception party? You can plan the first dance on this song after your wedding party to mesmerize your guests with your beautiful story.
O Saathi from Baaghi 2
Here's one of the most loved romantic love songs from Bollywood's 2018 movie releases. Featuring the gorgeous Disha Patani alongside Tiger Shroff, the song strikes the chords of new love and romance in every young heart. Top your wedding playlist with this best romantic Hindi song if you aim to fill the evening's air with love vibes! The song also narrates an epic Hindi love story and is perfect for a slow and meaningful dance performance at your wedding engagement or reception party.
Pal from Jalebi
Make your love exceptional by giving a heart-throbbing couple performance on your D-day and hold the lovely moments forever in your hearts! This song explains how love can be pure when it is with the right person. Dive deep in the vibe of love by checking this romantic Bollywood songs video on Youtube.
Sanu EK Pal Chain from Raid
This track has all the rights to be on our romantic love video favourites list! This melting song from the movie Raid is as pure as the shine of love and if you are planning to level up the aura of your wedding functions, then this song is an ideal choice for you. After all, how can you get 'Chain' when your bae is not around? Spread the vibe of love while you perform a couple of dance performances on this beautiful song.
Tere Bin from Simba
Ever wanted to breathe out the hidden love you have for your better half? Well, this is your chance millennials! Start the new beginnings on a lovely couple dance and seize the moments forever in your hearts. This is one of the most romantic Hindi Bollywood songs for couple dance that not only has soulful music but upbeat tunes to turn up the romance. Splash the ambiance with a love shower, while you swirl in the feeling of this passionate song. After all, your 'Dholna' is all you need to spend the rest of your life with bliss.
Aaj Din Chadheya from Love Aaj Kal
Planning a grand anniversary celebration of your parents? They must perform on Aaj Din Chadheya from Love Aaj Kal. The innocence and purity of love trickle down in every word of this song and nothing explains the joy of celebrating years and years of love and togetherness as beautifully as the lyrics of this song.
Main Rang Sharbaton Ka from Phata Poster Nikla Hero
As far as romantic Bollywood songs are considered, Arijit Singh's voice chimes every stage and wedding with the purest sense of love and compassion. Main Rang Sharbaton Ka, is one such hind romantic song that tugs at our heartstrings. Cute lyrics and heartfelt revelations of love make this Indian romance video perfect in every possible way! Let the lyrics inspire you to present an awe-inspiring dance performance at your wedding celebration.
Tum Hi Ho from Aashiqui 2
A forever favorite for every beating heart, Tum Hi Ho celebrates the essence of true love like no other! This song is for every romantic soul other there, from youngsters experiencing the fresh blush of love, to our elders our home who are celebrating their 50th wedding anniversary - the dedication and sincerity of this love song was composed to touch the hearts of each one of us!
Enna Sona from Ok Jaanu
An evergreen presence on the top of Bollywood love songs lists, Enna Sona from the movie Ok Jaanu, expresses the dilemma of loving someone blindfolded like no other! We recommend this as one of the best love songs for date nights and proposal ideas.
Jab Tak from M.S Dhoni
Still at the top of all Bollywood song download lists, Dhvani Bhanushali's Jab Tak from the blockbuster hit M.S Dhoni continues to win hearts even in 2021! Pick this for your solo dance performance at the wedding and express your heartfelt emotions to your beau with a graceful and soothing song.
Dil Diya Gallan from Tiger Zinda Hai
What's better than letting your heart out to the love of your life and sharing the most romantic moments in the form of a cute couple dance? Ooze up your D-day with this soulful romantic Bollywood songs list but don't forget to top the chart with this heartwarming new latest song. 'Dil Diya Gallan' can always be cherished when your cupid is beside you. Are we right, or are we right? Prepare an overwhelming couple dance performance and soften the heart of the guests with a heartfelt performance.
Teri Ore from Singh is King
When we say old is gold, we mean it! This is one of the most romantic Bollywood songs that has crossed millions of hearts with love and fondness. If you are that couple who wants to go all mushy and dreamy on your precious day, this mesmerizing track is best suited for you. Show off your romantic moves in the form of a lovely couple dance and seize the moment with remembrances at your wedding or at your anniversary party! Yes, the timeless 'Teri Ore' could also be a perfect marriage anniversary song performance. Don't forget to take notes from the romantic video and add the special signature step of the song to your performance.
Jogi from Shaadi Me Zaroor Aana
Ever wanted to compliment your cupid? Why not convey the love message in front of the whole world? Make a love reel by performing on one of the best romantic songs while you sync the dance steps with each other. Let your partner know how 'Sohna' their love is and don't forget to look into their eyes while giving a memorable couple dance performance. One of the most romantic Bollywood songs and your beloved in your arms, what else could one ask for!
Tere Sang Yaara from Rustom
Wish to amp up the list of romantic Bollywood songs for your D-day performance? Fret not, we have got you covered. This love song from Bollywood's favorite Akshay Kumar starrer - Rustom is for all the couples who want to express their 'Ishq' on their wedding day. Top up your tracklist of Bollywood songs with this adoring love song while you hit the stage of togetherness with happiness and passion.
All-Time-Favorite-Hindi-Romantic-Songs
Chupke Se from Saathiya
Raise your hands if you can feel your heart smiling at you, every time this romantic Bollywood song starts playing "dosto se jhutti muthi, dusro ka naam leke, phir meri baatein karna." Chupke se from the movie, Saathiya is a must in your playlist when you are planning a romantic dinner date for your partner.
Suraj Hua Maddham from K3G
Here comes our favorite Bollywood jodi, to sweep you and your lover off your feet. Suraj hua maddham is one of the most popular love songs of its time. From the couple featured in the video to the ambiance and music of the song, everything was meant to invoke the passion in your love story. Say it as you mean it with this cute romantic couple song.
Galliyan from Ek Villain
Here's another one of our favorites from the list of best songs for couples. Pick Galliyan to dedicate a song to your paramour that expresses their role in your life beautifully in the soothing voice of Ankit Tiwari.
Main Tenu Samjhawan from Humpty Sharma Ki Dulhania
Be it the original Punjabi version from the movie Virsa or the remake of the song in the Bollywood blockbuster, Humpty Sharma ki Dulhaniya - every version of Main Tenu Samjhawan garnered love from Indians worldwide. We are as much in awe! Imagine a heartfelt performance on this song by your siblings and their partner or your parents at their anniversary party.
Chahun Main Ya Naa from Aashiqui 2
While it's impossible to choose one Hindi romantic song from Aashiqui 2 as our favorite, Chahun Main Ya Naa could be your easy pick to pop the question in a creative style! This cute Bollywood couple song could also be an interesting dedication to your love interest if you are looking for ways to drop hints about your feelings.
Tujh Mein Rab Dikhta hai from Rab Ne Bana Di Jodi
A love song that portrays dedication like no other! Tujh me Rab dikhta hai is a favorite composition for lovers who want to express the purity of their feelings and their dedication to their partner. Add it to your playlist today if love is the easiest example of God and his power for you.
Khuda Jaane from Bachna Ae Haseeno
Here's another Bollywood couple whose chemistry makes us go 'wow'! Ranbir and Deepika's sizzling performance on Khuda Jaane has definitely some love goals for millennial couples. If you love the lyrics of the song, add it to your Spotify list today.
Raabta from Agent Vinod
The two of you might not be in a relationship yet but 'kuch to hai tujhse raabta' says it all! If you feel the connection with someone special and need the right words to convey your message, consider this Bollywood romantic song as a life savior.
Tum Se Hi from Jab We Met
Be it your wedding anniversary party or a couple of performances for your sangeet celebrations, fall in love all over again with this one-of-a-kind soul-soothing romantic song for Bollywood's blockbuster hit movie Jab We Met.
Bol Na Halke Halke from Jhoom Barabar Jhoom
For the hearts that beat louder when the rhythm of Sufi songs takes over - here's Bollywood's favorite track for lovers, 'Bol na halke halke' to drench in the beauty of pure and deep connections.
Socho Ke Jheelon Ka Shehar from Mission Kashmir
Weave a beautiful story of your forever after with your partner with this romantic and soothing Hindi Bollywood song playing in the background. 'Socho ke jheelon ka sheher' is a heart-melting composition meant for young couples.
Pehla Nasha from Jo Jeeta Wohi Sikander
Here's another classic song of love from a memorable Bollywood movie - Jo Jeeta Wohi Sikander. Pehla Nasha is always the anthem of first love. Nothing surpasses the pure and adorable vibes of these romantic Bollywood songs lyrics!
Mein Yaha Hoon Yaha from Veer-Zaara
Isn't this Romantic Bollywood song eternal and graceful? The generation ahead will also cherish this forever favorite-heart throbbing song where King khan ha displayed his true love in a spectacular way.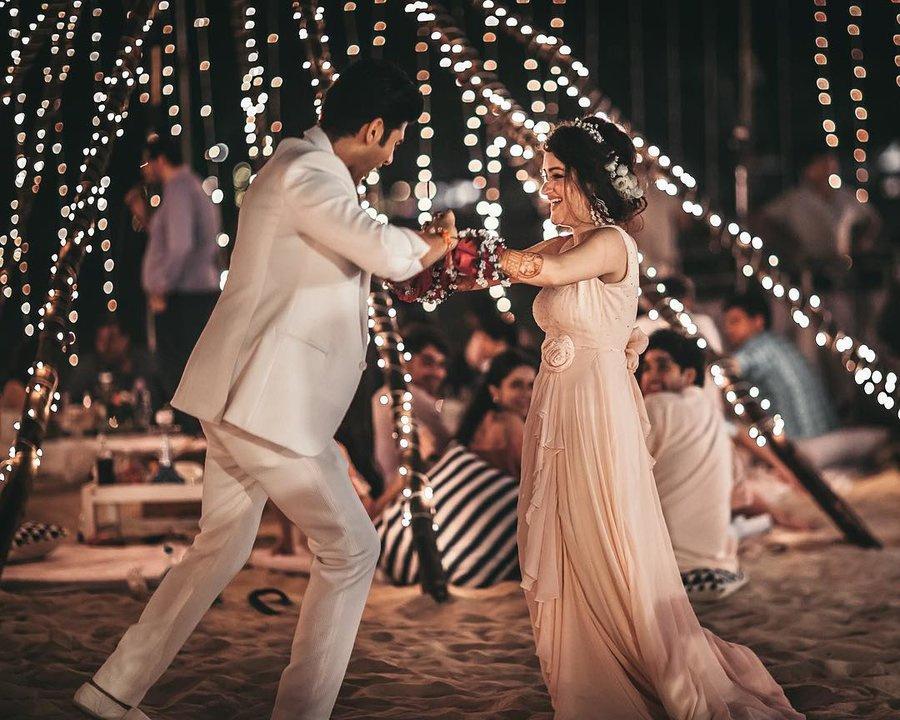 Image Courtesy: Shades Photography
From a mix of quick, quirky beats to soulful music, don't miss out on a dance with your better half. Your wedding will be one of the most important days of your lives, make it count by enjoying every minute to the fullest. We understand if you have not danced ever, ask the choreographer to pick out soulful steps that can help you match the beats and rhythm of one of your favourite romantic songs from this romantic song list of Bollywood hit songs.
We hope that you have saved this romantic Bollywood Songs playlist already. Now if you are looking for the right wedding choreographer, we have a list of the best ones that will suit every pocket! Meanwhile, let us know your favourite romantic song from this list in the comment box below.
Most Read Articles
Mehndi Design | Proposal Lines | Romantic Bollywood Songs | Simple Finger Mehndi Design | Arabic Mehndi Design | Propose Day Quotes for Boyfriend | Wedding Anniversary Wishes for Sister | Change Aadhar Card Name after Marriage | Tamil Wedding Calendar | Simple Mehndi Design | Pre Wedding Quotes | Engagement Anniversary Wishes | Funny Wedding Wishes for Bestfriend | Blouse Design | Rangoli Design | First Night Tips for Bride | Wedding Anniversary Wishes